South Africa is one of those places that has a spot on every traveler's bucket list. The country captures the hearts of over 15 million tourists annually with its diverse culture, beautiful landscapes, friendly locals, and incredible (and affordable) accommodation and food.
But one of the main reasons people visit is for the national parks in South Africa, which are scattered throughout the country. There are even a few national parks right inside the city of Cape Town, which is, without a doubt, the top tourism destination in the county.
South Africa currently has 21 national parks that cover over 3% of the country's total land. One of the main attractions of these parks is the opportunity to encounter some of the world's rarest wild animals while staying in luxurious accommodations.
In this post, I'm going to guide you through some of the most exciting and unique national parks in the country:
What Are National Parks?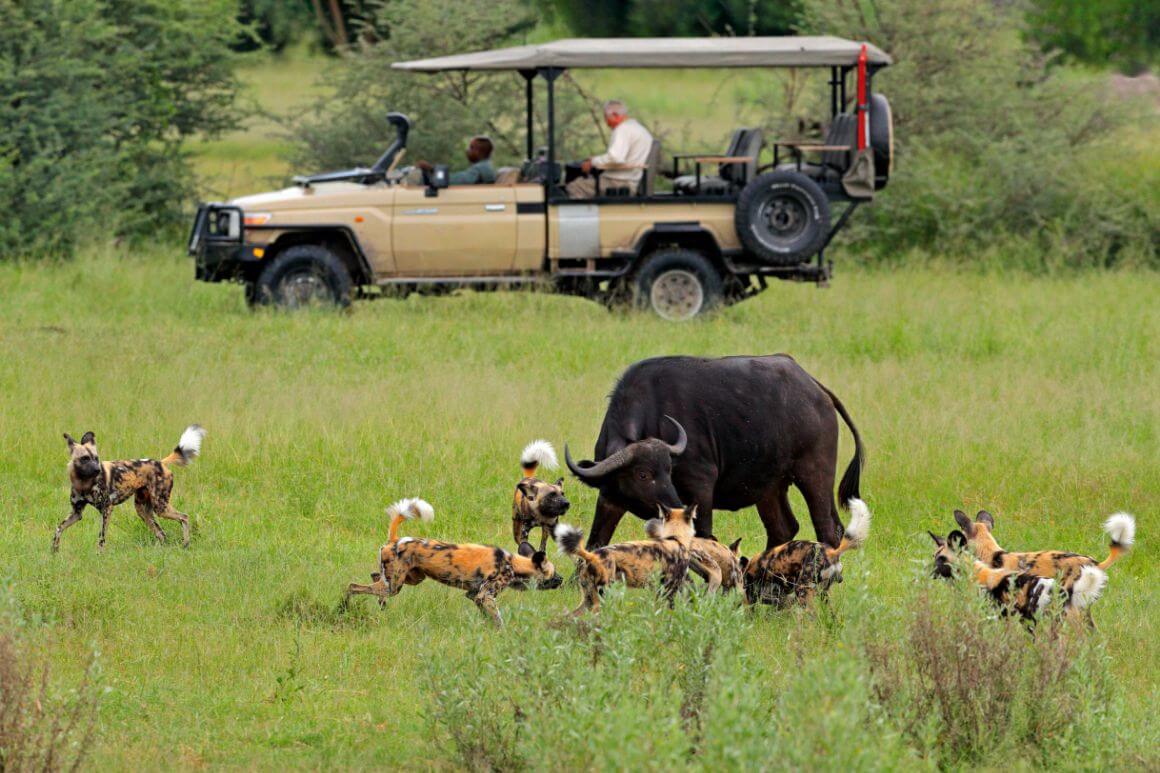 So, what makes South Africa's parks so unique and wonderful?
Established in 1826, SANParks (South African National Parks) is a government organization that manages and oversees the country's parks. It is recognized as a world leader in conservation and protected area management.
The organization was founded to protect the wildlands and wildlife of the country but has recently expanded to promoting socio-economic development and eco-tourism, with an overarching goal of reconnecting people with nature.
SANParks oversees all 21 national parks in South Africa, each with diverse vegetation types. Across the country, you'll find sandy deserts, thick grasslands, dense forests, savannas, coastal belt terrain, and fynbos regions. In fact, the country is so rich in flora and fauna that it is recognized as one of the most biodiverse locations in the world.
You'll likely be familiar with the megafauna like giraffes, rhinos, and lions roaming the land, but South Africa has much more to offer, thanks to its diverse landscapes. It is one of six floral kingdoms in the world and home to over 9000 plant species, of which 70% are endemic to the country. That means that they can be found nowhere else in the world.
Home to some of the world's most unique floral systems and endangered animals, South Africa is one of the most exciting places to visit if you're interested in nature and biodiversity (or if you just love a good view).
National Parks in South Africa
In this post, I'm going to guide you through some of the most exciting and unique national parks in the country: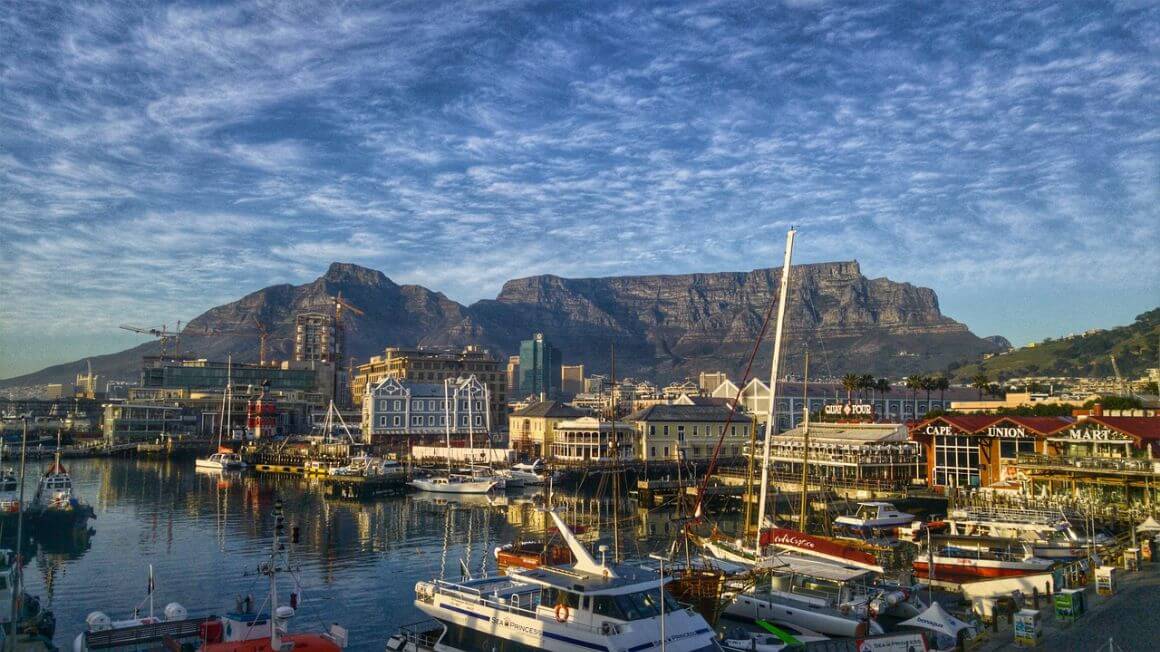 Size: 221 km2 (85 sq mi)
Location: Cape Town, Western Cape
Entrance Fee: R176 for Boulders Beach, R376 for Cape Point for international visitors
This UNESCO natural world heritage site and one of the Natural New 7 Wonders of the World is a majestic mountain range that hugs the city of Cape Town on one side and plunges into the Atlantic Ocean on the other.
Located at the tip of the continent, it's home to over 8,200 plant species, most of which are fynbos. Are you familiar with the protea? Well, this plant is part of the fynbos species, which is only naturally grown in this part of South Africa.
If you're visiting Cape Town for the first time, it's hard not to explore these mountain ranges and exquisite beaches, which you can see from just about every point in the city. This South African national park consists of three main sections; the first is, of course, Table Mountain – the iconic flat mountain that serves as a backdrop for the city center.
Whether you're up to hiking this rocky mountain or prefer to take the cable car to the top, it's an incredible place packed with hiking trails for all fitness levels. Lions Head is another one of the most popular hikes with both locals and tourists, boasting 180-degree city and ocean views.
The second popular section of the park is Silvermine and Tokai, a beautiful area that falls into the historic Constantia wine region (also the oldest wine region in the country). Hikers, trail runners, walkers, and mountain bikers like to call this mountain range their backyard.
Finally, the park continues to the Cape of Good Hope and its beaches, from the southernmost part of the Cape (known as Cape Point) to Scarborough and False Bay. With towering cliffs, exquisite bays, pristine white-sand beaches, and lush fynbos valleys, this is one of the most magnificent parts of the park.
Not to mention, for a once-in-a-lifetime experience, you can relax on a beach surrounded by a colony of Cape Penguins here.
Cape Point was the first landing spot for Portuguese explorer Bartolomeu Dias in 1488, who named it the 'Cape of Storms'. Other boats weren't so lucky, and there are dozens of historical shipwrecks to explore around the peninsula.
Where to Stay Near Table Mountain National Park:
While the whole region is considered part of the City of Cape Town, sections of the peninsula can make you feel a world away from city life.
For easy access to Table Mountain National Park and the city, book a room at the luxurious and uniquely African Twelve Apostles Hotel and Spa, set between the mountains and the Atlantic Ocean.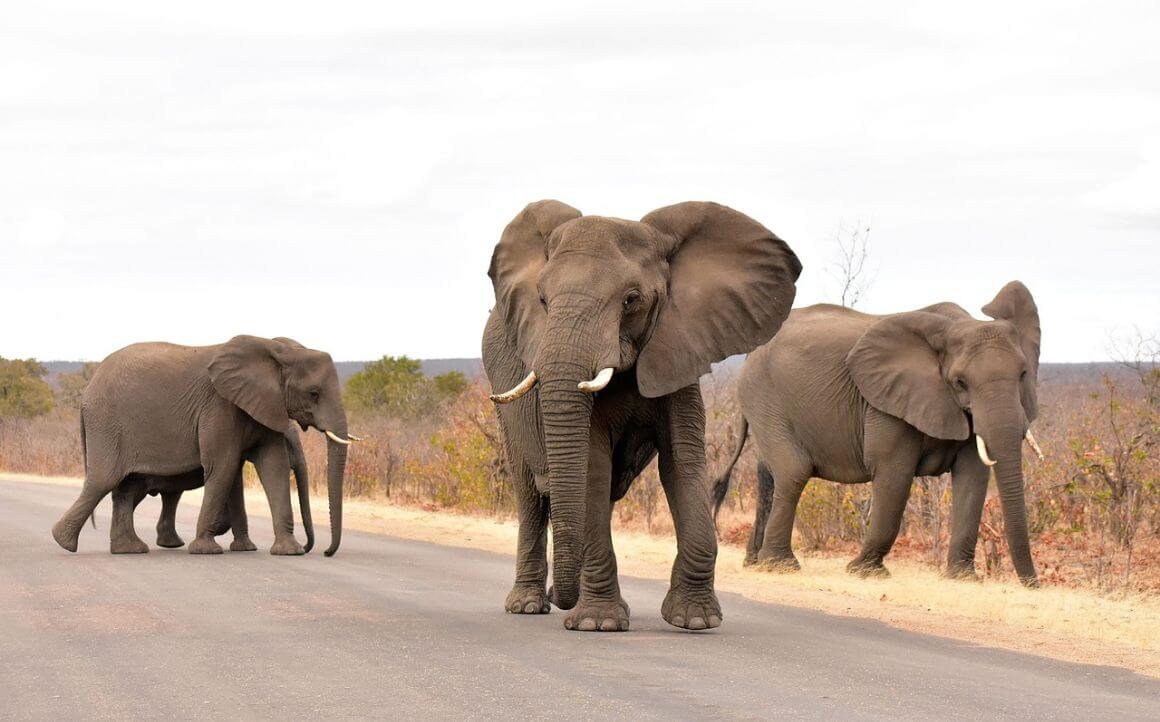 Size: 19,623 km2 (7,576 sq mi)
Location: Limpopo and Mpumalanga Provinces
Entrance Fee: R460 per adult per day for international visitors (R115 for SA citizens)
If you're familiar with any national park in South Africa, the Kruger National Park would be it. The park is steeped in legend and history and was Africa's first registered national park. One of the largest game reserves in Africa, it's located in northeastern South Africa, bordering Zimbabwe and Mozambique.
Today, it has joined part of the Great Limpopo Transfrontier Park, which links South Africa with the Gonarezhouw National Park in Zimbabwe and Limpopo National Park in Mozambique.
The main drawcard of the park is its exciting wildlife, which includes elephants, rhinos, lions, buffalo, zebras, and giraffes. Pretty much every African animal you can think of is roaming free across the protected land. Because of this, The Kruger is one of the most popular places to experience a traditional African safari, with options to stay in affordable accommodations or ultra-luxurious camps.
The park is enormous, with nine different primary access gates and over fourteen campsites where you can set up a tent or motorhome. Of course, the park is also home to some of the most luxurious game reserve lodges and glamping accommodations.
Why should you visit Kruger? it's, it's rated as the best place in the world to spot an elusive leopard; it's great for day visitors and has areas where you can drive through in your vehicles; it's suitable for all budgets, and; it is home to some of the most diverse species on the planet. If this isn't a reason to book your safari, I don't know what is.
Where to Stay Near Kruger National Park:
The town of Skukuza is seen as the administrative headquarters of the Kruger, with its own airport welcoming daily flights from across the country.
If convenience is important to you, Umkumbe Bush Lodge is a luxury tented camp with all the amenities of a five-star hotel, just 7km from the Kruger National Park in Africa's gate.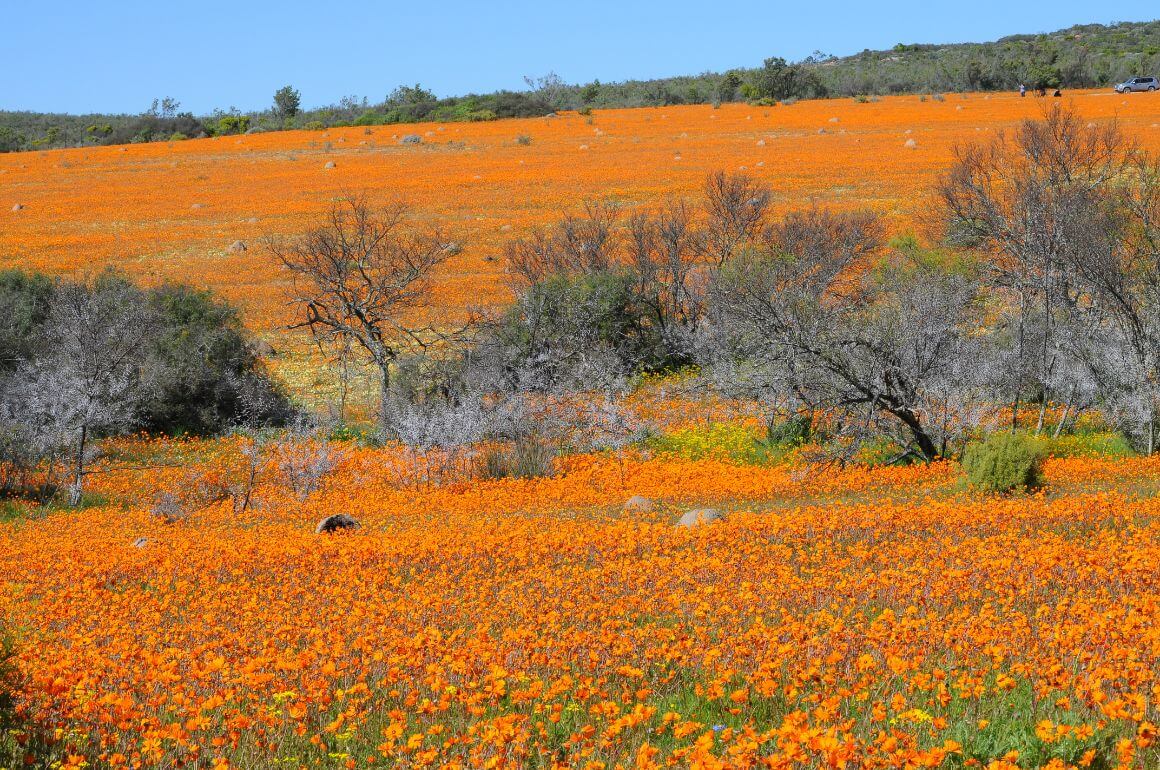 Size: 1,368.18 km2 (528.26 sq mi)
Location: Northern Cape
Entrance Fee: R104 per adult per day / R52 per child per day
Take a journey to the west coast of South Africa, where a dry desert climate meets the harsh Atlantic Ocean in a beautifully contrasting environment. Namaqua National Park is located just south of the Namibian border, with little civilization around it.
The lack of civilization and city lights makes it one of the most incredible places to go stargazing.
Besides the star-studded night sky, the park is best known for being home to the iconic spring flower fields. Every August and September, the Namaqualand area attracts thousands of visitors to its fields, which are transformed into a floral wonderland carpeted with orange, yellow, pink, and white wildflowers.
Although short-lived, these flowers are a spectacular sight to experience, especially against the dramatic beachy backdrop of the Atlantic Ocean. The park forms part of an arid semi-desert biodiversity hotspot, home to the largest concentration of succulent plants in the world.
Throughout the year, about 100 thousand visitors come to mountain bike, bird watch, and 4X4 through the rough terrain. The park offers well-managed tourist facilities, including a five km scenic walk, two nature walks, designated picnic spots, four chalets where you can spend the night, and an information center.
Where to Stay Near Namaqua National Park:
The closest town to Namaqua National Park is Springbok. If you don't feel like roughing it and camping in one of this South African national park's campsites or chalets, rent out this gorgeous farmhouse for a steal of a price.
Month to month payments, no lock-in contracts, and no itineraries required: that's the exact kind of insurance digital nomads and long-term traveller types need. Cover yo' pretty little self while you live the DREAM!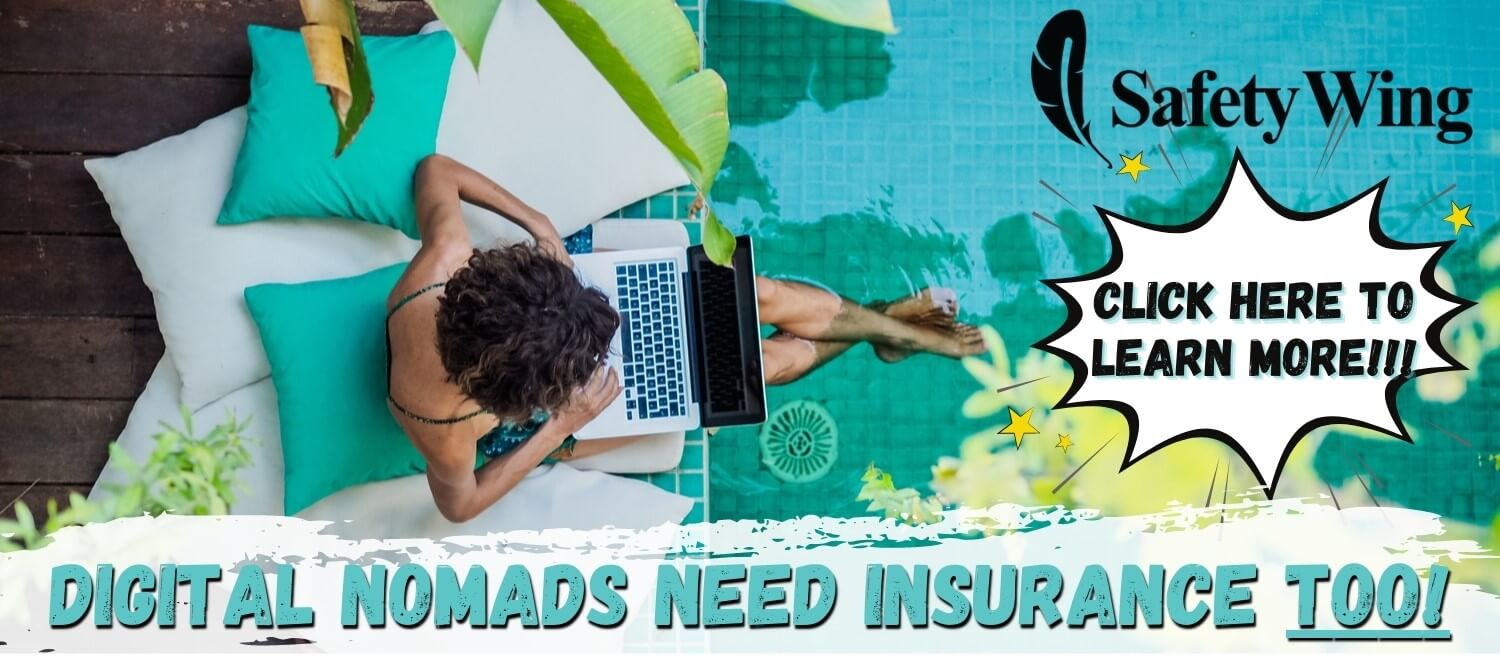 SafetyWing is cheap, easy, and admin-free: just sign up lickety-split so you can get back to work! Click the button below to learn more about SafetyWing's setup or read our insider review for the full tasty scoop.
Size: 1,640 km2 (630 sq mi)
Location: Eastern Cape, near Gqeberha
Entrance Fee: R376 per adult per day for international visitors, R94 for South African citizens
Just outside the city of Gqeberha (previously known as Port Elizabeth) Addo Elephant National Park is a wildlife conservation park dedicated to – you guessed it – the African elephants. It's the third-largest park in the country.
Addo used to be an inland park but has recently been extended from inland Eastern Cape towards the coastline, branching its conservation efforts from predominantly elephants to include penguins, gannets, and a bunch of other local marine life.
But that's not all. Endangered black rhinos, antelope, lions, and spotted hyenas have recently been introduced into the area. In fact, this is the only park in the world that provides a ho'Africa'srica's'Big 7', which includes lions, buffalo, elephants, rhinoceros, leopards, whales, and great white sharks. Move over, Big 5!
The park welcomes over 300 thousand visitors each year, mostly from overseas. Tourists can use the main camp, which features a pool, restaurant, and accommodations to suit different budgets. There are a bunch of other rest camps which offer accommodation and camping space in the park.
Like any game reserve, the best time to visit Addo Elephant National Park in South Africa is during the dry months between May and September (Africa'srica's summer). All the animals congregate around waterholes during this time, making it easier to spot wildlife on your game drives.
Where to Stay Near Addo Elephant National Park:
Depending on whether you want to stay closer to the elephant park inland or the marine reserve on the Indian Ocean coastline, there are loads of options for accommodation near Addo. This elegant room at a riverfront estate is a short drive from the park's gates.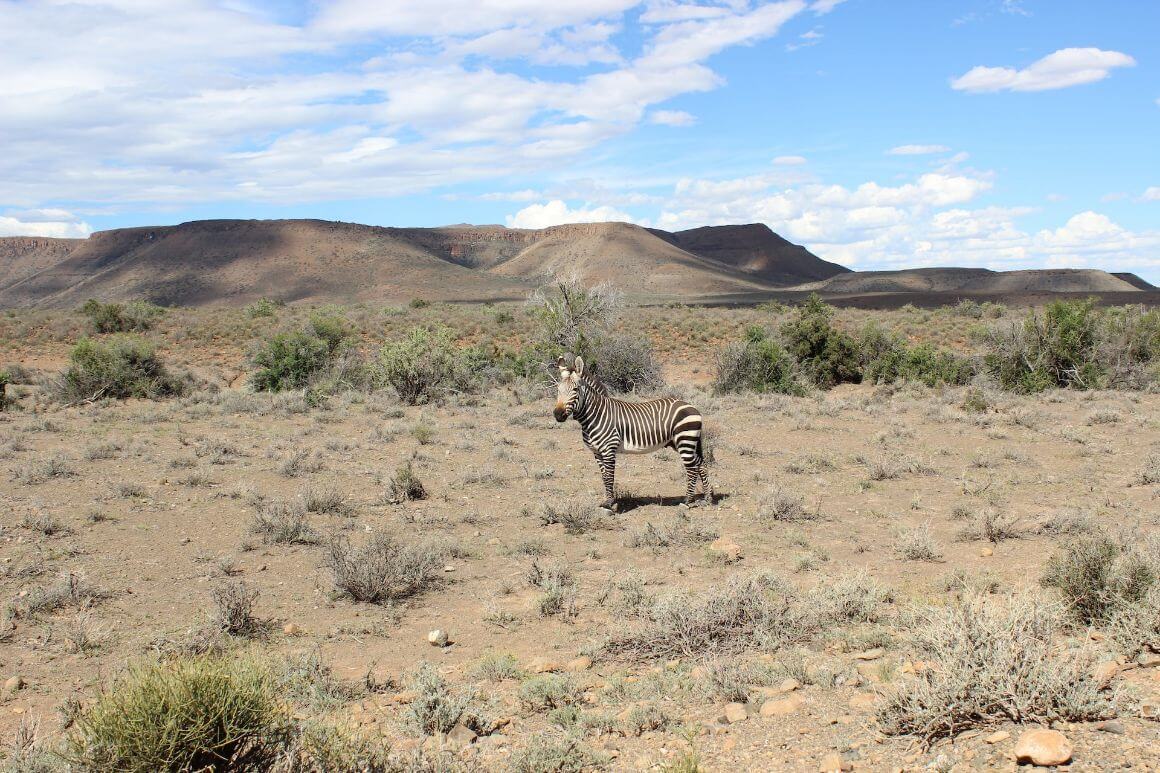 Size: 750 square kilometers (290 sq mi)
Location: Western Cape
Entrance Fee: R252 per adult per day for international visitors (R63 for South African citizens)
The Karoo National Park was once known as a convenient stop-over for travelers journeying from the Cape across the country. Tit's, it's an incredible nature reserve offering gorgeous scenery, cozy accommodations, and a home for some of Africa'srica's most interesting local flora and fauna.
Aside from the breathtaking landscapes, the Karoo National Park includes a mountain biking trail, guided and unguided walks, 4X4 trails, and game drives. It has a campsite where visitors can set up their tents and caravans, as well as self-catering chalets, picnic spots, and a restaurant to refuel after a day out and about.
The Karoo is a semi-desert landscape that provides sanctuary to herds of springbok, mountain zebra, rhinoceros, eland, kudu, and bat-eared foxes, to name a few. With five different types of tortoise, it has the most number of tortoise species in the world and is also known for its massive population of eagles and owls.
In the 1800s, gold was found in the desert landscape of the Karoo National Park in South Africa, bringing a flurry of activity to the area. Luckily, not enough gold was found in the Karoo to excavate the land, leaving it intact for the wildlife that still calls it home.
Where to Stay Near Karoo National Park:
Prince Albert is a farming town surrounded by the Karoo National You'llYou'll find some beautiful traditional Cape farmhouses in the town, complete with antique interiors and lush gardens, just like this beautiful and comfortable house.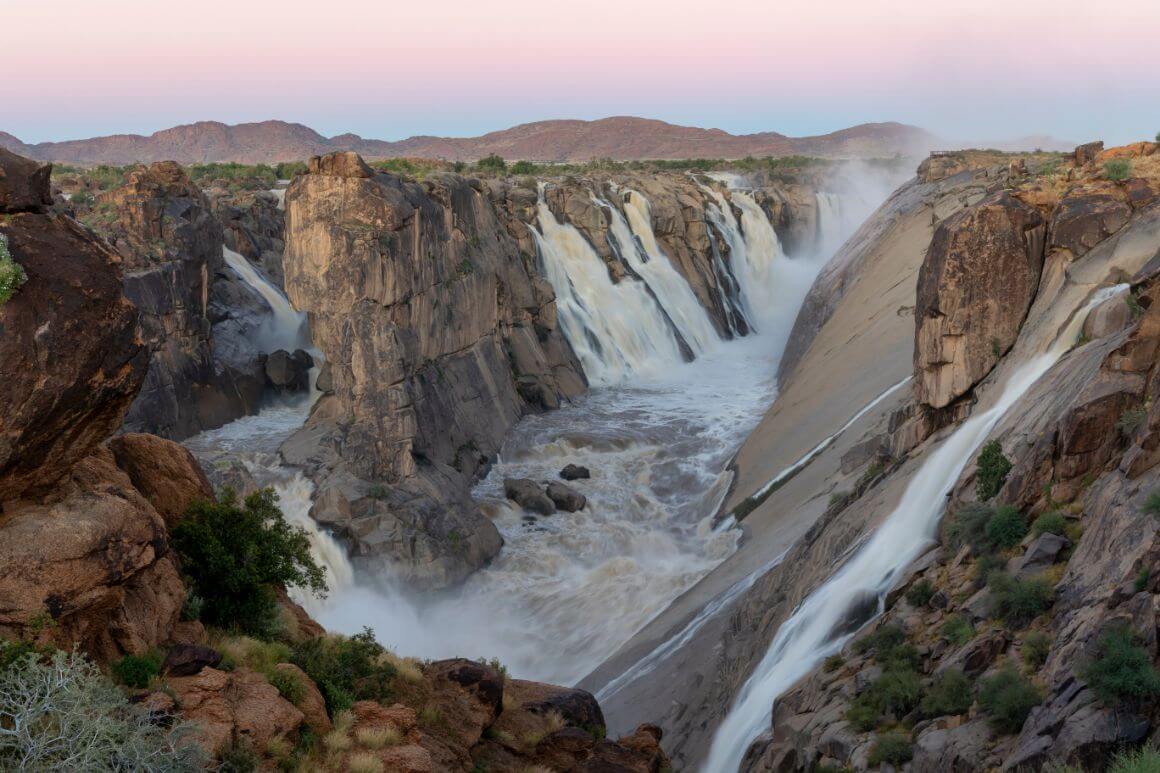 Size: 820 km2 (320 sq mi)
Location: Northern Cape
Entrance Fee: R252 per adult per day for international visitors (R63 for South African citizens)
Hidden in a remote area of the Northern Cape in the center of South Africa, Augrabies Falls National Park is a dry landscape surrounded by rocky outcrops, waterfalls, and rivers.
This ancient land has important ties to the Khoi people, a local tribe who lived in the area and called it A'kroerebis, which translates to 'The Great Noise.' They called it this because of the thundering sound of the incredible Augrabies Falls, a 60-meter-high waterfall that flows into a deep river gorge of the Orange River. When the sun sets, massive spotlights are switched on to illuminate the incredible waterfalls.
This African River is one of South Africa's most loved landmarks, attracting school trips, campers, and whitewater rafters from across the country. Some main attractions include the Gariep Trail and Klipspringer three-day trail hike, which is undoubtedly the best way to see and experience everything the park has on offer.
While you likely wouldn't spot a lion in this South African national park, it's not entirely impossible! Augrabies Falls National Park is home to the endangered black rhinoceros, springbok, gemsbok (different local South African buck), and a rare cape clawless otter. If you stick around overnight, you could even lay eyes on a black-backed jackal, caracal, or African wildcat.
Where to Stay Near Augrabies Falls National Park:
Kakamas is the largest town in the area (large being relative). The Augrabies Guesthouse is a charming farmhouse converted to a bed and breakfast with self-catering facilities and is located between Augrabies and Kakamas.
Forget boring accommodation… book yourself an EPIC STAY!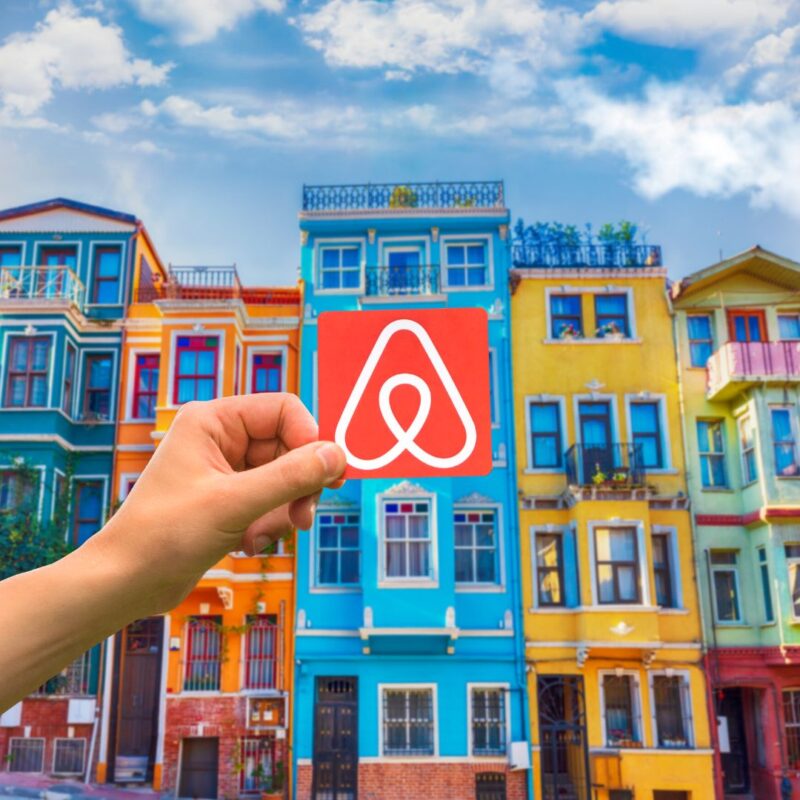 Why stay in a naff hotel when you can stay in a cosy, stylish local house instead? And for half the money too!
Stay somewhere EPIC and save your hard-earned dollars — from houses to barns to castles and caves, there is an Airbnb for every occasion!
Book an EPIC Stay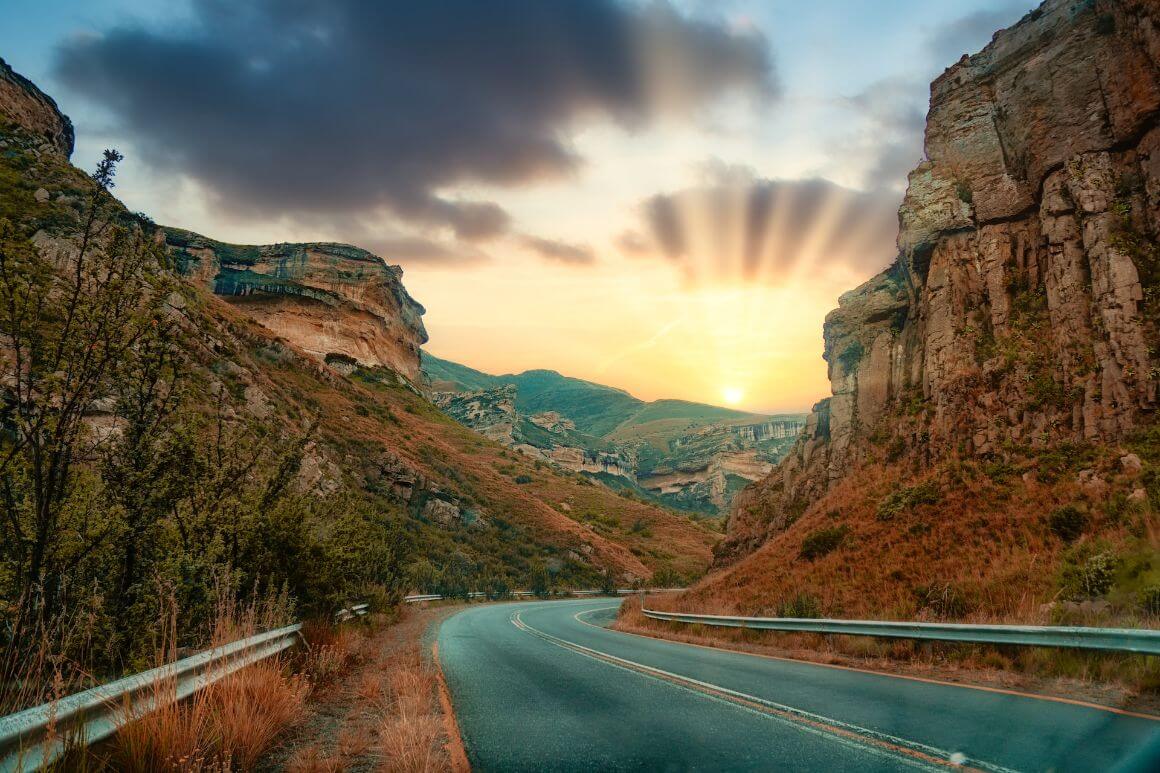 Size: 340 km2 (130 sq mi)
Location: Free State, near the Lesotho border
Entrance Fee: R252 per adult per day for international visitors (R63 for South African citizens)
Did you know South Africa has its own 'golden gate'? Named after the park's main feature, Golden Gate refers to the sandstone cliffs that rise up on either side of the Golden Gate dam at the foothills of the Maluti Mountains. The park was named by a farmer who stopped at the dam in 1875.
With its golden ochre and sandstone cliffs, Golden Gate Highlands National Park is located on the border of LesotIt'sn the Free State province. It's only a 320km (200 mi) drive from Johannesburg, which makes it easy to access from the city.
It was established as a national park in 1963, but its origins date back hundreds of years to a time when local San tribes called the area home. One of the unique things about the park is its San rock paintings depicting a different African era. In fact, paleontologists have also found a bunch of dinosaur eggs and skeletons in the park. Who knows what else hasn't yet been unearthed?
While definitely better known for its incredible landscapes than for the animals that live there, this South African national park also has its fair share of wildlife, from mongooses to eland to zebra and over a hundred different species of birds.
Where to Stay Near Golden Gate Highlands National Park:
Bethlehem and Clarens are the nearest towns to the park, just a short drive from the entrance gates. If you're looking for a spot to rest your head between hikes and adventures, this self-catering guesthouse in Clarens will do the trick.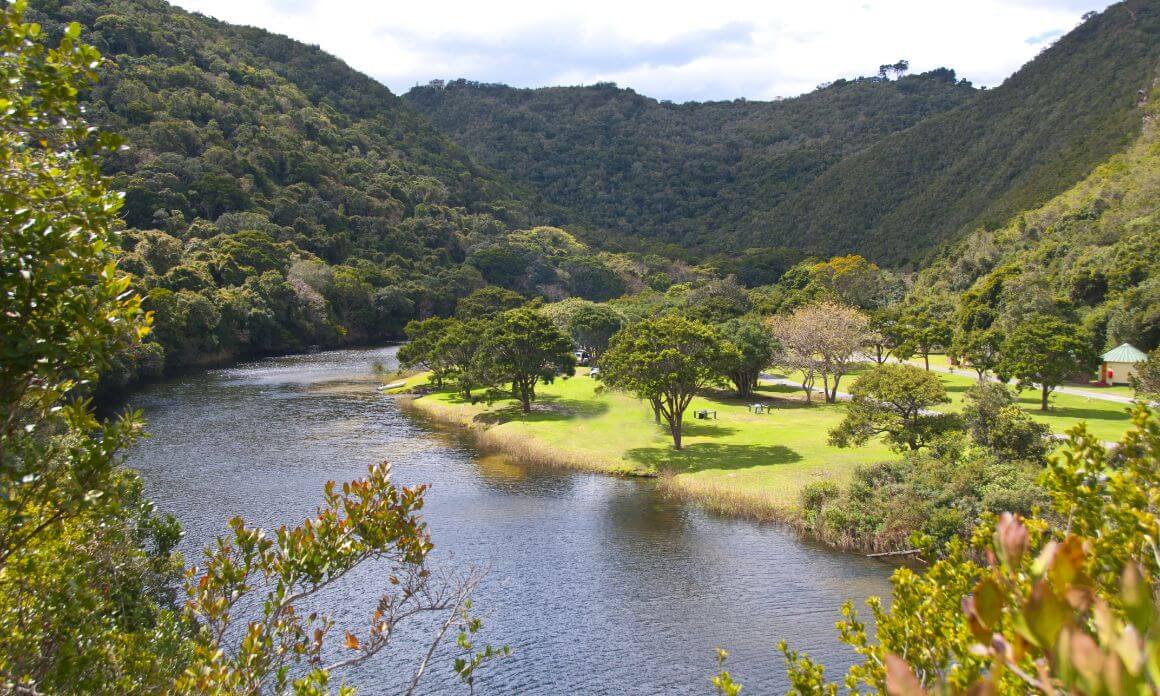 Size: 1,210 km2 (470 sq mi)
Location: Western Cape and Eastern Cape
Entrance Fee: R280 per adult per day for international visitors (R70 for South African citizens)
Set at the crossroads between the Western Cape and the Eastern Cape, Garden Route is one of the world's most beautiful and well known stretches of coastline. It's a haven for outdoor lovers, where the magnificence of the land and sea come together in a powerful display of mother nature.
Stretching from the coastline to the mountains, the Garden Route Africa's Park is one of South Africa's glistening gems, offering incredible coastal and mountain views, exciting wildlife, and adrenaline-pumping activities.
The route follows the N2 highway along the Indian Ocean coastline between Mossel Bay and Storms River. The national park is a coastal reserve known for its indigenous forests, incredible coastline, and the famous Otter Trail, Natures Valley, and Tsitsikamma Forest.
There is something for every type of traveler along the Garden Route National Park in South Africa, whether you prefer to live a life of luxury at an exclusive treetop hotAfrica'sjoy bungee jumping off Africa's highest bridge.
One of the best things about the park is that it is set in and amongst the local towns and villages of the Garden Route. This means you can spend a night in a gorgeous beach town or a rural farming village and still be close to the activities and natural wonders of the national park.
Some of the main towns in the park include Wilderness, Knysna, Plettenberg Bay, and Storms River, all of which draw tons of locals and tourists to their shores, especially in the summer months.
Where to Stay Near Garden Route National Park:
Knysna and Plettenberg Bay are central towns of the Garden Route. I recommend spending time in these towns and working your way up and down the coastline as you please.
St. James of Knysna is a five-star property with lagoon views to match. You can't do much better than this, folks!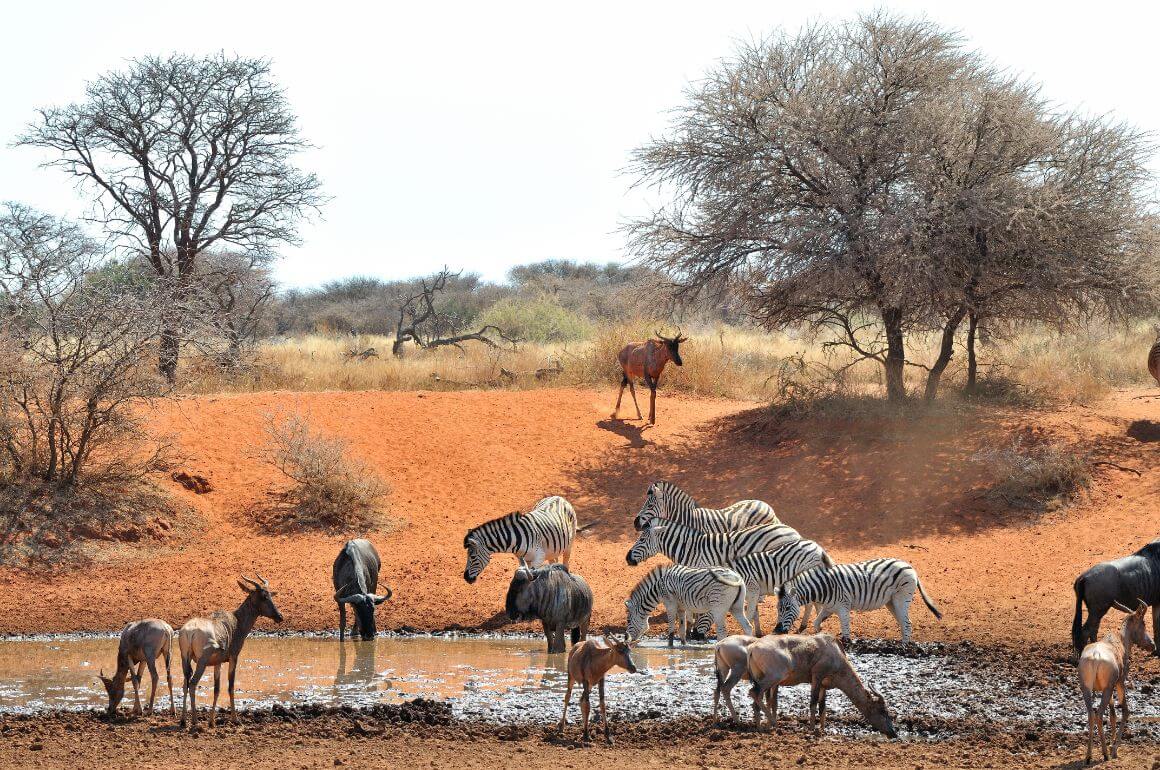 Size: 196.11 km2 (75.72 sq mi)
Location: Northern Cape
Entrance Fee: R216 per adult per day for international visitors (R54 for South African citizens)
Mokala National Park is SANParks's newest park, located just outside the city of Kimberly. The park is named after the local S'tswana term for a 'camel thorn', a unique tree species iconic to the Mokala landscape.
The malaria-free national park in South Africa is the perfect stopover between Cape Town and Johannesburg. From open grasslands to Kalahari thornveld to a ravine section, it offers a range of attractive and exciting landscapes worth exploring.
The area has a rich cultural and historical background, boasting San rock engravings and historic battlefields conquered during the Anglo-Boer War. The land is also intertwined with the gold and diamond mining industry, which was popular around the Kimberly region.
While it has a super unique history and local cultural significance, the park was formed to protect endangered endemic flora and wildlife species, including the Cape buffalo, black rhino, and roan antelope. In fact, locals like to call this park 'the place where endangered species roam' for this exact reason.
Take yourself on a self-guided game drive through the park, scouting the horizon for endangered species. You might even run into a few other animals like Cape buffalo, girafBurchell'sg, black wildebeest, Burchell's zebra, gemsbok, kudu, eland, African wild cat, and meerkat. I recommend taking a 4X4 vehicle for the trip, which can include soft sand roads and rocky terrain.
Where to Stay Near Mokala National Park:
There are three lodges in the park: Mosu, Haak-en-Steek, and Lilydale. The lodges have everything you need for a short stay, including on-site restaurants and bathrooms.
If you'd rather stay outside the park, the Geluksdam Guest House is just 15 km from Mokala in the small town of Olifantshoek and features a shared lounge and garden.
Is This the Best Daypack EVER???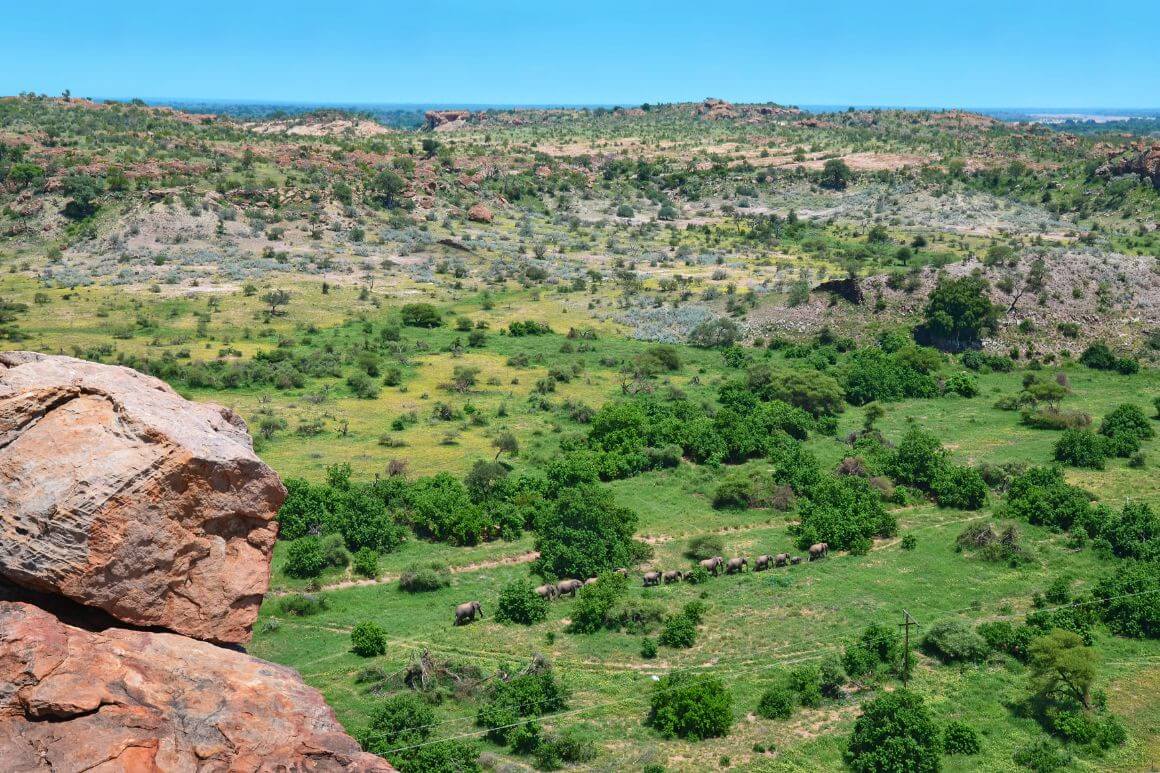 Size: 280 km2 (110 sq mi)
Location: Limpopo
Entrance Fee: R252 per adult per day for international visitors (R63 for South African citizens)
One of the most fascinating South African national parks on this list, Mapungubwe is as much an ancient cultural landmark as it is a haven for African wildlife. The park is home to the ruins of an ancient African kingdom established on the mystical Mapungubwe Hill between 1200 and 1290 AD.
It is located on the Kolope River in Musina in the Limpopo province, right by the Botswana and Zimbabwe borders. It forms part of the Greater Mapungubwe Transfrontier Conservation Area, which protects the historical Mapungubwe Hill, which was the capital of an ancient civilization.
Back then, the region was home to a powerful tribe that flourished in trading with ancient eastern cultures, including China and India. Archeologists have excavated incredible artifacts, including a famous golden rhino, showing evidence of this once-prosperous African community.
As one of the greatest ancient civilizations of Africa, the Lost City of Mapung is, without a doubt, the park's main attraction.
While the park used to be inhabited by a group of wealthy traders, it is now roamed by the Big 5 animals. With this unpredictable wildlife roaming the park, unguided walking is not allowed at Mapungubwe. Instead, you'll have to arrange a guided walk or drive to visit the cultural attractions with a park ranger.
Where to Stay Near Mapungubwe National Park:
Musina is the closest town to Mapungubwe and is a great place to base yourself if you want to explore the national park. This private room at Maseri Cabins in Musina is equipped with everything you might need for a quick visit.
Final Thoughts
Despite its troubled political past, South Africa looks towards a prosperous future – and a massive part of that successful future is linked to the abundant natural resources, beautiful landscapes, and incredible wildlife that call the country home.
South Africa boasts some of the most exciting and diverse national parks on the continent, from desert landscapes to coastal forests to floral kingdoms.
Some of the national parks in South Africa are home to the Big 5 wild animals; some are linked to local tribes, some line the Atlantic Coastal region, and oTown'sengulf the city of Cape Town's mountain ranges.
While the Kruger National Park and Table Mountain National Park are undeniably the most visited parks in the country, I recommend adding the Garden Route and West Coast National Parks to your list. You can make an exciting road trip out of both of these parks from Cape Town.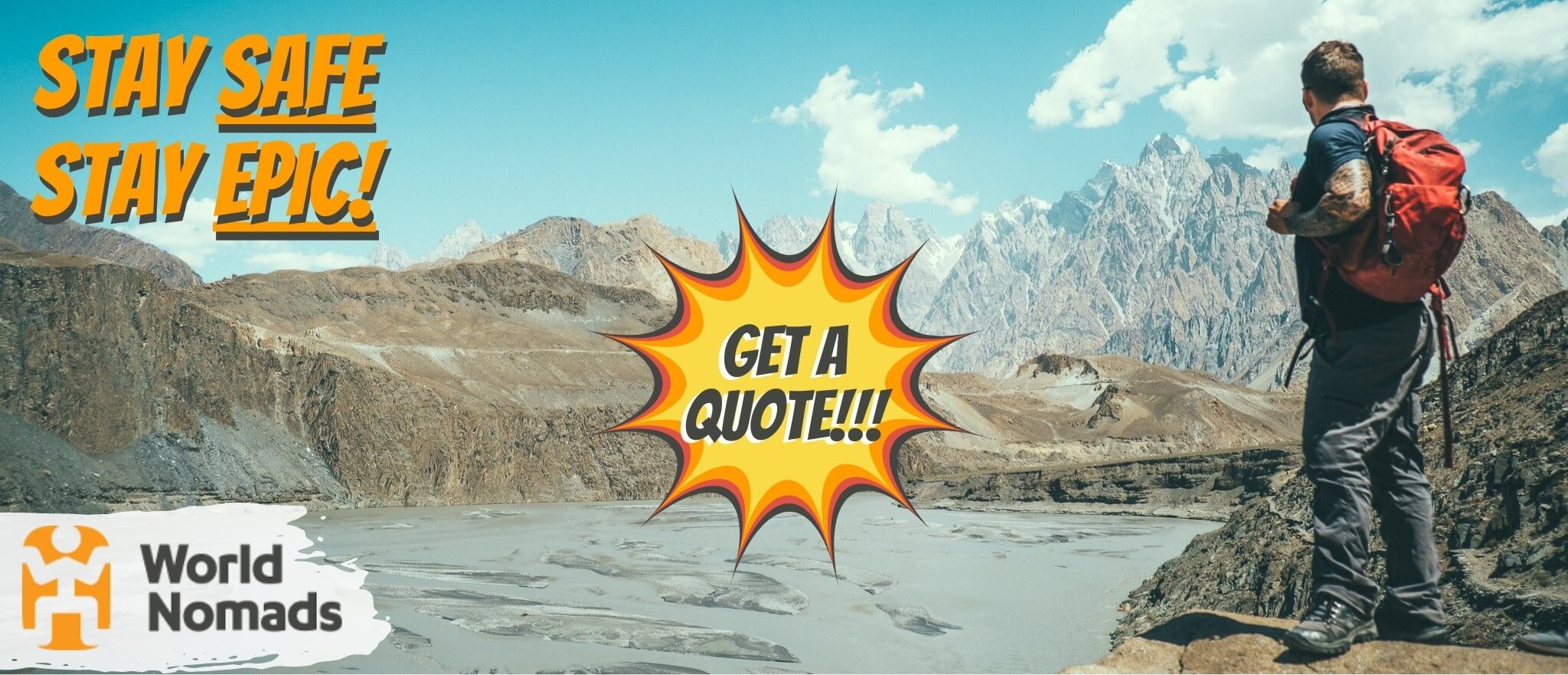 World Nomads' mission is to support and encourage travellers to explore their boundaries. They offer simple & flexible travel insurance, and safety advice to help you travel confidently.
They've been doing it since 2002 – protecting, connecting, and inspiring independent travellers just like you.
Get a quote below or read our in-depth review!
World Nomads provides travel insurance for travelers in over 100 countries. As an affiliate, we receive a fee when you get a quote from World Nomads using this link. We do not represent World Nomads. This is information only and not a recommendation to buy travel insurance.
---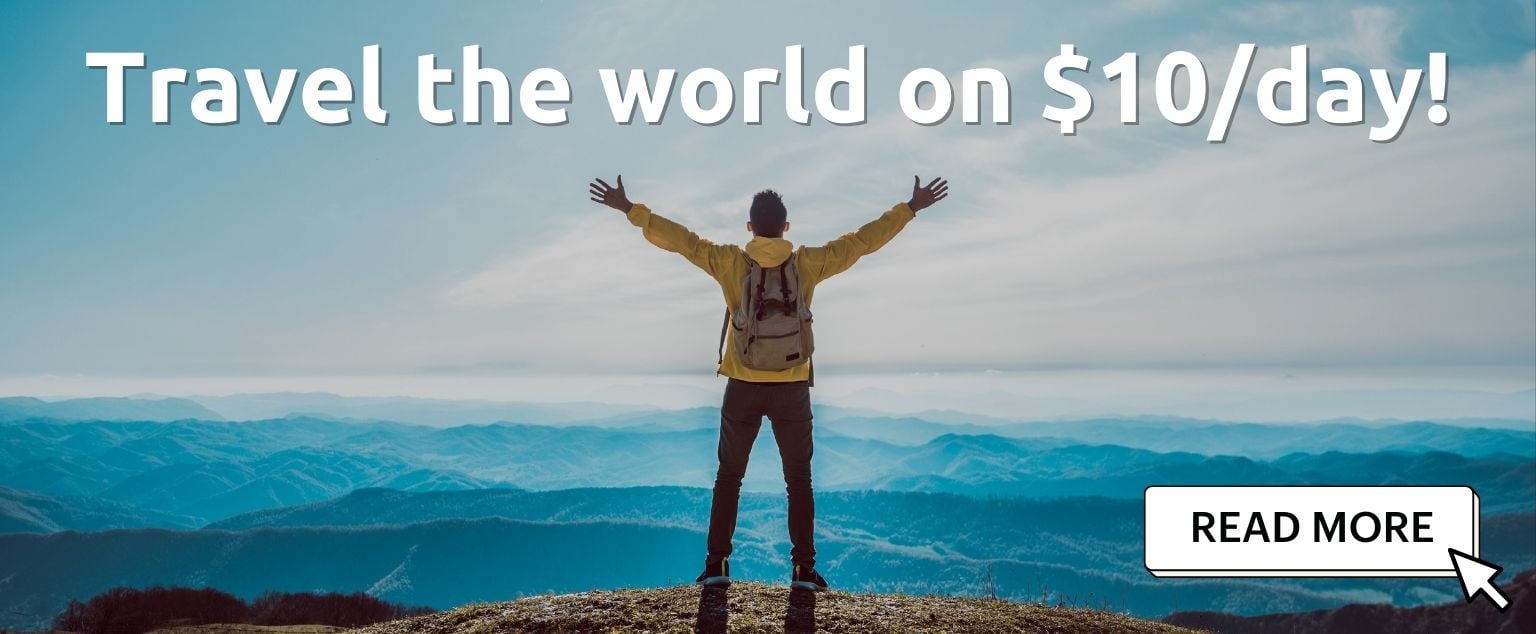 And for transparency's sake, please know that some of the links in our content are affiliate links. That means that if you book your accommodation, buy your gear, or sort your insurance through our link, we earn a small commission (at no extra cost to you). That said, we only link to the gear we trust and never recommend services we don't believe are up to scratch. Again, thank you!