Getting a bit bored of life? Wish you were staying somewhere warmer? Looking to enhance your work/life balance? Sometimes you just need to get away for a bit to clear your head, but sometimes you need to get away for even longer. Moving to another country is a big step but for many people, it's just what they need.
South Africa is an increasingly popular destination for both expats and digital nomads. It offers a laid-back pace of life, stunning weather and an eclectic array of cultural sights. You'll never be bored in South Africa.
As we've said, however, moving to a new country is no easy task. There are a lot of things to weigh up. In this post, we'll take a look at the cost of living in South Africa as well as some other important factors to consider.

Do You Want to Travel FOREVER??
Pop your email in below to get a FREE copy of 'How to Travel the World on $10 a Day!'.
Why Move to South Africa
South Africa is very popular with tourists thanks to its fascinating cultural attractions, mesmerizing scenery, and burgeoning nightlife scene. The country has a lot going for it in terms of tourism, but living there is a totally different story. So, why would anyone move to South Africa in the long term?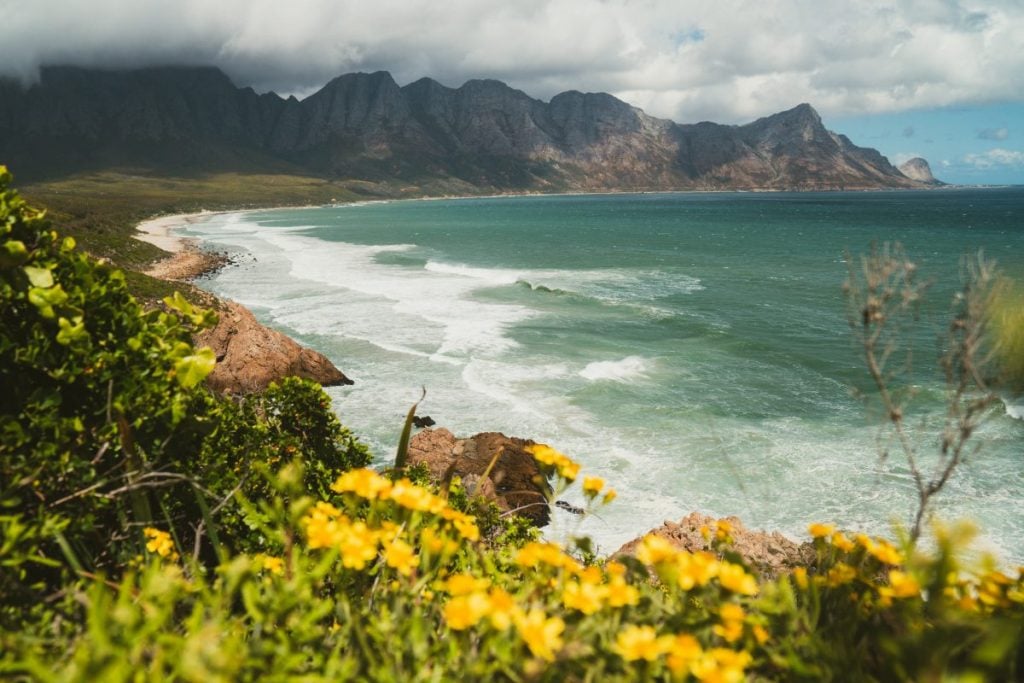 One of the biggest reasons people move to South Africa is the fantastic weather. Cape Town is known with locals as the worst place in the country weather-wise, yet it still enjoys mild temperatures and barely moderate levels of rainfall year round. The work/life balance is also a major pull factor.
That being said, incomes are low across the board in South Africa, even when it comes to high-skilled labor. You're likely already somewhat aware of the high crime statistics as well. It has plenty of pros, but also a fair few cons.
Cost of Living in South Africa Summary
The most important thing to figure out before moving to South Africa is how much it will cost you! Whether you're working as an employee or living as a digital nomad in South Africa, you'll need to keep a balanced budget. Thankfully, the cost of living in South Africa is somewhat affordable, especially when compared to other countries in the region.
Of course, the overall cost will depend on what kind of lifestyle you opt for. Living in a room in a shared apartment will obviously cost less than a luxury pad on the beach, but sometimes it's about finding a happy medium. There are also some other factors that will influence your choice like safety, location, and how long you plan on staying.
The table below sets out some of the most common expenses.
Cost of Living in South Africa

| Expense | $ Cost |
| --- | --- |
| Rent (Private Room vs Luxury Villa) | $400 – $2200+ |
| Electricity | $50 |
| Water | $25 |
| Mobile Phone | $15 |
| Gas (gallon) | $4.16 |
| Internet | $63 |
| Eating Out | $6 – $70 |
| Groceries | $60 |
| Housekeeper (Less than 10 hours) | $120+ |
| Car or Scooter Rental | $217 – $630 |
| Gym Membership | $36 |
| TOTAL | $992+ |
What does it cost to live in South Africa – The Nitty Gritty
The table above gives you a rough idea of all the costs associated with living in South Africa, but that's not the entire story! Let's take a closer look at just how big a budget you'll need to live in the country.
Rent in South Africa
Like pretty much everywhere else in the world, rent will likely be your biggest expense. There are a number of different living options available to you whether you want a room in an urban pad or a luxurious coastal villa. Prices can vary a little from city to city with Cape Town and the Southwest coast generally costing more than the interior and Northwest around Johannesburg.
When it comes to living in South Africa, the vast majority of expats actually go for the luxury options. This isn't just because it's cheaper than luxury accommodation elsewhere, but it's also the safest option. Luxury apartments and villa complexes are usually gated and come with security facilities. This gives many expats peace of mind.
That being said, the safety situation is improving and you can get some good deals by opting to share an apartment in the city centre. Young professionals and students are taking this option more and more as a way to save some money. If you're coming as a family though, you'll need to look at the more luxurious end.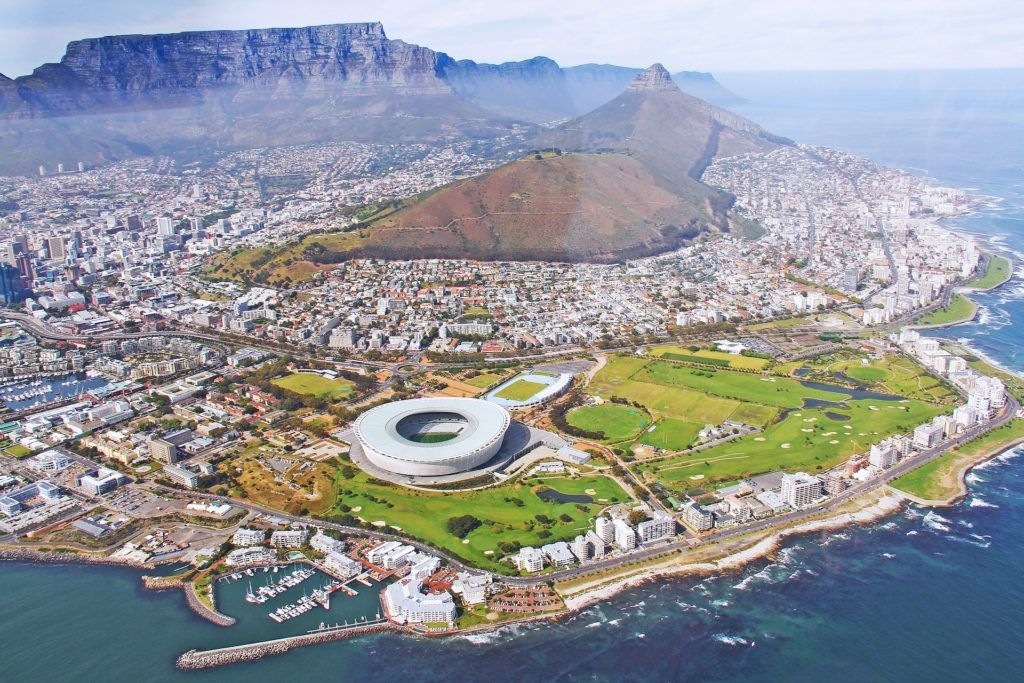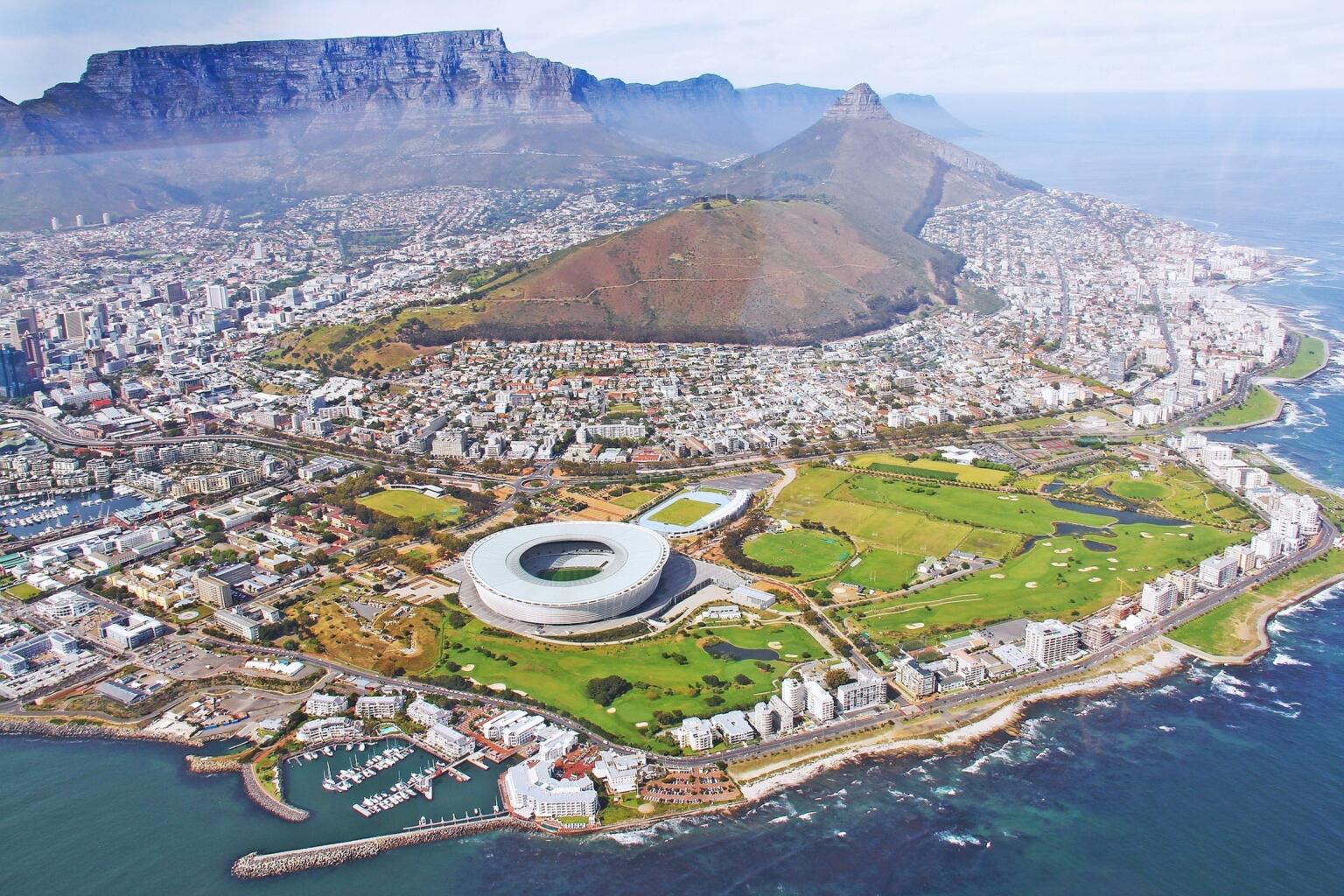 There are plenty of online resources to help you find an apartment. Gumtree (similar to Craigslist) operates a South African website, and this is your best chance to find roommates. Pam Golding is the largest real estate agency in the country and they offer both rentals and homes to buy. International listings website OLX also hosts South African properties. Facebook groups are available but these are a bit hit or miss and you'll need to exercise some caution.
Room in a flatshare in South Africa – $400-600
Private apartment in South Africa – $500-1000
Luxury villa in South Africa – $800-2200
Finding an apartment in South Africa can take some time, so we recommend renting out an Airbnb for your first month. This way you can relax and soak up the atmosphere without worrying about where to stay. You can also check the reviews beforehand to make sure it's in a safe neighborhood and comes with all the facilities you need.
South Africa doesn't charge a form of property tax to the resident – rather, the landlord has to pay tax on their rental income. This might make its way into your rental rate. For higher-end properties, it's common for utilities (including broadband) to be included, but always double-check this before signing a lease.
Need a Crash Pad in South Africa?
Need a Crash Pad in South Africa?
Home Short Term Rental in South Africa
This excellent apartment in Cape Town sits right on the waterfront. The stunning views and modern amenities make this the ideal place to stay while you gather your bearings in South Africa. It's stylishly decorated with everything you'll need for a temporary base.
Transport in South Africa
South Africa does have a public transport system but it's notoriously unreliable and unsafe. There are a number of buses operating within the cities as well as a minibus taxi service in the most populous areas. The country is investing a lot in public transport and this looks set to improve in the future – but for now, you'll probably have to drive.
Driving is pretty cheap in South Africa. We recommend buying a car when you arrive as rental fees are unreasonably high for long-term stays. The roads between the towns and cities are relatively safe throughout the day, but be careful of certain areas at night. This is especially true within the cities themselves, so try to avoid driving around after the sun sets.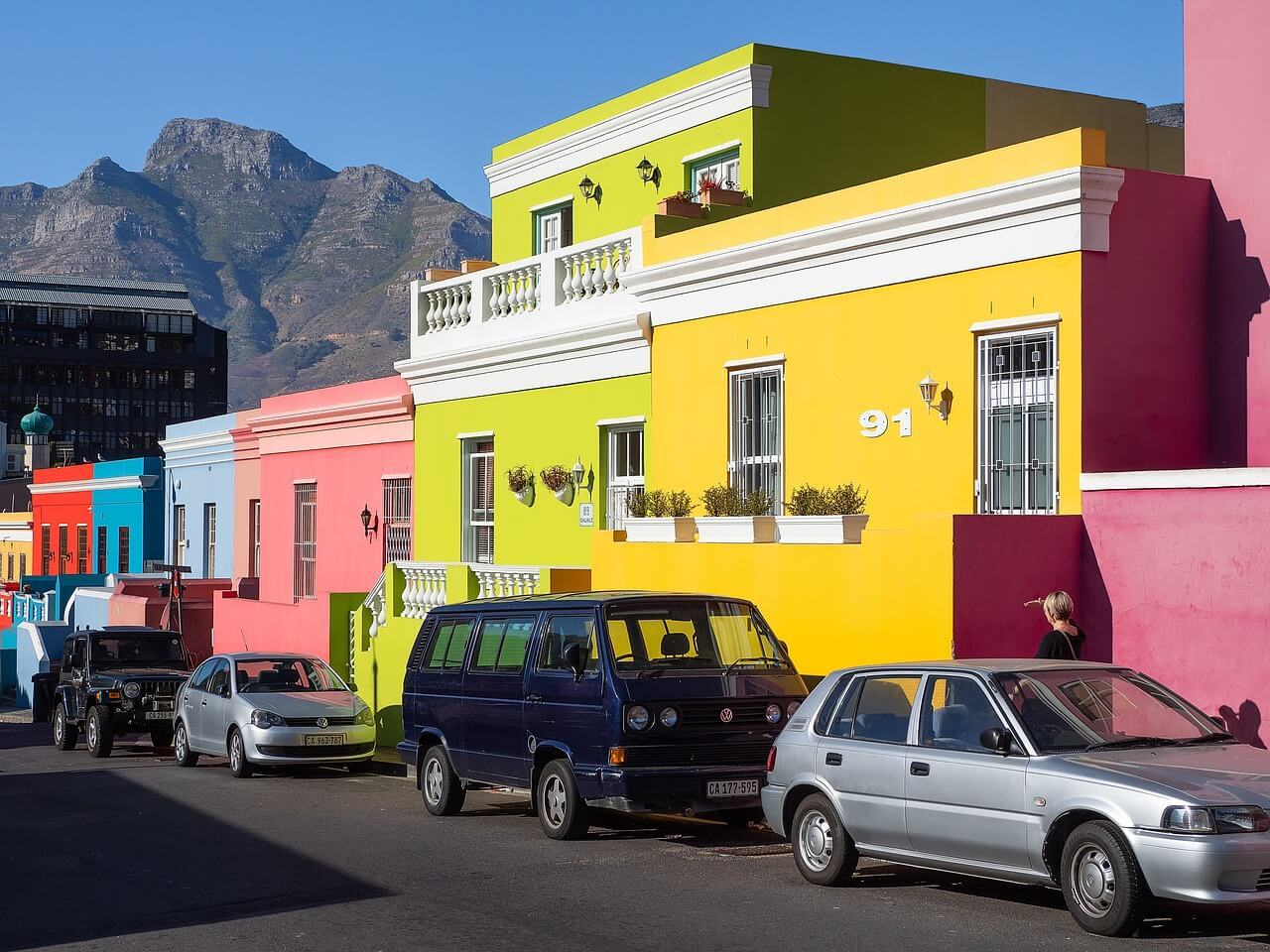 What if you can't drive? Taxis are super popular across the country, especially in Cape Town. They are inexpensive and there are always plenty of them around the place. Make sure your taxi is registered, but kidnappings are extremely rare. Chances are the taxi driver knows the city better than you and can make sure you avoid more dangerous neighborhoods.
Taxi ride (airport to city) – $15
Scooter hire (one month) – $200-350
Car (second hand, purchase) – $1500
Food in South Africa
Food in South Africa is an eclectic melting pot of the many different cultures that live within the nation. Indigenous African cuisine makes heavy use of local ingredients and spices whilst Afrikaaner food draws upon the meaty cuisines of the Netherlands and UK. South Africa also has a sizable South Asian population especially in Durban, which is home to Bunny Chow (a hollowed-out loaf of bread filled with curry).
South Africa has plenty of restaurants for you to try out, and with all the different food on offer, you'll want to set aside a decent budget for dining out. That being said, it's always cheaper to eat in whenever you can. We suggest balancing your budget so you can eat out at least two or three times a week with the rest of your meals prepared at home to save money.
The biggest supermarket chains are Shoprite, Checkers, and Woolworths whilst Pick n Pay is great for budget shoppers. Spar and 7-Eleven both operate in the country offering affordable convenience stores. There are also some great markets in the larger cities.
Milk (gallon) – $3.91
Bread (loaf) – $0.91
Eggs (dozen) – $2.25
Onions (1lb) – $0.73
Tomatoes (1lb) – $0.60
Cheese (1lb) – $3.69
Bunny Chow (restaurant) – $6
Biltong (snack pack, supermarket) – $1.50
Drinking in South Africa
Tap water is safe to drink in South Africa's urban areas, but it isn't always safe in rural places. Check with the local water boards before you set out of the cities. Water is metered and you'll be charged based on your usage every month or so. Bottled water is still fairly common with locals, and this comes in at around $0.80 in a restaurant or $1.03 for 1.5l in the supermarket.
South Africa might not be considered a nightlife hotspot, but that doesn't mean there isn't plenty to do in the evenings. Cape Town has a more reserved nightlife scene along the coast and is a major jazz hub, whilst Joburg has more typical nightlife with dance music and lively parties. Booze is reasonably priced coming in at $2.50 for beer or around $3 for spirit with mixer.
It's also worth keeping in mind that just like Australia and New Zealand, South Africa has a massive coffee culture. You'll need to set aside about $2 per day for your morning caffeine fix – this is among some of the best in the world.
Why Should You Travel to South Africa with a Water Bottle?
Whilst there's a lot that we can do when it comes to traveling responsibly, reducing your plastic consumption is one of the easiest and most impactful things you can do. Don't buy one-use water bottles, don't take plastic shopping bags, and forget straws. All of this just ends up in landfill or in the ocean.
Keeping Busy and Active in South Africa
South Africa is a super active country, so keeping fit won't exactly be hard. From hikes to ocean swims, you'll never be short of new and exciting ways to keep the blood pumping. It's a major surfing destination and offers some great cycling opportunities in many of the coastal cities.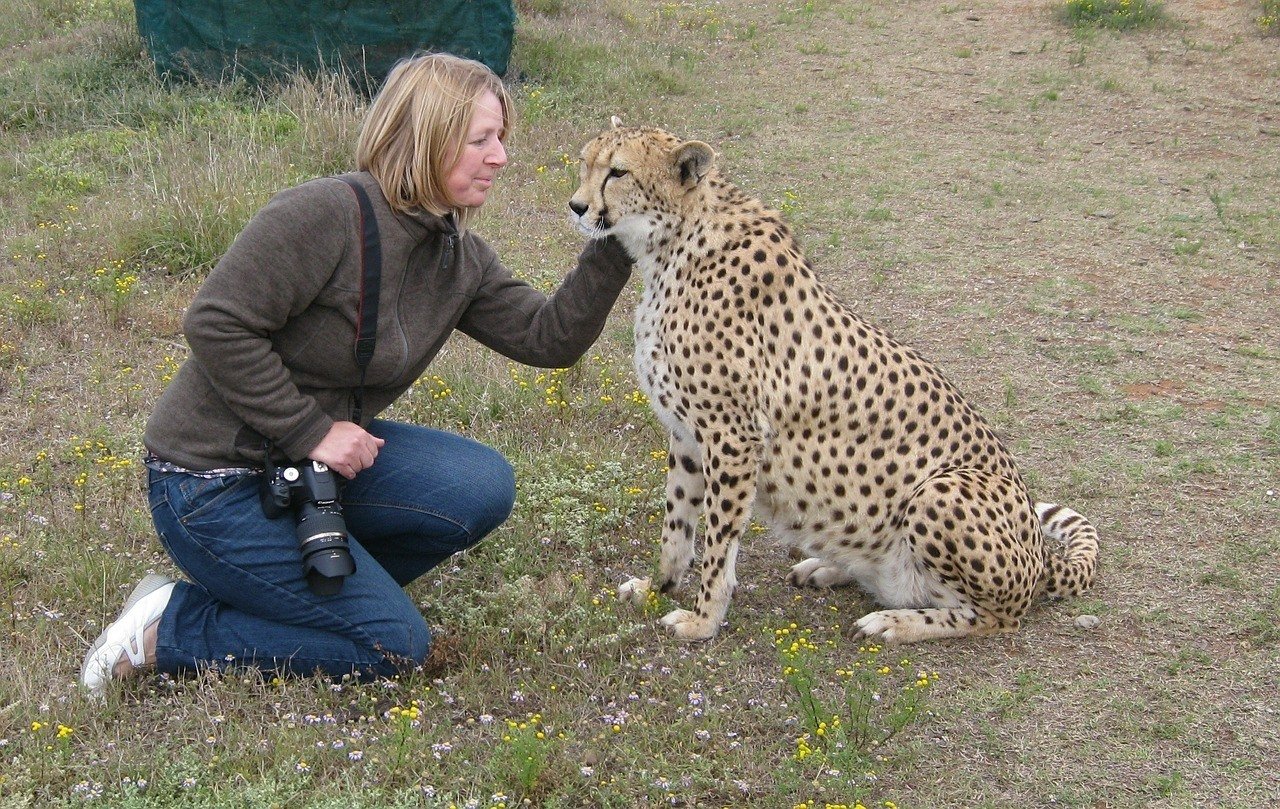 In terms of things to keep you entertained you also won't be short of inspiration. South Africa has everything from animal safaris in the interior to 'swimming' with sharks in Cape Town. The country is known for its outstanding scenery as well as the beautifully arranged gardens along the southern coast. There really is a little something for everyone.
Sports group – $12
Gym membership – $36
Bike hire (one day, Cape Town) – $30
Surf hire – $25
Shark cage diving – $110
Hiking Table Mountain – Free!
School in South Africa
South Africa has a compulsory education system but it's regarded very highly. Currently, the country sits second-last in an OECD ranking of 75 countries. The schooling system still suffers from its dark past during the apartheid era and is taking quite a while to catch up as many teachers were trained prior to the end of segregation. This has resulted in low literacy and numeracy rates.
With this in mind, the vast majority of expat families choose to enroll their kids in private schools. Some of these schools run during the August-June academic year that Northern Hemisphere families will be used to (whilst local schools follow the calendar year). They're not cheap, but international schools here are cheaper than other parts of the world – coming in anywhere from $7-15k. Kids are taught in English but also have the opportunity to learn local and international languages.
Is This the Best Travel Pack EVER???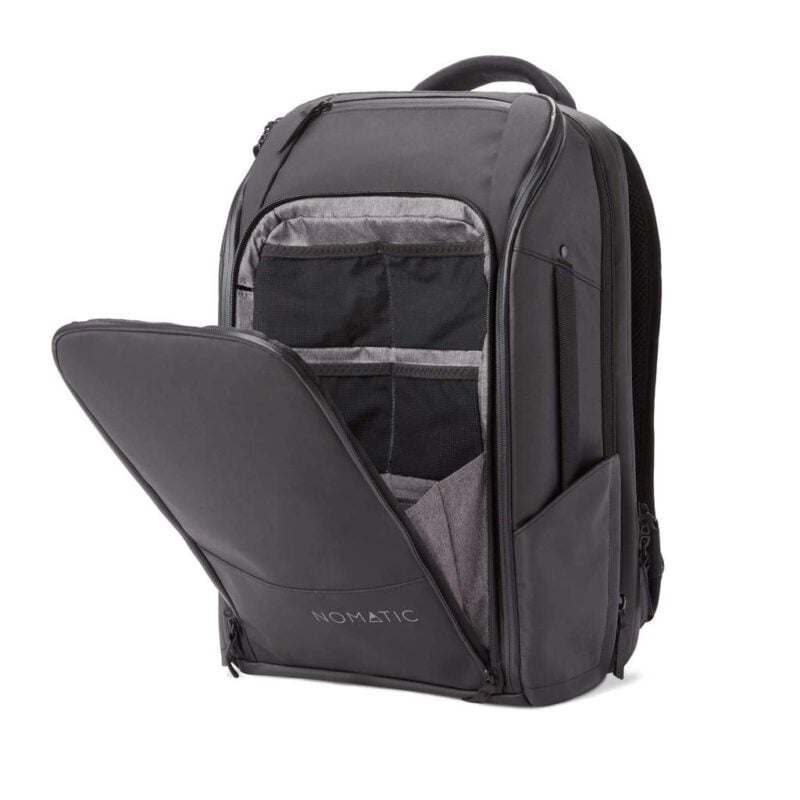 Medical Costs in South Africa
South Africa doesn't currently have a universal healthcare system but that is set to change over the next few years. At the moment, the country runs two healthcare systems – a state-run system for low-income earners, and a private (but expensive) system for middle to high-income earners. The vast majority of expats fall into the latter category. Unfortunately, the South African healthcare system overall is currently ranked 160th in the world.
For this reason, many expats opt for hospitals run by international private healthcare providers. The private hospitals in Johannesburg offer the best healthcare in Subsaharan Africa. Some employers offer private healthcare insurance but this isn't as common as it is in the United States. Generally speaking, you'll have to buy it yourself.
Want to make sure you're insured from the day you arrive? SafetyWing offers a monthly healthcare plan which covers digital nomads, expats, and long-term travelers. We have been using it ourselves for a while now and find them to provide great value.
Visas in South Africa
South Africa currently has three types of work visas – the General Work Visa, an Intra-Company Transfer Visa, and a Critical Skills Work Visa. For the General Work Visa, you need to meet a few requirements. You must already have a job offer with a South African business, you need to have your foreign qualifications approved by the local education board and the business you're working for will need to prove they couldn't hire a South African citizen.
The Critical Skills Work Visa is both more restrictive and more open-ended. You need to prove you have qualifications and experience in a career that is within South Africa's Critical Skills list. The big difference with this visa is that you don't already need to have a job offer. You will have the full length of your visa (up to five years) to find a career in a Critical Skills area.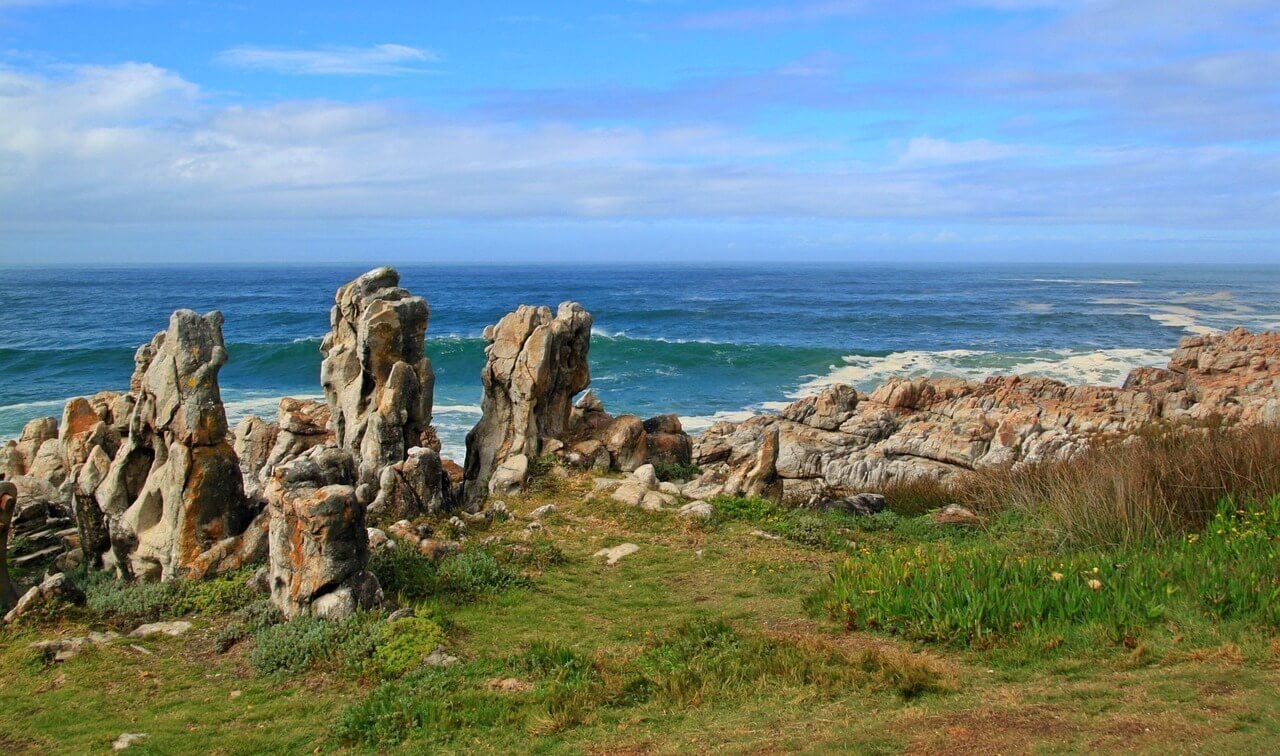 The Intra-Company Transfer Visa is one of the most common options for western expats. Like the other two work visas it runs for up to five years. This visa is for companies that are based abroad that want to move members of their staff from a foreign branch to a South African branch. If your company has any vacancies in South Africa you can fill them using this visa.
Whether or not you need a visa to visit South Africa for tourism purposes depends on your home country. There are currently a handful of countries that can enter South Africa for 90 days without a visa. Those who do need to apply for a visa can also stay in the country for up to 90 days. In some cases, you will also need a visa to transit through a South African airport, but this does allow you to leave the airport for the specified amount of time.
Banking in South Africa
Opening a bank account in South Africa is super easy – you just need a proof of address, proof of ID and your visa. There are two types of bank accounts available to expats – resident and non-resident accounts. You can open the latter if you're a tourist, whilst the resident account will require a work or study visa at the very least.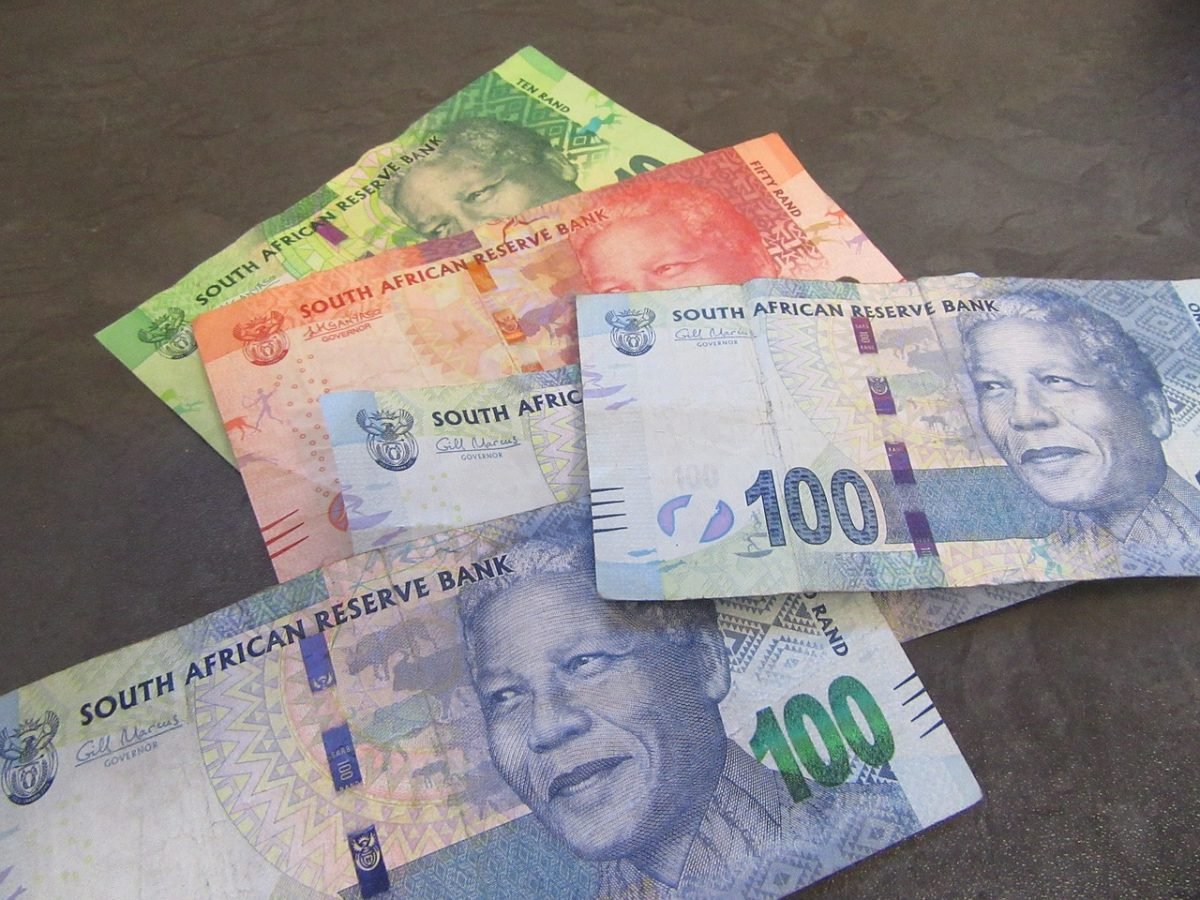 The most popular banks in South Africa are Standard Bank, First National Bank, Absa, and Nedbank. They offer all the usual services you would expect in major banks back home including online banking. Despite this, cash is still king across South Africa, so make sure you have a good supply of paper money (though not enough to be valuable to a mugger) whenever you're out and about.
So how do you get your money from your home account to your South African account? Payoneer is a popular transfer service for expats and digital nomads because it is cheap and easy to set up. You can also opt for a pre-loaded debit card which gives you access to money before you open your account.
Taxes in South Africa
South Africa has a somewhat simple income tax system. There is no tax-free allowance, so you're liable for every penny you earn. The lowest rate of tax is 18% on all income up to ~$15k, and this reaches as high as 45% on any income earned over ~$114k. Old Mutual, Sage, and South African Tax Guide have good calculators to help you work out how much you will owe.
Employers operate on a PAYE (pay as you earn) system so most of your taxes will be taken out of your paycheck every month. Nevertheless, you will still have to fill out a tax return every year. The tax year runs from March to February, with returns sent out at some point between July and November depending on your status. If possible, we recommend hiring a local tax expert to help you make sense of the return.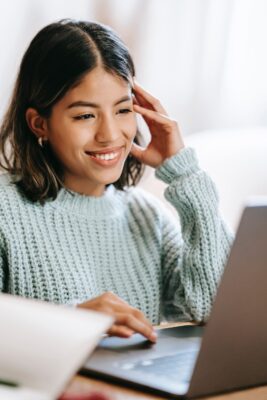 Earn $$$ ONLINE Whilst Travelling the World!
Keen to live the digital nomad dream while travelling the world? Who the hell isn't?
Teaching English online is a surefire method to earn a consistent income on the road. Work from anywhere, change some lives, and earn some dollaridoos while you do it!
Check out this detailed article for everything you need to know to start teaching English online.
It's a sad inevitability that you'll have expenses you didn't even think about when you move to another country. On top of the budget laid out above we recommend setting aside some extra money in case anything else crops up. Think of it like a rainy day fund back home, if your phone or computer needed replacing would you be able to?
The lack of effective public services in South Africa has already been described above but we really must emphasise this point. So many people move without thinking about just how expensive this can get. Regular health insurance premiums, taxi fares and water charges can really start to add up. Make sure you've honestly considered your needs in these areas.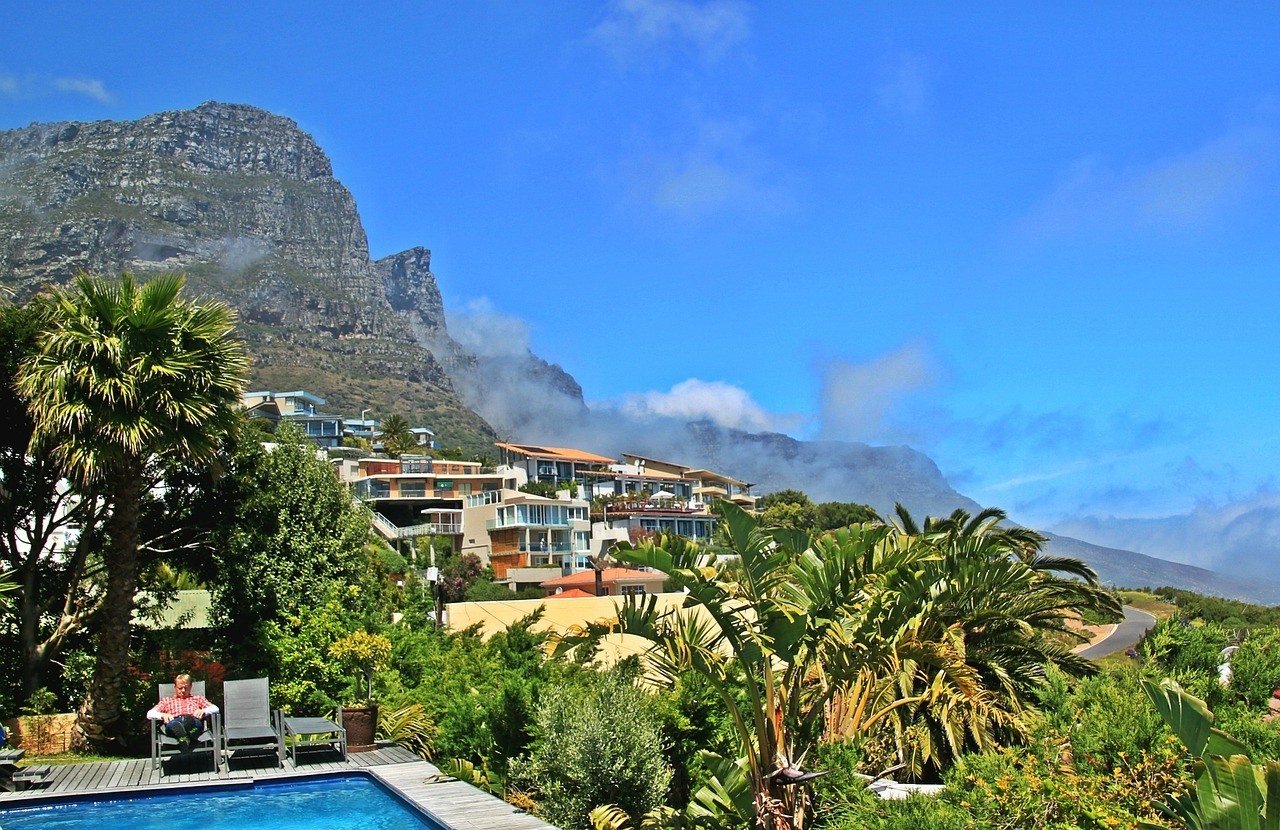 There are also a few costs that everyone needs to consider no matter where you go. You need to consider how much it costs to get home in an emergency. South Africa is a major flight hub on the continent, but prices can certainly add up if you're going any further than Western Europe or Australia. Set aside enough money to cover a couple of flights home.
Postage costs are also pretty extortionate for sending abroad. Many expats prefer to go with an international courier as these are much more reliable than local service. Unfortunately, this reliability is reflected in the price. Try to think about how often you might need to send (or receive) mail from home.
Insurance for Living in South Africa
It's pretty widely known that South Africa has a high crime rate so you'll need to get some decent insurance. SafetyWing provides health insurance for digital nomads and expats across the world including South Africa. You'll need a little more than this, however. Try to get an enhanced travel insurance cover for your first few weeks.
Of course, if you're moving there permanently, you won't be covered by travel insurance anymore. At a minimum, we recommend getting your house, its contents, and your vehicle insured. You can also opt for expat life insurance packages that can cover repatriation in the worst-case scenario. You'll probably be fine, but it's better to be safe than sorry!
Month to month payments, no lock-in contracts, and no itineraries required: that's the exact kind of insurance digital nomads and long-term traveller types need. Cover yo' pretty little self while you live the DREAM!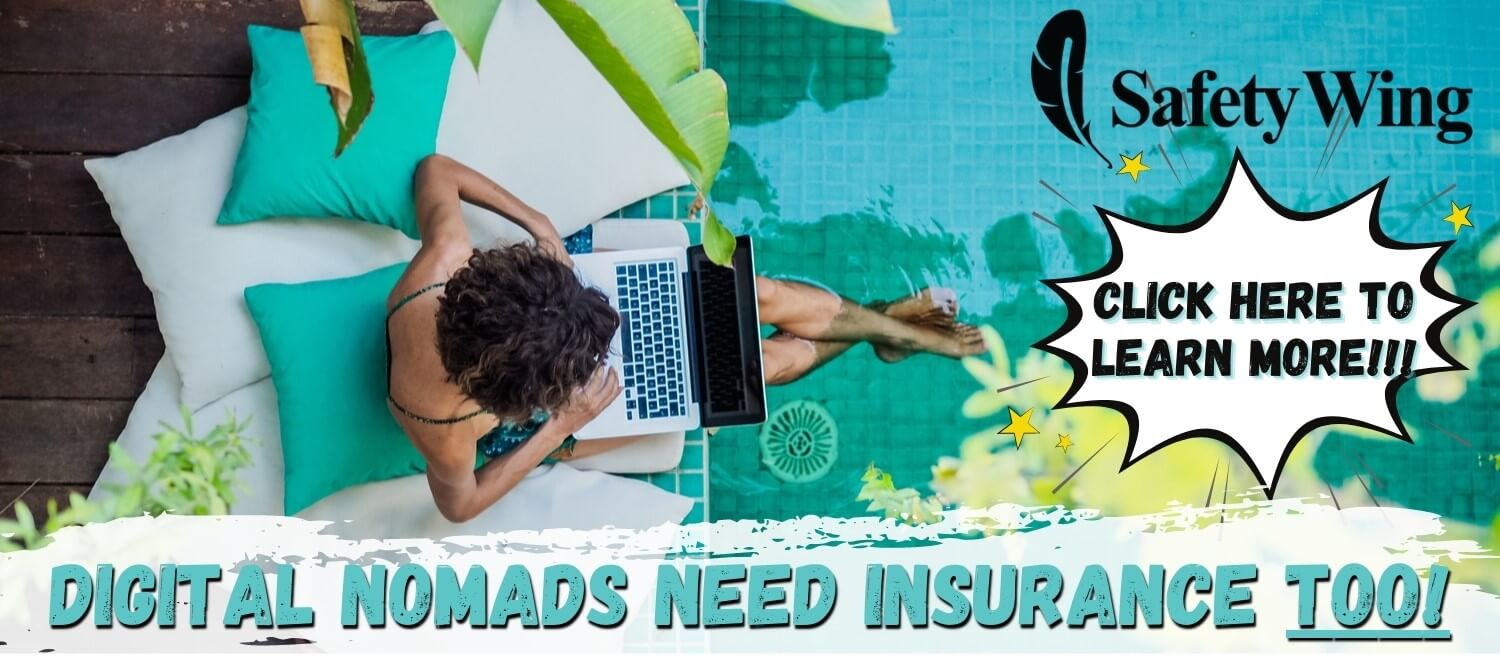 SafetyWing is cheap, easy, and admin-free: just sign up lickety-split so you can get back to work! Click the button below to learn more about SafetyWing's setup or read our insider review for the full tasty scoop.
Moving to South Africa – What You Need to Know
Now that we've got costs out of the way, let's look at some of the other aspects of life in South Africa. The Rainbow Nation has so much to offer once you scratch beneath the surface with experiences that money simply cannot buy.
Finding a job in South Africa
The unemployment rate in South Africa is high, so your chance of finding work in low to medium-skilled industries is slim. There is a huge reserve of workers ready to get into these industries. Unless you have a job already lined up, you'll be far more likely to get work in one of the Critical Skills areas.
The government currently lists 11 Critical Skills areas on their immigration website. These are in areas like architecture and engineering; health and science; and business professionals. If you already have relevant qualifications and experience in one of the 11 areas you can get a visa before you arrive and start your job hunt in South Africa. Otherwise, not all hope is lost, but you'll still need a job (or place on a postgraduate course) before you apply for a visa.
There are five job websites used in South Africa – Pnet, CareerJet, Careers24, CareerJunction and Gumtree. The latter is more common for low to medium-skilled labour jobs that are targeted towards the local population but the first four are fantastic for finding work in Critical Skills Areas.
Where to live in South Africa
South Africa is a multicultural country that has so much to offer within its borders. From the surfer's paradise of the Southwest coast to the adventurous interior you're guaranteed to broaden your horizons in the country. Each city offers something a little bit different with Cape Town, Durban and Johannesburg representing the different cultures located within the country.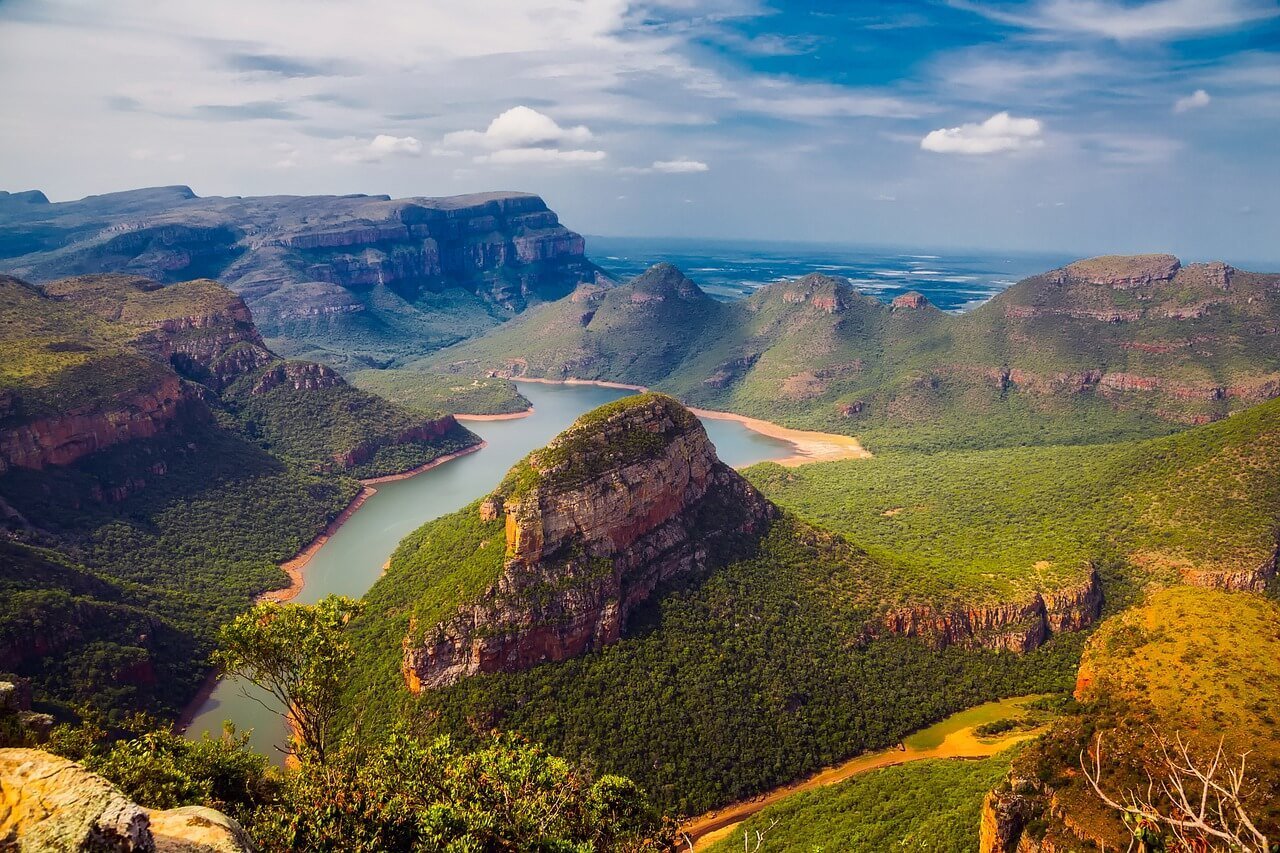 You don't have to visit before you decide on a place, but we absolutely recommend taking a trip around South Africa when you first arrive. Wherever you end up will largely be dictated by your work but it's still a good idea to set aside a couple of weeks before you start to really get to know your new home country. Here are the four most popular destinations for expats in South Africa.
Cape Town
Cape Town is the second-largest city in South Africa and one of the country's capitals (they have three – this is where the legislature is based). Chances are when you think of South Africa many of the images that come up are of Cape Town. It's full of things to do; the iconic table mountain looms over the city and is a popular hiking destination. Some of the best surfing spots in the country are close to Cape Town, as well as the best shark cage diving excursions. The country's wine industry is also just a stone's throw away.
Surfing, Wine, & Awesomeness
Surfing, Wine, & Awesomeness
Cape Town
Arguably one of the coolest places to be in South Africa, Cape Town is a vibrant and bustling city. It's one of the best places to strike a good work/life balance, with epic scenery providing plenty of opportunities to explore on days off.
Durban
Durban is a major hub for the nation's South Asian population and you can find many relics of Indian culture to this day. Some people say it is the most populous Indian city outside of India itself. The famous bunny chow – curry in a bread bowl – comes from the city, as well as a number of local delicacies influenced by the multicultural population. Foodie highlights aside, the city also comes with plenty of festivals throughout the year.
Culture, Food & Festivals
Culture, Food & Festivals
Durban
Durban is known as South Africa's playground and presents an eclectic mix of cultures. The city is often overlooked in favour of Joburg or Cape Town, despite offering superb beaches and places to eat. It's also a very family-friendly area of SA.
Johannesburg
'Joburg' with locals, Johannesburg is the largest city in South Africa. It's the best reflection of the nation's multicultural nature as it's the only city where no language group dominates. As the largest city, it is the main hub of nightlife in the country, and it also enjoys some of the best weather. Soweto accounts for half of the urban population and is a must-visit, though we recommend visiting with a tour guide. It was a key neighborhood in the resistance against the former Apartheid regime.
History and Nightlife
History and Nightlife
Johannesburg
This giant city is constantly bustling no matter what time of the day or night. It's a melting pot of different cultures and provides plenty of opportunities to discover South Africa's turbulent past. On top of that, you'll find some of the country's best nightlife here.
The Garden Route
South Africa's Garden Route is an area of astonishing beauty located along the southern coast of the nation. It gets its name from the luscious forests located right along the coast – as well as the stunning views on offer from the cliffside locations. Knysna is the most popular destination with epic hikes and peaceful beaches. George is the largest city on the Garden Route, offering fascinating cultural highlights.
Best Area for Natural Beauty
Best Area for Natural Beauty
The Garden Route
The Garden Route is undoubtedly the best place to go if you're looking to make the most of South Africa's beautiful scenery. Spend days off exploring parts of the 300km route and discover the area's best white sand beaches.
South Africa Culture
South Africa has come on leaps and bounds over the last few decades but it's still very much a divided society. This can make it a little bit harder for outsiders to socialise with locals. Wealthier residents (usually expats, Afrikaaners and English speakers) keep to gated neighbourhoods and pristine streets, whilst poorer residents (disproportionately consisting of African residents) are located in separate neighbourhoods.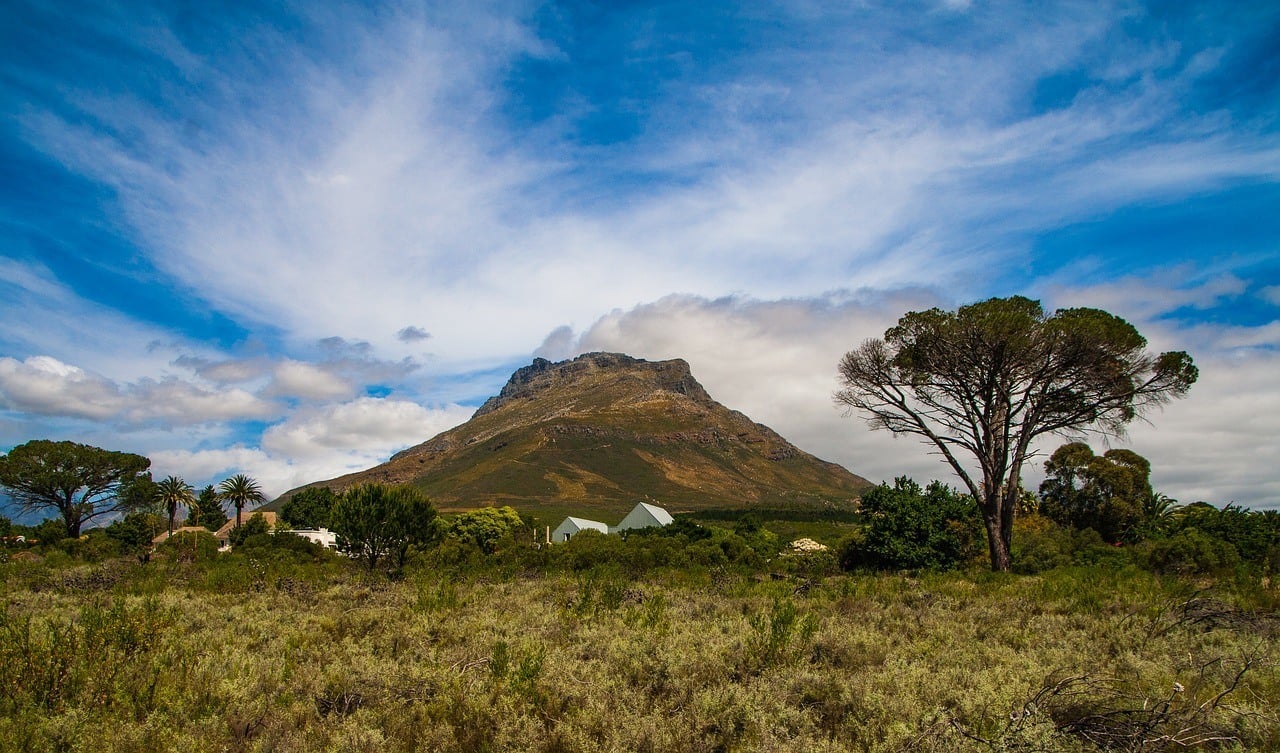 If you're able to scratch beneath the surface you'll discover a nation that's working hard to overcome its dark history. South Africa is constantly changing for the better, and it's a really exciting place to be once you really get to know it. You might spend most of your time with expats, but it's getting more and more likely that will change.
Pros and Cons of Moving to South Africa
South Africa is a gorgeous country with fascinating cultural attractions and eclectic cuisine, but it certainly isn't perfect. Like everything else in life moving to South Africa comes with its pros and cons. You need to balance these out and figure out what is more important to you before diving right in. Here are some of the most important factors to consider.
Pros
Excellent weather – The weather across the country is fantastic. Even during the winter months Cape Town (which famously has the worst weather in the country) rarely drops below 20C (68F) and only experiences rain about ten days per month. This means year-round beaches and festivals. This is one of the biggest draws for expats.
Great work/life balance – Another big pull for expats is the incredible work/life balance on offer. Yes, the slow pace of life can get a little frustrating when you need something done, but as far as we're concerned it is totally worth it when it means you get to kick back and relax at the end of the workday. This is not the place to stress about your next meeting.
Vibrant cultural attractions – South Africa's multicultural demographics are the result of a turbulent past, but that has started to give way to an open and accepting society. You'll find there are plenty of interesting festivals and events throughout the year as well as timeless attractions that draw in visitors year in year out.
Major travel hub– Many people don't realize it but both Johannesburg and Cape Town are major travel hubs. They both have regular connections to the UK, Australia, India, and the United States. Johannesburg in particular is a major gateway into Africa with connections to almost every capital on the continent. This leaves you plenty of scope for exploring further afield whilst using South Africa as a base.
Cons
High crime rate – There's really no avoiding it – most people are aware that South Africa has a high crime rate. Whilst this is usually restricted to certain neighbourhoods you'll need to have a certain level of street smarts and local knowledge to keep yourself out of trouble. For visitors, this isn't too big a deal, but it can become overwhelming if you need it on a daily basis.
Divided society – South Africa has come a long way since the days of Apartheid but the scars of segregation still loom over parts of the country. For ex-pats this means you'll be spending most of your time with other expats, Afrikaaners and English speakers whilst being unable to see what life is like for the majority of South Africans.
Low income and poor working rights – South Africa is pretty affordable if you're earning an income from abroad, but salaries within the country are quite low. This makes it comparatively expensive compared to most of Europe and the United States. There's also not much legislation governing things like breaks and vacation days, so you'll need to negotiate these into your contract.
Low quality public services – A lot of work has been done to improve the state of public services in South Africa but they're still well below the world average. Healthcare and education sit near the bottom of the table, whilst public transport infrastructure is unsafe and unreliable. The tax rate is somewhat high so it can be frustrating when you're unable to see what exactly that money is spent on.
Living as a Digital Nomad in South Africa
South Africa is one of the most accessible countries on the continent making it a popular stopover point for digital nomads. Whilst definitely not inexpensive, it's cheaper than many European and North American destinations. It's also a popular stopover on the way from Australia where it is comparatively very affordable.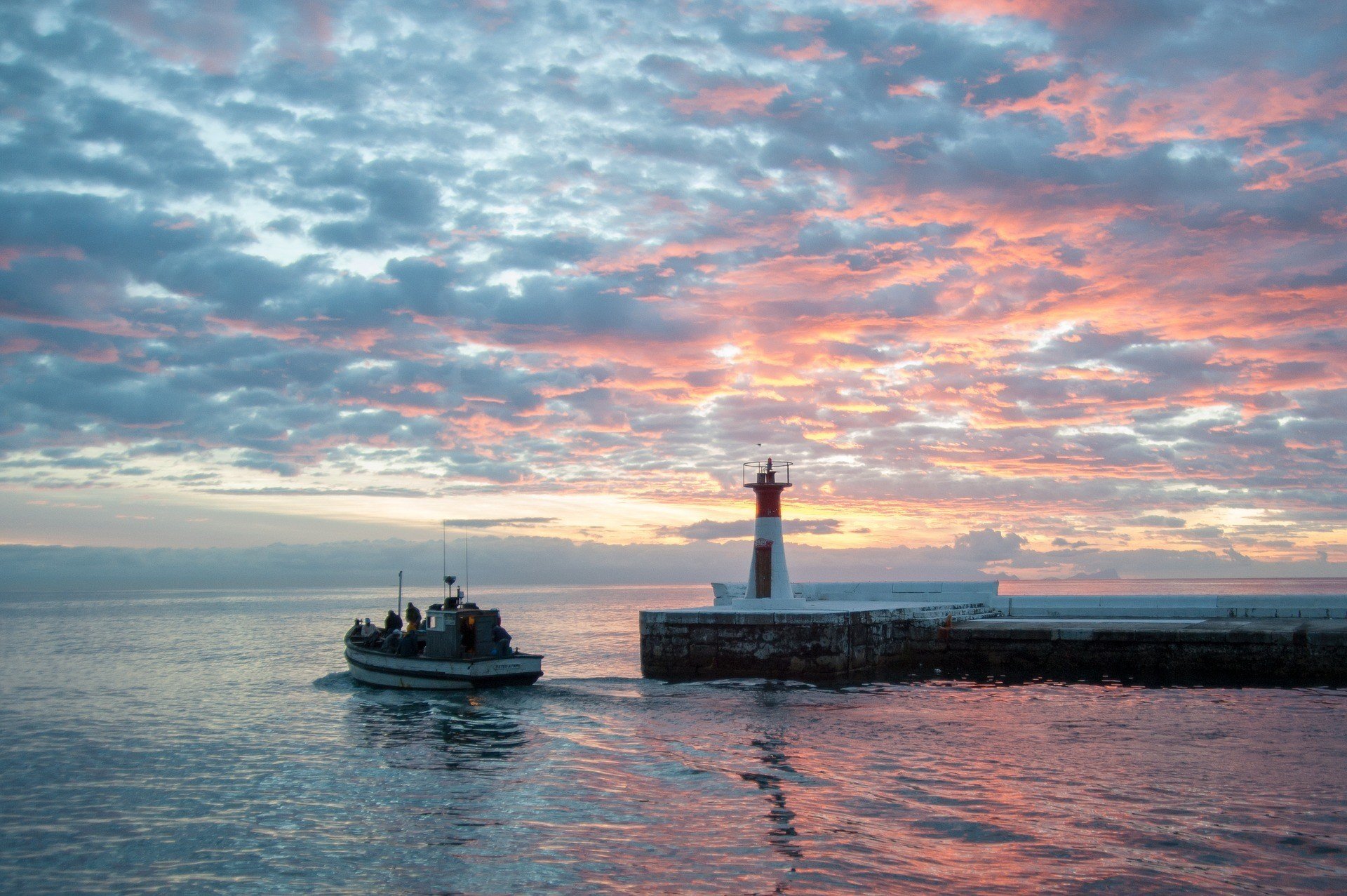 As part of rebuilding efforts, South Africa has put a lot of money into digital infrastructure. This has put it ahead of its African neighbors and made it a very friendly destination for remote workers. The coffee culture also helps digital nomads socialize with like-minded people and enjoy a chilled-out place to work. It's definitely not the hottest destination for digital nomads, but it probably will be soon enough. We recommend getting in early.
Internet in South Africa
As we've just mentioned, South Africa has plowed a lot of money into improving the nation's digital infrastructure. As of 2016, 54% of South Africans had access to the internet (although this is likely much higher now). This makes it the leading nation in Subsaharan Africa for internet connectivity. It also looks like things are only getting better with fibre optic connections making up the vast majority of the network.
Like most places in the world, you'll find internet connection is much better in the urban centres. Cape Town in particular has spent a lot of time making itself a popular destination for online workers from the rest of South Africa. Every café has access to high-speed internet in the city centre and there are plans to have every household connected within a couple of years.
The Future of the SIM Card is HERE!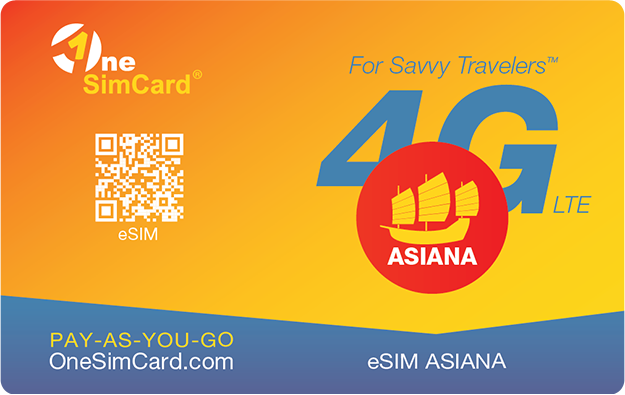 A new country, a new contract, a new piece of plastic – booooring. Instead, buy an eSIM!
An eSIM works just like an app: you buy it, you download it, and BOOM! You're connected. It's just that easy.
Is your phone eSIM ready? Read about how e-Sims work or click below to see one of the top eSIM providers on the market and ditch the plastic.
Buy an eSIM!
Digital Nomad Visas in South Africa
South Africa doesn't currently have a digital nomad visa so you'll have to consider one of the other work visas in order to move to the country. If you already work with a company that has a South African branch you can ask them to apply for an Intra-Company Transfer Visa. It's certainly a creative solution but not impossible.
Thankfully things are set to become easier in future. Cape Town is now looking at ways to bring in digital nomads from across the world, and that includes working with the national government to develop a special visa scheme for remote workers. Plans were put on ice in 2020 due to the pandemic, but the city is seriously considering visas as an option to boost their tourism industry from late 2021 onwards. Keep an eye on travel news for updates.
That being said, Cape Town has already been named one of the best destinations in the world for remote workers by Big 7 Travel. So what do current digital nomads do? You can technically work on a tourist visa as long as you're working for a foreign company and your money is paid into a foreign bank account. It's a bit of a legal grey area so it might be worth waiting for the digital nomad visa to launch if you want to keep everything above board.
Co-working Spaces in South Africa
Cape Town is the national capital of coworking and you'll find plenty of coworking spaces in the city. These tend to be packed in the City Centre and close to the Victoria & Alfred Waterfront. Regus, Work & Co, and Cape Town Office are among the most popular in the city – though the latter is much more work than community focussed.
Cape Town Office aside, the vast majority of coworking spaces in Cape Town offer a sociable ambiance where you can meet other digital nomads and share ideas. They're also known to host regular events where you can unwind and make friends for life. This is super important in a city where many people struggle to meet others.
Living in South Africa – FAQ
Final Thoughts on South Africa Living Costs
So should you move to South Africa? It really depends. If you're a digital nomad or are able to get your work to transfer you we say you should absolutely go for it. Otherwise, finding work can be a little difficult. It really depends on your personal situation and (most importantly) what you want to get out of your new home. We hope this guide has helped you make up your mind.
---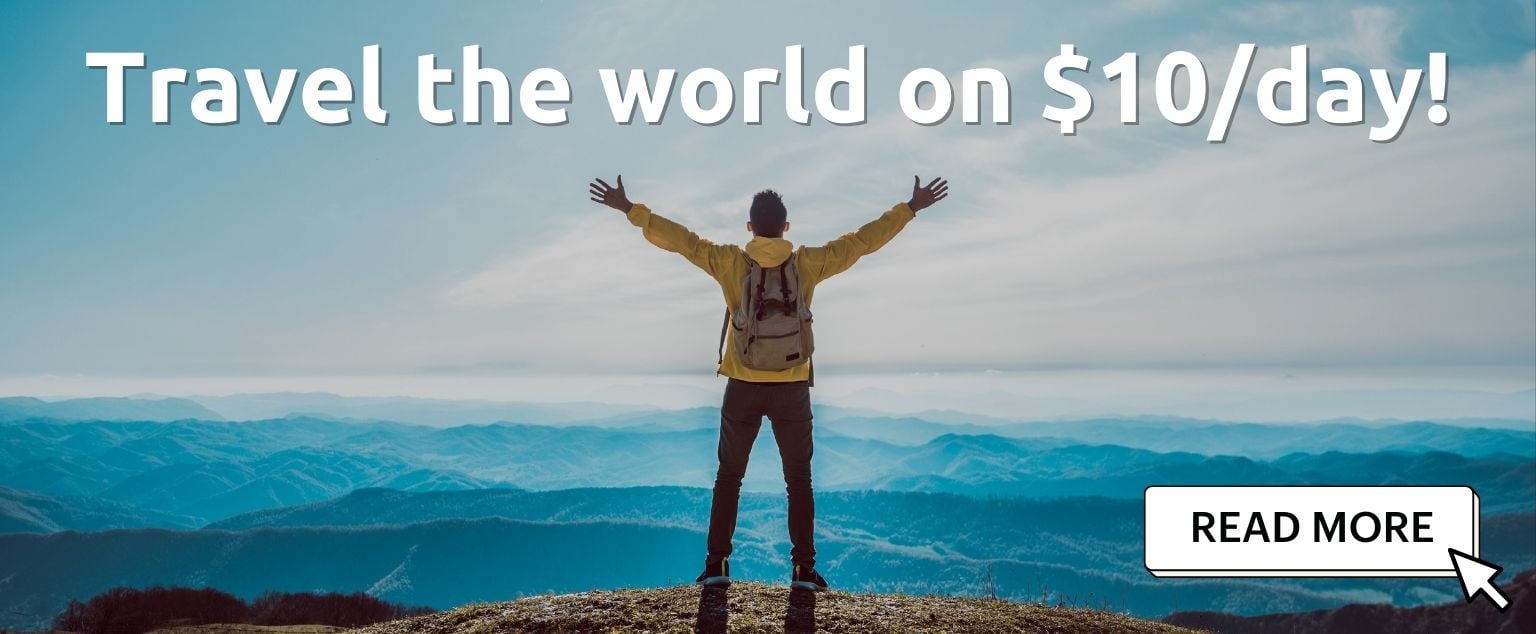 And for transparency's sake, please know that some of the links in our content are affiliate links. That means that if you book your accommodation, buy your gear, or sort your insurance through our link, we earn a small commission (at no extra cost to you). That said, we only link to the gear we trust and never recommend services we don't believe are up to scratch. Again, thank you!