It's no secret that Croatia is a place of unparalleled beauty, with awe-inspiring peaks, crashing cascades, and sparkling lakes on just about every corner. Long shorelines await you, toasty warm in the summer and delightfully broody in the fall. The Adriatic Sea beckons, its crystalline depths like a giant mirror reflecting against the sun.
At least 9% of Croatia consists of protected areas. With a myriad of reserves, nature parks, and national parks, the country is blessed with some of the best sights in Europe — so rest assured that you'll have more than your fair share of spectacular photo opportunities!
An outdoor traveler's dream come true, Croatia's parks are absolute treasure troves, with a staggering diversity of fauna and flora. From hiking to mountain climbing, national parks in Croatia offer a varied range of activities that you can enjoy regardless of your fitness level.
What are National Parks?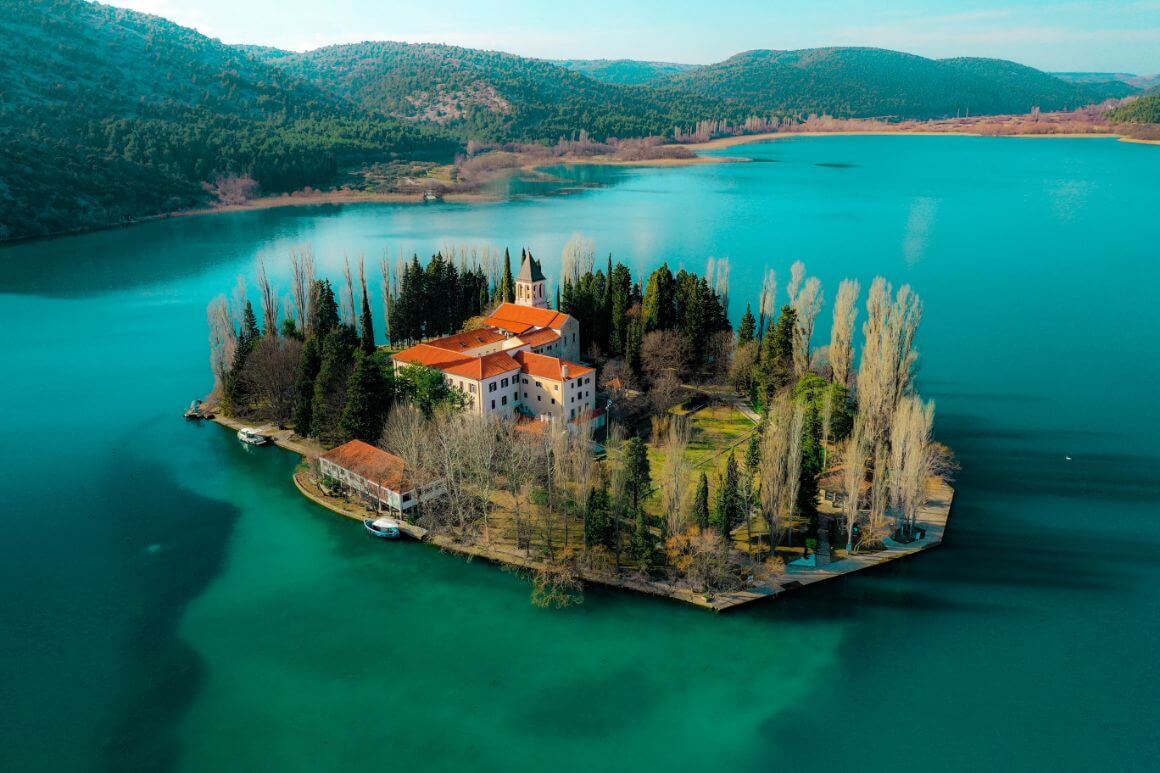 Known for their unrivaled beauty, national parks are areas of land set aside by governmental or private bodies to ensure the preservation of their landscape, fauna, and flora. While these parks are commonly used for tourism, visitors do need to abide by some rules to avoid damaging the park's components in any way.
Croatia has 8 official national parks. In addition, travelers will also find a considerable number of nature reserves and parks, all with varying landscapes and activities.
And here's the great news: regardless of whether you are planning a quick break or backpacking across Croatia, there's always going to be a national park nearby! As such, you won't be wasting precious vacation time on the road. Most parks are also surrounded by great accommodation options such as self-contained apartments and even treehouses.
National Parks in Croatia
No matter where you're staying in Croatia, visiting at least a couple of national parks is a must! Here are 7 of the best ones.
Krka National Park
Size: 109 sq km
Location: Lozovac
Cost of Entrance: $42.91 (adult), $30 (children)
Okay, let's start off with one of the best-known national parks in Croatia, the Krka National Park! This park shares its name with the Krka River which snakes through the Dalmatia region.
If you're looking for the most picturesque photo opportunities, you'll definitely be spoilt for choice. After all, the park has no less than 16 gem-colored waterfalls! Now, you may not have time to see all of them, but we would absolutely recommend that you visit the largest travertine cascade system in Europe—Skradinski Buk!
This famous natural structure is quite a sight to behold as it tumbles down 17 steps measuring between 600 and 1,300 feet. The waterfall is surrounded by an expansive pool and plenty of brightly colored flowers.
Because it is one of the most beautiful sights in the park, Skradinski Buk tends to draw huge crowds in the peak season. To get away from the rush, you can always head over to the equally scenic yet less crowded Roški Slap waterfall, located 30 kilometers away.
While the most popular way of reaching the waterfalls is by boat, it's also possible to hike your way to these picturesque sites. Bear in mind the park boats are not operational from November to March.
What makes Krka National Park unique is that it is home to a monastery, located on a small islet in the middle of the Krka River. Dedicated to the archangel Michael, this site is very significant to the Serbian Orthodox Church.
Nature enthusiasts will be glad to learn that Krka National Park has an extensive variety of flora and fauna, with over 800 different types of plants.
Where to Stay Near Krka National Park:
Located just 6 kilometers from the north entrance of Krka National Park, this modern apartment is the ideal place to explore the area's natural beauty. Suitable for 4 guests, you will also have access to a large garden, terrace, a fully equipped kitchen, and Wi-Fi!
Plitvice Lakes National Park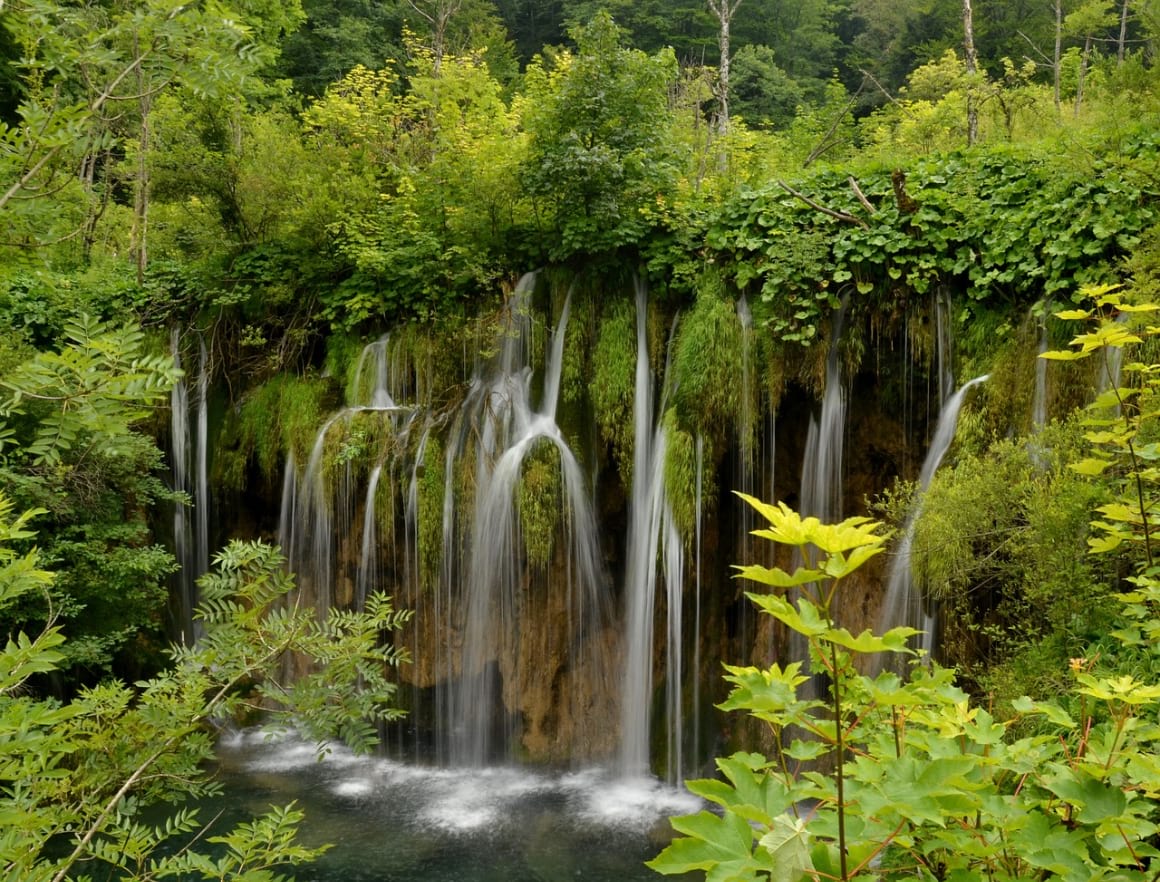 Size: 300 sq km
Location: Central Croatia
Cost of Entrance: $11.85 – $44.5 (depending on the season)
Another great national park in Croatia for spotting waterfalls, Plitvice Lakes National Park lies smack dab at the very center of the country!
Not only is this Croatia's very first national park but it is also the largest — so there'll be plenty to explore! And in case you were wondering — yes, the park does indeed have an excellent lake system with terraced and interconnected bodies of water.
Best of all, Plitvice Lakes National Park has over 90 waterfalls — not to mention, a selection of mineral-rich pools — so be prepared to get wet. Interspersed among these bodies of water are thick forests and verdant green meadows where you may spot the occasional grey wolf, brown bear, or lynx.
If you don't fancy a dip in the cascades, you can always explore the pools by meandering down the wooden walkways while you lose yourself in the sheer beauty of the place. In fact, this park is so staggeringly beautiful that it was even recognized as a World Heritage Site by UNESCO.
Now, the park is pretty expansive, so you'll need to plan your visit just right if you want to take in all the best sights. For example, the southern entrance offers easy access to Kozjak Lake, which just so happens to be the largest lake in Plitvice. Separating the lower and upper valleys, this lake even has its own travertine islet.
Hiking opportunities abound everywhere in the park, with trails snaking by grottoes, waterfalls, forests, and even cliffs. When you want a break, you can always make a stop by the Šupljara cavern which features a viewpoint over the park's lower reaches.
If hiking isn't your cup of tea, rest assured that you can always get around by hopping on a boat or a road train, which basically refers to a bus with carriages. Owing to the park's popularity, tickets should be booked online at least a day or two in advance to avoid any last-minute issues.
Where to Stay Near Plitvice Lakes National Park:
A quick 40-minute drive from the park takes you to this charming treehouse where you can enjoy an immersive experience (and a hot tub!) in nature. With 2 bedrooms for 6 guests, this space also comes with a kitchen and a furnished patio.
Mljet National Park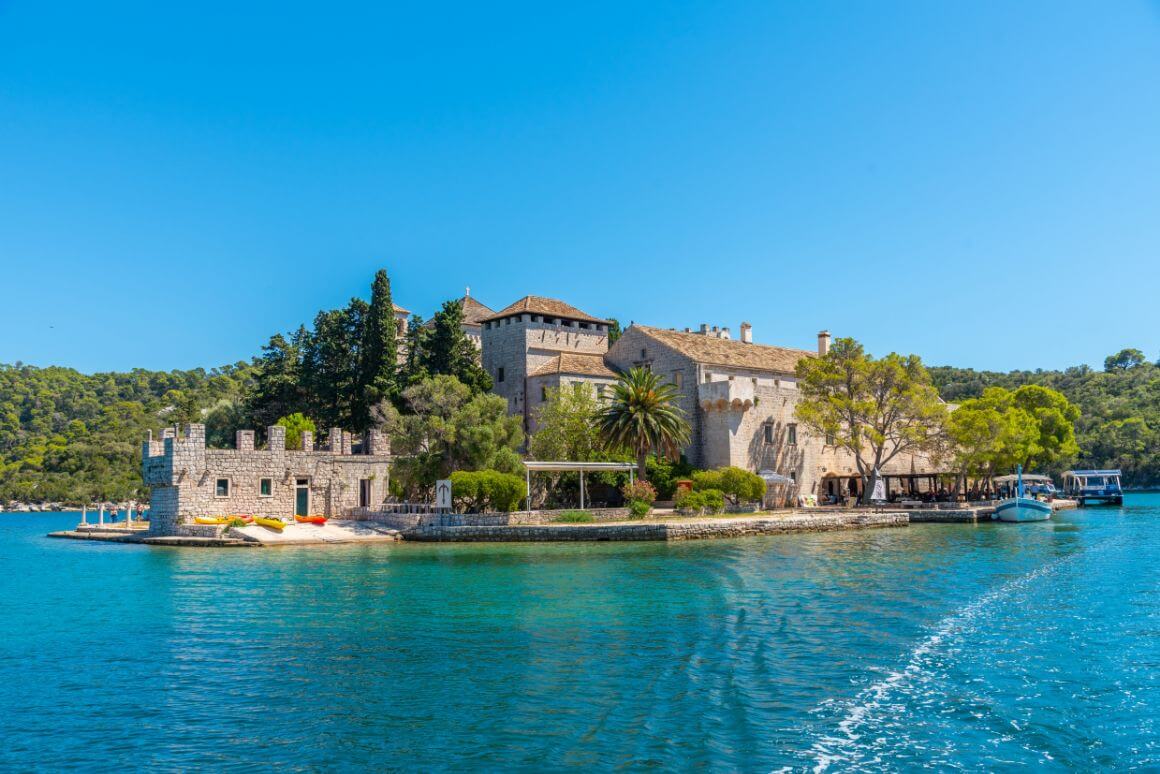 Size: 98 sq km
Location: Mljet Island
Cost of Entrance: $10.10 – $18
It's no secret that summer is the best time to visit national parks in Croatia! There are a few exceptions, though — Mljet National Park is just as splendid in the fall, with lush autumn foliage speckled everywhere. Best of all, this park lies 78.9 kilometers away, within easy reach of Dubrovnik, so is perfect for a day trip from the city!
Named after the same island that the park is partially located upon, Mljet boasts plenty of hidden gems — from lesser-known islets within its boundaries to thick forests and gorgeous coves. Blindingly white beaches beckon, perfect for working on your tan or simply relaxing while burrowing your toes in the warm sand, beach read in hand.
Fringed by the Malo Jezero and Veliko saltwater lakes, the park is crisscrossed with walking and cycling trails, with the most popular being the Pomena path. This easy, semi-circular trail takes around 5 hours to complete and takes you past the beautiful Zaklopatica and Rogac bays.
The lagoon that surrounds the park is ideal for canoeing or kayaking. Don't worry, you won't need to lug your gear around all day — there's a kayak rental place at Mali Most, a stone bridge that connects both saltwater lakes. You can also hop on shuttle boats available at the bridge to St Mary's Island and the islet of Sveta Melita, both of which are home to ancient Benedictine monasteries.
Don't hesitate to pack your bathing suit because the park's lagoon is deliciously warm and inviting!
Where to Stay Near Mljet National Park:
A cozy retreat for up to four guests, this beautiful apartment features 2 bedrooms and a well-outfitted kitchen. Located just a few minutes from the park, the space boasts gorgeous bay views and easy access to the beach.
Brijuni National Park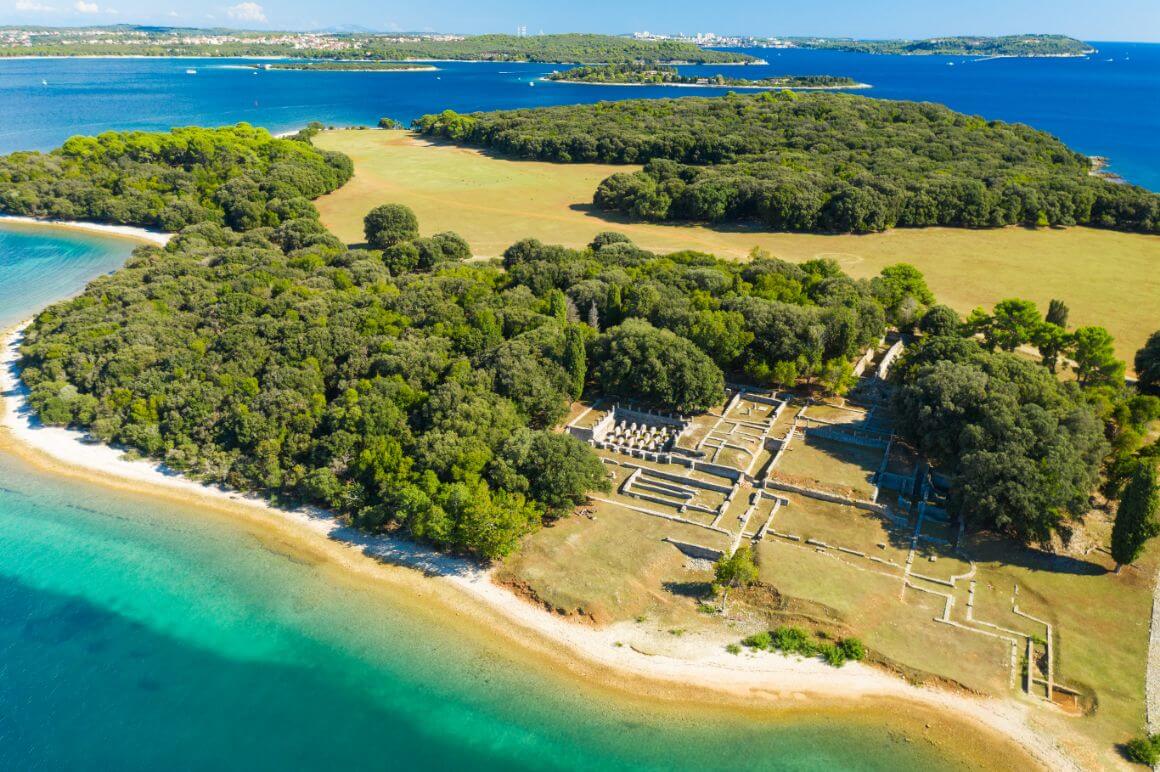 Size: 40 sq km
Location: Istria County
Cost of Entrance: $38.45 (adult), $19.22 (children)
Experience nature in its most rugged form with a visit to the Brijuni National Park! Encompassing 14 islands, this site can easily be reached by ferry or yacht.
Formerly populated by the Venetians, the Austrians, and the Greeks at different points in time, Brijuni National Park is awash with history. There are several historical and archeological sites that you can explore, including a hill fort dating all the way back to the Bronze Age. In addition, the park hosts impressive displays of ancient relics like dinosaur footprints, Roman ruins, and a Knights Templar church.
Keep an eye out for one of the oldest olive trees to be found in the Mediterranean, easily recognizable by the small protective fencing around it. An absolute sight to behold, this 1,600-year-old tree still produces olives which are used to make oil.
Nature lovers will no doubt have a blast exploring the many walking, cycling, and even underwater trails that surround the park. Brijuni offers easy access to the underwater remains of a Roman villa located in Verige Bay. Diving, swimming, and snorkeling are only allowed from June to September, and July through August. Spots fill out very quickly, so it's best to make your reservations ahead of time.
If cycling is your thing, check out the 13-kilometer bike trail that'll lead you to various archeological sites, exhibition areas, forests, golf courses, a safari zone, and even an ethno park. The bike trail is completely asphalted for the comfort of all bikers and would be suitable for beginners as well.
Where to Stay Near Brijuni National Park:
This charming house comfortably hosts four guests. After cycling through Brijuni, you can always enjoy a dip in the property's large swimming pool, complete with a pool house that can further accommodate a couple of extra guests. The well-equipped kitchen and direct beach access are added bonuses.
Have you sorted your accommodation yet?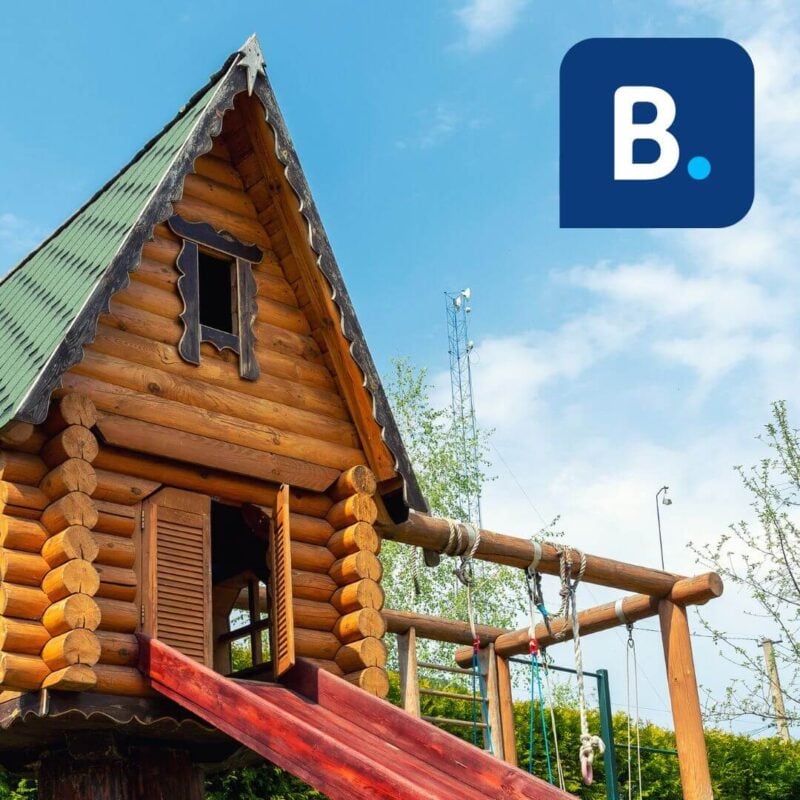 Get 15% OFF when you book through our link — and support the site you love so dearly 😉
Booking.com is quickly becoming our go-to for accommodation. From cheap hostels to stylish homestays and nice hotels, they've got it all!
View on Booking.com
Risnjak National Park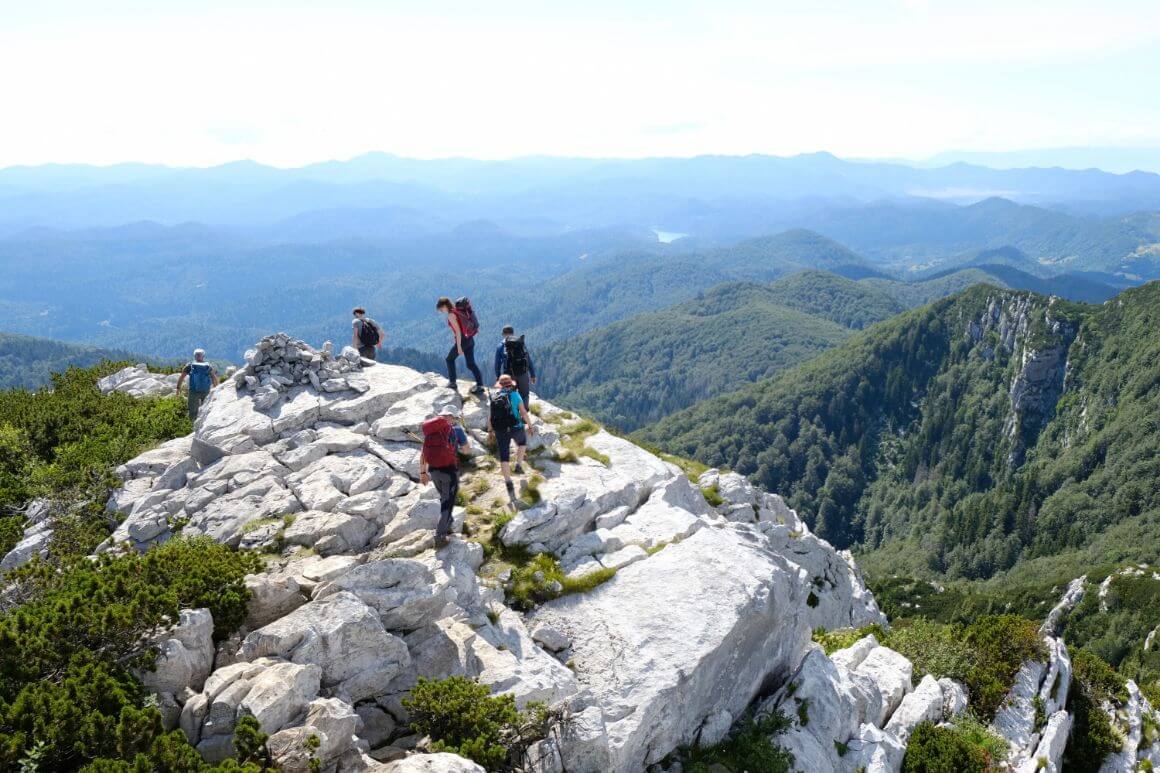 Size: 63.5 sq km
Location: Bijela Vodica
Cost of Entrance: $6.40(adult), $14.25 (family ticket)
I'm sure by now you've realized there are heaps of exciting things to do in Croatia national parks — and Risnjak is no exception!
Not only is Risnjak National Park the most heavily forested and mountainous area in Croatia, it's also not as well known as the other parks — this makes it perfect for travelers who would like to avoid crowds! Brimming with soothing sights, and hiking and biking trails, this park is home to plenty of wild boar, wolves, deer, and brown bears.
With 15 types of forest communities, the park also boasts various tree species, including the black hornbeam, fir, beech, spruce, and more.
For an easy day hike, you can check out the Izvor Kupe trail. Spanning nearly 4 kilometers out and back, this trail requires around 1.5 hours to complete. This dog-friendly path kicks off near the Information Office and crosses the Krašievica Canyon to end where the Kupa River originates. Known for its green and turquoise waters, Kupa happens to be the deepest spring in Croatia.
Climbers will be glad to learn that Risnjak has no less than 11 peaks. The tallest of them is Veliki Risnjak, which towers at over 5,000 feet — you'll need between 3 and 4 hours to reach the top from the park entrance. There's even a hut located just below the summit if you want to camp out overnight.
Where to Stay Near Risnjak National Park:
Located less than 30 kilometers from Risnjak National Park, this lovely 2-bedroom apartment is ideal for 4 persons and is fitted with a private kitchen for when you don't want to eat out. A paid airport shuttle service and an on-site bowling alley is available for the guests.
Paklenica National Park
Size: 95 sq km
Location: North Dalmatia
Cost of Entrance: $6.80 – $10.76
The second-oldest national park in Croatia after Plitvice Lakes, Paklenica National Park sure packs a punch!
The park's most popular feature by far is the Manita Pe? cave, which is absolutely teeming with various types of natural rock formations, including flowstones, columns, stalactites, and stalagmites. With an abundance of underground fauna, the cave also serves as a hibernating space for various bat species during the winter months. The only way to visit Manita Pe? is with a guide. The cave is only open for a few hours per day so it's highly recommended that you book your tour in advance.
The cave can be reached by an easy 1.5-hour hike from the Velika Paklenica canyon — a site I heartily recommend visiting. It is often said to be one of the most attractive climbing sites in Croatia. Boasting immense geological value, the Velika Paklenica valley is quite a sight to behold, with its narrow canyon, collapsed boulders, small waterfalls, and gushing rapids.
In addition, you'll find 13 mills scattered around the park — although Paklenica Mill is the only one that's open for public visits. If you're into hiking, you can also check out Paklenica's 4 educational trails fringed by forest or ocean views.
Where to Stay Near Paklenica National Park:
Offering easy access to Paklenica National Park, the beautiful Hedon Stone apartment can host up to four guests. Complete with a fully equipped kitchen and a balcony overlooking the picturesque surroundings, the property has all the comforts of home. In addition, plenty of cycling, fishing, and hiking opportunities beckon nearby!
Sjeverni Velebit National Park
Size: 109 sq km
Location: Lika-Senj County
Cost of Entrance: $6.46
Another stunning national park in Croatia, the Sjeverni Velebit National Park encompasses some of the largest mountain ranges in the country. Just like the Paklenica National Park, the Sjeverni Velebit is a part of the Velebit mountain range, a UNESCO biosphere reserve known for its amazing sights.
While most other Croatian parks offer relaxing walks, this site is well known for its challenging (and often adventurous!) trails.
There's no denying that the park's main draw is the Velebit botanical garden. First established in the mid-1960s, this garden lies nearly 5,000 feet above sea level. Velebit houses 300 different types of plants — a perfect representation of Croatia's alpine biodiversity!
The botanical garden is a starting point for mountain paths leading up to the Balinovac and Velika Kosa mountains. In addition to numerous hiking and climbing trails, Sjeverni Velebit is dotted with the ruins of ancient lodges and houses.
With a wild landscape of caves and craggy crevices, the park also features a few mountain huts that you can use for rest after an arduous climb.
Where to Stay Near Sjeverni Velebit National Park:
This stunning mountain lodge is nestled in the lap of nature and is located right next to the Velebit National Park. Suitable for up to 8 guests, the lodge comes with a large terrace with sun loungers and a jacuzzi from where you can enjoy breathtaking views of the Velebit Mountains. You can also rent bikes in the area and explore away!
Final Thoughts
From majestic mountain peaks to dense forests, caves, narrow valleys, and more, Croatia has a heart-stopping wealth of natural beauty to explore and exciting hikes to embark on. With such a varied landscape, it should come as no surprise that the local parks are home to a significant portion of Europe's flora and fauna, and are an admirable example of its rich biodiversity.
While each park is special, my personal favorite has to be the Plitvice Lakes National Park. As Croatia's largest and oldest park, this site has so much to offer, including bodies of water fringed by quaint wooden walkways. With 90 waterfalls, this park abounds with hiking, swimming, climbing, and even boating opportunities. Just remember to wear your best non-slip shoes and you're good to go!
Happy national-parking!
---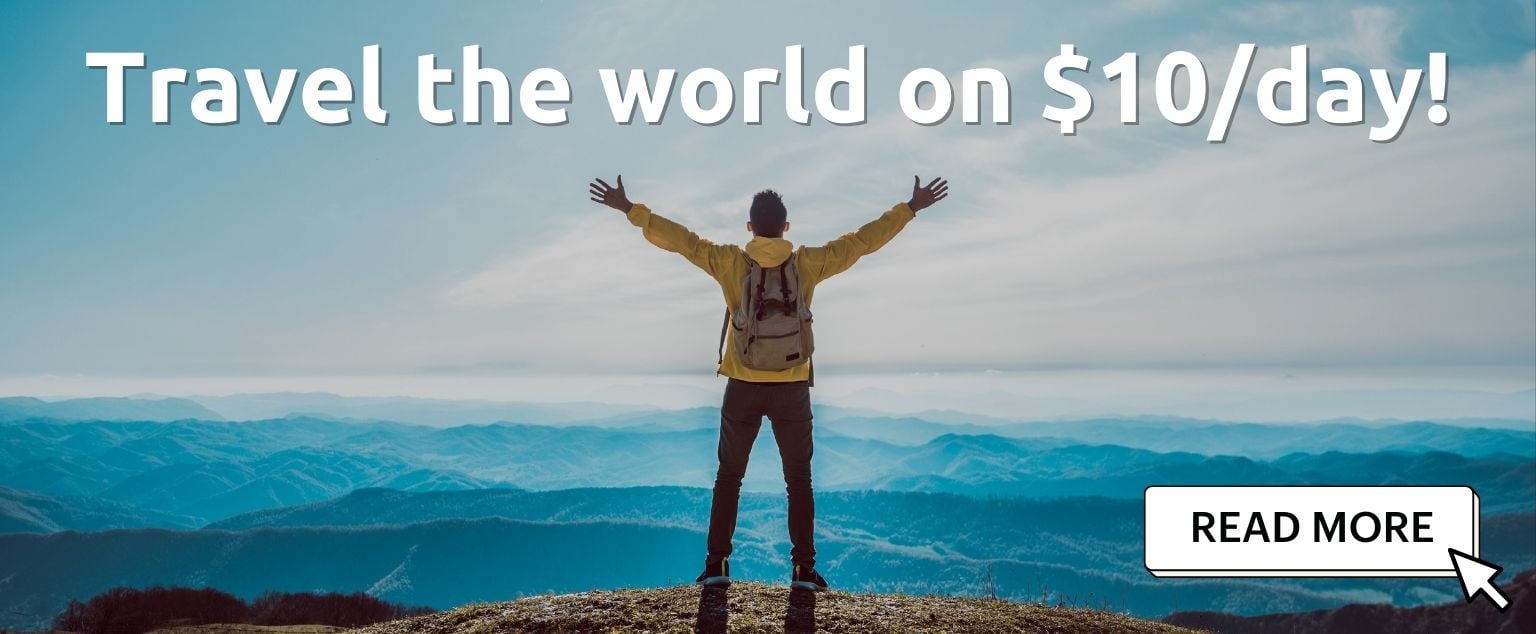 And for transparency's sake, please know that some of the links in our content are affiliate links. That means that if you book your accommodation, buy your gear, or sort your insurance through our link, we earn a small commission (at no extra cost to you). That said, we only link to the gear we trust and never recommend services we don't believe are up to scratch. Again, thank you!