So you love walking around? Green things? Clambering over rocks bigger than a jock's ego?
Then you are going to LOVE Croatia.
Coming in as number 9 on the beer-consumption-per-capita checklist (the only real economic indicator of success), the big Croat is home to stunning scenery, loquacious lakes, and random high altitude livestock.
Despite there being no shortage of maps these days, it falls to me to provide you with the best hiking in Croatia, and I have been ready for this day since I asked a girl out and she said yes.
So strap in and prepare for the sun on your face, the wind in your hair, and my last words echoing in your ears…
"You're not you when your hungry…"

Do You Want to Travel FOREVER??
Pop your email in below to get a FREE copy of 'How to Travel the World on $10 a Day!'.
Quick Pick Hiking Trails
What to Expect Hiking in Croatia
So you're backpacking through Croatia? Okay then. To stop you from drying up Split and blocking the main roads, here are the top hikes in Croatia!
Hiking in Croatia can only be summed up by one word: Beautiful. Since Croatia has access to a long stretch of the Adriatic, it has an extraordinary 'azure' coastline. The Dinaric Alps loom in the north and are host to sunrises and sunsets so pretty they could make a geography student cry…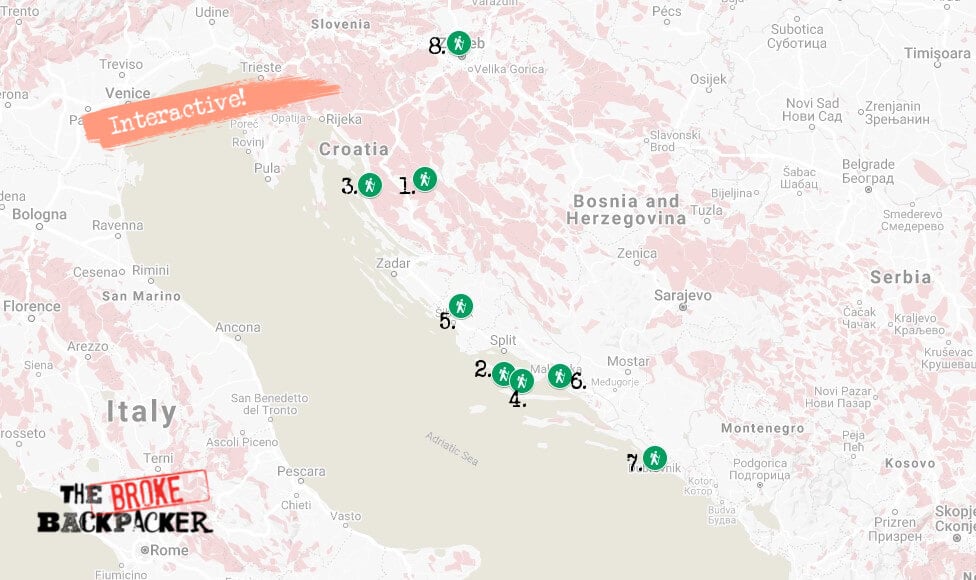 Croatia hosts a lot of blue, a lot of big, cool rocks, and some of the most Scandinavian-esque forests you can find in a warm(ish) country. On longer hikes, mountain huts and refuges can be found to take shelter within. Finding a place to stay close to your chosen hike is pretty straightforward too!
Because of the crowds it attracts, some of the hikes can get busy at times. As a general rule, I'd recommend hitting the trail as soon as the parks open, so you can avoid facing the hordes of tourists in peak season. And remember to stay safe out there too!
Okay, without further procrastination, I present to you the most legendary hiking trails in Croatia, meticulously designed to boost your holiday into action…
1. Plitvice Lakes National Park Loop (route K) – The Best Day Hike in Croatia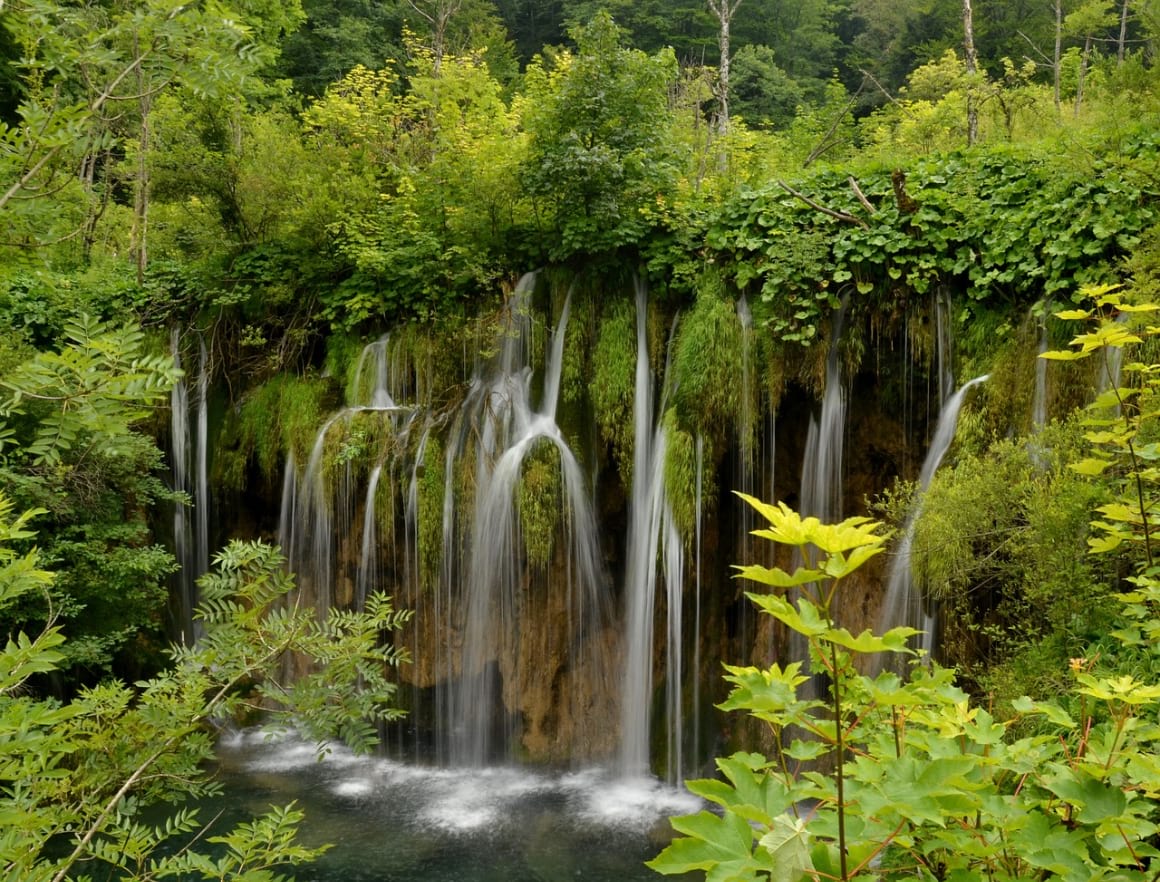 The Plitvice Lakes route K is a strong all-day trail. It's a flat and relatively easy hike, with a few steep and slippery parts on the way. You do need to grab a boat between the lower and upper lakes, but this doesn't detract from the sense of achievement on completion!
Depending on how much time you've got, and how hard you wanna go, you can also opt for one of the other Plitvice routes. Route A, for example, is only a few hours and can be done in the morning. The entire trail is contained with the Plitvice nature park.
Duration: 18.3 km (11.4 miles), 6-8 hours
Difficulty: Moderate
Type: Loop
Croatia is known for its incredible national parks. Plitvice Lakes was the first designated national park in the country, back in 1949. It's now a UNESCO-recognised treasure trove of natural beauty.
Situated halfway between Zadar and the capital city of Zagreb, this park is full of stunning waterfalls and woodlands, and is most noted for its 16 interconnected lakes. Wildlife thrives here — deer, bears, you name it.
Because of its popularity, the best way to see the park without the crowds is to hit the trail first thing in the morning — let's say 7-8 a.m. There are a few hotels close to Entrance 2, and a campground seven kilometres away that you can use as a base.
2. Milna Coastal Walk from Hvar – Best Coastal Hiking Trail in Croatia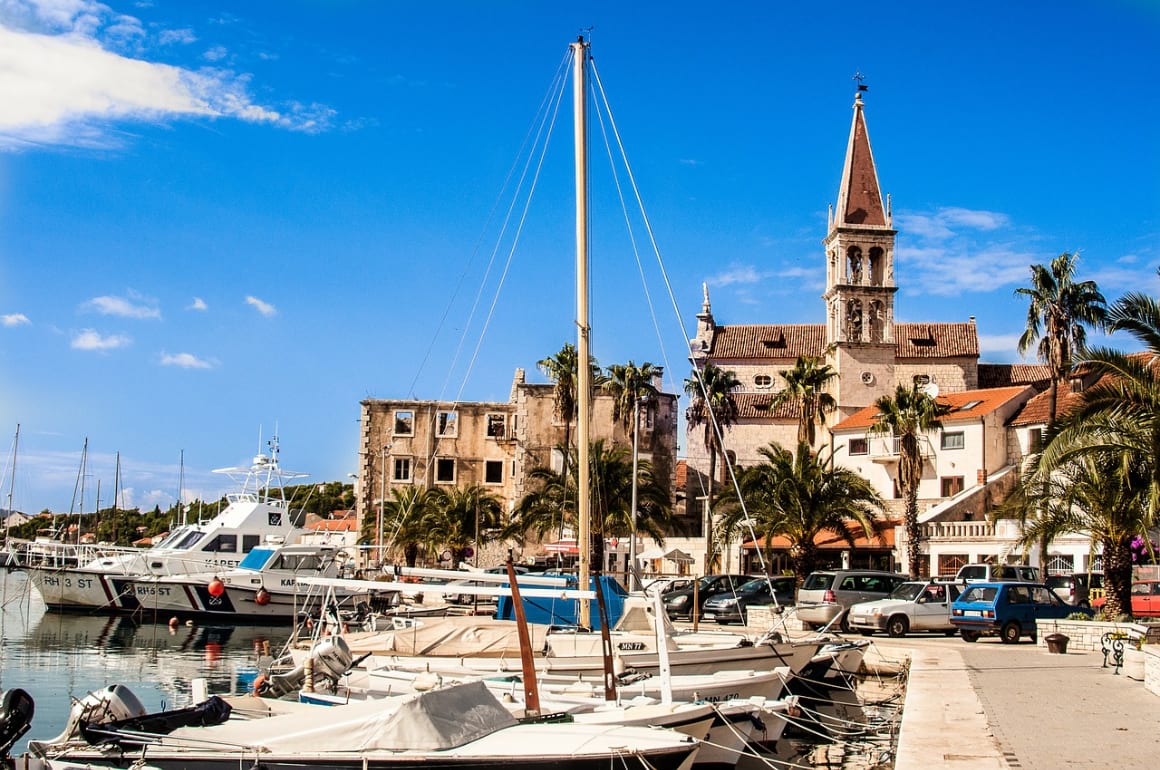 Hvar Island is a famous coastal getaway not too far from Split — a quick ferry ride will put you there in under two hours. The Adriatic beauty speaks for itself here with its rugged coasts, hidden beaches, and gleaming seas.
The Milna Coastal Walk starts at the harbour in Hvar Town, following a paved coastal walkway along Mustado Bay. The coastal section should take you around half an hour, and there's an eatery where you can stop for refreshments. A beach as well, if you're in for a quick dip.
Duration: 7 km (4.4 miles), 2 hours
Difficulty: Moderate
Type: One way (can be turned into a return)
From here, the path becomes much more rugged, weaving partly into the woodland with the sea on your right. After around 20 minutes or so, you'll find a bay and a great swimming opportunity before you reach Robinson — a hidden gem of a beach with a charming bar/restaurant. Milna won't be far from here.
To get back to Hvar, walk back the same way you came if you have time. Otherwise, hop on a bus or boat that'll take you home!
While you could make this a day trip from Split, there are plenty of great places to stay in Hvar, from self-catering apartments to party hostels. The blue cave is something you should check out too- one of the highlights near Hvar!
Small Pack Problems? 😉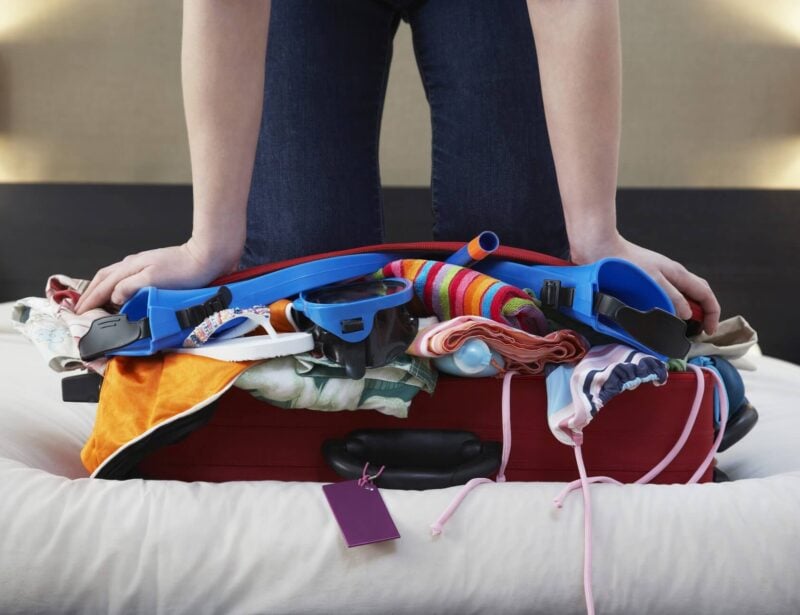 Wanna know how to pack like a pro? Well for a start you need the right gear….
These are packing cubes for the globetrotters and compression sacks for the real adventurers – these babies are a traveller's best kept secret. They organise yo' packing and minimise volume too so you can pack MORE.
Or, y'know… you can stick to just chucking it all in your backpack…
Get Yours Here
Read Our Review
3. Velebit Hiking Trail – The Best Multi-Day Hiking trail in Croatia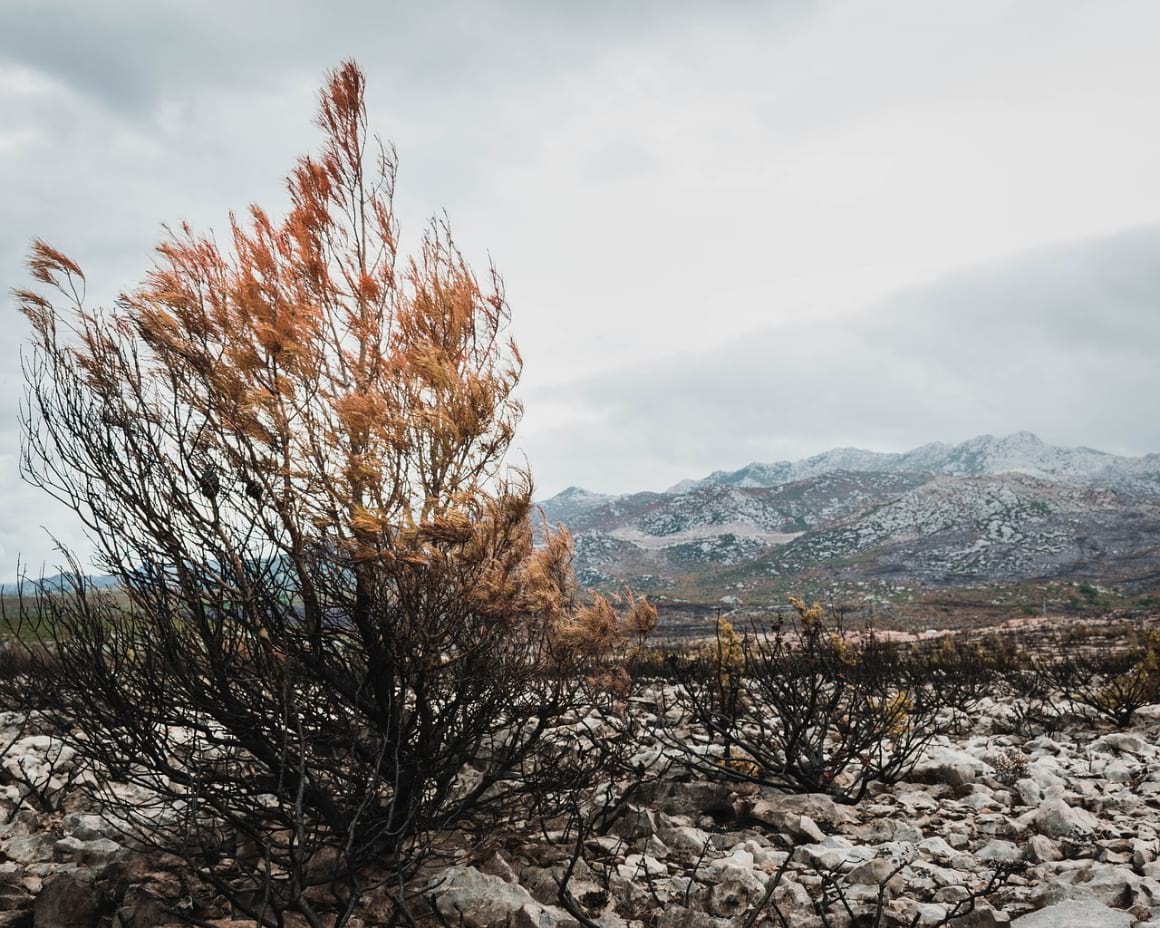 If you're looking for a good multi-day hike in Croatia, look no further than this. The Velebit Hiking Trail is bound to take you on an epic expedition into the fantasy landscape of Croatia's largest (not tallest) mountain. Located in the midst of the Northern Velebit National park, this hike is an epic.
The entire trail is about 100 kilometres in length, which can easily be split up into nine days for a more achievable and rewarding hike. Mountain huts dot the route, and provide the perfect authentic feel to your hike!
Duration: 100 km (62.2 miles), 9 days
Difficulty: Difficult
Type: One way
Carrying proper food supplies, clothing and equipment is especially important when you're on a longer hike. And unlike other day hikes in Croatia, this multi-day trek is a serious task that needs careful preparation.
Most of these huts provide food, drinks, and shelter, but not all of them are open year-round and they have limited space. Be sure to contact them in advance to find out!
57 of the 100 kilometers in this route are made up of the entire Premuži? Trail. Built in the 1930s to connect North and South Velebit, it's one of the most beautiful parts of the whole trek.
The best time to head out into the hills is during the summer when the weather is most stable.
4. Vidova Gora Trail – Must-Visit Hiking Trail in Croatia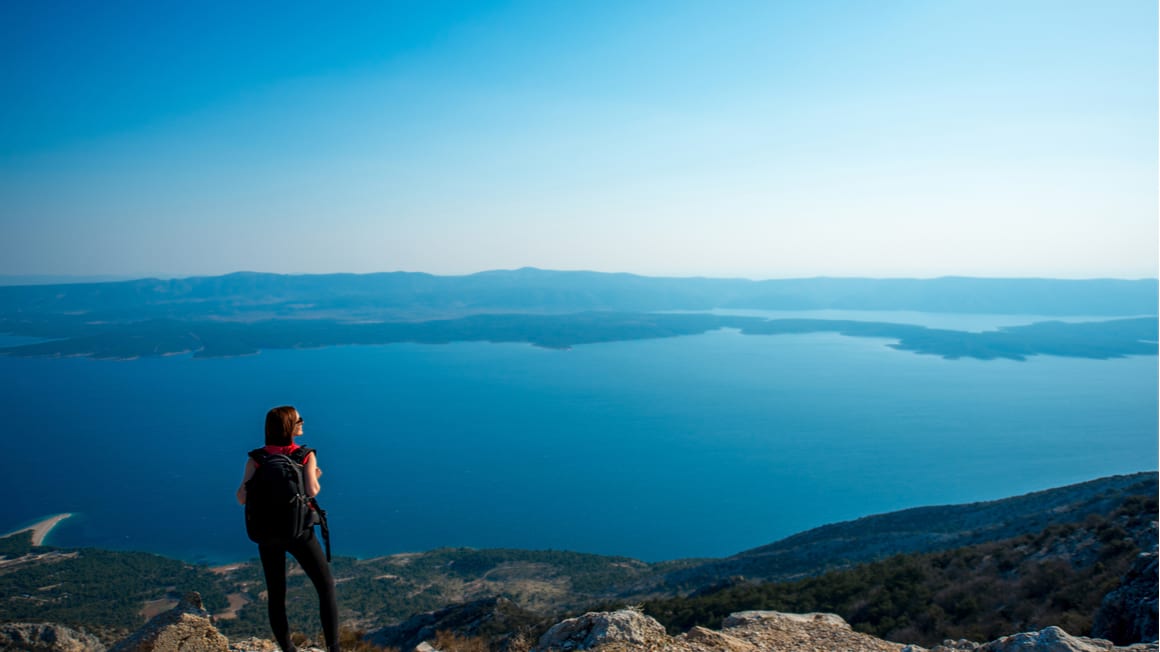 Don't let the start of this hike fool you. It may begin close to a holiday resort on Brac Island, but trust us; it is not easy. As usual, preparation is key.
The Vidova Gora Trail is well-marked and starts out along a gravelly road. But it won't be long before you're on a rocky mountain path, with wildflowers and local sheep for company.
You'll climb around 900 meters in total, along a switchback trail that winds through scrublands dotted with olive trees. You'll make your way until you reach a ridge where you'll enjoy the Zlatni Rat Beach views and the sparkling bay below. Very Croatian of you!
Duration: 10.5 km (6.6 miles), 3-4 hours
Difficulty: Average
Type: Return
The summit of Vidova Gora is spectacular. It's the highest peak of all the Adriatic Islands and gives you a bit of every vista: the sea, the islands, and the mainland. There's even a picnic table at the top for that well-deserved lunch you picked up in town earlier.
The hike starts in the village of Bol, so it's smart to base yourself there. It has dozens and dozens of apartments to choose from and a whole lot of hotels, too.
5. Ogrlice and Roški Slap Loop – A Fun, Easy Hike in Croatia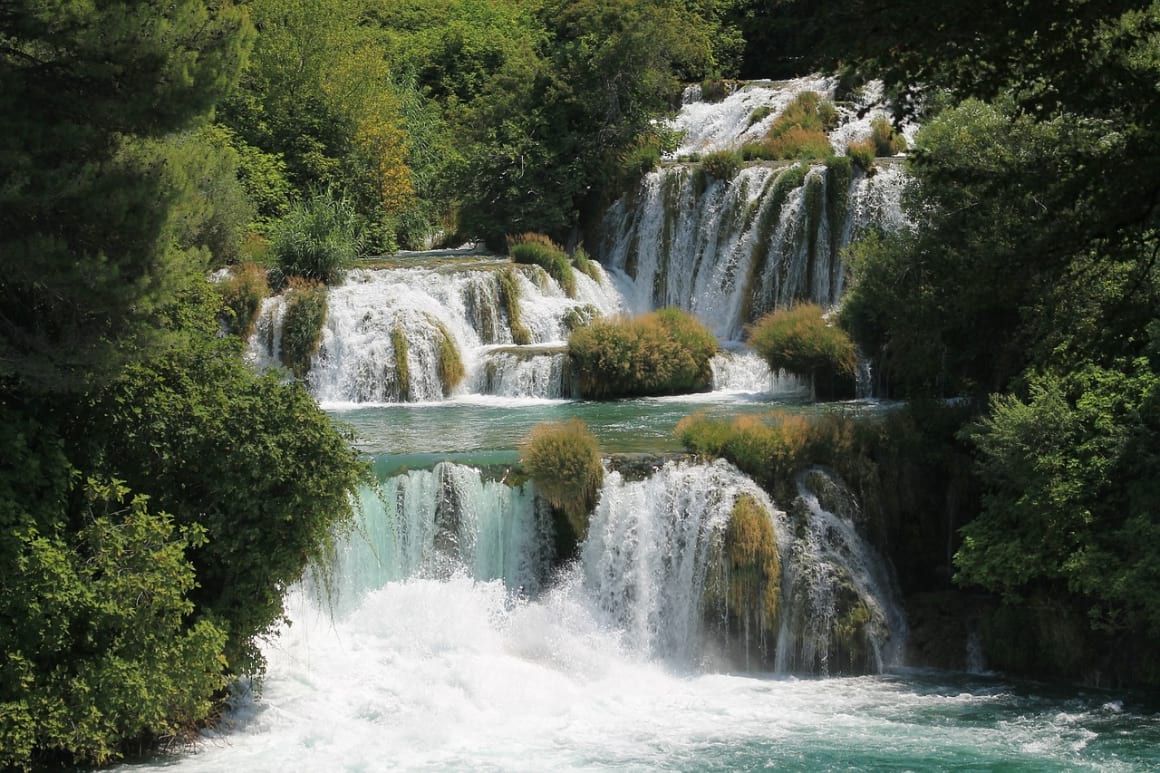 If you're wondering about the name of this hike, don't worry; slap is the Croatian word for "waterfall" and you won't actually get slapped while on this trail.
The Ogrlice and Roški Slap Loop is a relatively easy hike in Croatia that can be found in Krka National Park. This slice of wilderness is located in the lower reaches of the Krka River, close to the city of Sibenik.
It happens mostly along boardwalks, though there are some parts where you can move into muddy trails if you're into that. It's mostly shaded and the views are incredible all around.
Duration: 3 km (1.9 miles), 1 hour or less
Difficulty: Easy
Type: Loop
Strolling around this loop feels more like being in a painting than anything else, really. The insanely beautiful waterfalls are the main attraction (well, duh), and there's an abundance of wildlife to enjoy, including Europe's second-highest density of lavender.
At the end of the loop, you'll find a reward for your hiking efforts: natural plunge pools where you can take a swim. Best done when it's hot, obviously, so don't forget your swimming stuff if you're coming in the summer.
All in all, it's a great bet if you're travelling with young children, or simply feel like going for a chilled stroll in nature.
6. Vosac Peak Hike – The Toughest Hiking Trail in Croatia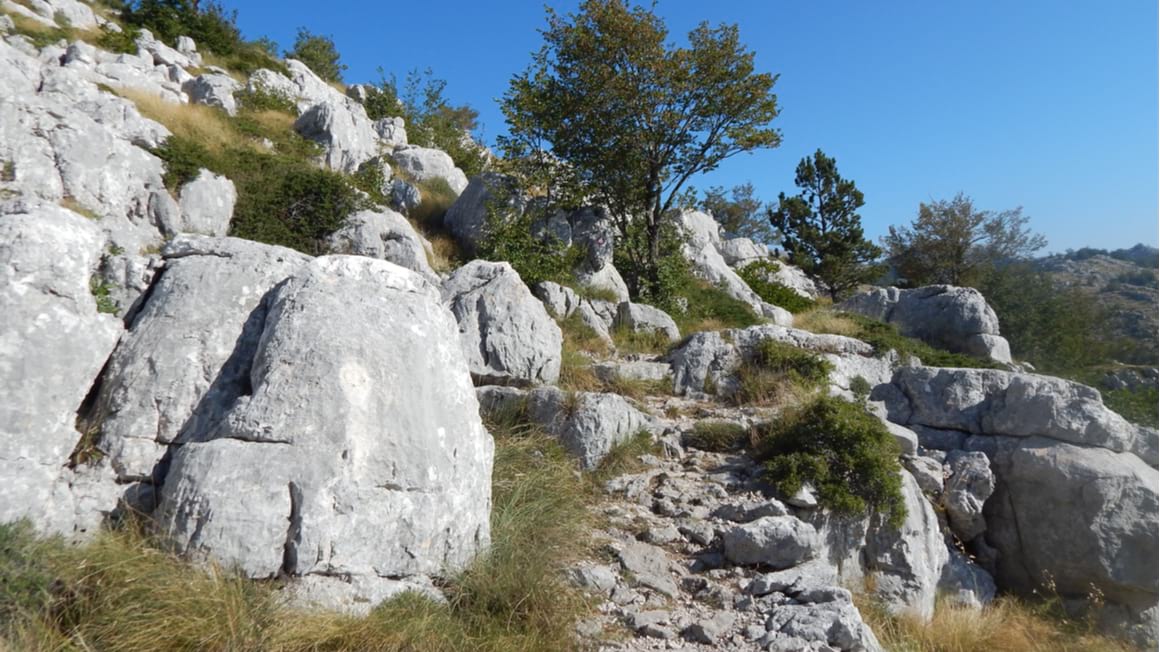 The beautiful Biokovo Nature Park is a very popular spot for hiking in Croatia. Situated on the Dalmatian Coast, there are numerous paths here, winding up into hills and mountains filled with olive groves and pine trees.
This park is named after the mountain range it sits on — the highest in Dalmatia and second-highest in Croatia. Its highest peak is Sveti Jure (1,762m), and all its craggy peaks make it seem like they're hugging the sea.
This trek will have you tackling one of the many peaks of this mountain range, Vosac. It's tough, but it's also incredibly beautiful. And even if you consider yourself relatively fit, it might still present a challenge.
Duration: 30 km (18.6 miles), 5-6 hours
Difficulty: Difficult
Type: Loop
Starting off in Makarska, the climb starts straight away. The trail, made up of loose stones, is winding and well-marked (signs boast a red circle with a white dot inside).
Eventually, you'll start to get glimpses of the city below and the sea beyond. With mountains covering the other side, the ascent becomes steeper and rockier. It can get intense, especially when it's hot, so be sure to pack enough water.
Reaching the top, you can even see as far as Italy!
7. Mount Srd Trail – Best Hiking Trail near Dubrovnik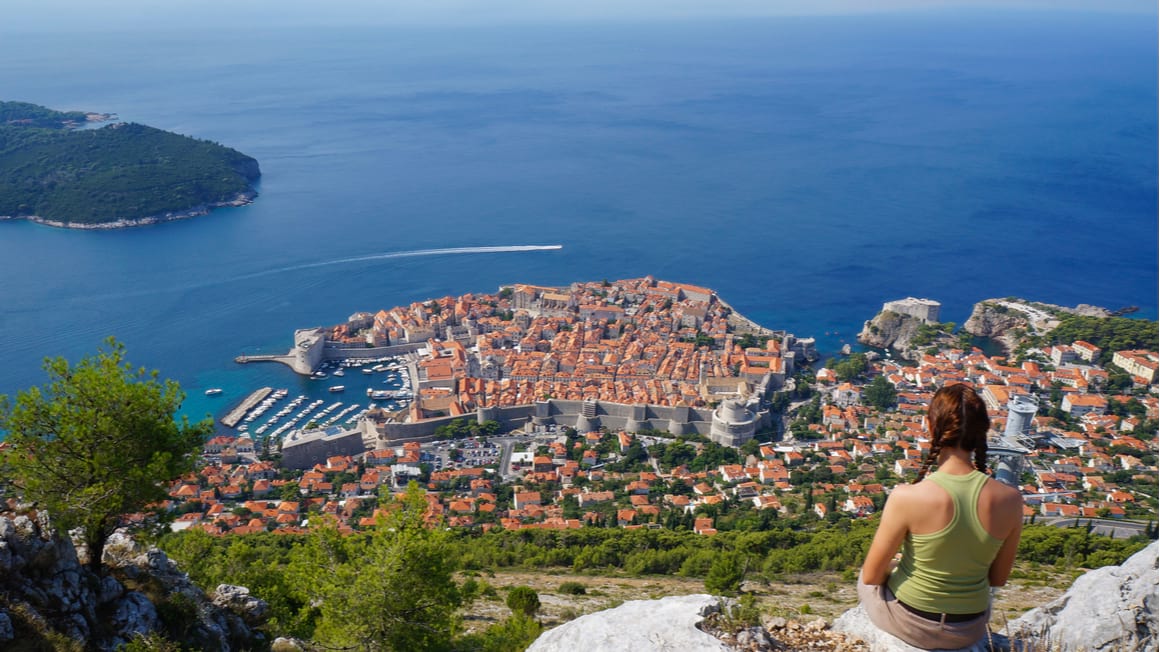 Situated within striking distance of Dubrovnik, the Mount Srd Trail takes you away from the walled city and up into the craggy mountain scenery.
There's a fortress up here and a large white cross, adding to its scenic feel. And even though it's only around 400 meters tall, it offers some incredible views of Dubrovnik Old Town and the scattering of islands just off the coast.
People do attempt this in flip-flops, fresh off the beach, but we strongly advise you to not make that decision yourself. There's a steep ascent involved and the trail itself is quite rocky, so proper shoes are a must.
Duration: 5 km (3.1 miles), 1-1.5 hours
Difficulty: Moderate
Type: Return/ One way
The hike itself isn't the most fun, or beautiful. It's just a series of zig-zags up the mountain with little to no shade. But it's not too long, and you'll be rewarded with that Dubrovnik money shot in the end.
Another bonus is the fact that there's a restaurant up here. Not bad for a refreshing post-hike beer, and you can always take the cable car down if you're feeling lazy afterwards.
If you're staying in Dubrovnik and you're looking for some hikes, this one is a great place to start.
8. Medvednica Nature Park Loop – Off the Beaten Path Trek in Croatia
North of Zagreb, you'll find the mystical wooded Medvednica Nature Park. Just a quick step away from the capital, this park hits differently than Croatia's usual coastal offerings. And feels way more secluded as a result.
This is where you find the locals, not the tourists.
For a smooth start, we're recommending a lollipop loop that takes in Trail 52 and Trail 48. With a few nice ascents here and there, you will be walking mostly on flat wooded tracks. By most standards, it's on the easier side of the hikes in Croatia.
Duration: 7 km (4.4 miles), 3 hours
Difficulty: Average
Type: loop
You do have more options in the park. With the number of different trails, it's possible to add a few extra steps and head off in different directions with relative easiness. If you want to make it more difficult for yourself by adding in higher elevations or longer walks, you got it.
But remember to take water and warm clothes, and try to return before the sun goes down — these woods are bigger than you think.
This might be the perfect hike choice if you're staying in Zagreb. You can even get maps of the park from the Croatian Mountaineering Association, or advice from Zagreb Tourist Information, both of which you'll find there.
You've got quite a few options on your plate when it comes to staying in Croatia. Many people like to stay along the coast, where a lot of its major towns are situated. It's pretty and it's laid-back, so there's no reason to complain.
Split is where all the action is. It's a bit more central than Dubrovnik, and a great jumping point to the islands of Brac and Hvar. The city itself is also well-connected via roads, public transport, and rail.
Zadar is Croatia's oldest continuously inhabited city. The epic Velebit Range and the Paklenica National Park are right at its doorstep, so staying here means easy access to hiking spots and a hub to travel further afield.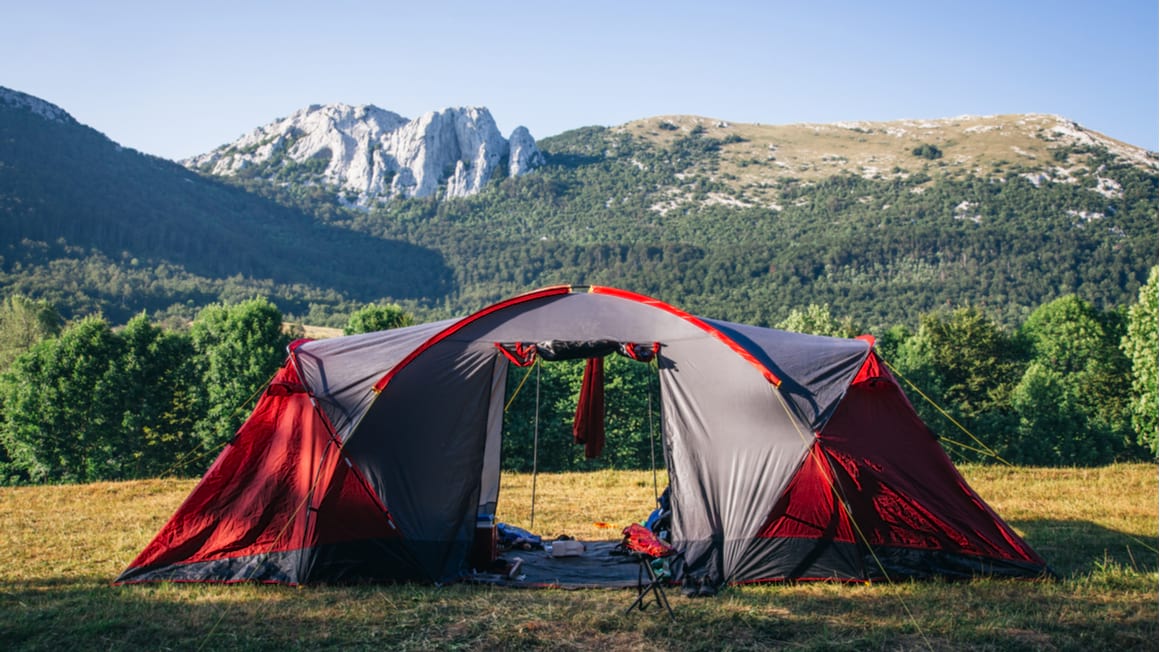 Then you've got Zagreb, the capital city. Transport connections are top-notch, there's plenty of nature nearby and a wide variety of epic hostels you can choose from. It isn't the most popular option, as it's far from the Dalmatian Coast, but it feels like what it is: a real, authentic city.
If you're going full chill mode, picking one of the islands will probably be a smarter move than the busier capital city of Zagreb.
They're quite accessible from the mainland and are a great option for going on hikes too. Served as a bite-sized destination, it's topped with a laid-back vibe and awesome coastal treks. You can hop from one to another as well!
Perfect place for a couple, a small family, or a group of three to four friends. Knocking back a glass or two of chilled Croatian vino on the roof terrace will kick your stay off, and things just don't get worse from there. They just don't. If you want my honest opinion, this Airbnb is worth the price.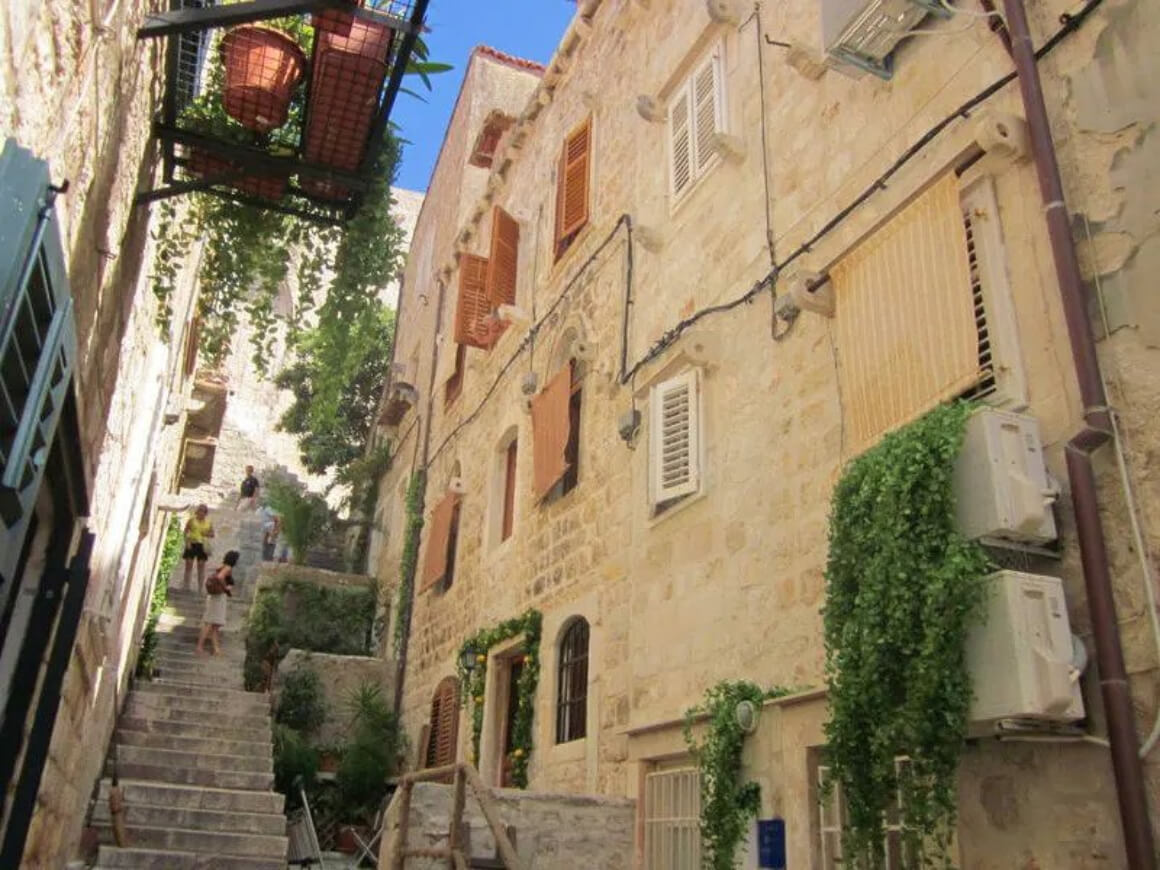 Hostel Angelina has the perfect blend of location, atmosphere, and character. For travellers looking for more than the average dorm room sleeping experience, Hostel Angelina is one of the most amazing hostels in Croatia!
Admittedly, I tend to stay at hotels the least while traveling. The hotel-apartment hybrid vibe of Split Inn Apartments means that this place can hold its own against all the sexy Airbnb flats in the city, and you're only a stone's throw away from the Old Town.
Is This the Best Backpack EVER???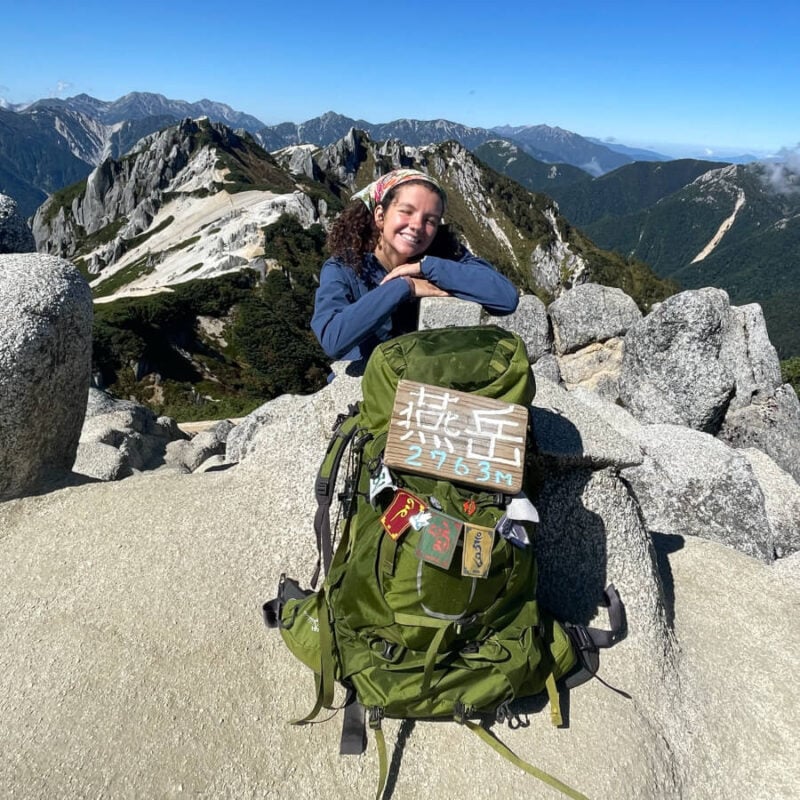 Putting a packing list together for a Mediterranean vacay is usually all about shorts, t-shirts, and bathing suits. But if you want to sink your teeth into some awesome hiking trails in Croatia, you're going to need more.
First off, the footwear. While the beach might ask for flip-flops, you'll need some solid hiking shoes for the trail. Lightweight hiking trainers with a good grip will be fine for most hikes; more strenuous treks will require sturdier boots.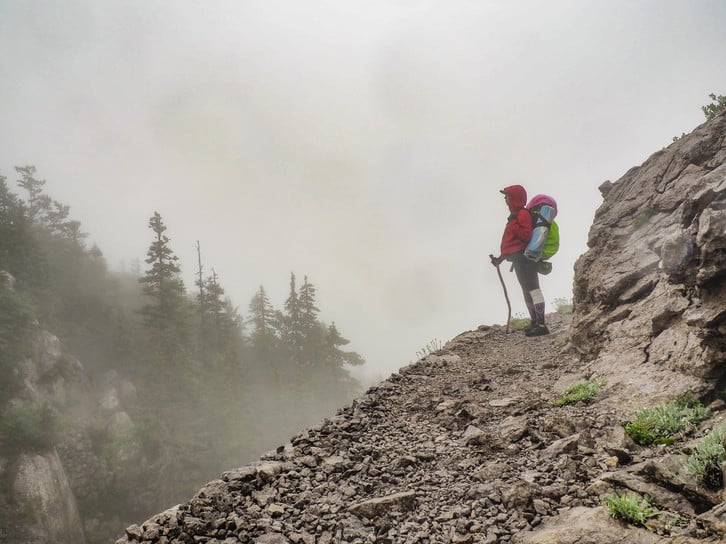 The clothes you bring on a hike will vary with the seasons. In the summer, you want breathable clothes that protect you from the sun — a swimsuit will also come in handy to jump into that remote waterfall. In cooler months, it's all about the layers. Pack a waterproof jacket too.
If you're planning a multi-day hike in Croatia, more in-depth preparations and packing will be needed. Most of the time, you'll be carrying food supplies and a sleeping bag on your back.
But even if you're just going on a short stroll, having a few basic essentials such as a first aid kit, a blister pack, mosquito repellent, and water bottle in your bag will be extremely useful.
To make sure you come fully prepared, here's a tick-list of things to pack for any hike in Croatia.
Trekking Poles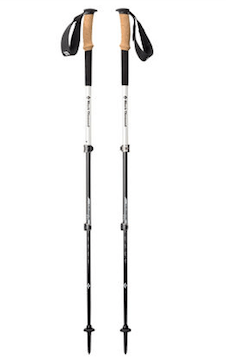 Trekking Poles
Black Diamond Alpine Carbon Cork
Price > $$$
Weight > 17 oz.
Grip > Cork
Headlamp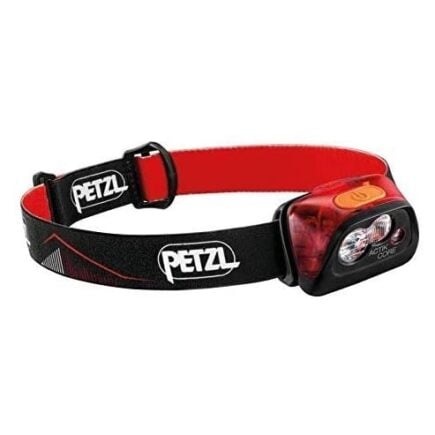 Headlamp
Petzl Actik Core Headlamp
Price > $$
Weight > 1.9 oz
Lumens > 160
Hiking Boots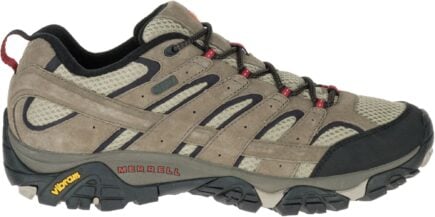 Hiking Boots
Merrell Moab 2 WP Low
Price > $$
Weight > 2 lbs 1 oz
Waterproof > Yes
Daypack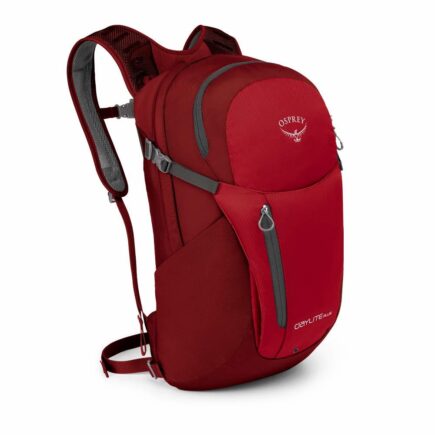 Daypack
Osprey Daylite Plus
Price > $$$
Weight > 20 oz
Capacity > 20L
Water bottle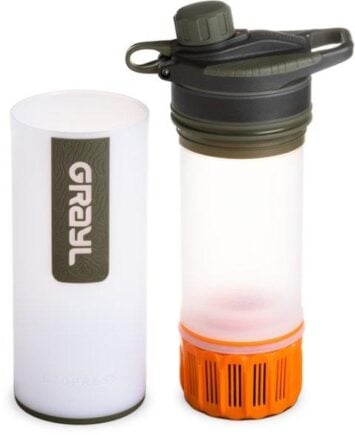 Water bottle
GRAYL Geopress
Price > $$$
Weight > 16 oz
Size > 24 oz
Backpack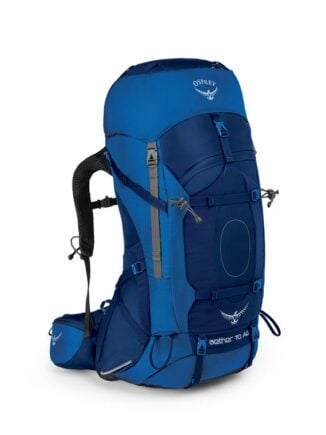 Backpack
Osprey Aether AG70
Price > $$$
Weight > 5 lbs 3 oz
Capacity > 70L
Backpacking Tent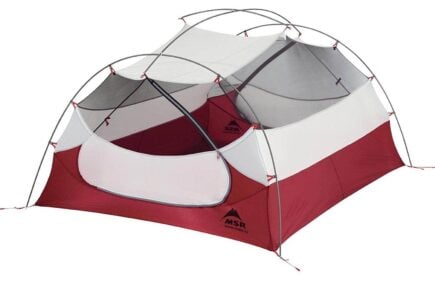 Backpacking Tent
MSR Hubba Hubba NX 2P
Price > $$$$
Weight > 3.7 lbs
Capacity > 2 person
GPS Device
GPS Device
Garmin GPSMAP 64sx Handheld GPS
Price > $$
Weight > 8.1 oz
Battery Life > 16 hours
Croatia Trail Safety
Aside from basking in the sunny beaches and exploring the old towns, Backpacking in Croatia equals a lot of nature too. Hiking is the perfect way to uncover the hidden beauties of this Mediterranean country.
You may be on a chilled vacation mindset, but that doesn't mean you should head off on a hike unprepared. Plan your hike in advance, make sure you leave plenty of time to make your way back in daylight, and always let somebody know where you are going.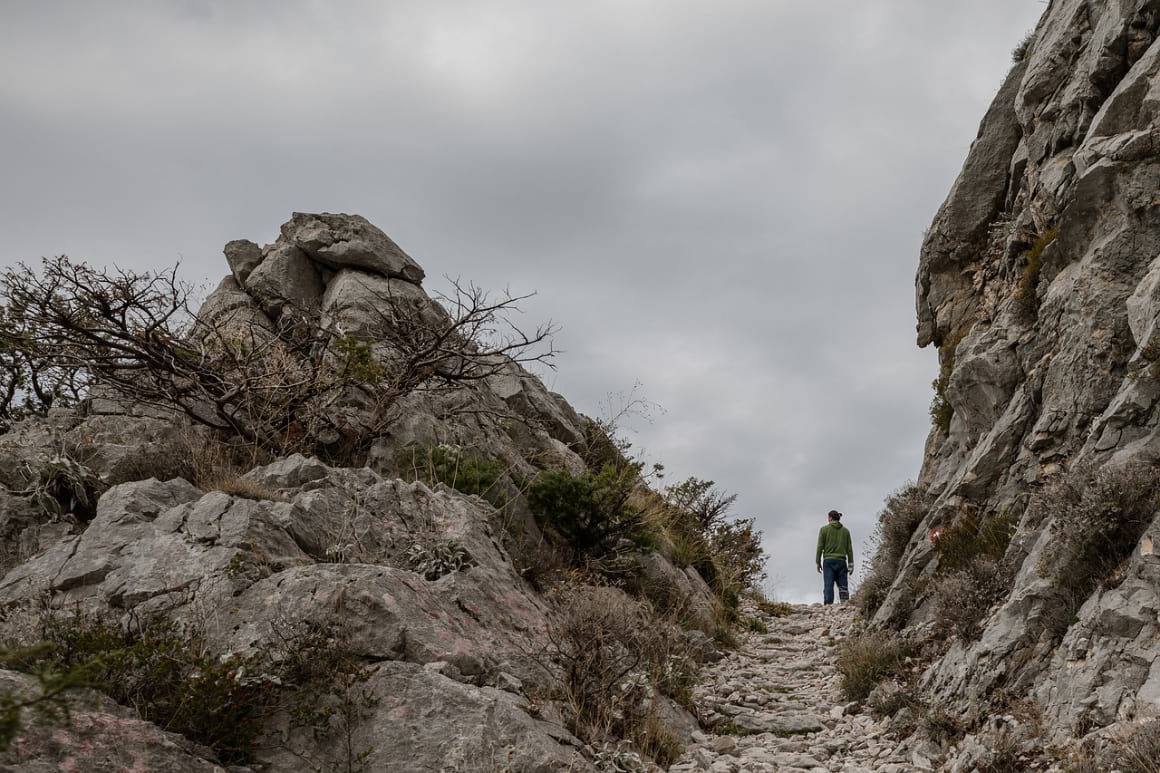 Trails are often uneven and have sheer drops, which means hiking in beach sandals or unsuitable clothing is not a good idea. Covering up is also advised – in some wooded areas, ticks can become an issue.
Also, respect the sun. That shit's strong. Croatia gets really hot in the summer, and many hiking paths are not shaded.
When it rains, rocky paths get muddy and slippery. In the winter, mountain grounds may get a covering of snow. Always check the weather!
Bring enough water for the hike, as well as sunscreen. Add a hat and sunglasses, and you're good to go.
No matter where you choose to hike in Croatia, one thing is for sure: you need travel insurance. It's important to count on that extra security blanket to help you out — you never know when you might need it.
Don't Forget Your Croatia Travel Insurance
ALWAYS sort out your backpacker insurance before your trip. There's plenty to choose from in that department, but a good place to start is Safety Wing.
They offer month-to-month payments, no lock-in contracts, and require absolutely no itineraries: that's the exact kind of insurance long-term travellers and digital nomads need.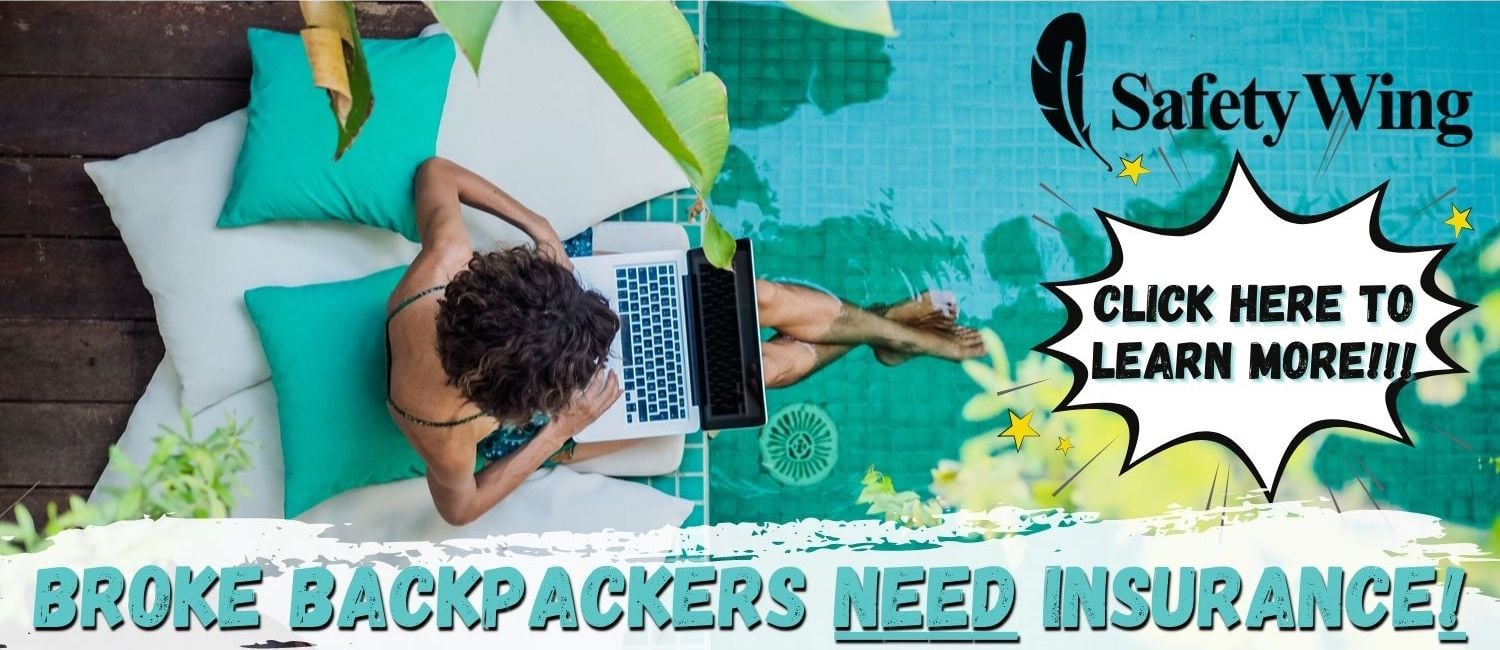 SafetyWing is cheap, easy, and admin-free: just sign up lickety-split so you can get back to it!
Click the button below to learn more about SafetyWing's setup or read our insider review for the full tasty scoop.
FAQs on Hiking in Croatia
Here's what people usually ask us about the best hikes in Croatia…
Final Thoughts
So there you have it, some of the best hikes in Croatia! Whilst I didn't go into extreme detail, hopefully there is enough here to stimulate some plans, the pulling out of some dusty hiking gear, and an emarkation on the trail…
Remember, always pack a water bottle, a fresh pair of socks, and more snacks than you think. It gets hungry out there, and your mate Terrance gets hangry as hell.
Love, peace, and well wishes on your soon-to-be life-changing Croatian hike…
---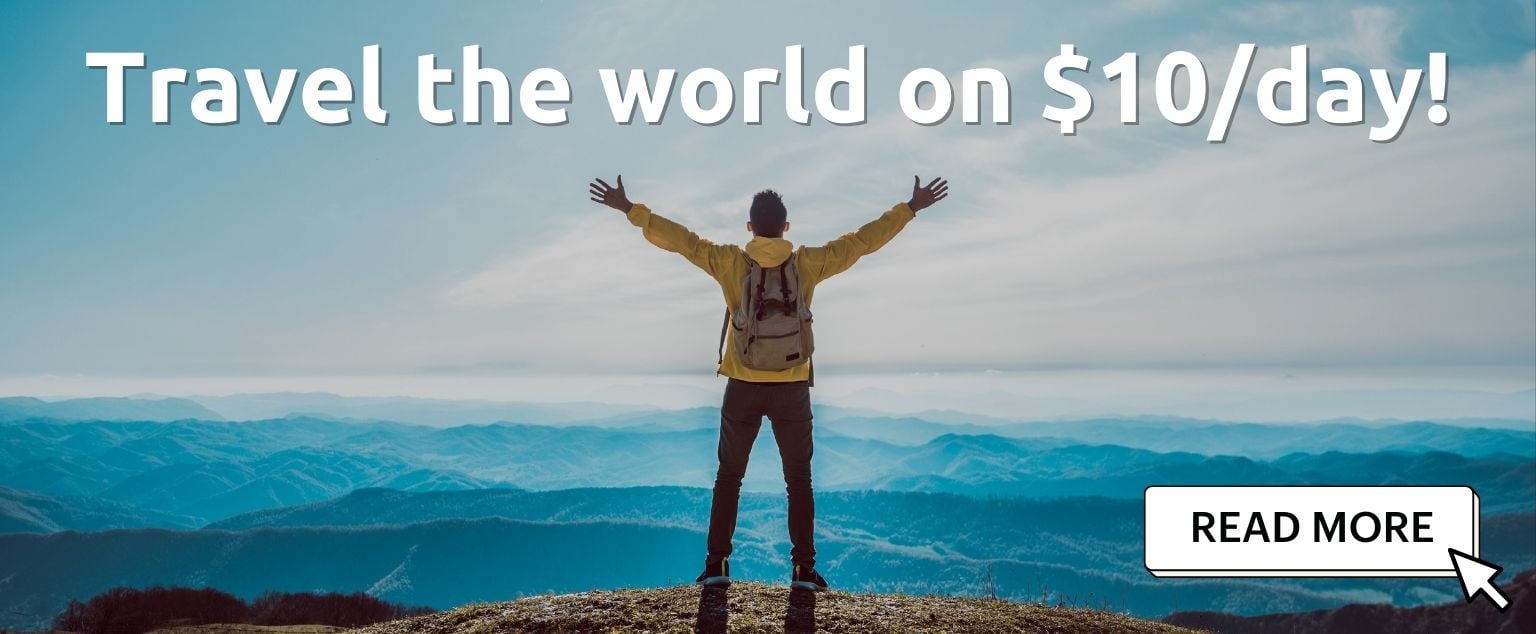 And for transparency's sake, please know that some of the links in our content are affiliate links. That means that if you book your accommodation, buy your gear, or sort your insurance through our link, we earn a small commission (at no extra cost to you). That said, we only link to the gear we trust and never recommend services we don't believe are up to scratch. Again, thank you!