Beaches everywhere, mountainous landscapes to trek, incredible medieval architecture, and even relics of the Romans to get to grips with, there's a lot packed into Croatia; there are even 1,200 of islands to explore, topping off what an already cool Mediterranean destination.
Croatia's past isn't exactly a happy one. It was only just over two decades ago that the coastal wonders of Croatia were being fired at during the Balkan Wars. Today it's happily not a warzone but there are leftovers: landmines dot the countryside.
Along with the issue of over-tourism, there is also petty crime that's on the rise. Understandably, you're asking, "Is Croatia safe to visit?" Which is exactly why we've created this guide.
You might be thinking that Croatia is less developed than other European countries or if there are any dangers you should be aware of in Croatia – and that's exactly what you're going to find out when you dive into our guide to staying safe in Croatia. From solo female traveller thinking of a trip to Croatia to families willing to explore this side of Europe, we've got you covered!

Unlock Our GREATEST Travel Secrets!
Sign up for our newsletter and get the best travel tips delivered right to your inbox.
How Safe is Croatia? (Our take)
A backpacking trip to Croatia is packed with a load to do, from quaint villages, to chill beaches and cool UNESCO World Heritage Sites – even Game of Thrones destinations. It's no wonder you want to go there.
Don't worry: Croatia is safe!
It's definitely not an unsafe place to go and violent crime is pretty low.
But because of just how mentally busy some of the tourist areas are, you will have to watch out for stuff like pickpockets and other forms of petty theft. Annoying more than anything.
Formerly part of Yugoslavia, the Balkan Wars of the 1990s mean certain dangerous leftovers like landmines. Government corruption is also rife.
So…
There is no such thing as a perfect safety guide, and this article is no different. The question of "Is Croatia Safe?" will ALWAYS have a different answer depending on the parties involved. But this article is written for savvy travellers from the perspective of savvy travellers.
The information present in this safety guide was accurate at the time of writing, however, the world is a changeable place, now more than ever. Between the pandemic, ever-worsening cultural division, and a click-hungry media, it can be hard to maintain what is truth and what is sensationalism.
Here, you will find safety knowledge and advice for travelling Croatia. It won't be down to the wire cutting edge info on the most current events, but it is layered in the expertise of veteran travellers. If you use our guide, do your own research, and practise common sense, you will have a safe trip to Croatia.
If you see any outdated information in this guide, we would really appreciate it if you could reach out in the comments below. We strive to provide the most relevant travel information on the web and always appreciate input from our readers (nicely, please!). Otherwise, thanks for your ear and stay safe!
It's a wild world out there. But it's pretty damn special too. 🙂
Is Croatia Safe to Visit? (The facts.)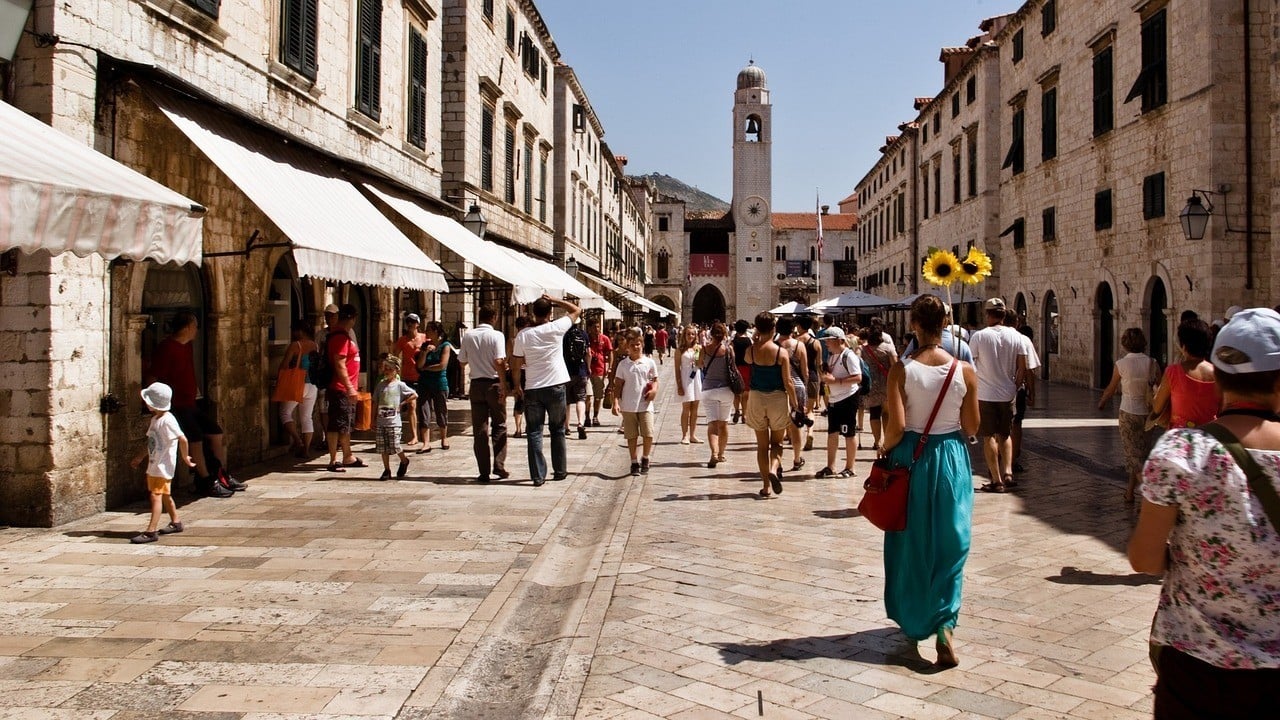 Tourism in Croatia absolutely boomed in the past ten years. Depending on where you stay in Croatia, you may encounter HORDES of tourists!!
It's one of the major moneymaking industries of the country. In 2018 there were 18.4 million tourists. That might not sound like loads compared to other countries but consider: most of these tourists are in Croatia in just two months of the year (July and August) completely packing out the Adriatic Coast and its UNESCO sites.
There are 10 of those, by the way. During these times, Dubrovnik and Split are inundated with tourists. Like, so many.
Crime rates in Croatia are relatively low: the homicide rate has been dropping since 1995.
And when it comes to overall 'peace' the 2018 Global Peace Index ranks it as number 27 out of 163 countries; that's between Bulgaria and Chile. It's decent in terms of general safety, basically.
It's also part of the EU and has been since 2013, but it still uses its own currency (kuna) making it pretty, pretty affordable too! If you're wondering how expensive Croatia really is, dig a little deeper and find out more about it in our guide!
All in all, Croatia is safe to visit.
Is it Safe to Visit Croatia Right Now?
Croatia may seem quite safe but it's not 100% crime-free.
One of the main factors of this is government corruption. This remains an issue even in everyday life.
In addition, because of tourism, residents of big tourist destinations (e.g. Dubrovnik) have been outpriced and pushed out of their cities. This leads to some people getting involved in the drug trafficking trade.
Unexploded landmines are actually an issue. They're still present in Eastern Slavonia, Karlovac County, Brodsko-Posavska County, and around Zadar County, along with remote areas in the Plitvice National Park.
Mine clearance is ongoing, but there are still loads of them. You can check out Croatian Mine Action Centre's website for a map of affected areas.
There are other things to be worried about too.
Croatia actually gets a few earthquakes. They're pretty frequent – for example, there was a 4.4 magnitude earthquake on 30th March 2019. Other than that, you may find yourself feeling tremors every now and then.
Forest fires can also happen in the dry, hot summers of Croatia and can spread very quickly. If they're really bad, there will be an evacuation. In September 2018 a wildfire in the south got so bad that 700 people had to be evacuated – this included tourists.
And then there's flooding. The centre of the country gets pretty badly affected; rivers burst their banks due to melting snows and intense rain. In March 2018 the Lika River flooded in the Kosinj Valley leaving many people without electricity.
There are higher risks of petty theft in places like the capital, Zagreb. You may get annoyed by scams or paying over the odds for a drink in touristy places… Right now, though, Croatia is safe.
ALWAYS sort out your backpacker insurance before your trip. There's plenty to choose from in that department, but a good place to start is Safety Wing.
They offer month-to-month payments, no lock-in contracts, and require absolutely no itineraries: that's the exact kind of insurance long-term travellers and digital nomads need.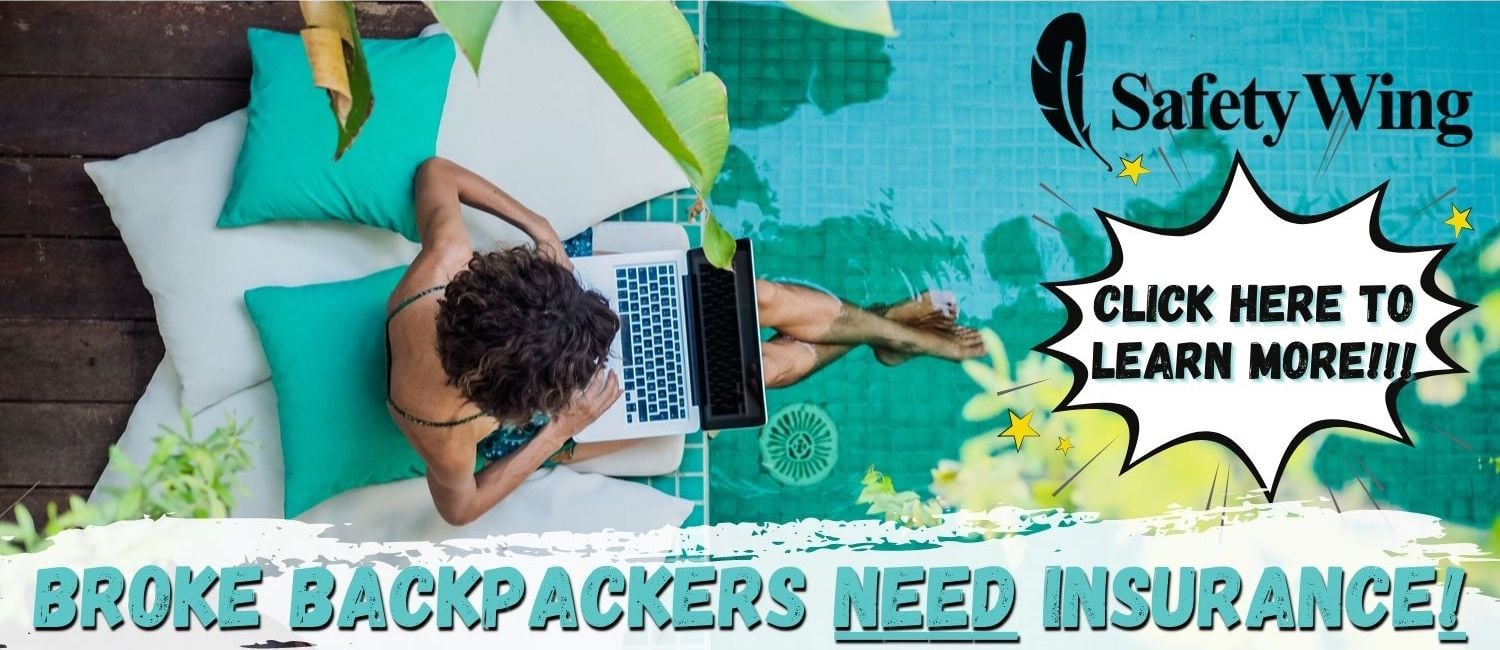 SafetyWing is cheap, easy, and admin-free: just sign up lickety-split so you can get back to it!
Click the button below to learn more about SafetyWing's setup or read our insider review for the full tasty scoop.
Whilst Croatia might be pretty safe in general, you can never be too safe. So that's why we've come up with a few top safety tips for travelling to Croatia so that you never get caught off guard by an obvious scam or find yourself walking around a dodgy neighbourhood. There's not too much to watch out for in Croatia though, but it always pays to be in the know about where you are…
There is a risk of pickpocketing – so keep your belongings close to you and watch in your surroundings in busy areas. Wear a money belt.
Don't look like a target – looking wealthy, looking lost, designer clothes, big SLR around your neck, all that – magnet for thieves.
Careful when you're getting money out of the ATM – check who's watching you. Don't get out loads at a time either.
Keep a photocopy of your passport and important docs with you – just in case they get lost or stolen.
Don't walk around towns without your top on/in a swimming costume – it's actually against the law!
Stick to marked paths in hiking areas – landmines are a real threat. Ask locals if you're worried.
Weather conditions can change super quickly – if you're not 100% confident, hire a guide when you're hiking.
Cover up against ticks – these can transmit encephalitis (not nice). You'll find them in the forests of the north.
Don't leave litter when you're in the countryside – glass bottles, cigarettes, things like that can cause actual devastation.
Watch the news – this will help you to keep up to date with extreme weather, flooding, etc.
Respect the sun! – it can get super hot in the summer so wear sunscreen, stay in the shade at midday, cover-up, wear sunglasses.
Careful of sea urchins – they hide in the rocks and are pretty horrific to tread on so watch your step. Or wear reef shoes.
There are also snakes – watch your step inland too!
Avoid 'gentlemen's clubs' in Zagreb – you'll just get scammed. And they're pretty sketchy places too.
Bars and clubs also have a reputation for overcharging – read reviews before you head out to places. And watch what you're actually paying.
Stay away from any kind of political demonstration – just never a good idea to get caught up in these.
And steer clear of drugs – just not worth the fines – or potential prison sentence.
Learn some Croatian – lots of people speak English but this is Croatia. Learn at least some greetings and stuff.
In general, you're not likely to get into any trouble in Croatia. In fact, most likely you'll be the one putting yourself in any dodgy situations you might find yourself in. So travel smart and make sure you look after your belongings at all times, especially in busy, touristed areas. Watch the weather if you're in nature, watch your surroundings in towns. Pretty simple stuff to keep you safe in Croatia!
Keeping your money safe in Croatia
It's never, ever going to be fun losing your money. That's a surefire way to completely ruin a trip or travel itinerary – having no funds to continue, or even find a bed for the night.
In Croatia, this could happen. Petty theft does happen in places where UNESCO sites mean hordes of tourists. When there's no space to pay attention to every little thing, one thing could really save your dough: a money belt!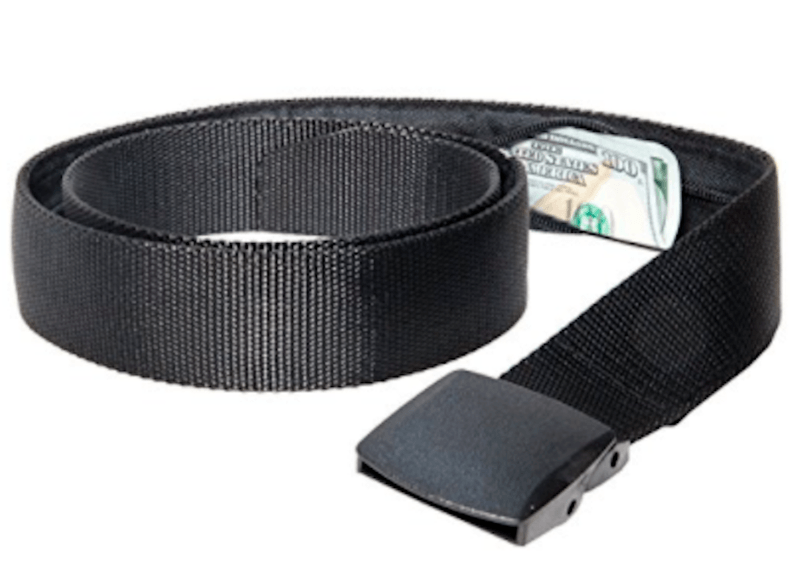 There's no way anybody's getting to your money if it's tucked away safely in a money belt. However, there sure is a lot of choices when it comes to finding the right money belt for you.
The Pacsafe Money Belt is our best bet. It's affordable, it looks and acts like a belt, and it's sturdy – what more could you ask for out of a money belt!
Other money belts might have a million pockets and stuff like that, but they're often bulky, uncomfortable and bulge out of your clothes. They look pretty obvious. But this belt is pretty secret. A little zip pocket holds your stash of cash for the day – this can really save you. Even if you end up losing your wallet, or a bank card, or whatever, having money to fall back on is always a sensible choice.
If you need a little more room for your passport and other travel valuables, have a look at a full-size money belt that tucks under your clothes instead.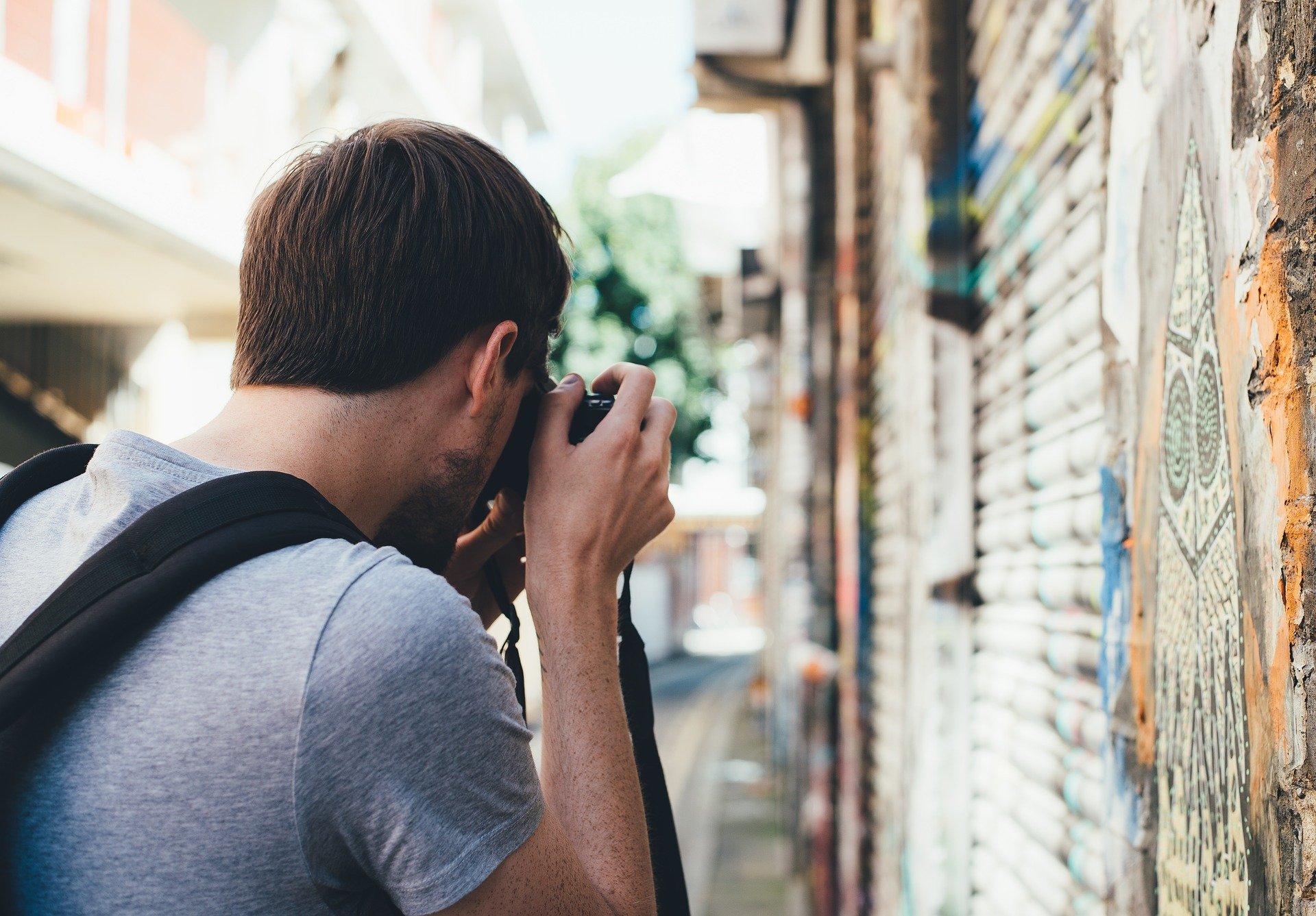 If you want to travel solo, Croatia is the perfect place for it. It's safe to travel in Croatia for solo travellers and is a great place to get comfortable with taking a trip by yourself – the highs of freedom and challenging yourself, the lows of getting bored and lonely.
Because it's so touristed there are a ton of group activities, tours and group travel to get involved with, as well as some pretty exciting off the beaten track stuff too. We'd say there's something for every type of traveller here and, yes you'll be safe, but we've still got some tips!
Join a group tour. Especially if this is your first time travelling solo this is a great way to meet other travellers, have shared experiences, and maybe even make a few new mates. There are loads of tour companies out there that are geared towards solo travellers. Just You is a good example, as is Busabout.
Don't stay at big resorts. These are packed with families and groups of friends and is just not the solo travelling scene you're looking for, we imagine.
Opt for a social hostel or family-run guesthouse. There are some great hostels in Croatia. Doing your research when it comes to finding the one that's going to suit you best is something we'd suggest doing. It's no use staying somewhere social that's also a mad party hostel if you're not a big drinker or whatever.
Make sure you're staying somewhere central. You most definitely don't want to be stuck by yourself in the middle of nowhere or in a weird part of town. Even if it's cheaper. Stay somewhere where there are bars, restaurants, things to do – it's just more interesting, too.
Ask the staff at your accommodation about things to do in the area. Local knowledge is always a good thing and can lead you to find some pretty cool stuff that your guidebook won't have covered.
Keep in touch with your friends and family – especially if you're feeling the solo travel blues. Not only is it a good way to feel grounded and connected, but having people back home know where you are is always the safer option. As opposed to people not knowing at all what you're up to.
Don't get super drunk when you go out. You'll be more at risk of petty crime or simply not being able to actually find your way home. It's always best to have at least some of your wits about you!
Watch your food and drink at all times. It could get spiked. This isn't just a tip for female travellers: it can happen to males too. So keep an eye out on what you've ordered and don't accept food and drink from strangers – especially in bars and restaurants that seem a bit off.
So there you go, a few tips for anybody thinking of solo travel in Croatia. Luckily for you, it's actually pretty safe in Croatia. You won't have to worry about much at all. Even if it's your first time embarking on a solo travel trip, we reckon you'll be fine. Make sure you travel smart and don't act like you're in a theme park where nothing can go wrong. Because that's when it could go wrong… Have fun though!
Is Croatia safe for solo female travellers?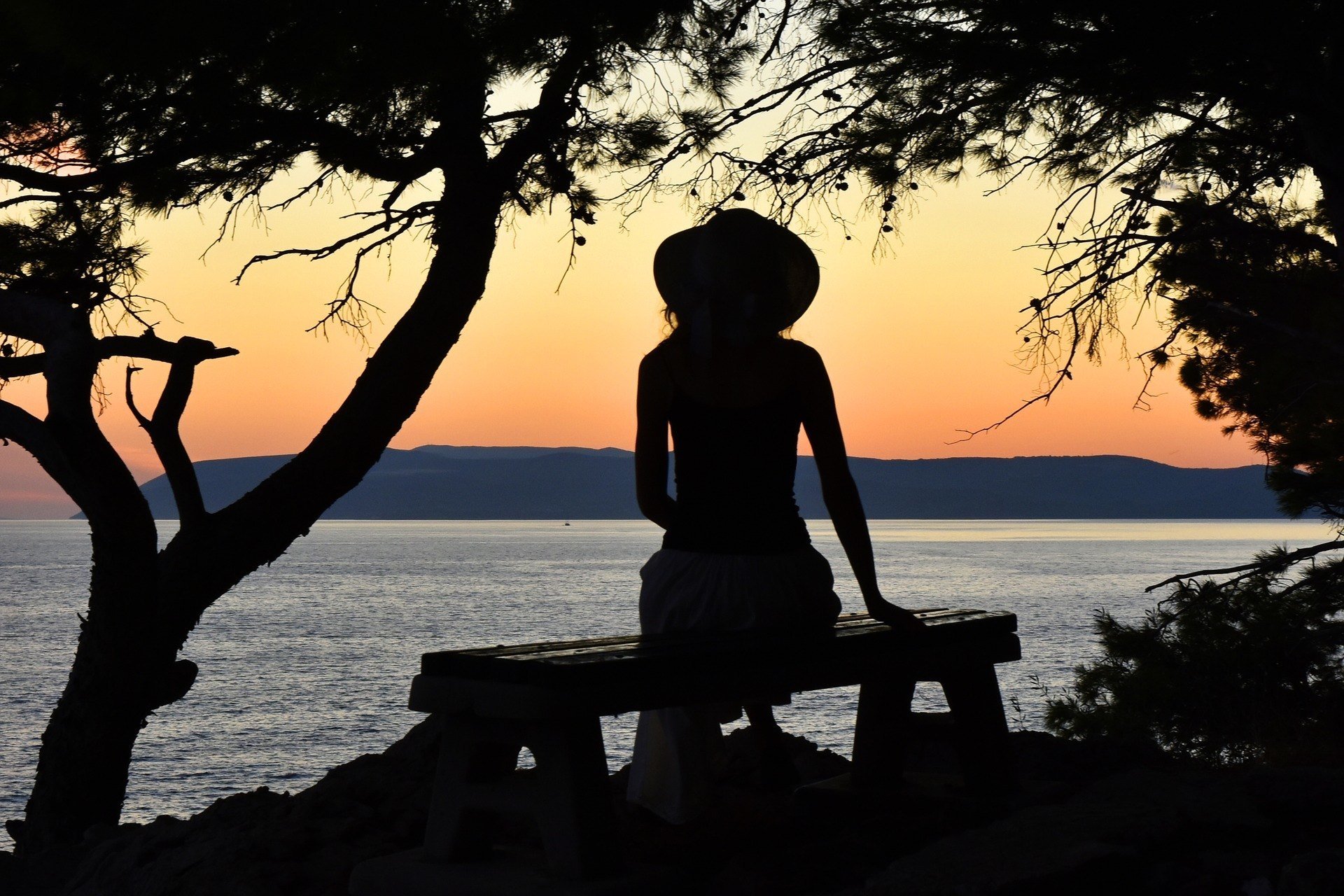 Travelling to Croatia as a solo female traveller is actually great fun! It's a pretty safe place for women and a lot of solo female travellers go to Croatia without any trouble at all. Seriously – it's cool! And you're going to find a lot of other travellers dotted all over the country.
That means you're going to be greeted with a pretty good social scene going on in Croatia. Most of the places you go to, women are treated pretty respectfully. Still, you're going to want to keep yourself as safe as possible, so here are our tips for solo female travellers in Croatia.
When you're walking around at night make sure you stick to well-lit roads and non-deserted streets. Anything other than these is going to be dodgy. Just think of how you walk around in your home country.
Don't hesitate to make a fuss. If you ever feel like you're in danger, or if someone is really bothering you, make a fuss and let somebody know about the situation.
Often women are going to be a target of petty theft, so try to keep your bag not dangling off your shoulder. You could opt for cross-body instead. Definitely don't leave your bag dangling off the back of a chair at a cafe/restaurant, either!
Try to blend in with what you're wearing. Take a look around at the other women in the area and see what they're dressed like. This will help you feel less uncomfortable when you're in certain situations.
Read reviews before you book your accommodation in Croatia to ensure that they're safe and secure. Things like being able to lock your door, whether or not there are lockers, the owners or staff aren't weird, the area isn't sketchy etc. Reading reviews from other female travellers is a good way to go.
When you're chatting to people, don't feel like you need to tell them everything. Especially if they're asking you a load of personal questions about whether you're single, where you're staying, where you're going, what you're doing tomorrow, etc. etc. White lies are perfect for these types of situations!
Keep an eye on your drink (and food). Drink spiking can happen. And on a similar note, don't accept drinks from total strangers. It's just better to be safe than sorry.
Go on a tour or hire a guide (or both!) This is an awesome way to meet people, get to know the city (or general area) you're staying in, visit amazing spots, learn stuff about Croatia and maybe even make some friends. Even if your hostel just puts on a walking tour or something, you should join it. Why not?
You're going to have a pretty good time in Croatia. There aren't a load of things you're going to have to worry about. Nothing major. Plus the good thing about Croatia is that it attracts a load of different travellers. People who prefer tours, intrepid backpackers, first-timers…
There are a whole lot of people to meet when you're travelling around this cool country. It's not likely that you're going to get too lonely on your travels. That's not an issue, really. Remember: it may seem like a dreamy destination, but you should still travel smart.
That means not putting yourself in danger, not walking down sketchy-looking streets, making sure you stay in places that have good reviews, and not accepting drinks from total strangers and avoiding personal questions from weirdos. This'll keep you safe anywhere!
Is Croatia safe to travel for families?
Croatia is totally geared up for catering for families. There are more things to do here than just beaches – though those alone are pretty fun! We're talking museums, hiking and amazing fortresses.
Kids will also love things like the sea organ and sun salutation in Zadar. Amazing places like Diocletian's Palace in Split. There are a ton of playgrounds where your children can let off some steam, too.
Plenty of things like pedestrianised streets and public parks make most places in Croatia an easy place to stroll around. We're talking long seafront walks and things like that. Speaking of which the beaches are long, shallow and sandy – ideal for travelling to Croatia with children.
One thing Croatia can be is super busy with tourists. You'll be able to find a fair few small coastal towns away from the tourist sights, though. These aren't super remote, however, and boast hotels and even resorts.
You should have no problem eating out with children. Croatia is a family-friendly place and locals take their children out to restaurants. This practice goes on late into the night – one thing you may have to get used to!
Don't expect to find things like baby-changing facilities outside of resorts. At the same time, nappies and other baby-related products are pretty easy to come by in shops.
Most of what you'll be worried about involves nature. In the summer, that'll be the heat. Covering up, slathering on sunscreen, wearing a sunhat is necessary. Make sure arms and legs are covered if you plan on going hiking (because of ticks).
You also may want to invest in a pair of reef shoes for everyone for playing around on the beach in case of sea urchins.
Other than that, you'll be happy to know that Croatia is definitely safe to travel for families!
Is it safe to drive in Croatia?
It can be easy to drive in Croatia. It goes without saying that it's a great way to see the country away from touristed areas.
There are still some things to watch out for.
Roads in rural areas can be pretty winding and not always great in terms of condition. Around the capital of Zagreb and other towns, they're in good condition.
Local drivers, however, aren't always the best. You should make sure to drive with your headlights on from October till March, even in daylight hours.
You'll also need to have winter tyres between November and April.
In the car, you'll need to have a high visibility jacket. That's just the law.
We wouldn't say that Croatia is a good place to drive for nervous drivers! Being confident is definitely going to help. You'll have to be ok with hearing horns going all the time and get used to people overtaking in crazy places.
Mountain roads can be pretty treacherous.
In fact, Croatia has a pretty high road fatality rate compared with other European countries.
Nonetheless, Croatia is safe to drive if what you'll be doing is just driving from wherever you're staying to various nearby destinations. That's not to say you can't go on road trips in Croatia. You'll just have to be careful!
Is Uber safe in Croatia?
Uber is available in most places in Croatia – Zagreb, Split, Dubrovnik, Zadar and more.
It's been in the country since 2015 but Croatia can be expensive in the height of tourist season.
For us though, the best thing about Uber in Croatia is UberBOAT. That's exactly what it sounds like. It runs in the high season only and it works just like Uber. Seems like it's become a regular thing now and a popular and easy way to get around.
So yes, Uber is safe in Croatia. Enterprising as well!
Are taxis safe in Croatia?
Yes. They're generally fine.
And you'll have absolutely no trouble finding one in tourist areas. That's not to say you won't have any trouble though.
There are some scams that go on. Make sure the meter is running and that you don't get shortchanged.
Taxis in Croatia are in various colours, so you won't be identifying a licensed one by colour alone. They'll have the classic TAXI sign on the roof – it's yellow. Lights up when someone's in it.
Most cabs in Croatia have the name of the city they're operating in written on the side. You'll see them driving around in popular areas or waiting around at taxi ranks.
Taxis are fairly affordable, but mainly if you're already in a big town. In the countryside, they'll cost more. They're also less likely to even have a meter, so you'll need to agree on a fare beforehand.
Zagreb isn't a great place for taxis at the moment. Taxi drivers here don't like Uber at all. When you're at the airport, make sure you get a taxi instead of an Uber.
When you're in Zagreb or other cities for that matter you can call up a radio taxi company. They can be pretty expensive though.
Taxis are safe in Croatia. The government has been regulating it a lot more in recent years. In fact, in 2018 there was a government agency set up specifically for taxi regulation!
Is public transportation in Croatia safe?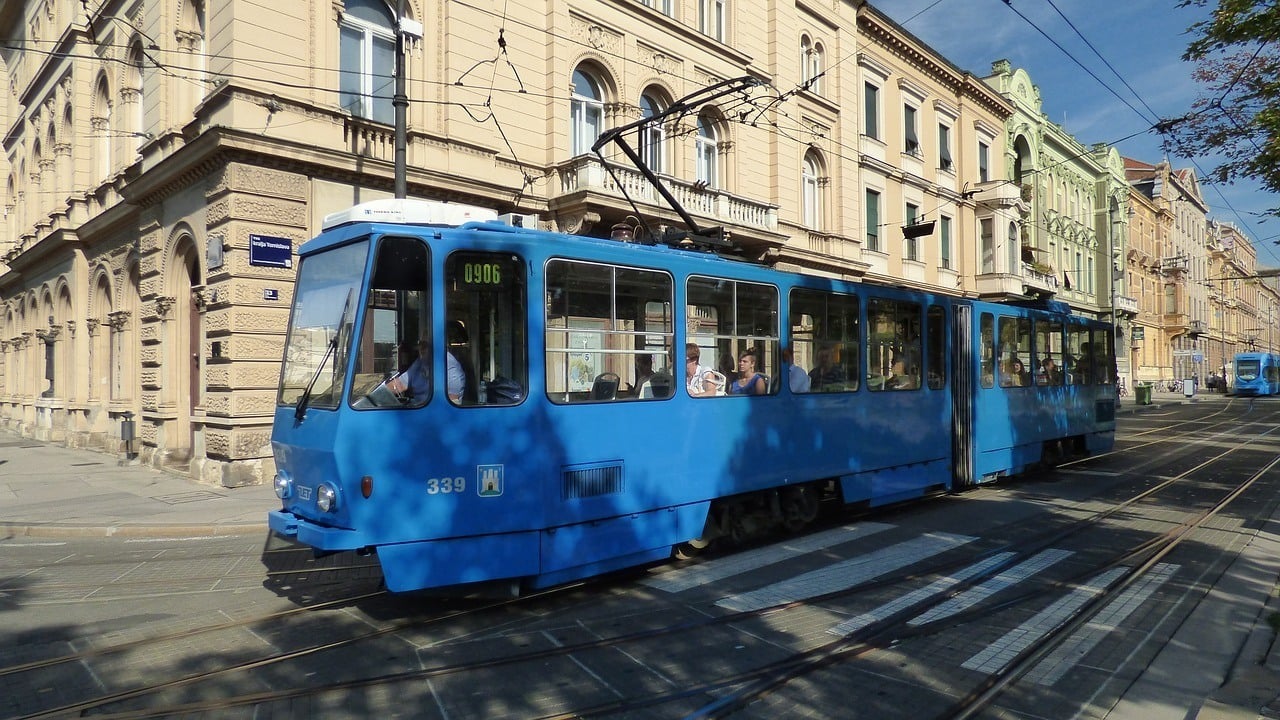 Buses and trains make up Croatia's public transport. It's a good way to get around and meet local people, who are pretty friendly!
Most public transport in Croatia is safe as well. Buses in major towns – such as Dubrovnik and Zadar – are super low cost. That said the Zagreb bus terminal is not a nice place to hang out, especially at night. It tends to attract petty crime.
Zagreb also has trams and so does Osijek. Just make sure you keep an eye on your belongings when it gets busy – but that's just like a lot busy public transport around the world.
There are also highway buses that lace around the country. They're fast and frequent. Hop on 'em and get to different destinations. Do your research though: there are a fair few companies to choose from, some more 'VIP' than others, so if you want more comfort you can opt for it.
Note: if you plan on getting the bus from Split to Dubrovnik, make sure you have your passport. The bus route goes through Bosnia-Herzegovina.
Trains in Croatia are safe, but you're going to want to look after your valuables – especially when you're travelling at night time. The train network isn't that comprehensive, however, so do expect delays.
If you're InterRailing, happy days: the pass is good for Croatian trains.
Public transport in Croatia is safe. You'll just have to watch your stuff on busy trams, night trains, that sort of thing. Nothing major though!
Is the food in Croatia safe?
Croatian food is very tasty. It's fresh and is characterised by a lot of seafood – being as coastal as it is – and meat and a variety of different regional dishes to tuck in to. The food has been influenced by its neighbours, making it a cocktail of Austrian, Turkish, Hungarian, Italian.
Of course, it's not just actual dishes from these countries. Croatian cuisine has taken all this on board and now features flavours and similarities between all those countries. To help you discover it all here are some of our best tips for eating your way around Croatia safely.
Try to avoid tourist traps. These sorts of restaurants are unfortunately everywhere: burgers, chips etc. It's a shame, but there really are a lot of these in touristed places. The food won't be that good and it won't be that fresh. We'd recommend to always opt for somewhere that actually looks authentic.
Eat at busy places. Better yet, eat at places busy with locals. Locals know what's up in terms of tasty food, so if a place is busy you know it's going to be good. In terms of food safety, you know it's not likely to make you ill either. Popular places are the way to go.
Make sure everything's nicely cooked before eating. One of the easiest ways to get ill in Croatia is eating food that hasn't been cooked through.
Don't eat too much when you first arrive. There's a lot of different food on offer and you're going to want to try it all. But it's different from what you're used to, so just don't overdo it. Your stomach will thank you!
Be careful around hotel buffets. These can be a really easy way to get ill. Think of all the people serving themselves up stuff from it, coughing, whatever. Also not likely to be the best quality. Head out and find some real Croatian food.
Food that has been lying around all day, or looks like it might have been – avoid. Instead, opt for things that have been cooked hot and fresh.
Wash your hands. This is food safety 101.
Lastly, watch out for seafood. Getting ill from eating bad seafood can actually be pretty dangerous. If it doesn't smell right, and definitely if it doesn't taste right, stop eating. The taste being a bit off – that's a sign of seafood that is long past being 'fresh'.
Food in Croatia is safe! It's amazingly tasty too. Expect to try the Dalmatian dish of crni rizot (black risotto with seafood), pasticada (a beef stew with a delicious sauce), or yummy homemade gnocchi. To top it all off, have a few rakija. But not too many – this stuff's strong!
Basically, staying safe in terms of food is pretty simple. Avoid places that look sketchy, go where the locals are going and if in doubt, just head online. People write reviews on Google! TripAdvisor! See a place nearby that you want to try? Research first: you'll be totally fine!
Can you drink the water in Croatia?
Water is safe to drink in Croatia.
To be honest, you'll probably want to drink it too – bottled water is pretty expensive.
Take yourself a refillable bottle and go for it. We have compared different travel water bottles in this article to help you decide which one is the best for you.
If you want to explore the backcountry, we'd suggest boiling and filtering your water or using the GRAYL GEOPRESS.
Is Croatia safe to live?
Of course, it's safe to live in Croatia.
A lot of people live there. In fact, many people are relocating here due to it's low cost (and high standard) of living. The number of expats and digital nomads in Croatia is increasing, and I can see why!
The safest place to live in Croatia is Sinj. In 2018 it had already held this title for 4 years. You won't have to worry about violence, break-ins, traffic accidents as it's literally the safest town in Croatia.
The villages surrounding Sinj are nice as well. Rich history, beautiful scenery, not too many people.
The rest of Croatia actually attracts a lot of foreigners. The most popular places are Split, Zagreb and Porec. All have pretty high standards of living, much like places in Greece, Italy or Spain.
After CCTV was installed in the capital and other places, crime rates have fallen. Zagreb also has a sizeable expat community, it's walkable, and it's got cheap public transport. A pretty liveable place.
It's pretty cheap to live in Croatia than in other places in Europe, however. Food is affordable in restaurants – so are drinks! Head to markets as supermarkets are expensive in Croatia. Buying local is the best way to go.
Living in Croatia will mean popping to local, organic greengrocers.
You won't have to worry about walking around at night time in most places. It's normal to see children playing out on the streets after dark. If that's not the sign of a safe place then we don't know what is!
A lot of people do speak English, maybe even French and German, but you should learn some Croatian. Why wouldn't you?
The Future of the SIM Card is HERE!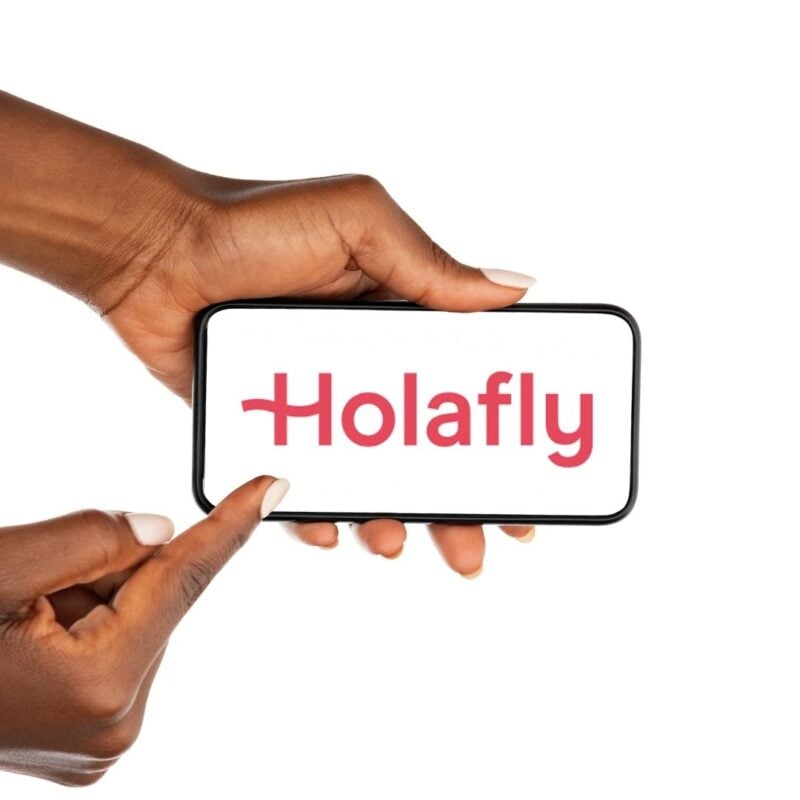 A new country, a new contract, a new piece of plastic – booooring. Instead, buy an eSIM!
An eSIM works just like an app: you buy it, you download it, and BOOM! You're connected. It's just that easy.
Is your phone eSIM ready? Read about how e-Sims work or click below to see one of the top eSIM providers on the market and ditch the plastic.
Grab an eSIM!
How is healthcare in Croatia?
You're going to find a good standard of healthcare in Croatia.
Croatian doctors are well trained and professional (always a good thing). You won't have to worry too much if you get ill whilst you're on a trip in this country.
That said it's definitely important to have travel insurance. Even if something very minor has happened to you, any trip to a clinic or hospital means having to pay. But if you're the holder of a European Health Insurance Card you'll be fine (only for public hospitals, however).
You'll also have to expect long delays at A&E. Locals will get chatting to you though, which could be good – or not, depending on your ailment!
Doctors, however, may not always speak English. But a phrasebook and pointing at words will do just fine. More expats and tourists mean that more and more it is actually becoming easier to see an English-speaking doctor.
If you're not sure what's wrong with you, head to a poliklinika. These are private practices, larger than most doctor's places, and will most likely have some English-speaking staff on offer.
For anything else there are pharmacies. They can offer over the counter advice, recommend medication, and sell it to you. Like most pharmacies!
Dial 194 for an ambulance.
Other than, healthcare in Croatia is great. Nothing to worry about!
Helpful Croatia Travel Phrases
Croatian is the official language of Croatia, though English is widely spoken in many of the main hubs. Here are some Croatian travel phrases with English translations to get you started.
Croatian is quite a difficult language to learn, but it is always fun to try, and locals will appreciate the effort, even if you only know a word or two. At least learn how to see "please" and "thank you"!
Thank you – Zdravo
Can I camp here? – Mogu li kampirati ovdje?
Is this the bus to…? – Je li ovo autobus za?
Do you have soup? – Imate li juhu?
Where is the toilet? – Gdje je toliet?
Please – Molim
Sorry – Oprosti
No plastic bag – bez plasti?ne vre?ice
No straw please – bez slame molim
No plastic cutlery please – Bez plastike za jelo molim
I am lost – Izgubljen sam
Beer – Pivo
Do you have hot wine? – Imate li vruce vino?
FAQ about Staying Safe in Croatia
Here are some quick answers to common questions about safety in Croatia.
Final thoughts on the safety of Croatia
Croatia is pretty much like other European countries on the Mediterranean: safe and laid-back. There aren't really a load of things in Croatia that are going to have you seriously worried. Yes, it may have a pretty tough history, but that is literally history. Today Croatia is all about growing itself as an amazing destination. That is, however, where the trouble might be. There are just so many people!
In high season, even just generally in summer, you're going to find a lot of tourists in the most popular spots of the country. Places like Diocletian's Palace and Dubrovnik's old town get absolutely swamped. These places and others have one thing in common: they're UNESCO World Heritage Sites. Whether or not that's a good thing is another issue. But the tourist numbers in these tiny areas is crazy.
This brings other problems, like tourist traps in the form of souvenir shops and restaurants, as well as a little bit of petty theft to watch out for. Watching your belongings when you're in the busiest places and just being aware of your surroundings will keep your money safe in Croatia. When it comes to your personal safety though, Croatia is great.
Disclaimer: Safety conditions change all over the world on a daily basis. We do our best to advise but this info may already be out of date. Do your own research. Enjoy your travels!
---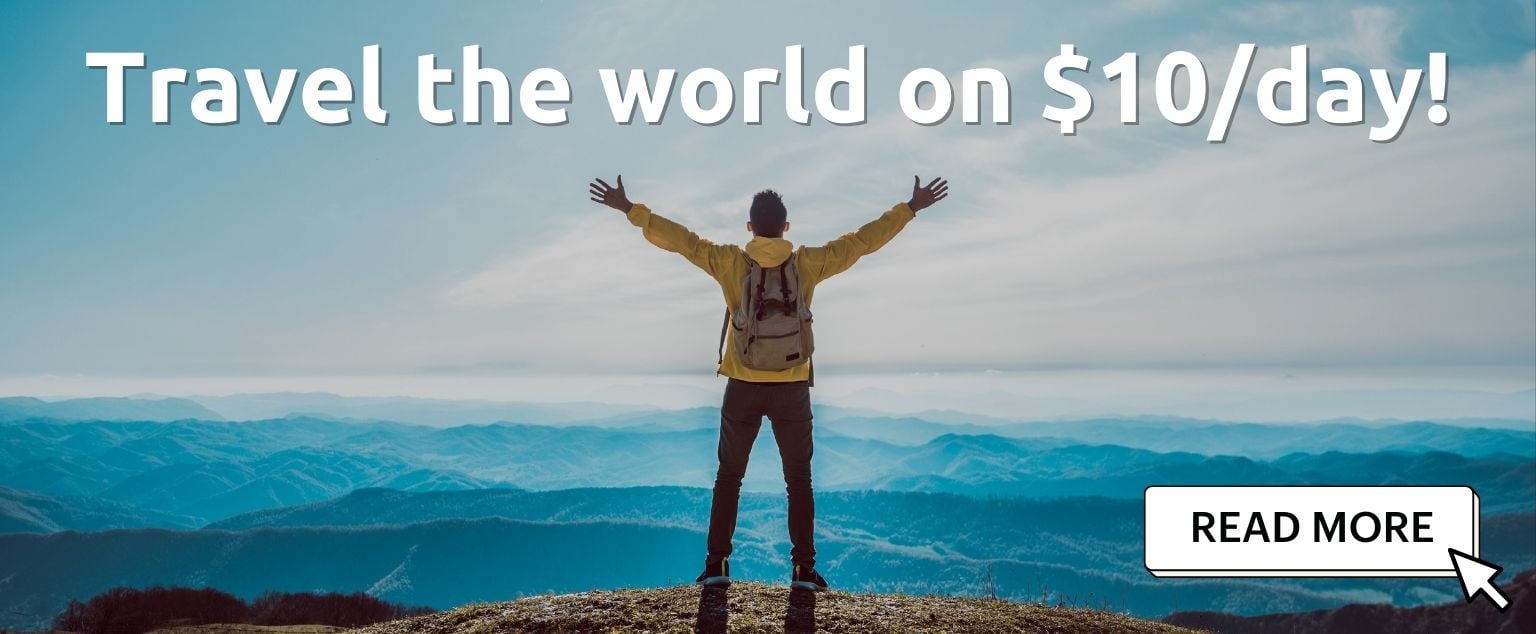 And for transparency's sake, please know that some of the links in our content are affiliate links. That means that if you book your accommodation, buy your gear, or sort your insurance through our link, we earn a small commission (at no extra cost to you). That said, we only link to the gear we trust and never recommend services we don't believe are up to scratch. Again, thank you!