We've all seen the pictures. The turquoise water lapping against shimmering pebble beaches, medieval cities that look like they belong in a fairytale, hikes through exquisite waterfalls and mountains, and food markets to make all your foodie dreams come true.
Croatia is a true haven for vacationers, who predominantly visit the country during the summer months for the quintessential southern European vacation.
However, it's also an incredible country to live in or at least spend an extended period settled in. The country has seen a significant boost in digital nomads over the past few years, both since the new remote work visa was launched and because of the incredible living conditions present in the country.
Croatia is no doubt one of the best spots in Europe. It's located right on the Adriatic Sea and surrounded by Hungary, Slovenia, Bosnia and Herzegovina, Montenegro, and Serbia.
Visitors flock from across the globe to experience the ancient cities, unrivalled beaches, and almost one hundred exquisite islands. Tourism is so big here that the country relies on a fifth of its overall revenue from summer visitors.
Not to mention, with a year-round vacation-like lifestyle, the country draws digital nomads in with a 'work to live' as opposed to a 'live to work' mentality. The country is the 22nd safest out of 128 countries on a Global Finance Index and is also one of the more affordable European countries to live in. What more could you ask for?
If this medieval coastal paradise draws you in, read on for some tangible information on making the country your temporary home as a digital nomad in Croatia.
Is Croatia Good for Digital Nomads?
Croatia isn't just good for digital nomads; in my opinion, it's one of the best countries in the world for remote workers. There are a few things that attract digital nomads to visit Croatia.
Location – Croatia is located in Southern Europe on the coastline of the Adriatic Sea. The country has a Mediterranean climate with warm, dry summers and cool winters. The best time to visit is between June and August.
Affordability – While much of Europe has become unaffordable for the masses, parts of southern Europe, like Croatia, remain affordable. Croatia offers an incredible quality of life for much less than most of Europe. It's quickly developing into a more cosmopolitan region as more and more international visitors make the country their home.
Work-Life Balance – Croatia offers the perfect balance between work and play. It has over 1200 gorgeous island rock formations, 78 of which are islands, and thousands of miles of beaches to explore.
Safety – Croatia is really safe, ranking the 22nd safest out of 128 countries worldwide by Global Finance. This means walking around alone and using public transport as a solo female is safe. Of course, it's always essential to have a general awareness of your surroundings.
It's also well located to travel to the rest of Europe and the Middle East, with budget airlines connecting the country with plenty of other regions.

Unlock Our GREATEST Travel Secrets!
Sign up for our newsletter and get the best travel tips delivered right to your inbox.
Cost of Living
Croatia is very inexpensive compared to the USA. In fact, the cost of living in Croatia is 37% lower than in the USA, with rent being around 73% lower. Rental, food, and leisure prices rise during the summer months when the country welcomes millions of foreign tourists.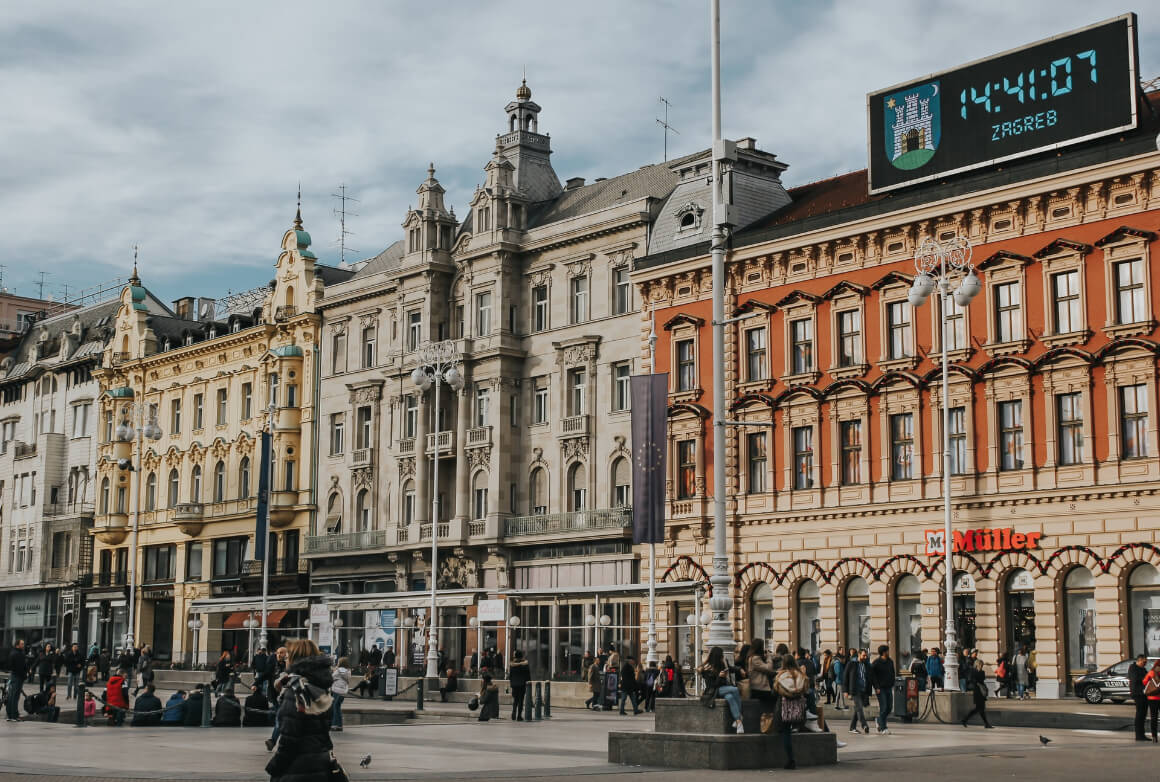 Eating out: A meal at an inexpensive restaurant might cost around $8.70 with drinks, while a meal at a more expensive western-style seated restaurant could cost about $45 during peak season. A coffee costs about $2, while a beer sits a little higher at $3.
Rent: Considering you rent a one-bedroom apartment in the heart of Split or Dubrovnik, you can expect to pay just over $500 per month (or as little as $380 outside the city centre). Of course, rent differs according to where you settle as a digital nomad in Croatia.
Transport: Moving around the major cities is convenient, yet can be pricey, with a one-way public transport ticket costing about $1.50 and a monthly pass going for $50. Taxis are always more expensive than public transport but are more convenient and direct when travelling with luggage.
Activities: Most activities are outdoor-by-nature and free, like cycling, hiking, and snorkelling. However, a gym or fitness club membership for one month will cost around $42 in the city. If you want to visit the cinema or watch a show at a theatre, tickets average around $6.50 per person per show.
Groceries: A gallon of milk costs around $4.30, while a fresh loaf of bread is as little as $1. Fresh produce is more affordable, with a pound of onions or potatoes costing around 40 cents. Depending on seasonality, fruit like bananas, apples, and oranges cost around 70 cents on the pound.
Digital Nomad Accommodation in Croatia
While many tourists head straight for the Croatian islands for the summer vacation. But, I recommend digital nomads settle in one of the bigger cities.
Zagreb, Rijeka, Zadar, Dubrovnik, and Split are the country's largest cities; all of which have a myriad of accommodations for temporary remote workers. I loved the hostels in Rijeka where I met cool people to travel the rest of Croatia with.
While the country grows as a popular destination for digital nomads, there are still very few designated coliving spaces designed for digital nomads in Croatia. Instead, the accommodation market comprises Airbnb, hotels, villas, bed and breakfasts, and hostels (of which there are plenty since the country is a booming tourist destination).
Since there are so few designated co-living spaces, those that exist are hard to find and often booked out, especially during the busy summer season. If staying in a co-living space is essential to you, make sure you do your research and book a room well in advance.
Where Should Digital Nomads Stay?
As a booming tourist destination, finding suitable accommodation isn't difficult here. Before you choose where to stay in Croatia, you must decide which city or island you want to settle on and how many people you will be visiting with. This will give you a better idea of the type of accommodation to look for.
If you visit with a partner, friend, or family, you'll want to find a self-catering vacation rental using Airbnb or Booking.com. These rentals usually have multiple bedrooms, private bathrooms, and a shared living space and kitchen where you can enjoy communal activities with your family.
Hostels are another excellent alternative to a co-living space. They offer affordable options for private or shared rooms with incredible communal facilities. If you choose to book your own private room, you may or may not share a bathroom with other guests.
Last but not least, you could also choose to stay in a hotel or bed and breakfast as a digital nomad in Croatia. While this option is undoubtedly the most expensive, living in a hotel has its benefits.
With well-working Wi-Fi and a dedicated workspace, this place is located in a quiet neighbourhood of Zrnovnica in Split. The quaint home has a balcony overlooking the mountain and a peaceful garden with an outdoor dining area shaded by vines. It has two bedrooms and offers the perfect balance between the city and nature, just a short drive from the city's centre.
Best Hostel for Digital Nomads in Croatia: City Walls Hostel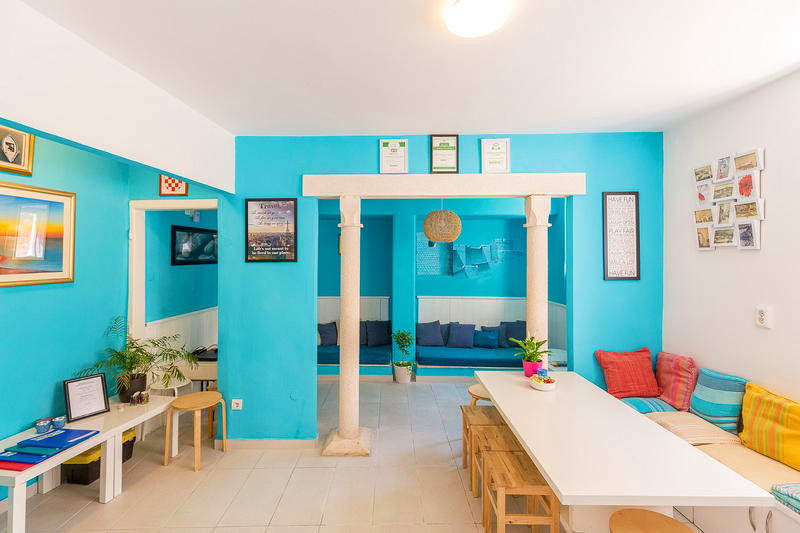 City Walls Hostel in Dubrovnik has a sunny central living area perfect for remote work as long as you can work with a bit of background sound. Set above the medieval roofs of Dubrovnic, the hostel offers spacious dorm rooms with plenty of natural light in the heart of the Old Town.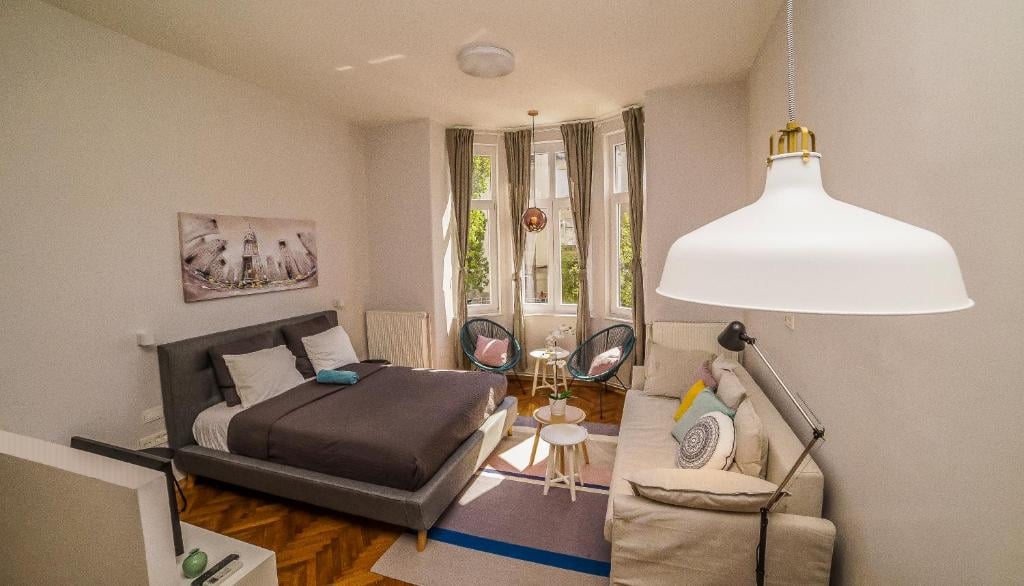 If you are happy moving around and not settling in one place, you could find yourself at the Doma Zagreb Aparthotel in the city centre. Or, at Hotel Timun on the paradisical isle of Hvar.
The aparthotel is the perfect blend between a self-catering apartment and a hotel. It offers all the services of a hotel with the amenities of an apartment, including a kitchen and dining space.
On the other hand, Hotel Timun is set on the water's edge overlooking Pokrivenik Bay. The hotel offers a delicious breakfast each morning and has a local restaurant and bar on site.
Have you sorted your accommodation yet?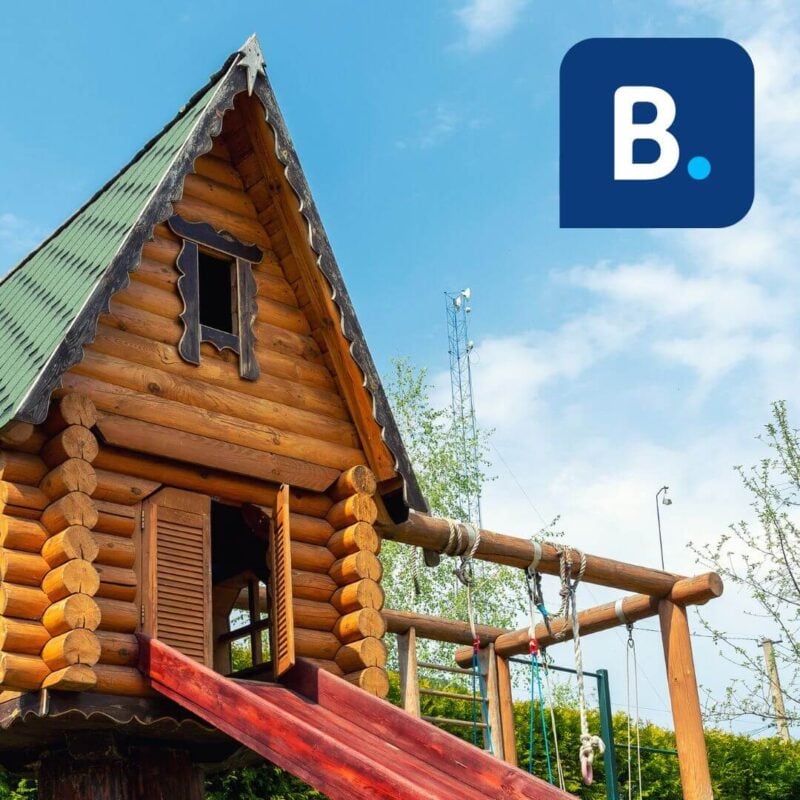 Get 15% OFF when you book through our link — and support the site you love so dearly 😉
Booking.com is quickly becoming our go-to for accommodation. From cheap hostels to stylish homestays and nice hotels, they've got it all!
View on Booking.com
Wi-Fi in Croatia
If there's one thing you need to make sure of before relocating somewhere as a digital nomad, it's that the location has decent internet infrastructure. You won't have to worry about internet connection in any of Croatia's big cities. They're all equipped with fast and reliable Wi-Fi.
The average download speed for a mobile connection is around 65 Mbps and 46 Mbps for fixed internet connections. Most cafes, restaurants, and accommodations will already have Wi-Fi in Croatia. So, you won't typically need to source a router or service provider.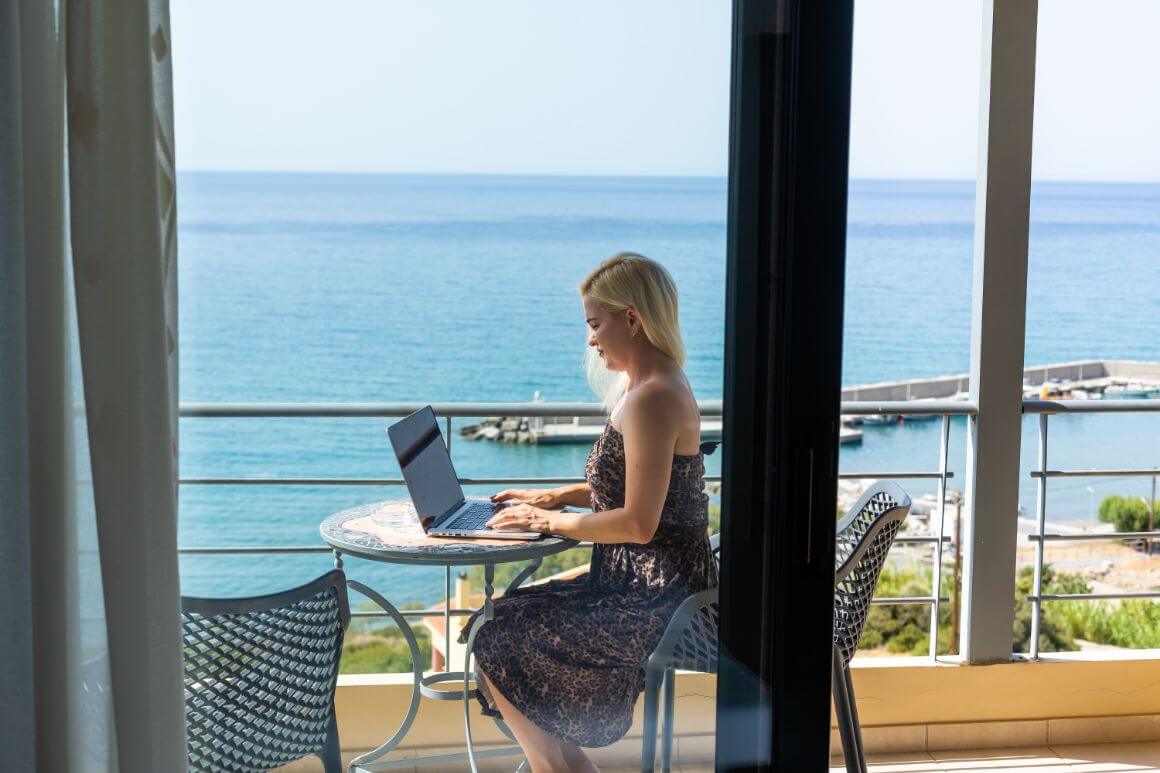 Of course, Wi-Fi speed depends on where you are in the country. More remote regions and islands might have slower speeds and more jumpy connections.
That said, you should organize a local SIM card. Or at least an AirSIM so that you can make use of data when you aren't connected to Wi-Fi.
T-Mobile comes highly recommended for the region, with a high mobile network coverage across the Adriatic area. Telemach is another local provider that offers an extensive 4G and 5G network coverage map.
The Future of the SIM Card is HERE!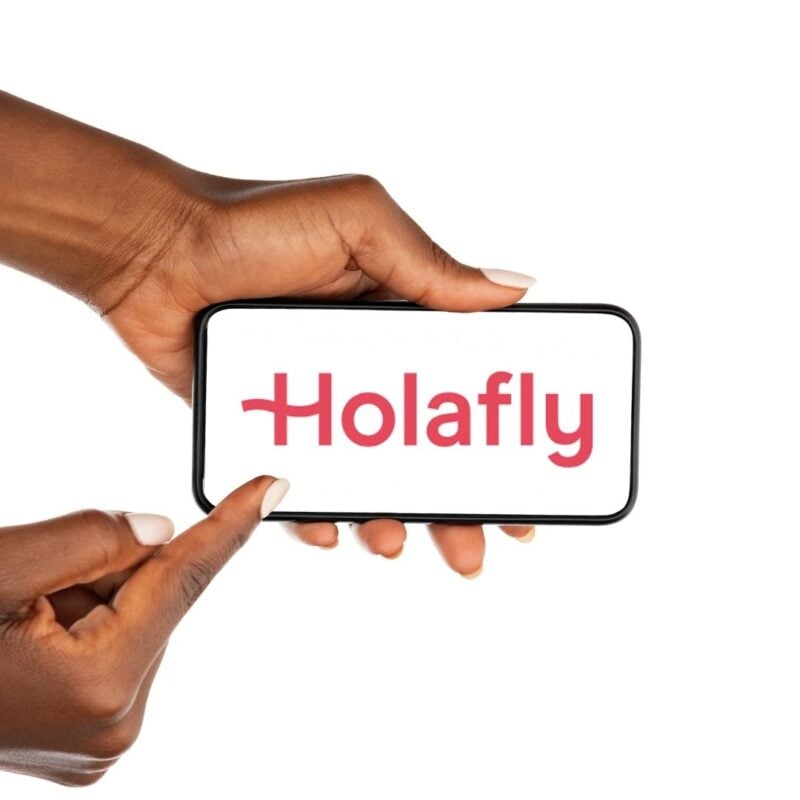 A new country, a new contract, a new piece of plastic – booooring. Instead, buy an eSIM!
An eSIM works just like an app: you buy it, you download it, and BOOM! You're connected. It's just that easy.
Is your phone eSIM ready? Read about how e-Sims work or click below to see one of the top eSIM providers on the market and ditch the plastic.
Grab an eSIM!
Coworking in Croatia
Coworking spaces are ideal for digital nomads who enjoy the structure of a corporate environment with the flexibility and social scene of a cafe. Alternatively, working in a coffee shop is another social way to graft surrounded by people and is a more affordable option, as long as you can work with a bit of background music and chatter.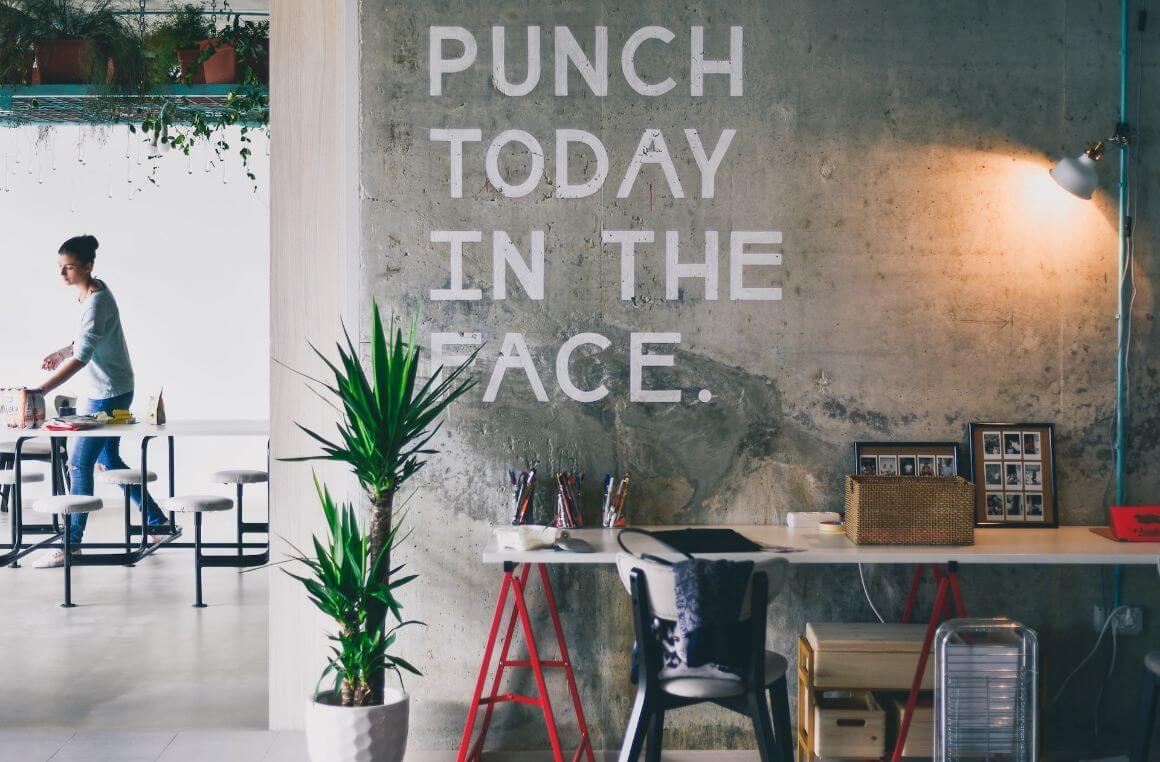 The Best Coworking Spaces in Croatia
BIZkoshnica is a coworking, event space, and virtual office that provides business support and networking opportunities in the heart of Zagreb. Focused on supporting social entrepreneurship, BIZkoshnica offers two locations designed for freelancers, entrepreneurs, and startups. With high ceilings, tons of natural light, comfortable and spacious seating, and common areas, including a kitchen, it's the perfect location to set up a remote office in Zagreb.
Amosfera in Split is an open-plan coworking space with a sea view designed to make everyone feel at home, from locals to ex-pats. Amosfera offers a shared room with hot desks, designated desks, a conference room, and a kitchen. The chairs are comfortable, the lighting is sufficient, and the Wi-Fi is said to be some of the best in the country.
KIWI – Creative Space in Rijeka is open to all digital nomads but has a core focus on the arts. From fine arts to graphic designers, the space provides a meeting point for creatives and organizes regular art exhibitions and meetings.
Cafes with Wi-Fi
If you're drawn to flexibility, working from a cafe is an excellent way to switch up your environment daily, depending on your mood and workload for the day. Many cafes in Croatia have outdoor seating. Lovely in theory, but can be impractical when working on a computer.
Another thing to note is that many cafes don't serve food, so you might have to move on when hunger hits. Here are some favourite cafes to work from in Croatia's main cities:
Quahwa in Zagreb is one of the top places to unfold your laptop. Near the city centre, it's a coffee roastery featuring both outdoor seating and private office spaces on the first floor. The cafe has tons of seating options, from quiet areas to public seating, all with plenty of natural light and great Wi-Fi. Not to mention, the cafe has an impressive selection of house-roasted coffees and homemade teas.
In The Yard offers a relaxing space to work in Zagreb. Although small, the interior feels more like a homey living room than a public space, which welcomes both digital nomads and locals. The cafe has around ten outdoor tables and is usually pretty quiet, which makes it great for those days when heavy focus is required. If you plan to sit outside, arriving with some battery charge is always a good idea.
Basta Gourmet Bar in Split is a conveniently located, work-friendly restaurant that literally faces the waterfront. On top of its gorgeous location overlooking the Split Promenade and Marina, the cafe has comfortable chairs, super-fast Wi-Fi, and a social atmosphere for Croatia's digital nomads. Once the sun starts to set, the cafe becomes a bustling bar and restaurant, serving up some of the best pizzas in the city.
D16 Coffee is a speciality cafe located in the narrow historical alleyways of the Diocletian's Palace. It offers a minimal food menu in Split. The cafe is separated into two sections in two buildings across the street from one another. While slightly crowded with tourists, there are plenty of tables large enough to sit and work at, and it is a great option for those who need to work while in the heart of the Old Town.
Wherever You Roam… Get Insured First
Keep yourself and your precious electronics safe when roaming around town. Good travel insurance is key for your own peace of mind, and The Broke Backpacker stands strong for SafetyWing.
ALWAYS sort out your backpacker insurance before your trip. There's plenty to choose from in that department, but a good place to start is Safety Wing.
They offer month-to-month payments, no lock-in contracts, and require absolutely no itineraries: that's the exact kind of insurance long-term travellers and digital nomads need.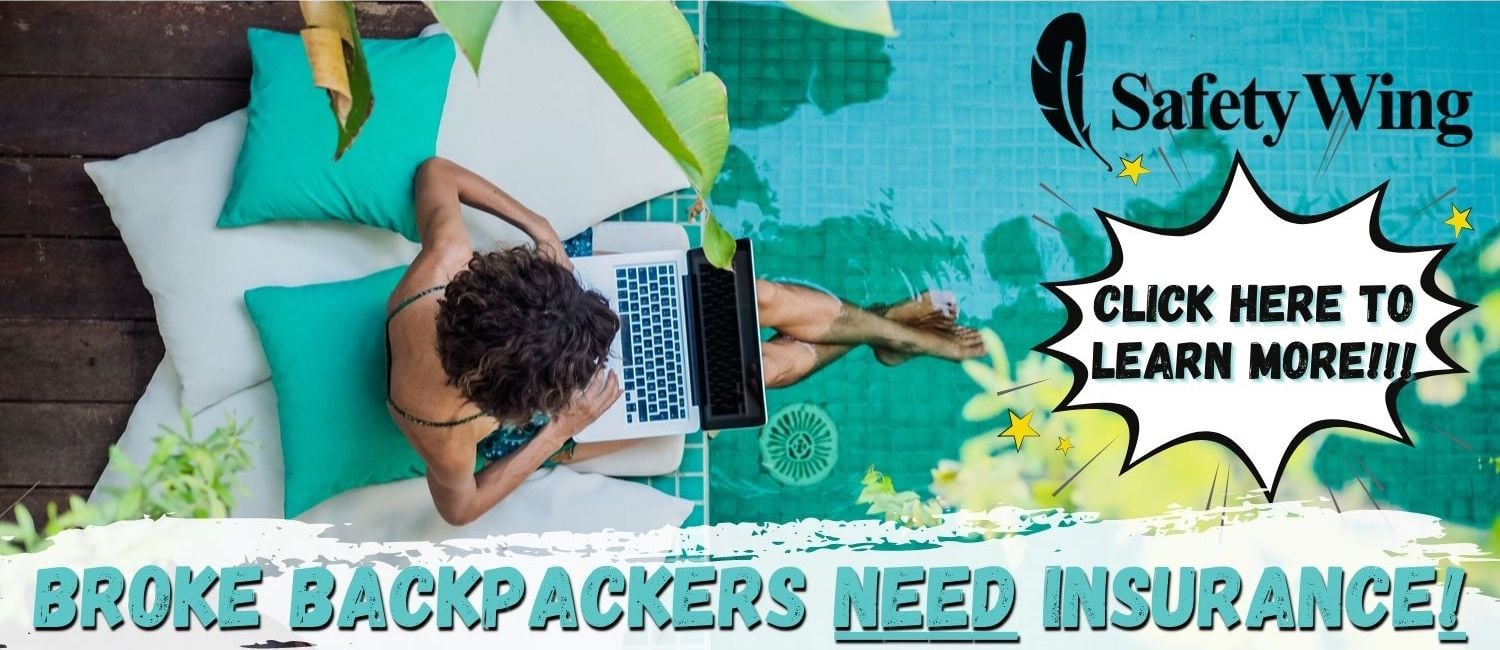 SafetyWing is cheap, easy, and admin-free: just sign up lickety-split so you can get back to it!
Click the button below to learn more about SafetyWing's setup or read our insider review for the full tasty scoop.
Places to Eat in Croatia
Croatian food is very varied since it combines two distinct culinary cultures: Mediterranean seafood and hearty Central European cuisines like schnitzel and strudel. Of course, each region of the country prepares different specialities as well.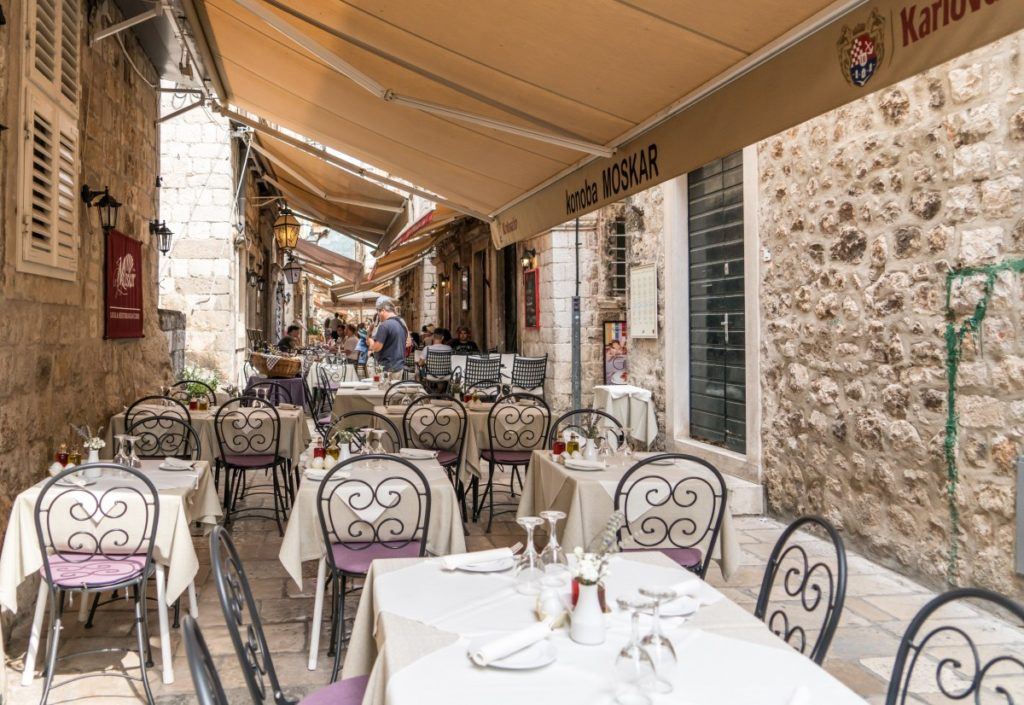 A classic lunch in Croatia is a multicourse affair, well worth saving your appetite for. You can expect to start with a bowl of soup, followed by a main course of meat, vegetables, and salad, topped with a delectable dessert.
Crni rizot is a black risotto dish made using squid ink and other seafood ingredients. Fritule is a Christmas favourite dessert made from small battered doughnut balls. The doughnuts are dusted with sugar and filled with a rum and raisin filling, sometimes topped with lemon zest.
One of the most traditional meals of Croatia is gregada, a fish stew associated with the island of Hvar. Usually made using grouper fish, the stew includes sliced potatoes and olive oil, slow-cooked over a long time.
Nautika is a fine dining restaurant in Dubrovnik that serves sophisticated Mediterranean cuisine in a unique setting. Although expensive, it's one of the best spots for special occasion dining as a digital nomad in Croatia. It's also set overlooking the 'Game of Thrones castles', and the expansive Adriatic Sea.
Crna Svinja is a country-club restaurant in the countryside of Slavonia near Osijek. An ode to the fertile black soil of northeastern Croatia, the restaurant serves authentic Croatian cuisine. Try the ribeye of black Slavonian pig served with a bean and pumpkin seed oil cream, fried onion, and crispy roasted potatoes.
TORI Street Food is just west of the city centre, serving delicious Asian-inspired food. The space is intimate, with a small indoor bar and limited outdoor tables. Yet, it's well worth a visit for its vegetarian, meat, and seafood delicacies of ramen and bao buns.
Pelegrini in the heart of the historical centre of Sibenik, is a streetside restaurant with a Michelin Star and incredible ratings overlooking the UNESCO-protected St. Jacobs Cathedral. The rustic restaurant serves high-concept local dishes with a twist, accompanied by an extensive wine list.
Nishta in Dubrovnik is a vegan and vegetarian eatery in the old town. The restaurant prepares tasty and wholesome authentically Croatian dishes using locally sourced vegetarian ingredients, with raw, vegan, and gluten-free options.
What it's Like Living in Croatia
So you're thinking of being a digital nomad in Croatia… but you have so many questions! How do you become a digital nomad? What's life like there? Is it even possible?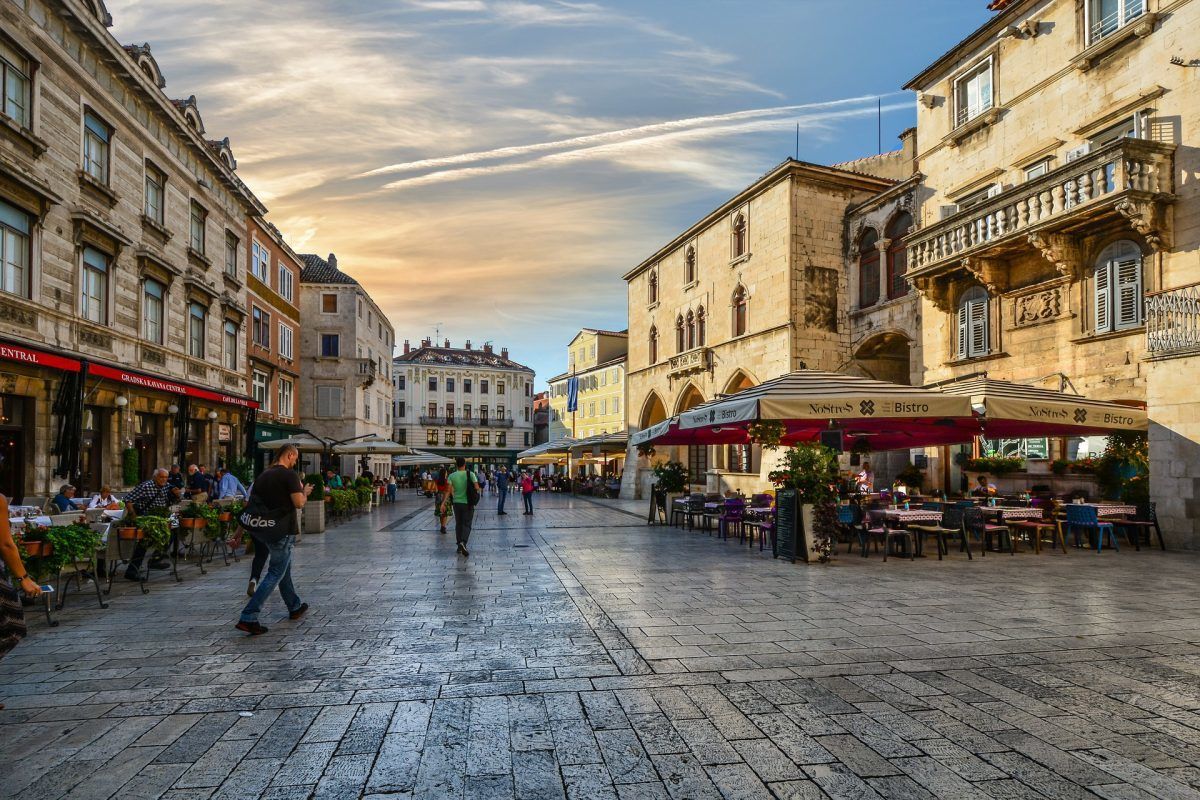 Visa Situation
Released in the last few years, Croatia offers a digital nomad residence permit allowing you to live and work in the country for six months to one year, as long as you work for a foreign company. To apply for the visa, you need to be a salaried employee, freelancer, or self-employed working for a non-Croatian business.
You must also prove your income, job, financial security, and health insurance and undertake a criminal background check. A temporary residence visa allows you to travel throughout the Schengen area, allowing you to explore the rest of Europe while living in Croatia.
Expat Community
Zagreb is home to the largest ex-pat community in Croatia. It's the primary international transportation hub and the administrative, cultural, educational, and sports centre of the region.
You won't struggle to find a good community of foreign friends in this city. Split and Zadar also have big ex-pat communities, while the islands of Croatia are more local, with small foreign communities.
Language
The official language of Croatia is Croatian, a Slavic language spoken by around 5.5 million people worldwide. Croatian, Bosnian, and Serbian (other Slavic languages) are also spoken across the country, with different dialects spoken in different regions.
Since the country is a booming tourist destination, English is widely spoken. A digital nomad in Croatia can easily get around without knowing much Croatian.
Transportation
Public transport consists of an extensive bus and ferry network and plane travel. With so many islands, the country's train transport is pretty limited unless you are travelling within Eastern and Central Europe to the major inland cities.
Renting a car is easy and affordable, and roads are typically in good condition. The bus network connects just about every area on land and is a great option for budget travellers.
A taxi fare from Zagreb Airport to the city centre will cost you around $35 for the 30-minute drive during the day. After hours, a 20% surcharge is added to taxi fares.
Things to do in Croatia
There is so much to see and do in this gorgeous Adriatic country that it's hard to list the best things to do in Croatia. I will start by saying that the country is best known for its exquisite Mediterranean islands, beaches, and crystal-clear water. Taking a weekend trip or even a day trip to the islands is always highly recommended.
I also always recommend joining a walking tour of a big city. It's a great way to gather your bearings and get a glimpse of the city. This way, you can take note of what might interest you most and return to those places at a later stage.
The Blue Cave on Bisevo Island is enough to make you feel like you've landed in an Avatar world. The water shines a bright silver blue, and the cave can be visited by boat tour on a day trip from either Hvar or Split.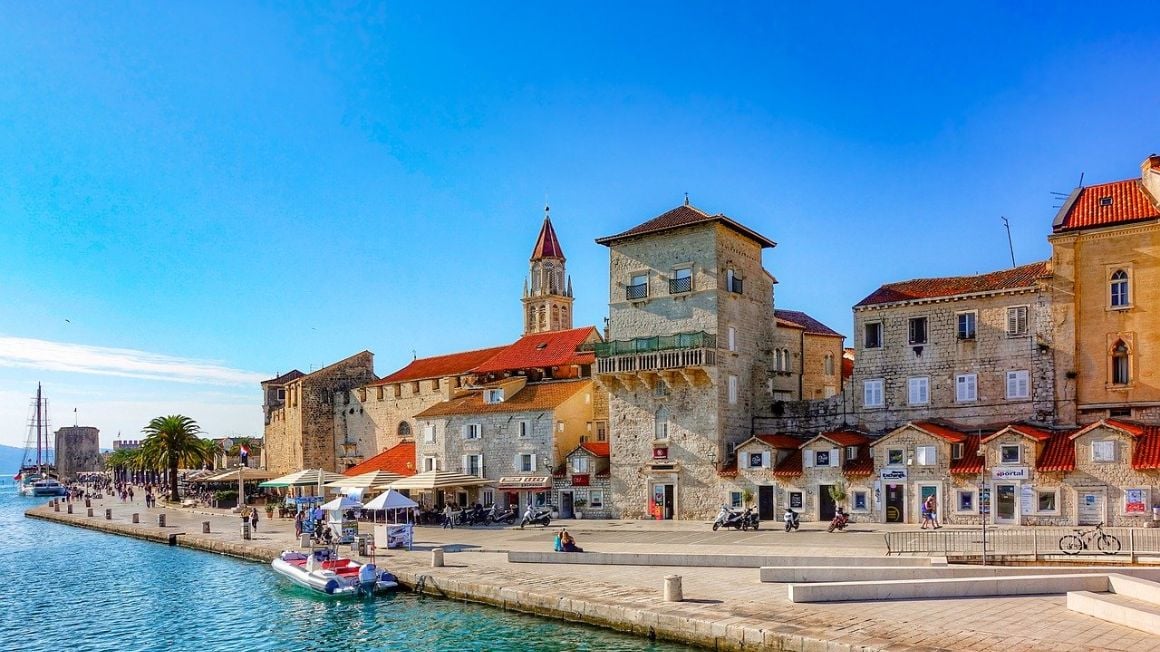 Rafting on the Cetina River is another great adventure. It's close to Split, and the river includes peaceful parts and intense rapids, which makes it both ideal for a relaxing day trip and an adventurous one when living in Croatia. Make sure you join a guided group tour, as rafting this river alone is not always safe.
If chasing waterfalls and incredible scenery is your vibe, don't miss an opportunity to visit the Plitvice National Park. It's a UNESCO World Heritage Site comprised of sixteen turquoise lakes and almost one hundred waterfalls.
Naturally, the park is home to an incredible variety of trails and hikes for beginner to advanced adventurers. The park is close to Zagreb and Zadar and is a great way to spend a weekend.
If Croatia is known for any tourist activity, it would be Sail Week, where tourists visit from across the globe to explore some of Croatia's most exquisite islands on a week-long adventure. It's definitely a buzzing party scene, not recommended for families or those after a relaxing week at the beach. However, it is an exciting way for young travellers to see Croatia.
Digital nomads looking to connect and socialize with other ex-pats should consider joining a few ex-pat and Digital Nomad Facebook groups, where various meet-ups and gatherings are posted.
Final Thoughts on Being a Digital Nomad in Croatia
While the country has made headlines for its tourist popularity, it hasn't yet become a super popular destination for digital nomads. However, this is quickly changing, with more and more remote workers choosing to make the idyllic country home.
Liberal visa regulations, great living conditions, and newly developed infrastructure have sparked a boom in the industry, with more ex-pats expected to make a move to Croatia in the coming years.
If working surrounded by historical buildings in medieval towns and spending your weekend island hopping the pristine Mediterranean coastline sounds like a lifestyle you can imagine for yourself, living in Croatia might be the perfect answer to your prayers.
As a digital nomad who personally enjoys a solid ex-pat community, I would start my remote work journey in the city of Zagreb before heading into more remote regions of Croatia. This city has the most coworking spaces and a lively local and ex-pat scene that makes it easy to socialize and network with others.
---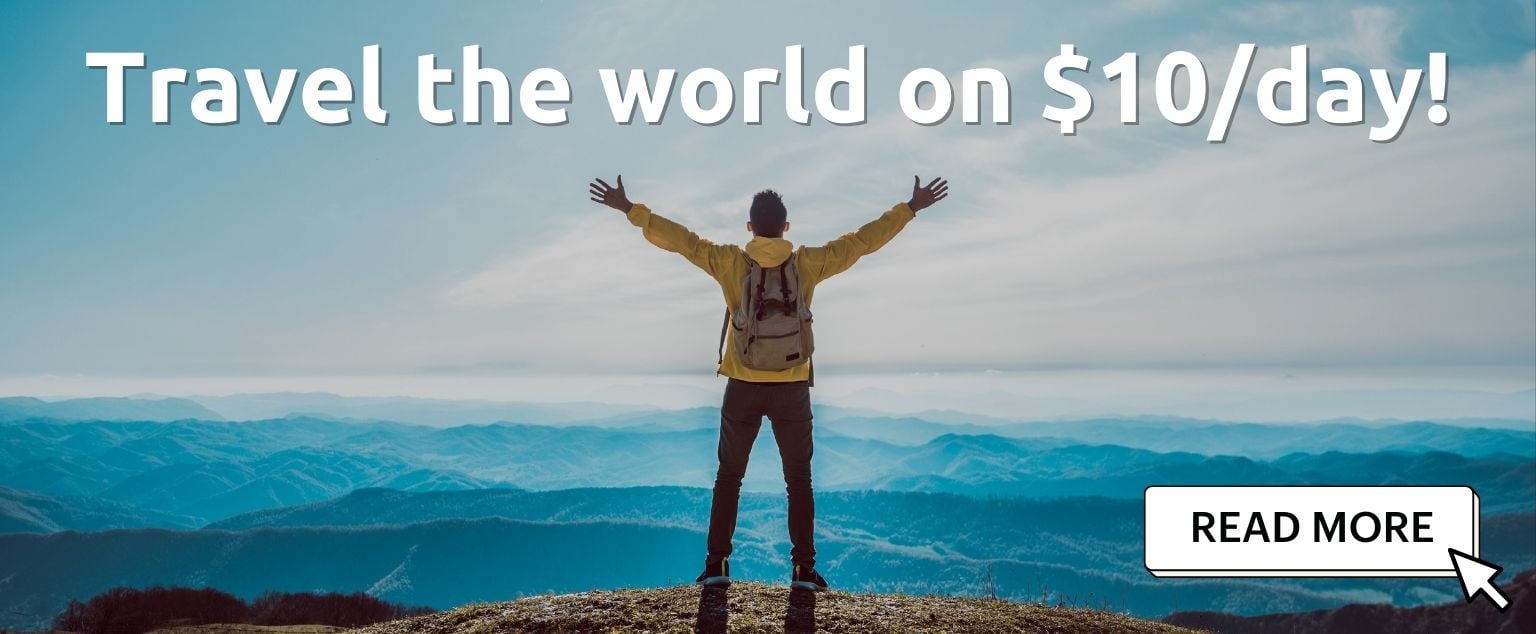 And for transparency's sake, please know that some of the links in our content are affiliate links. That means that if you book your accommodation, buy your gear, or sort your insurance through our link, we earn a small commission (at no extra cost to you). That said, we only link to the gear we trust and never recommend services we don't believe are up to scratch. Again, thank you!