If your preconceived notion of Croatia is that it's a cold, rainy Eastern European country, forget everything you think you know about it.
Nearly 15 million tourists flock to the sandy beaches and beautiful national parks every year. There are also lots of monuments and buildings worth discovering – like the Museum of Broken Relationships (no breakup needed).
The idyllic nature of the smaller villages draws in people from all over the world, as well as the chance to experience a stay in a traditional Croatian stone cottage. Croatia's reputation as a prime holiday spot makes the answer to the question "Is Croatia expensive" seem like a solid yes, especially during peak times. This is because prices for accommodation shoot up and sometimes even double in high season.
But, fear not. You don't necessarily have to end up with empty pockets after your trip, especially once you're armed with a few of our tips and tricks.
So without further ado, let's dive into everything you need to know about saving money when you visit Croatia!
Croatia Trip Cost Guide
How expensive is travel in Croatia? Let's break it down. We'll look at all the major cost factors of a typical trip to this amazing country, which include:
Flights
Accommodation options
Food and drink
Transport around the country
Other costs you may want to take into account
The official currency in Croatia is the kuna (kn). For convenience, we'll estimate all the costs mentioned in US dollars (USD). Bear in mind that these depend on current exchange rates, so assume that they may fluctuate a little.
Is Croatia Expensive? 2 Weeks in Croatia Travel Costs
See what you can expect to be your total Croatia trip cost:
| Expenses | Estimated Daily Cost | Estimated Total Cost |
| --- | --- | --- |
| Average Airfare | N/A | $600-2000 |
| Accommodation | $10-100 | $140-1400 |
| Transportation | $5-50 | $70-700 |
| Food | $20-100 | $280-1400 |
| Drink | $10-80 | $140-1120 |
| Attractions | $3-100 | $42-1400 |
| Total (excluding airfare) | $48-780 | N/A |
| | | |
ESTIMATED EXPENSE: $600-$2000 USD
Let's talk about flights. Traveling to Croatia is probably the biggest single expense and the most difficult to accurately estimate, mainly because flights fluctuate in price throughout the year.
Croatia has nine international airports you can possibly fly into. The main airport in terms of arrivals is Zagreb. In fact, only Zagreb, Split and Dubrovnik will receive international flights all year round.
Is Croatia cheap to get to, though? Many cities tend to have a "cheap time" to fly.
We've compiled a list of round-trip tickets to Croatia from some major cities:
New York to Zagreb: 700 – 1000 USD
London to Zagreb: 300- 600 GBP
Sydney to Zagreb: 2000 – 3000 AUD
Vancouver to Zagreb: 1200 – 1300 CAD
Remember that these fares are subject to change with time. You can sometimes score additional discounts by looking for special deals or error fares. Make sure to check flight to the different airports in Croatia to find the lowest cost possible.
ESTIMATED EXPENSE: $10-$350 USD per day
As we mentioned, Croatia travel is becoming very popular amongst travelers. As a result, prices are rising slightly every year. Fortunately, it's still quite affordable, compared to popular destinations in Western Europe.
There are many different kinds of accommodations in Croatia. As the hotels become more crowded over tourist season, prices inevitably rise. Airbnbs and Hostels are also a great option, especially for travelers on a budget and backpackers.
Make sure you know where you want to stay in Croatia before you look deeper into possible accommodations. Once that's clear, check out the best ones below, so you can find the right one for you.
Hostels in Croatia
Staying in hostels is the best way to lower your accommodation costs low. Choosing a dorm instead of a private room will save you even more money.
They are also good social spaces for those who don't mind meeting other travelers and being surrounded by like-minded bunkbed buddies. And trust us, there are numerous amazing hostels in Croatia! Another advantage of staying in a hostel is the great advice you can get from staff and other guests.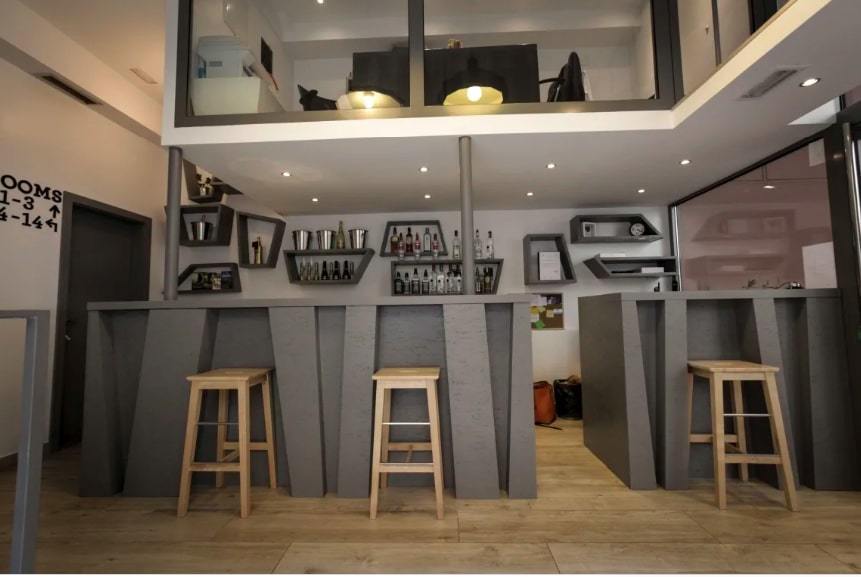 The prices of hostels vary quite a lot in Croatia – anywhere from $10 USD to $55 USD per night. But a fair price to look at for a standard hostel option is between $15-$25 USD per night.
You'll want to be close to whatever you plan on seeing. So in a major city, it may be close to the city center. On the islands, it'll probably be near the beach. Here are a few of the best ones we found:
Chillout Hostel, Zagreb – An expertly-designed hostel with incredible common rooms, a 24-hour bar, a rooftop lounge, all in downtown Zagreb!
Hostel Elena, Zadar – 20 Yards from the boardwalk, with access to the island ferries, and the party atmosphere of the beachfront nightlife.
Split Guesthouse & Hostel, Split – They'll make you feel like you've arrived at a friend's house, complete with a free cup of coffee on arrival. Rated best hostel in Split for several years running, it's definitely worth the stay.
Airbnbs in Croatia
There's a quite big range of options on Airbnb when it comes to prices in Croatia. The cost mostly depends on where you're looking to stay, and especially what part of the year. Island accommodation also tends to be slightly more expensive, so keep that in mind during your planning.
While you might be able to score an impressive $28 USD per night (lucky you), expect to pay a more typical $35 – $55 USD a night for a decent apartment.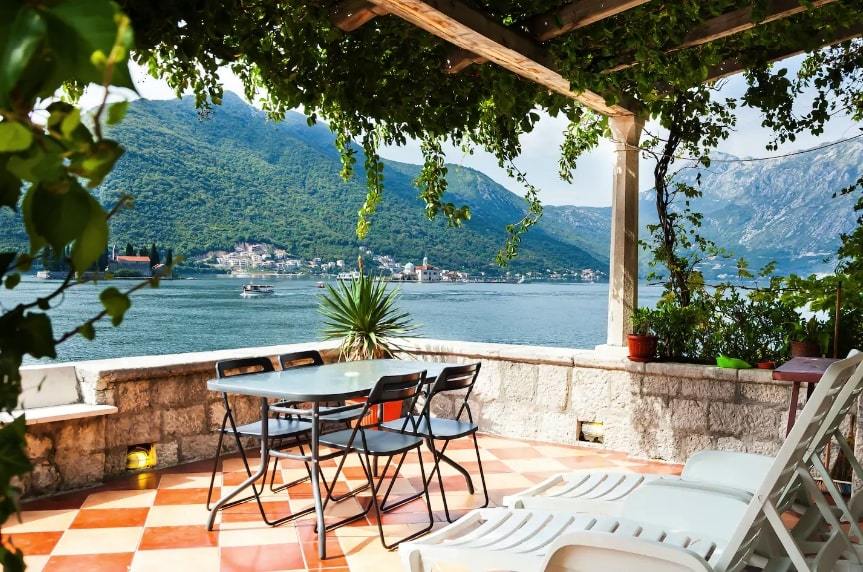 On the upside, you'll have the apartment to yourself, with the option to self-cater in a kitchen of your own. You can't beat the feeling of having a home away from home. If you value privacy and independence, staying in an Airbnb is the right choice for you.
Here are a few gems we found that you may consider:
Hotels in Croatia
While hotel accommodation is definitely the most expensive of all the options, it comes with certain advantages and luxuries. Hotels probably offer the best on-call services, like room service, attached restaurants, laundry, gym, concierge, and even more.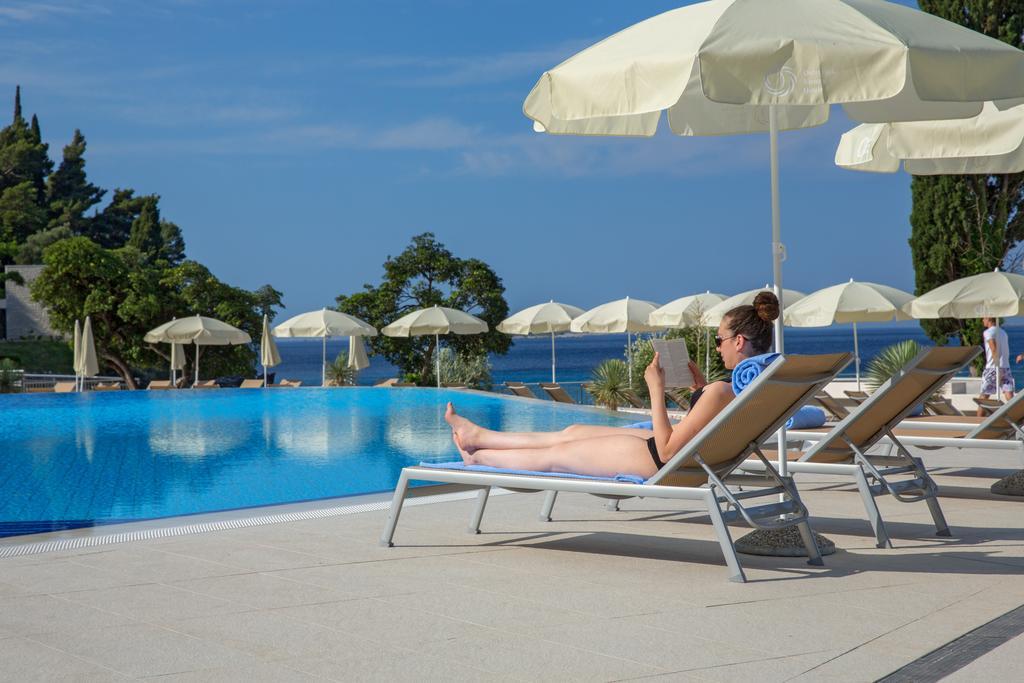 The price range is incredibly big for hotels. You can find places for up to $350 USD per night, but you can also do some hunting and find great value rooms at around $80 USD. Hotels should only be considered if your travel budget allows it and if you don't want your trip to end after a couple of days.
Here are some of the best hotel options in Croatia:
Hotel Mlini – A picturesque view from a balcony can offer a great start to a day in Dubrovnik.
Hotel Esplanade – Just twenty yards from the beach in Crikvenica, and often features live music on its terrace for some entertainment.
Falkensteiner Hotel & Spa Iadera – Superb value at this Petrcane coast gem. Enjoy the bars the huge wellness area, and of course, the beach.
ESTIMATED EXPENSE: $5-$50 USD per day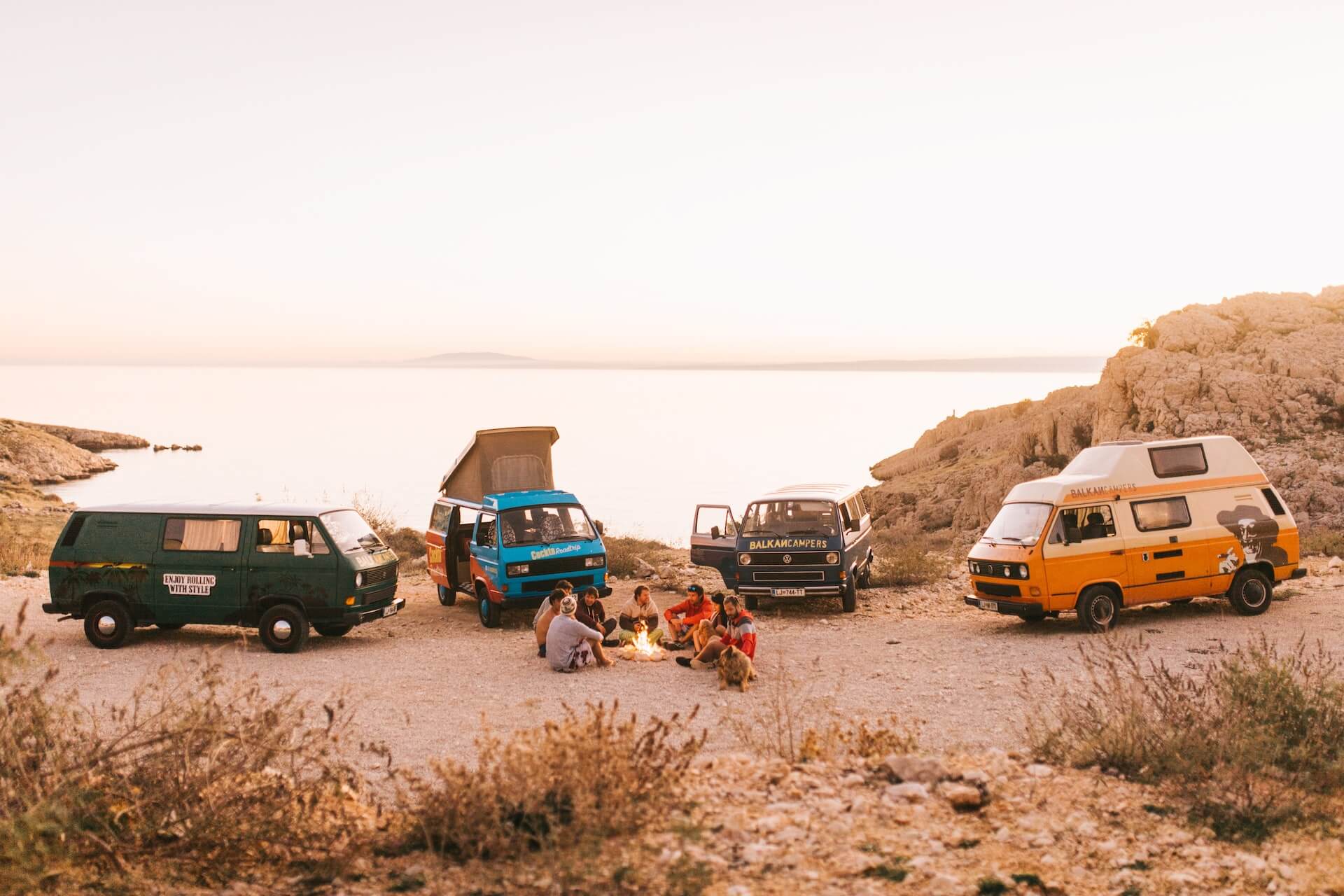 In Croatia, the main form of public transport used in most cities is the bus. Zagreb and Osijek also have tram systems. The train system in Croatia is a little less reliable than other systems, due to by regular stoppages and delays.
Within the cities, a bus single ride costs $1.50-$2 USD on average (you can purchase a one-hour pass for this). For the most part, buses tend to run fairly regularly and efficiently and are the best way to save on transport costs.
If you're bouncing around the islands, you'll have to use boat services. Car Ferries or Catamarans (these ones are only for passengers) are the most popular and cost-effective ways to get to the islands.
You have the option of renting a car if you plan to travel around the country. The roads in Croatia are really good, but you may want to use the public transport options available when you're in a city itself.
You can also choose to walk around – this is especially pleasant during the summer months.
Train Travel in Croatia
Trains only travel between certain cities in Croatia, and it must be noted that the network is limited and doesn't go to every single town. You can get between a few main cities like Zagreb and Split, for example. To get to smaller towns or even villages, you have to switch it up to either busses or, in the worst case, taxis.
Bus Travel in Croatia
The bus system in Croatia is very extensive. You'll be able to choose from many services and operators, depending on where you are in the country. There is no single national operator that works all routes. In most cities, the numerous central bus stations are very easy to find and get to.
Croatian bus prices aren't the cheapest in Europe, but it remains the cheapest option, in general, to get around within a city, and between cities.
Within cities, various bus services run a number of routes, usually based on a single ticket system. For example, in Dubrovnik, you can get a ticket for about $2 USD, which is valid for 60 minutes of unlimited travel. You can also buy 24-hour ticket passes for just under $5 USD.
Choosing the bus as your transport option will definitely work out the cheapest. With its quite affordable tickets and reliability, it's perfect for backpackers and travelers on a budget that want to see as much of Croatia as possible.
Getting Around in the Cities
Many of the cities in Croatia, especially the main ones, are completely walkable. And you'll love getting around on foot wherever you are because it allows you to take in every detail of the charming city without rushing. That being said, there are few alternatives.
Metros and trams – There are a few trams in Zagreb and Osijek – a 90-minute ticket costs about $1.50. They do not run 24 hours, but do a fair job of moving around the city every day between 4 am and midnight.
Bus – Many locals and travelers prefer to use the bus to get from A to B, even if it does take slightly longer. A single ticket, valid for one hour, will cost around $2 USD. Day passes ($5 USD) are also an option. Bus tickets are separate to train, tram and metro tickets.
Bicycles – You can find bikes rentals fairly easily in the major cities. You can also try a service like BimBim Bikes, which is a sort of aggregator for a number of service providers. Usually, around $14-16 USD per day is a fair price for standard bicycle rental.
Taxi – Taxis will be an expensive option in Croatia. As an example, a taxi between the airport and Old Town Dubrovnik costs around $30 USD. If you plan to use a taxi to travel around, you'll be making a serious dent in your budget, as a standard taxi rate is around $1 USD per km.
Renting a Car in Croatia
If you prefer the freedom of exploring the country at your own pace, you could also rent a car. This is only an option if you're over 22 years old. The coastal roads in Croatia are exceptionally beautiful, great for photos.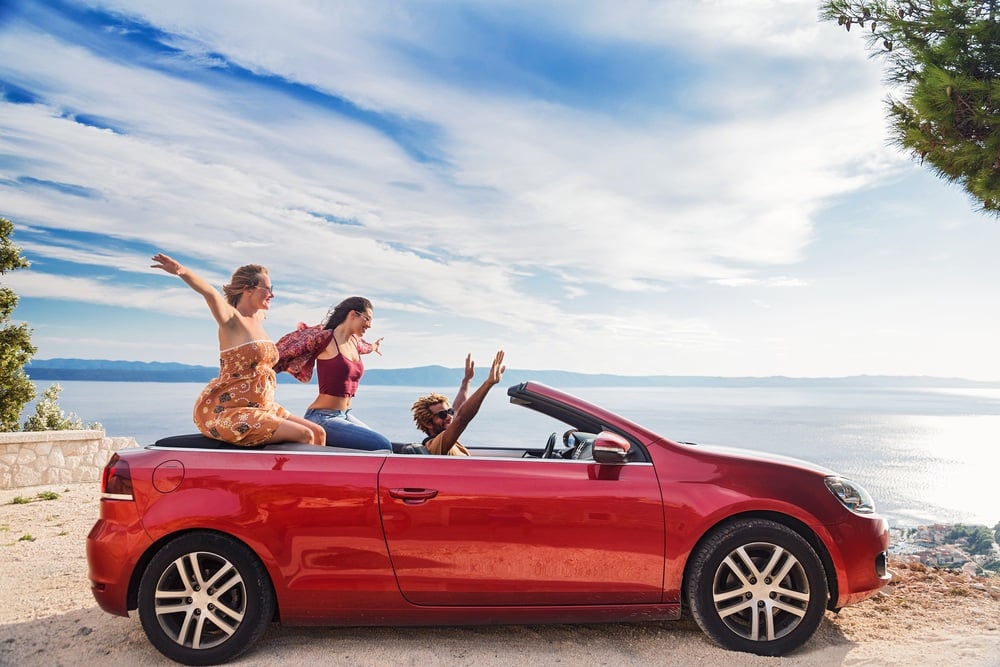 To get the best rental car prices in Croatia, make sure to book your car well ahead.
Due to high demand, there's a good chance you'll find yourself stranded without a car if you just show up at the rental. And even if you do manage to get your hands on one, you're going to pay a pretty big rate.
The best services for rentals are Sixt and Rentalcars.com. They both offer the option to pick up in one place and drop off in another, but this is usually more expensive. Expect to pay around $60-120 USD for a four-day rental, excluding gas and insurances.
When taking the rental car on the ferry, you'll need to pay extra insurance for this – about $20 USD. Be sure to let your rental company know whether you will be going to the islands with your car.
Want to save some cash and explore Croatia by rental car? Use rentalcar.com to find the best deal possible. There are some great prices on the site and they aren't difficult to find.
Use Bookaway to find the best deals on transport – buses, planes, trains, and ferries. It'll save you a load of time when organising transport and you'll probably nab an EPIC DISCOUNT too!
Book your transport on Bookaway NOW. Get the best price for the best ride… then use those savings to buy the best feed in town!
Book Your Transport Here!
ESTIMATED EXPENSE: $20-$100 USD per day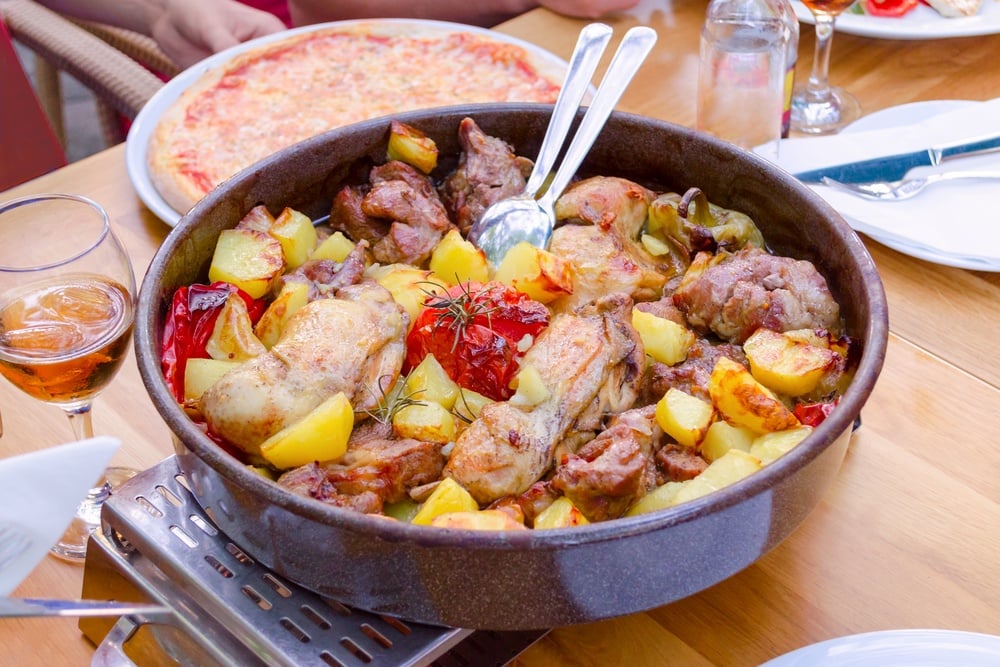 Food isn't particularly expensive in Croatia, especially when compared to its neighbors. But like pretty much everywhere in the world, eat and drink in restaurants and hotel bars every night, and you'll end up spending lots. Fortunately, there are ways to keep money in your pockets.
The easiest way to save money on food is to cook for yourself. Staying at an Airbnb or a hotel, you normally have a little kitchen with basic equipment, which allows you to prepare meals at home.
Take a look at these average Croatia prices for typical everyday food items compared to restaurant eating.
Markets:
1 liter milk: $1 USD
12 eggs: $2.75- $3 US
2 lbs apples: $1.50 USD
2 lbs potatoes: $1 USD
Restaurants and bars:
McDonald's Medium meal: $6 USD
Beer (17 fl.oz): $2.50-2.80 USD
Standard cola (can): $2.10 USD
Mid range restaurant meal: $20 per person
If you have to eat out, time it for happy hour specials, or keep your eyes open for discounts or 2-for-1 days. This will work out a lot cheaper than regularly getting normal meals.
ESTIMATED EXPENSE: $10-$80 per day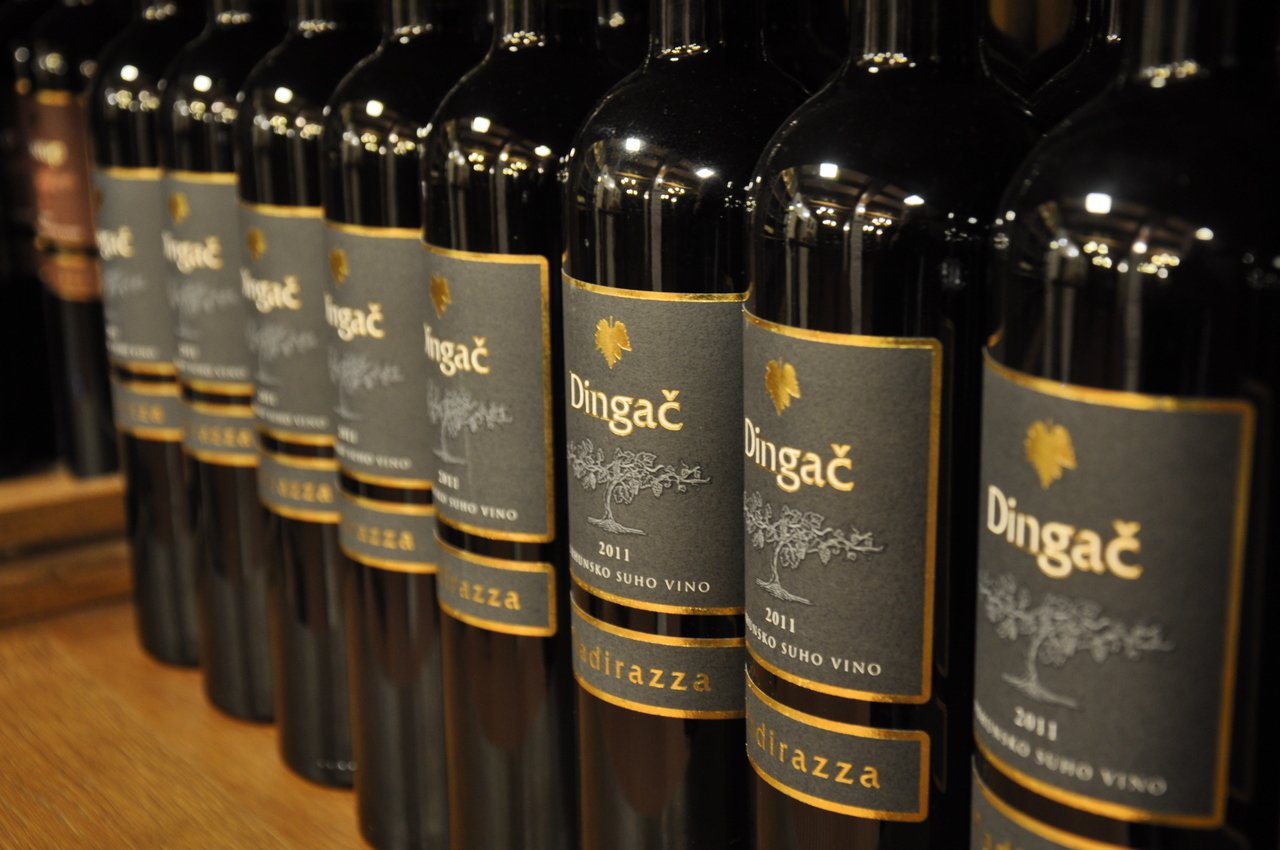 As with most places catering to the tourist market, the alcohol prices in Croatia can vary from bar to bar, depending on where in Croatia you're stepping out. How much you should expect to spend on drinks is completely dependent on your consumption and preference.
Beer is by far the cheapest option, and local beer tends to be cheaper than imported brands. You can usually find a pint of beer for around $2 USD at a local bar. Expect to pay slightly more for a brand name import.
A bottle of standard house wine at a restaurant or bar can cost around $10 USD, and a shot of vodka around $2 USD as well. Of course, you can buy the same alcohol for as little as half of these prices at a local store or market.
Our advice is to pick up a fair supply from a market and enjoy a few early drinks at home. If you're still up to hit the town after that, check out the happy hours in the area.
ESTIMATED EXPENSE: $3-$200 USD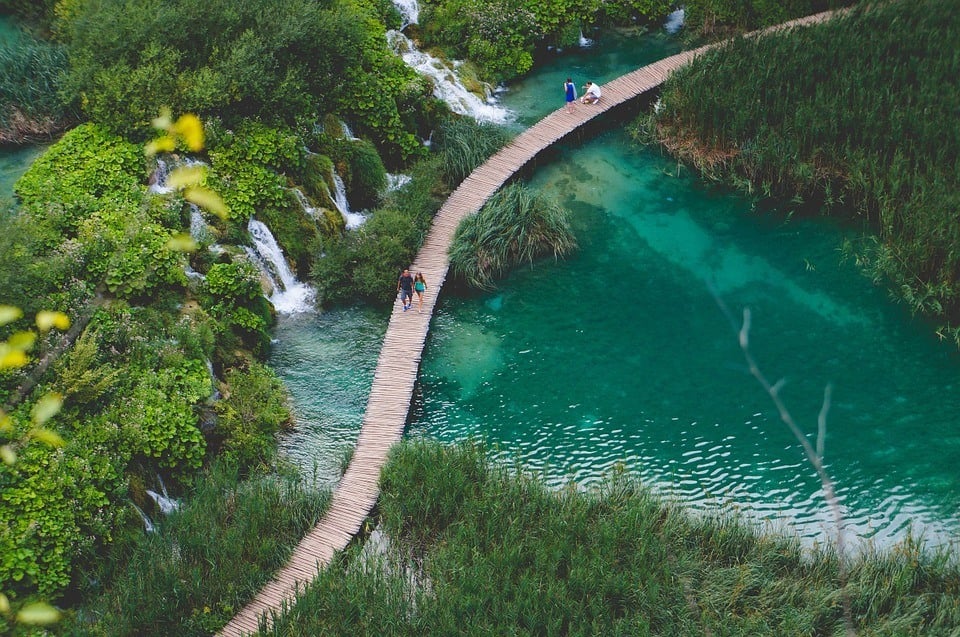 Croatia is full of the most wonderful attractions including the most incredible national parks. Many can be visited as part of a tour or on your own. Hotspots are ranging in pricing from absolutely free to quite expensive. Popular tourist destinations like Plitvice Lakes National Park are a bit pricy in summer–the park (famous for its incredible waterfalls) will set you back $45 USD per person from June-September.
Some of the cheapest include parks like Paklenica National Park for about $3. Other excursions, like boat rides to the blue caves, can cost as much as $130-150 USD or more.
Using the city of Dubrovnik as an example: a tour of the city walls will cost around $10 USD admission. The museum of the Rector's Palace is a little less at $6 USD.
As we already mentioned, you don't have to pay to get in everywhere. Beaches, town squares, many churches, and parks are free to visit.
Here are a few pointers on how to save money on attractions:
It may sound odd but pay in kuna when given the choice. Paying in Euros means giving a sneaky little extra, which can be avoided by just sticking to the local currency.
Do some research on everything that's free in your area. Stick to the free attractions and keep the money in your bank account.
Look at official websites for a discount or free days. Some museums, for example, have free days on certain days of the month.
The Future of the SIM Card is HERE!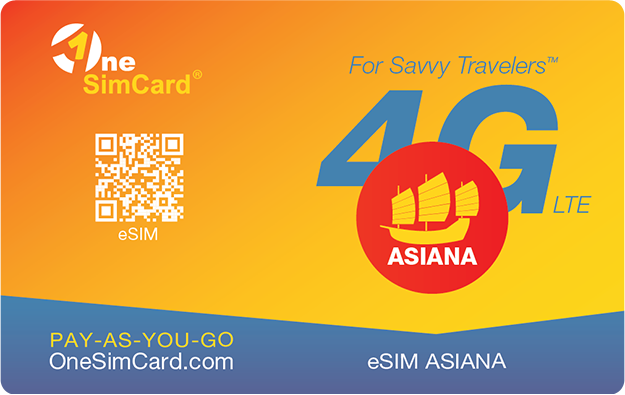 A new country, a new contract, a new piece of plastic – booooring. Instead, buy an eSIM!
An eSIM works just like an app: you buy it, you download it, and BOOM! You're connected. It's just that easy.
Is your phone eSIM ready? Read about how e-Sims work or click below to see one of the top eSIM providers on the market and ditch the plastic.
Buy an eSIM!
Unexpected expenses can come up at any time, unfortunately, so being prepared is important when setting up your travel budget. Nobody likes to think abo0ut an emergency, but it's better to be safe than sorry.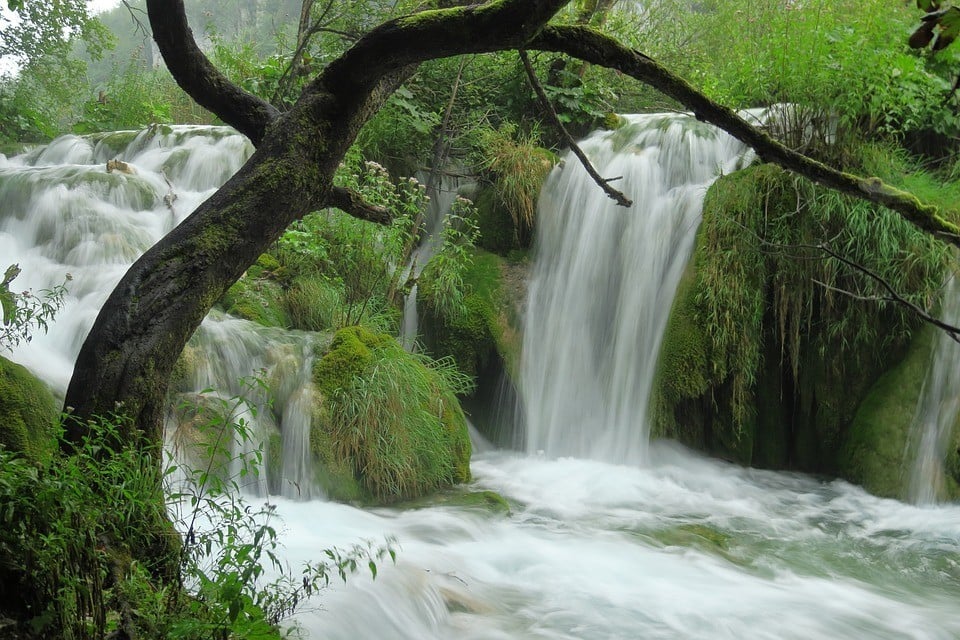 Set aside a portion of your budget to plan for "surprises". A worst-case scenario would be a medical emergency – paying for a trip to the hospital shouldn't cause a panic over how to afford dinner later, or even worse, how to get back home.
There's also the unexpected must-have gift that you really need to bring back to your aunt. Doesn't matter what comes up, better to have some funds in reserve – just in case.
Tipping in Croatia
As a rule of thumb, a decent restaurant service deserves a 10% tip. It's pretty much the standard across Croatia. You can push that up to 15% if you're really impressed with the service. Rounding up to the bill won't hurt your wallet, but it'll surely put a smile on someones face.
A $1-$2 USD tip is appreciated by a porter at your hotel. Carrying your bags can be a bit of work. Other than that, you can round up to tell a street vendor to "keep the change", if you like, though it's not expected.
As far as taxis go, no more than a rounded-up amount is expected, unless you've taken a long intercity ride. Then it's ok to leave a normal tip.
Get Travel Insurance for Croatia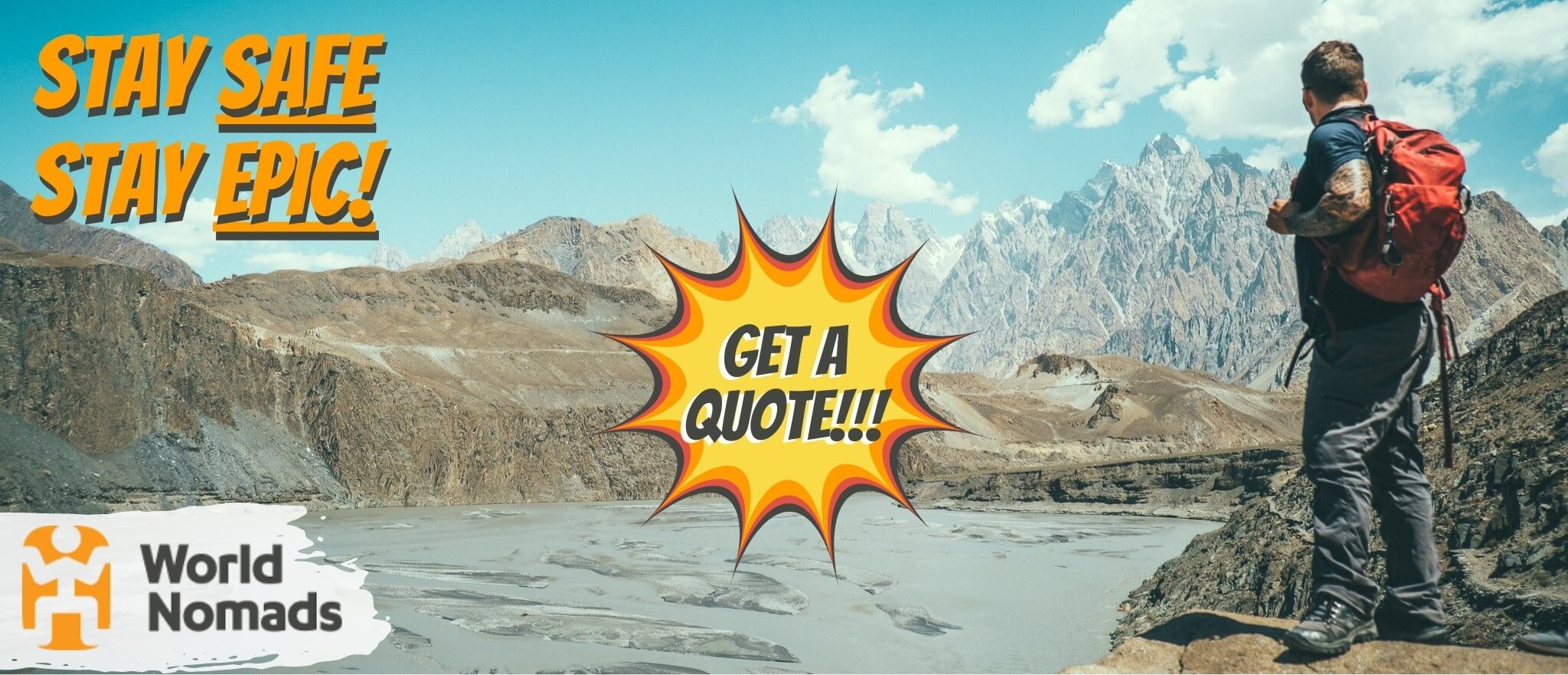 World Nomads' mission is to support and encourage travellers to explore their boundaries. They offer simple & flexible travel insurance, and safety advice to help you travel confidently.
They've been doing it since 2002 – protecting, connecting, and inspiring independent travellers just like you.
Get a quote below or read our in-depth review!
World Nomads provides travel insurance for travelers in over 100 countries. As an affiliate, we receive a fee when you get a quote from World Nomads using this link. We do not represent World Nomads. This is information only and not a recommendation to buy travel insurance.
Some Final Tips for Saving Money in Croatia
Still not quite sure how to backpack through Croatia on a budget? Here are a couple of things to try:
Walk when you can: Chances are you'll be in a city or town that is wonderful to walk around. Go on and get some fresh air!
Book ahead: Sometimes you can save a pretty penny by booking ahead. Tickets to theaters, museums, and other attractions do offer rewards for booking in advance.
Happy hours and 2-for-1: Almost every bar or restaurant has a time of the day or week for a particular special. Ask your local desk or consult the local web guide for advice.
Carry a water bottle: Don't waste money on plastic, or bottled waters carry your own and refill it in the fountains and the tap. If you're worried about potable water, get a filtered bottle, like the GRAYL, which filters out 99% of viruses and bacteria.
Earn money while you travel: Teaching English while traveling is a great way to make ends meet! If you find a sweet gig, you may even end up living in Croatia.
Become a volunteer with Worldpackers: Give back to the local community and, in exchange, you're room and board will often be covered. It's not always free, but it's still a cheap way to travel in Croatia.
So, Is Croatia Expensive?
Here's a general observation: In Croatia, the cost of travel tends to be more expensive in the high tourist season (summer) than in the off-seasons. Depending on where you're flying from, flight costs may differ quite a lot.
If you're able to visit in the low season, you'll find Croatia travel costs affordable in terms of accommodation, food, and entertainment. Balance your budget with smart decisions like shopping for food at a market, or eating street food rather than at an expensive restaurant on the main street.
Use the bus – it's a lot cheaper than taxis or car rentals. And enjoy the walkable towns and cities on foot whenever you can.
It may be overly optimistic to call Croatia a cheap vacation, but it's not the most expensive, either. With that in mind, you should be able to visit with a reasonably-sized wallet and see quite a bit of the country. Croatia on a budget is totally possible.
What we think an average Croatia travel budget should be: $50-$100 USD per day.
Updated February 2023
---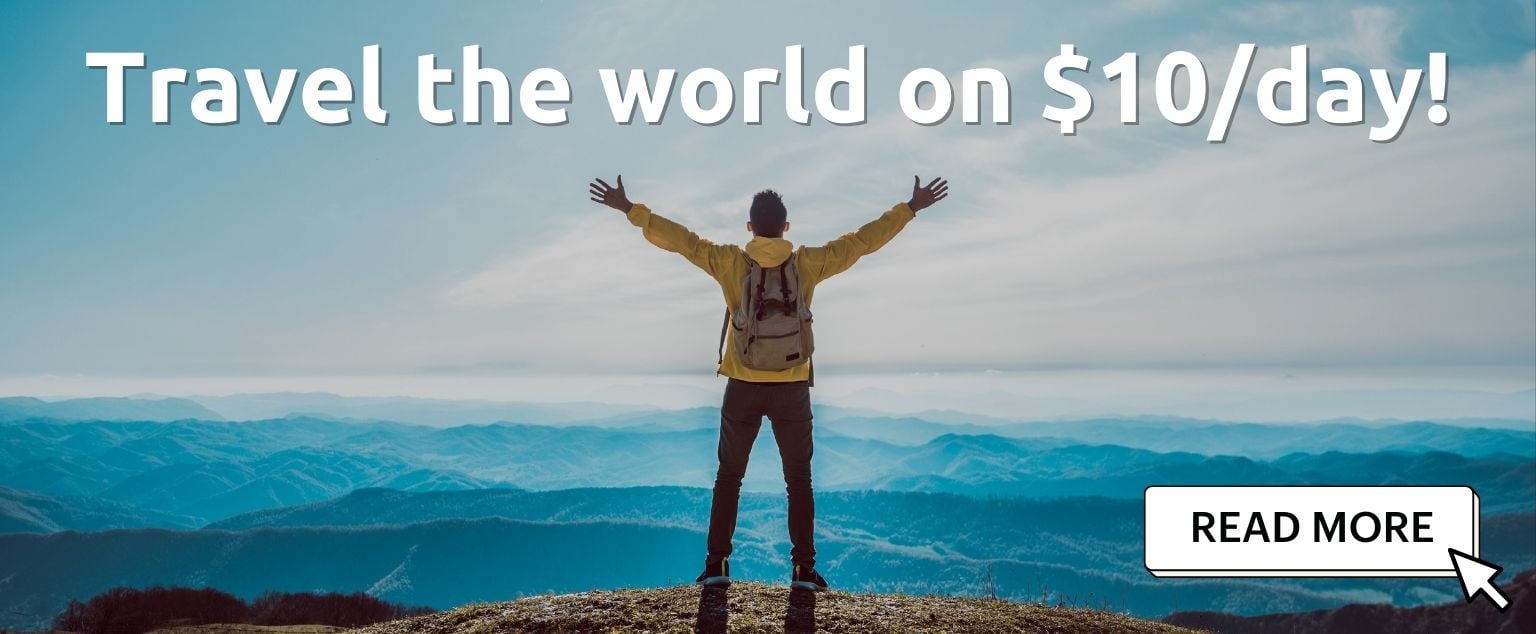 And for transparency's sake, please know that some of the links in our content are affiliate links. That means that if you book your accommodation, buy your gear, or sort your insurance through our link, we earn a small commission (at no extra cost to you). That said, we only link to the gear we trust and never recommend services we don't believe are up to scratch. Again, thank you!