Welcome to Croatia's beautiful capital, Zagreb. Tree-lined avenues dotted with outdoor cafes blend in amongst the numerous green parks, colorful squares, and 19th-century Austro-Hungarian architecture.
Croatia is fast becoming one of Europe's prime destinations for backpackers. A growing hostel scene has emerged to meet the demand. There are in fact so many accommodation options popping up all over the capital that it can be a challenge to find the best hostels in Zagreb.
Fear not!
That is exactly why I wrote this guide to the best hostels in Zagreb for 2021!
This hostel guide breaks down the best hostels in Zagreb by category; easily sort out which hostel is right for you based on your own personal preferences and budget.
Whether you are looking for the best party hostel in Zagreb, a romantic hideaway, or just a cheap sleep, I am certain there is something for every traveler on my list.
I know how important it is to book a hostel with the confidence of knowing that you won't be disappointed with the outcome. Here you will find all of the insider knowledge so making the choice of which hostel to book is straightforward and easy-as.
Zagreb is a truly fantastic city to get stuck into, but before you do, let's get stuck into my ultimate guide to the best hostels in Zagreb…
Quick Answer: The Best Hostels in Zagreb

Do You Want to Travel FOREVER??
Pop your email in below to get a FREE copy of 'How to Travel the World on $10 a Day!'.
What to Expect from Hostels in Zagreb?
Hostels are generally known to be one of the cheapest forms of accommodation on the market. That doesn't just go for Zagreb, but pretty much every place in the world.
However, that's not the only good reason for staying at a hostel. The unique vibe and social aspect is what makes hostels TRULY special. Head down to the common room, make new friends, share travel stories and tips, or just have a great time with like-minded travellers from all over the world – you won't get that opportunity in any other accommodation.
Zagreb's hostels are something truly special and we're totally living for it. Loads of hostels are run by backpackers or people that know what it means to live on a budget. They know that times can be tough, which is why lots of them offer discounted prices or even free stays if you can contribute something to the accommodation.
Whether that's creating a piece of art on the walls, helping with cleaning, offering your internet skills – whatever makes you stand out, let them know and you might save a whole lot of money.
But let's talk more about the important stuff – money and rooms! Zagreb's hostels normally have three options: dorms, pods and private rooms (although pods are rare). Some hostels even offer large private rooms for a group of friends. The general rule here is: the more beds in a room, the cheaper the price. Obviously, you won't have to pay as much for an 8-bed dorm as you would for a single bed private bedroom. To give you a rough overview of Zagreb's prices, we've listed the average numbers below:
Dorm room (mixed or female-only): $22-29 USD/night
Private room: $57-64 USD/night
When looking for hostels, you'll find the best options on HOSTELWORLD. This platform offers you a super safe and efficient booking process. All hostels are displayed with a rating and previous guest reviews. You can also filter your personal travel needs easily and find the perfect place for you.
Luckily, most of the city's hostels are located close to the city centre which makes it super easy to explore all of the cool attractions. However, you should still do a bit of research on the different neighbourhoods. To help you out, we've listed the best ones below:
Lower Town – Lower Town is a lively and historic district that makes up one half of central Zagreb.
Upper Town – Upper town takes up the other half of the city (duh) and offers some epic nightlife
Britanski trg – This is the coolest place to stay in Zagreb because of its excellent array of things to see, do and eat.
Now that you know what to expect from hostels in Zagreb, let's have a look at the best options…
The 5 Best Hostels in Zagreb
Tours and pub crawls
Meeting room
Congratulations, you've just found the overall best hostel in Zagreb! We're not joking, this place is absolutely amazing. Freebies, amazing location, great atmosphere and some of the kindest staff you'll ever meet are just some of the perks at Chillout Hostel.
Whether you're here to explore the city, make some new friends or experience the epic nightlife, this hostel offers you the ideal place to rest your head. With super comfy beds and plenty of socializing space, you'll find it hard to leave.
Why you'll love this hostel:
Insane location
24/7 reception
Spring & summer outdoor terrace
Let's have a look at the freebies we've already mentioned above. Free Wi-Fi in all social spaces and rooms is a bit of a no-brainer nowadays, but Chillout Hostel actually offers some proper high-speed internet connections – great for digital nomads. Speaking of, there are quiet areas in the hostel as well as meeting rooms and workstations where you can get some work done.
For the ones that return hungry after exploring the city, head to the onsite restaurant and grab a bite to eat. The menu offers traditional food for super backpacker-friendly prices that even attracts some locals.
However, it's the location that makes Chillout Hostel shine. They are located right in the centre, next to all the landmarks, vibrant stores, notorious nightlife, restaurants, and historic buildings. Each one is easily accessible on foot. Just ask at the reception for directions and be there within minutes.
2. Best Hostel for Solo Travellers in Zagreb – Hostel Mali Mrak Zagreb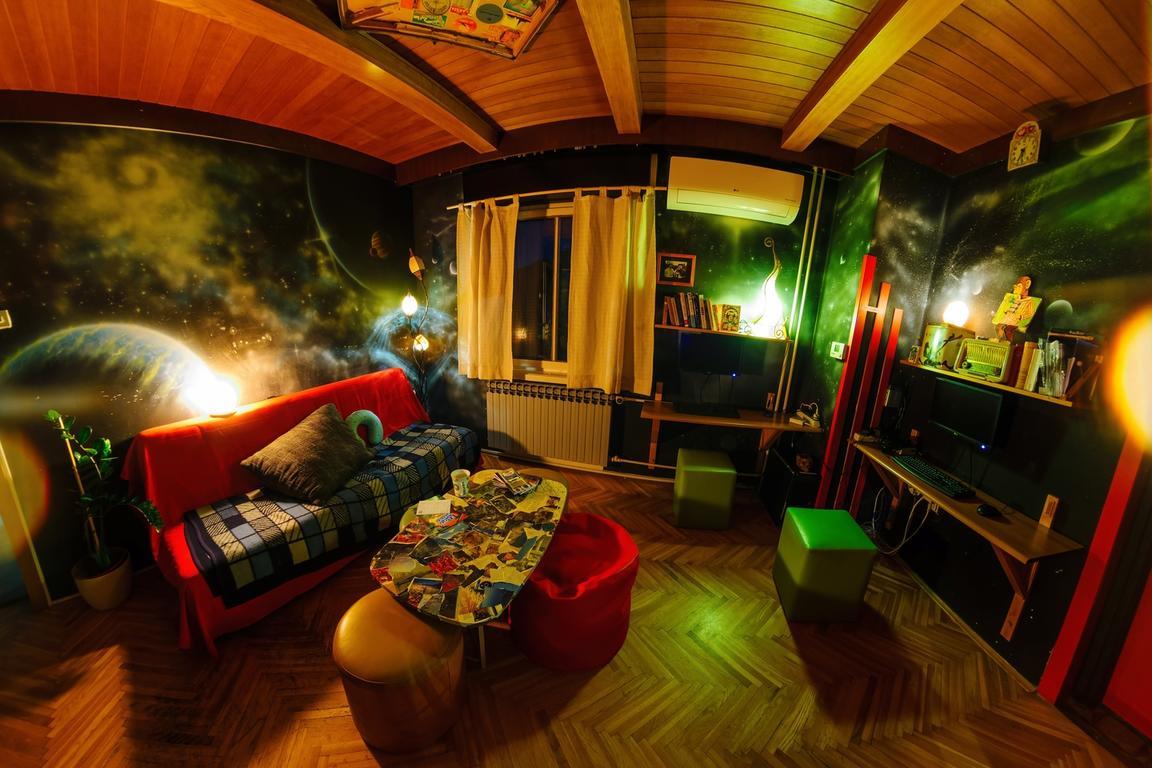 Outdoor Terrace
Self Catering Facilities
Soo… at first we were like, wow this place is bright – seriously the walls are painted in like every single colour ever, which is a bit mental. But then, actually, it's a wonderful place. Yes: WONDERFUL, alright?
Especially the outside patio area, which has a kitchen, picnic benches, ivy and lights which give it a pretty magical feel – a great place to meet fellow humans who are also travelling, which is why we think it's the best hostel for solo travellers in Zagreb. It's also not a beer-guzzling party hostel, so you are free to chill and meet new peeps at your leisure. Deffo a highly recommended hostel in Zagreb.
Why you'll love this hostel:
Outdoor kitchen
High sense of community
Discount for lefthanded people
Yup, you read that right! There's a discount for lefthanded travellers… why, we don't know. But it's definitely worth checking it out. However, that's not the only reason why Hostel Mali Zagreb stands out. It's the sense of community that makes this place really special. It's a no-bullshit zone, for happy and positive people that like to spend time with each other, learn new things and keep an open mind to the local culture.
For anyone that loves cooking, this hostel is a dream come true! There's not only one, not two, but three massive kitchens on the property. If you know you're cooking skills are damn good, reach out to the owner and offer a bit of chef sercives for a discounted stay. The staff loves backpackers that can contribute to the hostel or upgrade certain areas.
While it's definitely a funky and unusual place, it's definitely a home away from home. Note that you're not located within the city centre, but right on the outskirts, which places you roughly 15min from the action.
3. Best Cheap Hostel in Zagreb – Main Square
Bicycle Hire
Air Conditioning
Main Square couldn't get more industrial even if it tried. The walls are grey polished plaster. The ladders to the dorm beds are made from welded-together pipes. Parts of the bathrooms look like they're made from shipping containers. There's plywood furniture everywhere. A lot of metal framework and stuff like that. Sort of like a warehouse. A bit. But if you like that sorta thing you'll love this top hostel in Zagreb.
To be fair it's pretty cool, but more to the point the facilities are excellent and the location is decent, but the common room's a bit small and the atmosphere isn't overly vibing.
Why you'll love it here:
Plenty of workspace
Breakfast included
Amazing location
However, if you're here to save a few bucks and still get the best value possible, Main Square should be your go-to! There's a PlayStation 4 and a TV for those lazy rainy days and 24/7 staff with insanely good city tips for the sunny days.
If you bring your laptop, you'll be pleased to hear that there's plenty of work space! And while you're chipping away your work, you can prepare small snacks in the kitchen. It's not as big as we would like it to be, but it does the job.
For the adventurers that have a whole itinerary planned, there's a cold but tasty breakfast waiting for you every morning – for free! It's the best way to start the day and get a bit of energy in your system!
Free Breakfast
24-Hour Reception
It's deffo the 'and Bar' bit in this hostel's name that piqued our interest when it comes to a party. And we weren't wrong: a great atmosphere, great staff, organised pub crawls, beer pong tournaments, and something they call "The Greatest F'n Game Show Ever" – it all adds up to the best party hostel in Zagreb.
Basically, it's all about fun here, and if you're up for it you'll have a dope time, for sure. I mean, there's free earplugs, free pancakes (on Tuesdays, inexplicably), free goddamn breakfast, comfy beds… The list goes on. If you don't have a good time here you're an idiot. AND it's one of the cheapest available.
Why you'll love it here:
Female-only dorms
Beer-pong comps
Super sociable vibe
Fun aside, let's talk about some details! Once the party is over, you'll need a place to rest your head. Whole Wide World Hostels offers different room types, from spacious dorms to comfy private suites. Note that this hostel is all about the social vibe, so if you're a bit of a loner that enjoys their space and privacy, this hostel is definitely not the right one for you! To keep their solo-female travellers safe, they also offer female-only dorms.
Locationwise, you'll love the hostel as well. Pretty much all famous attractions are within walking distance, and if they aren't, you can hop on the public transport instead.
Before you head out to explore the city stop by at the reception and ask the friendly staff for some of their best recommendations on what to see and do in Zagreb. Local knowledge always goes a long way, and you'll be guaranteed to experience a different side of the city.
5. Best Hostel for Couples in Zagreb – Hostel Bureau
Great views
Vending machine
Sometimes you and your partner just need a bit of time to yourselves – and sleeping in a dorm definitely doesn't offer the right amount of privacy. But don't worry, Hostel Bureau is the ideal place for lovebirds or maybe even a group of friends. The charming private rooms are modern and super bright, making the hostel feel more like a cool hotel.
There are also plenty of socializing areas where you and your significant other can meet new people, make new friends and socialize. From PlayStations to Pool tables and a book exchange, there are plenty of entertainment options – perfect for those rainy days inside!
Why you'll love this hostel:
Fully equipped kitchen
Buffet breakfast available
Epic city centre location
Feeling hungry after exploring the city? No problem, you can easily whip up a three star meal in the fully equipped kitchen. There's plenty of space to spread out the tasty ingredients so you can really impress your significant other with your cooking skills… or heat up some takeaway!
Let's have a bit of a closer look at the epic private rooms though. Hostel Bureau offers some pretty sick private rooms that also come with free parking. Acccording to previous guests, the beds are extremely comfortable so you're guaranteed to have a great night sleep!
It's also important to note that this is not a party hostel. It's perfect for socializing, but the crowd that you meet here is more grown up and calmer. if this is what you're looking for, hit the book button below!
Is This the Best Backpack EVER???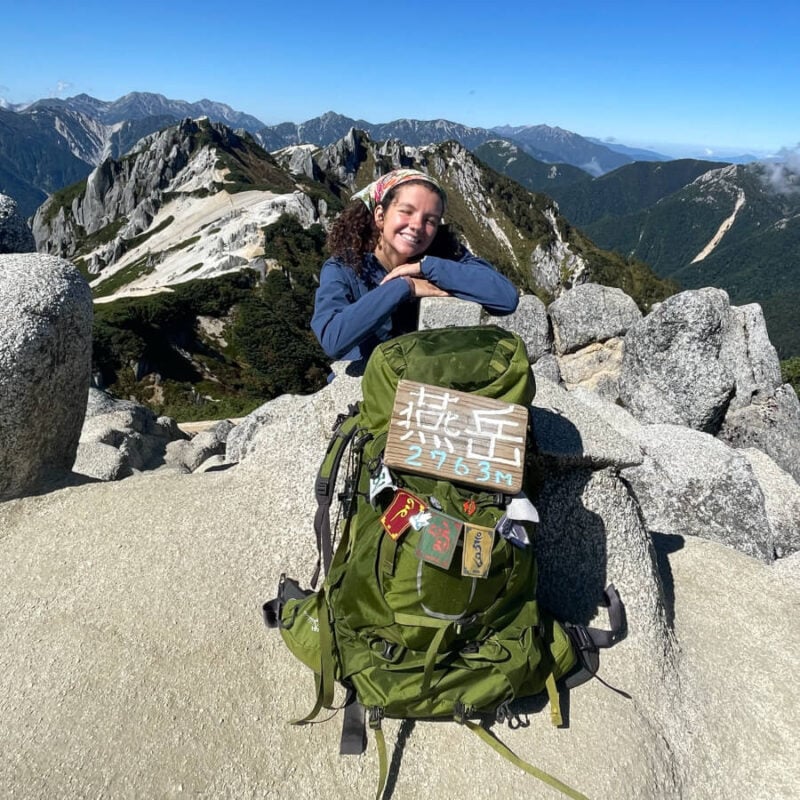 More Best Hostels in Zagreb
Some neighborhoods are more fun than others – discover which are the best areas to stay in Zagreb and then book the right hostel!
Best Hostel for Digital Nomads in Zagreb – Swanky Mint
Swanky Mint. Swanky Mint. Swanky Mint. Nothing. Can't understand it. Name aside, this place is actually to be fair quite swanky. It's pretty spacious, for one, with loads of space for your little laptop or whatever you work on – and since you're working, you can afford the extra P this place costs, right? We say it's the best hostel for digital nomads in Zagreb cause of, yeah, a) all that space, b) quite a nice place to be in, c) it's right in the old town so you can take loads of Insta-friendly pics, d) bar downstairs is not only travellers, so you'll feel a bit more 'authentic' which is what we all crave, right?
Another Cheap Hostel in Zagreb #1 – Hostel Chic Zagreb
Towels Included
Bicycle Hire
Although it calls itself Chic we're not entirely sure this would win the award for the coolest hostel in Zagreb. But it tries. It tries hard enough to definitely be counted as a top hostel in Zagreb, which is fine by us – the place is modern, quite newly done, clean, a little cosy in the dorm rooms, maybe a bit too much lime green paint, but… yeah. Price-wise (and what you get for that price) it's pretty much the best cheap hostel in Zagreb. Staff are awesome. AC everywhere. The only downside is that it's a bit short on toilets which could be slightly annoying when it's fully booked.
Hostel Chic Zagreb is one of our favourites in Zagreb but they're not taking guests right now. We're not sure if they're closed for good but we hope they'll come back soon.
Another Cheap Hostel in Zagreb #2 – Hostel Explorer
Right in Zagreb's old town, the location of Hostel Explorer is great if you wanna, well, explore, so at least the name is consistent. It's set in an old building, and the common area is sorta down in a cellar bit with original brick archways and walls and stuff which is cool – and cosy – but upstairs the dorms are a bit basic-looking with standard metal-frame beds, you know? The staff could be a little more present here, but generally, for a quirky-ish place to stay with a fairly central location, this Zagreb backpackers hostel is a nice choice.
Hostel Explorer is one of our favourites in Zagreb but they're not taking guests right now. We're not sure if they're closed for good but we hope they'll come back soon.
Hostel Shappy
24-Hour Reception
Air Conditioning
Hostel… Shappy? Shappy? Fine, whatever, maybe they meant ShaBBy, like shabby-chic? That thing middle-aged people talk about as if it's still new even though it peaked about 8 years ago? Cause the decor at Hostel Shappy is a bit like that, though more simple and elegant as a result. Yes, elegant. It's a quiet place a little away from what some might call the madness of the city centre, so it's the best hostel for couples in Zagreb – a little slice of couple-y heaven. Cute private rooms, cute courtyard, nice staff, clean; let's say pleasant overall. Awesome coffee also. Bit pricey tho.
Hostel Shappy is one of our favourites in Zagreb but they're not taking guests right now. We're not sure if they're closed for good but we hope they'll come back soon.

Our GREATEST Travel Secrets…
Pop your email here & get the original Broke Backpacker Bible for FREE.
The Cherry Hostel
Could it be… one of the best hostels in Zagreb? (to the tune of Prince). Yes, yes it could. And when we say that we mean it, and it usually boils down to the staff being amazing and at The Cherry Hostel they are even what could be described as extremely helpful. Yep. The place itself is clean and modern, too.
The surroundings are chill though shops and stuff are nearby – the centre of Zagreb is about a 15 min walk. But that's ok. More than makes up for it with the relaxed atmosphere. Easily the best hostel in Zagreb 2021 – if you don't want to party, that is. If you go, say hi to Bear the dog, will ya? (There's a reason it's called Bear, I mean, wow).
The Cherry Hostel is one of our favourites in Zagreb but they're not taking guests right now. We're not sure if they're closed for good but we hope they'll come back soon.
Best Hostel with a Private Room in Zagreb – Adriatic Train Hostels Zagreb
Location Location Location
24-Hour Reception
AdriaticcTrain Hostels is, like, a thing – only in Croatia, though we've seen the idea before. What idea? Turning an old sleeper train into a hostel, that's what. As such you can see pretty quickly why we think it's the best hostel with a private room in Zagreb. Sure, it's unique, and you might be thinking, 'oh you're only saying that cause it's a train' – partly true only. It's also got an amazing location right close to the centre (right next to King Tomislav Square), is much more comfortable than you'd expect it to be, has super friendly staff… A youth hostel in Zagreb with a difference.
Adriatic Train Hostels Zagreb is one of our favourites in Zagreb but they're not taking guests right now. We're not sure if they're closed for good but we hope they'll come back soon.
The Wallaby Hostel
Outdoor Terrace
24-Hour Reception
You can tell by the name (it's also Australian-owned) that this is gonna be a typical sorta Zagreb backpackers hostel – you can party, you can chill, it's a bit basic, feels like a large communal house. There's beer pong every night, which of course if you got your own plans you don't have to partake in, but if you like getting your pong on you'll probs love it here. Location-wise it's a quick tram ride to the centre. Certaily there are an endless list of things to do in Zagreb so you'll be plenty busy. Finally, the rooms can get a bit hot, but this is a budget hostel in Zagreb and it's a fun place so… so yeah.
The Wallaby Hostel is one of our favourites in Zagreb but they're not taking guests right now. We're not sure if they're closed for good but we hope they'll come back soon.
FAQ about Hostels in Zagreb
Here are some questions backpackers ask about hostels in Zagreb.
Travel Safety Tips for Zagreb
ALWAYS sort out your backpacker insurance before your trip. There's plenty to choose from in that department, but a good place to start is Safety Wing.
They offer month-to-month payments, no lock-in contracts, and require absolutely no itineraries: that's the exact kind of insurance long-term travellers and digital nomads need.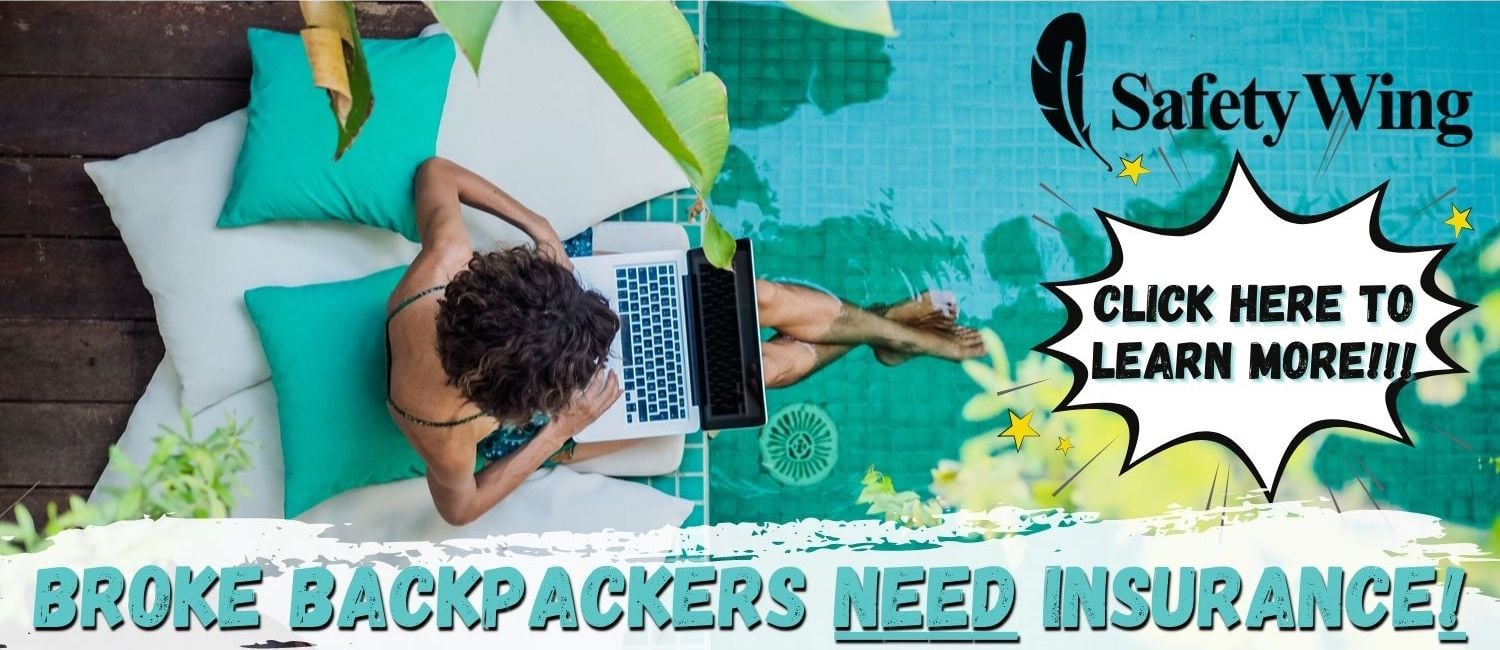 SafetyWing is cheap, easy, and admin-free: just sign up lickety-split so you can get back to it!
Click the button below to learn more about SafetyWing's setup or read our insider review for the full tasty scoop.
More Epic Hostels in Croatia and Europe
Hopefully by now you've found the perfect hostel for your upcoming trip to Zagreb.
Planning an epic trip all across Croatia or even Europe itself?
Don't worry – we've got you covered!
For more cool hostel guides around Europe, check out:
Over to you
Well guys, that's all I got: you have made it to the end of my guide to the best hostels in Zagreb 2021.
As Zagreb continues to gain popularity with backpackers, you can be sure that even more hostels will pop up. Certainly there will be some winners and some losers in the new crop, and I'll have to update this list!
The goal in writing this guide was to put all of the best accommodation options on the table. Hopefully you were able to sort out your ideal hostel from list.
Quick side note: If you're not 100% sure if hostels are the right accommodation for you, check out our insider guide on the best Airbnbs in Zagreb. They're just as affordable, but offer a bit more privacy.
Backpacking Zagreb is bound to be one hell of a good time (be sure to check out the awesome nightlife to be found here!).
Remember, where you stay matters. That last thing I want for any fellow traveler is to wind up with a less-then-awesome place to stay.
All of the best hostels in Zagreb are at hand. It is up to you now which one to book…
Going on an extended Croatia adventure? Be sure to check out this awesome post on the best hostels in Croatia.
Happy travels guys!
If you think we've missed anything or have any further thoughts, hit us up in the comments!
---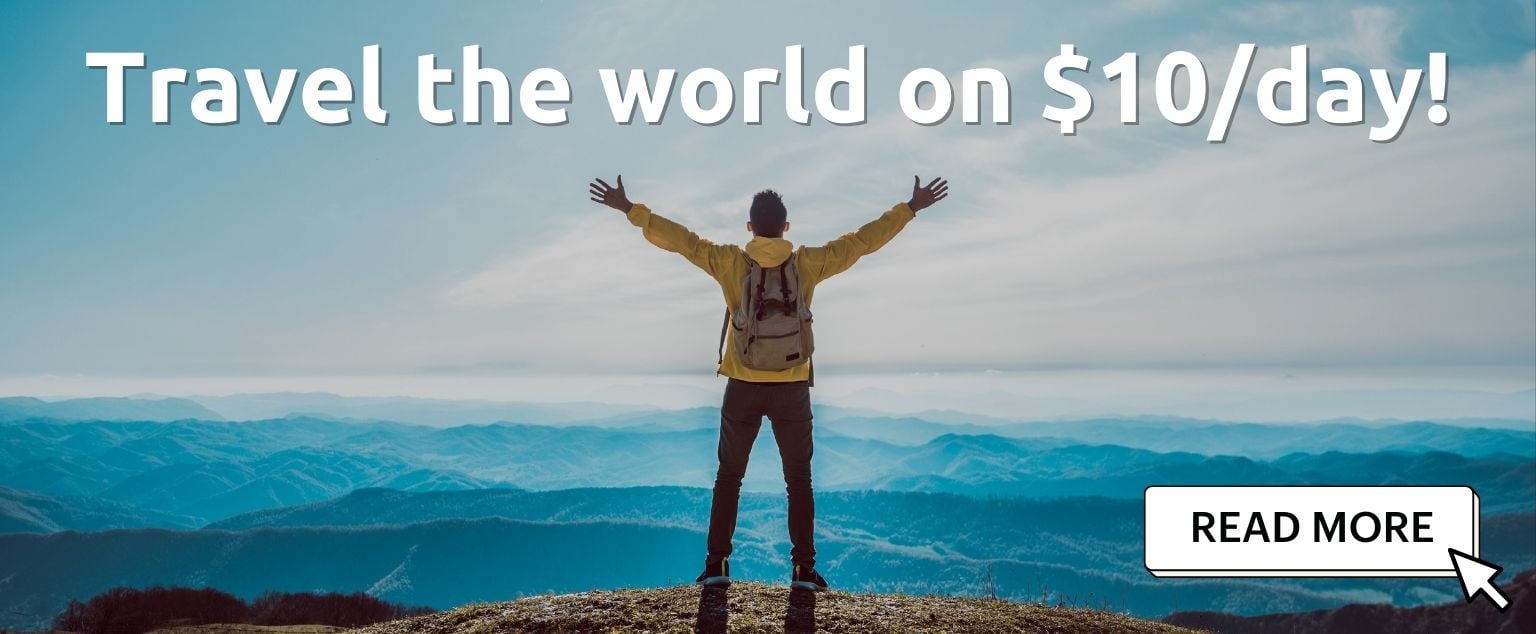 And for transparency's sake, please know that some of the links in our content are affiliate links. That means that if you book your accommodation, buy your gear, or sort your insurance through our link, we earn a small commission (at no extra cost to you). That said, we only link to the gear we trust and never recommend services we don't believe are up to scratch. Again, thank you!