When it comes to an island paradise, the archipelago of Hawaii is one of the world's most beautiful and dynamic island chains in the world. Steaming volcanoes, lush rainforest, rugged coastline, iconic beaches, gorgeous national parks, laid-back culture, and more waterfalls than you can shake a stick at? This is what backpacking Hawaii is all about.
For many travelers seeking surf, sun, and plenty of adventure, backpacking Hawaii is the ultimate journey into a staggeringly beautiful and captivating land.
Before Hawaii was a part of the United States, it was a vast, wild archipelago, home to thriving Hawaiian culture. For better or for worse (depending on who you ask), the Hawaiian islands have been forever changed by mass tourism, development, and the annexation by the USA.
This Hawaii travel guide will not take you to the posh resorts of Honolulu, Maui, or the glitz and glamour of any other part of Hawaii. If that is the kind of experience you are looking for then this Hawaii travel guide simply is not for you.
Certainly, backpacking in Hawaii may not be the cheapest, but there are plenty of ways to travel to Hawaii on a shoestring budget, and that's what we aim to show you.
This Hawaii travel guide is your key to backpacking Hawaii on a budget (and having awesome adventures!).
The Hawaiian Islands are jam-packed with awesome adventures to be found around every turn; Hawaii truly is a backpacker paradise on many levels. I want to get you prepared for the backpacking experience of a lifetime!
This Hawaii travel guide offers up advice on the best things to do in Hawaii, Hawaii travel itineraries, tips, and tricks for backpacking in Kauai, Oahu, Maui, and the Big Island (Hawaii), where to stay, where to go, trekking and diving in Hawaii, and much more!
(I have not covered Hawaii's other islands, Niihau, Molokai, Lanai, and Kahoolawe, which are much more off the beaten path.)
Let's dive right in…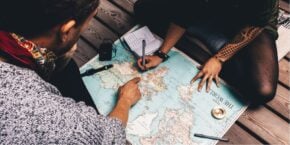 Heading Off-Grid? • Download This Guide as a PDF!
Sign up to The Broke Backpacker's EXCLUSIVE VIP AREA below and download our top backpacking guides as PDFs – go offline with peace of mind!
Why Go Backpacking in Hawaii?
It would be a LOT quicker to talk about why NOT to go to Hawaii. There are literally millions of reasons to visit the Hawaiian chain of islands. It's undoubtedly the most beautiful place in the USA, and is home to unique natural wonders you won't find anywhere else on the planet.
While Hawaii is a state that can be visited on a regular US tourist visa, you'll quickly feel like you've arrived in another country. Visiting Hawaii not only means stunning vistas, but also will allow you to experience the beautiful and unique culture of Native Hawaiians that must be respected and celebrated.
While certainly not the cheapest destination in the world, Hawaii is paradise in every sense of the word and is somewhere you just HAVE to visit at least once.
So, grab your best surfboard and let's get it on!
Where to Go Backpacking in Hawaii
The Hawaiian archipelago is made up of hundreds of islands sprawling a mind-blowing 1,500 miles across the Pacific Ocean.
Of these many islands, there are eight islands that are considered the "main" islands and are the most densely populated and developed. These are where all of the most popular places to visit in Hawaii are located.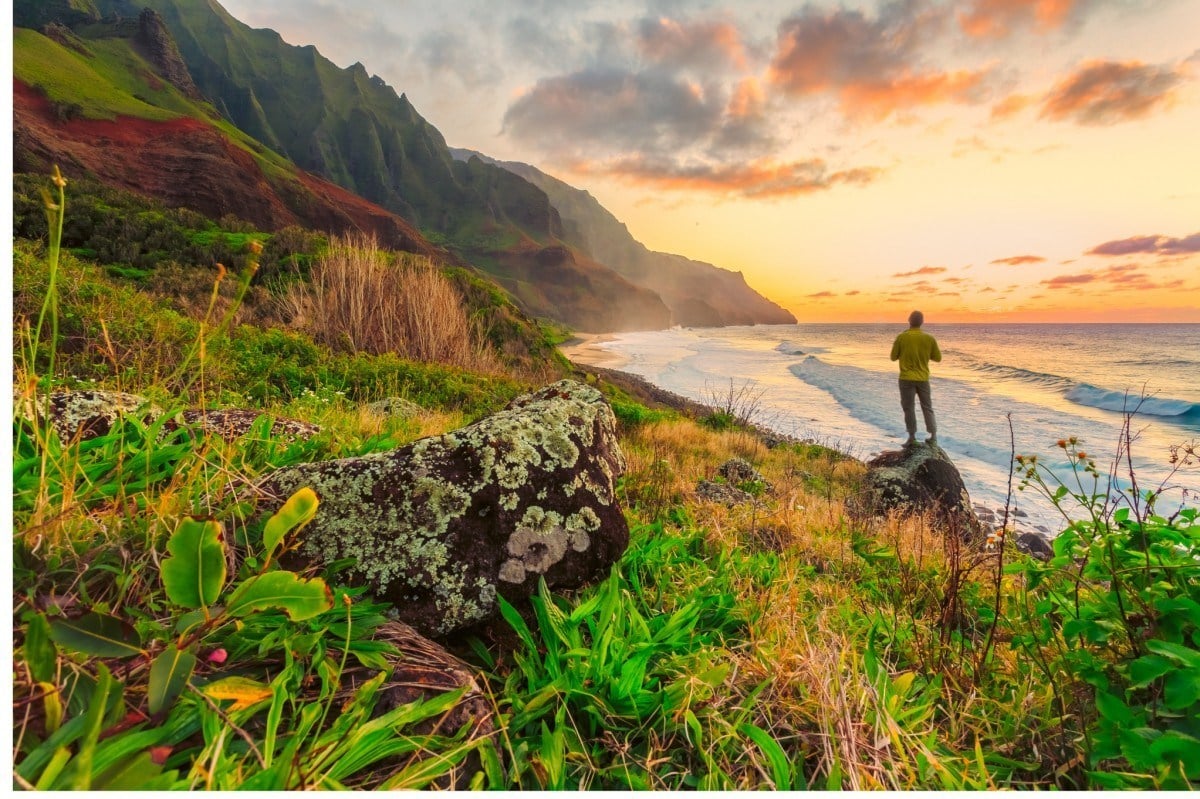 Regarding these eight islands, I will be covering four of them in-depth in this Hawaii backpacking guide.
In this travel guide I breakdown the islands of Maui, Oahu, Kauai, and Hawaii Island—which, to avoid confusion— I will be referring to by its so-called name, "the Big Island".
Each island featured below offers up its own unique charms and draw. Explore the jaw-dropping Napali coast in Kauai. Get lost on the road to Hana in Maui. Go surfing in Oahu. Be totally mesmerized by the power of volcanoes on the Big Island.
No matter what you like to do on any given adventure, backpacking Hawaii has something for every type of traveler. Whether you love trekking, hunting for waterfalls, snorkeling, camping, history, surfing, foodie-culture, nature photography, or simply want to chill out on the beach—in Hawaii, it's all on offer and more.
Now let's take a look at some of the best Hawaii backpacking routes that I have assembled below…
Here are several backpacking Hawaii travel itineraries to get your ideas flowing. The backpacking routes can easily be combined or customized!
These are rather short backpacking itineraries I'll admit, but I wanted to keep your route planning as simple as possible whilst leaving room for being spontaneous.
In a perfect world, you would have a month or more to mix and match some of these for a more well-rounded experience. Even if you only have 10 days in Hawaii you will certainly have a damn good time.
Backpacking Hawaii 10 Day Itinerary #1: Kauai Highlights
If you are looking to tackle a Hawaii 10 day itinerary, I suggest that you stick to one island and get to know it in-depth (or as much as you can in that time). In theory, you could explore a tiny bit of two islands in 10 days, but honestly, you'd be missing too much on both islands.
10 Days: Exploring Kauai's Wild Side
Your first several days in Kauai can be spent discovering the rural North Shore and the road to it. Here you can explore Kilauea Point National Wildlife Refuge & Lighthouse, before heading to the historic market at Kilauea's Kong Lung.
The drive en route to Kilauea Point from Lihue will help you get to grips with just how beautiful Kauai is. Make sure to figure out where to stay in Kauai before you start your travels – there are many cool neighborhoods on the island.
You will probably start your journey in Lihue. After getting your bearings, head out for a slow drive (or hitchhike) along Kauai's Coconut Coast towards the beautiful North Shore. You can stop in Kapaa and vibe out in one of the super relaxed cafes for lunch.
After a day or two of driving and stopping along the coast, you can relax at Kee Beach and hit the Kalalau Trail in the late afternoon or the next morning after getting settled.
Kee Beach is quite popular, but a visit here is time well spent all the same and the snorkeling is prime. Equally impressive is Makua (Tunnels) Beach, accessed from Haena Beach Park.
Next head to Hanalei Bay. If you love watersports, you're going to love Hanalei: surfing, boating, and snorkeling abound. Anini Beach is awesome too when the sea is too rough at Hanalei.
Opaekaa Falls and nearby Wailua River State Park make for great stop-offs as you head towards Old Koloa Town and Poipu.
The next part of your journey will take you to one of my favorite places in all of Hawaii: the Napali Coast and Waimea Canyon (though Waimea Canyon isn't at the Napali Coast FYI).
First things first: stop off for a pint at the Kauai Island Brewery. Hanalei makes for a good base.
The drive through Kokee State Park is truly magnificent. There are a ton of epic hiking trails in Kokee State Park and the surrounding area.
Make the epic 4-hour hike to Waimea Canyon for a glimpse at one of Hawaii's true gems. Don't rush through things. Kauai is one of the best islands in Hawaii. Make sure that you enjoy every single moment out there!
Maui–also known as the Valley Isle–is one of the most expensive islands in Hawaii. However, once you get away from the glamor and luxury resorts, you will discover a side of Maui that a majority of visitors never experience.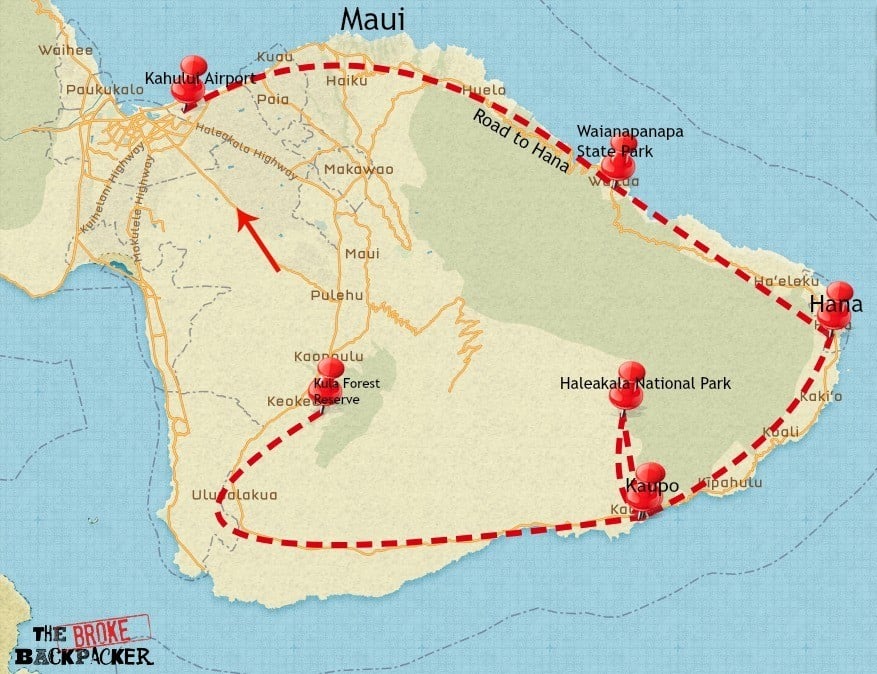 10 Days: Backpacking Maui Highlights
There is indeed lots to do in Maui. I am a big fan of the Hana area. Before heading there for the majority of your ten days, I recommend spending at least a few days checking out Napili Beach and Kapalua if you don't mind a bit of driving/hitchhiking.
Equally important is making time for the epic Haleakala National Park, one of Hawaii's most popular National Parks, and reserves like 'Iao Valley State Monument.
Hiking the Haleakala Volcano is a must at some point on your trip, so plan on making time for it either at the beginning or end of your stay. It is a little out of the way as the national park is located in the rugged interior of Maui. That said, the hike is totally worth it! There is no experience on Maui quite like a Haleakala Sunrise tour. Witness the sunrise from the top of Haleakala National Park and feel the folk stories of the demi-god Maui come to life.
En route to Hana be sure to stop at the Ho'okipa Beach Park. This beach is home to some truly badass surf competitions held throughout the year.
The road to Hana is dotted with absolutely world-class landscapes. You will find that one can stop every few minutes and there is something awesome to get into.
Stunning rocky beaches and hiking/waterfall trails (and much more) are abundant along the way. Hana makes for a good base as it is one of the few authentic Hawaiian towns relatively unchanged by mass tourism. It is still super popular, though quiet too. There are also some great Airbnbs in Maui.
Hawaii 14 Day Itinerary #3: Oahu Surf Culture, Beaches, and Highlights
14 Days: Backpacking Oahu Highlights
For those backpackers looking to experience Oahu's famed surfing culture, head directly to the North Shore without staying in Honolulu for more than 24 hours.
Once based at the North Shore, there is little need to go any great distance.
The Waimea Valley offers up endless hiking and trekking opportunities to explore the vast green rainforest. Haleiwa town is the famous surfing capital of Oahu. Around Haleiwa, the beaches are home to some of the biggest and best waves (and scariest) on planet earth.
Sunset Beach Park is a good place to start for soaking in the surf and beach vibes. In general, Waimea Bay is a great place to explore.
Laniakea Beach is famous for two things: surf and sea turtles. If you turn up at the right time of year you are likely to see both. Further down the coast at Kawela Bay, you will find a quiet, beautiful spot to just chill on the beach.
Shark's Reef is a favorite spot among snorkel enthusiasts.
On the opposite end of Oahu, the hike from Keawa'ula Beach to Kaena Point is a great coastal walk that pairs nicely with a beachside picnic.
You can easily spend two weeks on Oahu surfing, eating, chilling, trekking, and diving. Sound good?
Hawaii 14 Day Itinerary #4: The Big Island
The Big Island of Hawaii is truly a massive place. You will certainly need all of this 14 day itinerary to experience a good chunk of it. Depending on where you are on the Big Island, the landscapes are vastly different.
14 Days: Backpacking the Big Island
Hawaii Volcanoes National Park is the definite highlight of the Big Island in terms of natural wonder.
That said, as of August 2018 the eruption of the Kilauea Volcano has significantly altered the Big Island. As of this moment, major access points to the park have been cut off by lava flows, and local communities have been devastated.
I would normally recommend driving the Crater Rim Road along with the Chain of Craters Road... but it is impossible at the moment. On the other hand, most of the Big Island is still open for tourism and the people need it, so don't let the eruption deter you from visiting the Big Island.
The Thurston Lava Tube is another spectacular site within the park that is a must-see if and when the access opens again (hopefully).
Hilo is a town located on the "wet" side of the Big Island. Here, the landscapes are lush, green, and couldn't look more different than the much drier town of Kona. Hilo is so diverse in its nature, a stay in Hilo for a few days is not to be missed.
There are so many great things to do in Kona, including snorkeling in Kealakekua Bay and then snorkeling again in the evening with Manta rays. Kona is home to great coffee and fine restaurants so will keep your senses excited without breaking the bank.
From Hilo and towards the Hamakua Coast is the rugged region known as East Hawaii, full of off-the-beaten-path adventure potential. Akaka Falls State Park north of Hilo has plenty of awesome hikes to get into.
The Puna Coast features black sand volcano-carved beaches and coves that offer up some decent snorkeling action. The Kalapana Lava Viewing Area is mind-blowing for other-worldly stuff.
If you find yourself along the southern tip of the Big Island en route to Kona check out Papakolea Green Sand Beach and Ka Lea, the southernmost point of the island.
Before leaving the east part of the island, you absolutely must hike up Mauna Kea. When measured from the sea floor, Manua Kea is a staggering 33,000 ft above sea level making it the highest mountain in the world! Say what, Everest?
All the Hawaiian Islands make up a truly spectacular adventure playground for backpackers. Literally, every type of landscape is found here: arid desert-like scrub, high-altitude alpine, active volcanoes, lush rainforest, white sand beaches, and dense jungle.
Each island offers up something distinctly different for backpackers. Now to discuss the elephant in the room: the cost of backpacking Hawaii. Hawaii can be notoriously expensive, and I'm not going to sugar coat it: Hawaii is pricey.
That said, if you come prepared with the right strategy, you can minimize your daily costs and spend more of your money doing things you love. I'll cover how to minimize your costs later in the guide.
If you have several months or more to work with (and a budget for inner-island flights), you can certainly experience several Hawaiian islands on one trip.
Backpacking in Hawaii takes you on an epic adventure through one of the world's most beautiful regions. The fact remains, however, that the Hawaiian archipelago is huge!
I certainly do not pretend to cover every single awesome place in Hawaii in this Hawaii travel guide. I have selected my favorite places for backpackers on each of the four islands covered in this guide.
Let us take a look at the islands that make backpacking in Hawaii so awesome…
Is This the Best Backpack EVER???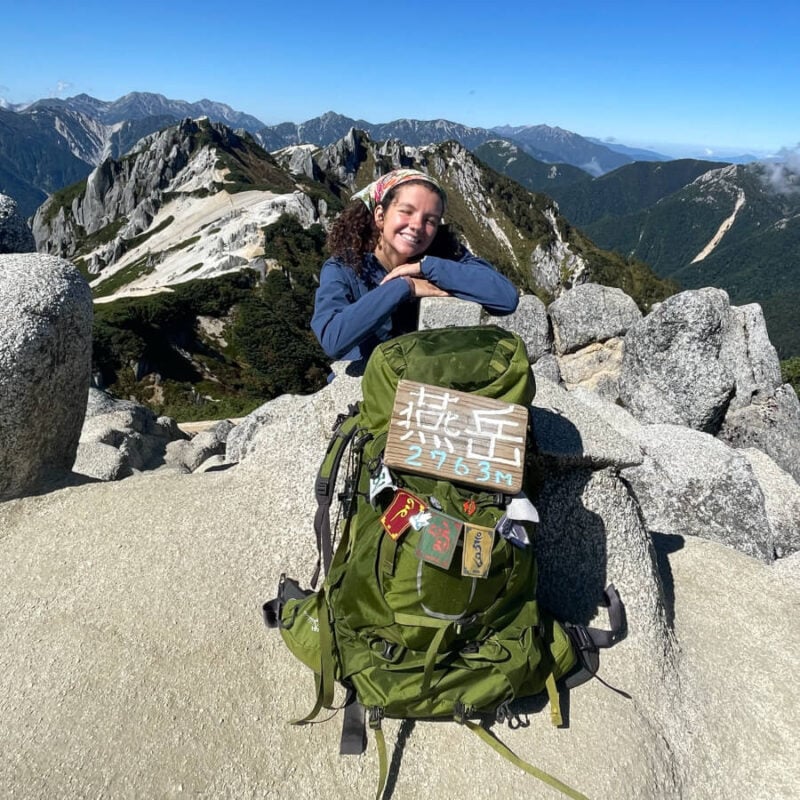 Places to Visit in Kauai
Kauai ain't called the "Garden Isle" for nothing. Over the last 50 years, this lush little slice of paradise has been a magnet for hippies, musicians, organic farmers, artists, and every other alternative type under the sun.
In many parts of Kauai, aspects of Hawaiian culture are alive and well. In terms of vibes, quietness, and off-the-radar places to go, Kauai might just be the most backpacker-friendly island I cover in this Hawaii travel guide.
The pace of life is slow on Kauai and people are generally friendly and welcoming. If you like outdoor activities Kauai has plenty of far-flung gems to keep you busy for months.
Backpacking the Napali Coast
I'm going to paint a picture for you of the Napali Coast. Imagine scenes from Jurassic Park and King Kong crossed with the Pirates of the Caribbean. That is what the Napali Coast looks like. In fact all three of those movies and countless others were filmed here.
The Napali coast is so strikingly beautiful it doesn't even seem real. I dig it.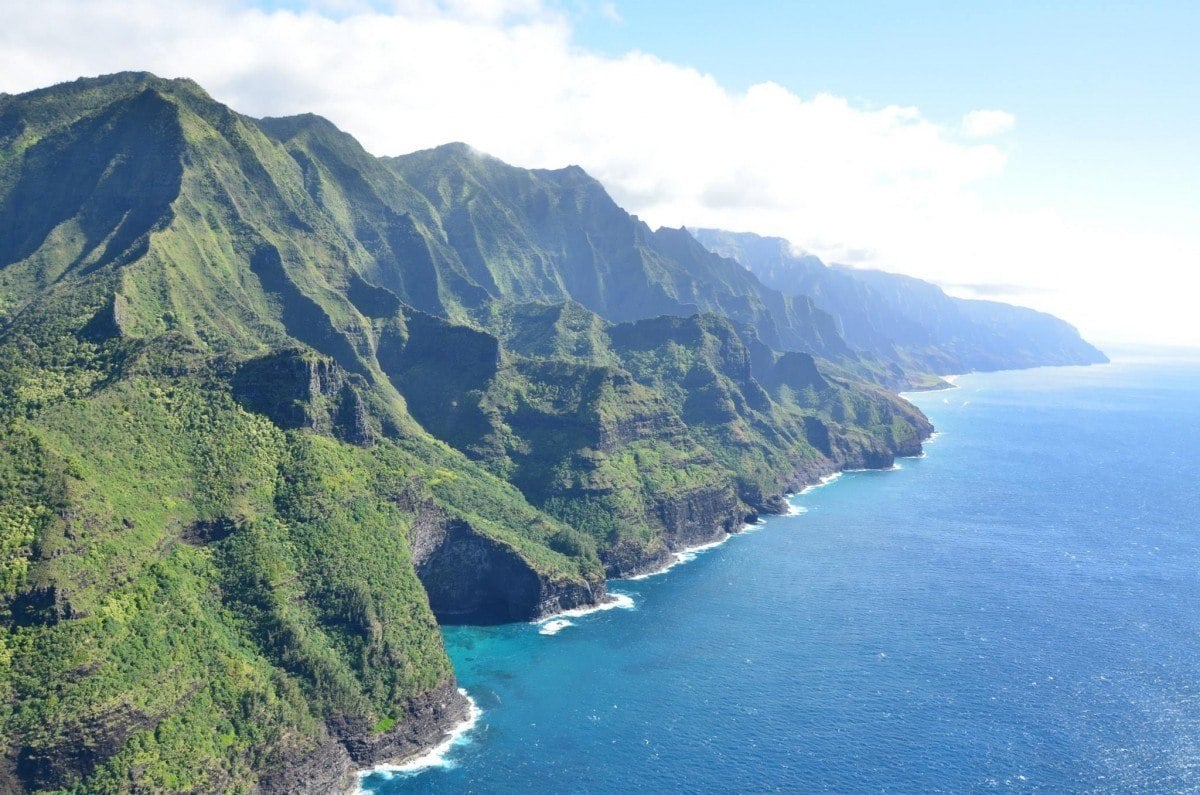 The number one reason to visit Kauai is to come backpacking on the Napali Coast. The Kalalau Trail is a 22-mile roundtrip hike that you should absolutely attempt.
The pali, or cliffs, provide a rugged grandeur of deep, narrow valleys ending abruptly at the sea. Waterfalls and swiftly flowing streams continue to cut these narrow valleys while the sea carves cliffs at their mouths.
Wild Camping is only allowed at Hanakoa or Kalalau. You should note that permits are required to camp.
Backpacking Waimea Canyon
Another iconic spot on Kauai is Waimea Canyon. Waimea Canyon is a large canyon that stretches roughly 10 miles long, one mile across, and over 3,000 feet deep!
You can actually get great views of the canyon from the road. The real magic needs to be experienced on foot. There are a number of hiking trails to choose from that take you down into the valley of the Waimea Canyon.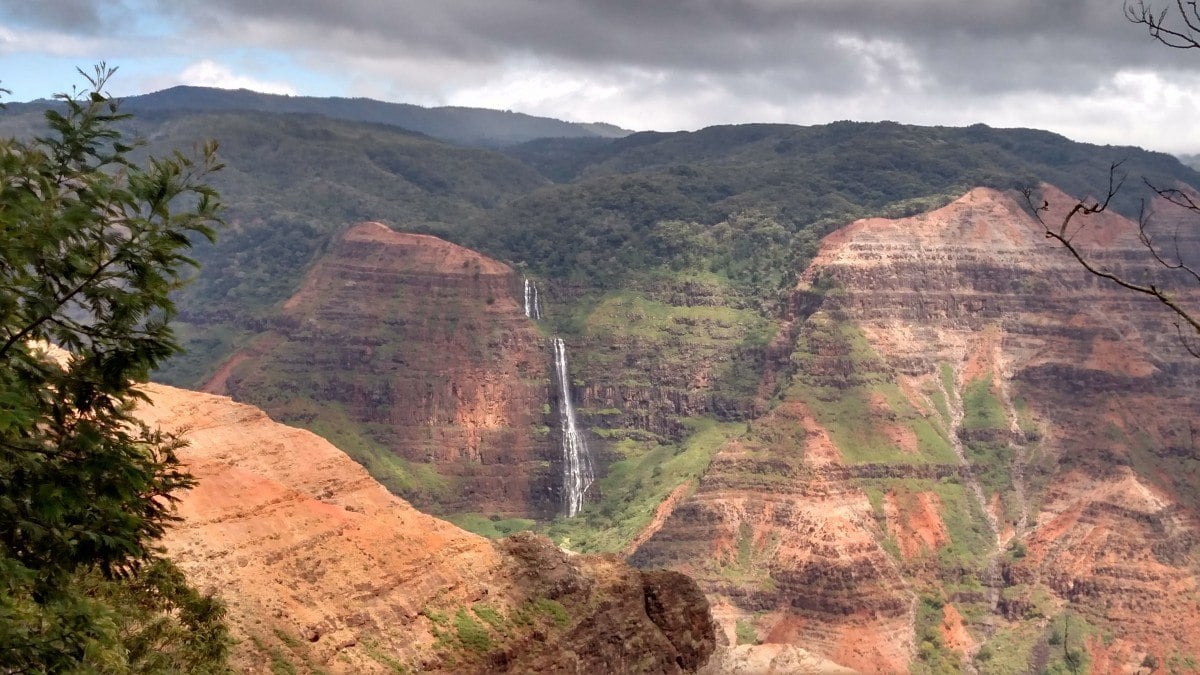 A fabulous mix of jagged towering rock splashed with greenery awaits. The Canyon Trail follows a descending path that eventually arrives at Waipo'o Falls. Most of the main trails are rather short and only take a few hours round trip.
For a bit more of a challenge, the Kukui Trail leads down to the bottom of Waimea Canyon to the Wiliwili campsite at the canyon floor. Here you can chill out next to the beautiful Waimea River.
You can access another awesome spot from the Kukui Trail via the Koaie Canyon Trail. This next section makes for an excellent few more hours of hiking to Lonomea Camp. All said and done, the long hike to Lonomea Camp will take about six hours and will provide you with a nice Hawaiian wilderness experience (if there aren't too many people!).
Backpacking Hanalei
Located on Kauai's North Shore is the small seaside town of Hanalei. Hanalei is a peaceful and relaxing place to spend the night.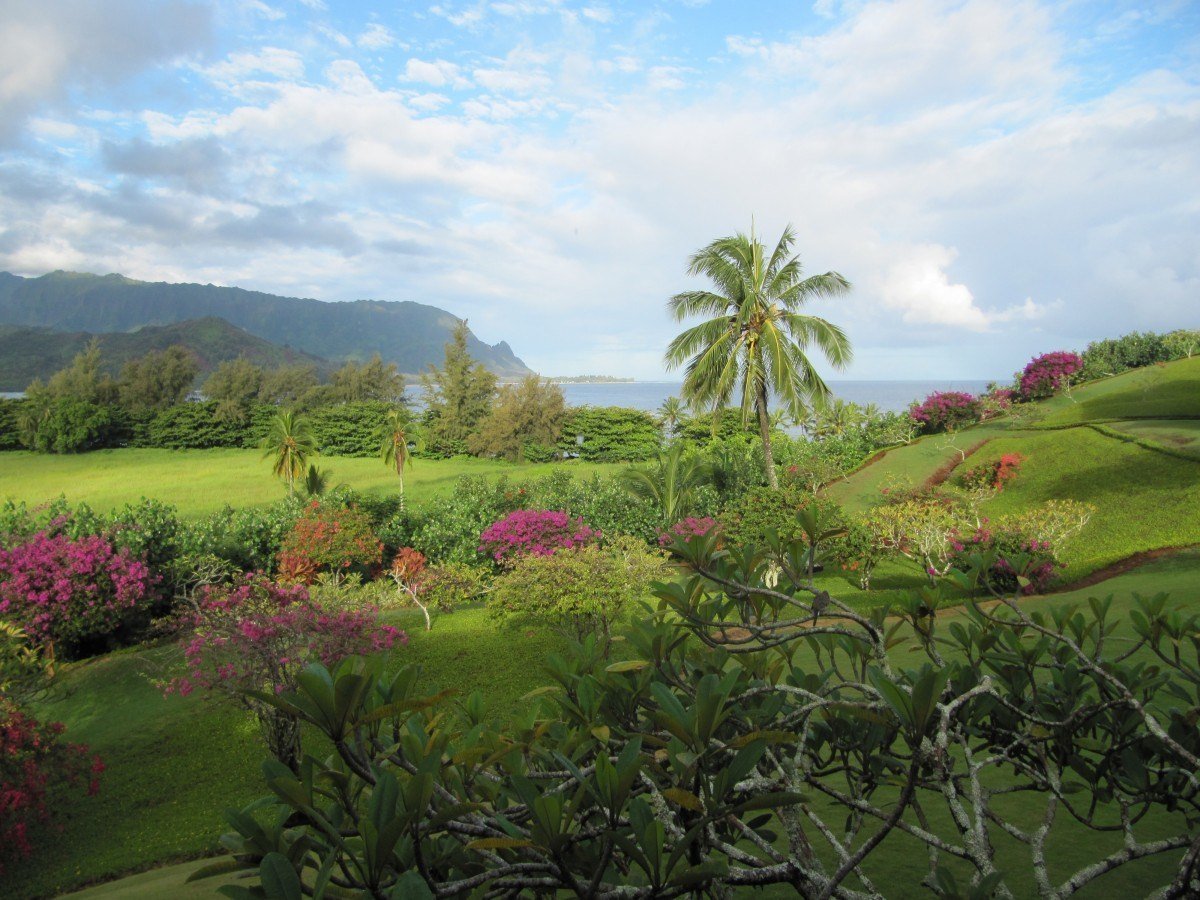 Nearby the Hanalei National Wildlife Refuge has plenty of outdoor adventures such as kayaking.
The pier overlooking Hanalei Bay is one of the best places in Kauai to catch the sunset. The outskirts of Hanalei are rather agricultural, with patchwork fields set against a backdrop of tall mountains.
Backpacking Mount Waialeale
Mount Waialeale is just one of those magical places found only on Kauai. Its base, known as "the Blue Hole," lies at the bottom of a seemingly endless wall of waterfalls known as the Weeping Wall.
Mount Waialeale and the climate that makes up the surrounding area is one of the wettest places on earth. Rains storms are frequent, heavy, and even dangerous if you're not prepared.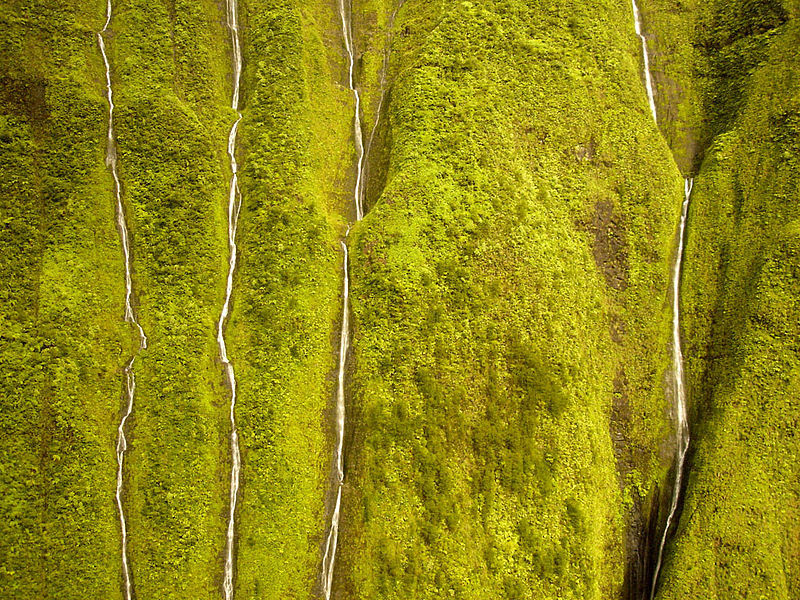 The hike to the blue hole/Waialeale headwaters is not for amateur hikers. If you plan on making the hike to the Blue Hole to see the Weeping Wall, you should really have the proper gear.
Taking along a good rain jacket, ample food and water (or a way to treat water), and waterproof boots is crucial. If you bring along a good waterproof backpack, you'll be even more happy with that choice.
If properly prepared, the hike to the Weeping Wall will undoubtedly be one of the highlights of your time backpacking Kauai.
Places to Visit in Maui
Maui is every bit as beautiful and mellow as it is touristy and frustrating and sometimes even the most expensive Hawaiian island. Certainly, going to the famous spots might leave you with the impression that Maui is just a pricey, exclusive retreat island for rich people and their condos.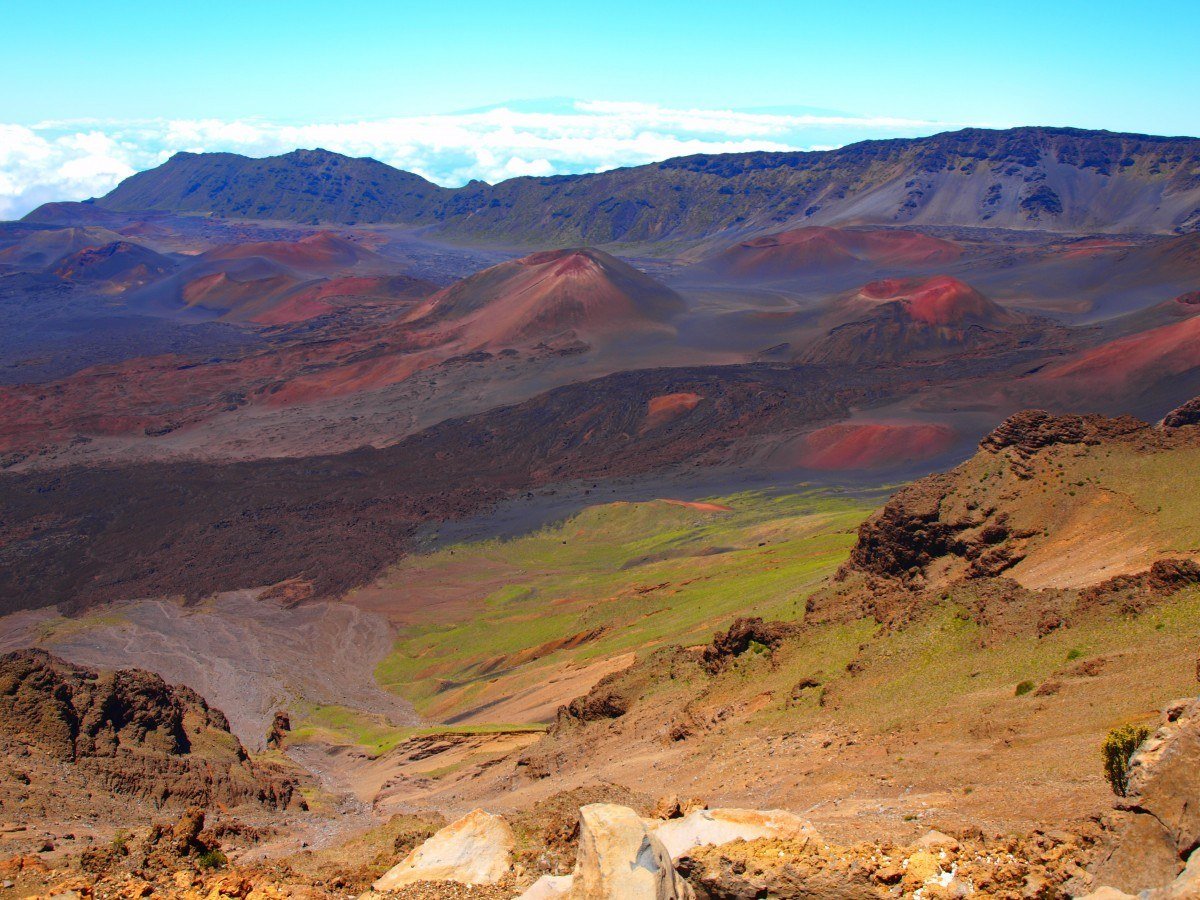 Going to the wrong restaurant or ordering a drink without checking the price could zap your day's budget in an instant.
That said, on the flip side, Maui has endless offerings of rugged natural beauty to discover. It's also the BEST place in Hawaii to see humpback whales. With a little effort, you can escape the exclusivity and pretentiousness of the glitzy areas in no time.
If you want to get beneath the waves then why not try one of the Maui snorkeling tours from Maalaea Harbor during the morning or afternoon hours? The morning tours usually visit Molokini Crater and Makena Turtle Town, while the PM tours visit Coral Gardens off the coast of Olowalu.
Backpacking Haleakala National Park
Maui's towering mountain, Mount Haleakala is one of the island's biggest draws for backpackers. The summit sits well over 10,000 feet and is the best place to watch to sun go down over Maui. Killer views in every direction make the challenging hike to the summit worth every tiring step.
But the summit hike is not the only epic spot in this national park…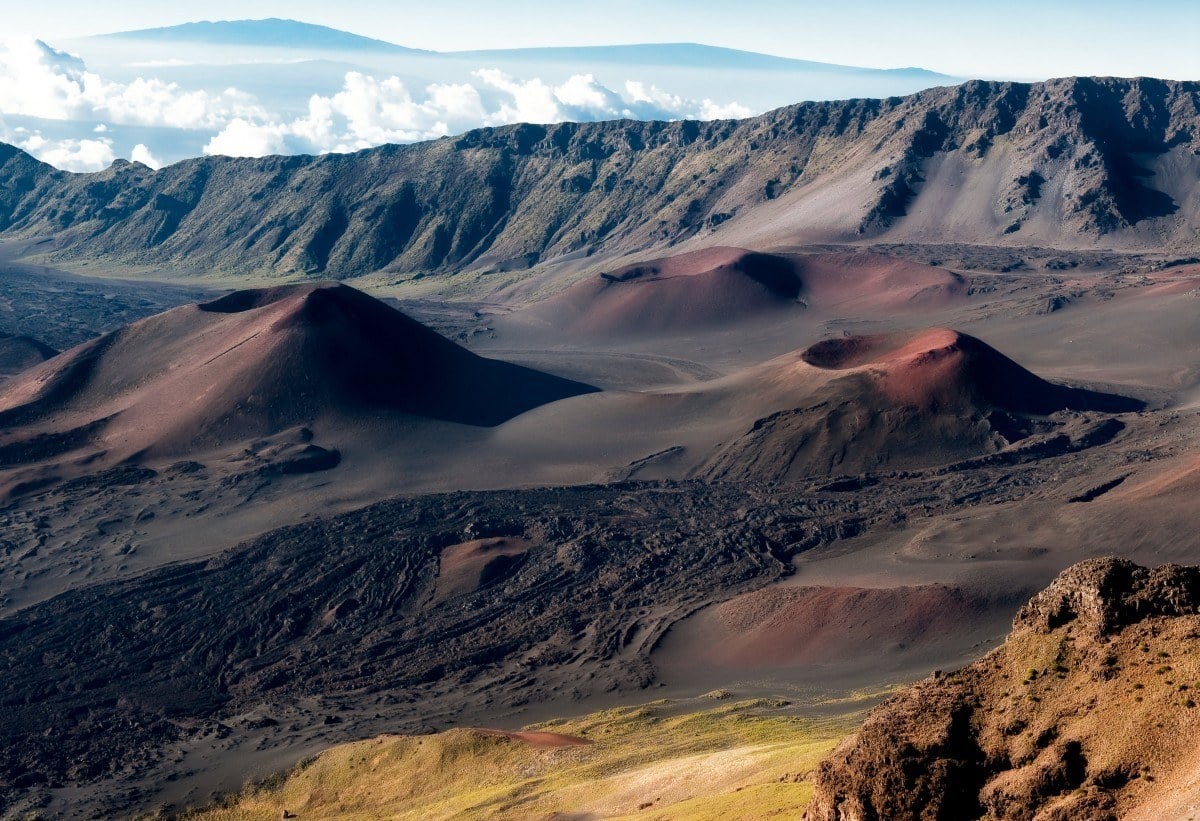 A popular 11-mile (17.8 km) full-day hike begins at Keonehe'ehe'e Trailhead, crosses the valley floor, and ends at Halemau'u (7,990 ft/2,436 m elevation). On this hike, you get to stroll past Pele's Paint Pot, known for it multicolored rock and sands straight out of an artist's dream.
For trail access, hike across the crater to Halemau'u Trail. The trailhead is in the Haleakala Visitor Center parking lot near the road.
I love Haleakala National Park because of the abundance of hiking options. You can choose from easy day hikes to challenging multi-day treks. It's pretty awesome that on a tropical island like Maui you can really get up into true alpine conditions.
Ho'okipa Beach
White sand beaches with monstrous surf? You must be at Ho'okipa Beach. Ho'okipa is famous throughout the surfing world for its massive wave breaks. Every year, major surf competitions are held here (or in the immediate vicinity).
If you are interested in learning how to windsurf, Ho'okipa Beach is a prime spot for that too.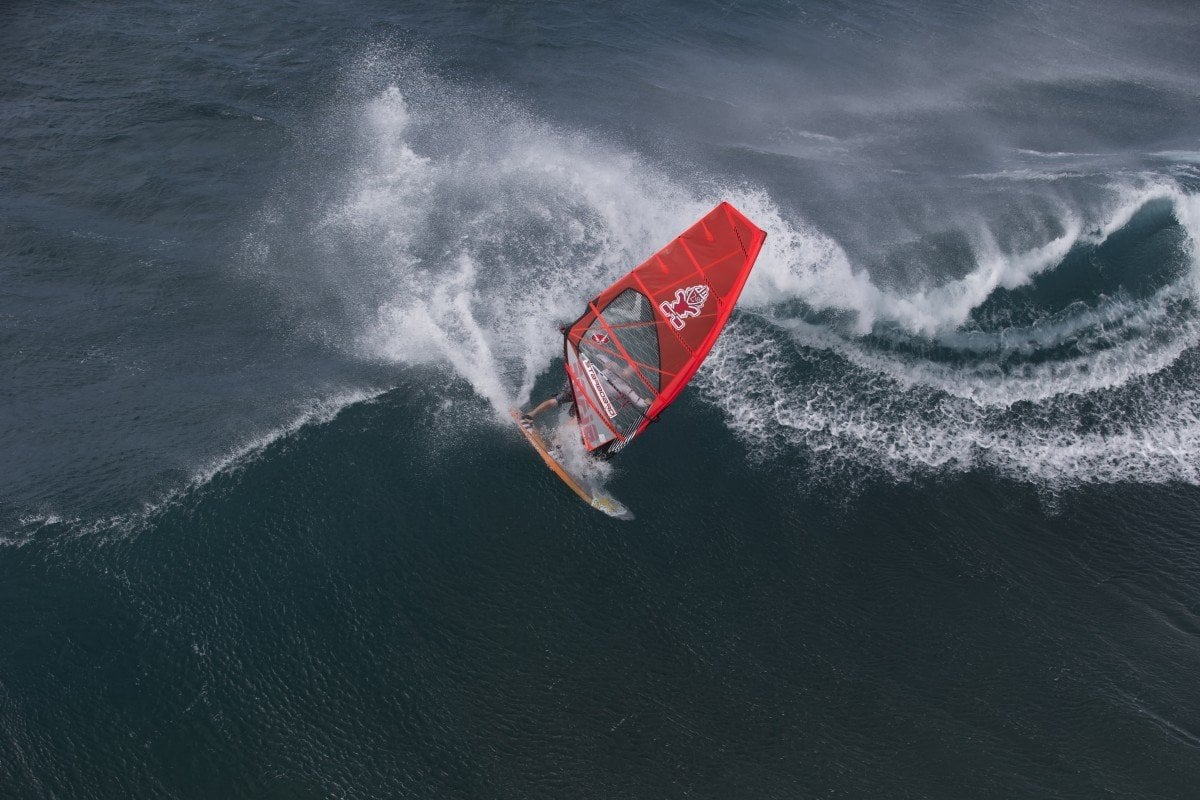 Likewise, if water sports aren't your thing you can spend a few hours spotting Hawaiian green sea turtles that frequent the beaches from time to time.
Ho'okipa Beach is quite popular as it's one of the top beaches in Hawaii, so I recommend visiting it for a short time. Check out the surfers and the turtles and then move on down the road to Hana.
Of course, for one of the tastiest seafood dinners of your life, head to Mama's Fish House and watch the sun cast shades of cotton candy pink and tangerine over the sea as you chow down.
Backpacking the Road to Hana
The road to Hana, or officially the Hana Highway is a stretch of ultra-scenic road running along Maui's North Coast which connects Kahului to the town of Hana in East Maui.
The distance isn't huge, but I recommend you take your time as there are a million and one things to stop and see along the way.
Here is a list of my favorite secret (or not-so-secret) spots along the road to Hana (I'll add in the mile marker as I can remember them):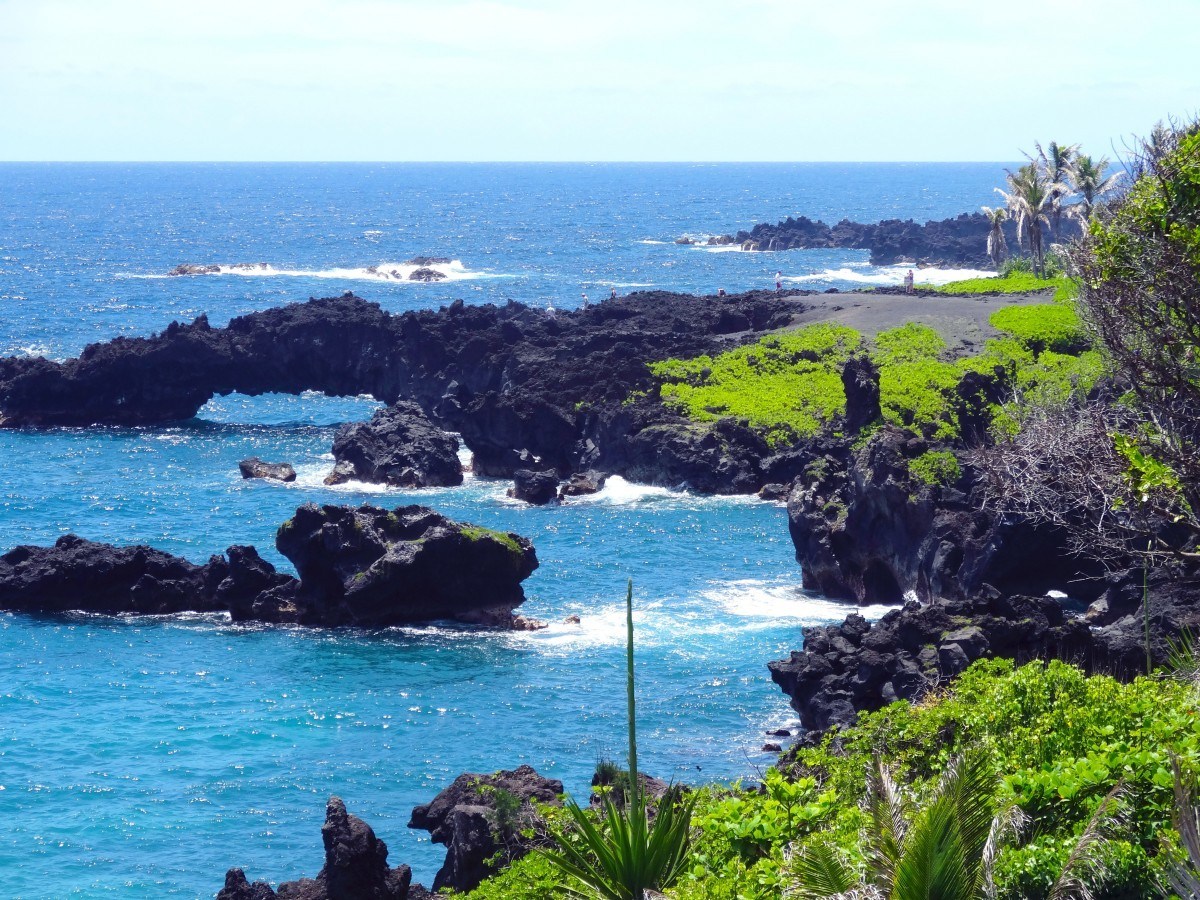 Twin Falls: mile marker 2
Waikamoi Ridge Forest Trail and Overlook
Garden of Eden
Keane Peninsula: mile marker 17
3 bears waterfall
Nahiku Ti Gallery and Coffee Shop
Wainapanapa State Park: mile marker 32
Wailua Falls
Seven sacred pools and bamboo forest ($20 national park entrance fee)
The road to Hana may not be long, but damn, there is a lot to see!
Backpacking Hana
Staying in Hana really is nothing super special in itself. Actually, it makes for a rather anti-climatic end to the epic journey you've just made.
On the other hand, I'd say it makes for an ideal place to base yourself for a few days to enjoy and explore all of the natural wonders close at hand.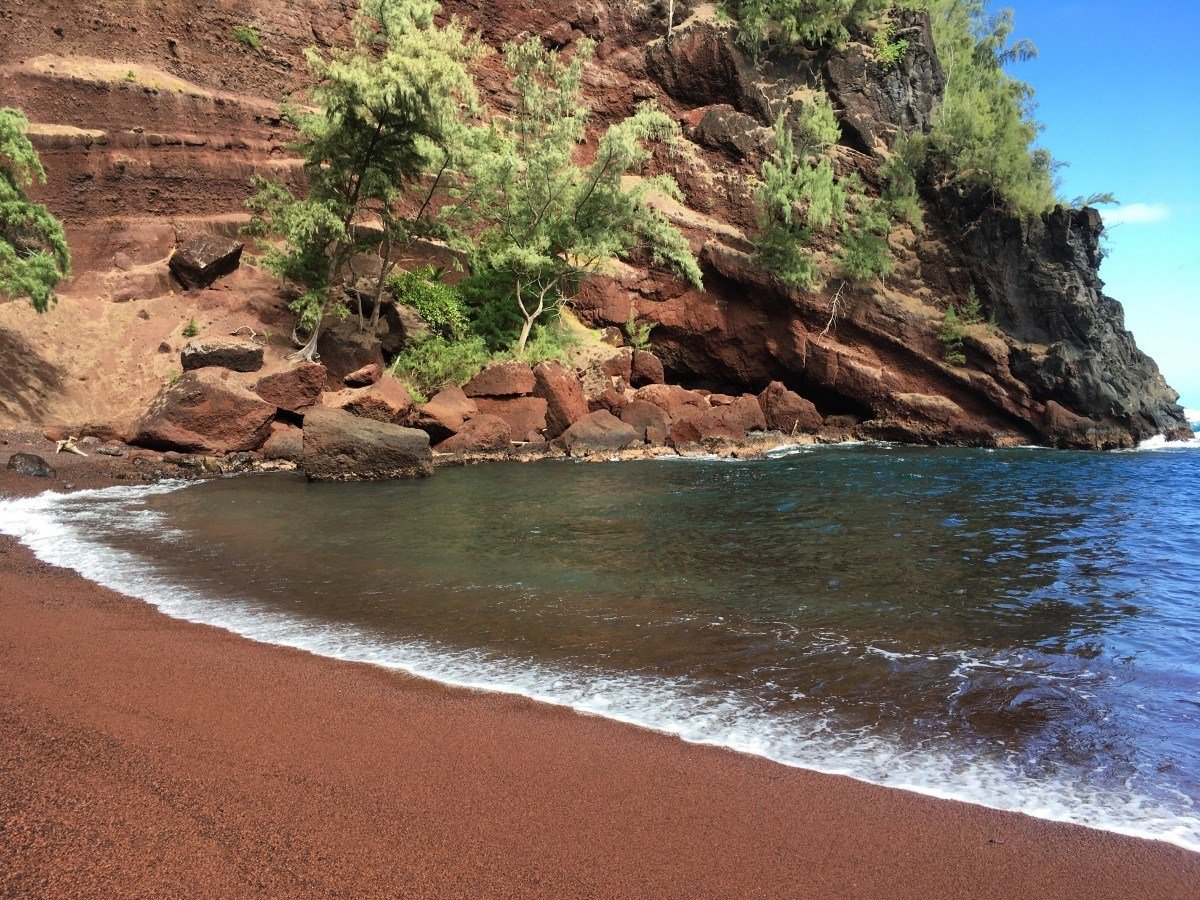 It's rather quiet come sundown and certainly not as touristy as some other places people might stay in Maui. Nearby, Hamoa Beach is a good place to hit on your first morning in Hana.
In and around Hana, you'll quickly learn that the best things to do revolve around the beaches. Even if you backtrack a bit down the road into Hana, you won't be disappointed. The scenes are just that beautiful.
My favorite beaches within a reasonable distance to Hana are Waianapanapa State Park, Black Sand Beach, Red Sand Beach, and Kaihalulu Beach.
The Hana Lava Tube is worth seeing too, so long as you go right when the entrance opens (at 10:30 am; that's Hawaiian time for you).
Places to Visit in Oahu
Surfing culture may be ingrained deeply in every inhabited island in Hawaii, but on the North Shore of Oahu, surfing is life. So if you're at all interested in surfing, you're going to want to stay in Oahu.
In addition to surfing, Oahu is home to the Hawaii state capital, Honolulu. For me, Honolulu was not impressive, but also I don't have the extra money in my budget to take advantage of everything on offer there.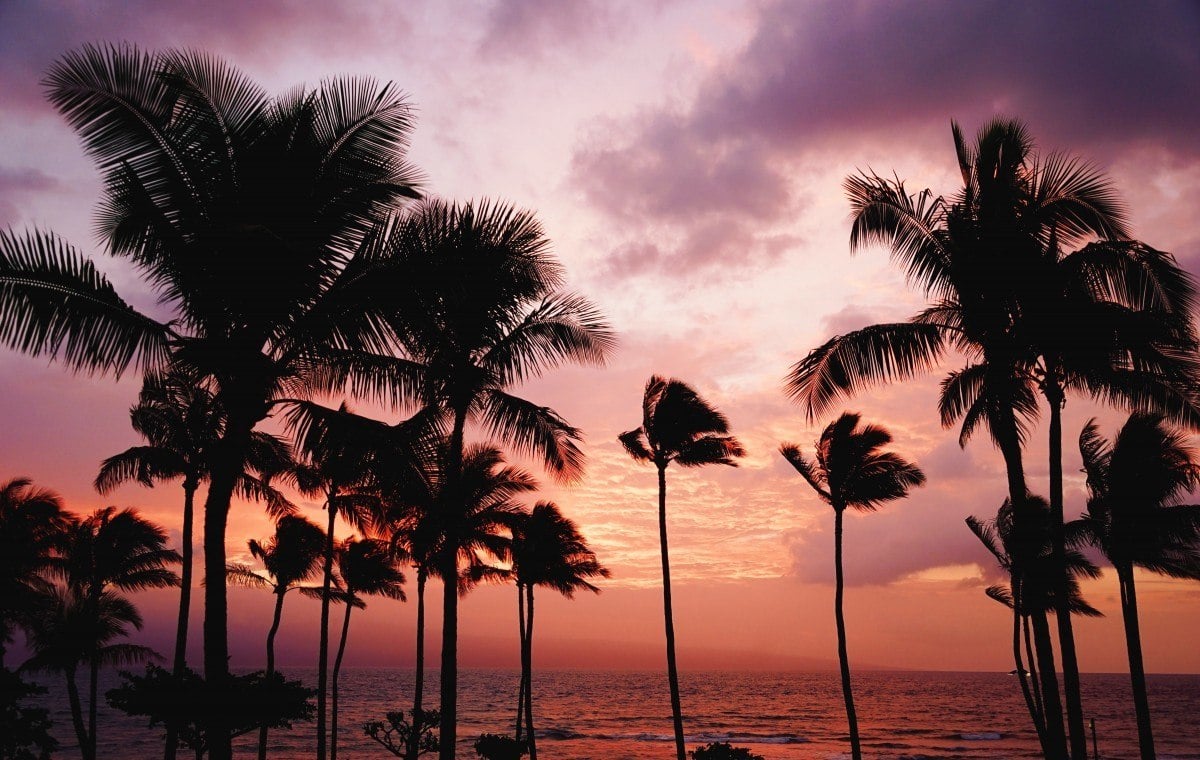 Really…you got to head north to find Oahu's magic.
Along the North Shore Coast, countless picturesque beaches dotted with surfers and huge waves are the norm. Ever heard of the Banzai Pipeline? It is probably one of the most famous surf spots in the world…
If you are into surfing, Oahu is probably at the top of your Hawaii priorities list. Even for non-surfers, the North Shore of Oahu is a fantastic place to check out and absorb what's happening here. There is loads to do with Kids in Oahu if you are backpacking with little ones in tow!
Backpacking Honolulu
Well, I can't mention Oahu and not mention the capital of Hawaii, Honolulu. If you find yourself staying in Honolulu for a day or two on either end of your trip, there is plenty of cool stuff to get into. The most famous attraction in Honolulu is Waikiki Beach, but trust and believe that the natural beauty of Hawaii gets significantly better as you explore more.
For a taste of interesting history, check out the World War II Valor in the Pacific Memorial. The museum has informative exhibits featuring Pearl Harbor, the internment of Japanese-American citizens, and the ship (the USS Arizona) monument which was attacked by Japanese forces in 1941.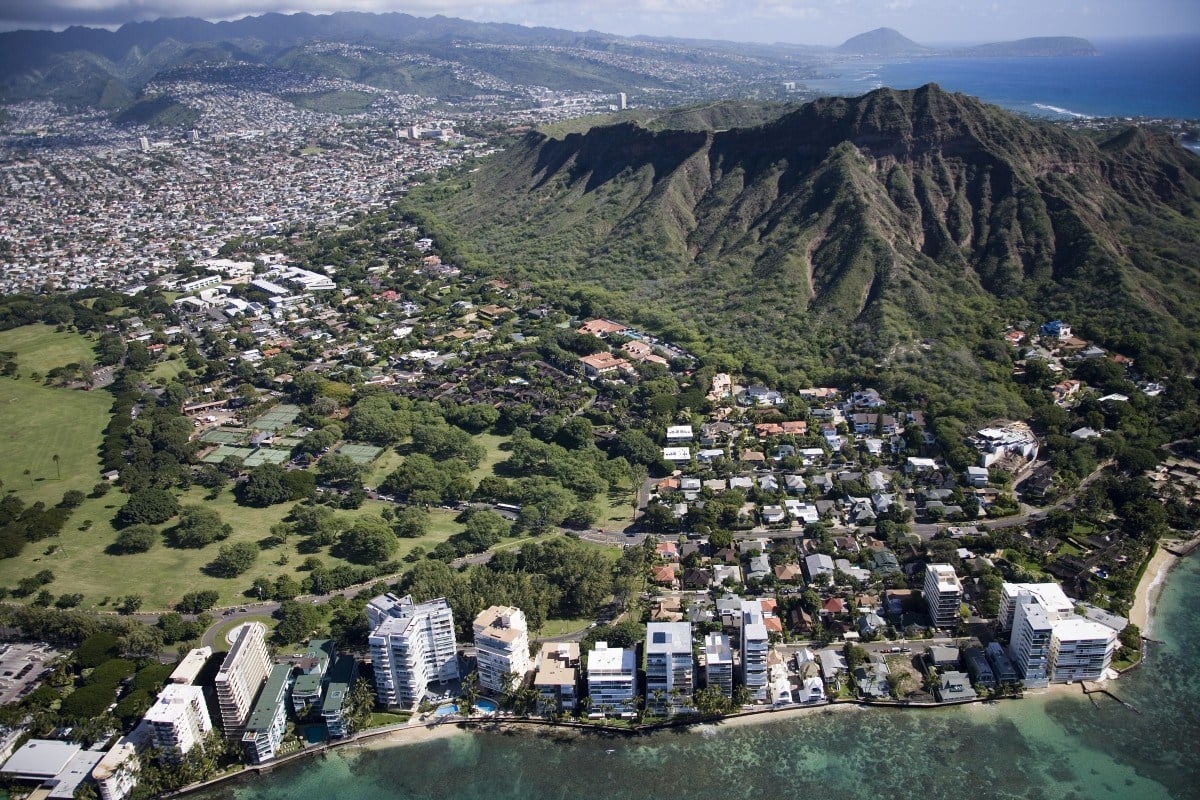 If you need a break from the city and want to get in some exercise before you hit the surf, I recommend going for a walk on the Koko Crater Railway Trail. 1,100 steep steps later, you reach the crater summit around 1,200 feet above sea level.
For plant lovers, the Lyon Arboretum is not to be missed. They have over 5,000 tropical plant species growing here!
Ok… now it's time to head to the North Shore.
Backpacking Haleiwa
The small bohemian (sorta) town of Haleiwa is the perfect place to base yourself for North Shore adventures. Due to the large volume of surfers, artists, and hippies, the community of Haleiwa has become part of the reason why this little town is so awesome.
When lunchtime rolls around, you got to check out Dat Cajun Guy's food truck at least once. Go for the po' boy and fried pickles. So tasty!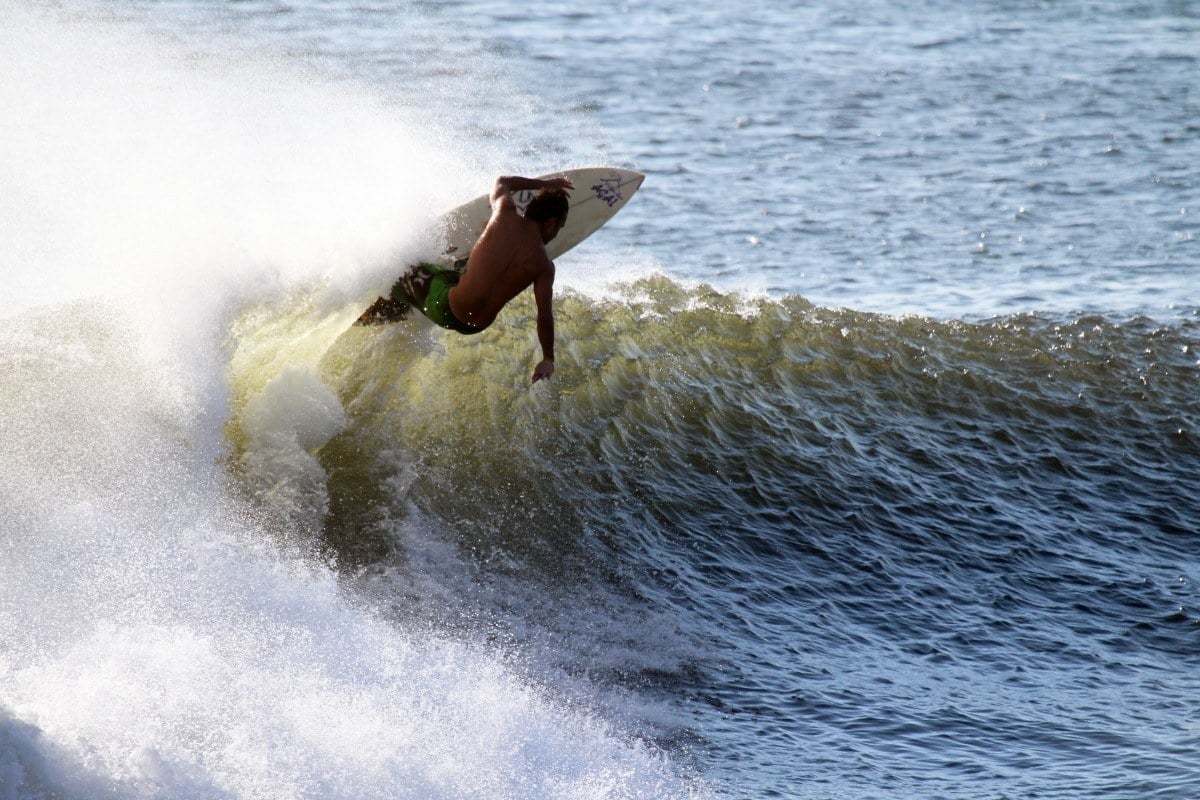 From Haleiwa, there are countless day trips within a few minutes' drive to keep you occupied.
For something fun and interesting to do in town, check out the Wyland Galleries. This is not your typical art gallery. Be wowed by the amazing tsunami glass sculptures crafted by native Hawaiian David Wyland.
Backpacking the Waimea Valley
Basically, Waimea Valley is a giant jungle with all of the qualities of a jungle. Epic waterfalls, plant life, wildlife, hiking trails, and swimming holes make the Waimea Valley one of my favorite place in Oahu.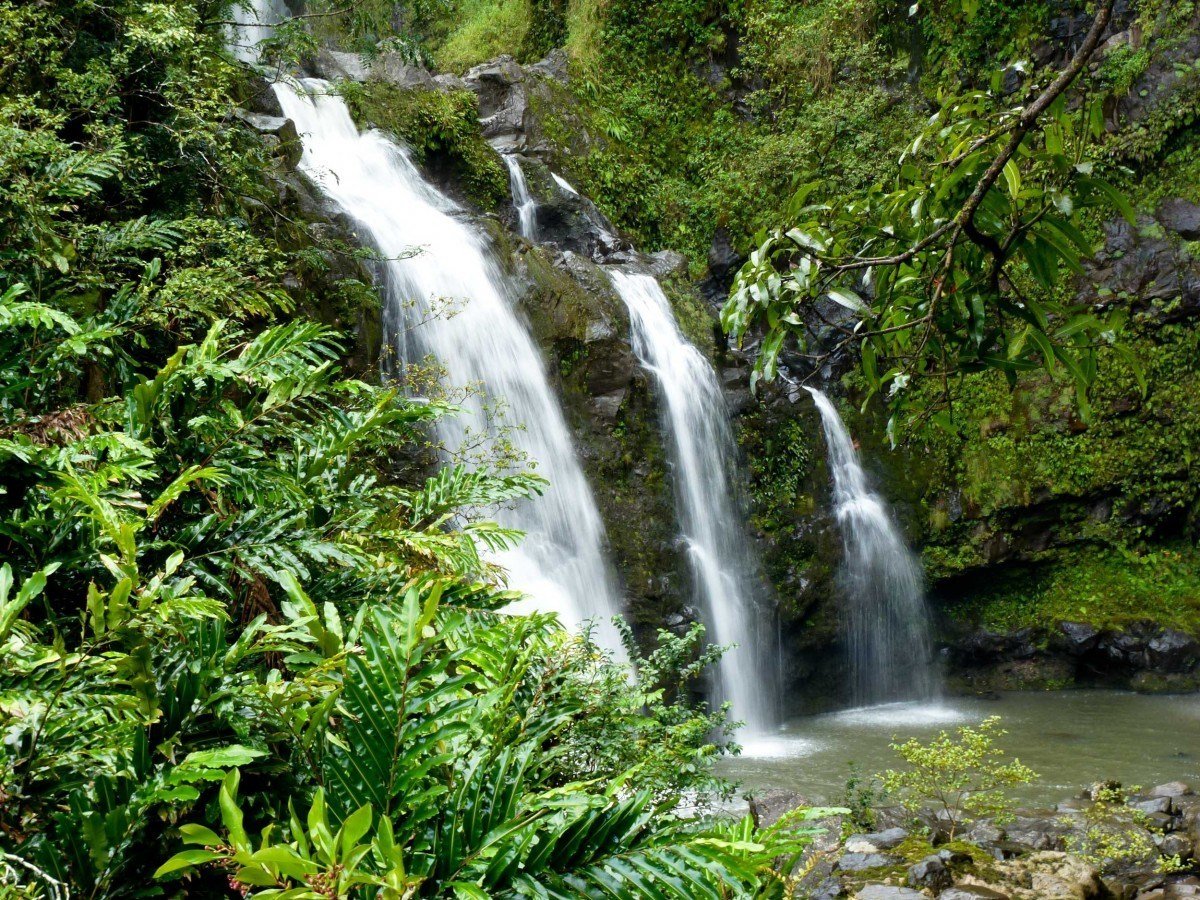 The valley is home to more than 5,500 species of plants packed into 1,875 acres of tropical rainforest that spans from the mountains to the coast.
There is some pretty interesting history behind the valley as well. For native Hawaiians, the Waimea Valley has been a sacred place for hundreds of years and it's easy to see why.
Indeed, for more than 700 years, the narrow valley was home to the Hawaiian kahuna nui, or high priests, who were eventually pushed out by foreign invaders (probably Americans or the British).
The hikes range from short hour-long walks through the rainforest to a challenging seven-mile trek that includes stream-crossings and climbs up to steep ridge lines for awe-inspiring peak views.
Backpacking Waimea Bay
Waimea Bay is legendary for surfers. Almost every year (waves pending) there is a famous surfing competition held here called "the Eddie." The tournament is named for native Hawaiian, champion big wave surfer, and life-saving Waimea Bay lifeguard, Eddie Aikau, who tragically died trying to save several people stranded in a traditional Hawaiian boat way out to sea.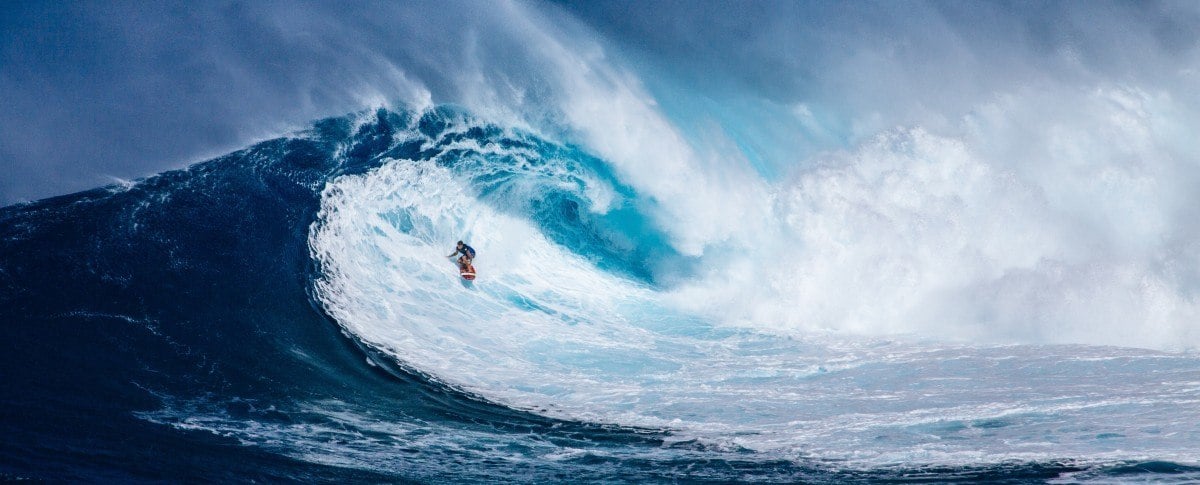 When the Eddie is on, there is no bigger show in town. Waves can sometimes be well over 40 feet. The tournament is known for a unique requirement that open-ocean swells reach a minimum height of 20 feet (6.1 m) before the competition can be held.
Open-ocean swells of this height generally translate to wave faces in the bay of 30 feet (9.1 m) to 40 feet (12 m). As a result of this requirement, the tournament has only been held nine times during the history of the event, most recently on February 25, 2016.
If you happen to be lucky enough to be in Oahu when the Eddie is happening, you will never forget watching the incredible human achievement that is big wave surfing.
Places to Visit on The Big Island
Of all the Hawaiian Islands, The Big Island (officially named Hawaii) is the largest island in the archipelago. Its diverse terrain spans colored-sand beaches at Papakolea (green) and Punalu'u (black) to lush rainforests. One can hardly believe that you are on the same island when you travel from one side to the other.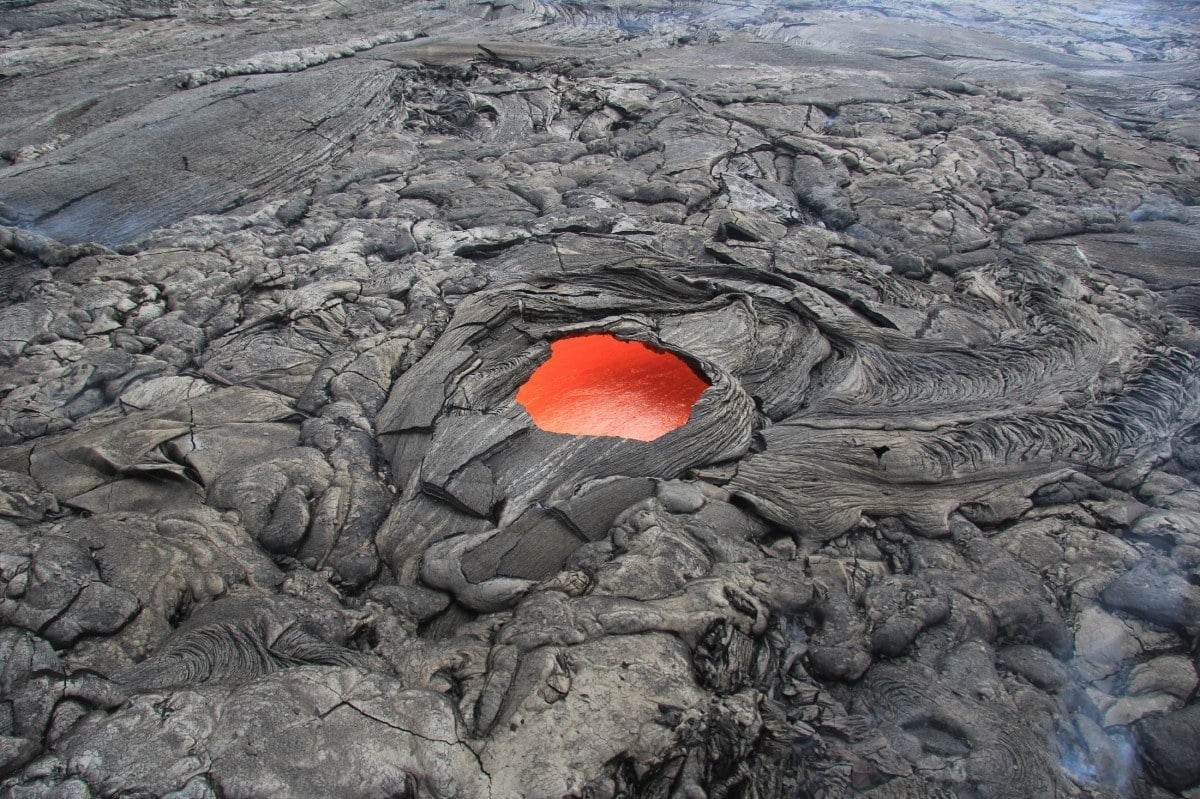 The natural wonders–which include several black sand beaches–that make up the Big Island are special. This is the land that is being sculpted and re-shaped as I type this sentence by intense volcanic activity. There are also a number of cool, offbeat places to stay on The Big Island.
Perhaps nowhere else on earth is mother nature's presence felt so strongly on a daily basis as it is on the Big Island of Hawaii. Aside from unique lava features, its also where you'll find the Kohala Coast, home to Hapuna, one of the largest white-sand beaches.
Backpacking Hawaii Volcanoes National Park
Hawaii Volcanoes National Park is the focal point of the volcanic activity happening on the Big Island. At its heart are the Kilauea and Mauna Loa volcanoes. These volcanoes are (very) active mind you. This is a land of immense power and staggering volcanic beauty.
A visit to Hawaii Volcanoes National Park is bound to be a mind-blowing experience.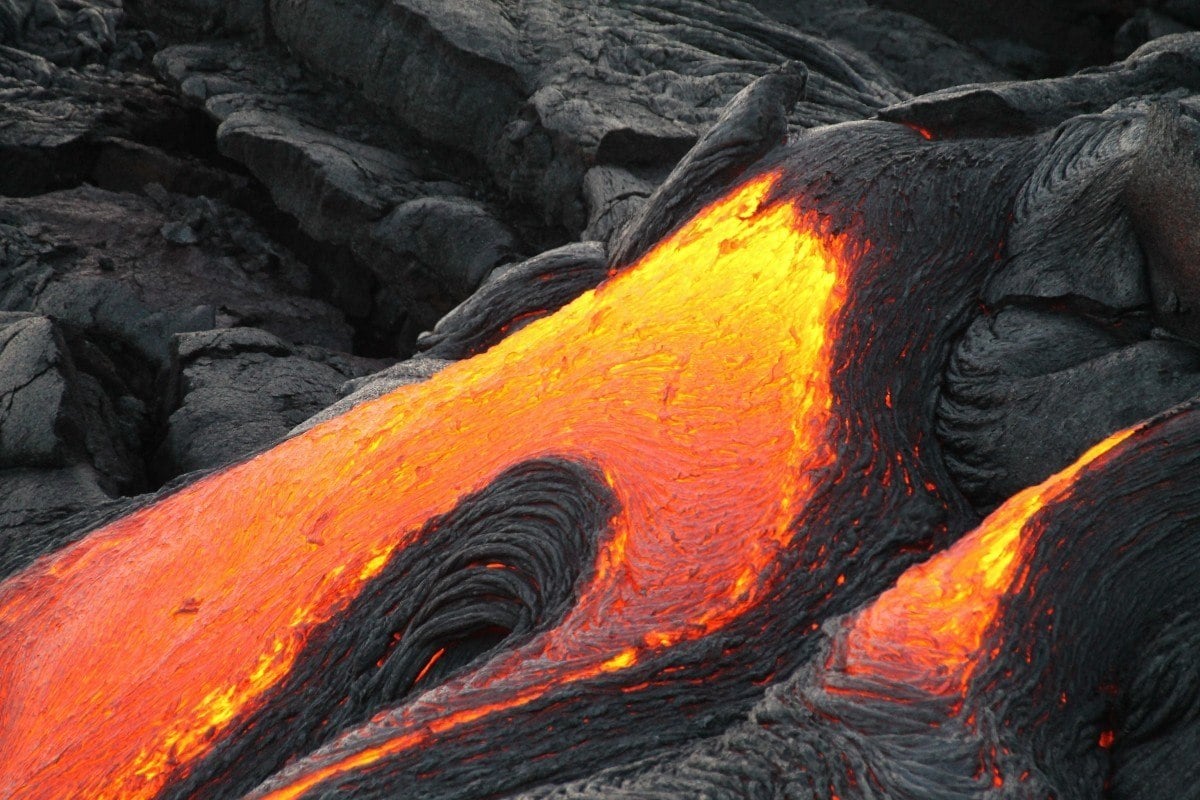 Steam vents, lava rivers, and jaw-dropping sawtooth coastline make up the draw to these landscapes straight out of middle earth. It is not difficult to see why Hawaii Volcanoes is one of the best national parks in the USA.
Life on Hawaii's Big Island might sound dreamy as hell on the surface — and in many ways, it is — though as recent events have shown us, all hell can break loose at a moment's notice.
Most of the national park remains closed due to volcano danger/damage.
Backpacking Hilo
Hilo is a nice place to spend a few days while you explore the surrounding areas. Hilo very much feels like a locals sort of town. Fun hole-in-the-wall eateries serving every shade of ethnic cuisine make meals here a treat. If you are wanting to eat typical Hawaiian food, just open your eyes and follow your nose.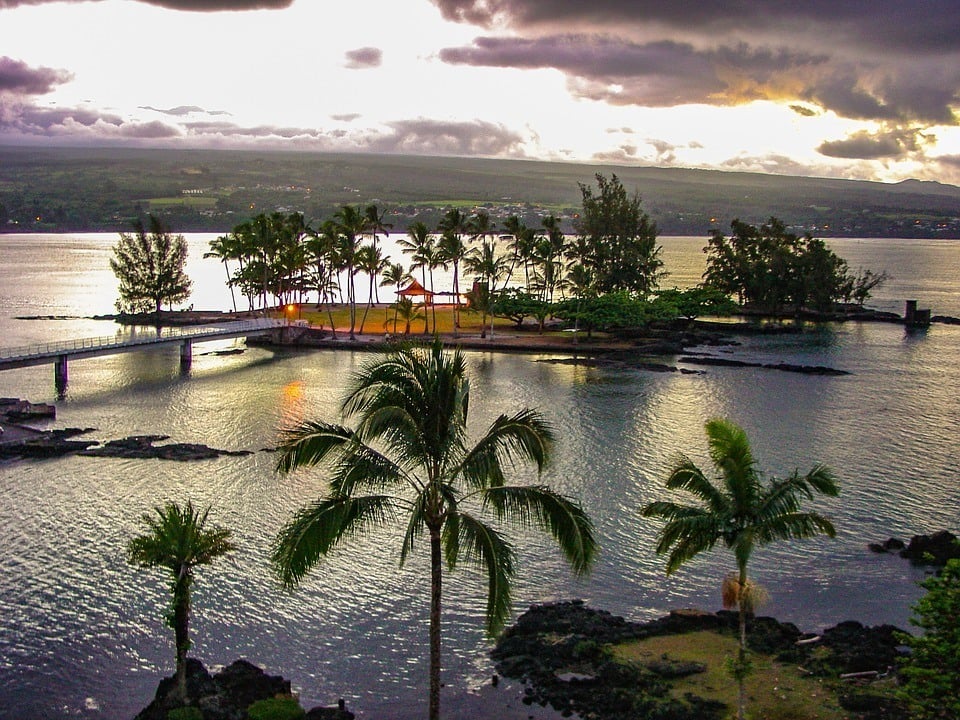 For stocking up on supplies, I am a big fan of the Hilo farmers markets. Vendors sell tasty, fresh tropical fruits and veggies alongside local artisans. The presence of a strong community is obvious in Hilo.
Nearby, the Wailuku River State Park and Rainbow Falls are good places to start your exploration.
Backpacking East Hawaii
The region known as "East Hawaii" is often overlooked by visitors to the Big Island. For you to miss it, well, that would be a mistake.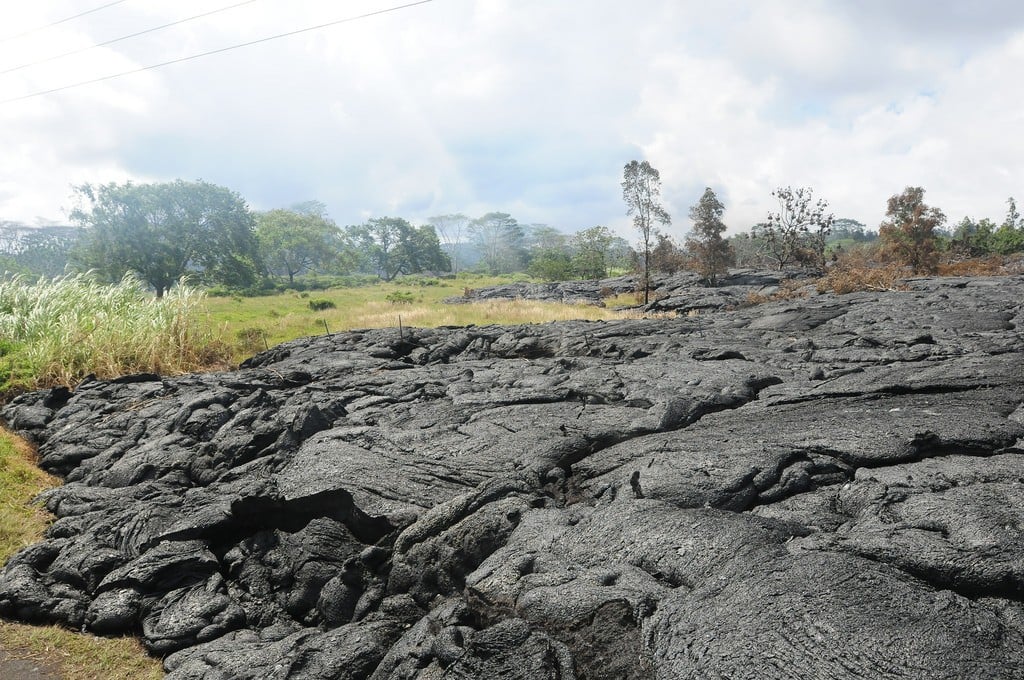 East Hawaii runs from the desolate Ka Lae peninsula where ocean-faring Polynesians first made landfall in Hawaii, to Hawaii Volcanoes National Park, where the Kilauea volcano has been spewing lava without fail since 1983.
The wild Puna Coast features lava-heated tide pools just below where the jungle begins on the cliffs above.
Like Hawaii Volcanoes National Park, East Hawaii is likely to have been affected by the current volcanic eruption taking place. I don't know what the current situation is, but it is certainly worth investigating before you go.
The bottom line is East Hawaii is full of off-the-beaten-path Hawaii adventures.
Backpacking Mauna Kea
I can say with a certain amount of confidence that it is still possible to climb Mauna Kea at the moment.
So, are you ready to climb the world's tallest mountain? I'm counting the part of the mountain that's under the sea ok.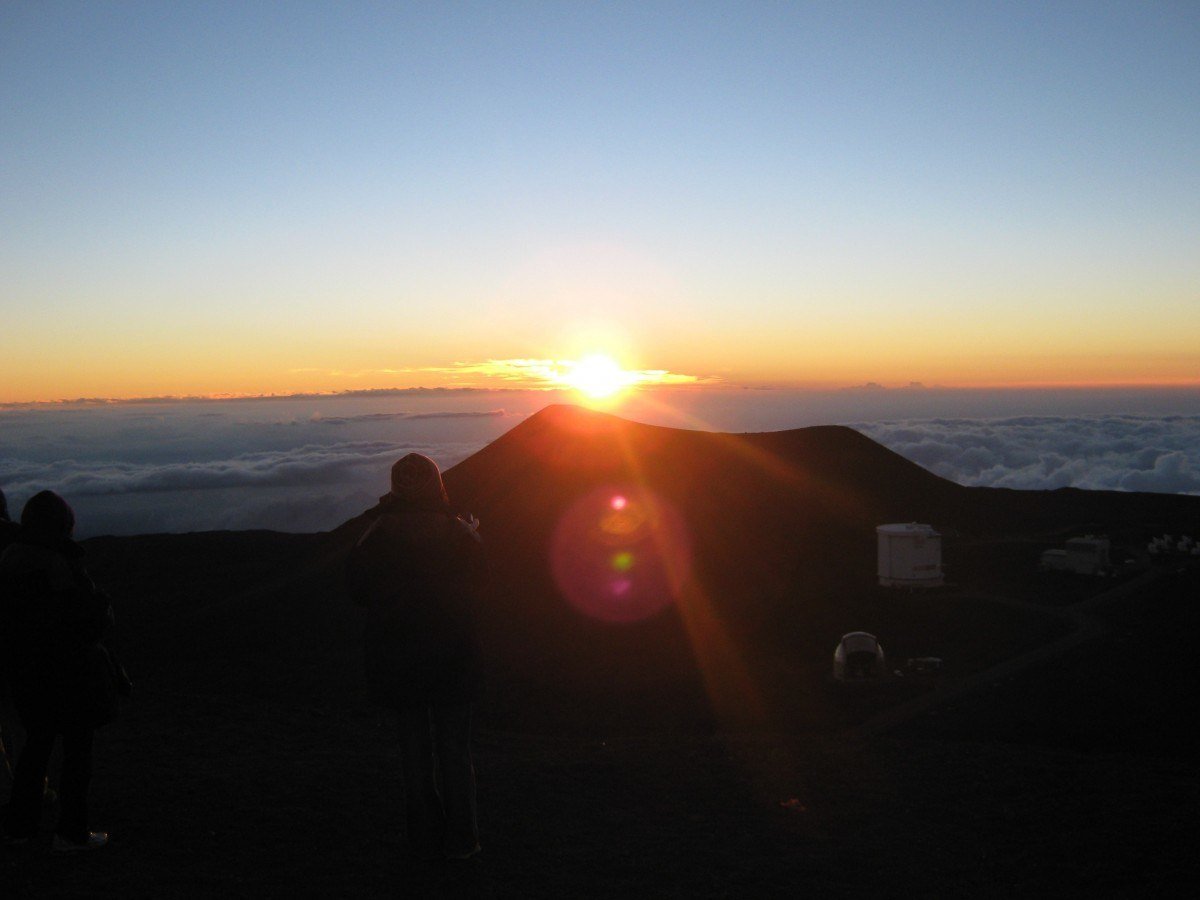 The hiking trail to the summit of Mauna Kea is 6 miles (10 km) in length. The trail starts at the VIS, and climbs from 9,200 ft (2800 m) up to the summit at 13,800 ft (4,200 m). The first 200 yards is along the roadway, and then the trail heads off to the left.
Follow trail signs for the first 1-1/2 miles; after that, the trail is clearly visible. When the trail hits the roadway at 13,200, you have run out of footpath. The remainder of the hike to the summit (~1 mile) is along the roadway.
Hiking to the true summit is not encouraged as it is a sacred Hawaiian site.
At 4,000 meters altitude sickness is definitely a factor that should be taken into consideration. Take the hike slow and turn back if you start feeling ill.
Getting Off The Beaten Path in Hawaii
There are places in Hawaii that everybody has heard of, and then there is the rest of Hawaii.
Backpacking Hawaii offers up the chance to really dive head first into exploring the lesser-known regions of the Hawaiian Islands. Great swaths of the state are rural, wild, and untouched by humanity.
Oahu and Maui are the most visited Hawaiian Islands. If getting off the beaten path is on your radar, consider spending time on some of the lesser-frequented islands.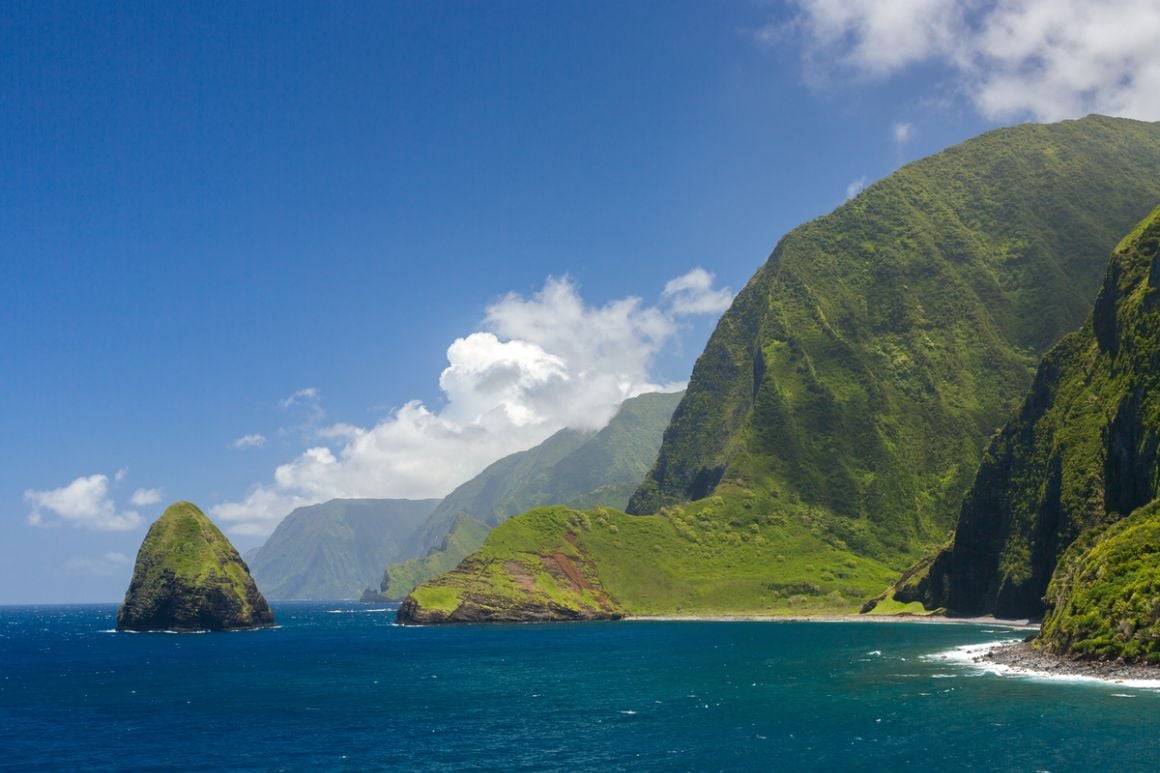 Niihau, Molokai, Lanai, and Kahoolawe receive a fraction of the visitors that Hawaii's most popular islands do, which is a shame as there are a ton of awesome places to stay in Molokai. You can also opt to take a helicopter tour to see the world's highest sea cliffs, which are also located in Molokai.
Meanwhile, The entire Big Island of Hawaii is loaded with off-the-beaten-track locales. For example, staying in Lanai is an experience the vast majority of Hawaii travelers just won't have!
For getting off the beaten path in Hawaii, you'll need the right gear. To get your adventure fire lit, check out my article regarding why you should always travel with a tent.
Top Things to Do in Hawaii
Here are 10 activities that you just shouldn't miss when you visit Hawaii:
1. Hike the Napali Coast
Live your own Jurassic Park fantasy (minus the man-eating dinosaurs) on the insanely beautiful Napali Coast on Kauai.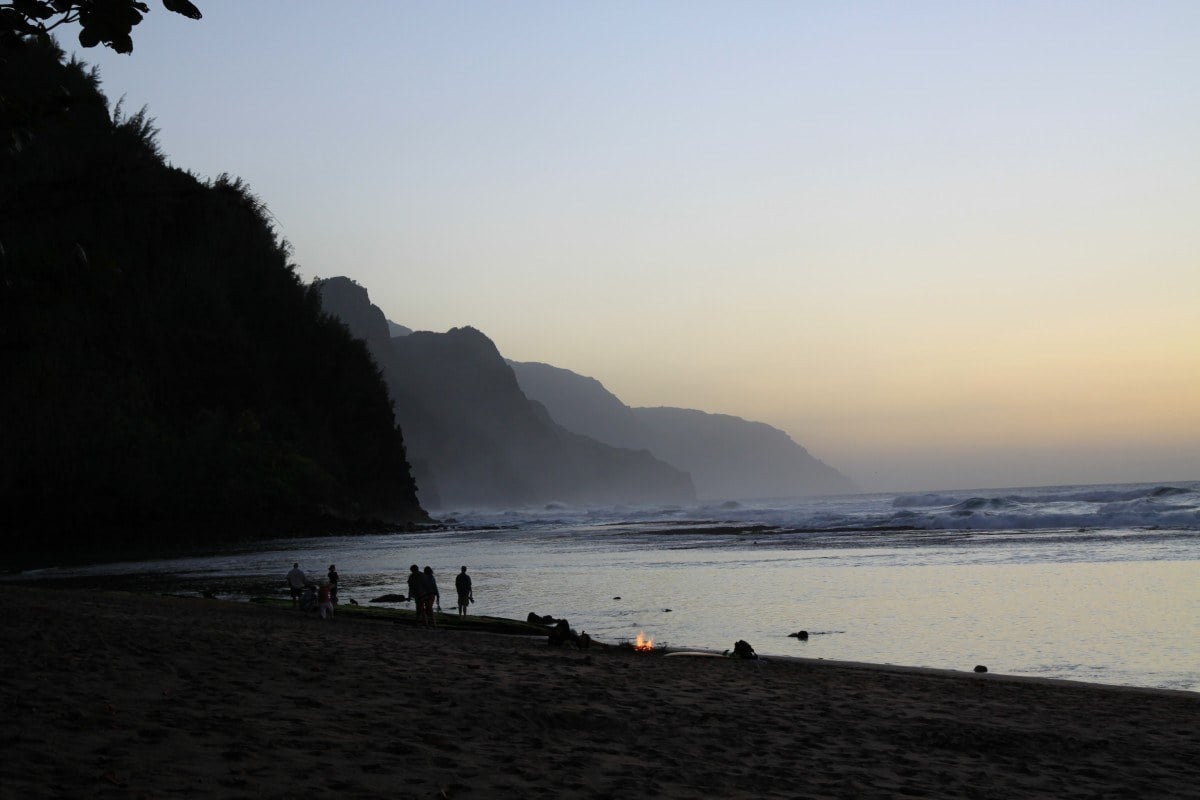 2. Eat Hawaiian Food
Teriyaki everything, poke, poi, Lomi-Lomi salmon, Kalua slow-cooked pig and laulau… Hawaii pulls its culinary traditions from many different cultures and styles, and the results are amazing.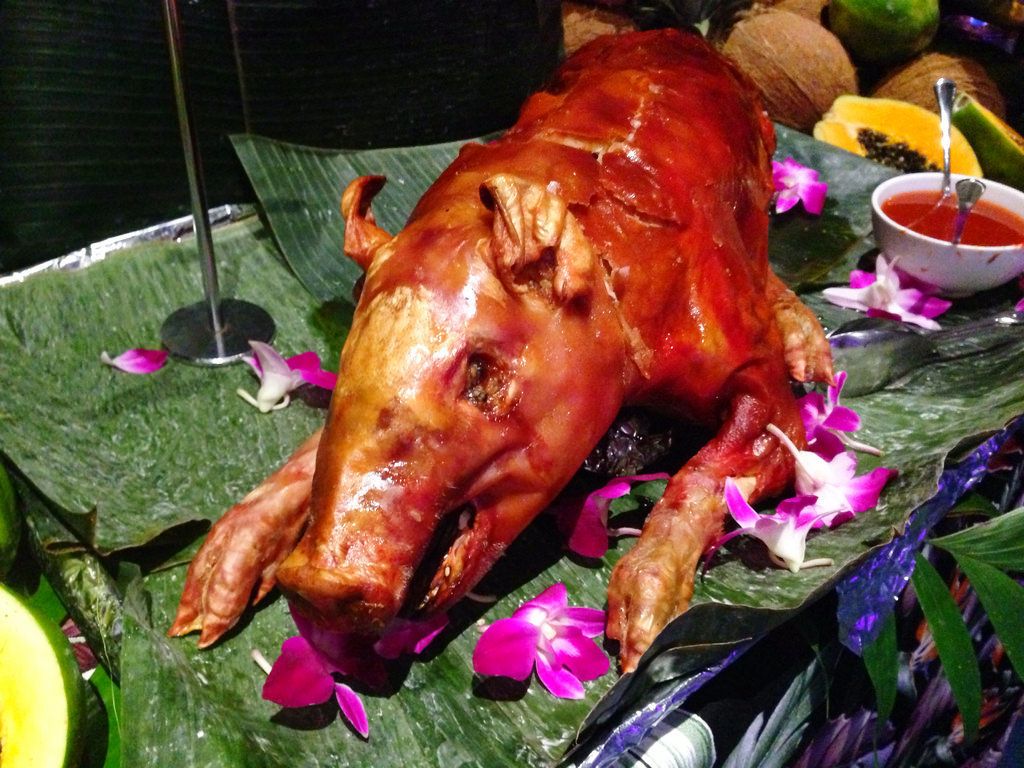 3. Experience the Blue Hole/ Weeping Wall
The Weeping Wall may not be the easiest place to reach in Kauai, but once you do the rewards are immense.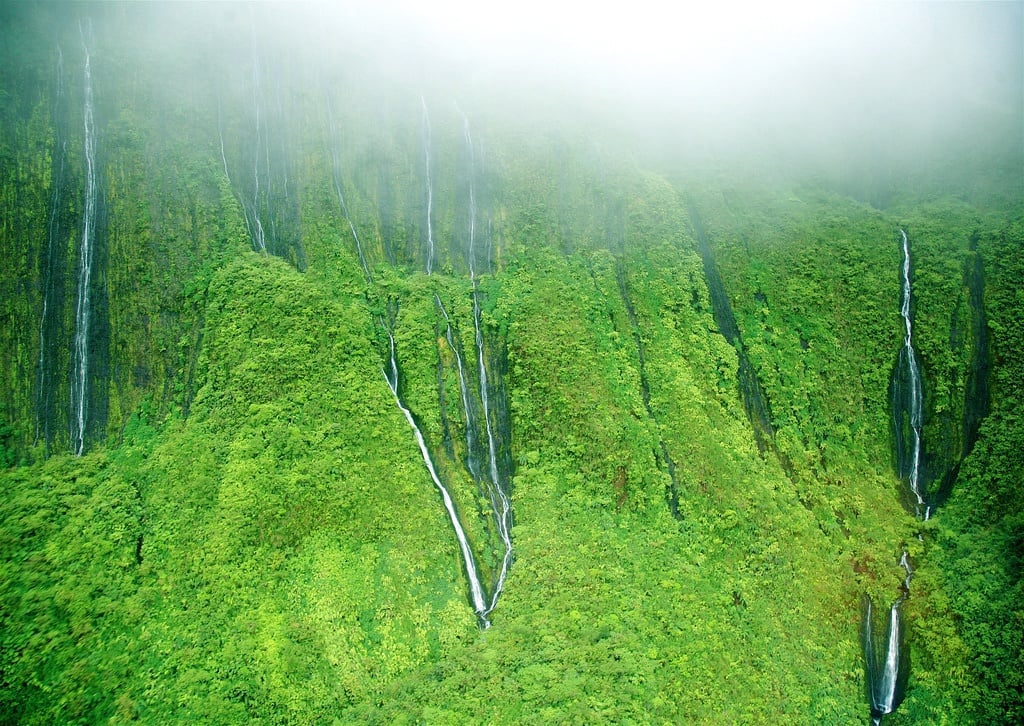 4. Go Surfing at Least Once
Surfing was (arguably) invented in Hawaii. Hitting the beaches to experience the world-class surf breaks at least once is a must.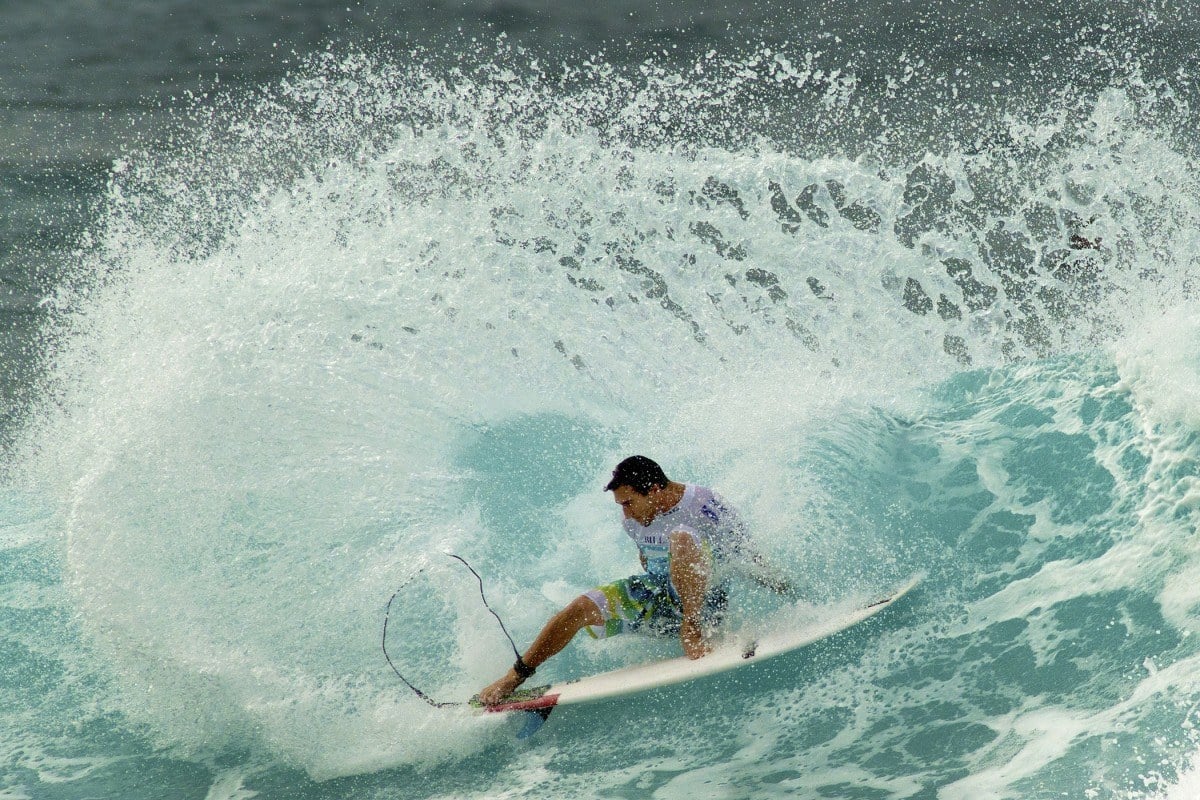 5. Climb the Mauna Kea, The Big Island
Climb Hawaii's tallest peak and enjoy epic views in every direction.
6. Drive the Road to Hana
If you were going to make just one road trip in Hawaii, you couldn't choose a better one than the road to Hana.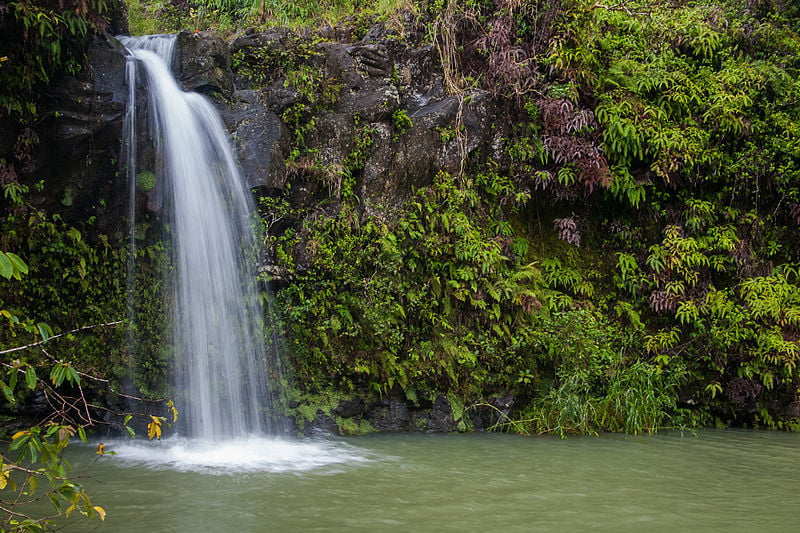 7. Go Trekking in Waimea Canyon, Kauai
Experiencing the "Grand Canyon of the Pacific" is just as awesome as it sounds.
8. Watch the Sunrise from Mount Haleakala, Maui
Watch the sky explode with color from atop this epic mountain in Maui.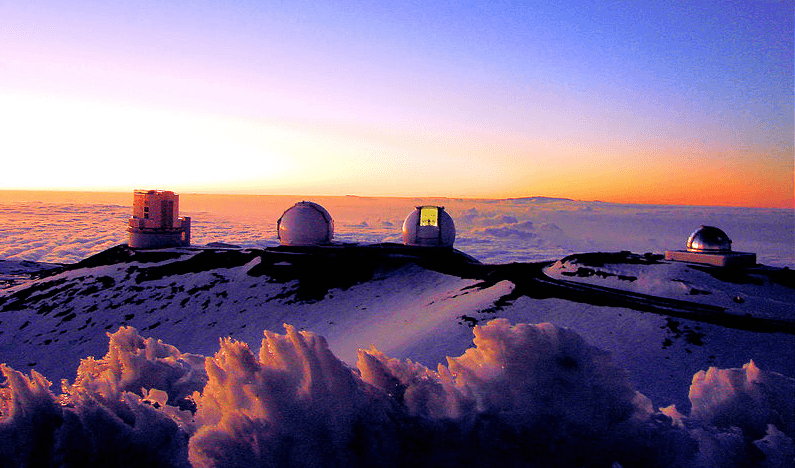 9. Go Snorkeling/Scuba Diving
In Hawaii, you will probably spend half of your time in the sea. A great magical world of underwater exploration awaits…
If you fancy something truly special and out of the ordinary, then why not consider hiring your own boat and crew for a private Molokini Snorkeling Tour.
10. Explore Hawaii Volcanoes National Park
Hawaii Volcanoes National Park is one of the most impressive natural landscapes to be witnessed on planet earth. In certain circumstances, taking it in by bicycle is the way to go.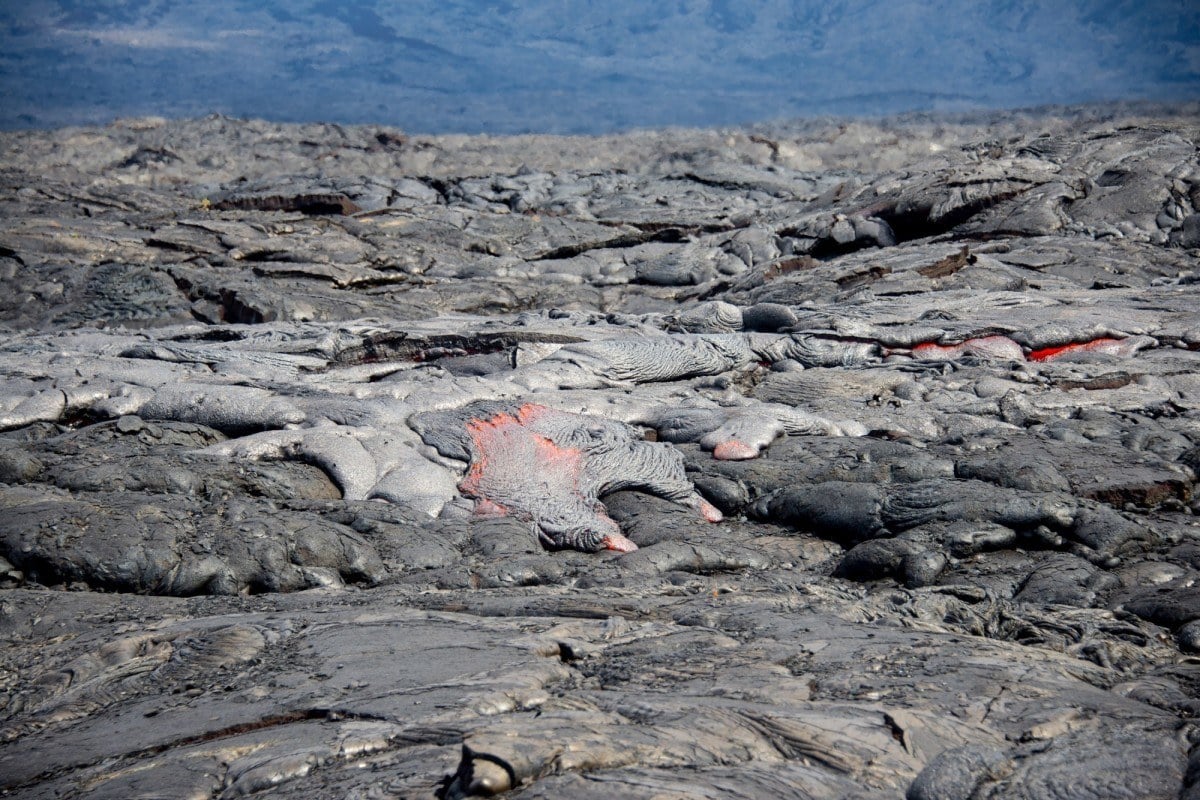 Small Pack Problems? 😉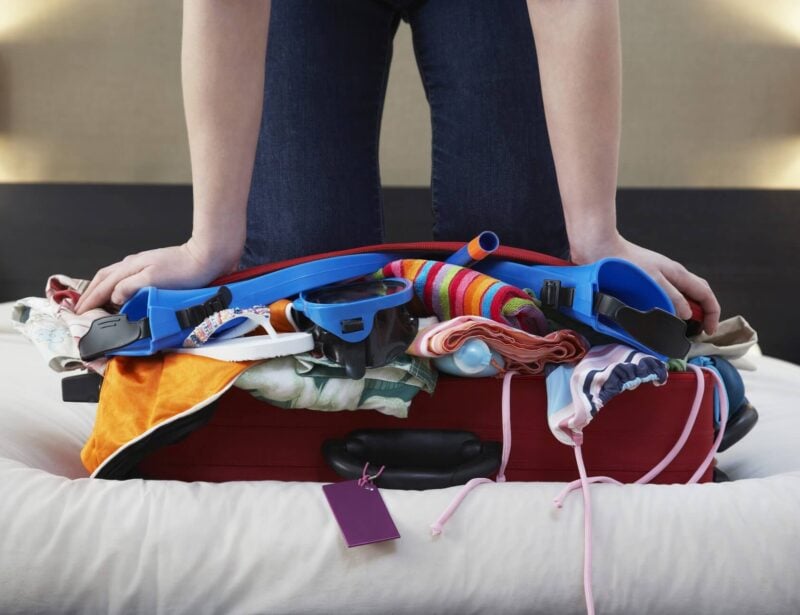 Wanna know how to pack like a pro? Well for a start you need the right gear….
These are packing cubes for the globetrotters and compression sacks for the real adventurers – these babies are a traveller's best kept secret. They organise yo' packing and minimise volume too so you can pack MORE.
Or, y'know… you can stick to just chucking it all in your backpack…
Get Yours Here
Read Our Review
Apart from food, accommodation will probably be your biggest expense whilst backpacking Hawaii.
I wouldn't say there is an abundance of hostels in Hawaii, but with a little digging, you can certainly find a cheap place to stay.
There are indeed many places to wild camp in Hawaii, though there are often strict laws in place either requiring permits or banning camping altogether. That said, if you are discreet, respectful, and clean, there are many places to pitch your tent for the night.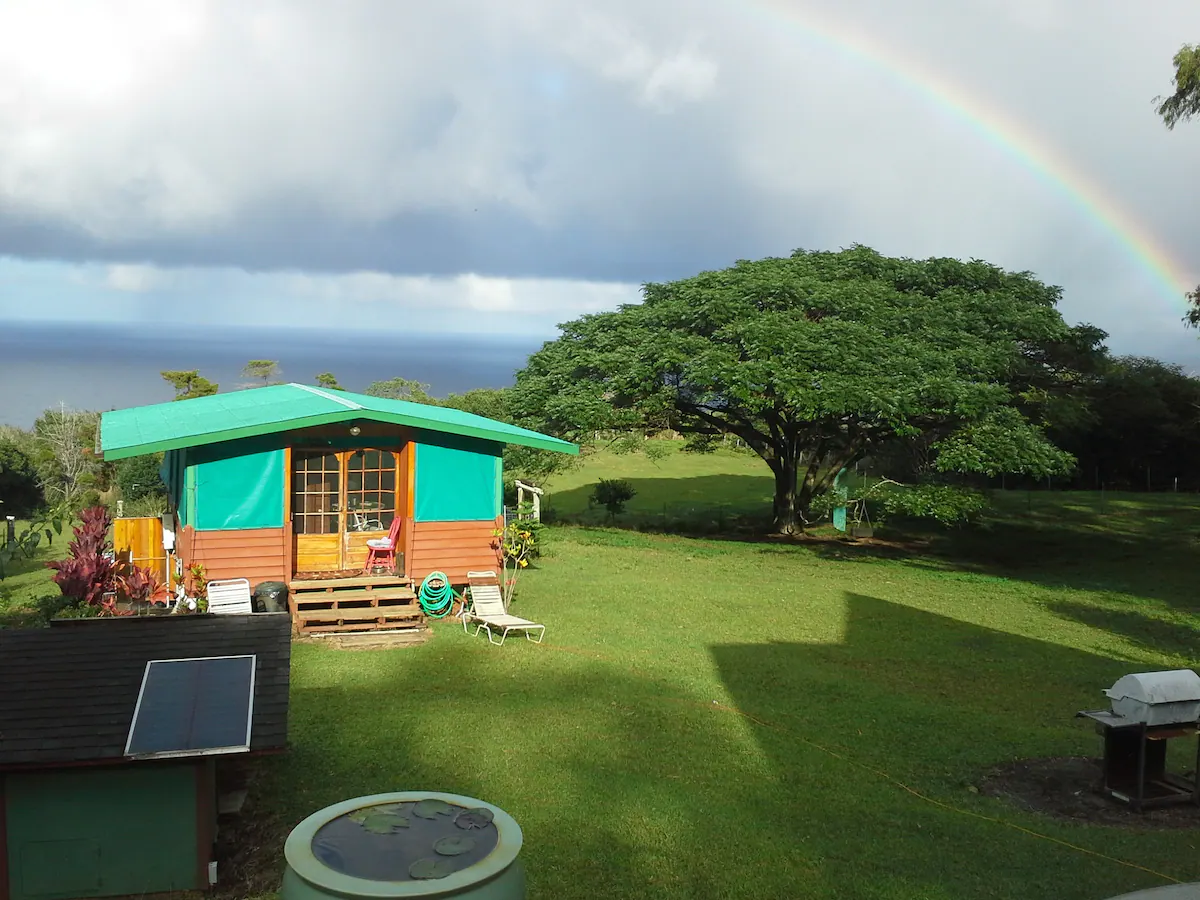 If you want to stay close to nature without actually being in it, then there are plenty of eco-friendly accommodations in Hawaii to choose from.
If you rent a campervan on one of the islands, you can sleep just about anywhere you want (that isn't a main tourist destination). If you are looking for a little more luxury, then check out the best VRBOs in Hawaii, too.
Alternatively, you can find many cabins in Hawaii that are located in the most secluded nature spots.
To become familiar with some of the top hostels in Hawaii for backpackers, check out these in-depth hostel guides:
And as a quick insider tip: If you want to see all – and we mean ALL – hostel options in Hawaii, be sure to check out HOSTELWORLD. You can even filter your personal travel needs to find the perfect place for you.

The Best Places to Stay in Hawaii
These are the absolute best places to stay in Hawaii:
FIRST TIME IN HAWAII
FIRST TIME IN HAWAII
Maui
Maui is the island most often associated with Hawaii, with postcard-worthy views, world-class beaches, and plenty to do by day and by night. Fairly peaceful and relatively undeveloped, enjoy a little slice of paradise and see why so many people flock to Hawaii year after year. It's our top recommendation for where to stay in Hawaii for first-timers.
ON A BUDGET
ON A BUDGET
Hawaii the Big Island
Big Island is, as the name suggests, Hawaii's largest island. It is officially called the island of Hawaii. The volcanic island offers some of the state's cheapest accommodation, making it our pick for one of the best places to stay in Hawaii on a budget.
NIGHTLIFE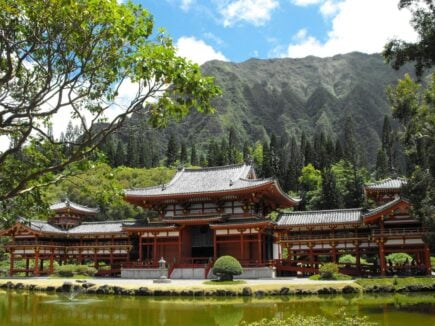 NIGHTLIFE
O'ahu
The liveliest of Hawaii's islands, O'ahu is our recommendation for both families and nightlife lovers. There are many places to enjoy by day and by night, with something to suit people of all ages and with all kinds of interests.
COOLEST PLACE TO STAY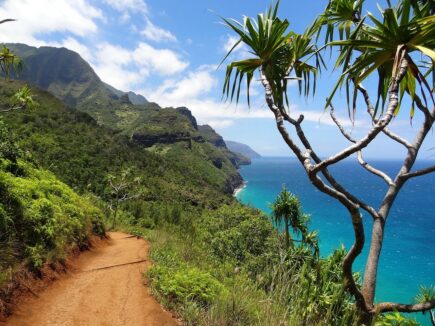 COOLEST PLACE TO STAY
Kaua'i
Although everywhere in Hawaii is pretty cool, Kaua'i just pips everywhere else to the post for our choice for Hawaii's coolest locale. Wild and undeveloped, it has something of an air of ruggedness and mystery that can be difficult to find in places that are more in the spotlight.
Backpacking Hawaii on a budget isn't a given. You have to actively and strategically watch how and where you spend your money. This ain't Southeast Asia and accommodation in Hawaii is EXPENSIVE. If you want to get by on a shoestring budget, you will definitely need a tent.
Nevertheless, you should feel confident that it is indeed possible to backpack Hawaii without spending hundreds of dollars every day. Though don't forget that the cost of living in Hawaii is among the highest in the entire USA.
Staying in hostels/hotels EVERY evening, paying for tours, going to the bar night after night, and eating out for every meal adds up before you can say Lauwiliwilinukunukuoioi, (a Hawaiian word for a type of fish).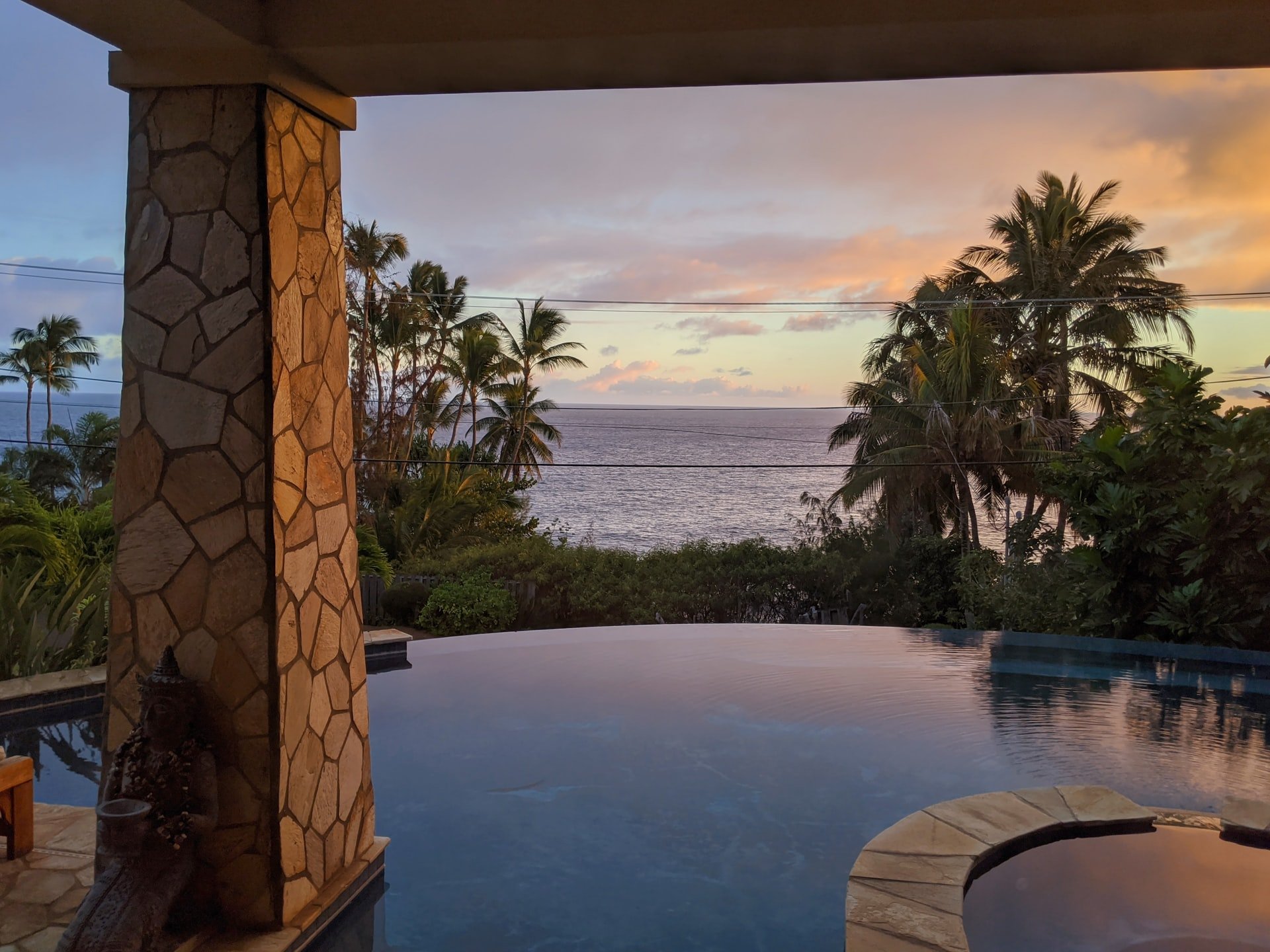 In order to properly prepare yourself for the expenses that lie in wait, you need an honest and realistic idea of what travel costs are in Hawaii.
A reasonable daily budget for backpackers is between $75-$100/day. Some days, you may only spend $20-30 if you're camping or trekking. With a budget of $75- $100 a day, you can rent a car, eat well, stay in a hostel, and splurge on a few drinks.
If barebones backpacking is your style, you could easily travel in Hawaii whilst spending around $30-40 on most days.
I have broken down the average daily travel costs you can expect in order to help you get to grips with your own Hawaii backpacking budget:
Baackpacking Hawaii Budget

| Expense | Broke Backpacker | Frugal Traveler | Creature of Comfort |
| --- | --- | --- | --- |
| Accommodation | $30-$50 | $50-$120 | $120+ |
| Food | $10-$15 | $15-$40 | $40+ |
| Transport | $0-$30 | $30-$50 | $50+ |
| Nightlife | $0-$15 | $15-$40 | $40+ |
| Activities | $0-$30 | $30-$80 | $80+ |
| Total per day: | $40-$140 | $140-$330 | $330+ |
Hawaii Budget Travel Tips
The lion's share of your budget for traveling in Hawaii will be spent between expensive hostels and pricey restaurants (and booze). Below are my tips on how to avoid these expenses.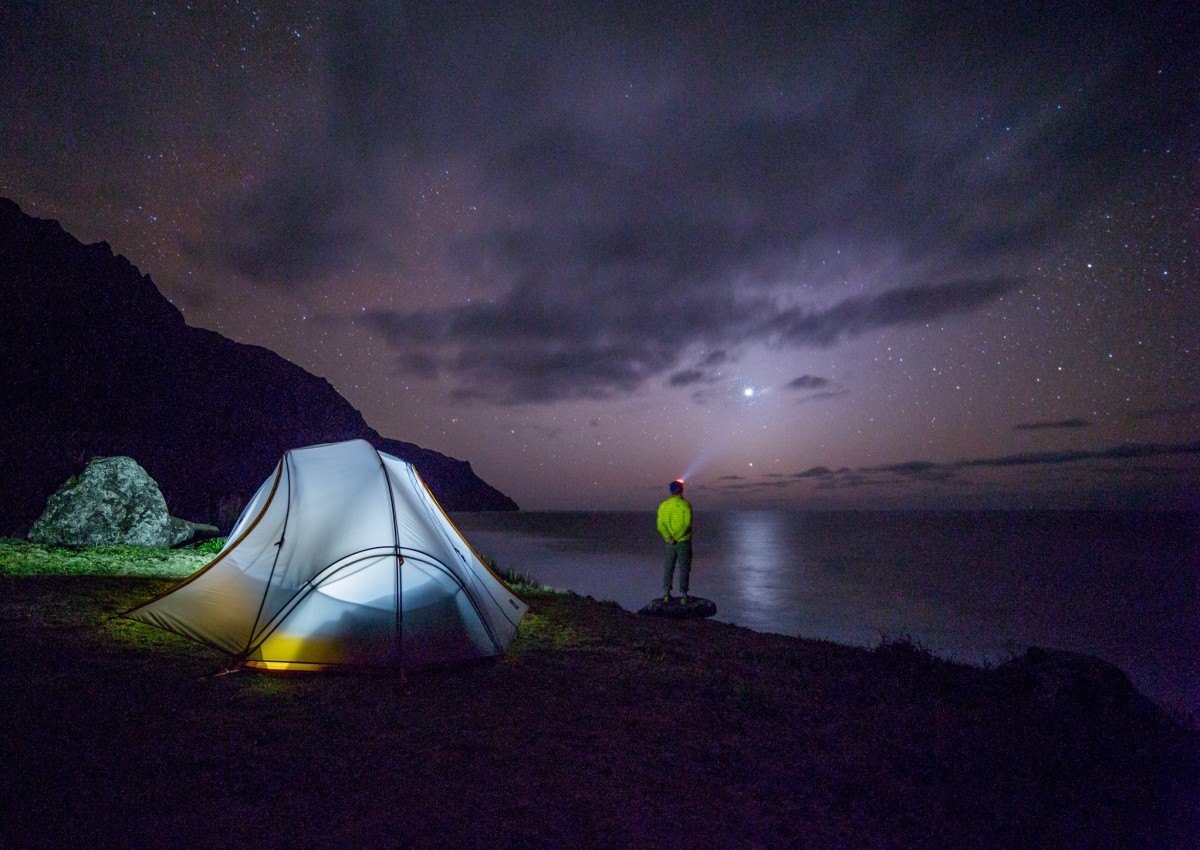 1) Camp: With plenty of awesome mountains, forests, stunning jungle, and far-flung coastal stretches, camping whilst backpacking Hawaii is an essential budget hack. Sometimes you need to book a hostel. Fair enough.
But when there are no hostels available – outside of major cities – you need to manifest a budget option. That option – the free option – is camping, which will take you to beautiful places and get you off of the beaten path. Be aware that you can NOT camp anywhere you please in Hawaii.
2) Cook your own food: Travel with a portable backpacking stove and cook your own food to save some serious cash whilst backpacking across Hawaii. If you are on a tight budget, you MUST have a backpacking stove. Having the ability to cook whilst camping or on the road gives you independence and freedom. Few things are better in life than sipping a hot cup of coffee as you are watching the sun spill its shade over a beautiful mountain.
3) Couchsurf: The Hawaiian locals — they are awesome folks. Get to know some! Check out Couchsurfing to make some real friendships and see a country from the perspective of locals. When you use Couchsurfing, be sure to send personalized messages to your potential host. A generic copy and paste message are much more likely to get turned down. Make yourself stand out.
4) Don't drink much whilst backpacking Hawaii: I know it can be hard to give up on drinking whilst you are on a backpacking adventure. I'll admit, I have spent a fortune over the years on drinking alcohol. But in Hawaii, the prices are INSANE (at bars). One beer might cost you $9-11 USD at a fancy place on the beach.
My point is, take a break (or even a moderate one) from drinking whilst backpacking in Hawaii, and put the money towards renting a car, trying tasty food, or surf lessons. If you really want to save money and travel Hawaii on a budget, cut out the booze.
5) Pack a travel water bottle and save money every day!
Don't spend money on bottled water and ensure more plastic doesn't end up in Hawaii's precious oceans. Aloha!
Save $$$ • Save the Planet • Save Your Stomach!
Drink water from ANYWHERE. The Grayl Geopress is the worlds leading filtered water bottle protecting you from all manner of waterborne nasties.
Single-use plastic bottles are a MASSIVE threat to marine life. Be a part of the solution and travel with a filter water bottle. Save money and the environment!
We've tested the Geopress rigorously from the icy heights of Pakistan to the tropical jungles of Bali, and can confirm: it's the best water bottle you'll ever buy!
View on REI
Read the Review
Best Time to Visit Hawaii
Depending on the geographic area of Hawaii, the weather at any given moment can be vastly different, even on the same island! But I have some good news!
Hawaii boasts very pleasant, reasonably stable weather throughout the year. During the winter you'll experience highs in the mid-70's, while summer temperatures reach the mid-80's. Some islands like Kauai for example, are wetter than others.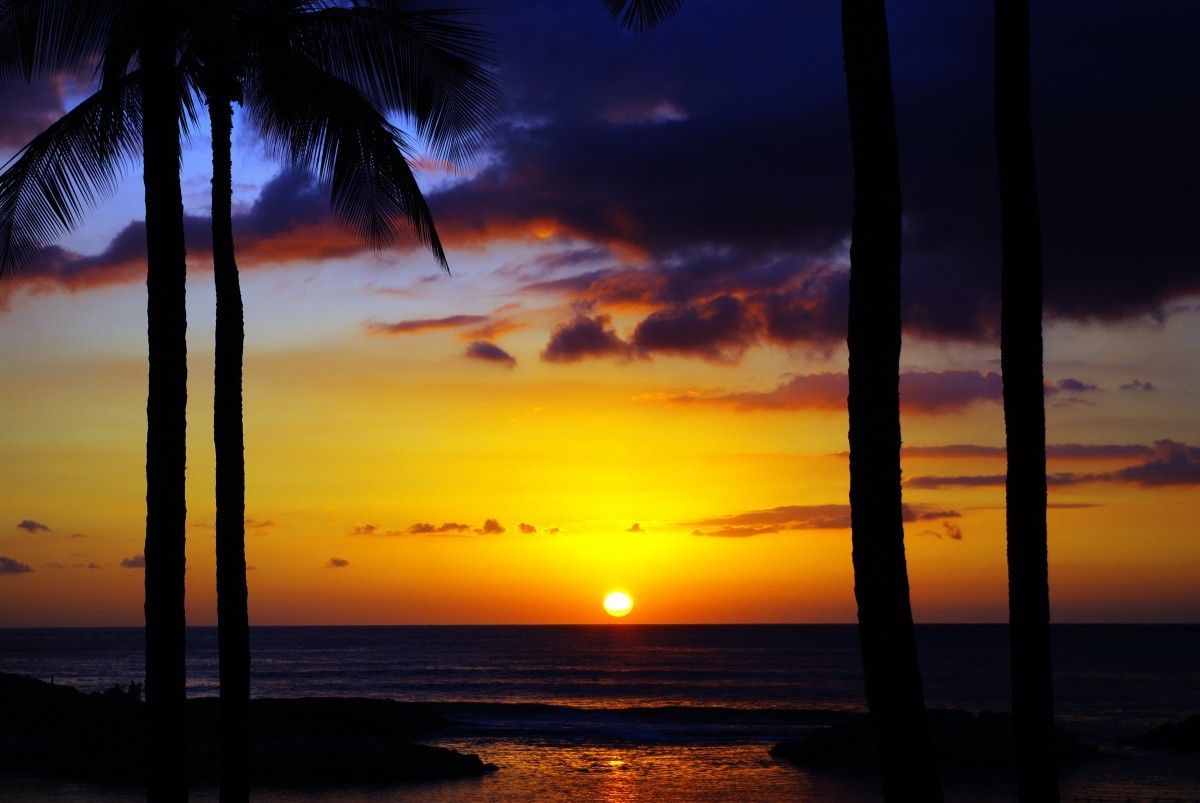 More important than seasons, each side of the island can experience completely different weather patterns. For example, The Hilo side of the Big Island experiences far more rain than the Kona/dry side as well.
You should also consider what type of water activities you plan on doing in Hawaii.
The waves in Oahu get truly massive in the wintertime. Unless you are a very experienced (and ballsy) surfer, you probably want to come to visit when the waves are smaller. Snorkeling may also be better in the summertime when waves aren't quite as big.
Like Kauai, Maui's warm tropical climate is fairly consistent year round with daytime highs in the mid-80's to mid-70's during the summer and winter. Now do you know why Hawaii is referred to as paradise on earth? It's bloody gorgeous all year round.
What to Pack for Hawaii
Here are some essential items that you shouldn't leave off your Hawaii packing list:
Traipse the CIty in Style!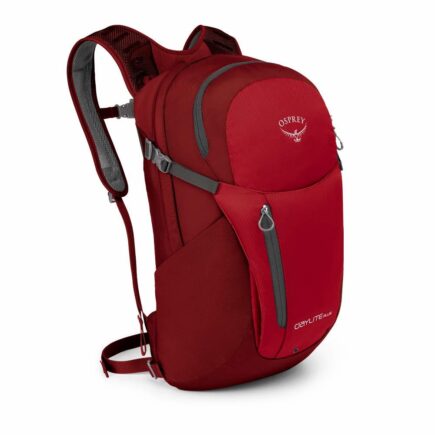 Traipse the CIty in Style!
Osprey Daylite Plus
Any city slicker needs a SLICK daypack. In general, you can never go wrong with an Osprey pack, but with its array of awesome organisation, durable materials, and a comfy build, the Daylite Plus will make your urban jaunts buttery smooth.
Drink from ANYWHERE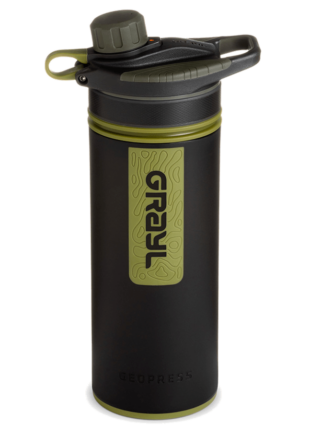 Drink from ANYWHERE
Grayl Geopress Filtered Bottle
Save $$$, save the planet, and save yourself the headache (or tummy ache). Instead of sticking to bottled plastic, buy a Grayl Geopress, drink water no matter the source, and be happy knowing the turtles and fishies thank you (and so do we!). 🙂
Pics or It Didn't Happen 😉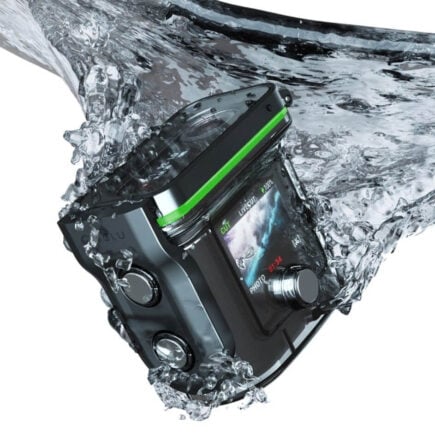 Pics or It Didn't Happen 😉
OCLU Action Camera
Wait, it's cheaper than a GoPro and… better than a GoPro? The OCLU action cam is the cam for budget backpackers that want to immortalise all their wildest adventures – including that time you dropped it off a Himalayan mountain – WITHOUT breaking the bank.
Harness the Sun!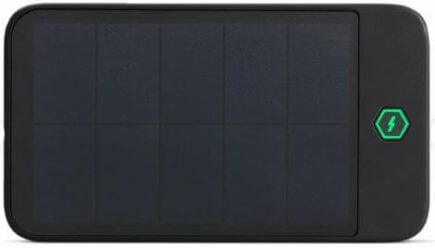 Harness the Sun!
Solgaard Solarbank
Resourceful travellers know how to find power outlets anywhere on the road; smart travellers just pack a solar power bank instead. With 4-5 phone cycles per charge and the ability to top up literally anywhere the sun is shining, there's no reason to ever get lost again!
Don't Annoy Your Dormies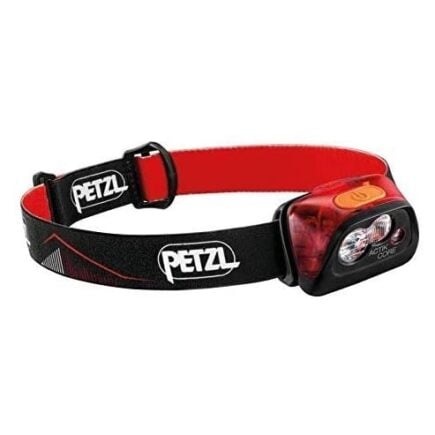 Don't Annoy Your Dormies
Petzl Actik Core Headlamp
ALL travellers need a headtorch – no exceptions! Even in the hostel dorm, this beauty can save you in a real pinch. If you haven't got in on the headtorch game, DO. I promise you: you'll never look back. Or at least if you do, you'll be able to see what you're looking at.
Save $$$ • Save the Planet • Save Your Stomach!
Drink water from ANYWHERE. The Grayl Geopress is the worlds leading filtered water bottle protecting you from all manner of waterborne nasties.
Single-use plastic bottles are a MASSIVE threat to marine life. Be a part of the solution and travel with a filter water bottle. Save money and the environment!
We've tested the Geopress rigorously from the icy heights of Pakistan to the tropical jungles of Bali, and can confirm: it's the best water bottle you'll ever buy!
View on REI
Read the Review
Staying Safe in Hawaii
Generally speaking, Hawaii is one of the safest places in the USA to go backpacking. Violent crime rates are low and there has not been a major attack on Hawaii since Pearl Harbor.
However, rental car break-ins are a real problem on the islands. Locals can easily spot a rental car and the result is sometimes a smashed window and stolen items. If you are renting a car in Hawaii, make sure to never leave your valuables in plain sight.
Furthermore, backpacks should know about surf/Hawaiian culture. Locals (especially some surfers) aren't always the friendliest to visitors. They can be fiercely territorial—and when it comes to surf spots— there is a definite code of conduct one must follow to avoid a possible beating once you arrive back on the beach.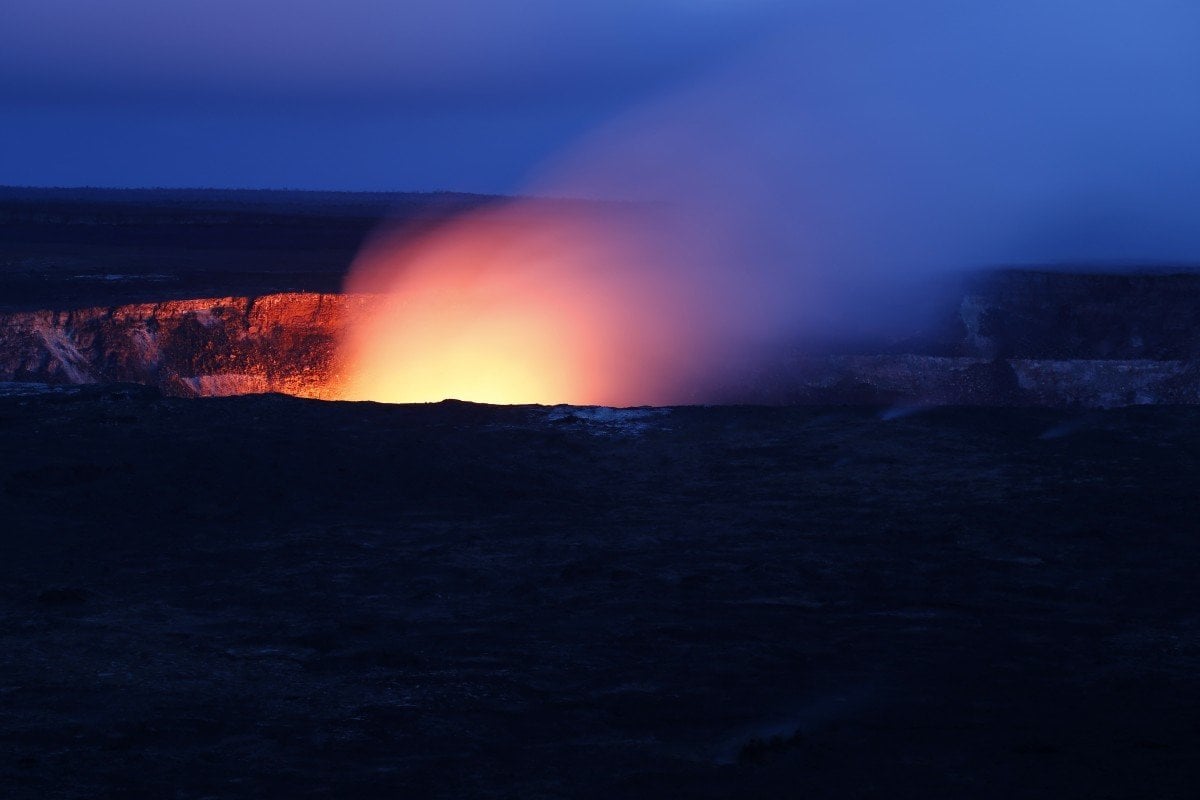 You might hear local Hawiaan dudes say in pigeon English "don't forget to go home Haole." Basically, this means "we know you're not from here so don't get too comfortable."
Most people are super nice in Hawaii, but you should be aware of the other side of things too.
Probably the biggest danger for backpackers are the natural hazards. Strong currents, riptides, dense jungle, high-altitude mountains, active volcanoes, lava rivers, and intense rainstorms all pose a threat to backpacker safety. Hawaii is a vastly powerful land that needs to be treated with admiration and respect.
When engaging in outdoor activities, know the risks of what you are doing and have a basic plan for the worst-case scenarios.
I strongly recommend traveling with a headlamp whilst in Hawaii (or anywhere really – every backpacker should have a good headtorch!), especially if you're camping.
Sex, Drugs, and Rock 'n' Roll in Hawaii
Hawaii is definitely NOT one of the best places to party on a USA trip. This is a state that's all about nature and relaxation. While party and drug scenes definitely do exist, you might want to find another island if you're just looking for a turn-up.
Alcohol is the drug of choice on the Hawaiian islands, and anyone 21 or older can buy it. Just keep in mind that prices will be astronomical virtually anywhere.
Weed on the other hand is decriminalized but still illegal, though this might change in coming years. But as of Fall 2022, the black market is the only way to light up in Hawaii.
Getting Insured BEFORE Visiting Hawaii
Traveling without insurance would be risky so do consider getting good backpacker insurance sorted before you head off on an adventure.
ALWAYS sort out your backpacker insurance before your trip. There's plenty to choose from in that department, but a good place to start is Safety Wing.
They offer month-to-month payments, no lock-in contracts, and require absolutely no itineraries: that's the exact kind of insurance long-term travellers and digital nomads need.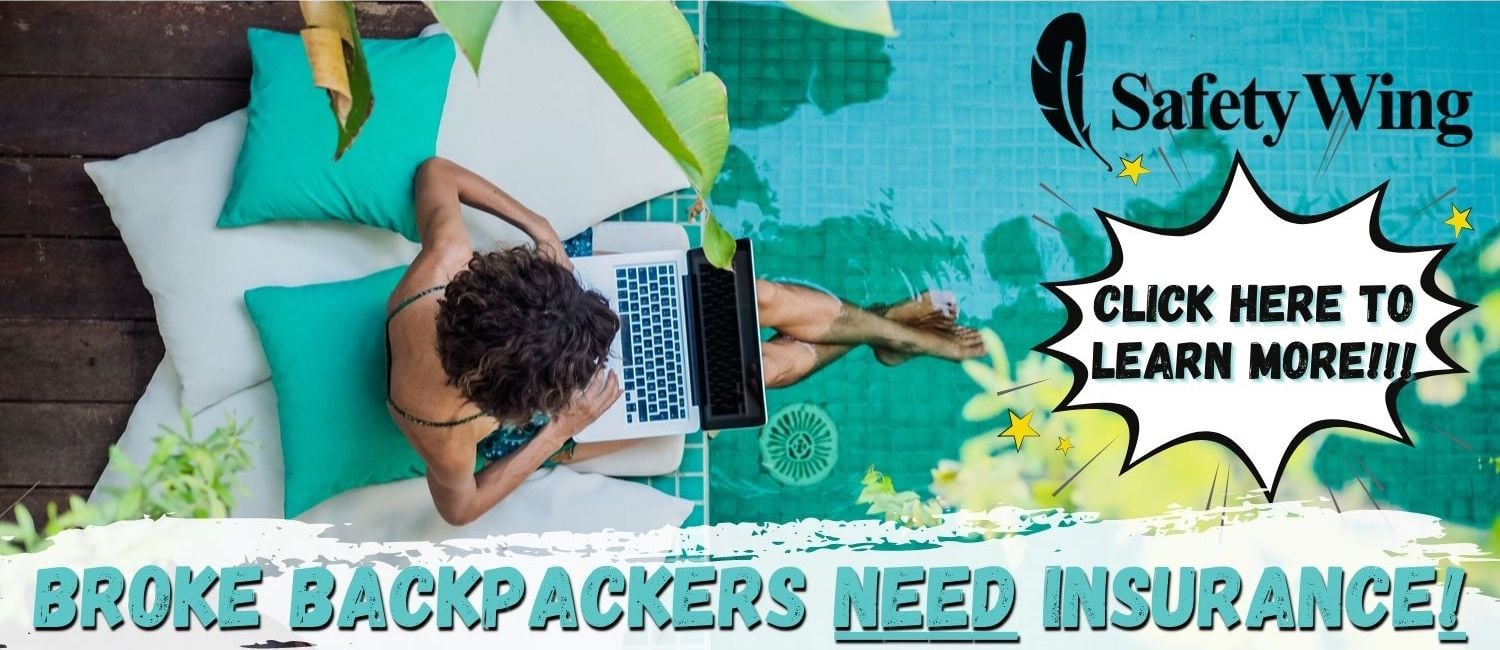 SafetyWing is cheap, easy, and admin-free: just sign up lickety-split so you can get back to it!
Click the button below to learn more about SafetyWing's setup or read our insider review for the full tasty scoop.
Hawaii Travel Guide to Getting Around
Where you plan on starting your Hawaii backpacking adventure will greatly determine where you should fly into. Inner island travel isn't so cheap, so flying in and out of Honolulu is a no-brainer if you are staying in Oahu for your whole trip. Common sense!
If you are flying into Hawaii from overseas, you will probably fly into the Honolulu Airport.
In rare cases, it may work out cheaper, in the end, to fly into a neighboring island from the mainland US and then hop on a small plane to the island of your choosing. It's just a matter of comparing prices and going with the cheapest flights available.
Here are the major airports on each of the four islands covered in this Hawaii travel guide:
Kauai: Lihue Airport
Maui: Kahului Airport
Oahu: Daniel K. Inouye/Honolulu International Airport
The Big Island: Kona and Hilo International Airports
Entry Requirements for Hawaii
Since Hawaii is a US state, the entry requirements for Hawaii are the same as they are for all of the USA.
Citizens of most western countries do not need to apply for a visa in advance. They simply need to apply for a visa waiver (which takes about 10 minutes online). Here is the official word from the US Department of State:
"The Visa Waiver Program enables most citizens or nationals of participating countries to travel to the United States for tourism or business for stays of 90 days or less without obtaining a visa. Travelers must have a valid Electronic System for Travel Authorization (ESTA) approval prior to travel."
Here is a list of countries eligible for the visa waiver.
If you are not from a country on the visa waiver list, I am sorry to say you will need to apply for a visa (well) in advance.
The Future of the SIM Card is HERE!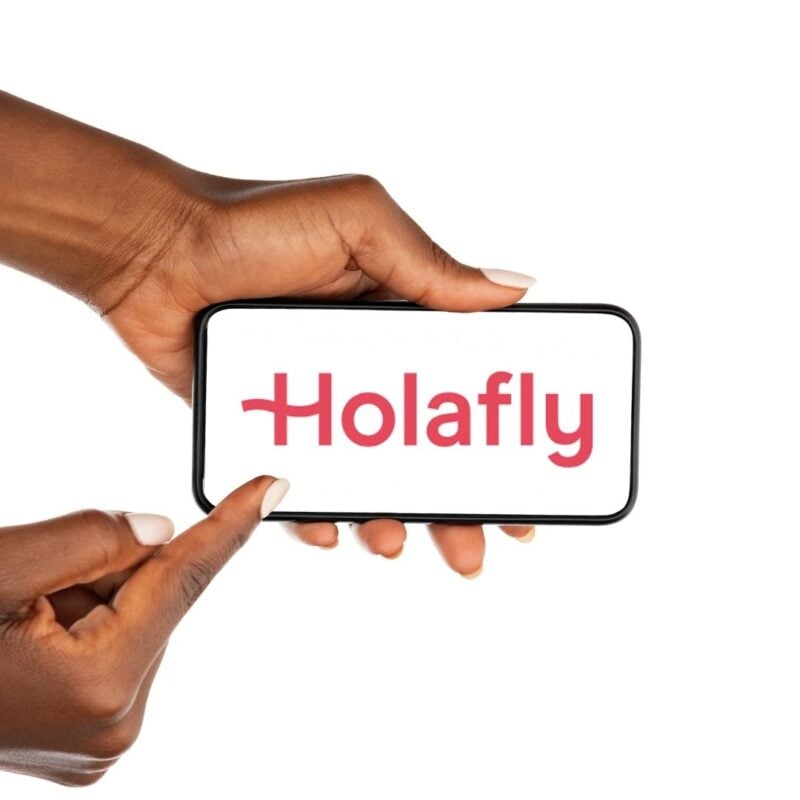 A new country, a new contract, a new piece of plastic – booooring. Instead, buy an eSIM!
An eSIM works just like an app: you buy it, you download it, and BOOM! You're connected. It's just that easy.
Is your phone eSIM ready? Read about how e-Sims work or click below to see one of the top eSIM providers on the market and ditch the plastic.
Grab an eSIM!
How To Get Around Hawaii
Getting around Hawaii is easiest and most enjoyable if you have your own car. Public transportation is a mixed bag. In many places, you can find local bus connections, but public buses won't have access to much of rural Hawaii.
Public transportation routes are limited and the distances are typically short. Getting off the beaten path in Hawaii isn't possible using the bus. For going short distances or traveling in a city like Honolulu, the bus is great.
Not to confuse you, but the main bus company operating in Hawaii is simply called TheBus.
Rideshare apps like Uber are on the rise in Hawaii too. Keep in mind that it is illegal in Hawaii for Uber drivers to operate at the airport, though many still do.
For island hopping, your best bet will be flying. Hawaiian Airlines, Ohana by Hawaiian, Island Air, and Mokulele all fly from island to island daily.
Renting a Car in Hawaii
Renting a car at some point on your Hawaii adventure will give you the freedom to roam. There is nothing better than moving around at your own pace. Having wheels gives you that. Plus, who doesn't want to make the ultimate Hawaiian road trip at least once, right?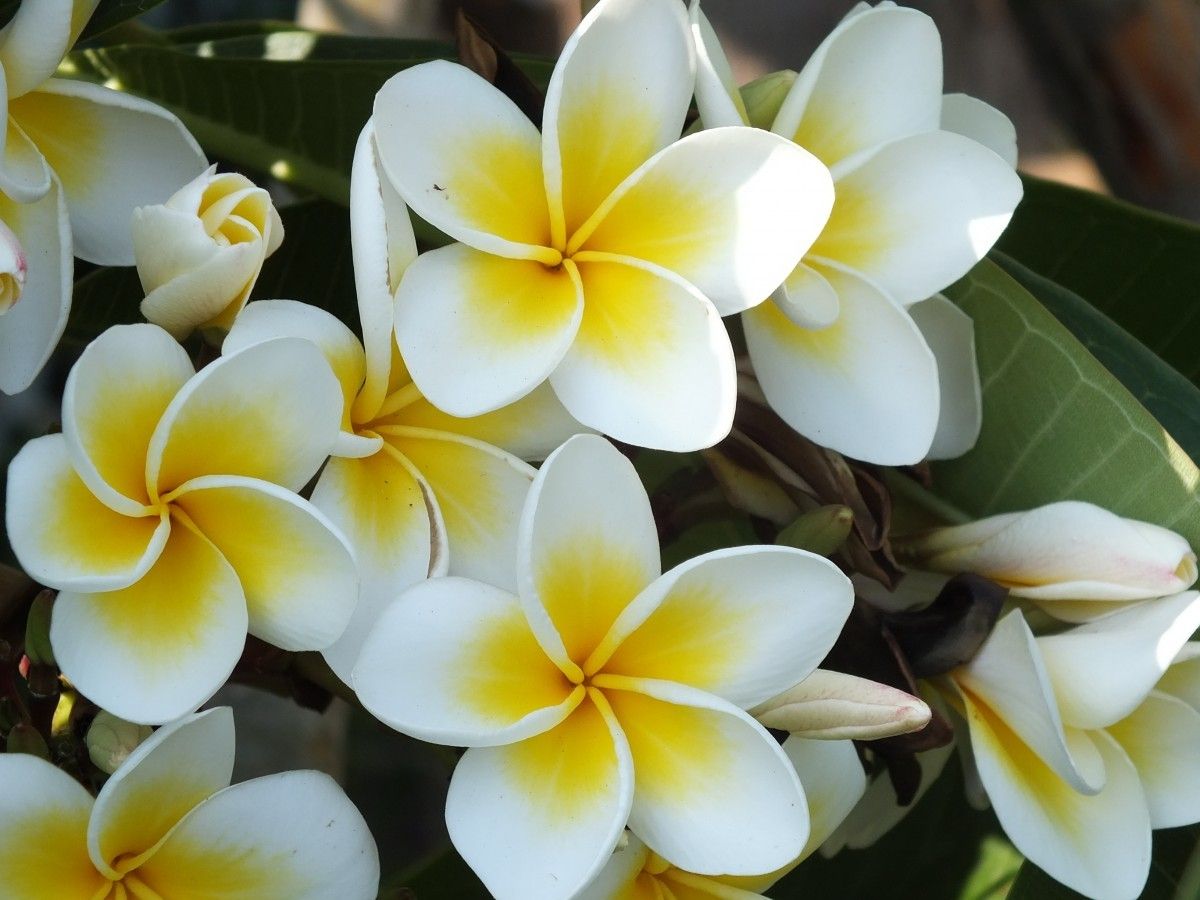 You can sort your car rental here in just a few minutes. Booking in advance is the best way to ensure you score the lowest price and your choice of vehicle. Often, you can find the best car rental prices when you pick up the rental from the airport.
Make sure you also purchase a RentalCover.com policy to cover your vehicle against any common damages such as tires, windscreens, theft, and more at a fraction of the price you would pay at the rental desk.
Hiring a Campervan in Hawaii
If you can swing it, hiring a campervan is hands down the best way to travel around Hawaii (when you are not hiking).
The fact is that campervan rentals in Hawaii are expensive, but if you hire a campervan you won't be spending any money on accommodation.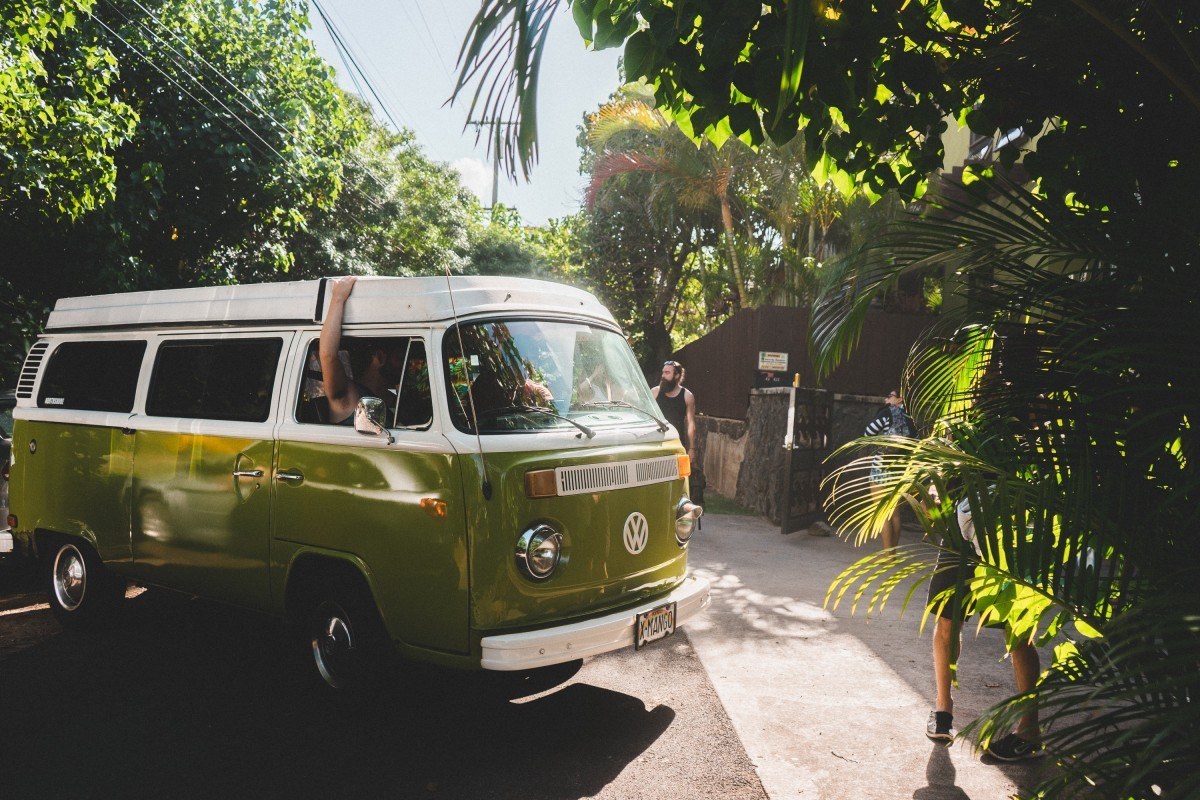 The biggest win for going the campervan route is the unprecedented freedom you have. Did you really enjoy a place you went for a day hike and want to sleep there? Easy. Interested in parking super close to a popular attraction so you can be the first one to arrive in the morning? Sorted.
Want to snuggle up with your lover, sip tea, and read whilst it is pouring rain outside? No problem. Curious to know if a secret cove is really haunted at night so you need to park close to it? Bam. Do it.
When booking a campervan, the details matter. Does your rental come with sheets, blankets, a stove, and electrical outlets? Be sure to ask. Go for the campervan with the best price point vs all of the gear and gadgets. You can simply pack all the gear you need to have a successful campervanning adventure in Hawaii!
I recommend Maui Westy Campers on sheer style points.
Hitchhiking in Hawaii
Honestly, I would argue that parts of Hawaii offer up some of the best and safest hitchhiking to be found in the USA.
In rural areas, you shouldn't find it too hard to thumb a ride, but I'll be honest with you. I have not personally hitchhiked in Hawaii, but I have been told both by friends who live there and also by folks who have traveled in Hawaii that hitchhiking is fairly common in places.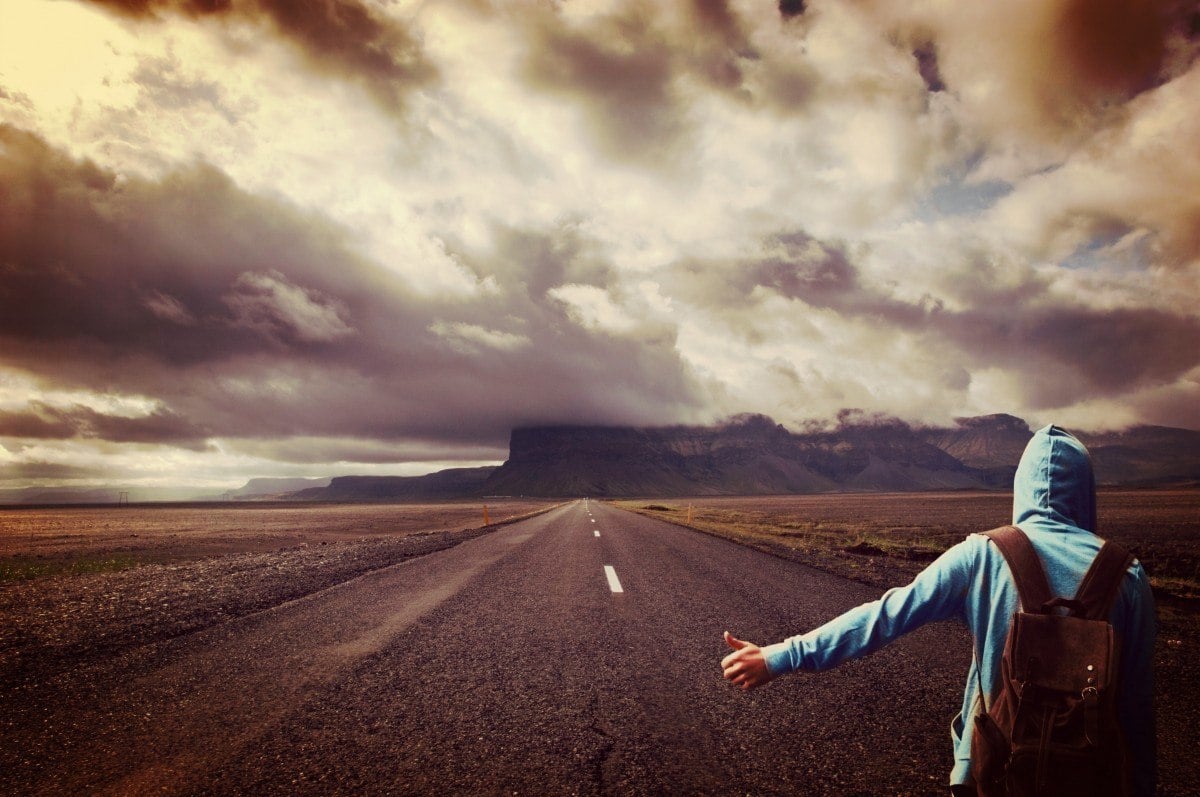 If it were me, I would not try to hitchhike in or just beyond a major city. Well, really I would avoid hitching in Honolulu. Since there are plenty of other backpackers driving the small roads in Hawaii the odds are in your favor.
When accepting a ride, ALWAYS have your spidey senses firing. If a person sketches you out, fuck em. You have time. Be polite, don't say fuck em out loud, but turn the ride down all the same. Better to wait for a ride that makes you feel 100% comfortable.
If you are short on time, hitchhiking is probably not the best option. Hitchhiking inherently slows you down. Certainly, rides can (hopefully not) take hours. If you are only backpacking Hawaii for a week, you might want to think about a more reliable form of transportation.
Onwards Travel From Hawaii
Hawaii is one of the most isolated places on earth. Nobody accidentally stumbles upon Hawaii when they arrive.
Onward travel from Hawaii can be expensive. I recommend booking your tickets in advance when you figure out your travel plans. Because Japan is one of the closest land masses to the Hawaiian archipelago, you can sometimes find great deals on flights to Tokyo.
Flying to the west coast – like Los Angeles or San Francisco – on mainland USA can be rather affordable as well if you book in advance.
Working and Volunteering in Hawaii
Long-term travel is awesome. Giving back is awesome too. For backpackers looking to travel long-term on a budget in Hawaii whilst making a real impact on local communities look no further than World Packers. World Packers is an excellent platform connecting travelers with meaningful volunteer positions throughout the world.
In exchange for a few hours of work each day, your room and board are covered.
Backpackers can spend long periods of time volunteering in an awesome place without spending any money. Meaningful life and travel experiences are rooted in stepping out of your comfort zone and into the world of a purposeful project.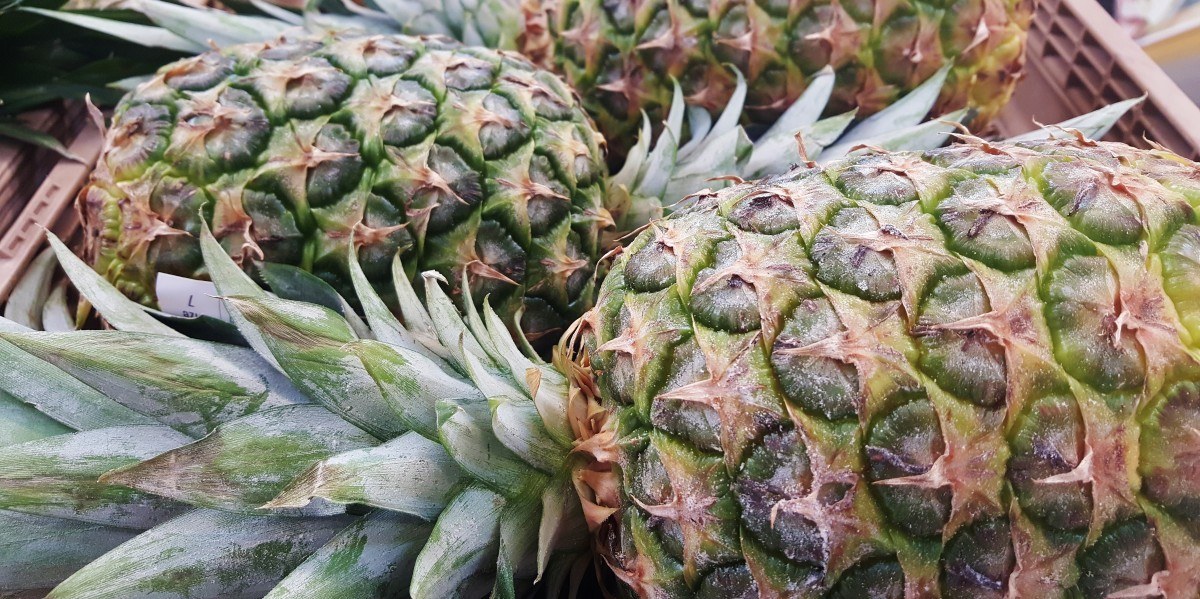 If you're ready to create a life-changing travel experience and give back to the community, join the Worldpacker community now. As a Broke Backpacker reader, you'll get a special discount of $20. Just use the discount code BROKEBACKPACKER and your membership is discounted from $49 a year to only $29.
Check out WWOOF Hawaii. WWOOFing is a great way to supplement an already rewarding journey backpacking Hawaii. Some of the best WWOOF opportunities on the planet can be found in Hawaii. Working on a farm producing tasty veggies and tropical fruits hardly requires me to convince you of the merits!
Learn how to make cheese. Milk goats. Eat delicious mangos. Chop firewood. You name it, you can probably experience it on a Hawaiian farm.
For awesome WWOOFing experiences in Hawaii, I recommend heading to Kauai. It is the Garden Isle after all!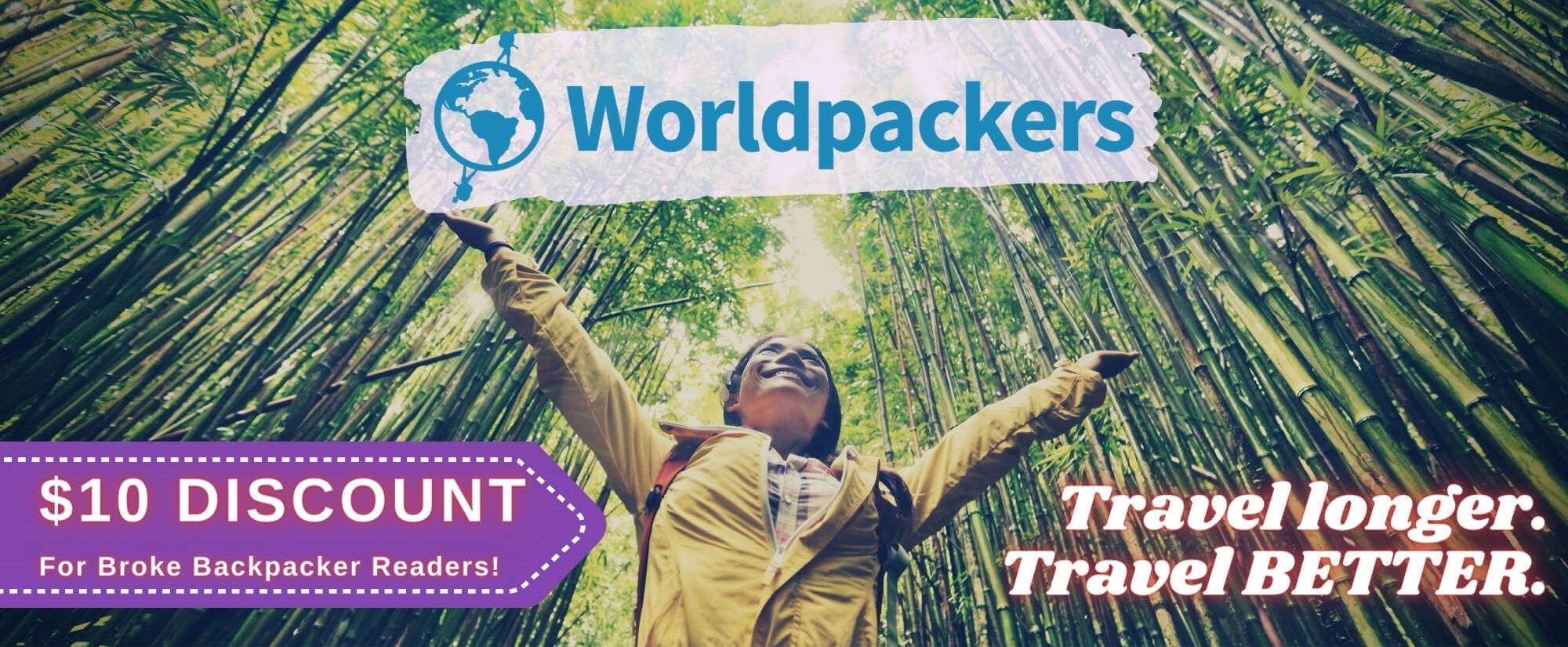 Worldpackers: connecting travellers with meaningful travel experiences.
Make Money Online Whilst Backpacking Hawaii
Traveling in Hawaii long-term? Keen to make some cash when you are not exploring?
Teaching English online is a great way to earn a consistent income—from anywhere in the world with a good internet connection. Depending on your qualifications (or your motivation to obtain qualifications like a TEFL certificate) you can teach English remotely from your laptop, save some cash for your next adventure, and make a positive impact on the world by improving another person's language skills! It's a win-win!
In addition to giving you the qualifications to teach English online, TEFL courses open up a huge range of opportunities and you can find teaching work all over the world.
Broke Backpacker readers get a 35% discount on TEFL courses with MyTEFL (simply enter the code BACKPKR), to find out more, please read my in-depth report on teaching English abroad.
Whether you are keen to teach English online or looking to take your teaching game a step further by finding a job teaching English in a foreign country, getting your TEFL certificate is absolutely a step in the right direction.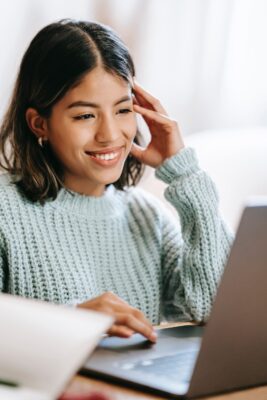 Earn $$$ ONLINE Whilst Travelling the World!
Keen to live the digital nomad dream while travelling the world? Who the hell isn't?
Teaching English online is a surefire method to earn a consistent income on the road. Work from anywhere, change some lives, and earn some dollaridoos while you do it!
Check out this detailed article for everything you need to know to start teaching English online.
Some Unique Experiences in Hawaii
A few extra things to add to your itinerary for the perfect Hawaiian vacation:
Best Festivals in Kauai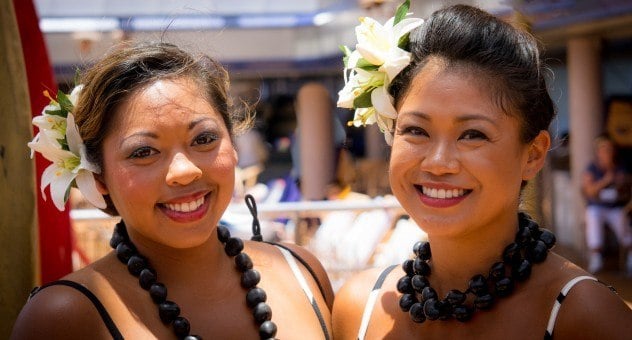 Kauai Orchid & Art Festival/March/Hanapepe: Want to geek out on some beautiful orchids? This Hawaii festival showcases exotic, tropical orchids as well as stunning art by Plein Air painters (outdoor paint artists) from around the state.
Coconut Festival/October/Kappa Beach: Love coconuts? Me. Too. Coconut Fest celebrates all things…you guessed it: coconut! In addition to games, food, and community, there are local craft producers selling all of their coconutty products. Coconut water anyone?
Eo e Emalani i Alaka'i Festival/October/Kokee: This festival is one of the most important cultural events in Hawaii. Hula dancers, crafts, and demonstrations offer up an authentic Hawaiian cultural experience.
Best Festivals in Maui
Maui Onion Festival/May/Whaler's Village: This village is known for producing the largest, sweetest onions in the world. This event celebrates the onion in typical Hawaiian style. Meaning it is a huge freaking party.
Hawaiian Steel Guitar Festival /April/ Central Maui: Have you ever heard that beautiful twang sound in Hawaiian music? That is the steel guitar. This festival showcases its own "living treasures of Hawaiian music" in a series of free concerts, jam sessions, and workshops.
Maui Film Festival /June/Wailea: Imagine an epic film festival that takes place out in the open under a blanket of stars. Well, the stars you can see with the films happening anyway. If you like movies, come see what the open air Maui Film Festival is all about.
Best Festivals in Oahu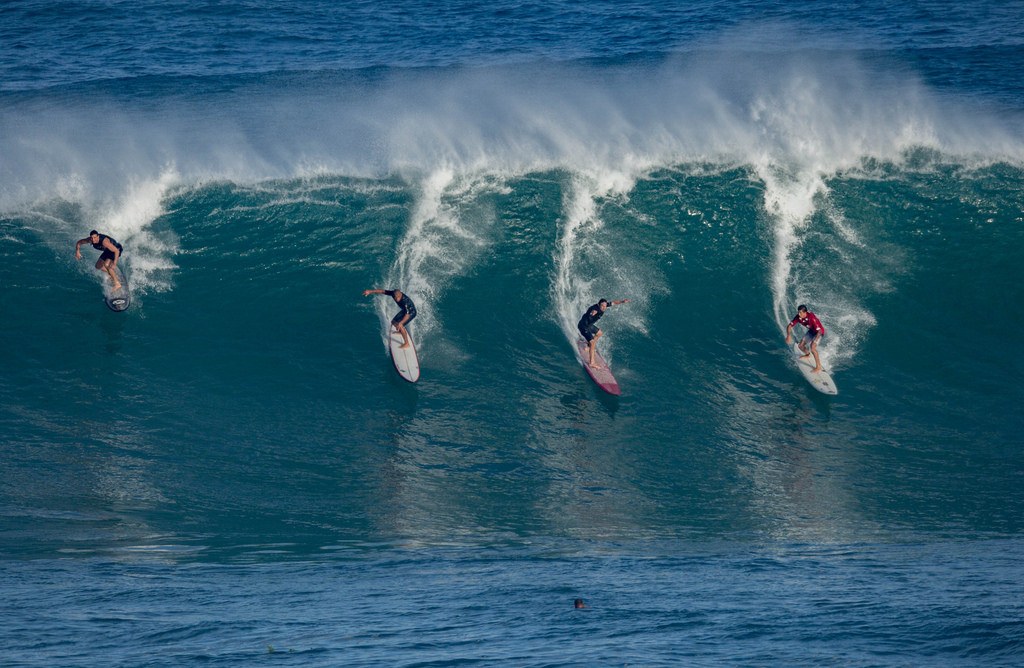 The Vans Triple Crown of Surfing/October-December/Sunset Beach: The Vans Triple Crown of Surfing (#VTCS) is one of the most sought-after surf competition titles in the world for a professional surfer. The talent on display is unreal. Bring binoculars if you can.
Billabong Pipe Masters/December/Banzai Pipeline: Another world-famous surfing event that is actually the main event of the Vans Triple Crown. This time the show is at the epic Banzai Pipeline.
The Eddie/ ???/Waimea Bay: The Eddie Aikau memorial surf competition is the ultimate surfing event and quite possibly one of the most incredible athletic spectacles you will ever witness. This event only runs every few years because the waves need to be of a certain size (fucking huge) to take place. There should not even be a question in your mind whether to go or not if you find yourself in Oahu when the Eddie is on.
Best Festivals in The Big Island
Hawaii's largest island also has a few cool festivals worth checking out in addition to loads of incredible views:
Kona Annual Surf Film Festival/January/Kona: The surfing theme continues. Come out for a day of epic surfing documentaries from around the world.
Laupehoehoe Music Festival/February/Laupehoehoe Point Beach Park: This fest focuses around family-friendly Hawaiian music, Hula, and tasty food.
Big Island Chocolate Festival/May/Hapuna: Hawaii is the only US state where cacao is grown. This event features farmers, artisans, and more chocolate than you will know what to do with. Chocolate addicts unite!
Trekking in Hawaii
Want to discover the most budget-friendly adventures in Hawaii? Lace up your hiking boots and hit one of the trails!
As you know Hawaii is home to some incredibly diverse and unique natural landscapes. On any given island you'll find some of the best hikes in the USA at your feet.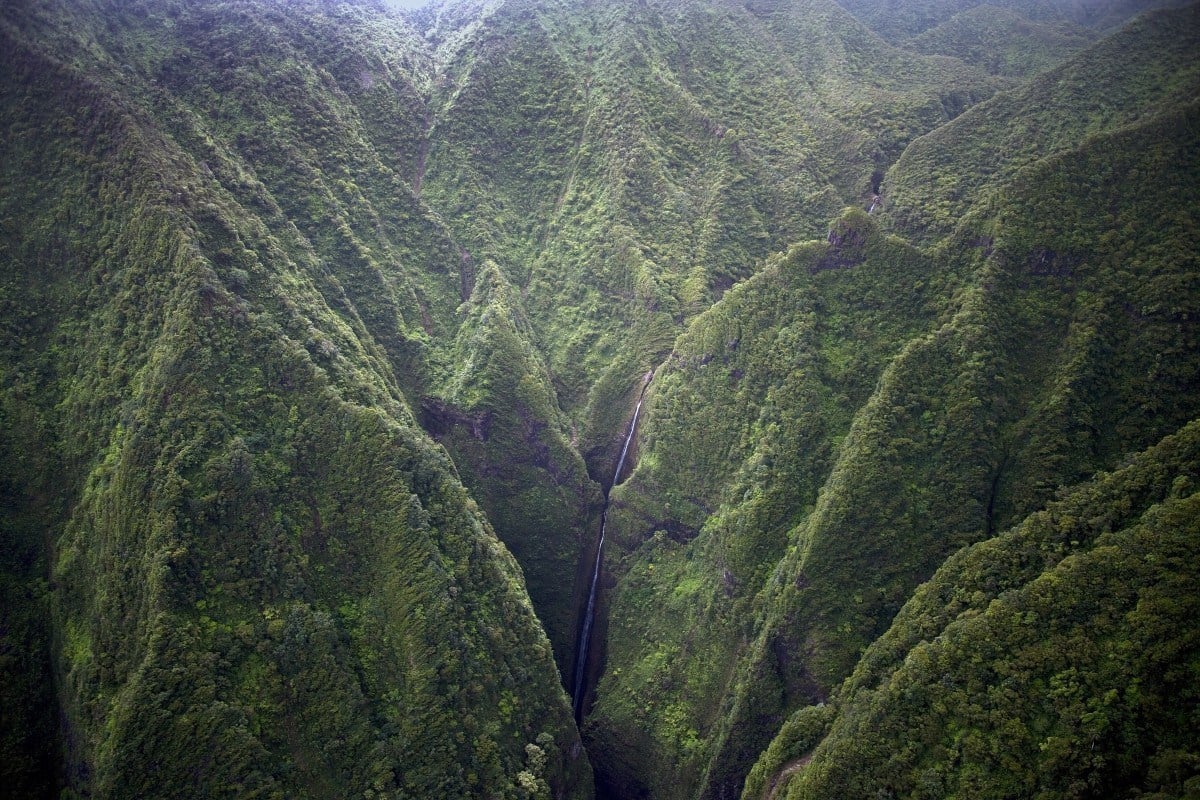 Whether you are after an epic coastal walk, a jungle adventure, or a magical mountain summit, you can find it in Hawaii.
There are two national parks in Hawaii and 6 historic parks/national monuments. Throw in the countless nature reserves throughout the islands, and really you have a whole world of trekking opportunities at your fingertips.
One of the things that I love about trekking is that it is almost always free. If you want to enjoy some of Hawaii's treasures, you will only have to use your body (and maybe pay an entrance fee).
Best Hiking Trails in Hawaii
Don't miss out on these iconic hikes when visiting Hawaii!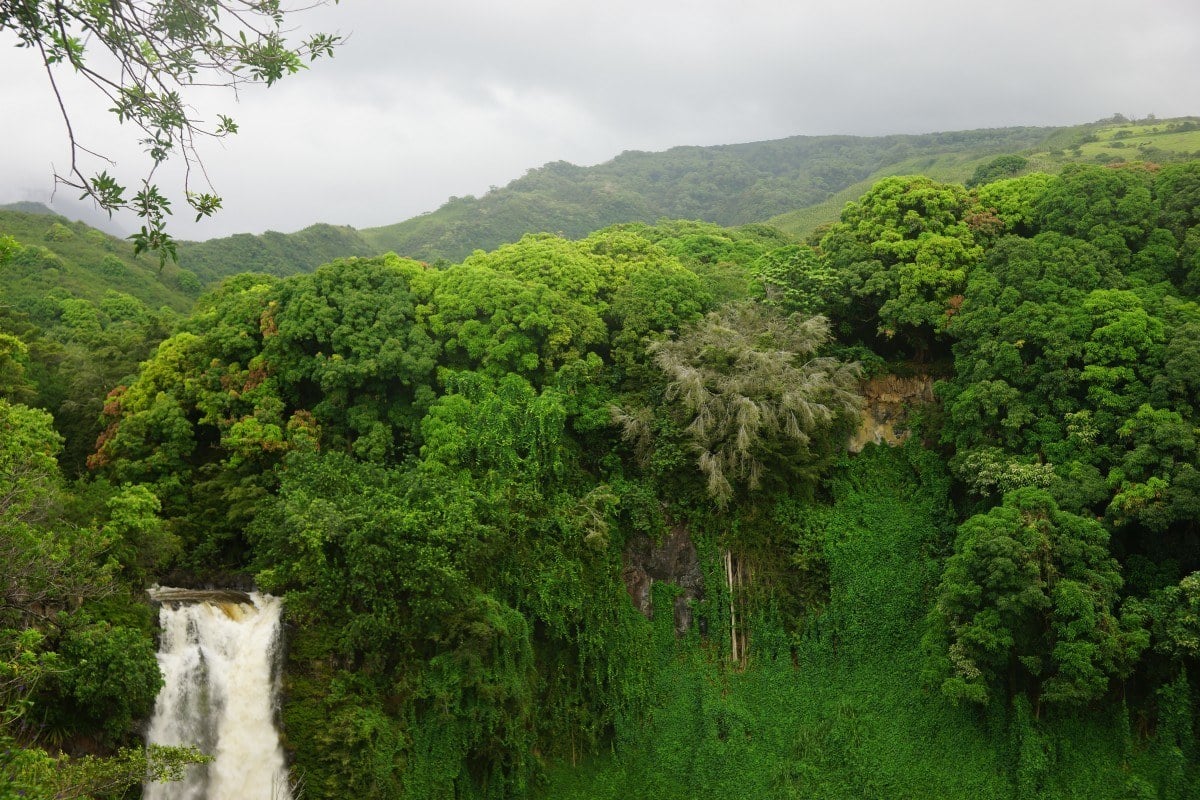 Kalalau Trail, Kauai
The Kalalau Trail crosses through five valleys and over towering seaside cliffs before descending to the ocean at its terminus. This is the trail where you get mind-blowing views of the Napali Coast— my personal favorite place in Hawaii.
Diamond Head Summit, Oahu
Diamond Head is Oahu's most recognizable feature. Running along the edge of the Waikiki Coast, a hike up Diamond Head is short, difficult, and extremely rewarding. I'd say it is one of the best high spots in Oahu to catch the sunset.
Mauna Kea Summit Hike, Maui
I've already covered this hike extensively, but I'll mention it again. Definitely, don't miss this hike during your time backpacking Hawaii.
Waipo Valley, Big Island
The Waipo Valley is the perfect destination for adventurous souls backpacking Hawaii. Tucked away in the remote north eastern coast, the Waipo Valley has it all: dense jungle, cascading waterfalls, and super green mountains indeed. For an off the beaten path Hawaii adventure, come to Waipo Valley.
Kilauea Iki Trail, The Big Island
This trail in Hawaii Volcanoes National Park is one of the best hikes in Hawaii. At the moment, it is inaccessible. If the smoke, ash, and lava ever stop pouring out of Kilauea, this hike will take you through landscapes you only thought were on the moon.
Scuba Diving in Hawaii
Like trekking in Hawaii, you have tons of amazing scuba diving opportunities in Hawaii. You can dive just about anywhere in Hawaii and it will still be more impressive than diving in other parts of the world.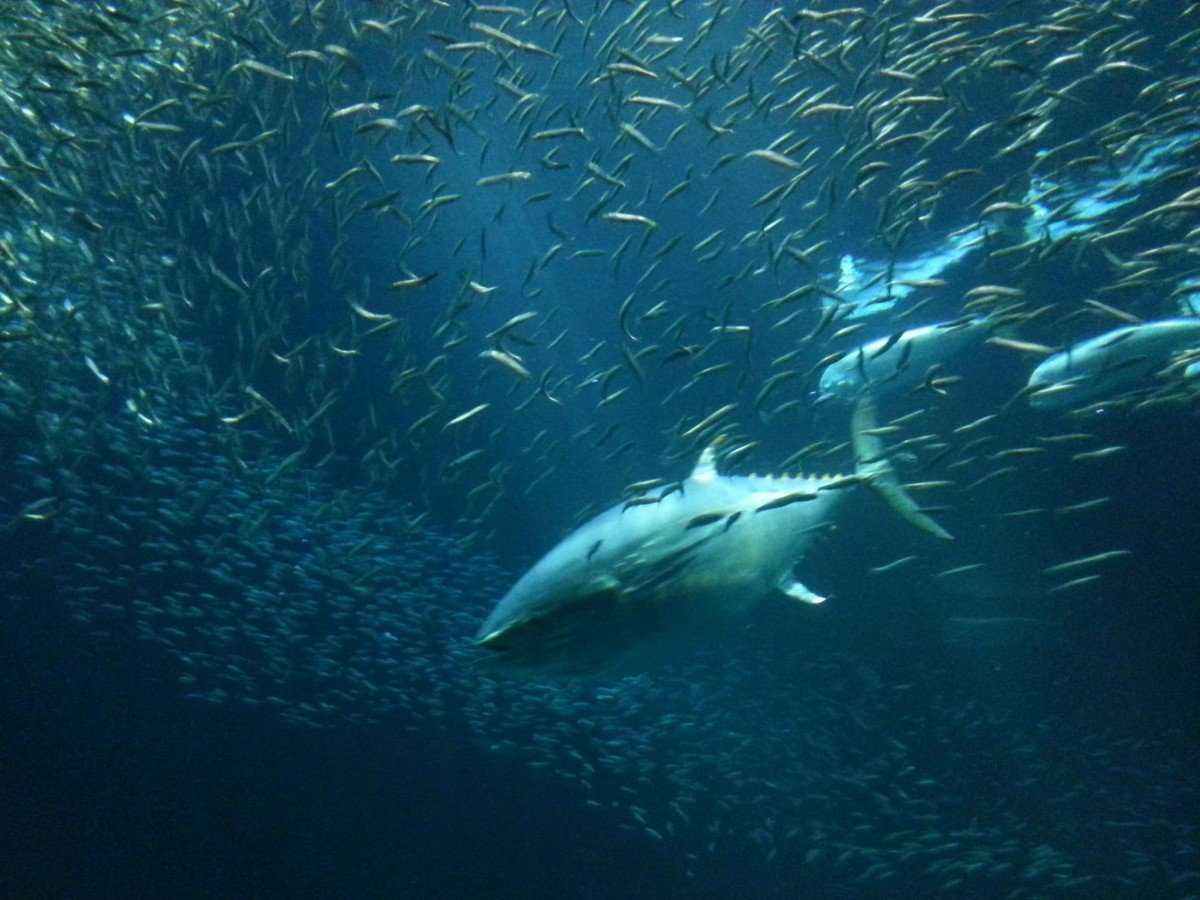 Scuba diving in Hawaii can be expensive though. If you love to dive, make room in your budget to go at least once. Maybe a shark dive?
The diving around the Big Island's lava pinnacles is quite a unique experience as well. The Big Island is also the place to dive with manta rays at night.
Live Aboard Trips in Hawaii
Really love Scuba Diving? Want to experience the ultimate Hawaiian scuba diving adventure? Joining a liveaboard trip in Hawaii might just be the thing for you. You will certainly pay for the pleasure, but some things in life are just worth paying for aye.
On a Liveaboard trip, you spend your days exploring the best dive sites in any given area, and you are able to reach sites that a day trip cannot. Nights are spent eating tasty food and socializing with fellow dive maniacs.
Be sure that in Hawaii, Liveaboard trips are not the cheapest endeavors, but they are the way to go if you are looking to spend a chunk of time diving and exploring places you wouldn't have access to otherwise.
Surfing in Hawaii
By now you know just how important surfing is to Hawaiian culture. This places lives and breathes surfing.
That is due to the fact that Hawaii is blessed with incredible beaches and surf breaks. There is a beach for every surfing level somewhere in Hawaii. You probably don't need me to tell you that Oahu's winter months are not for surfing newbies.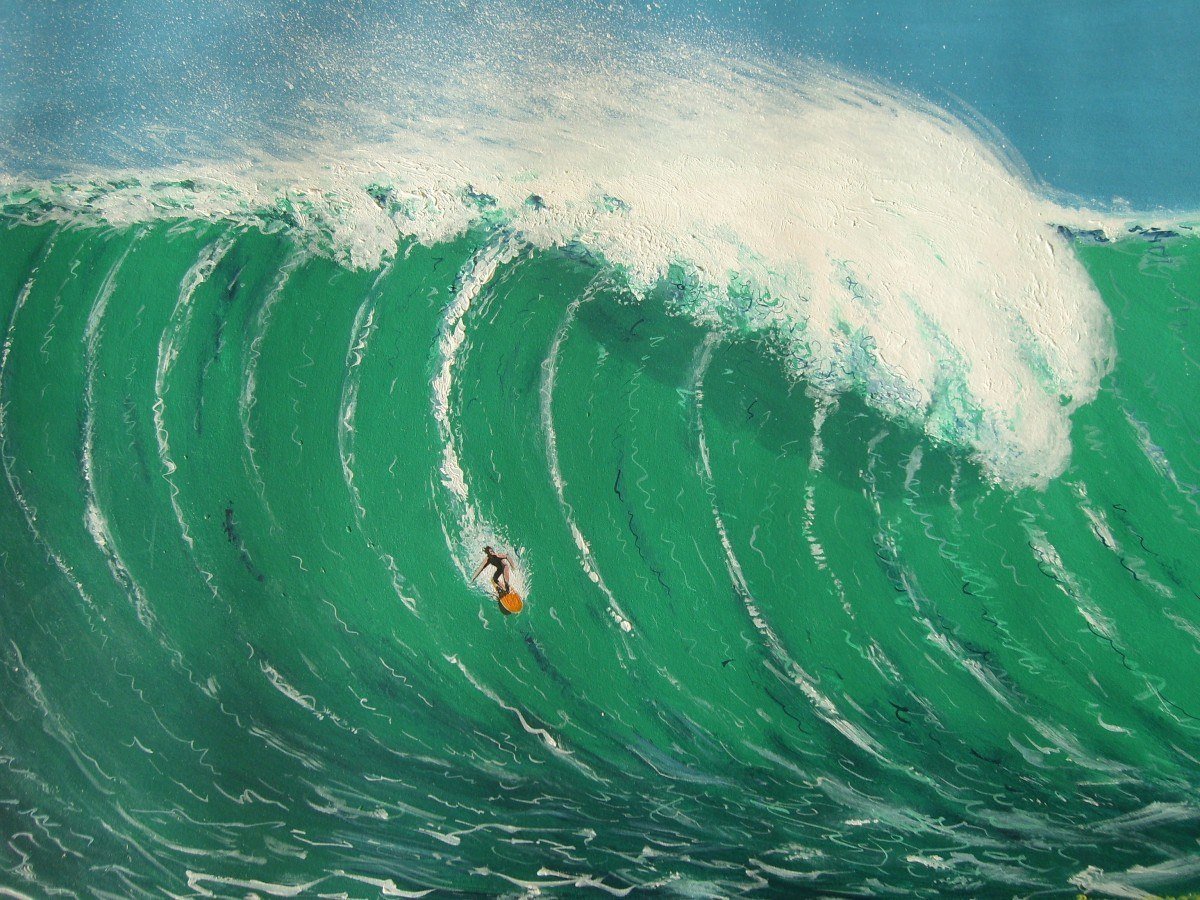 Here are some of the best places to go surfing in Hawaii (or at least watch the locals rip):
-> Jaws, Maui
-> Bonzai Pipeline, Oahu
-> Castles, Oahu
-> Ke'ei, Kealakekua Bay, Big Island
-> Hanalei Bay, Kauai
-> Ma'alaea Pipeline, Maui
Being a responsible backpacker in Hawaii
Hawaii can be one hell of a place to let loose (if you can afford it). Have fun on your Hawaii backpacking journey! Just remember to take it easy, pace yourself, and don't do anything stupid that affects those around you. There are few places where it's as important to be a responsible traveler as Hawaii.
When visiting historic Hawaiian sights or religious monuments, be respectful. Certainly, do not climb old ruins or touch priceless treasures of Hawaiian heritage. Hawaii is full of historical treasures. Don't be that dickhead that contributes to their demise and destruction.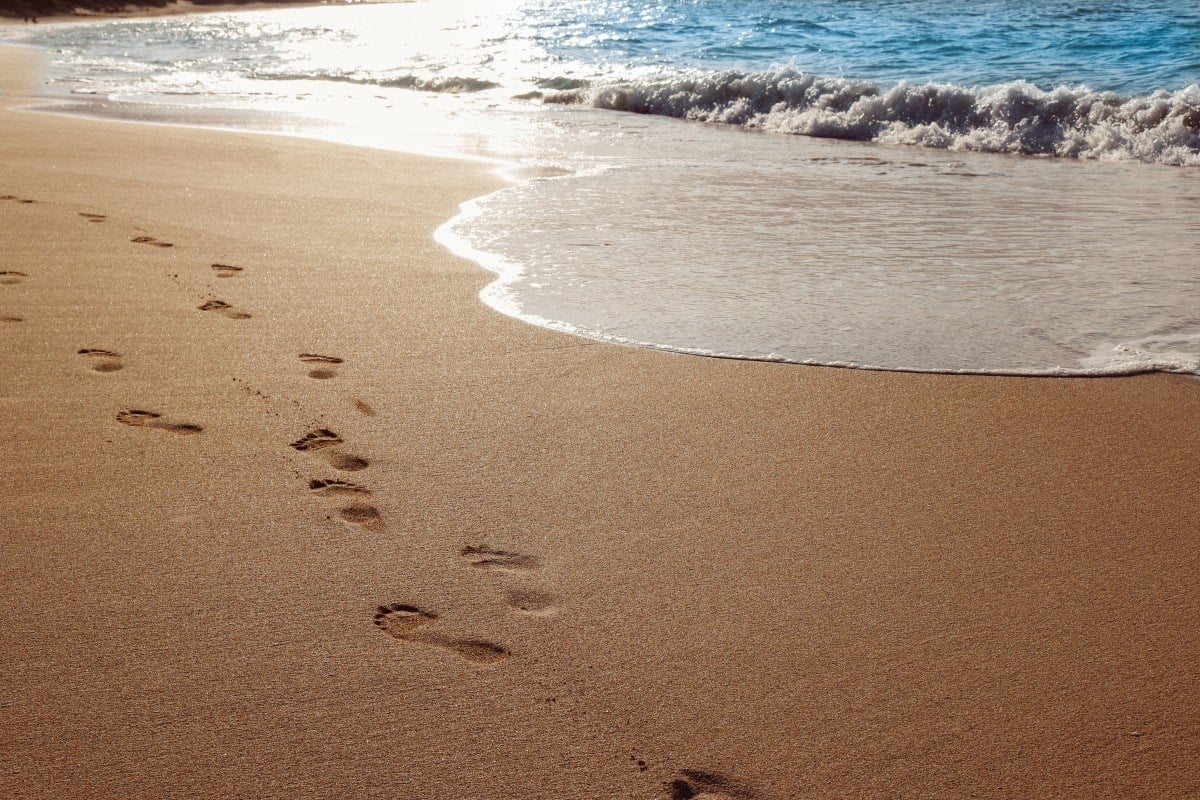 I know it can be hard, but do your best to use the least amount of plastic water bottles that you can. Refill the ones that you do buy! Use a Grayl Geopress. Refill at your hostel! Bring a reusable bag for shopping. There are plenty of ways to reduce plastic!!! Plus some of the mountains have some of the cleanest water on the planet, so don't be a fool and buy plastic water bottles, and travel responsibly.
Do your best to support local artisans, organic farmers, and craftspeople while traveling around Hawaii. Always try to give your dollars to Native Hawaiians, especially in smaller towns. Never take it for granted that you are healthy and financially able to go traveling. Show the world around you some gratitude and help to make a positive impact on it.
Please help do your part to keep Hawaii the paradise that it is. Respect the earth and she will take care of you.
Hawaii Travel Guide FAQs
A few questions people tend to ask before visiting Hawaii…
Final Thoughts on Backpacking Hawaii
Well, amigos, the journey to Aloha land has come to an end and it's time to pack those boards back into your surfboard bag ready for that flight home! Boo!
Backpacking Hawaii is certain to be a highlight of your traveling career; of that, I have no doubts. If I wasn't being pulled in so many other directions at the moment, I could see myself living in Hawaii… it's that good.
There is truly so much to see and do in Hawaii that I recommend taking the time to savor the landscapes and get to know the people. Have a quiet picnic on an isolated beach. Watch the sunset from a mountain top. Dive with the sharks.
Most of all, have a blast, stay safe, and enjoy the hell out of your time backpacking Hawaii… Good luck and Aloha!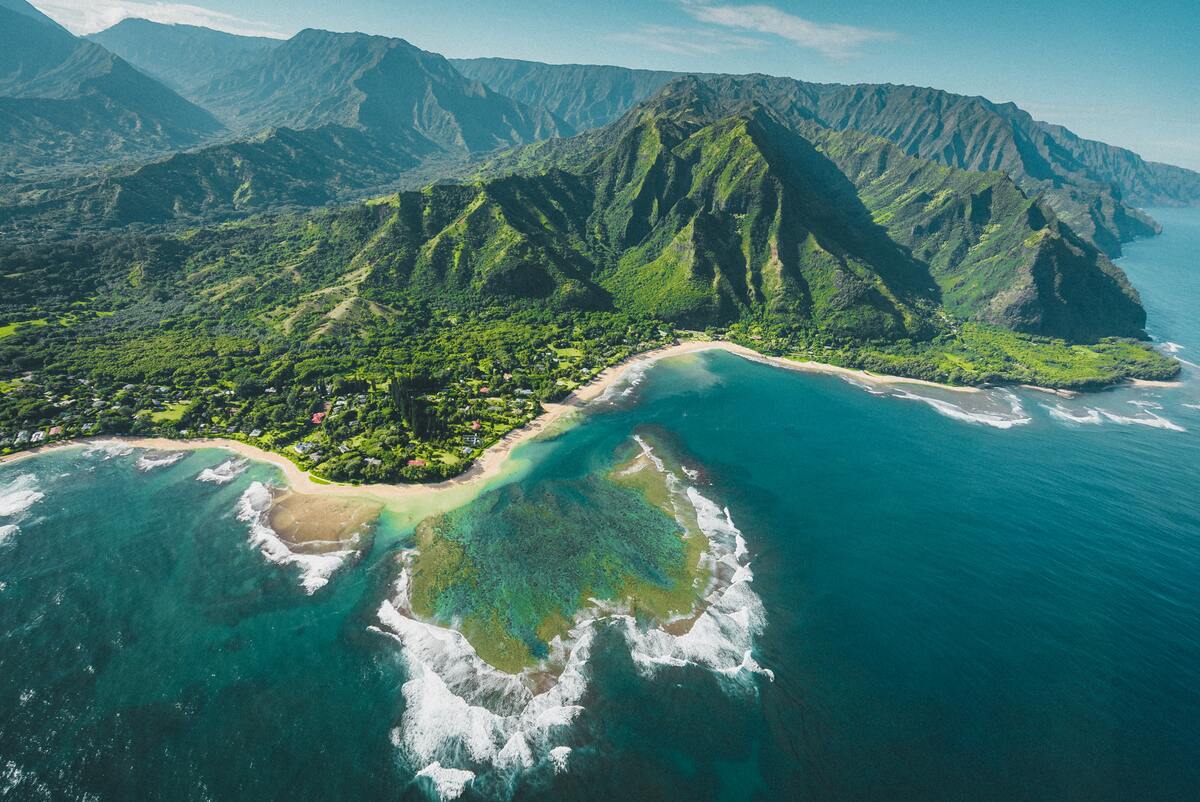 Last Updated October 2022 by Samantha Shea
---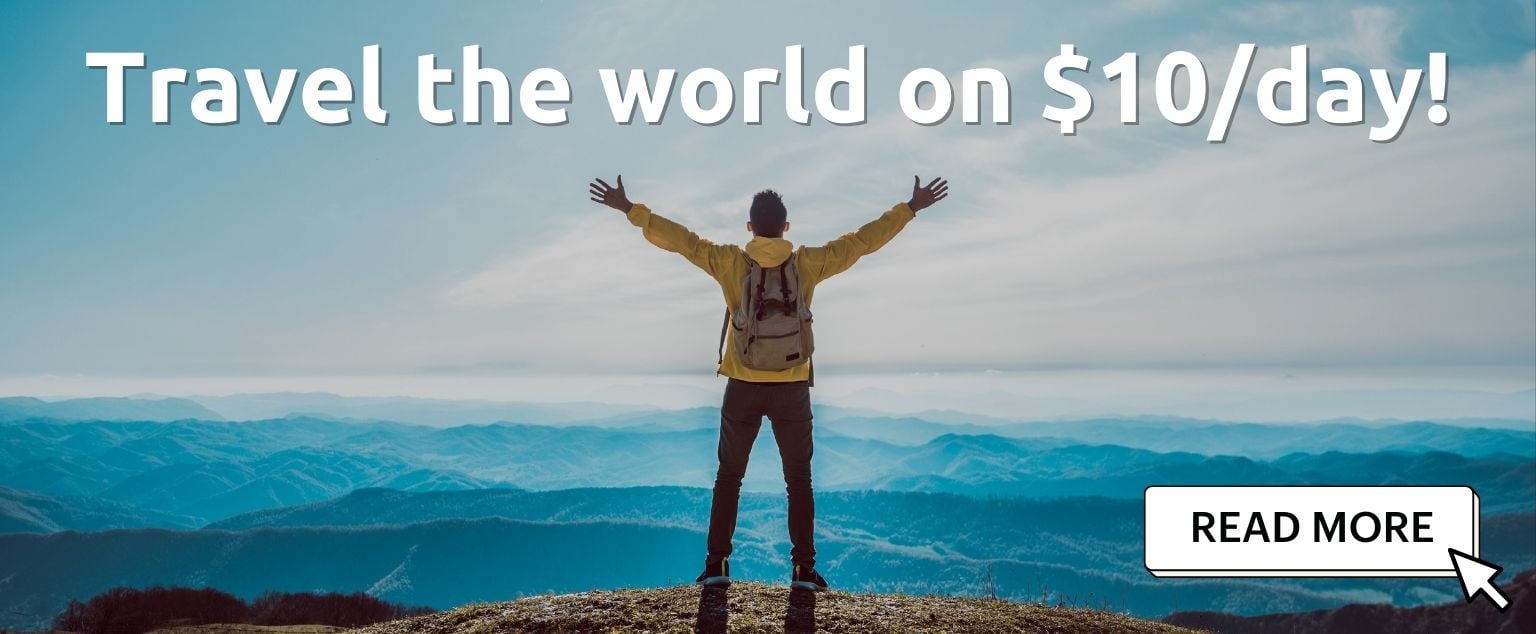 And for transparency's sake, please know that some of the links in our content are affiliate links. That means that if you book your accommodation, buy your gear, or sort your insurance through our link, we earn a small commission (at no extra cost to you). That said, we only link to the gear we trust and never recommend services we don't believe are up to scratch. Again, thank you!