It might be a cluster of lava-spewing rocks in the middle of the biggest ocean on Earth, but everyone knows Hawaii. It's super famous – and a pretty amazing place to visit. From lush jungles and even lusher coastlines to long, languorous beaches and jagged volcanic landscapes, it's a destination for chill-seekers as much as adventure-heads.
That in mind, let's be clear – Hawaii is a chain of islands with unparalleled natural beauty and the added caveat of some very pricey accommodation to match.
That is exactly why I wrote this guide to the best hostels in Hawaii 2022! This guide is your key to exploring the gorgeous Hawaiian Islands on a budget…
And there's a lot to explore: multi-colored sands (ever heard of a green-sand beach?), a slew of national parks, and the Hawaiian culture itself. And for added excitement it's all spread across different islands – channel your inner 19th-century explorer and go for it.
Obviously, Hawaii attracts a lot of different visitors. There are luxury resorts, boutique hotels, all sorts of guesthouses and homestays, but the humble hostel is something you wouldn't really expect in Hawaii, right? Well, actually there's a fair few of 'em. So we're gonna guide you through some of the best hostels in Hawaii – how's that sound?
So…? Where ya gonna stay? Let's find out…
Quick Answer: The Best Hostels in Hawaii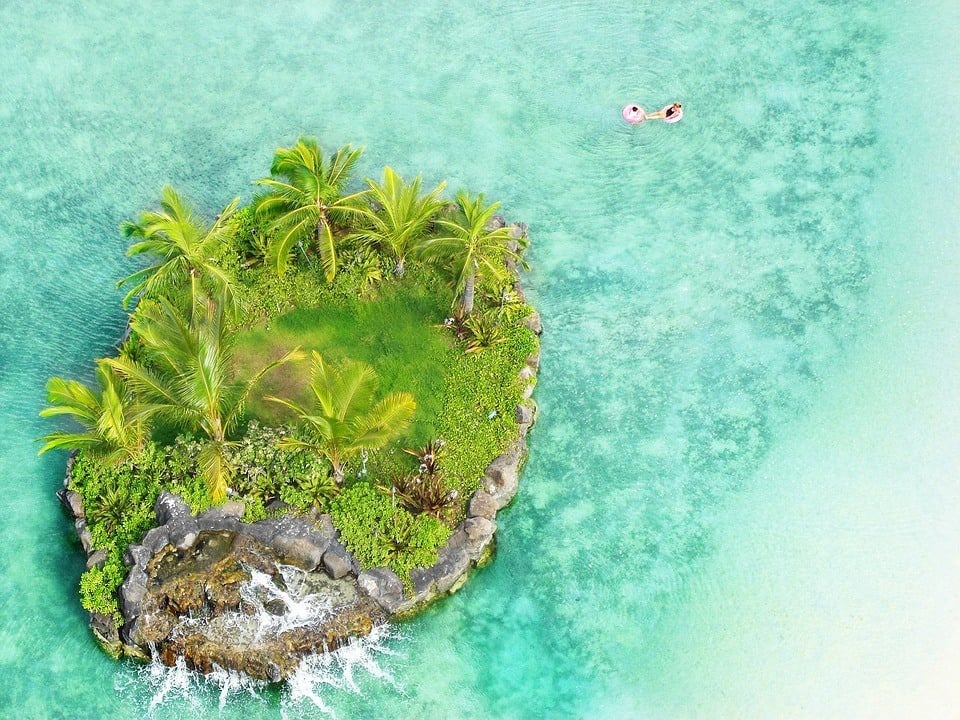 What to Expect From Hostels in Hawaii
Booking a Hawaii hostel is undoubtedly the cheapest way to see this very expensive state. Aside from being best for your budget, staying in a hostel will allow you to meet other travelers from all over the world.
As you can imagine, backpacking Hawaii is certainly not a budget travel activity–even the hostel dorm rooms can get pricey. Even so, Hawaii's hostels are still reasonably priced and often centrally located.
Typically, the larger the dorm's capacity, the cheaper the price. While not every hostel has private rooms, note that when they are available they are significantly more expensive. Airbnbs or other Hawaiian vacation rentals may provide more value. To give you a better idea, I did some research and listed the average price that you can expect from hostels in Hawaii:
Private Rooms: $120-$200
Dorms (mixed or female only): $39-$73
When looking for a hostel, you'll find most Hawaii hostels on HOSTELWORLD. There you'll be able to see all the information you need along with unfiltered reviews from backpackers just like you! In general, you can find hostels in all of Hawaii's top places to stay, but do have realistic expectations.
Honolulu – perfect for exploring the city's hotspot
Maui – for those who want to party
Hilo – the best nature vibes
Hawaii is certainly not Southeast Asia, and hostels are still relatively far and few between, though many are near the island's top attractions. But rest assured that you'll still find some fantastic options with free breakfast, tours, and social events.
The 5 Best Hostels in Hawaii
The best hostels in Hawaii are compiled in an orderly fashion below. Because we shudder to think of all the time googling and researching you'll have to do just to turn up at a place that… isn't that great.
These are the best hostels for your Hawaii itinerary, including picks for the best hostels for couples, for digital nomads, for partying, and even for solo travel.

$$
Walking distance from Waikiki Beach
Tours and activities
Free beach gear
Yikes. This place is pretty pricey but we're in Hawaii, not Southeast Asia. Not just the top hostel in Hawaii but also the best hostel in Honolulu, you'll be within walking distance of the famous Waikiki Beach.
It's closer to basic, I'd say – more homely than design-y. That said, the outside areas (especially outside the private rooms) look like they've been renovated recently and it does look pretty cool.
Speaking of outside areas, there's an outdoor kitchen you can use as well as a rooftop. Rooms are also equipped with AC, and cleanliness is a priority.
Why you'll love this hostel:
Near the beach!
Self-catering kitchen
Free equipment
It's all about the outdoors in Hawaii; you can rent watersports equipment here and some of it is free for use. The staff – who are very welcoming and very friendly – also take guests out on various tours. With the proximity to one of the best beaches in Hawaii, clean rooms, and legendary staff, this place is hands-down the best hostel in Hawaii.
Free parking
Tea/Coffee station
Whilst this place is PRICEY, it is a really, really cute and colorful Hawaii backpackers hostel. And for that I really, really like it. Sometimes hostels that call themselves 'boutique hostels' aren't very boutique, but this one is pretty cool in a cutesy kinda way. It's colorful, and it has an ideal Hilo location.
You can choose between a female dormitory room and a mixed dorm, or if you're feeling fancy, go straight for one of the private rooms. The hostel also comes equipped with a small kitchenette and free wifi.
Why you'll love this hostel:
It's colorful!
Great Big Island location
Free parking
The place is really lovely, and the staff are really nice (the owner especially), but it's a bit quiet – this Big Island accommodation isn't one of Hawaii's top party hostels.
But it's definitely our pick for the overall best hostel in Hilo. Everything's brand new here, and you can feel it. Hopefully, it stays that way! Oh, and BTW, there's free tea and coffee all day.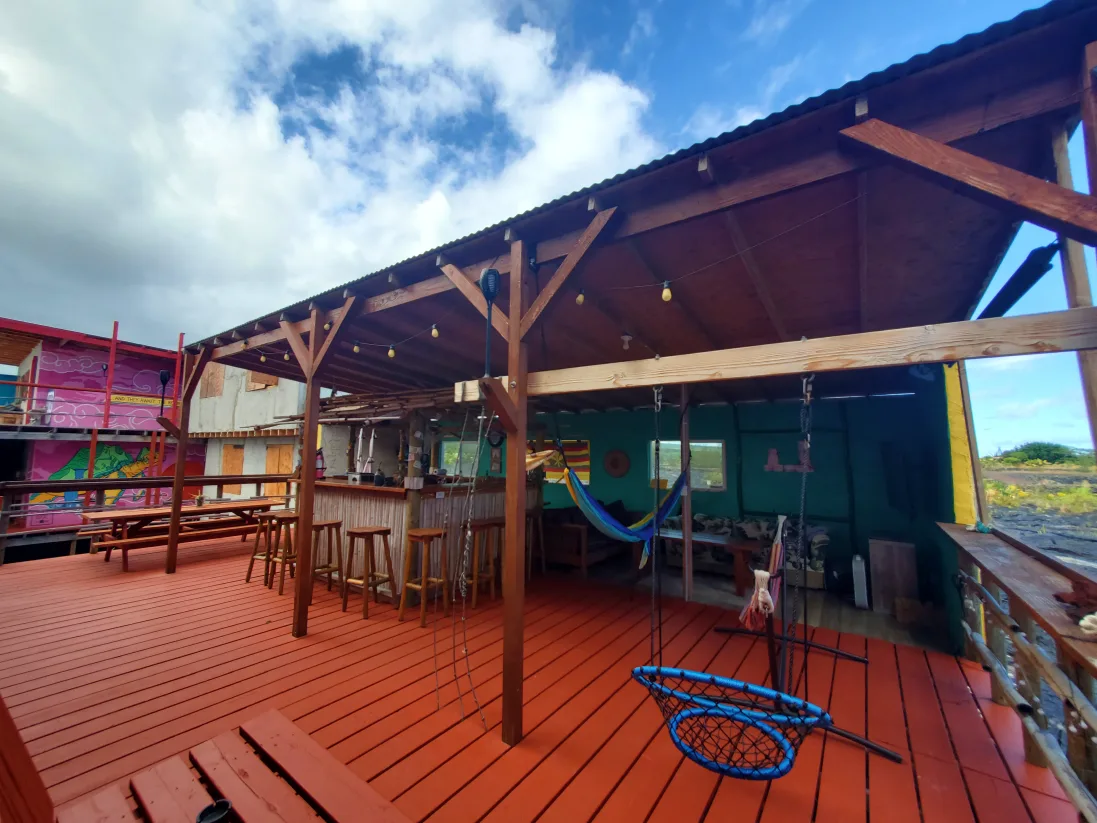 Honestly, this isn't just one of the best hostels in Hawaii, but it's also one of the best hostels in the USA! Quite literally situated on top of a lava field, Open Gate has a trendy, artistic vibe and is located in a unique area.
Why you'll love this hostel:
Outdoor tiki bar
Incredible murals
Offbeat location
To visit Pahoa is to get a feel for what Hawaii was like before mass tourism took over. The hostel is far beyond what you typically find in the States, which makes it all the more remarkable. Not to mention that the lava field location seems surreal.
You'll find a social atmosphere perfect for meeting travel buddies, bonfires, BBQ nights, and a stunning black sand beach nearby. The entire area has a real "backpackers vibe" and is right in the center of some truly rugged nature–Hawaii Volcanoes National Park is nearby.
Dorms come in either 4 or 6 bed varieties, and female travelers can choose between a mixed or women-only room. Private rooms with a shared bathroom are also on offer, though expect to pay a lot more!
4. Overall Best Hostel in Kailua-Kona – My Hawaii Hostel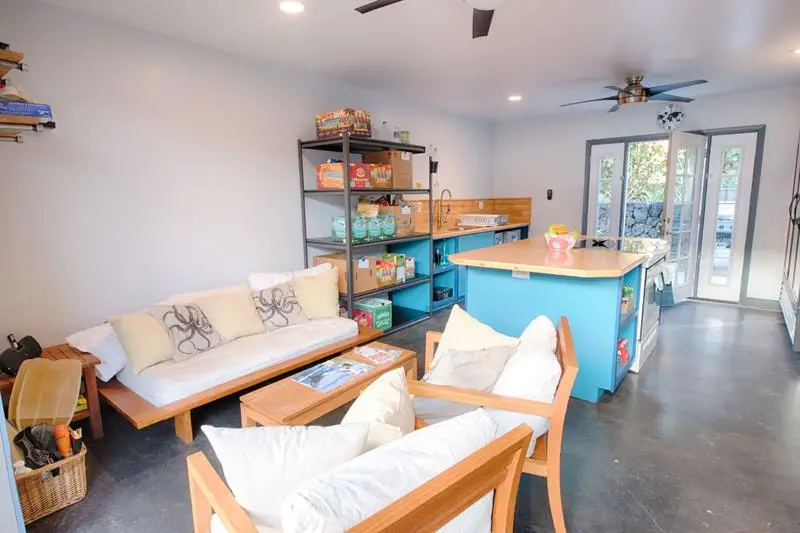 BBQ area
Watersports equipment
My Hawaii Hostel is one of the best-decorated hostels that we've ever seen! The cheapest place to stay on Kailua-Kona, and possibly the prettiest hostel in Hawaii.
Just for how well decorated it is, honestly whoever did all this has a great eye – it's all bright colors (but not too garish), muted tones, pale wood bunks, design-oriented living with an emphasis on homely-meets-minimalist. You can choose between female or mixed dorms, or alternatively, you can elect to stay in one of their private rooms.
Why you'll love this hostel:
Great common areas
Close to multiple beaches
Gear rental
So yeah, apart from looking a lot, LOT, nicer than most other budget accommodation in Hawaii, this overall best hostel in Kailua-Kona also has a greatly well-equipped kitchen, a cozy little common room, an outside terrace for BBQs, and super comfy beds.
Rooms are cleaned daily, and they also have a laundry service you can avail if you're tired of hand washing your stuff!
And, of course, staff will recommend some cool stuff to do, i.e. snorkeling/diving. You'll wanna do that. The only downside is the location since it's slightly out of town, but there's a trolley nearby, and nothing is too far to walk!
My Hawaii Hostel is one of our favourites in Kailua-Kona but they're not taking guests right now. We're not sure if they're closed for good but we hope they'll come back soon.
4. Overall Best Hostel in Maui – Aloha Surf Hostel
Aloha Surf Hostel is not JUST the best hostel in Hawaii for surfing, but it's one of the best hostels anywhere in the state. Nestled in the historic town of Paia on Maui, this top-rated backpackers hostel is THE place to go for water sports.
Why you'll love this hostel:
Free daily tours
On-site hot tub
Outdoor BBQ
Aloha Surf Hostel is consistently given glowing reviews by travelers, and boasts comfy and clean dorms as well as some truly incredible staff members. Tours often include fun activities like cliff jumping or snorkeling, and the hostel even provides a FREE pancake breakfast each morning.
You'll get to choose between a 10 bed female dormitory room or a 6 bed mixed dorm, though I bet you'll spend more time in the common areas. The social vibe peaks with a outdoor hot tub that actually works.
Never mind the fact that this epic hostel is just a few minutes from some incredible Hawaiian beaches!
Aloha Surf Hostel is one of our favourites in Maui but they're not taking guests right now. We're not sure if they're closed for good but we hope they'll come back soon.
More Epic Hostels in Hawaii
Yeah, Hawaii's top 5 hostels are fantastic, but I thought I'd give you a bit more inspiration to make your choice. Here are even more epic backpackers hostels in Hawaii, broken down by region.
The Best Hostels in Honolulu
Honolulu is the capital of the state of Hawaii and it's pretty buzzy because of that, but equally, there are heaps of Honolulu hostels to pick from due to its size.
Of course with a city comes things like high-end resorts, shopping malls, fancy restaurants – you name it, it's here (probably). Heard of Waikiki? This neighborhood's where it's at.
Beaches galore shimmer as the city embraces the sea in a wide curve of gold and blue. There are plenty of other things to do in Honolulu besides catch the surf. There's a WWII memorial here dedicated to Pearl Harbor and plenty of delicious local eats.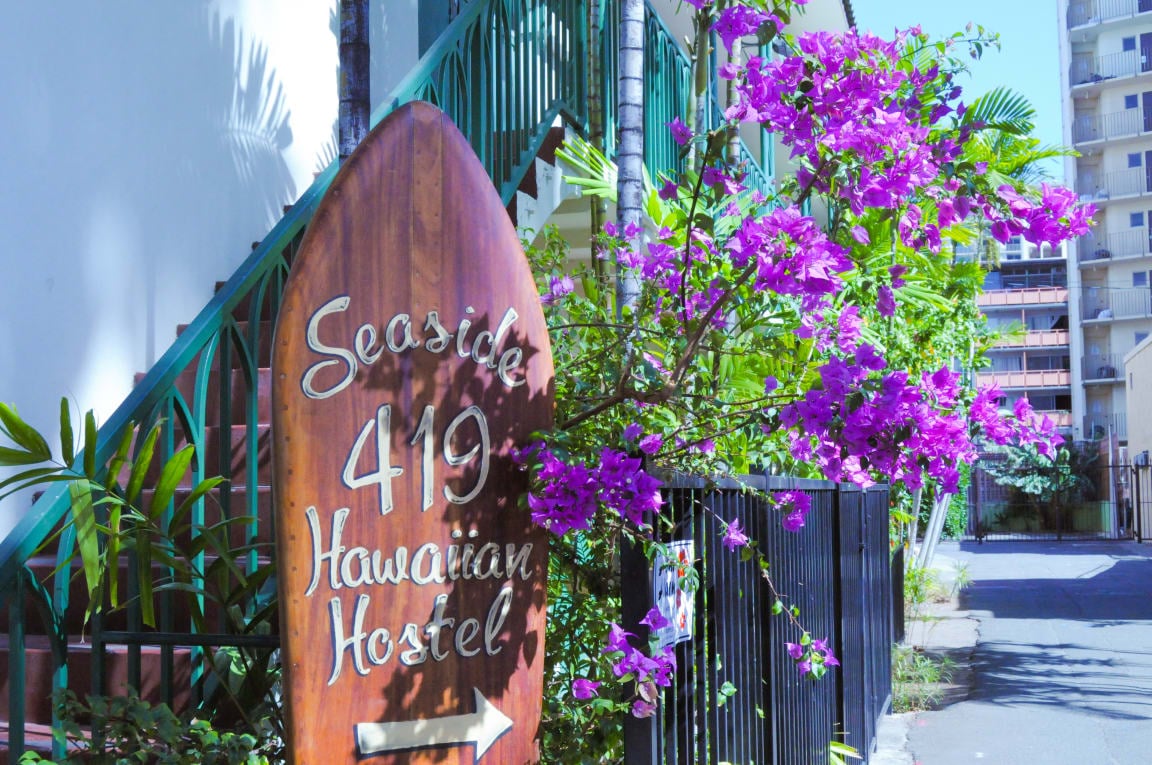 Walking distance to many places
Free coffee/tea
This top Oahu hostel is just steps away from the world-famous Waikiki beach, but that's not the only reason it made the list!
It's an adequate place to stay, let's put it that way – it's a Honolulu backpackers hostel after all. But, yeah, for that price, I'm saying it's the best cheap place to stay in Honolulu. It's situated in what seems like it used to be a hotel, so the dorms here are 'apartment style.'
The staff are friendly and easygoing, and there are some really nice areas to hang out in during your Waikiki stay. And while it doesn't have your traditional selection of private rooms, there is a semi-private room available in the female dormitory, but with a shared bathroom.
For a cheap place to stay on Oahu, this place is great. Just don't forget your eye mask and ear plugs as the dorm rooms can get bright and loud at times.
Is This the Best Backpack EVER???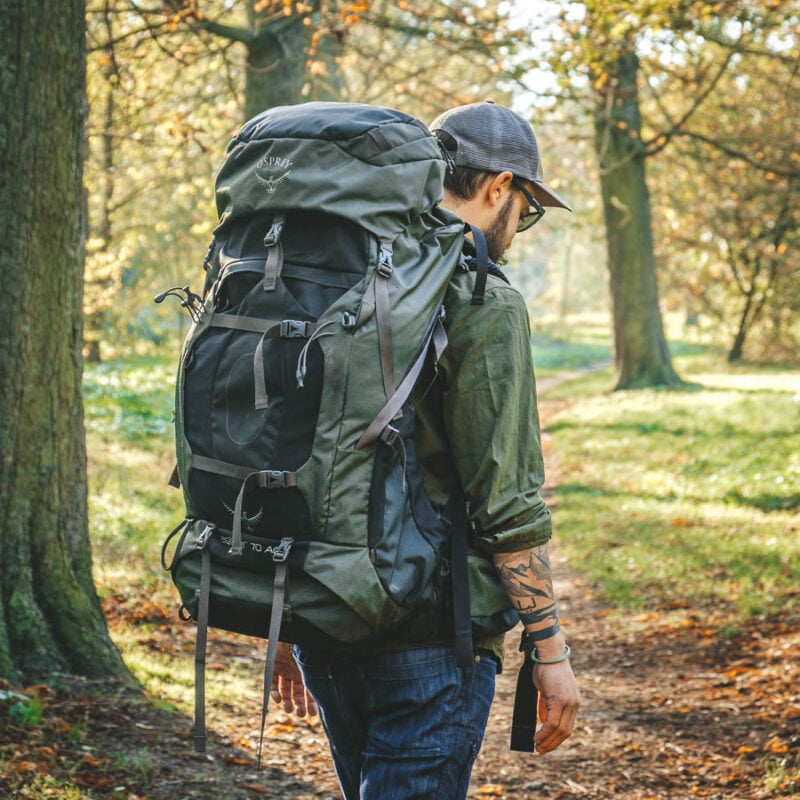 A bit of a hidden gem, Hilo is all about nature and, boy, is it beautiful. First and foremost it's pretty well known for the Wailuku River State Park, where you'll find the famous Rainbow Falls (named because of the effects of its mist).
Elsewhere there are gardens galore in the form of the stunning Hawaii Tropical Botanical Garden, and Japanese-style Liliuokalani Park and Gardens. Here, you'll also find Hawaii Volcanoes National Park, home to a luscious rainforest and actual volcanoes. Don't forget to add a good pair of shoes to your Hawaii packing list!
Best Hostel for Solo Travelers in Hilo – Hilo Bay Hostel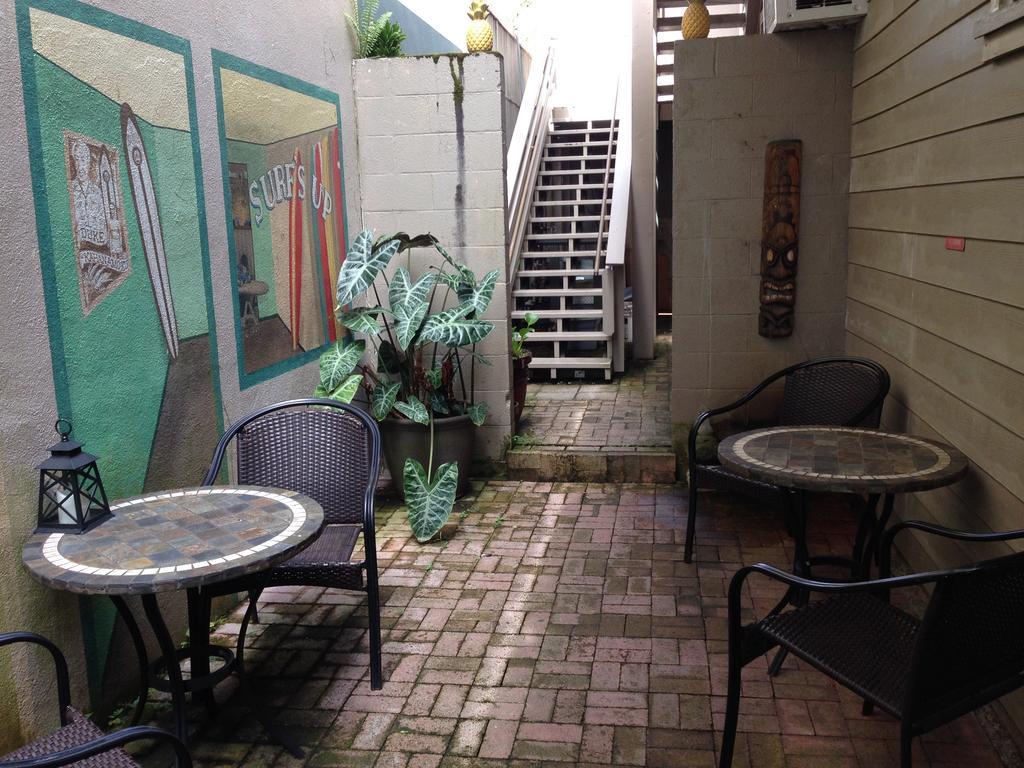 Equipped kitchen
Free tea/coffee
As far as a Hawaii backpackers hostel goes, this one is really cool. I mean, well, it's so cool that it might just be the cheapest hostel in Hawaii.
The hostel is set in an old wooden building, with lots of antique touches, making you feel like you're in a Hawaii of the past. It might feel a bit spooky-movie-esque to some, but once you get past that you can appreciate how sick this place is.
The owner is lovely, the common areas are ace – meaning you can meet people and get to know 'em super easily – and the location is downtown Hilo, which is perfect for stepping out for a bite to eat or a lil' explore.
This recommended hostel in Hawaii is deffo my pick for the best hostel for solo travelers in Hilo – maybe everyone makes friends easily here because there really IS a spooky vibe.
The center of commerce and tourism on the west side of Hawaii (that's actually what the 'Big Island' is called), Kailua-Kona is a captivating cocktail of history and, um, the sea.
It's home to Hawaii's first Christian church (1800), ancient rock art at Kaloko-Honokohau National Historical Park, and the former residence of King Kamehameha I – founder and first ruler of the Kingdom of Hawaii.
Aaaand then there's coral at Kamakahonu Beach and great kayaking to be had at Keauhou Bay. It's all here!
Best Hostel a Private Room in Kailua-Kona – Kona Beach Hostel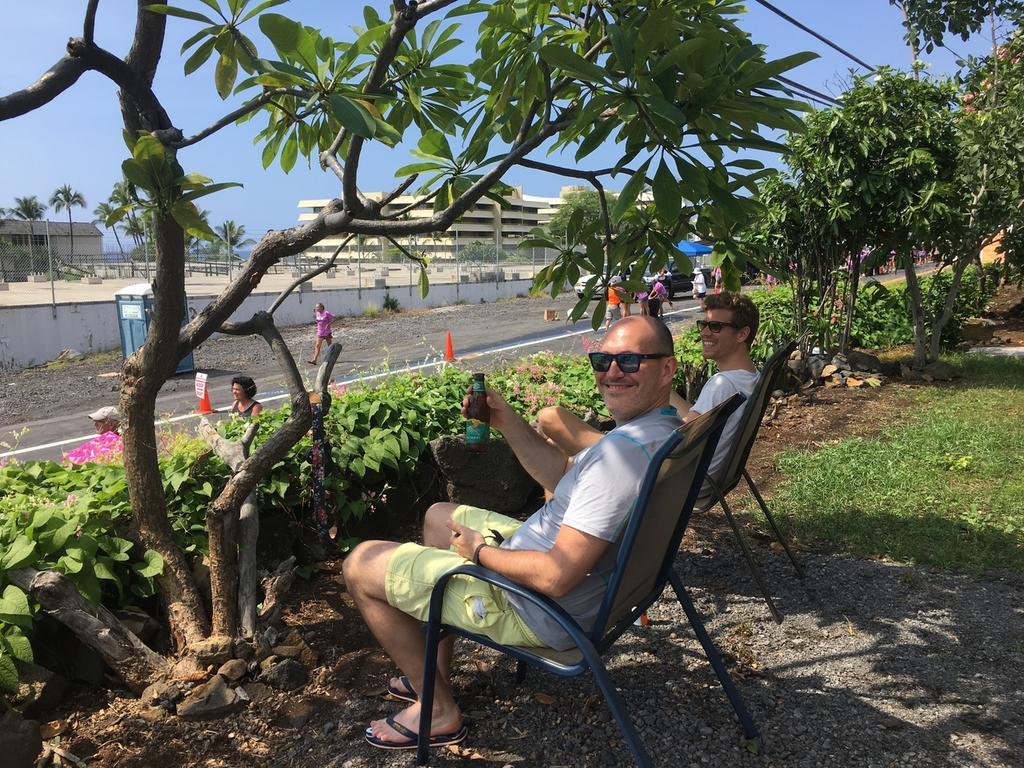 $$
Walking distance from the beach
BBQ grill
Electronic locks
Cute! That's how we'd describe Kona Beach Hostel, the best hostel with a private room in Kailua-Kona. As you might expect, the private rooms are indeed cute and you'll feel like you're staying in a cutesy seaside homestay or B&B more than a Kailua-Kona backpackers hostel.
The price is a little, hmm, pricey, but relative to basically all other accommodations in Hawaii, it's a steal. The wooden beachside cottage feel of the place definitely sells this place in terms of how charming it is, but don't be expecting an overly social vibe – there's no real common room inside, just an outdoor area.
But since this is Big Island and you're most likely gonna be driving around in a rental car all day checking out the amazing sights, well, you won't have much time for socializing all that much.
Location-wise Kona Beach Hostel is just outside of town, but it's easy to drive there or catch the bus; there's also a nice little beach just across the road from this awesome youth hostel in Hawaii.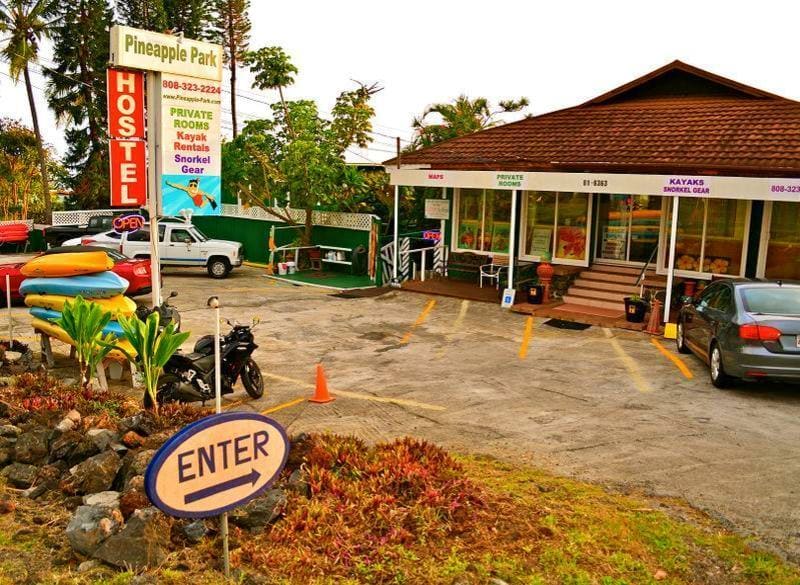 Secure free parking
Pancake breakfast
Pineapple Kona is one of the cheapest places to stay on Kailua-Kona, and is the BEST place to stay in Hawaii if you love water activities! This backpackers hostel has a view of the ocean, and offers plenty of gear, including kayaks and snorkels. Free tea and coffee is provided, and there's even a cool BBQ area!
The hostel is conveniently located near tasty food spots and stunning beaches, and features numerous relaxing common areas. You'll be able to choose between a 4 bed female dorm or a 4 or 6 bed mixed dorm, or score a private room for about double the price.
As it's located just above Kealakekua Bay, the hostel is a true paradise for snorkeling, kayaking or paddling. There's even the occasional manta rays snorkeling tour.
Staying in Maui is an essential Hawaii experience. The famous island has some of the state's most breathtaking attractions and scenery.
Luxury resorts sit up against stretches of heavenly beaches (30 miles of 'em) and azure seas, whilst inland there's the Haleakala National Park centered around Maui's highest peak, Haleakala. Maui is also Hawaii's most expensive island, so be prepared for higher prices in general.
Elsewhere you can road trip on the utterly scenic Hana Highway, or you can explore the 122 acres of volcanic landscape and black sand of Wai'anapanapa State Park. Whatever you do, staying at a hostel is a massively cheaper way to see this otherwise luxury island. Once you've booked your hostel in Maui, you can start planning your Maui itinerary.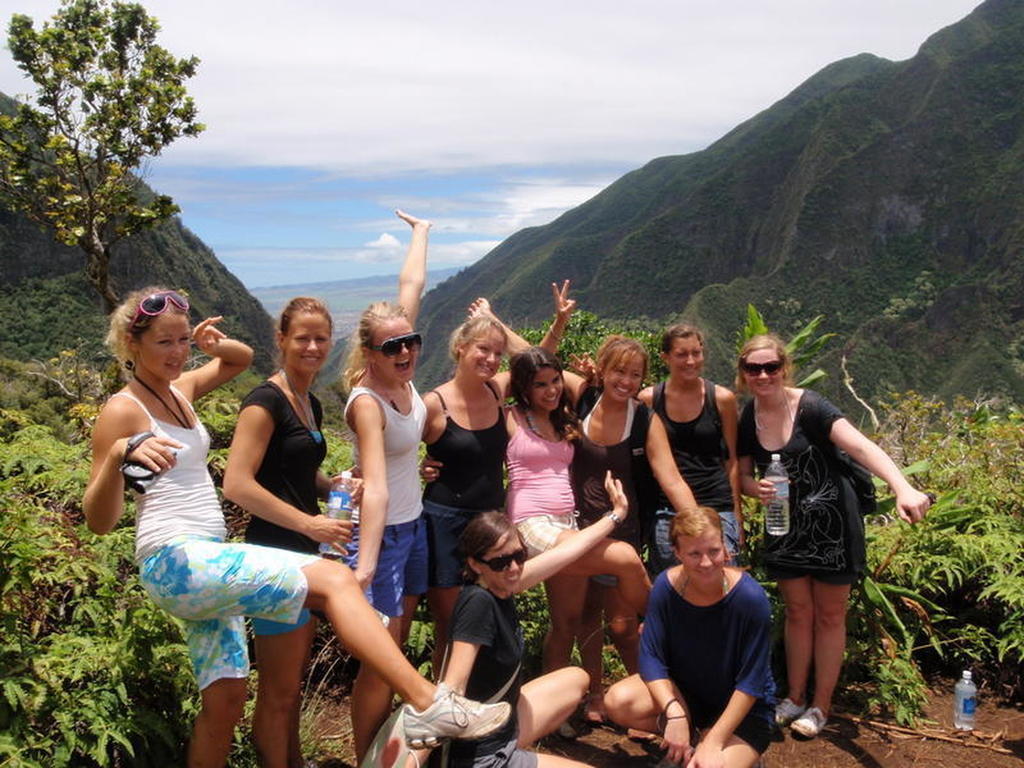 Free tours
Pancake breakfast
Wow, now, seriously, if you're looking for one of the most sociable and top hostels in Hawaii let alone in Maui – here's the place. It's called Banana Bungalow Maui Hostel, and it is THE most fun Hawaii backpackers hostel.
The staff do a great job of cultivating a welcoming and inclusive atmosphere, but aside from that it's really the FREE TOURS that help bring everyone together. Huh, what, free tours? On Maui? Yes, free tours, and yes on Maui. This budget hostel even offers free airport shuttles!
The tours include hiking the Iao Valley rainforest, going snorkeling, windsurfing at Ho'okipa, basically beaches beaches beaches when it isn't hiking and road trips.
Oh, and, um, yeah, the good vibes probably have something to do with the free keg parties, happy hours, and even free breakfast! All of this adds up to what is easily the best Hawaii party hostel. And it's only for backpackers, so you could say this is the only true Maui backpackers hostel.
Best Hostel with a Private Room in Maui – Hakuna Matata Hostel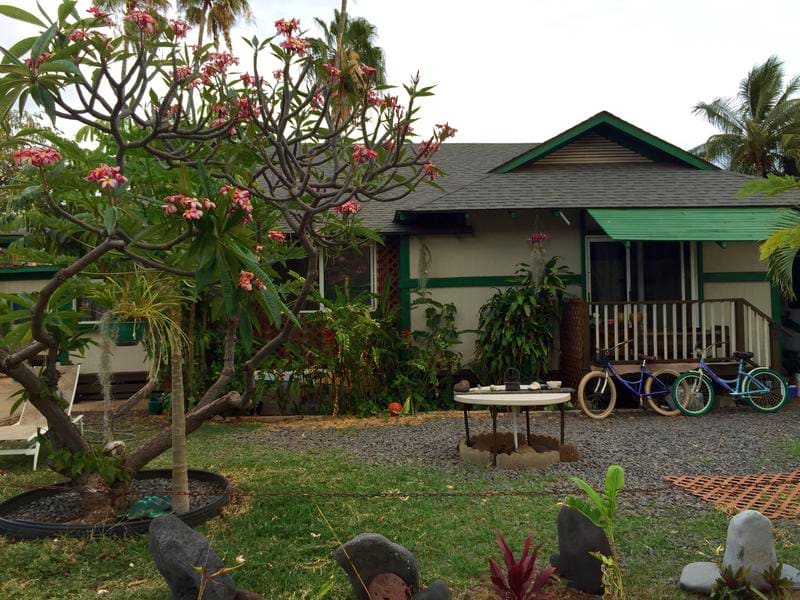 Free beach equipment
Pancakes!
The private rooms at Hakuna Matata are pretty stunning, I have to say; wood panels, beautifully made beds, and cabana-style furniture. All complete with a cool and chilled color scheme that suits the sea, these rooms look great and are also super comfortable. Boasting one of the best locations on Lahaina Beach, it's so easy to sink into a chilled Maui lifestyle with the sea and sand so near to you.
Bicycles, kayaks, surfboards, and various other beach equipment is FREE to use at this hostel, which makes being on the beach so much better than just sitting on it – which is pretty nice as is.
And if you don't fancy being ON the beach at any point in time for whatever reason, there's a very nice view of the sea from the backyard gardens of this epic Lahaina location, where you can sit and chill in peace.
Even whilst staying in a private room, you're bound to meet and make friends with other guests here, as the vibe is social and friendly without straying near the realm of partying. But those rooms though, little slices of beachside cottage heaven, honestly. It should be no surprise that this is one of the best hostels in Maui!

Our GREATEST Travel Secrets…
Pop your email here & get the original Broke Backpacker Bible for FREE.
FAQ on Hawaii's Hostels
Here are some questions backpackers ask about hostels in Hawaii.
Travel Safety Tips for Hawaii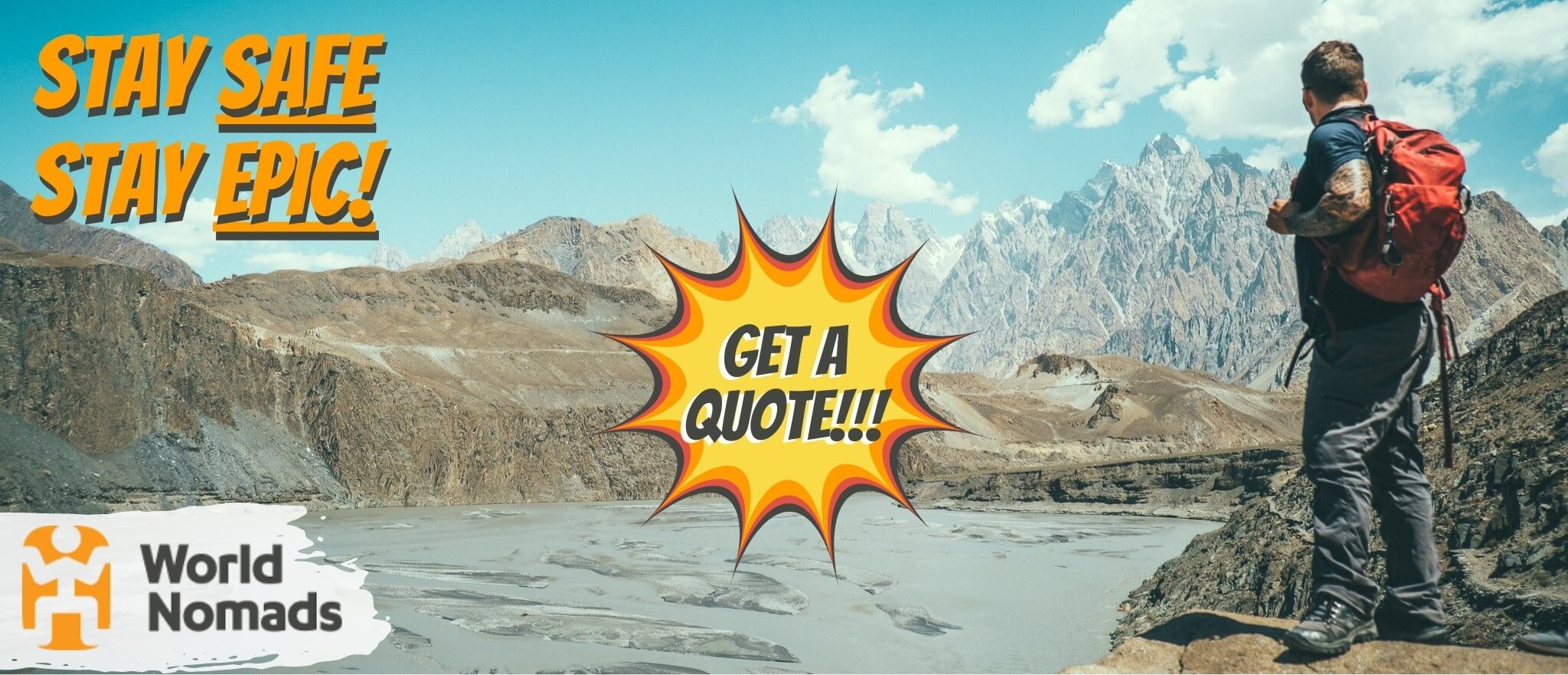 World Nomads' mission is to support and encourage travellers to explore their boundaries. They offer simple & flexible travel insurance, and safety advice to help you travel confidently.
They've been doing it since 2002 – protecting, connecting, and inspiring independent travellers just like you.
Get a quote below or read our in-depth review!
World Nomads provides travel insurance for travelers in over 100 countries. As an affiliate, we receive a fee when you get a quote from World Nomads using this link. We do not represent World Nomads. This is information only and not a recommendation to buy travel insurance.
More Epic Hostels in USA and North America
Hopefully, by now, you've found the perfect hostel for your upcoming trip to Hawaii.
Planning an epic trip all across the USA or even North America itself?
Don't worry – we've got you covered!
For more cool hostel guides around North America, check out:
Over to you
By now I hope our epic guide to the best hostels in Hawaii has helped you choose the perfect hostel for your adventure!
From beach-side digs to a hostel that's literally located in a lava field, it's no doubt that Hawaii's hostels are some of the best in the entire USA.
So what are you waiting for? The most beautiful state in the country is just begging to be explored. Book your ticket and your hostel and get ready to say Aloha to paradise!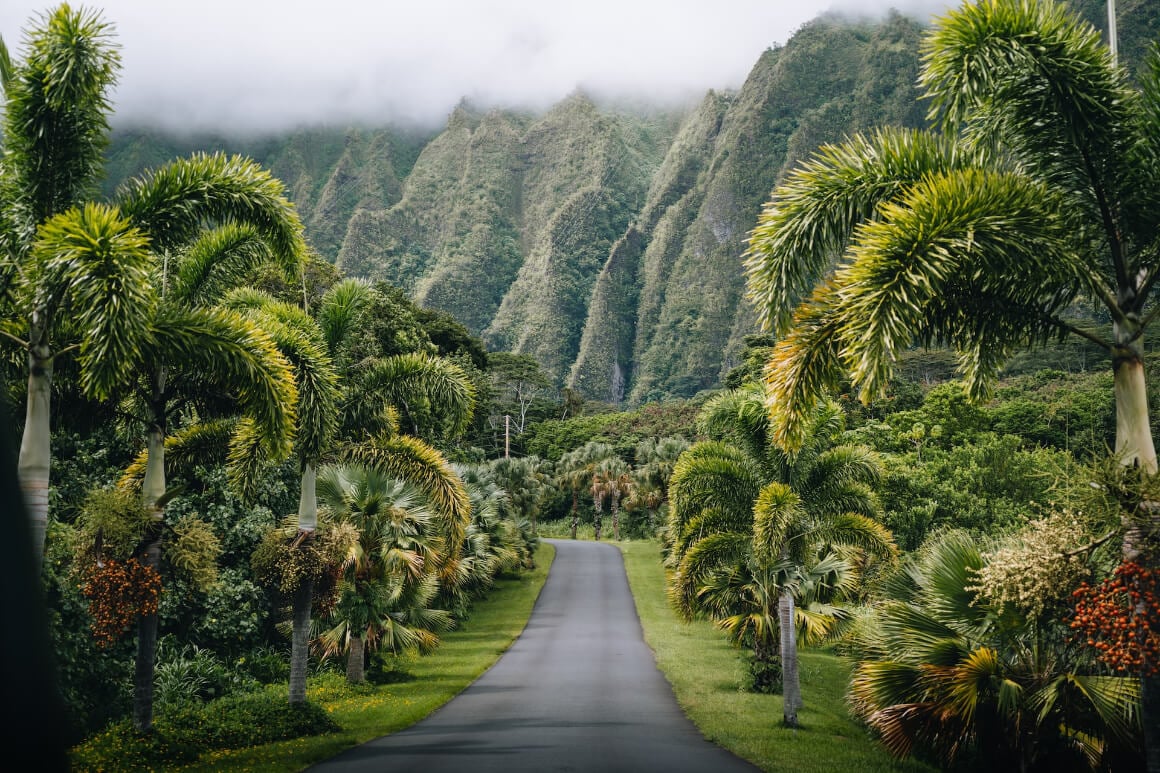 ---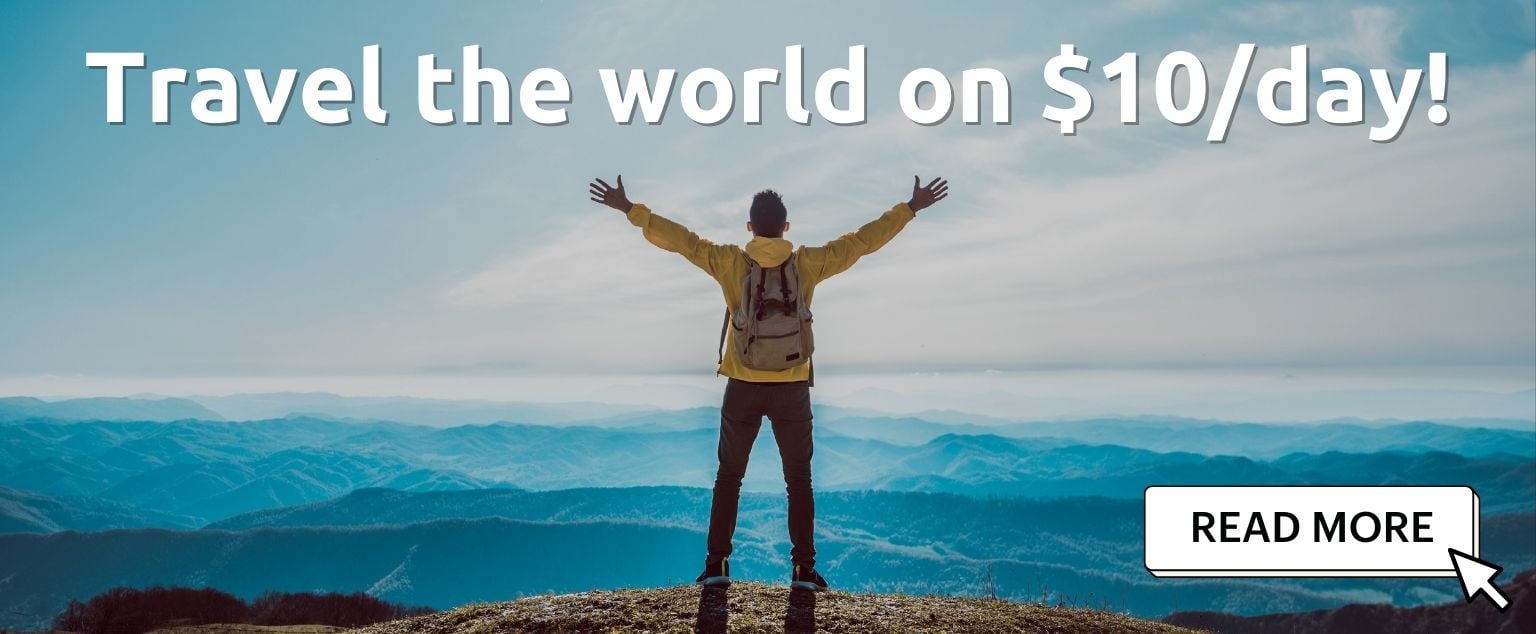 And for transparency's sake, please know that some of the links in our content are affiliate links. That means that if you book your accommodation, buy your gear, or sort your insurance through our link, we earn a small commission (at no extra cost to you). That said, we only link to the gear we trust and never recommend services we don't believe are up to scratch. Again, thank you!