It's not hard to understand why you've decided to make Hawaii your next backpacking travel destination. Also known as the "Aloha State", the "Paradise of the Pacific" and the "Rainbow State," it's as every bit as friendly, divine and magical as it sounds. You're sure to find your own little piece of paradise among these U.S. islands.
Made up of eight main islands – with Oahu, Kauai, Maui and the Big Island as the state's most popular – Hawaii offers every traveler plenty to see and do. If you know what and how to pack, you don't need a whole lot to make your Hawaii adventure the best it can be. And that's why we're here – to give you the how and what to pack for Hawaii!
Below you'll find your step-by-step Hawaii survival guide with everything you want to know about your Hawaii packing essentials. Its contents contain a top 23-needs packing list, advice on what to wear in Hawaii and how to pack by the seasons and weather conditions. Also included are suggested items for guys and gals for their own packing needs and what NOT to pack for Hawaii.
So sit back and have a read through all the helpful material that's been compiled just for you, fellow backpacker. And before you know it, you'll be all prepared and jetting off to all the splendor that is Hawaii – the land of Aloha! Aren't you lucky?
Ok then, let's get to it…
Top 23 NEEDS for Hawaii – Hawaii Packing List
#1 – Nomatic Travel Bag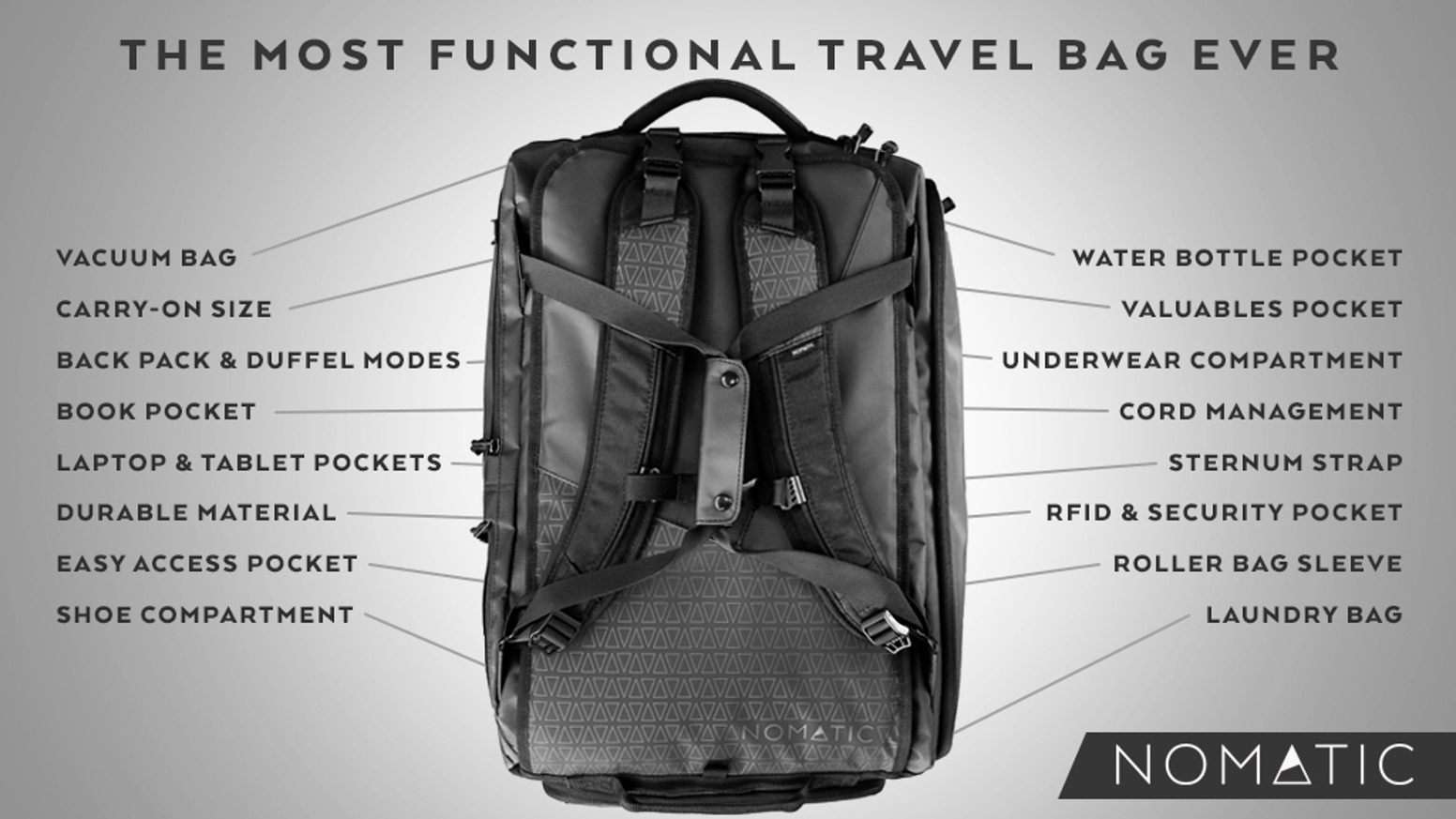 Backpacking through any destination requires, well, an amazing backpack! There's no pack we recommend more than the Nomatic Travel Bag as the best for every type of traveler. It takes care of everything you'll need for what to pack for Hawaii, with special pockets and separate compartments that make it easy to pack it all in. It's made with waterproof, top-quality material you can be sure will stand the test of time – and adventure!
#2 – Active Roots Security Belt
Taking basic safety precautions is a must when traveling anywhere – no matter what the destination. There's no safer way to stash your cash than by carrying it on your person and hidden from view. A wearable accessory like the Active Roots Security Belt is smart because it looks like a regular trouser belt from the outside but conceals a small zipper pocket on the inside – we appreciate its subtlety and simplicity!
Need a little more storage?
When moving from place to place, you should keep your travel documents and other valuables on your body. Your carry on isn't safe, even when it's under your seat or overhead.
A full-sized money belt that stays tucked under your clothes keeps your documents and cash organized during your travels and assures nothing critical gets left behind or stolen.
#3 – World Nomads Insurance
When doing a final review of your what to take to Hawaii checklist, be sure you haven't left off travelers insurance. The best thing about World Nomads Insurance is that they offer reasonably priced plans that cover all unexpected cases – not just medical services but also emergency evacuation, travel cancellations, lost baggage, stolen items – things you don't want to end up having to pay for out of pocket. The peace of mind is worth it.
#4 – Active Roots Water Bottle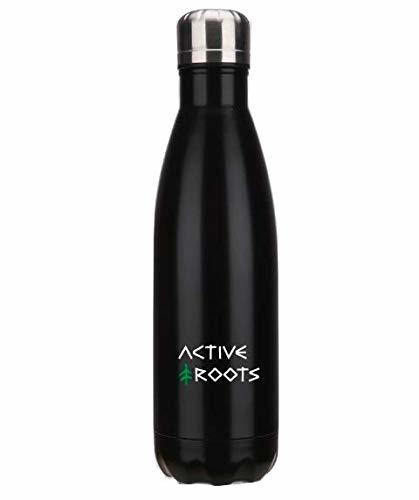 All of your outdoor activities in mostly-sunny Hawaii weather will quickly dehydrate you if you're not drinking enough water all along the way. And, luckily, Hawaii has some of the safest potable tap water. Take advantage of this natural (and free!) water with an insulated stainless steel Active Roots Water Bottle. It will keep your 25 ounces of water pleasantly cold for 24 hours and help keep you going.
#5 – Combination Lock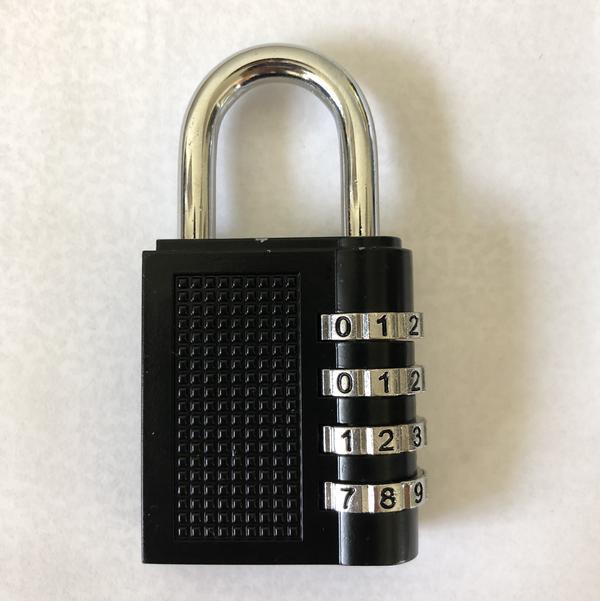 Hawaii is safe but crime does still occur. An easy and simple safety precaution all backpackers should take is keeping their travel bag locked. Especially when staying in hostels with shared rooms, you don't have much control over who has potential access to your bag. A small and travel-friendly lock like the Active Roots Combination Padlock is inexpensive and easy to use. It locks with a combination that you can reset any time – which is good – in case you forget the combo.
#6 – Skeletool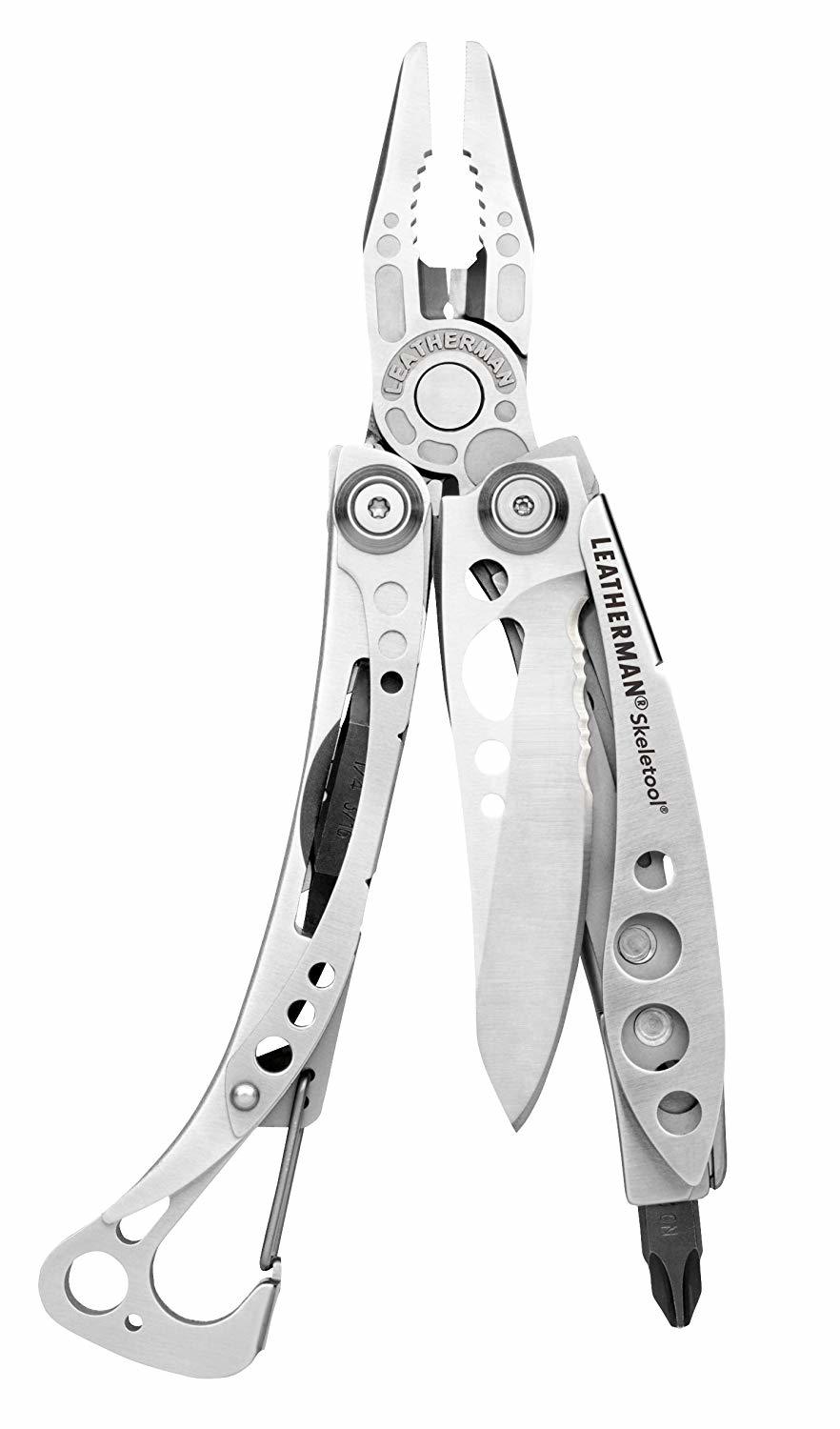 If you don't have a small multi-tool to use for travel, we recommend having one on your what to pack for Hawaii list. We love Skeletool because they offer a variety of different tools in compact models that pack away easily in your day bag. If you pick up some delicious, juicy mangoes at a vendor stationed on the side of Hana Road – you'll want that small knife to dig right into them as an on-the-go snack!
#7 – Active Roots Microfiber Travel Towel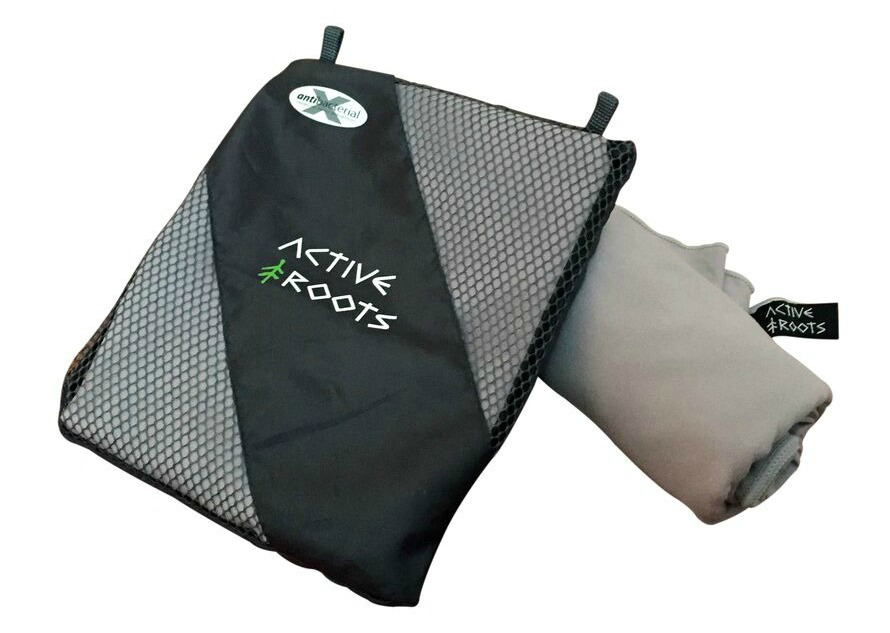 If there's one thing you can be sure of in Hawaii, is that you'll be getting in the water! So be sure that a travel towel is on your what to take to Hawaii checklist. Between snorkeling, waterfall escapades, and just enjoying a dip in the ocean – you need a lightweight Active Roots Microfiber Travel Towel you can easily tote around. It dries in under an hour and is made of anti-bacterial material, so there's no need to deal with a heavy and stinky wet towel.
#8 – Active Roots DayPack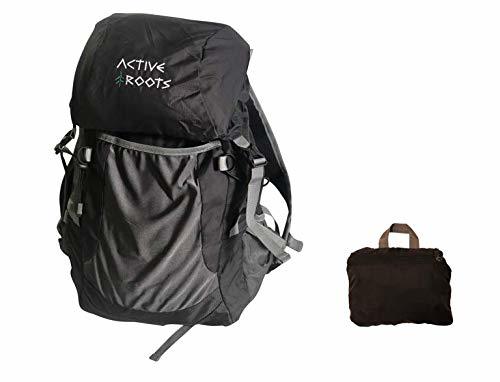 It's always worth having a daypack with you whenever you travel but often NOT worth carrying something bulky around. The Active Roots adventure daypack is hands down the best foldable day pack around, it comes with a water bottle holder, folds down super small yet provides plenty of space for your day-venture and is tough and sturdy.
#9 – Fairywill Electric Toothbrush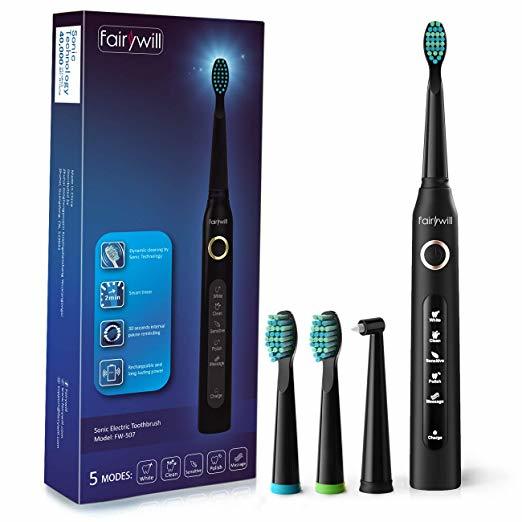 Maybe traveling with an electric toothbrush instead of the regular store-bought kind hasn't crossed your mind before. But, as huge fans of the Fairywill Electric Toothbrush, we recommend making the switch. Once you feel how super clean and healthy your teeth feel in comparison, you'll never go back! And it's traveling friendly, weighing just 55 grams and can be used for 30 days with just one 4-hour recharge.
#10 – Beach Bag
Hawaii is definitely a destination where a beach bag that's roomy and has a lot of pockets is very handy and useful to have. It helps to have a bag that's waterproof and lined at the bottom to keep sand out and a waterproof pocket inside that can hold your e-reader safely. Mesh material allows air to flow and lets any wet contents breathe and dry easier too.
#11 – Waterproof Dry Bag
If at any point getting on a boat for is a part of your Hawaiin itinerary – like diving, snorkeling, whale watching, or a sunset cruise – or any water situation where your valuables could get dunked and wrecked, you'll want a waterproof dry bag. It's the only way to save your wallet, camera and everything else from drowning! Because the bag is water-tight after being rolled and sealed, it will float for easy rescuing.
#12 – SunGod Sunglasses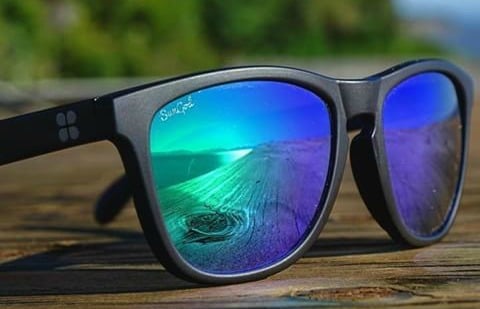 All island-based destinations require a stellar pair of sunglasses, making SunGod Sunglasses one of your important Hawaii packing essentials. SunGods are perfect because you can customize them with the lenses and frame color of your choice, but they're durably built for performance. With triple-layer scratch resistant lenses, they can handle almost anything; but if you manage to damage them anyway, each pair comes with a lifetime guarantee of free repair.
#13 – Travel Jungle Gym Set
Whether you're traveling for a weekend or for a year, it's difficult to keep your usual workout routine on the road. There are loads of workouts online to print and follow, but there's nothing like being in a gym with proper exercise equipment. Enter: Monkii Bars. You can set up your workout station anywhere – hotel rooms, mountainsides, your backyard – and the pocket gym comes with its own app so you can learn the ropes (cough, cough) of staying fit on the road!
#14 – Waterproof Camera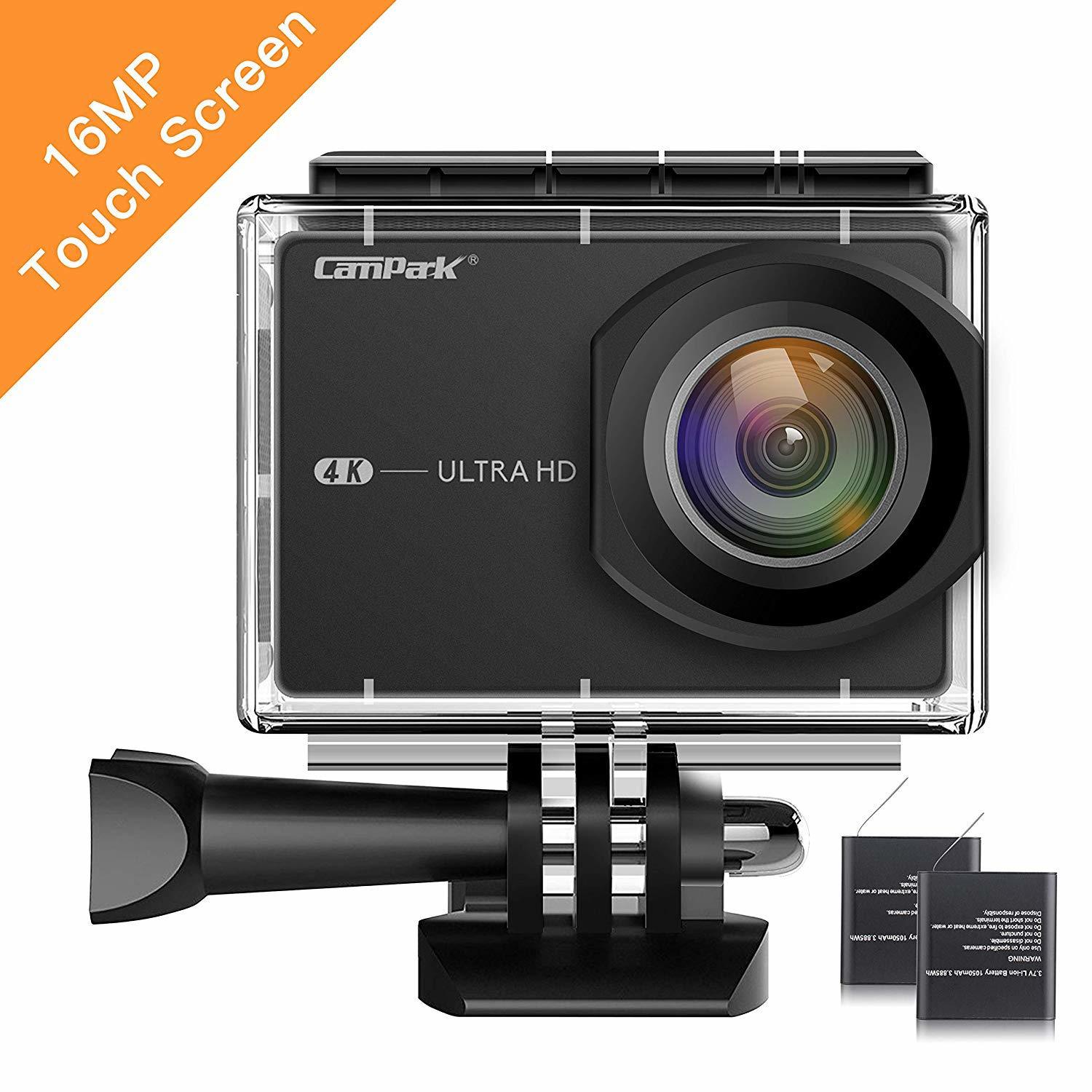 Most of Hawaii's most stunning sights are found around and below the water – which means a waterproof camera makes a lot of sense! The beaches, rain forests, waterfalls, tide pools, and turtles are all photo-ops you want to capture in high resolution. You can get an HD action camera that won't break the bank and can take amazing photos up to 30 meters below water. These are the types of shots you'll be framing and hanging up on your wall – you'll see!
#15 – Protective Cell Phone Pouch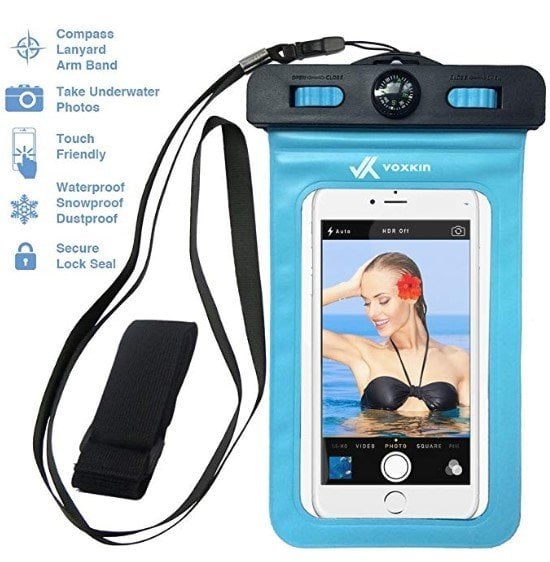 Everywhere we go, our phones come with us. But as you well know, dropping them or damaging them is so easy – no matter how careful you try to be! When you're out and about in Hawaii – for whatever type of activity it might be – it's smart to keep your cell phone in a protective holder pouch that shields it from water, dirt, sand and impact. The last thing you want to do is deal with a broken phone – talk about a travel-buzz kill.
#16 – Sun Hat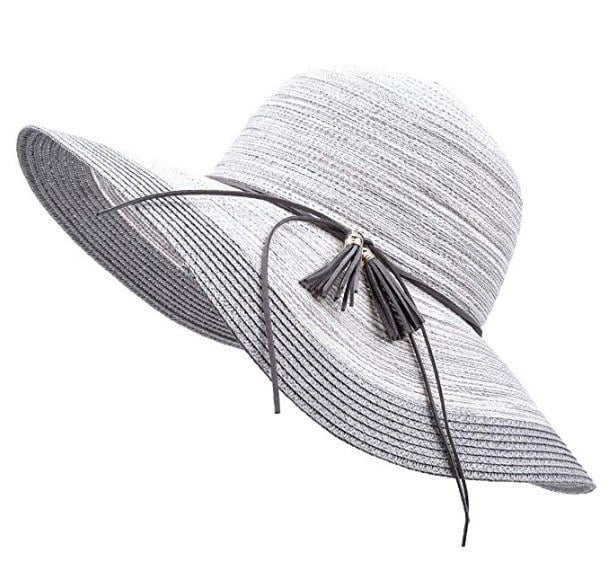 Even when using plenty of sunscreen, your face needs extra protection from prolonged sun exposure. Hats are the best way to shade this sensitive, sunburn-prone area, and fit right into Hawaii fashion. Wide-brim hats make for perfect sun protection – and lovely photo accessories – for women. You see lots of guys in Hawaii wearing wide-brim straw hats that really provide effective coverage and work for all types of activities.
Check Price on Amazon Check Price on Amazon
#17 – AR Toiletry Bag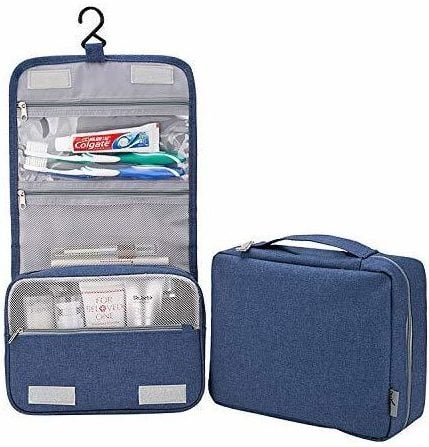 Another backpacker favorite for staying organized is a hanging toiletry bag. It's extremely helpful to have all of your accessories neatly gathered in one bag that you can hang for easy accessibility, especially when counter space isn't plentiful or even available. A well-organized bag is worth having whether you're tree whilst camping or a hook in the wall – it helps to have quick access to all your stuff.
#18 – Mosquito Repellent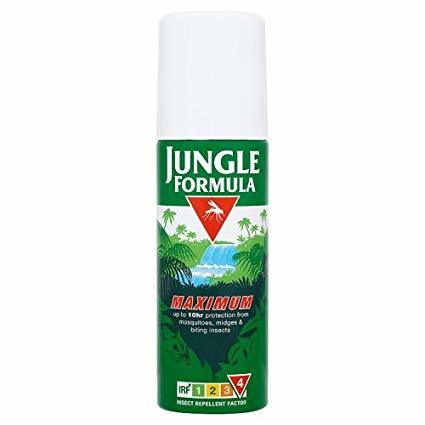 Mosquitoes love hot-weather environments that are surrounded by water – so they love Hawaii! Their bites are itchy and annoying, and you'll want to prevent getting bitten as much as possible. We recommend having a DEET-containing repellent, like Jungle Formula Maximum Range, on your what to pack for Hawaii list. It's available in pump spray, aerosol and also in roll-on if you want to reduce your number of liquid carry-on items.
#19 – Reef-safe Sunscreen
A broad-spectrum and reef-safe sunscreen is absolutely one of your what to pack for Hawaii essentials if you want to avoid having to endure any painful sunburns. But most sunscreens on the market have toxic chemicals that are known to harm marine life, and you need to do your part to protect Hawaii's delicate ecosystem by using the reef-safe kind. It's important to respect and take care of your skin – and the environment – in every way you can.
#20 – Portable Charger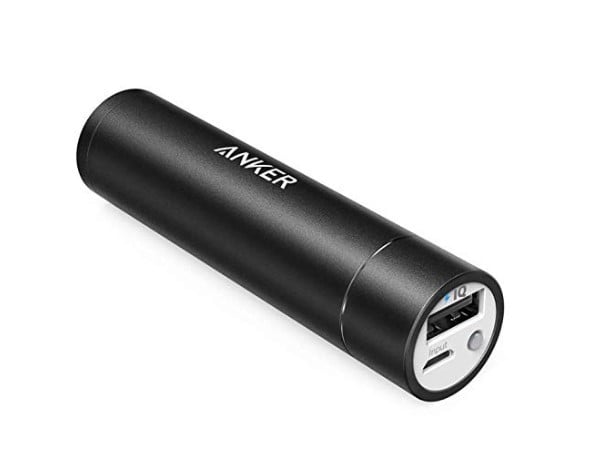 When on long day trips and away from an electrical outlet, it's easy to quickly end up with dead or dying electronics. If you want to avoid that panicky feeling you get when you see your phone battery icon turn red when you're using it to navigate back from unfamiliar surroundings, you best have a back-up power source. That's when a compact portable charger that easily – and almost weightlessly – tucks away into your day bag, comes to the rescue.
#21 – E-reader or Kindle
Hawaii isn't a fast-paced, hustle-and-bustle type of place and will likely bring out the laid-back and casual side of you. Enjoy it by taking a break from the extreme and just spending hours lounging on the beach or in a picturesque shady spot with an ocean view. Nothing better for moments like these than getting lost in a good book. Instead of carrying heavy books, pack an e-reader or Kindle that will give you days and weeks of reading material without the bulk!
#22 – Beach Mat
As handy as travel towels are, they won't be big enough for laying on for hours at the beach. You'll want a spacious, quick-drying beach blanket that you can spread out on the sand that won't get folded up by onshore winds and cover you in sand! Get the kind that folds up into a nice, compact tote for easy packing and transport, and you'll be beach lounging in true comfort.
#23 – Travel First Aid Kit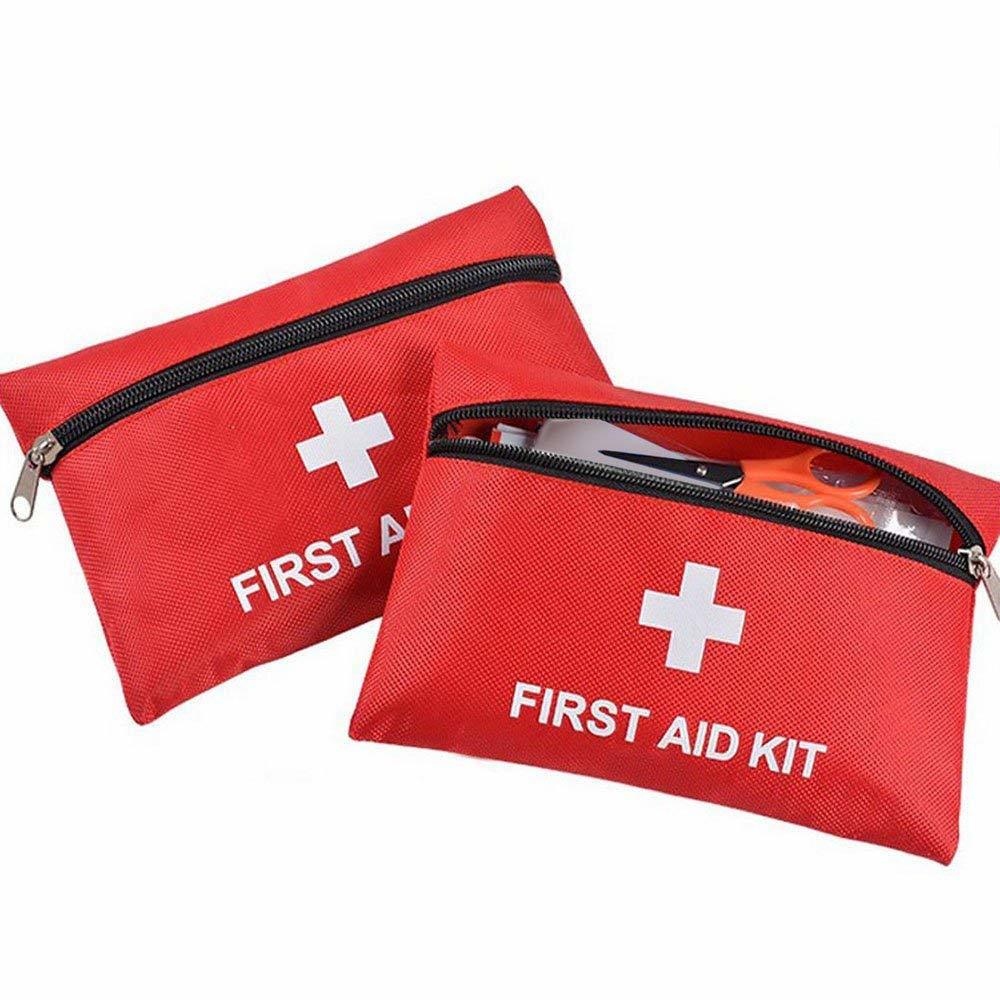 All backpackers need to travel equipped with a small first aid kit that contains basic first-aid essentials. To prevent infection – even with the most minor cut or open wound – you need to have a disinfecting ointment and bandage in order to quickly disinfect and cover it properly. Simple items like band-aids are also good to have on hand for blisters or scrapes.
What to Wear in Hawaii
If you'd describe your sense of style as more on the casual, laid-back end of the spectrum, you'll feel right at home with Hawaii street fashion! Chill is the name of the game, and you don't have to worry about getting too fancy when figuring out what to wear in Hawaii.
Because you'll find mostly warm conditions, plan to wear lightweight and breathable clothing made with cotton, cotton blends, and linen to stay the most comfortable. You'll see most locals in beach attire – shorts, tanks, tees, sundresses and summer pants. Many parts of the islands get fairly chilly in the evening, so you'll want a light jacket or sweater for what to wear in Hawaii at night.
For outdoor activities – like hiking volcanoes or through the rainforest – wear quick-drying and breathable clothing items. A moisture-wicking shirt with a pair of convertible hiking pants and hat are the most practical choices.
For a night out involving a nice dinner and drinks, be sure to have a dressier outfit. But nothing too over the top. A sundress or maxi dress for women, and a pair of chino pants with a button-down short-sleeve shirt for men is plenty for laid-back Hawaii street fashion.
Let's get into more details on how to pack according to seasons and weather conditions.
Visiting Hawaii in Summer
Many would consider all of Hawaii's months as its summer months! Hawaii weather is so pleasantly warm year-round compared to most parts of the world, that it's easy to see why. Hawaii's summer season starts early – around mid-April or May and continues well into June, July, and August. You'll find average daily temperatures of 85° F (29° C).
There is no "bad" time to visit Hawaii, but be aware that August and September are the hottest months with the most humidity, so extreme outdoor activities may feel more exhausting than usual. Also, the tourist season is at its peak during this time. This means, that Hawaii can get quite expensive during this time too. The most popular spots – like Honolulu and Maui – will be crowded with families and travelers enjoying time off from school. Be sure to book any summer travel well in advance.
When packing for what to wear in Hawaii in summer, you'll want your beachwear and lightweight clothing to keep you cool. Shorts, tanks, t-shirts and sundresses – and definitely your swimwear.
Check out these Hawaii outfit ideas: for women, a pair of jeans shorts and a loose-fitting boho halter tank. Accessorize with a sun hat and sunglasses, and you're golden! For men, a pair of black or grey quick-dry hybrid shorts and a sleeveless surf shirt. Replace the sleeveless shirt with a button-down short-sleeve shirt, and you've converted the outfit into one that's perfect for what to wear in Hawaii at night!
Visiting Hawaii in Fall
Fall – weather-wise, fall conditions in September and October don't differ much from those of summer. By November, you'll find a slight decrease in temperature with daily averages around 77° F (25° C).
Autumn is an ideal season to visit Hawaii. By mid to late September and October, some of those bustling tourist crowds have dispersed, and the weather is overall warm and perfect for all types of outdoor leisure. You may encounter some more rain in November, so you'll want to have a light rain jacket and umbrella as part of your fall gear.
For how and what to pack for Hawaii for the fall, you can stick to your summer-type staples with some layering options. Since Hawaii fashion is so laid back, pack items that will keep you the most comfortable for your types of activities. You'll still want all of your swim and beachwear, shorts, t-shirts, lightweight pants, and tanks. Pack appropriate active gear for hiking types of excursions. Be sure to bring along a light jacket and a cardigan for the chillier evenings to ward off any cooler breeze or winds.
Visiting Hawaii in Winter
As we mentioned, there is no "bad" time to go to Hawaii – and winter is no exception. You'll find rainier conditions, and you should be aware that swimming conditions in the ocean of the north coasts are sometimes dangerous. Be mindful of lifeguard signs and surf updates. But average temperatures stay warm across the islands at an average 75° F (22° C)
For the tourist-crowd averse who wants to travel in winter, you may want to avoid the winter holiday season. This is considered Hawaii's second peak tourist season – after summer. If you do want to spend the holidays on the islands, just be sure to book all of your accommodation in Hawaii. But the rest of winter is great, and it's perfect for surfers – as this is the season for big-wave surf. Oh, and it's whale season too! Be sure to catch some awesome sightings of these big guys in Maui's waters.
When packing, you'll want your swimsuits, shorts, tanks, t-shirts, pants, and dresses. Have a light rain jacket packet along with a light sweater or cardigan for evenings.
Need some non-beach day winter Hawaii outfit ideas? For women, a perfect outfit is a wide-leg pants romper with an open cardigan to layer on. Rompers are stylish and lightweight, so you'll be comfortable in warm and cooler weather, should temperatures fluctuate throughout the day. For men, a pair of light chino pants and a short-sleeve linen shirt always makes for a classy Hawaii fashion look.
Visiting Hawaii in Spring
Spring – along with fall, the spring months are considered Hawaii's other shoulder season. Rain is still possible in many parts of the islands; oftentimes, the showers hit hard as they're passing through, but the sunshine is quick to return. You'll find average daily temperatures of 80° F (26° C) and rarely does it ever get below 65° F (18° C).
Spring is bursting with life, flowers, and fresh air – again, making it a gorgeous time to explore the islands. Another bonus of spring travel is that it marks another lull in the tourist season. And it's whale season until May, so you still have a chance to watch these lovely creatures in action. Have your camera ready!
For what to pack for Hawaii for spring, the same rules apply – bring lightweight and airy casual clothing. Pack your moisture-wicking attire for hikes and outdoor treks. Of course, don't forget your beachwear and a dressier outfit for that more fancy night out! Be sure to have a lightweight jacket and sweater too.
What Shoes to Pack Hawaii
Thanks to casual, beach-style Hawaii street fashion, you can stick to the same theme when it comes to what shoes to pack for Hawaii. Keep it simple by sticking to shoes that meet your needs for beachwear and outdoor activities.
Your go-to daily footwear is likely to be a pair of comfortable flip-flops. They're what most people of the islands wear both at the beach and for casual jaunts around town. A fashionable leather pair is even acceptable for what to wear in Hawaii in summer for evening appetizers and cocktails by the beach; ladies can easily dress them up with a flowy sundress and guys with a smart pair of chino shorts and a collared shirt.
For more extreme outdoor activities – like hiking and volcano trekking – pack a pair of sturdier shoes. You'll want hiking sandals for better foot support and traction. You may even opt for a pair of slip-on water shoes that help you stay upright on Hawaii's wet trails and slippery rocks!
If you do want to spice it up beyond flip flops for what to wear in Hawaii at night, sandals are perfect. Casual slip-on shoes for men work just as well. In other words, keep your heels and dress shoes at home!
Check out our in-depth review of the best travel sandals!
Females – What to Pack for Hawaii
Here are some items just for you ladies to consider as you prepare what to pack for Hawaii!
For Fashion
For fashion – you'll undoubtedly be spending lots of time in your bikini or one-piece swimsuit – between all the beachside and water-based activities, it's pretty hard not to. More often than not, you'll keep your swimwear on and go straight to a cafe to grab a bite to eat or go walking around for some beach boutique shopping. A beach cover-up is your best option because they're easy to just throw on and be ready to go. Not to mention that they're super stylish and look flattering on everyone. Add on your summer hat, and you'll really nail Hawaii fashion like a pro!
Pack accessories that keep you safe!
Infinity scarves are chic and classy, but some even provide a hidden pocket to keep your valuables.
The Active Roots Zipper Scarf is your run-of-the-mill infinity scarf but with a hidden pocket that's big and sturdy enough for a night's cash, your phone, a passport and (hell with it) some snacks too!
For Comfort
For convenience – after you've cleaned up from the beach, and are ready for a relaxing night of mai tais – you don't want to carry around a huge bag for just a few items you need. And it won't look very cute with your going-out outfit either! We suggest packing a small crossbody bag that will compliment your look and allow you to conveniently carry around your phone, a bit of cash, credit card and a sheer-tinted lip gloss.
Males – What to Pack for Hawaii
Hey fellas, as you're preparing what to pack for Hawaii, here are some tips for you too!
For Sun Protection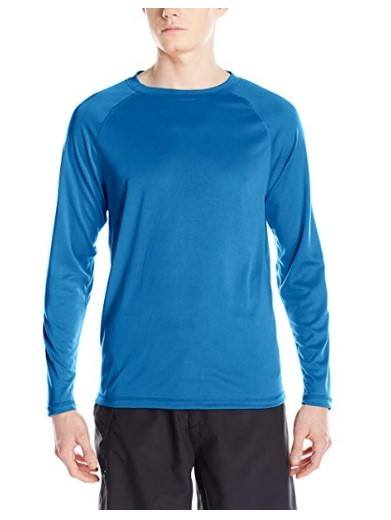 For sun protection – between time at the beach, surfing, snorkeling, kayaking – and more – you'll be getting more sun exposure than you may realize. We highly suggest packing a rashguard shirt to give your upper body protection from the sun's strong rays. And because they're quick-drying and breathable, they're also perfect outside of the water for other sweat-generating activities like hiking and tide pool exploring.
For Fashion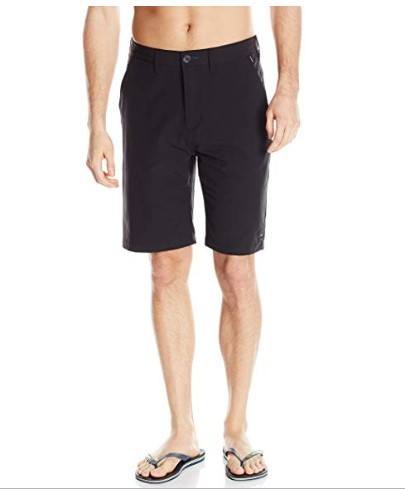 You're going to need at least 2 pairs of board shorts since they'll be your main Hawaii fashion staple. They're obviously needed for the beach and other water-based recreation – but we recommend that you have at least one pair be hybrid board shorts that can be fashionably worn in water and on land. They're the perfect two-for-one!
We also recommend a versatile UV buff that you can use as a moisture-wicking headwear option in addition to your sunhat. You can wear this thing any way you want – as a headband, a neck gaiter, a beanie or as a full head and neck cover. They're useful for a lot of different activities and easy to tuck into your pocket for any time use.
What NOT to Pack for Hawaii
That's all of it for what to pack for Hawaii – now here are some tips for what NOT to pack for Hawaii:
Don't pack irreplaceable valuables. You're at much higher risk of losing things while traveling and moving around from place to place. Unless it's an absolute necessity for your trip, play it safe and leave such items at home.

Don't pack thick or heavy clothing. Not only will you not need them, but you also won't want to wear them in Hawaii's tropical weather. Instead of long jeans, pack linen pants or cotton blend pants. Instead of a heavy jacket, pack a lightweight jacket or sweater for chillier evenings.

Don't snorkeling equipment. Unless you really have room for it, the most you'd want to bring is a mask and snorkel for personal-use purposes. Otherwise, you'll find all diving equipment easily at nearby shops and stands. Don't bother with the weight and bulk of bringing your own.
The Best Backpack to Pack for Hawaii
As a globetrotting backpacker, you carry your livelihood on your back – literally. So, it's crucial that you have a backpack that's top quality, spacious, expertly crafted, built to last, modern and sleek. It's because of all of this that we wholeheartedly recommend the Nomatic Travel Bag as the best backpack to pack for Hawaii.
The Nomatic travel bag is as smart as it is functional. While being a compact carry-on size bag, it manages to fit in so much gear because of its smart design. All of the built-in compartments leave plenty of room for everything on your what to pack for Hawaii list – including separate pockets for your shoes, electronics, water bottle, socks, and underwear. They've even added in an RFID security pocket for safe measure.
If all those souvenirs and chocolate-covered macadamia nuts get extra heavy, the Nomatic bag has detachable sternum and waist straps to help lighten the load! Its unique strap system also lets you choose between backpack or duffle bag configuration.
It's black, waterproof material is both rugged and sleek – making it a perfect combo of tough and sexy! We're pretty sure you'll fall in love with the Nomatic travel bag in no time.
Final Thoughts on What to Pack for Hawaii
And that's it, friends! You've come to the end of your Hawaii survival guide! You have the full download on everything there is to know about what to pack for Hawaii. Keep it simple and stay focused on the info we provided: your top-23 needs packing list, pointers on what to wear in Hawaii and how to pack for its seasons; you also have packing tips specifically for guys and gals, and what NOT to pack for Hawaii.
Just pack light and smart – and don't forget to bring along your hula hips, your warmest smile and friendliest Aloha!
Also – don't forget to sort your travel insurance! We've put together a roundup of the best travel insurance for backpackers, or if you're low on time, get a quote from World Nomads now, our favourite travel insurance provider.
Yay for transparency! Some of the links in this post are affiliate links. This means that if you book your accommodation through the site, The Broke Backpacker will earn a small commission at no extra cost to you. Your support helps me keep the site going.
---
Need More Inspiration?
Like this post? PIN ME!!!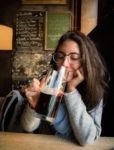 Writer and Editor, Ana Pereira is a California native, inspired by Earth exploration and introspection. Recently, she spent several months exploring Africa and South Asia. She spends most of her "down-time" out in the wilderness, climbing, hiking, and beyond, and is feverishly passionate about travel and health.