Hawaii is a tropical wonderland of amazing beaches, excellent surfing, volcanic landscapes, and relaxed island living. It's the kind of bucket-list destination that offers a little something for everyone, whether you're an adventurer or a sun-seeker, or someone just looking for a deeper connection with yourself and nature.
On an island so blessed with natural beauty, it's no surprise that the list of the best eco-resorts and eco-lodges in Hawaii is continually expanding. Options are becoming increasingly varied to suit the tastes and budget of eco-conscious travellers from all walks of life. Whatever your travel style and desired experience, there's a unique accommodation option in Hawaii to suit.
We've created this list of some of the best eco-resorts ad lodges in Hawaii to illustrate this growing variety of options for you to choose from. All of the properties will offer you a unique and memorable stay, while also taking steps to protect the environment.
In a Hurry? Here's Where to Stay in Hawaii for One Night
First Time in Hawaii
Rainforest Eco Cabin
This quaint forest cabin offers off-the-grid living in a tranquil area of the island. The cabin is an ideal base from which to explore all that The Big Island has to offer. It's fully equipped with all the essentials, offering great value for money.
Places to visit:
Akatsuka Orchid Gardens
Hawaii Volcanoes National Park
Kehena Black Sand Beach
Is this amazing Hawaii Eco-Resort and Eco-Lodge booked for your dates? We've got your back with our other favorite properties below! 
Why Stay in an Eco-Resort in Hawaii? 
The more you discover about a destination, the more memorable your trip will be. Eco-resorts will allow you to get close to nature while learning about the local culture and heritage.
Whether you choose to stay overlooking Hawaii's incredible beaches or high up on the volcanic slopes, you'll enjoy an experience of this magical island like no other. Plus, you get the added benefit of knowing that your stay is having a minimal impact on the environment. 
What is an Eco-Lodge?
An eco-lodge or eco-resort is any accommodation that strives to respect and protect the environment. This is done by committing to various initiatives that minimize the impact of its operations. Methods include using renewable energy, eliminating single-use plastics, composting, and recycling.
It isn't just about the environment, however. It's also about supporting and uplifting local communities. Part of this committment means supporting local businesses and artisans, making use of local guides and experts, and offering guests a way to understand and experience local cultures.
OVERALL BEST VALUE ECO-LODGE IN HAWAII
OVERALL BEST VALUE ECO-LODGE IN HAWAII
Rainforest Eco Cabin
> $
> 2 guests
> Cosy and private eco-cabin
> Forest location in a tranquil setting
BEST VALUE ECO-LODGE IN HAWAII
BEST VALUE ECO-LODGE IN HAWAII
Main Lodge at Hawaiian Retreat
> $
> 2 guests
> Rustic wooden jungle lodge
> Farmhouse feel in a secluded location
BEST ECO-RESORT FOR COUPLES
BEST ECO-RESORT FOR COUPLES
Fairmont Orchid
> $$$$
> 2 guests
> Luxurious resort offering extensive facilities
> Beachfront location; white sand and crystal waters
MOST ECOLOGICAL ECO-RESORT IN HAWAII
MOST ECOLOGICAL ECO-RESORT IN HAWAII
Hawaii Island Retreat at Ahu Pohaku Ho'omaluhia
> $$
> 2 guests
> Ocean views and 50 acres of lush gardens
> Sustainable stay without sacrificing comfort
BEST ECO-RESORT FOR FAMILIES VISITING HAWAII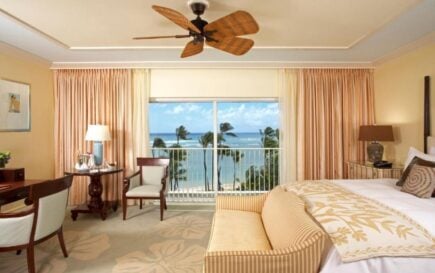 BEST ECO-RESORT FOR FAMILIES VISITING HAWAII
The Kahala Hotel and Resort
> $$$
> 5 guests
> Situated on a private beach
> Entertainment for the whole family
BEST ECO-LODGE FOR BACKPACKERS
BEST ECO-LODGE FOR BACKPACKERS
LOLIA Eco-village
> $
> 4 guests
> Private room in a nature lodge
> Convenient and comfortable off-the-grid living
AMAZING LUXURY ECO-LODGE IN HAWAII
AMAZING LUXURY ECO-LODGE IN HAWAII
Kai Malolo
> $$
> 6 guests
> Kai Malolo means Quiet Seas
> Spacious and modern oceanfront home
The Top 15 Eco-Lodges in Hawaii
This list features a sample of the best eco-resorts and eco-lodges in Hawaii. These will not only offer you a memorable and comfortable stay but are committed to sustainability and environmentally conscious practices.
If you are serious about sustainable travel, then you can also consider only using ethical, sustainable or even vegan travel gear.
What is the One Item Every Traveller NEEDS???
There is one item every traveller NEEDS. Some travellers don't even know they need it, but those travellers need it more than anyone.
What is this forgotten essential of the backpacker-life? SPOILERS! Guess you'll just have to click the button to find out. 😉
Find Out What It Is!
Overall Best Value Eco-Lodge in Hawaii – Rainforest Eco Cabin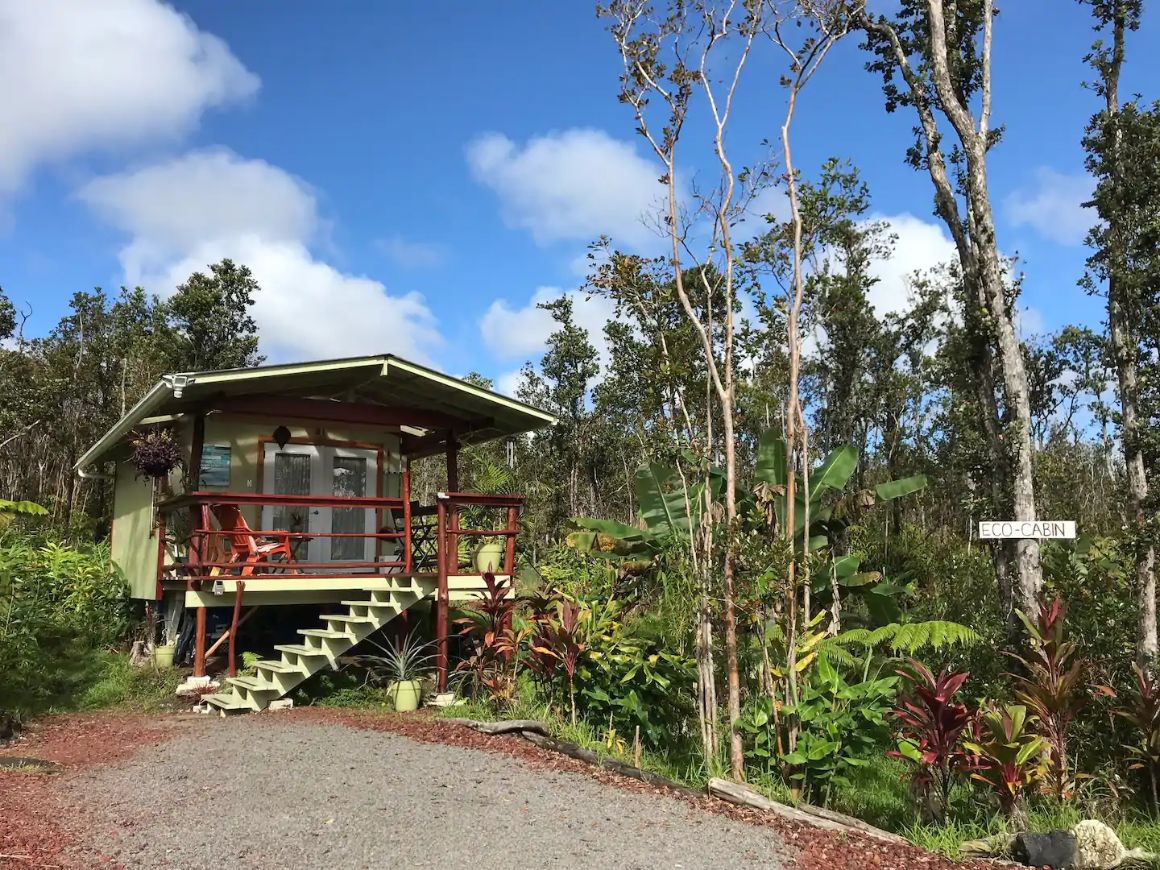 $
2 guests
Cosy and private eco-cabin
Forest location in a tranquil setting
Rainforest Eco Cabin is hidden in a leafy setting within easy reach of all the island's top attractions. The cabin is compact but provides everything needed for a comfortable stay.
During construction, only the essential amount of land was cleared to prevent disturbing too much of the natural vegetation. Water is provided from a rainwater collection system and filtered for consumption, and electricity is solar-powered. 
From the cabin, it's a short drive to Hawaii Volcanoes National Park and the black sand volcanic beach at Kehena. Guests can rent scooters to explore all that The Big Island has to offer, including Akaka waterfall and Hilo beaches. Because of all this thriving nature nearby, this accommodation is one of our favourite places to stay near Hilo.
$
2 guests
Rustic wooden jungle lodge
Farmhouse feel in a secluded location
The Main Lodge at Hawaiian Retreat offers all the comforts of home set deep in the Hawaiian jungle. The accommodation is on the second floor and features ample indoor living space. There are also two large porches overlooking the lush foliage of the forest. 
The lodge features all-natural wood interiors and is 100% off-grid. It's located on a certified organic farm and permaculture food forest. The lodge focuses on reducing consumption and recycling wherever possible. 
Guests can fully relax in this tranquil setting; read a book on the porch, visit the various farmyard animals (chickens, ducks and roosters) or take a stroll through the gardens. Gentle tidal pools, rugged coastline and black sand beaches are a short drive away.
$$$$
2 guests
Luxurious resort offering extensive facilities
Beachfront location; white sand and crystal waters
The Fairmont Orchid is a sprawling beach resort on the Kohala Coast. It offers stylish rooms, luxurious amenities, and a wide variety of resort facilities. It's the ideal one-stop shop for a trip to Hawaii. 
The resort covers a vast area of lush gardens and green spaces. The resort is committed to recycling and avoids using single-use plastics wherever possible. There's also a strong focus on reducing food waste. 
Guests can enjoy romantic walks along the white sandy beaches, swim in the waters, or explore the nearby waterfalls. After a day of hiking, cycling and exploring, head to the wellness centre to kick back and relax.
$
3 guests
Bright, modern farm loft 
Combining luxury and open-air island living
Eco-farm Tropical Modern Loft is located at the Seaview Epicurean Waterfarm, amid gorgeous organic gardens and a serene setting. The loft house is compact but comfortable and features a modern design.
The loft's design celebrates natural textures, with wooden ceilings and polished concrete flooring. All cleaning products used are natural and non-toxic. Chickens on the property provide eggs and a thriving beehive supplies honey for visitors.
There are bikes that guests can use to explore the surrounding area. Or, choose to relax with some gentle yoga using the mats and props provided. Kalani and Kehena Black Sand Beach are both close by. The historical town of Poha is a 20-minute drive away where guests can visit the shops, restaurants, and farmer's markets. 
An Eco-Friendly Traveller NEEDS an Eco-Friendly Backpack!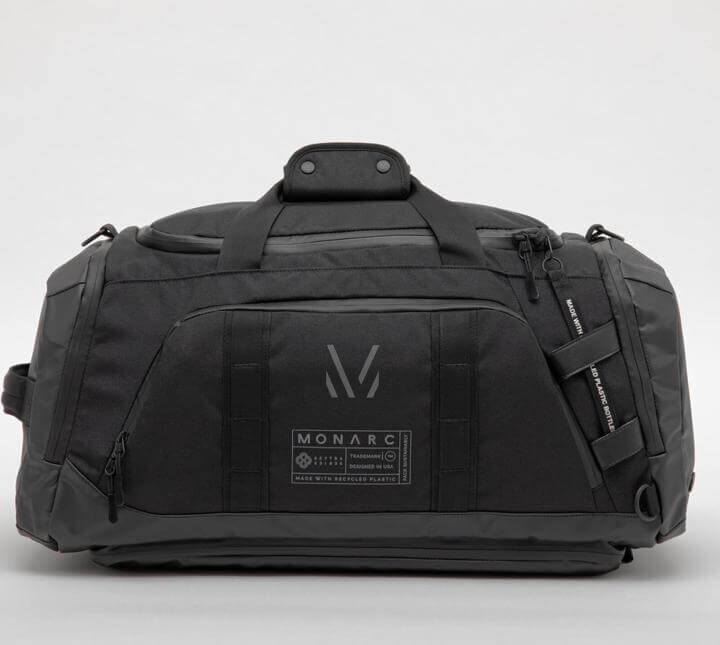 50 recycled plastic bottles – that's what goes into every Monarc Settra: the world's MOST SUSTAINABLE backpack.
Whether you're rocking duffel mode or backpack mode, if you're a traveller that gives a flying hoot about their environmental impact, then there's only one backpack you should consider – the plastic-negative Monarc Settra.
Learn More Now!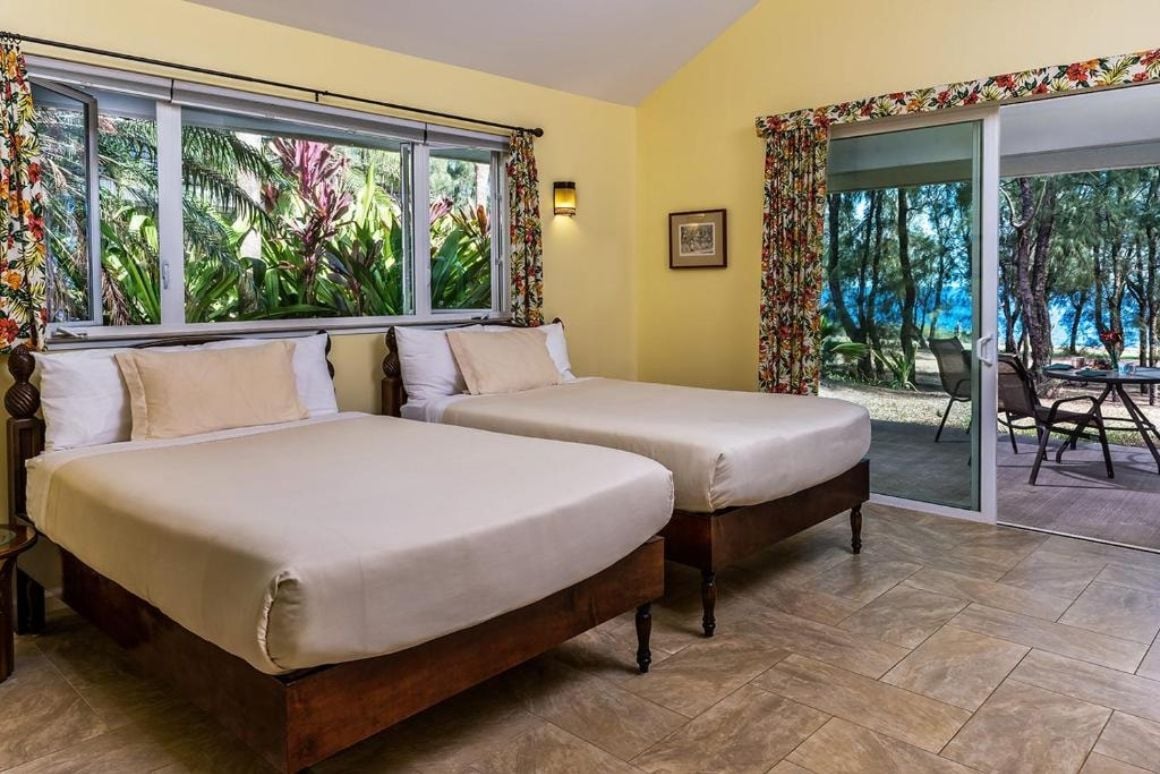 $$
2 guests
Ocean views and 50 acres of lush gardens 
Sustainable stay without sacrificing comfort
The Hawaii Island Retreat is located along the North Kohala coast is an area of lush vegetation and ocean views. The rooms offer a spacious and comfortable retreat after a day's adventures. 
The resort focuses heavily on sustainability. It uses water-efficient toilets and showers, energy-efficient LED bulbs, and 100% renewable energy throughout. It also provides meals made from locally sourced food, employs local guides, and supports local businesses. In addition, a portion of the resort's carbon footprint is offset. 
Guests can relax beside the swimming pool, enjoy a pampering treatment at the wellness centre, or enjoy a yoga class or workout at the fitness centre. The resort also offers walking tours, snorkelling, hiking and golf.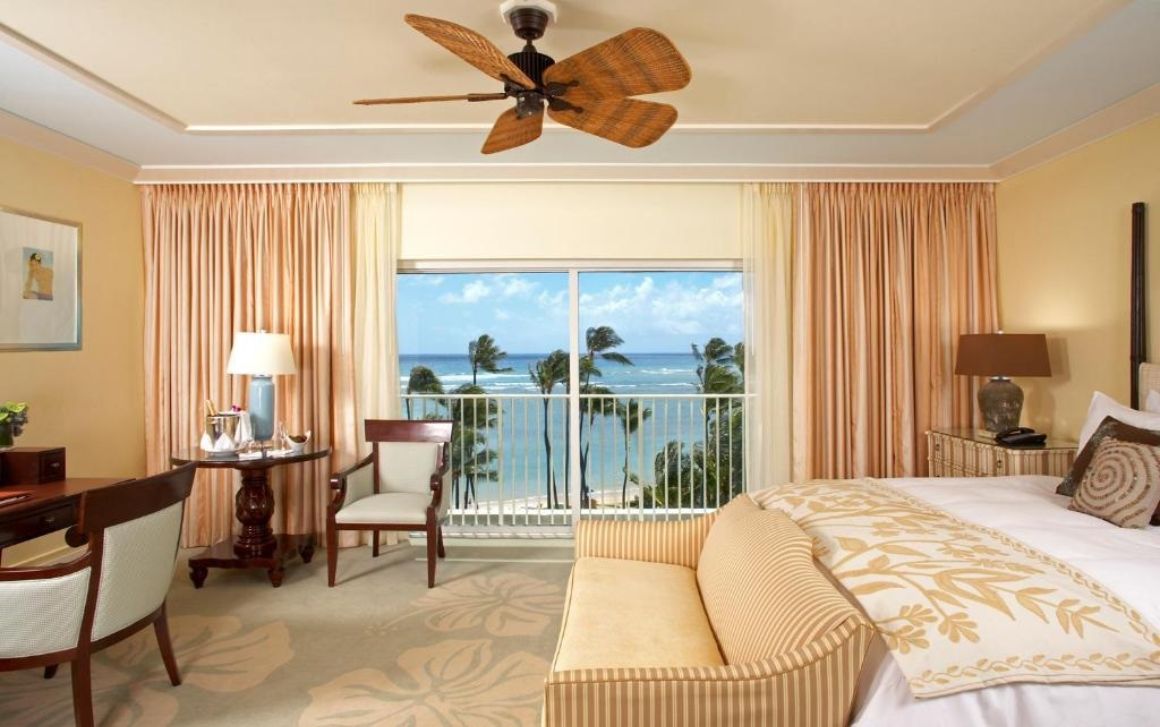 $$$
5 guests
Situated on a private beach
Entertainment for the whole family
The Kahala Hotel and Resort boasts a beautiful location and a wide variety of facilities and activities for every member of the family. Elegant rooms provide a restful retreat after a day's fun outdoors and a variety of restaurants are available. 
The resort does not use single-use plastics, so make sure to bring a good water bottle with you. Most of the food at the resort is locally sourced and waste is recycled wherever possible. There are energy-efficient light bulbs throughout, and the resort aims to use local guides and businesses where possible. 
The resort offers a wide range of activities to keep the entire family entertained, from horse-riding to tennis, cycle tours to snorkelling, and a kids club for the little ones to enjoy. There are two swimming pools and a wellness centre for adults to enjoy some well-deserved pampering. 
$
4 guests
Private room in a nature lodge
Convenient and comfortable off-the-grid living
The Garden Room with Porch is in an eco-village community and is perfect if you want to travel sustainably on a budget. The room features custom wooden furniture and cabinetry. There's a shared bathroom and composting toilets.
The eco-village is entirely off-the-grid, relying on solar power, rain catchment, and locally sourced food. A permaculture farm contributes to these sustainable efforts. Guests can also enjoy chef-prepared vegetarian meals. 
Visitors can head out to explore nearby attractions like the Secrets Beach, Kehena Beach, and its black sands, as well as nearby warm ponds, steam caves and flowing lava. 
Amazing Luxury Eco-Lodge in Hawaii – Kai Malolo
$$
6 guests
Spacious and modern oceanfront home
Situated on a sloping hillside overlooking the ocean, Kai Malolo is a spacious and airy home-away-from-home with everything needed for a luxurious island holiday. Three spacious bedrooms, a bright living space, and a large outdoor deck offer plenty of space to relax in.
The house is entirely eco-friendly with solar power, plenty of natural materials, and a beautiful natural setting. Between November and April, you can even see whales right from the property. 
Relax beside the swimming pool, enjoy a barbeque on the deck, or head out to explore Hawaii. While the ocean in front of the house is not suitable for swimming, there are thermally heated tide pools nearby as well.
Best Eco-Resort for a Weekend in Hawaii – Off-grid Eco Cabin
$
2 guests
Affordable retreat on the East of the Big Island
Peaceful, rural setting away from the crowds
This off-grid eco cabin is a compact and comfortable hideaway on a working farm that grows avocados, citrus fruits, pineapples, and bananas. The cabin has a full kitchen, outdoor shower and a screened-in sleeping area. 
The cabin makes use of solar energy and rainwater harvesting. Organic waste is composted and used in the gardens. 
Guests can explore this peaceful area of the island where there are fewer tourists. Explore the beautiful stretches of coastline, fresh air, and quiet setting. The area is also known for its recent lava flows and whale and dolphin sightings.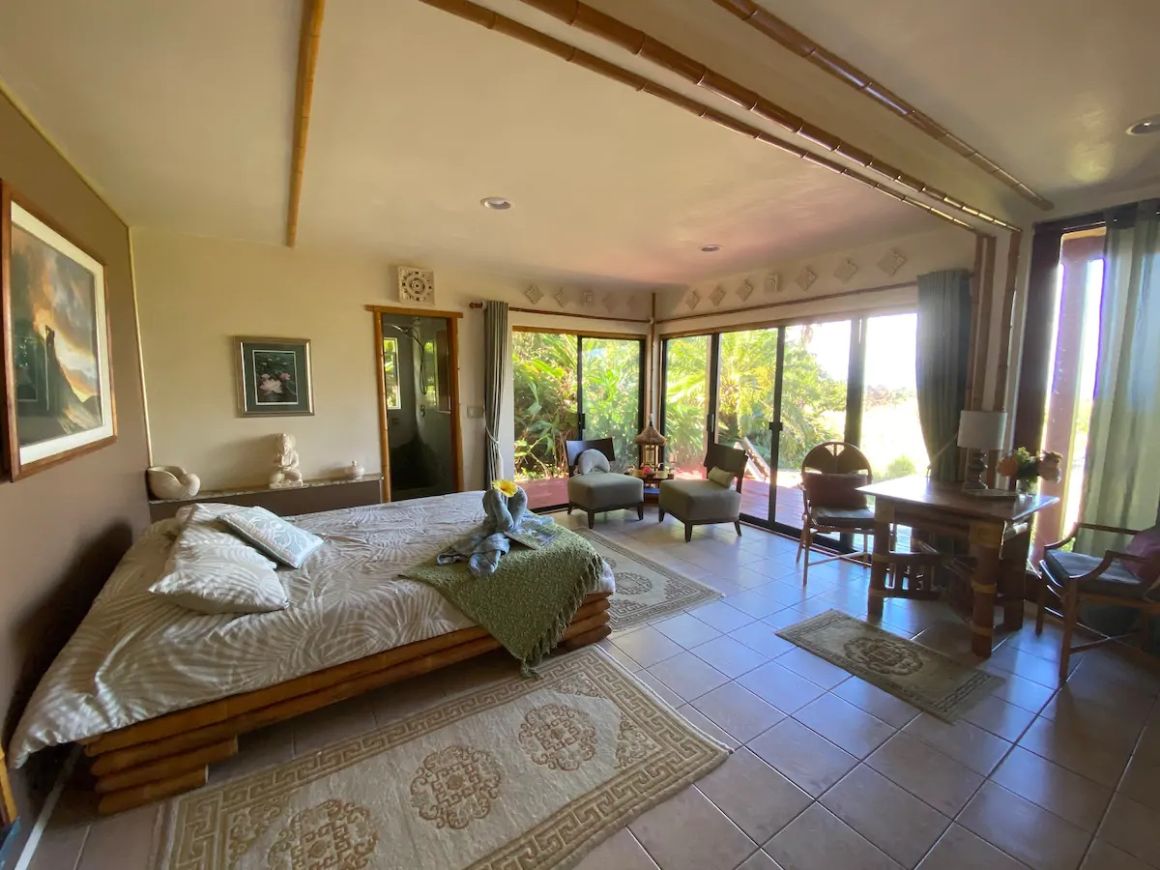 $
2 guests
Private, ground-floor master bedroom in a quaint guesthouse
In a peaceful valley on Maui's North Shore
The Lotus Room offers a private retreat with access to the main house's kitchen, living room, and parlor. The room has a private bathroom and a deck where guests can enjoy the tranquil sounds of nature. 
The house has been ecologically built and features local artifacts and hand-crafted pieces that reflect the area's cultures. Water is obtained from a volcanic aquifer via a well, and organic produce is grown on the property. 
Guests can enjoy serene strolls through the gardens, agroforestry gardens, and flowerbeds. If you're up for a challenge, put on your hiking shoes and head out along the cliff trail that takes in the rugged beauty of this region. The seaside town of Paia is a short distance away with its many restaurants, boutiques, and beaches.
Best Eco-Lodge with an Epic Location – Maui Sands 4B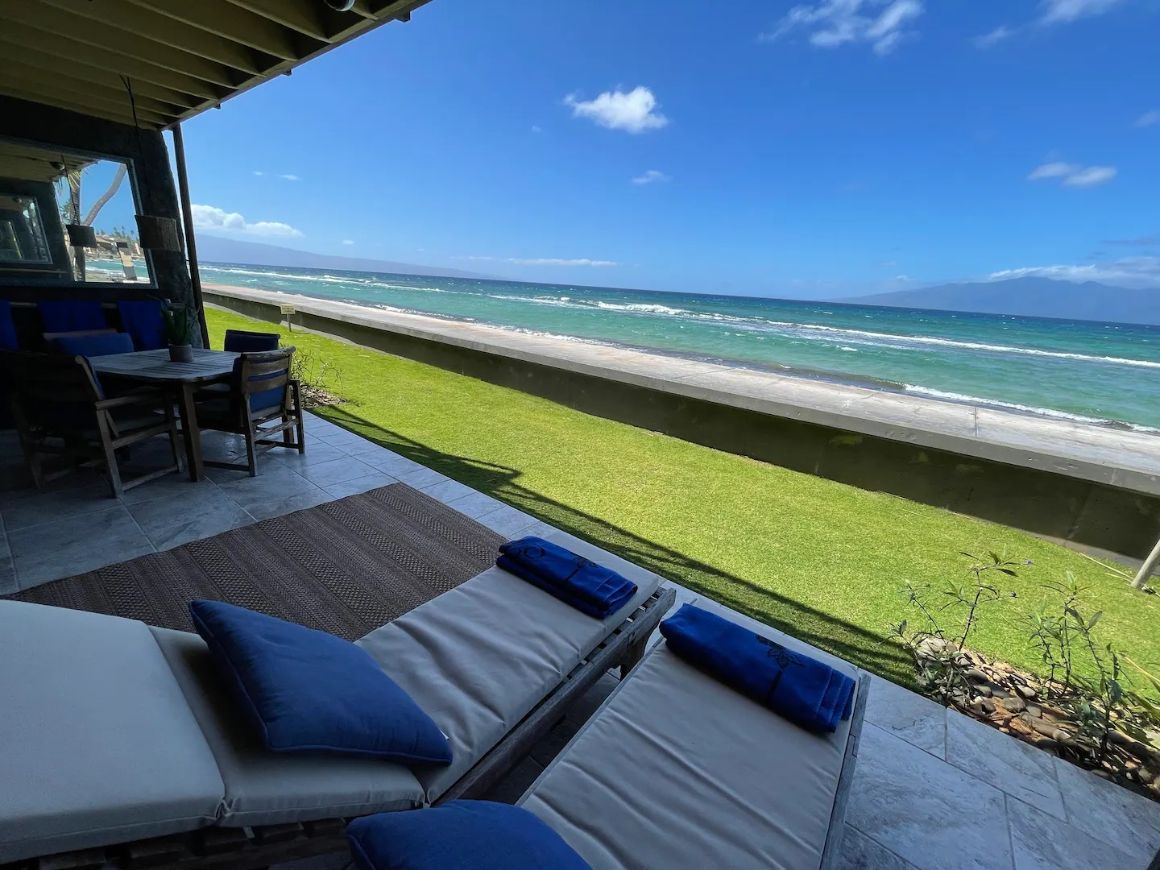 $
2 guests
Oceanfront condo in a low-density area
High tech sustainable living
Located on a stretch of coastline known for having a low density of properties, Maui Sands offers a more laid-back and crowd-free experience. The condo looks out over the pristine ocean that forms part of the Kahekili Marine Reserve. 
The house features granite, timber, bamboo and river rock elements to incorporate natural elements. There's a reverse osmosis water filtration system in the house to eliminate the need for bottled water, and energy-efficient appliances have been used in the kitchen.
Guests can relax on the lanai which looks over the ocean where often marine species can be spotted in the reserve. There are a number of shops and stores nearby, including West Maui's only health food shop. Further out, guests have a variety of beaches to explore. 
Another Great Eco-Lodge With an Epic Location – The Bamboo Temple
$$
2 guests
Romantic refuge with panoramic views
Healthy, holistic living celebrating nature
The Bamboo Temple is situated on the North Shore of Maui among organic gardens and lush foliage. The Temple is built in the shape of a nautilus shell, representing the symbol of internal harmony. 
The Temple is made from bamboo and other natural materials. It's oriented to make the most of the Trade Winds to keep things cool, minimizing the need for additional cooling. Water is obtained from a well that draws from a volcanic aquifer. 
Guests can enjoy yoga at the Temple or a hike along the cliffs where you may even spot dolphins in the ocean below. Take walks through the lush jungle to see ponds and waterfalls, or head into town to learn about Maui culture.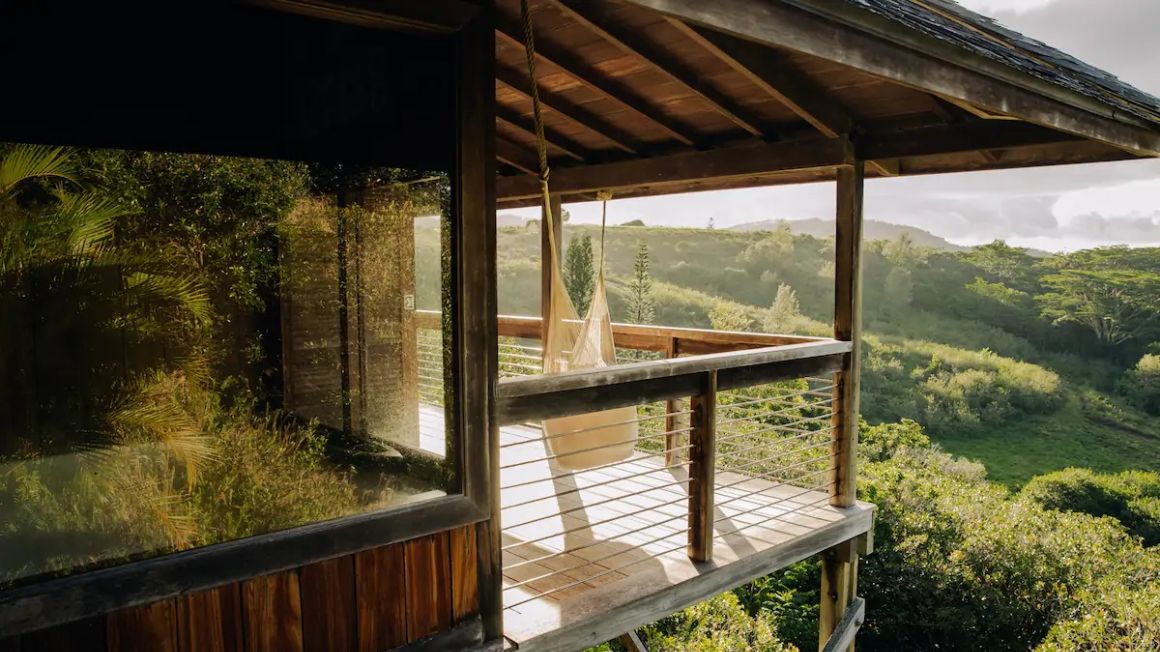 $$$
2 guests
Modern hillside oasis
Barefoot luxury among nature
Tree Tops Villa is located in the lush tropical landscape overlooking verdant valleys, undulating hills, and the glittering ocean. All the comforts of a luxury retreat are enjoyed from within this organic architecture that blends in effortlessly with nature. 
The treehouse comprises a wooden structure accented by natural fabrics and artifacts. The surrounding vegetation grows wild and untamed. This helps the house blend in with its surroundings and ensures a more organic feel. There's no need for additional cooling as the trade winds are maximized through large windows and doors.
Despite its remote and secluded feel, the house is close to Kauai's best beaches, outdoor activities, and entertainment. Alternatively, guests can relax beside the swimming pool, or rock gently in a hammock and enjoy the tranquil sounds of nature.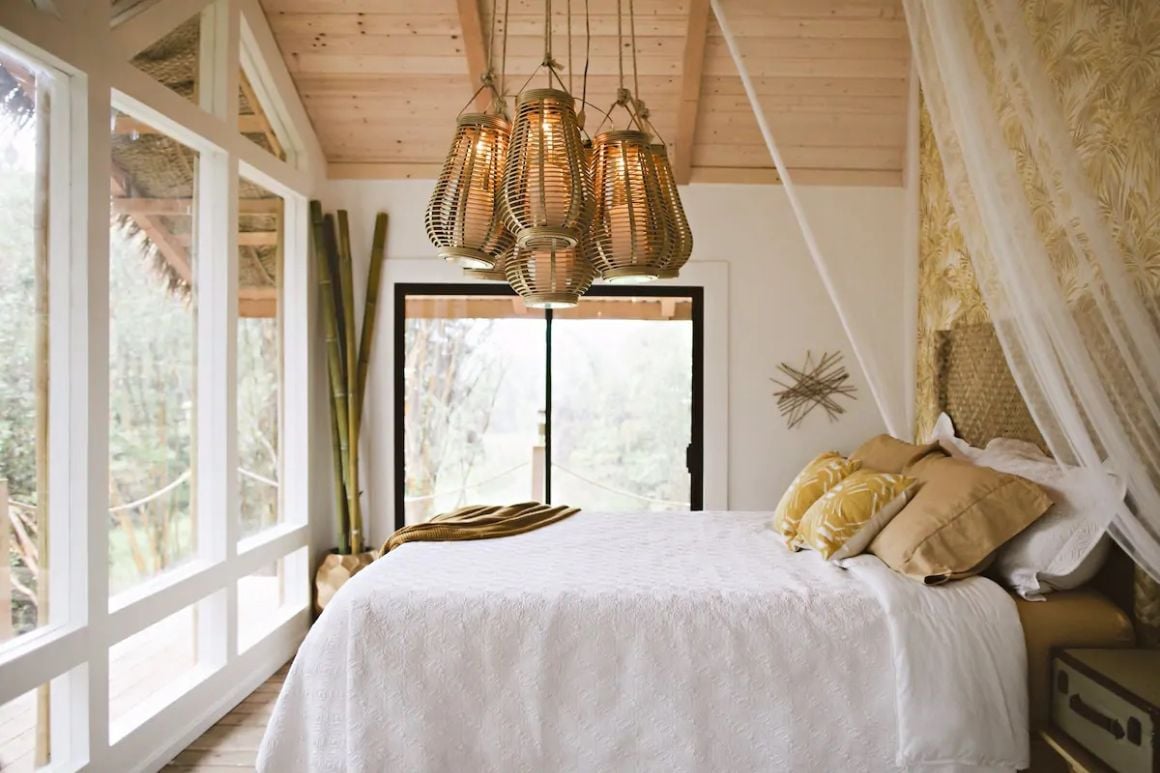 $$
2 guests
Romantic, secluded bamboo treehouse
360° views of the lush jungle
This dreamy tropical treehouse is a romantic retreat above the leafy canopy. Enjoying a secluded location, the tree house is the perfect retreat offering an off-the-grid experience with all the comforts of home. 
The entire treehouse has been hand-built using local materials. Solar power provides electricity and rainwater is harvested for showers and toilets. The accommodation supplies organic toiletries and clean drinking water.
Guests can spend lazy days on the hanging bed, listening to the sounds of the jungle, or reading a good book. Volcanoes National Park is a short drive away, as well as a number of Hawaii's top attractions.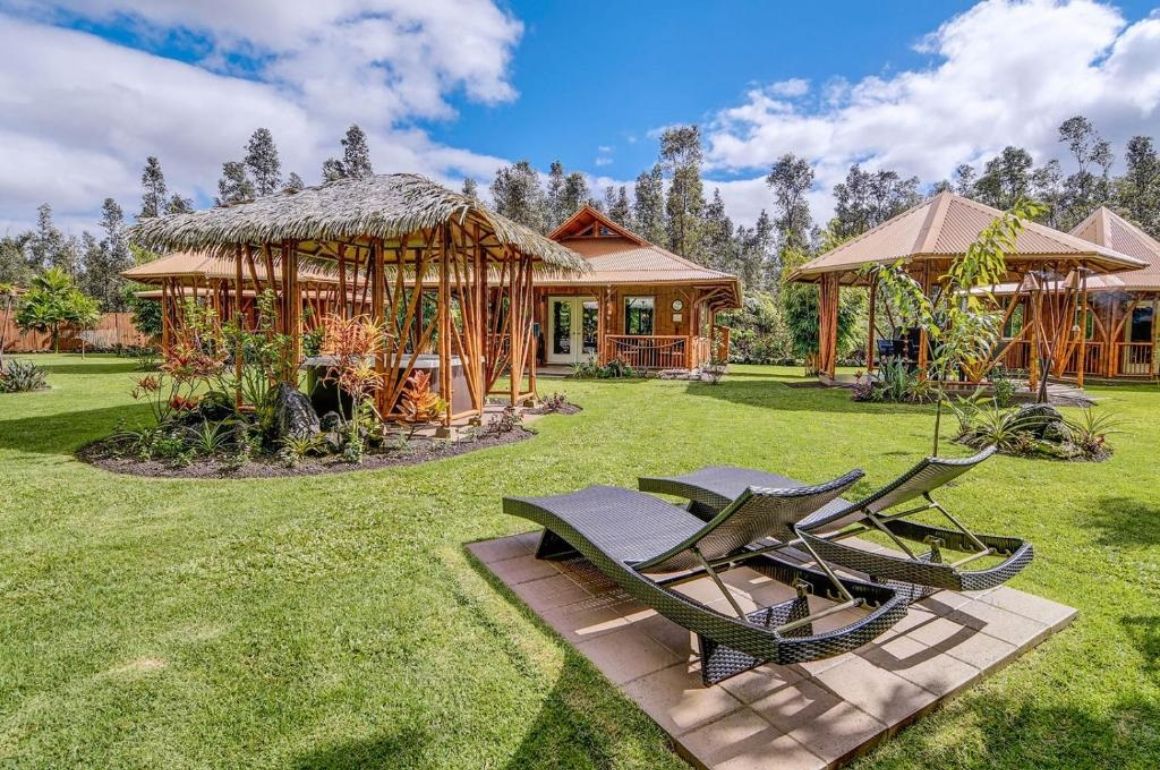 $$
2 guests
Vegan/vegetarian-friendly hotel
Unique bamboo and timber huts
Volcano Eco Retreat is a beautiful resort featuring thatched bungalows in a lush setting. The bungalows are made from bamboo and timber and offer a comfortable and well-equipped stay.
The resort does not offer guests single-use plastics and makes an effort to recycle wherever possible. Water-efficient toilets and showers are used as well as LED energy-efficient light bulbs throughout. Local businesses are supported; most food is locally sourced, and tour guides come from the surrounding areas. 
Lava Tree State Park is a short drive away, while various beaches and some of Hawaii's top attractions are within easy reach. Guests can remain at the resort and enjoy a barbeque or relax in the hot tub after a day's adventure. 
Don't Forget Your Hawaii Travel Insurance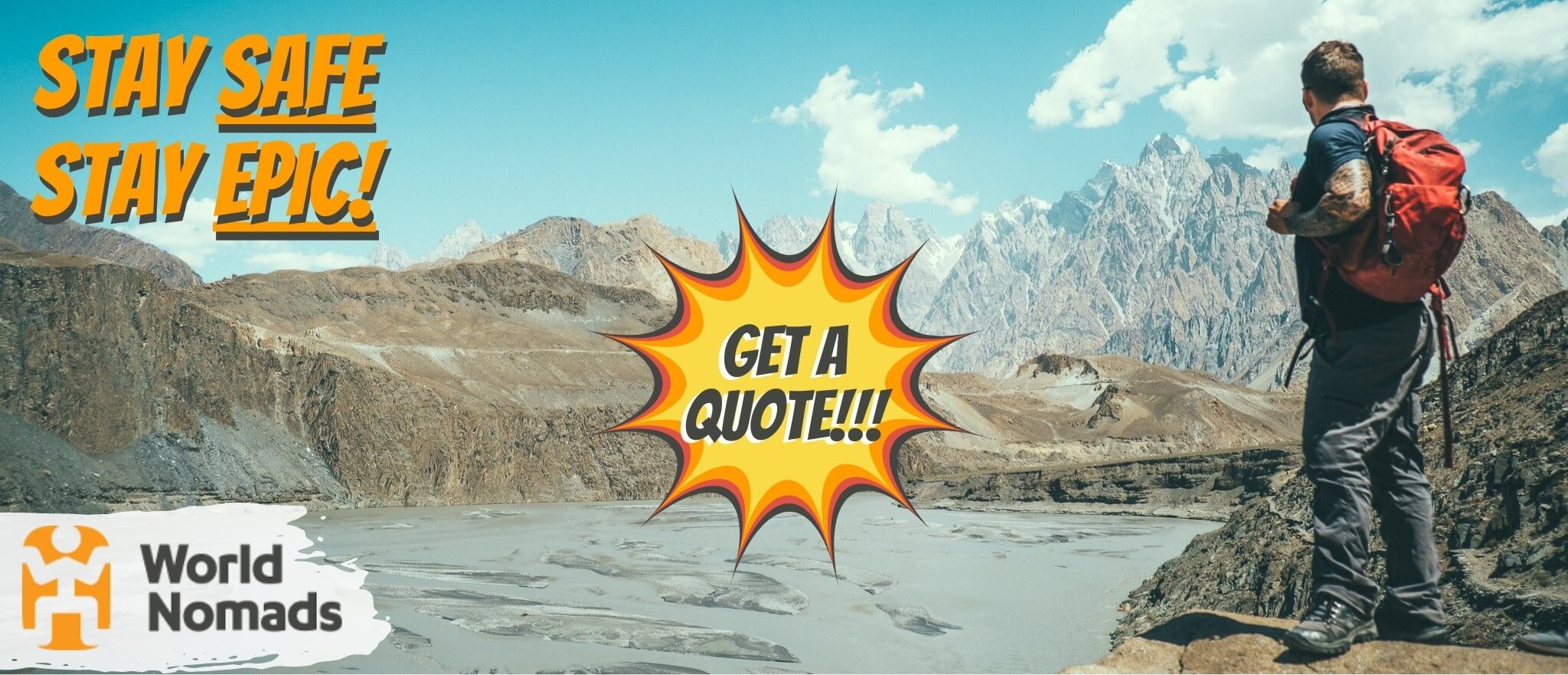 It's good to get lost sometimes, but it's also good not to get too lost. There are people that want you home in one piece.
There's one travel insurance provider The Broke Backpacker trusts for all his wildest shenanigans… World Nomads!
Click the button below to get a quote on your insurance or read our in-depth review of World Nomads' coverage. And then… let the shenanigans begin. 😉
Final Thoughts on Hawaii Eco-Resorts and Eco-Lodges
Hawaii's incredible landscapes are best experienced up close. Staying in one of the best eco-resorts and eco-lodges in Hawaii will offer just that. Not only will you be immersed in nature, but you'll have a minimal impact on these amazing ecosystems and the planet in general.
Whether you opt for a rustic treehouse in the forest, or something luxurious closer to the beach and the nightlife, there's an eco-lodge to suit. What we've gathered here is but a small sample of unique accommodation in Hawaii to help guide you in making your decisions for your next trip. 
Once you've settled on the eco-resort or eco-lodge that suits your needs, it's a good time to consider taking out some travel insurance. In these uncertain times, erring on the side of caution is always a good idea. You'll be able to relax fully on your travels knowing that you'll be taken care of should things not go to plan.
---
Thanks for reading – that was fun! 😀
We bring you epic FREE content!
Find out how YOU can help support us.
We're a big site with a big team and this job isn't always easy. But we do it because we love it – we love providing epic and free content. We love the knowledge that our content keeps you adventuring. We don't ask for money, but if you'd like to find out how you can help the site in more organic ways, click the button below.
Thank you for your support 🙂
---
Bye for now, but not forever!
If you want MORE top-tier Broke Backpacker content like this, then sign up for our weekly newsletter below to get the latest and greatest!
And for transparency's sake, please know that some of the links in our content are affiliate links. That means that if you book your accommodation, buy your gear, or sort your insurance through our link, we earn a small commission (at no extra cost to you). That said, we only link to the gear we trust and never recommend services we don't believe are up to scratch. Again, thank you!