Hawaii actually consists of eight major islands, but there are three that are usually of interest to tourists. This area is truly a tropical paradise, and there are some amazing places to visit in Hawaii if you love the natural world. The only way to get between the different islands is to fly, which is why most people base themselves in Oahu. This is where the airport is, and it's also a great place to start your explorations.
The idea of exploring different islands might seem intimidating. But if you want to see the clear blue seas, lush green forests, and stunning beaches in this region, then you need to make the effort. And we're here to help with this easy guide to the most amazing attractions in Hawaii and why you should see them.
Need a place quick? Here's the best neighbourhood in Hawaii:
BEST AREA IN HAWAII
O'ahu
The liveliest of Hawaii's islands, O'ahu is our recommendation for both families and nightlife lovers. There are many places to enjoy by day and by night, with something to suit people of all ages and with all kinds of interests
Places to visit:
Visit the ill-fated Pearl Harbour.
Go surfing at North Shore, the surf capital of the state, and one of the top places to surf in the world.
Snorkel at Hanauma Bay.
These are the BEST Places to Visit in Hawaii!
The best area in Hawaii may be O'ahu, but there's more! In fact, there's so much more that feeling overwhelmed when trying to book accommodation in the right area is normal. Don't worry though, We've got the full down on where to stay in Hawaii for you! Check it out and then dive into the good stuff below!

Unlock Our GREATEST Travel Secrets!
Sign up for our newsletter and get the best travel tips delivered right to your inbox.
#1 – The USS Arizona Memorial at Pearl Harbor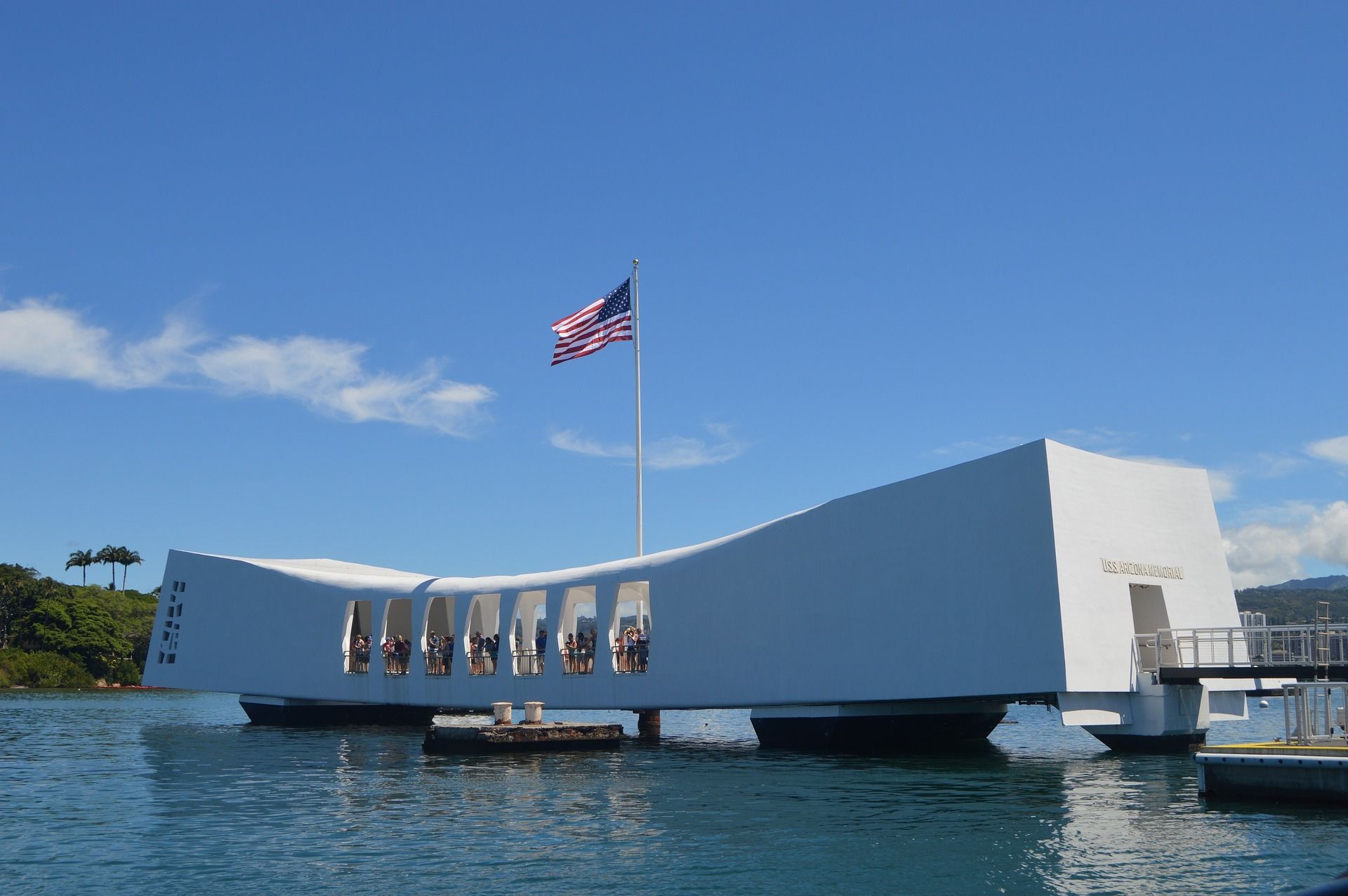 Located in Oahu, this spot commemorates one of the most important and tragic stories in WWII history.
If you're a war buff, you'll love this Hawaii must-see.
Why it's so awesome: Over 2 million visitors visit this historic site and it's one of the most important places to visit in Hawaii if you want to understand recent history. The Arizona Memorial commemorates one of the battleships that was sunk during the attack. It's the final resting place of 1,102 of the 1,177 sailors and Marines who were killed on the USS Arizona when it sank.
What to do there: The memorial is one of five located at Pearl Harbor that commemorates the attack. You will need to take a boat to access the memorial and it has 3 main parts. The memorial straddles the sunken ship without touching it and has an opening in the floor that overlooks the decks. You can drop flowers into the opening in honor of the fallen sailors and make sure you check out the shrine as well. It's engraved with all the names of those who died on the Arizona and there is also a much smaller plaque that bears the names of those who survived the attack.
#2 – Doris Duke's Shangri La – Quite the quirky place in Hawaii!
A tribute to Islamic art in the heart of prime beach spot Diamond Head.
One of the most unusual things to do in Hawaii and well worth the effort of getting tickets!
Why it's so awesome: You probably wouldn't expect to find a collection of Islamic art on Oahu, but thanks to an eccentric heiress, you can. Doris Duke was a tobacco heiress who loved Islamic art, and her former home features interiors that were brought back or commissioned to remind her of her travels.
What to do there: Doris Duke's mansion, built in 1937, is now open to the public. You can buy tickets to gain access and marvel at the intricate tiles from Iran, the painted wood ceilings inspired by Morocco, and the beautiful Indian style marblework. The artwork at this mansion is beautiful and strikingly out of place in Hawaii, which is part of what makes it a Hawaii must see!
#3 – Haleakala National Park – A beautiful outdoor place to visit in Hawaii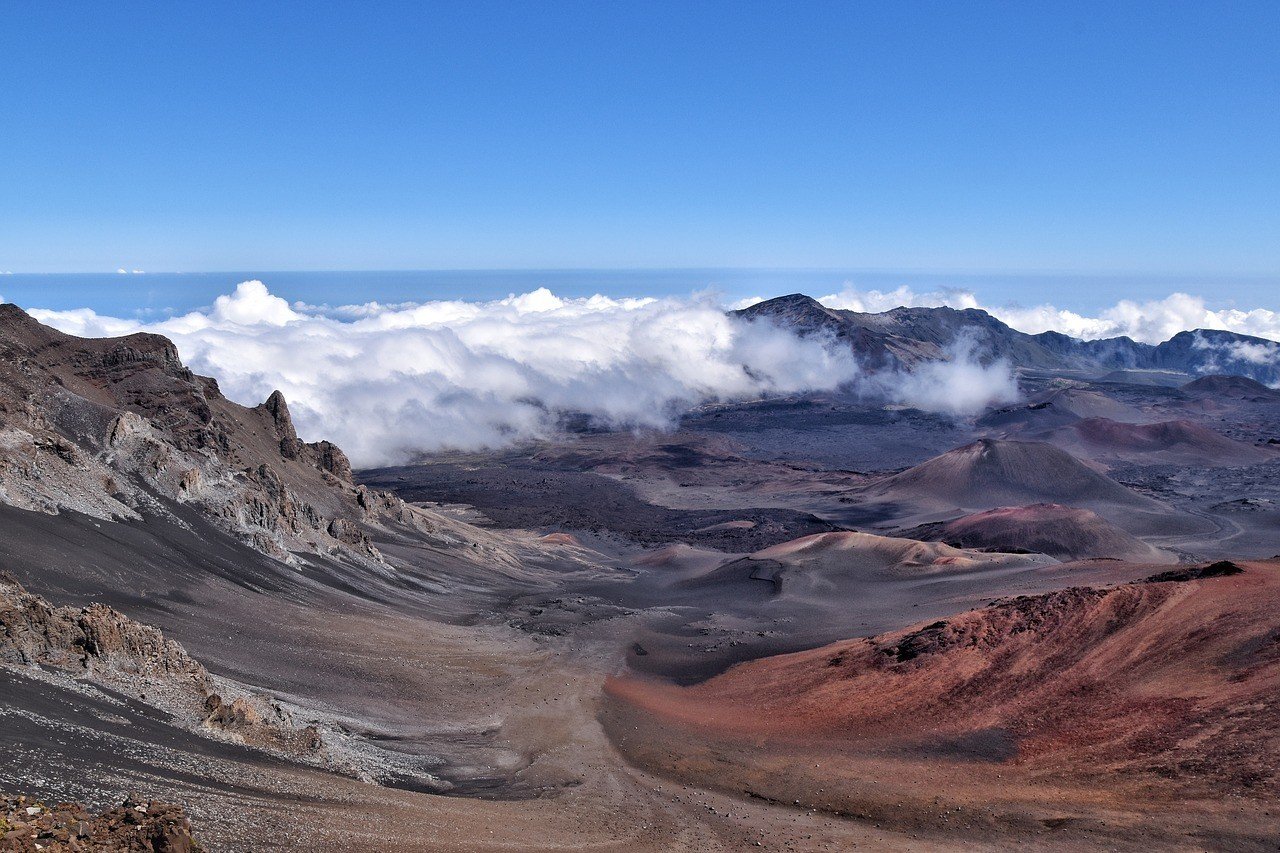 Located on Maui island, this is a beautiful natural area that's easy to get to.
Dormant Mt Haleakala is located in this park, so you can explore nature with all that power under your feet!
Why it's so awesome: This is one of the most popular attractions in Hawaii for people who love the outdoors. And if you're in Hawaii and don't want to explore nature, then you're in the wrong place! You can have a real adventure in this park, located just an hour and a half from the center of Maui. There are loads of cool things to do in Maui and you can also take part in a range of outdoor activities as well.
What to do there: This is the perfect place to take in a sunset or sunrise over Hawaii's magical natural landscape, so make sure you're in a good position at the right time of day. Also, if you like outdoor activities then you'll enjoy a range of them in this park including camping, hiking, and guided activities. So, as long as you have a reasonable level of physical fitness, find something that sounds interesting and go for it! Remember the golden rules of travel safety, though, and let someone know where you are if you go adventuring solo. We wouldn't want you to fall down a volcano and vanish forever…or something.
#4 – Bishop Museum – A fascinating educational place to visit in Hawaii
One of the best places to visit in Hawaii to learn more about traditional Polynesian culture.
This is the largest museum on Polynesian culture in the state.
Why it's so awesome: Polynesian culture has fascinated travelers for years. After all, that's probably part of why you want to visit Hawaii! So, take the time to explore it at this museum. It's the largest in the state and includes everything from the natural history of the region to an exploration of the seafaring traditions of the culture.
What to do there: This is a fascinating museum that has several interesting and interactive exhibits. It's the perfect place to spend a quiet afternoon and will keep the kids busy as well. Make sure you check out the planetarium show in particular which will put you on the deck of a traditional vessel called the Hokulea. And pay attention to the navigation techniques they share with you. They'll come in handy if you're ever lost at sea without a GPS or compass!
#5 – Makapuu Point Lighthouse Trail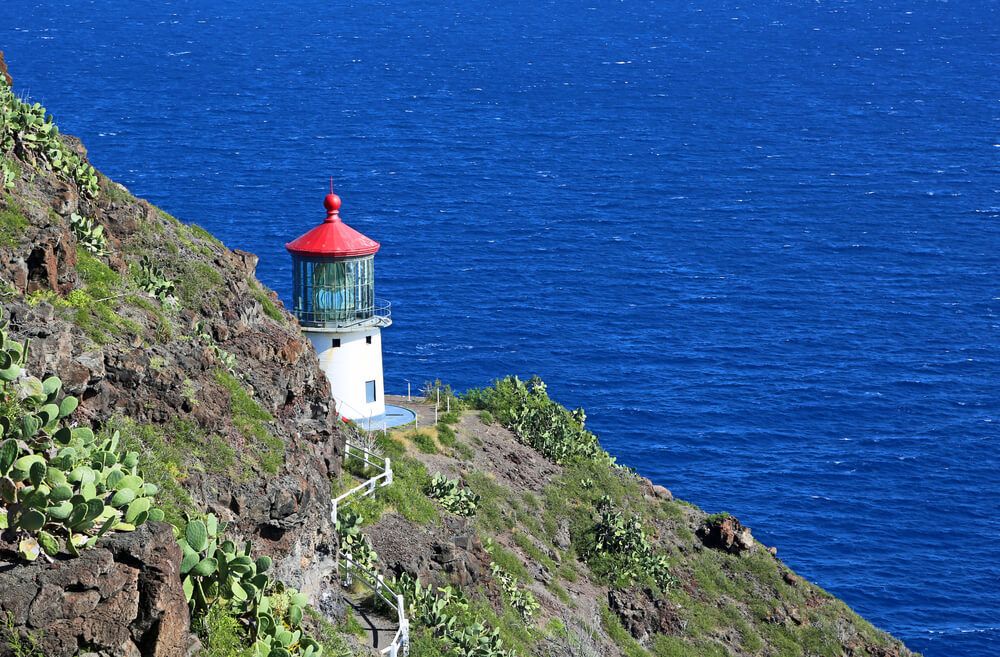 Hiking this trail is a Hawaii must do!
The best time to visit the trail is in the mornings when you'll see a stunning sunset across the coast and water.
Why it's so awesome: Locals and visitors alike like to visit this trail, particularly in the morning when the views across the water are absolutely amazing. But even during the day, the scenery makes this the best place in Hawaii for taking pictures and just taking in the scenery. This hike is a little less crowded than the more popular hike at Diamond Head, so you'll be able to enjoy the views without the stifling crowds. And if you're on the trail between November and May, keep an eye out for whales breaching in the distance. Also, keep an eye out for mosquitos, they'll bite you.
What to do there: This is one of the most popular hikes in Hawaii and you'll need a reasonable level of physical fitness to make it to the best spots. Try to go early in the morning so you can watch the sunrise over the water. Make sure you take your camera with you no matter what time you go because the views will be among the best you've ever seen.
#6 – Helena's Hawaiian Food – A must-see for foodies!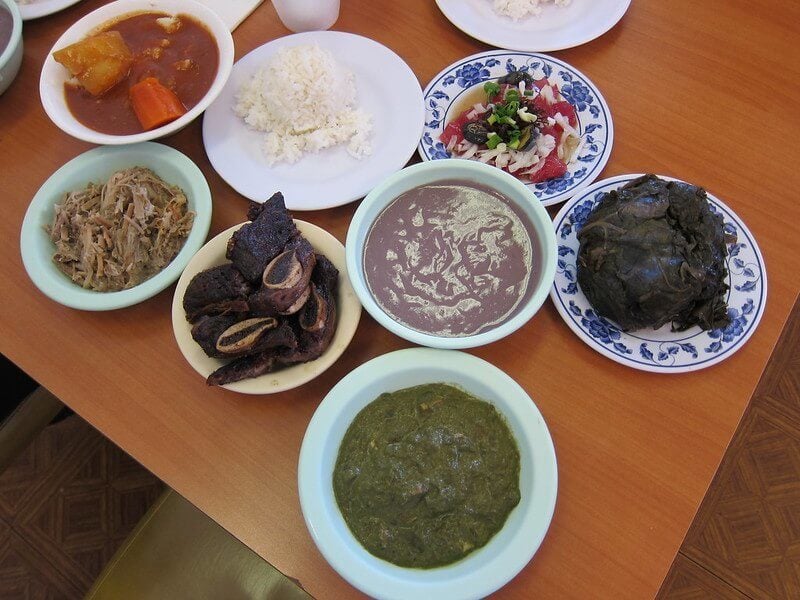 A casual place to eat where you can experience the best Hawaiian food available.
This restaurant is always full of locals, so you know the food is good!
Why it's so awesome: Hawaiian food isn't really what most people go to Hawaii to experience, but this restaurant will convince you otherwise. This is where all the locals go to eat, and it's been one of the most popular hotspots in Hawaii since its opening in 1946.
What to do there: This is a casual restaurant and it's always packed. Arrive early to get a table and try some of the tasty dishes on offer. The pipikaula or short ribs are particularly popular and should be ordered with one of the set menus to get the full dining experience.
#7 – Na Pali Coast State Wilderness Park – A nice non-touristy place to visit in Hawaii
This is without a doubt one of the most beautiful places to visit in Hawaii!
This park is located on the island of Kauai, which is both isolated and culturally significant.
Why it's so awesome: If you want to see nature away from the crowds then you can't beat the island of Kauai. It was once home to Hawaiian royalty and is known for its stunning natural beauty and its incredible variety of flora and fauna. This is the place to visit if you want to see jaw-dropping waterfalls, rivers, and the lush natural surrounds that Hawaii is famous for without the crowds!
What to do there: Kauai isn't often visited by tourists, so you'll have to make a special effort to make it to this area. You can take a 25-minute flight from Oahu or go by boat. Once you're there, you'll be spoiled for things to do. This park is one of the most amazing hotspots in Hawaii for hiking, so put on your shoes and explore on foot. Try the steep but rewarding Kalalau Trail to see the best parts of the path. It runs through the park, between Ke'e Kalalau Beaches and goes through 5 valleys including the famous Hanakoa Valley.
If you're into non-touristy destinations and need accommodation, why not check out some of Hawaii's best VRBO's that are off the beaten track!
#8 – Hawaii Volcanoes National Park – Possibly one of the most important places to visit in Hawaii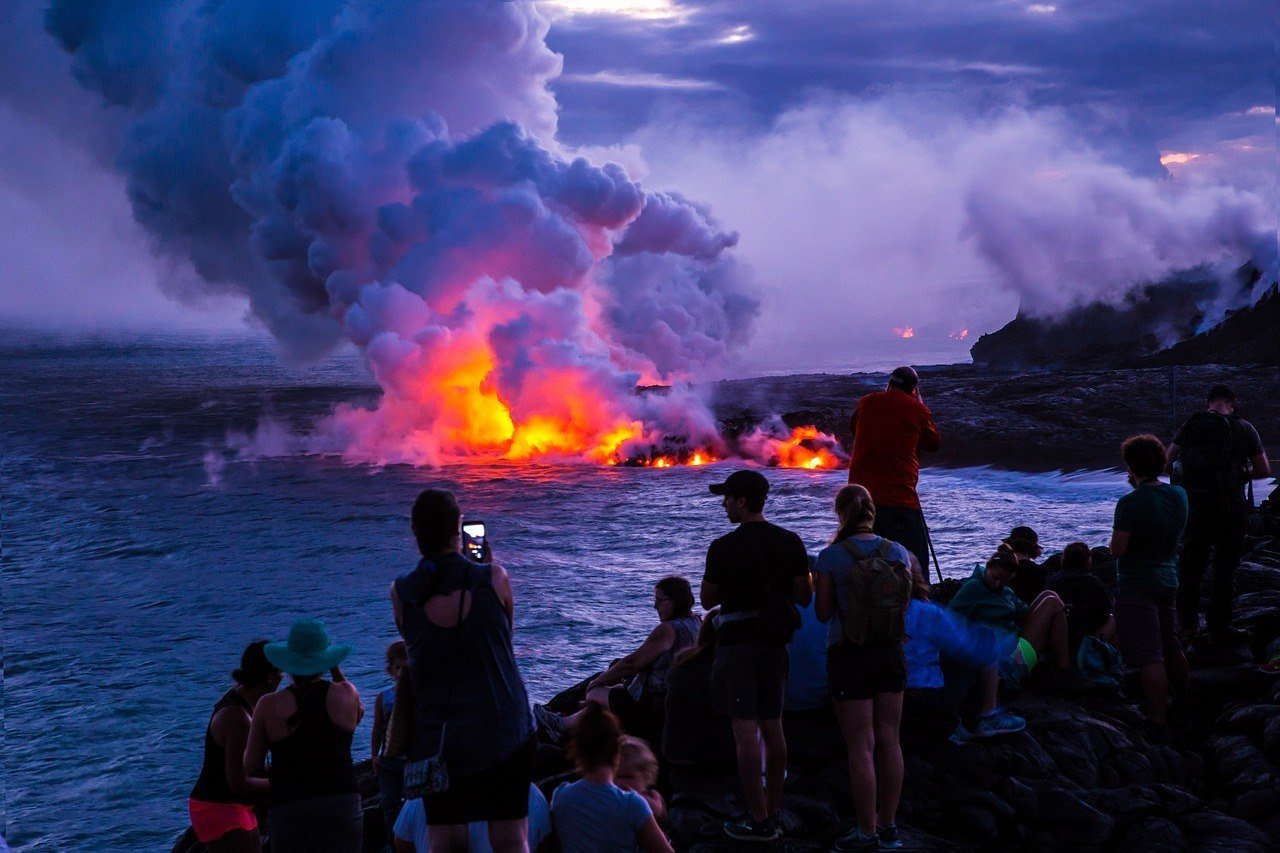 Located on Hawaii Island, often known as 'The Big Island', this area will stun you with its power and teach you about how the islands were formed.
This is one of the most famous places in Hawaii, so expect some crowds!
Why it's so awesome: In geological terms, Hawaii has a fascinating history and was formed through volcanic activity. The island chain is located over a hot spot, a place in the middle of one of the tectonic plates that make up part of the earth's crust. In this center point, volcanoes pushed up and the islands were born. Each island is comprised of a volcano or a group of volcanoes as well as the hardened larva from their eruptions. This is a very basic history of the area, and you can see it in living color in the Hawaii Volcanoes National Park.
What to do there: The timeline of the creation of the Hawaiian Islands is long and fascinating, and you'll be able to learn just a little about it when you visit this park. There are two live volcanoes in the park for you to explore as well as steam vents and massive craters which will show you just how powerful these forces of natures can be in hot, vibrant color and sound. Also, make sure you spend some time at the Jagger Museum, so you can learn more about volcanology and the history of the region.
If you're looking for accommodation near Volcanoes National Park, check out our list of awesome tree houses which are close by!
#9 – North Shore
If you're looking for great beaches and fewer tourists, then stay on Oahu for a while and check out the North Shore.
Some of the best winter waves in the world can be found at the North Shore beaches, which is why surfers flock there.
Why it's so awesome: Hawaii's top beaches can get crowded, which is why you need to find one that's a little quieter. Most people arriving in Hawaii land in Oahu but quickly move to the other islands. That's why the beaches, which are just as amazing as others in the area, are a little quieter and a less touristy.
What to do there: If you like the beach, then you know what to do on the North Shore. These are relaxed beaches with a laid-back vibe, which makes a nice contrast to the rest of the island. Go surfing or swimming or just sit in the sand and watch everyone else testing the waves. And if you're there in winter, make sure you head to the Banzai Pipeline to watch world-class surfers making it look easy.
Pssst! Haven't packed yet? Check out our ultimate Hawaii Packing List to know what to bring with you on your Hawaii adventure!
Is This the Best Daypack EVER???
#10 – The KCC Farmer's Market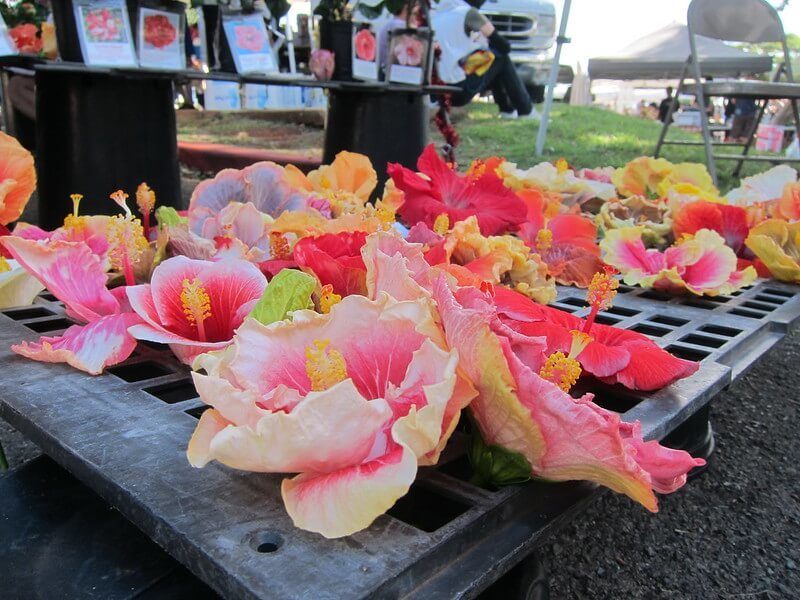 The tropical climate means that Hawaii has perfect conditions for growing, which is why the farmer's market are a staple on every island.
This market is located on Honolulu and is one of the most popular and busiest around.
Why it's so awesome: If you want to eat like the locals do, then you need to visit a farmer's market. Held every Sunday and Tuesday, you'll find a wide range of seasonal fruits, flowers, and vegetables. You can also buy amazing seafood, baked goods, home-made pasta, and local honey or coffee.
What to do there: Usually, the best way to eat in a new destination is to eat like the locals do. So, when you travel to Hawaii, make sure you check out some of the most popular foods and snacks at the market. Wander the stalls, talk to the vendors, and buy a few things that look and smell good. Chances are, they'll probably be the best things you eat in Hawaii.
#11 – Waikiki Beach – Awesome place to visit in Hawaii with kids!
One of the most famous places in Hawaii, this beach needs no introduction.
It's a busy beach, but the quiet waters make it perfect for kids and nervous swimmers.
Why it's so awesome: Hawaii is known for its great surfing. And that's fine if you're a surfer or a good swimmer. But it also means that a lot of the beach areas can be dangerous for kids and nervous swimmers. Waikiki Beach is a busy area that can be packed with tourists and a lot of tourists try to avoid it. But there are reasons why it's so popular, and one of the most important is how welcoming it is for families. The waves in this area are gentle and the water is clear and waist-deep. Even the most nervous members of the family will be happy to swim in Waikiki.
What to do there: If you're traveling with the family, then this beach in Honolulu at the south end of the island of Oahu is perfect. Everyone will want to swim, and when you get tired of the beach the main shopping area is close by so you can eat, rest, and look for souvenirs.
#12 – Punalu'u
This beach is known as Black Sand Beach and is located on the big island.
The endangered Hawaiian Green Turtles and Hawksbill turtles like this area, so if you're lucky you'll get to see them relaxing on the sand.
Why it's so awesome: This is a beach with a difference. The sand is quite literally black and makes quite a contrast to the rest of the white sand beaches you'll see while you're in Hawaii. It was formed when molten lave from active volcanoes spilled into the water, cooled, and fragmented. Those fragments now make up the beach.
What to do there: This beach looks amazing in photos, so make sure you get plenty of shots to show your friends back home. And keep an eye out for the turtles, which like to relax on the shore. Just don't get too close or they'll slide back into the water and vanish. You can swim at this beach but be careful as there are strong currents that can easily sweep you away from the shore.
Need help figuring out what to do and see? Use our Hawaii itinerary to gain some insider tips and knowledge!
Small Pack Problems? 😉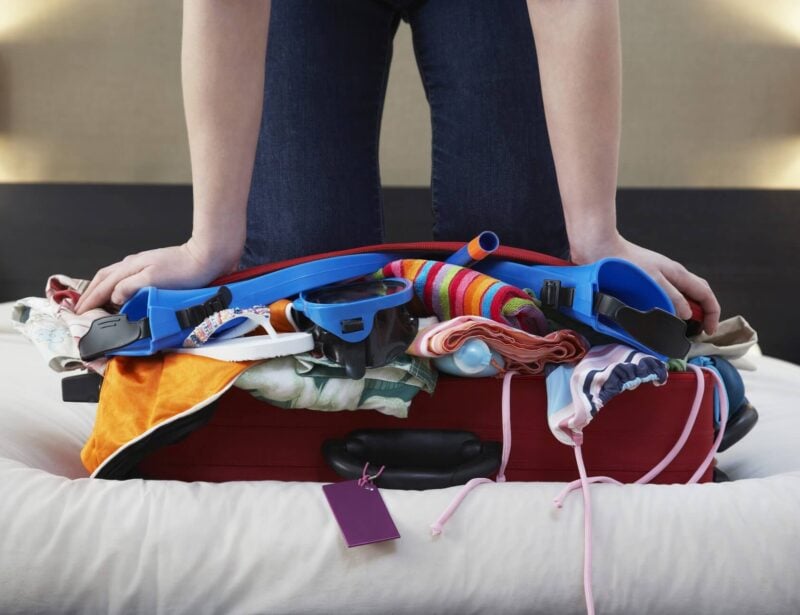 Wanna know how to pack like a pro? Well for a start you need the right gear….
These are packing cubes for the globetrotters and compression sacks for the real adventurers – these babies are a traveller's best kept secret. They organise yo' packing and minimise volume too so you can pack MORE.
Or, y'know… you can stick to just chucking it all in your backpack…
Get Yours Here
Read Our Review
#13 – Mauna Kea – A great place to visit in Hawaii at night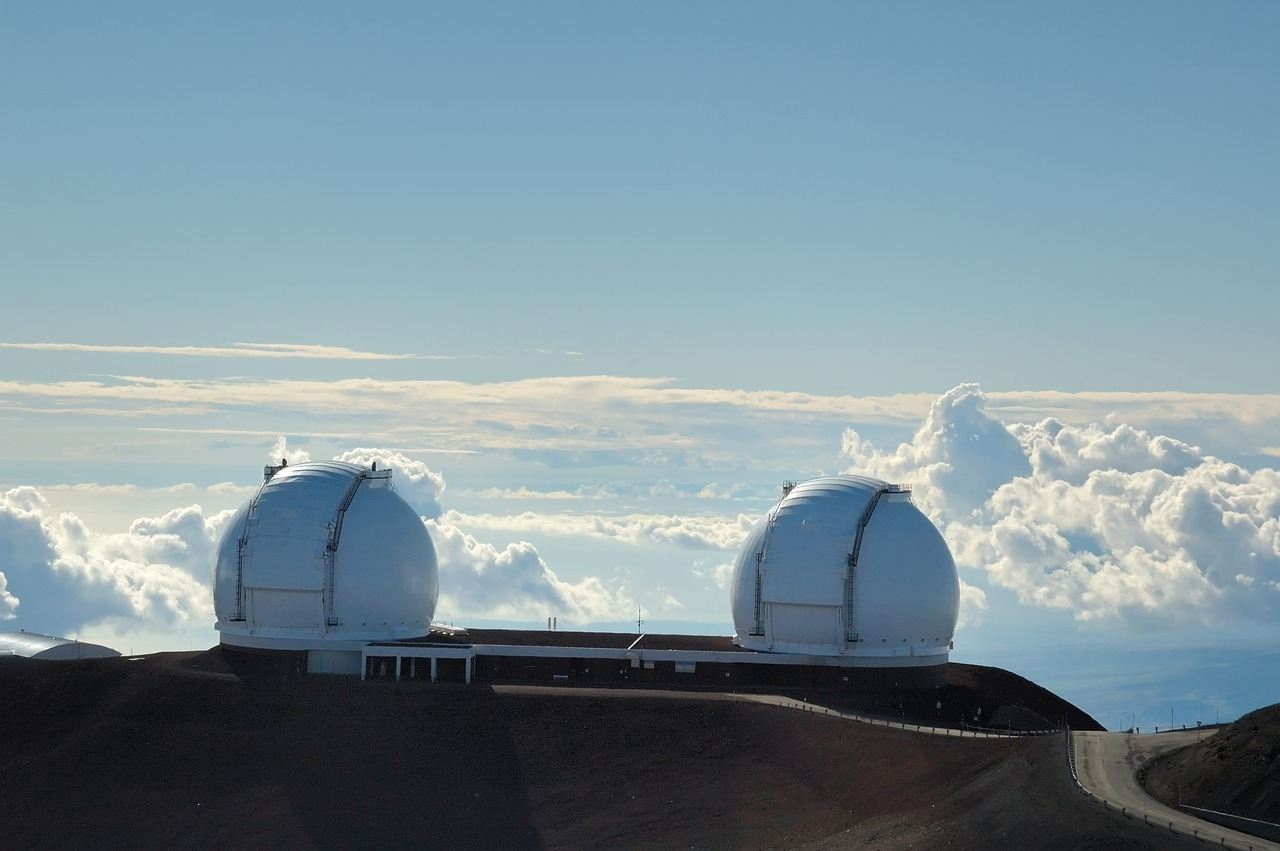 Located on the top of Mauna Kea, which is the world's tallest volcano, is several world-class observatories.
The summit of this volcano is like stepping into a strange, almost frightening alternative world.
Why it's so awesome: Most of the time, Mount Everest is classed as the tallest mountain in the world. But this actually isn't the case. Mauna Kea is only 13,803 feet above sea level compared to Everest's 29,029. However, the base of Mauna Kea is actually on the seafloor, and the top of the mountain is 30,000 feet above that base. This makes it technically taller than Everest. The top is so high that you need to make extended stops on the drive up because of altitude sickness. But once you get up there, you'll be able to enjoy the best observing conditions in the world.
What to do there: You can take a tour to the top and this is the best way to get the most out of the experience. The mountain is perfectly positioned to offer an unparalleled view of the sky. It's high enough that it's above 40 percent of the world's atmosphere and the skies are clear for around 300 nights a year. Because of this, there are world-class telescopes put there by the top scientific research facilities in the world. Make sure you take part in the nightly public Stargazing Program at the Visitor Information Station if you're lucky enough to be there on a clear night. You'll be amazed by what you can see!
#14 – The Lanai Cat Sanctuary – One of the more unique places to visit in Hawaii!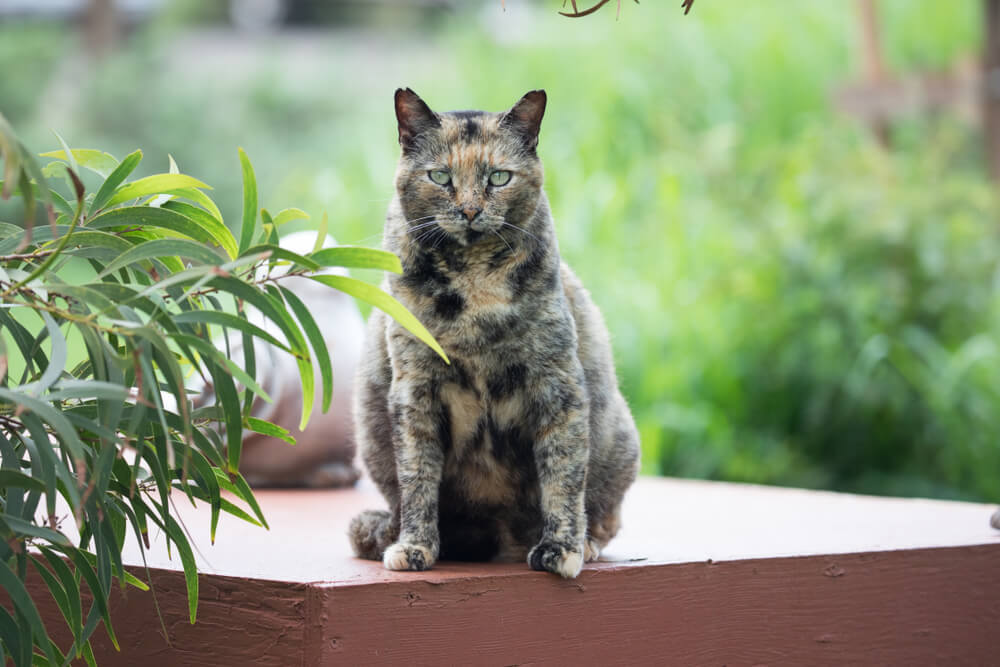 The sanctuary is located on the island of Lanai, which has a tiny population, resorts, and hundreds of homeless cats!
Why it's so awesome: With its pristine beaches and blue waters, Lanai is one of the best islands in Hawaii. Only around 3,000 locals are living on the island and about 500 cats play freely on the 25,000 square feet of land that makes up their home.
What to do there: If you love cats, then this sanctuary must be part of your Hawaii itinerary. The shelter was created to protect the native animals on the island from the cats who were brought to the island and then abandoned. It's run entirely on donations and visitors are welcome for the money brought in. So, be prepared to be inundated by friendly, furry felines and show your support for this great cause!
#15 – Waimea Canyon
Located on Kauai Island, this canyon is competition for the Grand Canyon.
Make sure you take your camera along to capture the stunning colors of the canyon's cliffs.
Why it's so awesome: This canyon is absolutely stunningly beautiful. The walls of the canyon are covered in colors because of the vegetation and the stones, which is why they range from dark red to orange, brown and green. The canyon itself is about 2,750 feet deep, 13 miles long, and 1.5 miles wide and it looks amazing in photos.
What to do there: You can take the Waimea Canyon Drive to the canyon if you want to take in the sights along the way. Walking is another option, with the challenging Kukui Trail leading to the same area. This is a steep path, so you'll need to be fit and healthy, but it will leave you through some beautiful natural landscapes, which is why it's a Hawaii must do. Also, while you're in the area, make sure you check out the Puu Hinahina Lookouts for some of the best views you'll ever take pictures of.
#16 – Polynesian Cultural Center
This is a cultural theme park located on Oahu's north shore.
This park is a great way to explore Hawaii on a deeper level and get to know the culture and its history.
Don't expect rides when you show up to this park!
Why it's so awesome: This theme park is basically a lush garden where you can experience the best that Hawaii's culture has to offer. It's 42 acres of gardens that contain 6 villages that all feature activities that are and were important to the Hawaiian culture.
What to do there: Everything you've ever heard of in connection with the Hawaiian culture, you can do at this park. Watch one of the best Luaus in Hawaii, watch a fire knife performance, and try spear throwing or a hula lesson. Whatever you decide to do, you'll come away from your visit with a deeper understanding and appreciation of the culture. And that's exactly as it should be!

Our GREATEST Travel Secrets…
Pop your email here & get the original Broke Backpacker Bible for FREE.
#17 – Black Rock – A perfect place to visit in Hawaii if you are on a budget!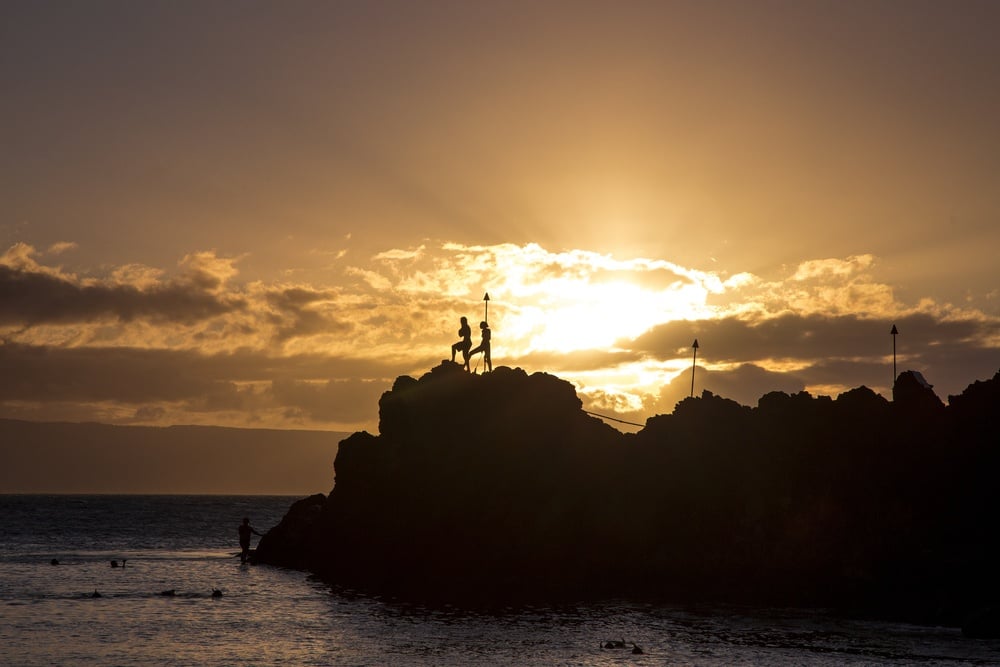 A premium snorkeling spot conveniently located on Maui!
If you're a nervous swimmer, you won't have to worry in these calm waters.
Why it's so awesome: These tropical islands are known for their amazing marine life and Black Rock is one of the best places in Hawaii to go snorkeling and see it for yourself. The waters are clear and warm and safe for everyone and the marine life is truly magnificent!
What to do there: If you're looking for Hawaii vacation ideas, then why not try snorkeling? Black Rock is one of Maui's best destinations for snorkeling and you'll get a chance to see some amazing marine animals close up. Look out for huge turtles, tropical fish and submerged lava rocks. And when you get tired, settle in and watch the cliff diving ceremony at the Rock for some slightly nerve-racking fun! Budget travelers will also love some of Hawaii's best hostels located around the area.
#18 – Ala Moana – A great place in Hawaii if you love to shop!
This is the world's largest open-air shopping center.
Located in Honolulu, there are more than 290 stores at this location.
Why it's so awesome: Although Hawaii is known for its rugged and beautiful natural landscape, a lot of people just go there to shop! And there are lots of options for this including Ala Moana, with 290 shops all gathered together. You'll find international, national and local retailers in this center as well as stores for the kids as well.
What to do there: Grab your cash and be prepared to spend a day exploring this shopping center. You'll find everything from Chanel and Gucci to Bloomingdales and surf stores like Hawaiian Island Creations, so there's literally something for everyone. And when you get tired, stop by the food court, which is the largest international food court in Hawaii, for something delicious.
Get insured for your trip to Hawaii!
ALWAYS sort out your backpacker insurance before your trip. There's plenty to choose from in that department, but a good place to start is Safety Wing.
They offer month-to-month payments, no lock-in contracts, and require absolutely no itineraries: that's the exact kind of insurance long-term travellers and digital nomads need.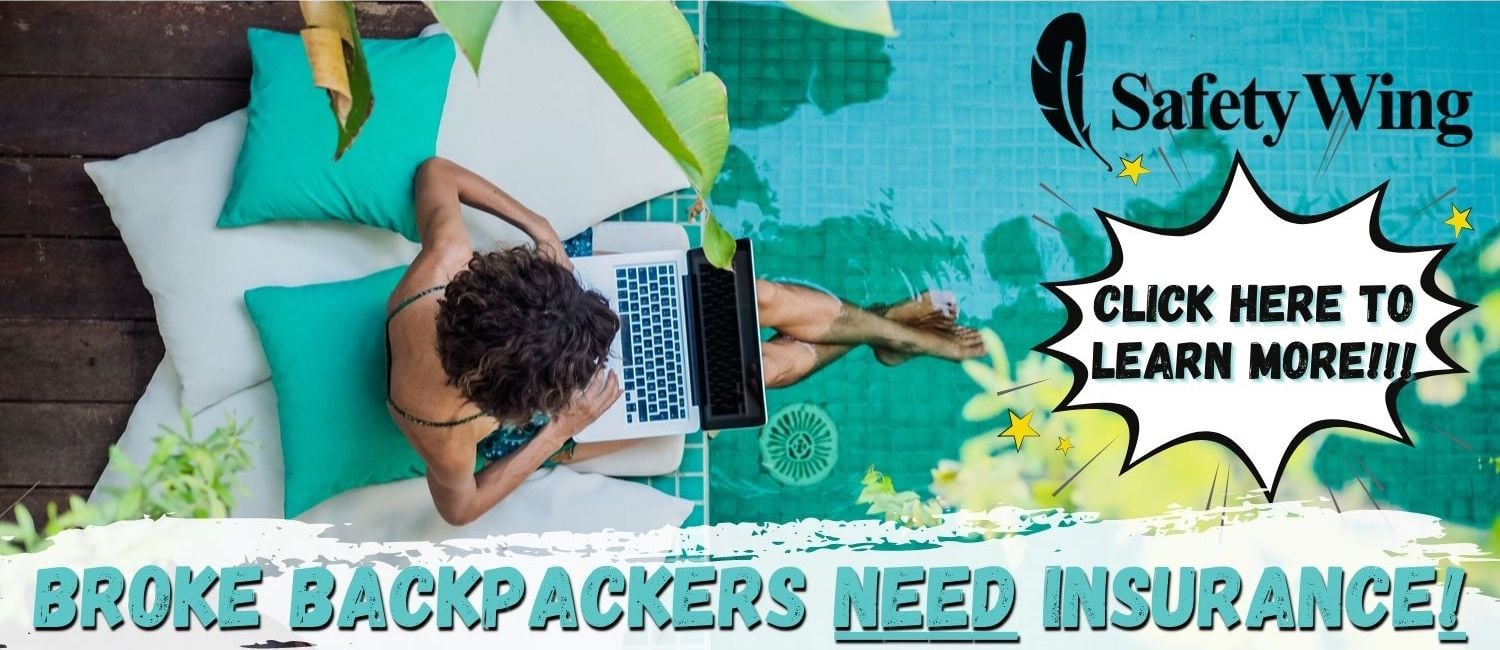 SafetyWing is cheap, easy, and admin-free: just sign up lickety-split so you can get back to it!
Click the button below to learn more about SafetyWing's setup or read our insider review for the full tasty scoop.
FAQ on the Best Places to Visit in Hawaii
Find out what people want to know about the best places to visit in Hawaii
Final Thoughts on the Coolest Places to Visit in Hawaii
Visiting Hawaii is a dream location. However, make sure you set up the right Hawaii travel budget so you can enjoy the island withour a worry.Not only is this where the world's most famous beaches are, Hawaii also boasts some of the best natural experiences close to your home! When you arrive at this famously friendly destination, you'll be shocked and enthralled at the warm welcome you get, in every sense. And you may also find it different to choose the best places to go in Hawaii when you realize just how much there is to see and do. That's where this guide can help because it will help you find the attractions that are worth seeing and the ones that aren't.
---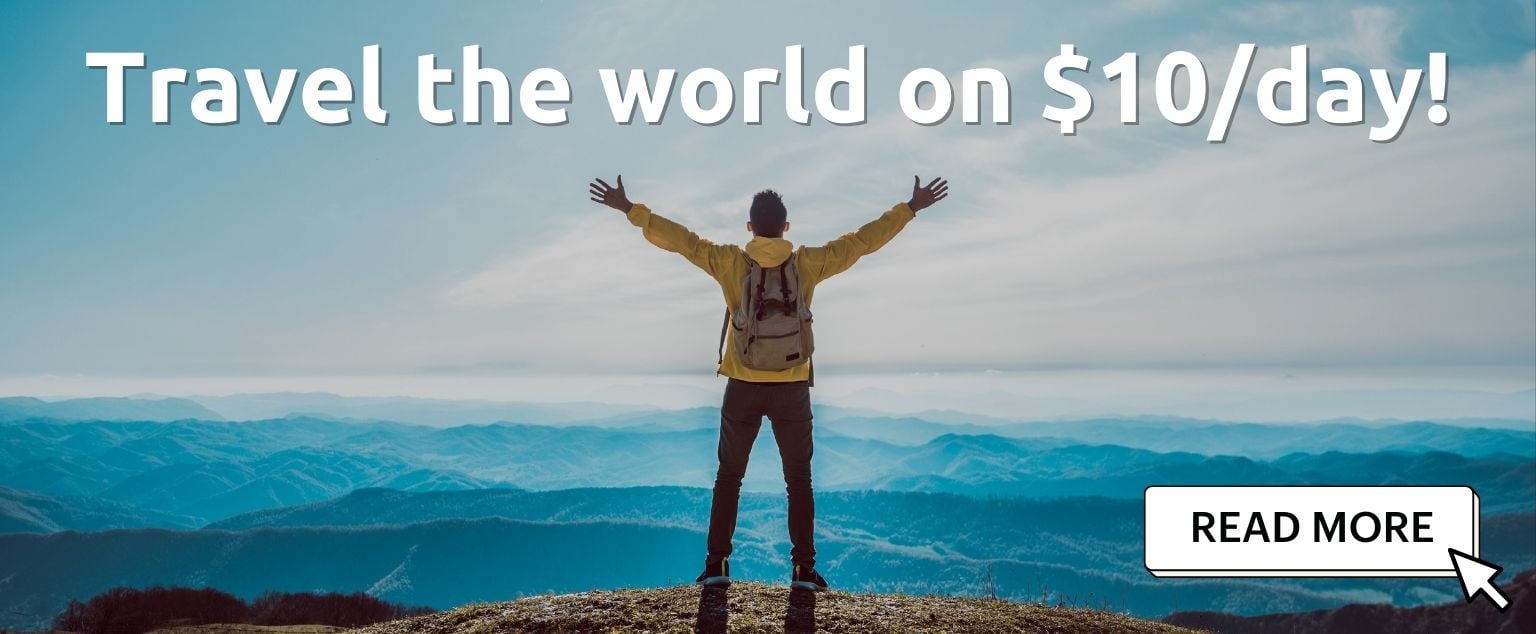 And for transparency's sake, please know that some of the links in our content are affiliate links. That means that if you book your accommodation, buy your gear, or sort your insurance through our link, we earn a small commission (at no extra cost to you). That said, we only link to the gear we trust and never recommend services we don't believe are up to scratch. Again, thank you!