The dreamy, tropical paradise of the Hawaiian islands makes it a top travel destination in the United States. From honeymoon vacations to summer family trips, the endless outdoor adventures, stunning beaches, and fascinating historic sites all lend the islands perfectly to travellers.
If you're planning a trip to Hawaii, you'll know that the accommodation isn't cheap! However, there's a much better way to experience Hawaii than by staying at a standard yet expensive hotel. The solution is finding unique accommodation in Hawaii, which usually comes with a lower price tag and offers a memorable experience.
To help you with your trip preparation, we've taken the time to compile a list of the absolute best tree houses in Hawaii. These awesome properties give you a bird's eye view so you can better appreciate the fantastic natural beauty of the islands.
In a Hurry? Here's Where to Stay in Hawaii for One Night
Is this amazing Hawaii Tree house booked for your dates? We've got your back with our other favorite properties below!
Staying in a Tree house in Hawaii
Known for being a haven of tropical magic, Hawaii provides the perfect setting for a tree house. The year-round warm weather and beautiful lush greenery lends itself perfectly to having an amazing tree house experience.
You can find tree houses that range from rustic, camping style properties to more modern places which have electricity and running water. No matter which tree house you select, you're pretty much guaranteed to be next to amazing natural wonders like forests, beaches and volcanoes!
Since most tree houses in Hawaii are locally owned, you'll also have the chance to experience a more authentic side of the islands when compared to staying at a hotel. Plus, you'll have way more privacy at a tree house and a chance to appreciate nature without any unwanted interruptions.
What to Look for in a Tree house
Depending on your own personal preferences, there are a number of factors to take into account before making a reservation at a tree house. Generally speaking, tree houses aren't the most readily accessible properties, so if you have specific physical needs or are travelling with young children, make sure that the tree house you're looking at is able to accommodate your requirements.
If you prefer a more rustic and remote camping experience, there are plenty of off-the-grid tree houses that really allow you to connect with nature and the environment. However, if you don't want to part with Wi-Fi, electricity, or running water, it's also easy to find more luxurious tree houses, although these tend to be a bit more expensive.
Since Hawaii is so popular among tourists, some properties will have a minimum required stay, which can range from two nights to several weeks depending on the location and time of year.
If you're struggling to find a property that fits all your needs, it's helpful to check out search platforms like Airbnb and Booking.com where you can refine your search to reflect your travel dates, group size, and other preferences. But, we've done that for you and below you can find our top 7 tree houses in Hawaii!
THE OVERALL BEST TREE HOUSE IN HAWAII
THE OVERALL BEST TREE HOUSE IN HAWAII
The Mokuna Tree House
> $$
> 2 Guests
> Large room with natural light
> Balcony with forest views
THE BEST BUDGET TREE HOUSE IN HAWAII
THE BEST BUDGET TREE HOUSE IN HAWAII
Ocean View Tree House Glamping
> $
> 2 Guests
> Shared kitchen
> Hammocks
THE BEST TREE HOUSE FOR COUPLES
THE BEST TREE HOUSE FOR COUPLES
Hawaiian Rainforest Tree House
> $$
> 2 Guests
> Solar power
> Peaceful and tranquil setting
THE BEST TREE HOUSE FOR A GROUP OF FRIENDS
THE BEST TREE HOUSE FOR A GROUP OF FRIENDS
Enchanted Tree House Cottage
> $$$
> 4 Guests
> Open-air space
> Kitchenette
OVER-THE-TOP LUXURY TREE HOUSE
OVER-THE-TOP LUXURY TREE HOUSE
Kona Luxury Tree House
> $$$
> 2 Guests
> Ocean views
> Modern spaces with a hot tub
THE BEST TREE HOUSE FOR FAMILIES VISITING HAWAII
THE BEST TREE HOUSE FOR FAMILIES VISITING HAWAII
Rainbow Honeycomb Tree House
> $$
> 8 Guests
> In-house chef on request
> Prime location close to Green Sand Beach
THE BEST TREE HOUSE FOR BACKPACKERS
THE BEST TREE HOUSE FOR BACKPACKERS
Glamping Jungalow
> $
> 4 Guests
> Breakfast included
> Outdoor shower
The Top 7 Tree Houses in Hawaii
Now that you know what to expect when staying at a tree house, read on to discover the top tree house options on the islands! The list of choices for unique accommodation in Hawaii is your ticket to having a truly unforgettable vacation experience.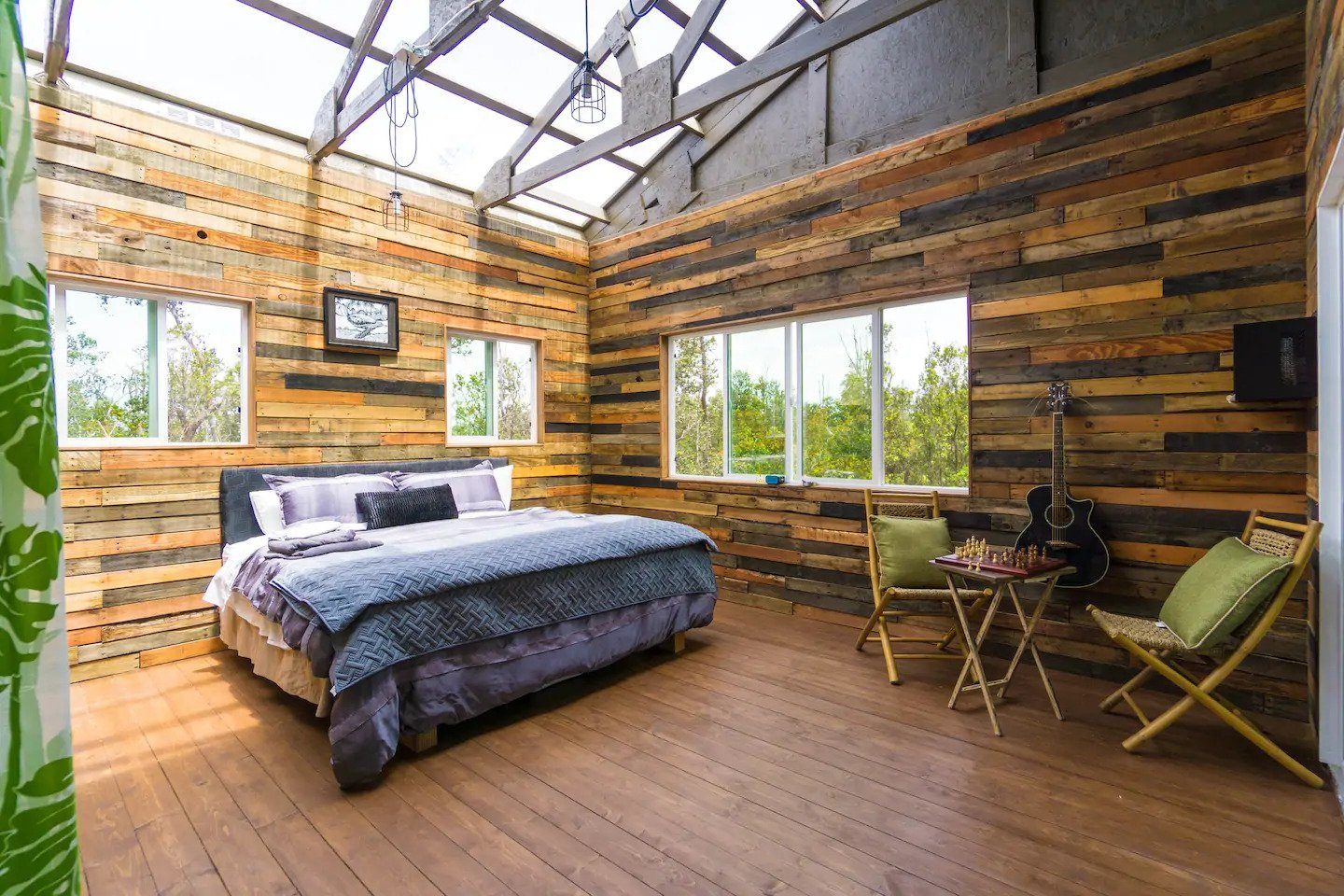 $$
2 Guests
Large room with natural light
Balcony with forest views
The perfect combination of off-the-grid living and comfort, the Mokuna Tree House is located in the small village town of Volcano in Hawaii. Having a vehicle is necessary to get around on the Big Island, and parking is available on-site at the base of the tree house.
You'll feel totally immersed in the exquisite nature of the island with gorgeous views of the treetops above and bright flowers below. The huge window in the bathroom only adds to the treetop living and will make it seem like you're showering "outside." Don't worry though, the tree house is totally secluded and surrounded by forests, making it the perfect place to escape and enjoy some peace and quiet!
$
2 Guests
Shared kitchen
Hammocks
For budget travellers in Hawaii, this glamorous camping (glamping) tree house option is the perfect way to have a true nature experience on the islands! Close to the famous beaches of South Point on the Big Island, you'll have the chance to spend a lot of time in the ocean.
There are several private tree houses to choose from, with queen-sized beds and daybeds for relaxing. Back on the ground, you can use the communal kitchen, and there are places to practice yoga, meditate, or meet the various farm animals like goats and cows.
$$
2 Guests
Solar power
Peaceful and tranquil setting
This awesome, off-the-grid tree house is the perfect way to unplug (literally!) from daily demands. There's solar power to charge small devices, but no Wi-Fi so you can take a break from social media and reconnect with nature.
The beautiful tree house has two stories fitted with luxurious furniture such as a Balinese style daybed and a rain-style shower. There's even a fully equipped kitchen so you won't need to leave the property! Despite being so isolated and secluded, the tree house is located just over a mile from the main highway, so it's still close to town and top attractions like lava tubes, waterfalls, and the farmer's market.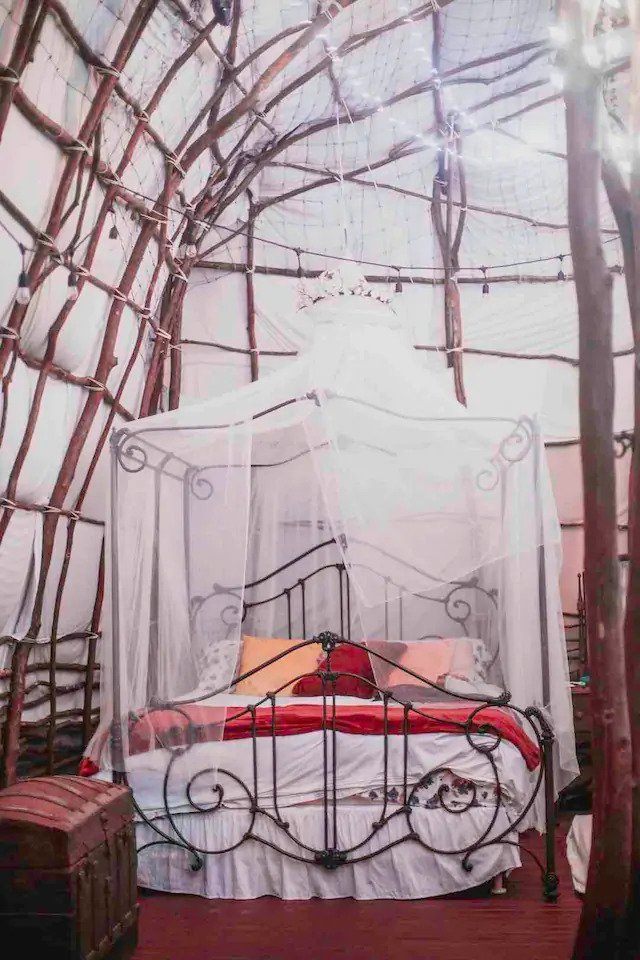 $$$
4 Guests
Open-air space
Kitchenette
Adventurous groups of friends will love this magical little tree house on the Big Island of Hawaii! There's space for one vehicle to park on-site, so you and your friends can drive to nearby towns or to the Volcano National Park and explore the natural wonders of Hawaii.
You'll be immersed in nature, since the tree house has no doors nor windows and is open to the magical jungle! Be warned there are mosquitoes sometimes, but the bed is covered in mosquito netting so you won't be bothered at all during the night.
Is This the Best Travel Backpack EVER???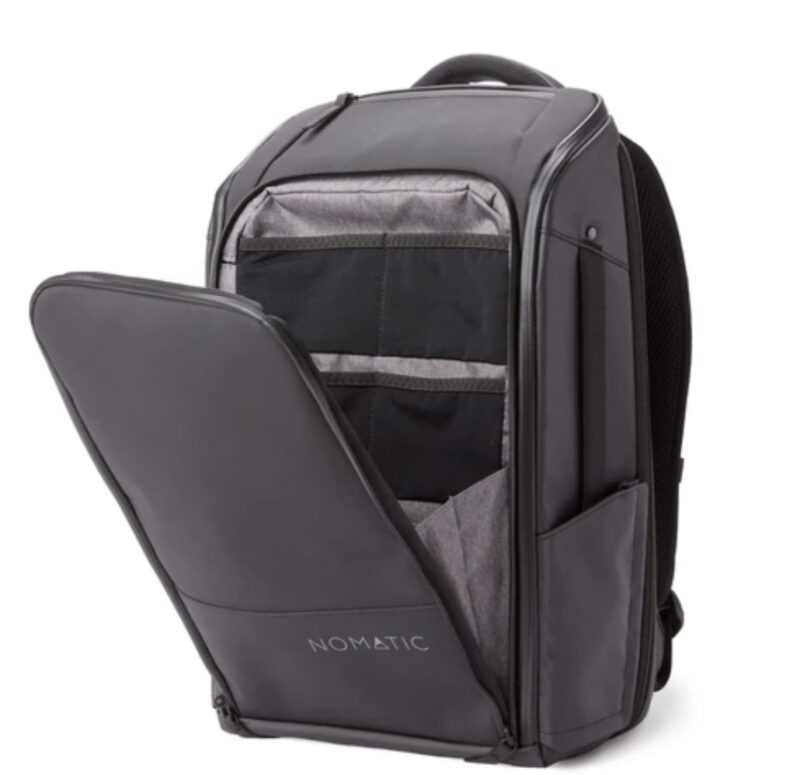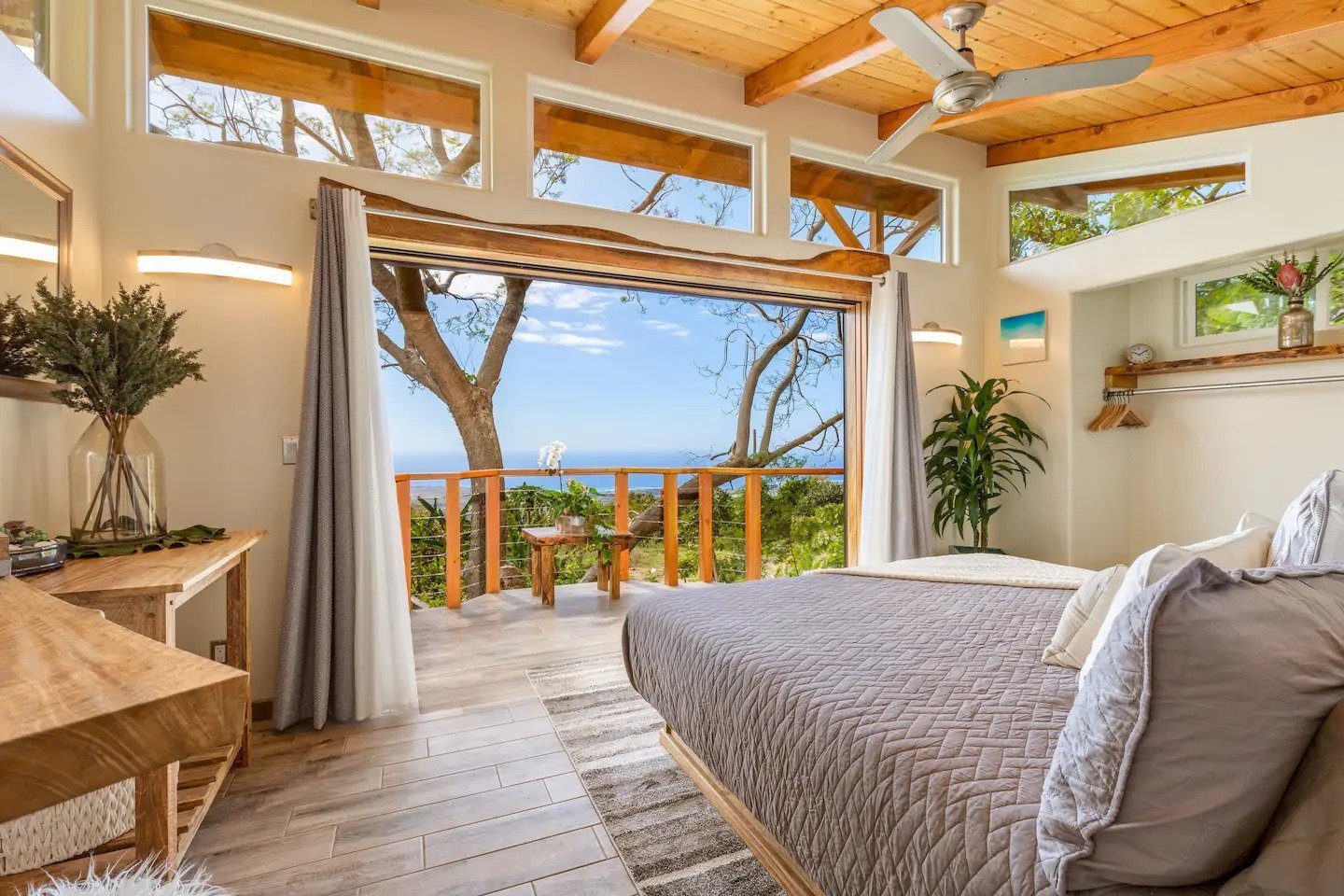 $$$
2 Guests
Ocean views
Modern spaces with a hot tub
Imagine a luxury hotel but with the magical location of being up in a tree, with panoramic views. Well, you don't just have to imagine it, you can actually spend your vacation here! This incredible tree house, situated just a stone's throw away from Kona, has both indoor and outdoor living spaces, a mango wood king-sized bed, water filtration, and a glass shower with a mosaic tiled floor.
On the main property below you can do laundry, and depending on the season, tropical fruit is provided. Plus, for when you want to hit the beach, snorkeling gear, boogie boards, beach towels, and umbrellas are all provided!
$$
8 Guests
In-house chef available on request
Prime location close to Green Sand Beach
A unique stay suitable for the entire family, this tree house has three bedrooms with a combination of queen beds and hammocks so everyone has a place to stay. You can use the kitchen space to prepare your own meals, or treat yourself to chef-prepared meals by appointment.
The tree house is a short drive to top attractions like the Green Sands Beach and Volcano Crater. The hosts also operate the Lovevolution Animal Sanctuary, and young kids might have fun meeting the peacocks, sheep, horses, and goats.
If you're wondering if it's safe to travel to Hawaii, take a look at our this detailed post with everything you need to know about safety in Hawaii.
The Best Tree House for Backpackers – Glamping Jungalow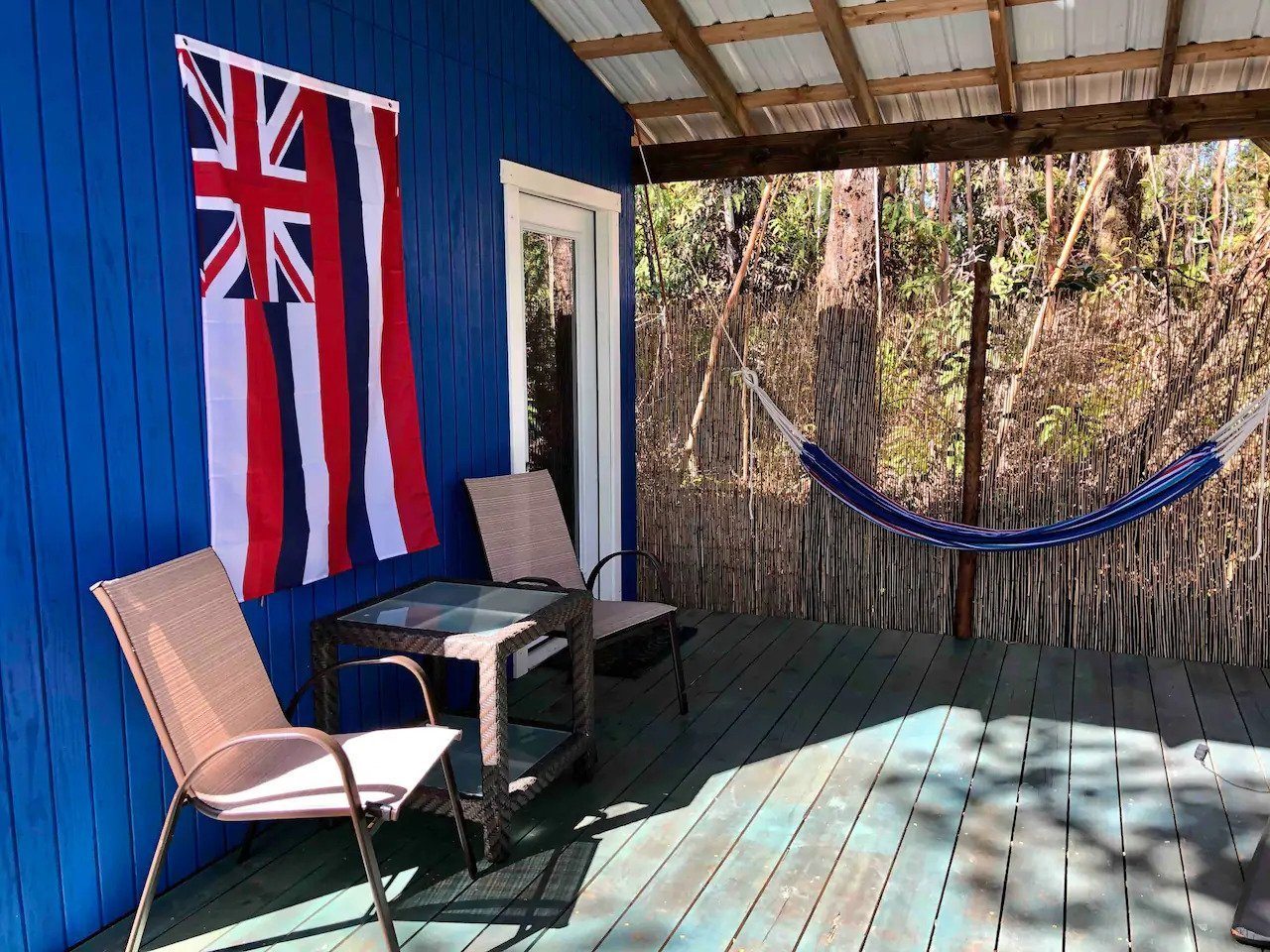 $
4 Guests
Breakfast included
Outdoor shower
Are you backpacking Hawaii and looking for a unique experience that can fit your tight budget? This spot is for you! It's the perfect blend between nature and comfort and is an awesome place for solo backpackers or groups of friends looking for the best budget tree house in Hawaii. With breakfast included and an outdoor kitchen, you can also save money on food during your stay.
Beach gear like boogie boards and snorkel equipment is also included in the tree house price, and the hosts can help with suggestions about how to spend your time in Hawaii. If you're super tired and would prefer to treat yourself after a long day of exploring, there's also the option to book in-room massages for an additional price.
FAQ about Tree Houses in Hawaii
Here's what people usually ask us when they look for vacation homes in Hawaii.
Final Thoughts on Tree Houses in Hawaii
Travelling to the Hawaiian Islands is already a dream come true, so why not take the adventure even further by staying in one of the best treehouses in Hawaii? By picking any of the options on our list, you'll be setting yourself up for a truly unforgettable experience.
From large families to solo travellers, staying in unique accommodation in Hawaii is the best way to have a more authentic experience during your vacation. Escape into nature, breathe the clean island air, and enjoy the symphony of sounds from the many tropical birds!
To prepare for your island adventure, it's a good idea to get travel insurance. Travel always comes with unknowns, and especially if you'll be travelling internationally it's always a good plan to have back-up support just in case any accidents occur.
And have you thought about getting Travel Insurance for your trip? We've put together a roundup of Travel Insurance for backpackers – check it out here, or if you're low on time, get a quote from World Nomads, our favorite travel insurance provider.
Getting an estimate from World Nomads is simple – just click the button or image below, fill out the necessary info, and you're on your way!

---
Find out how YOU can support the site.
We work hard to put out the best backpacker resources on the web for free! It's all about helping out our tribe of awesome backpacker readers (that's you!). Please visit the link to find out how you can help keep the site going 🙂
For the sake of transparency, some of the links in our content are affiliate links. This means that if you book your accommodation, buy a piece of gear, or sort your insurance through our link, we earn a small commission at no extra cost to you. We only link to stuff that members of the Broke Backpacker team has actually used and never endorse products or services that are not up to scratch. Thanks for your support!