The Big Island (officially known as the Island of Hawai'i) is the largest in the Hawaiian archipelago. In fact, all the other five islands could fit into Big Island twice – impressive!
Nature abounds on this enormous island, which has a smaller population and is less visited by tourists compared with Oahu, Maui, and Kaui.
Across the vast landscape, you can find black sand beaches, snow-capped volcanoes, and lush tropical rainforests. Big Island is split into two sections: Kona is the dry side of the island and home to many lava fields and beaches. This makes it the most popular spot for beach resorts and tourists.
On the east of the island, you'll find Hilo. This area is lush and green, boasting loads of natural attractions, such as the Volcanoes National Park, rainforests, black and green sand beaches, and many waterfalls and rivers.
Kick up your feet and get ready for some serious wanderlust with these Big Island vacation rentals.
Quick Answer: These are the Top 5 Vacation Rentals in Big Island
Overall Best Value Vacation Rental in Big Island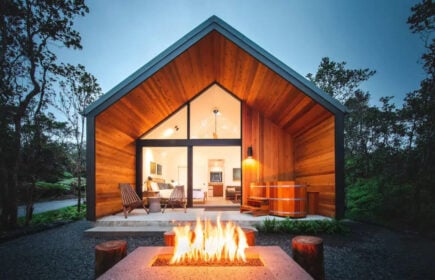 Overall Best Value Vacation Rental in Big Island
Super Modern Volcano Bungalow Studio
> $$$
> 3 Guests
> Swedish inspired modern home
> Located in Volcano, near Volcanoes National Park
Best Budget Vacation Rental in Big Island
Best Budget Vacation Rental in Big Island
Spacious and Secluded 2 Bed Cottage
> $
> 5 Guests
> Bright house with a homey feeling
> Surrounded by the lush rainforest in Volcano
Best Vacation Rental for Couples in Big Island
Best Vacation Rental for Couples in Big Island
1 Bed Octagonal Rainforest Cottage
> $$$
> 2 Guests
> Cedarwood cottage in the rainforest
> Located in Volcano. Renting a car is advised
Best Vacation Rental for Families in Big Island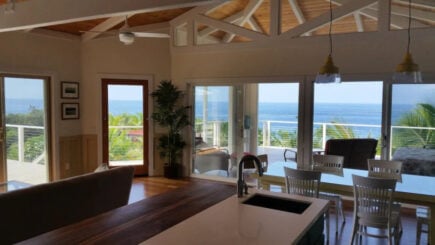 Best Vacation Rental for Families in Big Island
Modern Ocean View Home for 5
> $$
> 5 Guests
> Contemporary private home overlooking the ocean
> Located in the heart of authentic Kona paradise
Over-the-Top Luxury Vacation Rental in Big Island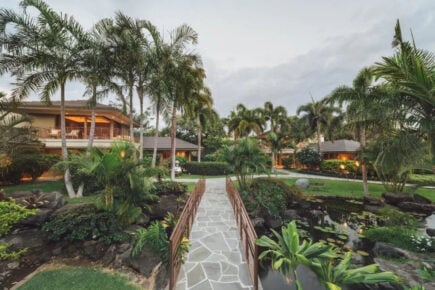 Over-the-Top Luxury Vacation Rental in Big Island
Extravagant 10 Bed Estate with Separate Cottages
> $$$$
> 30 Guests
> Estate property with luxury detached homes
> Located on the beachfront nearby Hapuna Beach State Park
Types of Accommodation in Big Island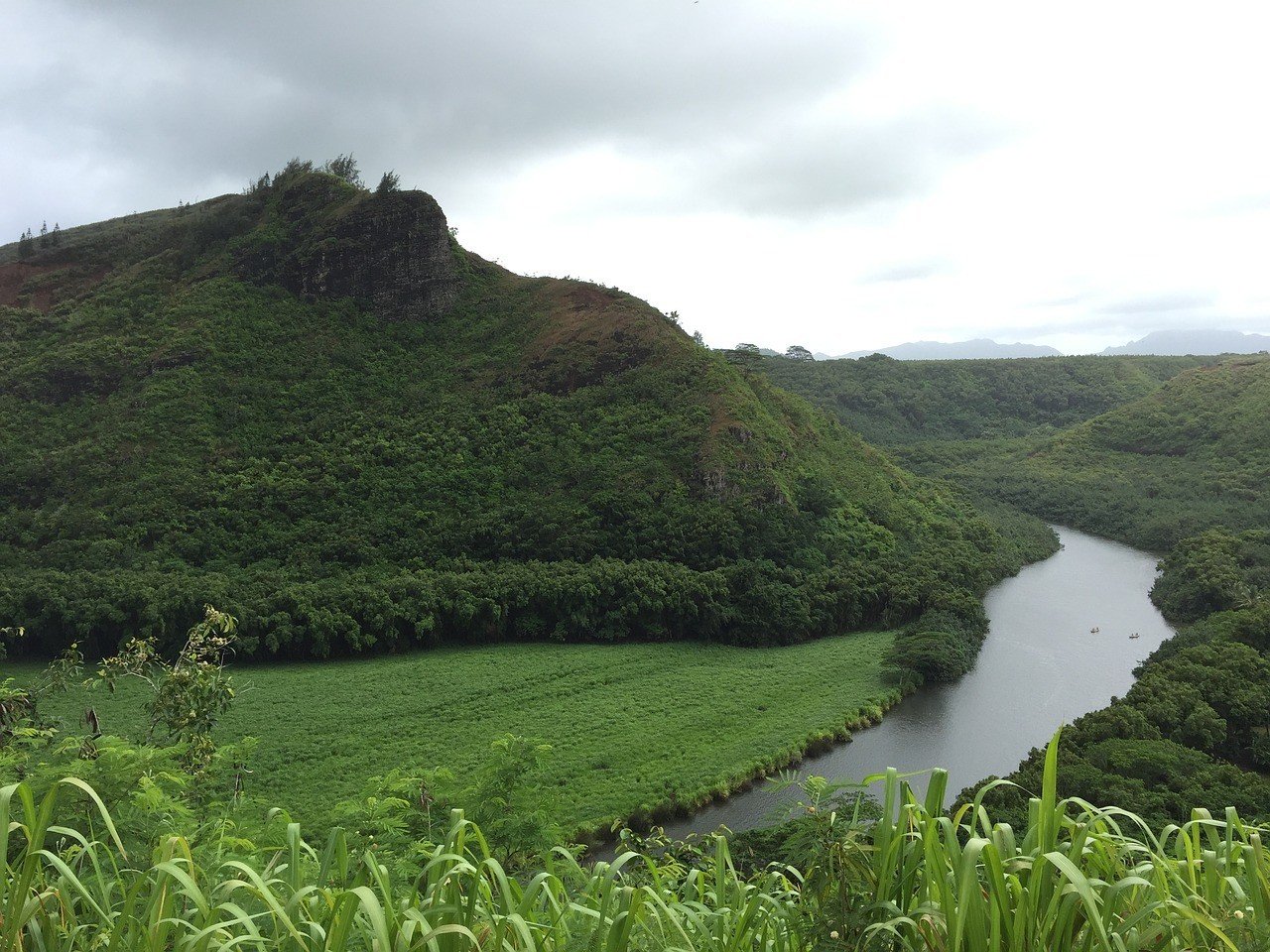 Rainforest Cottages and Treehouses
Big Island is home to some of Hawaii's famous active volcanoes, located in the Volcanoes National Parks. Rainforest cottages and treehouses can be found inland here, often around this volcanic region. Many visitors love this area for its vast remoteness and disconnection from busier beach regions.
Lots of these spots are built using traditional wooden materials and have been renovated with clean and modern interiors. You may even find the occasional funky vibe!
Surrounded by tropical plants in the secluded rainforest, these vacation rentals are ideal for couples who want a private escape. They are also a great option for adventure seekers on the hunt for outdoor activity and even families looking for a peaceful retreat.
Vacation Condos
One of the most common types of vacation rental in Big Island are detached or semi-detached vacation condos. These condos offer the benefits of a shared pool, garden, and barbeque facilities for a fraction of the price you'd pay at a hotel or resort.
These gated-in condos are a safe option for traveling families and are often well-located along the island's best beaches. Many of them offer ground-floor condos or elevators, which are accessible for those with disabilities. 
Experience the privacy of a well-managed rental while reveling in the shared manicured gardens, and a social swimming pool scene.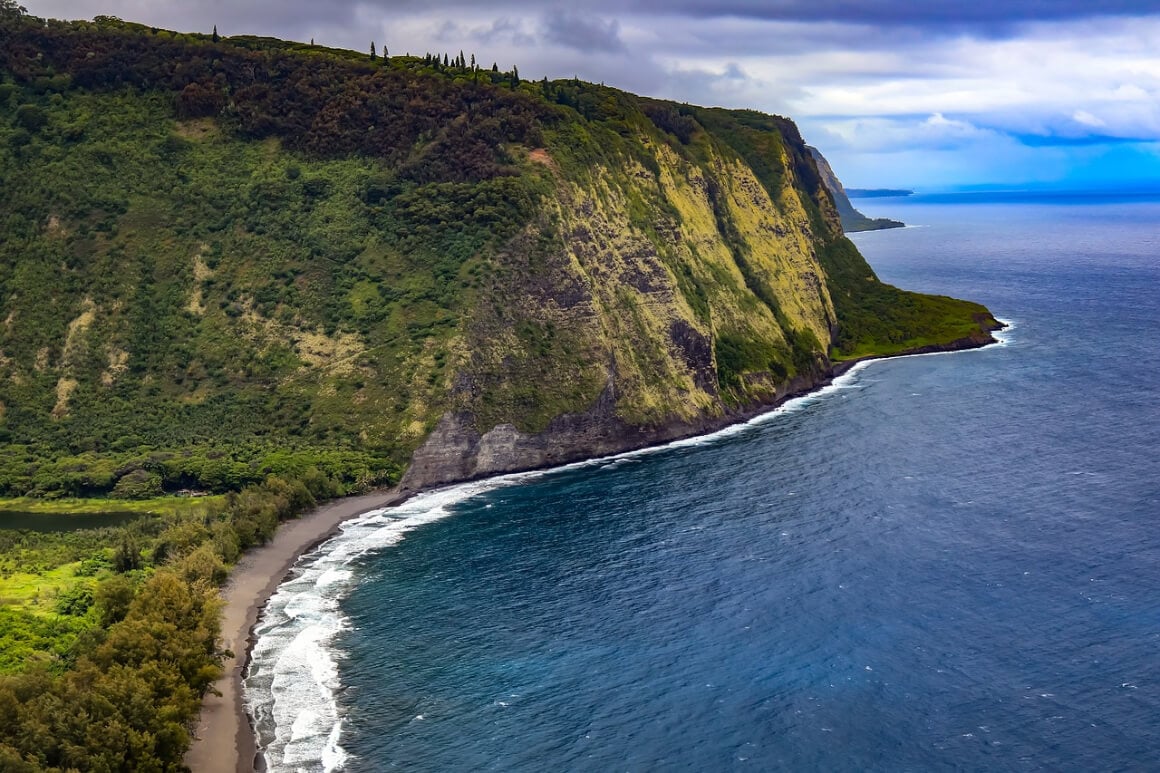 Beach Houses
More than half of Big Island's best beaches are located along the Kona coastline. Beach houses are popular here. Unlike other Hawaiian islands, you'll be treated to much more privacy and seclusion on Big Island. 
Beach houses range from single bedroom homes to large, ten bedroom villas. With a beach location and ocean views, these homes are the best holiday rentals in Big Island for large families and groups of friends. They usually include swimming pools, Jacuzzis, large lawns, and direct beachfront access. I can't think of anything better than a home leading directly onto a private tropical beach.
Top 20 Vacation Rentals in Big Island
It's easy to find a rental in Hawaii. However, finding the best vacation rentals in Big Island for your particular needs is a different story.
That's why we have done all the hard work to find the best places to stay, so you don't have to!
$$$
Swedish inspired home with gas fire pit and outdoor jacuzzi
3 Guests
Located in Volcano, near Volcanoes National Park
This ultra-modern studio is a jewel in the Volcano rainforest. The home is inspired by Scandinavian architecture, boasting clean lines, exposed cast-iron framing, and wooden walls. With floor-to-ceiling glass windows, you'll feel as if you're in the wild, even from your high-quality bed.
This newly renovated home includes an outdoor gas fire pit with seating and a wooden Jacuzzi looking into the dense tropical forest. When nighttime falls at this secluded spot, you'll feel like the only people in the area. 
The bungalow is well equipped with washer-dryer facilities, a kitchen, and fast-connecting Wi-Fi. It's the ideal location for a couples retreat, and can even be enjoyed as a long-stay sanctuary for digital nomads.
$
Bright house with a homey feeling
5 Guests
Surrounded by the lush rainforest in Volcano
There's loads of space both indoors and surrounding this cottage making it a great spot for a budget vacation. In a traditional Hawaiian plantation house, the home has a spacious living area and a porch (or lanai) underneath an overhanging roof.
Warm and welcoming wooden tones invite light into this cottage, which has a fully-equipped kitchen and living space finished with a wood-burning fireplace. The hosts have included a crib, high chair, children's toys, and books. They also allow pets in this spot, making this two-bedroom oasis a perfect location for a secluded family stay-cation.
$$
Spacious and homey wooden home with Jacuzzi
3 Guests
Located nearby Kehena and Pohoiki black sand beach
Bright natural light and warm interiors welcome you as you walk into this beach home. Hidden between trees in a residential beach town, this home has everything you might need from a self-catering rental stay. The three-story home has two spacious bedrooms, one on the ground floor and one in the loft. 
The living space is a welcoming room filled with comfortable furniture, a small library, an eating area, and a well-kitted kitchen. Open the balcony doors and you'll be surprised with a private Jacuzzi with beautiful island views.
I can almost feel the warm sunshine and fresh ocean breeze – it's no wonder this is one of the top beach holiday rentals in Big Island.
Is This the Best Travel Pack EVER???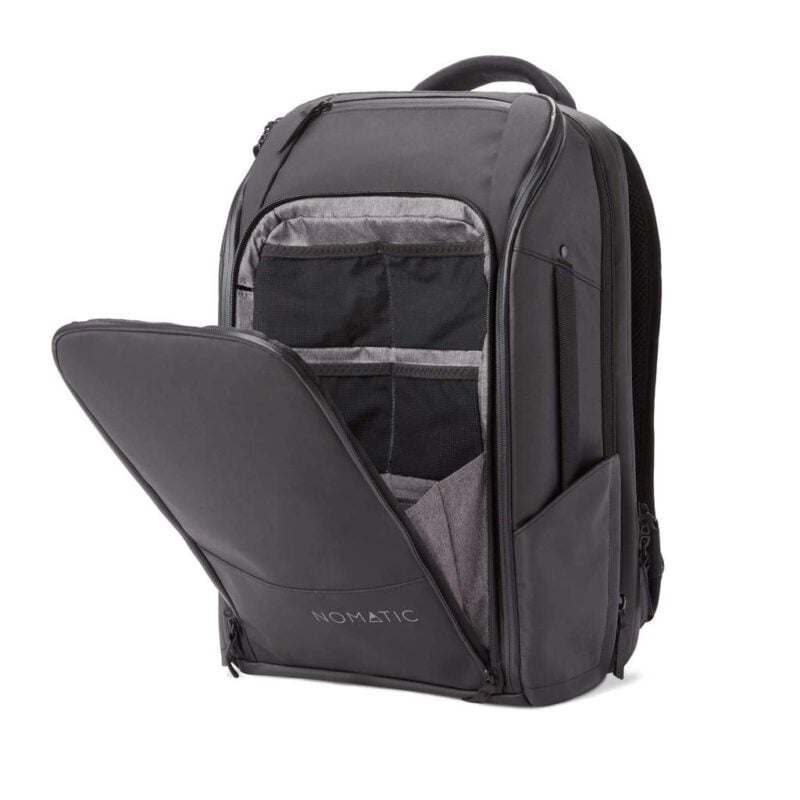 $$$$
Estate property with luxury detached homes
30 Guests
Located on the beachfront nearby Hapuna Beach State Park
Extravagant master suites, tall ceilings, and dramatic lighting – this home is luxury. The villa consists of a bunch of smaller homes that can be rented out as one to comfortably host up to 30 guests. 
With a gym, steam room, massage parlor, theatre, and outdoor pool bar you'll feel as if you've rented out an entire 5-star hotel. Enjoy these outlandish facilities while still having a peaceful yet beautiful suite to return to at the end of the day.
The villa is also fitted with a professional chef's kitchen. The cherry on top of this luxury Big Island vacation rental is the outdoor seating areas and infinity pool and Jacuzzi, which overlook the Pacific Ocean.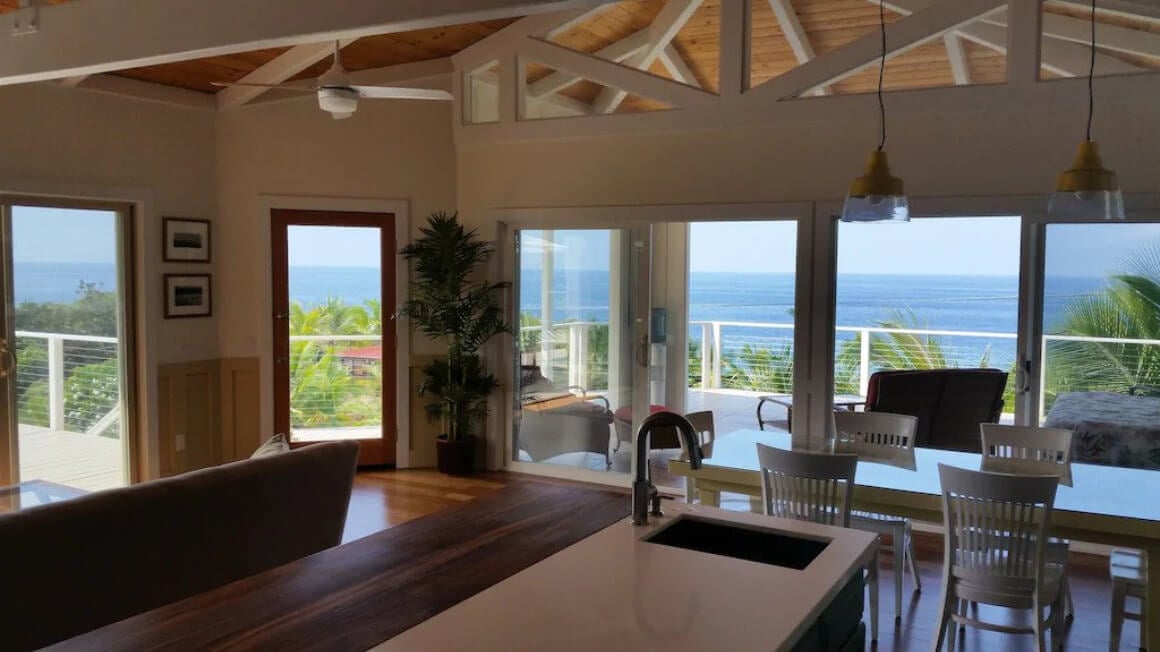 $$
Contemporary private home overlooking the ocean
5 Guests
Located in the heart of authentic Kona paradise
Would you like to hear the ocean waves and rustling palm trees from your large private balcony? Perched atop a hill in the center of Kona, this two-bedroom beach house will exceed your holiday home expectations.
The house has a large shared living area surrounded by 360-degree balconies boasting extravagant ocean and island views. Recently remodeled using trendy tiling, clean wooden floors and cabinetry, and decorated with ocean-themed art, this home truly screams beach vacation – I'm ready!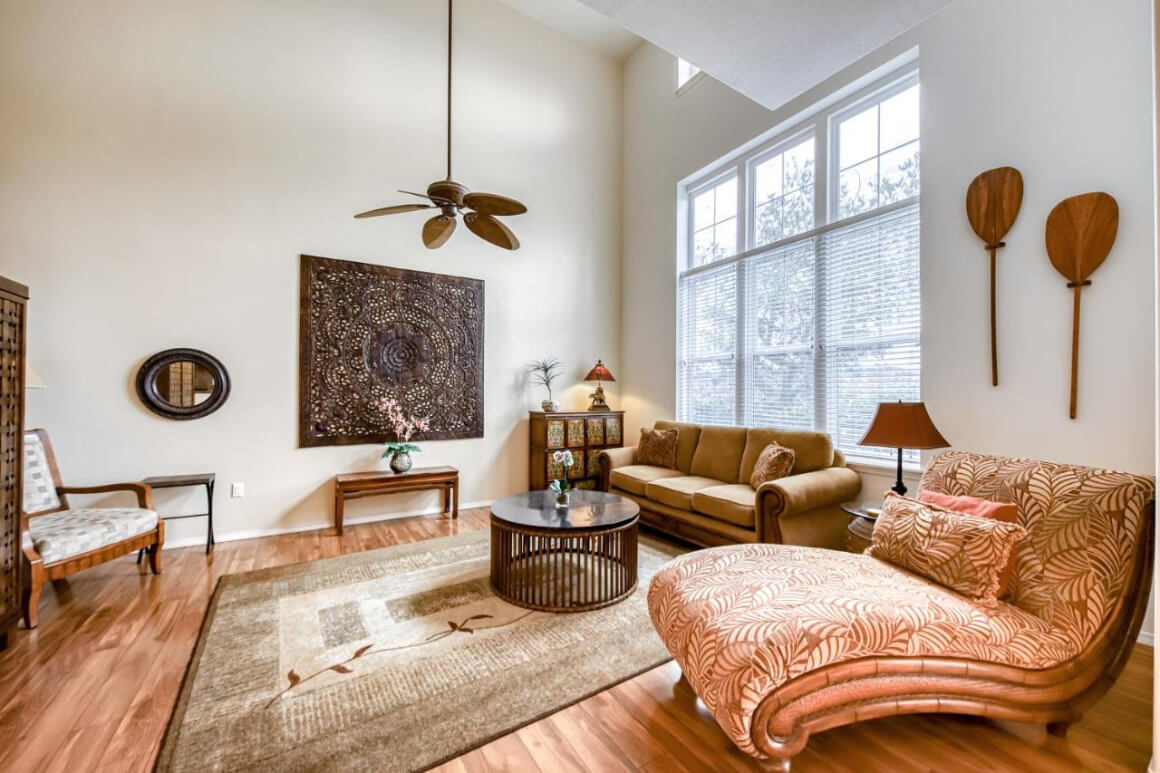 $$
Modern condo with traditional Hawaiian furniture
4 Guests
Located in Waikoloa, close to shops and galleries
Warm white walls, wooden floors, and plantation-style furniture mesh modern living and authentic Hawaiian style in this condo. A newly renovated kitchen and bathroom, which both have marble countertops and fresh white details will make you wish this was your own home. 
The condo sits in a well-managed estate that offers access to a shared swimming pool and Jacuzzi, tennis courts, a gym, and barbeque areas. While the two-bedroom condo can comfortably sleep four adults, there is also a sleeper couch that can be used for an additional adult or two children.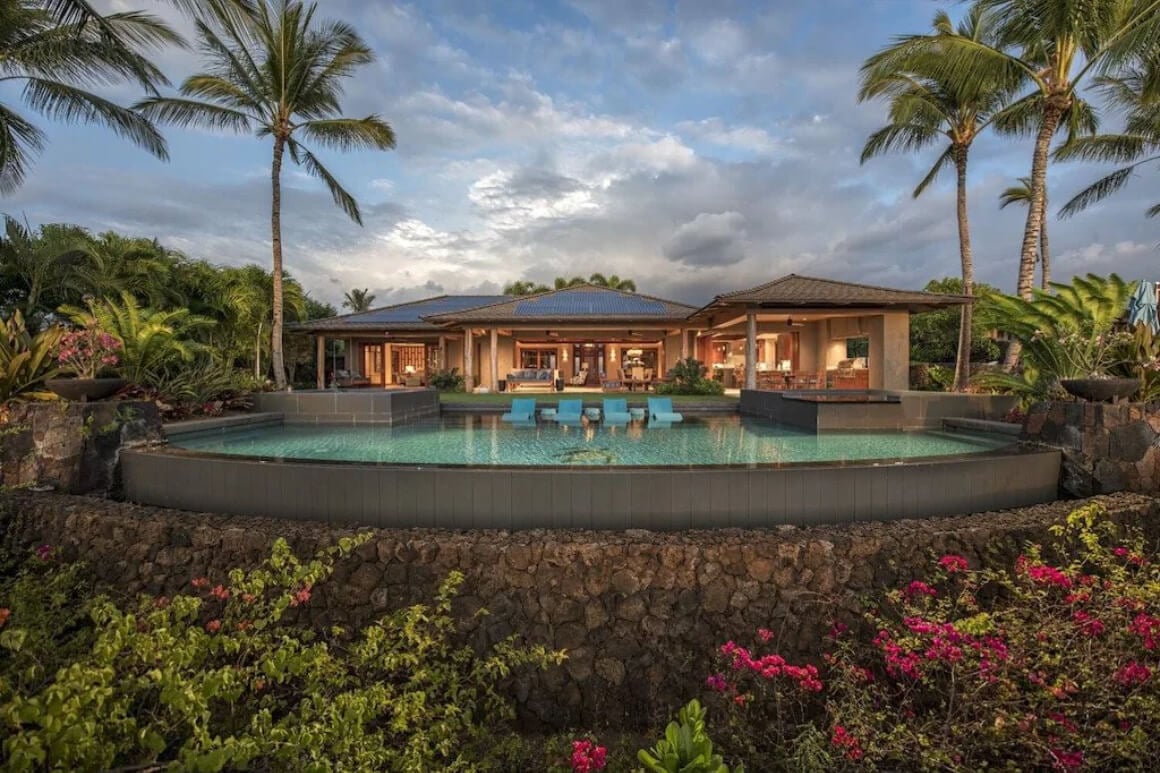 $$$$
Modern fittings meet traditional Hawaiian interiors
10 Guests
Located in Kaupulehu near the Four Seasons Hotel
Bring your book and take a seat in the half-submerged loungers in this crescent-shaped infinity pool overlooking the golf course and ocean. The pool also has a Jacuzzi and a children-sized pool, ideal for families to enjoy. 
This luxurious villa has some of the most inviting outdoor areas I have ever seen. Large swinging couches hang from the roof and floor-to-ceiling sliding doors open out onto lush lawns. Each of the five guest suites is fitted with an outdoor garden rain shower.
Want more luxury? The main suite has an outdoor deep soaking tub!
$$$
Bright and inviting ground floor condo with lift access
6 Guests
Located on Anaeho'omalu beach in Waikoloa
The best Hawaii vacation homes for accessibility are usually located in gated holiday rentals, resorts or hotels. This two-bedroom condo is no exception. It's located on the ground floor at Hale Kahakai Resort with lift access in all buildings, and free parking outside the condo.
Being part of a resort, this spot includes access to a bunch of great shared amenities including a swimming pool and Jacuzzi. There is a large shared living space that opens out onto manicured resort lawns. 
$$$
Private home on a large property with vegetable garden
4 Guests
Located in the heart of Kailua-Kona
This central holiday home also happens to be one of the best luxury Big Island vacation rentals. The spacious two-bedroom home includes a swimming pool, sauna, and hammam room as well as an onsite tennis court – wow! Wake up with the sun and venture into the gorgeous garden to harvest some fresh ingredients from the vegetable garden.
The home is perched in the hills within walking distance to a range of Kona's best restaurants, cafes, and nightlife. It's also just a four-mile drive to the National Historic Park, Honokohau Harbor, and the Kona International Airport.
The two-bedroom home has a big sleeper couch, so bring along an extra friend to join in on the fun!
$$$
Large private home with yard and Jacuzzi
10 Guests
Perched atop a hill in Hilo, with no neighbors in view
This huge plantation-style home overlooks exquisite island and ocean views. One of the four bedrooms is located in a guest cottage, and can sleep four comfortably. It is the best holiday rental in Big Island for an older family who enjoys shared time and personal space.
The house has been newly renovated and decorated in an authentic Hawaiian style. With etched wooden touches, bamboo blinds, and traditional details, you'll feel the island vibe the moment you step inside.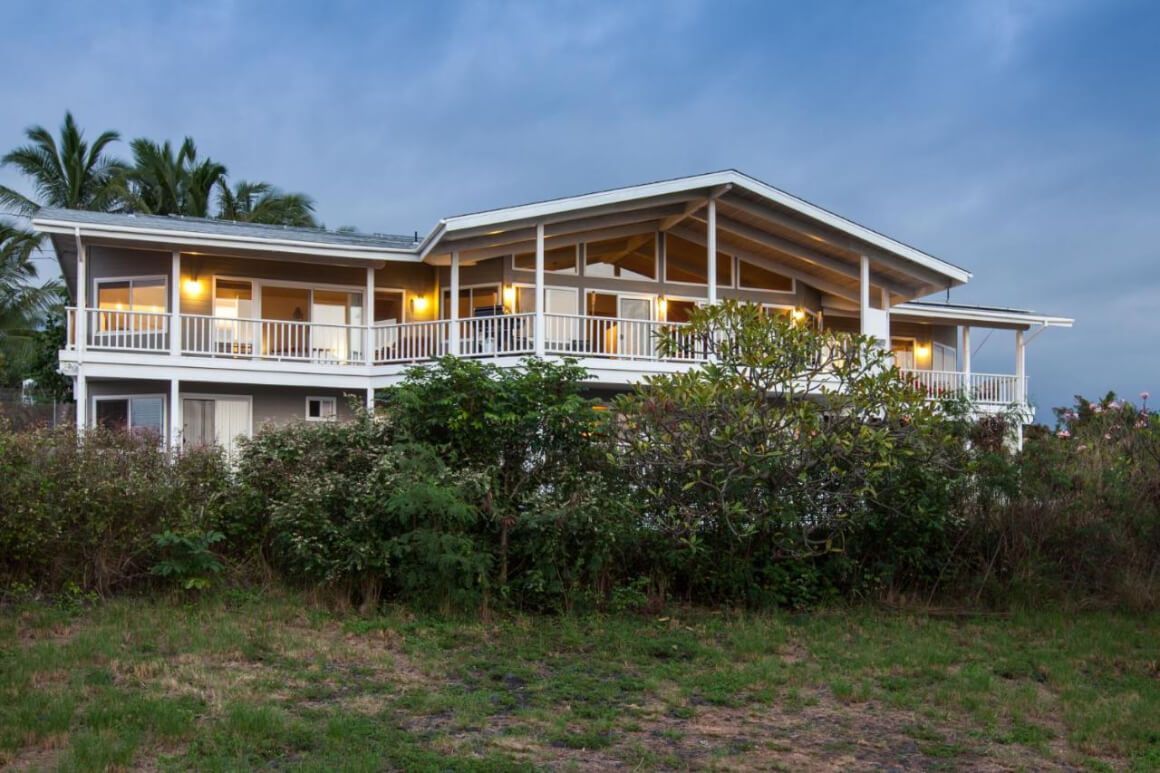 $$$
Stylish and spacious home with balcony and barbecue facilities
7 Guests
Located in Kailua-Kona, nearby Kaloko-Honokohau Historic Park
There are three things you should look for in a vacation rental for a friend's getaway: a shared living space, private bedrooms, and a central location. This home exceeds all expectations, making it the ideal place to stay on The Big Island for groups!
Overlooking the island and ocean in the famous Kona district, this home offers a huge patio with outdoor seating and a barbeque. Large glass windows bring in masses of natural light, making it a pleasure to cook in the large open-plan living space. Along with the three full bedrooms, there is also a sleeper couch that can accommodate two more friends if need be.
The host of this beach rental in Big Island even supplies snorkeling and beach gear. I can already feel the sand in my toes.
$$
Warm cabin style home built on stilts
2 Guests
Located in Volcano, nearby Volcanoes National Parks
This house is the tropical treehouse of my dreams. Built on stilts using warm timber materials and furnished with comfortable wooden furniture, this treehouse gives you the feeling of being one with nature.
The house sits hidden in the rainforest and has tons of windows opening out into the wild. Fitted with a fully-equipped kitchen and a beautiful indoor and outdoor dining area, it's easily one of the best vacation rentals in Big Island for outdoor enthusiasts. 
$$$
Japanese zen cottage with outdoor Jacuzzi
2 Guests
Located in the rainforest in the Volcano neighborhood
Private and stylish, this Japanese-inspired cottage can bring zen into anybody's life. Isolated in the rainforest, it's one of the best rentals in Big Island for romance. The house includes a large living area fitted with simple furniture. 
The hosts have left no stone unturned by including a private outdoor Jacuzzi and large indoor bathtub. The kitchen blends modern Japanese with traditional Hawaiian timber style and is fully equipped for a memorable stay in Big Island.
$$$
Warm condo with lagoon and ocean views
4 Guests
Located in a gated resort in Puako
This contemporary condo is located in the perfect spot amongst the island's nightlife and restaurant scene. The spacious balcony overlooking authentic Hawaiian fish ponds includes a wet bar and dining area. What more can you want than a private bar with a view?
The interior is complete with luxurious linens, sliding shade doors, and gorgeous wooden details. Before heading out for a night on the town, take advantage of the social resort swimming pool and Jacuzzi nestled between tropical gardens.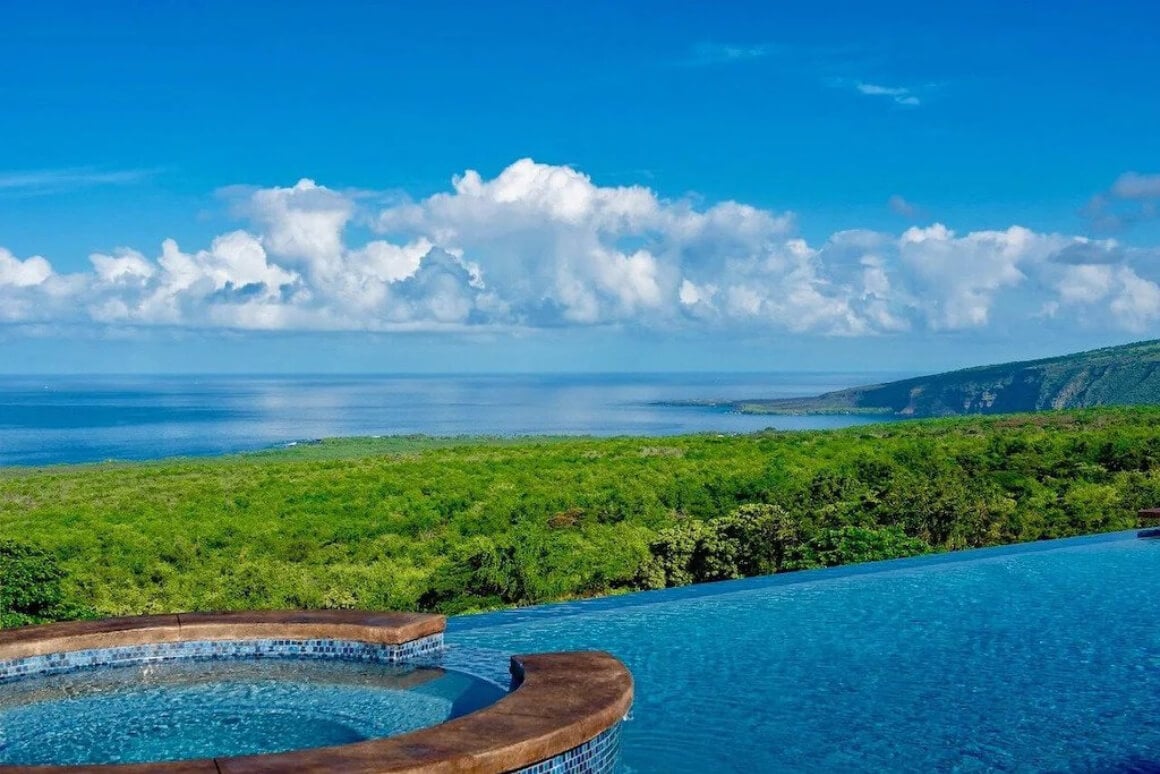 $$$$
Spacious contemporary home with open-plan living space
19 Guests
Overlooks Honaunau-Napoopoo, 2 miles from the beach
You could not find better views than those from this 6400 square foot spot. Built on top of a hill overlooking jungle forests leading into the Pacific Ocean, this home is a true oasis. 
The house is decorated with impeccable taste and is furnished with top-of-the-range appliances in every corner. With bathrooms the size of bedrooms and luxurious touches scattered across the home, this spot will instantly take you back to a more quiet and relaxing Hawaiian era.
$$$
Cedarwood cottage in the rainforest with Jacuzzi gazebo
2 Guests
Located in Volcano. Renting a car is advised
Hidden in the tropical jungle, an octagonal studio paradise awaits you. An outdoor Jacuzzi, comfortable bed, stunning simple interiors, and fully-equipped kitchen are all you'll need for a holiday in this dense jungle. The home boasts a tall wooden vaulted ceiling with a skylight above the bed, which is the perfect stargazing addition for your romantic rainforest vacation.
The privacy of this home is unrivaled, and you could easily enjoy an entire trip without hearing or seeing another person.  
$
Tiny cottage on black lava fields
2 Guests
Located in Pahoa, with ocean views
This studio cottage is something straight out of a sci-fi movie. A quaint blue wooden home stands alone in a dramatic otherworldly lava field landscape. Surrounded by nothing but black lava rocks and distant ocean views you'll be spoilt with privacy in this spot.
The house is very basic and simply decorated, with practical storage solutions and an optional sleeper couch to optimize space. The kitchen is fitted with everything necessary for either a short or a long-stay visit and includes a barbeque on the outside deck.
$$
Cozy timber cabin with wood-burning fireplace
Can you think of a better place to work as a digital nomad than a fairy-tale-inspired cottage tucked away in the woods? A variety of wooden panels painted in white, reds, and greens bring life into this timber cottage.
The home has a well-equipped kitchen and a newly renovated bathroom. There is tons of space to settle and work throughout the small home, including a living area with gorgeous garden views and a dining table beside a warm wood-burning fireplace.
Because of its amazing location close to the volcanoes and thriving rainforests, this is one of the best places to stay near Hilo.
Best Golf Course Vacation Rental in Big Island | 2 Bed Island Style Condo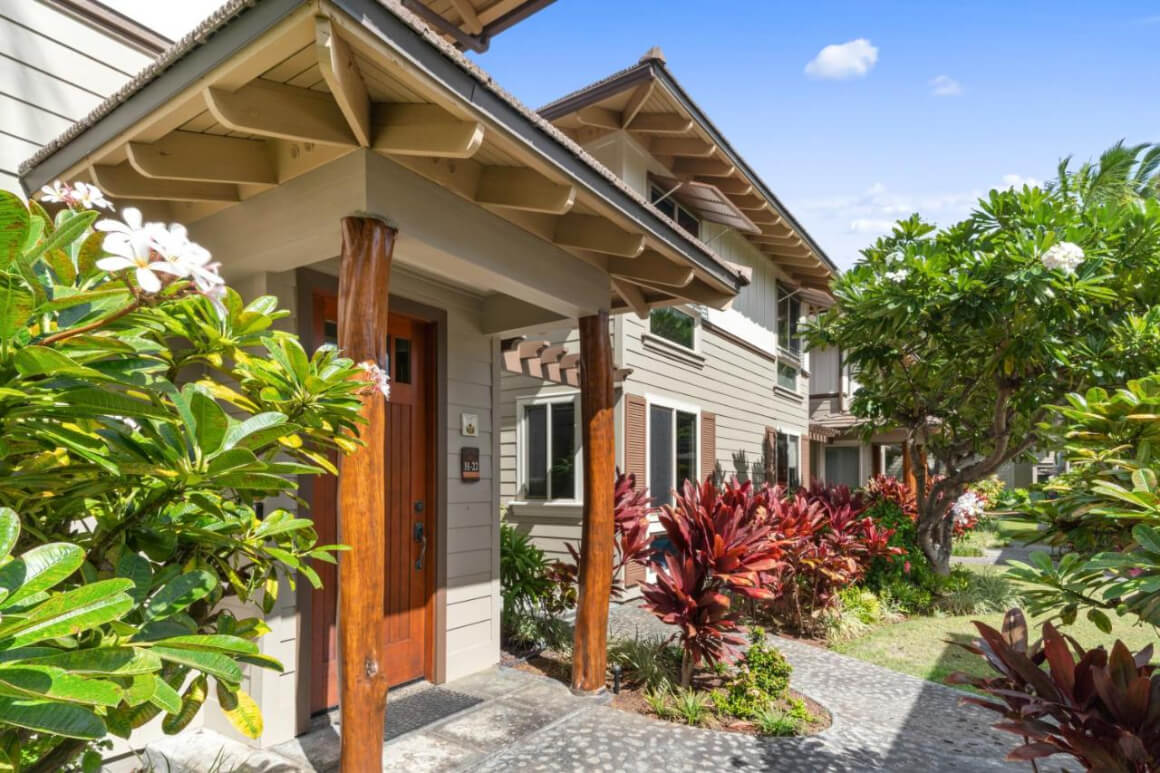 $$
Homey style with shared manicured gardens
6 Guests
Surrounded by golf courses in Waikoloa
Set in a safe and secure golf course resort called Mauna Lani Palm Villas in Big Island, this spacious condo is a great option for avid golfers. High ceilings, bright white walls, and warm and comfortable furniture create the perfect escape to return to after a day in the sun. 
The contemporary home is fitted with Hawaiian plantation-inspired furniture and details, including wooden touches, tropical bedding, and ceiling fans. The benefits of this resort condo include a gorgeous and manicured garden with a swimming pool and jacuzzi.
$$$$
Large villa with swimming pool, barbeque area, gazebo, and garden
10 Guests
Located on the beachfront in Holualoa
There's nothing better than enjoying tropical paradise with your beloved pets. This luxury vacation rental in Big Island will blow you away with its gorgeous ocean views, large lawn, swimming pool, and gazebo. The villa boasts extravagant authentic Hawaiian interiors which open up into the outdoor living space. 
Each of the bedrooms has floor-to-ceiling glass doors that slide open to bring the outdoors, in. Modern contemporary glass and marble finishes in the bathrooms and kitchens complement the warm wooden tones of the Hawaiian plantation-style home.
Don't Forget Your Big Island Travel Insurance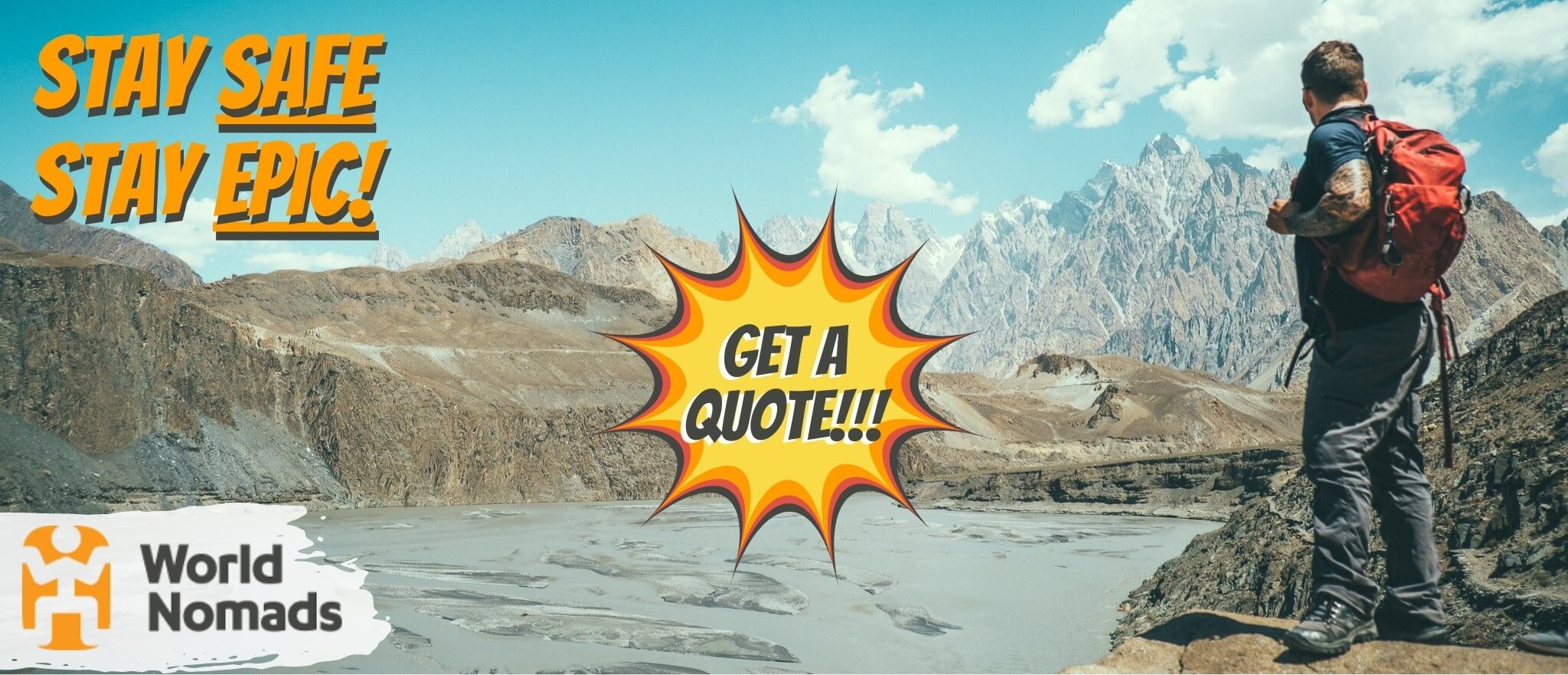 It's good to get lost sometimes, but it's also good not to get too lost. There are people that want you home in one piece.
There's one travel insurance provider The Broke Backpacker trusts for all his wildest shenanigans… World Nomads!
Click the button below to get a quote on your insurance or read our in-depth review of World Nomads' coverage. And then… let the shenanigans begin. 😉
Final Thoughts on Big Island Vacation Rentals
Depending on what you're looking for from your vacation, both the Kona and Hilo sides of the island offer extraordinary options for accommodation. It's a great idea to rent a car, as this will give you the freedom to drive and explore the island in your own time. 
Take note that the drive between Kona and Hilo can be more than two hours. A day trip across the island is easily manageable, but if you're up for an extensive experience of the entire island, it might be in your interest to split your vacation and stay in two separate vacation rentals in Big Island.
---
Bye for now, but not forever!
If you want MORE top-tier Broke Backpacker content like this, then sign up for our weekly newsletter below to get the latest and greatest!
And for transparency's sake, please know that some of the links in our content are affiliate links. That means that if you book your accommodation, buy your gear, or sort your insurance through our link, we earn a small commission (at no extra cost to you). That said, we only link to the gear we trust and never recommend services we don't believe are up to scratch. Again, thank you!