With options for every style of traveller, you'll be hard-pressed not to find the perfect place to stay on your epic Hawaiian holiday! Here are some of our favourite accommodation picks.
The Bamboo Treehouse is by far the coolest option for couples visiting the island. If the mere fact that you're in a treehouse isn't enough of a wow factor, it's the ideal romantic getaway spot because it's completely secluded from neighbours while also being perfectly located for daily adventures! 
This is definitely the most unique place to stay on The Big Island. Perfect for those on a savvy budget, Open Gate is off the beaten track and away from the standard tourist traps of the major towns on Hawaii Island, making it the perfect place to meet like-minded people while gazing at the nearby volcano!
Best Hotel on The Big Island: Holua Resort
If you're visiting The Big Island for the first time and want a classic Hawaiian experience with a modest price tag, The Holua Resort is a perfect choice. It's got oceanview pools, activities for the kids, and is situated in a great location for exploring the rest of the island.
FIRST TIME IN THE BIG ISLAND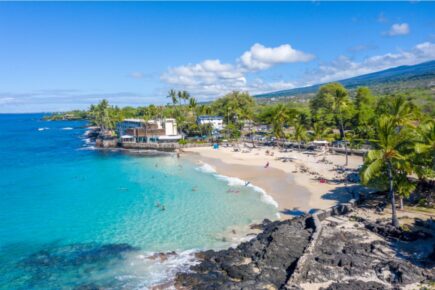 FIRST TIME IN THE BIG ISLAND
Kona
Kona is probably the most well-rounded region with family-friendly hotels, backpackers' hostels, and resorts plus restaurants and activities to suit everyone. Complete with the quintessential Hawaiian beaches, spend your days relaxing, or head out on the water for some wildlife-watching, snorkeling, or scuba diving.
ON A BUDGET
ON A BUDGET
Puna
Next up we have Puna, famous for the town of Kalapana which was once partially destroyed by lava! Great for a range of different types of travelers, you will find romantic bungalows amongst the trees or perhaps even a unique, post-apocalyptic style hostel perched atop a cold lava flow! 
FOR FAMILIES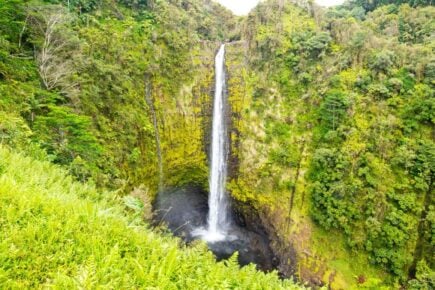 FOR FAMILIES
Hilo
On the eastern side of the island is Hilo – rainier than the west, Hilo is blessed with breathtaking natural beauty and, you have the convenience of a vibrant town situated amongst waterfalls and flowering gardens. This side is a little more casual and suits a younger more adventurous crowd as its primary accommodation offerings are mid-range hotels and hostels. 
FOR ADVENTURE
FOR ADVENTURE
Kau
Kau is the true adventurer's paradise as it is the most remote region on the island. Close to Hawaii Volcanoes National Park, Kau is a vastly different experience with almost no hotels. However, you will be sure to have the most memorable stay in one of the many unique homestay options available.
FOR LUXURY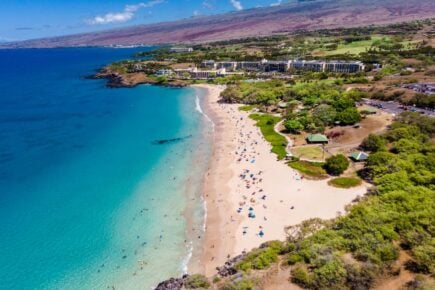 FOR LUXURY
Kohala
From Kona International Airport, head north for just 20 minutes and you'll be right on the edge of the Kohala region. This area of the island is why it's sometimes referred to as the "Golf Capital of Hawaii" because it's home to one of the richest Big Island neighbourhoods where you'll find world-renowned golf courses surrounded by five-star resorts and sunny beaches that are straight out of a postcard.
The "Big Island" ain't called that for nothing! This spectacular Hawaiian island oasis is home to all but four of the world's climates, which means there is a tonne of ground to cover when deciding where to stay on The Big Island.
Kona gets the most sun by far on The Big Island and has the widest choice of accommodations with a friendly and exciting vibe, making it perfect for your first time. You could easily spend your whole vacation here because it truly offers something for everyone regardless of budget or age!
Rather than doing a day trip from Kona, choose to stay in Puna or Kua for the ultimate volcano experience. This is one of the most incredible things to do on The Big Island and will give you major bragging rights at home!
Puna is a great choice for the budget-savvy traveller because it has plenty of modest accommodation for great prices – meaning you can spend more on your activities. Choose Kua if you have a little more cash to spare and want to stay far away from big hotels and hordes of tourists.
For those really splashing out, you can't go past Kohala for the high-rollers experience. Don't be intimidated, though, it's just as friendly and welcoming as the rest of the island if you'd still like to pass through and check out the scenery.
Finally, Hilo is the lush and rainy cousin to Kona on the eastern side of the island. Here, families can veg out and enjoy their perfect Hawaiian vacation.
Aloha! If it's your first time on the island, it's easy to feel overwhelmed when deciding which accommodation to choose. Whatever your budget range, Kona simply has the most to offer!
Whether you're a resort-style traveller with kids or a chilled couple wanting a little peace and quiet, you're bound to find the perfect place to stay. Plus, there's a huge selection of restaurants, shops, nightlife, and activities! Most accommodation options are centrally located too, so you'll easily find your way around.
For a resort vacay without the hefty price tag, look no further! The Holua Resort is superbly located within walking distance of exceptional golf courses, boasts six pools, and it's great for families making it one of the best places to stay on the Big Island. Lap up your Hawaiian experience with an evening luau and hula dancing, or take part in one of the many outdoor activities on offer with the hotel.
Best Guesthouse in Kona: Spectacular Oceanview Condo
Who needs expensive resorts when you can have your very own condo all to yourself with the best ocean views? This incredible third-floor condominium rental has everything you could possibly need to make your Kona stay unforgettable. The views from your private balcony will take your breath away, and if you've had enough relaxing on the lanai, the superb location means you're just a stone's throw from the beach and other local establishments! 
Best Hostel in Kona: My Hawaii Hostel
If it's your first time on The Big Island and you need a bed pronto – the My Hawaii Hostel is just the ticket! Whether you go for a single or mixed gender dorm or splash out on a private room, hanging out in the communal lounge area will have you making friends and heading out in no time. Don't forget to grab a bike or snorkel gear from the front desk before you start your adventure!
Things to See and Do in Kona:
Coffee lovers can enjoy a tasting of iconic Kona coffee.
Hire some snorkeling gear and explore the coral reefs off Kealakekua Bay.
Practice your swing at one of the many exceptional golf courses.
Splash out on a once-in-a-lifetime helicopter tour of Kona and surrounding areas including Kilauea volcano and active lava flows.
Complete a scuba ticket course, and head out for a dive with manta rays.
Take a day trip to Kohala Waterfalls where you can do an off-road vehicle tour to see the secluded sights. 
Soak up the history in Kailua Village on a self-guided walking tour of the sights dating back to the 1800s!
For those free-spirited travellers visiting Hawaii on a budget, Puna is the place for you. Suited to a younger crowd or couples, the accommodation offerings here are mostly hostels, guesthouses, and inns because the focus is on adventure and exploration instead of hanging out at your hotel all day!
Staying in Puna will let you spend your hard-earned cash on experiences (or a few keepsakes from the farmers' market) instead of a ritzy hotel. You'll be in the perfect spot for exploring the black sand beaches and other natural wonders formed by volcanic activity. 
A stay in this superbly rated hostel in Hawaii is an awesome experience in itself! Built on top of a cooled lava rock and completely off-grid, Open Gate provides guests with hikes around the nearby volcano (that is visible from the common room) and an incredible atmosphere that is perfect for meeting other like-minded travelers!
Couples looking for a relaxing, adults-only getaway with a difference, this is the place for you. This is one of the most unique eco-resorts on the island with a focus on eco-tourism and sustainability. Enjoy a vegan or vegetarian meal after a day of exploring the nearby volcanic sights. Alternatively, you may rather choose to take a soak in the outdoor hot tub or treat yourselves to a massage.
Beautiful Homestay in Puna: Forest A-Frame Home
If you've ever wanted to stay in a remodelled A-frame house nestled in the Hawaiian forest, this Hawaii Airbnb is perfect for you! It's perfect for a larger group, with room for six guests spread over three bedrooms. It's the best location for enjoying the local sights of Pahoa or heading out on a day trip to Lava Tree State Monument.
Things to See and Do in Puna:
Visit the fascinating town of Karapana that was partially covered by lava flows in 1990.
After visiting the breathtaking black sand of Kaimu beach, enjoy some vivacious live music and food at Uncle Robert's.
Take a moment of reflection and enjoyment of the traditional Hawaiian folk art at The Painted Church in Pahoa.
Pack a picnic and explore the unusual formations created by volcanic activity in the Lava Tree State Monument.
Enjoy a soak in the hot pools at Isaac Hale's Beach Park – one of the island's most notable black sand beaches. 
If you're feeling especially adventurous, put your hiking boots on and take a volcano hike. 
Once you've gotten your feel for the island in Kona, pack up the kids and head to beautiful Hilo! This region offers a more well-rounded view of Hawaii where you and the kids can learn about the history and culture of the island while having a lot of fun too!
Hilo offers the best of both worlds, boasting an exciting town centre, miles of beautiful landscapes, and heaps of fun activities to take part in. It's also much quieter than the western side of the island, making it one of Hawaii's safer destinations. Hotels are aplenty here, so you'll have no shortage of great options to choose from when deciding where to take the kids! 
The three-star SCP Hilo Hotel is a great pick for families. It's got spacious rooms, a spectacular pool, and a convenient location to nearby sights which is key when travelling with kids! The general store onsite is a handy addition for grabbing supplies and snacks for long days of activities, or for quieting hungry tummies around the pool.
Your family can spread out however they please in this comfortable and modern three-bedroom house. It's got plenty of space and all the amenities you could need; mum and dad can relax on the porch with a cocktail while the kids run amok on the playground outside. The handy location means you won't need to travel too far to enjoy all that downtown Hilo has to offer.
Best Family Oasis in Hilo: Oceanview Hilltop House
Just a short drive outside of Hilo proper, this private Big Island vacation rental boasts ocean views, a secure, gated pool and a furo tub. There's a full kitchen and BBQ for cooking home-cooked meals, and a literal binder full of things to see and do!
And if you need more inspiration on where to stay in Hilo, check out our comprehensive neighborhood guide!
Things to See and Do in Hilo:
Pack a light jacket for a short hike to The Big Island's most famous waterfalls – 'Akaka Falls.
Do a tour of a local farm – choose from chocolate, coffee, nuts or vanilla.
The kids will love Imiloa Astronomy Centre that provides fun and informative exhibits about Hawaiian culture and astronomy.
The only tropical zoo in the United States – the Pana'ewa Rainforest Zoo – is located right in Hilo and is one of the most family-friendly things to do on The Big Island.
If you have bigger kids, ATV tours are a great way to get off the beaten track and enjoy a fully guided tour, complete with a swim under a waterfall all to yourselves!
Spend a day at one of Hawaii's stunning beaches, Honoli'i! It offers surfing for all ages with a lifeguard on duty, plus plenty of grassy space for a picnic.
If you prefer a more adventurous kind of holiday, then Kau is for you. It's the most remote and quietest part of the island, so you won't find any major resorts or tourist traps here. This area of The Big Island is home to Hawai'ian Volcano Park and is where avid travellers will find their zen.
Perfect for couples wanting a quiet escape or for those searching for a deeper understanding of the Hawaiian landscape, private rental options are king here. There are numerous secluded forest bungalows available, not to mention some of the most unique accommodation in Hawaii you'll ever find. 
This unforgettably unique bamboo cabin is the perfect place to stay on the Big Island for couples looking for a little romance combined with adventure! Located just minutes from the Volcano National Park and completely surrounded by trees, you'll love climbing the outdoor spiral staircase to your private suite and lounging on the lanai while taking in the spectacular views surrounding you. It's hands down one of the coolest treehouses in Hawaii.
They say two nights just isn't long enough at this special log cabin that is located at the top (yes, the top) of Kilauea Volcano! Moderately priced and suitable for a family or group of four, the cosy Crater Rim Cabin comes with a fully stocked and functional kitchen and is surrounded by lush gardens and forestry. You might even feel a small earthquake while you're there if you're lucky!
Best Beach Rental in Kau: Punalu'u Beach Retreat
This serene Airbnb located within a five-minute walk to stunning Punalu'u Beach is the ultimate choice for an adventurous couple with a higher budget. Take a drive to one of the many sights nearby, including the iconic Volcanoes National Park. This rental will be the perfect place to relax and unwind after a big day of exploring, or simply sit back and relax by the pool while you enjoy the sound of the ocean nearby. 
Things to See and Do in Kau:
Spend some time exploring Punalu'u Beach where you may even be lucky enough to spot one of Hawaii's famous Green Sea Turtles sunbaking on the black sand!
Hike for an hour or so to Papakolea Green Sand Beach and check out the natural olive-green sands.
Drive to the famous Hawai'i Volcanoes National Park where you can spend time hiking the many trails in the park.
Do a guided tour of the Kula Kai Caverns, where you'll explore a 1,000-year-old system of lava tubes.
Take a break from the adventure and head to Wood Valley Temple for some quiet reflection and relaxation.
Hang out with locals at Hana Hou Restaurant and sample some traditional Hawaiian dishes.
Don't worry, high rollers – Hawai'i Island has plenty of options for you too. As you drive north from Kona International Airport, you'll find yourself in the Kohala region, home to the island's top-tier resorts and fine dining restaurants.
Invisible from the highway, the resorts are nestled in the lava rock formations on the coast and see some of the most sun on the island! No matter your party size, if you're looking for a luxurious holiday, this is the place for you. 
Aloha, and welcome to your ultimate couples getaway at the undeniably luxurious Four Seasons. Adults-only pools, private white-sand beaches, and top-tier service mean you will want for nothing on this special vacation! You'll barely need to leave the resort with all the dining options, on-site golf course, and endless facilities available to you. 
This hotel will be the source of your kid's most memorable vacation yet! There's a customary fresh flower lei on arrival, and rooms offer gorgeous ocean or golf course views. There are loads of kids activities on offer here, as well as numerous tennis courts and an on-site pool! 
Best Luxury Villa in Kohala: Hale Nana Kohala
This heavy timber built villa is one of the most luxurious places to stay on the Big Island, and everything you could ever need for your high-end family vacation. With the ability to add on services when you book as needed (such as housekeeping and childcare) your every need will be taken care of, leaving you to enjoy your holiday! A large pool overlooks the ocean, and palm trees sway in the breeze – what more could you ask for? 
Things to See and Do in Kohala:
Pack your beach bag and enjoy one of the most beautiful beaches on the island, Hapuna Beach, which is situated right in Waikoloa.
Check out the real life Hawaiian cowboys in Waimea town, where you can even see a rodeo!
Stop in for a little shopping in the quaint, historic town of Hawi.
Hop in the car and go for a drive up Highway 270 where you can't miss the breathtaking Polulu Valley Overlook.
Do a trail ride on horseback through the Kohala mountains. 
You've paid the big bucks for your luxury accommodation, why not spend a little time in your resort or villa checking out all it has to offer!
Don't Forget Travel Insurance for The Big Island
World Nomads' mission is to support and encourage travellers to explore their boundaries. They offer simple & flexible travel insurance, and safety advice to help you travel confidently.
They've been doing it since 2002 – protecting, connecting, and inspiring independent travellers just like you.
Get a quote below or read our in-depth review!
If you're planning a trip to Hawaii anytime soon, spending some time in one of The Big Island neighbourhoods is a must do. With so much to offer groups of all sizes and travellers of all ages, you'll be sure to find something that suits you. 
If you're still not sure where to stay in Hawaii, your best option is the Holua Resort because of its central location and ultimate Hawaiian experience!
For those travelling on a budget with a little more adventure in mind, you can not go past the Open Gate Hostel. It's simply one of the most unique hostels in the world – wouldn't you want to say you'd slept on a lava rock? 
Of course, the best place for you to base yourself in Hawaii depends on what you want out of your trip! We hope this guide has helped you narrow down your options.
Do you own an awesome hostel, hotel or apartment? Want to be featured in our list? Email [email protected] to find out how.
---
And for transparency's sake, please know that some of the links in our content are affiliate links. That means that if you book your accommodation, buy your gear, or sort your insurance through our link, we earn a small commission (at no extra cost to you). That said, we only link to the gear we trust and never recommend services we don't believe are up to scratch. Again, thank you!