Hilo, is a city located on the island of Hawaii, or "The Big Island," as the locals call it. Known for its gorgeous beaches, Hilo is a thriving nature's paradise with awe-inspiring volcanoes, impressive rainforests, luscious waterfalls, gorgeous gardens, and fascinating museums.
As one of the largest cities on the Big Island, Hilo makes for the perfect place to base yourself while exploring the island.
The Big Island is split into two major tourism regions, the east coast, and the west coast. You will find Hilo on the breathtaking northeastern coast, and you simply cannot miss this beautiful area on your trip to Hawaii.
With miles of stunning coastline and active volcanoes, many of the enchanting scenes you see depicted in photographs of Hawaii are found right here.
When it comes to accommodation, there are countless options to choose from when deciding on where to stay in and around Hilo. We know that it can be overwhelming and confusing at times, which is why we have prepared this ultimate Hilo area guide.
We hope this helps you to find the best place to stay near Hilo, no matter who you are and what type of accommodation you are looking for!
Where to Stay near Hilo – Our Top Picks
Headed to Hilo and looking for a place to stay but don't have much time? Here are our top overall recommendations of the coolest places to stay near Hilo.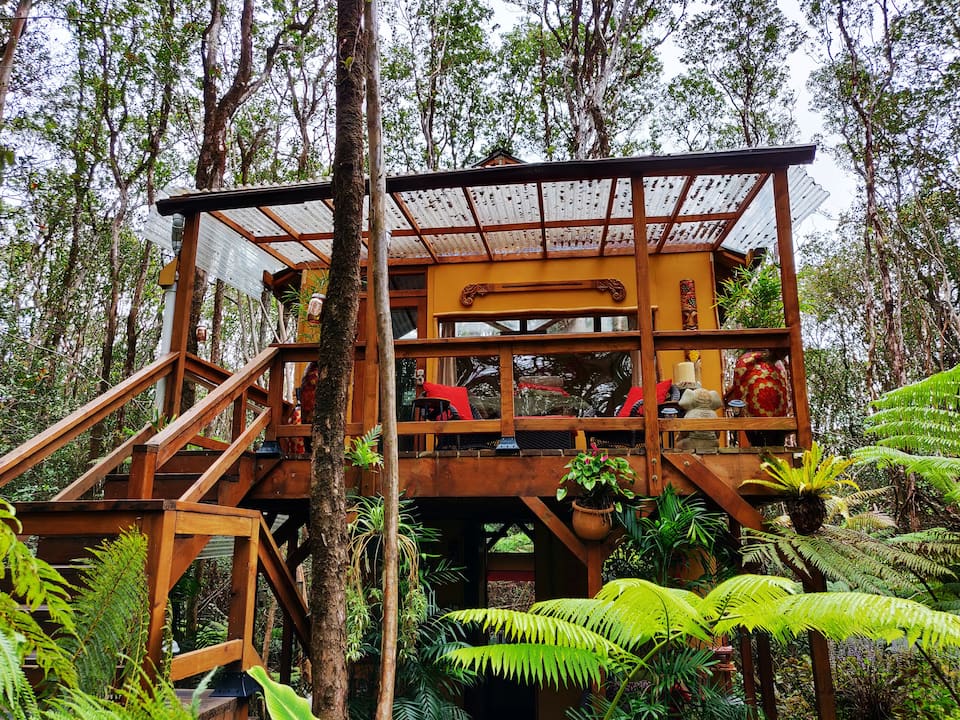 Let's be honest, everyone wanted a treehouse at one point or another in their lives. Here, you can once and for all put to rest those inner childhood dreams! This eco-friendly treehouse is spunky and unlike any other stay in the area. Built out of traditional materials, this one-bedroom home is ideal for one or two people. The "garden" is literally the jungle, and your only neighbors are the wild animals. If you are looking for a place to brag about when you return home, look no further.
This is our favorite hostel near Hilo not only because it is the cheapest, but also because it's the most memorable! Here you have the opportunity to sleep outside, in the middle of the rainforest, in a hammock! Where else have you done that? The hammock huts are covered and completely enclosed by screens, so you can sleep in them worry-free regardless of the weather. If you prefer beds we totally understand, there are also fantastic traditional hostel options here as well.
Castle Hilo Hawaiian Hotel is a large resort in the center of Hilo. It is right on the water and all of the rooms have private terraces with ocean views. There is a wide selection of rooms to pick from, some of which include kitchenettes. If you are traveling as a family or with a large group, this would be our number one recommendation. Alternatively, if you are traveling for business this is also an ideal choice. They have many conference rooms available for guests, and a bar and restaurant on-site.
Hilo Neighborhood Guide
FIRST TIME IN HILO
FIRST TIME IN HILO
Hilo
Hilo is a vibrant city full of traditional Hawaiian Charm. It is centrally located between the Hamakua Coast and Hawaii Volcanoes National Park, which makes it perfect for exploring everything the region has to offer.
ON A BUDGET
ON A BUDGET
Hamakua Coast
Situated just north of Hilo, the Hamakua coast stretches all the way to the northern tip of the island. It is one of the most scenic parts of Hawaii, and also one of the wettest! Thanks to 85 inches of rain per year, the Hamakua Coast is full of spectacular waterfalls, never-ending tropical rainforests, and vibrant green valleys.
SEE VOLCANOES
SEE VOLCANOES
Volcano Town
As you may have guessed, Volcano Town gets its name from the giant volcanoes that reside right next door. If you have come to Hawaii to get up close and personal with molten hot lava, you will definitely want to stay in one of the many cool homes here.
Home to the largest population on Hawaii, Hilo is the heart and soul of this spectacular side of the island. Because of all its thriving nature and dynamic history, there is so much to see and do in Hilo, and it's not a small area. The district of Hilo covers around 151 square kilometers, so you need to make sure you choose accommodation in an area close to the attractions you want to see most, especially if you're backpacking Hawaii and have a limited amount of time.
Hilo International Airport is one of the largest and cheapest airports in the state. It is also located close to the coast and city center, which makes it an optimal starting point for any island-hopping excursions.
The Hamakua Coast is unfortunately an often overlooked part of the island. With hundreds of waterfalls, the most diverse nature on the island, and the best budget accommodation options near Hilo, avoiding this area is a huge mistake. Apart from all that, we guarantee you will love all the traditional towns dotted along the coastline.
With a name like Volcano Town, is it any mystery what makes this area famous? Hawaii Volcanoes National Park is the most unique National Park in the United States and it's right here! It's one of the only locations in the world where you can watch the lava flow like water in a river. Trust us, you won't want to miss the chance to cross "seeing lava" off your bucket list.
The 3 Best Areas to Stay Near Hilo
There are a ton of places to stay in Hilo. If you're looking for a cabin, condo, hotel, or hostel near Hilo, here's where you can find the best ones!
1. Hilo – Where to Stay for your First Visit
Hilo is a vibrant city full of traditional Hawaiian Charm. It is centrally located between the Hamakua Coast and Hawaii Volcanoes National Park, which makes it perfect for exploring everything the region has to offer.
You will find endless waterfalls hidden throughout the rainforest, so make sure to pack some sturdy hiking boots and your swimwear.It's a blissful home base for any trip to Hawaii because it is close to all the main attractions. That's why we recommend it as an ideal place to stay for your first time in Hawaii (or your 100th, to be honest!)
The town itself has evolved over the years from a tiny fishing port, to what is now the second largest city in the Hawaiian islands. Built around Hilo Bay, is the small downtown area where it is full of top-rated restaurants, local breweries, farmers markets and fascinating museums. You will absolutely not want to miss the Pacific Tsunami Museum, the Lyman Museum, and the Imiloa Astronomy Center.
This spacious studio is situated in the heart of downtown Hilo. The elegant open floor-plan, and the generous use of terracotta and wood, give the apartment an incredibly modern feel. Additionally, you are sure to love the stone pond in the entryway, and the private outdoor shower. To top it all off, every morning the host will hand-deliver you a french press full of delicious, freshly brewed local coffee! Now that's how I want to be greeted every morning.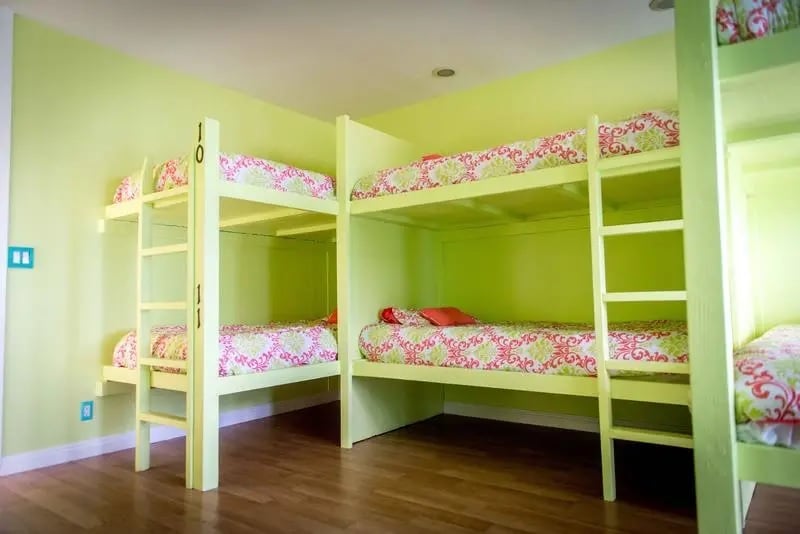 The Big Island Hostel is a wonderful budget option for those who want to stay in the downtown area. Here you can choose between five different dorm and private room options. So whether you want the cheapest possible bed, or something a little more private, you will find it here. The large common room is a fabulous spot for socializing and making new adventure buddies to explore the island with. If you have any questions about the area or need help planning an activity, they have someone who can help you 24/7.
This gorgeous hotel is ideally positioned right on the bay waters and has heavenly views of both Mauna Kea Peak and the ocean. With a large freshwater swimming pool, access to Liliuokalani park and gardens, and a famous restaurant in-house, this luxurious hotel has it all. The large rooms all have bayside facing private balconies, which are phenomenal for viewing the sunrise. Furthermore, if you like golf, there are many world-class courses in the area which you can book at a discounted rate as a hotel guest.
Things to See and Do in Hilo
Chase infinite waterfalls! Akaka Falls is the tallest and most famous.
Learn at the many informative museums.
Visit the Hilo Famers Market on a Wednesday or Saturday.
Swim in the "boiling pots" of Wailuku River State Park.
Sample local craft beers at the Mehana Brewing Company.
Day trip to Hawaii Volcanoes National Park, an unmissable attraction on your Hawaii Itinerary.
Hop in the car and complete the Hamakua Coast Scenic Drive.
Go on a helicopter tour.
2. Hamakua Coast – Where to Stay Near Hilo on a Budget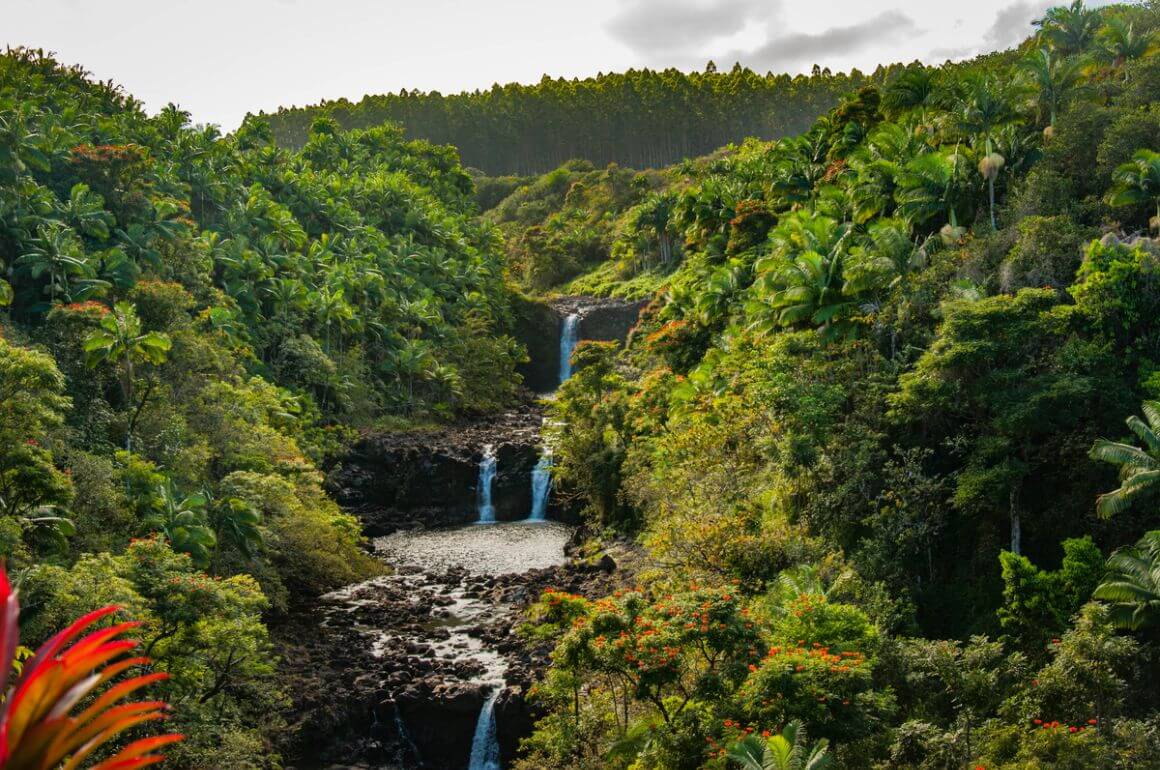 Situated just north of Hilo, the Hamakua coast stretches all across the northern tip of the island. It is one of the most scenic parts of Hawaii, and also one of the wettest! Thanks to 85 inches of rain per year, the Hamakua Coast is full of spectacular waterfalls, never-ending tropical rainforests, and vibrant green valleys. Having a good quality rain jacket with you is a must on any holiday to The Big Island!
In the past, this area was completely blanketed with sugar cane fields. Now today, many of the small coastal towns are built where old sugar cane plantations used to stand. Honomu, Pepeekeo, Hakalau, and Papaikou are a few of those villages, and all of them are located 30 minutes or less from Hilo. The Hamakua Coast is 100% where to stay on the Big Island near Hilo if you are looking for a perfect location that is both quiet and cheap!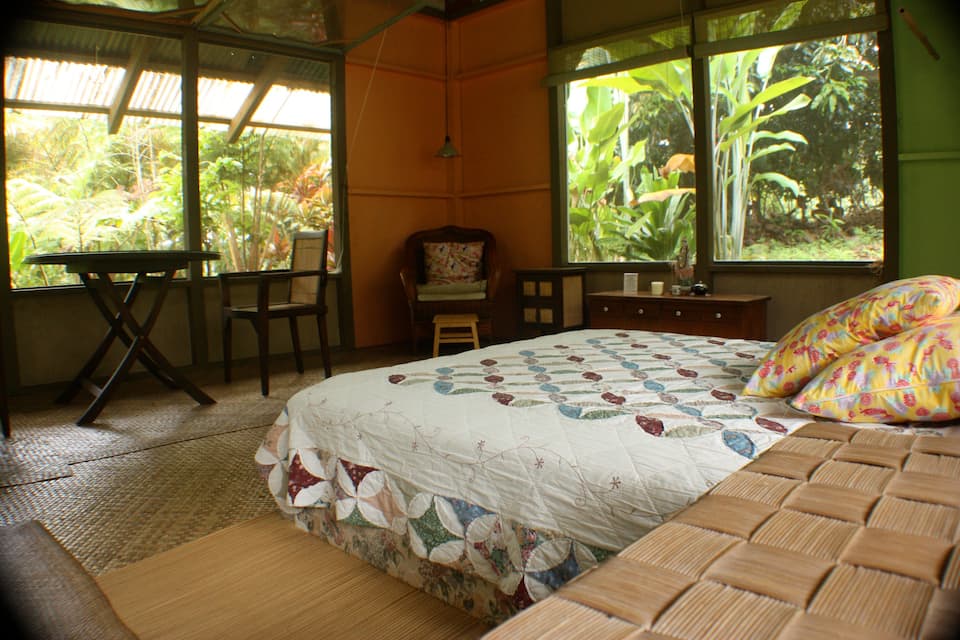 Mango Tree Cottage is nestled in the middle of the lush Hawaiian rainforest just outside of Honomu. This studio apartment is constructed out of screens and wood and is fully exposed to the outdoors. Here you can truly embrace the magic of nature through the feel of the wind, the rustling of the leaves, or the sound of the rain falling against the tin roof.
Additionally, there is a separate fully screened "Pujah" (mini-room), which is a superb place to complete your morning yoga practice or do some end-of-the-day stretching. Finally, if you are searching for a long-term stay, this is an unrivaled option thanks to the 51% discount on stays of one month or more.
This hostel is located between Pepeekeo and Honomu and is the ultimate budget option near Hilo. They offer both dorm rooms and private rooms that can sleep anywhere between one and six people. What gives this hostel a unique feel, and why we love it, are the amazing tent-style cabanas.
In the fully-screened cabanas, you get to sleep in hammocks that will lull you to sleep like a baby. Looking for a bit more luxury? Don't worry, they also offer deluxe private rooms and even a massive private guesthouse for large groups!
The Mahana House Country Inn is a charming, locally run hotel, placed just outside of Hakalau. Here you can choose from large rooms in the main hotel, or you can opt for your very own private cottage. The rooms at this farm stay hotel all come with private patios featuring gorgeous ocean views. Established just outside of Akaka Falls State Park, this is our top recommendation for where to stay near Hilo in order to visit Akaka Falls, or for any other coastal adventure!
Things to See and Do on the Hamakua Coast
Drive or cycle the entire length of the Hamakua Coast.
Zip-line through the rainforest with Skyline Eco Adventures.
Explore Akaka Falls State Park and see the most impressive waterfall in the region.
Visit Kolokole beach park and take a dip in the ocean.
Hike to Umauma falls or one of the many other waterfalls spotted up and down the coast.
Learn about plants at the World Botanical Gardens or the Hawaii Tropical Botanical Garden.
Take photos of the ocean at Waipio Valley Overlook.
Find a hidden beach and paddle out with a surfboard to catch some waves.
3. Volcano Town – Best Area Near Hilo to See the Volcanoes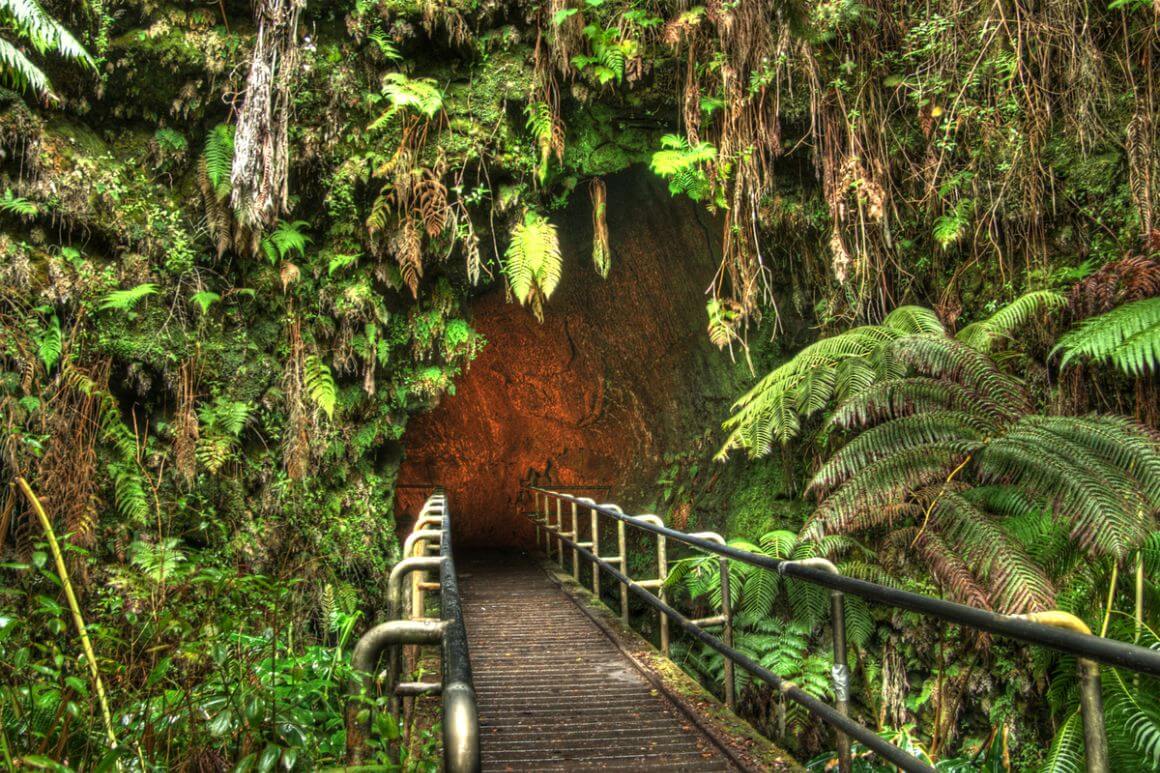 As you may have guessed, Volcano Town gets its name from the giant volcanoes that reside right next door. If you are planning a trip to Hawaii to get up close and personal with molten hot lava, you will definitely want to stay in one of the many cool homes here. Situated only five minutes from Hawaii Volcanoes National Park, this is the ideal basecamp for exploring all that the park has to offer!
However, there is much more to Volcano Town than just volcanoes. It is a vibrant artist community hidden away deep in the Hawaiian rainforest. Artists of all mediums, from all over the world, call this haven home. Therefore, walking around the village you will encounter endless exquisite galleries that you can pop into and admire. Additionally, if you are staying over the weekend, make sure you don't miss the farmers market held at Cooper's Center every Sunday morning.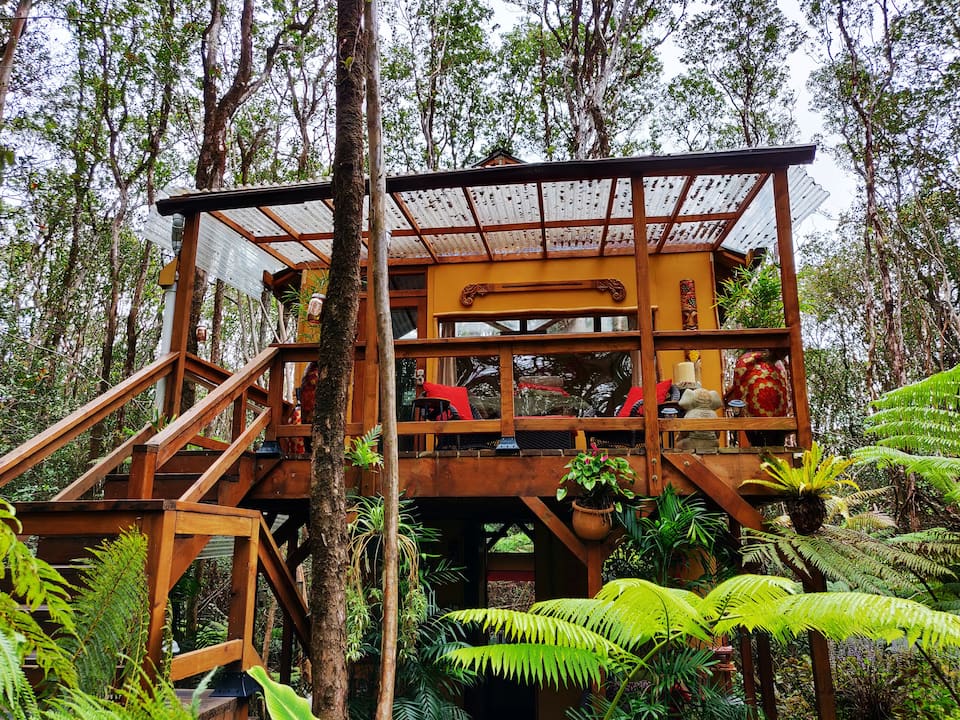 This incredibly fun home is our top overall recommendation for where to stay near Hilo! Here you will finally have the treehouse that you always dreamt about as a child. This one-bedroom treehouse is elevated 15 feet above the ground and undoubtedly you will feel like Robinson Crusoe or the Swiss Family Robinson. "Upstairs," there is a huge wooden deck built amongst the trees, while "downstairs," there is a lovely open-air living room, which is sensational for relaxing or reading a book.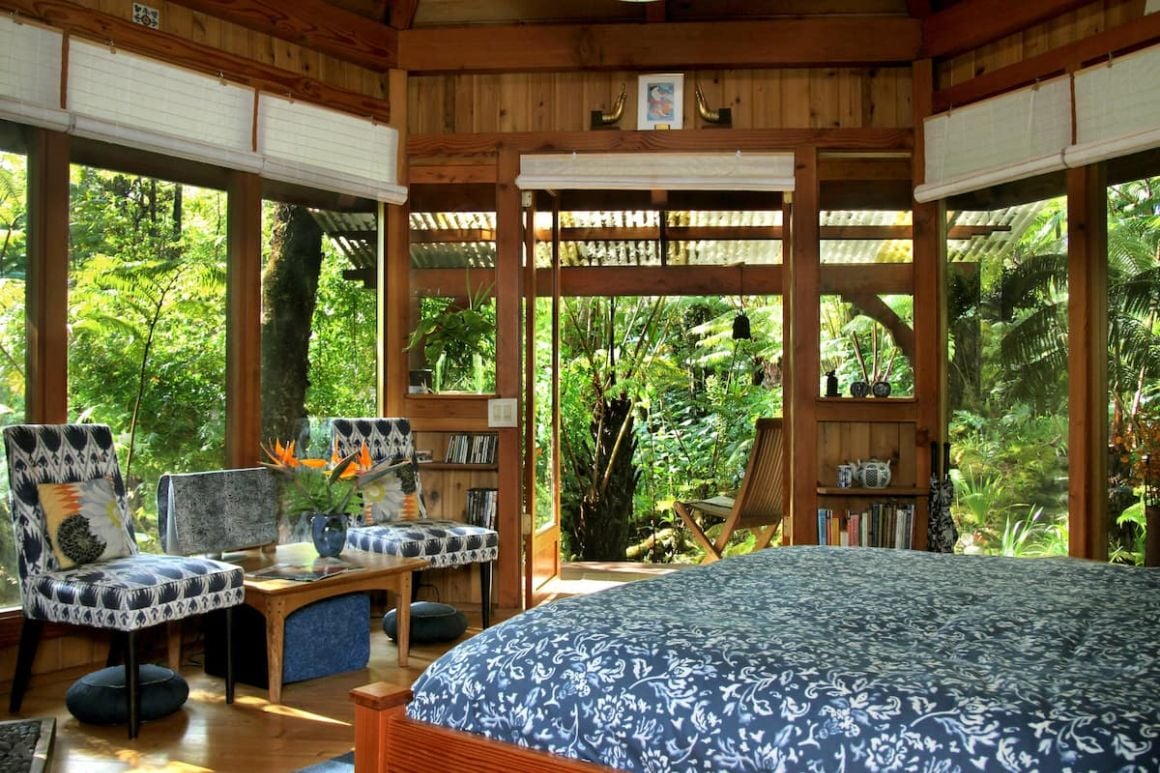 Sanctuary Cottage is a luxurious, Japanese-style house constructed in the middle of the rainforest. Courtesy of the low wooden tables, comfy floor cushions, and handcrafted Japanese hot tub, you will undeniably feel like you have been transported to Japan. In the mornings, let the natural light come in through the giant floor-to-ceiling glass windows and be your alarm. After getting up, dig into the delicious fresh breakfast provided by the hosts. This intimate and cozy home is definitely the most romantic place to stay near Hilo!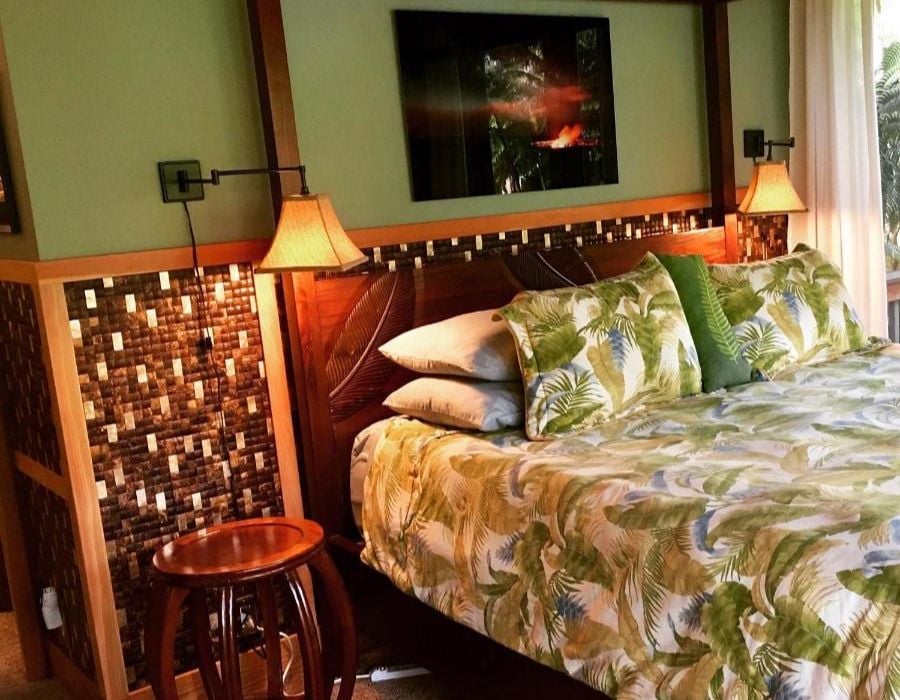 At the Craters Edge, is a small and cute hotel just outside the boundaries of the National Park. As a family-run business, it provides its guests with a very warm (not from the volcano) and welcoming environment, which will make you feel right at home. In addition to the large, comfortable rooms, there is also a large garden on the property which is a terrific place to find some peace and quiet after a busy day. If you want to book a tour into the National Park, talk with the hotel staff and they can offer you some of the coolest and most popular trips run today!
Things to See and Do in Volcano Town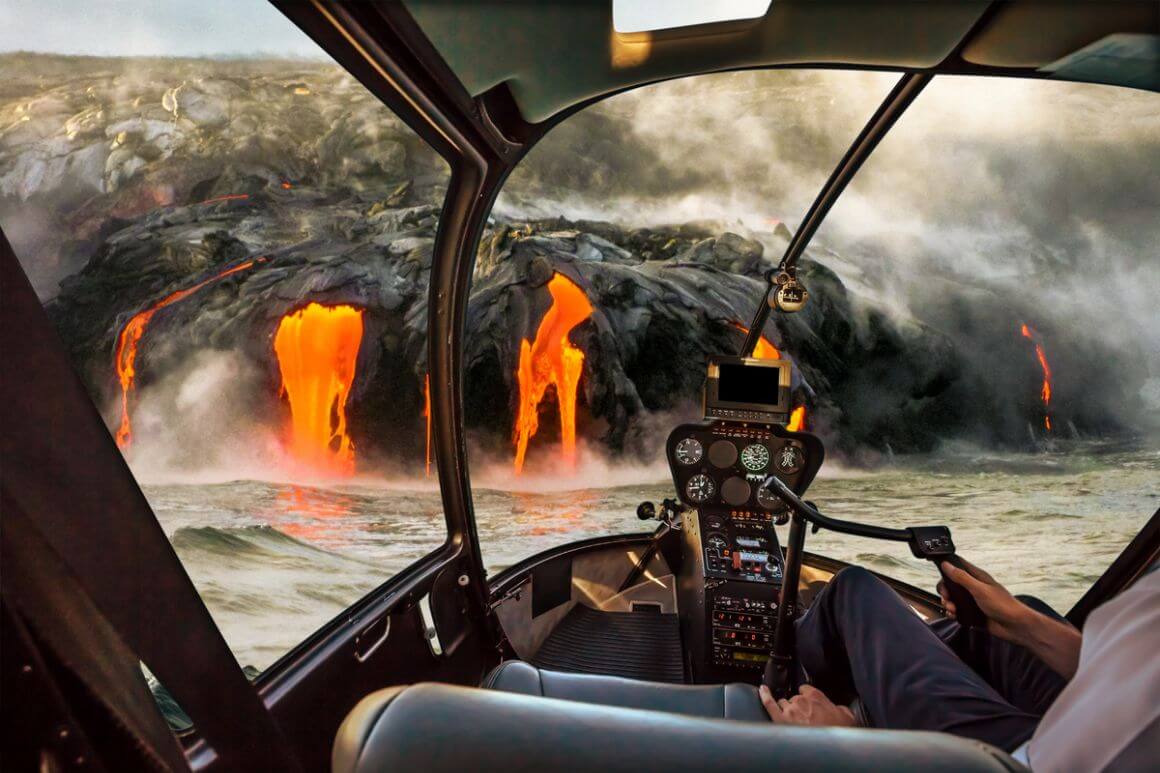 Explore the most unique National Park in America at Hawaii Volcanoes National Park.
Walk the town and browse inside the local art galleries.
Eat a local baked good or sip on some locally grown coffee at the farmers market.
Go wine tasting at the Volcano Winery. It's the only winery in the world on the side of an active volcano!
Fly high above the volcanoes in a once in a lifetime helicopter tour.
Visit the Akatsuka Orchid Gardens.
Take a guided tour at the Nahuka Thurston Lava Tubes.
Rent a bike and cycle in or around the National Park.
Final Thoughts on Where to Stay Near Hilo
Hilo is one of the most stunning and spectacular locations in all of Hawaii, if not the world! Many people skip Hilo and the Big Island in favor of Oahu or Maui, but those people are truly missing out! We guarantee you will not regret your visit and will make memories that will last a lifetime.
As you have seen, Hilo and the surrounding area have accommodation options for everyone, no matter what you are interested in or what your budget may be.
We hope that this guide has helped you decide where to stay on your next trip to Hilo. Did you find what you were looking for? Let us know in the comments!
And don't forget to take out Travel Insurance for your trip! I have been using World Nomads for some time now and made a few claims over the years. They're easy to use, professional, and relatively affordable. They may also let you buy or extend a policy once you've started your trip and are already abroad which is super handy.
Getting an estimate from World Nomads is simple—just click the button or image below, fill out the necessary info, and you're on your way!

Do you own an awesome hostel, hotel or apartment? Want to be featured in our list? Email [email protected] to find out how.
---
Find out how YOU can support the site.
We're a big site with a big team and this job isn't always easy. But we do it because we love it – we love providing epic and free content. We love the knowledge that our content keeps you adventuring. We don't ask for money, but if you'd like to find out how you can help the site in more organic ways, click the button below.
Thank you for your support 🙂
And for transparency's sake, please know that some of the links in our content are affiliate links. That means that if you book your accommodation, buy your gear, or sort your insurance through our link, we earn a small commission (at no extra cost to you). That said, we only link to the gear we trust and never recommend services we don't believe are up to scratch. Again, thank you!