If you've been considering a solar power bank for quite a while, it's definitely time to pull the trigger. Power banks are awesome. A huge advantage is that they're environmentally-friendly and can maintain their charge without any electricity. Sunlight is all you need to charge your gear on the go.
Having a solar power bank means being able to charge all your electronics anywhere, any time. Say good-bye to dead mobile phones during travel or extended periods away from an outlet. No more dying tablets, phones, or other small devices. Talk about peace of mind!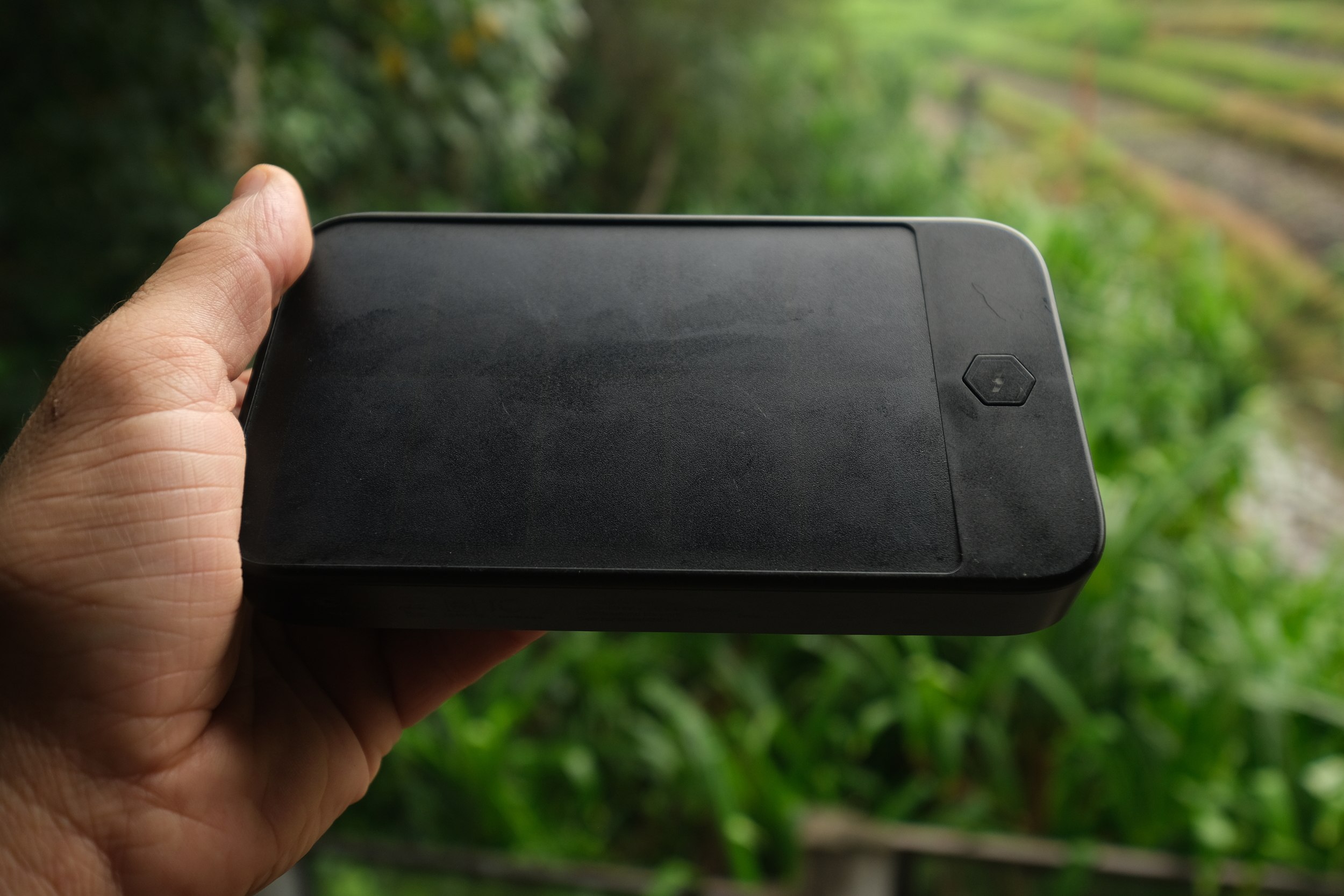 The convenience, portability, and efficiency can't be beaten. But there are also a lot of choices out there and not all solar power banks are created equal, so I've made this handy guide to give you my top picks of the best solar power banks for different needs.
Following my top solar power bank recommendations is an informative breakdown of important considerations everyone should read before buying a solar bank of their own.
Well then, let's talk solar power banks…
Quick Answer: These are the Best Solar Power Banks of 2022
#4 Beswill Solar Charger – Best Lightweight Solar Power Bank for Hiking
BEST SOLAR POWER BANK OVERALL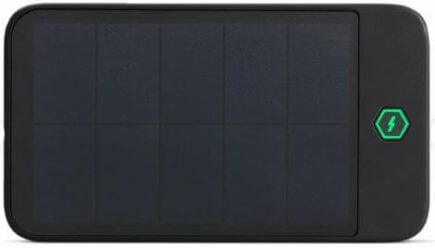 BEST SOLAR POWER BANK OVERALL
Solgaard Solarbank
> $$
> Holds up to five charges
> USB-C chord
HIGHEST CAPACITY SOLAR POWER BANK
HIGHEST CAPACITY SOLAR POWER BANK
GoerTek Solar Charger Solar Power Bank
> $
> 3 USB output ports
> Super-bright LED flashlight
MOST DURABLE SOLAR POWER BANK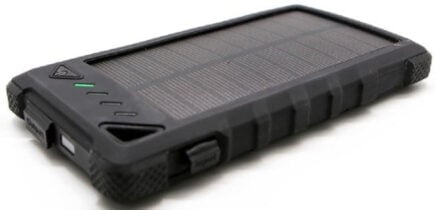 MOST DURABLE SOLAR POWER BANK
Revel Gear Day Tripper Solar Pack
> $
> Waterproof, shock-proof, and dustproof
> Dual charging capabilities
BEST LIGHTWEIGHT SOLAR POWER BANK FOR HIKING
BEST LIGHTWEIGHT SOLAR POWER BANK FOR HIKING
Beswill Solar Charger
> $
> 3 USB ports
> 21 super-bright LED lights
BEST SOLAR BANK + SOLAR PANEL BUNDLE
BEST SOLAR BANK + SOLAR PANEL BUNDLE
Goal Zero Venture 30 Power Bank + Nomad 7 Plus Solar Panel Kit
> $$$
> Charge two devices
> Lightweight
BEST ALL IN ONE SOLAR CHARGER
BEST ALL IN ONE SOLAR CHARGER
MPOWERD Luci Explore Solar Light + Speaker
> $$
> Wake-up light
> Alarm clock

Do You Want to Travel FOREVER??
Pop your email in below to get a FREE copy of 'How to Travel the World on $10 a Day!'.
#1 – Best Solar Power Bank Overall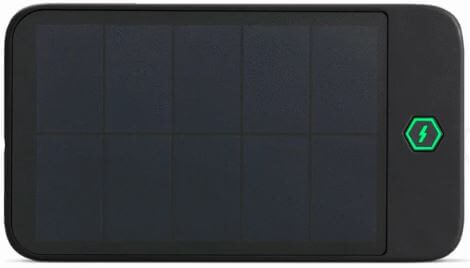 Solgaard Solarbank is our top pick for the best solar power bank overall
Specs
10,000 mAh battery
Battery stores up to 4-5 phone charges
Charges in the sunlight automatically
4 hours of sunlight = 1 full phone charge
Size: 6.2 x 3.5 x 0.75 inches
When it comes to a lightweight, smart way to stay charged on-the-go, you can't go wrong with the Solargaard power bank – making it my top pick for the best solar power bank overall.
It holds up to five charges, so you can be sure you won't end up with any dead devices, no matter where you are. Its solar panels let you charge it up with some sunlight or with a USB-C chord – whichever option is most convenient.
It's even more convenient if you pair it with a Solgaard backpack:
This pack is perfect for everyday use, for travel or for on-the-move city life. Simply charge your electronics from the backpack and you're good to go.
Pros
Handles up to 5 full charges
Lightweight and easy to pack
#2 – Highest Capacity Solar Power Bank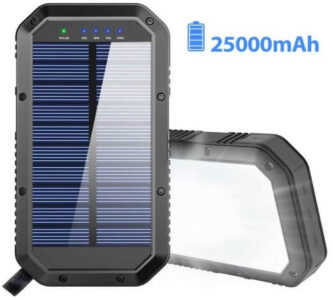 Meet the highest capacity solar power bank: GoerTek Solar Charger Solar Power Bank
Specs
25,000mAh battery
Battery capacity to charge a phone 5-7 phone times
36 built-in LED lights
Two charging methods
IPX6 water-resistant
3 USB outputs (1Amp for USB1 and 2 Amps for USB 2 and 3)
Size: 7 x 3.8 x 1.1 inches
With a built-in 2500 mAh battery, this solar power bank is about as high capacity as they come. If you have an iPhone XS, you can power it up seven times with this thing – more than five times for a Galaxy S9 Plus.
It's also perfect if you have multiple electronics you want to charge at the same time – or other people you'll be sharing it with – because it has 3 USB output ports. The power bank charges up quickly via solar energy or with a 5V/2A adapter, which must be bought separately. But it's nice to have options if you don't have easy access to one or the other.
If you're an avid camper or off-the-beaten-track travel enthusiast, you'll love that it also serves as a large, super-bright LED flashlight. It's durable and water-resistant too, which are nice features to have for frequent outdoor use.
Pros
Great for long camping trips or other outdoor travel
Can be charged at 2Amps for a faster charge
Cons
Larger and heavier than most solar power banks
#3 – Most Durable Solar Power Bank
Revel Gear Day Tripper Solar Pack is one of the most durable solar power bank
Specs
8,000mAh battery
Battery capacity handles 2-3 smartphone charges
20 built-in LED lights
Charge via micro USB (6 hrs) or the built-in solar panel (36+ hrs)
Size: 5.5 x 3 x 0.75 inches
If you tend to expose your gear through some pretty rough conditions – whether for travel, work, camping, or other outdoor ventures – you'll appreciate that this solar power bank is designed to be waterproof, shock-proof, and dustproof, with safely sealed connection ports. The Revel Gear Day Tripper is the most durable you'll find.
Other features that make this power bank super for travel are its dual charging capabilities via 2 USB output ports and its 20-LED grid that lights up a large area with 1,000 lumens. And if you find yourself in an emergency situation, it's good to know you have a powerful strobe to signal for help.
You'll get a quicker charge time of 6 hours by using the included micro USB, but you also have a built-in solar panel to help when needed.
Pros
Superior for rough-terrain adventures
Serves as a power bank and as a bright LED floodlight
Cons
Not enough battery for longer trips or for powering larger devices
#4 – Best Lightweight Solar Power Bank for Hiking
Beswill Solar Charger is the best lightweight solar power bank for hiking
Specs
8,000mAh battery
Battery capacity can charge an iPhone 6s 5 to 8 times
21 built-in LED lights for illumination
Charge via micro USB (10 hrs) or and top off with a built-in solar panel
Size: 5.6 x 3 x 0.8 inches
There are two conditions that (mostly) all hiking spots have in common – daylight and lack of power outlets, which makes this inexpensive, lightweight, solar power bank an excellent choice for hiking – from one-day to multi-day trips.
If you have more than one electronic device you want to keep charged – like a smartphone and an e-reader – or you have friends who would like to share your power source, this little power bank has 3 USB ports to keep multiple devices alive and kicking. Its 21 super-bright LED lights will also come in handy when you need a strong light source out in the wilderness after the sun goes down.
While this little power bank will get you through several days because its charge can be topped off by solar energy, please take heed of their recommendation to fully charge the portable charger before you hit the great outdoors by plugging in the micro USB cable. The solar panel is large enough to keep you going, but still quite small and not meant to be the sole source of power.
Pros
Lightweight and portable
Includes hook hanger for easy portability on a backpack
Inexpensive
The best present of all… is CONVENIENCE!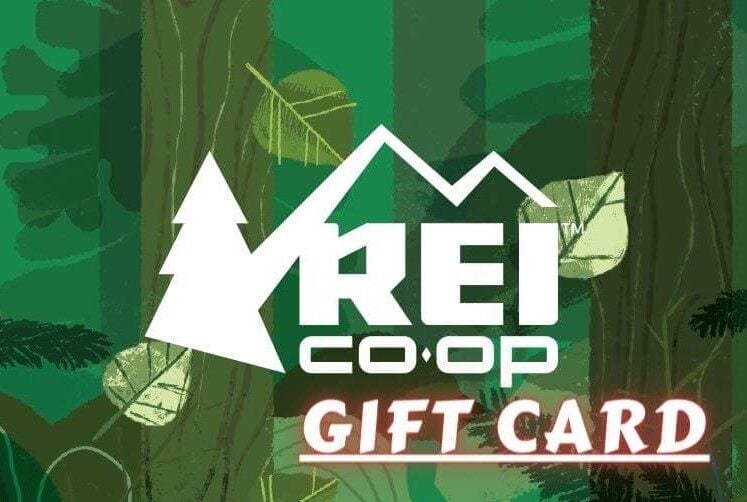 Now, you could spend a fat chunk of $$$ on the WRONG present for someone. Wrong size hiking boots, wrong fit backpack, wrong shape sleeping bag… As any adventurer will tell you, gear is a personal choice.
So give the adventurer in your life the gift of convenience: buy them an REI Co-op gift card! REI is The Broke Backpacker's retailer of choice for ALL things outdoors, and an REI gift card is the perfect present you can buy from them. And then you won't have to keep the receipt. 😉
Buy on REI!
#5 – Best Solar Bank + Solar Panel Bundle
Our top pick for the best solar bank + solar panel bundle: Goal Zero Venture 30 Power Bank
Specs
7,800mAh battery
Power output to charge: USB: 5V 2.4A (12W), solar USB: 5V 1.4A (7W)
Output capacity: battery – 29 watt hrs, solar cell – 7 watts
Size: 8.75 x 6.5 x 0.75 inches
IP6 rating
To keep your devices charged with an awesome power bank and keep your power bank charged with an awesome solar panel – the Goal Zero bundle is your answer. The 7,800mAH battery is high-capacity enough to charge two devices and is designed to do so quickly.
If you need to charge larger devices like laptops, the power bank can handle it easily. When you're out in the middle of nowhere, rest assured that the solar panel will keep smaller electronics running smoothly with no fear of seeing those battery icons hit the red.
For peace of mind on longer trips, the Goal Zero is the best power bank kit you can get. Just lightweight enough to make it easy to pack but powerful enough to work quickly and efficiently. It's a winner!
Pros
Charges devices quickly
Has a Solar Intensity Indicator that alerts you to solar conditions
Water-resistant
#6 – Best All in One Solar Charger
For another best all in one solar charger, checkout the MPOWERD Luci Explore Solar Light
Specs
3,000mAh battery
Bulbs: 12 white LEDs, 6 RGB LEDs
Run time: 5 hrs (high 220 lumens), 24 hrs (low 20 lumens), 4.5 hrs (speaker)
Size: 4.7 x 2.1 inches
IPX4 rating
Okay, for us outdoorsy types, this thing is super cool! Just connect to your smartphone via Bluetooth, and you have yourself an outstanding speaker and portable area light that you can customize to any color/mood you want – plus a mobile charger. It's perfect for camping and travel.
Speaking of travel, it's lightweight and easy to carry with you anywhere you go. For a quick charge of about five hours, plug in the USB, and from there, keep it charged on the go via solar power. It travels super well but also makes a cool bedroom lamp when you're stationed at home.
The Luci Explore app has so many excellent features – like a wake-up light that transitions from red to white and an alarm clock with a bunch of sounds to choose from. You can also play music over the Bluetooth connection with no need for WiFi. It's quite the nifty travel companion.
Pros
Works with your smartphone via BlueTooth
Fully customizable to your preferences
Water-resistant
More Awesome Solar Powered Gear
Best Solar Charger for Group Camping
First off, please note that this is not a power bank, but an ideal camping solar charger/power source for group base camp or car camping.
When you're off the grid, this durable Goal Zero solar panel will provide all the power you need for your group's mobile phones, laptops, tablets, and any other electronically-powered camping devices. The integrated kickstand makes it easy to prop it up anywhere you are and angle it just right to capture maximum sun rays.
Are you camping in a vehicle? No problem. All you need to do is buy the mounting brackets and you've got yourself a super rooftop-mounted solar panel. It's designed rigid enough to be used for permanent installation too, so you'll be sure to get plenty of good use out of it. It's a win-win.
Best Solar Lantern for Camping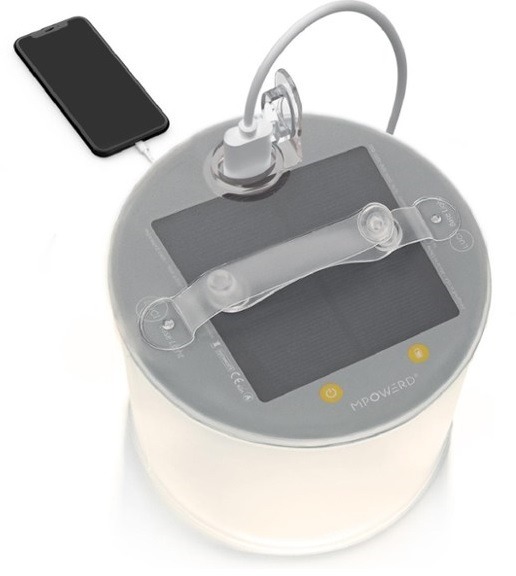 The best part about MPOWERD products is that they're so versatile and travel-friendly while being really cool and sleek. This trusty little lantern packs flat with a lightweight, collapsible design and beautifully lights up any space with 360 lumens.
You have four modes to choose from – low, medium, high, and flashing – to create any mood or signal for help if needed. Charge it up fully via USB and keep it powered up with solar energy. Get the most out of it by using its two-way charging USB port to charge your mobile devices too.
The Lucy lantern has a bottom strap and fixed top strap that makes hanging it up easy – from your backpack, from your tent, or a nearby branch. The convenient battery indicator helps keep you informed about any recharging needs.
It's a fantastic solar product; you'll love it.
Check out our in-depth Luci Base Light review!
Best Solar Lights for Group Camping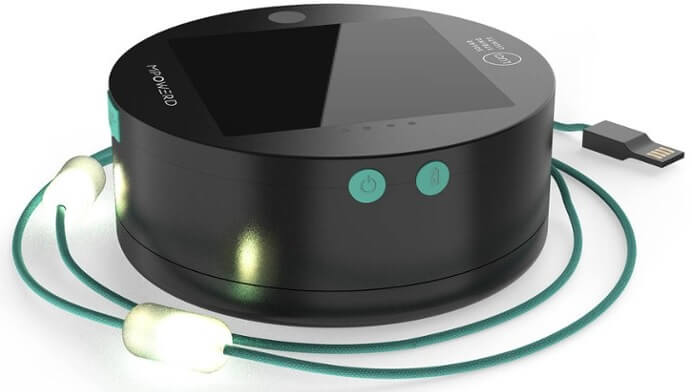 Who doesn't like the mood set by a string of hanging lights? Now you can create the mood anywhere you go – from your backyard to the campground. Easily hang 20 bright LEDs with specially designed clips that make them super simple to attach anywhere.
These are the best solar lights for group camping because, aside from being a cool lighting setup, it includes USB ports to charge mobile devices. The unit can last a whole 20 hours on one charge and recharges with solar power or via USB for a quicker charge.
Oh, and no need to worry about messy, tangled chords. The Luci Solar String Lights can be neatly transported because the base also serves as a compartment to keep the string in place and tidy. Like all MPOWERD products, these Luci solar string lights will not disappoint.
best solar power banks

| Name | Weight | Dimensions | Number of Charges | Price |
| --- | --- | --- | --- | --- |
| Solgaard Solarbank | .55 lbs | 6.2 x 3.5 x 0.75 inches | 4-5 phone | $85 |
| GoerTek Solar Charger Solar Power Bank | 1.2 lbs | 7 x 3.8 x 1.1 inches | 5-7 phone | $50 |
| Revel Gear Day Tripper Solar Pack | 7.5 ounces | 5.5 x 3 x 0.75 inches | 2-3 phone | $49.95 |
| Beswill Solar Charger | 7.8 ounces | 5.6 x 3 x 0.8 inches | 5-8 phone | Unavailable |
| Goal Zero Venture 30 Power Bank + Nomad 7 Plus Solar Panel Kit | 1 lb 5.6 oz | 8.75 x 6.5 x 0.75 inches | 2 devices | $44.93 |
| MPOWERD Luci Explore Solar Light + Speaker | 9 oz | 4.7 x 2.1 inches | Unavailable | $74.95 |
| Goal Zero Boulder 50 Solar Panel | 12 lbs 6.4 oz | 26.75 x 21.75 x 1.75 inches | Unavailable | $149.95 |
| MPOWERD Luci Base Inflatable Solar Lantern + Power Bank | 10.1 ounces | Inflated: 6 x 5.4; collapsed: 6 x 1.5 inches | Unavailable | $54.95 |
| MPOWERD Luci Solar String Lights + Charger | 11.3 ounces | Cord: 18 ft. long, charging base: 2 in. x 5 in. | Unavailable | $49.95 |
How to Choose the Best Solar Power Bank
Shopping around for a solar power bank is a smart move; they're efficient, environmentally-friendly, and convenient for anyone with an on-the-move lifestyle. When it comes to solar products, there are a lot out there. So if you want to do your own research on finding the best solar power bank for you, there are some criteria you should keep in mind.
Solar Power Banks vs Solar Chargers
For starters, it's important to know the difference between a solar power bank and a solar charger. To put it simply, a solar charger uses a solar panel to charge devices; there is no backup battery. This is perfect for extended camping or backpacking trips because they're lighter, and larger panels keep your personal electronics charged up while the sun is out.
A solar power bank, however, is like a bank – it stores power away for use when you need it. It's essentially a portable battery with a solar panel built-in. Because they have smaller solar panels, they're meant to be fully charged via an electrical outlet, then kept alive via solar energy. Consider sunlight as your emergency backup source to top off the power that's already there.
If you want to be completely sun-dependent, a solar charger will work faster and more efficiently. For a quick-charge with a plug-in option and the convenience of having the battery stay alive with solar power, a solar power bank will do the job.
Battery Capacity
You also want to pay attention to how much power the power bank can hold. Battery storage capacity is typically measured in mAH (milliamp-hours). The higher the battery capacity number, the more energy it can store in one go. Most power banks hold around 10,000 to 25,000mAh.
As for how many times that capacity can charge up your device depends on the battery size of your own device(s). For instance,  a tablet's battery is larger than a smartphone battery. So, your optimal battery capacity will depend on how many devices you want to keep powered up, how big the battery of each is, and how many times you want to recharge at one time.
Weight and Size
As a traveler and outdoor enthusiast, you know that every ounce you have to carry around with you matters. Every inch of your travel bag, backpack – or whichever your preferred travel carrier is – also matters. That's why you need to pay attention to the weight and size of your solar power source.
In order for solar chargers to perform completely on solar power efficiently, the solar panels need to be quite large. This translates into more weight and bulk. So you must ask yourself how convenient it will be to hike and travel with a solar charger?
If you know you can rely on the sun just for topping-up purposes, then a solar power bank may be more suitable as a lightweight travel option.
Water-Resistant vs Waterproof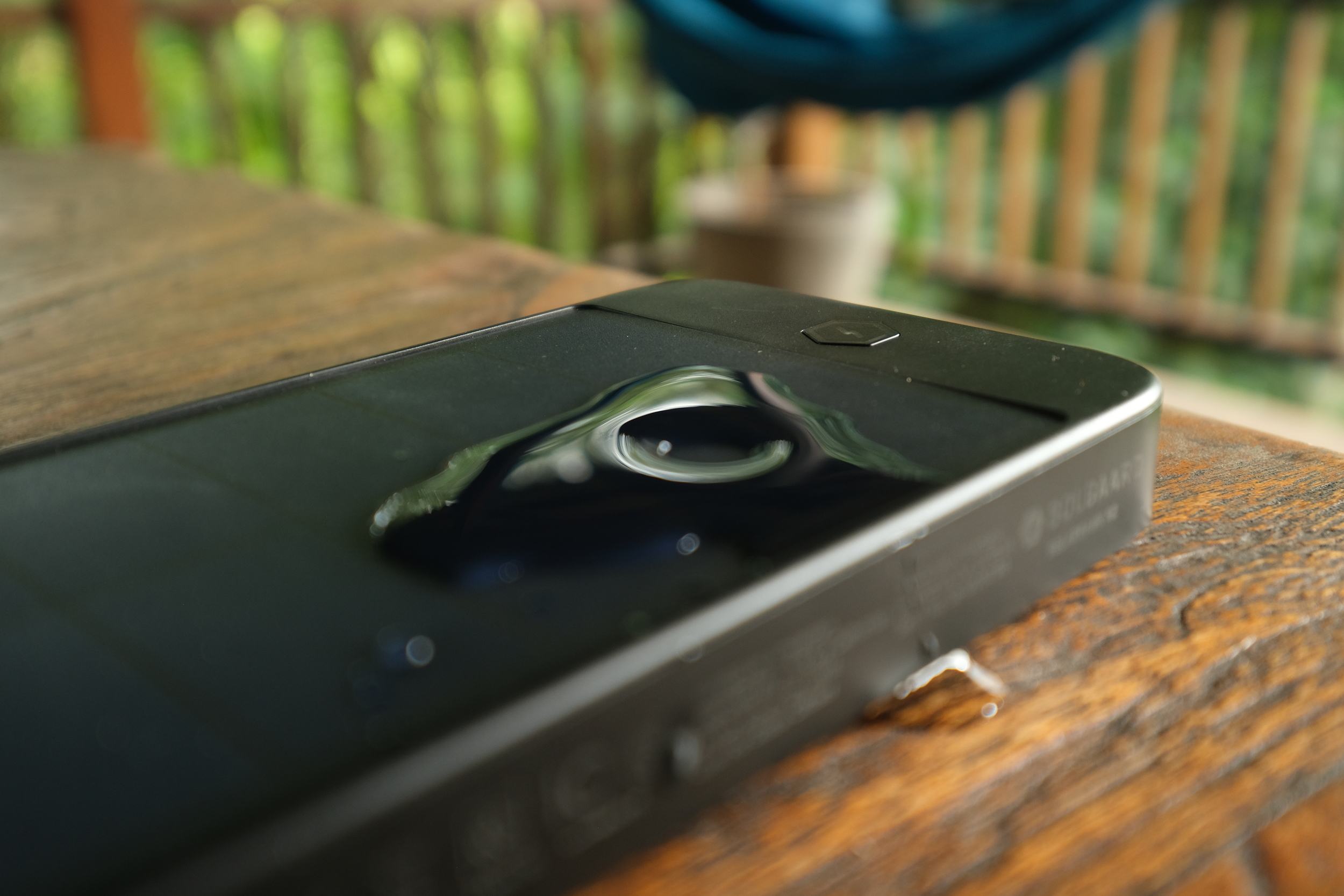 Spoiler alert: most solar power banks are not 100% waterproof. That said, they can handle spills and a bit of water abuse for short periods.
If you want actual verification for how water-resistant and dustproof a power bank is, you need to find its IP rating.
For an IP67 rating, the first number (6) refers to how dustproof it is and the second number (7) indicates its waterproofness. 6 is the highest the first number can go, and the 7 means that the solar power bank can be submerged in 3 feet (1 meter) of water for up to 30 minutes.
If there is an X and only one number – like an IPX4 rating – that means the product hasn't been tested for dust-proofing and that it has a waterproof rating of 4. A 4 rating denotes that the power bank can withstand rain showers or splashing water.
I would not leave a solar bank out all night in a vicious rain storm, but for a few minutes of rain – it should be fine. I have spilled water on mine a few times and it has also gotten rained on – and the thing is still going strong. Point being: take the same precautions you would normally with any electronic and your solar bank will live a long and functional life.
Charging Capabilities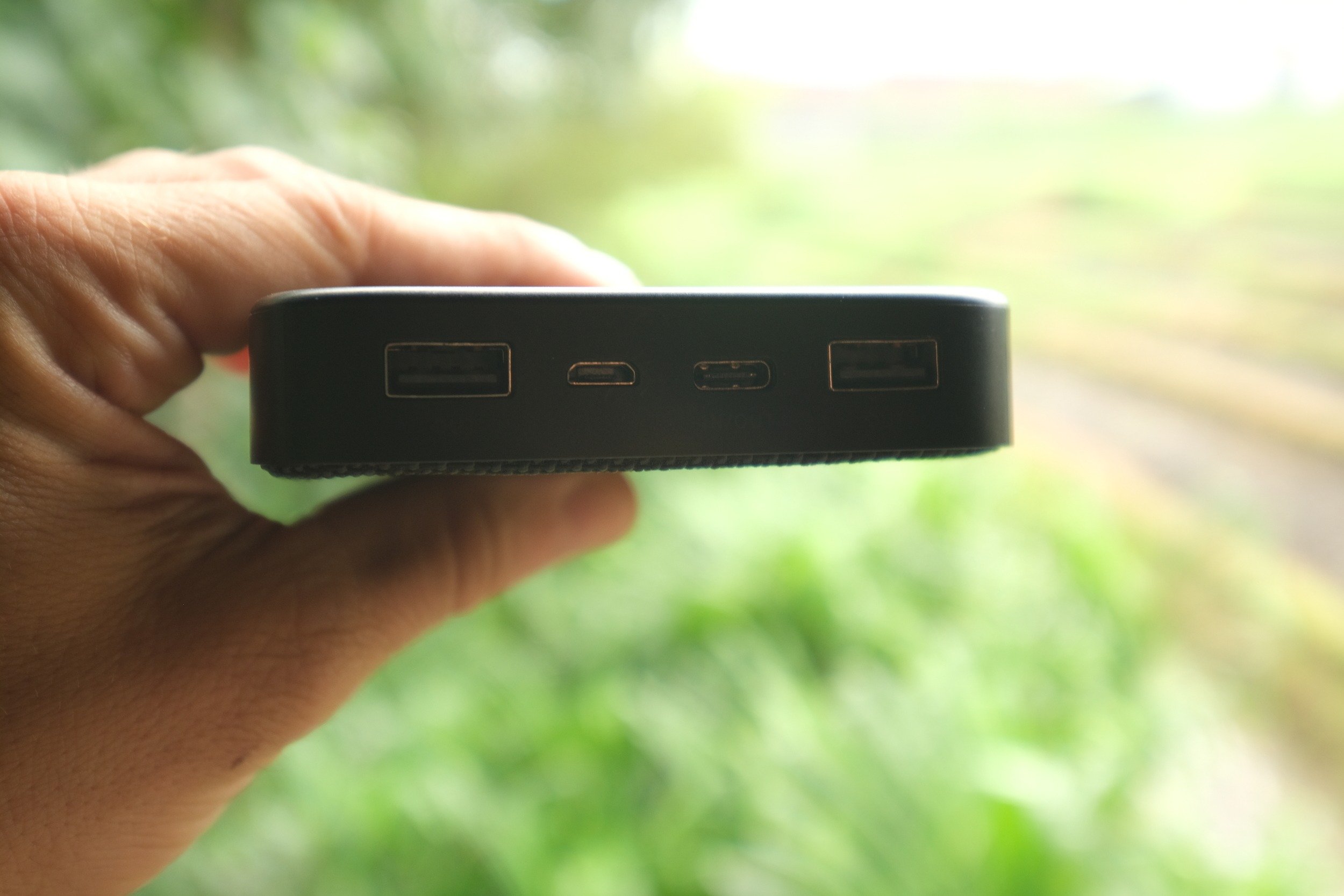 Be sure to also check for its charging capabilities. How many USB ports does the power bank hold? If you have a mobile phone and a tablet you'd like to keep powered up, then 2 USB ports would be preferable. Or, if you have a group of people, having more is even better.
Most solar power banks have two power options – wall charging and solar charging. Because power banks have smaller solar panels, your best bet for a quick-charge is to plug it in and use the sun rays to keep things kicking.
FAQ about the Best Solar Power Banks
Still have some questions? No problem! We've listed and answered the most commonly asked questions below. Here's what people usually want to know:

Unlock the The Broke Backpacker's GREATEST Travel Secrets!
You pop your email here, and we promise to send you only travel content that's actually relevant — sounds like a pretty good deal to us!
Final Thoughts
Harnessing the power of the sun to keep your vital personal devices charged up is not only practical but can be lifesaving! Even if you don't camp out in the wilderness for days at a time, we can all think of times that we wish we had a power source at hand to save a dying smartphone battery.
The Solgaard Solarbank is our top overall pick because it covers all the essential on-the-go basics: it's lightweight, sleek, and compact while still packing in plenty of battery power. It's especially handy when seamlessly paired with the Solgaard backpack. For travel or just for everyday use, it's simply the best.
Interested in something a bit more rugged that can handle multiple devices at once? The Beswill Solar Charger is a smart choice. For camping and other outdoor adventures, you'll appreciate bright LED flashlight capabilities and that it has three USB output ports. Plus, it's inexpensive.
Well, I hope you found our best solar power bank reviews helpful. No matter which one you decide to go with, you'll be happy that you've added this useful device to your nomadic lifestyle arsenal.
---
Thanks for reading – that was fun! 😀
We bring you epic FREE content!
Find out how YOU can help support us.
We're a big site with a big team and this job isn't always easy. But we do it because we love it – we love providing epic and free content. We love the knowledge that our content keeps you adventuring. We don't ask for money, but if you'd like to find out how you can help the site in more organic ways, click the button below.
Thank you for your support 🙂
---
Bye for now, but not forever!
If you want MORE top-tier Broke Backpacker content like this, then sign up for our weekly newsletter below to get the latest and greatest!
And for transparency's sake, please know that some of the links in our content are affiliate links. That means that if you book your accommodation, buy your gear, or sort your insurance through our link, we earn a small commission (at no extra cost to you). That said, we only link to the gear we trust and never recommend services we don't believe are up to scratch. Again, thank you!