Although part of the joy of camping is getting unplugged from technology, there are also undeniable conveniences of having a source of energy. Whether you want to keep your phone powered in case of emergencies or just charge your GPS for navigation, having a camping solar charger is one way to make your camping experience more enjoyable.
Thanks to solar energy, you can power basic electronic devices without needing to connect to an outlet. Not only does this help you maximize your adventure time, it's also an environmentally friendly option.
There's a lot of variety in price and style when it comes to camping solar chargers, so it's understandable if you're feeling a little overwhelmed. To help you out, we've done some research to select the best solar chargers for camping so you can find which product is best for your camping style and budget.
So, ya'll want to find out what the best solar camping charger is? Let's go!
Quick Answer: These are the Best Camping Solar Chargers of 2022
Overall Best Camping Solar Charger
Best Budget Camping Solar Charger
Best Solar Panel for Car Camping
Best Backpacking Solar Charger
Runner-up for Best Backpacking Solar Charger
Best Solar String Lights for Camp
Best Solar Charger for Groups
Best Solar Camping Charger for Van Life
Best Emergency/Survival Power Station
Best Camping Solar Chargers
From car camping to nomadic backpacking across mountain tops, we've got something on this list to fit every camper's needs! Read on to discover the best camping solar chargers and how to decide which is right for you.
Right then, let's jump in and find out the best solar chargers for camping and travelling.
Ladies & Gents, It's Time to Step Your GEAR Game Up. 😉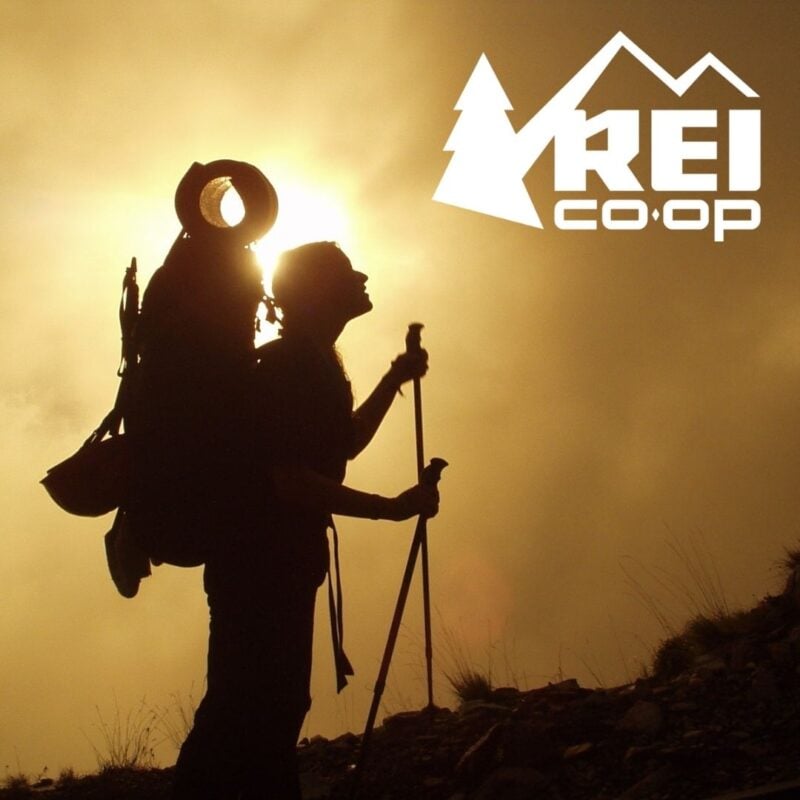 REI is one of America's biggest and most-loved outdoor gear retailers.
Now, for just $30, get a lifetime membership that entitles you to 10% OFF on most items, access to their trade-in scheme and discount rentals.
Join REI Today!
#1 – Overall Best Camping Solar Charger
Our pick for overall best camping solar charger is MPOWERD Luci Pro Lux Inflatable Solar Lantern + Charger
Specs
Style: Battery or solar panel
Best Use: Camping, backpacking
Weight: 6.1 ounces
Collapsible: Yes
This inflatable solar lantern has dual functions as a charger and a light source during your travels. You can charge the battery either by using the solar panel located on the top, or plugging it in using the USB port.
The light can last up to 50 hours on the lowest setting, or you can use the medium, high, or flashing setting for more light. You can also track how much battery is remaining by the indicator located on the side of the lantern.
In direct sunlight, it takes the Luci Pro Lux about 14 hours to fully charge, or in less than 3 hours when using a USB quick-charge. 14 hours is longer than desirable for a charging time, so you'll need to be mindful about how much you use it and keep it in the sun as much as possible while traveling.
Thanks to the lightweight design and the fact that the lantern has a IP67 waterproof rating, the Luci Pro Lux is also what we bring with us on our Pakistan tours. It has a pleasant source of light, and keeps mobile devices charged while out on the trail.
Our team selected this as their best solar charger for camping because it covered all bases. The lamp was bright enough to light up a tent easily without being too light for the evening. It was also light enough to carry on pretty much any trip and packs down super small too.
Pros
Nice source of light
Lightweight and durable
Collapsible design makes it easy to pack
Cons
14 hours for full solar charge
Sometimes deflates easily
#2 – Best Budget Camping Solar Charger
MPOWERD Luci Pro Outdoor 2.0 Inflatable Solar Lantern + Charger is our pick for the best budget camping solar charger
Specs
Style: Battery or solar panel
Best Use: Camping, backpacking
Weight: 6.1 ounces
Collapsible: Yes
Almost identical to the number one camping solar charger on this list, the Luci Pro Outdoor covers all the basics for what a portable camping charger should do without becoming too expensive.
This inflatable design allows it to be packed down to just a 1-inch thickness, so you can easily slide it into your backpack or travel bag. The battery is chargeable either with a USB cable or by solar power, although it takes about 14 hours in direct sunlight to reach a full charge.
The three brightness settings allow you to adjust the light setting as needed, and the lowest setting provides up to 50 hours of light.
For being so lightweight, the Luci Pro Outdoor is also very durable and has an IP67 waterproof rating. The compact design and sturdiness make it a great choice for backpackers and budget travelers looking for a suitable camping solar charger.
Our team felt this was the best budget solar panel charger for camping because they felt it ticked all the boxes without breaking the bank. The collapsable design made it perfect for throwing into any backpack for any sort of trip.
Pros
Budget friendly
Solar or USB charge
Compact and durable design
Cons
14 hours for full solar charge
Sometimes can press 'on' button by accident
#3 – Best Solar Panel for Car Camping
Meet the best solar panel for car camping: Goal Zero Nomad 50 Solar Panel
Specs
Style: Solar panel
Best Use: Car camping
Weight: 6 pounds
Collapsible: Panels are foldable
Weighing in at 6 pounds, the Goal Zero Nomad 50 certainly isn't the number 1 pick for backpackers, but it is perfect for car camping and long road trips. Unfolded, the panels measure 53 x 17 x 1.5 inches, and while folded up they pack down to a neat 17 x 11.25 x 2.5 inches.
If you want, you can even purchase multiple panels to connect to maximize your power collection. The panels can also be paired with power banks like the Goal Zero Sherpa Power Bank to store power.
For travelers who will be constantly returning to one base camp or who will be traveling by car, the Goal Zero Nomad 50 is the perfect power companion to keep your devices charged and ready for use no matter where the road takes you.
Our team rated this as their best portable solar charger for camping whilst travelling in a car due to how powerful it is whilst packing down super small. The panels fold up and easily slide underneath a seat or into the boot whilst at the same time it opened up to reveal a large area capable of pulling in a massive amount of power.
Pros
Foldable for easy packing
Pairs with power banks
Durable design
Cons
Heavy (not for backpacking)
More expensive
#4 – Best Backpacking Solar Charger
Goal Zero Nomad 5 Solar Panel is one of the best backpacking solar charger
Specs
Style: Solar panel
Best Use: Camping, backpacking
Weight: 12.7 ounces
Collapsible: No
If the Goal Zero Nomad 50 was the perfect solar panel for car camping, then the smaller version of the product-the Goal Zero Nomad 5-is the ideal choice for backpackers in search of a camping solar charger.
It's a relatively compact product, measuring 9.5 x 7 x 1.1 inches and weighing only 12.7 ounces, so it fits easily into most camping backpacks. The kickstand allows you to adjust the angle in order to maximize your power collection.
Keeping your phone and other small devices charged while on the trail is possible with the Goal Zero Nomad 5. Thanks to the durable monocrystalline material, it's also meant to be tough enough to withstand some jolts and jostles which are bound to happen with any backpacking trip.
The team were impressed by how lightweight and portable this solar charger is, in fact, it could easily fit inside a backpack laptop sleeve without adding too much weight. They also found it was hardwearing too which is super important when getting thrown in and out of a backpack on a daily basis.
Pros
Compact and fairly lightweight
Durable design
Cons
Needs to be in a wind protected area
Takes a while to charge a device
#5 – Runner-up for Best Backpacking Solar Charger
Runner-up for best backpacking solar charger on our list is Powertraveller Extreme Solar Charger
Specs
Style: Solar panel
Best Use: Camping, backpacking
Weight: 10.2 ounces
Collapsible: Foldable (clamshell design)
Our close-second choice for the best camping solar charger for backpackers goes to the Powertraveller Extreme Solar charger. It's fairly compact and has a convenient clamshell design so it's easy to keep safe while on the trail.
The Powertraveller is a bit more expensive option, but it's also a bit very durable and able to get power in lower light conditions than other solar chargers. You can also attach it easily to the outside of a backpack, bike pannier, or tent thanks to the simple mounting system.
The team loved this little nifty backpacking solar charger and in particular, they felt the foldable design allowed it to be super compact and also mega durable too. The additional functionality of being able to attach it to their backpacks whilst on the move was something they loved too, especially whilst hiking in the Aussie outback.
Pros
Compact and durable
Attaches to packs, panniers, and tents
Functions in low-light conditions
Cons
More expensive
Takes a while to charge devices
#6 – Best Solar String Lights for Camp
MPOWERD Luci Solar String Lights + Charger is our top pick for the best solar string lights + charger
Specs
Style: Battery and solar panel
Best Use: Camping, car travel, cabin
Weight: 11.3 ounces
Collapsible: No
There's something relaxing and pleasant about string lights at a campsite. Whether you're on a backpacking trip with some friends or spending a weekend at the cabin with your family, the Luci Solar String Lights are a great addition to your camping gear.
Not only are the string lights perfect for illuminating your tent or campsite area once the sun goes down, but the USB port also allows you to charge some mobile devices. You'll have up to 20 hours of light on a single charge, and you can monitor the battery life on the indicator on the side.
Using the solar panel, the Luci Solar String Lights take a full 16 hours in direct sun to charge, or you can charge it in under 8 hours using the USB port. The IPX4 waterproof rating means that accidental splashes won't result in your string lights being ruined.
Our team loved this little number and felt it was the best solar panel charger for camping when it came to fun features and usability. The compact charger packed a punch when it came to charging their phones whilst also lighting up camp, the addition of the low-power fairy lights made it even more perfect for tents and cars at night.
Pros
Fairly budget friendly
String lights or charger
Durable and can withstand some splashes
Cons
Takes a long time to charge
Solar panel needs clear direct sun
#7 – Best Solar Charger for Groups
Our pick for best solar charger for groups is Goal Zero Boulder 100 Solar Panel Briefcase
Specs
Style: Solar panel
Best Use: Group camping, base camp, car travel
Weight: 25 pounds, 14.4 ounces
Collapsible: Folds into a briefcase
Although this solar panel is way too massive for any backpacker to consider, it's the perfect choice for large groups, attending festivals, or long car camping trips. Unfolded the solar panel measures 40 x 26.75 x 1.75 inches, and once folded in half the entire thing fits in a protective carrying case in a briefcase style package.
In order to charge your devices and store power, you'll need to get a power generator such as the Goal Zero Yeti 150. The two devices together are certainly an investment, but one that can pay off many times over if you're using them a lot.
This solar panel can be easily transported, or permanently installed, for use at a cabin or a long-term base camp. It's durable, and designed to last as long as you give it proper care and maintenance.
For those in the TBB team who had the space and the need, they felt this was a game changer when it came to camping off the grid. They were impressed by the power they got from this thing as well as how portable it actually was once folded up for its size.
Pros
Big and very effective
Comes with protective canvas bag
Durable
Cons
Heavy and cumbersome
Expensive

Do You Want to Travel FOREVER??
Pop your email in below to get a FREE copy of 'How to Travel the World on $10 a Day!'.
#8 – Best Solar Camping Charger for Van Life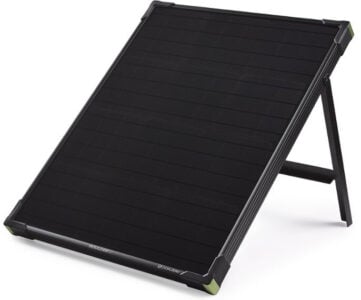 Goal Zero Boulder 50 Solar Panel is one of the best solar camping charger for van life
Specs
Style: Solar panel
Best Use: Camping, RV travel, car camping
Weight: 12 pounds, 6.4 ounces
Collapsible: No
For RV travelers or car campers looking for a solar panel installation for their vehicle, the Goal Zero Boulder 50 is a great option. This durable and efficient solar panel can be installed either permanently or temporarily depending on your travel needs.
You'll also need to purchase the Goal Zero mounting brackets in order to secure it on a roof, or use the kickstand for setting up the solar panel on the ground at camp.
When paired with the Goal Zero Yeti 150 Portable Power Generator or a similar product, this solar panel is the solution to keeping your laptop and mobile phone charged while on the road for long periods of time.
For those wanting the functionality of the larger model whilst only having the space for a more compact option, the Boulder 50 was perfect. The team felt it hit a sweet spot in terms of charging ability and storability for van camping.
Pros
Strong and durable design
Temporary or permanent installation
#9 – Best Emergency/Survival Power Station
Goal Zero Yeti Lithium 1500X Portable Power Station is our top pick for the best emergency/survival power station
Specs
Style: Battery or paired with solar panels
Best Use: Base camp, group camping, emergency preparedness
Weight: 45 pounds, 10.25 ounces
Collapsible: No
For those extreme campers out there, it's worth mentioning this power generator on our list of camping solar chargers. Although it's most definitely NOT a budget friendly option, if you're serious about wanting to invest in solar power for a long-term living situation, then there's a chance you might want to consider this generator.
You can pair it with any of the Goal Zero solar panels to keep it charged, then have enough energy to power TVs, refrigerators, phones, laptops, and more.In addition to solar panels, the generator can also be charged using a wall outlet or a 12V car port depending on what's available to you.
The generator itself is fairly compact, considering its power capabilities. Measuring 15.25 x 10.4 x 10.2 inches, it's also certainly not lightweight coming in at a bit over 45 pounds. Getting the Goal Zero Yeti Lithium 1500X is a big upfront investment, but worth it if you have the right lifestyle.
The team felt this beast was only applicable to certain camping situations, but for those who needed portable power, this thing was epic! They felt it was the perfect way to live off the grid and safety explore truly off-the-beaten-track locations in relative comfort. The storage capabilities of the battery meant they could charge up once and have enough juice for a good few days of low key usage.
Pros
Can provide lots of power
Compatible with Goal Zero solar panels
Charge by wall outlet, solar, or 12V car port
Best of the Rest
Although these camping solar chargers didn't make it onto one of the top spots on the list, they're still worth mentioning and one of them might end up being exactly what you're searching for.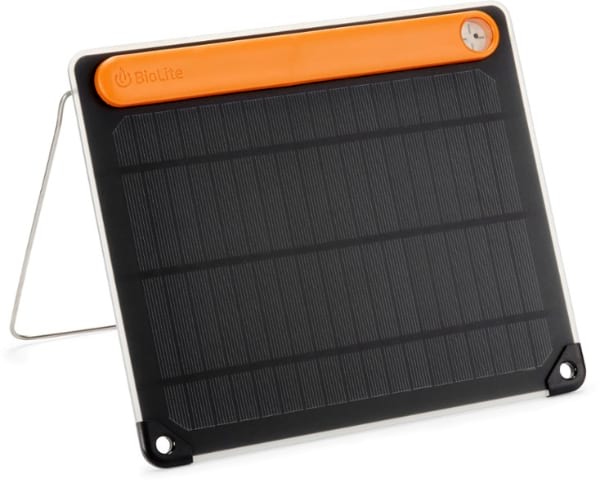 This relatively lightweight camping solar charger weighs 13.76 ounces, and comes with an integrated 2,200 mAh battery so you can continue to charge your devices even when the sun is no longer shining.
When you're at camp, use the kickstand to set up the solar panel in the optimal place, or while you're on the go you can use the corner loops to secure it using a carabiner or rope. It takes about 8 hours to charge by USB, or under 3 hours with direct sunlight.
The thin design also makes the BioLite 5+ easy to pack, so it's a good option for campers or backpackers looking for a camping solar charger that won't take up too much room.
Our team loved how compact, light and quick to charge the built-in battery was. They also that additional functionality, especially for backpacking trips.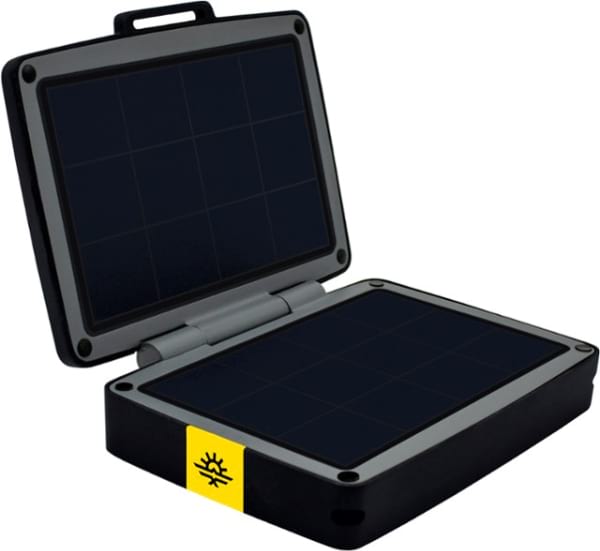 A good choice for backpacking, camping, and hiking, the Powertraveller Solar Adventurer II measures 5.25 x 1 x 1 inches and weight just over 14 ounces. It can be charged either by the solar panel which takes 10-12 hours depending on sunlight, or in about 3.5 hours with the USB.
One major advantage of the Powertraveller Solar Adventurer II is its durability rating. The IP65 rating means that it's moderately waterproof-it's not going to survive being dumped in a lake, but some rain or splashing isn't going to harm it.
Thanks to the integrated battery, you can also continue to charge your devices when the sun goes down, and it's compatible with USB-C laptops.
The team felt this was a great option for digital nomads going off the grid with the hard-wearing case and integrated battery. They found it to be one of the most durable on the market even with daily use.
This foldable solar panel is a great addition for campers and backpackers to add to their gear. Weighing 1 pound 3.4 ounces, it's a little heavier than some varieties, but it's also larger and has a faster charging time.
In direct sunlight, the battery can reach full capacity in as little as 2 hours, and you can keep track of how quickly it's charging on the side indicator. To reposition the panel, there's a 360 degree kickstand to obtain optimal position in relation to the sun.
It's a bit less durable than other models, but still has an IPX4 rating which is enough to protect it against some splashing or mild dust.
The team loved the faster charging speeds than many of the other compact models and felt it offered the perfect solution for the more careful among the group. They found it also charged well in shade too.
This is Goal Zero's largest model of solar panel; it's certainly way too big and heavy for backpacking, but for powering base camps or long term car travelers, it's an excellent option.
The foldable design makes it easier to pack and store when you're on the go, and the durable materials are meant to be able to withstand some bumps and battering during your adventures.
Like some of the other Goal Zero products, you'll need to pair this with the Goal Zero Yeti solar generator or something similar. This camping solar charger may be a bit out of the price range for some campers, but for hardcore outdoor enthusiasts, it's a quality product and good investment.
For those wanting to explore the backcountry further, this was the perfect solution. They felt despite the large size and fast charge times, the panels still folded down relatively compactly and stored well inside their campers.
Similar to our top picks on this list, this is Luci's standard "base" model as the name suggests. Like the other Luci light models, it can supply up to 50 hours of light on one charge and is capable of charging mobile phones while on the go.
The Base Light can take up to 28 hours to fully charge on solar power, which is more than the newer versions of the light. It can also be quickly charged with a USB cable, which makes it convenient for backpackers staying at hostels who want a personal light source.
It's easily packable thanks to the collapsable design, and the strap on top allows you to attach it to a tent or pack as a light source for camp or while walking in the dark.
We have been using this light for years on our tours in Pakistan and it is one of my all-time favorite solar power sources. Check out my Luci Base Light review here.
The best present of all… is CONVENIENCE!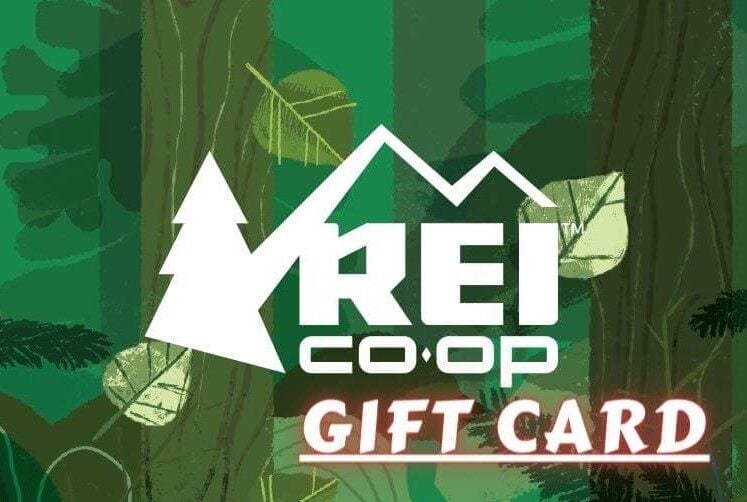 Now, you could spend a fat chunk of $$$ on the WRONG present for someone. Wrong size hiking boots, wrong fit backpack, wrong shape sleeping bag… As any adventurer will tell you, gear is a personal choice.
So give the adventurer in your life the gift of convenience: buy them an REI Co-op gift card! REI is The Broke Backpacker's retailer of choice for ALL things outdoors, and an REI gift card is the perfect present you can buy from them. And then you won't have to keep the receipt. 😉
Buy on REI!
How to Choose the Best Solar Camping Charger
As campers become more and more interested in keeping their electronics powered even in remote areas, the options for solar camping chargers continue to expand. When deciding which solar camping charger is best for you, here are a few of the key considerations to take into account.
Weight and Portability
As you can see from our list above, solar camping chargers come in a variety of sizes and weights. What works well for car camping probably isn't going to be best for a lightweight backpacker-no one wants to haul around a 25 pound solar panel on a backpacking trip!
In general, with increased weight also comes the capacity for more power. However, the heavier the solar panel, the more difficult it is to transport it.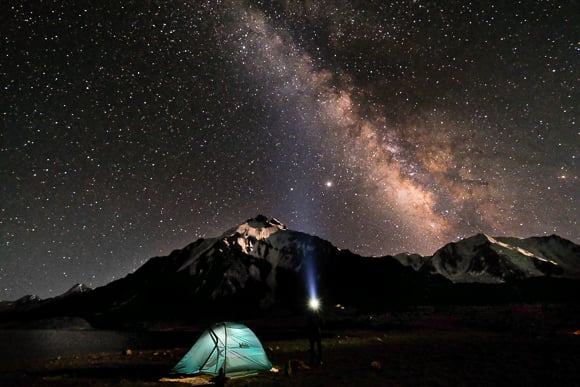 Each camper and traveler will have to make the call for themselves about what the best balance between weight and function is for them.
Also keep in mind that heavier solar panels tend to be more expensive. If this is your first time purchasing a camping solar panel, you might want to go for one of the less expensive and lighter versions to see how you like it before making a big investment.
Best Use
How you plan on using your solar charging device can help you determine which model is best for you. Everyone has their own style of camping, from rugged backpacking expeditions to simply going to spend a weekend at the cabin.
Although many of the camping solar panels on this list can work in a variety of settings, usually there are some restrictions about their best use. For example, if you have a car or camper van, it makes sense to invest in a larger and heavier solar charger than what you might get for a backpacking trip.
Keep in mind that for some purposes you also have to take into account purchasing separate gear such as power generators or mounting brackets.
Charging Speed
The speed at which a camping solar charger can power up a phone or camera varies a lot depending on the device. Many of the smaller solar chargers are also chargeable by a USB cable, which is helpful since the small solar panels can take a long time to fully charge.
There's also some variation in how direct the sunlight needs to be in order for the solar charger to get power. Some of the more expensive and larger panels are able to function in much dimmer conditions, while smaller versions may require more intense light exposure.
When shopping for a solar camping charger, check what the charge time is and whether it's possible to charge via an outlet. Again, it all ties back to how you're planning to use the solar charger and whether it makes sense to invest in a more expensive but faster charging model.
Cost/Value
Although some of the solar chargers on this list may look super cool, they may not be worthwhile investments in terms of price. If you're just looking for a solar charger capable of charging a phone or camera for a day or two out camping, you probably won't need to spend more than $50 or $60 on something that will work well.
If you're already an experienced car camping, RVer, or have a remote cabin, then it's worthwhile to invest in one of the larger and more expensive models. For campers who know they need a regular source of power for long periods of time, a high quality camping solar charger can pay itself off quickly.
The Benefits of Going Solar
The biggest and most obvious benefit to solar chargers is the environmental standpoint. Investing in renewable energy sources, even if it's something small like a solar charger, can add up in the long run.
In comparison to petrol-powered camping chargers and generators, solar chargers are much better in terms of both pollution and noise. Instead of having a sometimes smelly and loud petrol generator, you can have a completely silent and odor-free solar charger, plus there's no need to worry about hauling fuel around.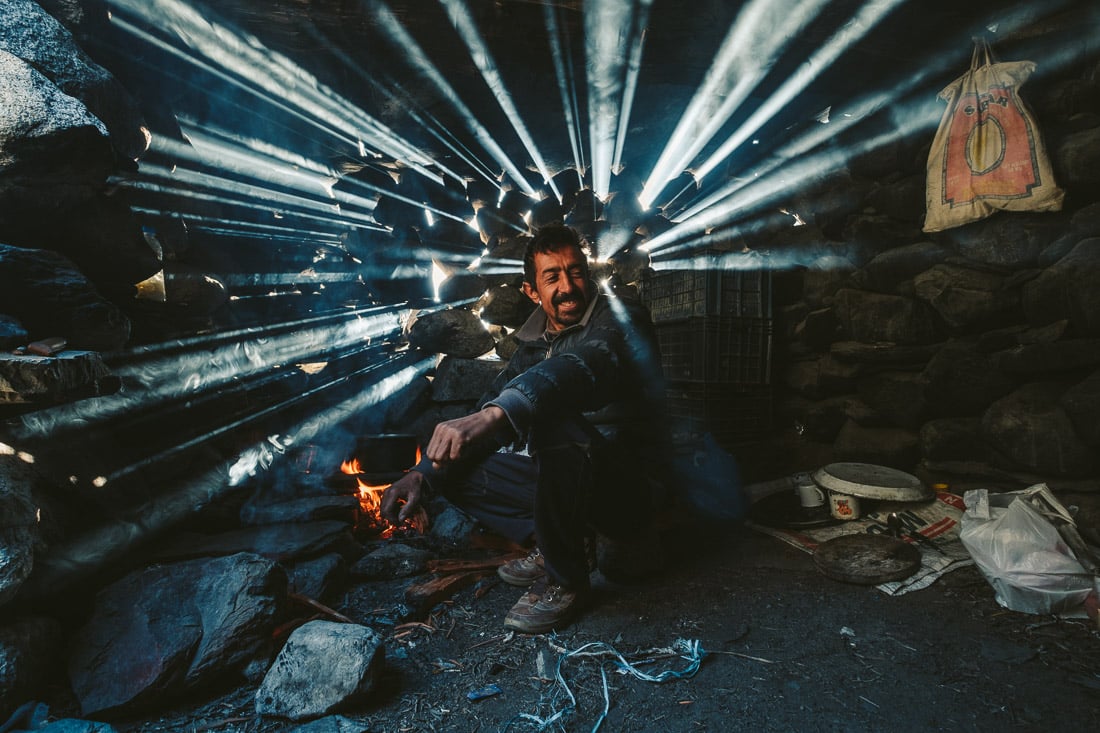 Solar energy is also much more convenient for campers and travelers who enjoy spending long periods of time outdoors. If you're the type of person who enjoys week long thru-hikes or long camping trips in the mountains, having a solar charger is an excellent way to keep your essential electronics powered when you don't have access to an outlet.
Plus we all need to be hiking and traveling as sustainably as possible right?
How We Tested The Best Camping Solar Chargers
There is no perfect method when it comes to testing out travel and outdoor gear. Having said that, here at TBB we've got quite a bit of experience when it comes to using gear, so we feel we're in a good position to give it a red hot crack!
Whenever we test a piece of gear, for example, a solar charger for camping, we pass it out around the group. Each of our members are spread across the globe in different environments and conditions, so they're able to test each item out thoroughly.
We each pay attention to things like, how well made each piece of gear was, how light or heavy they are, and whether they're packable or not. Above all else, how well each fulfils its primary purpose. So, when it came to the best camping solar chargers, that would be things like how much power each packs, how easy they are to charge and durability.
Finally, we also take into account how an item is priced. Expensive items are scrutinised to a higher degree whereas cheaper options are given a bit more leeway.
FAQ about the Best Camping Solar Chargers
Still have some questions about the best camping solar charger? No problem! We've listed and answered the most commonly asked questions below. Here's what people usually want to know:

Our GREATEST Travel Secrets…
Pop your email here & get the original Broke Backpacker Bible for FREE.
Final Thoughts on the Best Camping Solar Chargers
Now that you know what to look for in a camping solar charger and had the chance to look through our top picks, it's up to you to make the decision about which model offers the best balance of price, size, and charging capacity.
Whether you go with a convenient and collapsible solar charger like our top pick, the MPOWERD Luci Pro Lux charger for a backpacking trip, or something a bit bigger like the Goal Zero Nomad 50 for car camping and RV trips, know that you're about to make your camping experience a bit more convenient.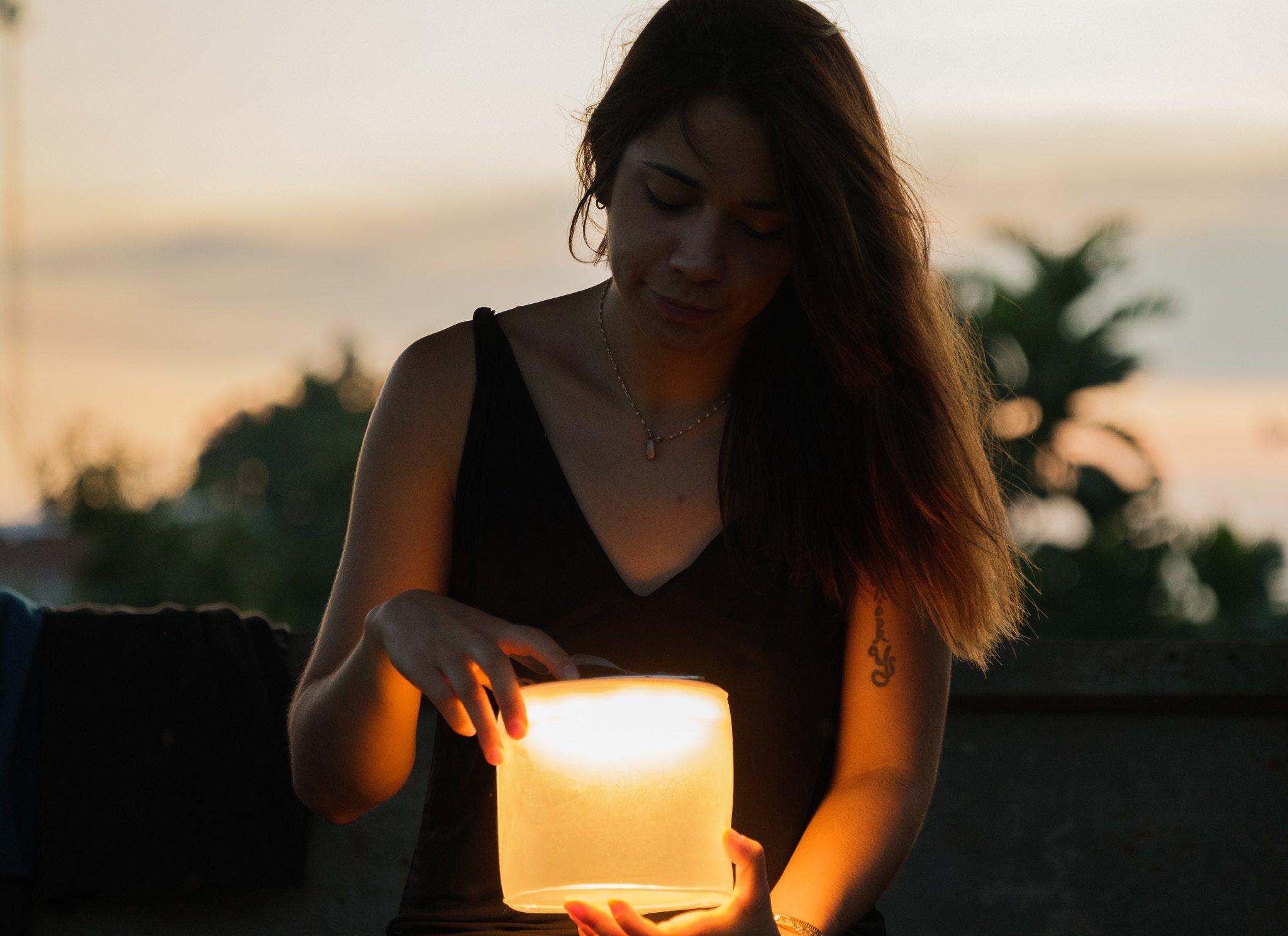 As long as the sun is shining, your camera, phone, or GPS can always stay powered, even when you're out in the middle of the wilderness. Not only is a camping solar charger useful, but investing in a renewable resource also makes your travels more sustainable and environmentally friendly.
So, did we choose the best solar powered charger for camping? Do you have any other suggestions?
---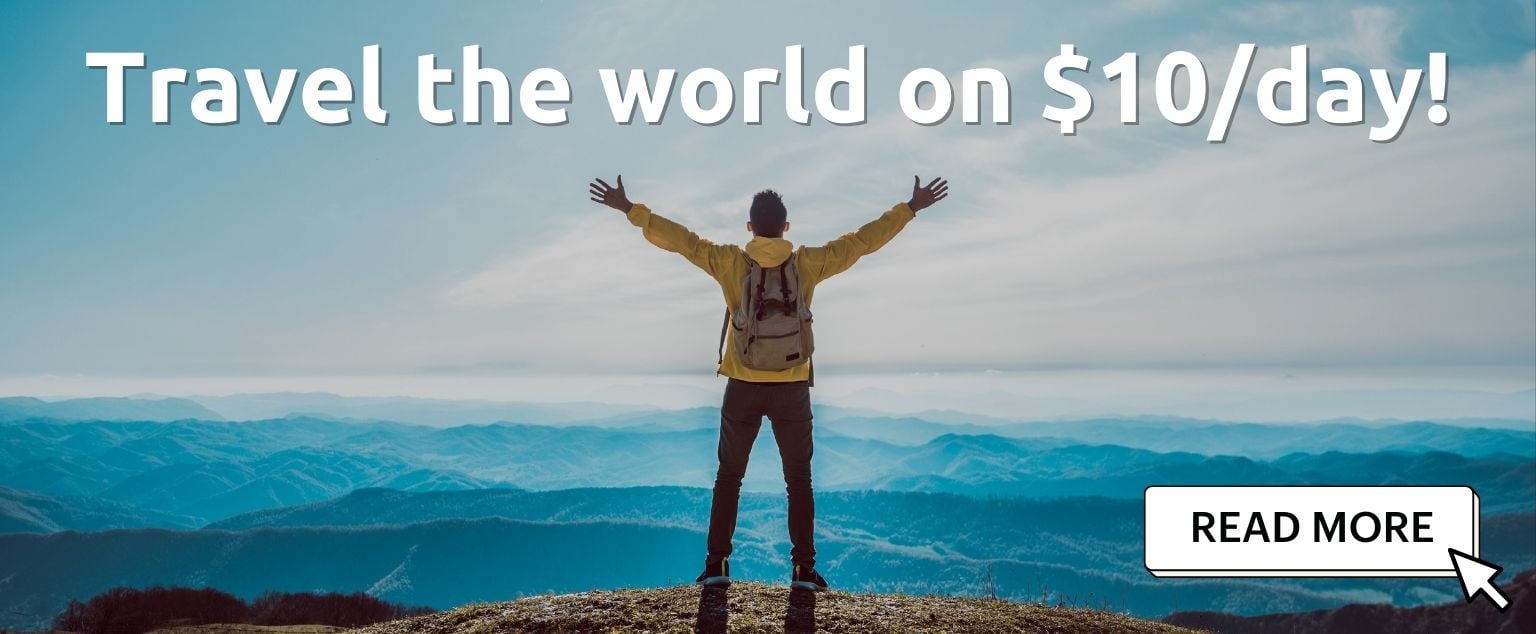 And for transparency's sake, please know that some of the links in our content are affiliate links. That means that if you book your accommodation, buy your gear, or sort your insurance through our link, we earn a small commission (at no extra cost to you). That said, we only link to the gear we trust and never recommend services we don't believe are up to scratch. Again, thank you!