For travelers and backpackers looking for a more sustainable power source, harnessing the awesome power of the sun is becoming easier all the time.
After using the Mpowerd Luci Base Light on a variety of adventures these last 12 months, I have lot's to say about this must-have piece of kit.
This new model from Luci  keeps some of the key aspects of the classic Luci Outdoor 2.0, plus some new bonus features. Everyone from hard-core adventurers to weekend car campers can appreciate the Luci light as a game-changer for your illumination needs.
In our in-depth Luci review, we'll shed some light on what makes this inflatable solar lantern so unique, and some of the key considerations you should take into account before deciding to go with any other type of solar camping lantern.
Let's get to it…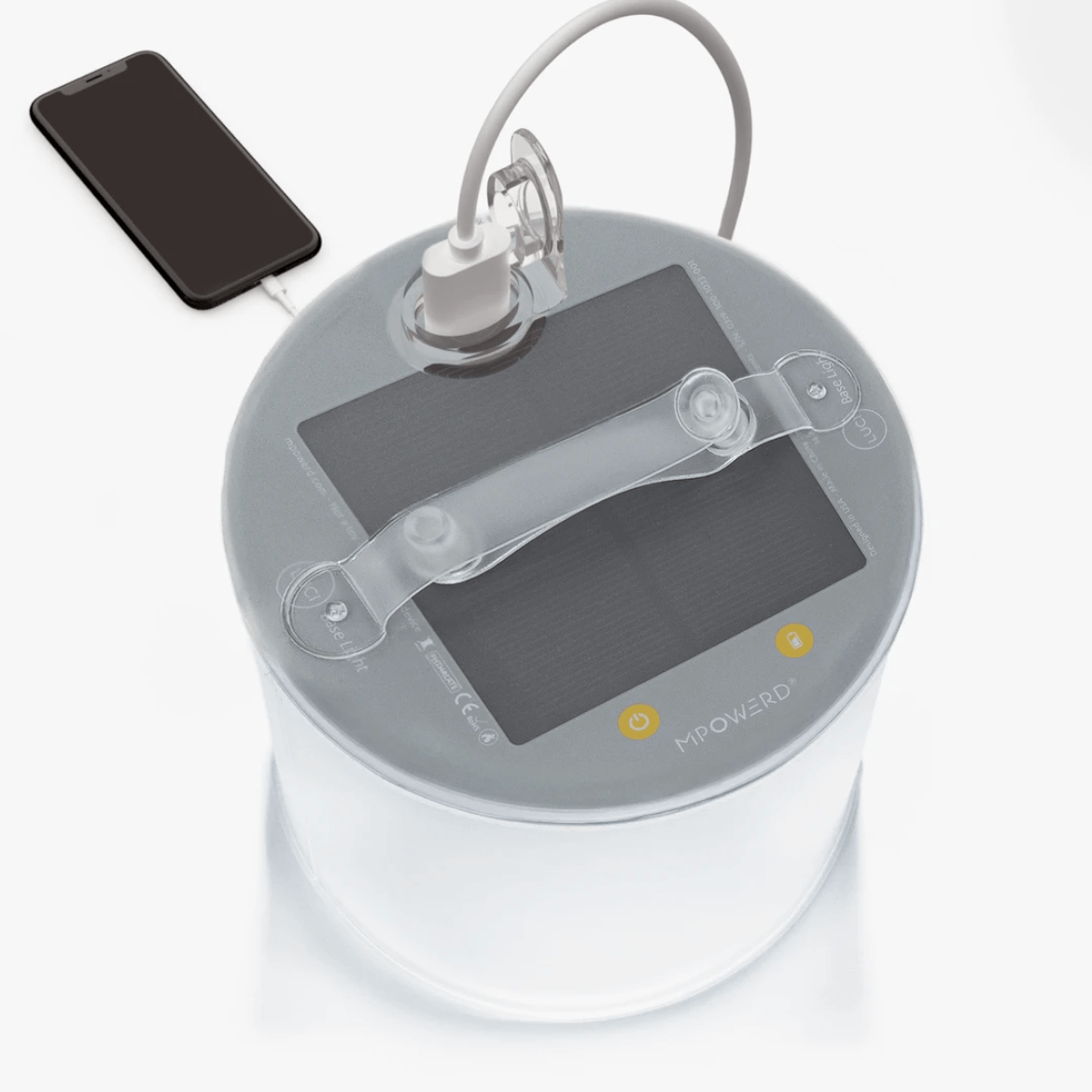 Quick Answer: Luci Base Light Specs
Lantern Type – Electric
Bulb Type – LED
Batteries – 4,000mAh lithium-ion battery
Average Run Time – 50 hours on low
Materials – plastic/metal
Dimensions – 6 x 6 x 2.3 inches
Weight – 10.1 ounces
Ladies & Gents, It's Time to Step Your GEAR Game Up. 😉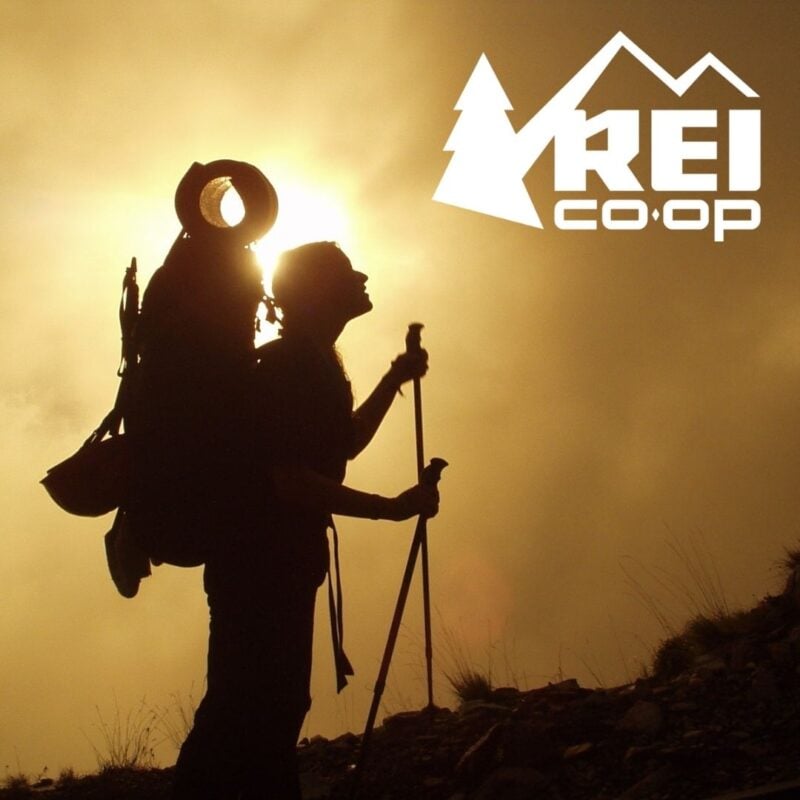 REI is one of America's biggest and most-loved outdoor gear retailers.
Now, for just $30, get a lifetime membership that entitles you to 10% OFF on most items, access to their trade-in scheme and discount rentals.
Join REI Today!
Mpowerd Luci Base Light Review: Performance Breakdown
So what is it about the Luci Base Light that makes it such a valuable asset to your packing list?
With so many lanterns, flashlights, and headlamps on the market, it may seem overkill to get yet another illumination device for traveling. However, the Luci Base Light has more than a few surprises – and if you are thinking about getting a solar lantern, this is the one you should get. Let's find out why…
Brightness
The maximum light output of the Luci Base Light is 360 lumens. To put that in perspective, 100 lumens is considered bright enough for a typical walkway, and a lamp post is somewhere between 120 to 180 lumens.
While it's not a security floodlight (around 1000 lumens), the Luci lamp still provides more than ample light to see clearly on any trail, rocky path, or winding cabin pathway.
On the highest 360 lumen setting, you'll get about 2.5 hours of use from the lamp. However, since this is usually more than enough (and sometimes uncomfortably bright) light, there are three lower settings you can choose from.
When set to the lowest 20-lumen setting, which is an excellent level for in a tent or as a reading light in a bunk bed, you can get up to 50 hours of use from one battery charge.
With the various settings, you can go from using the Luci to illuminate an entire campsite by hanging it on a tree, to a non-obtrusive personal lamp in your own tent. Just be mindful that the higher the setting, the shorter the battery life, so if you're on an extended camping trip, you'll need to be careful about how long it's left at high power.
Durability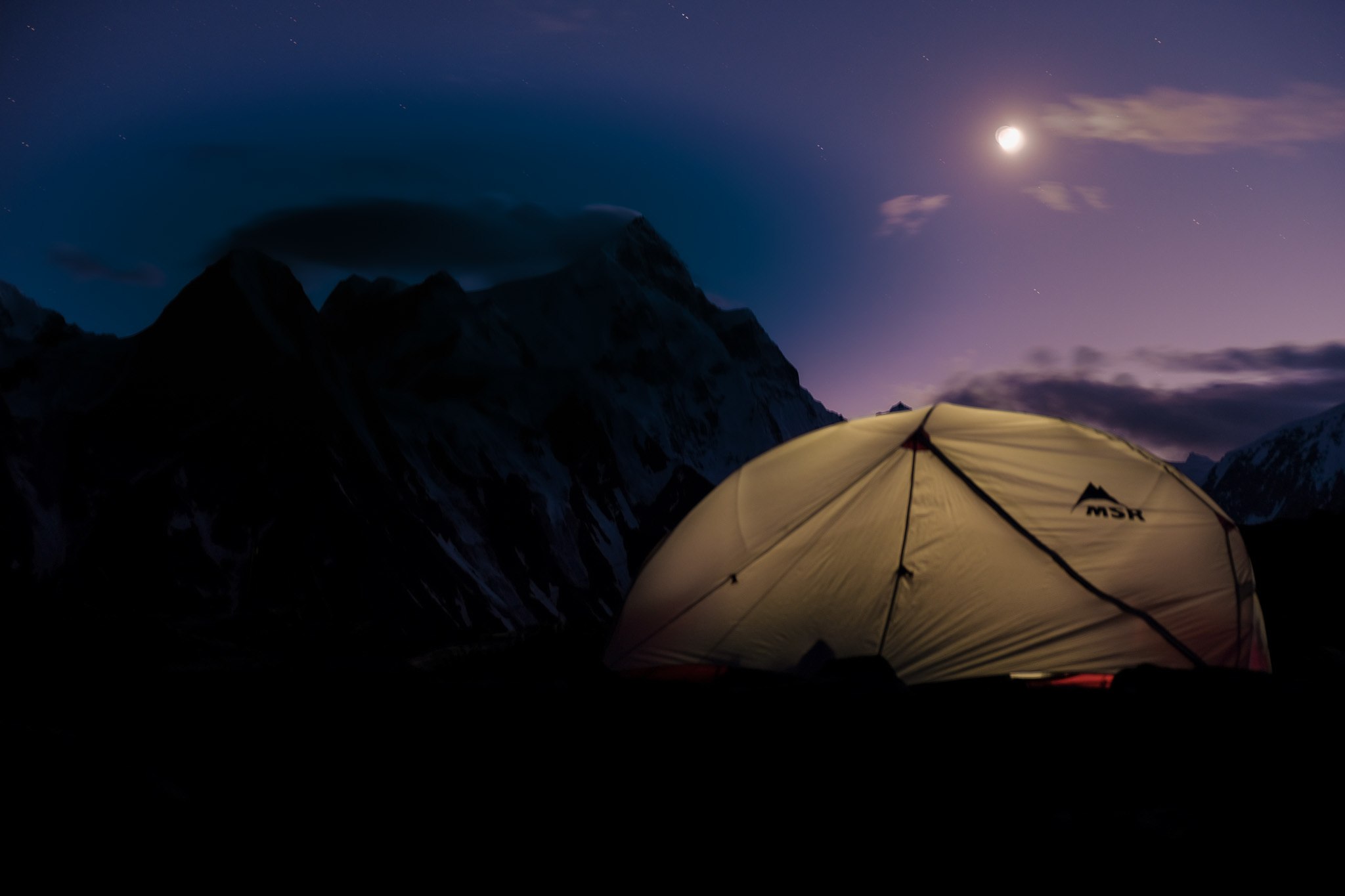 A camping light is no good if it breaks the first time you drop it. You should always be careful with your gear, but some rough and tumble action is unavoidable with an adventurous lifestyle!
One of the most defining features of the Luci is the fact that it's inflatable. Yes, you read that correctly; the Luci Base Light is an inflatable light. Not only does this make it super compact and easily packable, but it also reduces the risk of damage while in your backpack and on the go.
The adjustable base strap on the light makes it easy to secure it in a variety of locations, whether that's from a tree branch, your backpack, or inside your tent. Even when inflated, you would have to try pretty hard to puncture the plastic around the body of the light, so unless you try stabbing it with a sharp object, there's not much risk of damage.
Something else that your typical camping flashlight isn't capable of is water submersion. The Luci Base Light has an IP6 waterproof rating, which means that it can be submerged up to one meter for no more than 30 minutes.
While it's not recommended to dunk the light at every opportunity you have, the waterproof feature makes it an ideal light for boat trips and rainy conditions. If it's raining at night and you need to light your way to the tent, no harm will come to the Luci Base Light.
The downside to the Luci is that it isn't meant to withstand temperatures below 32 degrees Fahrenheit. If you're planning on winter camping or desert camping when temperatures drop significantly at night, this may not be the best camping light for you.
Best Use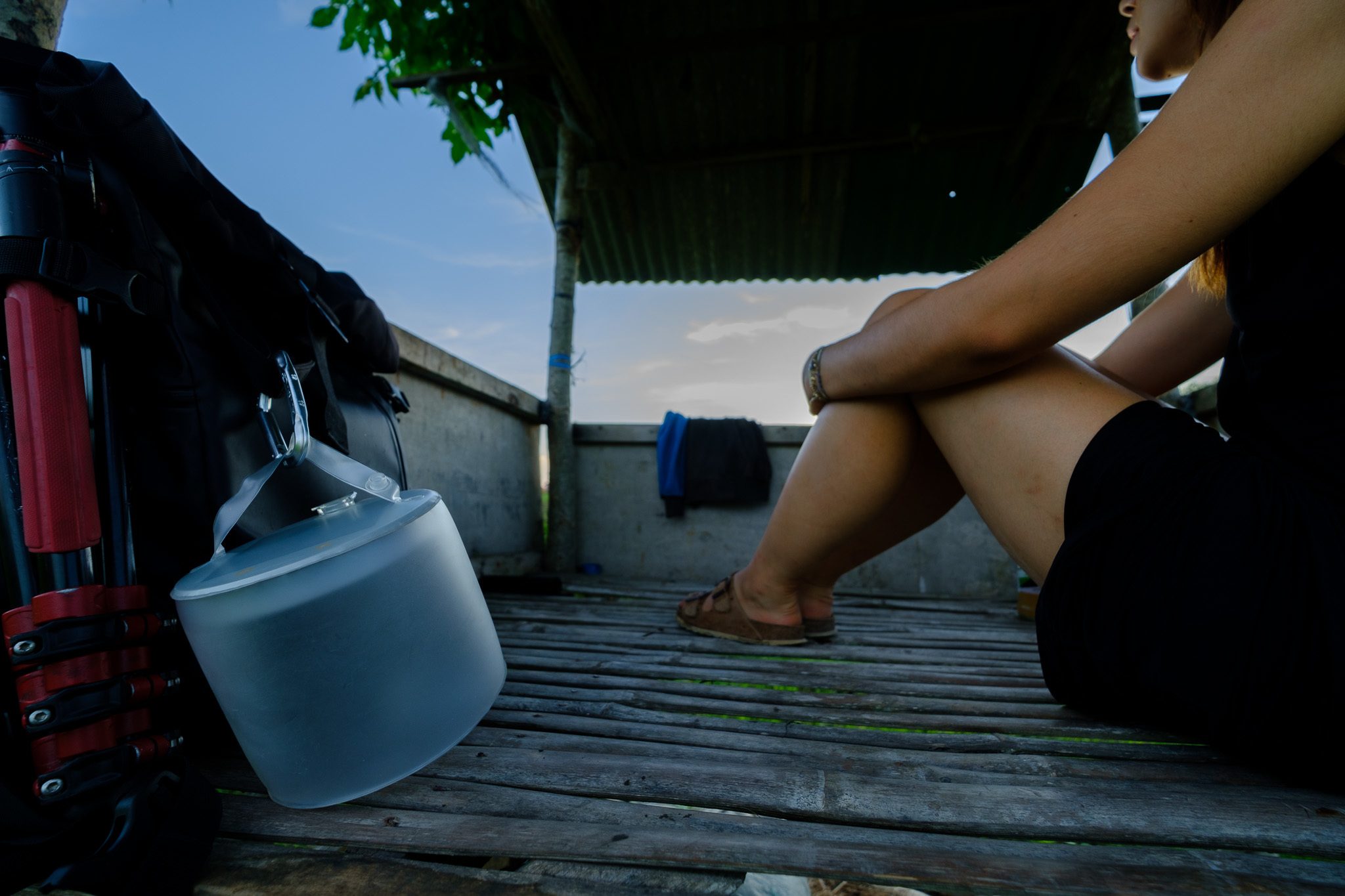 The Luci Base Light is certainly designed for a variety of other situations and lifestyles. As it happens, I use this thing in my house on a daily basis. I also take it on just about every adventure I embark on.
Thanks to the small packing size, it's an ideal light for backpackers and travelers. Whether you're backpacking across Europe or on a weekend backpack camping trip, the Luci will easily fit into your pack without adding much weight or taking up precious space.
You don't just have to use the light for camping either. It's super convenient to have as a personal light when you're staying at hostels, hotels, or bed & breakfasts when you need a personal reading light or to find something in your backpack in the middle of the night without disturbing other guests.
The Luci Base Light is also well suited for car camping and road trips. If you need to find something under your seat, you can turn up the light to a higher setting to illuminate the entire car or use it on a low setting to get from your car to your tent at night.
Thanks to the high and low light settings, the Luci Base light is great for solo travelers or groups. Everyone can sit around a camping table to play cards in the evening without needing to rely on personal headlamps to see the cards or playing board!
It works equally well for walks at night, whether you're taking a midnight walk on the beach or finding your way along a forested path. You can adjust the brightness as needed to see properly, and attach the Luci to your backpack or shoulder strap if you want to keep your hands free.
There's no reason why you couldn't use it around the house, too, outside of camping trips and traveling. It would make a great light for a workshop, office, in your kid's cardboard fort, or anywhere else you might want an ambient light source.
I consider the actual light that the Luci Base Light puts off to be soft. It does not have that fluorescent look of a doctors office that we all hate.
Features and Usability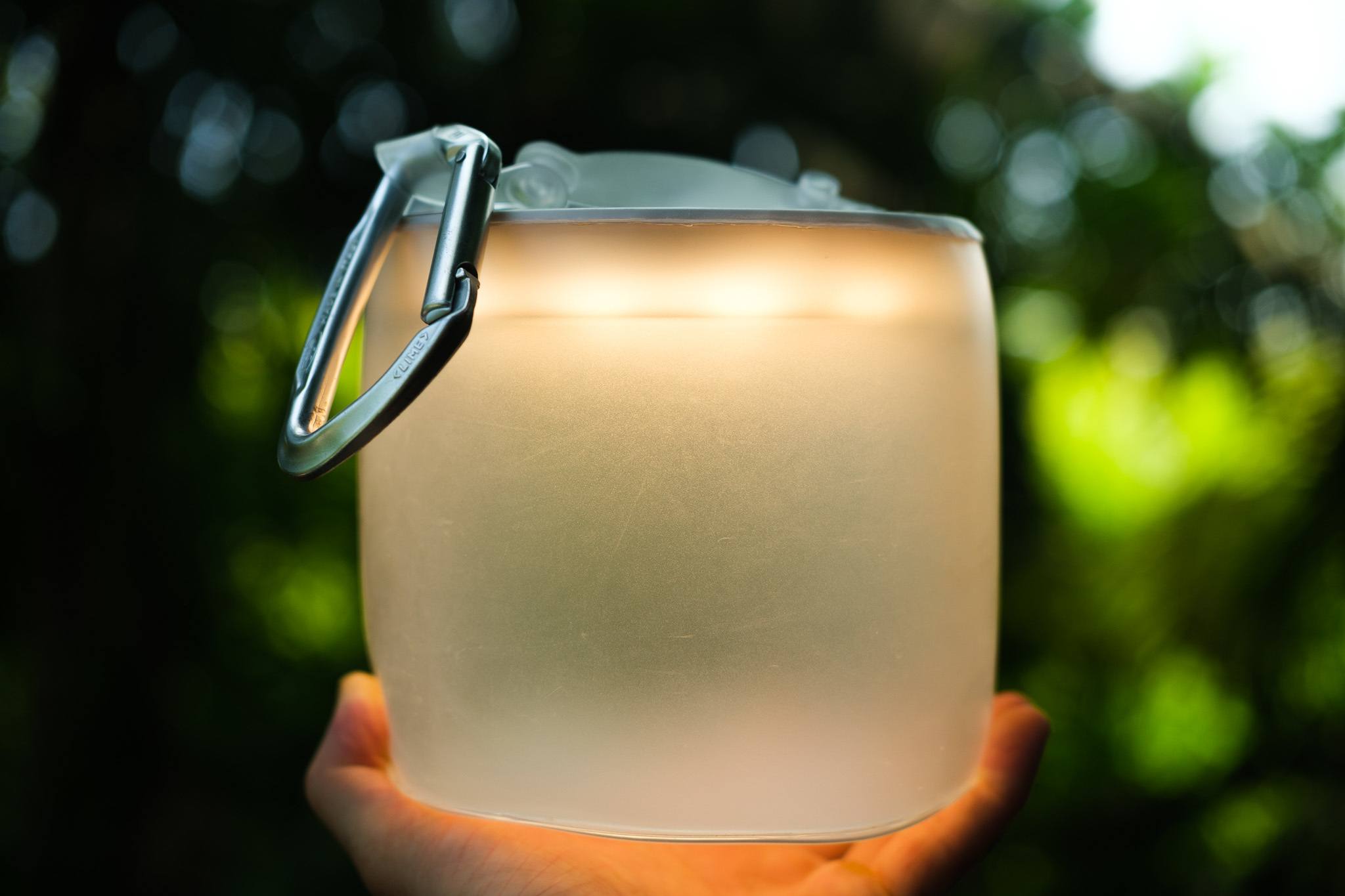 One thing we can't emphasize enough in our Luci light review is just how versatile and easy to use this camping light really is. Seriously, after you use this thing, you'll realize just how much time you were spending repositioning flashlights or fumbling around with headlamps!
First off, it's collapsible and inflatable, so no need to take up a bunch of room in your pack. The set up is quick and straightforward, and the adjustable strap means you can secure the Luci wherever is most convenient for you.
It will also sit upright easily, and works well as a central light at a table, or on the ground camping. Your travel group can enjoy a game of cards or a late meal, and the Luci Base Light will provide plenty of light for everyone.
Multiple power levels make it appropriate for illuminating large areas or providing a soft personal light. Plus, on lower levels, you'll save battery power, so no need to drain the battery when a low level of light will suffice.
And remember, if your phone or other small electronic device needs a power boost, you can also use your Luci light as a charger! Be careful to watch the battery levels, but it's definitely enough to send out a few messages, check emails, or look up a map.
Since the Luci is also an inflatable solar lantern, you won't always necessarily need an outlet to juice up the power. But be prepared for it to take a long time to charge on only solar energy!
The easy on-off operating switch will also adjust the level of brightness, and you can keep track of how much energy you've used on the battery level indicator. To turn the light off, simply press down on the power button for two full seconds and you're good to go.
Charging and Battery Life
There are two charging methods for the Luci Base Light – a USB charging cable, and a solar panel for solar charging.
To reach a full charge by using the USB plug, you'll need between 5 and 6 hours. Once fully powered up, you can get up to 50 hours on a low setting, or around 12 hours of use on a medium setting.
For many activities, a low setting is sufficient light, so if you're careful about when you use the light, it could be good for a whole week or more of camping!
Another big bonus to the Luci Base Light is that, thanks to the strong battery, it's also capable of charging your phone. Of course, this will drain the battery for the light much quicker, but if you need a bit of extra power to send a message or check the weather when you're out in the field, you can count on having a power source with your camping light!
When you purchase the Luci light, it comes with a USB cord in case you don't already have one for your other devices. And it never hurts to have an extra cable when you're traveling, since chargers and cords often seem to have a way of disappearing.
Solar Charging
As for solar charging, this is both a huge bonus and a slight drawback, depending on your perspective. While it's true that you can get a longer battery life with solar power, it can take up to 30 hours to get a full charge on the Luci solar light if you're not using the USB at all.
I have found that with 4-5 hours of sunlight per day, I get plenty of charge to a get me through a couple of night backpacking.
For campers and backpackers, finding a big chunk time to keep the Luci light in direct sunlight can be difficult, especially when you're moving around from place to place a lot. However, if you plan carefully or you know you'll have a base campsite for a few days, charging on solar energy is a super easy feature to extend the battery life.
Even though the Luci solar light is a bit "slow," if you're only using solar charge, it's still fairly comparable to other solar lanterns on the market. After all, the solar panel on the light is rather tiny and can only absorb a finite amount of energy, even in direct sun. Hopefully, as the technology for solar lanterns improves down the road, there will be an improved Luci light version with a faster charging time using solar energy.
There's also a battery level indicator on the side of the Luci light. Whether you're using the USB charge or solar energy, you can check to see how much life is left in the battery before you need to recharge.
Weight
At just 10.1 ounces, the Luci Base Light certainly doesn't add considerable weight to your backpack.
In comparison, a 2-cell D Flashlight with batteries is about 10 ounces and has comparable light output to the Luci. The big advantage of the Luci solar light is the rechargeable battery. Usually, you have to worry about both the weight of the light and the added weight of batteries, but not in this case!
It's light enough to hang it from a backpack, a tent loop for gear, or a small tree branch without it weighing anything down. Older metal lanterns that provide 360 degrees of ambient light are bulky and cumbersome in comparison.
As we already touched on earlier, the Luci solar light also packs almost totally flat, so in addition to not adding much weight to your baggage, it also can fit in small pockets or be clipped to the side for easy access.
Value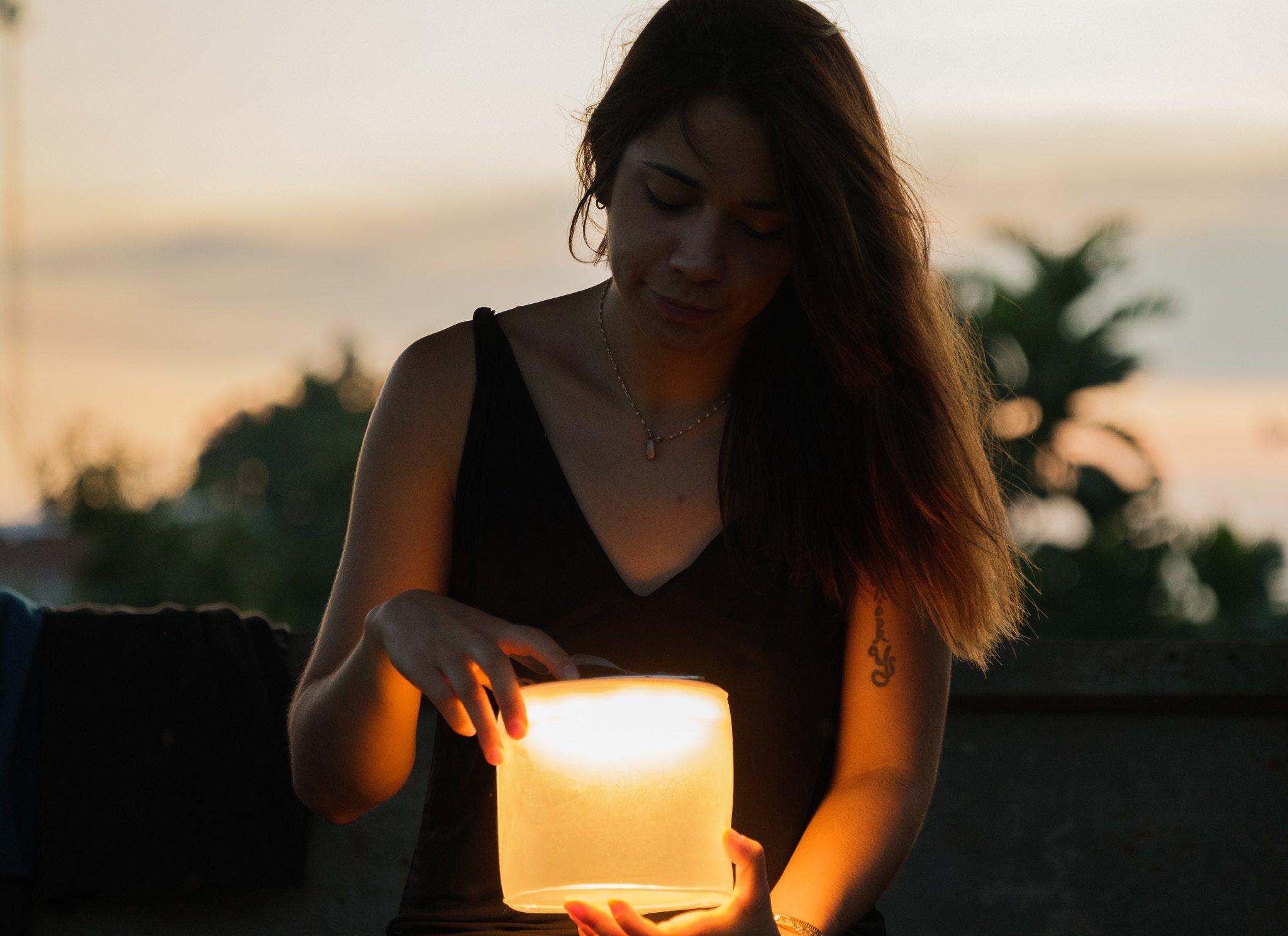 The question you should ask before making any purchase is, "Is this item really worth my money?" And budget backpackers usually gain a whole new perspective on this question the more they travel!
The Luci Base Light comes in at $54.95 at REI, when it's not on sale. It's definitely not recommended to look for a camping light that's second hand; it's almost guaranteed to be damaged or faulty in some way and end up as a big disappointment.
What's most important to consider with the Luci light is that it's more of an investment than a one-time purchase. Think about how much money you spend on batteries for your various flashlights and lanterns; now multiply that number by years of use. $54.95 isn't sounding so bad all of a sudden.
You might have to replace the charging cable if it gets damaged, but the light itself is of such durable design that there's little likelihood of something happening to it. No more worries about getting your headlamp wet or dropping a lantern on a hard rock; the Luci light can withstand all that just fine.
If you're on the edge about whether or not to get the Luci, think about all the times you've been camping, traveling, or at the cabin and in need of a flashlight or headlamp or if you've ever considered the weight of other lanterns bothersome. Almost across the board, Luci light reviews agree that this particular solar lantern is certainly worth the purchase and pays off in the long run!
Competitor Comparison
If you're on the lookout for great solar lanterns, there's nothing like seeing a few options for what's out there on the market. Here are a few of the top competitors to the Luci Base Light, with some of the same key features to give you an idea of your choices.
Goal Zero Crush Light Lantern
Battery > Rechargeable battery
Weight > 3.2 ounces
Durability > Plastic is more easily punctured or penetrated
Functionality > 60 lumens
Black Diamond Moji + Lantern
Battery > 3 AAA batteries
Weight > 2.6 ounces
Durability > Withstand sudden water immersion
Functionality > 200 lumens
If the Luci Base Light is a little too pricey for you, you might want to consider the Goal Zero collapsible solar lantern. It's also a USB chargeable and solar chargeable camping light, although it's much smaller and lighter than the Luci light.
Battery – Both the Luci light and the Goal Zero have a rechargeable battery, but the Goal Zero can't be used to charge a phone or electronic device. It also only lasts 3 to 35 hours, depending on the setting, in comparison to up to 50 hours with the Luci light.
Weight – If you need something lightweight and don't require the fancy extras of the Luci Base Light, then the Goal Zero is a better pick since it only comes in at 3.2 ounces. Since it's collapsible, you can also easily tuck it into side pockets in your backpack.
Durability – The Goal Zero isn't going to be as forgiving with rough adventure as the Luci light. It's not waterproof, and the plastic is more easily punctured or penetrated. However, if you just need something simple for a tent, the Goal Zero will function just fine.
Functionality – Since the Goal Zero only has a maximum output of 60 lumens, you'll get nowhere near as much visibility as with the Luci Base Light. Sure, it will work fine as a reading light or something to provide some convenient visibility in a tent, but to light up a campsite or illuminate dim trails, it won't hold up very well.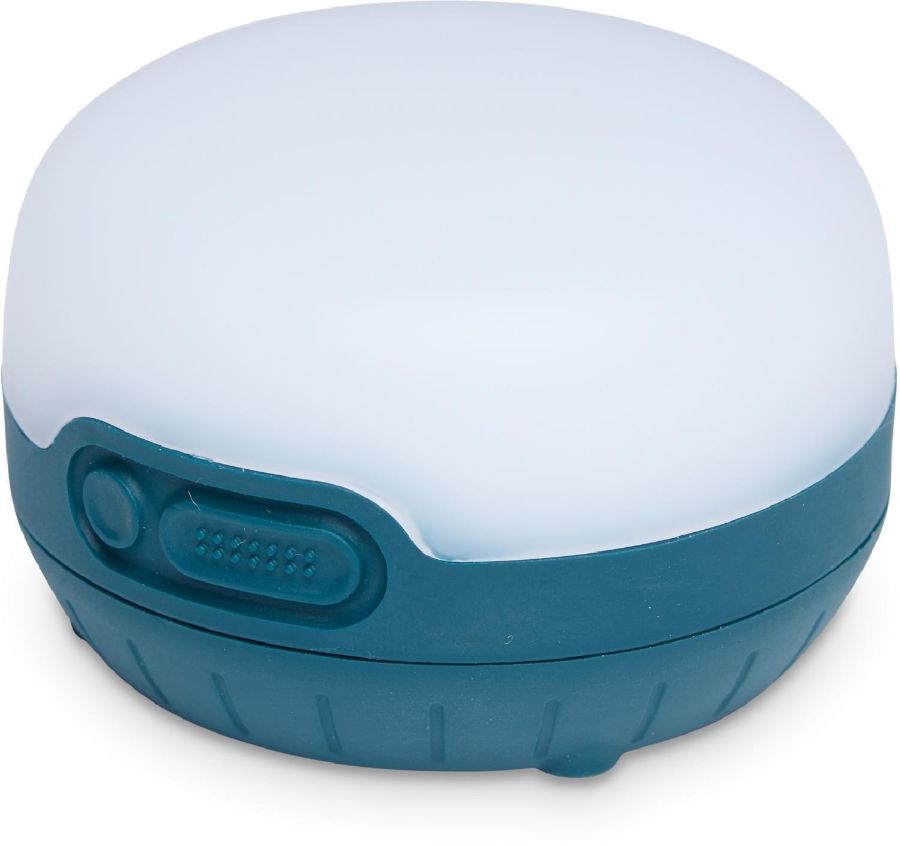 Although it's battery-powered and not cable or solar chargeable, the Black Diamond Moji + is still a great budget option for a portable camping light. With an attachment loop similar to the Luci light, this lightweight lantern is easy to take with you on all your adventures.
Battery – The biggest downside to the Moji is that it's not rechargeable and requires 3 AAA batteries. However, for some travelers who know they won't be in a place with any reliable electricity, it's sometimes better to simply bring along spare batteries.
Weight – At just 3 ounces, the Moji is even lighter than the Luci. This is without the batteries included, though, so depending on how many spare batteries you decide to carry with you, the final weight may be about the same.
Durability – Although it's not waterproof, the Moji light is still built to withstand sudden water immersion, but only for a moment. If it's damp out or the light is briefly dropped in a puddle of water, you shouldn't have any issues. However, if you want a bit more insurance, having a waterproof light like the Luci Base Light is probably better.
Functionality – The maximum light output of the Moji is 100 lumens, which is less than the Luci, but still enough for good general lighting. It also has an adjustable output and will outlast the Luci on the lowest setting with a full 70 hours of use.

Our GREATEST Travel Secrets…
Pop your email here & get the original Broke Backpacker Bible for FREE.
Final Thoughts on the Luci Base Light
Now that you've gotten a full impression of all the pros and cons of the Luci Base Light, it's up to you to decide whether it's coming with you on your next camping adventure!
Hopefully, from our Luci light review, you too have been illuminated on the many wonders of this small light device. No more heavy and cumbersome battery-powered lanterns at your campsite or trying to hold a flashlight over your head to read a book. No more batteries in general.
Solar is the future my friends – it's time to get with the program.
Whether you're on a backpacking trip or car camping, once you try out the Luci light, you'll never want to go back to old-school lanterns and flashlights! Carrying your Luci light, you'll literally never need to be left in the dark again.
What is our final score for the Mpowerd Luci Base Light? We give it a rating of 4.6 out 5 stars!

---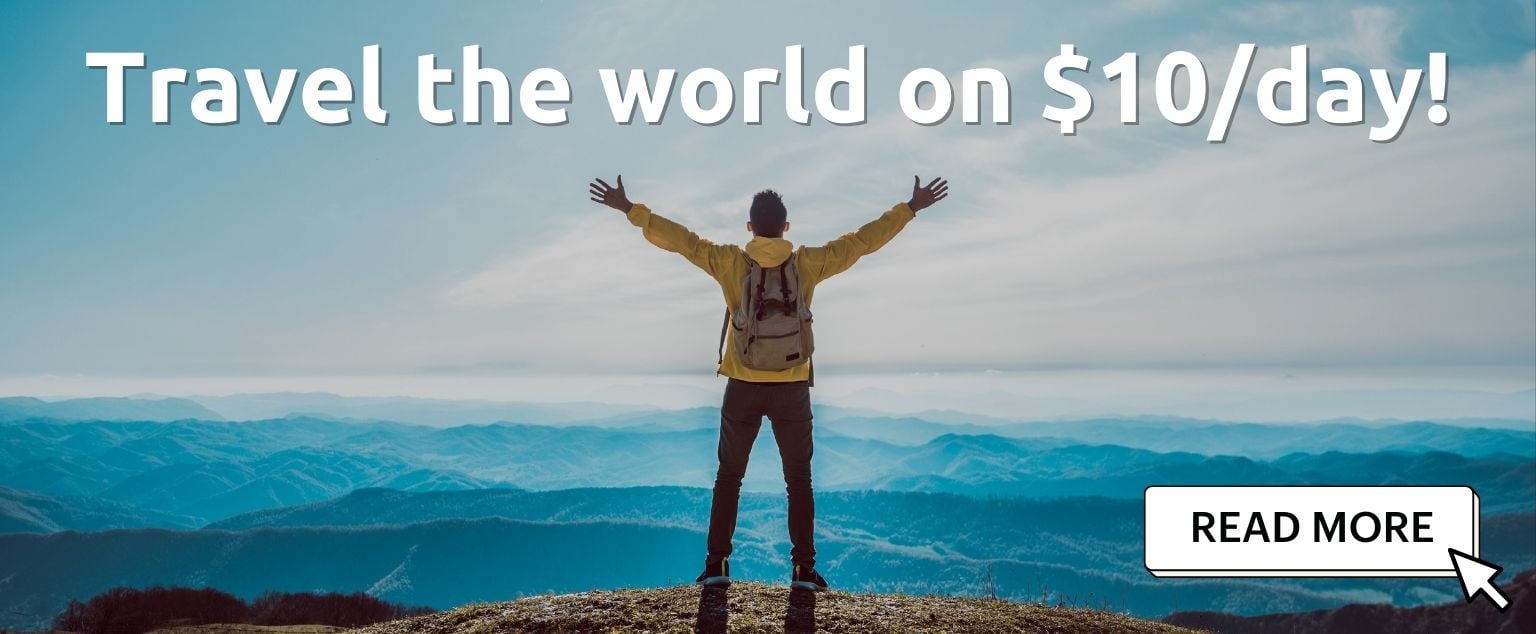 And for transparency's sake, please know that some of the links in our content are affiliate links. That means that if you book your accommodation, buy your gear, or sort your insurance through our link, we earn a small commission (at no extra cost to you). That said, we only link to the gear we trust and never recommend services we don't believe are up to scratch. Again, thank you!