Aloha! Hawaii is one of the most beautiful destinations in the world. From the stunning beaches and lush rainforests to its vibrant culture, this paradise is just begging for you to come and explore it!
For beach-goers, Hawaii offers some of the world's most beautiful coastlines. With over 750 miles of shoreline and beach activities such as surfing, swimming, snorkeling, and more, you'll never get bored. The state is made up of eight different islands, each offering its own unique landscape and activities.
If you're feeling adventurous, take a trip to one of Hawaii's many nature reserves. From the world-famous Haleakala National Park on Maui to the Big Island's Mauna Loa Observatory, there are plenty of opportunities for hikers and nature lovers alike. You can even take a boat or helicopter tour to get a bird's eye view of the islands.
Hawaii also has a very unique culture, which makes it a great place for families and solo travelers. Get your hips moving with some traditional hula dancing and music or enjoy tasty local dishes like poke. The laid-back lifestyle makes it possible to relax and enjoy the natural beauty of the island.
Festivals in Hawaii
Visiting Hawaii is not just your typical vacation destination. This archipelago goes beyond a laid-back holiday and offers an array of festivals throughout the year. From cultural celebrations to music performances, and athletic tournaments to art exhibits – this paradise has something for everyone!
To make sure you don't miss a beat, here is a list of the top festivals in Hawaii.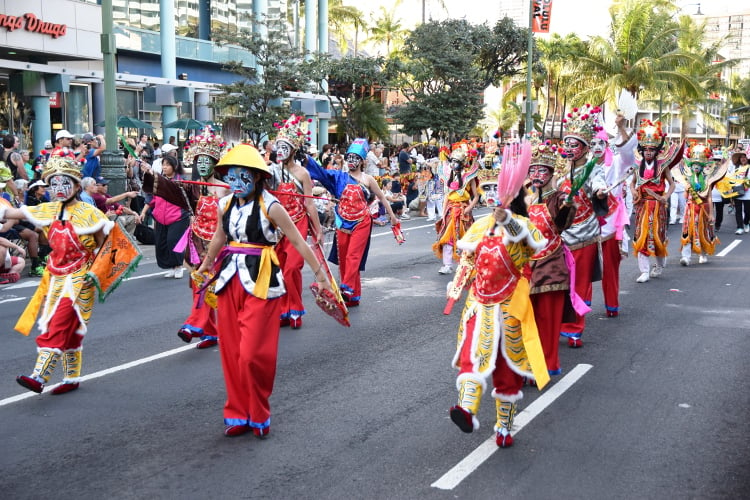 The Honolulu Festival is a joyous celebration of the archipelago's various cultures, showcasing both traditional and modern performances from the Pacific region.
As the most well-known cultural event in Hawaii, it continues to draw in locals as well as visitors every year. Attendees are invited to pay tribute to Hawaii's unique combination of heritages at this very special festival!
Experience the unique culture of Honolulu with thousands of powerful performances at this two-day festival. From art to music, dance, and more – it's all here for you!
Not only is it a great way to understand Hawaiian values and traditions, but also an opportunity to show your appreciation for ethnic harmony as well as cooperation. So much of Hawaii is made up of cultures from around the world, and this celebration celebrates all of them.
On the last day of the festival, there is a huge parade down Kalakaua Avenue featuring decorated floats and street performances. It's a surefire way to end the festival on a high note!
This is a great way to get an up-close look into how islanders cultivate the Aloha spirit within their families. There seems to be so much love and respect in the air here.
Where to Stay
With beautiful ocean views, this 3-star hotel on the eastern side of Waikiki is perfect for anyone looking for stylish yet affordable accommodation. The hotel's central location makes it perfect for visitors who are keen to explore the city and enjoy its many festivals.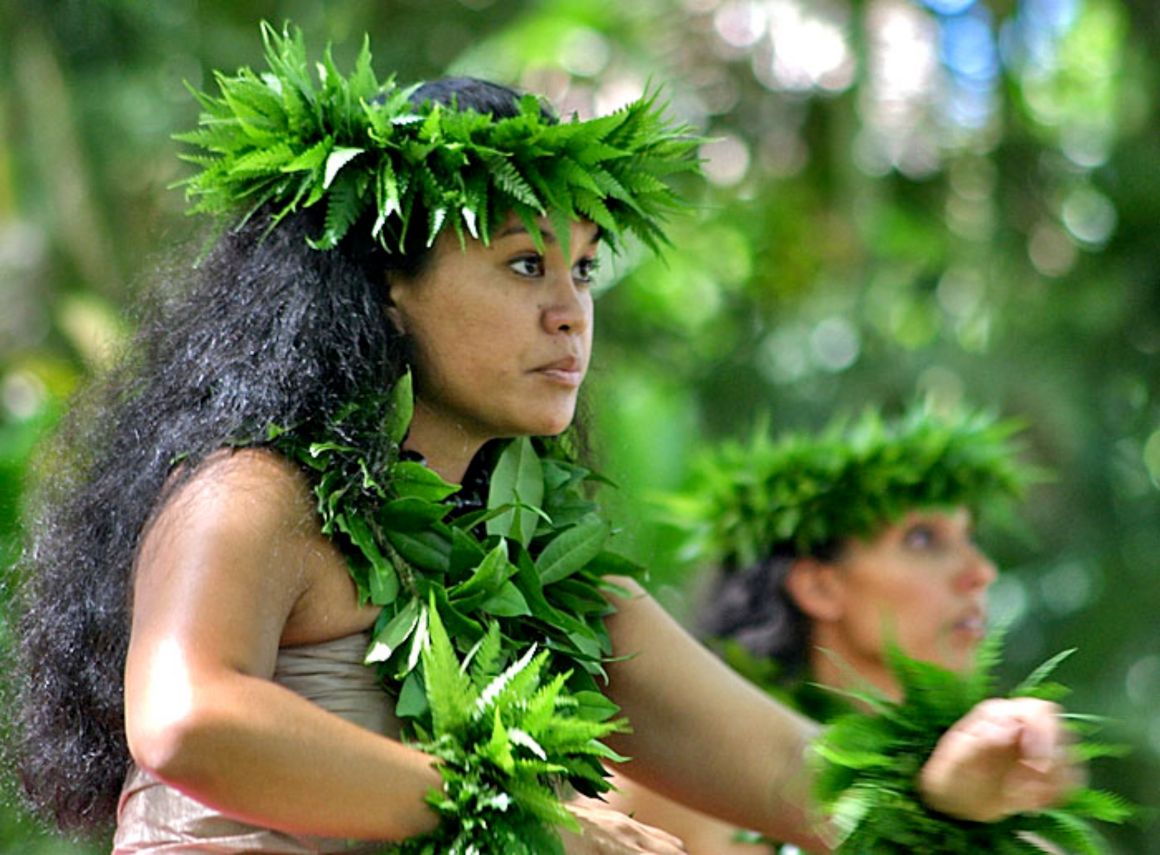 When: June
Where: Statewide
Every year, Hawaiians come together to honor King Kamehameha I, the beloved monarch who unified all of Hawaii's islands into one kingdom. The grand celebration is known as the King Kamehameha Festival!
Festivities begin at Lolani Palace, once home to Hawaiian royalty, and culminate with a parade that winds through historic Honolulu before coming to an end in beautiful Kapi'olani Park beneath Le'ahi Head.
Thousands of people flock to the parade route each year, eagerly anticipating a spectacular Hawaiian pageant with elaborately dressed pa'u (long-skirted) horse riders, intricately decorated floats and vehicles, marching bands, and more.
The King Kamehameha Festival is the perfect cultural festival in Hawaii to experience traditional Hawaiian music and dance, as well as enjoy some delicious local food. From poi to kalua pig, you'll find something to enjoy.
This celebration of unity and togetherness serves as a reminder of how strong Hawai'i's culture is, even though the island's leaders have changed over time. It's a beautiful reminder of our shared humanity and how we are all connected in some way or another.
Where To Stay
A little bit of a splurge but this stunning hotel will give you will have the best access to diving and snorkeling spots on the West side of Oahu. From their ocean-view rooms, you can watch the sunrise over Diamond Head and enjoy a peaceful morning.
When: November
Where: Kailua-Kona, Island of Hawaii
Kona Coffee Cultural Festival is an annual event that celebrates the unique and delicious Kona coffee, which only grows in this part of the world. This 10-day Hawaiian cultural festival in Kona gives locals and visitors a chance to dive into the culture, traditions, and history behind these tasty beans.
Everyone is invited to the Kona Coffee experience! From growing, harvesting, and roasting coffee beans to sampling rich brews — all of your cravings will be satisfied. Take part in Hawaiian cultural activities such as hands-on demonstrations and art exhibitions – then top it off with a Lantern Parade before celebrating at the Ho'olaulea street festival for an unforgettable evening!
Don't forget to bring home some freshly roasted bags of award-winning Kona Coffee too – this may just become your new favorite cup of joe.
The festival is a great way to learn about what makes this part of the world so special and get an appreciation for how culture and tradition play a role in something as simple as coffee. It's a great reminder of how important these things are, even when it comes to something as small as coffee beans.
Where to Stay
This unique guesthouse will give you a real taste of country living in the heart of Kona. It offers comfortable and spacious rooms, breathtaking views of the Pacific Ocean, and outdoor activities such as surfing and snorkeling. Plus, it's just a short drive away from the festival grounds!

Do You Want to Travel FOREVER??
Pop your email in below to get a FREE copy of 'How to Travel the World on $10 a Day!'.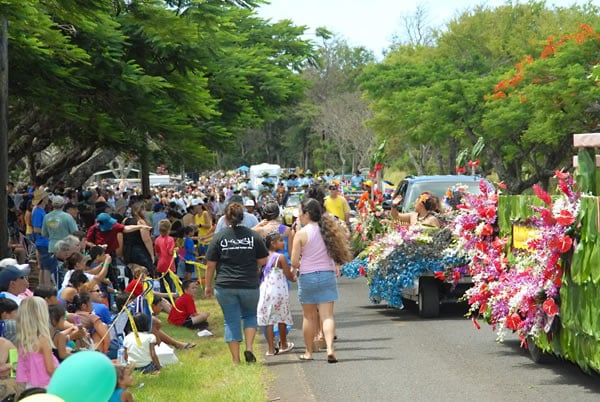 Koloa Plantation Days celebrates Kauai's agricultural past with a week of festivities that are filled with merriment and joy. During this time, locals gather in the town of Koloa to honor its storied beginnings as a sugar plantation settlement.
The fun starts off with the Hoolaulea, a street party that features live music, food booths with traditional Hawaiian delicacies such as poi and kalua pig, and exhibits from the island's many talented artisans.
The week culminates in the colorful Plantation Days Parade – which is a visual feast for the eyes! Expect to see floats decorated with bright colors and intricate patterns, Hawaiian music and chanting, hula dancers gracefully swaying to the beat of the drums, and farmers proudly showcasing their produce.
Koloa Plantation Days offers a unique glimpse into Kauai's agricultural past and is a great way to experience some of Hawaii's traditional culture and customs. From the delicious food to the unique crafts, this is an event you won't want to miss!
Where to Stay
Enjoy the perfect getaway right on Kauai's serene shores. This budget-friendly hotel offers all of the amenities needed to make your vacation extraordinary – from comfortable beds and outdoor pools to lush gardens with plenty of space for outdoor fun. It's an ideal choice for family trips!
Duke's Oceanfest is an annual celebration of the life and legacy of Duke Kahanamoku, a legendary surfer and waterman from Waikiki. This week-long event features some of the best athletes in the world competing in various water sports such as surfing, paddle boarding, swimming, and longboarding.
Whether you're an experienced surfer or just want to take in the spectacle from dry land, this is the perfect Hawaiian festival for all ages. Enjoy live music and entertainment, explore a variety of vendors selling local goods, and get your hands on some delicious Hawaiian cuisine as you watch some of the best water athletes show off their skills.
Throughout the whole week, Waikiki beach will be filled with energy, laughter, and friendly competition. You can catch a tan while playing some beach volleyball, attend the crazy after-parties, and take part in cultural activities such as hula dancing, ukulele lessons, and more.
End your week with a special treat – the sunrise lei draping ceremony at the Duke Kahanamoku Statue or an unforgettable evening of Hawaiian Legends Lau.
This is one of the best festivals in Hawaii to attend to see the way living near incredible waves can shape a person. Duke's Oceanfest is an unforgettable experience that celebrates the beauty of the ocean – and brings people together to honor one of Hawaii's most iconic figures in surfing history.
Where to Stay
Stay right on Waikiki beach and feel the aloha spirit in this shoreline hotel. Decorated in a classic Hawaiian style, enjoy the breathtaking views of Diamond Head and the Pacific Ocean.
When: August
Where: Statewide
The Hawaii International Music Festival celebrates the culture, beauty, and traditions of the Hawaiian Islands with a week-long festival featuring music from all over the world. Since its launch in 2014, this festival has grown to become one of the most popular events on the islands with live concerts taking place across multiple venues throughout Hawaii.
Experience traditional Hawaiian music, classical performances, and jazz ensembles at the Waikiki Shell Outdoor Theater. Head to Honolulu's Chinatown for some Latin-inspired sounds with salsa, tango, mariachi bands, and more. Or take a trip to the Big Island for an intimate evening of Hawaiian slack key guitar music in Hilo.
What makes this Hawaiian music festival particularly remarkable is the opportunity to witness world-renowned musicians share their gifts in Hawaii's communities through thrilling, interdisciplinary concerts, and educational outreach programs.
No matter what type of music you're into, there's something for everyone at the Hawaii International Music Festival. Plus, some of the events are free and open to the public, allowing visitors to experience this unique celebration without a ticket.
Take a break from your regular Hawaiian routine of surfing and hiking and explore a different side of what makes Hawaii such a special place to visit. Enjoy the music, explore the culture and vibrant atmosphere of this incredible festival, and meet new people who share a love for music!
Where to Stay
Treat yourself at this all-inclusive resort and spa on Kauai's north shore. You will be able to relax during the day and enjoy music performances all night long.
Forget boring accommodation… book yourself an EPIC STAY!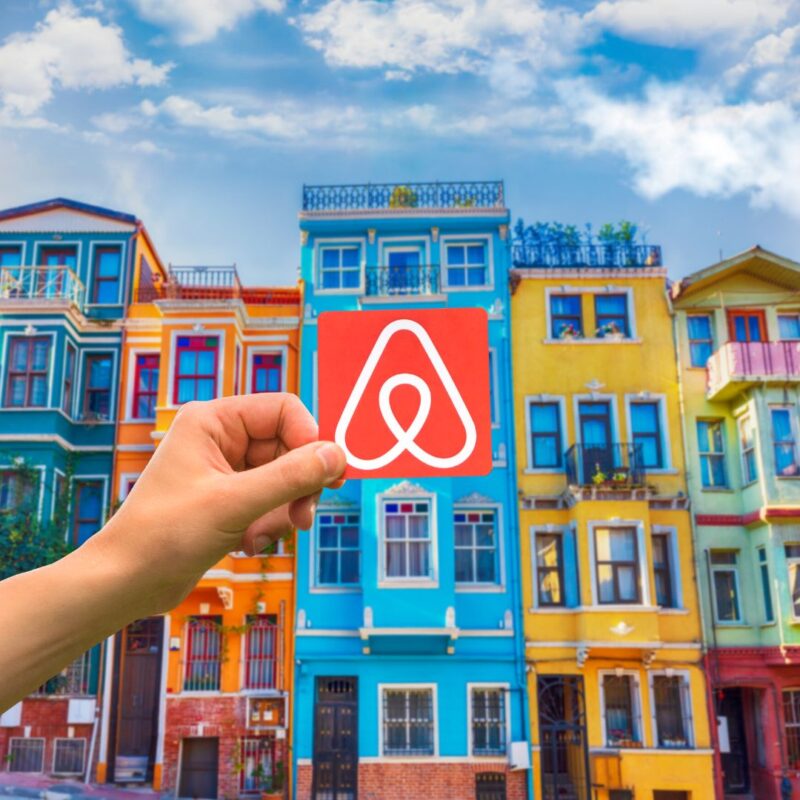 Why stay in a naff hotel when you can stay in a cosy, stylish local house instead? And for half the money too!
Stay somewhere EPIC and save your hard-earned dollars — from houses to barns to castles and caves, there is an Airbnb for every occasion!
Book an EPIC Stay
Made in Hawaii
You don't want to miss out on the Made in Hawaii Festival – it's Hawaii's largest gathering of locally produced goods, with 400 vendors and over 45,000 attendees. You'll experience an incredible range of goods from across the Hawaiian Islands all under one roof.
Visitors will discover an array of locally-sourced food and drinks, artisanal arts and crafts, captivating photography, one-of-a-kind decor items, custom clothing pieces, personalized jewelry, and accessories.
It's seriously some of the most beautiful and unique products you'll find in the state, with prices that won't break the bank. Plus, each product comes with its own story of who made it and why it was created – making them all the more special.
Not only can you buy things… but FOOD. Hawaii is known for its insane cuisine and the Made in Hawaii Festival is no different. Sample some of Hawaii's most popular dishes such as shaved ice, laulau, teriyaki beef sticks, and poke bowls. You'll have access to street food and delicious plates but there are also renowned Hawaiian chefs who have won awards that are also included in the event lineup!
This local festival in Hawaii is an incredible way to give back to the Hawaiian community, support local businesses, and get connected with home-grown brands. Plus, the whole family is welcome to enjoy this outdoor shopping extravaganza!
Where to Stay
Take a short walk to attend the Made in Hawaiian Festival. Located right in the middle of everything, this stylish hotel offers beautiful views of Ala Moana Beach Park and proximity to all the hot spots Waikiki has to offer.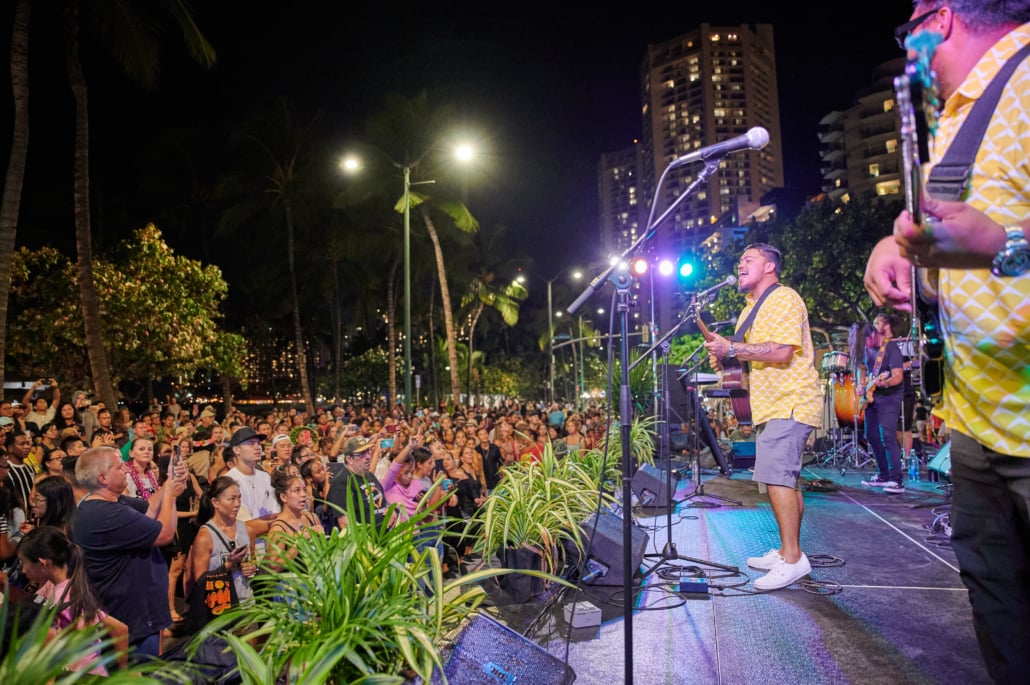 When: September
Where: Statewide
The Aloha Festivals are a series of traditional celebrations and performances that take place throughout the Hawaiian Islands each September. As one of the most important traditional festivals in Hawaii, it's dedicated to celebrating Hawaii's rich culture and traditions, from the music and dances to the language and art.
This year's festival will be held on Maui, Kauai, Oahu, and the Big Island of Hawaii, each island will be hosting its own unique events. From dancing hulas to feasting on some of Hawaii's favorite traditional dishes, you'll be able to experience all that Hawaii has to offer at these festivals regardless of where you decide to stay.
On Maui, enjoy the sights and sounds of a torch-lighting ceremony in Lahaina and an elegant royal court procession in Wailea. On Kauai, experience some of the state's most renowned hula troupes as they perform ancient chants and songs at Kokee State Park.
On Oahu, make sure to check out the historic 'Iolani Palace for a fabulous cultural parade featuring graceful hula dancers and musicians. And on the Big Island, take part in a traditional hukilau ceremony to celebrate Hawaii's heritage with singing and dancing.
The Aloha Festivals provide visitors with an incredible opportunity to immerse themselves in Hawaiian culture and experience its unique traditions first-hand. It's a truly remarkable way to learn about and appreciate the beauty of Hawaii.
Where to Stay
Perfect for solo travelers moving through the islands, this tropical hotel is your home away from home. Located in the heart of the big island, this spot offers an inviting atmosphere, lush tropical gardens, and convenient access to many of the state's top attractions.
When: November
Where: Oahu
The Vans Triple Crown of Surfing is one of the most revered events in the surfing world and a must for any surf enthusiast visiting Hawaii. The event consists of three competitions (Hawaii Pro, Haleiwa Pro, and Sunset Beach Pro) held at some of Hawaii's best-known spots on Oahu's North Shore.
This exciting festival in Hawaii brings together some of the world's most talented professional surfers, including 11-time World Champion Kelly Slater and three-time Triple Crown winner John Florence, who compete for a total prize purse of more than $500,000.
While watching the competition is an incredible experience in itself, there's so much more to the Triple Crown of Surfing than just watching the pros. Enjoy live music and entertainment, sample local food vendors, browse through surfboard shapers' and fin manufacturers' exhibits, and explore some of the most incredible surfing spots in Hawaii.
The Triple Crown of Surfing is an iconic event that draws both locals and visitors from all over the world, making it one festival in Hawaii you don't want to miss!
Where to Stay
Splurge a little and stay near all the action with a stay at Outrigger Hotel. Located right on the North Shore, you'll be within easy reach of all the surf spots, competition locations, and cultural activities that make this festival so special!
Is This the Best Daypack EVER???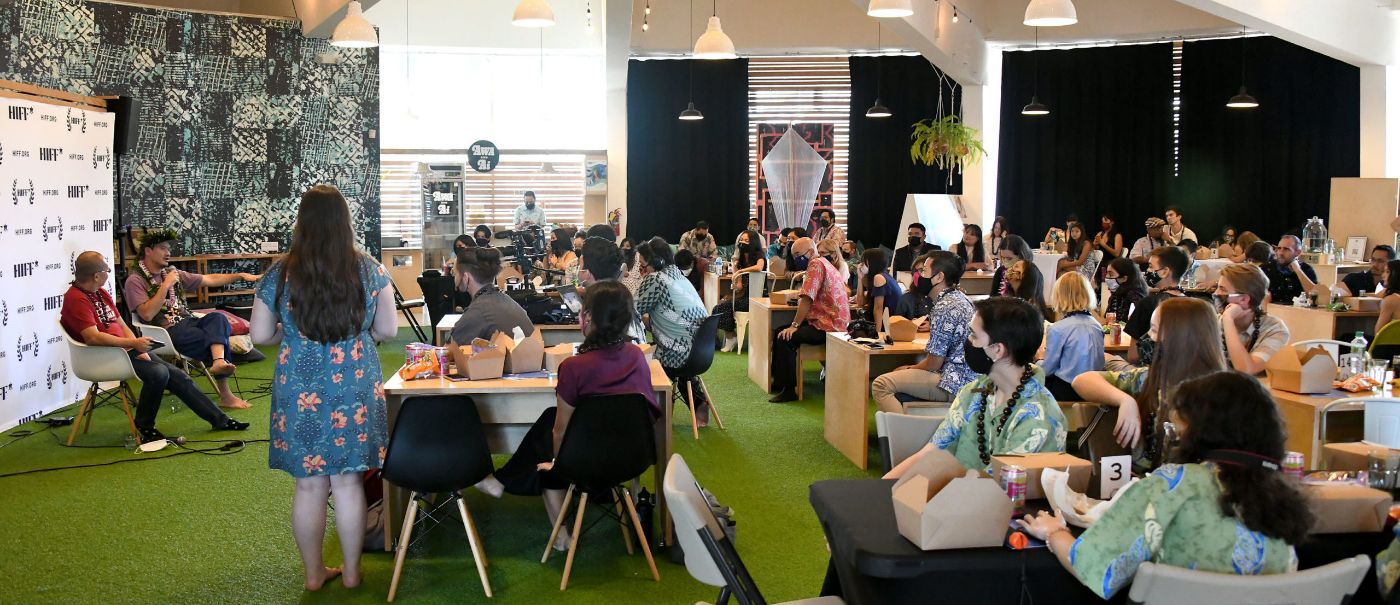 When: November
Where: Oahu
The International Film Festival is an annual event that takes place in Waikiki on Oahu and showcases the best independent films from all over the world. This festival provides a great opportunity to experience some of the freshest, most exciting, and most groundbreaking films of our time.
The festival is celebrating its 44th year and lasts for the whole month of November, with screenings taking place at various venues in and around Waikiki. It features films from some of the top independent filmmakers, giving viewers a chance to not only watch cutting-edge films but also engage in meaningful conversations about them.
This year's film lineup includes narrative features, shorts, documentaries, and student films from countries like India, France, Japan, South Africa, Australia, and the United States. Films will be accompanied by live Q&A sessions with filmmakers as well as panels about the industry and various topics related to filmmaking.
The International Film Festival is a great way to appreciate both local and international independent films and get a glimpse of the filmmakers' perspectives. It's also an excellent opportunity to learn more about what goes into making a film and how it can affect culture and society as a whole.
Where To Stay
Close to the beach and close to the conference. You will feel right at home in the VIVE Hotel Waikiki. This beautiful hotel is located in the heart of Waikiki and within walking distance of all of the main festival venues.
Final Thoughts
Hawaii is an absolute must-visit destination, no questions asked. From its awe-inspiring beauty and white sand beaches to the many incredible Hawaiian festivals taking place year-round; there's something for everyone in Hawaii.
From traditional ceremonies to modern-day surfing competitions and international film festivals, It's no wonder why millions of people from around the world make their way to this tropical paradise every single year!
For anyone who loves Hawaiian culture and can only attend one festival, there's no better event than Aloha Festivals. Scattered across the islands, you can be sure to find one near your accommodation and get an intimate look at all that Hawaii has to offer: from hula dancers and live music to delicious traditional cuisine! With a festive atmosphere like none other, it's worth attending if you have a chance.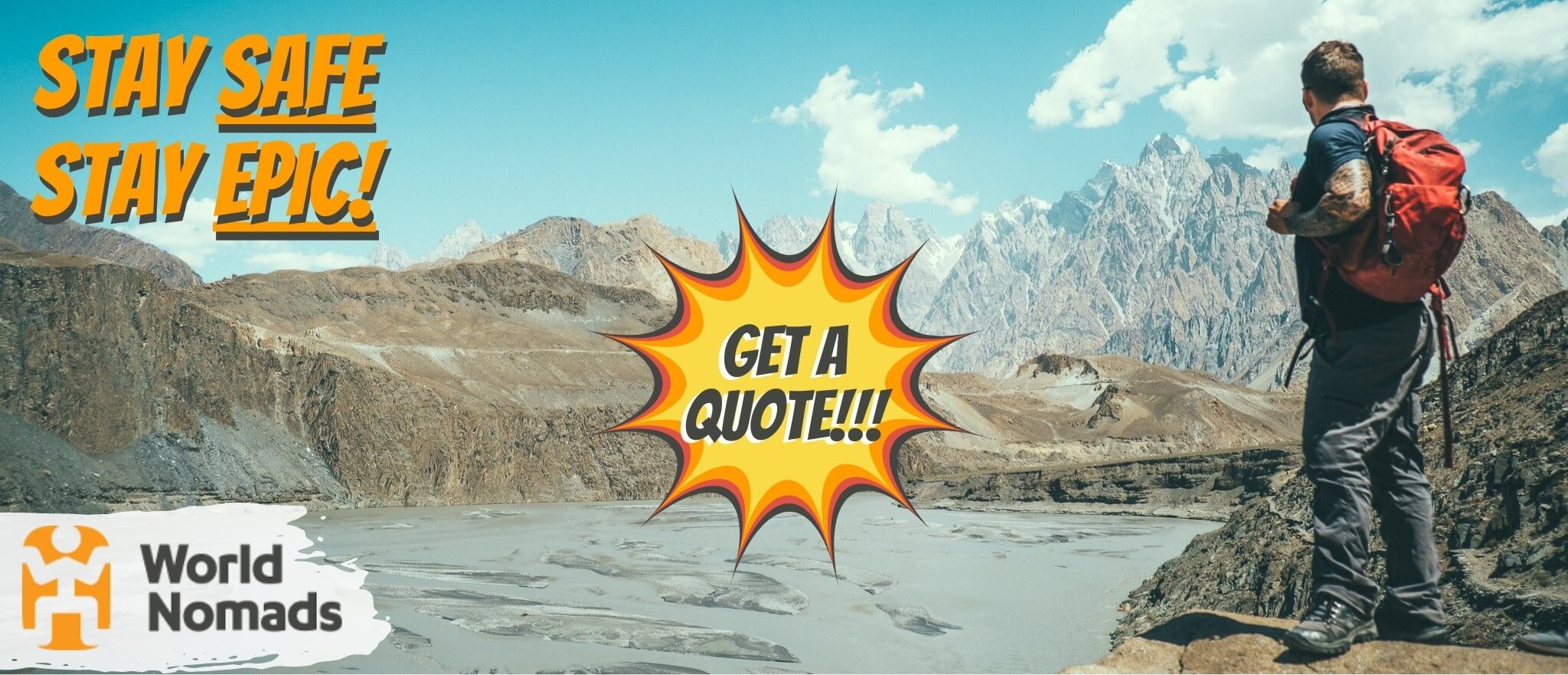 World Nomads' mission is to support and encourage travellers to explore their boundaries. They offer simple & flexible travel insurance, and safety advice to help you travel confidently.
They've been doing it since 2002 – protecting, connecting, and inspiring independent travellers just like you.
Get a quote below or read our in-depth review!
World Nomads provides travel insurance for travelers in over 100 countries. As an affiliate, we receive a fee when you get a quote from World Nomads using this link. We do not represent World Nomads. This is information only and not a recommendation to buy travel insurance.
---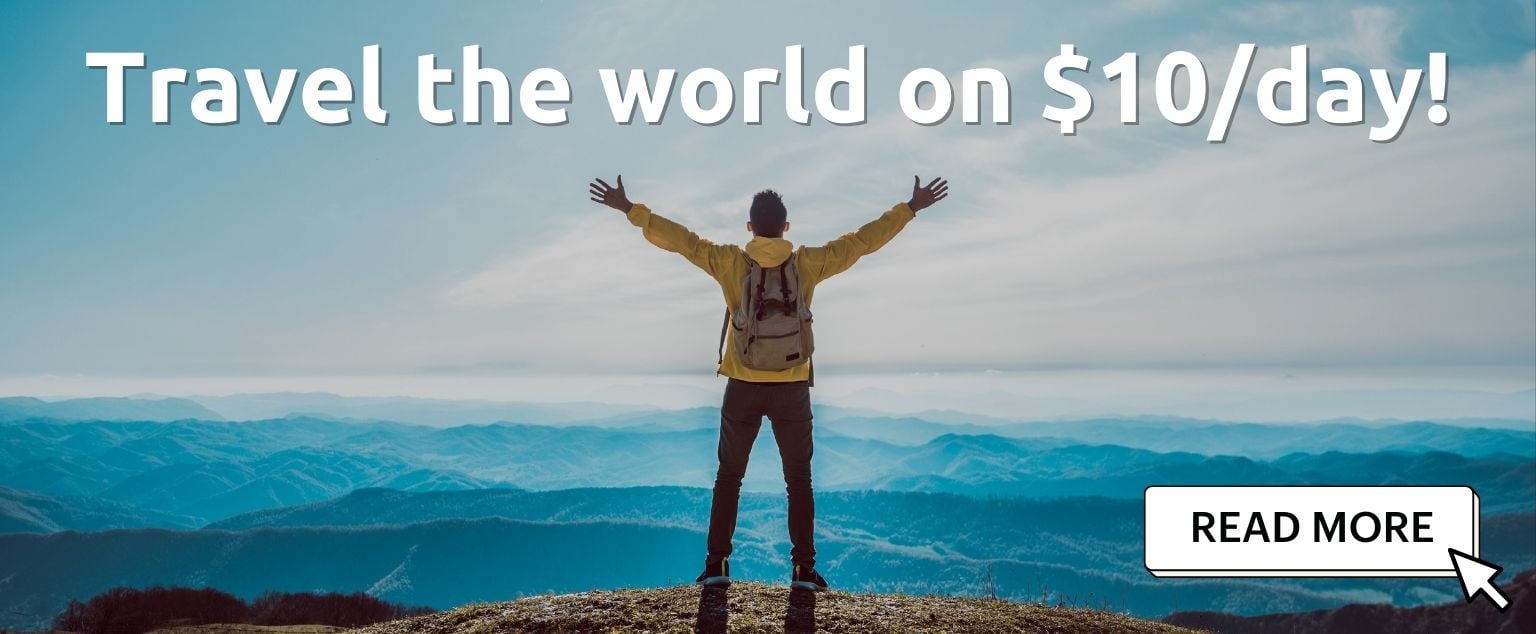 And for transparency's sake, please know that some of the links in our content are affiliate links. That means that if you book your accommodation, buy your gear, or sort your insurance through our link, we earn a small commission (at no extra cost to you). That said, we only link to the gear we trust and never recommend services we don't believe are up to scratch. Again, thank you!