Stretching along the Sierra Nevada mountains of California, Yosemite is an area of astonishing natural beauty that every American should visit at least once in their life. The massive biological diversity means that no two trips are alike, with thousands of plants and wildlife species waiting to be discovered in one of the nations most stunning National Parks.
Looking for a gorgeous staycation this year? Look no further than Yosemite National Park!
That being said, it is a huge park, so it can be difficult to get around. All the main attractions like Yosemite Falls and Glacier Point are concentrated in one valley, but there are also a few worthy diversions for more adventurous travellers. We recommend getting your bearings before you arrive so you can truly make the best out of your trip.
Which is why we created this guide for when you visit Yosemite! We've combined our personal experience with hints and tips from locals and travel experts to bring you the five best places to stay in and around Yosemite National Park. Whether you want stunning vistas, challenging hikes, a historic hotel or a charming Yosemite lodge, we've got the perfect spot to unwind, take epic adventures, or both!
So let's kick things off so you can find the perfect Yosemite National Park lodging for your trip.
Yosemite National Park is huge, but there is a great road network through the area. While we recommend you consider your options before booking, we totally understand that you're in a hurry to book the trip of a lifetime. Whether you want a historic hotel or a unique Airbnb, we've got you covered!
If you've come to backpack around America then you're going to want to visit Yosemite National Park during your trip!
If you just can't wait, here are our top three overall accommodation picks so you can select your lodging options for when you visit Yosemite.
Want a good deal? Be sure to pick up an 'America, The Beautiful Pass', it's $80 and gives you entrance to every National Park in the US for 12 months, plus a whole heap more!
If you've read some of our other guides, you'll know that we love the stylish interiors and exceptional guest service that come with Airbnb Plus properties. You'll have to fork out some extra cash, but it's totally worth it to live like a king for a few days. This charming bungalow brings the outside in, creating a calming and serene atmosphere. We'd even go as far as claiming this to be one of the vacation rentals in Yosemite – no matter if you're here for adventure, exploring or relaxing!
Nestled among the trees of Yosemite West, this is our top pick for self-catering accommodation in the national park. Sleeping two guests, it's a great choice for a romantic getaway to one of the most beautiful regions in the world. Cross country skiing is only a short drive away, as is Yosemite's South Entrance– so if you're planning a winter break, this is the lodge for you.
Want to stay right in the heart of Yosemite? This hotel has long been established as the best place to stay for exploring the region. Nestled among the forest, it has a modern feel and cool furnishings. Your hotel room comes with a private balcony, giving you an ambient location to enjoy your breakfast in the morning. The on-site shop is also a great place to pick up some souvenirs to take back home.
Yosemite is one of the most diverse national parks in the country, so it makes sense that the towns and villages nearby are just as diverse in what they offer. Keep reading to learn about the five best places to stay in Yosemite, our top accommodation picks for each, and some unforgettable activities to try out on your trip to one of America's best National Parks.
1. Yosemite Valley – Overall Best Place to Stay in Yosemite
Winding through the heart of Yosemite National Park, Yosemite Valley is a must for anyone visiting the region – whether you choose to stay there or not! If you do end up staying there, you'll find some incredible adventure activities and truly rural accommodation experiences. It isn't for the faint-hearted, but you're already considering Yosemite, so we trust you on this one.
There aren't any towns in Yosemite Valley, so you'll have quite a secluded experience. Sometimes, you really just need to get away from the world for a little bit – and a Yosemite Valley lodge is here to fulfil your dreams! If you're looking to hit the highlights like Yosemite Falls, Half Dome and Glacier Point, then this is the easiest spot to base yourself.
Backpacking Adventure in Yosemite Valley: Yosemite Falls
This isn't so much an accommodation pick as it is an entire itinerary! You will be given camping gear, a wilderness permit, and navigation equipment for your own self-guided trip through the Yosemite Valley. There aren't any established campsites in the area, so this is a great pick for those that want a truly adventurous experience. You can also pre-select where you pick up your gear, adding a little extra convenience. If you want to avoid staying in some of the hostels in Yosemite, then this is a good alternative.
Over in nearby Foresta, these cabins give you gorgeous views of the Yosemite Valley, including Half Dome from the top of a hill. This cabin, in particular, has rustic interiors, including a log burner and exposed beams to give you a cosy countryside vibe. It can sleep up to four people with one private bedroom, making it a great budget pick for families and one of the best Airbnbs in Yosemite.
Yosemite Valley Lodge is one of the most popular hotels in the region – and with a location this great, it's easy to see why! Their on-site restaurant offers locally sourced cuisine, and the bar has an excellent wine menu. Active traveller? The Yosemite Valley lodge offers complimentary bike hire for guests, and there are three hiking trails nearby. The Yosemite Lodge is our top pick for those that want the convenience of a hotel and it's one of our favourite VRBOs in Yosemite.
Things to See and Do in Yosemite Valley
Want to hike into the depths of Yosemite Valley but feel a little nervous about going it alone? Explore with a local guide in this epic experience!
The gorgeous scenery of Yosemite is the perfect place to let your creativity flourish – this watercolour journaling experience is a great start for newbies.
The natural attractions of Yosemite Valley are why the National Park is so famous – you can't miss out on Yosemite Falls, Half Dome, and Tunnel View.
Wawona and Yosemite's South entrance is a short drive away but a must-visit for history buffs thanks to the collection of historic buildings and pioneer exhibitions.
Ahwahnee Dining Room is a little bit upscale, but certainly a welcome reprieve from the non-stop adventure of Yosemite National Park.
Take a look at the lives of the Miwok and Paiute people at the village museum of Ahwahnee near Half Dome Village.
2. Yosemite West – Best Place to Stay in Yosemite for Families
Bit of a giveaway from the name, but Yosemite West is located right on the western outskirts of the park. About half the town is officially within the UNESCO World Heritage Site – but because of the half that isn't, you'll find a lot of accommodation here is better priced than homes in the valley.
For families, Yosemite West gives you the best of both worlds when it comes to lodging options! It has quick access to the main attractions in the park, as well as some excellent tour companies for those travelling without a car. It's the perfect place to stay if you want a full Yosemite itinerary. All that said, you also benefit from enjoying the same home comforts you would expect from any other village in the nation.
Contemporary Cabin in Yosemite West: The Yosemite Cabin
This gorgeous cabin right in the heart of Yosemite West has a wrap-around deck, giving you panoramic views of the surrounding forest. The interiors were recently remodelled, perfectly balancing modern style with rustic charm. It was also featured as one of the best AirBnBs in the area by Condé Nast Traveler! We absolutely love the small details that set this place apart from the competition – including luxury cookware and bespoke artwork.
Charming Studio in Yosemite West: Peregrine Lodge
Peregrine Lodge is a locally owned hotel with a number of excellent guest rooms. This hotel room sleeps up to two guests, making it a great option for couples looking for a romantic getaway. The charming interiors are decorated in the typical southwest style, creating a cosy and inviting atmosphere. It's also only a short walk away from some excellent Yosemite hiking routes and close to the Arch Rock entrance.
Visiting as a large group? This secluded chalet can sleep up to ten people and is well priced, given the capacity. Surrounded by Giant Sequoia Trees, it is a true paradise among the verdant nature of Yosemite National Park. There is a wood stove in the living room for a cosy vibe during the winter, but they also have full gas central heating. It's just over an hour to Mariposa town as well as the park entrance.
Things to See and Do in Yosemite West
Chinquapin used to be a major settlement in the area, but after a short drive, it is now an interesting alternative attraction for fans of ghost towns and history.
Hiking! Yosemite West is actually preferable to the valley as the walks here don't require you to be super experienced.
The Badger Pass Ski Area is only a short walk away, and if you're visiting in winter, you have to try out the cross country.
Indian Creek, formerly known as Chinquapin Creek, is an idyllic escape from the main tourist areas – perfect for indulging in some meditation.
Head into the town centre, where you can shop at local boutiques and sample some truly interesting cuisine.
3. Oakhurst – Where to Stay near Yosemite on a Budget
Fifteen miles outside of Yosemite National Park, Oakhurst is the furthest away destination on this list but is still easy to reach the park entrance by car. For this reason, we believe it's the perfect option for budget backpackers in the USA looking for cheaper lodging options. Oakhurst does have a lot of luxury accommodation picks but, hear us out, even these are well priced!
Beyond the cheap hotels and restaurants, Oakhurst gives you a fascinating insight into rural Californian culture. It doesn't see anywhere near the same tourist numbers as towns closer to the park, so you get to enjoy plenty of peace and quiet away from the main routes.
You'll never want to leave this gorgeous Airbnb bungalow! The outdoorsy theme gives it a rustic charm, while the carefully curated furniture makes sure the house maintains a sense of style. It can sleep up to 12 guests across four bedrooms, making it a great choice for groups and large families. The local deer population also like to run by occasionally and you're about an hour from the park entrance.
Budget-Friendly Holiday Home in Oakhurst: Oak Tree Retreat
This charming four-bedroom home is perfect for families looking to save money on their trip to Yosemite National Park. Planning a summer visit? The spacious patio has a barbecue and gorgeous views of Oakhurst. Winter travellers will enjoy the cosy fireplace and exposed beam interiors – adding a ski chateau atmosphere to the house. We also adore the unique water feature in the garden.
Luxury Bed & Breakfast in Oakhurst: A Bed of Roses
Ready to live a life of luxury? This five-star bed and breakfast comes with outstanding guest reviews thanks to its warm service and stunning location. But wait, isn't Oakhurst supposed to be the budget destination? Yes! And while this Yosemite B&B certainly isn't cheap, it's more than reasonable given its luxury status. You really do get more for your money staying at this gorgeous little hideaway.
Things to See and Do in Oakhurst
Fresno Flats Historical Park details some of the history of the region and comes with great views – you can even hire a guide if you want some assistance.
The Golden Chain Theatre might seem unassuming, but head inside to be wowed by the carefully reenacted 19th Century melodramas.
Head down to Bass Lake for some peace and quiet – or hire a fishing boat from the local charter company and catch your dinner.
Oakhurst has a creative atmosphere, so it's no wonder it has a surprising number of art galleries – we love Stavast and Timerline in particular.
Oakhurst is packed with gorgeous eateries at favourable prices – we especially love Pete's Place and Oka Japanese.
4. Mariposa – Coolest Place to Stay near Yosemite
Surrounding the Merced River, Mariposa is another great destination for getting to know the locals! The accommodation here is well priced too, and you get to stay only a short drive from the entrance to Yosemite National Park. Mariposa has an understated charm that is infectious from the minute you set foot in the town.
The Merced River is the main hive of activity in the area, so make sure to check out the various activities on offer! In the summer, you will find some interesting markets and art stalls around the town centre. Mariposa is a little creative haven just outside a beautiful UNESCO World Heritage Site.
Peaceful Home in Mariposa: Zen Yosemite
Breathe in, soak up the majestic atmosphere of Yosemite National Park, and breathe out – this is the place to stay if you're looking for a relaxing break! The spacious deck gives you what we consider the best sunset in the entire region – but that's not all: it also has a super spacious hot tub, with plenty of room for all eight guests.
Designed in the Spanish Colonial style, this 1932 house is a little piece of Yosemite history. Nestled among the trees on top of a hill, you'd be forgiven for thinking you're staying in some sort of ancient paradise. There is a large pool outdoors, so this is one of our favourite options for summer visitors. The master bedroom also has a private en-suite.
This four-star bed and breakfast is a little more affordable than our Oakhurst pick – but don't worry, it still comes with welcoming staff and beautiful scenery. Guest numbers are limited, so you'll get to enjoy an intimate vibe while staying here. There's also a huge deck outside, providing the perfect setting for soaking up the idyllic forest.
Things to See and Do in Mariposa
Enjoy a cup of locally roasted coffee while interacting with live farm animals in this unique experience just outside Mariposa.
Learn a little about local history while harking back to the Gold Rush era in this fun gold panning and sifting experience down by the river.
The Merced River is the main hive of activity – swimming is popular in summer, and you can hire kayaks and whitewater rafts.
Castillo's Mexican Restaurant offers the best tacos you will taste in the entire region – totally worth the drive even if you aren't staying in Mariposa.
Want to mingle with locals? Head down to Sugar Pine Café, a popular meeting spot that serves alcohol in the evenings.
5. El Portal – Where to Stay near Yosemite for Adventure
Often considered a satellite town of Yosemite Canyon, El Portal is a little more off the beaten path while still boasting gorgeous views and thrilling adventure activities. This out of the ordinary vibe is exciting enough, making this our favourite destination for explorers and backpackers.
Located along the Merced River, you'll almost start to feel like you're in a totally different country. With this in mind, maybe El Portal is the best overall destination for those that simply miss the thrill of the unknown. If you're settling on staycations for the time being, El Portal is a worthy compromise.
Just outside of El Portal is Clouds Rest – a stunning area of natural beauty with jaw-dropping views towards Yosemite Valley. This one-bedroom cabin appears out of nowhere in a clearing, giving it an old-timey romance kind of vibe. Cosy up by the fire in winter, or head out on an adventurous hike to Yosemite Valley in the summer.
Secret Hideaway in El Portal: El Capitan
High up on the hills of El Portal, guests at this cabin are rewarded with gorgeous views of El Capitan and Half Dome. There's even a small table and chairs on the deck where you can enjoy your breakfast amid this mind-blowingly beautiful backdrop. It is a little more remote than our other picks, so is a great choice for those wanting to escape civilisation for a little bit.
Cabin in a Resort in El Portal: Sage Cabin
This one is a little more basic – perfect if you're on a budget! The interiors are nevertheless stylish, with exposed beams adding to the rustic vibes. Located in neighbouring Foresta, you're only a few minutes away from the entrance to Yosemite National Park. It is managed as part of a resort village, so you also get the social benefit of mingling with other guests.
Things to See and Do in El Portal
Visit during spring for epic Class II and Class IV whitewater rafting experiences along the river.
The water is a little calmer (and warmer) in the summer, making this the best time to go kayaking.
Hites Cove is a hugely popular hike taking in El Portal mountain, beautiful forests, and secluded clearings that are the perfect setting for a picnic.
Want to drink with locals? Both Yosemite View Lodge and Cedar Lodge are popular watering holes.
Steak and Fish might have a basic name (and menu), but the food they offer is done so well you'll be glad they haven't branched out.
Here's what people usually ask us about the areas of Yosemite and where to stay.
And don't forget to take out Travel Insurance for your trip! I have been using World Nomads for some time now and made a few claims over the years. They're easy to use, professional and relatively affordable. They may also let you buy or extend a policy once you've started your trip and are already abroad which is super handy.
ALWAYS sort out your backpacker insurance before your trip. There's plenty to choose from in that department, but a good place to start is Safety Wing.
They offer month-to-month payments, no lock-in contracts, and require absolutely no itineraries: that's the exact kind of insurance long-term travellers and digital nomads need.
SafetyWing is cheap, easy, and admin-free: just sign up lickety-split so you can get back to it!
Click the button below to learn more about SafetyWing's setup or read our insider review for the full tasty scoop.
Yosemite National Park is easily among the most beautiful UNESCO World Heritage Sites in the world. With towering mountains, deep valleys, and vibrant biodiversity, Yosemite National Park is packed with hidden gems that will make your trip extra special. Desperate for a staycation this year? You might as well tick Yosemite off your bucket list!
If we had to pick one area as our favourite, we would have to go with Yosemite West! Most of the town is located within the national park, but it is far cheaper and more convenient than a Yosemite Valley lodge. If you have a car, you'll also only be 10-20 minutes from the best attractions.
All that being said, wherever is best for you really depends on what you want out of your trip. We hope this guide has helped you to plan an epic itinerary for Yosemite National Park.
Looking for something a little more adventurous? Sequoia National Park is right next door and is a great option for a next stop on your trip!
Did we miss anything? Let us know in the comments below!
Do you own an awesome hostel, hotel or apartment? Want to be featured on our list? Email [email protected] to find out how.
---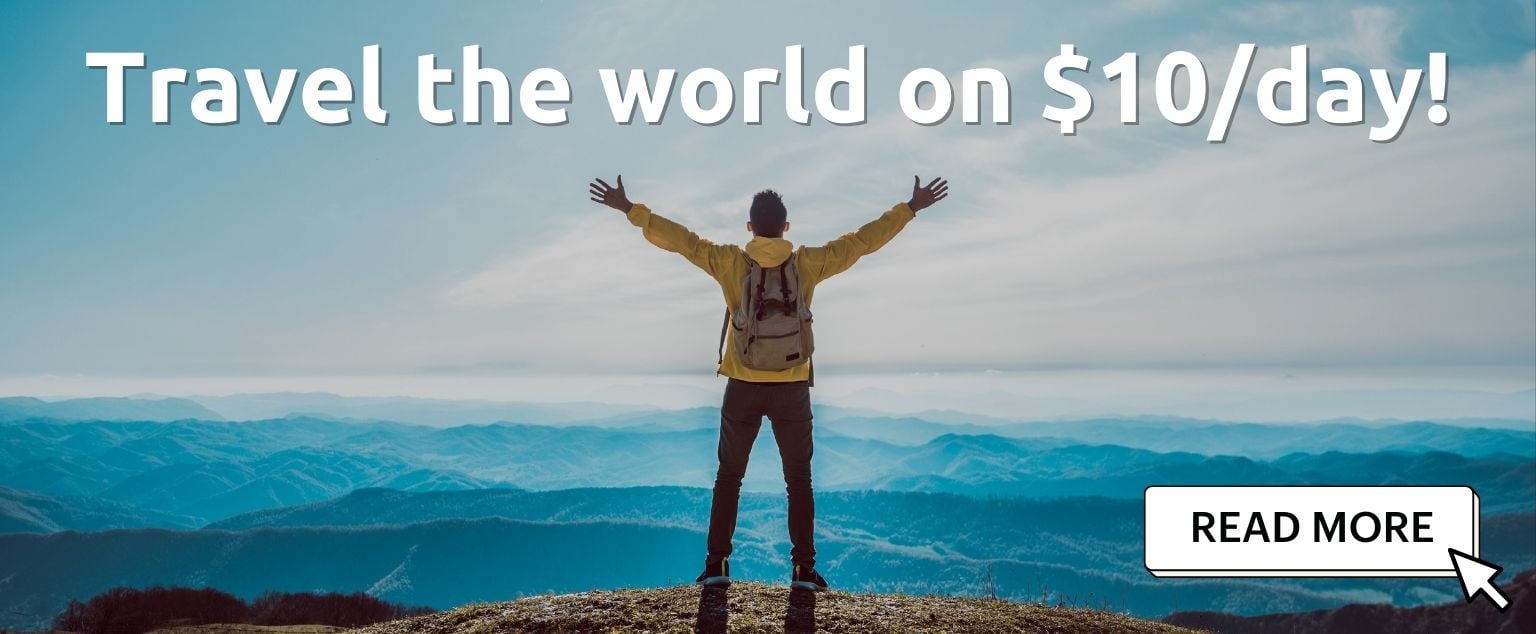 And for transparency's sake, please know that some of the links in our content are affiliate links. That means that if you book your accommodation, buy your gear, or sort your insurance through our link, we earn a small commission (at no extra cost to you). That said, we only link to the gear we trust and never recommend services we don't believe are up to scratch. Again, thank you!