Yosemite is arguably the most popular national park in the United States, and outdoor enthusiasts will want to tick it off their bucket list. This UNESCO World Heritage Site is packed with waterfalls, enormous trees, and granite mountains like El Capitan and the Half Dome. And the best part? They're all connected by an extensive network of trails from which you can view wildlife.
When it comes to finding somewhere to stay in Yosemite, it's not easy. There's very little accommodation inside the national park itself, so you'll have to look nearby. Hotels and hostels can book up pretty quick, so it's a good idea to look at vacation rentals in Yosemite. Usually, they offer better value for money and much more personality!
In this post, we'll take a look at some of the best Airbnbs in Yosemite. Not only that, we'll show you the coolest ways to explore the national park with Airbnb Experiences. Let's go!
Quick Answer: These are the Top 5 Airbnbs in Yosemite
Overall Best Value Airbnb in Yosemite
Overall Best Value Airbnb in Yosemite
Shanks' Cabin in the Woods
> $$
> 6 guests
> Self check-in
> Pets welcome
Best Budget Airbnb in Yosemite
Best Budget Airbnb in Yosemite
Wisteria Rose Camp
> $
> 2 guests
> Queen bed
> Cute outdoor space
Best Airbnb for Couples in Yosemite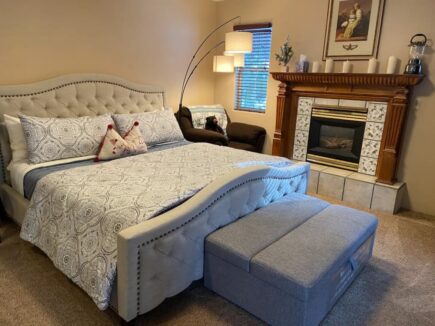 Best Airbnb for Couples in Yosemite
YoBee! Heart of Yosemite
> $$$$$
> 3 guests
> King bed
> Breakfast included
Best Airbnb for Families in Yosemite
Best Airbnb for Families in Yosemite
Shady Bear Cabin at Bass Lake
> $$$
> 6 guests
> Top location
> Indoor and outdoor living spaces
Over-the-Top Luxury Airbnb in Yosemite
Over-the-Top Luxury Airbnb in Yosemite
Starfall
> $$$$$$$$$$$
> 8 guests
> Electric vehicle charging station
> Deck overlooking the woods

Unlock Our GREATEST Travel Secrets!
Sign up for our newsletter and get the best travel tips delivered right to your inbox.
What to Expect from Airbnbs in Yosemite
While accommodation in the national park itself is severely limited, you don't have to head too far out to get a dream vacation rental. However, travelling in and around Yosemite can be quite expensive, so it's important to scope out your accommodation long before your trip, if possible.
If your budget is at the lower end of the scale, look at bed and breakfasts, private rooms in homes, and campsites. If you're lucky, you may get a basic cabin. If you have flexibility in your budget, you could get a smartly designed tiny house or a cosy and comfortable cabin or chalet; with enough space for the whole family!
Many properties here will see you dealing with local residents. However, for some of the larger and pricier properties, you may be dealing with a business. So choose where to stay in Yosemite carefully so you have the experience you want whilst here.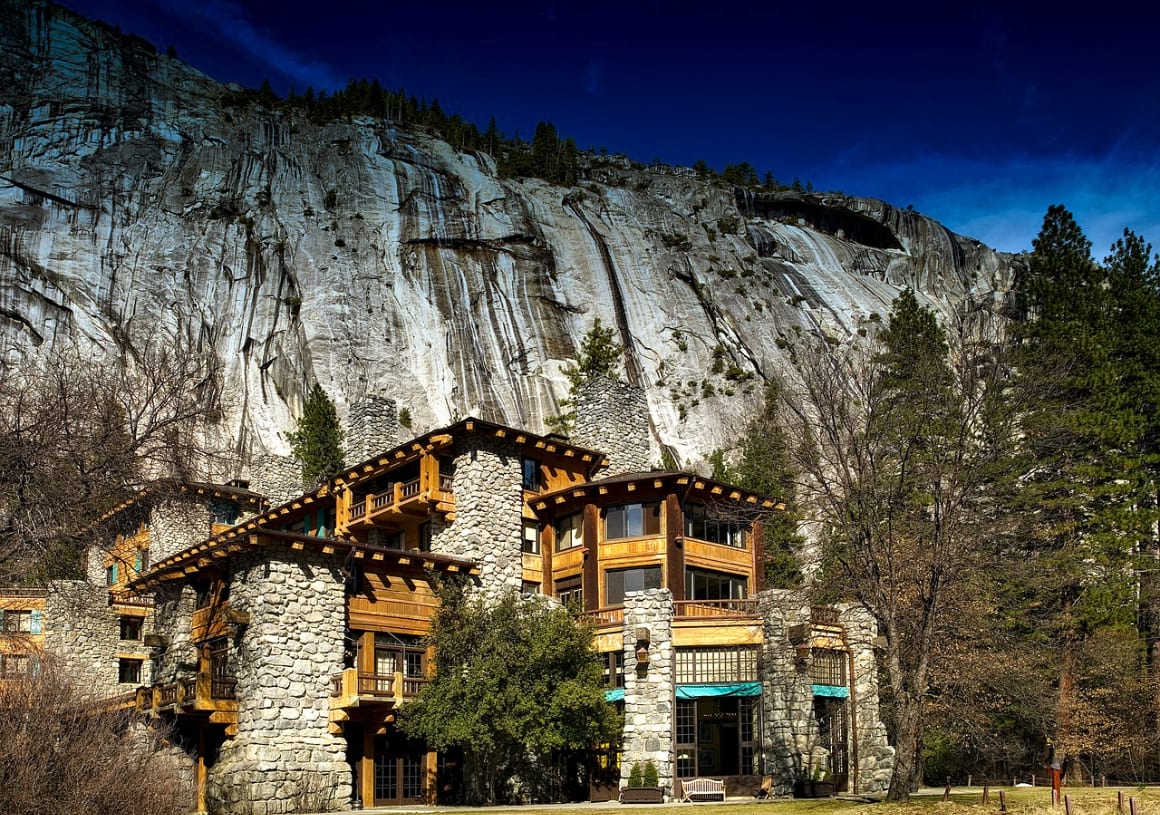 Cabins
When visiting America's third-oldest national park, what could be better than a cabin in the surrounding woods?
Cabins come in a range of shapes and sizes and are can be suitable for all types of traveller. If you're on a budget, you can get a small cabin where peace and tranquility are the main draws. Travelling with your other half? A romantic cabin with features like jacuzzis and queen/king beds could really make your trip.
Part of a bigger group? Large cabins can comfortably accommodate entire families or groups of friends, with cosy living rooms and awesome outdoor areas where you can spend quality time together.
Larger cabins can appear expensive at first, but remember you can split that cost multiple ways. Sometimes they're actually the most cost-effective option!
Tiny Houses
A type of unique accommodation that's ever-growing in popularity, tiny houses are a cool way to experience Yosemite. These small homes are packed with character, and amenities too. Much more than you'd think possible in such a tiny space!
Yep, you can expect a kitchen, living area (often open plan) and a bed, perhaps in a loft, all over just a few square feet of space. Some even have cute outdoor areas where you can enjoy your morning coffee or an evening beer.
There are a few tiny houses in Ahwanee, offering easy access to Yosemite.
Because of the small size of tiny houses, we'd say these are best for solo travellers or couples. However, it is possible to get four (or even six) guests in if you're open to a tight squeeze!
Chalets
A lot of people will be wondering what the different between a cabin and a chalet is. Well, chalets originated in Europe (mostly Alpine countries, such as Switzerland and France) as a place to crash after a day on the slopes.
The main difference between a chalet and a cabin, is that cabins are made of logs and chalets are made of wood. Chalets also have overhanging eaves. That's it!
Chalets, like cabins, still come in a range of shapes and sizes and can be suitable for everything, from a honeymoon to a large family gathering. Another great feature is that the more people who stay in a chalet, the cheaper the overall cost!
Why Stay in an Airbnb?
Still thinking of booking into a hotel? Let us remind you of five awesome reasons to stay in an Airbnb. It really is the best option!
Local Experience: Want to know about the best hiking routes through Yosemite? Find out from your local host and leave your guidebook at home.
Unique Properties: As you're about to see, Airbnbs are a lot more varied than hotels. You can have anything from a cabin, to a tiny house, to a cute chalet.
Privacy: Self check-in is a feature that's becoming ever more common in Airbnbs. You can also filter for a completely private accommodation if you wish. However, picking a property deep in the woods should guarantee privacy!
Affordability: Next to a hotel of the equivalent price, you get a lot more value for your money from Airbnb. That's particularly handy in a pricey part of the US such as Yosemite. However, this perk also goes for all other travel destinations in the USA.
Airbnb Experiences: Want to get off the beaten track with a local guide? Airbnb Experiences is where you need to go. More on that later!
The Top 15 Airbnbs in Yosemite
Now that you know what to expect and why you should book a vacation rental, let's get to the party you've been waiting for. You're about to see the 15 best Airbnbs in Yosemite – as well as some awesome Airbnb Experiences!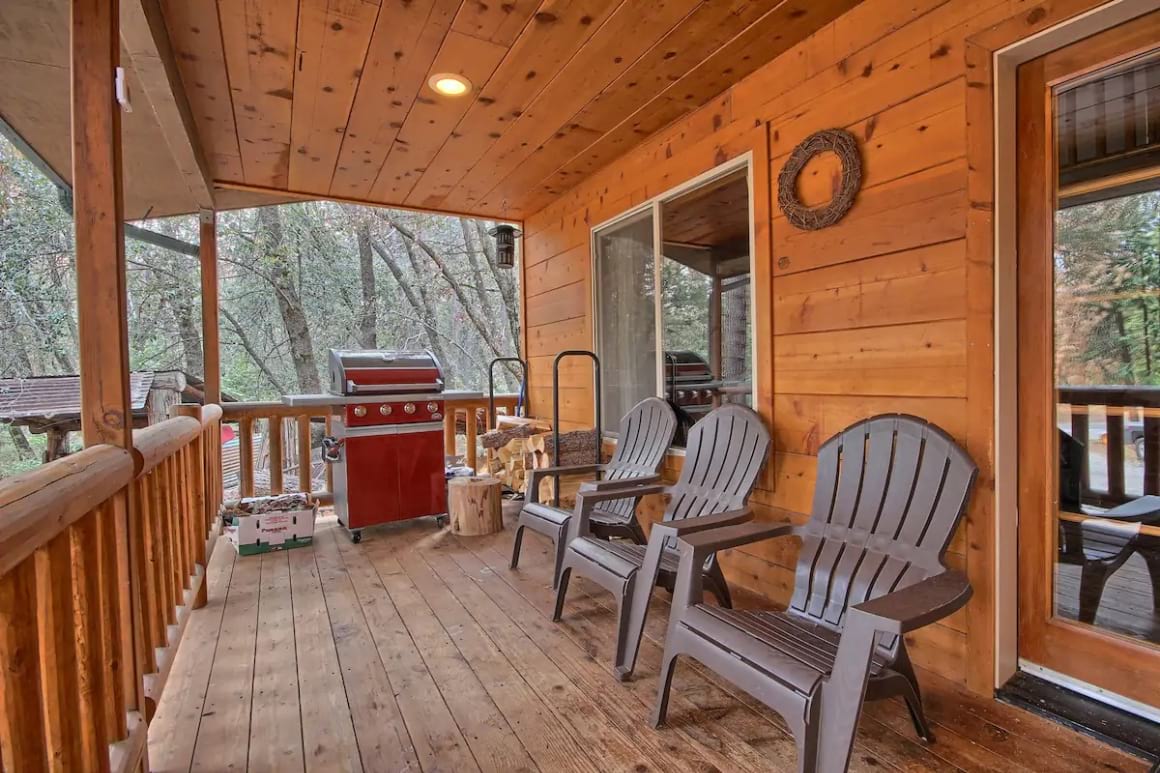 First on our list is the cabin in Mariposa County. Usually, the best value Airbnb in a destination would likely be a private room or a studio flat. But in Yosemite, you get an entire cabin for up to 6 guests. That makes it ideal for families or groups of friends travelling together. You can even bring your furry friends, as pets are welcome too! Be sure to cook something delicious up on the BBQ on the porch.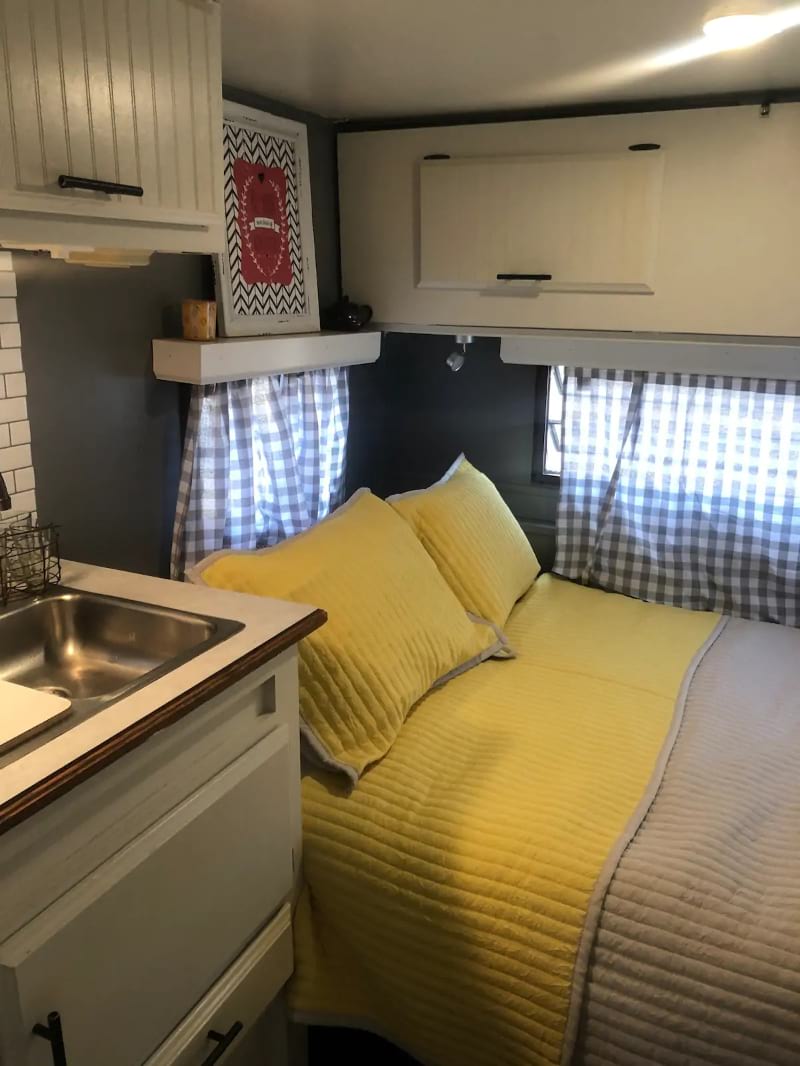 2 guests
Cute outdoor space
Yosemite is a lot of things, but cheap isn't one of them. That's not to say that there are no budget properties out there though. In nearby Coarsegold, you'll find this charming campervan at Wisteria Rose Camp, which has a queen bed and a small kitchenette. Save your costs further by preparing meals here before enjoying them out on the deck.
$
Knowledgeable host and guide
2 guests
Animals on the property!
Okay, so this one is a little out of the box. However, if you can't make an out the box decision when travelling solo, when can you!
This Farm Stay in Indian Lakes is 40 minutes from Yosemite National Park, but your knowledgeable host used to be a guide there, so can give you the inside info on all you need to know. If you do get lonely from travelling solo, you'll have animals on the farm to keep you company.
Is This the Best Backpack EVER???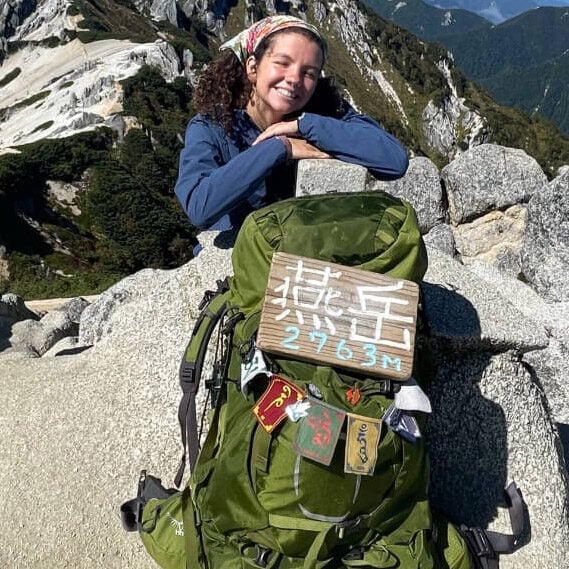 3 guests
Breakfast included
After a day of exploring Yosemite, it's likely that you and your other half will be absolutely shattered. So, what could be better to come back to than a squishy king bed with a crackling fireplace?
After a dreamy night's sleep, enjoy your complimentary breakfast out on the porch the morning after. The studio is in Yosemite West, so this is one of the closest Airbnbs to Yosemite National Park!
6 guests
Indoor and outdoor living spaces
With space for up to six guests, the Shady Bear Cabin is suitable for groups of family and friends. The cabin is right by Bass Lake, which has lots of options when it comes to hiking, fishing, and other outdoor pursuits.
Once back at the cabin, you can make the most of indoor and outdoor living spaces, depending on the weather. There's a fully equipped kitchen should you want to rustle up a family favourite or picnic for the day!
6. Over-the-Top Luxury Airbnb in Yosemite | Starfall
$$$$$$$$$$$
Electric vehicle charging station
8 guests
Deck overlooking the woods
One of the most beautiful Airbnbs in Yosemite, this superb blue house is just 9 miles from the national park itself. It has an enormous open plan kitchen and living area. However, the main attraction is the back deck.
With views out over the surrounding forest and a huge L-shaped sofa, it'd be very easy to spend most of your stay out here! Electric vehicle driver? This is one of the few properties in the area that has a charger on site.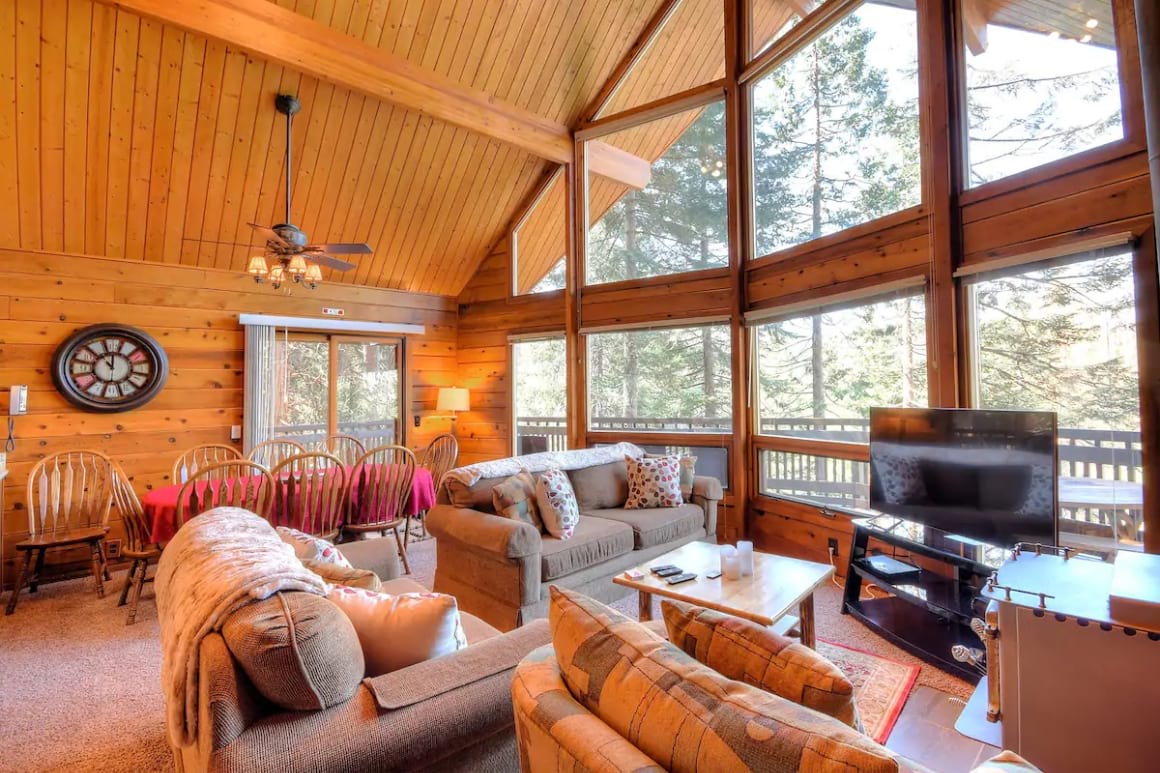 $$$$$$$$$
Overlooking Yosemite National Park
Cabins are probably the most popular type of accommodation in Yosemite, so it's pretty tricky to choose a favourite. An awesome location in the heart of Yosemite West is a good place to start though – making it easy to access the park's attractions and trails.
Come home to the living room which lets in lots of light, while keeping you warm and cosy as you play a board game or watch a movie post exploring!
One of the cheapest places to stay in and around Yosemite, this tiny house is ideal for budget travellers. There are limited cooking facilities, including a coffee maker and microwave which is enough to rustle up a simple meal.
There's also free parking on-site, which you're sure to be using as you drive back and forward to Yosemite's entrance!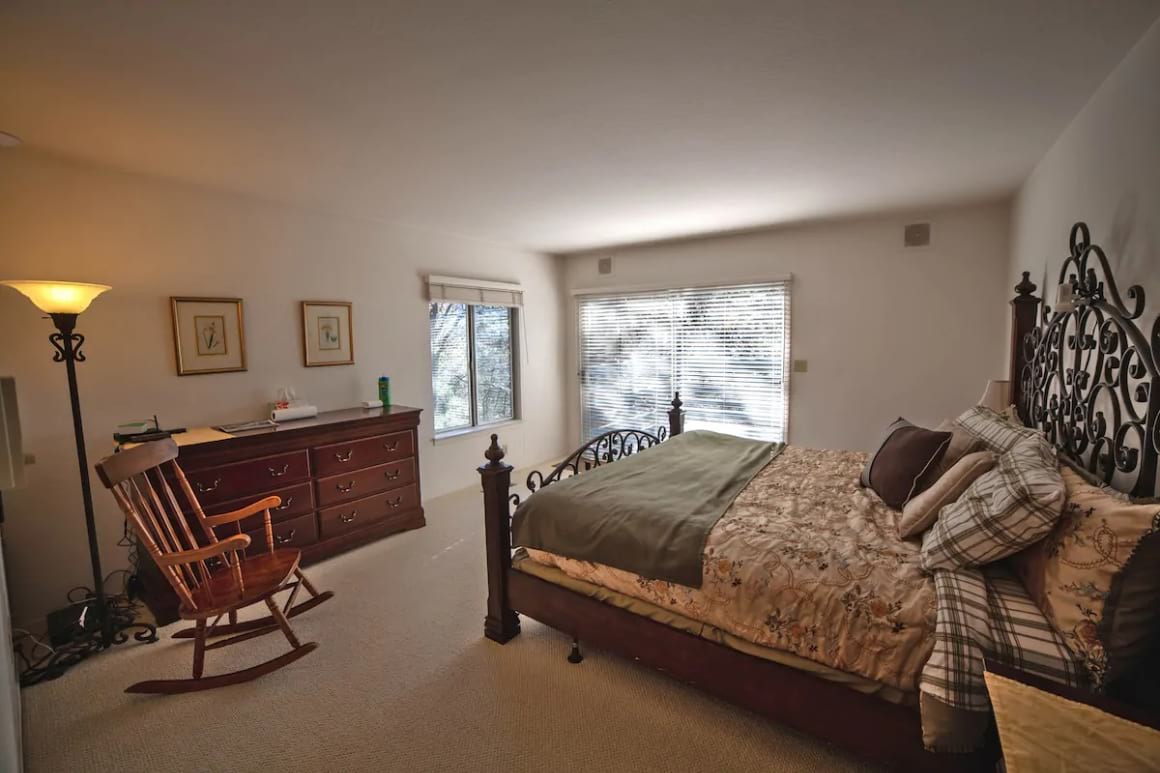 $$$$$$
Fully-equipped kitchen
14 guests
Near Yosemite Mountain Sugar Pine Railroad
Yosemite isn't all about hiking and climbing. Travellers who prefer a more sedate and relaxing day out can enjoy the Yosemite Mountain Sugar Pine Railroad. Which just happens to be conveniently located right opposite this gorgeous chalet!
With space for up to 14 guests, it's ideal for a group get together, whether that's friends or family. Even though there are a few places to eat nearby, you may prefer to cook in the fully-equipped kitchen.
4 guests
Breakfast included
Yosemite probably isn't the most popular destination for digital nomads. However, they shouldn't miss out on the superb vistas and outdoor activities for work! Thankfully, this bed and breakfast in Mariposa offers a dedicated workspace and fast Wi-Fi, so you can get on top of work before attempting El Capitan! As the name suggests, breakfast is included in the price.
11. Most Unique Airbnb in Yosemite | Yosemite Dome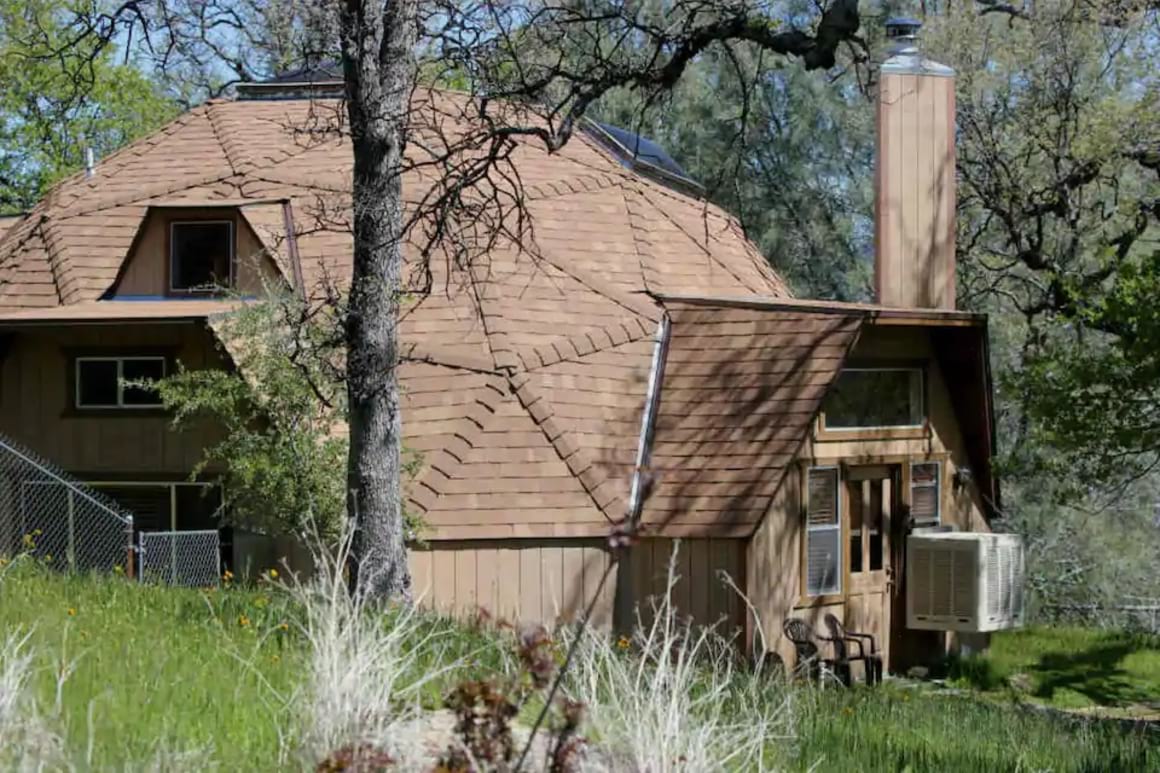 6 guests
Great for families and groups
There's just one dome house in Yosemite, so it's safe to say this is a unique property. Located in Midpines, there's space for up to six people across five bedrooms here.
The house is centred around a spacious living room, which is a great spot for board games or catching a movie after a day out hiking. The roof windows mean you get lots of light in there too.
6 guests
Perfect for stargazing
There are lots of spectacular views in Yosemite. But this one offers a bit of everything. Marvel at the surrounding mountains from the chairs or hammocks on the front porch during the day, before looking up for pristine stargazing after sunset. Which is also pretty spectacular to watch!
Even in poor weather, the floor to ceiling windows mean that you don't have to miss at thing in this beautiful home.
$$$$$
Mountain-themed decor
Airbnb Plus properties are among the best that the platform has to offer. Hand-picked due to excellent reviews, attentive hosts, and clean and crisp design, you're assured of a good stay before you even hit the road.
This large property can sleep up to 12 guests, so it's ideal for a group celebration. Kids will love roasting marshmallows on the fire pit outside – under adult supervision, of course!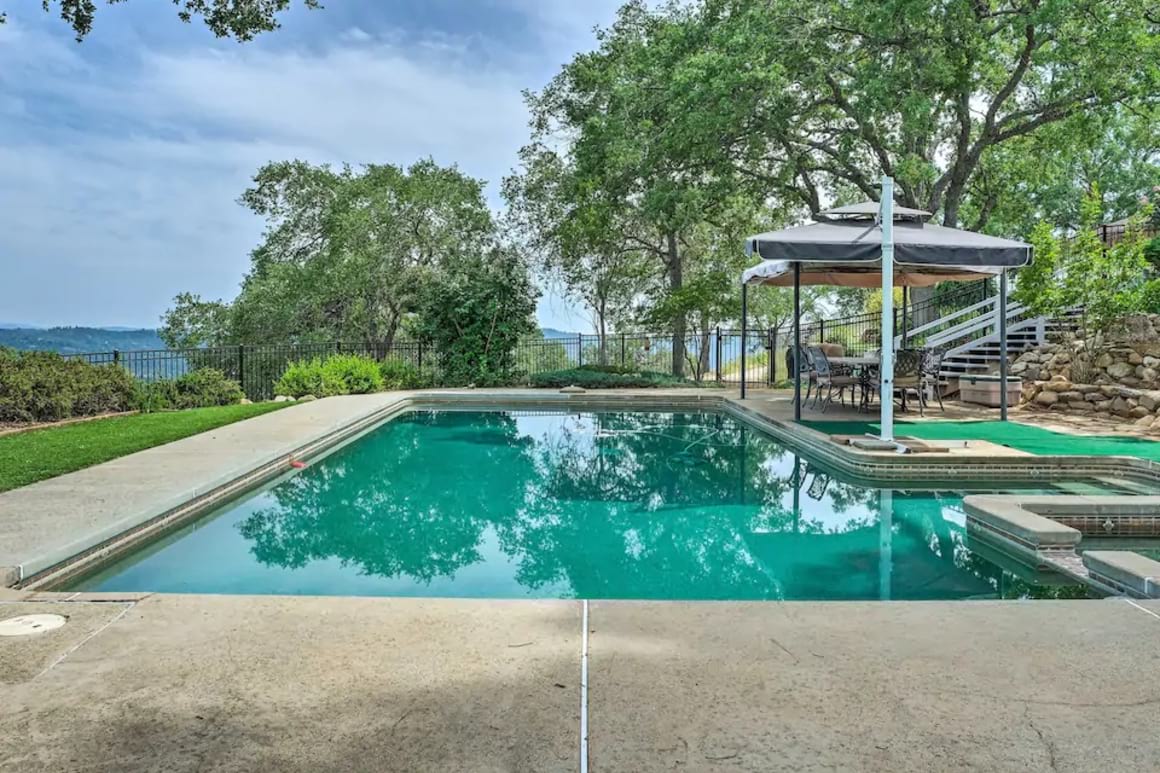 $$$$$$
Swimming pool and hot tub
8 guests
Fully-equipped kitchen
Set across 100 acres, this beautiful mountaintop retreat comes with everything you could wish for from a vacation rental, including a swimming pool and hot tub!
From both of those, you can enjoy spectacular views out over the mountains and Mariposa County. If it gets cold, head inside and cosy up by the fireplace!
15. Best Airbnb in Yosemite for a Group of Friends | Timber & Creek Log Cabin
$$$
Fully-equipped kitchen
8 guests
Spectacular forest views
The most important thing about having somewhere to stay with your friends is that there are opportunities to spend quality time together. And not only when you're out exploring!
Thankfully, this cabin boasts an outdoor seating area with a fire pit, and a spacious living room with wood burning stove for when the fire outside goes out. The layout of the beds also means no uncomfortable topping and tailing is necessary!
Top 5 Airbnb Experiences in Yosemite
So, what did you think of those Airbnbs? We know there are a couple we'll be booking for our next trip there. Now, it's time to think about what you're going to do when you arrive. Airbnb Experiences offer you a way to get to know your destination on a deeper level – with the expertise of a local guide.
In Yosemite, Airbnb Experiences can range from showing you the most popular sites in the park, to some of the most difficult to access. It totally depends on you!
There are some opportunities to enjoy other delights in the area too that are less strenuous than hikes, such as coffee and gold panning.
Here are five of our favourite Airbnb Experiences in Yosemite.
$150/person
6.5 hours
Up to 10 guests
The Mirror Lake Loop is one of the most popular trails in Yosemite. However, with the guidance of a local, you'll take an alternative route which will get you off the beaten tourist track.
You'll also see the Half Dome, Washington Column, and waterfalls. Bring your camera as you may spot wildlife too, such as black bears, bobcats, and coyotes.
$60/person
1.5 hours
Up to 9 guests
If you'd prefer to come face-to-face with a less dangerous animal (though sometimes temperamental), then this day out at a llama farm could be right up your alley.
You'll learn about their role in Andean life and also about South American cosmology. A must for any animal lover!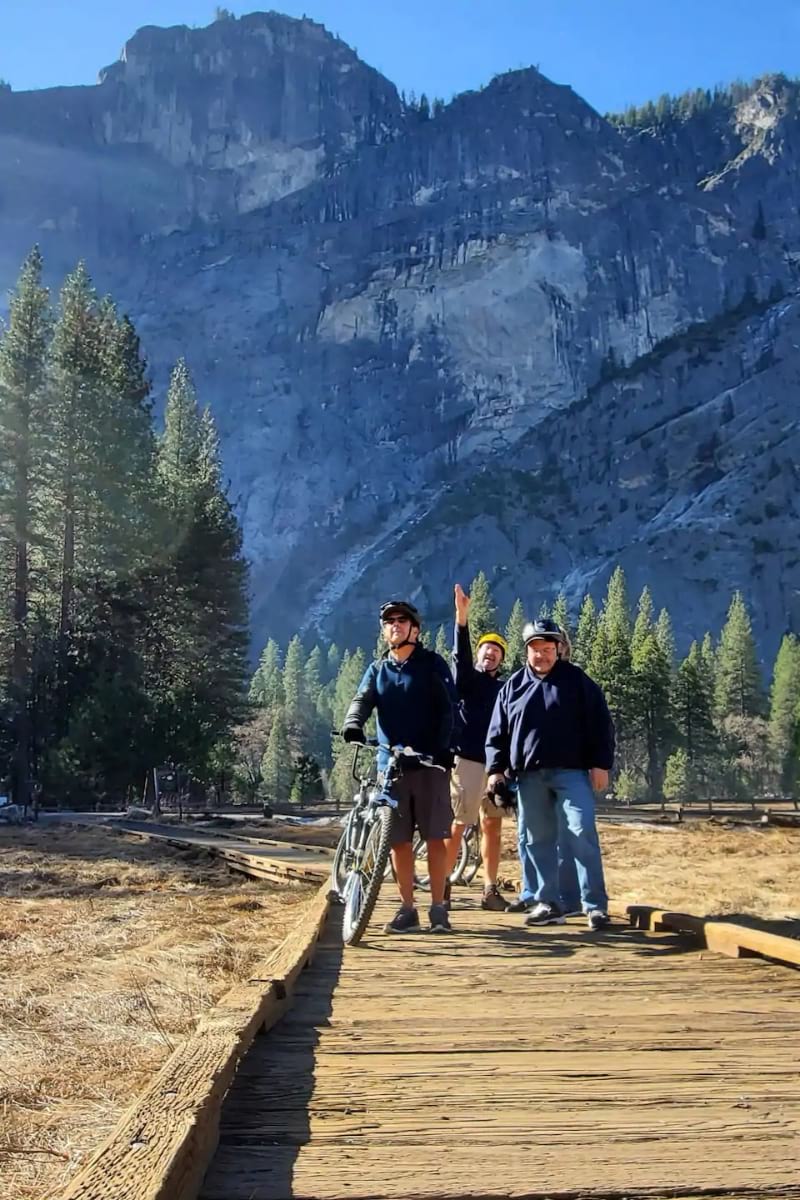 $135/person
12 hours
Up to 4 guests
Similarly to the Mirror Lake tour above, this private single day Yosemite tour will see you uncovering the hidden parts of Yosemite with a local guide. At the same time, you'll still visit some of the top attractions, including Yosemite Falls, Bridalveil Falls, and views of El Capitan.
This is more strenuous than your average Airbnb Experience, so be sure to pace yourself and bring plenty of water.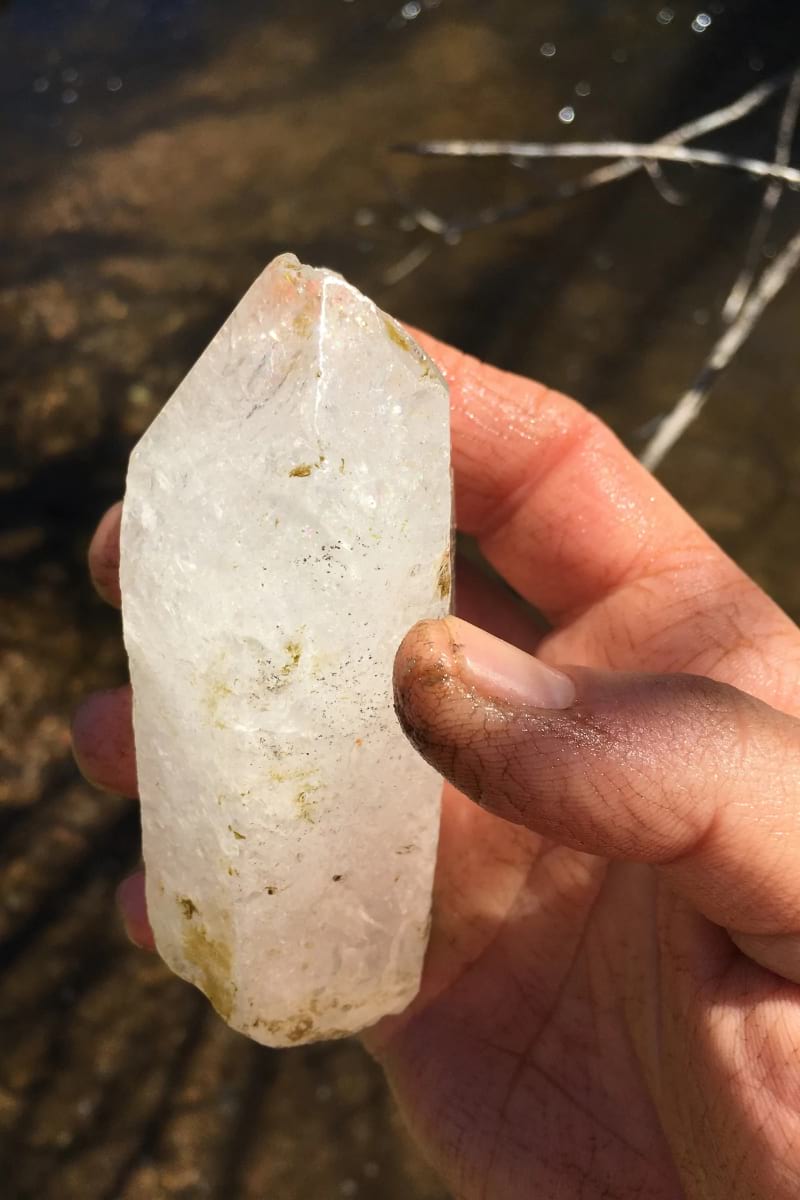 $62/person
2 hours
Up to 10 guests
Want to learn more about gold panning? Then this is the tour for you. You'll head to a creek with your host who will supply you with tools and pans.
After your two hour experience, you'll be able to keep all the gold you've found and also take home some handy skills should you want to do it closer to home.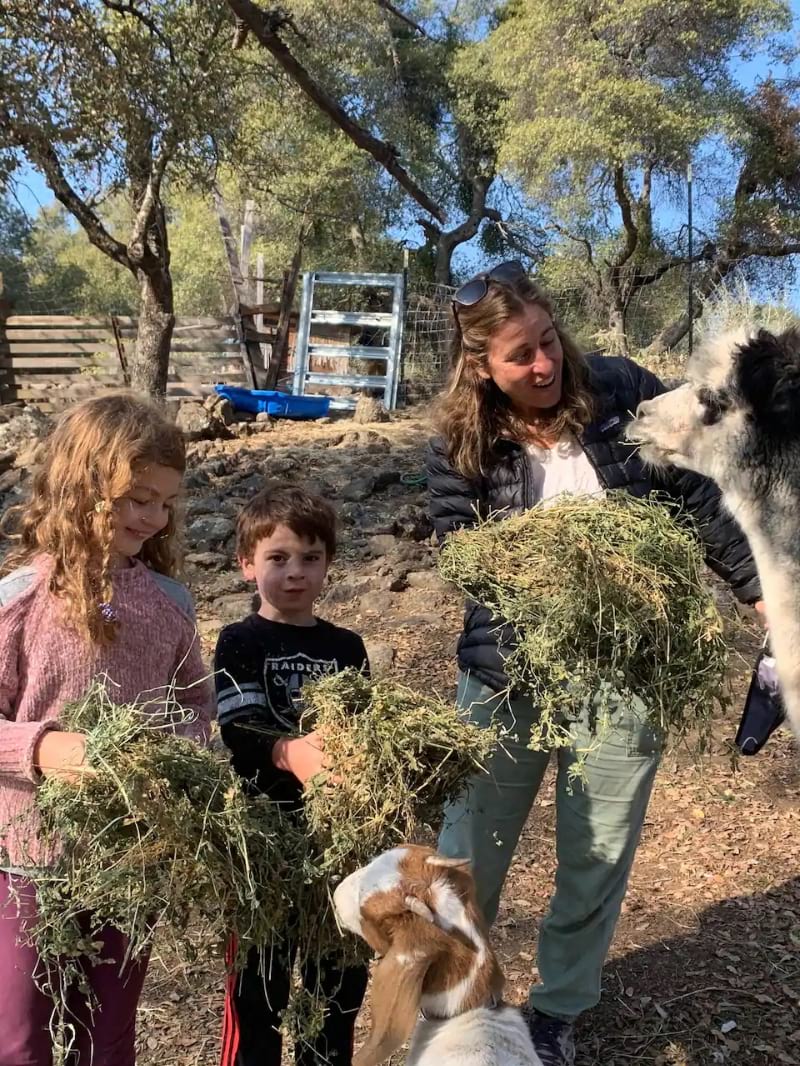 $30/person
1.5 hours
Up to 6 guests
This homestead is on a working farm and you'll have the chance to get up close and personal with a range of domestic animals. You also get a coffee during your stay.
For well behaved children, this is an awesome family day out, and all of your fee goes towards the maintenance and upkeep of the animals.
Don't Forget Your Yosemite Travel Insurance
ALWAYS sort out your backpacker insurance before your trip. There's plenty to choose from in that department, but a good place to start is Safety Wing.
They offer month-to-month payments, no lock-in contracts, and require absolutely no itineraries: that's the exact kind of insurance long-term travellers and digital nomads need.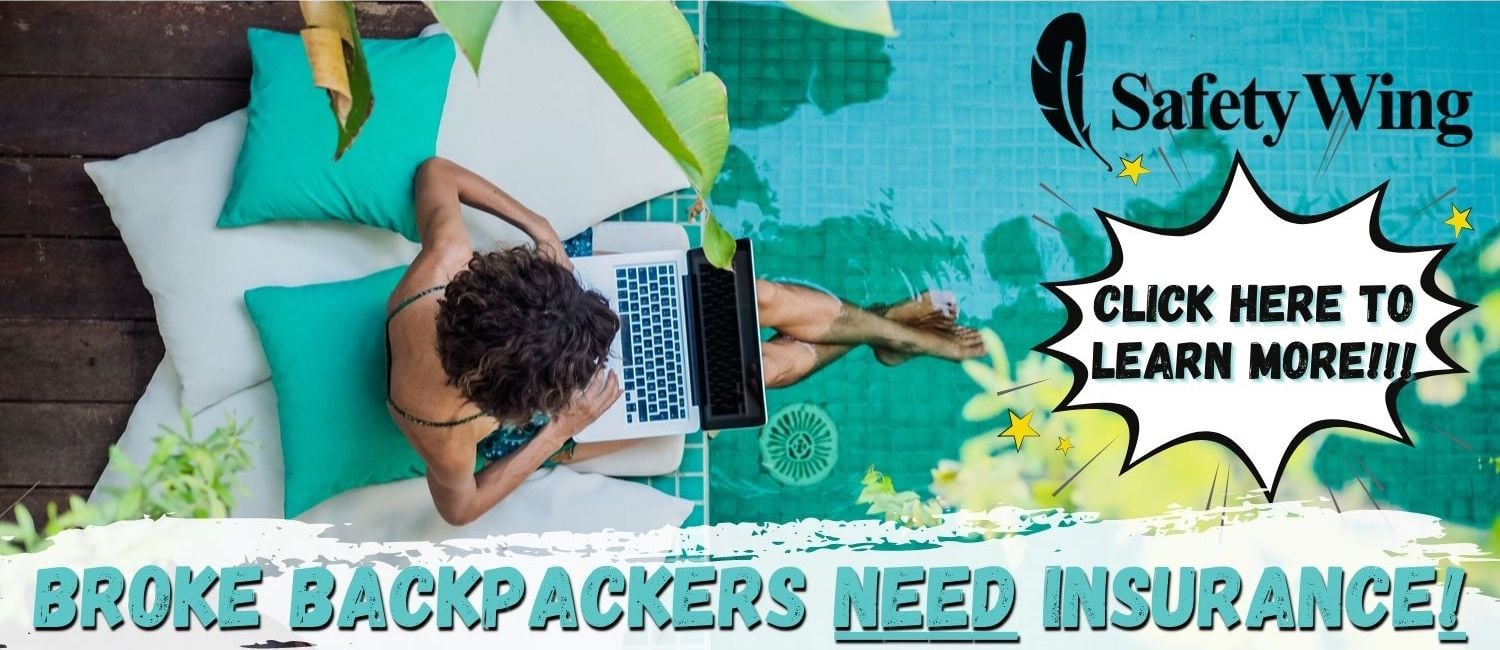 SafetyWing is cheap, easy, and admin-free: just sign up lickety-split so you can get back to it!
Click the button below to learn more about SafetyWing's setup or read our insider review for the full tasty scoop.
Final Thoughts on Yosemite Airbnbs
Well, there you have it. Not only have you seen the 15 best Airbnbs in Yosemite, but also five cool Airbnb Experiences too. Whether you want to make furry friends on a farmstay, kick back in a cabin, or cosy up in a tiny house, there's an Airbnb in Yosemite for you.
Still not sure which is the right Airbnb in Yosemite for you? We don't blame you. There's a lot to choose from! We'd suggest taking one more look at our overall best value Airbnb in Yosemite. That's the Shanks' Cabin in the Woods. It's suitable for groups of friends and/or family, and you can bring your pet!
We hope that no matter where you stay, you have an awesome vacation in Yosemite. To make sure that you have safe travels, be sure to check out World Nomads for travel insurance policies.
Need somewhere even cheaper, check out the hostels in Yosemite instead!
---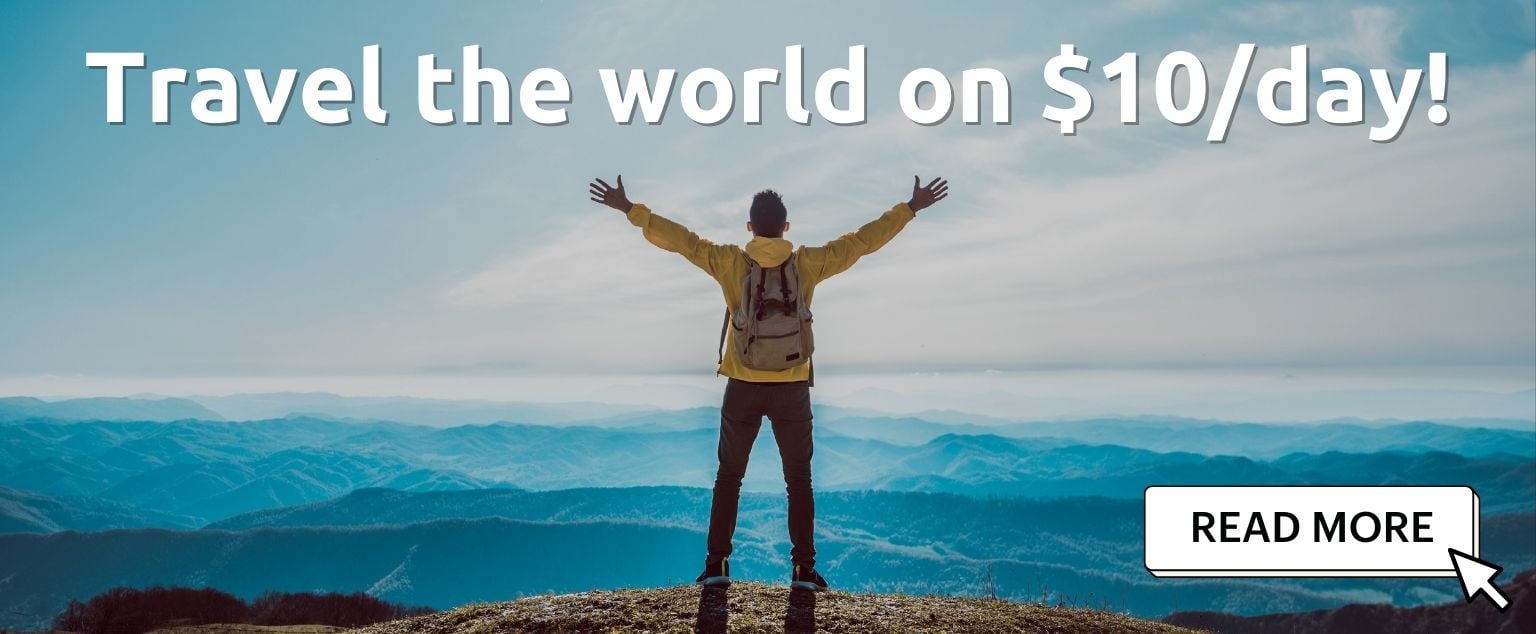 And for transparency's sake, please know that some of the links in our content are affiliate links. That means that if you book your accommodation, buy your gear, or sort your insurance through our link, we earn a small commission (at no extra cost to you). That said, we only link to the gear we trust and never recommend services we don't believe are up to scratch. Again, thank you!