Famed for its ancient sequoia trees and incredible vistas, Yosemite is an American paradise! The National Park is ideal for adventurers, offering so many exciting Yosemite activities with some of the best views you can find.
Our Yosemite Itinerary is filled with days of beauty and adventure. It's perfect for all kinds of travelers and can be adapted to any trip, whether you're spending 2 days in Yosemite and want to tick everything off, or weeks deep-diving into the spirit of the destination!
Climb El Capitan, feel the spray of Yosemite Falls, and visit some of Yosemite's most ephemeral views and attractions on this Yosemite Itinerary!
Best Time to Visit Yosemite
Yosemite is a beautiful place to visit at any time of the year. And because of its massive size, you'll never have too much trouble with crowds! When to visit Yosemite is determined by how you want to experience it!
We suggest you go in spring (March – May) when the sun is bright and warm, and relativiely few people are roaming the park. The daylight hours are temperate and ideal, but the nights get chilly, so pack some warm clothes.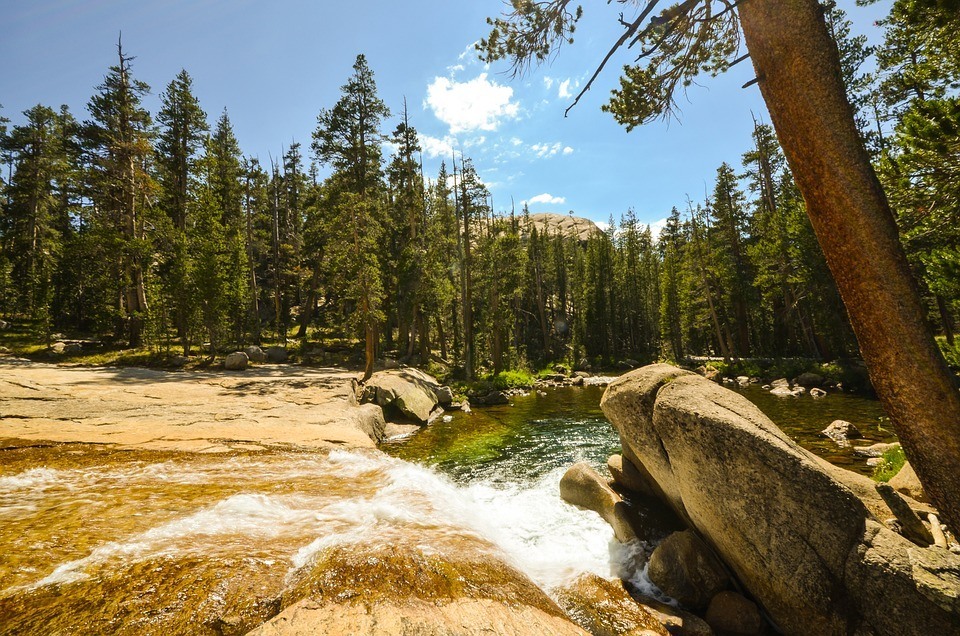 Summer (June – August) is also a wonderful time to go – the park really comes alive in the warmer months! The mountains are covered in flowers, waterfalls are roaring, and animals can often be spotted.
In winter (December – February) many of the hiking trails are closed off in the cold months due to snow. The area gets really cold, putting off some backpackers! However, this opens up Yosemite's ski season! That's a whole other ball of fun, and while skiing is not included in our itinerary, it's a fantastic activity to enjoy if you happen to be here at that time. 
I visited in November. It was generally cool in the days and got seriously cold in the early hours of the morning – bring a good sleeping bag or else thermals and full winter gear.
| | Average Temperatures | Chance of Rain | Crowds | Overall Grade |
| --- | --- | --- | --- | --- |
| January | 4°C / 39°F | High | Calm | 😐 |
| February | 5°C / 41°F | High | Calm | 😐 |
| March | 7°C / 45°F | High | Calm | 🙂 |
| April | 10°C / 50°F | Average | Medium | 🙂 |
| May | 14°C / 58°F | Low | Medium | 😀 |
| June | 18°C / 65°F | Low | Busy | 😀 |
| July | 22°C / 72°F | Low | Busy | 🙂 |
| August | 22°C / 72°F | Low | Busy | 😀 |
| September | 19°C / 67°F | Low | Medium | 🙂 |
| October | 14°C / 57°F | Average | Medium | 🙂 |
| November  | 7°C / 45°F | High | Calm | 😐 |
| December  | 3°C / 37°F | High | Calm | 🙂 |
Where to Stay in Yosemite
When you're spending about 3 days in Yosemite, you need to decide between lodgings in the Yosemite National Park itself, and accommodation nearby.
The best option is finding a hotel inside Yosemite Park itself. You have easy access to all the Yosemite attractions, like the iconic El Capitan and Yosemite Falls! The location is ideal, and often hotels inside the park offer guided hikes as well as discounts on tours and activities.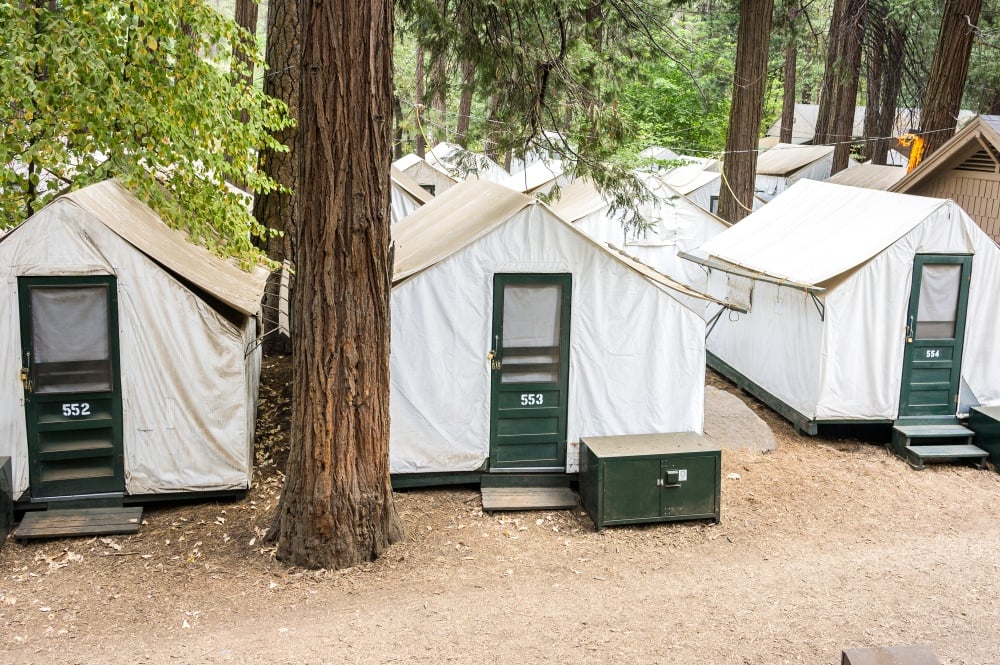 Accommodation ranges from self-catered cabins and budget B&B's in Yosemite, to first-class hotels. This means you really don't have to go beyond the park when looking for a place to stay! 
However, accommodation in the park is more costly than further away, and depending on when you're planning a trip to Yosemite, it may all be booked out. If so, you can find a great place in Yosemite Valley! 
A 30-minute drive from the National Park, the village is tranquil and lovely. Hangout with the locals at one of the bars, shop easily at the village stores, and use it as a base for your Yosemite itinerary adventures!
There are also some camp sites. These are by far the most economic options.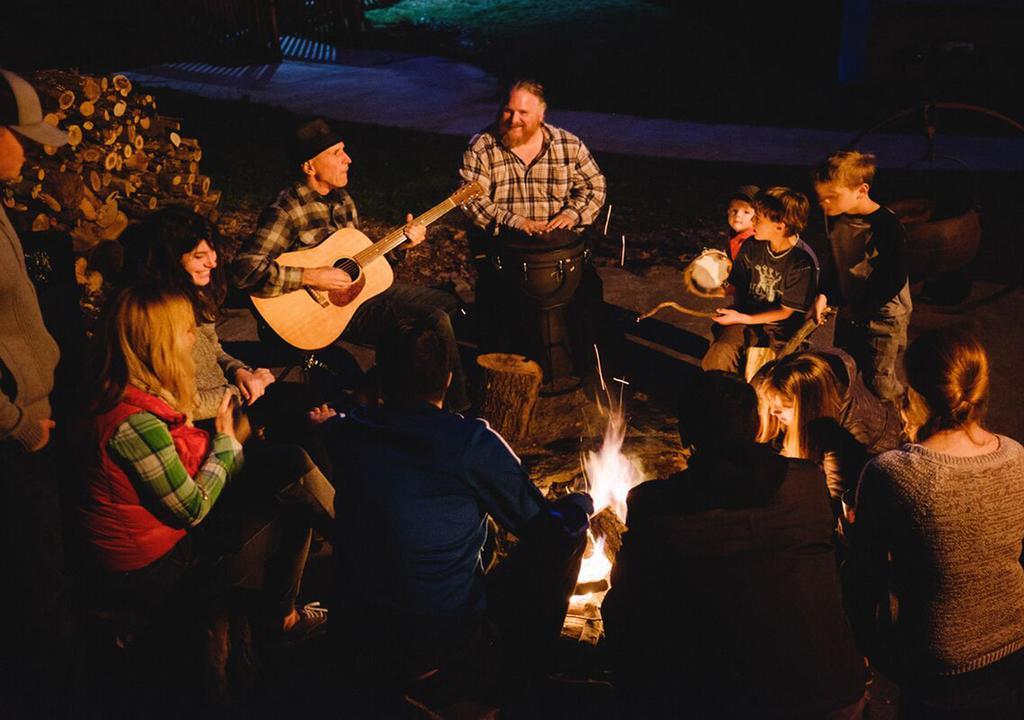 The best hostel in Yosemite, this charming resort is a short drive from the National Park. It's a great place to meet adventurous people and relax after a long day of exploring. Located on a forested hillside, the resort has a great kitchen, a restaurant, and even a health spa!
CHECK FOR BEST PRICE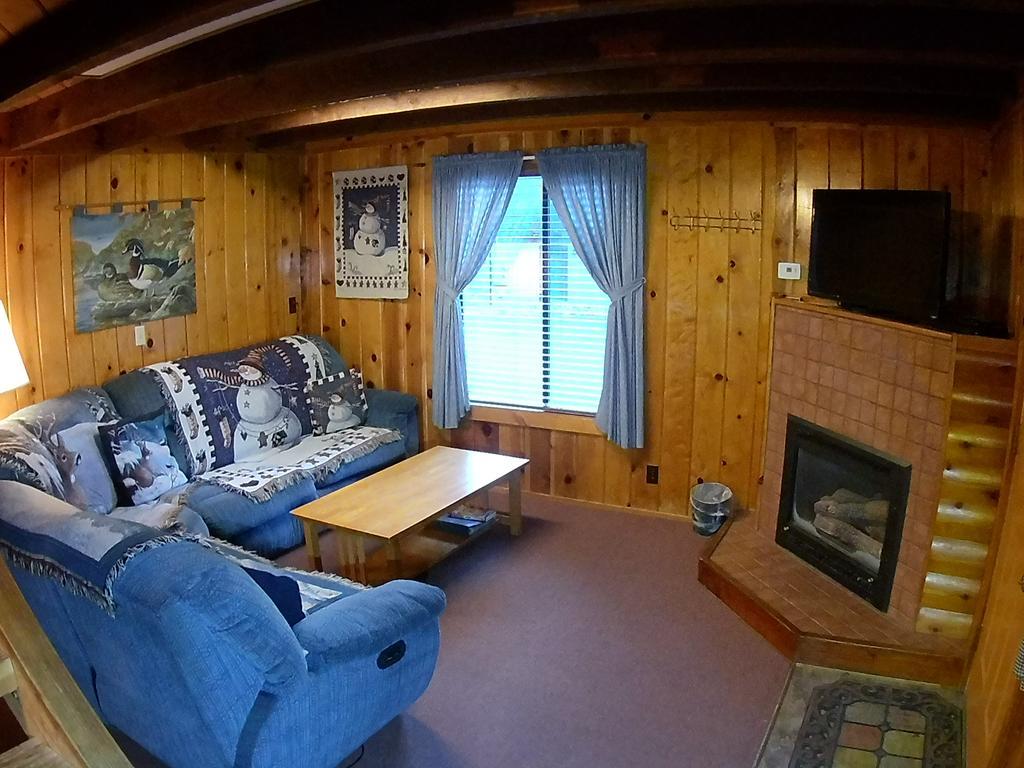 Book a cottage at this family-friendly lodge! It's a fantastic budget option, with fully equipped kitchens in each cottage, a patio with barbeque facilities, and gas fireplaces. It's a 25-minute drive from the national park, with hiking trails and the Mercer river a short walk away! It's the Best place to stay in Yosemite.
Check on Booking.com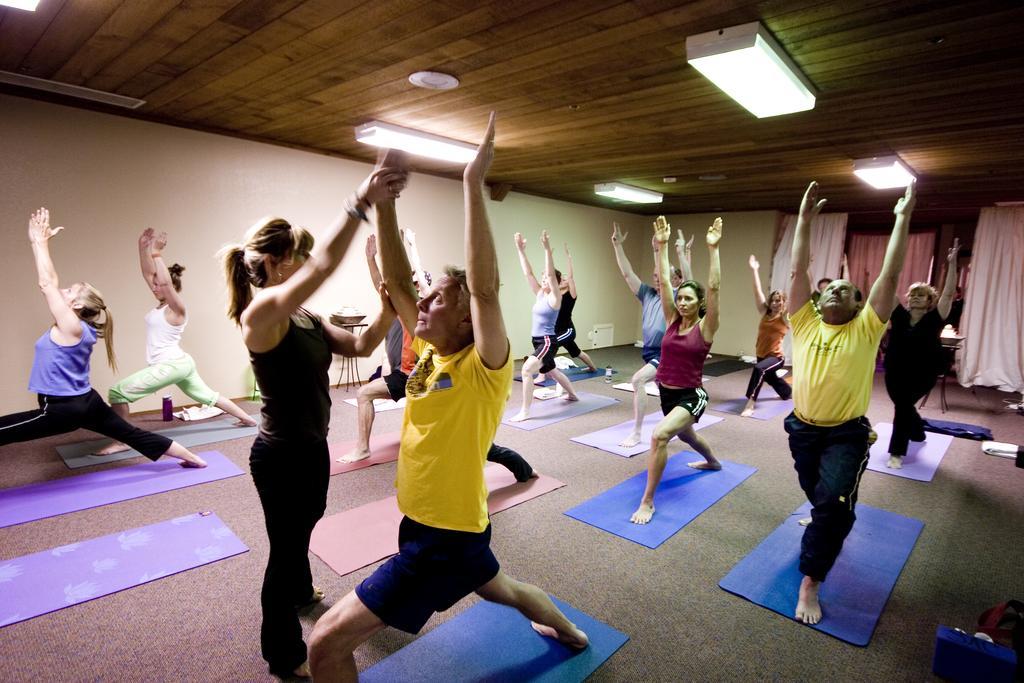 Best Luxury Hotel in Yosemite –  Snowcreek Resort
For a luxurious vacation in Yosemite, stay at Snowcreek Resort! The units are all gorgeous and comfortable, with everything you need, including a balcony with picturesque views. The Snowcreek Athletic Club features swimming pools, a gym, and a steam room! For a romantic stay or getaway, it's the perfect accommodation.
Yosemite Itinerary
Our itinerary for Yosemite includes all the best of where to go, and what to do, when you travel to Yosemite! Explore the National Park and the famous valley, and enjoy a perfectly rounded 3 days in Yosemite. 
The best way to get around Yosemite is by car. You may need to rent a car to do the trip, but it is often worth it to have full freedom in your Yosemite itinerary. With only three/two days in Yosemite, you won't waste any time waiting for a bus, and you won't have to rush to catch one!  A car will enable you to get around Yosemite and then take a California road trip afterwards!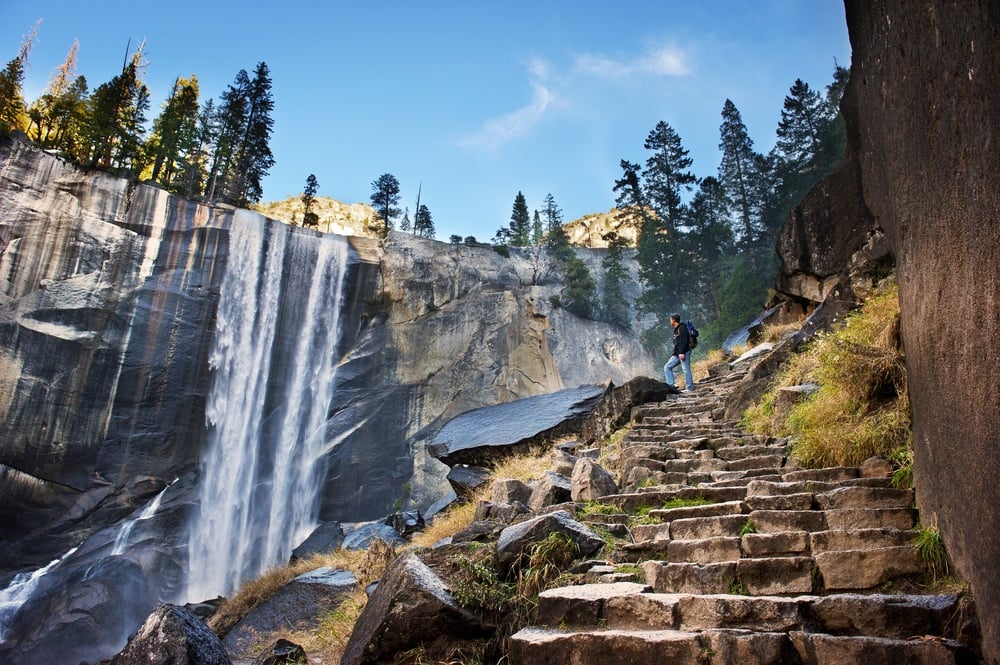 Still, Yosemite does have its own public transport. A shuttle system runs through the park and stops at most Yosemite points of interest. You can also find a bus from most major cities nearby so that you don't have to rent a car to get here. If you are happy to stick to the "main parts" of the park then the bus is as good an option as any.
The Yosemite Valley Shuttle operates throughout the year, from 7 am to 10 pm. This is a valuable service! While it may take longer than by car, you'll get everywhere you need to be. If you're backpacking in California and don't have a car, you won't be left behind! 
Note that you can get to Yosemite on the YARTS bus from Merced train station. Merced is quite a sorry town and caution is advised.
Day 1 Itinerary in Yosemite
Hike into the park | Yosemite Falls | Half Dome | Climb El Capitan | Relax at Ascent Spa
On your first day of a 2-day itinerary in Yosemite, you'll see some of the park's best attractions, and enjoy a few adventure activities! We've picked stops that can be curated to all types of travelers and fitness levels. 
If you only have one day in Yosemite, stick to day 1 on our Yosemite itinerary!
Day 1 / Stop 1 – Hike into The Park
Why it's awesome:

It's your first introduction to the incredible Yosemite National Park!

Cost:

$15

Food nearby:

Stop in Yosemite Village and enjoy typical American fare at Degnan's Kitchen!
Yosemite is massive and some of California's best hikes are inside its boundaries! It has over a hundred lakes, immensely tall waterfalls and trees, and a landmass that surpasses numerous European countries. A Yosemite walking tour would take weeks!
However, you can stroll into the park from one of the five entrances, and get a good feel for the place. This is often better than just driving in! There's so much to see and be amazed by, you want to give yourself some time to enjoy it all.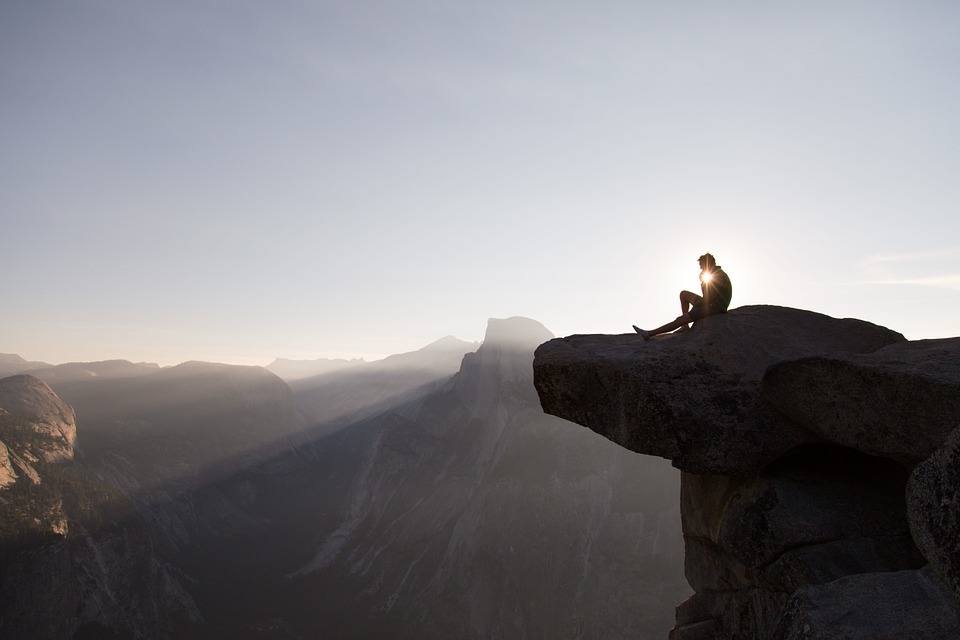 We suggest you come through the Arch Rock Entrance! This route is a stop of its own, and you'll want to get a photo or two with the radically impressive rock you pass under! This is also the fastest route from San Francisco, making it ideal for that great Californian road trip.
Insider Tip: If you choose to come by car, you'll pay $35 – this is pricier, but if you're a group of 3 or more, it will end up much cheaper!
Day 1 / Stop 2 – Yosemite Falls
Why it's awesome:

One of the biggest falls in the world, it's a sight to see!

Cost:

Free with entrance

Food nearby:

Get some burgers and shakes at Village Grill Deck
The highest waterfall in the park, and one of the highest in North America, Yosemite Falls is a top Yosemite attraction! It's a steep but short hike to get there, and you're well rewarded.
The waterfall has three separate cascades. In spring these will be massive with snow runoff, making it the best season to see it! It's a short walk from the little Yosemite Village where you can buy any necessary supplies for your Yosemite vacation.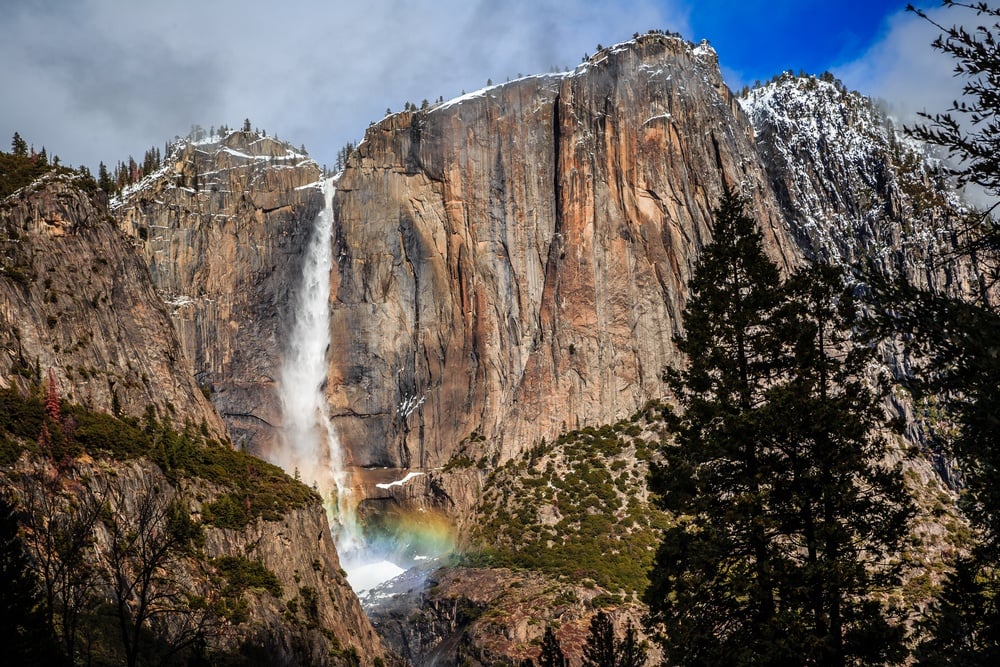 If you want to hike up to the top of the falls it will take you 8 hours! With only a 3 day itinerary in Yosemite, it's best to hike to one viewpoint and move on to the next Yosemite point of interest.
Insider Tip: Springtime is the best time to visit this natural wonder, as the river swells and the falls are massive! By August it may only be a trickle.
Day 1 / Stop 3 – Half Dome
Why it's awesome:

Very impressive granite structure, surrounded by beauty

Cost:

Free with entrance

Food nearby:

Have lunch at Pizza Patio in Yosemite Village, a short drive or bus trip from Half Dome
This granite cliff is smooth and round on three sides, and looks like it was cut in half! You can see it from miles away, but we recommend you hike to the east side of Yosemite National Park and get a good look at it!
The base of Half Dome is the perfect place to enjoy a midday picnic. With the spray of the waterfall on the breeze and greenery all around, it's a wonder.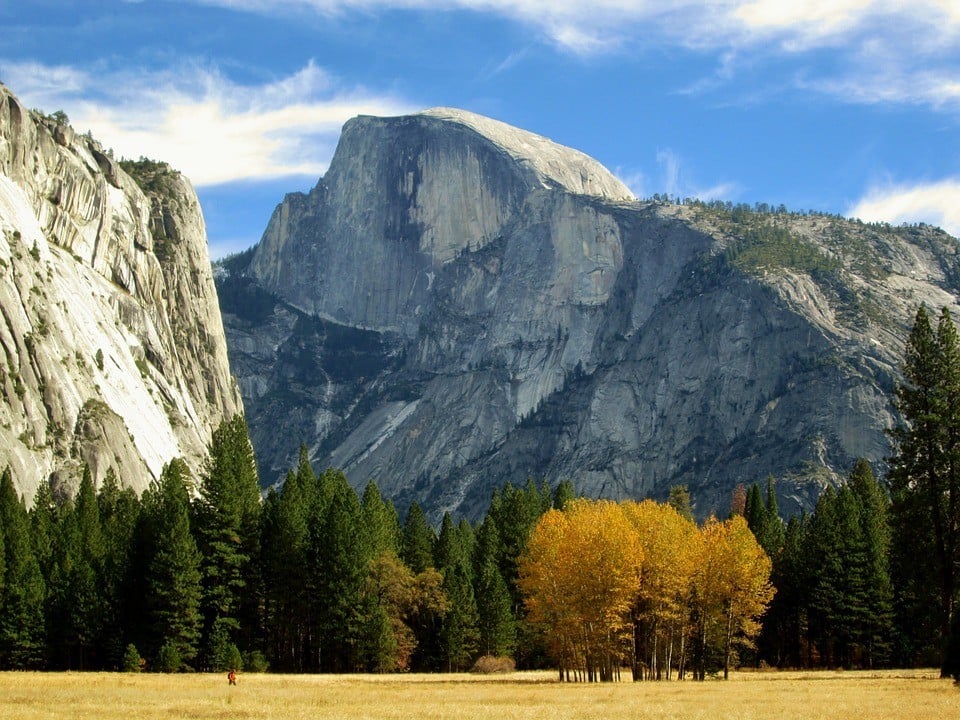 The best hike in Yosemite is the hike all the way to Half Dome's summit. You have incredible views over the valley, and the hike itself includes some very interesting areas! 
However, it's a very strenuous hike and will take up to a day to complete. You also need a special permit to complete the hike. So once again, with so much ground to cover in just a few days in Yosemite, we suggest you only hike up to the mountain!
The Best Travel Backpack?!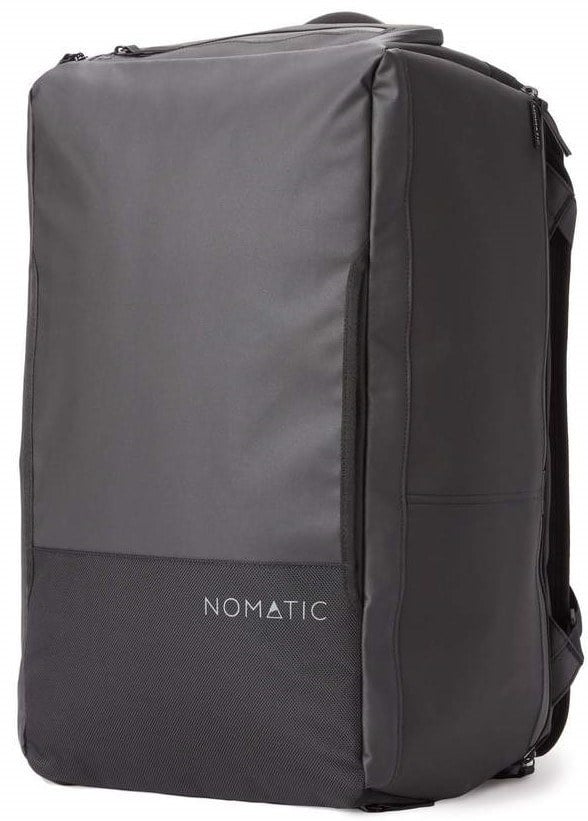 Pssssst! Not picked the perfect travel backpack yet? The Broke Backpacker team has tried out over thirty backpacks this year! Our favourite carry on backpack is the Nomatic Travel Bag.
Read our full review!
Day 1 / Stop 4 – Climb El Capitan
Why it's awesome:

It's one America's best climbing destinations!

Cost:

$175 for a lesson, under $100 for gear rentals

Food nearby:

Get some energy bars, snacks and water at the Village Store in Yosemite Village to enjoy on the mountain
One of the most famous and most popular mountains for climbing in the world! El Capitan is an incredible stop in Yosemite! Whether you're a seasoned climber or a total newbie, it's worthwhile. 
El Capitan, fondly known as El Cap, was made famous by the current world's best climber, Alex Honnold! He climbed the monolith with no ropes – something you certainly should not try to repeat yourself!
You can find a guide and a few great climbs set up for beginners. They have harnesses and helmets at the ready so that you can enjoy an easy climb with spectacular views! The guides also help you so that you know what you're doing, making it a great activity for both adults and kids.
If you already know how to climb and belay, and perhaps even how to lead climb, things get a bit more exciting! You can get a booklet on all the climbing routes on El Cap, and set out to find some of your favorites. 
You can never climb alone, so be sure to bring a trusted belay partner, as well as all the required gear. Yosemite National Park has equipment available, but it can get pretty pricey. 
There are, fortunately, no extra fees or permits required to climb here! Once you've paid the park's entrance fee, you can climb wherever you want!
Day 1 / Stop 5 – Relax at Ascent Spa
Why it's awesome:

It's the perfect way to rejuvenate after a long day of adventure

Cost:

Prices range from $60 to $175 USD

Food nearby:

Indulge in a dinner at one of the Tenaya Lodge restaurants, where Ascent Spa is also located
The perfect way to relax after such a full day of exploring and adventuring! The Spa has beautiful views from many of its rooms. Watch the sunset over Yosemite as you get a massage.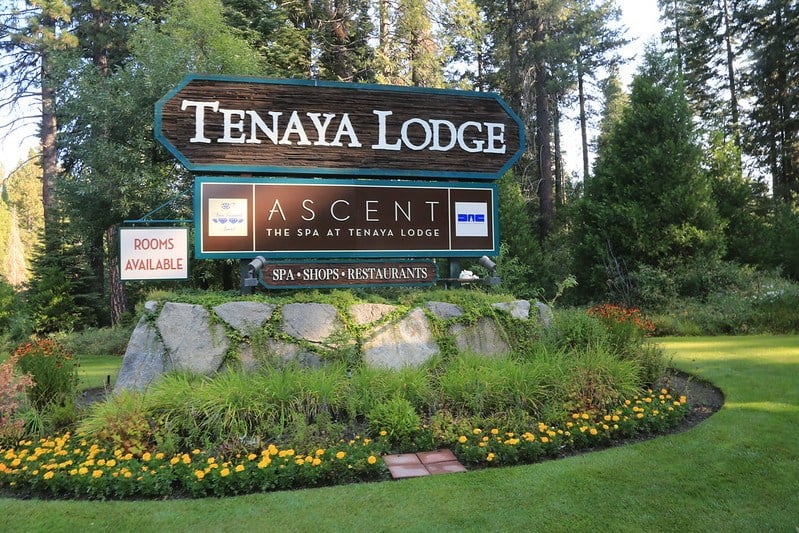 The Spa caters to hikers who have spent all day carrying packs, so they know just how to get out all those aches and pains. They even have a 60-minute massage called Hiker's Trek! 
You can have a neck and scalp massage to work on those knots. Or try something different and get a hot stone massage or Quartz aromatherapy! You'll stroll out of here feeling strong and capable of anything, ready to day 2 of your 3-day itinerary in Yosemite!
In a rush? This is our favorite hostel in Yosemite!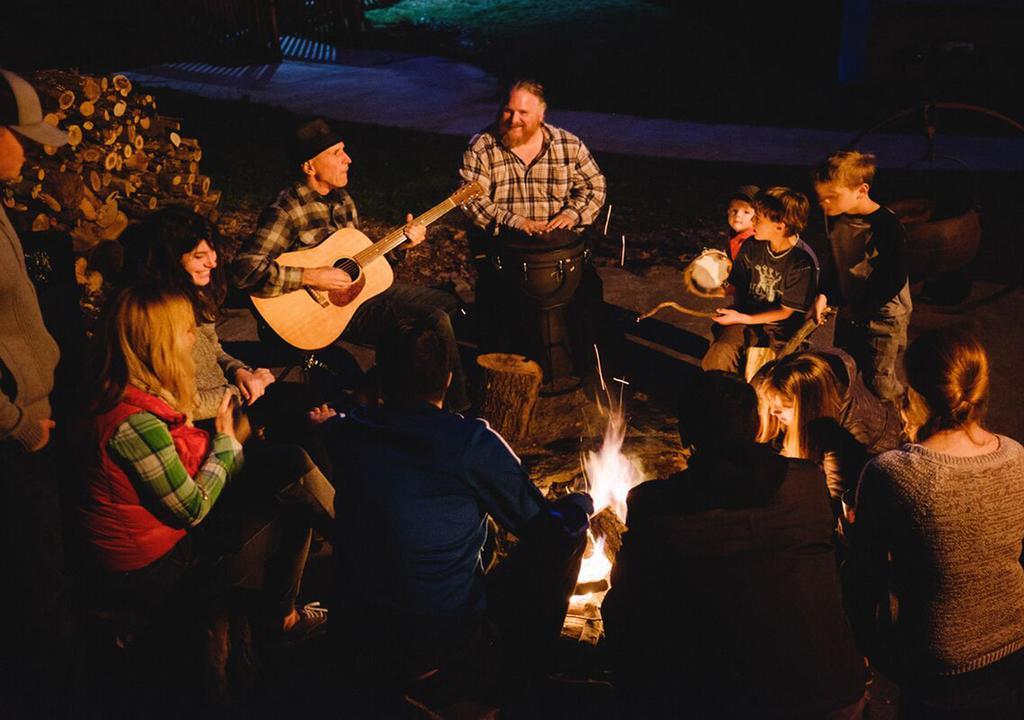 Yosemite Bug Rustic Mountain Resort
The best hostel in Yosemite, this charming resort is a short drive from the National Park. It's a great place to meet adventurous people and relax after a long day of exploring.
Day 2 itinerary in Yosemite
Yosemite Tunnel View | River rafting | Wine tasting | Ansel Adams Gallery | Yosemite Museum | Sunset & Stargazing at Glacier Point Overlook  
On day 2 of your Yosemite trip itinerary, you'll enjoy a day even more packed with Yosemite landmarks and fun activities. You'll spend the first half of the day with your heart beating fast, while the second half is dedicated to calm enjoyment!
Day 2 / Stop 1 – Yosemite Tunnel View
Why it's awesome:

It's Yosemite's most famous vista for a very good reason!

Cost:

Free with entrance

Food nearby:

Start the day with breakfast at your hostel/hotel before setting off to Tunnel View – there are no dining options nearby
This is Yosemite's most iconic vista! From this viewpoint, you'll enjoy a panorama of Yosemite's most famous attractions. Look out at Yosemite Valley, with waterfalls cascading and monoliths framing the scene.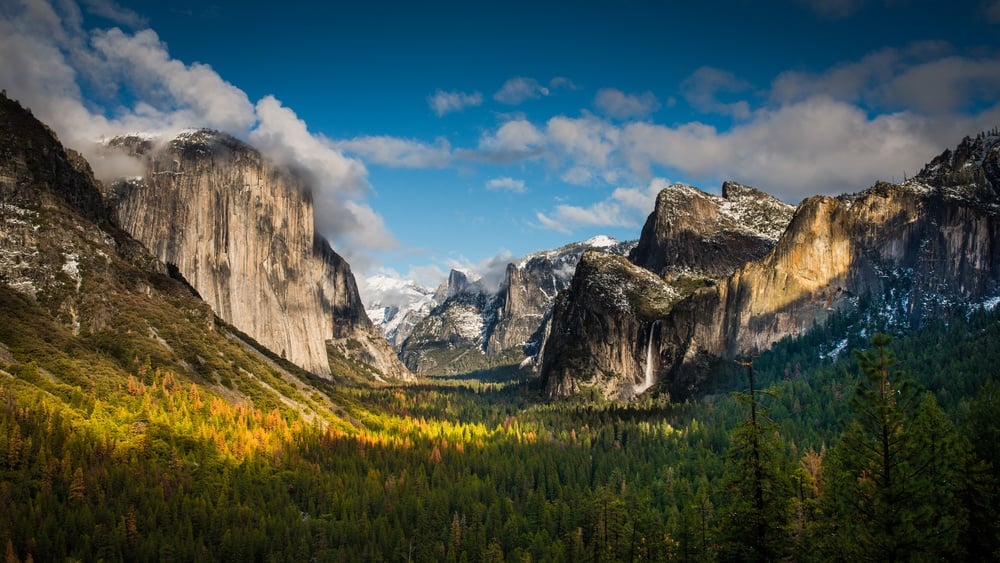 The whole view looks magical – you won't believe you're on the same planet, so untouched an idyllic is the scene. 
Since this is your first stop, we suggest you wake up early and get here as soon as you can! You'll have the view all to yourself, and you can spend some time exploring the area. It's so beautiful, you won't want to leave!
Day 2 / Stop 2 – River Rafting
Why it's awesome:

The perfect way to spend the afternoon is on the river!

Cost:

$92 – $117 USD depending on age, solo or group, and season

Food nearby:

Find something tasty at the Zephyr kitchen
When touring Yosemite one of the most fun activities is a little white river rafting! Yosemite is so full of rivers and rapids, it's the perfect place for it.
You can find Zephyr Whitewater just outside of the National Park, and embark on a half-day trip from there! Watch the gorgeous Yosemite landscape pass you by as you navigate the rapids with your guide leading.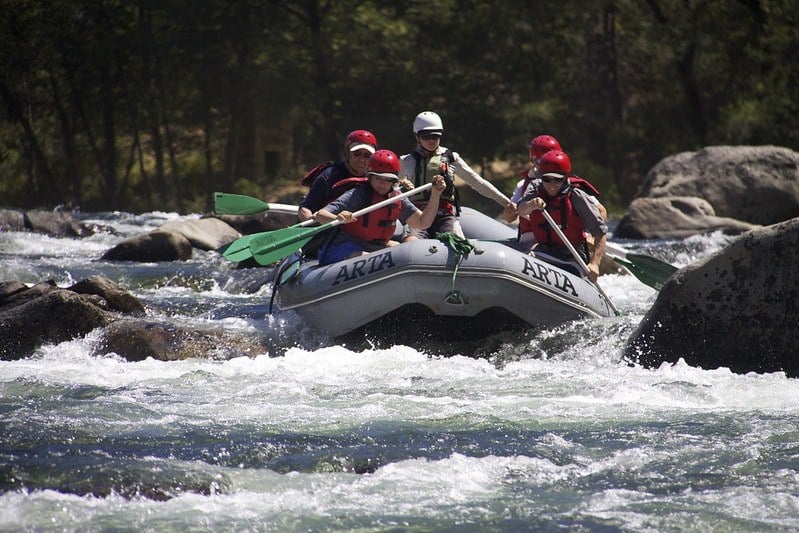 Alternatively (if you'd prefer not to wake up early enough to fit a half-day tour into your Yosemite itinerary), you can rent inflatable rafts! Float along the Merced River on a blissful trip downstream.
Insider Tip: The river's size and intensity changes throughout the year due to rain and ice – the best time to float calmly down is in summer when the river is weaker! But the best time to tackle the rapids is in spring.
Day 2 / Stop 3 – Wine Tasting
Why it's awesome:

The perfect opportunity to relax and taste some of the Yosemite pickings

Cost:

Free

Food nearby:

Order a charcuterie board or a meal with your tasting
While you're on the outskirts of Yosemite National Park, take a trip to one of the fantastic nearby wine farms! You'll be able to taste a number of wines, and if you like them, take a few bottles home with you to remember this exquisite place by!
Most of the wine farms are open to tastings by booking, or over the weekend – some, however, are closed in winter. We suggest you visit Yosemite Cellars if you're spending a weekend in Yosemite. The location is fantastic, and their tastings of four to five wines are complimentary!
Day 2 / Stop 4 – Ansel Adams Gallery
Why it's awesome:

These Yosemite photographs are iconic and incredible

Cost:

Free entrance

Food nearby:

Get a sandwich or tasty breakfast fare at the over-the-counter deli Degnan's Kitchen
While you're in Yosemite Valley, be sure to stop at the Ansel Adams Gallery! This charming little gallery sells and showcases photography by the celebrated landscape artist. His work is so beautiful and perfectly reflects the surrounding landscape.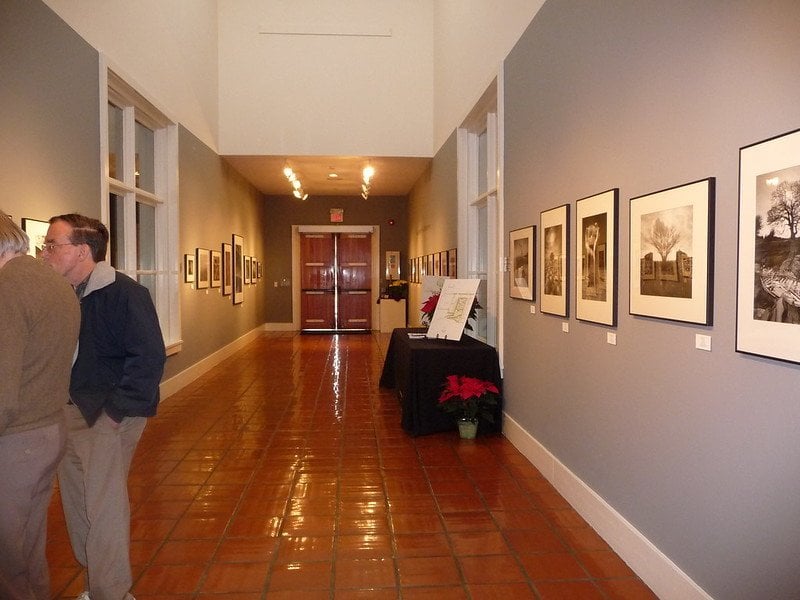 Many can't think of Yosemite without thinking of Ansel Adams – the 20th-century black-and-white photographs are iconic.
You may want to bring some of his work back home to remember Yosemite by (prints are available), but you can also just enjoy some window shopping, and appreciate the artistry!
Day 2 / Stop 5 – Yosemite Museum
Why it's awesome:

You can learn about the beautiful park's rich history

Cost:

Free

Food nearby:

Find some pizza with a view at The Loft at Degnan's
This fantastic little museum focuses on the history of the people who once lived in Yosemite Valley – the Ahwahnechee people! 
Here you'll learn about the valley's human history – including the culture of the indigenous people, and the valley's 'discovery' by European explorers. You'll also find gorgeous landscape paintings of the area!
Exhibits include a really impressive Native basket display and examples of authentic structures found in Native American villages like the one historically situated here. 
This is a fantastic opportunity to learn a bit more about the incredible place surrounding you, and dive deeper into its native history. It's also a chance to head inside and stroll about after a long day of adventure!
Day 2 / Stop 6 – Sunset and Stargazing at Glacier Point Overlook
Why it's awesome:

Watch the sunset from Yosemite's top vista point

Cost:

Free

Food nearby:

Pack a picnic to enjoy at the overlook – it's the perfect place to have a picnic! Alternatively, you can find something tasty at the gift shop.
The best way to end off a perfect day is certainly watching the sunset from this picturesque location! Be sure to get here before the sun is actually setting, so that you can enjoy the scenery all three ways – in the light, as the sun sets, and under a blanket of stars.
The sky here is so clear that you can perfectly see the Milky Way. You'll also have a perfect panorama of the park, making the sunset one of the best you'll ever see! Especially if there are a few clouds dotting the sky. 
You can simply drive up to Glacier Point Overlook, making it an easy trip. You won't have to walk a far distance in the dark! There may be a few people sharing the view with you, but there certainly won't be the kind of crowd you'll find in the middle of the day.
Watching the various waterfalls grow golden in the sunset, and Half Dome glowing pink, is a once-in-a-lifetime kind of view. Don't miss it!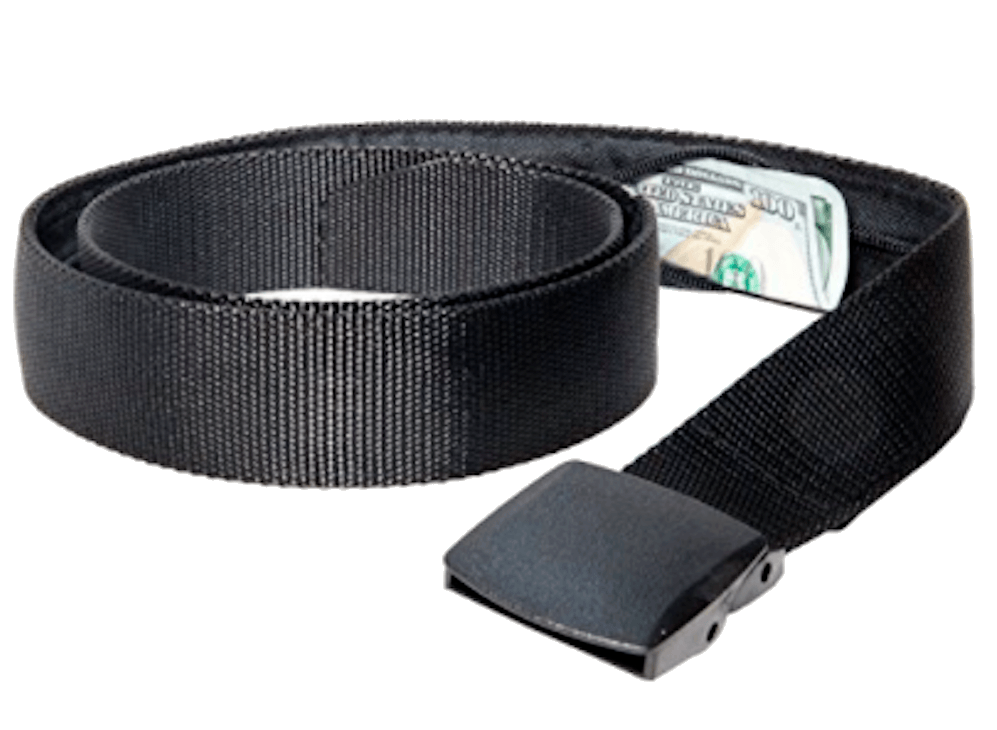 You should always have emergency cash hidden on you - pick up this awesome security belt with its hidden pocket before you travel, it's perfect for hiding money, a passport photocopy.
Day 3 and Beyond
Gold Panning in Mariposa | Bridal Veil Falls | Mist Trail | Mariposa Grove of Giant Sequoias | Sentinel Dome
If you're lucky enough to have more time in Yosemite, there's still so much to do! Both in Yosemite National Park and beyond it. Strap on your hiking boots and pack in that camera!
Go Gold Panning in Mariposa
Relive some of America's most interesting history, and pan for gold in California's rivers

While most of it's long gone, you may find actual gold!

It's a fun, family-friendly activity a short drive from Yosemite
Wondering what to do in Yosemite without hiking? Gold panning is the perfect alternative, keeping you out in the sunshine!
For decades people have been obsessed with finding gold in the Merced riverbed! Once there was so much to be found, and the gold rush fueled the American economy. Feel the excitement of that Gold Fever on this fun activity!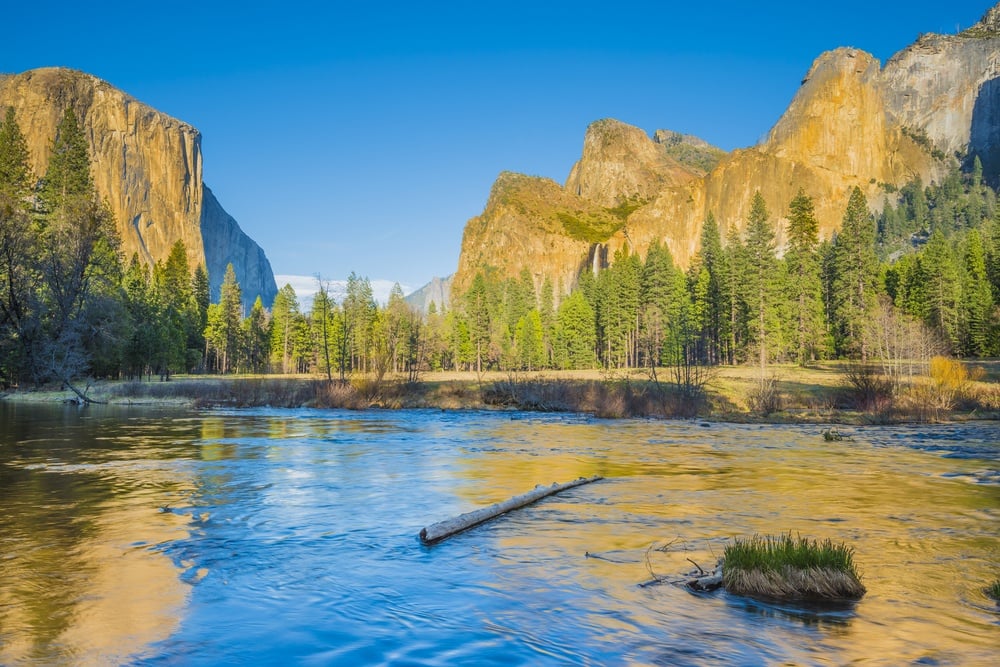 While you can't pan for gold in Yosemite itself, there are a number of places in Mariposa where you can give it a go! Maybe you'll 'strike it rich' and find that bright golden nugget that has influenced society for millennia!
It's called 'prospecting', and it's a great activity for solo travelers, couples and families. You'll have all the equipment provided for you in a lesson. They will also show you how to read the land for signs of gold in this historically gold-rich area! 
Join a 1-hour panning lesson for $50 USD, or set out on a 2-hour excursion for $75 USD. It's all child-friendly and lots of fun.
Or, of course, you can simply wade through the Mercer river and keep an eye out on shiny things while the rest of your crew laze on lilos in the river! It may not be as legit, but it sure sounds great!
Bridal Veil Falls
Get close to Yosemite's second-biggest fall and feel the mist on your skin

See where it got its name from when the wind blows the mist sideways

Only a short walk from a parking area
Bridal Veil Falls is another important stop on your Yosemite itinerary! One of the park's most accessible stops, this is a perfect place to visit with anyone with physical constraints or handicaps.
You can enjoy the views with a picnic lunch, or stroll around the area for an hour or two and take in the incredible nature. You will definitely get wet if you're standing anywhere near the falls! If the sun is shining, you'll even see a bright rainbow lending the scene a little extra magic.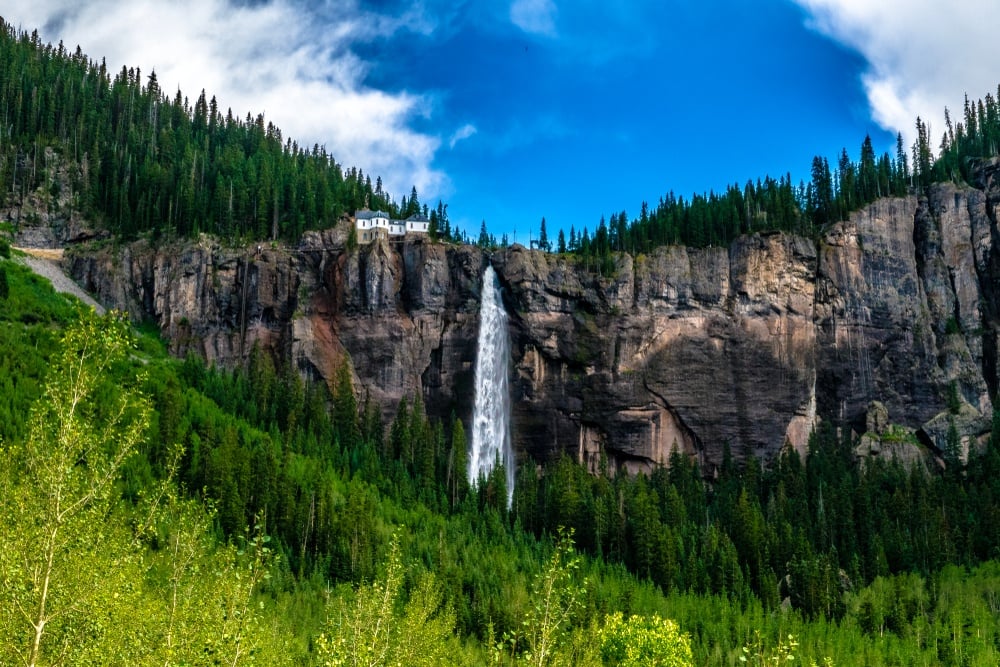 When the wind blows, this fall truly does look like the veil of a bride. This makes it a perfect place to stop and get some pictures, especially for those traveling here on their honeymoon! In fact, this whole Yosemite itinerary can be extremely romantic if you're traveling in pairs.
The walk to Bridal Veil is short and easy, but if you want to get close to the water you'll have to clamber over some rocks. If you do, be careful – the rocks can get slippery when wet! It's also best to make the trip early, or in the late afternoon. Due to its accessibility, it can get relatively crowded!
Hike the Mist Trail
One of the most popular and most beautiful hikes in Yosemite

Hike along the Merced river with a blanket of mist keeping you cool

It's a short hike, and you can choose to stop at the first pool or the second
With more than a 2-day itinerary in Yosemite, a hike along the Mist Trail is a must! This short hike got its name from the frequently present layer of mist that stretches along it, as it nears the banks of Vernal Falls.
The trail winds its way between the tumultuous river and the granite monoliths beside it. You'll pass boulders the size of a house, and see so much natural beauty! You may even see the incredibly rare complete circular rainbow!
You can choose to continue your hike past Vernal Falls and onto the twice as tall Nevada Falls.  Brilliant views can be found all along the hike, so if you can continue, we suggest you do!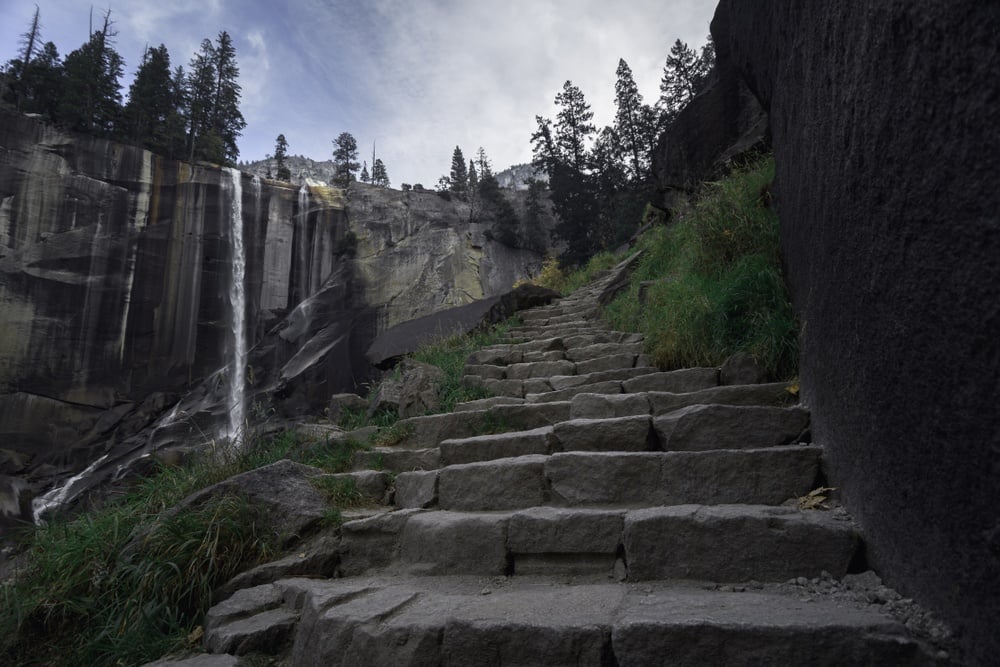 The hike is rather strenuous and steep, so if you have zero fitness or strength, you may have to omit it from your Yosemite itinerary (3 days). However, it is only 3 – 7 miles long and can be tackled at your own pace. Bring along a picnic to enjoy at the top while you're sunning yourself dry! 
You can make the Mist Trail just the start of your adventure and continue onto Half Dome or the John Muir Trail. Just keep in mind that a permit is required for overnighting on the trail, and another one for hiking up Half Dome!
Mariposa Grove of Giant Sequoias
Visit the largest trees in the world

After a 3-year long restoration project, you can now see the trees in their habitat

There are numerous hiking trails through the trees if you want to go further
Visit the home of the most incredibly massive trees in the world! You'll see the famous tunnel tree, which you can stand under for a great picture. Hug one of these historic gems, and hike among them for hours.
The grove has only recently reopened to the public, after a restoration project that made it so much better! Trails have been raised and asphalt paving removed to allow the trees' roots to breathe. The parking lot and infrastructure has also been moved to beyond the grove so that you can enjoy peace and quiet on your trip!
The Grove has a free shuttle that will pick you up at the parking lot, located below the grove to protect habitat. It comes every 10 minutes from 8 am to 5/8 pm, depending on the season. The main trail is wheelchair accessible, so that everyone can appreciate the beauty of these trees and their marshy habitat!
Be sure to stop at the Grizzly Giant – this ancient sequoia is estimated to be 2 700 years old! It's been pushing on through much of human civilization and continues to grow today.
Sequoia Grove is an amazing place to connect with nature and spend some time appreciating life and human tinyness! Pack some snacks, and spend as long as you'd like exploring beyond the usual trails.
Sentinel Dome
Enjoy incredible views over the Yosemite landscape from the top 

The hike is only 2.2 miles and 1-2 hours long

The hike is steep and rocky, but really fun, culminating in 360 views
No Yosemite itinerary is complete without our last stop, Sentinel Dome! The rocky monolith provides for an interesting hike, high above sea level. You may even feel the effects of the elevation!
It's not a difficult hike. Only the final stretch up the granite dome is steep, but it's short and sweet! The rest of the hike is relatively mild. You can only reach Sentinel Dome when the Glacier Point Road is open, so watch the weather!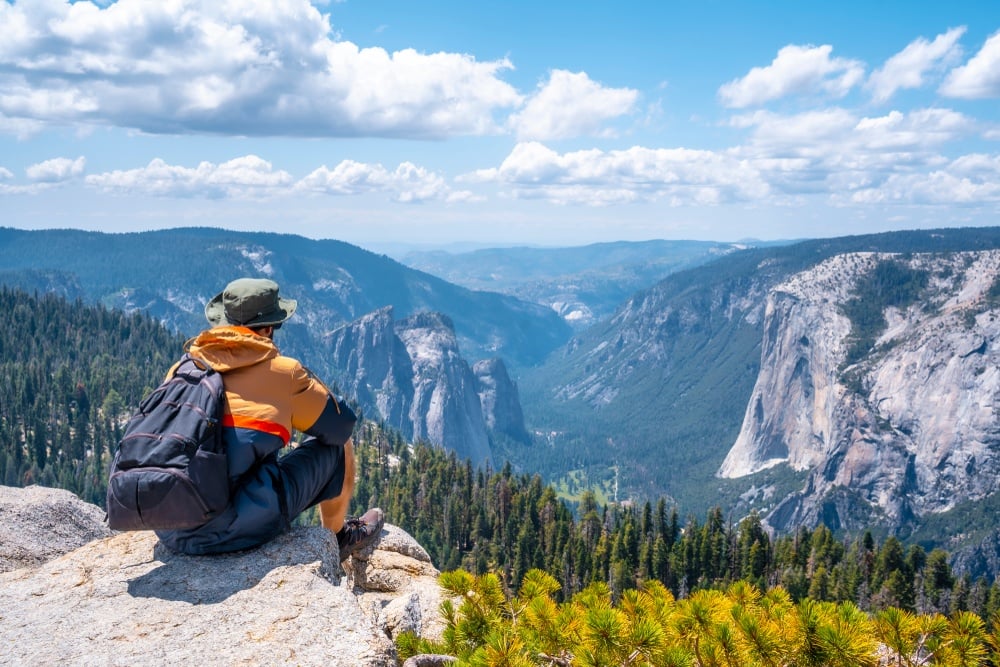 This hike is Yosemite's easiest way to enjoy views of those vast undulating mountains everywhere you turn. This makes it so worthwhile! As long as you can hike, you should. Depending on the time of year you're traveling, there may be a bit of a crowd. But it never gets too busy!
From the top of Sentinel, you should be able to see almost all of the stops on your Yosemite itinerary! It's the perfect place to end off your Yosemite trip. 
Be sure to bring a camera! You do not want to miss out on taking a few shots of these views. Not to mention yourself, with this epic backdrop! It's really one of the best places to visit in Yosemite.
Don't forget to pack a good book!
Yosemite: The Complete Guide: Yosemite National Park : This is our top recommendation for an awesome and inspiring read on this magical city.
Staying Safe in Yosemite
There are few safety concerns in Yosemite National Park! As long as you pack strong walking shoes, water, and sunscreen, you'll easily make it through your Yosemite itinerary.  If you are camping outside of summer, then I highly recomened a good quality sleeping bag as thge nights get painfully cold.
Wild animals are skittish and do not disturb the humans passing through their habitat!
There are a few safety tips to take into account so that you can ensure a safe and happy vacation in Yosemite! The most important tip is not to leave any food in your car. This can attract animals while you are away, and this is bad, both for you, and for the animals!
You may spot a black bear, but consider this an incredible privilege rather than a safety concern. The bears are not dangerous – keep your distance and respect their habitat. If one approaches you, scare them away by raising your arms and making loud noises. And keep in mind, no one has been killed by a black bear in Yosemite!
Drive slowly and safely in the park, to avoid skidding in bad weather conditions, and to ensure that you don't hit an animal. Keep a first-aid kit on you, because it's always good to come prepared!
Don't forget to sort your travel insurance! We've put together a roundup of the best travel insurance for backpackers, or if you're low on time, get a quote from World Nomads now, our favourite travel insurance provider.
Getting an estimate from World Nomads is simple – just click the button or image below, fill out the necessary info, and you're on your way!

Day Trips From Yosemite
If you have a longer trip planned for California, be sure to embark on one or two-day trips from Yosemite! There's so much to see in the area.
Alcatraz & Bay Voyager Adventure Cruise
Head out to San Francisco to enjoy this tour! The road trip should take you the morning, so if you want to explore the city, be sure to leave early. 
This adventure tour takes you to the infamous prison of Alcatraz, where you can explore and enjoy a self-guided tour. You'll then take a cruise through San Francisco Bay, and see all the sights! Pass the Golden Gate Bridge from the perfect vantage point, and spot sea lions up close. 
This tour is ideal for family and friend groups. We suggest you combine it with the next San Francisco tour and spend 2 days in the city to make the most of your trip!
San Francisco, Sausalito and Muir Woods Small Group Tour
The perfect tour for those interested in history, culture and nature! Particularly older travelers who would like a little break from all the action. Sit back and relax! Explore the awe-inspiring Muir Woods and the national monument there. Enjoy lunch in Sausalito, a beautiful waterfront town!
On the tour, you'll learn all about the area's history and culture from your enthusiastic and informative guide. See the home of the hippie movement, and stop at a number of attractions and vistas for photo opportunities!
The tour includes snacks and bottled water, but not lunch – choose between a number of lovely restaurants, or bring a picnic!
Lake Tahoe: Half-Day Photographic Scenic Tour
If you have a car, this is one of the best day tours from Yosemite! The famously beautiful lake is incredible. This tour will take you to all the best photogenic spots. Hidden gems and iconic scenes are in store!
Whether you're looking for the perfect photo or natural scenes that will blow your mind, this is a great day tour! See glaciers, waterfalls, stretching vistas and perhaps a bear. 
Your guide will take plenty of photos of you too, which makes it ideal for couples, families and influencers. Park passes are included in the tour, and you'll learn all about Tahoe's history! For a spot as gorgeous as this, it is well worth bringing a good travel camera.
7-Day Golden Experience Tour
The perfect multi-day tour that will tick off all your bucket list items in California! This week-long tour takes you to San Francisco, Las Vegas, the Grand Canyon, and Zion Park, among other stops!
The tour includes entrance to all the stops, hotel accommodation for 6 nights, and breakfast daily! You'll tour with a professional guide, seeing all the best of California.
This tour is ideal for fun groups, solo travelers and couples who want to explore the state with a larger group. You'll get to know some great people while getting to know all these incredible sites and their history!
From San Francisco: Full-Day Sonoma Valley Wine Tour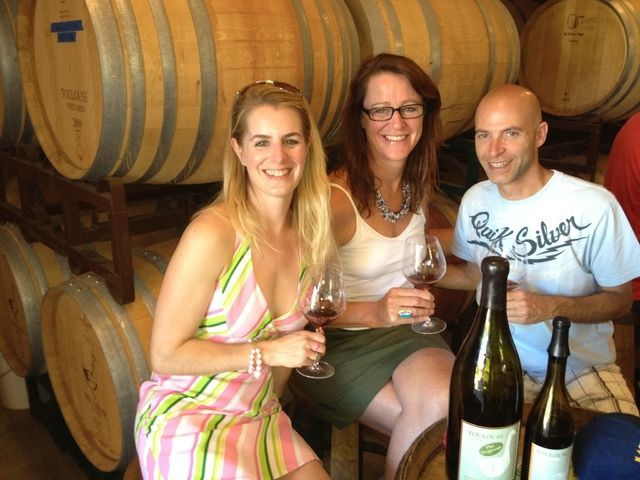 Another fantastic day tour in the area is the Sonoma Valley wine tour from San Francisco! It's a full-day tour with stops at 3 different wineries! 
Enjoy a chocolate and cheese-tasting session with your wines (what better way to enjoy them), before having a picnic lunch surrounded by beauty! 
You'll taste some of the best wines in America, and learn how they're made. Each of the three wineries has a tasting of 5-6 wines, so expect to be a little day drunk by midday! A delightful picnic is included, and even suntan lotion is complimentary!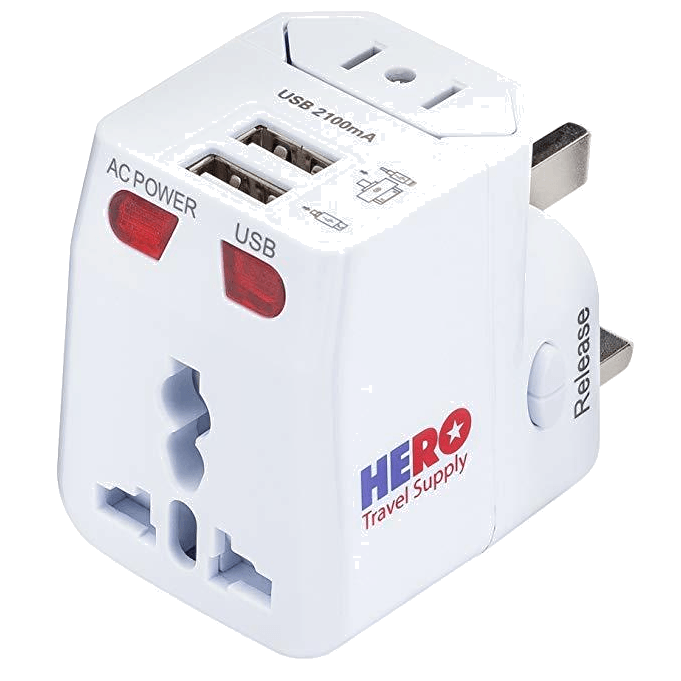 One of the best investments you can make is a
worldwide travel adapter
that will work anywhere! The one featured here is tough, reliable and a solid buy - Don't leave home without one.
GET IT HERE
Conclusion
There is so much life and beauty here, a weekend in Yosemite is hardly enough time. Nonetheless, with this Yosemite itinerary you'll fit in all the best it has to offer!
This itinerary for Yosemite includes hikes, climbing, river rafting and star gazing – everything you need for the perfect solo trip, active romantic getaway, or family weekend. As long as you enjoy getting a little active! But it's not all high-intensity fun. Massages and sightseeing will break up your activity lineup perfectly. 
If you have more time to spend, extend some of the stops – like Yosemite Falls and Half Dome – into half-day hikes! The views only get better, and it'll certainly be a trek to remember.  
Now all that's left to do is plan your trip to Yosemite! Incorporate it into a tour of California, or a great American road trip.
Yay for transparency! Some of the links in this post are affiliate links. This means that if you book your accommodation through the site, The Broke Backpacker will earn a small commission at no extra cost to you. Your support helps me keep the site going.
---
Need More Inspiration?
Like this post? PIN ME!!!