Between the Sierra Nevada mountains, rugged coastline, desolate deserts, ancient forests, and everything in between, you are (too) spoilt for choices when it comes to hiking in California.
I have narrowed my long, long list of the top hikes in California down to 13 of the very best.
Home to thousands and thousands of miles of pristine hiking trails throughout backcountry and wilderness areas, and national and state parks, I had a tough time narrowing down this list. I mean, even narrowing down the best hikes in Yosemite into one list is no small feat.
But I understand that there are an overwhelming amount of options for hiking in California. As a native Californian and avid outdoorswoman, I can attest that sometimes the hardest part about planning a hiking trip is deciding where to go in the first place.
I put together a guide on the best hikes in California that includes various climates, landscapes, difficulty levels, and lengths. No matter what your hiking experience or fitness level is, you'll find the right hike on this list for you.
These hikes are undoubtedly California's crown jewels and hidden gems. Keep on reading for my list of the 13 best hikes in California.
Keep in mind that many of the best hikes in California are located in the elements, where rain and snow-storms, wind, cold, and heat can all be potential factors, sometimes all in one hike.
You don't want the weather to ruin a great trek, or worse, put your life in danger. To be prepared for the weather, elements, and potential mishaps, you must hike with high-quality backpacking equipment.
At the Broke Backpacker, we take outdoor supplies very seriously. We've spent hundreds of hours testing, reviewing, and abusing gear that we hike and travel with for years on end.
Below is a series of gear reviews that will put you in touch with everything you need for a fun, enjoyable, and successful hiking trek.
Don't be a rookie and bring a brand new pair of hiking boots or too big of socks that give you blisters, use your smartphone as a flashlight, or pack a summer tent for the rain. (I've done all of this and then some.) Invest in quality items and you'll find that the best hikes in California will only get better.
Also, keep in mind that much of the Sierra Mountains and northern areas of California are bear country! If you are hiking and camping overnight, you will need a bear canister! Most park offices and visitor centers will rent you a bear canister for free. Pick one up when you get your permit and talk to the experts to learn more about safety in the wild.
For more inspiration, check out our comprehensive Adventure Packing List!
1. John Muir Trail, Sierra Nevadas
Distance: 211 Miles
Days Required: 3-4 Weeks
When to go: July – September, depends on annual snowfall
Type: Point-to-point
When it comes to California thru hikes, one of the most popular, longest, and arguably most rewarding treks is the John Muir Trail (JMT). The JMT stretches 211 miles from Yosemite to Sequoia country and ends at the highest peak in the continental United States, Mount Whitney at 14,496 ft.
Ever heard of the Pacific Crest Trail (PCT) – the 2,650-mile thru-hike on the West Coast, made mainstream famous by Cheryl Strayed's book, Wild? Well, the John Muir Trail (JMT) is arguably one of the best sections of the PCT. For about 160 miles (260 km), the trail follows the same footpath as the PCT.
If you didn't catch on, the trail is named after the environmentalist/author/naturalist, John Muir, who fell in love with the Sierras and spent much of his life fighting to protect the wilderness among this mountain range.
For visitors traveling California state and wanting to get off the beaten path, this trail is the best way to explore both the most popular national parks AND the most under-the-radar wilderness areas simultaneously in the heart of the devastatingly beautiful Sierra Nevada mountains.
The trail starts in America's treasure, Yosemite National Park at the Northern Terminus Happy Isles and continues through the Ansel Adams Wilderness, Sequoia National Park, King's Canyon National Park until you reach Mt. Whitney, a tough climb and endeavor in itself.
I have yet to hike the entire thing personally – only sections – but the full hike is high on my bucket list. Most hikers finish the JMT in three to four weeks, starting sometime in July or August, depending on the snowfall.
You can easily tackle one or more sections if you are short on time, or simply don't want to plan such a logistically heavy hike.
The JMT requires serious planning because resupply points are few and far between and large sections of this trail are vast wilderness areas. You will have to pre-organize postal pick-ups in various towns.
Moreover, the permit system is extremely competitive and requires a 6-month reservation, if you can get it. If you have the flexibility, consider trying to get a walk-in pass instead, knowing that it may require a few early mornings to be successful.
With a bit of due diligence and proper planning though, the JMT is one of the best long-distance hiking trails in the world.
2. The Four Mile Trail, Yosemite
Distance: 9.6 Miles, round trip
Days Required: 1 day
When to go: Late Spring, Summer, Fall
Type: Point-to-point or out-and-back
Yosemite National Park is the most famous national park in California, if not the USA. It has served as the inspiration for some of the world's best photographers, naturalists, and more since its discovery. (See the John Muir Trail above.)
You will most likely be visiting Yosemite if you are taking a road trip through California. This is one of the best day hikes California has, but it is not for the faint of heart. The Four Mile Trail takes you from the floor of Yosemite Valley to the Glacier Point visitor center, a 3,200-foot elevation gain. I recommend starting as early as possible for this strenuous hike.
About a mile into the hike, you climb above the tree lines and get various viewpoints of the valley on the switchbacks. As you reach the top, you get a straight-on shot of Yosemite Falls across the valley (see above picture), and views of Sentinel Dome, El Capitan, and Half Dome.
The hike finishes at the Glacier Point visitor's center, one of the best viewpoints of the valley, where I highly suggest catching the sunset with a well-deserved snack from the visitor center shop. This hike is possibly the highlight of your stay in Yosemite National Park.
This place is as close as you can get to the national park without actually staying inside but also giving you the same experience as if you were camping. But instead, stay in this cabin with ultimate comfort and the opportunity to see the wildlife the forest provides.
Feel the cool mountain breeze on your cheek upon waking up as they also offer you a free breakfast. A HUGE plus side when you are eager to see everything this park has to show you. You can't help but want to relax on the swing this home has while setting your eyes on the wonders of nature, colorful trees, as you listen to our feathered friends make noise.
3. Tahoe Rim Trail, Lake Tahoe
Distance: 165 Miles
Days Required: 10 days to 3 weeks
When to go: July – September, depends on annual snowfall
Type: Loop or Sections out-and-back
Like the JMT, the Tahoe Rim Trail is one of the best hikes in California for its length, diversity, incredible scenery, and high reward vistas amongst the Sierra Mountains.
What sets the Tahoe Rim Trail apart from other Sierra Mountain hikes is the infamous lake that the entire trail encircles: Lake Tahoe, an enormous, deep blue, subalpine lake surrounded by snowcapped peaks, green forests, and granite faces.
The trail is separated into eight segments that loop around Tahoe in 165 miles. Many people tackle the TRT in sections over years, and others complete the rim trail in one go.
Depending on your experience, time-frame, and tenacity, you can do as little or as much of the TRT as you would like. Make it a day hike or a month-long journey; you can even bike or horse ride certain sections too! The choice is yours, though you will need to hitchhike back to your car or make it an out-and-back hike in certain sections.
Snowpack can be present as late as July, so if you plan to thru-hike the entire loop, plan to start in late summer. July through September are generally sunny, warm, and marvelous long days. Pack your sun protection, but also your best rain jacket for those summer storms.
The west side of Lake Tahoe gets considerably more snow than the east, so plan accordingly as you approach snow season. (You can snowshoe many sections in the winter, most famously the Tahoe Meadow, the area around Incline Village, and trails around Kirkwood!) And if you need somewhere to stay near the hiking trails, check out our where to stay in Lake Tahoe guide.
Two weeks would be a comfortable period to thru-hike the TRT. This hike requires logistical planning, but due to its location as a loop, you are never more than a day away from town.
Having civilization nearby makes this one of the best introductory thru-hikes in the US and an excellent warm-up to the John Muir Trail. You can organize food and supply pick-ups at various towns along the way too.
Camping is allowed along the entirety of the trail except in section 7, Desolation Wilderness, where you must obtain an overnight permit at the Tahoe Basin National Forest Information Center. If you plan to hike this section in one day, you'll still need to get a permit at the parking lot trailhead.
On Section 3 of the TRT, you will hike through Lake Tahoe Nevada State Park on the Nevada side of Tahoe. No permit is required, but there are only two primitive campgrounds here.
The TRT travels through Mt. Rose Wilderness, Desolation Wilderness, and Granite Chief Wilderness as well as other state parks and protected lands.
If you're short on time, I recommend backpacking the Desolation Wilderness and west side, as these are personally my favorite parts of the trail.
No matter how long it takes you to complete the TRT, you are invited to join the famous TRTA 165 Mile Club upon completion, in which you are assigned a member number and sent a certificate, pin, and patch. This is the ultimate community accomplishment!
4. Lost Coast Trail, Mendocino
Distance: 25 miles, one-way
Days Required: 3 days
When to go: Summer, Fall is best
Type: Point-to-point
The Lost Coast Trail is a section of Northern California coastline – from Northern Mendocino into Humboldt county – that is so rugged and wild, the old logging companies tried and failed to build a road here.
Instead, the Highway 1 must cut inland, and leave the Lost Coast undeveloped and lost to civilization, unless you hike, that is.
This nearly 25-mile hike can be walked in either direction starting from Mattole Beach in the north or Black Sands Beach in the south. There is a shuttle system to get back to your car.
You can also hike the southern section to Usal Beach about 30+ miles south of Black Sands Beach, but most people stick to the north section.
The hike itself takes you through wild forests and empty stretches of beach. It is as beautiful as beautiful gets, but the most important thing to consider is the tide schedule; you will have to time your hike according to the tide. People have drowned at high tide, so we don't recommend this hike for the wary and inexperienced.
This is also one of the wettest regions of the state, so be prepared for any type of weather year-round. Slick rock, thunderstorms, and freezing nights are possible all year round.
Falls tend to be the driest and sunniest time of the year, though, and summers have less rain but tend to be foggy.
This is one of the best hikes in California because it is located along one of the world's most popular coastlines yet remains one of the most remote stretches of coastline in the country.
This hike takes 3 days so pack your camping gear and a bear canister! A solar light would also come in useful.
5. Nevada Falls Trail, Yosemite
Distance: 7 miles, round trip
Days Required: 1 day
When to go: Spring, Summer, Fall
Type: Out-and-back
This strenuous and demanding climb is well worth the effort, not just for one, but two close-up views Yosemite's most beautiful waterfalls: Vernal Fall and Nevada Falls.
The views of the valley and raging waterfalls (specifically in late spring) make this one of the best day hikes in California as well as one of the best hikes in the USA for waterfall chasers.
After about 1.2 miles, you'll reach the top of Vernal Fall. If you are not feeling up to the demand of the rest of the hike, this makes for a great 2.4 mile round trip day hike. If you can make it though, keep on hiking to reach the top of the 594-foot Nevada Falls.
Hiking to Nevada Falls and back takes around 6 hours. If you are going to tackle one Yosemite waterfall hike, make it this one.
Tip: If you are feeling really adventurous, grab a backcountry permit from the visitors center and bring your backpacking gear. You can continue your hike to the top of the valley and explore some of Yosemite's other trails for as many nights as you'd like before looping back down to the valley. You can make this as long or short of a hike as you want to.
Enjoy a peaceful private room right outside of the National Park. You can have a taste of the wildlife and some quirky town vibes while staying at this home. The village is close to the market and cafes, but don't worry! It's not too close where you won't have your serene silence.
The plush blanket is to die for after the hiking and other activities you may be indulging in. Plus, there's a big screen. We know that's not a priority, but it sure is nice to kick back and catch a flick if you're taking a break some camping or trekking. This home is for solo and couple travelers who enjoy the simple life near the mountains.
6. Big Pine Creek North Fork Trail, Southern Sierra Nevadas
Distance: 18 miles, round trip
Days Required: 2-4 Days
When to go: Spring, Summer, Fall
Type: Out-and-back
This incredible hike in the Southern Sierras looks like something out of Banff, Canada. The backcountry trail takes you through prime John Muir Wilderness and to seven incredible glacier lakes, notably named First Lake, Second Lake, Third Lake, and so forth…
You also have the opportunity to hike to the southernmost glacier in the country, Palisades Glacier. (Yep, California has glaciers too.)
Before starting your hike, pick up an overnight permit in the town of Lone Pine. Make sure to book your permit online far in advance if you are hiking in summer or on a weekend.
The trail starts about 10 miles outside of town near Glacier Lodge at 7,750 feet in elevation. Much of the hike is exposed and quickly gains more elevation, so be prepared with sun-protection and ample water, and the potential for altitude sickness.
You should reach First Lake about4.5 miles in. Second Lake isn't too far from here and a great place to camp for the night.
Each lake is about a mile in from the other, with the Seventh lake about 8.5 miles from the original trailhead. You could hike this trail in as little as two days, but it would be exhausting, and why rush visiting such a spectacularly beautiful place in the States?
I would consider setting up camp at Second, Third, or even Fourth Lake, and then taking day trips from there.
If you have the time and stamina, don't miss a side trip to Palisades Glacier. This is the Southernmost glacier in North America!
This hike is an out-and-back trail. Expect to gain about 2,000 feet to Second Lake and about 5,000 total to Palisades Glacier!
7. Fern Canyon, Prairie Creek State Park
Distance: 2 miles, round trip
Days Required: Couple Hours
When to go: Year-round
Type: Out-and-back
This is the shortest hike on this list, but don't let the distance fool you. Fern Canyon is one of my favorite day hikes in California due to its incredible and rewarding views and plant diversity that looks like something out of Jurassic Park… A big bonus is that this hike can easily be done with small children.
You reach the park via Highway 101 near Davison Road. Follow through Elk Meadow (where you will see plenty of elks, by the way,) until you reach Gold Bluffs Beach, which is a lovely beach to hang out and picnic before or after the hike.
You'll have to pay $8 for day use at the state park; there are campsites around here too.
The trailhead to Fern Canyon is about 1/4 mile from the canyon. It is an easy hike, though it requires quite a few stream crossings so bring water shoes or good pair of sandals!
Alternatively, you can combine this hike with the moderate five-mile James Irvine Trail that begins at Prairie Creek Redwoods State visitor center, which is where we decided to camp.
I can wholly recommend camping in the Prairie Creek campgrounds underneath the redwoods.
Consider making this a longer hike 9-mile total hike, which my boyfriend decided to casually run like the show-off he is. It really is an enjoyable hike (only 450 feet in elevation gain) that takes you through an ancient redwood forest and a fern-covered canyon.
For those just tackling Fern Canyon, you can hike into the canyon and back in just a few hours. Your small efforts will be infinitely rewarded as you walk through a carved canyon covered in ferns and mosses with water dripping from the walls.
While this is a year-round hike, it may be limited after rains, so consider avoiding the winter months.
8. Trans-Catalina Trail, Catalina Island
Distance: 38.7 miles (62. km)
Days Required: 3-5 Days
When to Go: Spring, Winter, Fall (Summers are really hot but doable)
Type: Loop
This is easily one of the best hikes in Southern California, and probably the best if not including smaller hikes found in Joshua Tree National Park.
Catalina Island – made famous by a few songs and such – is about 22 miles south of the mainland and not far to travel if you're visiting Los Angeles.
This exposed hike can be pretty difficult in the summer, so I recommend hiking in the spring or fall, or even the winter (though rain is most likely).
Spend a few days camping on secret beaches amongst a desert-island getaway. I mean, what more could you ask from a coastal California hike?
9. Skyline to the Sea Trail, South Bay
Distance: 25.2 Miles
Days: 3 Days
Best time to hike: Year-Round
Type: Point-to-point
This is one of the best hikes in the Bay Area and California for that matter. When I lived in the Bay Area, Castle Rock and Big Basin Redwoods State Park were my sanctuaries, and where I went to get away from the city action.
From redwoods to banana slugs, this trail takes you through beautiful redwood forests in the crest of the Santa Cruz Mountains, ending at the Pacific Ocean. A predominantly downhill walk, it's a fairly easy long-distance hike in California presenting some of its best sights.
The second and third days hike through ancient redwoods in Big Basin Redwoods State Park, including a side trip to Berry Creek Waterfall. On your final day, you end at Waddell Beach.
While getting permits on weekends is no small feat (due to the close proximity to San Francisco and San Jose natives taking weekend day trips), this hike is still relatively underrated and unknown amongst Californians for what you get out of it. Note that this trail is accessible year-round, but winters can be a crapshoot.
10. Half Dome, Yosemite
Distance: 16 Miles
Days: 1 (12 hours)
Best time to hike: May-September
Type: Out-and-back
Half Dome is one of America's most iconic and recognizable natural formations and a staple for anyone exploring the USA's most beautiful national parks. At over 2,500 feet, Half Dome is a massive slab of granite towering high above Yosemite Valley, and hikers keen enough to tackle the grueling day hike will be rewarded with some of the best views in California.
This hike is so incredible that you may be wondering why other Yosemite hikes ranked higher. I did so because its popularity and chain system mean that getting a permit in the incredibly competitive system is almost impossible these days.
The demanding, extremely strenuous hike gains a total of 4,800 feet in elevation as a 15.35-mile round-trip hike. The summit of Half Dome is reached with the help of the Via Ferrata style series of cables and steps. If you are afraid of heights, then this hike is not for you.
Half Dome is one of the most famous rock formations in the world and has the associated human traffic. My advice is to start your hike early, meaning you will be hiking in the dark. You do not want to get stuck behind a bunch of hikers at the cables.
Hiking up Half Dome is sort of a right of passage for hikers visiting Yosemite National Park. There really isn't another hike like it, but Yosemite National Park has several of the best hikes in California; Half Dome just happens to be one of them.
Whether you're in Sonora on business or traveling through the Sierra & Gold Country, look no further because this dreamy home offers just about everything you need. Overlooking Washington Street, you can stay in this home with the whole family, make sure to head over to the Big Trees State Park the kids will love that, and then when it's adult time, check out Murphys to taste some wine.
Enjoy your morning coffee view of the unique sunrise that bloom in this quaint town on the balcony this apartment has. With only an hour away from the Yosemite park, you can pop in and come back knowing there's a warm place to rest your head after all the activities and adventures that take place on your endeavors.
11. Rubicon Trail, Lake Tahoe
Distance: 9.4 miles
Days: 1
Best time to hike: All year!
Type: Out-and-back
Picking just one day hike in Lake Tahoe was pretty difficult for me, what between Fallen Leaf, the jaunts around Eagle Lake, Desolation Wilderness, and Incline Village, but ultimately, I think the Rubicon Trail has some of the best views of Lake Tahoe, and a little bit of everything.
For one, the hike starts at D.L Bliss Beach State Park on the west shore, which is one of the most beautiful beaches in Lake Tahoe and offers one of California's best campsites.
The hike takes you all the way to Mount Rubicon and Emerald Bay, another one of the prettiest places in Lake Tahoe.
Really, this full-day hike is all about enjoying Lake Tahoe, with endless views around every corner. Note that it is a moderate hike too, without much elevation gain, so you can do this one with the whole family.
12. Tomales Point Trail, Point Reyes
Distance: 9.4
Days: 1
Best time to hike: All year!
Type: Out-and-back
The hike out to Tomales Point has everything you could want from a California beach hike: jaw-dropping coastline, wild elk, and hills so green you will wonder if you are actually hiking in Ireland, not California.
Just north of San Francisco, Tomales Point makes for an excellent city escape.
This is one of the best day hikes in California, as it is not too difficult, but really rewarding. Bring a picnic and watch the wild elk graze in front of the Pacific Ocean.
I also recommend trying to camp on Tomales Bay; the reservable sites are reached by kayak, making this one of the best campsites in California.
13. Clear Creek Route, Non-technical Mt Shasta Summit
Distance: 12.4 Miles
Days: 2-3 Days
Best time to hike: Spring, Summer
Type: Out-and-back
So far I have covered some of the best hikes in California that take you through mountain ranges, on top of sheer granite faces, alongside rugged coastlines, and even circumnavigate an island. What doesn't California have!?
On this hike, you get to summit Mount Shasta, a volcano with a glacier and ski lift on it… This grueling hike gains 7,900 feet, so it is not for the faint-hearted.
It's the least technical route to the summit of Mt Shasta, but it is still dangerous and deaths have occurred. This isn't for beginner hikers: you still want to have some technical experience before tackling Shasta.
Register at the Mt Shasta ranger station and grab your permits as well as human waste bags to pack out of the mountain. This route begins at the Clear Creek Trailhead (elevation 6390 ft). After a few hours, you'll reach Mud Creek Falls and then eventually reach the source of Clear Creek at Clear Creek Meadow (8,500 feet).
Some people make this a long day hike and turn around, but this is an excellent camping area and the way we recommend tackling this hike.
The next day, make an alpine start to the summit to allow for enough daylight. If it is snowy, you'll need crampons and possibly an ice ax to ascend a steep snowfield to the top of a ridge above Clear Creek Meadow.
Once you reach the summit at 14,180 feet, you are officially on top of a (somewhat) dormant volcano! Bask in that and take in the views!
Honorable Mentions of the Best Hikes in California:
Cathedral Lakes, High Yosemite; 8 miles: While many of the best hikes in Yosemite are at the bottom or top (or both) of Yosemite Valley, Cathedral Lakes is in high Yosemite, though arguably just as beautiful. This is a small section of the JMT, starting at 8,600-foot elevation. Prepare for altitude! Hike to both lower and upper Cathedral Lake and bring mosquito repellent in the summer!
Mount Whitney: I briefly covered this hike in the John Muir Trail, but really it is its own hike. This arduous full day hike allows you to reach the summit of the tallest mountain in the continental US. Like Half Dome, it is one of the most competitive permit-system hikes in the US.
Big Bear Lake: The thriving ski resorts of Big Bear Lake are popping in the winter, but it's also a stunning area for hiking in the summer. The trails are often fairly easy which makes them great for families looking for a hiking destination together.
Eagle Falls to Maggie's Peak, Desolation Wilderness/Lake Tahoe Area: This is one of the best day hikes around Lake Tahoe that can even be snowshoed in the winter. I highly recommend this hike and almost included it in the list instead of the Rubicon Trail. You really can't go wrong with either, and both are near to each other.
El Capitan to North Dome, 3 days: To get off the beaten path in Yosemite, I suggest picking up a backcountry pass and a map. Plan a route that takes you to North Dome and El Capitan. You'll get epic views of the Valley with hardly any people in sight. Cloud's Rest is good too.
Hikes around Big Sur: Check out our Big Sur camping guide for more information. It is a beautiful place to hike, but many of the best trails are currently closed.
Trinity Alps; Canyon Creek Canyons, 16-mile roundtrip: Want to escape the crowds and get deep into backcountry surrounded by lakes and forests? Head up north to the Trinity Alps and explore the Canyon Creek Canyons.
Lassen Peak in Lassen National Park: This 6-mile round trip hike to the 10,000-foot summit is a great way to explore this lesser-known American national park.
San Jacinto Mountains: This state park in the South West of California has many gorgeous hiking trails that are suitable for all the family. Idyllwild, Pien Cove. andFern Valley are the perfect bases to explore the mountains in the area.
Alamere Falls, Pt Reyes National Seashore: This is one of the most popular day hikes in Northern California, particularly unique because of the 30-foot coastal waterfall at the end of the hike! You start this hike at the Palomarin Trailhead outside the surf town of Bolinas.
Torey Pines State Park: This is one of the best areas for hiking in Southern California and an awesome choice of a day trip when visiting San Diego.
Being a Responsible Hiker in California
Before we get to the good stuff – the list of the best long hikes in California – we want to remind you to be a responsible hiker.
Do your part to help keep these trails clean and beautiful, and always practice leave no trace principles when camping or trekking in the backcountry. Ethical, sustainable, and responsible travel is the name of the game!
Wherever your hiking path leads you, please be respectful to the environment along the way. Always hike out your own trash and any trash you find along the way.
Reduce (or eliminate!) your amount of single-use plastic. Use a reusable water bottle, water filter, and/or filtered water bottle!
Leaving no trace also means respecting the surrounding nature. Often times there is a reason you must stick to the trails, especially in protected reserves, parks, and lands. Don't trample all over the vegetation, etc.
There are a few last tidbits to throw at you!
Books to read on the Best Hikes in California
To get you inspired and well-informed, check out these books on hiking in California. Get to know some of the state's beautiful landscapes and hikes in greater detail:
Staying Safe While Hiking Californa's Backcountry
Yeah, it's easy to get carried away when everything is just damn nice to look at! However, be smart. Watch for bears, don't go tumbling off any cliffs, and, for the love of God, please, don't touch the poison oak. Before you go hiking, read up on how to stay safe in America's wildnerness.
And certainly, most definitely, please… get insured! It's crazy important to buy excellent travel insurance coverage before embarking on any grand adventures.
ALWAYS sort out your backpacker insurance before your trip. There's plenty to choose from in that department, but a good place to start is Safety Wing.
They offer month-to-month payments, no lock-in contracts, and require absolutely no itineraries: that's the exact kind of insurance long-term travellers and digital nomads need.
SafetyWing is cheap, easy, and admin-free: just sign up lickety-split so you can get back to it!
Click the button below to learn more about SafetyWing's setup or read our insider review for the full tasty scoop.
And on a final note, please do read up on the leave no trace principles before embarking on any grand hiking adventures in California. It's super important. And have fun!
(That's also super important.)
---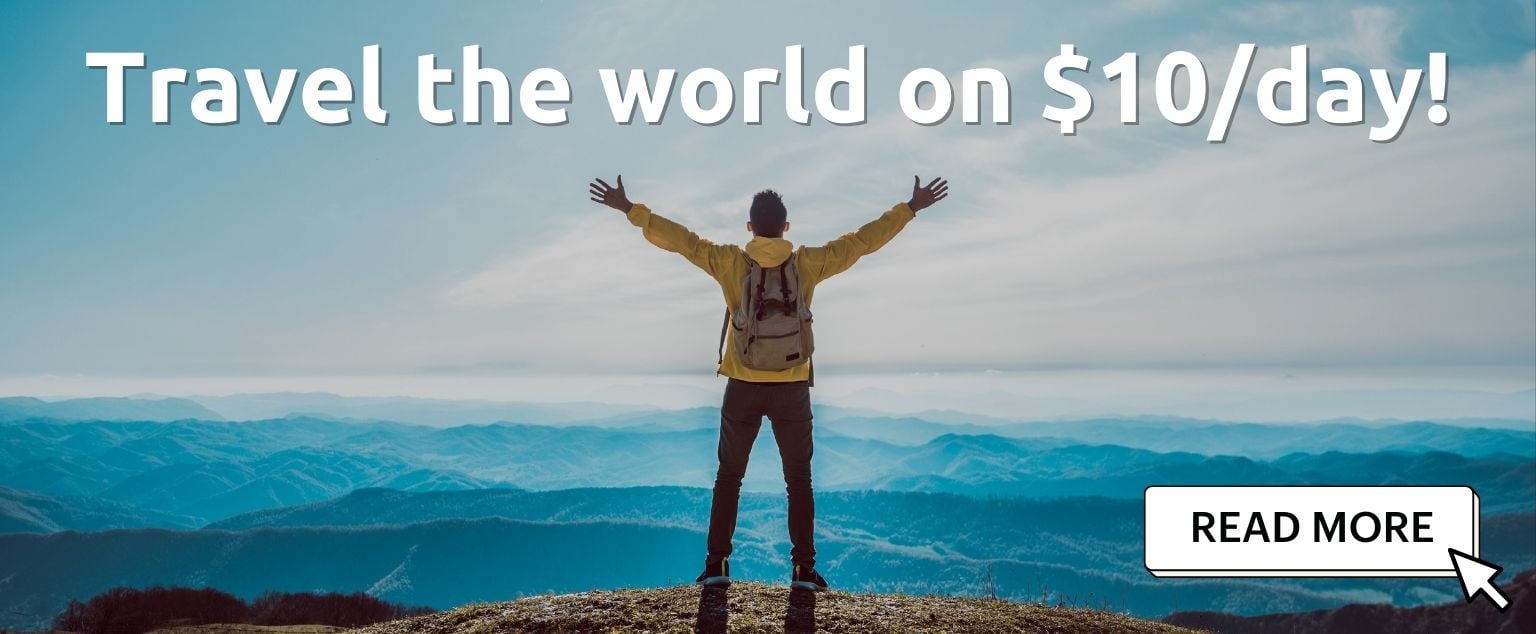 And for transparency's sake, please know that some of the links in our content are affiliate links. That means that if you book your accommodation, buy your gear, or sort your insurance through our link, we earn a small commission (at no extra cost to you). That said, we only link to the gear we trust and never recommend services we don't believe are up to scratch. Again, thank you!