Feel like hitting the road and heading out camping? Well, if you're in California, you won't even have to leave the state. Camping here is just that good.
In California you have access to deserts, mountains, beaches and giant forests, much of which is protected by some next-level national parks. It's actual heaven-on-earth for nature lovers.
If you want to camp but have never ventured much further than your own backyard, you're in the right place: this is our epic guide to camping in California.
It's a one-stop-shop packed full of information to help you get back to basics, reconnect, and marvel at some truly awesome feats of nature.

Do You Want to Travel FOREVER??
Pop your email in below to get a FREE copy of 'How to Travel the World on $10 a Day!'.
Why Camp in California?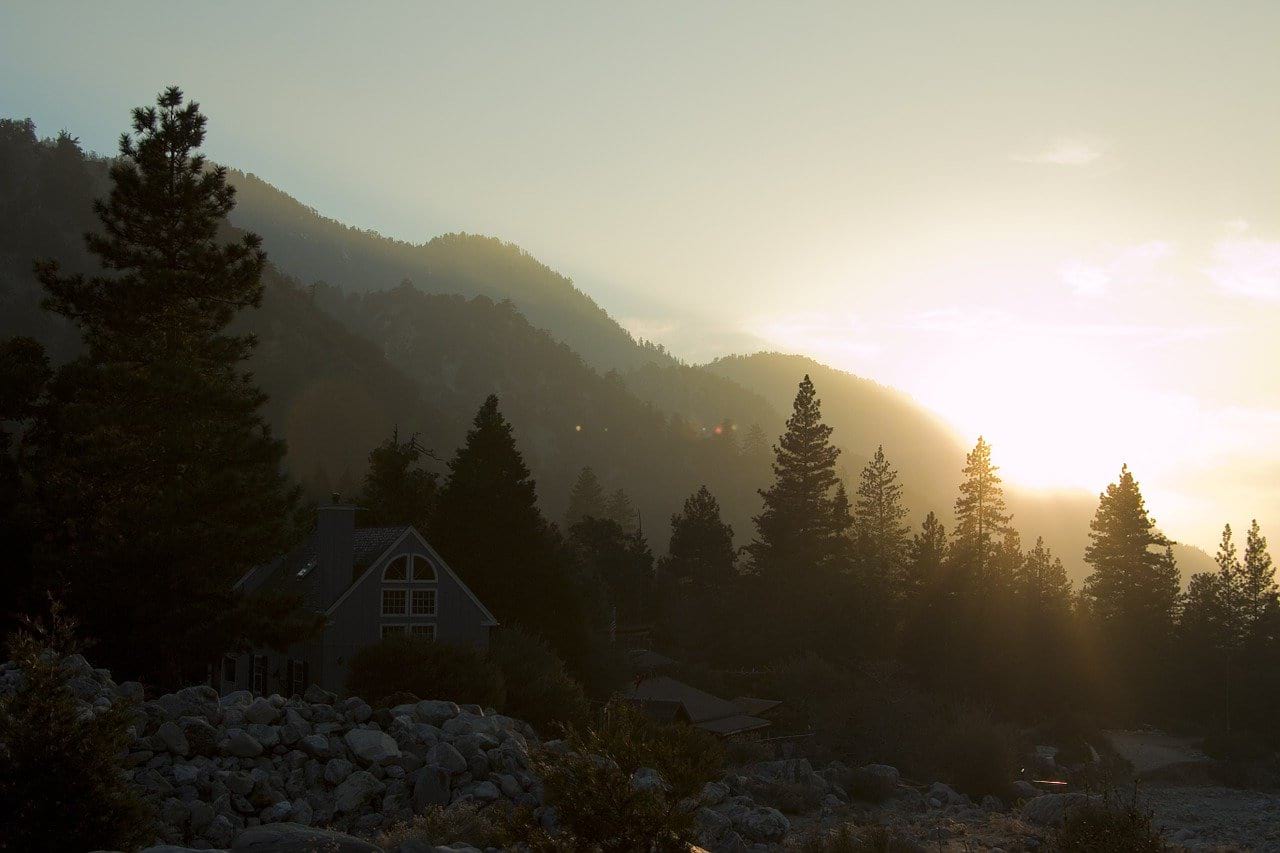 California is the "Golden State," and in terms of camping, it certainly does get the gold. It sure is one of our favorite places to camp – and a lot of other people think so, too.
For starters, there's the nature. California is home to some of nature's finest and boasts some big-name national parks – we're talking Yosemite, Joshua Tree, Sequoia, and Death Valley. It's not just quality, it's quantity too: California has more national parks than any other state.
You get some real diversity because of that. Camping in the desert? Sure. Among giant redwoods? Absolutely. On a cliff overlooking the Pacific Ocean? It wouldn't be California if you couldn't.
If that wasn't enough, there's even variety in the camping. Californian campgrounds often lean towards very rustic for a real back-to-nature experience – perfect for soaking up all those parks. But there are also some very nicely looked after campsites with delis and laundry facilities—something for everyone.
In short, all the awesome nature spots in California mean this state is basically made for camping. Don't miss out.

Sort out your rental before you arrive to get the best price. RENTALS.COM simplifies the process at a lower cost and can match you with the right vehicle for your adventure.
Primitive Camping in California
Exploring nature the old-fashioned way – that is, not in an actual campground – can be just what you need. Finding a spot well away from any sort of civilization means you can find a slice of California all of your own.
It's not always easy to do in some states, but primitive camping (or dispersed camping, as it's also known) in California is a totally viable option. The good news is that dispersed camping is actually allowed on most public land in California.
It may be free, but it's not without its rules. You can't just rock up anywhere and do what you want. There are some things you need to know, not just to help preserve nature, but for your own safety as well:
Pitch up away from developed recreational facilities. That means any sort of campsite with amenities that people pay per night for the privilege to use.
Stays exceeding 14 days in a 28-day consecutive period are not allowed. That's if you can handle primitive camping for that long anyway!
If possible, choose campsites that look as if they've been used already. These can often be found along secondary roads. Spot them by looking out for the remains of fire rings and cleared ground. This is to stop nature from being disturbed unnecessarily.
Within national parks, there's a sort of primitive camping option called "environmental camping." You'll find sites for this in undisturbed natural settings, usually with a table, a clearing for your tent, and (sometimes) a primitive toilet nearby.
Note that both environmental camping and primitive camping "sites" are first-come, first-served. Get there early to avoid disappointment.
In California's national forests, you can't camp within 200 feet of springs, meadows, roads, trails, and water sources.
You can't have a campfire outside of an official campground; you'll need a California Campfire Permit if you wish to do so. Wildfires are a big issue in California.
Read up on current fire restrictions; they change depending on the area in which you're camping.
Those are the general rules you should know if you're considering primitive camping in California. One tip we can offer is that you should also check in with the local ranger to get more information on fire safety and restrictions in the area you plan to camp.
The state is pretty much your oyster when it comes to primitive camping. Besides environmental campsites in California's national parks, there are a number of primitive camping options in its many state parks. You can check out the list of these here.
There are also Wilderness areas. Wilderness is federal, protected land that allows primitive camping in very basic campsites that are exclusively walk-in (or ride-in if you're on horseback). You'll need to obtain a permit in advance. Note that visitor numbers to these areas are limited.
But if all that sounds too, well, primitive to you, don't worry. There are plenty of "actual" campgrounds spread throughout the state; here are some of the best…
2000+ Sites, Unlimited Access, 1 Year of Use – All. Absolutely. FREE!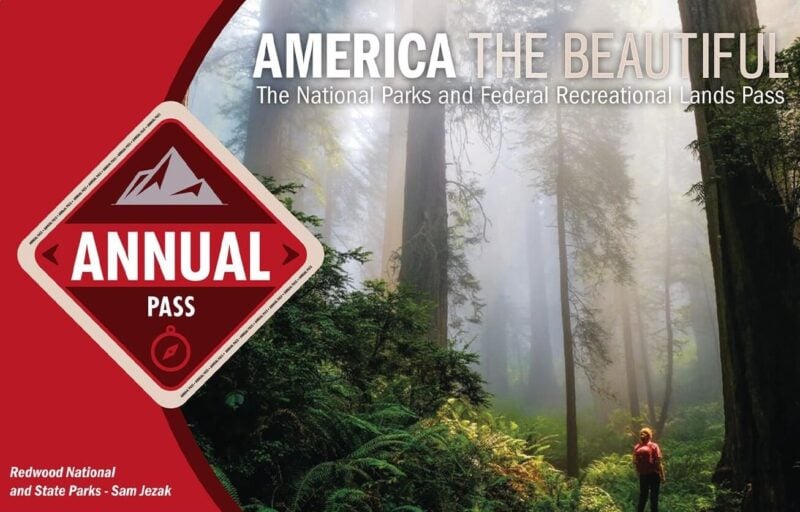 The USA is blisteringly beautiful. It's also blisteringly expensive! Visitng two national parks in day can run you $70+ in entry fees.
Orrrr… you kick those entry fees to the curb, buy an annual 'America the Beautiful Pass' for $79.99, and get unlimited access to ALL 2000+ federally managed sites in the States totally FREE!
You do the math. 😉
Buy the Pass!
10 Best Campsites in California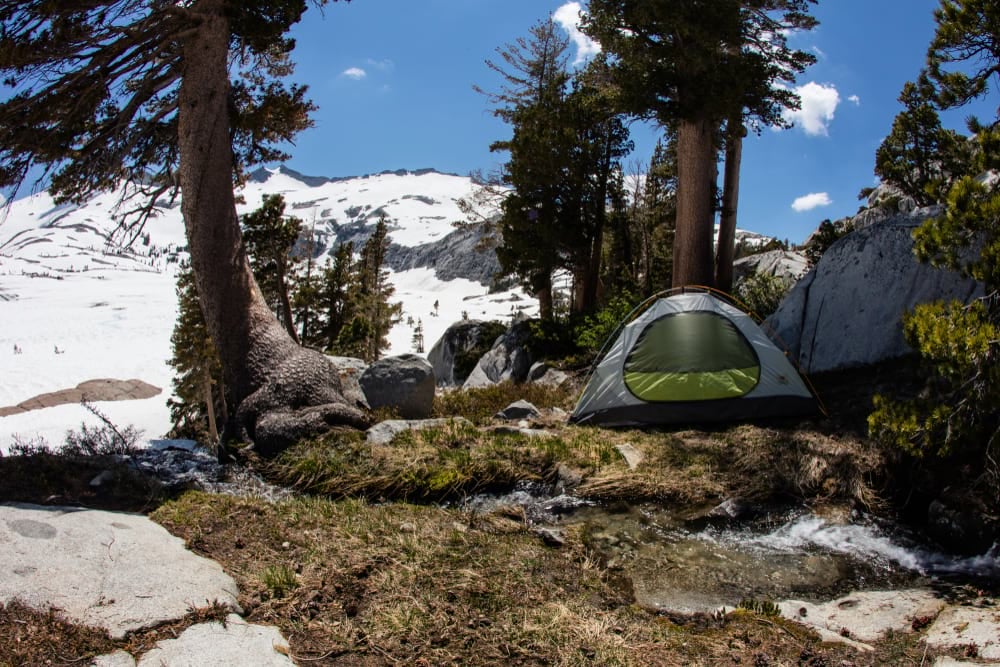 Primitive camping in California may sound like a ball to some people, but the idea isn't all that fun for some. If that's you, and you like your camping to come with a little more development than you can find in the middle of nowhere, you'll want a more organized campground.
There are a ton of these in California,so we thought we'd round up the best campsites on offer in the state. Note 'em down, use them for inspiration, or just dream for the future. There's rustic, there's modern, there's far-flung and easily accessible: we bet you'll find something to suit you.
1. Yosemite Creek Campground – Yosemite National Park
You can't talk about camping in California without mentioning Yosemite National Park. There's so much natural wonder in this globally famous national park that it's difficult to comprehend. There are so many things to do in Yosemite: Bridal Falls, Half Dome and El Capitan, as well as sequoia forests and deep ravines, make it a breathtaking spot.
Hikers, climbers, and all manner of outdoor enthusiasts flock here in droves to lap it all up, so camping here does take some planning. There are 13 campgrounds, but Yosemite Creek offers up a hefty serving of everything the park has to offer. It's away from the crowds of the valley, has shaded areas, access to the creek, and is right near hiking trails.
Yosemite is a VERY popular place to visit and campgrounds do fill up fast. If they're all full already, no worries – there are plenty more places to stay around Yosemite.
Amenities: Campfires allowed, Toilet available, Pets allowed, Picnic table available
Campsite fee: From $12 per campsite per night.
2. Dorst Creek Campground – Sequoia National Park
Another heavy hitter in California's roster of incredible national parks, Sequoia National Park is where you'll find giant sequoia and redwood trees. Towering trees that have to be seen to be believed. Trust us on this: pictures do not do this place justice. Not at all. It's an actual magical place.
And to properly take it all in, a stay at the large Dorst Creek Campground is the best option. It's a balance of open space and easy access, situated on the banks of Dorst Creek itself. From here, numerous trails allow you to wander among the towering majesty of the sequoias that surround the campsite. Awe-some.
Amenities: Campfires allowed, Toilet available, Pets allowed, Potable water available, Picnic table available
Campsite fee: From $22 per campsite per night.
3. Sentinel Campground – Kings Canyon National Park
Right next-door to Sequoia National Park is Kings Canyon National Park. It's also home to those iconic trees, specifically at Redwood Canyon, which boasts the largest remaining grove of sequoias in the world. Elsewhere, Cedar Grove is a soaring, cathedral-like granite canyon, and the Kings River offers rapids and the Roaring River Falls.
People say it's a bit like Yosemite, but much less busy. With 800 miles of trails and snow-capped mountain peaks, it's easy to explore in peace. The best base is Sentinel Campground. Situated in The Canyon, along the South Fork of the Kings River, you get some absolutely stunning views from here. It's first-come, first-served, so get there early.
Amenities: Campfires allowed, Toilet available, Pets allowed, Potable water available, Picnic table available
Campsite fee: From $22 per campsite per night.
4. Julia Pfeiffer Burns Campground – Julia Pfeiffer Burns State Park
Julia Pfeiffer Burns State Park is set on a bluff jutting out into the Pacific Ocean. It's a very sought-after place to camp, not least because it's here that two waterfalls – Mcway Falls and Alamere Falls – empty impressively right into the ocean. Combine with 2,500-year-old redwood trees, and you're in for a treat.
However, camping here and around Big Sur in general can be hard to come by. It's super popular and the plots are often booked in advance, for good reason. The plots look out over the cliffs to the ocean, and you may be able to spot whales, dolphins, and sea lions in the water below.
Amenities: Campfires allowed, Toilet available, Picnic table available
Campsite fee: From $30 per campsite per night.
5. Jumbo Rocks Campground – Joshua Tree National Park
The list of national parks in California reads like a who's-who of the best national parks in the USA. Joshua Tree National Park is no exception. It's a place where two deserts meet, and the land is dotted with the cacti and the eponymous twisting Joshua trees. The park is a must-visit.
Staying there is almost like a rite of passage. Camping at the family-friendly Jumbo Rocks Campground means you'll be able to properly unwind as the incredible sunsets light up the desert, causing the sand to change color. With 8,000 climbing routes and over 100 miles of trails in Joshua Tree, you won't be stuck for things to do.
Amenities: Campfires allowed, Toilet available, Pets allowed, Picnic table available
Campsite fee: From $15 per campsite per night.
6. Hidden Springs Campground – Humboldt Redwoods State Park
For more tall tree action, head to Humboldt Redwoods State Park. Boasting 17,000 acres of wilderness, it's the largest remaining contiguous growth of old-growth coastal redwoods in the world.
With all those giants of nature, it's a magical place that shouldn't be missed if you like your camping to be in amongst woodlands. And let us tell you: hiking in the Redwoods is amazing!
There are three campgrounds to opt for, and Hidden Springs is the largest. There's lots of privacy, easy access to hiking trails, and a swimming spot nearby. It's also located close to the Visitor Center and the Avenue of the Giants, where you can drive through a tree if you feel like it. Why not?
Amenities: Campfires allowed, Toilet available, Pets allowed, Potable water available, Showers available, Picnic table available
Campsite fee: From $35 per campsite per night.
Is This the Best Backpack EVER???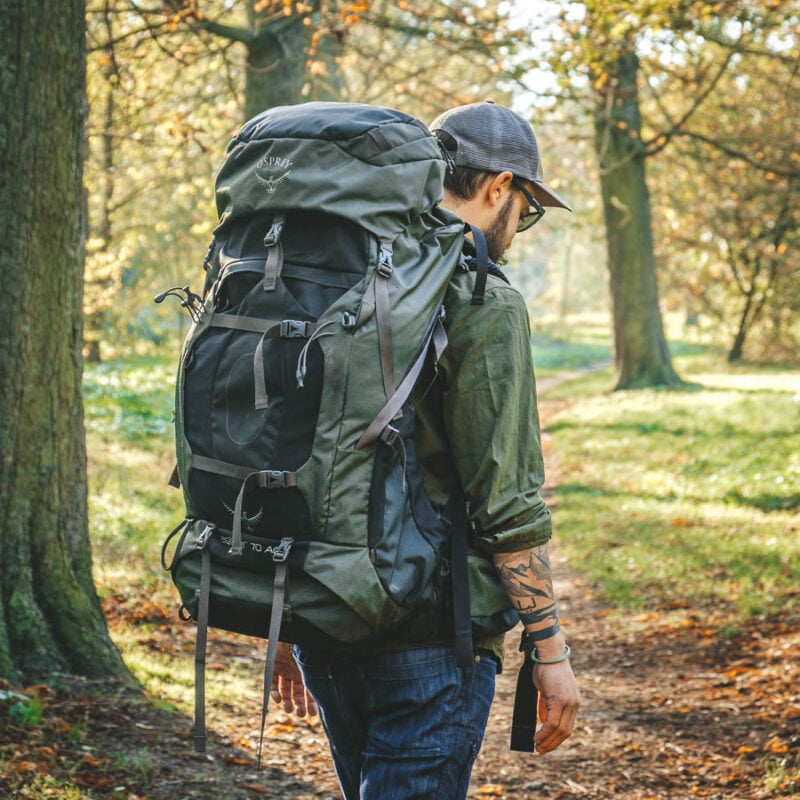 7. Mesquite Spring Campground – Death Valley National Park
If you're thinking of camping in California, Death Valley may not be at the top of your list. But don't let the heat and dryness – or even the name – scare you off; camping here is an otherworldly (some might say life-changing) experience. Rock formations, canyons, and salt flats even make for some great hiking adventures.
It's at the Mesquite Spring Campground where you can get off the beaten track and avoid the crowds. Plus, it's an awesome option for winter camping. It's thought to be one of the prettiest campsites in the valley especially in spring when the wildflowers bloom. But no matter what time of year you go, the sunsets and the stargazing in Death Valley are next-level amazing.
Amenities: Potable water available, barbecue pits available, dump station, and flushing toilets, no reservations available, pay only by credit card
Campsite fee: From $12 per campsite per night.
8. Beach Camp – D.L. Bliss State Park
Situated on the western shores of Lake Tahoe, D.L. – Bliss State Park delivers blissful days by the water's edge. This is some year-round natural beauty, boasting some of California's finest beaches, turquoise waters, pine trees, and mountain backdrops to look forward to. There's primo hiking here and a whole bunch of other outdoor activities to get involved with.
The family-friendly Beach Camp is just a quick walk from Lester Beach and Calawee Cove. Given the location, this Californian campground fills up pretty quickly. It's a great base for kayaking, lounging on the beach, and kicking back with marshmallows around the campfire. No wonder it's so popular – this idyllic location is hands down one of the best places to visit in the USA.
Amenities: Campfires allowed, Toilet available, Potable water available, Showers available, Picnic table available
Campsite fee: From $45 per campsite per night.
9. Sardine Lake Campground – Tahoe National Forest
Tahoe National Forest is located northwest of Lake Tahoe. Stretching across six counties, it's here that you'll find the 8,587-foot peak of Sierra Buttes. There are some fantastic climbing opportunities, secluded swimming spots, and chances to get your white water rafting on, too. Come winter, bring skis for cross country, or head out snowshoeing. It's a veritable playground.
Basing yourself at the Sardine Lake Campground means you'll be surrounded by crisp, fresh mountain air on the banks of the glimmering Sardine Lake (great for fishing). The campsite itself may be pretty basic, but has everything you need for an awesome time.
The setting alone is enough for us, to be honest. Besides, there's loads to do nearby. Thinking of visiting in autumn? Do it. The scene is made even more beautiful in fall colors.
Amenities: Campfires allowed. Toilet available, Pets allowed, Potable water available, Picnic table available
Campsite fee: From $24 per campsite per night.
10. Manzanita Lake Group Campground – Lassen Volcanic National Park
If you're looking for a unique Californian camping experience, Lassen Volcanic National Park should do the trick. Named after Lassen Peak Volcano, there's loads going on here: the Devastated Area, littered with lava rocks from the volcano's last eruption; the bubbling mud pots of Bumpass Hell; and hot springs like Boiling Springs Lake and Devils Kitchen.
Sound good? Then head for Manzanita Lake Group Campground. It's a great spot for families, situated near the calm (not boiling) waters of Manzanita Lake. Rent kayaks, paddle around, go for a hike on the nearby trails. It's fairly peaceful, too, and has large plots.
And if you can't live without good facilities, don't worry; this campground is pretty developed. There's even a laundry facility and a deli.
Amenities: Campfires allowed, Toilet available, Pets allowed, Potable water available, Showers available, Picnic table available
Campsite fee: From $26 per campsite per night.
Save $$$ • Save the Planet • Save Your Stomach!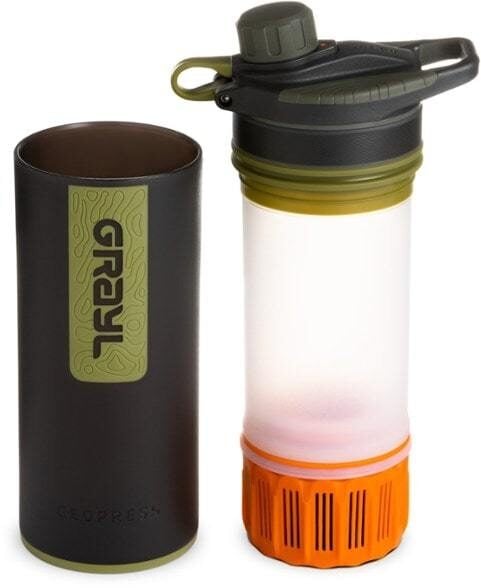 Drink water from ANYWHERE. The Grayl Geopress is the market's leading filtered water bottle protecting your tum from all the waterborne nasties. PLUS, you save money and the environment!
Single-use plastic bottles are a MASSIVE threat to marine life. Be a part of the solution and travel with a filter water bottle.
We've tested the Geopress rigorously from the icy heights of Pakistan to the tropical jungles of Cuba, and the results are in: it WORKS. Buy a Geopress: it's the last water bottle you'll ever buy.
Buy a Geopress!
Read the Review
The Best Glamping Sites in California
Ok, so now you know there are some wild campsites to check out in California. And by wild, we mean very, very cool. But if you've tried camping and you're just not down – or if you're not about that tent-life – don't sweat it.
Because you can also definitely glamp in California.
Glamping, you ask? That's "glamorous camping," in case you didn't know. It basically allows you to kick back with modern luxury and convenience, but with nature on your doorstep: less spending the night with bugs, and more with hot tubs and rain showers.
If that sounds more like your scene, then take a look at some of the top glamping spots California has to offer…
With its sleek, stylish and rustic interiors, this awesome California Airbnb is very carefully thought out to serve up maximum comfort and eye-candy to its guests. There's a cool outdoor shower, a spacious deck, and a super comfy bed, for starters. With all the creature comforts and serene nature surroundings, it makes for the perfect getaway from busy city life.
There are plenty of chances to get involved with outdoor activities right on the doorstep. You'll find Harbin Hot Springs nearby and the Napa Valley vineyards a short drive from here.
A classic cabin experience close to Big Bear Lake, this place offers a chance to escape in style. Not your run-of-the-mill Californian glamping option, this is basically a modern home with a fully equipped kitchen, bathroom, laundry facilities, seating area, outdoor deck, and room to sleep up to five guests.
It's a year-round destination, too, with an outdoor deck perfect for summer days and evenings, as well as a sledding hill on the property that you can zoom down after it snows. The restaurants, shops, and breweries of the nearby town are within easy reach. A further drive takes you to the Boulder Bay area of the lake, where you can rent paddle boards and kayaks.
Small Pack Problems? 😉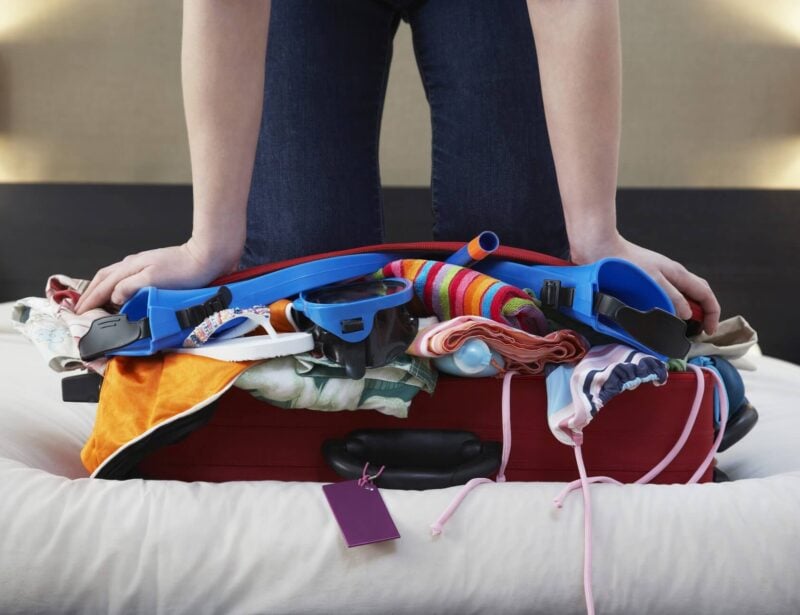 My missus travels with all her clothes in ziplock bags: don't be like my missus. UP YOUR PACKING GAME!
Packing cubes for the globetrotters and compression sacks for the real adventurers – these babies are a traveller's best kept secret. They organise yo' packing and minimise its volume too so you can pack MORE.
Or, y'know… you can stick to ziplock bags.
View Our Fave Cubes
Or Check Out the Sacks!
This totally unique place to stay in California consists of an original Futuro house. There are only 85 of these funky UFO-shaped homes in the world, and this is the only one in the USA you can stay in. It's an awesome space that definitely lives up to the hype, that's for sure.
Despite the mod-cons of the interiors, this off-grid glamping experience offers a chance to disconnect. You'll be able to fully enjoy staying in such a cool space in such an amazing area – Joshua Tree National Park, in case you didn't realize, will be your backyard for the duration of your stay.
Everyone loves a cute tiny house. This one is perfect for a couple looking for some romantic glamping in California, especially if they're into their wildernesses. That's because the south entrance to Yosemite National Park is just half an hour's drive from the property, with Bass Lake also nearby.
The house itself is tiny (obviously) but well designed in a homey farmhouse style. It somehow manages to pack in a queen bed, bathroom, kitchen, and a sitting-dining area into the small space. There's a deck to chill out on outside, from where you can wave hello to the property's residential llamas!
Pretty much a dreamy spot, this has to be one of the coolest Airbnbs in California. It's literally a treehouse, connected to the main house with an adventurous suspension bridge. It looks like something out of a fantasy movie, nestled among the giant redwoods dotted around. The never-ending view of trees is super relaxing.
Situated in Woodacre, in the very rural West Marin, it's perfectly located to reach places like Napa, San Fran, and Sonoma without having to stay within the urban sprawl. When you're done exploring for the day, coming back to this top-quality wooden treehouse – made to withstand all sorts of weather – is a dream, with its tiered decks and cool design.
DON'T DIE OUT THERE! …Please 🙂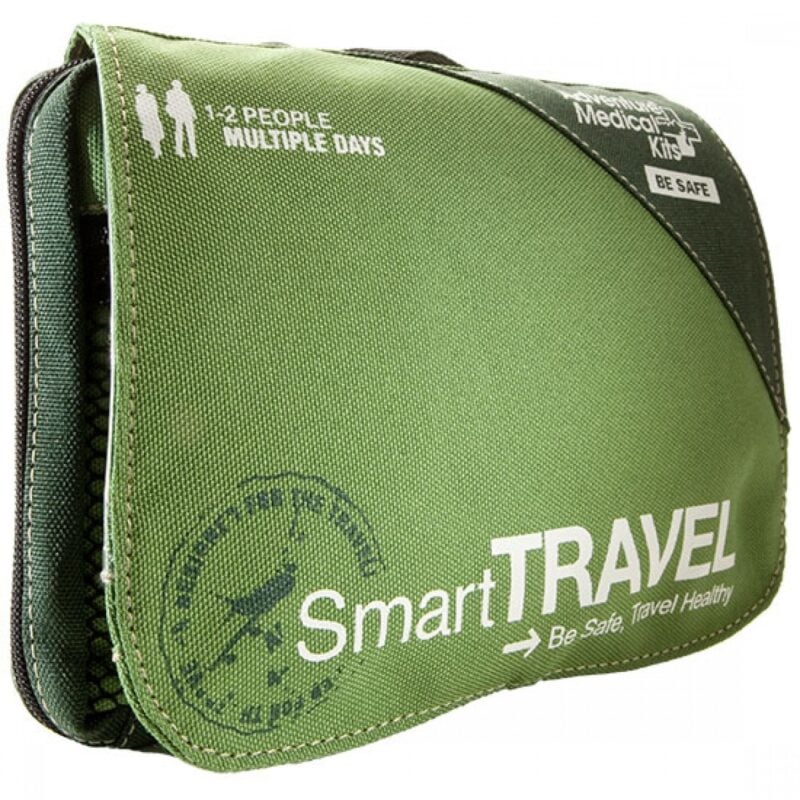 Things go wrong on the road ALL THE TIME. Be prepared for what life throws at you.
Buy an AMK Travel Medical Kit before you head out on your next adventure – don't be daft!
Buy on REI
Camping Packing List for California
You might have a good idea where you want to camp in California, but how about what you're going to take with you? California's vast outdoor spaces will require a little advanced planning.
There are some tips and tricks when it comes to travelling the USA. Depending on where you are heading and how far off the beaten track you're going, your packing list might look a little different. Some of California's campsites are super developed with laundries and stores, whereas others are totally off-grid and only accessible on foot.
Either way, there are some items you will need to take: wildlife like mosquitoes and bears need to be considered, for one thing.
Different camping locations across the state will demand different kit, too. The desert in Joshua Tree is very different from hitting up the coastal areas or camping among redwoods. There's also inclement weather conditions, from baking hot sun to sudden rain showers (so bring a good rain jacket), as well as cold night-time temperatures.
You will need to be prepared for all these things. So, to help you out with that sometimes headache-inducing task of packing, here's a list of essentials you should think about taking with you…
Take it from us, heading out in nature is no fun if you forget an essential piece of camping gear. For one thing, you're probably going to be camped out miles away from any stores where you can pick up replacements. To jog your memory, here's a selection of basic camping essentials that you'll totally need to bring with you on your outdoor escapades.
A reliable tent – Yes, it's obvious, but you will need to bring a tent. One that is sure to stand up against any weather conditions you might face and won't leave you swimming in a puddle of water when you wake up after a downpour.
Sleeping bag – Even in the heat of California, temperatures can drop overnight out in nature. Pack a sleeping bag with a good enough tog so you can sleep tight at night.
Camping chair – It might seem excessive, but a camping chair will mean not having to sit on the damp earth, and you'll have somewhere to chill out at the end of the day.
Microfiber towel – Pack one of these instead of a normal towel and say goodbye to damp towels in your backpack. These dry super fast and pack down to a compact size.
Head torch – Small and simple, a head torch could save your life. You never know when you might need it, but they come in extremely useful for midnight trips to the bathroom.
Travel washing line – These bunch up to a tiny size but are super useful for around the camp. Great for hanging up sweaty clothes from strenuous hikes or wet bathing suits.
2. Hiking Essentials
If you're going to any of California's national parks or state forests, you're going to want to do some hiking. Seriously, the hikes here are incredible. But you will need to pack a few select items to ensure you're safe and prepared for tackling the trail. Here's what we recommend you pack for hiking in California.
Reliable shoes – Make sure the hiking shoes you bring are up to the task. Is the tread good enough? Are they comfortable? Will they let in water?
Day pack – Get yourself a comfortable day pack big enough to contain your hiking accessories but not so oversized that it burdens you.
Hiking hat – Pack a hat that will protect your head and neck from the scorching sun.
Sunglasses – A pair of good sunglasses will also keep your eyes protected from the sun's harmful rays. It will also mean you can actually see the beautiful landscapes you're here for.
Trail snacks – Getting hit by hunger when on a hike is no fun at all. Be prepared and pack a high protein snack or meal in your day pack.
Filter bottle – Access to clean drinking water isn't always guaranteed, but with a filter water bottle, you'll be able to hydrate when you need to. It also cuts down on unwanted plastic waste.
GPS – You may not always get a mobile phone signal where you are. A GPS device, or even an old-school physical map and compass, could come in very useful.
3. Toiletries Essentials
Being out in nature doesn't have to mean completely roughing it – some of the campsites have flushing toilets & warm showers (but hey, you can always bring your own). Even if you are planning on primitive camping, there are still some essential toiletries you should pack.
Sunscreen – You will need to bring a factor 50 or above sunscreen. The sun can be fierce in Cali, and you do not want to get sunstroke when you're in the middle of nowhere.
Insect repellent – Pesky mosquitoes and other insects can be a real pain. Bring repellent in your pack or spend the trip being feasted on by mosquitoes
Toothbrush and toothpaste – Look after your teeth, even when camping.
Shampoo and conditioner bar – A great way to keep packing minimal and be eco-friendly too. A bar of shampoo can also double as body wash.
Toilet paper – Toilet paper is not always guaranteed at campsites; others won't have bathrooms at all. Bring along a roll of your own just in case, and don't think you can just nick some from a campsite – they're usually locked away.
Deodorant – If you're not going to be showering when camping, then a deodorant should help you keep some sense of cleanliness – unless you're going fully back to basics!
Camping Tips for California
Hopefully by now you have got some good information to help with your camping trip. California is just such an insane place for camping, and you're pretty lucky to be off on an outdoor adventure anywhere in the state. The USA is a pretty safe place to travel, but before you leave home with your bags packed, here's a couple of guidelines and details to keep in mind.
Be careful with fires – Use the facilities provided for campfires. California has seen disastrous fires, and it is crucial to take great care. In some campsites, you're allowed to use portable stoves. Never leave a fire unattended.
No smoking – In some areas such as California's state parks, smoking is completely prohibited apart from on roadways or parking lots.
Respect the natural environment – Do not disturb the natural scenery, plants, or animal life when camping. Disturbing or destruction, in most cases, is completely forbidden.
Keep to the quiet hours – Quiet hours are enforced between the hours of 10:00 p.m. to 6:00 a.m. This means turning off speakers and keeping noise to a minimum.
Leave no trace – Make sure you clean up all your garbage and leave the campsite clean and tidy.
Don't go out hiking or swimming alone – Even if you are experienced, heading out into nature for a hike or a swim can be risky. Bring along a buddy so you can watch out for each other.
Make sure to stay hydrated – Dehydration is very dangerous. Don't wait until you are thirsty to drink. Take breaks when you need to help with this, even if you're swimming.
Check the weather forecast – Get clued up about what weather to expect so that you're totally prepared for inclement weather.
Call ahead – It's a good idea to call ahead and check in with the campsites. Ask for any information you might need: a little local knowledge goes a long way.
Be aware of bears – Take precautions against bears by storing food in a sealed bear-safe container. You may need to bring this with you.
Final Thoughts on Camping in California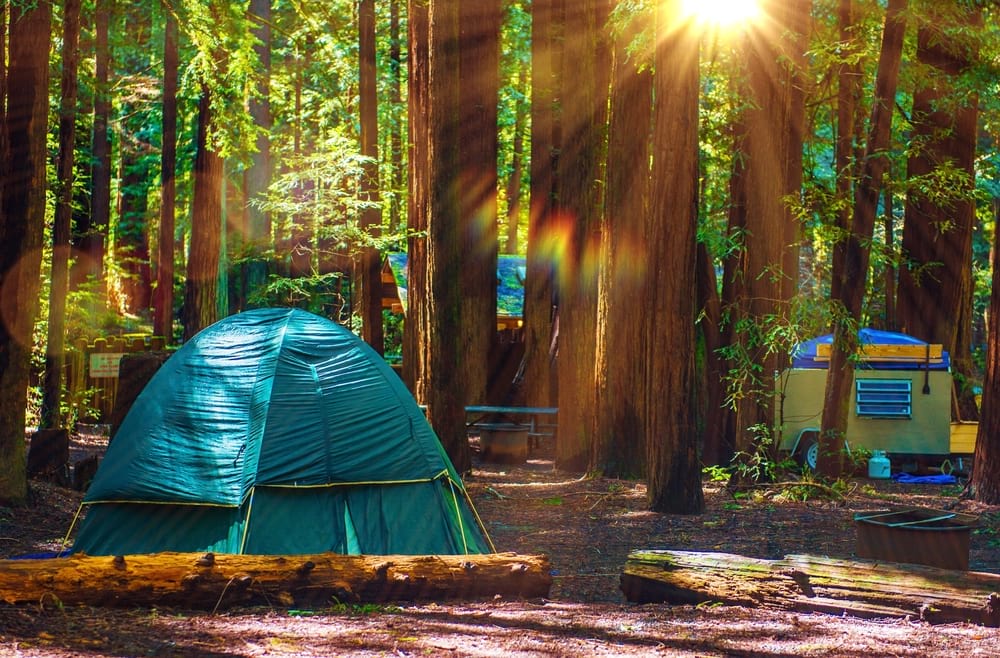 That's the end of our guide to camping in California. At this point, you'll probably be daydreaming about escaping into nature for a weekend (or longer).
Of course you will. How could you not, after seeing all those awesome places to camp, all those iconic national parks and their waterfalls, mountains, giant trees, and endless deserts? Backpacking in California is more than just beans and tents – there's literally so much to see and do here.
With our guide, you've now got some decent knowledge of where to start your Californian camping adventure. You know the rules, where to go, where to stay, even what to pack. So how about it? You now pretty much have no excuse not to hit the road.
---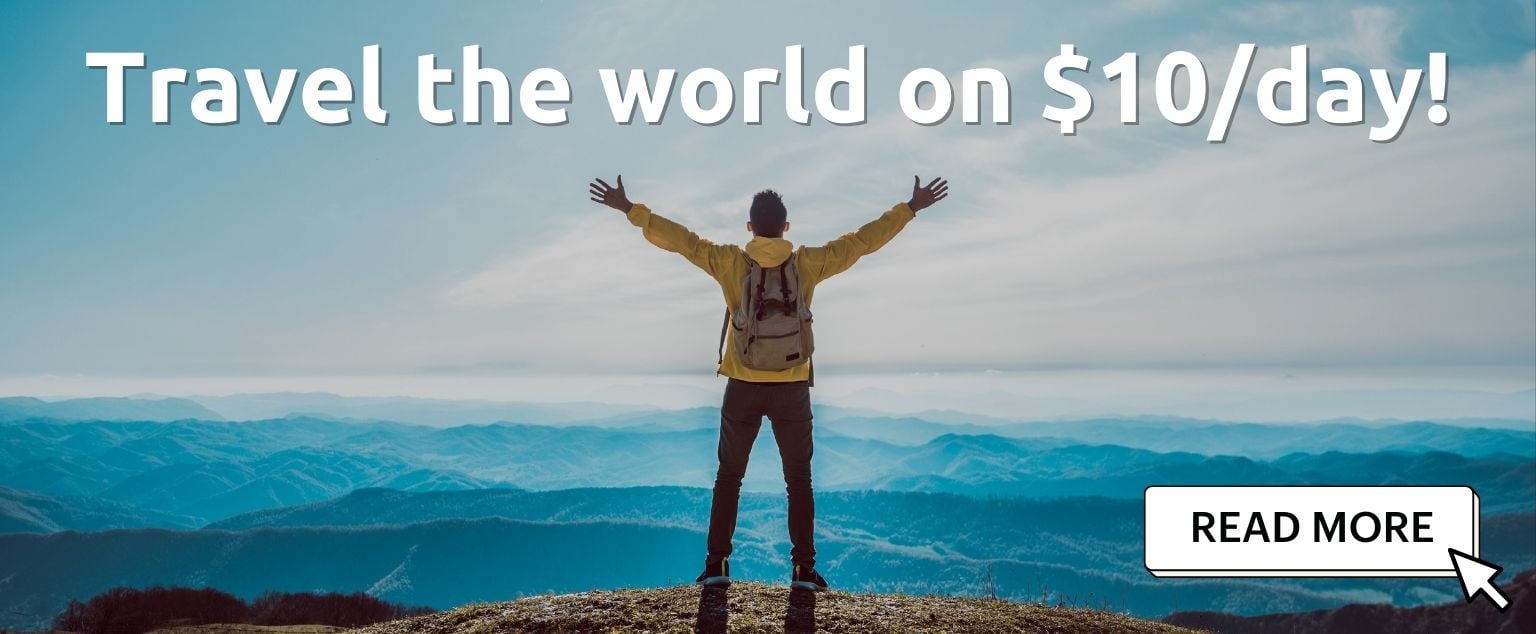 And for transparency's sake, please know that some of the links in our content are affiliate links. That means that if you book your accommodation, buy your gear, or sort your insurance through our link, we earn a small commission (at no extra cost to you). That said, we only link to the gear we trust and never recommend services we don't believe are up to scratch. Again, thank you!