If you're planning a trip to Southern California and not looking to stay in conventional accommodations, then prepare yourself to see a whole new side of the Golden State.
The Southern California state has so many incredible displays of natural beauty that a hotel room just doesn't cut the biscuit. Instead, look for somewhere that allows you to see a breathtaking panorama view stretched out before you as you lie in bed.
I'm talking about hundreds of miles of coastline, of vast deserts, of mountains so majestic, you'd never get tired of staring up at them. Where is this magical accommodation you ask? Well, none other than the best glamping Southern California, of course!
That's right, glamping is not just for festivals, but for nature lovers and outdoor enthusiasts alike. And the Southern part of California offers some of the best glamping sites.
So if this sounds exciting to you, read on to learn of the best glamping South California spots for you!
In a Hurry? Here's Where to Stay in Southern California for One Night
FIRST TIME IN SOUTHERN CALIFORNIA
Joshua Tree Glamping
Have you ever wondered what it would be like to unzip your tent in the desert at night and be greeted with a sky full of shimmering stars? Or to watch spectacular sunsets behind mountains from your comfortable perch? All that and more is now possible with this glamping site near the legendary Joshua Tree National Park.
NEARBY ATTRACTIONS:
Joshua Tree National Park
Town of Joshua Tree
Yucca Valley
Is this amazing Southern California Glamping Site booked for your dates? We've got your back with our other favorite properties below!

Unlock Our GREATEST Travel Secrets!
Sign up for our newsletter and get the best travel tips delivered right to your inbox.
What is Glamping?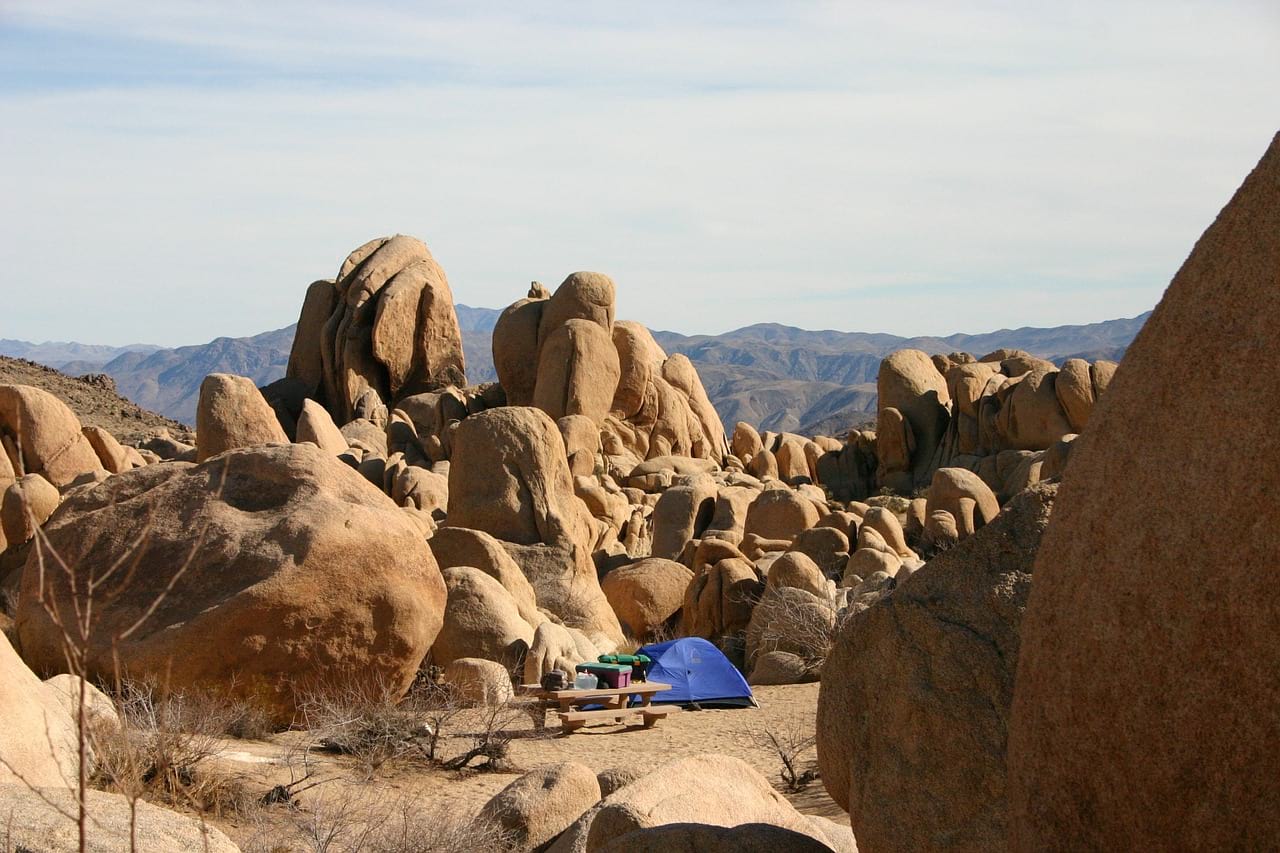 Who doesn't love adventures in the wilderness and sights that leave us in awe of nature? But at the same time, most of us can't part with our creature comforts. Who would want to give up a cozy bed, freshly brewed coffee in the morning, a clean bathroom with lavish amenities and high-end toiletries, and a kitchen with state-of-the-art appliances? It's a hard pass indeed.
Fortunately, we live in the 21st-century, where we don't need to make the trade-off. Thanks to the emergence of glamping, we now have a chance for the best of both worlds.
Glamping is basically 'glamorous – camping' where you get all the features of camping in California, without even having to pitch the tent. This is the place where The Jungle Book meets The Crazy Rich Asians. You get to pack like you're heading off to a resort, with just your clothes and none of the pots and pans and survival paraphernalia campers travel with.
The best part is that these glamping accommodations are located in some of the most rugged and wild terrains of Southern California, in exactly those places where a camper would settle for the night. But you won't have to worry about food or weather or other details, because your glamping spot will have it all figured out for you.
OVERALL BEST VALUE GLAMPING SITE IN SOUTHERN CALIFORNIA
OVERALL BEST VALUE GLAMPING SITE IN SOUTHERN CALIFORNIA
Joshua Tree Glamping
> $$
> 4 Guests
> A 1000W charging station
> Desert View
BEST BUDGET GLAMPING SITE IN SOUTHERN CALIFORNIA
BEST BUDGET GLAMPING SITE IN SOUTHERN CALIFORNIA
HI Desert Hideout Bell Tent
> $
> 2 Guests
> Clothing storage
> An unhindered view of the desert, mountains, and the valley
BEST GLAMPING SITE FOR COUPLES
BEST GLAMPING SITE FOR COUPLES
Temecula Wine Country Glamping
> $$
> 2 Guests
> Fully-equipped kitchen
> A spacious suite-like interior
OVER-THE-TOP LUXURY
OVER-THE-TOP LUXURY
Sunnysands Glamping
> $$$$
> 12 Guests
> Pool and hot tub
> Moroccan-themed glamping site
BEST GLAMPING SITE FOR FAMILIES VISITING SOUTHERN CALIFORNIA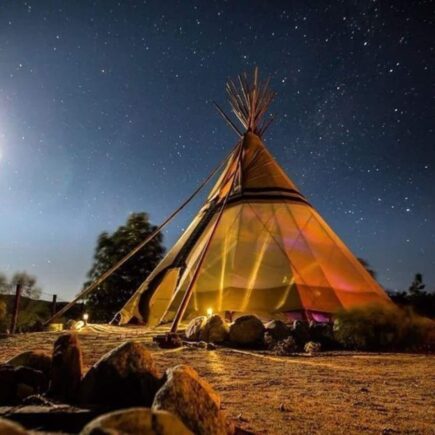 BEST GLAMPING SITE FOR FAMILIES VISITING SOUTHERN CALIFORNIA
Grand Tipi Temenos
> $$
> 5 Guests
> Fully fenced private backyard
> Located off the beaten path near a wildlife preserve
BEST GLAMPING SITE FOR BACKPACKERS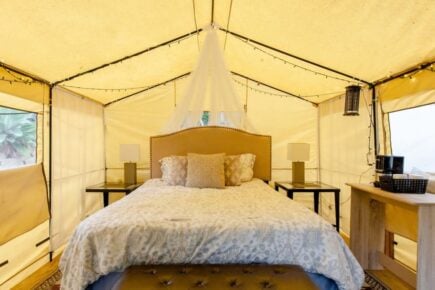 BEST GLAMPING SITE FOR BACKPACKERS
Glamping in the City
> $
> 2 Guests
> WiFi
> Valley and garden view
THE ABSOLUTE CHEAPEST GLAMPING SITE IN SOUTHERN CALIFORNIA
THE ABSOLUTE CHEAPEST GLAMPING SITE IN SOUTHERN CALIFORNIA
Romantic Get-Away
> $
> 2 Guests
> Books and reading materials
> Desert and mountain view
25 Most Epic Glamping Sites in Southern California
With classic airstreams, luxurious teepees, and massive yurts available to rent, glamping Southern California has never looked so pretty! Sound good to you? Then check out my top 25 picks of epic glamping sites found in SoCal…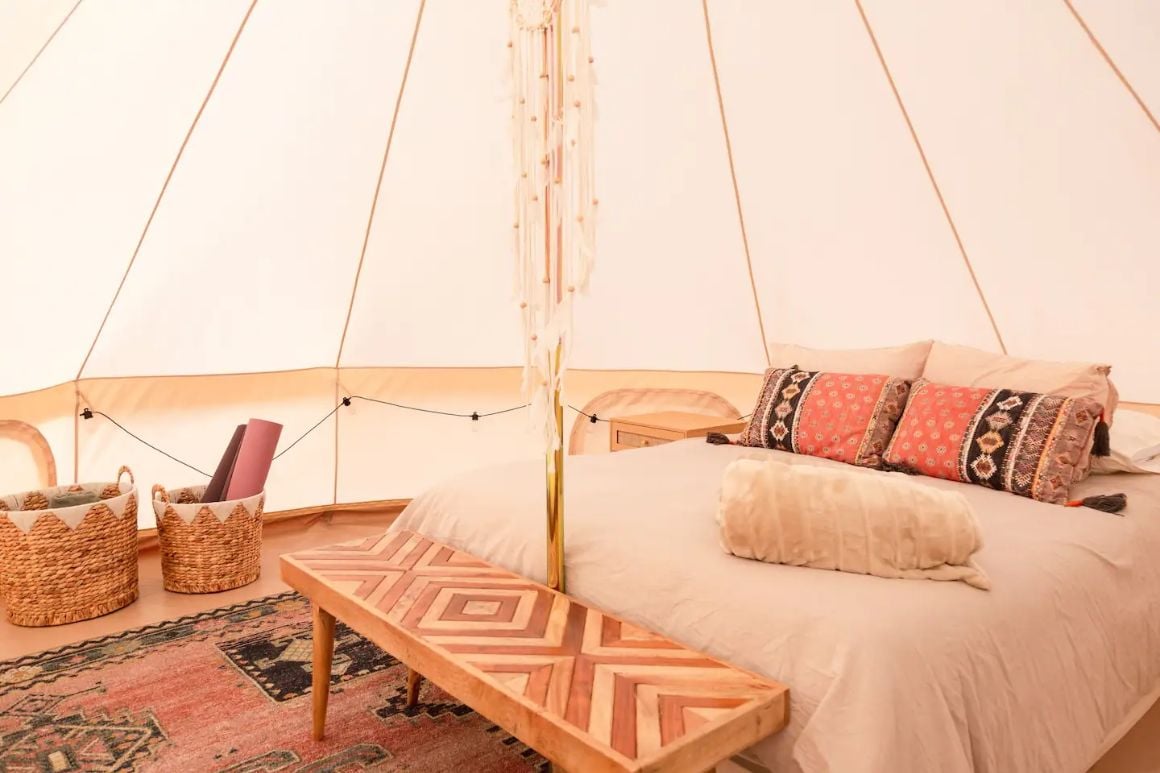 $$
4 Guests
A 1000W charging station
Desert View
If there's an adventurer inside of you, I bet you have dreamt of going camping in the desert at least once in your life. However, the harsh environment of the barren wilderness might have kept your feet firm on safe grounds. With this accommodation, your dreams can finally come true.
Desert Sky Escapes offers you an elevated camping experience 15-minutes from the Joshua National Park. The gorgeous bell tent is huge with a queen-sized bed for two and an option to make further arrangements for two more.
You are also allowed to pitch your own tent on the campground for a little bit of original experience. You get a private bathhouse, indoor heater for cold desert nights, drinking water, charging docks, firepit, kitchenware, lanterns, cleaning supplies, and many more comforts.
Best Budget Glamping Southern California – Desert Bell Tent
$
2 Guests
Clothing storage
An unhindered view of the desert, mountains, and the valley
If you have acquired a taste for glamping and wish to do it as often as possible without getting broke, this budget-friendly glamping site for two is the answer to your problem. Most people associate budget with compromise on quality and amenities, but this accommodation will make you change your perception.
Let's begin with the beautiful aesthetics of this canvas bell tent. The thick carpet, rugs, comfortable queen bed, and fold-out chairs coupled with plants make it quite comfy. You also get an indoor heater, carbon monoxide detector, and picnic table out front along with a fire pit for stargazing out under the cold night sky.
The washroom is a few steps from your tent, built just like a wooden cabin, and smells divine all the time. The location is ideal too with cute shops, cafés, water holes, and restaurants just 15-20 minutes away. With everything you need provided for you and an epic location, this is the perfect glamping spot for backpackers in California.
The view of the horizon from your tent includes majestic mountains, endless desert, and valleys in the distance.
Best Glamping South California for Couples – Wine Country Tent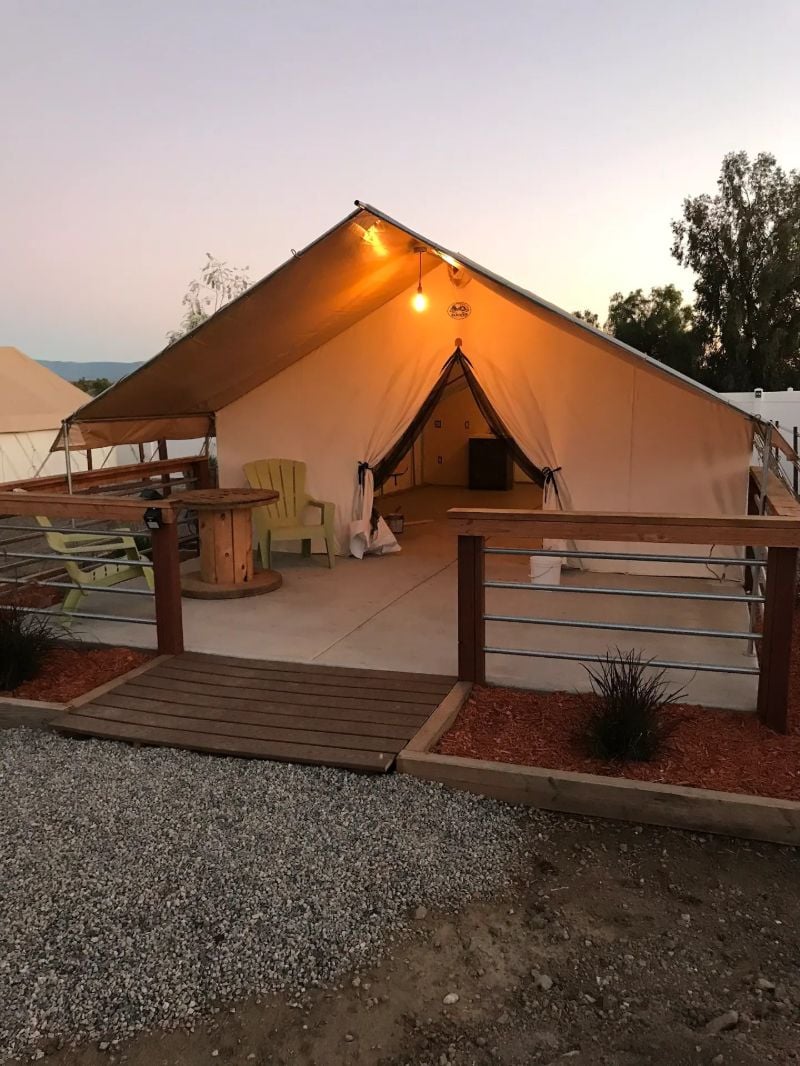 $$
2 Guests
Fully-equipped kitchen
A spacious suite-like interior
Nothing is amiss in this romantic deluxe glamping accommodation on a private barn in Temecula Wine Country. The custom Davis tent is furnished with luxurious beddings, satellite TV, couches, electricity, and an attached bath inside the tent – amongst many other amenities.
The campsite is like a lavish resort in a tent. There are BBQ grills for each tent and fire pits for cold winter nights. The tent Is equipped to provide a comfortable stay in extreme summers as well as extreme winters. With sherpa electric blankets, ceramic space heaters, and a swamp cooling system, the inside of the tent maintains a favourable temperature at all times.
From here, you can embark on long romantic walks in the wineries it's situated on, or head off to downtown 15-minutes away to check out all the best things to do in Temecula or challenge your partner in a friendly competition in the gaming room adjacent to your tents.
$$
2 Guests
Infinity pool with rock work and Jacuzzi
Surrounded by mountains and has an ocean view
This lovely spacious trailer facing the mountains of SoCal offers an amazing setting for two people looking for a nature retreat. The beautiful trailer is located in a bird's sanctuary, far from the city and deep into the natural landscape.
This glamping accommodation, while affordable, boasts some of the best amenities for its guests, including a gym with free weights and stationary bikes, and a beautiful infinity pool designed with rocks from where you get an undisturbed view of the ocean and the mountains and landscaped gardens.
Then there's the high-speed internet, a fully-equipped outdoor kitchen, and a dining area. It feels like a private oasis where the trailer and the surrounding areas belong solely to you. While there are not many people around you, keeping you company would be friendly dogs, horses, and of course, birds.
Is This the Best Travel Pack EVER???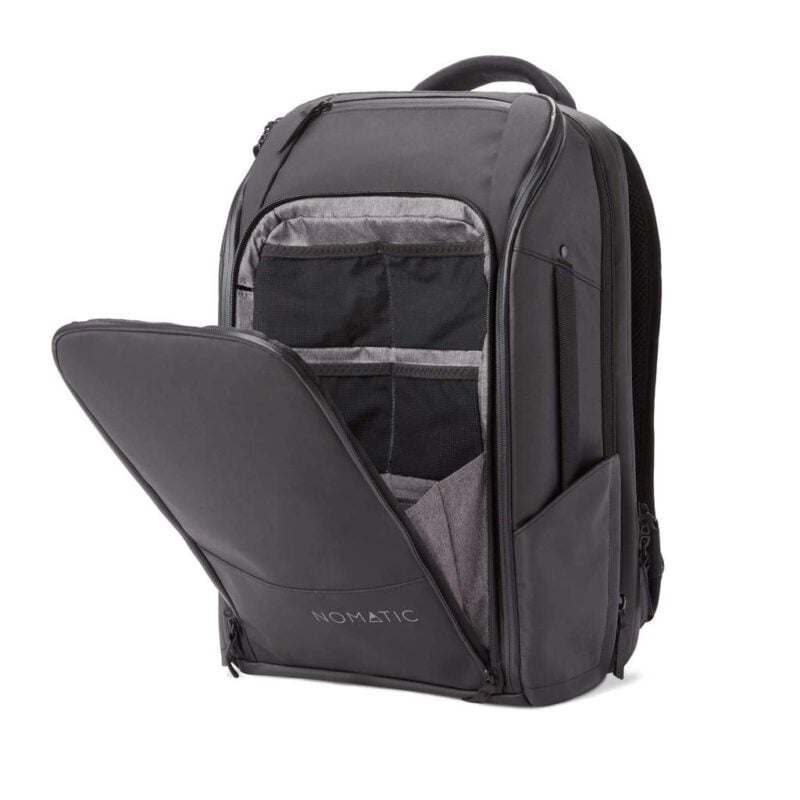 Over-the-Top Luxury Glamping in SoCal – Sunnysands Glamping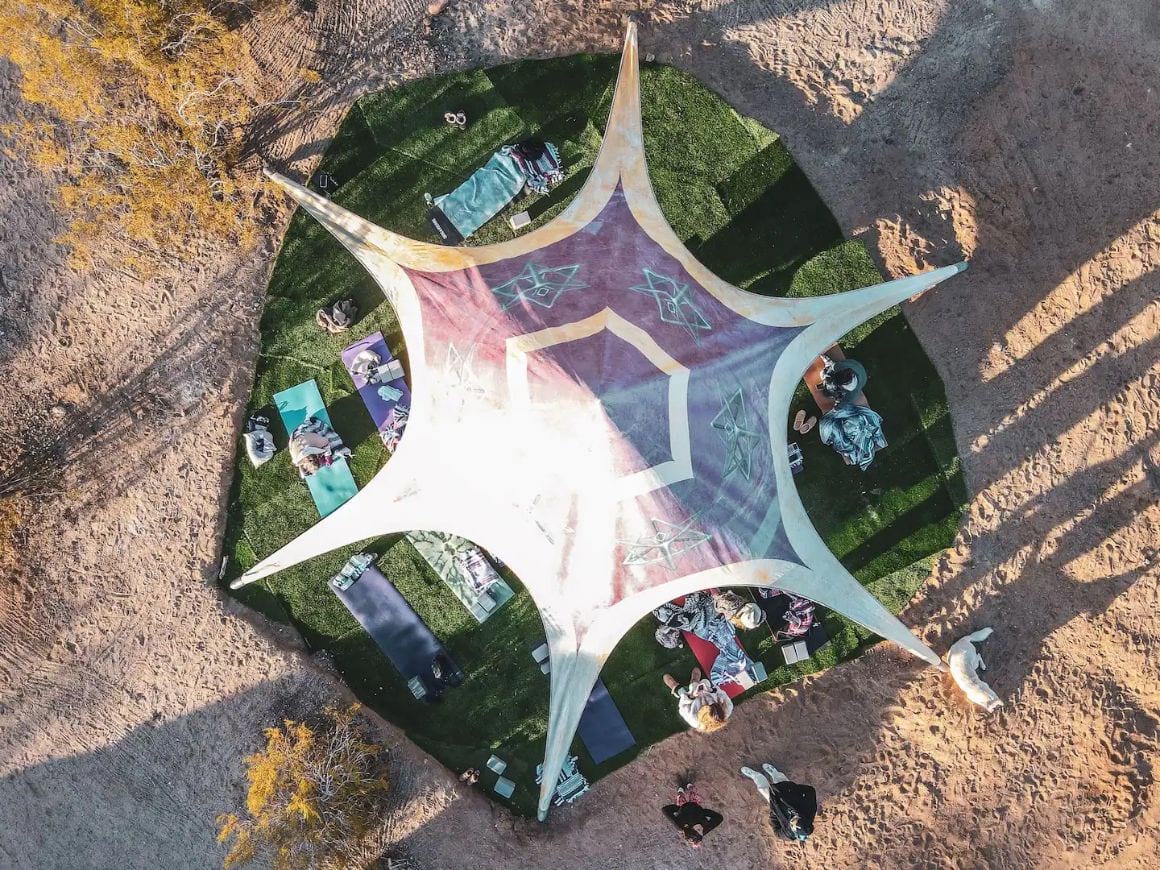 $$$$
12 Guests
Pool and hot tub
Moroccan-themed glamping site
To say that this glamping site in Yucca Valley is extravagant would be an understatement! Designed by the legendary LA-based French Moroccan designer David Crates, this glamping accommodation has a Moroccan theme and you'll notice that right away when you catch sight of the common Bedouin tent situated front and centre of the campground. It serves as a Yoga Dome with artificial turf.
Then there's the pool and a common space with five couches for you to eat, drink, and mingle. The entire campground boasts six bedrooms in total, each with king-sized beds, save for one which has a queen-sized bed. Each tent comes with a storage facility, thick rugs, and souk-style Moroccan furniture.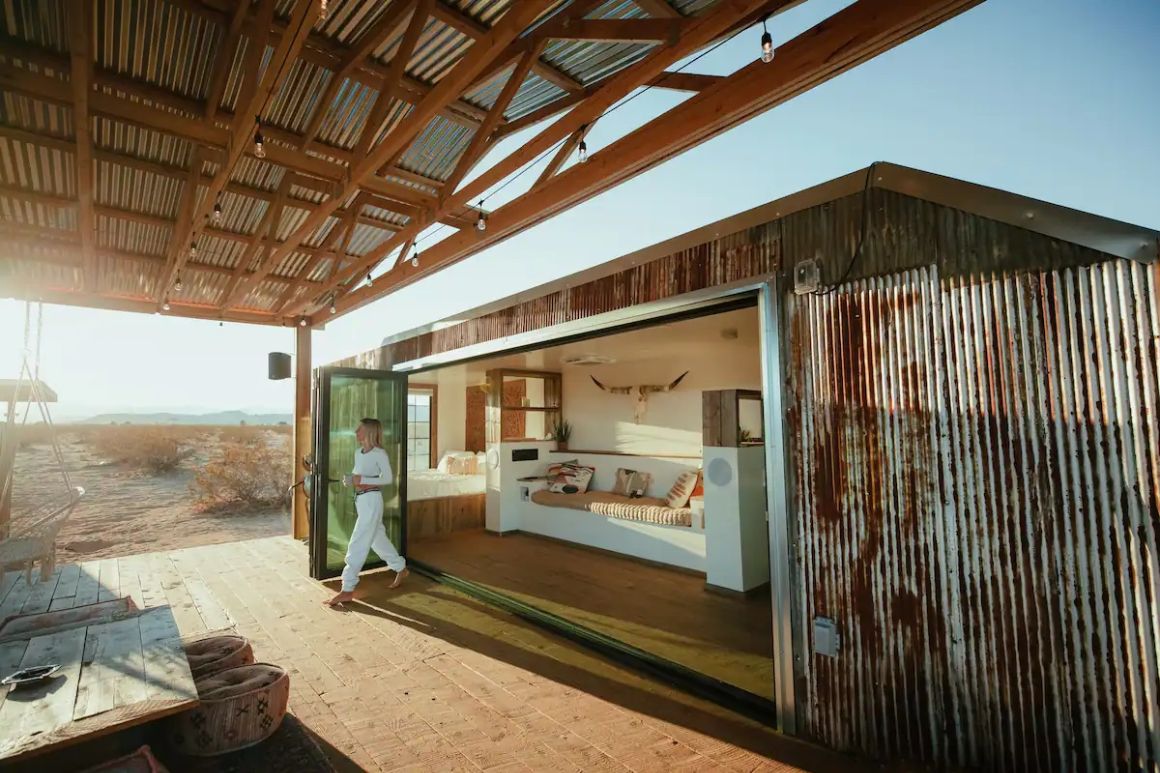 $$$$
4 Guests
Private pool
Luxurious RV surrounded by the desert
This is the top choice for people seeking a lush and luxurious place to stay in Joshua's Tree Village. This off-grid oasis treats you like royalty with the combination of its indoor and outdoor space designed innovatively, adding to the magic of the desert.
Here, you can camp in style with the king-sized mattress to sleep like an angel, a double glass window to give you an uninterrupted view of the night skies of the Joshua Tree wilderness, another set of twin-size mattresses to keep your loved ones close, a full outdoor kitchen, cowboy pool, and so much more.
No matter in which part of the property you are, it is designed to make sure you catch all the sunsets and sunrises during your stay. Since the property is entirely off-the-grid, you get access to electricity via the solar panels and have a tank of water to give you unreserved access.
Best Glamping South California for Families – Grand Tipi Temenos
$$
5 Guests
Fully fenced private backyard
Located off the beaten path near a wildlife preserve
Staying in this colossal tipi is nothing short of an ethereal experience, one that you can share with your family. The huge bed and plenty of space in the open floor plan are enough to sleep five comfortably, making it ideal for families travelling with children.
The easy access to food in the communal space, toys and books for children, and the full bath allow means that even children can enjoy the unique experience, without having to deal with the complications that come with hardcore camping.
Surrounded by desert, mountains, and the call of songbirds, doves, jays, coyotes, and owls, you'd just want to sit in your cozy bed and drink in the sights and sounds around you. Be it the iridescent stars that overtake the night sky, or the sun playing hide and seek behind the mountains, it's hard to take your eyes off of your surroundings.
The highlight of this accommodation is the neighbouring 45,000-acre wildlife preserve. Here, you can hike through the best California hiking trails and explore the boulder gardens, canyons, wildlife, and the raw desert surrounding you.
Another Great Glamping Southern California for Families – Moon Camp
$$$
6 Guests
Air conditioning and indoor fireplace
Mountain and desert views
This is one trip to the desert that you and your family aren't going to forget anytime soon. The moon camp is sure to leave an impression for its off-the-grid location in the beautiful desert and its plush amenities.
On the horizon of the camp, there are gorgeous mountains and fascinating Joshua trees for as far as eyes can see. Nighttime brings the stars out in clusters and you can enjoy the view from your porch which is furnished with hammocks, lounge chairs, a fire-pit, and a grill.
Don't fear the seclusion if you are with the kids, the camp feels far away but is right around the corner from Yucca Valley Shopping Centers, which houses Walmart, Home Depot, restaurants, etc. To make your glamping experience with the kids more comfortable, the accommodation comes with a crib, a travel crib, children's books, toys, and fireplace guards.
This is a deluxe accommodation and the Moon camp has all the amenities you'd find in a resort. The camp gives you access to the main dome house, a cosy guest-house shipping container, and a lounge shipping container.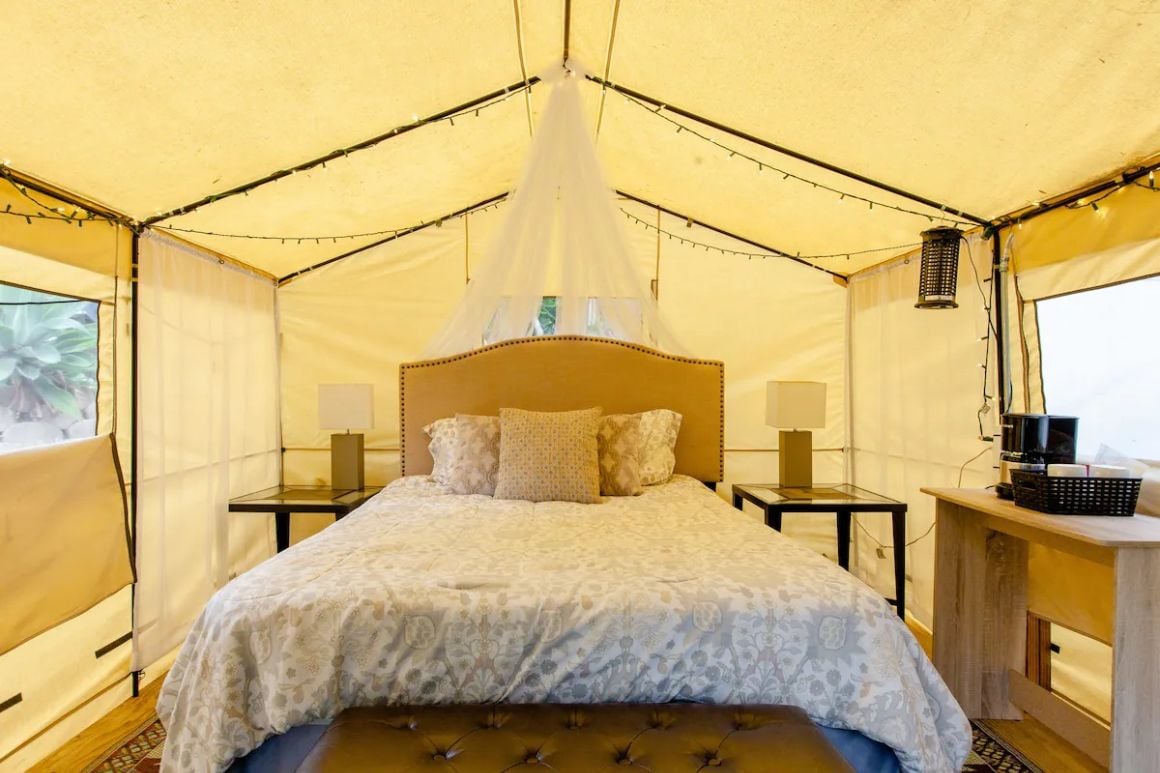 $
2 Guests
WiFi
Valley and garden view
If you have taken the road to backpacking without much cash on you, don't think there aren't places for you to enjoy nature. In fact, in Southern California, you'll have quite a glamping experience in the city without having to spend a fortune.
Located on a canyon yard glamping site, this accommodation is incredibly comfortable and cosy with a queen bed, electricity, WiFi facilities, and an uninterrupted view of the garden and then the valley on the horizon. The accommodation also provides you with a backyard, Jacuzzi, BBQ Grill, and an outdoor fireplace for you to enjoy the breathtaking skies and the view.
The best part about this accommodation is that it feels secluded and private, but it is located just minutes from San Diego's top attractions including the Gaslamp, various beaches, and the North Park.
Another Great Glamping Site for Backpackers – Tipi in Wilderness
$
4 Guests
Outdoor furniture and dining area
Located on the Topanga Canyon
If you wish to go glamping with your backpacker friends but don't wish to spoil the beauty of nature with excessive glamour and luxury, then this tipi in Topanga Canyon is for you.
The tipi is located less than an hour from LA and 20-minutes from the beach, but the immediate surroundings are just miles of green wilderness with lots of friendly foxes, rabbits, and deer visiting you.
The inside of the tipi is simple but comfortable with two soft queen beds, a kitchenette with basic appliances, an air-conditioner, a heating system, access to a clean bathroom with toiletries, a smoke alarm, a first-aid kit, etc. there are hundreds of miles of hiking trails around the property for you to explore, or you can head off to the beach.
This property is a retreat glamping site with two tipis, so make sure to bring your takeaways and cameras for capturing the beauty around you.
The Absolute Cheapest Glamping Southern California – Romance in the Desert
$
2 Guests
Books and reading materials
Desert and mountain view
This glammed-up camp right here is proof that you don't need much money to enjoy life, but just an eye to recognize a gem when you see one. While affordable, this peaceful glamping site boasts an extremely comfy airbed with soft pillows, and a cosy warm interior to feel at home on a secluded property. Since the property is remote, the hosts provide you with everything you could ever need to spend days here in a slice of heaven.
From WiFi and solar lights to clean drinking water and propane for cooking, you'll have it all. Speaking of, the property comes with an outdoor kitchen where you'll have all the paraphernalia to prepare a delicious meal. What adds to the charm of this glamping site are the mountains serving as the backdrop and the remote location giving you a perfect spot for stargazing.
When you feel like exploring some more, head over to the vibrant town of Joshua Tree or head out on one of the best hikes in Joshua Tree National Park where more adventures await you.
Amazing Luxury Glamping Southern California – Yurt on Ranch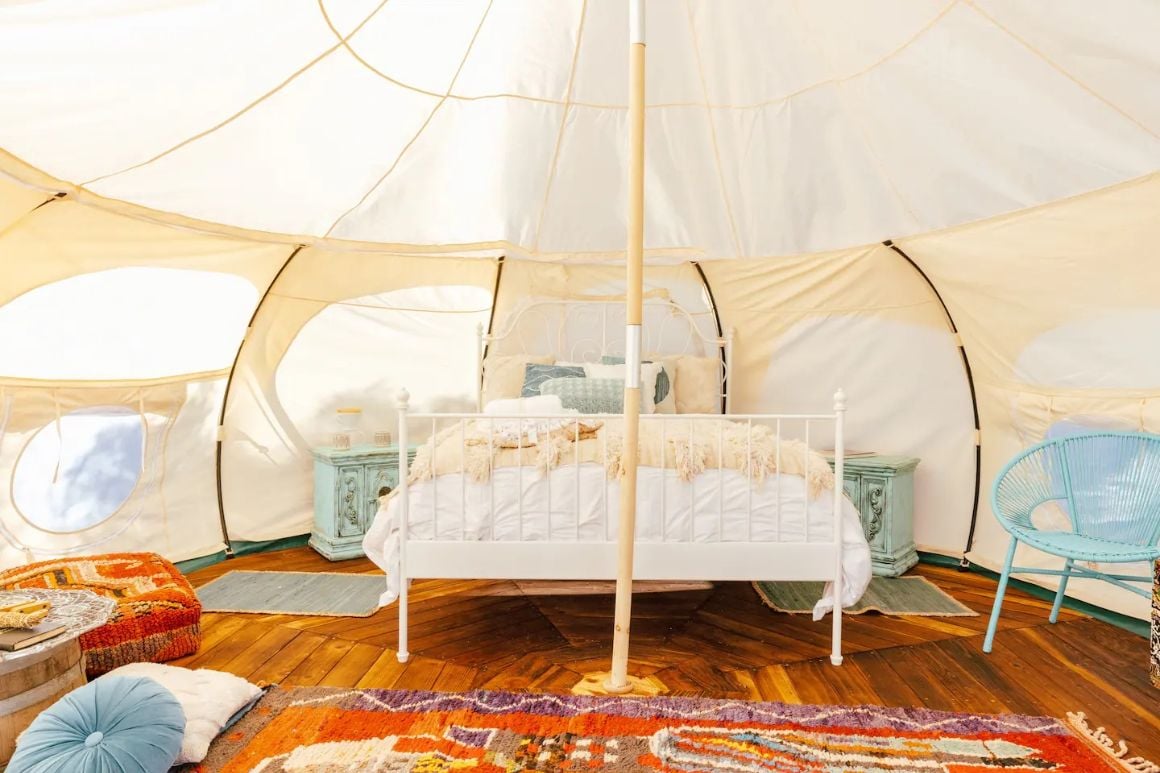 $$$
2 Guests
Bikes
Mountains and deserts surround the site
For a true glamping Airbnb experience in California, on a desert-mountain terrain, look no further than the Moonrise Ranch. This 10.5-acre property is an oasis and a place of serenity for all those who find joy in the company of stars and beautiful horses. Right next to the glamping site is the Off-Track Racehorse Sanctuary and 10% of your payment is donated towards it.
There will be times, you'd forget that you're living in the middle of a desert and not a five-star hotel. Everything in this glamping site is top-notch, the organic toiletries provided in the bathroom, the entertainment facilities of TV, Piano, board games and books, heating and cooling system, safety features such as smoke alarm, first-aid kit, carbon monoxide detector, WiFi, fully-outfitted kitchen, bikes, hammock, outdoor dining area and tons more.
For some exciting fun and entertainment, you can just lounge outside in the hammock at all hours and enjoy the breathtaking view of the desert and the mountains, or you can head over to Coachella valley, Idyllwild, Joshua Tree, or Pacific Crest Trail, all close by.
Best Glamping South California for Solo Travelers – Olancha Tipi
$
2 Guests
Electric blanket
Mountain view
For those who wish to cherish the peace found in solitude, but also want to meet new people as they go along their adventures, this is the perfect place to start. Olancha RV Park and Motel have everything one might need to enjoy their solo road trip across California.
There are on-site restaurants and Olancha Café for you to enjoy food and mingle, where packed lunches and date shakes are also provided to those heading off to the Death Valley and Mount Whitney, just a few kilometers away.
The tipis itself has premium bedding for a blissful night's sleep, and you're provided with a duvet, air coolers, and heaters to maintain a comfortable temperature inside, regardless of the weather outside. Every room comes with WiFi and offers you free parking space. In summers, the pool is also open to beat the sun.
There are hiking trails spread all around the site, which will lead you to some amazing spots with views of the mysterious Joshua Trees and the mountains in the distance. If you want, you can also make a drive of eight kilometers to enjoy the sight of beautiful Owens Valley Lake.
Best Weekend Glamping South California – Outback Oasis
$$
2 Guests
Portable fans and heater
Desert and mountain views
Looking for a short getaway where you can relax and get some of your creative juices flowing? The vibrant and bright Outback Oasis is a perfect retreat for anyone who wants to spend their short vacation chilling in their tent, sitting around the fire pit and playing with the chickens, sipping coffee right next to a Koi Pond, and for pure fun, paint the World Mural Wall as a little token of your presence here.
This little glamping site is exactly what you need to unwind and relax during the weekend. The tipi comes with two comfortable twin beds where you can drift off to the soundest sleep of your night as the coyote howls into the night and the roosters wake you up in the morning.
In the main house, you also get access to the hangout area where there are hammocks, bean bags, porch swings, rocking chairs, lawn games, and a chance to make friends with fellow guests. The shared area has a BBQ grill and all the paraphernalia as well as a coffee and breakfast station with Keurig coffee maker, fridge, microwave, etc.
Another Weekend Glamping Southern California Site – Sky Dome Yurt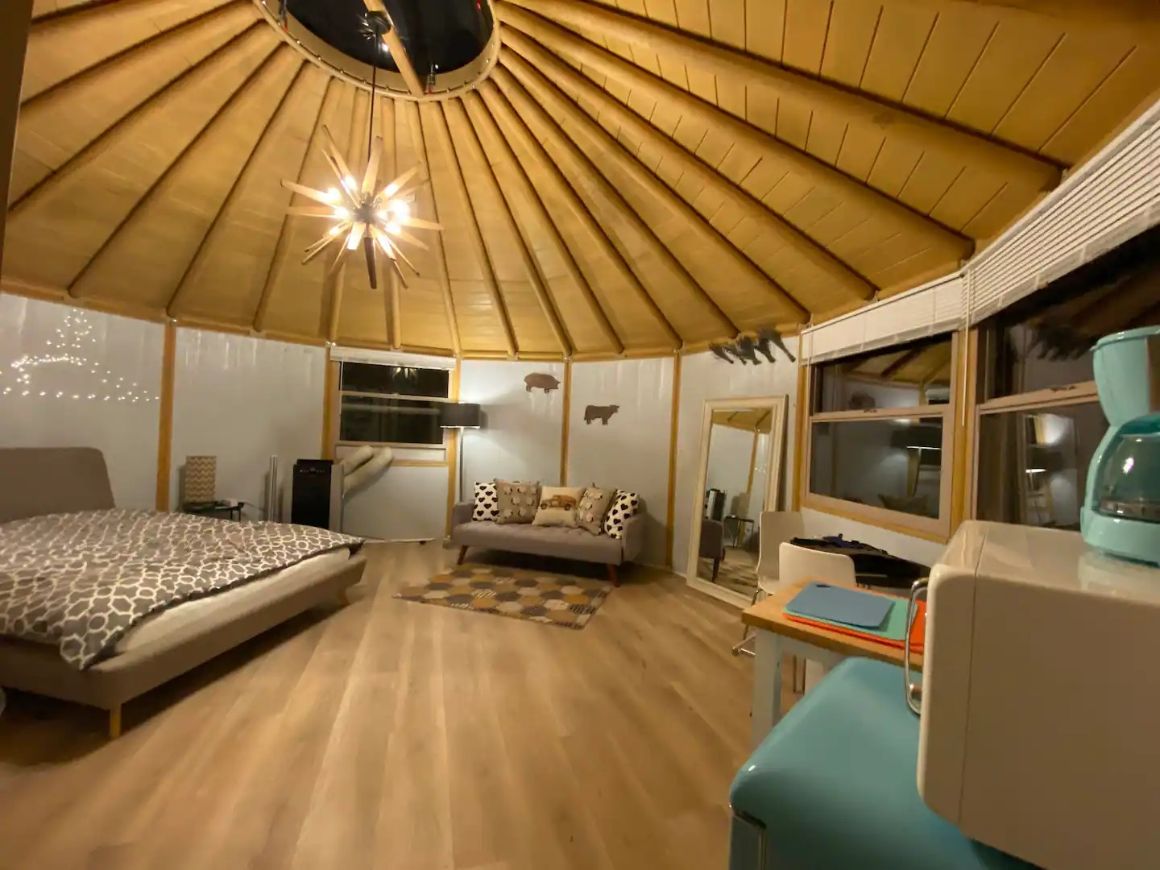 $$
4 Guests
Kitchenette
Scenic views of the mountain and the valley
Located in a gated community of Valley Center, the SkyDome Yurt genuinely stands out for its beauty. If you just have a weekend to unwind, this glamping site will do the job just right. The yurt gives its guests a spectacular vantage point to catch every sunset, and sunrise, and gaze at the stars above.
The ocean breeze keeps the weather interesting and you get to experience that off-the-grid feeling without actually wandering too far into the wild. The patio of the yurt is covered with lavender fields, the beautiful scent at once relaxing you before you even set foot inside.
Speaking of which, the yurt is spacious with a queen-size memory foam bed for a weekend of restful sleep, there's also a sofa bed, kitchenette, outdoor shower, AC/heater unit, and much more. The boardwalk that leads you to the Yurt lights the way – literally – into the beautiful interior.
Best Glamping Southern California for Honeymooners – Desert Stargazer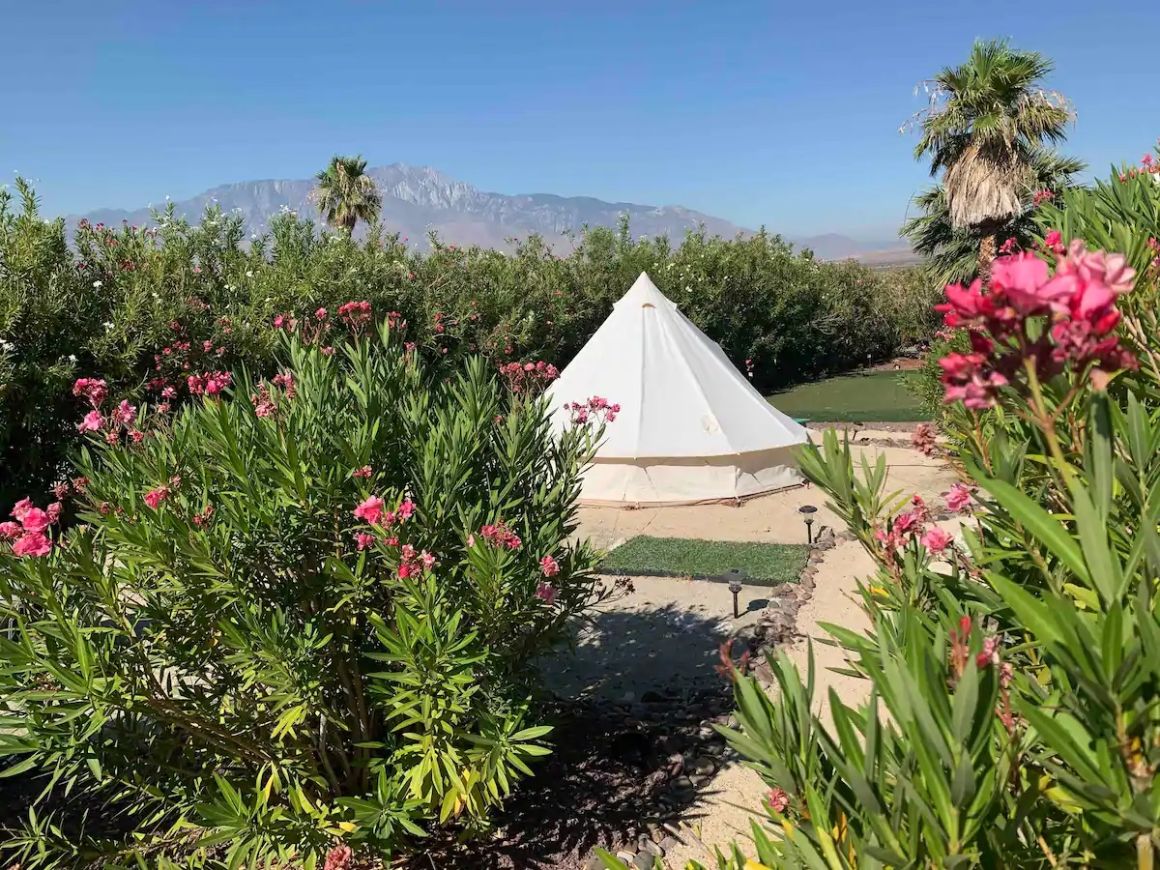 $$
2 Guests
WiFi
Surrounded by a luscious garden with a mountainous backdrop
With its colossal roof surrounded by an ardent garden, hidden deep in the desert, and the mountains that stand guard around it, this deluxe yurt is as romantic as they come. Located just outside of town, yet providing complete privacy and seclusion, this glamping spot is just what you need for your honeymoon. You can enjoy everything great about the outdoors, without compromising on anything you love about the indoors.
Here you get to enjoy romantic stargazing nights, the sound of the desert as you sleep, the feeling of waking up and stepping outside to the view of breathtaking mountain ranges, alongside a steaming cup of freshly brewed coffee. The cosy tent has shaggy rugs, plush throws, a queen mattress, a clean and well-maintained bathroom, a heating and cooling system, and a lot more.
For some exploration, head into the town for numerous spas, great shopping, fine dining, and nightlife options. Minutes away from the site, unforgettable adventures await you in the Palm Springs aerial tramway, in the endless hiking trails, in Joshua Tree National Park, atop Mount San Jacinto.
$$
2 Guests
Private hot tub
A retro trailer on a vineyard
A retro-themed trailer, private Jacuzzi, breathtaking views of the vineyard, hot air balloons, and wine barrels bar, amongst various things! Do you need any more reasons to bring the love of your life to this glamping site with your significant other?
Located on a four-acre vineyard in the heart of the Wine Country, this glamping site gives you access to a huge private area all to yourself where you'll have your vintage trailer, the bar, Jacuzzi, lounge chairs, picnic bench, BBQ grill, warm lights, all to yourself.
The trailer itself is adorable and clean with a romantic dining area, a fully-equipped kitchen, a full bath, a queen bed, and a TV. This is just the place for your romantic getaway
Best Glamping South California for Views – Starry Bubble Tent
$$$
4 Guests
Ensuite bathroom
A camping site made of bubble houses with unmatched views
This campsite in Adelanto, California takes glamping to a whole new level. The mobile homes here are found in the shape of bubbles, giving you a clear view of the desert and the mountains outside, just like you would during camping. Only, the inside of this bubble house puts the lux in luxury.
Staying here, you get every amenity to make your stay comfortable. The mobile home comes with a washing machine, a fully-outfitted kitchen, dishwasher, a private bathroom, a hairdryer, and free toiletries amongst many other things. Nearby are several trails for guests to go hiking. Also nearby the camping area is Victorville and Barstow.
This property is perfect for all kinds of travellers. Solo travellers on the search to find themselves, couples on a romantic vacation, and families seeking to create memories, will all find themselves enchanted by the beautiful views of sunrises, sunsets, and starry nights.
Most Beautiful Glamping Southern California – Vintage Trailer
$$
2 Guests
Outdoor dining area and hammock
Vintage décor and furnishing
Sure, the earth is beautiful, but so is the human mind. When nature's magnificence is combined with the creative artistry of humans, the results are something similar to this vintage trailer. With room for two, this restored 1965 Aladdin camper in Topanga is only for couples and solo travellers, or any two people who love each other and all things art and vintage.
I say that because this entire neighbourhood in SoCal is known for its bohemian artist community. The vividly coloured trailer comes with two comfy beds, a cute little kitchenette, a private deck, and a lot more. There's something very cosy and private about living in a trailer under huge pine and oak trees, mountains in the distance, and a creek nearby.
You fall asleep to the sound of frogs singing into the night. For fun, take the short walk to the equally vibrant town nearby or set upon one of the many hiking trails Topanga's wildlands are known for.
Best Glamping South California for Friends – Mini Home Trailer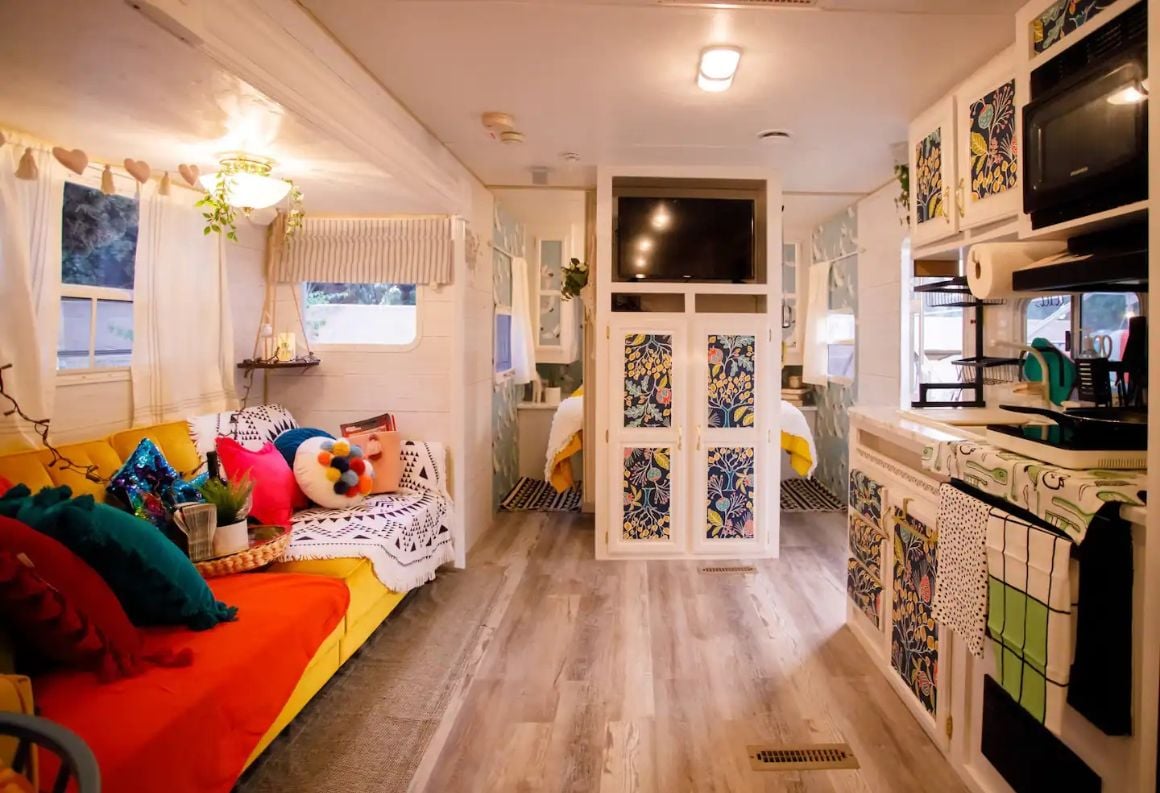 $$
4 Guests
Bathtub
A mini home with lots of amenities
Do you wish for privacy during your vacations but hate secluded properties? Does the idea of camping appeal to you but the lack of facilities scare you? Do you wish to vacation for a long time but don't want to miss work? I have finally found a perfect property for the conundrum you and your friends face.
This camping trailer situated in the backyard of the main property gives you plenty of privacy, but the location right next to a busy street makes sure you are in the heart of Fountain Valley. The trailer allows you to enjoy all the fun of camping, but the inside is furnished like a mini-home with everything available to cook, clean, work, study, etc.
If you are a group of travelling nurses, then the Fountain Valley Hospital is right next door making this glamping spot the ideal spot to call home. The trailer boasts a queen bed and a bunk bed to sleep four, WiFi and Netflix, a fully-outfitted kitchen with baking paraphernalia, outdoor furniture, a fenced backyard, and much more.
Glamping South California for Large Groups – Tiny Retro Hideaway
$$
4 Guests
TV, books, and reading material
A retro glamping site with a view of the city skyline
If you have, like everyone else, imagined an ideal vacation with your best friends, it would look like this accommodation. The innovative design of this glamping site allows you to enjoy the indoors and outdoors at the same time, and elevate your experience. Surrounded by a sandstone mesa far above the city lights, it is the place to hide away from everything and everyone that doesn't matter.
The trailer is a 1954 vintage palace-on-wheels, facing it is a gazebo with a king-sized bed. If you have always wanted to sleep under the stars, here's your chance. The patio is fully furnished, allowing you a bigger space to call home, albeit temporarily. The glamping site has every creature comfort you'd need to hide away in this little haven.
Glamping South California With an Epic Location – Glamping by the Sea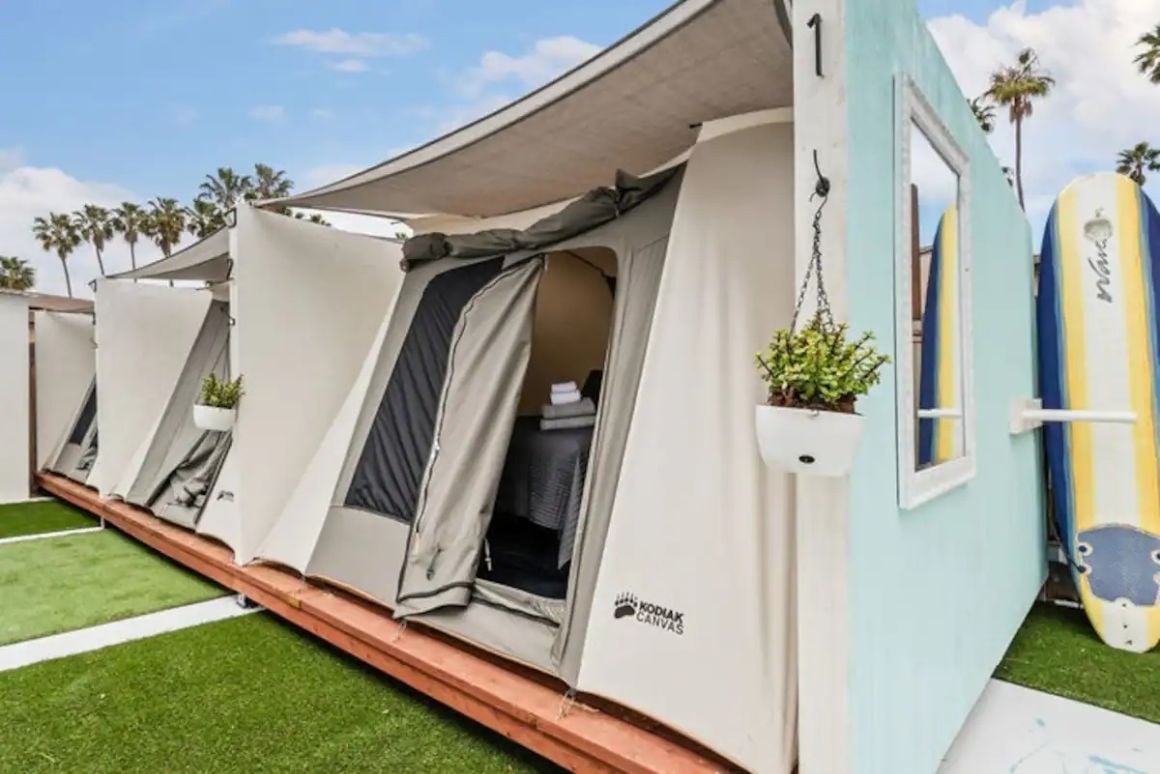 $$
2 Guests
WiFi
Beachside glamping experience
Beachside camping is not as common as I'd like to be, so this Superhost decided to treat the fun-lovers with a luxurious beachside glamping accommodation in OB, San Diego. Located in near some of the best beaches in California, the cabin has everything one might need to spend some fun and exciting days by the beach in summers.
The waterproof canvas tent is a little heaven inside with all its modern comforts, including a queen memory foam bed, carpeted flooring, an added wall for sound cushion and privacy, a sound machine, an outdoor fridge, and showers, WiFi, power outlet, and more.
It is just the place to book to spend days on the beach but also has your own little nook where you can block out the noise, play something soothing on your sound machine, secure the zips with the provided combination lock, and have a good sleep on your memory mattress.
At night, you can have a peaceful walk on the beach and the next morning, it's all the water shenanigans again. Hose and outdoor showers will help you ensure no sand comes in.
Glamping South California with Mountain Views – Dome Glamping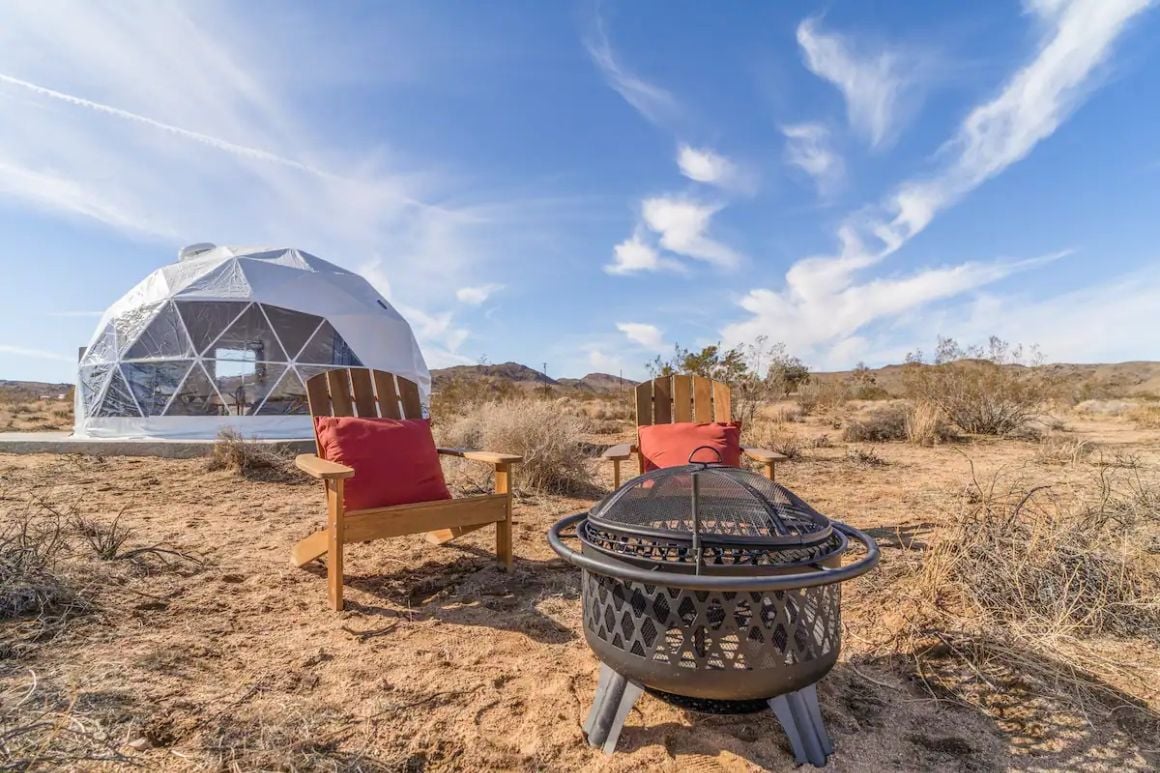 $$
2 Guests
Security cameras on the property
A desert camping experience
With snug bedding, domed ceilings, and an unmatched view of the Mojave Desert, glamping in San Bernardino has never been this magical. This glamping site is best suited for those looking for a little getaway outside of the city life. The views, the dome, and the experience of the desert will make you feel like you are miles from the closest city.
The site features two geodesic domes located on 2.5 acres of private land. One entire wall of the dome gives you an uninterrupted view of the mountains in the distance and the local wildlife that comes traipsing in. Just one minute drive from the property is a farm where you can watch the horses graze and perhaps make friends with some of them.
When craving some pizza, make another five-minute drive to the closest pizzeria. The site features deluxe furnishings with a queen bed, chairs by the window for stargazing, toiletries, crockeries, a fireplace, a heated rainfall outdoor shower, a porta-potty, and so much more.
$$
2 Guests
WiFi
An authentic gypsy carriage
Are you a history enthusiast, a xenophile, have a love for the old, and an adventurist? I have found something that you'd fall in love with at first sight. This Romani gypsy wagon situated in the beautiful mountains of Santa Monica gives you a taste of the nomadic life. I say taste because while the wagon has the décor and furnishings of a traditional gypsy style and is as authentic as it gets, its interior is draped in luxury.
The carriage is awash with natural light, has a bed for two, velvet curtains, a cushioned workbench, an espresso machine, and a mini-fridge amongst many other things. And outside, you have a private space to yourself with a clawfoot bath, wooden vanity, and a restroom. There are even chandeliers hanging from the oak tree, making it a romantic place for couples to stay. Did I mention that it's in Topanga, with greenery all around you?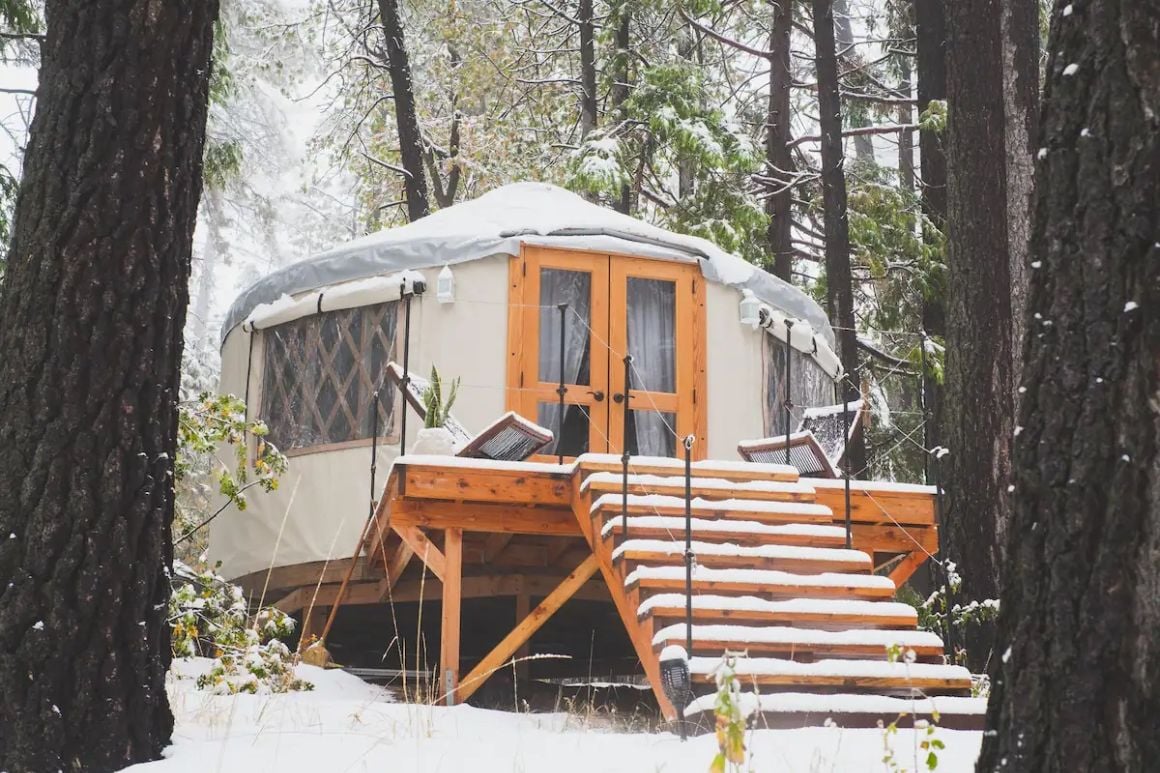 $$
2 Guests
Books and reading material
Mountain views
Far from the crowd, cradled amongst pine and cedar trees, this accommodation is a little haven in the wilderness. The peaceful surroundings of the yurt make it a place of healing and are perfect for people wanting to escape their surroundings for a long period of time.
While providing comfortable amenities, this yurt brings you close to nature, with the historic Strawberry Creek next to it, the stars coming out in full force at nighttime, and the babbling brook nearby providing you with the best lullaby.
This glamping site is called a "Get-Well Yurt" as it has everything one needs to find serenity in their surroundings, including hiking trails, and the spectacular Lily Rock. The yurt's décor follows the same theme and is designed with soothing neutral tones and furnished with eco-friendly, organic, and upcycled materials.
The yurt comes with a comfy queen-sized bed, fully-equipped kitchen, a skylight dome, wall heater for chilly winter nights, a bohemian hammock for summers, filtered water, a private full bathroom, and everything to make your stay here seem like one peaceful dream.
Don't Forget Your Southern California Travel Insurance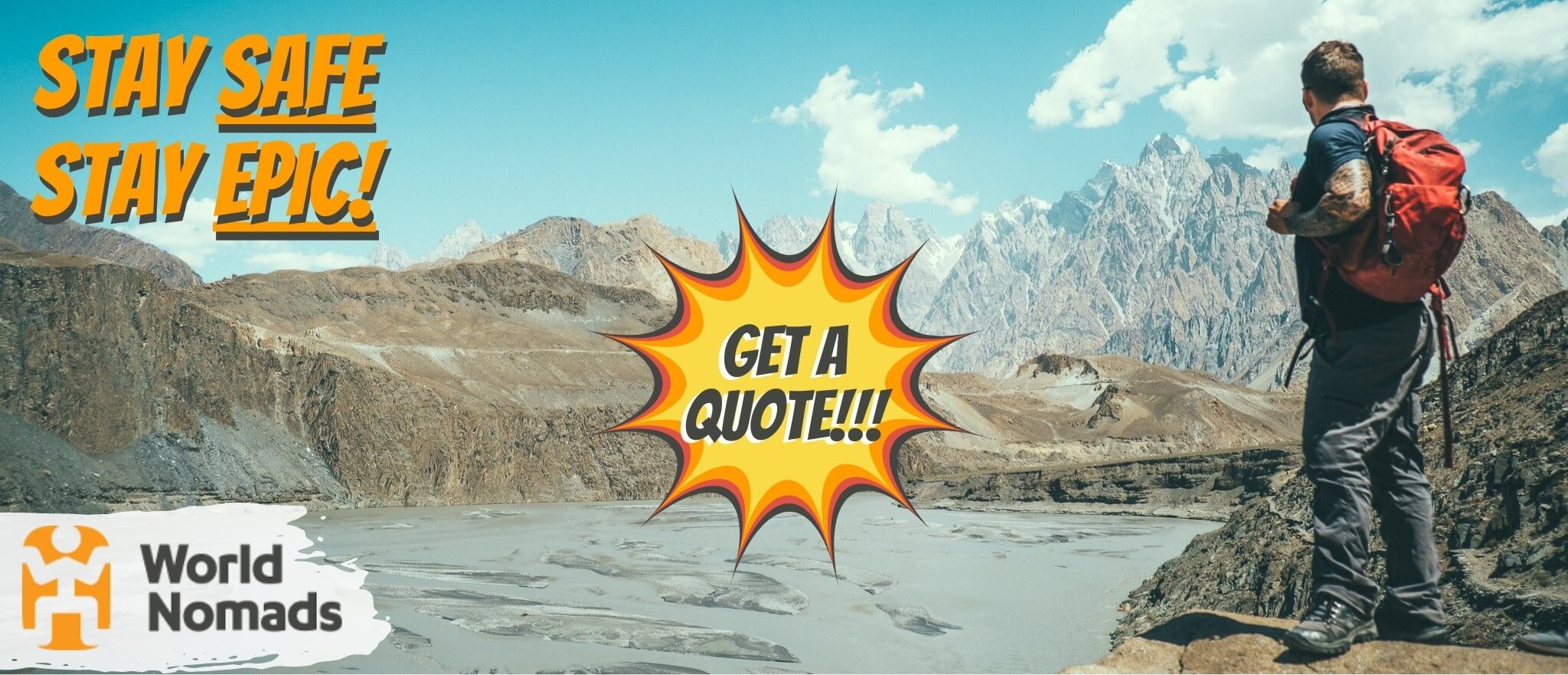 World Nomads' mission is to support and encourage travellers to explore their boundaries. They offer simple & flexible travel insurance, and safety advice to help you travel confidently.
They've been doing it since 2002 – protecting, connecting, and inspiring independent travellers just like you.
Get a quote below or read our in-depth review!
World Nomads provides travel insurance for travelers in over 100 countries. As an affiliate, we receive a fee when you get a quote from World Nomads using this link. We do not represent World Nomads. This is information only and not a recommendation to buy travel insurance.
Final Thoughts on Glamping Southern California
While there are lots of options for you to choose from, all these glamping sites are distinct in their own way, appealing to the specific interests of different travellers. I'm sure by now that you already have your sights set on a glamping accommodation that just calls to you.
Before you head off on one of the most memorable trips of your life, make sure to call your hosts beforehand, they'll let you know all about the amenities, saving you from carrying items you don't need.
Trust me when I tell you that many glamping sites come with restaurant-in-a-yurt nearby, gourmet meals, and professional chefs.
Another pro-tip, if you are flying in from outside the country, do consider travel insurance to keep yourself protected against all travel risks.
---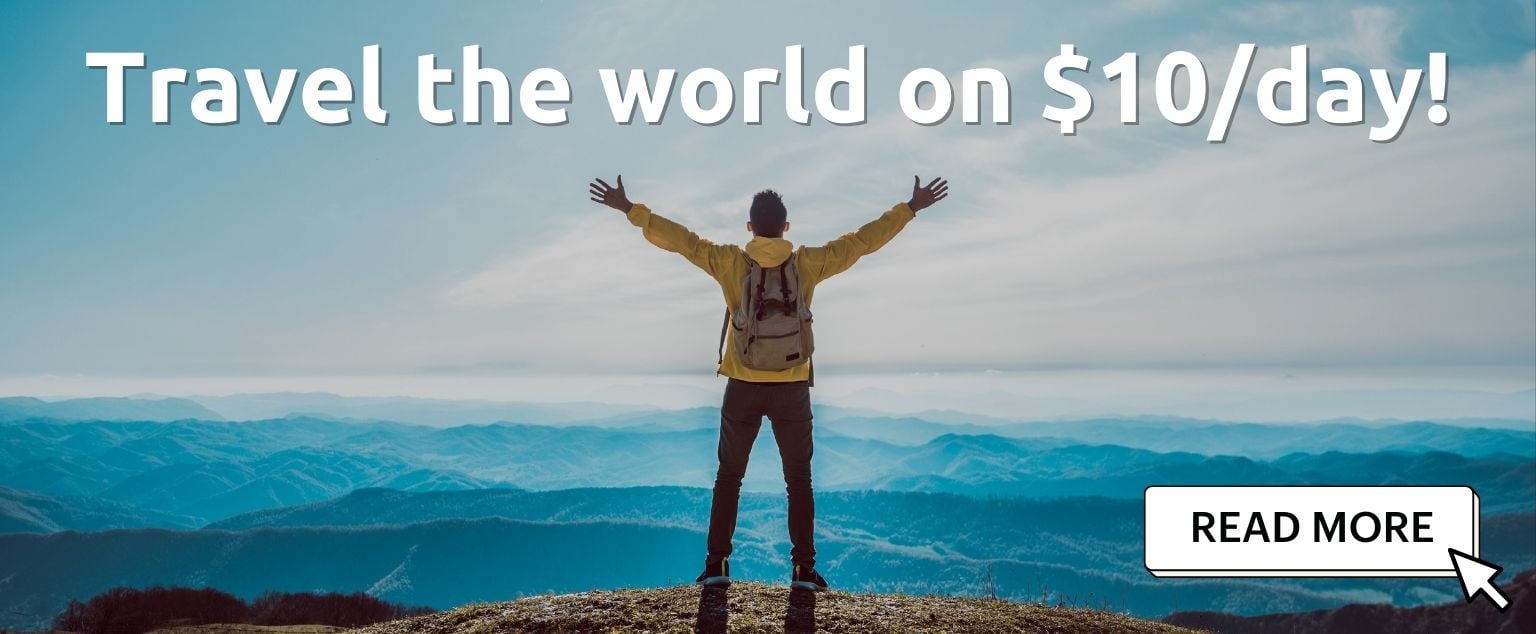 And for transparency's sake, please know that some of the links in our content are affiliate links. That means that if you book your accommodation, buy your gear, or sort your insurance through our link, we earn a small commission (at no extra cost to you). That said, we only link to the gear we trust and never recommend services we don't believe are up to scratch. Again, thank you!