California is synonymous with several stereotypes: dramatic coastline and palm tree-lined roadways, movie stars, models, and Silicon Valley billionaires, sunshine, surf towns, and wine country.
Yes, you can find all of that in California, but this state offers so much more than the clichés. In this California travel guide, I'll do my best to convince you why California is one of the most diverse places on earth, whether you need convincing or not.
Aside from the mentioned things above, California is also known for some of the world's most stunning national parks and breathtaking wilderness, historic mining towns, thriving micro-brew scene, world-class skiing and majestic Sierra Nevada mountains, agriculture and farms, deserts, and so much more.
I have traveled to a lot of places in my life, but nowhere is as diverse as California.
In one trip you can surf and ski, hike in pristine backcountry, visit the famous Yosemite Valley, walk amongst the tallest organisms in the world (redwoods and sequoias), indulge in fresh produce and multi-ethnic cuisine, drink world-class wine (and beer), party in LA, marvel at San Francisco's iconic architecture, explore the hottest desert in the US, and then, road trip along the coast.
Hope you didn't hold your breath for that sentence.
Now, I'm not suggesting you attempt to backpack all of California in one trip. What I am suggesting, however, is that you take a good look at this California travel guide as you plan your future trip.
You don't have to be rich to visit California either. Yes, California is expensive, but I'm going to show you how to go backpacking California on a budget too.
From the year-long summer beaches of southern California to the foggy, unpopulated forests of the north, this travel guide will cover everything you need to know about backpacking California.
Not only will I discuss the best places to visit in California, but also advise you on how to escape the crowds (trust me, it can be tough in the most populated state), and discover some of the state's most treasured hidden gems.
I'll also cover costs and budget hacks, several California itineraries, information on food and drinks, when to visit California, camping, California's national parks, and so much more.
As I mentioned above, this is one of the most diverse places on earth. Want to lounge on glamorous beaches in California, surf in winter, and eat fish tacos to your heart's content? Head down to San Diego near the border of Mexico. Want to get down and dirty in Los Angeles' music scene, catch a live show and then nurse your hangover at one of the many, many organic brunch spots?
How about a laidback surf trip? Wild coasts? Foggy forests? Head to the northern coast.
Are you an adventurous traveler looking to hike in John Muir country, climb granite among world-class rock climbers, or go skiing in the Sierras? Head east to Lake Tahoe, Mammoth Lake, Yosemite, and beyond.
Desert dweller? You can star gaze among Joshua Trees and sleep amongst Death Valley's dunes. Road trip through the Eastern Sierras and take a dip in one of the natural hot springs.
Are you planning to wine and dine at a vineyard in Napa Valley? It's pretty epic, but if staying in Napa is too expensive, I'll show you something better on the Central Coast.
Then, of course, there's San Francisco and the Bay Area, which I'll cover in detail later.
Basically, in California, the world is your oyster. I'll cover the best places to visit in California below, but first, let's cover some awesome travel itineraries for backpacking California.
Remember, when planning a trip with this California travel guide that the state is absolutely massive, like bigger than Germany. It takes at least 12 hours to drive from the northern border to Mexico.
Do yourself a favor and plan a realistic California travel itinerary, one that focuses on your travel interests. Are you an outdoorsman and hiker? The Sierras will be your playground. Need some beach time? I'll cover the coast below.
Are you on a California road trip? I'll include the best road trip itineraries below too. More of a city dweller, don't worry there's a California itinerary for you.
Keep in mind that you will want a car for all of them except itinerary #2, which I wrote specifically for car-less travelers. Keep on reading to see my 5 California backpacking routes.
5-Day California Itinerary #1: Southern California
5 days in Southern California: LA to San Diego
If you are backpacking California in the winter, this is the itinerary I would recommend most.
In the interest of time, try to book an open jaw flight into LAX and out of San Diego. Starting in Los Angeles, spend a couple days exploring the areas that interest you most. Don't forget about Orange County either, which is not LA as locals will have you know.
We have a travel guide on Los Angeles that will help you plan this part of the trip! When it comes to beaches and surfing, I recommend checking out Malibu, Venice Beach, and Newport Beach, then making your way south to San Diego, stopping in Oceanside and Encinitas. These beach suburbs are perfect for beach breaks. Also, stop in Torrey Pines State Park for a day hike.
If you want to save some money before starting your road trip, then consider staying at one of the motels in LA which is conveniently located just off the main highways.
End your 5 day trip to California in San Diego, eating tacos and sipping on margaritas in the sunshine. This is a fun, laidback city that I personally enjoy more than LA… so consider spending more time here if you're after surf and sun.
If you have more than 5 days in California, consider spending more time exploring the cities, or adding road trip stops in Riverside, Palm Springs and Joshua Tree! Palm Springs is a popular place for weekenders, bachelorette parties, and groups who want to chill out by a pool. Also popular for golfers. There are also a bunch of state parks in the area, such as the San Jacinto mountain range – I would suggest staying in the quaint town of Idyllwild if you want to explore this area.
Another classic Wine spot is Temecula- not as famous as its Northern neighbours but the plonk they produce is top notch and there are some other things to do in the area.
Joshua Tree National Park is absolutely gorgeous. Plus, it's a haven for hikers! Do not miss it if you love nature, camping, star gazing, strange rock formations, and climbing. This is one of the best national parks in California to visit in winter too.
7 Day California Itinerary #2: Car-less Itinerary
7 Days in California: Cities
California might be one of the best places to go on a road trip, but it can be expensive and time-consuming. If you are a solo traveler, or you are simply more interested in exploring California's awesome cities, this itinerary is for you.
I specifically put this together for people who cannot travel in California with a car.
Starting in San Francisco -you can fly into SFO, Oakland, or even SJC in San Jose- spend 3 days exploring the city. There is plenty to do among all of the neighborhoods; refer to the "places to visit in California" section below.
Essentially, SF is the best city to walk around and explore its distinct neighborhoods, indulge in the multi-ethnic food scene, and have a picnic at one of the many green spaces.
Need help deciding between San Francisco or San Diego? Check out our helpful guide.
I suggest allotting half a day to exploring Oakland and Berkeley in East Bay if you are into food and art.
If you do not have a car, consider biking out to the Marin Headlands, though I do not suggest riding past the viewpoint on Highway 1 without experience. It is steep and traffic piles up on weekends. Bike across the bridge and then up to the Marin Headlands bunkers for the best view of the Golden Gate Bridge.
You can then bike to the bayside, charming town of Sausalito for a bite to eat and then ferry back to the SF piers. This is another great way to spend a day around San Francisco without a car.
Next, take a train or bus to Southern California. Amtrak can be scenic, but quite expensive and the train system in the US is nothing like Europe's. I would actually suggest using Megabus to get from the CalTrain station in SF to LA. It will be much cheaper and faster.
Whilst in Southern California, plan your itinerary similar to the one above. Without a car it will be hard to get around the OC and beaches, so you are best off picking one or two areas to explore around with limited time.
You can get around LA with public transportation, but I have little experience doing so. Again, refer to the LA city guide for more information. After exploring LA, catch a bus or train to San Diego, home to one of the best city beaches. SD will be the perfect way to end your vacation.
Visit Balboa Park and La Jolla to check out the sea caves, eat fresh fish tacos on Pacific Beach, and check out the Gaslamp or Mission district's bar scene.
This itinerary can easily be reversed, but I like the idea of starting with San Francisco's city and food scene, a full day of biking, and then winding down with the warmer San Diego beaches.
10 Day California Itinerary #3: Northern California's Cities and Mountains
10 Days in California: San Francisco and the Sierra Nevada Mountains
For this California Itinerary, you will definitely want to rent a car. It is possible to bus to places like Yosemite Valley and Lake Tahoe, but frankly, it will be expensive and require multiple forms of transportation. You are better off renting a car.
Again, start your trip in San Francisco exploring neighborhoods like Haight, the Castro, and Mission. At night, the Marina, Polk Street, North Beach, the Mission, and Castro have the best nightlife. The dodgy Tenderloin hosts some of the best clubs.
With a car, you now have options. If you want to spend at least half a day on a beach, I would consider the beaches around Half Moon Bay about 45 minutes south. These beaches can be absolutely gorgeous, though often foggy. Pacifica tends to be foggier… You can also head up to North Bay and visit Stinson Beach and Bodega Bay.
For the best coastal hiking near San Francisco, head up to Point Reyes National Seashore. Again, the beaches weather is unpredictable, but the rugged and dramatic coastlines are beautiful in all weather.
After a few days in the Bay Area, head inland towards Lake Tahoe. Stop for a wine tasting or two (responsibly) in the Napa and Sonoma region.
Note: I definitely recommend visiting this famous region if you never have before, but I also feel like it can be overpriced. There are some pretty fun and high-quality wineries in the foothills too for a 1/20th of the cost. Check out the Placer County Wine Trail.
A good place to stop for lunch is Midtown Sacramento or in the foothills. This is one of California's best farm-to-table regions.
After a very long drive, you'll end in Lake Tahoe. With only 2-3 days, I suggest basing yourself on the west shores. Emerald Bay, Bliss Beach, and Desolation Wilderness will leave you spoilt for views, hiking, and beaches.
If you are visiting California in the winter, you'll have plenty of options for skiing and snowshoeing too. For a low-key, romantic vacation, consider staying on the North Shore. If you want something a bit more "happening," South Shore is best. There are many cool places to stay in Lake Tahoe, so you'll easily find somewhere suitable for you in these areas.
Speaking of romantic vacations, I also highly consider stopping in Nevada City and Grass Valley. The historic, old towns are really special, and frankly underrated. Stay at a bed & breakfast, swim in the Yuba River, eat good food downtown, and explore the old gold mines! Empire Mine is actually quite impressive.
Next make the scenic, windy drive to Yosemite Valley National Park. If you only have time for 1 or 2 hikes, I suggest hiking to the top of Half Dome or El Capitan, and then also exploring the valley's waterfalls. Ideally, you want 3 days in Yosemite though.
Circle back to San Francisco to drop off your car and head home.
If you have more than 10 days for this itinerary, you can easily allot more time to Yosemite backcountry and Lake Tahoe. Another option would be to drive over the Tioga Pass all the way to Mono Lake. It is quite far, but seeing another part of the Sierra Nevadas could well be worth it.
John Muir Wilderness and Ansel Adams Wilderness are also worth exploring. Grab a trail map and hike a section of the John Muir Trail for an ultimate adventure.
2 Week California Itinerary #4: California Coast Road Trip
2 Weeks in California: Coastal Road Trip
If you want to explore some of the best coastlines in the world, look no further than this 2 week California itinerary.
Start in San Diego, then drive up the coast to the OC area. Between this section, you can stop in two or three of the following: Torrey Pines State Park, Encinitas, Oceanside, Newport, Laguna Beach, Malibu, Huntington Beach, Venice Beach…
You won't be able to see every beach, but luckily they're all good in their own way. Consider that the OC beaches are very crowded in the summer. If you're after your own private beach you're going to have to wait until we head up north.
I highly suggest setting aside one or two nights on the Central Coast in Santa Barbara and/or San Luis Obispo. These two towns are utterly charming and you'll have plenty of choices for beaches, hikes, wine tasting, and food in a much more relaxed and crowd-free atmosphere than further south. Staying in Santa Barbara is expensive but beautiful.
Next, spend a couple days driving up Highway 1 through Big Sur. This is the epitome of a California road trip. (Try to avoid weekends when crowds can be pretty awful.) Consider staying in Monterey or driving further north to Santa Cruz, one of my favorite California beach towns.
Continuing on Highway 1, – or Highway 101 if you're in a time crunch – head to SF and spend a couple days exploring the city. Then, drive up the 1 through Marin Headlands. Stop for a day hike in Mt Tamalpais. Many of the towns in North Bay are charming, expensive, and serve pretty great food.
If this was the end of your trip, I would say stop at Muirwoods to explore the redwoods, but we're going much farther north, where the trees are bigger and the crowds diminish. Spend a night in Point Reyes National Seashore.
Continuing on the 1, you'll quickly see population sizes dwindle and towns spread out. If you need to stop for groceries, get them in the North Bay before we go into no man's land, where the lack of options correlates with expensive prices.
Driving up to Eureka, you'll pass through sleepy, coastal towns like Fort Bragg. Check out the beaches around here and grab a beer at Lost Coast Brewing.
Eureka is the final stop of this California coast road trip! Around here you will have access to Humboldt, Redwood National Park, and the associated state parks.
I suggest a couple of nights to explore the ancient Redwood forests and coastal range. This area of California couldn't be more different than Southern California and that is what is so incredible about it.
To fly out of California, you could drive back to SF – though take the 101 to save time – or to Sacramento.
3 Week California Itinerary #5: The Adventurist's Itinerary
3 Weeks in California: Adventurers Only
I wrote this 3-week California itinerary for hikers, explorers, and climbers. This is the itinerary to use if you are packing a tent and your favorite outdoor gear… as you will have the opportunity to hit every single one of California's National Parks, and plenty of state parks and wilderness areas too.
I would fly into LA or OC, pick up your rental and head up north to the Central Coast. Drive along the coast to SF; highlights include Santa Barbara, SLO, Big Sur, Santa Cruz, and San Francisco.
There is plenty of hiking and camping around Big Sur. The newest national park in the US is also located in this vicinity: Pinnacles National Park. I actually haven't been (yet), but have heard it's great for climbing.
From Santa Cruz to SF, surfers can find big wave surfing. Just pack your wetsuit.
Next, head up to Point Reyes National Seashore to hike around this rugged coastline.
(Should you feel up to driving a lot, tackle the most northern part of the state too. This includes the rugged Mendocino Coast and Redwood Forest and going further inland to the mountains and geysers or Mount Shasta and Lassen Volcanic National Park. This part of California is sparsely populated and a world away from the cities.)
You could also skip to the next part of this itinerary and head inland instead. The foothills are home to some of the most underrated vacation spots in California, like Nevada City, a charming, historic mining town I mentioned above.
Lake Tahoe is one of my favorite places to visit in California, so don't miss it. The best way to escape the crowds is to hike into Desolation Wilderness or somewhere along the Tahoe Rim Trail.
With one more week, you can really explore the Sierras – Yosemite, Kings Canyon, and Sequoia National Park are all gems.
Route 395 will run you through Eastern California's most scenic places. There are plenty of national forests and wilderness in these parts too. If you are bringing backpacking gear, you will be spoilt for overnight hiking trips.
If you're an avid adventurist go to the Eastern Sierras too. Boulder in Bishop and hike around Lone Pine.
Driving through the desert, explore Death Valley's dunes and valleys, and Joshua Tree National Park's insane rock formations. Boulderers and trad-climbers will feel right at home in Joshua Tree.
Loop back to LA to fly out of California. Expect to be a bit more exhausted, dirty, and inspired. There is a good chance you won't be able to hit every stop on this itinerary, due to time or even weather. One month in California would be more realistic, but consider it a reason to come back.
If you want to hike, this California itinerary is best attempted in the fall before the snow returns – September – October. The desert temps will also be more manageable and the coast experiences an Indian Summer, meaning it's less foggy up north.
Our California travel guide covers the best places to visit in the state; most of these places are included in some of the itineraries above.
Backpacking San Francisco
The hilly, eclectic city of San Francisco is easily one of the coolest cities in the US. It would take me an entire post to cover what to do in San Francisco, so thankfully, we already have a San Francisco city guide.
Every visit to San Francisco should definitely include a picnic view of the Golden Gate Bridge, either from Crissy Field or Baker Beach, and then a walk or bike across it. You can ferry back from Sausalito, by the way.
The Mission neighborhood is the best place to get Hispanic food and indulge in San Francisco's bar scene.
If you want to get wild, head to the Mission neighborhood's Mission Delores Park on a sunny Saturday, where anything goes, like rum in coconuts, weed edibles, and weddings. Don't worry, it's also family friendly.
The Castro is the LBGTQ+ scene. You'll find tons of gay bars here, and frankly just great food, eccentric shops, Soul Cycle…
When it comes to just walking around – eating and shopping – you can't go wrong in Pac Heights, the Marina, Hayes Valley, Nob Hill, and Russian Hill. While there isn't much to do here for tourists, you'll find plenty of shopping, coffee shops, and good restaurants. These are among SF's most sought after places to live too.
The Marina is often stereotyped by expensive athleisure and avocado toast. Fort Mason in the Marina is a fun place to picnic and day drink, and most weekends you'll find fun events around here like beer or craft fairs.
Speaking of parks, Golden Gate Park is absolutely beautiful and frankly underrated. It's an awesome place to go for a run, hang out, or even catch a show. Music festivals include Outside Lands in August and the Blue Grass Festival in October (which is free!).
The park is also home to the de Young Museum and the Academy of Sciences. If you're visiting SF on a Thursday, hit the after-hours, where you can learn about science and drink at the same time. The Exploratorium has a similar Thursday night experience.
I think that should get your inspiration flowing. There are tons of unique things to do in San Francisco, so check out my 3 day itinerary.
We have also written a separate guide for the coolest neighborhoods in SF if you want to learn more about the neighborhood layout.
Backpacking the Greater Bay Area
Across the Bay Bridge (often overlooked by the Golden Gate Bridge), you'll find yourself in another world. Oakland and Berkeley are the East Bay's stars. Once plagued with oppression and crime, and now gentrification, it's an interesting area in the East Bay.
One thing is for sure, it's home to awesome art, food, and beer over here. Beer fans, go to Fieldwords! Oakland has had a pretty rough reputation in the past, but it's one of the most eclectic places in California.
Berkeley is famous for its local university but is a charming place to visit otherwise. This is ground zero for the 60s hippy movement, and they're still here. The local Cal Sailing Club also offers free sailing tours in the Berkeley Marina on certain nights, which is one our favorite free things to do in California!
As you head to South Bay, pass through the Peninsula to San Jose, an area also known as "Silicon Valley," the center of the technology industry in California and probably the entire world.
Trust me, there's nothing exciting in the mostly suburbia area of the Peninsula; I lived in Silicon Valley for work. But head into the hills and you can reach Big Basin and Castle Rock State Park, awesome for hiking and climbing. Half Moon Bay is a sleepy, foggy beach town.
The back roads around here are epic for road trips and road biking.
If you're looking for some excellent surf and a classic boardwalk carnival scene, go to Santa Cruz. I grew up visiting the Santa Cruz Boardwalk and beaches, and it still holds a very nostalgic place in my heart.
Catch some legendary waves and eat some amazing, wholesome food downtown. This is a great little hippy town too if you're interested in its alternative lifestyle. Don't be surprised to smell the grass. Head to Capitola area for ice cream with the family.
South you'll hit Monterey and the upscale Carmel, a charming little beach town deserve a day to be explored. This area marks the beginning of Big Sur. As you drive south, the views only become better and more dramatic.
One thing is for sure, it's all about nature and the great outdoors here, so make sure to consider glamping in Bay Area if you love to stay amongst nature!
Backpacking North Bay
Also part of the greater Bay Area, but a world away from the above section is the region known as North Bay.
This area is mostly known for Marin County, Petaluma, and Napa.
As you drive up from San Francisco and across the Golden Gate Bridge, you'll enter Marin County, arguably the prettiest part of the Bay Area. This area is also where rich hippies settle down.
Check out Stinson Beach, Black Sands Beach (for a much more serene experience), and Bodega Bay for surf.
Be sure to check out Mount Tamalpais and Muir Woods (which gets really crowded on weekends) for awesome hikes and redwood forests. Though I would argue Big Basin in South Bay (mentioned above) is better.
Inland you'll find Napa Valley and Sonoma, famous for their world-class wineries. Both make for excellent day-long road trips from San Francisco.
Drive up to Point Reyes National Seashore too! This area is home to some truly incredible wide open beaches and forests. Camping reservations sell out months in advance, as you're still relatively close to the Bay Area.
It's possible to kayak to one of the campsites on Tomales Bay. Definitely try to snag a spot here.
Sebastopol and Petaluma are charming towns to check out and grab a bite to eat. The area around here epitomizes the whole "happy cows come from California" stereotype, as cows really do graze on the rolling green hills. Most of your "organic" big dairy comes from this area.
Backpacking Big Sur
The dramatic coastline between Los Angeles and San Francisco is known as Big Sur.
This part of the California Coast is one of my favorite destinations in the state. Once you cross the impressive Bixby Creek Bridge, you're officially in Big Sur territory, though Point Lobos just north also has some great hiking and coves.
The only way to get around Big Sur is the single-lane Highway 1, which hugs the coastline, sandwiched between mountains and sea. This makes for incredible views, but also awful traffic. Try to avoid passing through on a weekend, especially in summer.
Andrew Molera State Park has some great ocean view hiking trails. Pfeiffer Beach is famous for its keyhole formation and purple sand. This is definitely worth the trip.
McWay Falls is probably the most photographed place in California. I mean, it is a waterfall that dumps straight onto a gorgeous beach.
San Simeon in the south, marks the end of Big Sur. If you have time, visit the Hearst Castle, where zebras still roam and art worth billions still hangs from the gaudy rooms. This place is crazy.
Soon after the castle, you'll stroll into my favorite town in California, San Luis Obispo, which is where I went to college.
If you want to stay a few a days in the area, you can either camp at one of the many state grounds or stay in a town near to Big Sur. There are some beautiful VRBOs in town.
Santa Barbara and San Luis Obispo
The Highway 1 merges with the 101 in San Luis Obispo. This college town is one of the golden gems of California. Both SLO and Santa Barbara county have certain ordinances that do not allow the areas to develop rapidly, meaning they keep their charming town feel.
SLO is like another planet. For one, drive-thrus are against ordinance for health reasons, sidewalks and bike lanes are wider, the landscape is green and rugged, the beach is next door, and it's sunny and 70 more than 300 days a year.
There's a reason Oprah once voted San Luis Obispo the happiest city in America…
San Luis Obispo is surrounded by woods, volcanic-formed hills, and rugged coastline, all of which are prime places for hiking and adventure sports. You're never too far from a trail, wave to surf, pier to eat ice cream on, or winery to spend the afternoon. Definitely check out Avila Beach and Montaña de Oro. Los Osos has great rock climbing, and Pismo Beach has some great options for accommodation.
Farmers Market on Thursday nights is always a hit. The wine scene is actually great in the SLO area and totally underrated. Head out to Edna Valley or nearby Paso Robles for a taste of fine wine without the Napa Price.
Stop for lunch (or stay if you can afford it) at the Madonna Inn. Trust me, you won't be disappointed by this quirky hotel.
Santa Barbara is just 80 minutes south. Larger than SLO, the tempo is a bit more upbeat here, but not too much more. Really, this is where people from LA come to chill the fuck out. But there's still plenty to do and there is a good nightlife scene downtown.
In Santa Barbara, you also have your pick of excellent beaches, wine, and awesome food. It is a bit more expensive here than SLO, FYI, which still sticks to its college town roots. (UC Santa Barbara is actually in "Isla Vista" 15 minutes north.)
South of SB, you will hit a couple of beach towns like Ventura, which lets you know you will soon be approaching the famous beaches of Malibu and the OC soon.
Backpacking Los Angeles
The second largest city in the US is also one of the most famous places in the world, mostly because it's a city known for its rich and famous. This is the ground zero for the country's music and movie industries.
LA does epitomize California in a lot of ways – sunny, beautiful, and vibrant – but I always warn travelers that it's pretty spread out and massive, and the infamous traffic makes everything feel even farther away.
I highly suggest basing yourself in the area that interests you most. Thankfully, we have already written a separate guide on the best places to stay in Los Angeles, which breaks down the city's neighborhoods even further.
To spark your inspiration, I'll suggest a few things you should do when visiting Los Angeles. Santa Monica has good vibes. Venice Beach is great for people watching, skating, and their food truck nights. Visit the Griffith Observatory. Hike around the Hollywood sign as the locals do.
Once crime-ridden and neglected areas like Koreatown, Silverlake, and Echo Park are on the rise.
West Hollywood is great for going out. Multi-ethnic and healthy food is all over the city.
Backpacking San Diego
When I talk to travelers about California, they often picture surfer towns, perpetual sunshine, and laidback beach vibes. Most are surprised when I tell them the water is mostly freezing and a lot of our coastline is rugged and wild. Well, up north anyway.
What most people actually imagine is sunny San Diego, the perfect Southern California destination. This beach city is known for its amazing weather, excellent surf, fish tacos, and craft beer. Do you need anything else in life!?
Aside from Balboa Park, the best places to visit in San Diego are the many coastal neighborhoods and beaches, like Coronado, Mission, La Jolla, and Pacific. Refer to our comprehensive San Diego city guide for more in-depth information.
The Gaslamp Quarter (Downtown), Mission and North Park are the best places to go out at night in San Diego.
If you're looking for a place to stay in San Diego, be sure to check out our SD hostel guide for some great tips and reviews!
Backpacking Sacramento
Sacramento where? I fondly think of Sacramento as the forgotten state capitol of California. Which by the way is a shame! Growing up near Sacramento, I have a special place in my heart for "Sac-town." It's mostly business and government, but the town has been undergoing a massive face lift and there are a lot of things to do in Sacramento.
Cool bars, breweries, and restaurants are opening up all the time. Sacramento now calls itself the Farm to Fork City; expect the food and produce to be top notch.
Truly, the farmers markets in the nearby counties – where I'm from – are some of the best. (California grows 75% of the United States' food, and much of the best, freshest produce comes from the Foothills, home to a 'Mediterranean Climate' and year round goodies.)
Old Town Sacramento – which still resembles the mining towns of the 1800s is fun to check out on a first visit to Sacramento too.
If anything, stop through Mid-Town for lunch and a beer. If you stay overnight, check out the Ace of Spades, which has some pretty awesome concerts.
Take a stroll around J Street and 40th Street to check out the "Fab 40" houses. Once known as the "city of trees," this area is especially festive in Fall for foliage and around the holidays for Christmas decorations.
If you're visiting Sacramento on a road trip, consider checking out one of the motels in Sacramento which are perfect for those with a vehicle.
Backpacking Lake Tahoe
Lake Tahoe is one of my favorite places in California, if not the world. I visit Lake Tahoe multiple times a year, often celebrating my anniversary here. It's that good.
Lying deep in the Sierra Nevada on the border of the state of Nevada, Lake Tahoe is the largest alpine lake in the USA, best known for its deep blue and turquoise waters, so much so, the slogan you'll see on every bumper sticker is, "keep Tahoe blue."
Two main highways will take you to Lake Tahoe from the west, Highway 50 (to South Lake) and 80 (to North Lake). Each side of the lake has a different vibe and list of things to do.
South Lake Tahoe neighborhoods are the most developed and the largest out there. It's well known for its casinos (on the Nevada side) so it has more of a party stereotype, especially for the Fourth of July and New Years.
Heavenly is the main and biggest ski resort on the south side, and there are quite a few smaller alpine lakes and trails to explore around here that sit at a much higher elevation than Lake Tahoe.
The west shores are home to the inlet called Emerald Bay. Hike the Rubicon trail around here for awesome views. You can also access Desolation Wilderness from this area. Bliss Beach is another gem on the western shores.
If you want to ski in winter, but don't want to break the bank, I can recommend Homewood – much smaller (and cheaper) than the other ski resorts around Tahoe.
North Lake is defined by Tahoe City and King's Beach. Also a beautiful part of Lake Tahoe, this side is much quieter and more laidback, home to Tahoe's alternative lifestyles. Trust me, you won't find many casinos here.
In the winter, resorts like Squaw Valley and North Star are world famous for skiing and boarding. (The 1960 Winter Olympics took place at Squaw Valley.)
The east side is Nevada, but also home to some awesome beaches and beautiful waters. Definitely check it out.
If you're looking for a piece of American history, try taking a detour over Donner Pass on Highway 80, a famous road in California due in part to the story of the Donner Party. Donner Lake is quite pretty too.
And speaking of Donner Lake, keep in mind that there are many other alpine lakes in the surrounding area, which are beautiful and great to hike around when the Tahoe summer crowds get to be too much.
Summer is the most popular time of year to visit Lake Tahoe. Swimmers, hikers, and boaters all enjoy the crystal clear (and very cold) water. You can even river raft down the Truckee weather. There are dozens of gorgeous beaches and hiking/biking trails, both obvious and hidden, around Lake Tahoe.
I love visiting in the fall when the crowds thin out but the water temperatures are still manageable. I highly suggest renting kayaks or standup paddleboards for a couple hours. If you're visiting in the winter, snowshoeing is another great option versus hitting the ski resorts.
The opening of the ski season varies wildly depending on the year as the climate is becoming increasingly unpredictable.
Backpacking Yosemite
One of the most incredible places in California is Yosemite National Park in the Sierra Nevada. Sacred to rock climbers, thru-hikers, naturalists, and anyone with two eyeballs, Yosemite is one of the best places to experience California nature.
Yosemite is a 4-hour drive away from the Bay Area. You'll drive along the 508 and Highway 5 through the Central Valley before merging onto the 120, which will take you all the way to the edge of the park.
Keep in mind the park itself is massive. It would take hours to drive around it, and there are thousands of backcountry trails within Yosemite wilderness.
Yosemite Valley is the most famous part of Yosemite, where the famous Granite rocks shoot up to the sky. This is also where you'll find the visitor center, Yosemite Village, which is where most people stay, and some of Yosemite's most easy-going hikes.
It's also the beginning of some pretty strenuous hikes that take you out of the valley 3,000 feet up, like the famous Half Dome hike and 4 Mile to Glacier Point.
Vernal/Nevada Falls via Mist, and Yosemite Falls are spectacular too. Several viewpoints, like Tunnel View and Glacier Point View, are accessible by car as well.
Make sure to dip in the freezing cold Merced River and hike to a waterfall while you're here!
The only first-come first-serve campsite in the valley is Camp 4, notorious in the rock climbing world. Here is where sports climbing reigns, as the pros climb up the likes of El Capitan and Half Dome, 3,000 feet.
Beyond Yosemite Valley, the 120 is also one of the most beautiful and famous roads in California because it goes over the Tioga Pass. into high Yosemite country.
Here you can get on the John Muir Trail (a 211 mile trail that goes from Yosemite to the Sequoias and also part of the much larger PCT.) Views are plentiful and astounding in the summer but during the winter the pass is closed.
If you are visiting more than one national park on your California trip, we highly suggest buying an America the Beautiful pass. It allows unlimited entry to all national parks for one year, and only costs $80 (limit one per vehicle).
Backpacking the Redwoods
Speaking of epic National Parks, the state parks around the northern Redwoods that make up Redwoods National Park are one of my favorite places in the world! This area is a series of protected forests, beaches, and grasslands along the Northern California coast.
Hike among the ancient Redwood Forests under the canopy of the world's tallest organisms. The trails are fairly moderate, so everyone can enjoy them. And I promise you, the service in the Redwoods is virtually non-existent, but the connection to nature is definitely strongest.
There are loads of places to stay in the Redwoods, so if you want to explore the area a bit longer, you should definitely opt for a nearby accommodation.
Humboldt Redwoods State Park is where you'll find the Avenue of the Giants, a scenic redwood tree-lined highway. Jedediah Smith Redwoods State Park has trails through dense old-growth woods.
Prairie Creek Redwoods State Park is home to Fern Canyon and Roosevelt elk frequent nearby Elk Prairie. Giant redwood clusters include Redwood National Park's Lady Bird Johnson Grove.
For help planning your trip, visit the National Park Service site here.
National Parks in California
With 9 in total, California is the state with the most national parks in the USA. If you pack your tent and camping supplies, you can stay busy for a lifetime. As I mentioned in the Yosemite section, make sure to buy an American the Beautiful Pass to see multiple parks for $80.
Yosemite – Yosemite is ground zero inspiration for naturalists, climbers, and photographers. Here are some of the most imposing, most dramatic, and most beautiful rock walls in the entire world. There are plenty of ways to get into the backcountry with a permit.
Kings Canyon/Sequoia – Two separate national parks that are located right next to each other. Staying in Sequoia National Park is especially popular amongst nature lovers as it's famous for its towering sequoia trees e.g. General Sherman, Mariposa Grove, and Tunnel Tree. Kings Canyon is a craggy, mountainous terrain that is typical of the High Sierra. Lake Marjorie in Kings is one of the most beautiful places in California. Much less visited than Yosemite, you can really get off the grid around here.
Death Valley – One of the lowest and hottest places on Earth! Characterized by high mountains, surreal geology, and the tallest dunes in North America. Visit Dante's View, Mesquite Dunes, and Zabriskie Point.
Joshua Tree – Very popular place for boulderers, trad rock climbers, and Los Angeles weekenders. Unique flora and fauna and arguably the best stargazing in the state make Joshua one of the best places to pitch up a tent in California.
Redwood – One of the lushest and most ancient places in California. Hike around the tall Redwoods and coastal range.
Lassen Volcanic – Lesser-visited park in Northern California. A very geologically active place full of bubbling lakes and active volcanoes. A little Yellowstone.
Pinnacles – Small and newest National Park in the country, but significant for its rock formations and caves. Great for rock climbers and hikers.
Channel Islands – Islands that have huge ecological diversity. Good for whale watching, scuba diving, kayaking, and hiking.
If you're interested in camping but without roughing it, then you might like these awesome glamping sites in Southern California.
Off the Beaten Path in California
California is an absolutely massive state and there are plenty of opportunities to get off the beaten path. Basically, you should get away from the coast stretching from LA to SF to get off the beaten path, but even then there are plenty of hidden beaches and towns.
If you want to get really off the grid, hike along the Lost Coast near Eureka. The Lost Coast is one of the most underdeveloped and remote places in California, so rugged they had to abandon plans to build the Highway along this section of the coast. Really though, anywhere this far north can be considered off the beaten path, so much so this area is notorious for attracting people trying to escape their past and get off the grid.
Look at a map, and any forest labeled wilderness is probably a good bet for getting away from crowds. Examples include Ansel Adams Wilderness and John Muir Wilderness. Ansel Adams was a famous landscape photographer and John Muir is the legend who helped preserve California's nature.
The John Muir and Ansel Adams Wilderness has some of the most beautiful natural attractions in all of California including Thousand Islands Lake/Minaret Lake, Bear Lakes Basin, and Sailor Lake.
Anywhere in the Eastern Sierra Nevadas is also pretty off the grid. Travel between Lone Pine and Bishop for the best of the Eastern Sierra.
For more inspiration, here are 50 of my favorite places to visit in California.
California has plenty of fancy resorts, boutique hotels, cool apartments, and bed & breakfasts. This California travel guide will give you the low down.
While you have plenty of options for places to stay in California, most of them are not cheap. California – and the US for that matter – do not cater to backpackers well. In other words, your pickings for budget accommodation are slim.
My first suggestion is to camp. Camp, camp, camp. Not only is it the cheapest option for accommodation in California, but truly, one of the best ways to see California's nature.
Once you're in the towns and cities, camping isn't really an option, so save your money for these times.
Cheap hotels in California are bland and bleak, and often in the less desirable places and neighborhoods, but they get the job done. You'll be paying at least $80/night for a room.
Hostels in California are actually quite nice and the most affordable accommodation for solo travelers. You won't find many hostels outside of the main cities, however, and these dorm beds can be upwards of $50 a night.
Airbnbs in California are usually a better option than hotels, but do your research and check all of your options. Remember, Airbnb actually started in SF, as did Couchsurfing for that matter.
Camping in California
I'll start this section with the bad news; California might be the hardest US state to camp for free, especially if you're camping on the beach or coast. Most US states have thousands and thousands of acres of public land and free campsites.
You're going to have to work harder to find free and wild camping in California, but I promise you it is not impossible.
I truly believe camping is the best way to visit California's natural wonders. Nothing beats sleeping under the stars among the joshua trees, within arm's length of redwood forests, on top of the famous Sierra granite, or nearby crashing waves.
Let's cover the basics of camping in California. Camping is never free within State and National Parks. Most campsites are at least $25 a night in these parks. You can get a backcountry permit, however, for just a few dollars and sometimes for free.
Any protected area is going to also require a permit, though again, it might be free. Regardless, you will have to pick up permits (and bear canisters) at the visitor center of said park.
National forests, Public Land managed by the Federal Bureau (known as BLM), grasslands, and other federal areas do allow free camping, though you will almost always have to bring your own water and carry out your own trash. Make sure to dig a proper hole for the bathroom too, and please, practice "leave no trace principles," always.
The areas where you can camp for free are pretty much nowhere near the coast, FYI. There are free places to camp that dot the coast, but they are rare and not always easy to get to. The farther north you go, the better your chances of free and/of crowd-free camping.
The northeastern part of California is the exception, as there are plenty of free camping spots.
If you are looking for a free campsite in California, or anywhere in the United States for that matter, check out this website.
If you are in the market for a solid, lightweight, and reliable tent, I highly recommend the MSR Hubba Hubba 2-person tent. To get to know this tent better, check out Chris's in-depth MSR Hubba Hubba Review.
There are a number of free campgrounds in California that road-trippers should totally take advantage of. Refer below for a list of these. Note that electricity, bathrooms, and running water are not guaranteed at any of the grounds. Bring water just in case.
Well holy shit, to narrow down the top things to do in California to ten is quite a challenge, but let's give it a shot:
1. Drive along the California Coast
Nothing is more quissentential than a road trip along the California Coast – Highway 101 to 1, specifically. It's in the movies and TV shows we grew up on.
The most famous stretch of coastal highway has got to be Big Sur, but if you really want to go big, follow my California Itinerary (#2) and road trip from San Diego to Eureka and see everything the California coast has to offer.
2. Walk or Bike across the Golden Gate Bridge
San Francisco's star attraction is quite incredible. One of the best things to do in San Fracisco is walk or bike across.
3. Visit Yosemite Valley
I have already talked about Yosemite Valley a couple times in this California travel guide, and once you get here it'll be easy to see why.
Yosemite is amazing year-round; hike in the summer, watch the leaves turn in the valley in the fall, go snowshoeing and ice skating in the winter, and catch the waterfalls at full force in the spring.
4. Surf in San Diego
This is as close as you'll get to Baja California, Mexico, without actually crossing the border. Here you'll find California's warmest waters and best fish tacos.
5. Take a Hike
California is home to some of the best hikes in the USA. You are absolutely spoilt for choices. The Sierras are pristine for alpine lakes and mountains. The Redwoods and Sequoia forests are indescribable. You can hit some epic coastal trails in Point Reyes National Shore and up north, along the Central Coast, and more.
6. Eat Mexican Food
Mexican food is arguably better in California than Mexico. Wait, did I just write that? I know I'm not crazy because I've had Mexican friends say that Californians take on Mexican food is absolutely incredible.
Let me introduce you to a couple of reasons why: burritos (a Californian thing by the way), tacos (revolutionized in California), and avocado (where the trend began).
Californian Mexican food is all about giant burritos, tons of veggies and fajitas, fish tacos, and guacamole. It's nothing like Tex-Mex, by the way, as there is more emphasis on veggies, avocado, and seafood.
Best places to eat Mexican food have to be the Mission neighborhood in San Francisco, LA, and anywhere in San Diego, but really you can find a good spot anywhere in the state with a little help from Yelp.
7. Visit Venice Beach
Surf and Sand. Skateboarding subculture. Good food and strange people. That is Venice. Oh, and some of the best people watching anywhere in the USA.
8. Paddle on Lake Tahoe or Hit the Slopes
Lake Tahoe is a winter wonderland, a summer wonderland, and everything in between. Hit the slopes, trails, and lake shores for ultimate bliss.
9. Watch a Sports Game
There are so many professional sports teams in California, it would take me a while to list them all. You can get MLB bench seats for as little as $10 sometimes.
Go watch the Warriors kick ass at Oracle Arena or Lebron throw down in his new home with the LA Lakers. Basketball, baseball, NFL football, hockey, surfing: there is a sports event for everyone in California!
Tip: Go watch a college game to get the full American sports experience. When it comes to football, it's all about UC Berkeley, USC, and UCLA in California. Prepare to tailgate, in other words, start drinking beer at 8 am. Other recommendations include catching a minor league baseball game (like the River Cats in Sacramento).
10. Go to a Music Festival or Concert
Have you ever heard of Coachella? It's one of the most famous festivals in the world and is every bit as awesome as the magazines say it is, sporting the best headliners and soon to be discovered artists as well as next year's celebrity fashion trends. But tickets cost an arm and a leg, and they're harder to score than one on one against LeBron.
Other epic festivals include multi-genre Outside Lands in SF for chill park vibes. Lightning in a Bottle or Symbiosis for alternative arts, yoga, and electronic music. Stagecoach for country music taking place in Coachella Valley after Coachella. Crossed in San Diego.
If you're into electronic music, I must recommend catching a show in LA or heading to an Insomniac Event. California rave culture is pretty unique and the best in the country, arguably better than anywhere in Europe too.
Also, the music scene in San Francisco is pretty fun. You can catch a live show any day of the week. Oakland's Fox Theater is one of my favorite venues in Northern California. For more intimate concerts, check out Rickshaw Shop in SF.
I have covered tons of essential information for backpacking California below. This California travel guide includes costs and how to budget for a trip to California, what to wear, how to travel, etc.
Books to Read when Backpacking in California
Here are some of my favorite books set in Honduras:
Scar Tissue – The auto-biography of the Red Hot Chili Pepper's lead vocalist, Anthony Kiedes "rocked" my world the first time I read it. The story is about his entire life, from growing up in the City of Angels surrounded by drugs and bad influences, to becoming a rockstar. Any RHCP fan should read this; even if you're not a fan, you'll enjoy this book as it's an inside look into Hollywood in the 70s through 90s.
The Mountains of California – The musings and ramblings of John Muir, one of the most famous and beloved naturalism in American history.
Slouching Towards Bethlehem – A collection essays about some of California's greatest icons including John Wayne, Howard Hughes, and the Haight neighborhood of San Fran.
Big Sur – In Jack Kerouac's semi-autobiographical character, Jack Duluoz, we see a man who goes to Big Sur to find himself again after struggling with the comedown from his carefree past and newfound fame.
Lonely Planet Coastal California – It's sometimes worth traveling with a guidebook.
The short answer is yes, very much so. I have lived in California my entire life without worrying about violence or petty theft. Then again, I grew up in a small town. The USA can be dangerous, but so can anywhere.
The cities are another matter, but like any city in the world, don't leave your stuff unattended or in a car window's view, especially overnight. There are certain parts of LA, SF, Oakland, etc. you'll want to avoid at night. Just use your common sense and you will definitely be fine.
Outside of the cities, you will pass through many small towns and rural areas where crime is much, much lower. If you're coming to Cali for a meditation retreat, it's unlikely that crime is going to be an issue.
Honestly, the main thing to watch for are wild animals on the road when you are driving. I see a couple deer everyday.
On the subject of nature, California is home to just about all climates and weather patterns. Be careful when you're out there. Carry water when you're hiking in the heat, and be prepared for snowy conditions in the winter.
Sex, Drugs and Rock 'n' Roll in California
You will be spoilt for options when it comes to partying and unwinding in California. The wine is superb, the beer is endless, the bars are raucous, and weed is legalized, though remember my young backpackers, the drinking and marijuana age is 21 and over in the USA.
All of the larger California cities have plenty to do at night. Los Angeles and San Francisco, in particular, have some of the best nightlife in the country: dives, raunchy dance floors, speakeasies, country bars, and underground raves are at your fingertips.
Partying in the big cities will almost always be expensive. Cover charges are exorbitant in places like Hollywood and the price of drinks/drugs is not far behind. An average cocktail will be around $14. A beer (though strong, like 7%+ will be $8).
On the other hand, California has some cheapest retail prices for booze in the entire USA. There are alcohol superstores in California that are dangerously inexpensive, and you can buy alcohol in any grocery store in California (which is not the case in many states).
I sincerely suggest sampling California beer and wine throughout your trip. Whole Foods, believe it or not, has the best selection of beer and wine when it comes to grocery stores. Bevmo specializes in liquor so they will have more options than you can handle.
For the full experience, however, make sure to stop into a tap room, local microbrewery, and winery. California has the most breweries of any state, and probably the most wineries.
Weed is legal in California! To buy weed in California, all you need to do is have a valid ID that proves you're over 21 years of age and go to a dispensary. Dispensaries look and behave very much like any bottle shop with educated clerks and a wide selections of strains. Note that dispensaries only accept cash.
Travel Insurance for California
ALWAYS sort out your backpacker insurance before your trip. There's plenty to choose from in that department, but a good place to start is Safety Wing.
They offer month-to-month payments, no lock-in contracts, and require absolutely no itineraries: that's the exact kind of insurance long-term travellers and digital nomads need.
SafetyWing is cheap, easy, and admin-free: just sign up lickety-split so you can get back to it!
Click the button below to learn more about SafetyWing's setup or read our insider review for the full tasty scoop.
What to pack for California will largely depend on which part of the state you are visiting, and what time of the year it will be. Southern California is generally temperate near the coast, but as you go inland, the entire state is boisterously hot in the summer and cold in the winter.
San Francisco and the northern coast are bi-polar. You can get sunny days in February and foggy, cold days in August. Best to check the latest weather reports.
Be sure to pack some good shoes if you plan on exploring the cities and/or engaging in outdoor activities. It's also a good idea to bring an extra day bag to carry with you to the beach or for big sightseeing days.
Here are some other essentials that we recommend if you plan on camping out…
For plenty more inspiration on what to pack, check out my full backpacking packing list or our beach packing list if you're headed on a beach vacation!
Best Time to Travel to California
There really isn't a bad time to visit California, but it depends what you are after. Keep in mind the coastal parts of Southern California have pretty much the same weather year round. This is one of the reasons this part of the world is so famous, after all.
It rarely dips below the high 60s in Southern California, but the rest of the state is home to different climates and temps.
My favorite time of the year in California is definitely spring, specifically April and May.
California is at its greenest – the only time it's still so green, really – and the weather is generally sunny, with some rainy days here and there.
Summer is the best for beach vacations and long days to explore – sun sets around 9 in summer, but it's also the most crowded time along the coastline and in the National Parks.
September – November is another great time to visit California, minus the wildfire season 🙁 If there are no fires, it's a great time for camping: great weather but thinner crowds and still no snow in the mountains. Fall foliage at the end of October and November can be really beautiful.
Much of the Central and Northern California coast experiences what is called an "Indian summer" in the fall, meaning there are sunnier and clearer days.
Winter is great for snow sports and snowshoeing. The ocean is too cold to enjoy, unless you're a bad-ass surfer, but you can still have some nice hiking days and chill on the beach.
Apps to Download before Backpacking California
Maps.Me – Prone to getting lost or taking that 'shortcut' that adds another few hours onto a simple walk? This app is definitely for you. My favorite offline maps app, download your map and route before you venture out to keep you on track while backpacking California.
XE Currency – I used this a lot when backpacking abroad, and it is a great help while calculating expenses.
HIDE.ME – I always have a VPN ready to go on both my phone and laptop, I personally use Hide Me which is one of the fastest and most reliable options out there. This particular VPN allows for up to five connections which is handy for keeping all your devices connected without having to purchase multiple VPN packages.
There are multiple airports in California, the biggest international airport being LAX, but there are a lot of other Southern California airports you can fly into, like the OC's JWA.
SFO is the largest international airport up north, but look at prices into Oakland and San Jose's international airports too.
Even Sacramento International Airport has some good deals once and a while, but generally, if you are flying from Europe or Asia, the Bay Area will have better deals. That said, check Sacramento if you are flying domestic or from Mexico, depending on what your California itinerary looks like.
Definitely consider an open jaw ticket if you are road tripping from north to south or vice versa.
Many cities and larger towns have domestic or private airports, though these are generally expensive to fly into.
How to Travel in California
Undoubtedly the best way to travel in California is by car. This is the best place in the world to take a road trip! This may also be your largest expense (including gas) so try to plan a trip with a group, or at least one other person.
Fear not, if you do not have a car, there are ways of getting around California. The bus is going to be your cheapest bet, and I'm actually a fan of getting from city to city via Megabus. They're extremely cheap, comfortable, have WiFi on board, etc.
Amtrak trains link most cities, but tickets are pretty expensive. Still, this may be your best bet depending on where you are going.
Renting a Car or Campervan in California
Renting a car is the most popular way of getting around California. There are a myriad of car rental agencies in the USA that offer varying deals and varying models. Refer to a search engine website, like Kayak, to compare prices.
You can also rent an RV in California, which means you don't have to worry about packing camping gear. They cost a bit more to rent, but they do make for some epic travel stories! You can check RVShare for rental prices.
We mentioned before that you can reach out to vehicle relocation services, like immova and Cruise America, as a way of saving heaps of cash on rentals. Pursue these as best you can as they can save you a lot of money. Don't get your hopes up too much though, as availability is always limited.
Companies like Juicy Rentals rent converted vans, perfect for camping or going to a festival.
The roads in California are generally very good and a sedan or economy car should drive you to most of California's top destinations. Only in the most remote portions of the state and the Sierra Nevada will the roads be so bad that you need 4×4 or at least high clearance.
If you are searching for free camping, I highly suggest a car with high clearance. Most fire roads are pretty rural. If you're on a road trip in California in the winter and want to go to the mountains, you will definitely need all-wheel or 4-wheel drive, or at the very least chains.
Hitchhiking in California
Well, I've never had to hitch in California (at least with strangers) but it's relatively straightforward. I don't see hitchhikers that often, but I did pick up a Japanese backpacker in Yosemite! He was heading to the Grand Canyon and the NYC! Really hope he made it.
As always, use your instincts. If somebody or a place gives you bad vibes, stop hitching and take the bus.
Onward Travel from California
Wait you're leaving?! Just kidding. California shares a border with Mexico's Baja California, where Californians escape the crowds and head for the surf. It is relatively self explanatory to cross overland via car…
Otherwise, you can continue an epic road trip into Oregon in the north, or Arizona to hit the southwest.
Let's be frank here: a trip to California is not going to be cheap. Daily expenses (and taxes) are driving Californians to move to other states in search for cheaper homes; nevertheless, do not be discouraged, fellow backpackers.
There are ways to backpack California on a budget, and I'm going to show you how in this California travel guide. After all, when I travel around California, I cannot afford your average California vacation budget every time either.
Let's start with a realistic vacation budget. If you want to go on a California road trip, covering a lot of ground, staying in hotels, and dining out pretty often, then you're going to want to budget around $200 – $250 a day.
This includes your biggest expenses: lodging, food, a rental car and gas as well as play money for dining, drinking, and certain attractions.
The easiest way to cut this budget in half is to go on a California road trip with a group, or at least one other person. This way you can split rental fees, gas, lodging, and grocery runs. I would say a couple can spend $100 each per day with a car rental and lodging included. A group can spend even less.
The largest cost will definitely be your rental car, as it is unavoidable for a road trip. We suggest visiting California outside of peak season for cheaper prices. This way you will also get much cheaper lodging prices.
Gas prices are cheaper than say, Europe, but gas taxes are more expensive in California. Moreover, you will probably cover a lot of ground in one of the largest states, so this is an inevitable cost. Use apps like ViaMichelin to find cheap gas.
Don't want to spend over $100 a day on your trip? Yeah, me neither. Here's how to travel in California as a backpacker with more like $60-100 a day.
Don't try to cover massive distances. A few of my California itineraries stick to one or two regions. You can save a lot on gas. Second, explore California's nature instead.
In my opinion, the best places to visit in California are nowhere near the cities and the best things to do in the Sierras, on the coast, etc. are free!
Moreover, by exploring the coast and mountains, you can camp instead of stay in hotels, which will save you hundreds and hundreds of dollars… A regular car camping site will cost you anywhere from free (see my "wild camping in California" section above) to $35 dollars per site (usually up to 6 people though!).
The more expensive sites are in the National Parks or very nice private facilities, and sites over $30 are rare. I would say most cost more like $20-25. Compared to a $100 night motel, this is quite a steal and puts you front and center of some of the most beautiful places in the USA.
Don't rent a car in the cities, or if anything, just rent a car for a day trip or two. You can get around via public transportation just fine.
Finally, lodging, food and drink can be as cheap or as expensive as you want it. If you rarely eat out and shop at grocery stores instead, you can save a lot of money. This is where you can really bring the costs down, which I'll break down in the next section with many more budget hacks for California.
Money in California
As the rest of the USA, California runs on the USD, which I'm sure you need no introduction to. Everything is available cashless these days; even food trucks, farmer's markets, and small shops have a Squarespace chip for credit cards.
It's still nice to carry cash just in case, and tipping at restaurants is always better in cash. Which reminds me, don't forget to tip when visiting the US, especially at sit down restaurants, where the typical tip is 18%…!
You'll find ATMs at any bank, gas station, mall, or large shopping center. Banks charge a fee if you don't belong to their bank, however, so check with your bank as to what international withdrawal fees look like. I travel with a debit card without fees.
Backpacking California Budget Travel Hacks
Camp: There is no shortage of places to camp in California. California truly is one of the best places to camp in the world! Not only will you save a lot of money, but you'll be front and center of the world's most beautiful coastlines, mountains, forests, and deserts.
Check out this post for a breakdown of the best tents to take backpacking. If you have a set itinerary, make sure to reserve ahead! If you want a facilitated campsite or plan to visit the most popular places (Yosemite, the coast, etc.) reservable sites fill fast, especially in the summer.
Cook your own food: When the average casual meal costs over $12, and a sit down at least $30 with tip, not including alcohol, cooking for yourself will save you hundreds of dollars… Need I say more? Plus, the produce and food is excellent in California. Enjoy it.
Travel with a portable backpacking stove to save some serious cash whilst backpacking across California. This is the best way to save money and if you plan an overnight hike or camping trip, having a backpacking stove will be ESSENTIAL. My two personal go-to stoves are the MSR Pocket Rocket 2 and my Jetboil.
Go to the Beach: Aside from the occasional State Park entrance fee, going to the beach is free!
Walk: Stretch your legs and use your legs. The best way to save money is by walking around cities.
Spend time outdoors: I should continue to emphasize this. Spending time outdoors is not only rewarding but pretty much free. This is the best way to backpack California on a budget.
Rent an economy car: Prices can be as low as $25/day depending on the time of year and how far in advance you reserve. Economy cars are also the most fuel efficient so you'll save on gas.
Don't Wine Taste in Napa: The prices around Napa and the North Bay are incredulous. You can still do some amazing wine tasting in SLO, Santa Barbara, the Foothills, Lodi, and more.
Use vehicle relocation services: These brilliant services offer huge discounts to people on the condition they get a vehicle to a certain place at a certain time. No joke, you can rent a car sometimes for as low as $1/day! Availability is very limited though, so keep a watchful eye on the sites. Check Immova and Cruise America to start with.
Do free shit: There are lots of free things to do in California! From hiking to exploring famous monuments like the Golden Gate Bridge!
Buy an America the Beautiful Pass: If you are visiting multiple national parks you would be silly not to buy one, as it gives you unlimited entry for a year.
Pack a travel water bottle: It's good for your wallet and the environment.
Volunteer in California
Long-term travel is awesome. Giving back is awesome too. For backpackers looking to travel long-term on a budget in California whilst making a real impact on local communities look no further than World Packers. World Packers is an excellent platform connecting travelers with meaningful volunteer positions throughout the world.
In exchange for a few hours of work each day, your room and board are covered.
Backpackers can spend long periods of time volunteering in an awesome place without spending any money. Meaningful life and travel experiences are rooted in stepping out of your comfort zone and into the world of a purposeful project. World Packers opens the doors for work opportunities in hostels, homestays, NGOs, and eco-projects around the world.
Broke Backpacker readers get a special discount of $20 – just use this discount code BROKEBACKPACKER and membership is discounted from $49 a year to $29.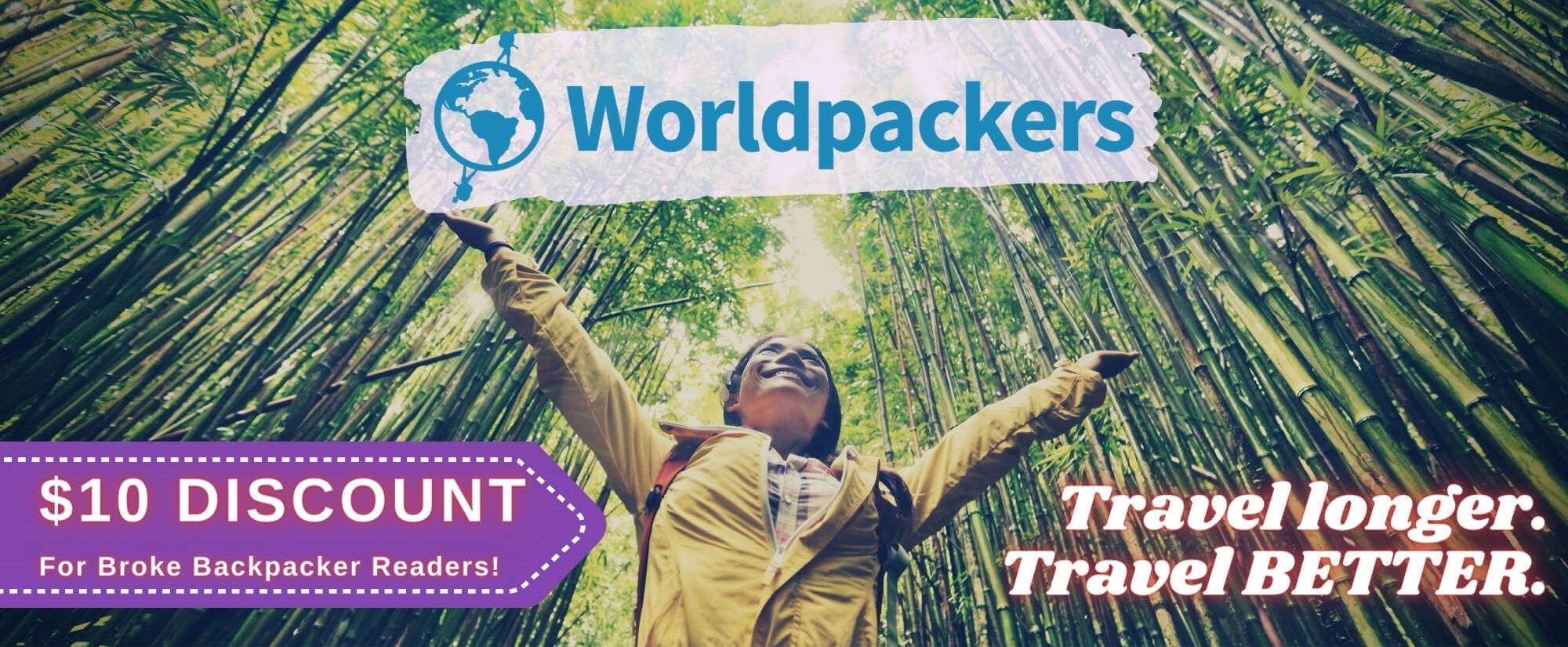 Worldpackers: connecting travellers with meaningful travel experiences.
Teaching English in California
Are you a native English speaker looking to earn cash whilst traveling the world? Teaching English online is a great way to earn a consistent income—from anywhere in the world with a good internet connection.
Depending on your qualifications (or your motivation to obtain qualifications like a TEFL certificate) you can teach English remotely from your laptop, save some cash for your next adventure, and make a positive impact on the world by improving another person's language skills! It's a win-win! Check out this detailed article for everything you need to know to start teaching English online.
In addition to giving you the qualifications to teach English online, TEFL courses open up a huge range of opportunities and you can find teaching work all over the world. To find out more about TEFL courses and how you can teach English around the world, read my in-depth report on teaching English abroad.
Broke Backpacker readers get a 35% discount on TEFL courses with MyTEFL (simply enter the code BACKPKR), to find out more, please read my in-depth report on teaching English abroad.
Whether you are keen to teach English online or looking to take your teaching game a step further by finding a job teaching English in a foreign country, getting your TEFL certificate is absolutely a step in the right direction.
Internet in California
Internet in California is just fine. Any lodging or café is probably going to have free wi-fi and service is fast and available. That said, getting a SIM card as an international traveler isn't as cheap as other countries.
Once you get into nature, like Big Sur, Yosemite, the mountains, etc. there will be very spotty and unreliable service. Use this as a time to digitally detox.
Meet the People in California
Californians are stereotypically more laidback. Even people in cities move at a much slower pace than say, New York City.
There is generally a more health conscious and active lifestyle to be found in California due to accessible outdoor places, temperate weather, fresh produce, and plenty of options.
There are exceptions to this stereotype of course, but, generally, I think Californians love to get outside, hike, bike, ski, surf, etc. And why wouldn't we, considering it's all in our backyard?
For the most part, no one in California dresses formal day to day. Ties are rarely worn to the office. Again, unlike our Eastern state counterparts, the style here is more laidback.
It's actually pretty common to wear leggings and sweatshirts out in public, which may or may not surprise international travelers.
California is known for being open-minded and liberal, specifically in coastal cities and towns. I also grew up in one of the "reddest" counties in California, so I can vouch that the typical "liberal California" stereotype does not hold true for the entire state.
While California has some of the most populous cities in the US, there are also a lot of rural, mountain, and farming towns here. Remember, California grows 75% of the country's food! There is also a large migrant population and generally, the state is quite diverse, specifically in the cities.
What I'm trying to say is that San Francisco and LA are completely different than the towns a couple of hours inland. Like completely different. If you have an opportunity to road trip through California, you will see that California is quite diverse, not just by climate and terrain, but by religion, politics and economic standing.
That said, California is a blue state, meaning most voters lean towards liberal social views, and California has some of the most liberal environmental laws and taxes.
Food in California
California is consistently rated by several national publications as one of the top states in the country for foodies. Thanks to its bountiful crops, large immigrant population, and demand for high-quality products, California is simply one of the best places to eat, and you can sample awesome food from all around the world!
This wouldn't be a California travel guide without going into detail on the food.
Los Angeles and San Diego are most famous for their amazing and authentic Mexican food, which, really is the best you'll find north of the border.
San Francisco has great Mexican food too, but is even more known for its Asian food: Vietnamese, Chinese, Thai, India, you name it.
San Francisco has more restaurants per capita than anywhere in the country, so you are spoilt for choices. The only thing holding you back from trying all of the food in SF is your wallet.
Refer to the LA and SF city guides for more information on restaurants and food there.
Sacramento, considered the breadbasket of California, has an amazing farm-to-table food scene. It's one of the greatest hidden culinary gems in the state. Expect excellent farmers markets year round.
The most famous fast food restaurant, and the only fast food I'll ever recommend, is In-and-Out Burger. Try it on a California road trip, and order the animal style.
And on that note, you should definitely get greasy breakfast food at a 24 hour diner at least once if this is your first trip to the US. Tastes best after a night of debauchery at 4am.
If you're trying to stick to a budget in California, you'll have to limit how much you eat out. You'll find a grocery store (or supermarket as we call them) pretty much anywhere.
The cheapest places to buy groceries in California tend to be Costco (though you need a membership card), Winco, Wal-mart, etc. Grocery Outlet actually has good deals, and I score some pretty great organic food and snacks here for much cheaper than normal markets.
On the opposite front, Whole Foods, Sprouts, and the Nugget are the famous health food supermarkets. However, I always try to support local co-ops and farmer's markets too. Rely upon food trucks when in the cities if you do eat out and small town diners in rural areas.
Festivals in California
You are absolutely spoilt for choices when it comes to festivals in California. Below are a few of my favorites.
New Years – Dec 31-Jan 1: A huge celebration across the world. The most popular places to celebrate are naturally the cities, where you can find great parties, live shows, and music festivals, especially in Southern California. Resort towns are also popular, especially for cabin/ski getaways, namely Lake Tahoe and Mammoth Lake.
Coachella, Coachella Valley – April: One of the most popular music festivals in the world. While I would say it has changed quite a lot in recent years thanks to social media and the likes, the festival still gets the best music acts of the moment. Not just the headliners, but the soon to be discovered. This is the festival that kicks off the year.
Lightning in a Bottle, Memorial Day Weekend – Central Coast: On the subject of music festivals, this one couldn't be more different than Coachella. It focuses on art, sustainability, and yoga just as much as the music, which is mostly electronic. Famous for the "Do Lab" also found at Coachella. Good vibes.
Fourth of July: Celebrated with BBQs and fireworks across the nation, join in for a day of debauchery. The best places to celebrate are anywhere near a body of water, including the OC, San Diego, and Lake Tahoe. That said, these places get crowded and expensive. Maybe best to avoid…
Outside Lands, SF – August: Another multi-genre music festival, Outside Lands festival is much more relaxed than Coachella, taking place in Golden Gate Park surrounded by trees and the likes. One of my favorite festivals in California, though the line-up can be hit or miss.
Nocturnal Wonderland, San Bernardino – September: No one does electronic music festivals better than Insomniac Events. Nocturnal Wonderland is one of their most famous festivals (behind EDC in Vegas of course). If you're into EDM or want to experience the SoCal rave scene, any one of their events is bound to be a good time. Others include Escape Wonderland (Halloween), and Beyond Wonderland in March.
Halloween, October 31st: Another holiday hugely celebrated in the US. Dress up in a fun or scary costume and go out on the town. If you're traveling with family, join the trick-or-treat festivities.
Thanksgiving, Thursday in November: An American holiday to celebrate family and everything we are grateful for. Most families get together over a huge meal, the main dishes include turkey, stuffing, cranberry sauce, mash potatoes, and pumpkin pie. If you are traveling in California during the third Thursday of November, keep in mind many businesses will be closed and many people will be traveling that week.
Christmas, Dec 25th: The holidays are a wonderful time to visit California. Most places will be decorated and lit up like a Christmas Tree. Going Christmas Light viewing is a great activity too, just bring the spiked hot cocoa. Southern California is still generally sunny and 70 degrees; whereas, the snow will (hopefully) be dumping in the mountains.
If I sparked your interest in the music scene in California, I only touched on a few of the many amazing festivals in California. There are at least 30 music and arts festivals year round, ranging from EDM and folk to rock and country. One quick google search will point you in the direction of festivals like Symbiosis, Desert Daze, and Stagecoach!
Trekking in California
The trekking in California is absolutely endless; I don't even know where to begin! The most accessible trails with high reward for little effort will generally be in the National Parks, though not always!
If you're willing to hike several miles with a tent and camping supplies, you can find yourself in some of the most beautiful places in the state.
This wouldn't be a California travel guide without some hiking inspiration. Here is a list of my favorite/the most popular hikes in California:
John Muir Trail: While I've yet to actually hike the entire trail, this is arguably the best part of the famous Pacific Crest Trail (PCT). The JMT stretches from Yosemite to Sequoia over 211 miles.
Half Dome, Yosemite: One of the most famous hikes in California is the Half Dome in Yosemite National Park. This trail is adventurous and strenuous; make sure to leave before sunrise to complete the 16-mile round trip. Keep in mind this is a seriously competitive permit-only hike, so visit the site I linked for more information.
Can't get a permit? Go to the visitor's center and grab a trail map. There are so many epic hikes with equally impressive views and far fewer people. You can hike to the top of El Capitan, for example, and view Half Dome across the valley.
Desolation Wilderness: There are tons of trails in this National Forest just west of Lake Tahoe. I recommend an overnight hike to Dick's Lake or Aloha Lake. I wrote about Dick's Lake here.
Lake Tahoe Rim Trail: There are tons of beautiful day hikes around Lake Tahoe, but if you want to go all out, hike part or all of the Lake Tahoe Rim Trail.
Point Reyes, Many Hiking Options: Not as well known internationally, but quite famous in Northern California, this national reserve has around 150 miles of coastal and forest hiking trails! Visit Bear Valley Visitor Center to get more info. I recommend Tomales Bay. Alamere Falls is popular for its waterfall that ends at the ocean.
Mount Whitney: Another permit-only, highly competitive day hike in California. This is a non-technical summit to the highest mountain in the continental US at 14,496 ft.
Fern Canyon, Prairie Creek Redwoods State Park: This entire area in very northern California is absolutely beautiful. Fern Canyon is a green, pristine canyon in the coastal range of the Redwoods. I just hiked this easy hike this year. Definitely, a must-do if you are visiting this part of California.
Scuba Diving in California
California is probably better known for its surfing, as the water is cold and not all that visible. That said, you can do some pretty unique and epic scuba diving in California!
Catalina Island is probably the most popular place to dive. The waters are much clearer here, and you have access to shipwrecks and reefs.
La Jolla Cove is another popular dive site in California, where it is common to dive with the California Sea Lion.
Surfing in California
Nothing epitomizes California more than its surf culture. This means you have plenty of choices all up and down the coast, many waves of which are accessible. The major drawbacks of surfing in California are the crowds and water temps, which are cold year round, but especially in winter.
If you're into big wave surfing then it doesn't get better than Highway 1 between Santa Cruz and Half Moon Bay. Maverick's in Half Moon Bay is world famous for its dangerous and massive winter swells.
Winter also brings forth excellent conditions in Southern California. Huntington Beach, Malibu, Steamer Lane, and Rincon are all famous spots for surfing. Huntington Beach is home of the US Open for surfing in August.
Other surf towns include Santa Barbara, Pismo Beach, Bodega Bay, Oceans Beach in SF, and so much more.
Brief History of California
California has been inhabited for thousands of years by Native Americans, namely the Chumash, Mohave, Yuma, Pomo, and Maidu. Separated by the mountain ranges and deserts, these different tribes had different languages and cultures.
Like everywhere else in the country, everything changed when Europeans came to colonize. California wasn't colonized nearly as fast as the east since it was so far away from Europe. Despite being explored in the 1500s, it wasn't until 1769 when the Spanish began to build the California missions.
Of course, most Native Americans were killed or converted to Catholicism during colonization…
There are 21 missions along the coast that you can still visit today. When Mexico gained independence from Spain, California became a province in Mexico, but in the 1840s – when many settlers were moving to California – the area rebelled against Mexico rule and became an independent country called the Bear Flag Republic.
Within that same year, the US and Mexico went to war, and California became a territory in the US in 1848.
Around this time – 1848 specifically – gold was discovered at Sutter's Mill in California and so began the gold rush. In the next decade, over 300,000 people moved to California changing the state forever.
The First Transcontinental Railroad made traveling west easier, and California continued to be settled in droves. In the late 1800s, California really made its mark as the state of agriculture, specifically in the Central Valley.
In the 1900s, Hollywood, a small town outside LA, became the main location for filming due to its proximity to the beach, mountains, and desert and year-round sunny weather. You probably don't need me to tell you what Hollywood has become since!
Being a Responsible Backpacker in California
There is no shortage of opportunities to party in California, and you probably don't need me to tell you to be responsible and safe, but well, be responsible and safe.
Respect monuments, historical sites, and people. Follow the "leave no trace" principles and always pick up your trash and any litter you find on the trails. California's nature is pristine, so let's keep it that way!
Try to limit or eliminate your consumption of plastic and single-use containers as much as possible.
Learn how to reduce your plastic footprint while traveling here.
Check out our post on how to be a responsible backpacker.
---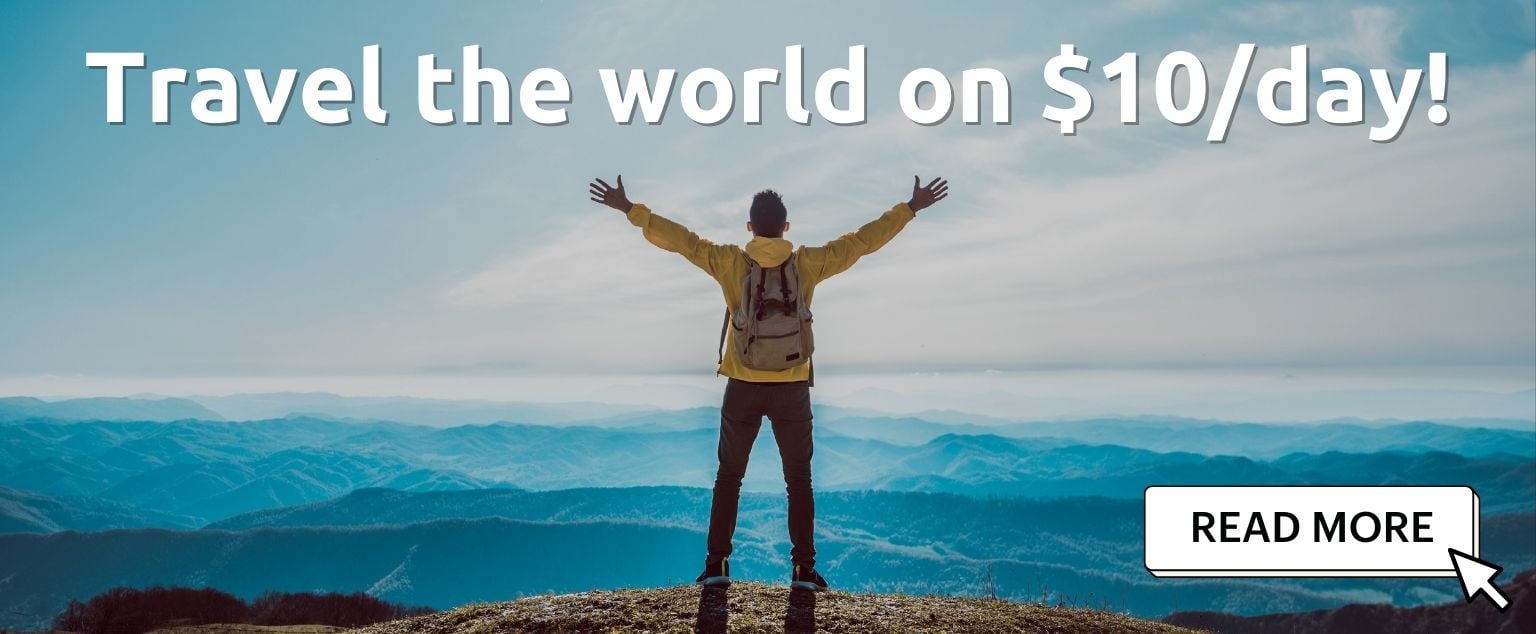 And for transparency's sake, please know that some of the links in our content are affiliate links. That means that if you book your accommodation, buy your gear, or sort your insurance through our link, we earn a small commission (at no extra cost to you). That said, we only link to the gear we trust and never recommend services we don't believe are up to scratch. Again, thank you!