San Diego is the land of aging surfers, sunburned hipsters, and overused Anchorman jokes. We may make fun of San Diego a little.
But honestly, we're just jealous of its amazing weather, delicious beer, and alternative style of living.  It's no wonder San Diego is one of the most popular cities in California. San Diego's amazing beaches and food scene alone make this one of the best cities in the USA.
It's California's city of perpetual sunshine in all of its glory.
San Diego is expensive though, not to mention quite busy. The cost of living is high, and its omnipresent tourism doesn't help the situation much. To visit San Diego and have the best possible experience, a travel guide comes in really handy.
Low and behold! You just happen to be reading a San Diego travel guide written by travel experts and Cali natives.
Whether you are visiting on a weekend getaway, California road trip or a backpacking San Diego adventure, you'll find plenty of fun things to do. Now to decide: the beach or the ever-bustling city?
It's no secret that San Diego is one of the most beautiful cities in the country. Leaving it out of your USA trip would truly be a shame. Not too many places on the planet can quite match its captivating natural beauty and idyllic climate.
San Diego's beaches are some of the best in California, and the city as a whole just screams outdoor adventures. Spacious parks, gardens, and 68 miles of coastline mean you surely won't be lacking in sunshine. And unlike most of the US, it rarely gets cold here.
Add in delicious foodie choices from an array of cuisines and pleasing architecture, and you've got yourself a shining star. You haven't really visited California until you've seen 'America's Finest City,' so allow this San Diego travel guide lead you to West Coast adventures.
Need help deciding between San Francisco or San Diego? Check out our helpful guide.
What Are The Major Attractions In San Diego?
Spending time in San Diego is one of the top attractions to visiting California. As the city has some of the best weather in the entire country, it's no surprise that many of its top attractions are in fact outside.
The places to visit in San Diego are endless–from expensive locales to free attractions fit for backpackers, there's something for everyone in this oceanside city.
Here's what you shouldn't skip while you're in town:
La Jolla
Balboa Park
Gaslamp Quarter
Seaport Village
Mission Beach
How Long Should You Spend in San Diego?
A 3-day weekend in San Diego is the perfect amount of time to get a feel for the city. You'll get to hit the top sights, and even get a bit off the beaten path too!
If you have a bit more time on your hands, you can easily spend a week in San Diego. Especially considering all the epic San Diego day trips that are within driving distance.
The following is a 3-day San Diego itinerary to get you inspired for your trip! Most of the top destinations mentioned in this San Diego travel guide are covered in this section.
Day 1 in San Diego: Balboa to Coronado
Start your day early with a crisp morning in Balboa Park. This is one of the largest and most historically significant public parks in the USA; it hosts a myriad of trails, buildings, and historical landmarks. Several cultural establishments like the Museum of Natural History, the Botanical Building, and the Museum of Art are here.
I can't understate the sheer importance of Balboa Park. Aside from hosting some of the most important attractions in San Diego, it is a pillar of the local culture. San Diegans grew up visiting this park and have many fond memories of the place.
After the park, head south towards Downtown area. Consisting of the central financial district, the Gaslamp, and Little Italy, this area has one of the greatest concentrations of bars and restaurants in the city.
Many of the best places to eat in San Diego are located here but, admittedly, the region lacks atmosphere. Come for lunch and some craft beer, but move on quickly.
Before moving on to our final destination of the day, the USS Midway Museum and Star of India are worth pointing out. Moored in San Diego Bay, both make for an interesting juxtaposition. Next, hot up the glitzy Seaport Village which features tons of iconic shops and eateries.
End your day crossing the spectacular Coronado Bridge and hang out in Coronado city. Coronado itself is resorty, but nearby one of the best beaches in San Diego, Silver Strand State Beach. Stretching for miles to the south, Silver Strand is an excellent place to chill, surf, and watch the sunset to end your day.
Day 2 in San Diego: Mission Bay to Point Loma
Start off by making your way towards Mission Bay. Along the way, you'll pass through Mission Valley and Mission Hills, which have some excellent breweries like Modern Times, Coronado Brewing, and Stone Brewing. (It's not too early for a beer; you're on holiday.)
Once you arrive, spend the early afternoon on the waters. Rent a kayak and paddle around the Mission.
Head south after Mission Bay to Ocean Beach, famous for its alternative lifestyle choices and quintessential California vibes. More importantly, it has the two best beaches in San Diego – which can get packed – and more breweries of course!
Further south is Sunset Cliffs, which, true to their name, are great cliffs to watch the sunset from (get the guy who named this place a beer!).
Beyond the Cliffs is Point Loma and the Cabrillo National Monument. This significant point of interest in San Diego is the landing site of Juan Rodriguez Cabrillo, the first European to set foot on the West Coast of the USA. The Cabrillo Monument, in addition to the Point Loma Lighthouse, are two of the city's greatest icons.
Cultural merits aside, Cabrillo is still a fine place to walk around. The views are stupendous as you have the ocean to one side and San Diego on the other. The local tide pools are also very fun to explore when the tide is low.
Day 3 in San Diego: Torrey Pines to Pacific Beach
No San Diego travel guide would be complete without suggesting a run in Torrey Pines State Park! Get your ass outta bed and grab those trainers because it's going to be a beautiful day!
Torrey Pines is located a bit outside of San Diego proper but far before Encinitas. It is a very surreal geographic area, with razorback ridges and epic coastal cliffs.
It is one of the must-see places in San Diego, made even better by an awesome system of trails. Be sure to make it down to the actual beach to see the actual cliffs and go wading in the tide pools.
Once you've got your endorphin fix, head south to La Jolla, the so-called "Crowned Jewel of San Diego". This is one of the ritziest, most elegant parts of the city, an extremely popular date night spot for a reason.
La Jolla is famous for its picturesque sea coves and beaches, which the local sea lion population loves to hang out at. They are far from a pest though and there are still plenty of beaches reserved for human bathers.
Be sure to visit the University of California San Diego and the Geisel Library. This ultra-modern building is like something out of a sci-fi movie and visiting it is certainly one of the most unique things to do in San Diego.
End your day in the upscale Pacific Beach district. This is one of the liveliest areas, well-known for its fish tacos and nightlife. A good way to end your trip, I say.
Spending More Time in San Diego?
If you've got a bit more time on your hands, your San Diego itinerary will get even better. This is absolutely a city you want to slow down for!
Here are some extra adventures this seaside city has to offer:
See a game at Petco Park: Baseball lovers will be hyped to watch the San Diego Padres play at this famous field. Check their schedule in advance to see if your trip will align with any games!
Visit the Museum of Man: This unique museum boasts an incredible collection of everything you'd ever want to know about cultural anthropology. It's all about human beings and civilizations and is certainly a thing to do in San Diego that you won't find anywhere else.
Get your surf on: This city is a surfer's paradise, so why not get in on the action? If you have some time to spare, learning how to ride the waves with the help of an instructor will make for an invaluable experience.
Eat your way through Convoy Street: Foodies, you don't want to miss this! Filled with over 100 mostly Asian restaurants, this street boasts the best Asian cuisine in the entire United States.
Check out Old Town San Diego State Historical Park: This historic park will quickly take you back in time. It features numerous old and abandoned buildings, many of which date back to the 1800's.
Here are the things to do in San Diego that you just shouldn't miss while exploring the city!
1. Hop on a trolley
Want to see the best of San Diego without the stress? Just join a trolley tour! It's a hop-on-hop-off experience, meaning you'll get to see the city's top sights without worrying about where they are or how to get to them.
2. Have fun in the sun on Coronado
Catch rays and some waves at Coronado's Silver Strand Beach. This is the longest beach near San Diego, a favorite getaway for both locals and visitors.
3. Eat all of the fish tacos and drink all of the beer
San Diego has some of the best beer and Mexican food this side the Rio Grande. It doesn't matter when and where you go, eating tacos and drinking a craft brew are among the top things to do in San Diego, night and day.
4. Hang out with sea lions at La Jolla
The local sea lion population has pretty much claimed La Jolla for their own and don't look to be packing their bags anytime soon. They love photos though! If you're not up for watching the marine mammals, there's still plenty more to do in this affluent neighborhood.
5. Ride around Balboa Park
Many of San Diego's top points of interest lie within one area: Balboa Park. If you can only visit one place in San Diego, then it should be here.
6. Surf some waves
There is a lot of good surf in the city limits. For the best waves, make a day trip from San Diego to the northern suburbs of Carlsbad and Oceanside, or keep going all the way to Huntington Beach in the OC.
7. Pay a visit to Cabrillo
Cabrillo is a great place to both play and learn. Aside from being one of the most historically significant landmarks in San Diego, it also has excellent views of the city and lots of little tide pools to explore.
8. Sail or kayak in Mission Bay
San Diegans love to tear up the water either by boat or smaller craft! Grab a kayak or organize a sailboat in Mission Bay for a lovely afternoon.
9. Hit the trails
San Diego is one of the most active cities in the USA and is chalked full of excellent pathways. If you really want to go on some good hikes, then head outside the city! Torrey Pines and Cowles Mountain are great places to visit near San Diego and have even better trails.
A myriad of high-quality hotels with private hot tubs and guesthouses are spread throughout this city to accommodate a huge array of guests. Whether you're a backpacker, a weekend warrior, or a traveling family, there is a place to stay in San Diego.
Hostels in San Diego, although still pricey, are the best deals in town. Luckily, you get what you pay for and San Diego hostels are excellent.
In an unusual turn of events, conventional hotels are actually cheaper than Airbnbs. This is a great San Diego travel tip because it's often the other way around. I personally don't like hotels because of their generic and/or uninspiring nature, but you can't argue with a deal. Motels in San Diego offer a rock-bottom rate for serious budgeters.
If you are visiting San Diego on a very tight budget, stay at an urban campground. Using one is a great way to experience California and save some cash. Just be sure to bring a decent camping tent!
The Best Places to Stay in San Diego
Here's exactly where to stay in San Diego, broken down by neighborhood:
San Diego Accommodation Travel Hacks
Sometimes you need your own roof above your head – I know the feeling. Other times, you're doing everything you can to save a nickel and dime.
If you're trying to cut the costs of travel to San Diego, then maybe it's time to stay somewhere besides a hostel or apartment. If you need to save money, try one of these:
Couchsurf! – Couchsurfing is the best way to save on cash when it comes to accommodation since most of the time you're crashing for free. Staying with a local host is also a great chance to experience a more authentic side of the city and to visit hidden San Diego.
Tap into your backpacker network – You never know when you have a friend in a foreign city! If you've traveled a lot, you may have met someone from San Diego or know someone who knows someone. Reach out to people! Exchange a night or two in exchange for cooking dinner. If you don't know anyone in the city, ask your friends if they do – travelers understand the struggle and are usually more helpful than you think.
Camping – Urban camping in California is a growing trend. These campsites are comfortable, sociable, safe, and cheap. They are often located on the outskirts of town, which means they are quieter too.
The cost of living in San Diego has always been notoriously high. This is one of the most desirable and, at the same time, most expensive American cities to live in.
This affects tourists as well as they'll be paying higher prices for lodging, entertainment, and groceries. Those who want to visit San Diego on the cheap will need some pretty slick moves to save money…
Lodging isn't cheap in San Diego because every other Tom, Dick, and Harry wants to stay in San Diego. It has some of the highest hotel room and hostel bed prices in all of California and these will put a serious dent in your wallet. If you do have a budget, then there are some great Airbnbs in San Diego and many even have free bike rentals.
Hostels will still be the cheapest deal in town. If you need to save even more, consider camping instead.
Groceries, among many other costs of living, are quite expensive in San Diego. While this may motivate you to eat out more often, the latter is always more expensive. Stick to groceries to save food and take advantage of the ubiquitous taco trucks for delicious and cheap Mexican morsels.
Drinking, no matter how cheap, will also get you into trouble budget-wise. If you have to party, try and set financial limits for yourself to avoid going over the deep end.
A Daily Budget in San Diego
Below is a breakdown of a daily budget while traveling in San Diego including average costs of each expense.
A Few Free Things to Do in San Diego
If you're looking to save some extra cash, then try doing one of these free things to do in San Diego while visiting!
Brewery Tours – Who can say no to free beer! Many of San Diego's most prolific breweries offer free tours of their facilities and often offer up complimentary samples. Start at Green Flash, Karl Strauss, Stone Brewing, and La Jolla Brewing.
Yoga – Lots of local businesses in San Diego are starting to offer free yoga to the masses, either for marketing purposes or out of the kindness of their hearts. Some hotels even hold yoga meetings on top of their roofs! Ask around for where the nearest (free) yoga is in San Diego.
Hike or exercise – There are tons of trails around San Diego that make for great places to go hiking and running. Numerous outdoor gym areas also provide more means for street athletes. Of course, all of these cost no more than a little sweat and blood.
Surf Museum – Wanna learn a bit more about the history of surfing in California? The California Surf Museum is located just outside of San Diego in Oceanside. Entry is free to the museum and is conveniently located right next to the beach.
Art walks and festivals – There are lots of free gatherings all over the city that offer everything from art to dance to music. Local favorites include First Friday art walks at Liberty Station and free salsa dancing on select Fridays at Seaport Village. Free concerts include Coronado Summer Concerts and La Jolla Concert by the Sea.
Velodrome – Ready to see brutal warriors race each other to the death in a Mad Max-esque murder dome?! While we would love to see that too, the San Diego Velodrome only offers free races for awkward spandex-clad bike riders. Sorry to get your hopes up.
Top Travel Tips – San Diego On A Budget
It's easy to spend without thinking in this city, and even easier to go broke, but as I hope you'll see by the end of this San Diego travel guide that it can be cheap so long as you have the proper habits and proper guidance.
For your benefit, we've created a list of travel tips for visiting San Diego on a budget. Follow these words of advice and you'll find that your dollar goes much further.
Always pre-fade before going out – Buying full-priced drinks at the bar is a great way to waste your money. Instead, buy booze at the store and drink with your friends at the hostel/their house/the park/anywhere besides the actual bar.
Cook at home as often as possible – Buying your own groceries and cooking at home is one of the most proven ways to save money. Try to book a hostel or guest-house with included breakfast too.
Buy a special pass – If you're planning to visit a lot of San Diego's attractions, then you may want to invest in a City Pass. This card will allow free entry into many entering a lot of San Diego's must-see places and will even give you special rates for public transport.
Take advantage of happy hour – Happy hour is everyone's favorite time of day! From around 4-6 pm and sometimes later, lots of bars and restaurants have special drink/food prices. If you must eat out, try and go to during this time.
Check for other deals – A lot of restaurants offer special discounts to those who book a table through certain apps like TripAdvisor. Shop around a little and try to work the system.
Take advantage of free activities: Walk downtown, hang out at the beach, or even catch a free concert. We've covered the best free things to do in San Diego one of the sections below.
Use a water bottle – Save money by investing in a good water bottle and then drink from the tap. San Diego's water is delicious and totally fine to drink.
Why You Should Travel to San Diego with a Water Bottle
Plastic washes up on even the most pristine beaches… so do your part and keep the Big Blue beautiful.
You aren't going to save the world overnight, but you might as well be part of the solution and not the problem. When you travel to some of the world's most remote places, you come to realize the full extent of the plastic problem. And I hope you become more inspired to continue being a responsible traveler.
Plus, now you won't be buying overpriced bottles of water from the supermarkets either! Travel with a filtered water bottle instead and never waste a cent nor a turtle's life again.
When is the weather not amazing in San Diego?! It is a well-known fact that San Diego has the best weather in the entire USA and is near perfect year-round. Never too cold, always warm, and rain only when you need it!
For these reasons, San Diego can be visited at any time of the year. The only thing that you need to worry about is when everyone else travels to San Diego.
San Diego's busiest season is the summer when families are on holiday. Since the city is packed full of tourists, prices will be at their highest and lodging availability may be limited. This may not be the best time to visit if you're planning a trip to San Diego on the cheap.
We make light of San Diego's climate but there are some weather patterns to be aware of too.
In May to June/July, San Diego becomes shrouded in a marine layer from the Southern Pacific. Aptly named the "June Gloom," this time is marked by increased cloudiness, fog, and overcast days.
While certainly not ideal, this meteorological pattern shouldn't deter people from visiting as temperatures are still lovely and the cloudiness is not nearly as bad as places like the PNW region (which you are bound to visit on a West Coast road trip).
August-October is also peak wildfire months in San Diego since the city is usually driest during this time and the Santa Ana Winds begin to pick up. There have been some devastating fires in the past and with climate change becoming a reality, wildfires will only get worse.
The rest of the year (November-April) is seriously perfect in San Diego. Rain is sporadic, temperatures lovely and cool, and sunshine is plentiful. You'd be hard-pressed to find better weather in the USA than here.
What to Pack for San Diego
Packing for San Diego can be done light. It's a great benefit. But there are some things that come in really handy on any kind of trip.
San Diego is not all paradise and fun; crime is still an issue and its existence will require that visitors practice the usual security habits. Granted, the city is still pretty tame by a lot of national standards so don't fret much when traveling to San Diego.
Thankfully, San Diego has been spared a lot of the violent crime that has plagued the rest of California. Those involved are very, very rarely tourists.
Most of the crime in San Diego comes in the form of petty crime. Car break-ins are very common in San Diego and the occasional robbery has been known to happen.
To avoid being a victim, never leave anything valuable in your car and avoid wearing anything overly expensive. When I say never leave anything in your car I mean nothing – cars have been broken into for things as trivial as charging chords, loose change, and grocery sacks. If you feel the need to, invest in a money belt.
Vagrancy is also a problem in San Diego. The weather attracts homeless people to San Diego – as they don't have to worry about freezing to death – and many make SD a permanent stop.
Though sometimes a little intimidating with crazy talk and yelling, most will just leave you alone. Occasionally, some may appear aggressive or threatening. Though it is rare, you can enlist the help of a good Samaritan or call the police (phone: 911) if you feel seriously threatened.
Sex, Drugs, and Rock 'n' Roll in San Diego
California is known globally for being at the forefront of the weed scene. So you can imagine San Diego has every version of the THC product imaginable. From Sativa and Indica blends to edibles of every kind, you'll quickly see that cannabis is the drug of choice in this coastal city.
Keep in mind that the legal stuff is going to be PRICEY compared to what you're used to on the street. Expect to pay $60/eighth (3.5 grams) or more with taxes. The city isn't Amsterdam though–coffee shops in San Diego ONLY serve coffee as of now.
But as with most places in the USA, alcohol is everywhere and San Diego actually boasts its fair share of quality craft breweries that are certainly worth checking out.
Cocaine, meth, heroin, and every other hard drug you can imagine is certainly available in San Diego if you know where to look. I definitely do NOT recommend doing this though–the city has seen an alarming amount of fentanyl deaths in recent years. Not to mention they're all illegal and US jails are pretty horrific…
Even "softer" drugs like ecstasy/MDMA are at risk of being laced with this killer ingredient. If you plan to go beyond weed and alcohol, always, always test yo' shit! Fentanyl test kits are widely (and legally) available on Amazon these days.
Nightlife in San Diego may not be as glitzy as nearby L.A., but you can still experience some quality bars and clubs.
Get Insured BEFORE Traveling to San Diego
Even if you are only going on a short trip to San Diego, you should always travel with insurance. Especially if you're trying to get your surf on–the ocean has a mind of its own!
World Nomads' mission is to support and encourage travellers to explore their boundaries. They offer simple & flexible travel insurance, and safety advice to help you travel confidently.
They've been doing it since 2002 – protecting, connecting, and inspiring independent travellers just like you.
Get a quote below or read our in-depth review!
World Nomads provides travel insurance for travelers in over 100 countries. As an affiliate, we receive a fee when you get a quote from World Nomads using this link. We do not represent World Nomads. This is information only and not a recommendation to buy travel insurance.
San Diego is located at the southern tip of California and well connected to the surrounding region. Those planning a trip to San Diego will be able to arrive via land, air, and maybe even by sea if they'd like!
If you're flying, you'll likely arrive into San Diego International Airport. Most flights into San Diego are via domestic routes as there are only a sprinkling of internationals coming from Canada, Asia, and Europe. Small-scale Southwest and Alaska Airlines use San Diego as a hub.
Luckily, San Diego International is located smack-dab in the middle of the city, which means commuting to and from the airport will be a breeze. Taking a taxi/Uber to most of San Diego's best neighborhoods should cost between $10 and $20. Otherwise, there are plenty of buses going to and from the airport.
There are several interstate highways running through San Diego. I-5 an I-15 connect SD to Los Angeles and both should take around 2-3 hours depending on traffic.
I-8 skirts the Mexican border and continues all the way to Arizona before terminating south of Phoenix. For those on a California road trip or Southwest road trip, getting into San Diego by car is no problem.
Long-distance buses link San Diego with the surrounding states and Mexico as well. There is no central bus station in SD though and each bus company has their own drop-off. Inquire with the company or driver as to where you're getting dropped off.
The Tijuana-San Diego border between the USA and Mexico is one of the busiest border crossings in the entire nation. People pour through this crossing to make day trips to Tijuana and traffic jams can be a problem. Considering recent events at the border these days, expect long wait times when visiting Tijuana from SD.
Getting Around San Diego
San Diego has a fairly extensive public transportation network, but like most of Southern California suffers from a lack of efficiency.
Because San Diego is so big and so sprawling, it is not feasible to have a bus going to every corner of the city. Those that do provide service are often very long as well. While you can certainly get to most places in San Diego with public transport, it will be a tedious process.
If you end up using public transport in San Diego, 9 times out of 10 you will use a bus. These offer the most coverage and will most often be your go-to means for getting around the city.
Granted, they are not the greatest buses in the world but they work well enough. There is a series of trams in the Downtown area but these are mostly for the sake of tourism and are not very useful in general.
Like much of California, and the United States for that matter, the best way to get around is with your own car. San Diego is laid out in a fairly understandable grid pattern so navigating isn't hard.
You'll also be able to go off the beaten path, visit many beaches, and partake in some of the more unique things to do in San Diego.
You can rent a car around the city or at the airport; the latter usually has the best rates. You can also take advantage of local car share applications like Zipcar.
If you're looking for a more active vacation, biking around San Diego can be very enjoyable as the weather is good and the roads are well maintained.
San Diego can be a fairly hilly city though so, depending on where you want to go, you may or may not be facing daunting climbs. If you stick to the Downtown area and immediate shoreline, then the rides should be a little easier.
Working in San Diego is not possible unless you're a US citizen or green card holder. Working for money on a tourist visa is highly illegal and could even get you banned and deported from the country. You can certainly live the digital nomad life though, just know it will be hella' expensive.
Volunteering, however, is possible to a limited extent. If you're backpacking San Diego on a budget or long-term reputable volunteer platforms open the doors for work opportunities whilst making a real impact on local communities.
In exchange for a few hours of work each day, your room and board are covered. We recommend World Packers to connect travelers with meaningful volunteer positions throughout the world.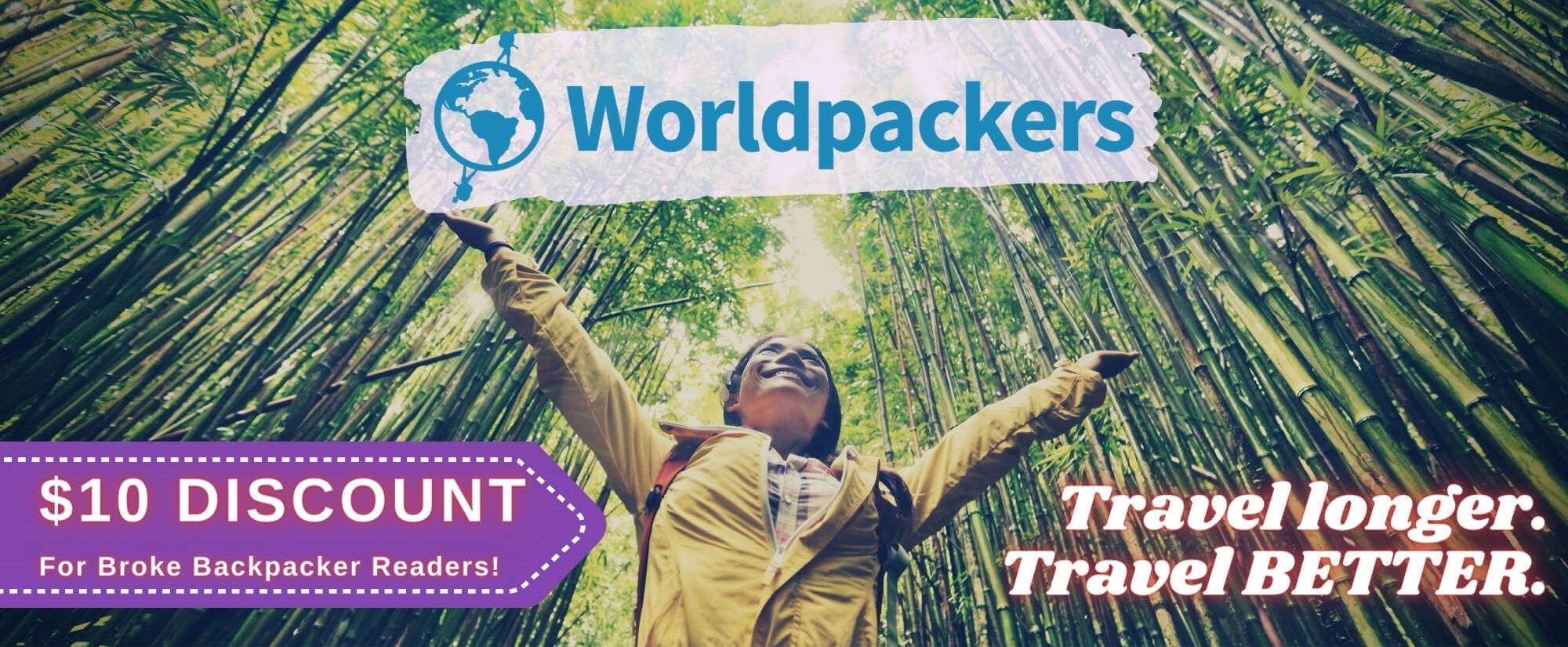 Worldpackers: connecting travellers with meaningful travel experiences.
San Diego has a very diverse nightlife scene where one can grab a craft beer, catch a DJ, and a burlesque show all in one night. There's a shit ton of things to do in San Diego at night for just about every type of person.
Without question, San Diego nightlife is centered around the Gaslamp Quarter and its concentration of bars, clubs, and cafes. If you don't know where to start your debaucherous night in San Diego, the Gaslamp is a no-fail.
Not to let all of that gorgeous, rain-free weather go to waste, there are plenty of rooftop bars in the city. Altitude is probably the most well-known rooftop bar in San Diego, thanks to its epic views of Petco Park. Kettner Exchange, Level 9, El Prez, and the Nolen are worth visiting too. Expect to pay for the view with higher drink prices though.
If you're looking for an alternative area to party, then head to the increasingly popular North Park and South Park. North Park is a bit of an affluent area that is mostly frequented by working professionals and trust fund babies.
North Park is probably the better area to go drink in due to its greater selection of bars. Here you'll find local favorites like Tiger! Tiger!, Polite Provisions, Seven Grande, and Bar Pink. Be sure to catch a show at the legendary Observatory as well. ListenSD has a list of upcoming shows and events as well.
If you're looking for hipster things to do in San Diego, you can't go wrong drinking PBR in South Park.
Dining in San Diego
There are a couple of culinary options for that San Diego is famous for. This is the creme de la creme of a San Diego travel guide.
One is Mexican food and the other is beer. (If you think beer is not a food group, then kindly see yourself to the nearest mommy's San Diego travel blog.)
San Diego produces some of the finest beer in all of the United States and is divine when paired with a salty, spicy taco from a greasy taco truck. San Diego has a boatload of exceptional breweries spread throughout the city. Downtown and North Park have pretty dense pockets of breweries, though Miramar and Mira Mesa are quickly expanding.
Many of San Diego's top breweries, like Stone Brewing, Karl Strauss, and Ballast Point, have multiple locations; most all of these have an establishment near Downtown.
If you want the best beer in San Diego, you'll need to be willing to go off the beaten path to Miramar though. Lost Abbey, AleSmith, Green Flash, and even a Mikkeller branch are all located in the northern suburb and are totally worth visiting, especially Mikkeller.
Mexican food is king in San Diego because of the enormous immigrant population and the fact that the country is only 20 miles away. Tacos are ubiquitous and delicious, whether you buy one at a taco truck or a fancy restaurant.
Taco Tuesdays are an established trend by now and many restaurants offer special deals on this day. Fish tacos, in particular, are popular due to the close proximity of the sea.
There is still plenty more places to eat in San Diego for those who want more than just Mexican food. Little Italy and Downtown are both great places to start looking. Ocean Beach and Pacific Beach also host some great restaurants, mainly of the seafood variety.
Cheap Eats in San Diego
From traveling in San Diego, you can check out these places to visit near San Diego really easily. Stretch your legs and experience some California beauty.
1. Los Angeles
"The City of Angels" – where stars are born and collapse just as quick. If you want to experience Hollywood dreams and witness American excess in all of its glory, then make a day trip to Los Angeles.
Los Angeles is like San Diego magnified with more beaches, more urban sprawl, more parties, and, well, more everything. Here you'll find all of the tropes of California livin' including sunny beaches, good herb, spirituality, and total hedonism.
2. Mexico
You can literally see Mexico from any large hill in San Diego as the country is less than 20 miles away from Downtown. You could totally cross the border and visit Mexico for the day if you wanted.
You'll be hanging out in the infamous Tijuana, which, fair warning, has a pretty seedy reputation. Among the top reasons to visit Tijuana are medical tourism, "the worm", and general mayhem.
3. Anza-Borrego Desert and Salvation Mountain
The Anza-Borrego is an awesome outdoor playground where you'll find lots of mountains and canyons to run around. The desert also hosts some pretty cool art installations.
Beyond the Anza-Borrego and the Salton Sea is Salvation Mountain. This multi-colored landmark is a trip to see – both literally and figuratively – and is a favorite roadside attraction near San Diego.
4. Joshua Tree National Park
Very close to San Diego is one of the best national parks in California. Joshua Tree is mostly known for its unique desert flora and fauna but is very popular with climbers as the bouldering and trad climbing are excellent. You may run into the occasional desert-tripper on a quest for enlightenment.
If you're wanting some more upscale desert daze digs, there are quite a few glamping spots in Joshua Tree as well.
Getting Off the Beaten Path in San Diego
Looking to get off the beaten path in San Diego? Luckily you won't have to search hard! San Diego is an incredibly popular city, and the reality is that most visitors fail to deviate from the well-trodden tourist trail.
I'm not saying don't visit the top sights in the city–places like La Jolla and Mission Beach are iconic for a reason and deserve to be appreciated! But if you want to get a feel for San Diego beyond the glitz and glam, it's always a good idea to check out its less-visited sights.
There are also plenty of excellent day trips you can take near the city. From beaches, Mexican border towns, or some of the best camping in California, it's all not too far from the city.
Still got some burning questions about traveling to San Diego? Hold up because I've got answers!
And so comes the end of this backpacking San Diego travel guide! By now, I hope you're prepared for your West Coast adventure and are feeling a bit inspired. Picture perfect beaches, waves that scream surfs up, tacos for days, and a whole lotta' history are but some of the things that make San Diego one of the dreamiest places to visit in the USA.
That being said, be sure you're good to this city. Be a responsible traveler with your trash, and all other habits, too. And while it might seem easy to be a beach bum the whole time, remember that this is a city with a culture and a past. So get to know about it!
And as for its culture, you can quickly get to know San Diego through its legendary food scene. Which, of course, includes some 5-star restaurants. But actually–the best side of its food scene is actually best savoured via its many food trucks. Food carts are a way of life in this coastal metro, and trust me when you say you haven't had a taco until you've had a San Diego food cart taco.
So eat your heart out, catch those only-in-Cali sunsets, and nourish your mind a bit too. San Diego might be hard on the pockets, but trust me when I say it's 100% easy on the heart.
Don't be surprised when you find yourself doing everything you can to extend your return flight, or booking your second trip before you've even left yet. 😉
Updated: May 2022 by Samantha Shea at Intentional Detours
---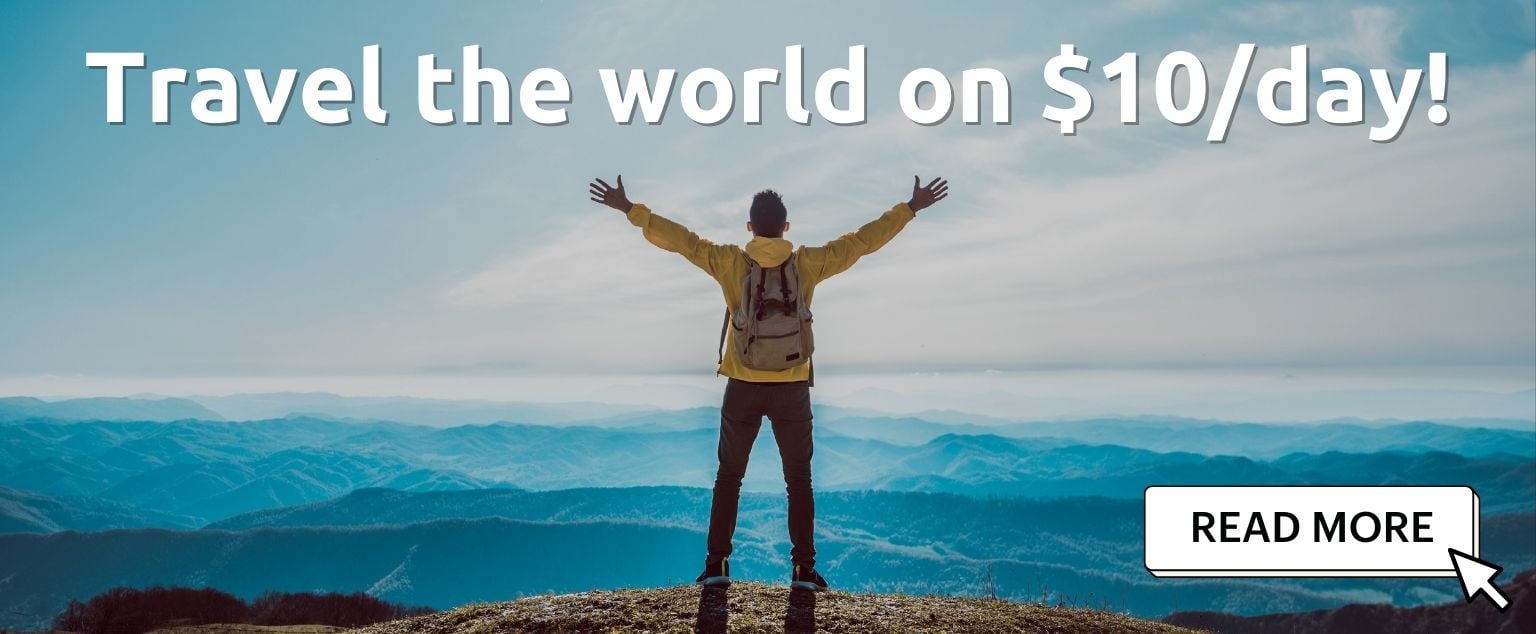 And for transparency's sake, please know that some of the links in our content are affiliate links. That means that if you book your accommodation, buy your gear, or sort your insurance through our link, we earn a small commission (at no extra cost to you). That said, we only link to the gear we trust and never recommend services we don't believe are up to scratch. Again, thank you!