You know, it's very hard to believe that San Diego is the 8th largest city in the USA. That's not the vibe you get at all –the people are really friendly and as you explore, you'll feel like you're getting to know a collection of villages. The city straddles the border with Mexico and also gets some of the best weather in the country. Sounds good right?
But how do you decide where to stay? Well, hostels and hotels are often a great shout but what if you want something more memorable and individual? Airbnbs in San Diego are a great shout for something that perfectly suits not only your trip but your personality too. From beach houses to cute homestays, there are some seriously cool rentals in San Diego.
If it seems like a task trawling through all those pages on the website, don't panic. That's where I come in. I've put together this list of the 15 best Airbnbs in San Diego. I'm sure you'll find something that matches your budget, travel style, and personality on our extensive list. So, let's jump right in!
Quick Answer: These are the Top 5 Airbnbs in San Diego
OVERALL BEST VALUE AIRBNB IN SAN DIEGO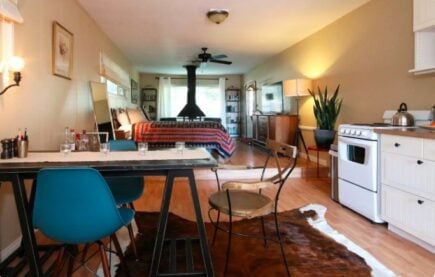 OVERALL BEST VALUE AIRBNB IN SAN DIEGO
Pacific Beach Private Studio
> $$
> 2 Guests
> Bikes included
> Cosy private patio
BEST HOMESTAY IN SAN DIEGO
BEST HOMESTAY IN SAN DIEGO
Private room in North Park
> $
> 2 Guests
> Queen sized bed
> Near San Diego Zoo
BEST AIRBNB FOR COUPLES IN SAN DIEGO
BEST AIRBNB FOR COUPLES IN SAN DIEGO
Romantic Private Canyon Retreat
> $$
> 2 Guests
> Refrigerator and coffee maker
> Spanish Renaissance Architecture
BEST AIRBNB FOR FAMILIES IN SAN DIEGO
BEST AIRBNB FOR FAMILIES IN SAN DIEGO
The Rockaway House
> $$$
> 4 Guests
> Fully equipped kitchen
> Children's books and toys
BEST LUXURY AIRBNB IN SAN DIEGO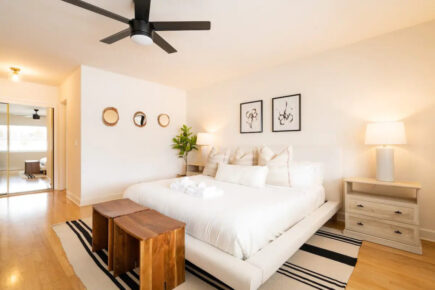 BEST LUXURY AIRBNB IN SAN DIEGO
Designer Four-Bed Home
> $$$$
> 14 Guests
> Birdrock and La Jolla Neighborhood
> 3 Parking Spaces
What to Expect from Airbnbs in San Diego
The best Airbnbs in San Diego ranges from downtown lofts and condos, to spacious apartments and beachside houses by the coast. If you're looking for unique, affordable, and comfy vacation rentals in San Diego, this list is for you.
As with any other city in America, centrally located properties, such as those in The Gaslamp Quarter, Little Italy, or La Jolla, are perfect bases for exploring San Diego. However, they will cost more than those in rural areas such as North Park.
However, spending a little extra means more convenience and comfort. If you're willing to travel a little, you can find more affordable Airbnbs in San Diego on the outskirts or near San Diego University.
Private Rooms
Private rooms are an economical way to stay in San Diego on a budget and they are the best option for solo travelers or couples wanting to save money. They are found all over the city, but mainly in the Gaslamp Quarter and downtown where the nightlife is thriving, as well as near the Convention Center or University.
They are usually in a shared house, either with the host or other guests, and can come with ensuite bathrooms. However, others may require you to share the bathroom with other renters.
Apartments and Studios
Usually found all over the city, apartments, lofts, and studios are ideal for couples or single travelers although some may be spacious enough to accommodate more than six people. You can either rent one of the rooms or have the entire space to yourself if you want privacy. Some apartments and studios come with extra amenities that are reminiscent of hotels such as 24-hour security, pools, gyms, and sometimes a sauna.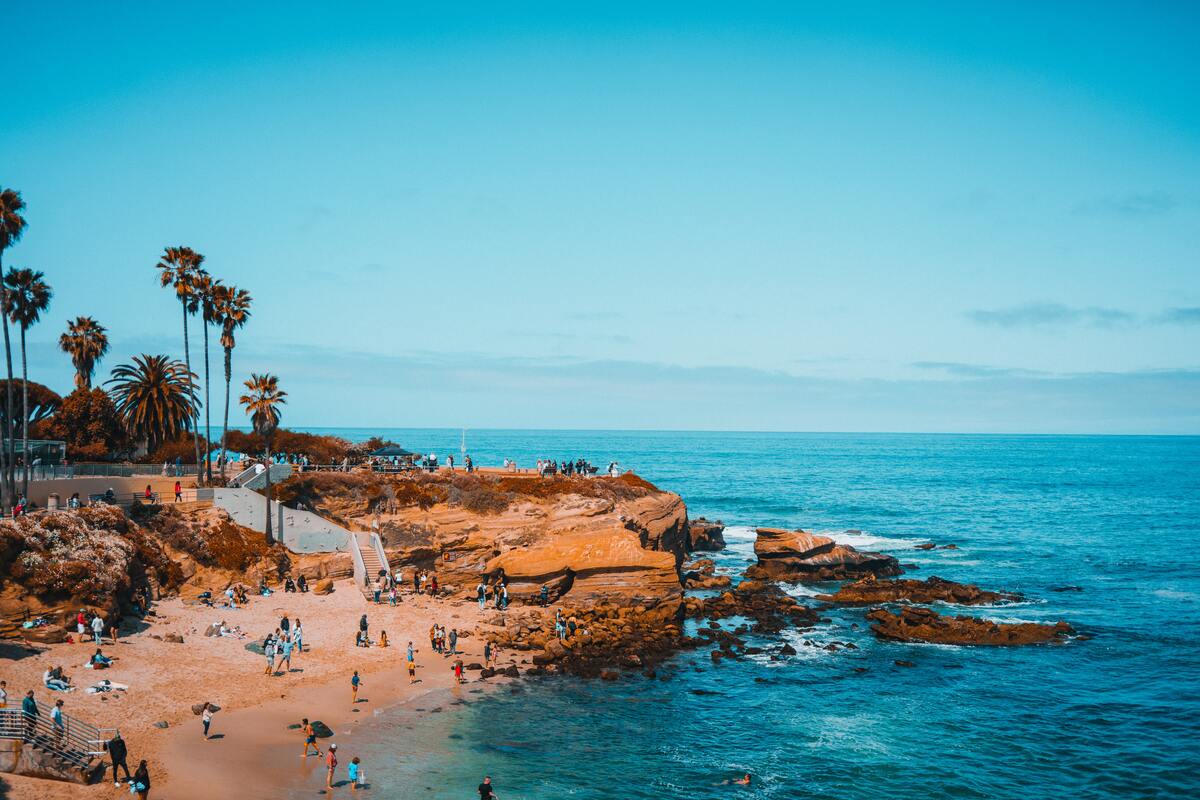 Beach Homes and Cottages
Beach homes and cottages are in no short supply in San Diego since Ocean Beach and Mission Beach are right there. If you want to travel to the countryside, this is the most common type of vacation rentals in San Diego. Charming and sometimes historical, most come with exceptional design, modern amenities, and plenty of space to make your stay super comfortable.
These cozy homes come in various sizes and although traditionally people only go during summer, they are just as nice all year round. One thing that most beach homes share is large expanses great for relaxation and for children to run around in. They also come with more luxury amenities such as a hot tub or fire pit.
Why stay in an Airbnb?
There are many reasons why to stay in an Airbnb in San Diego, here are just a few:
Local Experience: While many San Diego Airbnbs are managed by companies, they're still locally based. Get the best recommendations for your San Diego itinerary that you won't find in the guidebooks to make your trip truly special!
Unique Properties: In a place chock full of unique vacation rentals, why on earth would you want to stay in a drab and dull hotel?!
Privacy: Cabins, chalets, and treehouses mean you and your companion(s) can get the break you need without anyone else interfering.
Affordability: You can spend less than $100 a night on an Airbnb and get all the facilities you'd expect in a five-star hotel and more. Airbnb makes it easier to spend your holiday money wisely!
Safety: It might seem a little weird staying in someone's house; however, both hosts and guests are vetted by Airbnb reviews to ensure the safety of both. California is overall safe, and the Airbnb booking security just adds a little extra to it.
What is the One Item Every Traveller NEEDS???
There is one item every traveller NEEDS. Some travellers don't even know they need it, but those travellers need it more than anyone.
What is this forgotten essential of the backpacker-life? SPOILERS! Guess you'll just have to click the button to find out. 😉
Find Out What It Is!
The Top 15 Airbnbs in San Diego
Now you know what to expect from Airbnbs in San Diego, it's time to take a look at the best ones!
This is our top pick San Diego Airbnb simply because it ticks all the boxes. Great location? Check. Wi-Fi? Check. Kitchen, yep that too.
However, there's a whole lot more you get in this one such as a king bed, a cosy private patio, and an indoor fireplace. But what's that, there's even more?!  This host really goes above and beyond by supplying you with tea, coffee, and snacks,  complimentary toiletries too and even bikes which are great for using in Diego.
Don't miss out on this little gem! It's located in one of the best places to visit in San Diego as well – you can't go wrong with this Airbnb!
Looking for an awesome San Diego Airbnb on a budget? I've found the perfect spot for you. It's somewhere between a guest house and a homestay – there are four rooms available to rent on this property so you can mingle with other guests.
The quiet neighbourhood is in a great location in The Gaslamp Quarter – it's not hard to get to Mission Bay or downtown San Diego from here. The home is light, bright, and airy, and it offers a full kitchen too – perfect for relaxing!
$
Private entrance and bath
2 Guests
Free use of bikes
Ideally, you want to spend as little time indoors as possible when you're on holiday. However, for Digital Nomads things are a bit different and you need to spend some time stuck inside. So, the least I can ask for is lots of light and a pleasant space to lay down your laptop and that's exactly what you'll get at this private room in a pleasant neighbourhood near the beach.
It goes without saying that there's a laptop-friendly workspace and decent Wi-Fi too! When you've finished working for the day, jump on one of the bikes that your host provides for you and explore San Diego's beaches. The nearest is just a few blocks away!
Is This the Best Travel Pack EVER???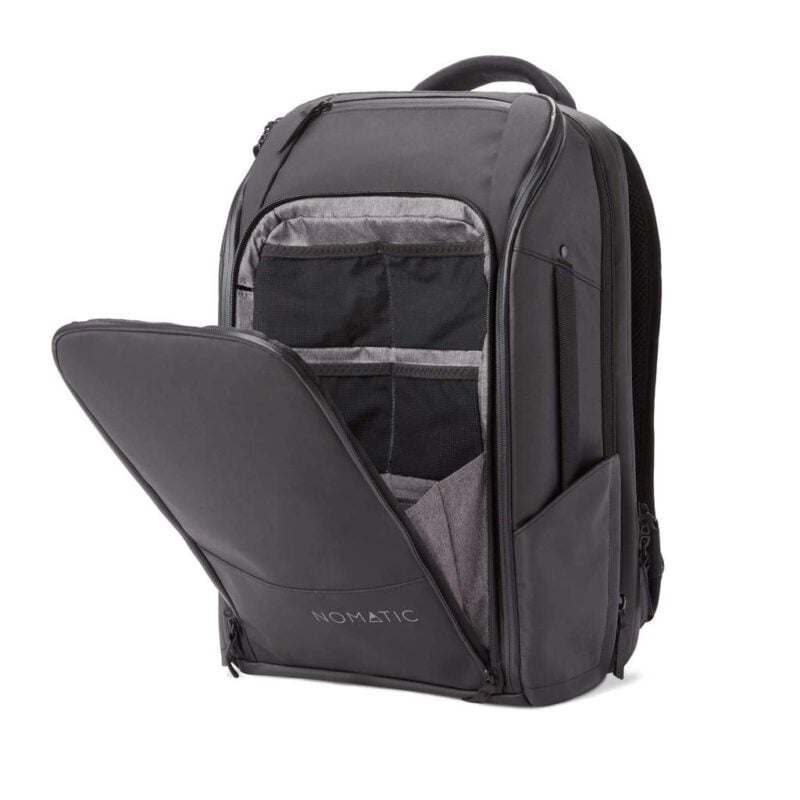 2 Guests
5 minutes from the beach
One of the best parts of staying in a hostel is meeting other travellers – especially if you're on your own. However, I know that hostels aren't for everyone, especially if you enjoy privacy and comfort. This awesome property offers you the best of both worlds.
You'll have your own private room, a clean bathroom, and a queen mattress. This cute San Diego homestay has more than one room on offer though, so you're likely to meet other travellers as well as your friendly host and her cats! You're also just minutes away from great restaurants and bars, so it'll be easy to make friends, however you decide to do it!
2 Guests
Awesome roof deck
Those heading to San Diego for nightlife will want to get right into the Gaslamp Quarter. Clubs, dive bars, speakeasies, and cocktail lounges attract the majority of revellers, while those looking for a more sophisticated evening can hit one of the theatres. Whatever your preferred nightlife option, this awesome loft is in the centre of it all.
It really is one of the coolest San Diego Airbnbs too – just look at that awesome interior design! Start off your night by soaking up the atmosphere of the Gaslamp quarter from your own shared roof terrace. There's even a BBQ and dining area up there! Plus, you are just a short walk from Petco Park and Little Italy.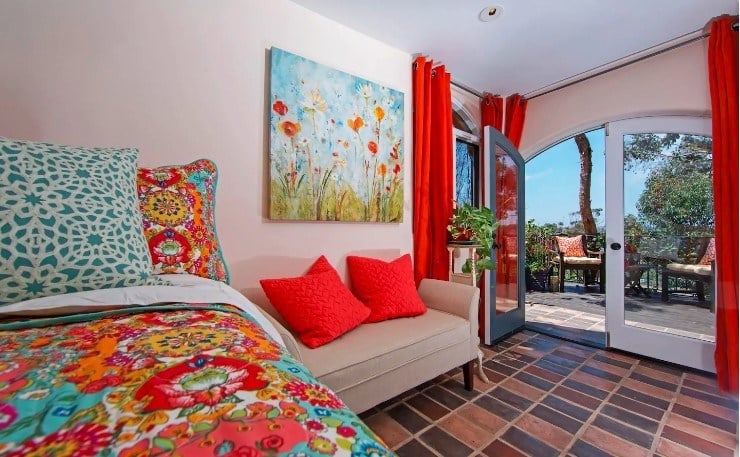 $$
Spanish Renaissance Architecture
2 Guests
Refrigerator and coffee maker
When travelling with your other half, you'll want something above and beyond your normal place to stay. This is one of the most romantic Airbnbs in San Diego, without question. So, it's perfect for travelling couples! It's the only apartment I've included in the charming Mission Hills neighbourhood.
Mission Hills is not as central as other areas in this list but you do get awesome views across the valley and it's one of the most coveted historic neighbourhoods in town. The Spanish Renaissance architecture is simply stunning. Alternate between the tranquil and relaxing patio deck and the comfy studio apartment.
2 Guests
Near San Diego Zoo
What more could you want from your San Diego homestay than a private room in a shared house with other travelers? The home is also in a quiet and safe neighbourhood in North Park, perfect for walking around at night.
Alternatively, you can enjoy cooking in the fully equipped kitchen or walk over to Little Italy for a real Italian treat! Finally, as a bonus, there's a cute courtyard garden where you can bask in the sun while drinking your morning coffee. What more could you want?
2 Guests
Fully equipped kitchen
There are so many awesome homestays in San Diego that I couldn't just leave it at one. This Ocean Beach property has a friendly listing where you'll be staying in the home of two seafaring adventurers – which is really reflected in the décor!
You'll have access to the house's common areas which include the kitchen, living room, and shabby chic back deck. Your hosts will leave a shelf free in the fridge for you and you're even welcome to use some of the oils and condiments. It's like a home away from home which is exactly what Airbnb is all about.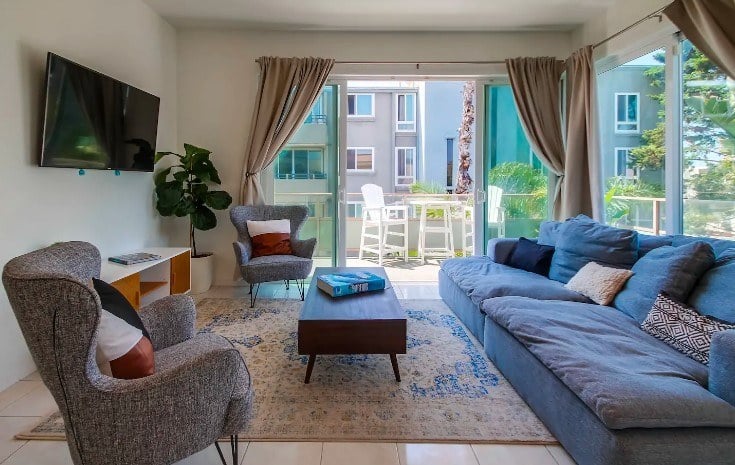 If you're planning a big celebration with a group of friends or family, then you can all chip in and can afford to splash out a little more. So, why not check out some awesome, exclusive beachfront properties?
This beautiful San Diego Airbnb townhouse can fit up to 8 guests across 4 rooms in a mixture of king beds and sofas. You'll have stunning views across the bay from the balcony, and a fully equipped kitchen to prepare all your meals.
Although this is a luxury option, you'll find it's not all that expensive if you manage to fill all 8 spaces in the house!
$$$$
Birdrock and La Jolla Neighborhood
14 Guests
3 Parking Spaces
Who wouldn't want to enjoy San Diego in a designer home? I know I would. You have to be quick though – there's a chance 14 other guests could get there before you in this totally awesome over-the-top San Diego luxury Airbnb!
If you can actually drag yourself away from this clean, comfy, and cool property, there are tons of restaurants, bars, and the beach just moments away on foot. There's plenty of stuff to keep you entertained at the house, and you have free parking for three cars!
Best Airbnb in San Diego for Families | The Rockaway House
$$$
Children's books and toys
4 Guests
Fully equipped kitchen
No matter how great a vacation you're on, let's face it the kids can get bored. This is a great San Diego Airbnb to prevent any boredom! It's geared towards families of all ages, but a bonus is that you can pull out a travel cot, highchair, children's books and toys, and even children's tableware if you've got young children with you. There are plenty of spaces for the family to chill together too, including a living room and outdoor area!
Best Airbnb in San Diego for a Group of Friends | Awesome Crown Point Home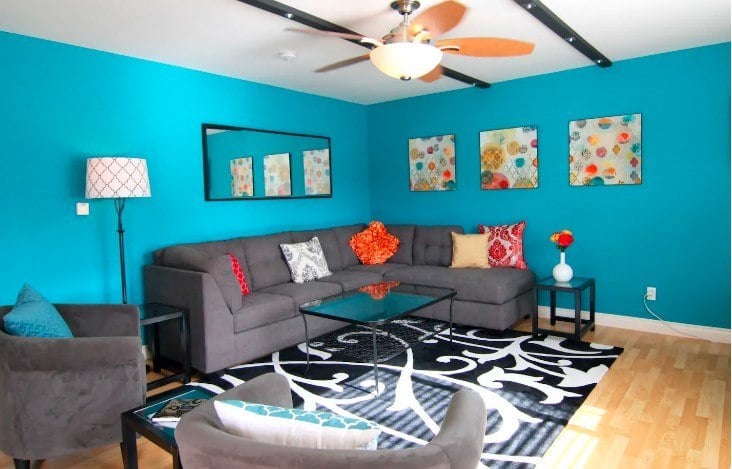 Nestled between two beautiful bays, this San Diego Airbnb on Crown Point has awesome views and plenty of space for you and 5 mates. It's in one of the most popular areas in Mission Bay, in large part due to the stunning sunsets!
There's a fully equipped kitchen so you can rustle up something that will feed the whole group, and Apple TV so you can watch a movie after dinner. That's if you don't fancy heading out to one of the nearby bars or restaurants of course!
Best Airbnb in Mission Beach | Zen-Like Studio
I know you've already seen an awful lot of rentals in San Diego's mission beach, but I have a couple more for you. This zen-like studio is another perfect option for a couple – as there's a queen bed. It's just a hop, skip, and a jump from the beach, so it's really not far to carry the boogie boards that you can take advantage of during your stay!
Another Great Apartment in Mission Beach | Mission Beach Studio
2 Guests
Right on the beach
I promise this is the last awesome apartment in Mission Beach! It's a little more expensive than the one above, but another great option for couples. All essentials are included and there's a fully equipped kitchen. There's even free overnight parking 5 minutes away which is really useful if you are on a California Road trip.
$
Snacks and coffee provided
2 Guests
Laptop friendly workspace
Last but not least is our favourite apartment in San Diego's Pacific Beach. The compact, cosy, and comfy unit comes with bikes so you can explore the beach and surrounding areas to your heart's content! There's even an outdoor space where you can enjoy your morning coffee or a cigarette. It really traps the sun!
FAQs about Airbnbs in San Diego
Here's what people usually ask me when they look for vacation homes in San Diego.
Don't Forget Your San Diego Travel Insurance
Hey, I'm not going to lecture you. But you know that good travel insurance is always the best way to prepare for a trip, right?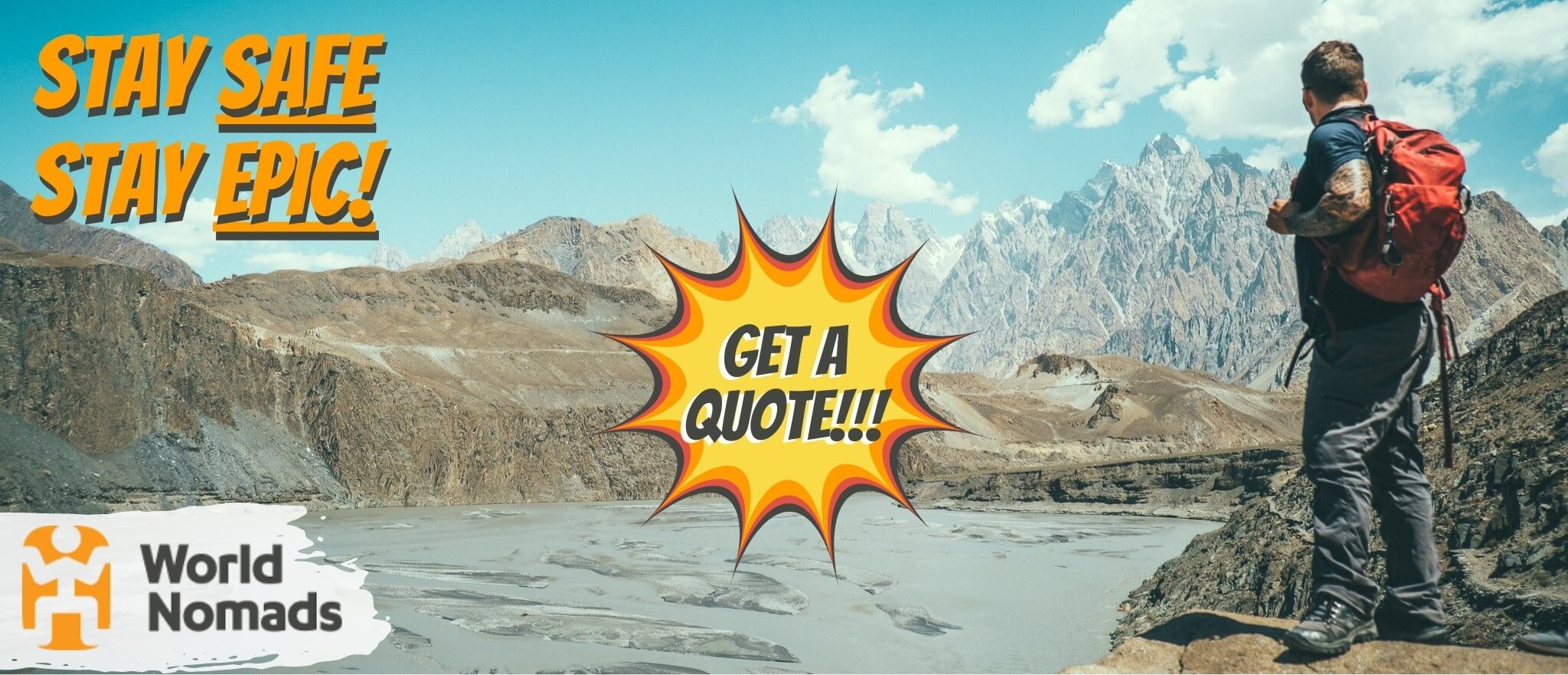 It's good to get lost sometimes, but it's also good not to get too lost. There are people that want you home in one piece.
There's one travel insurance provider The Broke Backpacker trusts for all his wildest shenanigans… World Nomads!
Click the button below to get a quote on your insurance or read our in-depth review of World Nomads' coverage. And then… let the shenanigans begin. 😉
Final Thoughts on San Diego Airbnbs
So, that concludes our list of the best Airbnbs in San Diego. I hope that you've found my list useful and I've taken some of the stress away from planning your holiday. After all, now you can just plan the cool and exciting stuff!
As you can see from the list above, there's a lot going on in San Diego. Whether you want a beachfront house for you and all your pals, a loft in the booming Gaslamp District, or a quiet cottage in the hills overlooking the city, there's a San Diego Airbnb with your name on it. I'm just a little worried I've given you too much choice!
If that's the case, keep it simple and go for our best value Airbnb in San Diego – Pacific Beach Private Studio. It combines a great location, price, and style to make it an awesome shout – no matter who you are.
All that's left is for me to wish you an amazing vacation in San Diego, in your perfect vacation rental!
---
Thanks for reading – that was fun! 😀
We bring you epic FREE content!
Find out how YOU can help support us.
We're a big site with a big team and this job isn't always easy. But we do it because we love it – we love providing epic and free content. We love the knowledge that our content keeps you adventuring. We don't ask for money, but if you'd like to find out how you can help the site in more organic ways, click the button below.
Thank you for your support 🙂
---
Bye for now, but not forever!
If you want MORE top-tier Broke Backpacker content like this, then sign up for our weekly newsletter below to get the latest and greatest!
And for transparency's sake, please know that some of the links in our content are affiliate links. That means that if you book your accommodation, buy your gear, or sort your insurance through our link, we earn a small commission (at no extra cost to you). That said, we only link to the gear we trust and never recommend services we don't believe are up to scratch. Again, thank you!