I think it's impossible to have NOT have at least heard of Airbnb by now.
The platform, which was officially founded in 2008, has taken the travel industry by storm: it's transformed accommodation and has given travelers more options than ever before. From treehouses to secluded desert mansions, Airbnb truly has every accommodation you can imagine… and then some.
But what IS Airbnb? And why would you stay in one? Why not just stick to hotels?
In short, it's a vacation rental website that connects property owners with travelers. You indirectly invest in local communities, and get a MUCH better space for a better price when compared with hotels.
You might still be wondering, "but why use Airbnb over booking a hotel?" 
I get it. Understanding why people love Airbnb might seem confusing at first. I mean, it is a stranger's home after all…
But hear me out – after staying in dozens of Airbnbs on 4 different continents, I'm here to dish out all the deets about using Airbnb. And here's the truth: Airbnbs are freaking dope!
So without further ado, here's the full Airbnb script, to help you find YOUR dream listing in mere minutes. You need to get in on the travel industry's biggest shakeup and enjoy staying in an Airbnb!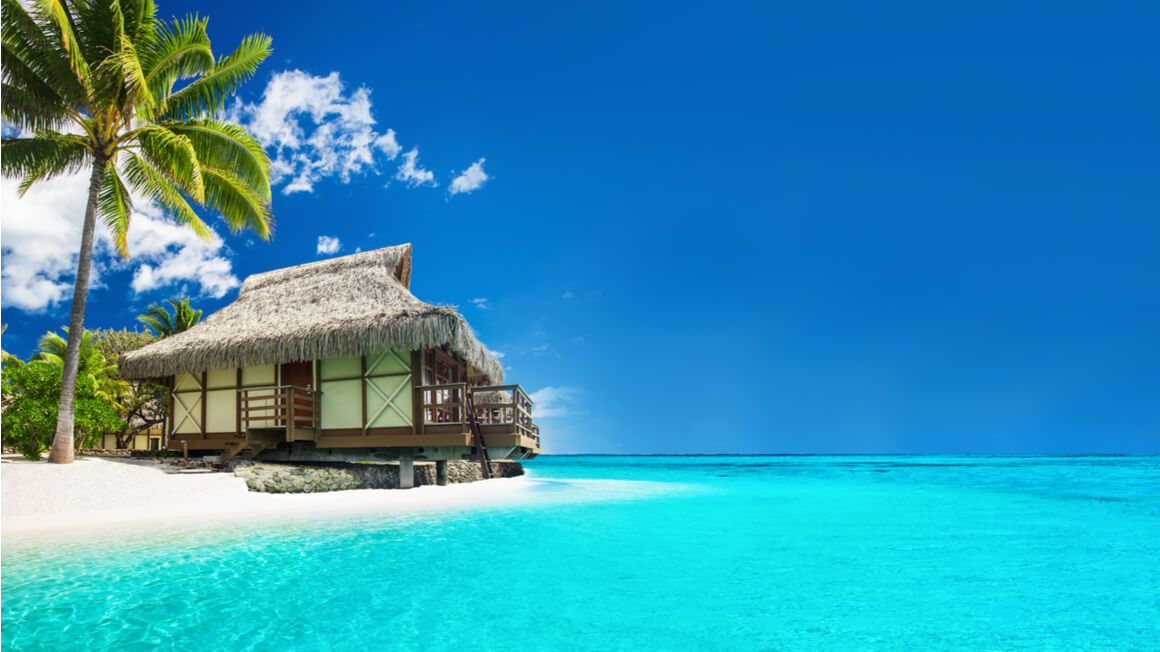 What is Airbnb?
Well, let's start with what Airbnb stands for. Air and bed & breakfast. This name speaks to the company's origins of renting out air mattresses on the cheap.
Let's just say the company has come a long way since its inflatable days! The platform allowed property owners to connect with renters in ways that weren't possible before.
And now? Airbnb has become the most epic booking site ever! But for realz, it is pretty awesome. It's revolutionized vacations AND has allowed tourists to get acquainted with local communities. When looking at accommodation statistics, Airbnb is one of the leading platforms for the "flashier" travellers and holiday makers, but also caters towards the more backpacker-y crowd.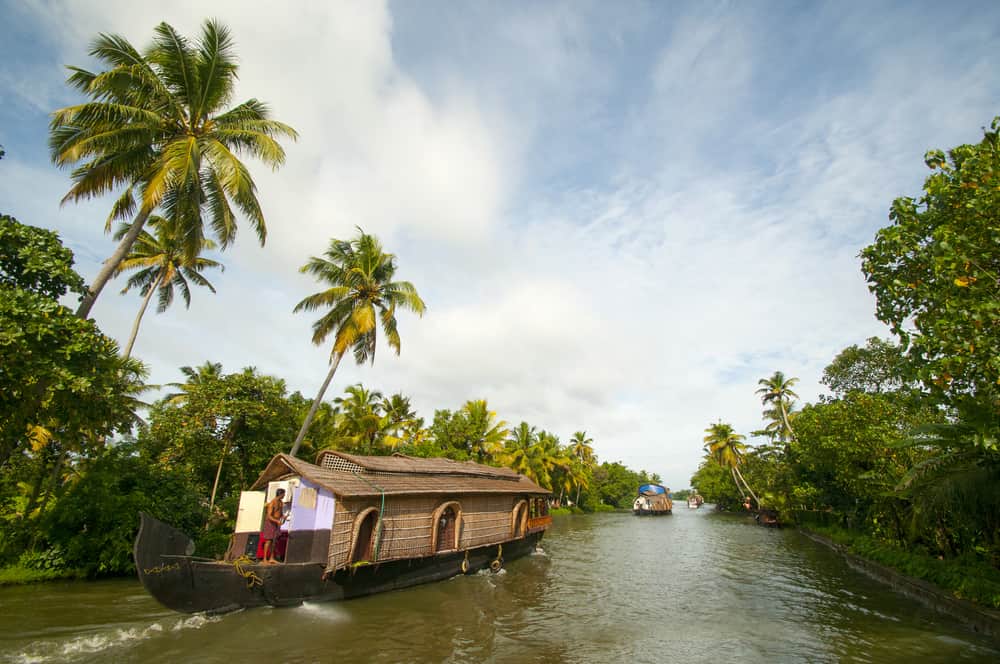 One of the coolest things about the concept of Airbnb is that your accommodation can be literally anything. Your imagination can truly run wild thanks to the large selection of everything from treehouses to houseboats and everything in between.
Airbnb also caters to slow travelers through its long-term stay discounts. Prior to Airbnb, finding a month-long listing certainly wasn't this easy or secure.
And with the Airbnb Split Stays feature that was launched in 2022, it's even easier to find properties for long term rentals. So if you're a digital nomad or you're looking for a home away from home for a while, you can find month-long stays much easier.
In a nutshell, Airbnb provides homier accommodation for what's almost always a better price than comparable hotels. And while it's particularly useful for digital nomads and other types of long-term travelers, absolutely anyone can use and love Airbnb.

Unlock Our GREATEST Travel Secrets!
Sign up for our newsletter and get the best travel tips delivered right to your inbox.
Airbnb vs. Hotels: Pros and Cons of Airbnb
But why choose Airbnb over a hotel? There are plenty of reasons to do so, so why not get into the pros and cons of the site?
Besides the fact that Airbnbs tend to be perfect for couples' travel, the platform provides a level of privacy and flexibility that hotels just can't compete with. Yet as with anything, there are some cons to Airbnb too.
Personally, I think the benefits of Airbnb far outweigh the downsides. But in the name of fairness, let's get all the way into them:
Pros:
Often cheaper than hotels
Privacy that you'd be hard-pressed to find in a hostel
Long-term stay options
Unique accommodation choices
Getting to have an entire apartment or home to yourself
Discounts!
Being able to stay in (sometimes quiet) residential areas
Amenities, amenities, amenities!
Cons:
The host can cancel at the last minute
Safety cannot be guaranteed in shared listings
Certain locations have exorbitant fees
You might not like your accommodation when you arrive
The place may have been wildly misrepresented
You may be unable to reach your host when you have a problem
Why You Should Absolutely Try Airbnb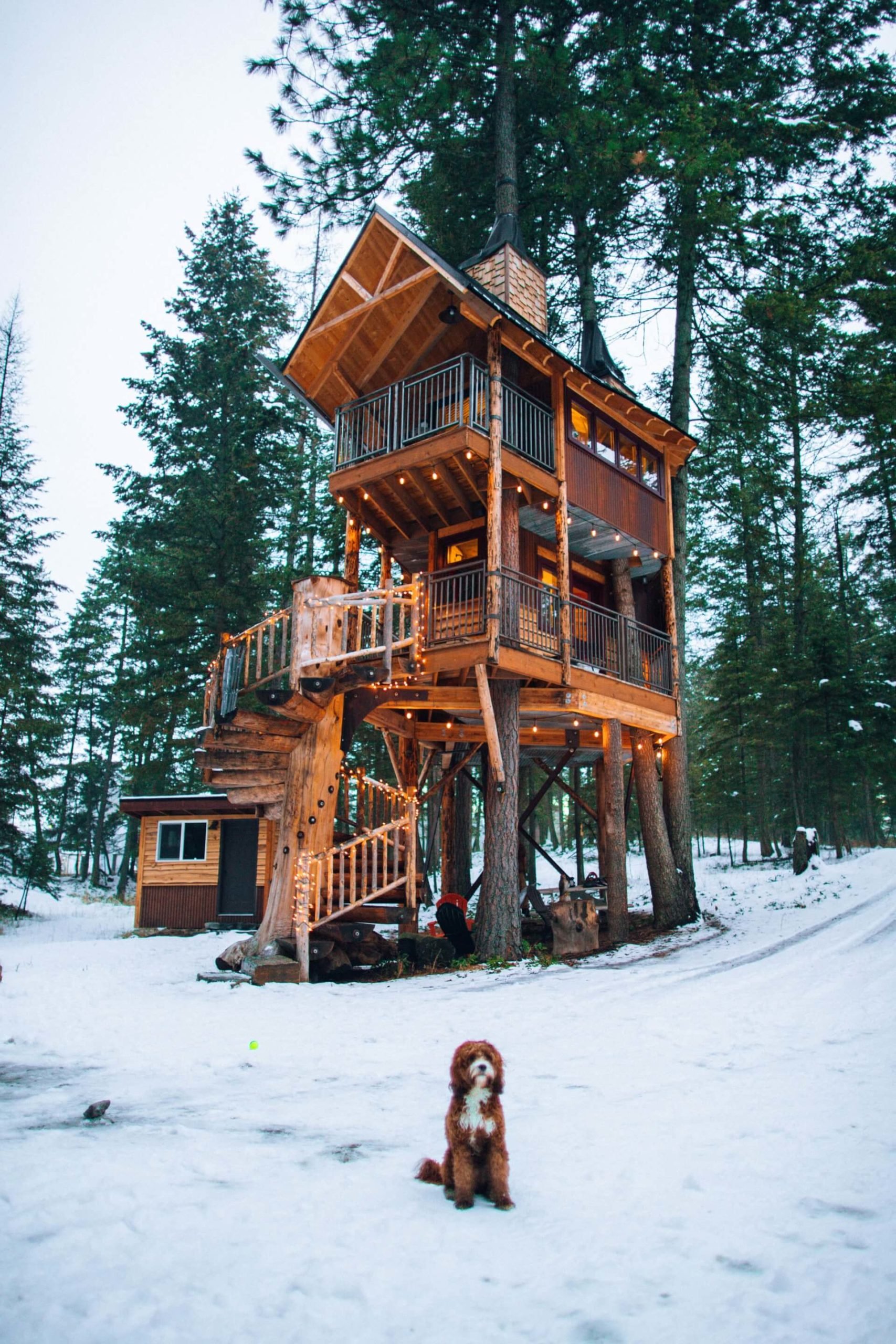 Despite the potential problems, the vast majority of users have a great experience when booking with Airbnb. After using the platform on numerous continents, I can easily see why.
Instead of a stuffy hotel room with minimal space, Airbnb gives you the option to enjoy an entire apartment (or house!) complete with cable and kitchen access for often less than the price of motels.
Aside from being a great choice for budget travelers, the real reason why Airbnb is so great is that it gives you a level of comfort and choice that I've never been able to find in a hotel. Cozy couches, trendy designs, large expansive kitchens, hot tubs – it's all possible when you use Airbnb.
Even if you're someone who's content living the hotel or hostel life, you should definitely experience the feeling of being in a private home away from home at least once while traveling.
It might just become your new go-to!
How to Use Airbnb
Don't worry, using Airbnb is easy. The platform is extremely beginner-friendly, even if you're not tech-savvy. In just a few minutes, you'll be on your way to booking epic stays all over the globe!
Sign up – The Airbnb signup process is as easy as signing up for any other app, with one added step. You'll just need to enter your information, confirm your email, and then verify your identity by uploading a government-issued photo ID.
Choose your dates, number of guests, and location – This is pretty self-explanatory. There's even an "I'm Flexible" option for worldwide listings to spark that wanderlust.
Use those filters! – Airbnb has a TON of filters to choose from and you should use as many as you can to really find that perfect place. From the "Type of Place" filter to the ultra-specific "Air Conditioning" and "Hot Tubs", you can truly personalize it all!
Check out ALL the photos – Although some Airbnb complaints revolve around the property not matching the photos, the images put up by the host should be carefully looked through. It's your window into your future (short-term) home!
Read the reviews – Y'all, this is undoubtedly the most important step by far. Reviews are honest accounts of what other guests have experienced. As an Airbnb newbie, avoid listings without reviews or those with very few.
Know the house rules – Every host has specific rules relating to their property that you absolutely MUST read beforehand. You can be charged damage/cleaning fees if you break house rules, so make sure you follow them!
Message the host – This isn't necessary for quite every listing, but it's always a good idea to have some human-to-human communication. For some listings labeled "Request to Book" you'll be required to send an introductory message to the host anyways.
Book! – Click "Book" to complete the Airbnb process and start planning your epic trip!
Small Pack Problems? 😉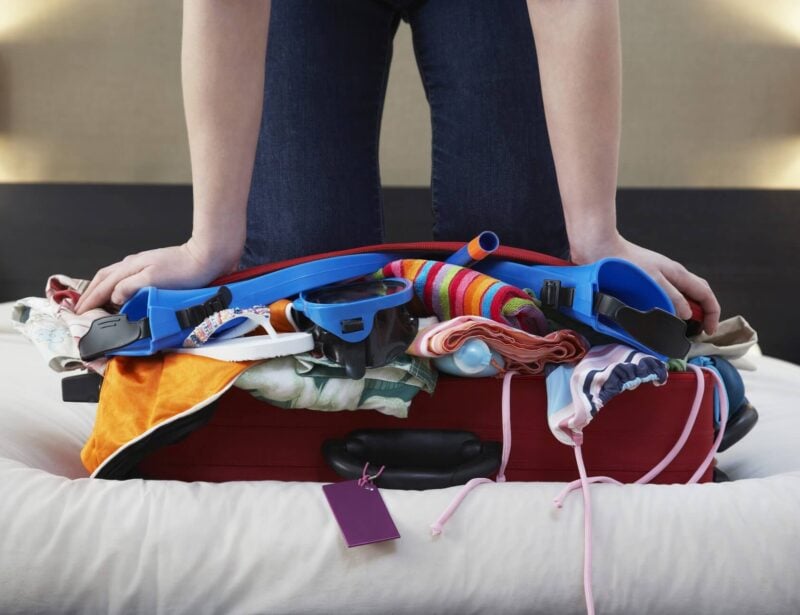 Wanna know how to pack like a pro? Well for a start you need the right gear….
These are packing cubes for the globetrotters and compression sacks for the real adventurers – these babies are a traveller's best kept secret. They organise yo' packing and minimise volume too so you can pack MORE.
Or, y'know… you can stick to just chucking it all in your backpack…
Get Yours Here
Read Our Review
Types of Airbnbs
Unlike your typical hotel, one of the best benefits of Airbnb is that it lets you choose exactly the type of place you want to stay in. From shared rooms to sprawling residential homes, no space is too grand for Airbnb's plethora of listings.
Entire Places
This is my personal favorite type of Airbnb, and it's fo'sho the way to go if you're in need of privacy and/or a long-term stay. Entire places are exactly what they sound like–you get the ENTIRE accommodation to yourself, whether that be a mini studio or a massive farmhouse.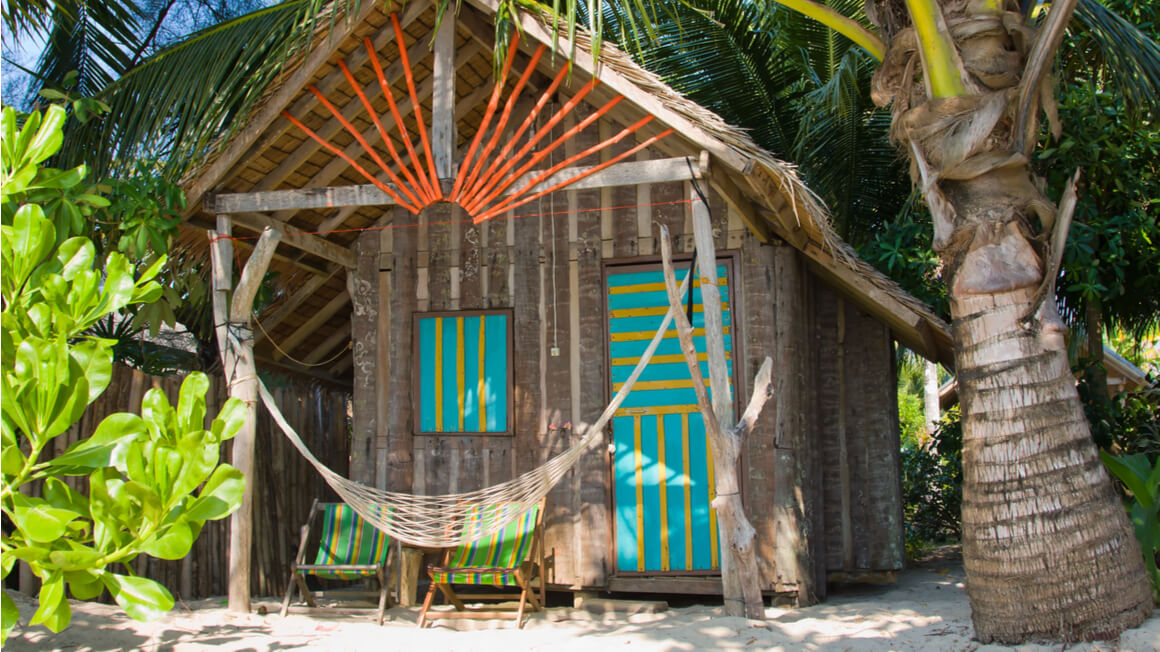 Renting out such places for more than one week usually gets you a discount with Airbnb, and it's an especially good option for those living the digital nomad lifestyle. Keep in mind that this type of Airbnb stay is truly on a spectrum. You'll find everything from $10 huts to lavish mansions to enjoy all by yourself!
Private Rooms
Choosing the Private Room option means you'll either get your own room in an accommodation OR a slightly larger portion of an accommodation for a very reasonable price. Budget listings might have a shared bathroom, so be sure to check all the deets in the various information sections if that's something you're not okay with.
You can find your room in houses, apartments, and even hotels that choose to use Airbnb. Some private rooms even include a kitchenette or other amenities.
I once stayed in a private room Airbnb listing in Miami where the space was the size of a spacious one-bedroom apartment that was attached to the owner's residential home. This one included a private entrance, so that's another amenity you should check for if it's important for you!
Shared Rooms
Shared rooms are where Airbnb meets a Couchsurfing Experience. You get backpacker-friendly prices while also getting to know another traveler or local, depending on the situation. Keep in mind that a shared room also means a shared bathroom and a shared entrance.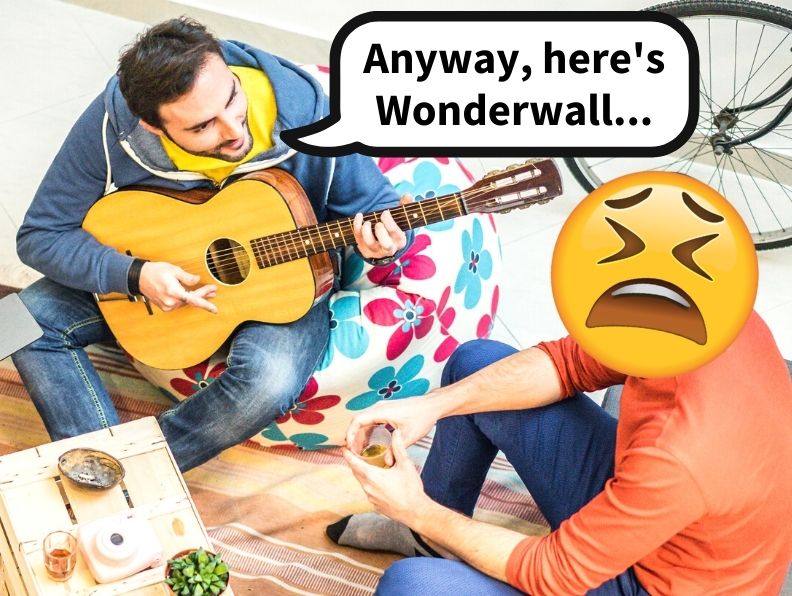 While Airbnb IS safe, shared room listings are where things can get a bit more blurred. Make sure you know in advance whether or not the host provides safe storage, and how they manage theft in general. You can also opt to carry expensive things out with you (a bit risky in some countries) or have some bag locks and ties!
Don't get me wrong, I'm not saying "shared rooms" are universally unsafe. Plenty of travelers have great experiences with them. But the reality is that they do add a layer of uncertainty, so it's a good idea to put extra travel safety tips to use.
Unique Accommodations
Besides giving you the flexibility to stay in various types of accommodation, Airbnb is also filled with blow-your-mind accommodation options. Think of your childhood treehouse come back to life. You'll be VERY hard pressed to find hotels like these!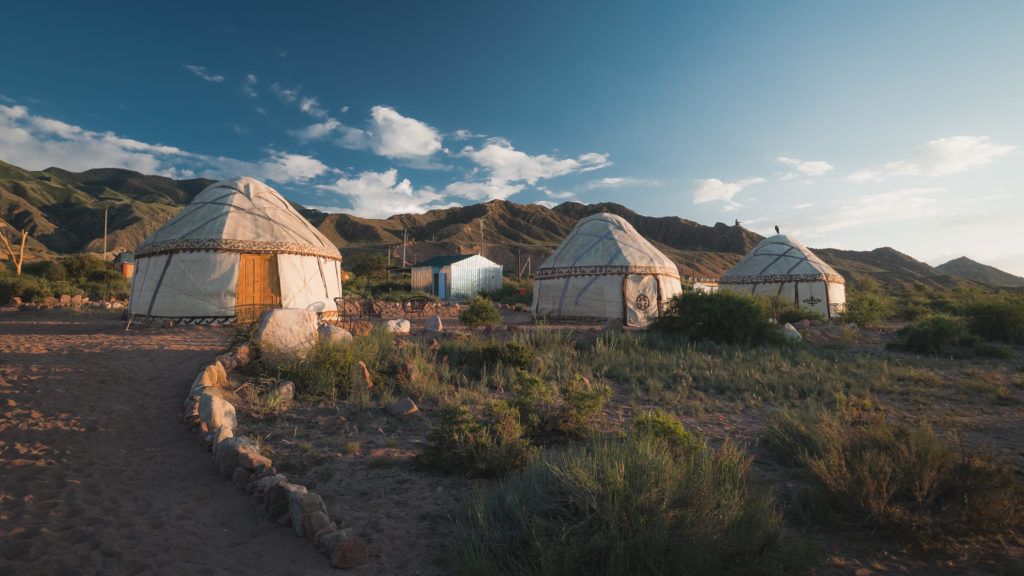 Ever dreamed of camping out in a treehouse? Airbnb is here to bring all your fantasies to life with their unique treehouse stays.
From cozy spaces with parts of a tree inside, to luxurious cabins built for groups, you can literally find each and every kind of treehouse listed. The platform also shows you the most popular treehouse destinations, including a filter for hot tub options!
Like treehouses, house boats come in a wide variety of shapes and sizes. They can be anything from what looks like a literal house on the water, to yachts or other vessels.
If waking up quite literally ON the water sounds like a good time to you, giving an Airbnb houseboat a try is totally worth the possible splurge.
While you can try a houseboat experience in many worldwide locales, I'd recommend giving it a try while traveling in The Netherlands, where they have endless options.
It's true, you can absolutely stay in yurts reminiscent of the ones in far-flung places like Kyrgyzstan! They're one of the unique stay options on Airbnb, and you can quite literally find them all over the globe.
Like all Airbnb unique stays, amenities tend to correlate strongly with price. So make sure you know what will be included before booking.
Say what? Yup – I told you that Airbnb really has it ALL. Including castles.
Obviously, 'castle' is a bit of a lose description here. While some properties may really be castles, others might just look similar to them. Regardless, it's exactly the type of Airbnb benefit you won't find from a hotel!
Is This the Best Backpack EVER???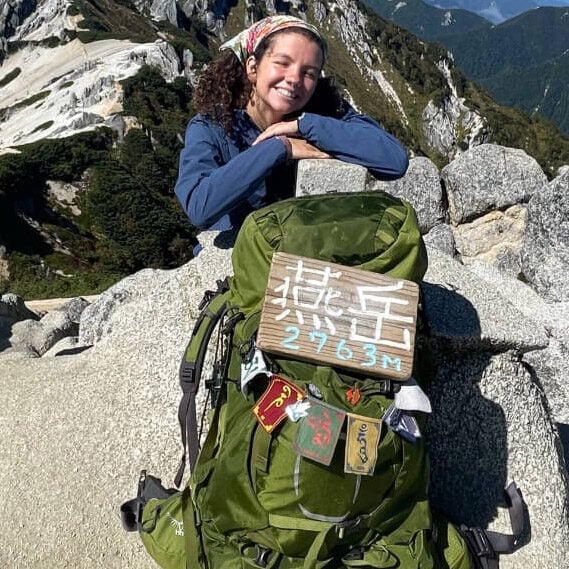 Tips and Tricks for Airbnb Stays
What can you find in an Airbnb? Definitely a whole lot more than inside a hotel room. Here's what you can expect, along with some tips and tricks for making your stay as great as possible.
Airbnb Amenities
Obviously, every listing is different and everyone's idea of a banging amenity is different. But these are some universally great things to look for in your quest for your perfect listing:
Wifi
A TV
Multiple rooms
Towels
Full/Half Kitchen Access
Pools
Hot tubs
Yards
Roofs/balconies
I've experienced virtually all of these in all kinds of Airbnbs, and they're always the amenities that stand out amongst the rest, while being fairly common too.
Of course, not all of these exist in every Airbnb. Some may have a lot more or a lot less to offer. But in reality, I find they beat out hotels on the amenity front each and every time.
How to Find the Perfect Airbnb
Everyone's definition of the perfect Airbnb is different. Some may want a seaside hut in Thailand whereas others may be in the market for a lavish abode on the Greek Island of Mykonos. Either way, here are a few things I always keep in mind when searching for an Airbnb to rent:
Look for Superhosts – Superhosts are top-rated hosts that have exceeded a number of high standards set forth by the platform. While you can never 100% guarantee a perfect stay, booking with a well-reviewed Superhost should up your confidence about your trip.
Use all the Filters – Airbnb has LOADS of filters you can employ when searching for listings, and you should absolutely use as many as you can. You can filter everything from hot tubs to hairdryers, ensuring you really find your ideal match.
Read ALL the reviews – Certain little things might not bother everyone, but you never know who wrote about that one thing that gets to YOU. So read every review! I once stayed at a perfectly located Airbnb in Prague where everything was great…except for the fact that the curtain was completely see-through that is…
And that's exactly the type of detail you might be able to find in a review, that won't be noted in the listing.
What to Bring to an Airbnb?
As many amenities as Airbnbs typically have, I always include the following in my travel packing list:
Microfiber towel: While your Airbnb SHOULD provide a towel, you never know – especially with extreme budget listings. Microfiber towels can also be used as a beach towel too as they dry hella' quickly.
Eye mask: No travel item has been as helpful as a quality eye mask. Make sure you read the reviews when choosing as there are so many duds out there!
Earplugs: Talk about a saving grace! Even if you find stellar reviews, you never know when your perfect listing might fall victim to neighborly construction. A high-quality pair of earplugs are one of those items you should never travel without, especially to an Airbnb!
Portable power bank: You can absolutely count on your Airbnb having reliable electricity, but you can't always count on a conveniently placed wall outlet. This is why you should never travel without a handy portable power bank. A literal lifesaver for me on so many occasions.
Filtered Water Bottle: Relax, Airbnbs certainly have water! But in most places on the planet, including in the US, tap water is of questionable taste at best. Since you can't always count on a host to provide water, bringing a filtered water bottle like the Grayl Geopress will save you money and reduce plastic usage too.
Save $$$ • Save the Planet • Save Your Stomach!
Drink water from ANYWHERE. The Grayl Geopress is the worlds leading filtered water bottle protecting you from all manner of waterborne nasties.
Single-use plastic bottles are a MASSIVE threat to marine life. Be a part of the solution and travel with a filter water bottle. Save money and the environment!
We've tested the Geopress rigorously from the icy heights of Pakistan to the tropical jungles of Bali, and can confirm: it's the best water bottle you'll ever buy!
View on REI
Read the Review
Is Airbnb Safe?
Airbnb is safe overall. That said, the platform isn't completely free from shady characters. Fortunately, horror stories are uncommon these days with so many reviews and listings to
Airbnb protects guests by running background checks, requiring photo ID, and maintaining a secure and trustworthy payment system. This is also why really being picky about reviews is so important. I have yet to be let down by a listing that had consistent, positive feedback!
Avoiding Common Airbnb Scams
As with any app, there are a fair share of Airbnb scams that you should be aware of before booking with the platform. Common scams include hosts suing fake photos, hosts telling you to pay outside of Airbnb, and so on.
By now you should have a good idea on how to avoid scams, as we've already covered it: read the reviews, communicate with the host, and additionally, take note of red flags! If someone or something feels sketchy, it usually is. If you show up to a listing and the vibes are seriously off, or something has gone amiss, don't be afraid to cancel and contact Airbnb.
Why You Should Never Travel Without Travel Insurance!
With every kind of travel, unfortunate shenanigan always have the potential to ruin your trip. This is why you should definitely consider some solid travel insurance, even if you're just embarking on a weekend getaway.
I recommend World Nomads each and every time. They cover so much, including electronics which many competitors don't.
ALWAYS sort out your backpacker insurance before your trip. There's plenty to choose from in that department, but a good place to start is Safety Wing.
They offer month-to-month payments, no lock-in contracts, and require absolutely no itineraries: that's the exact kind of insurance long-term travellers and digital nomads need.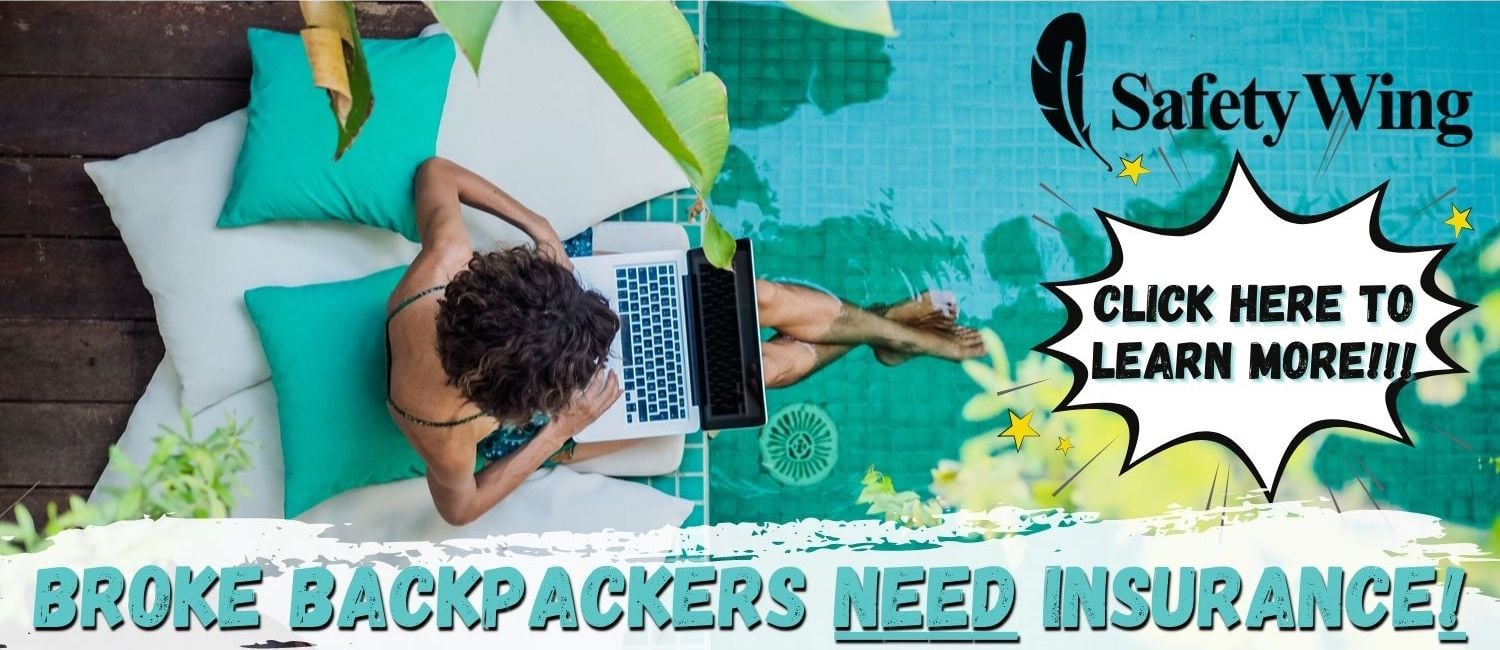 SafetyWing is cheap, easy, and admin-free: just sign up lickety-split so you can get back to it!
Click the button below to learn more about SafetyWing's setup or read our insider review for the full tasty scoop.
Amazing Airbnbs for Booking Inspiration
The Broke Backpacker team members are HUGE fans of Airbnb and we've spent hundreds, nay, thousands of nights in them collectively.
Now that you know what the Airbnb platform is and how to use it, get inspired for your first booking with some listings from our favorite destinations!
Book an epic stay in one of our favorite Airbnb-life locations!
My Favorite Airbnb Experience!
I'll never forget one of my first Airbnb stays, as to this day it remains my favorite. On a low-key, uncommercialized beach while traveling in Oman, I found myself at a seaside stay that was only steps away from the water.
The Airbnb had a balcony complete with a small grill, and I spent numerous hours simply admiring the view in between swims. The best part about this stay was that, unlike so many other incredible beaches in the world, this one had yet to fall victim to mass tourism or overdevelopment.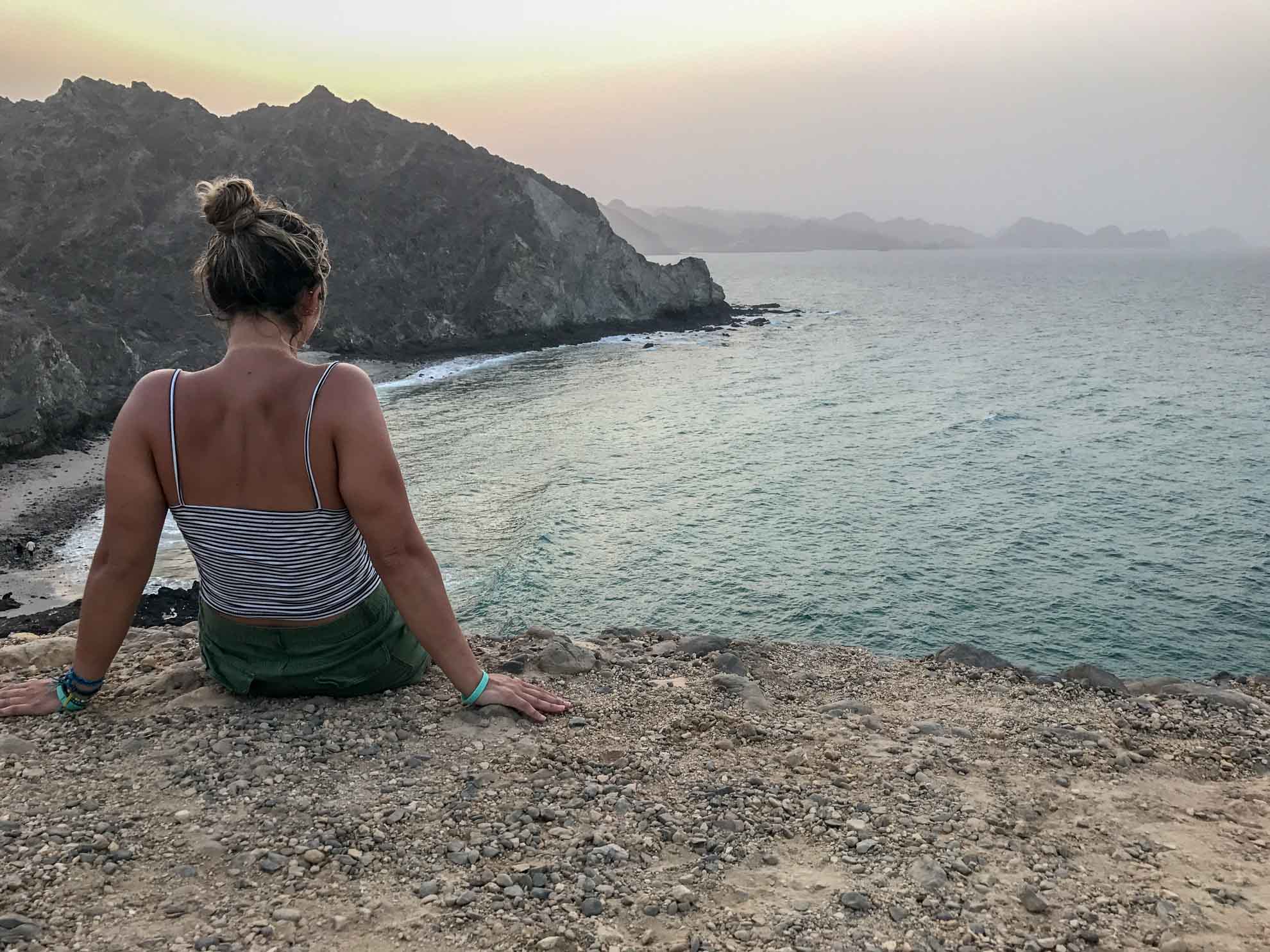 In fact, the only other people I saw swimming there during my several-day stay were locals, one of whom offered boat rides to even more secluded beaches in the area.
While it sounds (and felt!) like this listing was in the middle of nowhere, it was actually only 20 minutes away from Muscat, Oman's capital city. So I was able to experience the magic of beachside livingwith all amenities just a short drive away.
While this was years ago, the listing is STILL live, which speaks to its quality and Airbnb's longevity, too. If you too want to have your own private apartment on the beach for a fraction of a hotel stay, you can! Head over to Airbnb today to find your own version of my Omani paradise.
Airbnb Explained: FAQs!
And now for some of your most burning questions about booking with and using Airbnb!
What is an Airbnb: Final Thoughts!
There you have it folks, absolutely everything you need to know about booking with Airbnb! I hope that you've learned a thing or two, and perhaps finally feel ready to have your first Airbnb experience.
While there are a ton of Airbnb alternatives out there, not one beats out Airbnb when it comes to affordability, quality, and versatility. I mean, the platform is on all permanently-inhabited continents if that says anything. And virtually all corners of them at that.
Whether you're looking for a pool house for a family trip, or a villa in Bali for two, you'll be able to find it on Airbnb–guaranteed. To speak from experience, it sure feels sweet when you find a listing that's even better than you imagined it.
So what are you waiting for? Head over to the site right now to find your ideal Airbnb ASAP. Because why settle on a single hotel room when you can have an entire house? Or a yurt, treehouse, castle… if you roll like that!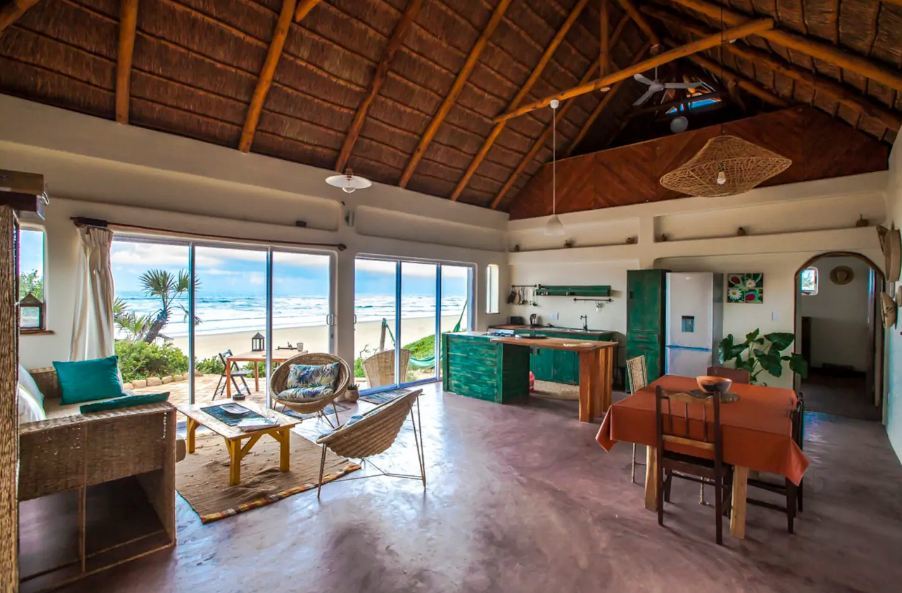 ---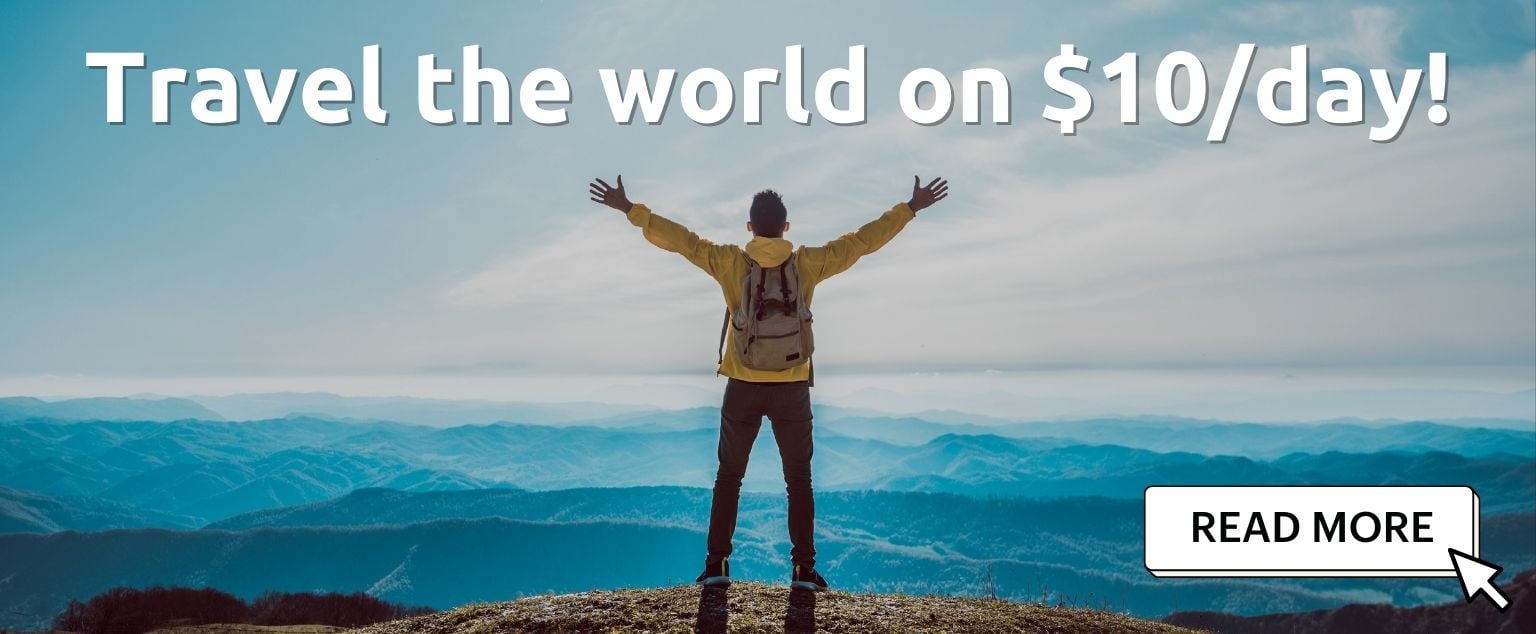 And for transparency's sake, please know that some of the links in our content are affiliate links. That means that if you book your accommodation, buy your gear, or sort your insurance through our link, we earn a small commission (at no extra cost to you). That said, we only link to the gear we trust and never recommend services we don't believe are up to scratch. Again, thank you!