Ask anyone what traveling to The Netherlands is like and most will say "Amsterdam was great! Wait, Amsterdam is in The Netherlands, right?"
Yes, Amsterdam is one of the coolest cities in Europe and, yes, it is the capital and largest city in The Netherlands. I definitely recommend that everyone visit Amsterdam at least once in their life and to do all of the touristy things there i.e. coffee shops, tulip shopping, bike riding, etc.
But there is SO much more to The Netherlands than Amsterdam. The entire country, from the chilled-out Maastricht to the remote Frisian Islands to underrated Utrecht, is worth seeing.
This Netherlands travel guide is going to cover as much of the country as possible. Yes, the nation is very small but you will soon discover that its size betrays its level of awesomeness. There is just so much to do in The Netherlands!
So give this article a read and start thinking about planning a trip to The Netherlands. We're going to provide tips and advice for all kinds of travelers – backpackers, and weekend warriors included – so everyone should be equipped and ready to go.
Let's get to it then and see what makes The Netherlands so freakin' sweet!
Special thanks to local experts Mark Jonkers and Rinke Jansen for contributing to this Netherlands travel guide!
Why Visit The Netherlands?
The Netherlands, or Holland as it is sometimes referred to, is one of my favorite European countries ever. The people are awesome, getting around is super easy, and there are plenty of good times to be had. I make a habit of stopping by this country whenever I have time in Northern Europe.
The Netherlands is often reduced to one destination: Amsterdam. While there is a good reason for this – Amsterdam is indeed very charming and great for partying – there is MUCH more to the country than this one city. As you'll see later on in this article, there are plenty of Dutch cities and places that are still worth visiting.
The real reason to visit The Netherlands is the culture. Dutch people are among the most laid back that I've met and never take themselves too seriously. They like to talk, drink, go to parties, and live their lives. Dutch festivals and concerts, one of the best environments to get to know the locals, are helluva a lot of fun as well.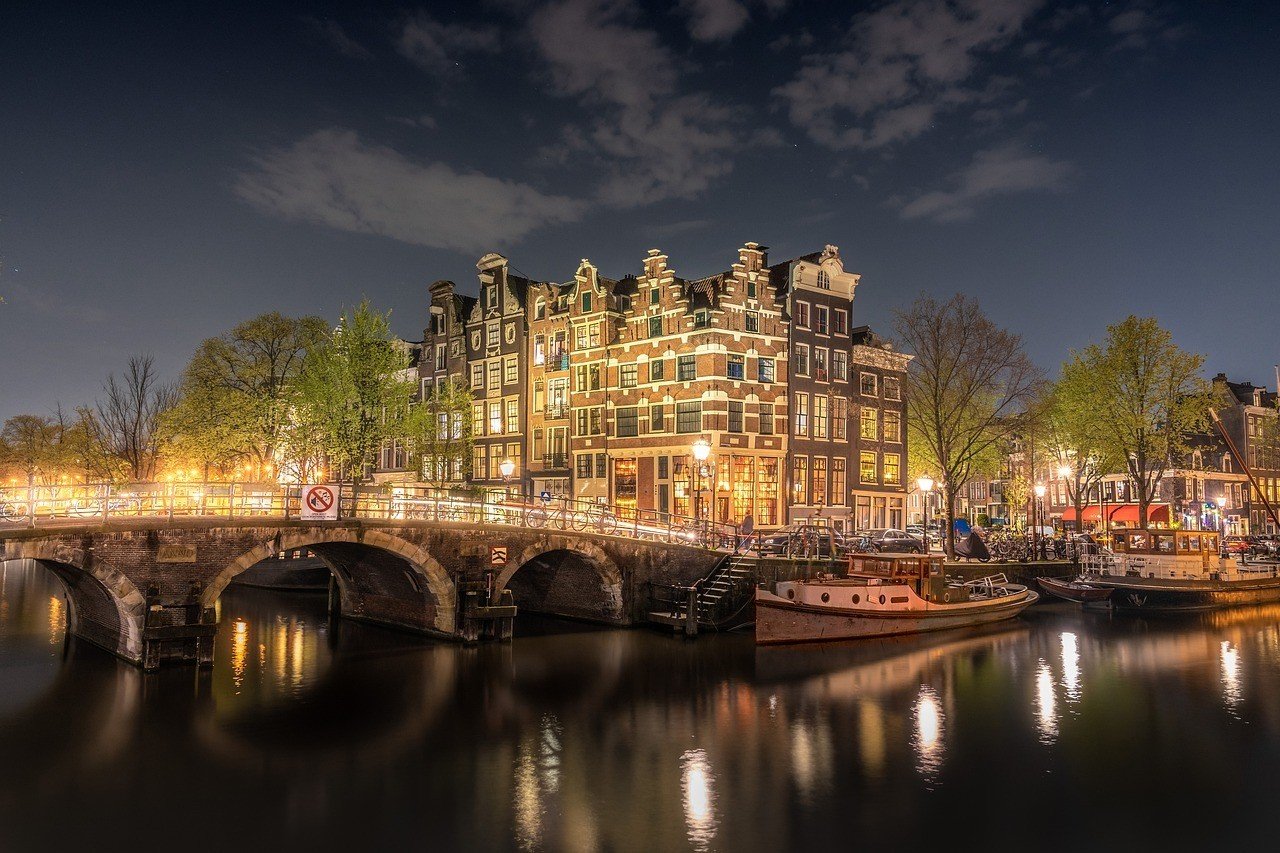 The Netherlands is not a big country – it does not require months or even weeks to appreciate. For this reason, it is often relegated to a weekend trip or maybe a stopover when backpacking between France and Germany.
But this is also one of its greatest strengths. You don't need to invest a lot in The Netherlands to have fun. You can just show up, go for a walk, ride a bike, pop into a pub, and fun will follow.
So be sure to include The Netherlands on your next European holiday. While you're at it, don't forget to set aside some time for getting out of Amsterdam; the real Holland won't disappoint.
Visiting The Netherlands – Travel Itineraries
Everyone visiting The Netherlands will have a different itinerary to be sure. Each itinerary should be custom designed for each traveler as well so they can get the most out of it.
To get the ball rolling and give you a couple of ideas, here are some suggestions for how to plan an itinerary for Holland!
3-Day Itinerary for the Netherlands – Amsterdam and the Vicinity
This is a pretty straight forward (and quick) itinerary for visiting The Netherlands. With only three days in the country, you'll only get to see a city or two, and Amsterdam will most definitely be one of these.
Once you arrive in Holland, you can either base yourself in Amsterdam or one of the neighboring cities. If you stay in Amsterdam, you will obviously get to experience more of it. If you prefer the latter option, either because it will be cheaper or quieter, I suggest staying in Utrecht. Rotterdam and Den Hague are also possible places to stay in The Netherlands.
When it comes to visiting Amsterdam, be sure to set aside lots of time for just walking and wandering. Whilst there is lots to see and do in Amsterdam, I find the city most enjoyable when I'm lost along the canals. The nightlife in Amsterdam is the best in the country as well.
If you're staying in Amsterdam, allocate two days for the city but make a day trip outside. Utrecht is like a smaller, quainter version of Amsterdam complete with its own canals. Rotterdam is the ultra-contemporary, if not slightly sterile, version of Holland and offers some cool modern architecture. Den Hague is a good place to see some older Gothic-style buildings as well as the beach.
5-Day Itinerary for the Netherlands – The Best of the Netherlands
This is an expanded version of the previous 3-day Dutch itinerary. Again, Amsterdam is the centerpiece of this trip but with an extra two days, you'll get to see more of the capital plus a couple of other cities depending on how in-depth you want to go.
As previously mentioned, staying in Rotterdam, Den Hague, or Utrecht instead of Amsterdam are all worthwhile ideas. You can spend a couple of days hanging in one of these and still have time to see Amsterdam.
With the extra time, you could also visit more distant Dutch destinations like Maastricht or Groningen. If you're planning on going to Belgium or Germany afterward, visiting one of these border cities makes sense as well.
If you're visiting The Netherlands in the summer and want some beach time, then maybe consider tacking on the Frisian Islands. They're pretty unspoiled, compared to the ones at Den Hague at least, and are pretty damn good looking. You'll still want to bring a sweater with your swimsuit though as this is still the Baltic – evenings are chilly in the summer.
7-Day Itinerary for The Netherlands – Offbeat Places and Further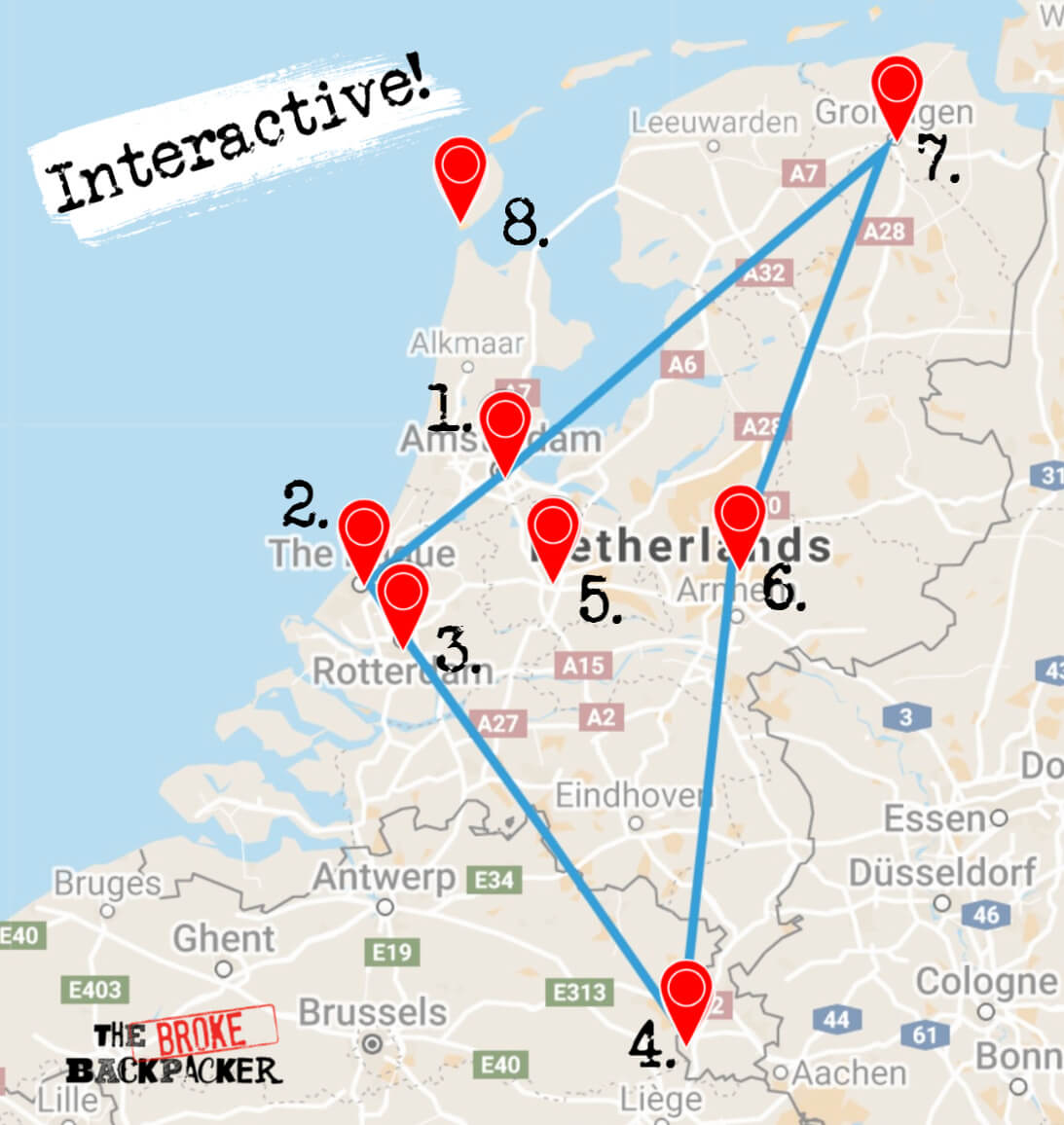 Now we're cooking with gas. With seven days in The Netherlands, travelers will actually get to see some more authentic sides of the country! Conceivably one could even visit most of the top cities in The Netherlands as well!
Get your fill of Amsterdam – two days in or around should be good. When you're ready to push off, head south first and stay a day or two in Rotterdam and Den Hague – both can easily be connected.
From there double back and head towards the center of The Netherlands and Hoge Veluwe National Park. If you missed Utrecht before, this would be a good opportunity to stop by on the way to the park.
From Arnhem, the gateway of Hoge Veluwe, you have two choices: head south to Maastricht or north to Groningen. Both are pretty off the beaten path by Dutch standards but are among the most beautiful towns in The Netherlands.
Take into consideration your onward travel plans – if you're heading to Germany next, go to Groningen; if you're going to Belgium, Maastricht would be better.
Even in seven days, that's still a lot of ground to cover! If travelers are able to spend more than a week in Holland, they would have more leisure time as well as have the chance to visit even more offbeat Dutch locations, like the Frisian Islands. Think about extending your trip!
Places to Visit in the Netherlands
Visiting Amsterdam
Partying aside, which we'll get to later, Amsterdam is one of the most entertaining cities in Europe. The endless canals, rows of tulips, hidden hipster hideouts, all of these and more make the city a very unique place to visit.
Everyone should go to the Rijksmuseum. Its art collection is very impressive and no itinerary for Amsterdam should exclude it.
Ultimately, the best way to experience Amsterdam is to just wander around. Grab a bike, go for a ride along the canals (Herengracht is a good start), and pop your head into anywhere that seems interesting. You may find a hidden gem in some dusty corner or get yourself into a little trouble…
Speaking of which! Partying in Amsterdam: what's the deal?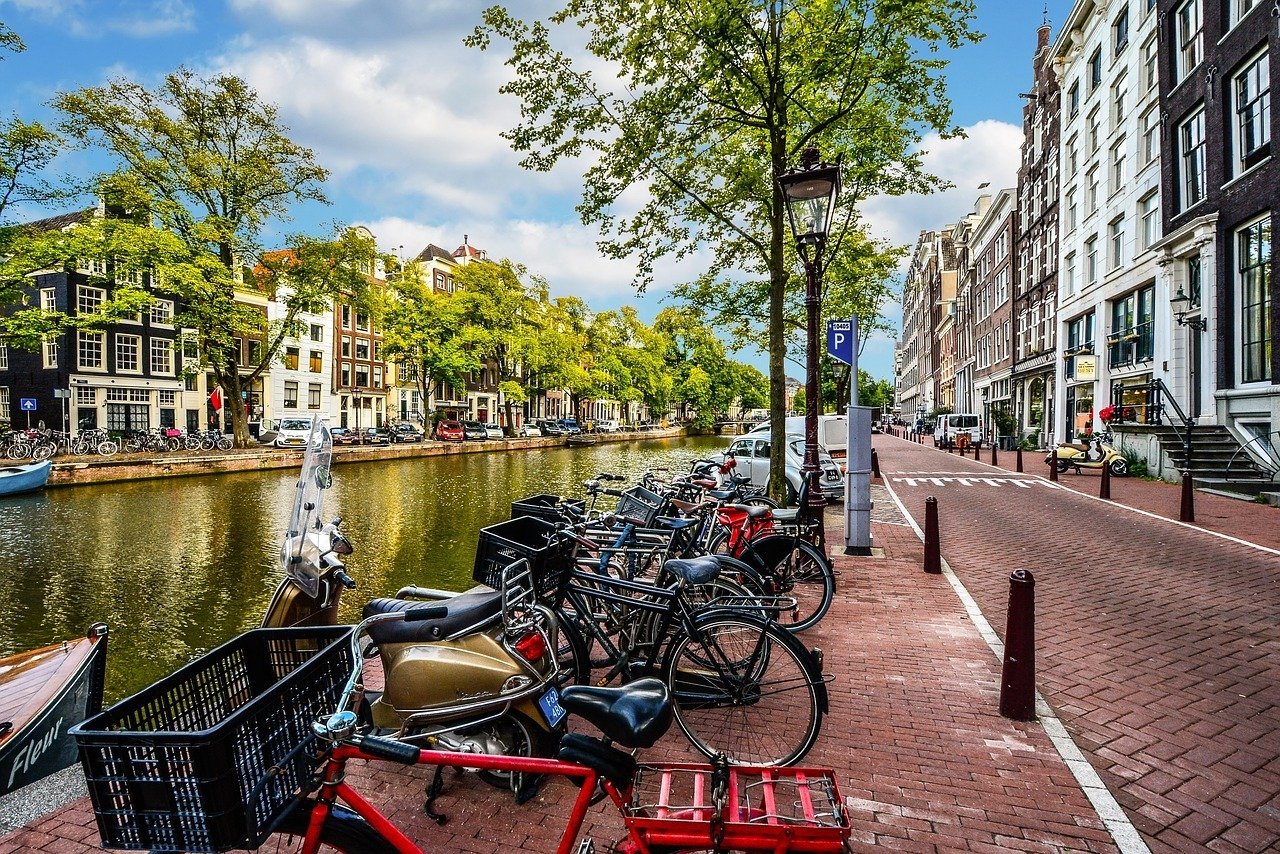 Let's call a spade a spade: Amsterdam is associated more often than not with progressive drug use. Hear the name, and most people's minds immediately go to spliffs, raves, and red-light districts.
Whilst not everything in Amsterdam is allowed, it does feel like an extremely open place. You can do just about anything you want here (as long as it's respectful), and run very little risk of feeling alienated.
Want to get high? Visit a coffee shop or a 'smart-shop' and pick your poison.
Not into drugs or partying? There's still plenty to see in Amsterdam that doesn't involve getting blasted.
Make no mistake: Amsterdam can still be a tourist trap. Just because you can do all of this cool stuff here, doesn't mean it's always high quality. You can still be ripped off and there are still massive crowds to deal with.
Day Trips from Amsterdam
Technically, just about everywhere in The Netherlands is a day trip away from Amsterdam. This is, after all, one of the smallest countries in Europe.
But let's not split hairs here: there are a number of cool towns near Amsterdam that are among the best places to visit in The Netherlands. The fact that many of these are only 30 minutes away, makes them even more desirable day trips!
Haarlem - A very well preserved Medieval town that is very close to Amsterdam. Features a very impressive Gothic Church (St. Bavo) and square that is good for afternoon beers. Visit on Saturdays to attend the local Grote Markt.
Kinderdijk - Windmills, tulip fields, bicycles, canals; the only thing missing from this postcard Dutch town is a tap dancer in wooden clogs. A good day trip from Amsterdam for travel photos.
Lisse - Home to the Keukenhof Botanic Garden, which is one of the largest of its kind in Europe. Only open in the spring when the flowers are in bloom though. A very magical place that reminds one of Alice in Wonderland.
Alkmaar - The so-called "cheese capital of Holland." Come here if you fancy a bit of cheese mongering and stealth farts.
Gouda - Gouda makes some gouda cheese. (I'll see myself out after that horrible pun...) But seriously, this is the birthplace of the iconic cheese.
Leiden - Birthplace of Rembrandt. Very similar to Haarlem. Lots of natural history museums for those who want to take a break from the artsy stuff. Leiden is a bit further from Amsterdam but makes a good pit-stop on your way to Den Hague.
Visiting Den Hague
The coastal city of Den Hague is mostly known for having some very beautiful royalist buildings, a beach, and an extremely important international court. It is an altogether much different city than Amsterdam but is still quintessential Dutch.
It is important to distinguish that while Amsterdam is the capital of The Netherlands, Den Hague is the home of the International Court of Justice. Domestic affairs are handled in the former, and international court materials are handled by the latter. So when someone is brought to court for war crimes or such, it's in Den Hague.
Now the International Court isn't so much of a tourist attraction but it is still a key part of the local community. If you're walking around Den Hague aimlessly and see a big crowd of people outside of a very pretty building, it's probably the Court. Remember to be respectful of protesters if they're there.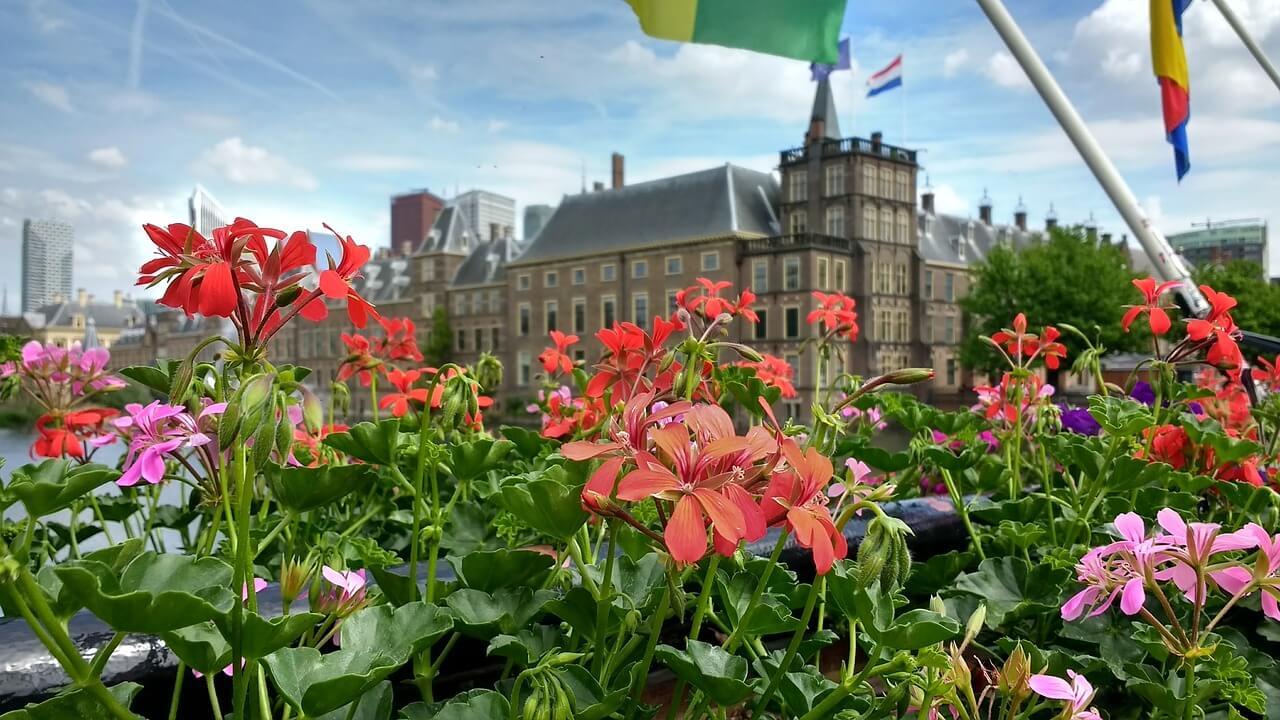 There are plenty of other things to do in Den Hague. The Binnenhof is a gorgeous row of buildings set against a man-made lake; photographers will love to shoot this spot. There are lots of excellent museums in Den Hague as well, like the Gemeentemuseum (modern art), Mauritshuis (Dutch art), and the Panorama Mesdag.
The Madurodam miniature museum, though kitschy and touristy as hell, can also be fun. It features a series of historical sites in The Netherlands built at 1:25 scale, which means you appear about 50 meters tall comparatively. If you ever had a Godzilla fantasy, then this would be the place to do it. (Don't go full Godzilla.)
Den Hague is also somewhat famous for its sand dunes. If you want a good travel workout, running up these is a real thigh burner.
Visiting Rotterdam
Rotterdam is a complete 180 from Amsterdam and Den Hague. Gone are the winding canals, opulent buildings, and cozy coffee shops; in are skyscrapers, ultra-modern architecture, and converted warehouses.
Rotterdam even has an area officially deemed (no-joke) 'The Cool District' complete with a Mobile Suit Gundam Statue. Beat that Amsterdam!
Let's be honest: try as it might, Rotterdam still can't help but be a little boring. Business and trade are its primary focuses and the port, once the busiest in the world, is the center of the city. It sure is interesting to look at, but most will probably get their fill in a day or two.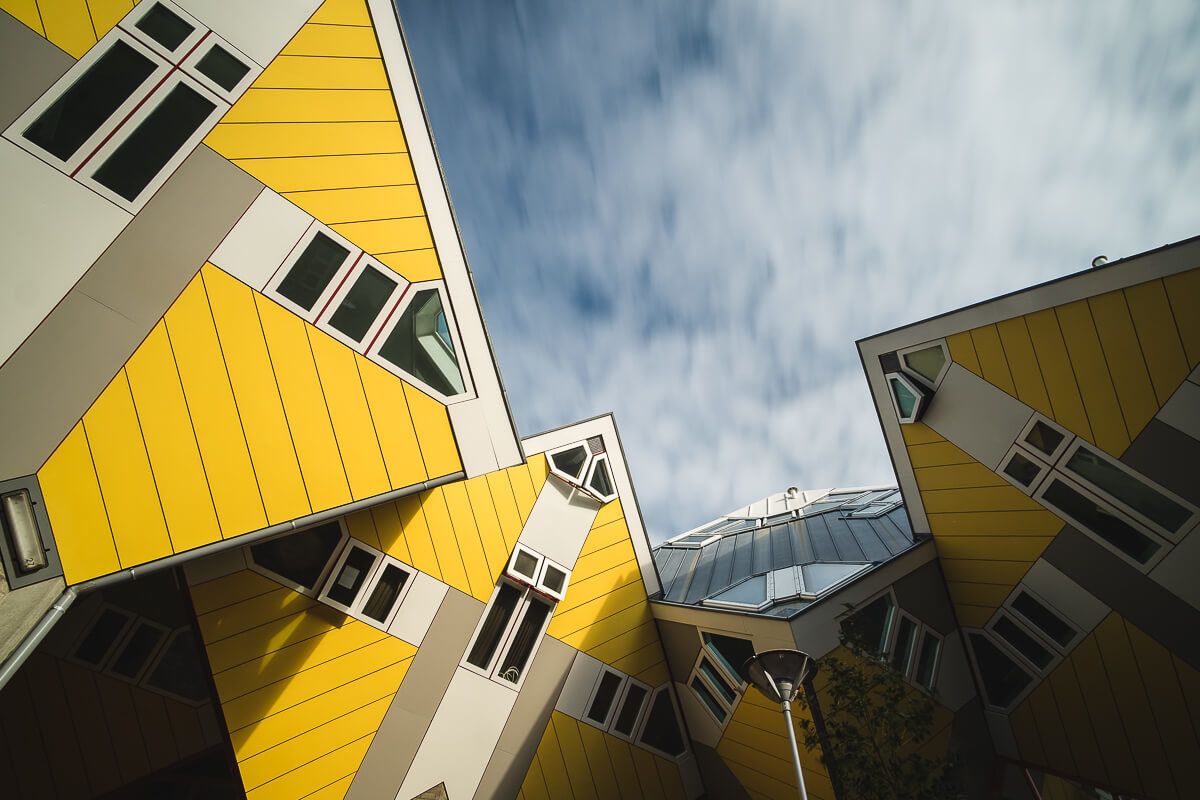 On the surface, Rotterdam's architecture is the most interesting part of the city. There are so many weird and funky buildings in this city that some areas feel like open-air modern art museums.
The Cube Houses and Market Hall are pretty over the top, and De Rotterdam hotel is probably the most interesting skyscraper in the city. Photographers will really enjoy shooting these buildings and may also like visiting the Netherlands Photo Museum as well.
Beyond the architecture, you'll really have to go searching for things to do in Rotterdam. If you have time to kill, I suggest walking across the iconic Erasmusbrug bridge and then head for Katendrecht. This former industrial area once hosted derelict warehouses; now they're all been converted into breweries, food halls, and music venues.
If you'd like to stay in this city a day or two, be sure to check out our comprehensive guide on the best hostels in Rotterdam.
Visiting Utrecht
In my opinion, Utrecht is the best city to visit in The Netherlands. It is like a smaller, less touristy version of Amsterdam and is way more local. There is a big ol' canal in the middle, lots of cool hidden restaurants and bars, and, of course, plenty of room to ride a bike around. This is one of the great hidden gems of The Netherlands.
The central attraction in Utrecht is the imposing Dom Tower, located just off the main canal. This is a good place to orient yourself. Around this tower are lots of craft stores and cafes so if you're looking for some Dutch souvenirs, these are good places to look.
The main canal in Utrecht is Oudegracht and it runs right through the heart of the city. Unlike the canals of Amsterdam, this waterway still has its original cellars on the banks. Historically, these were used for storing goods being transported along the river.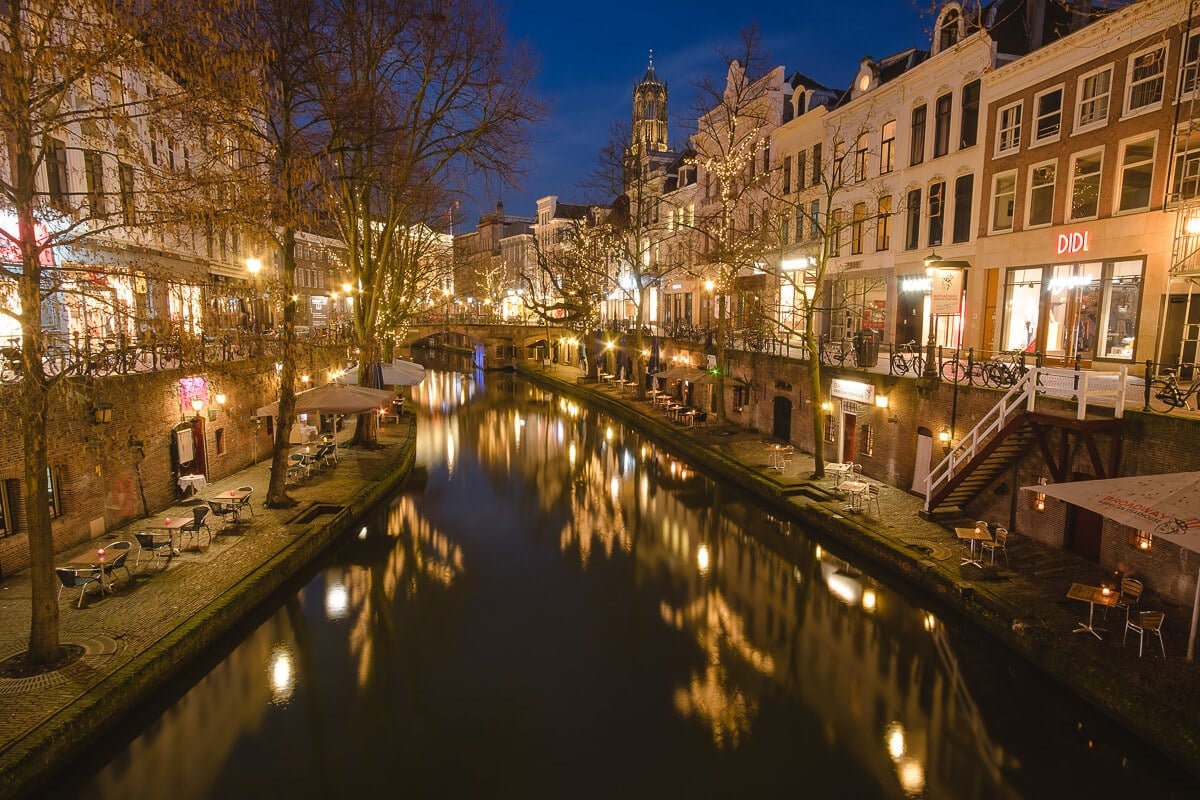 Nowadays, the cellars host super charming waterfront restaurants and cafes. If you like live music, head for 't Oude Pothuys along the canal.
Thanks to the presence of the University of Utrecht, the city feels quite young. Nights are usually happening and there is a lot of good energy around. The institution itself is also quite cool - the library (UBB) is ultramodern and great to get lost in. There are quite a few awesome hostels in Utrecht, making it a great spot for budget backpackers too.
But the best place in Utrecht has to be the Belgisch Biercafe Olivier. Not only does it have a FANTASTIC beer selection but it also has a fascinating story to go along with it. It was once the home of a wealthy merchant but was then converted into a secret church for marginalized Catholics in the 19th century. Thus, the facade looks residential but the interior is full of religious iconography.
Visiting Maastricht
Maastricht is one of the oldest cities in The Netherlands and probably one of the most lowkey. Far fewer tourists and an easygoing local attitude makes Maastricht a very easy place to explore. With lots of old, medieval architecture to see and no sense of urgency, one could easily get stuck here for more than a couple of days.
I've heard a couple of people call Masstricht one of the most beautiful places to visit in The Netherlands and it's obvious why. There is a ton of old architecture here that dates all the way back to the Roman era.
The most noteworthy structure in town is the St Servaas Church in the center of town. The Basilica of Our Lady, with its distinct, monolithic facade, is also worth visiting and could be reached by walking from St Servaas.
Aside from these usual attractions, there are a couple of other things to do in Maastricht. The city is famous for its caverns that were used for shelter during bombing runs. Further outside the city you'll also find the highest mountain in The Netherlands, Vaalserberg, which is a staggering 322 meters high. Definitely not K2.
Visiting Hoge Veluwe National Park
Ah the great outdoors! In The Netherlands! Yes, there are things to do in The Netherlands that don't involve brown bars or getting baked in coffee shops. You can get high here the old fashioned way as well: in the woods and nature of Holland's largest national park.
Hoge Veluwe is located smack dab in the middle of the country. It is fairly large and actually features quite a few varied landscapes including forests, sand dunes, and meadows. It isn't the Alps by any means but it is still charming in its own special way.
Most people explore Hoge Veluwe by bike as there is an extensive system of trails around the park. There are several bike stations throughout the park where you can pick up a set of wheels. The entrance ticket allows you to rent these for free.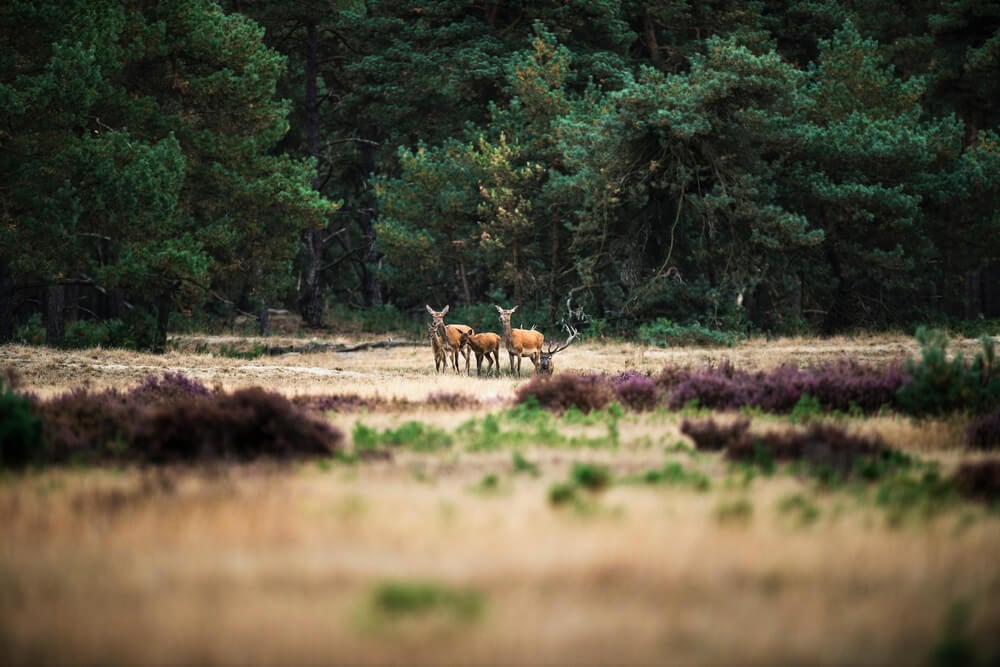 One of the coolest parts of Hoge Veluwe is the Kröller-Müller Museum. This museum, located inside the park, hosts one of the largest collections of Van Gogh in the world, including the lauded "Gates of Eternity" piece. Given Van Gogh's interest in landscapes later in life, a national park seems like a very appropriate place to preserve his work.
Architecture buffs should also try and visit the old residence of Jachthuis Sint Hubertus inside the park. The opulent building puts most lakeside mansions to shame.
There are a couple of ways to enter Hoge Veluwe. The most convenient way is via the small town of Arnhem. Arnhem is a cool little spot with a couple of attractions and accommodation options for those who want to stick around. Also, there's a great pub called Sugar Hill that makes a bomb burger, American style.
Visiting Groningen
Welcome to the Northern Netherlands! Few tourists actually make it this far, which is their loss I say! The largest city in the north is Groningen. Aside from feeling much more local, Groningen has a sizable student population and a pretty damn good nightlife as well.
The most prominent landmark in Groningen is the Martini Belltower (like the drink), located in the also equally noteworthy Grote Markt. Many Dutchmen have walked through this square at night and made a joke about drinking the world's largest martini, shaken not stirred of course. Alas, you'll need to go elsewhere for that.
While Gronigen is a pretty city to walk around, complete with all the usual Dutch hallmarks like canals and boathouses, it really stands out after hours. There are some very, very cool bars in Groningen and quite a few Dutch students come here for the weekend to get their kicks.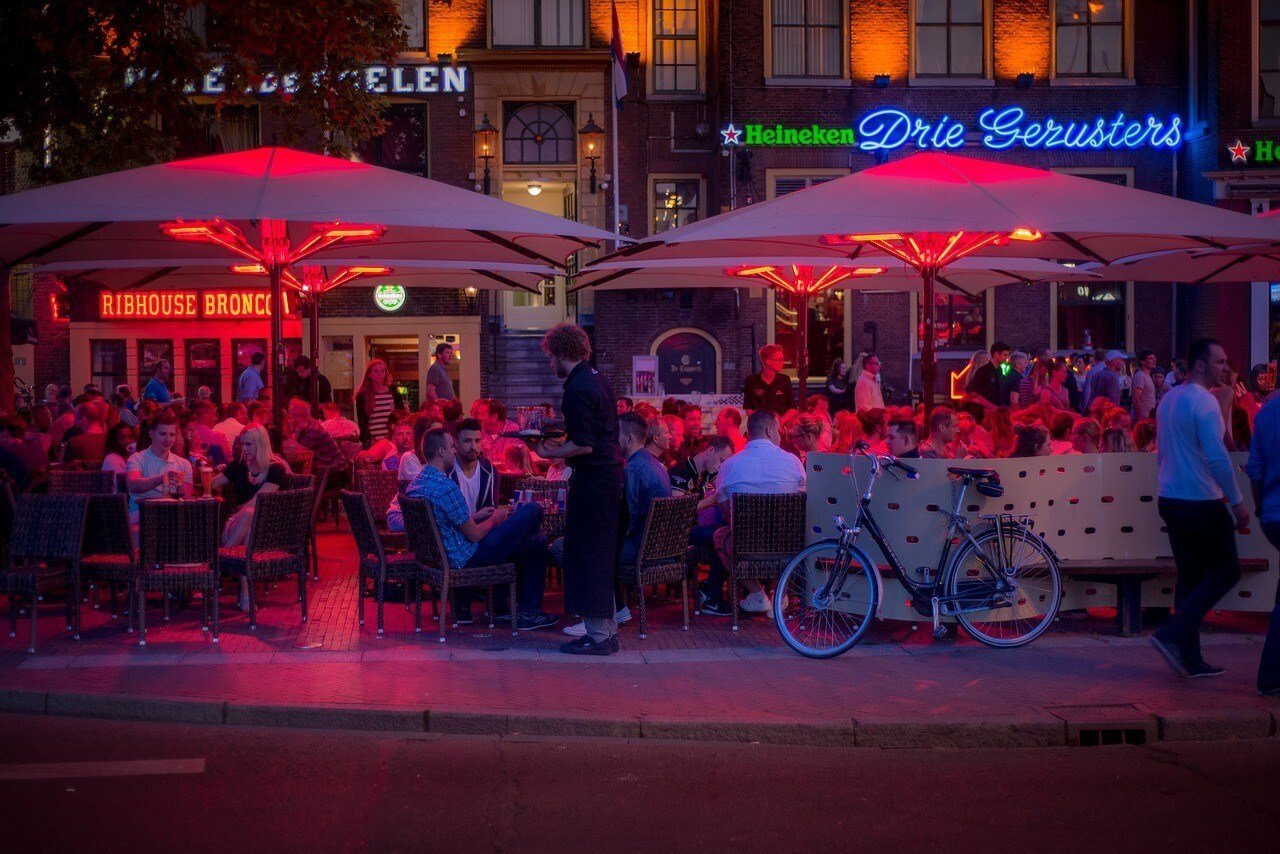 The best bars in Groningen are Groote Griet, Kleine Griet, and De Drie Gezusters. Together these three locations form a holy trinity that will bring you to your knees - probably in one of the bathroom stalls while bent over a toilet. They are big, they are rowdy, AND they're all connected so gaining access to one allows you to visit them all.
Football fans will also appreciate that Groningen has a team, which is well-known for being the launching point of Luis Suarez's career. Don't make any ear jokes.
If you have the chance, make sure you make a day trip to Giethoorn from Groningen. This is a tiny little village with tiny canals and tiny little homes. It's like if everyone in The Hobbiton owned a boat and built a moat. This is good for a couple of hours, though it'll probably get a bit boring after long.
Travel Insurance for Netherlands
A wise man once said that if you can't afford travel insurance, you can't really afford to travel – so do consider backpacker insurance sorted before you head off on an adventure! Traveling without insurance would be risky. I highly recommend World Nomads.
I have been using World Nomads for some time now and made a few claims over the years. They're easy to use, offer the widest coverage, and are affordable. Also, this is the only company I know of that lets you buy travel insurance after leaving on a trip.
If there's one insurance company I trust, it's World Nomads. Find out why I recommend World Nomads, check out my World Nomads Insurance review.
Getting an estimate from World Nomads is simple - just click the button or image below, fill out the necessary info, and you're on your way!

More Experiences in the Netherlands
Want to know more details about The Netherlands? Here are some important aspects of the Dutch lifestyle that you shouldn't miss when you visit.
Dutch Culture and the People
Dutch people are some of my favorites in the world. They're loyal, good-natured, lovable, and sometimes completely lacking in filters. Almost every hostel has featured some gorgeous Dutch person doing something strange and totally oblivious to their own behavior. For that, I love them.
Admittedly, most of the Dutch people that I have met are from when I am traveling. It is fair to say, and usually true, that most people are different when they're living in their native land.
Yet, from my own experience, I can say that Dutch people are still just as warm at home as they are abroad, if not a little more mindful about staying hydrated at parties. (Who says you can't go to a rave before a workday?)
Physically, the Dutch are true to their stereotypes. Yes, everyone here is a giant even by my already tall standards and most people are very good looking. Blond hair is common though brunettes still make an appearance here and there. The Dutch tend to be pretty lean as well.
When traveling to The Netherlands, I highly recommend trying to speak with the locals. They're more friendly than other Europeans and most have traveled extensively themselves so they are used to the sometimes awkward approaches and conversations. At the end of the day, the Dutch are so nice that most should indulge you, at least a bit.
Food in The Netherlands
The Netherlands isn't exactly a culinary paradise. Dutch food is, for lack of better terms, uninspiring. You can still find good food here and there but you'll have to look hard and be willing to pay more money.
Traditional Dutch food is hearty and sometimes a little simple. Being a dairy-based culture, cheese and butter are common, especially for breakfast. Like their German neighbors, rich breads and sausages are also staples of the diet. Rounding everything out is a lot of potato based dishes and cooked vegetables. Yum.
Not to crap on the Dutch culinary tradition too much, there are some delicacies worth mentioning. It would be unfair of me to say that there isn't good food in The Netherlands, because there is actually some very good stuff. For example, stroopwafel - a waffle sandwich with syrup or jam - is probably the best sweet treat I've ever had. So kudos Holland - you got me hooked.
Here are some other worthwhile Dutch dishes:
Bitterballen - Deep fried meatballs
Stamppot - Mashed potatoes w/ extras
Hollandse Nieuwe - Dutch Herring
Gouda - Smokey cheese
Kroket - Dutch croquettes
Poffertjes - Fried dough balls
Hagelslag - Sandwich w/ confectionery sprinkles*
If you want to have something besides Dutch food, there are plenty of international restaurants around. Indonesian food is particularly popular as the country was once a part of the Dutch Empire. The ubiquitous kebab can also be found at local Middle Eastern and Turkish cafes.
When eating out, it is customary to split the check evenly among friends. This is called "Going Dutch" on the bill.
*I've never actually seen a Dutch person eat this before and I think this is intentional. No self-respecting person could possibly eat a sandwich with nothing but sprinkles in public...
Festivals in The Netherlands
The Dutch love a good party, in particular a big party. The Netherlands has to be one of the most festival-loving countries that I've ever visited in Europe and it seems there is always one happening.
Dutch festivals are extremely diverse. Some are pretty small, maybe taking place in a park, whilst others are enormous multi-day events. They can either be more traditional, cultural celebrations or full-on raves (with some middle ground). There is a party for everyone in The Netherlands.
Listing them all out would take a whole other article. Just give you an idea of what the parties are like, here some of the best festivals in The Netherlands:
King's Day (April 27th) - Celebrates the birth of the Dutch King (or Queen). Less snooty, more revelrous, and MUCH more orange than you'd think.
Pinkpop (June) - The oldest pop and rock festival in the world. Another notch on Holland's proverbial festival belt. Location: Landgraaf.
Best Kept Secret Festival (June) - An up-and-coming festival that attracts a lot of big acts from various genres. Good mix of music. Location: Hilvarenbeek.
North Sea Jazz Festival (July) - The largest jazz festival in The Netherlands. Location: Rotterdam.
Oh My! Music (July) A hip-hop/rap-themed music festival. Only one day. Location: Amsterdam.
Amsterdam Gay Pride (August) - Amsterdam is one of the most gay-friednly cities in Europe and spares no expense for Pride. Features fabulous floats in the canals.
Mysteryland (August) - Groundbreaking EDM festival that has been going on for almost three decades.One of the first of its kind. Location: Haarlemmermeer.
Amsterdam Dance (October) - Citywide electronic festival that features hundreds of venues and attracts hundreds of thousands of people. Five days long.
To hear more about Dutch festivals, be sure to check out Festicket's comprehensive guide.
A Brief History of the Netherlands
For much of recorded European history, The Netherlands didn't play an enormous part. From antiquity all the way up until the 16th century, Holland and it's people were mostly vassals of other larger, European powers. The Romans, Franks, Holy Roman Empire, and even the Spanish, have occupied current-day Holland and governed it.
It wasn't until the Eighty Years War, also known as the Dutch Revolt, that The Netherlands shed the yoke of the conquered and became a separate political entity. At the time they, as well as Belgium and Luxembourg, were ruled by the Hapsburgs of Spain.
FUN FACT: Willem van Oranje was the champion of the revolt and founded the first Dutch Royal House. The color of his original family seal, orange, would go on to become the official color of the new royal house as well. (See King's Day.)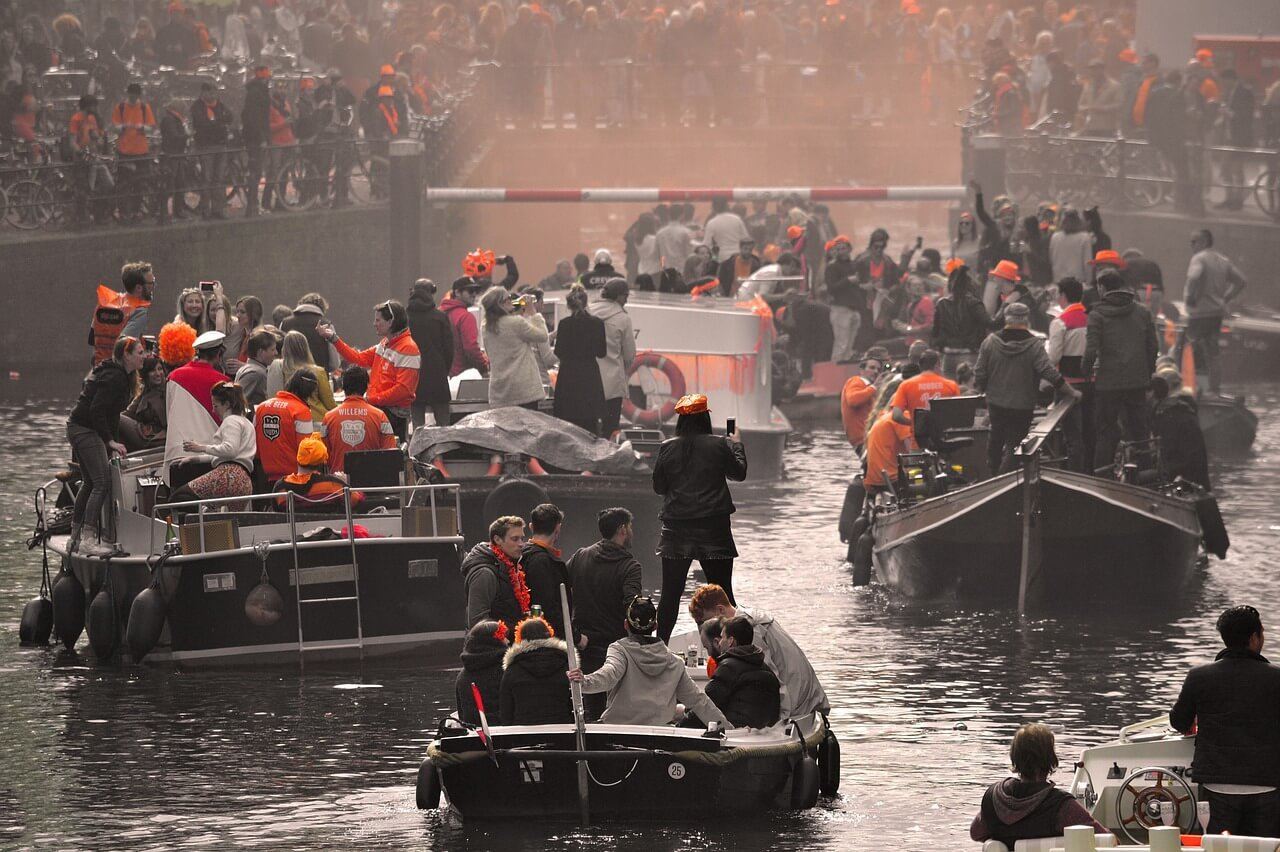 Following their independence from Spain, The Netherlands took off. They became one of the greatest naval powers during the Age of Exploration and even gave the English a run for their money. At their height, The Dutch Empire had control over Indonesia (then the East Indies), Taiwan, and South Africa as well as large parts of India, the Carribbean, and New England.
Eventually, The Netherlands would get caught up in the imperial power struggles that gripped Europe in the 19th and 20th century. Napoleon came and went, the UK became the world's superpower, and Prussia became a European juggernaut. The Netherlands managed to avoid the worst of WW1 but got beaten badly by the Nazis in WW2.
In the end, The Netherlands managed to survive some of the most tumultuous years of European history and probably came out on top. Now, Holland is one of the most prosperous nations in the EU: it's economy is advanced, the government quite liberal, and people seemingly happy.
Being a Responsible Backpacker in the Netherlands
Reduce your plastic footprint: Perhaps the best thing you can do for our planet is to make sure you do NOT add to the plastic problem all over the world. Don't buy one-use water bottles, the plastic ends up in landfill or in the ocean. Instead, pack a tough travel water bottle.
Go and watch A Plastic Ocean on Netflix – it'll change how you view the plastic problem in the world; you need to understand what we are up against. If you think it doesn't matter, get off my fucking site.
Don't pick up single use plastic bags, you're a backpacker – take your daypack if you need to go to the shop or run errands.
Bear in mind, that many animal products in countries you travel through will not be ethically farmed and won't be of the highest quality. I'm a carnivore but when I'm on the road, I only eat chicken. Mass-farming of cows etc leads to the rainforest being cut down – which is obviously a huge problem.
Recently, my gear-venture, Active Roots has started to sell water bottles. For every Active Roots water bottle sold, we donate 10% to PlasticOceans.org – an awesome initiative aimed at educating people on the risk of single use plastic and helping to clean up our oceans. Help save the planet, whether you take an Active Roots bottle or not – TAKE RESPONSIBILITY for your plastic footprint, don't be a dick.
Need more guidance? – Check out our post on how to be a responsible backpacker.
There are a ton of good times to be had while backpacking in The Netherlands but everyone, myself included, can get carried away sometimes. It is important to keep in mind that you are an ambassador for your country, which is awesome.
We can make a positive impact on people when we travel and get rid of any ugly stereotypes that may be associated with your country.
Traveling often illuminates some of the great socio-economic inequalities of the world. Never take it for granted that you are healthy and financially able to go traveling.
Show the world around you some gratitude and help to make a positive impact on it. Most of all have the time of your life and spread the love!
"Yay for transparency! Some of the links in this post are affiliate links. This means that if you book your accommodation, buy a book or sort your insurance, I'll earn a small commission at no extra cost to you. I only link to stuff I've actually used and never endorse crap. Your support helps me keep the site going."
---
Need More Inspiration?