Amsterdam is a tourist-trap. This is a city famed for its legal marijuana, plentiful hookers and bar crawls. The tourist centre is loud, it's dirty, it's crowded and it's seriously tacky.
Luckily, this side of Amsterdam is only a tiny sliver of what this fascinating city has to offer to European backpackers. For the worthy explorer, somebody willing to step away from the normal backpacker trail in search of adventure, Amsterdam has plenty to offer. Backpacking through Europe wouldn't be complete without a stop in Amsterdam and something that everybody should try at some point.
I went to Amsterdam for four full days with my brother, Alex, an experienced backpacker and all round cool dude. We decided early on that we were going to treat this as an expedition… We were going to uncover the best that Amsterdam has to offer and then share it with you guys.
We had a fantastic trip. We didn't spend too much. We didn't even get round to going to The Red Light District. We avoided groups of pissed Aussie backpackers and instead headed to some of the best local coffee shops where we mingled with super friendly Dutch folks chilling out after work.
Anyways worthy adventurer, read on to uncover the mysteries of the ultimate guide to backpacking Amsterdam.
Note: For more inspiration, make sure to check out our guide on the best places to stay in Amsterdam!
The Best Travel Backpack?!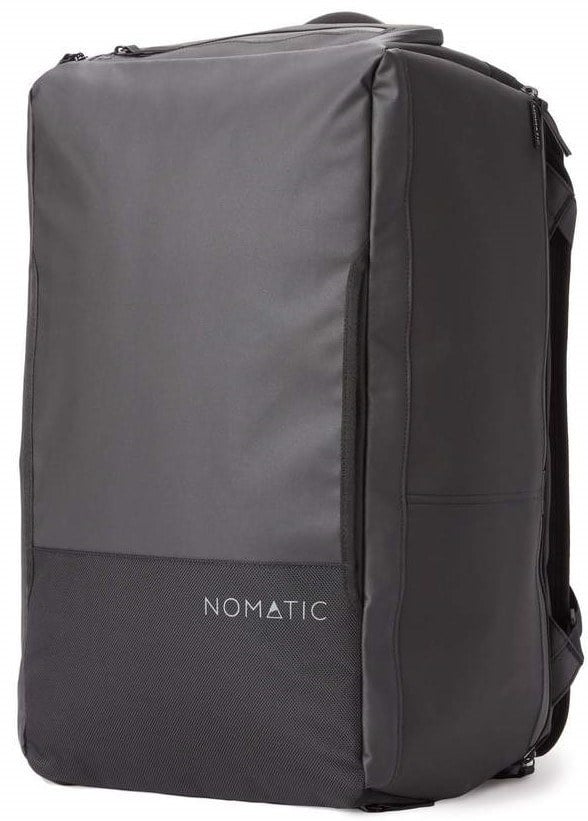 Pssssst! Not picked the perfect travel backpack yet? The Broke Backpacker team has tried out over thirty backpacks this year! Our favourite carry on backpack is the Nomatic Travel Bag.
Read our full review!
Travel Costs in Amsterdam
Accommodation: There is plenty of backpacker accommodation in Amsterdam but I strongly recommend getting out of the tourist traps. I stayed in The Flying Pig Uptown which was cheap, right next door to a kick ass park and a great place to meet people. There are free walking tours and breakfast is included in the price. I highly recommend this hostel, something which doesn't happen that often! If you're short on cash, I recommend Couchsurfing. For a full breakdown of the thirty best places to stay in Amsterdam, check out my ultimate guide to Amsterdam's best hostels.
Where to Stay in Amsterdam

| Location | Accommodation | Why Stay Here?! |
| --- | --- | --- |
| Best Party Hostel | Flying Pig Beach Hostel | This party hostel is located outside of Amsterdam on the Beach of Noordwijk. There's a shuttle service between here & town. The ocean views here are amazing! |
| Best Located Hostel | Stayokay Amsterdam Vondelpark | This is your best bet if you want to be close to everything! The Van Gogh Museum, Rijksmuseum and the nightlife of Leidseplein are only a hop skip & a jump away. |
| Best Unique Hostel | Train Lodge Amsterdam | Want to stay in luxury cars from the night train Zurich - Rome? This place has a definite Harry Potter vibe, located next to Amsterdam Sloterdijk Station. |
| Best Couples Hostel | Amsterdam Hotelboat | If you want to wake up by the ocean on a boat, this place is perfect for you. It's a little expensive, but it's all about the unique experience! |
For a novel stay in Amsterdam, what could be better than renting your very own private houseboat? This cool Airbnb can sleep up to seven people in three bedrooms (plus a sofa bed in the living room). The comfy living room provides incredible views over the water, and you can sit and chill on the outside deck too.
There's a long dining table and a well-equipped kitchen. The boat has an additional separate toilet as well as the main bathroom.
Book Your Amsterdam Airbnb Here!
Food: Food is pretty pricey in Amsterdam. I purposefully stayed in a hostel with a kitchen so I could cook my own food and when I did eat out I mostly stuck to pizza. Barney's Breakfast Lounge serves up a decent hangover breakfast.
Transport: You can hire bikes or stick to the trams and buses (which you can often sneak onto for free). I mostly walked everywhere… heck, it's a beautiful city! Backpacking in Amsterdam doesn't HAVE to be expensive… get walking. If you are planning on visiting Amsterdam as part of a bigger trip, be sure to check out train passes for travel around Europe, it's a good way to save some cash. If you're planning a day-trip from Amsterdam, train travel is a great way to do it. Uber is hand's down the best way to get around cities if you don't want to walk, the price is locked in on the app so you can't get ripped off and it will always work out cheaper than travelling by taxi. Click here and your first three rides are discounted (plus my next ride will be too – cheers!).
If you are looking to head to multiple destinations in Europe, check out this guide to get a solid idea of how to budget for a multi-country trip. Don't blow it all on that first stop.
Money in Amsterdam
There are lots of international ATMs but many of these, charge pretty insane withdrawal fees so it's advisable to avoid small ATM transactions and get out a bunch of cash at once – just make sure you hide it well. If you need to transfer money internationally, use Transferwise, it's the fastest and cheapest way to move money around when travelling.
You should always have emergency cash hidden on you – pick up this awesome security belt with its hidden pocket before you travel, it's perfect for hiding money, a passport photocopy.
GET IT HERE
Top Things To See & Do in Amsterdam
Anne Franks House: Well worth a visit to learn the famous story of a Jewish family in hiding during WWII. Try to get there super early to avoid the crowds. It's well worth reading Anne Frank's Diary before you go.
Body Worlds: A fascinating art exhibition made up of donated bodies which have been partially flayed to reveal the complex inner workings of bone and muscle. Nowhere near as gruesome as it sounds but I still wouldn't recommend going in stoned.
The Electric Ladyland Museum: One of the coolest 'off the beaten track' places I have ever found; this small museum is dedicated to teaching folks about the wonders of fluorescent art; super psychedelic vibes.
Laser Tag: Stoned laser-tag anyone? Seriously though… Laser-tag is awesome. There are over a dozen laser-tag centers in Amsterdam.
Explore the Canals: One of the best things to do in Amsterdam is to simply wander the canals and pop into quaint little coffee shops, cafes and art shops. Some folks opt to sleep on the canals in a houseboat.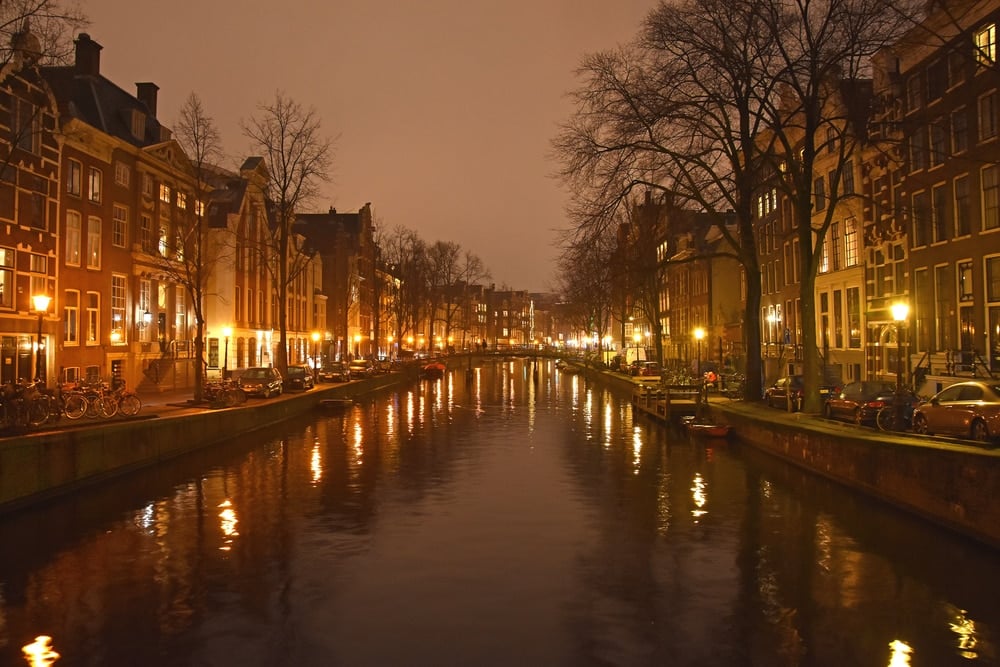 VondelPark: A stone's throw from The Flying Pig Uptown and a fantastic place to chill out with a picnic or simply go for a wander. This park is absolutely massive and although it looks a little dodgy is totally safe at night. There is a massive bridge across one part of the park and under the bridge is a very edgy yet very cool bar set back in a series of old cellars.
Planning on more adventures after Amsterdam? Utrecht is an incredible place that should definitely be on your Netherlands hit list after Amsterdam!
For even more planning inspiration, check out this post on awesome free things to do in Amsterdam.
Experiment: In Amsterdam, marijuana is legal and you can buy smokables and hash brownies easily. Truffles, a type of shrooms, are also legal. Both of these can be highly enjoyable but need to be treated with respect. I have covered my own experiences with both of these below.
Day trips: Looking for even more to do? Check out this epic post on day trips from Amsterdam…
Some of Amsterdam's best attractions aren't cheap. If you're going to visit the
Rijksmuseum
or
Anne Frank House
, pick up tickets online at
Tiqets.com
to get the best possible price without waiting in admission lines!
Top Tips for Broke Backpackers in Amsterdam
To keep your spending to an absolute minimum whilst traveling in Amsterdam I recommend sticking to these basic rules of urban budget adventuring….
Cook your own food: If you are in the city for more than a couple of days, eating out for every single meal can get expensive fast! Try to cook at least one meal a day for yourself and spend your money instead on doing the fun stuff you love!
I always have a small gas cooker with me in case I find myself out of the city on a hike or overnight camping trip. That way I can make myself a quick meal or a hot cup of coffee (awesome) if need be— check out this post for info on the best backpacking stoves.
Pack your bible: Learn how to travel the world on $10 a day whilst you get your shit sorted, discover the secrets to longterm travel and build an online income. Check it out here.
Pack a travel water bottle and save money every day!
Want to save the world? Single-use plastic bottles are a huge threat to Marine Life – Be a part of the solution and travel with a
filter water bottle
.
The GRAYL GEOPRESS water bottle is the ONLY all-in-one filter water bottle setup you'll need. Whether you need to purify the water from a hostel sink in Kathmandu or a stream trickle in the Andes, the Geopress has got you covered.
Marijuana in Amsterdam
The first thing you should know about marijuana in Amsterdam is that it is strong….
Whether you are a first-time smoker or a die-hard stoner, you need to go easy in Amsterdam. The weed is so potent that it really will knock you on your ass if you let it. Many coffeeshops will not let you smoke tobacco, this means that you can only smoke blunts (pure weed with no tobacco) which you can either roll yourself or buy from the coffeeshop.
In most bars, you cannot smoke marijuana. In general, you should only try to smoke marijuana in places which actually sell it. There are very few places where you can smoke marijuana and drink alcohol at the same time.
You can smoke on the street but I urge discretion, in general, it's best to only smoke in coffeeshops, parks or when you are in a pretty deserted area. There seems to be confusion as to whether it is actually legal to smoke marijuana on the street; I did hear about some backpackers being fined by the police for smoking in the town centre.
Most folks buy their weed from a coffeeshop where they will then sit and chill out with a smoke. Coffeeshops are a great idea but 90% of the ones in Amsterdam feel like techno-clubs… not exactly the most chilled atmosphere. Myself and my brother toured over 20 coffeeshops and narrowed it down to our top six coffeeshops in Amsterdam…
Recommended Coffee Shops in Amsterdam
Paradox: My favourite coffeeshop in Amsterdam. Chilled vibes, board games, good marijuana at fair prices, two minutes from the Electric Ladyland Museum. You can use the volcano here for free; ask one of the friendly staff to show you how.
Dampkring: There are two Dampkrings in Amsterdam, the one on Handboogstraat is hands down the best. It is beautifully furnished with gorgeous lighting that creates a chilled, enlightened, vibe – seriously, just go check it out. The crowd here is almost exclusively local. Space cake and hash brownies are available here.
Abraxys: An institution and well worth a visit, Abraxys has super trippy vibes with awesome semi-precious stone artwork in the walls. Chilled electromusic and Bass Trance rules supreme here. I recommend the 'White Widow' joints.
Super Skunk: Very 'clubby' inside but with a nice outside space that looks out across the canals. A wide range of weed inside including the famous 'Bubblegum'.
The Dolphin: Run by the extremely friendly Marijuan, The Dolphin is just a ten minute walk from The Flying Pig Uptown and has some super trippy vibes inside. The Dolphin is relatively expensive but is a good place to meet people and the vibes really are nuts – it's well worth popping in for an hour even if it isn't really your scene. Space cake is available here.
Internet Bar: An edgy underground bar that serves both alcohol and marijuana. This is the closest cheap coffeeshop to the The Flying Pig. It is very close to the massive Bulldog Bar.
For even more coffeeshop inspiration, check out this post from Drifter Planet.
Pro Tip: Pack a travel water bottle: save money and fight the cotton mouth blues one sip at a time (and help save the planet too!).
Tripping in Amsterdam
One of our very favourite things to do in Amsterdam! My brother and I went to a 'Smart-shop' (there's a few around) and purchased 10g of Atlantis Truffles, nicknamed 'Philosophers Stones'. We listened to the store's owner, did some research online as to what to expect and then split the 10g in our hostel, we wanted to be near a bathroom in case it went wrong!
We then began to play a game of chess in the mostly deserted hostel bar. About thirty minutes passed and I noticed the patterns upon the brightly coloured walls becoming more pronounced. Tendrils of electrified light snaked their way through the air, drawing my attention across the room. I looked around for about five minutes or so, aware that my trip was beginning.
Alex and I decided we should head outside and so we made the short five minute walk from the hostel to VondelPark. We took with us a small rucksack with a blanket, bottle of water, ibuprofen, chocolate, a pre-rolled mixed joint, portable speakers and our phones. We made for a spot we had staked out earlier, under a large tree, with a stunning view across a meandering river. The park was busy but in general, everybody was sat about 20 meters away from each other.
We spent the next few hours listening to chilled tunes, watching the clouds, chatting and going for the occasional walk. The trip itself was not particularly difficult although both of us would have preferred it if there had been fewer people in the park. Alex experienced strong visual effects, mine were not so pronounced. Both of us could think lucidly most of the time although the trip did come in waves and there were periods where we simply sat in silence taking it in. Walking normally was somewhat tricky.
In total, the trip lasted around five hours. There was a short but noticeable comedown when both of us felt emotionally drained for about twenty minutes. Both of us had some interesting thought processes throughout the day with Alex in particular gaining some new perspectives on the universe and some great ideas for the rest of our Amsterdam Itinerary.
Know Your Weed – By Alex Hatton
Much like the selection of drinks available at bars, the coffee shops have menus from which you can select the strain of weed you wish to smoke. There's a shit ton of different types with all kinds of funky names such as AK47, Cookie Kush and Turbo Boost. That last one's not actually a strain of weed as far as I know but it would be if I got to name a new strain!
Although some strains are obviously stronger than others (a thing you can find out by checking the menu or asking the knowledgeable staff) don't bother getting too bogged down in trying to detect the subtle differences between two different joints you smoked as chances are you'll be spannered from the bright lights, trippy interiors of the coffee shops and (hopefully) awesome people that you meet, you won't know exactly what's causing the way you feel…
All you really need to be aware of are the two main types of cannabis – Sativa and Indica. All strains of weed belong to one of these two groups or are a hybrid of the two. Sativa is the weed that gets you uplifted, euphoric and occasionally tripped out. Indica gives you more of a stoned, relaxing feeling best enjoyed in the evening. Knowing about these two main types of weed is useful and should help you with selecting the appropriate ganja fo' yo' flanga (My poor and lazy attempt at weed lingo).
…But hey since this is an INTERNET article here's an obligatory favourite strain: "Shiva" – An indica dominant hybrid, this bad boy is moderate strength and offers a nice clear headed high without sending one to sleep. Also, Shiva is the Indian God of Destruction so that's a pretty cool name right there.
Another thing to bare in mind, even for experienced smokers, is when you go to Amsterdam, do be prepared for how mind numbingly strong the stuff is…. "Medium" over there is usually what "Strong" would be in most other countries where it's illegal. Due to many coffee shops forbidding the smoking of tobacco, you'll have to hook back blunts if you wanna smoke at them.
Personally, I prefer pre rolled joints mixed with tobacco – they are less harsh than weed blunts and the staff usually roll them pretty well. But hey even when they don't its still better than anything I could do because despite years of marijuana fandom I still suck at rolling joints and so does Will… Just don't tell anyone.
AND THERE YOU HAVE IT! Another (and also the first and last ever) issue from the blazy backpacker… P.S. If you do go to Amsterdam please don't be a dick and blast deafeningly loud house and jungle music in the park…it's one of the few chilled places to go and no one else who has retreated there likes you or your music. Check out Blazed Backpacker 101 for tips on how to stay safe in Amsterdam while getting fucked!
Positive vibes for the win!
All information provided above is our opinion and should be taken with a pinch of salt. Neither of us is an expert on drugs nor do either of us, or The Broke Backpacker as a website, condone their use. If you do plan on trying marijuana whilst in Amsterdam, have a read of this to ensure you are armed with the information you need to stay safe. Please be aware that the marijuana in Amsterdam will probably be the strongest you have ever tried; avoid the blunts and don't fall into a 'stoned smoking circle'. Do not purchase drugs, legal or otherwise, from a stranger in the street. Positive vibes and good times to you all – have an absolute blast exploring one kick-ass city!
How to stay safe in Amsterdam
For an in-depth analysis of staying safe in Amsterdam, check out our dedicated guide here. Otherwise, you can referr to our Backpacker Safety 101 for more generral tips and tricks to stay safe whilst backpacking.
Pick yourself up a backpacker security belt to keep your cash safe on the road.
Check out this post for plenty of ideas on ingenious ways to hide your money when travelling.
I strongly recommend travelling with a headlamp whilst in Amsterdam (or anywhere really – every backpacker should have a good headtorch!) – check out my post for a breakdown of the best value headlamps to take backpacking.
Travel Insurance for Amsterdam
A wise man once said that if you can't afford travel insurance, you can't really afford to travel – so do consider backpacker insurance sorted before you head off on an adventure! Traveling without insurance would be risky. I highly recommend World Nomads.
I have been using World Nomads for some time now and made a few claims over the years. They're easy to use, offer the widest coverage, and are affordable. Also, this is the only company I know of that lets you buy travel insurance after leaving on a trip.
If there's one insurance company I trust, it's World Nomads. Find out why I recommend World Nomads, check out my World Nomads Insurance review.
Getting an estimate from World Nomads is simple – just click the button or image below, fill out the necessary info, and you're on your way!

Volunteering in Amsterdam
Long term travel is awesome. Giving back is awesome too. For backpackers looking to travel long-term on a budget in Amsterdam whilst making a real impact on local communities, look no further than World Packers. World Packers is an excellent platform connecting travelers with meaningful volunteer positions throughout the world.
In exchange for a few hours of work each day, your room and board are covered.
Backpackers can spend long periods of time volunteering in an awesome place without spending any money. Meaningful life and travel experiences are rooted in stepping out of your comfort zone and into the world of a purposeful project.
Worldpackers opens the doors for work opportunities in hostels, homestays, NGOs, and eco-projects around the world. We've tried and approved them ourselves – check out our Worldpackers in-depth review here.
If you're ready to create a life-changing travel experience and give back to the community, join the Worldpacker community now. As a Broke Backpacker reader, you'll get a special discount of $20. Just use the discount code BROKEBACKPACKER and your membership is discounted from $49 a year to only $29.
Make Money Online Whilst Backpacking Amsterdam
Traveling in Amsterdam long-term?
Are you a native English speaker looking to earn cash whilst on the road? Teaching English online is a great way to earn a consistent income—from anywhere in the world with a good internet connection.
Depending on your qualifications (or your motivation to obtain qualifications like a TEFL certificate) you can teach English remotely from your laptop, save some cash for your next adventure, and make a positive impact on the world by improving another person's language skills! It's a win-win! Check out this detailed article for everything you need to know to start teaching English online.
Learn what it's like to be an online VIPKID teacher, a top company in the field of online English learning.
In addition to giving you the qualifications to teach English online,TEFL courses open up a huge range of opportunities and you can find teaching work all over the world. To find out more about TEFL courses and how you can teach English around the world, read my in-depth report onteaching English abroad.
Broke Backpacker readers get a 35% discount on TEFL courses withMyTEFL (simply enter the code BACKPKR), to find out more, please read my in-depth report on teaching English abroad.
Whether you are keen to teach English online or looking to take your teaching game a step further by finding a job teaching English in a foreign country, getting your TEFL certificate is absolutely a step in the right direction.
Being a Responsible Backpacker in Amsterdam
Reduce your plastic footprint: Perhaps the best thing you can do for our planet is to make sure you do NOT add to the plastic problem all over the world. Don't buy one-use water bottles, the plastic ends up in landfill or in the ocean. Instead, pack a tough travel water bottle.
Go and watch A Plastic Ocean on Netflix – it'll change how you view the plastic problem in the world; you need to understand what we are up against. If you think it doesn't matter, get off my fucking site.
Don't pick up single use plastic bags, you're a backpacker – take your daypack if you need to go to the shop or run errands.
Bear in mind, that many animal products in countries you travel through will not be ethically farmed and won't be of the highest quality. I'm a carnivore but when I'm on the road, I only eat chicken. Mass-farming of cows etc leads to the rainforest being cut down – which is obviously a huge problem.
Recently, my gear-venture, Active Roots has started to sell water bottles. For every Active Roots water bottle sold, we donate 10% to PlasticOceans.org – an awesome initiative aimed at educating people on the risk of single use plastic and helping to clean up our oceans. Help save the planet, whether you take an Active Roots bottle or not – TAKE RESPONSIBILITY for your plastic footprint, don't be a dick.
Need more guidance? – Check out our post on how to be a responsible backpacker.
Backpacking in Amsterdam will bring you ample opportunities to participate in debauchery, and it is very important to have fun, let loose, and get a bit wild at times—but within reason. Most backpacking trips I have been on across the world have included at least a few mornings where I wake up knowing I went too far.
There are some things that will put you in the category of a straight up jackass if you do them. Being super loud and obnoxious in a tiny hostel at 3 AM is a classic rookie backpacker mistake. Everyone in the hostel will hate you when you wake them up. Show your fellow travelers respect whilst backpacking in Amsterdam and anywhere else for that matter!
Smoking so much weed that you can't see or stay awake can happen very easily. No your limite and take it easy. The weed and the mushrooms aren't going anywhere!
Disclaimer: Drugs are illegal and can get you in sticky situations. I don't condone drug use of any sort. If you intend to consume, please be safe. This article is not intended to persuade, but rather to inform.
Please also note that this account is entirely fictional and definitely did not happen…
---
Need More Inspiration?
Writer and entrepreneur. Adventurer and vagabond. Master of the handstand pushup. Conqueror of mountains, survivor of deserts and crusader for cheap escapades. Will has been on the road for thirteen years, travelling to far-flung lands on a budget. Today, he runs a number of online ventures, including The Broke Backpacker – the world's largest budget travel blog. He is passionate about solving the plastic problem and cleaning up the oceans. Currently, Will is based in Bali where he plans to open his first Tribal Hostel in 2020.