Amsterdam: the city with a repuation! Tulips pop out in Spring and debauchery springs out of the woodwork at night. 
You know the image: tall town houses reflecting themselves back in the canals. Quaint windmills standing over cutsie cafes. 
Or maybe you're thinking of the other Amsterdam? The drugs. The red lights. The parties.
Both of these merge to become one fantastically unique, beautifully energised city. Amsterdam is one of those places that welcomes everyone. Whether you're a seasoned traveller or a complete newbie, if you are travelling with friends or family, and especially travelling alone, you will quickly feel like part of the Dam fam.
If you're travelling through Europe, you've probably at least considered backpacking Amsterdam. I'm here, wearing my heart on the internet, with this backpacking Amsterdam travel guide to convince you that visiting Amsterdam is a very good idea!
Though, the one (and probably only) downside of Amsterdam is the price. Damn it, Dam, you are one expensive destination. In fact, without caution, you can very quickly piss your travel budget up the wall having the time of your life.
With these travel tricks, you're going to get all the savvy info you need to see the Amsterdam of your wildest dreams. Before you know it, you're planning your return journey… again. 
What a question! Let me try and explain how Amsterdam is the best city in the world without sounding really biased. It's not just about its reputation: it's about the energy the city gives you.
Visiting The Netherlands is a very special experience and Amsterdam is a big, fat, gold-plated cherry on top. The lifestyle of fun has been carved to almost perfection here.
The thing about Amsterdam is that everyone is in high spirits. Tourists can experience something they can't back at home and let loose. Locals appreciate the place they know doesn't exist anywhere else.
People are just down for a good time in this city. That energy is so infectious. You can't help but have that affect you.
Hands down, I've had some of the best moments of my life in this city. Bouncing around coffeeshops, partying hard at festivals, tripping my balls off, walking around impossibly beautiful streets – it's all possible here and more.
Yes, backpacking Amsterdam is expensive. It's the one major flaw. But that just means you have to get smart.
With some know-how, visiting Amsterdam can be as cheap as anywhere else. You just have to work a little harder than you would in other places. But when you know the tricks, you get to enjoy Amsterdam more than the average tourist.
What are the Major Attractions in Amsterdam?
In a city with as much history and culture as Amsterdam, you're overrun by attractions. But when you're travelling through Europe, it's very weather dependent. This is Northern Europe: the summer is a bit warmer and less wet than the winter… but it ain't the med!
If your backpacking Amsterdam trip coincides with rare sunny days, check out the parks. Vondelpark is the most famous park in the city, best explored by bike. Take a coffee, beer, joint, BBQ, music, whatever tickles your fancy, and enjoy the city's energy in the highest spirits.
Museums and exhibitions are abundant. There's something for every kind of person. Whether you're into history, science, art, or curiosities, you'll find all sorts of weird and wonderful.
The Anne Frank House is one of the biggest attractions. Small and humble, it is worth seeing while you're staying in Amsterdam.
Museumplein (Museum Square) – the clue's in the name. Take your pick. Check out the Van Gogh Museum or maybe you want to indulge in the life of Rembrandt at the Rijksmuseum.
A major attraction in an Amsterdam travel guide that must be mentioned is the Red Light District. Aside from the obvious red doors, there are sex shows, peep shows, bars, coffee shops and sex shops… it's an extremely unique place. Let me tell you, participating aside, this is the best people-watching spot in the whole world.
How Long to Spend in Amsterdam?
How long you should spend visiting Amsterdam is up for debate. For most people, a weekend in Amsterdam is enough. After 3 days of intense sightseeing or partying, you're absolutely exhausted!
It's not a big city but it is a very stimulating place.
But really, a lifetime isn't enough to really get to know Dam. Now, I've been back more times than I care to count and I'm still hungry. (Maybe it's the munchies?!)
There's always more to see and do in Amsterdam. The trick is finding a good balance between having fun but also taking time to wind down and chill, too.
With a 3 – 5 day Amsterdam travel itinerary, you'll be able to see enough attractions to "do" Amsterdam and have some time for guilt-free chilling. You'll see some top attractions and leave yourself with that heartache for when you can come back again.
Cool things to do in Amsterdam? Nowhere does cooler than Dam.
You could bounce from bar to bar, coffee shop to coffee shop, aimlessly fly around on your bike and have the time of your life. But there are some attractions that are amazing for all tourists to see.
Let's take a look at a 3-day travel itinerary for Amsterdam. By all means, take it, roll it up, set fire to it, and smoke it. Or in other words, go ahead and make it your own – it's just a guide.
Day 1 in Amsterdam – The Classic
Your first day on this backpacking Amsterdam itinerary is about all those must-see attractions. Let's start at the Anne Frank House, where one of the most famous books about Amsterdam was written. Book in advance and book early in the morning to avoid queues.
It's a short exhibit, so it won't take you long. Then head out to walk around Jordaan a bit. Now you'll start those famous Amsterdam views.
You can see the canals in all their beauty. Stop for a coffee and/or joint – or both – then grab a bite to eat.
Recharged, head over to Dam square to centralise yourself in the city. Soak in the stunning architecture in this area. You'll see the stunning Royal Palace here.
Check out the shops, take a beer, or – if you like learning interesting shit – head up to check out Body Worlds. This exhibition of preserved dead bodies (all in the name of science) is not as horrific as it sounds. It is one of my favourite exhibitions in Amsterdam.
Take a canal cruise in the afternoon to get a waterside perspective. Cruises come in all shapes and forms: the classic tour, the romantic, the party, the chill… find your perfect fit.
Wind down the night with a beer in Rembrandtplein. You'll find plenty of people in high spirits.
Maybe you wanna carry on the night from here. Just follow your nose. You're surrounded by all sorts of options here: completely innocent and… maybe not so innocent too. 😉
Day 2 in Amsterdam – The Weird
Here we go – Amsterdam's pride and glory. Get a good breakfast and a coffee in to start the day: it's going to be a long one.
If you're the curious kind, check out the headshops in Burgwallen Nieuwe Zijde to find the weirdest souvenirs you could possibly think of. Pick up some truffles at the headshops here too if you're down for the weirdest day of your life.
After this, Electric Ladyland, the fluorescent wonderland, is a really unique place to visit in Amsterdam. If you're tripping your balls off, your brain might melt a little bit – but it'll be an experience you'll never forget.
You want more weird? Then head back right into the centre for the Sex Museum. It's only a very small attraction – and surprisingly cheap – but fills an hour or so with a lot of fun.
Then, when you think you've seen all the wackiest shit you could see, get ready for the big one: the Red Light District. Head down the rabbit hole and find out for yourself.
The shops are rammed full of curiosities. The sex shows are bordering disgusting. The people-watching is phenomenal.
Finish the night with a bang at the clubs. The 24-hour club, De School, is one of many… many… great options.
Day 3 Amsterdam – The Chill
After a booze-and-more-fuelled weekend in Amsterdam, you may (or may not) be feeling worse for wear. So here's a day to see the sights at your own pace – thanks to the addition of a bicycle.
First of all, accept that you will look like a tourist on that bike. Admit you don't know where you are, all the canals look the same; it's an unavoidable truth you just have to roll with.
Start the day with breakfast and a bit of flea market shopping at Waterlooplein. You'll find (reasonably) cheap souvenirs and food here.
Then, head over to the famous floating flower market, Bloemenmarkt. Now you feel like you're in Holland, don't you?
Van Stapele, just along the canal, has the best cookies… (and I'm ready to fight you here) in the world. Once they sell out, they close for the day. So don't leave it too late.
If the weather is on your side, with your trusty two-wheeled friend, head to Vondelpark. Take whatever supplies you need to max out your chilling in this incredible space.
If you have energy left in your tank, or if the weather is too crap for the park, you can check out Museumplein where you'll find loads of museums and exhibitions as well as a beautiful park.
Spending More Time in Amsterdam?
You lucky bastard. There's always a reason to stay longer in Dam.
Now you can start to experience a little more of the Amsterdam that made us all fall hook, line, and sinker. A canal cruise is always a good idea to get a new view of the city. You can appreciate it very differently by water than by land.
You can see some more attractions like the NEMO Science Museum to bring out your inner child. For history, visit the Tropenmuseum.

For partying, explore Amsterdam Oud-Zuid and De Pijp. I'm not telling you my favourite bar… you'll have to find your own secret spot. But you should make a quick stop at Bar Surprise.
If you fancy stretching your legs, take a day trip out to a nearby city like Utrecht or Haarlem. You'll find a similar, slightly cheaper, less chaotic vibe.
What are the best things to do in Amsterdam? Where do I start? Here are some of the most unique experiences of backpacking in Amsterdam.
1. Blaze the days away
Hey, I'm a stoner: Amsterdam is our Mecca. If you're not interested in the flower, go ahead and skip this one.
But if you're still reading, welcome to the magic. There's something so special about coffeeshop culture in The Netherlands.
If you're a fan of the devil's lettuce, there's no better place to dabble in some drug tourism. You get a full menu of options to smoke and eat, a wonderland of coffeeshops to hang out in, and a bunch of cool people to share it with.
2. See Anne Frank's House
A very humbling visit to learn the famous story of a Jewish family in hiding during WWII. It's presented with great respect.
Book your tickets online in advance to avoid disappointment. It's very small and always packed out. I've never heard of anyone being able to just show up and get a ticket on the day.
It's well worth reading Anne Frank's Diary before you go too.
3. Get a bike!
You might be feeling a bit iffy about your riding ability. When you see how chaotic the streets of Amsterdam get, you might be even more intimidated.
But if you suck it up and get a bike, you will be well rewarded. Everywhere is so accessible by bike in Amsterdam that the city suddenly becomes very small and easy to explore. You don't have to rely on expensive public transport or tire yourself out by walking everywhere.
4. Explore the canals of Amsterdam
One of the best things to do in Amsterdam is to simply wander the canals and pop into quaint little coffee shops, cafes, and art shops. Some folks opt to sleep on the canals in a houseboat.
The canal cruises are also great. There's a huge variety too: some are romantic, some are drunken, some are self-driven. All of them are really fun.
If you're really down for a good time, head over to the canals with the red lights. 😉
5. Museum hopping
There are a huge variety of museums and exhibitions in Amsterdam. If you get an I Amsterdam Card, you can go to a tonne of them for free. So check them out and see what thing sparks your interest.
You could be more into Art or Science. Or maybe you're fancying something a little more unique? There are even tiny, quirky museums, like the Chess Museum and the Electric Ladyland museum that are pretty hidden.
6. Take some day trips from Amsterdam
Why just get stuck backpacking in Amsterdam? There are so many beautiful places to visit, well-deserving of making the trip from Amsterdam. Go and experience a side of The Netherlands that people don't usually see.
In the spring, Keukenhof Tulip Gardens are well worth a visit. Neighbouring cities, Haarlem and Utrecht, are both reached really easily by train from Amsterdam central station. You could even find cheaper hostels in Utrecht and make yourself a fine base there.
7. Party, party, party
Whether you like it or not, Amsterdam is certainly a party city. You don't have to partake: there are plenty of great things to do while visiting Amsterdam that doesn't involve sweating profusely and making arguably regrettable decisions.
But if you've got those party feet that you just need to move, well, here you have one of the finest party cities in Europe.
8. Make yourself at home in Vondelpark
This park welcomes people in for the best chilling you could possibly experience. Of course, it's not quite the same experience when the weather is cold and wet.
On a sunny day, make the most of it. You'll find beautiful scenery, ponds and lakes, and a little bit of wildlife. There's an abundance of people having fun, listening to music, enjoying a beer or a joint, or maybe tripping on truffles.
Having a bike here will make the experience miles better. It's a big park, so you'll reach corners of the park that you just can't on foot.
9. Experiment 😉
When in Rome, do as the Romans do.
Amsterdam is the experimental capital of the world. Many things that are forbidden in other countries are legal (or highly tolerated) and well-controlled. That means many things you may have been curious about before can be tried out here, risk-free.
Of course, if you're taking part in drug tourism or sex tourism, don't get too big for your boots. Have fun but remember you are a guest in this city.
10. People-watching
Amsterdam pulls out all the stops when it comes to just watching the world go by. Pick a spot and enjoy. The best things in life are free.
Oh man, choosing where to stay in Amsterdam can be a hassle. You're near-drowning in choices!
I wouldn't personally recommend hotels in Amsterdam: they are often bland, expensive, and very far from the attractions. Though you will find some good deals from time to time so maybe don't rule it out.
Cool and budget-friendly hostels in Amsterdam are abundant. These are amazing places to stay in Amsterdam for the vibe. Get good, local advice, a central location, and, most importantly, meet cool people.
Airbnbs in Amsterdam are phenomenal, just know they aren't your cheapest option for backpacking in Amsterdam. This city wasted no time jumping on the Airbnb bandwagon.
Those houseboats now rent for a pretty penny. But there's nothing like kicking back in your own gaff here.
The Best Places to Stay in Amsterdam
Are you wondering which is the best part of Amsterdam to stay in? Well, let me give you a few suggestions.
Amsterdam Budget Accommodation Hacks
Amsterdam is not a cheap place. That doesn't mean that it can't be done cheaply. I've got the tried and tested method of budget accommodation hacks for backpacking Amsterdam.
Accommodation is going to be your biggest hitter to your budget. The best way to cut that down is by Couchsurfing or camping.
Couchsurfing is always a broke backpacker's best friend. If you can find a couch to crash on, you'll save some serious dollar and see the city with the people who know it best.
If you don't want to use the actual website, you could always ask friends if they know someone… Travellers are always in and out of Amsterdam.
Camping in Amsterdam may sound strange. Actually, it's awesome.
There are a few campsites like Camping Zeeburg, reasonably close to the city. You can pitch your tent and use all the facilities for cooking and cleaning, for a fraction of the price of standard accommodation in Amsterdam.
Amsterdam has a reputation for being an expensive city to live in as well as to visit. While prices may be high, and it may be easy to let your travel budget in Amsterdam get away from you, that doesn't mean that the average sexy backpacker can't get by comfortably.
A Daily Budget in Amsterdam
Here's a rough idea of what you can expect from a daily travel budget in Amsterdam:
A Few Free Things to Do in Amsterdam
I have searched this city high and low for free things to do while visiting Amsterdam. Believe me, they are well hidden, but they exist. You have to really keep your eyes peeled.
Here are some free things to do in Amsterdam that aren't too hard to find:
Ferry to Amsterdam Noord – Head over the water and check out the North side of Amsterdam. You can see the small graffiti display and explore some cool workshops. There are several ferries to different points and they're all free of charge.
Cheese tasting – This one is semi-secret because if people click on too much they will stop doing it. But some cheese shops will give out free samples and a little cheese knowledge to go with it. It's a fun little rest bite.
Free shows – Check the theatres and their websites for any free shows coming up. They're not usually advertised to tourists so ask around and be a bit savvy.
Free walking tour – okay, so it's not exactly free; you should give a donation at the end. But still, it's the cheapest one around.
Amsterdam on a Budget – Top Tips and Tricks
You can still have fun while spending to an absolute minimum travelling in Amsterdam. You must stick to the basic budget rules of backpacking. Here are a few ways to stretch your budget in Amsterdam.
Rough it urban style: Camp out and save some cash! You'll struggle to find free places to camp but fortunately, you have lots of campsites. With the right backpacking gear, it is cheaper than hostels.
Cook your own food: Eating out in Amsterdam costs a small fortune. Seriously, buying the bulk of your consumption from the supermarket will do wonders for saving cash while backpacking Amsterdam.
Free Food: Some Airbnbs and hostels in Amsterdam have boxes of free food left by previous guests. You can get some great finds to supplement your food bill. Too Good To Go is one of the best travel apps to get discounted food too.
Couchsurf: Free accommodation and cool people is a great recipe in Amsterdam! You might not necessarily have to use the website itself either. Ask a friend, maybe they know someone.
Pack a travel water bottle: Buying bottled water in Amsterdam is silly; all the tap water is drinkable. Bring a reusable bottle, save money – and the planet – every day!
Why You Should Travel to Amsterdam with a Water Bottle
The Netherlands is surprisingly bad with its single-use plastic consumption. It's hard to avoid. But collectively, we are making a difference.
Being a responsible traveller has never been easier with the information we have available today. With a filter water bottle, you can drink water, from anywhere, anytime. It's a planet-friendly and budget-friendly trick in one.
It's impossible to say that there is a worst time to visit Amsterdam. It's just that a lot of people have differing opinions on the best time to go to Amsterdam.
Of course, it depends solely on the type of activities that you enjoy most; each of the four seasons fully transforms and takes over Amsterdam's landscapes. Each brings with it a new list of things to see and do.
The best time for backpacking Amsterdam, for a less bleak holiday, is during the spring and autumn, i.e. the shoulder months. The weather will be fair, the tourists haven't arrived in force yet, and prices are somewhat reasonable. Though a little busier, it is worth seeing the tulip season.
Summer is when the streets of Amsterdam are jam-packed. As such, prices are higher but Amsterdam is in very high spirits. A lot of backpackers, tourists, and travellers float in, and the nightlife venues go off!
Visiting Amsterdam during the winter will mean lots of rain and dreary days. This is also the low tourist season in Amsterdam, which means there will be fewer tourists and slightly cheaper prices. Amsterdam is a fun break from other even more bleak parts of Europe during the winter, though.
You'll find that you have to spend more time inside in the winter in Amsterdam. As you've probably guessed by now, this means paying for entry to a museum or anything indoors to escape the poor weather.
What to Pack for Amsterdam
Amsterdam is a very safe city. Though, it is a capital city in Europe – so you know that crime still exists here.
Thankfully, what crime does occur here is often petty in nature: pickpocketing and bike thefts are the most common. Always remember to lock your bike – or it'll make itself disappear and reappear on Facebook marketplace, somewhere else. Although it can happen, violent crimes are rare.
That said, if you're really doing the Amsterdam thing – drugs, drink, consensual solicited intercourse, etc. – then you'll need to be a bit more on the ball. The number one rule: never get too fucked up.
The most common crime I hear of is people being robbed when trying to buy drugs on the street. Please, don't go looking to score here. Ask a friend, hostel staff, bartenders can be good, if they know someone.
Keep your wits, valuables, and your common-sense safety routines about you; you'll be just fine. It's never a good idea to go wandering dark streets you don't know at night. If in doubt, call a taxi or jump on the nearest tram.
Of all the years I've been visiting Amsterdam, I've never had a sniff of trouble. Except maybe with bike traffic…
Sex, Drugs, and Rock 'n' Roll in Amsterdam
Is there a place in the world more famous than Amsterdam for the sex, drugs, and rock 'n' roll thing?
Fuck it, let's start with the sex: you already know prostitution is legal in Amsterdam. If you want to partake, follow the red lights. Be respectful, don't take pictures, and don't expect the best shag of your life either.
The red light district area is absolutely buzzing after dark. Just don't be a dick and have fun.
Now the drugs. Again, you already know they've got some nice laws here making it the best place for dipping your toes in and exploring.
Marijuana is legal. You can buy it from any coffeeshop if you are over 18 years old. A coffeeshop is different from a cafe in The Netherlands; you will know straight away which is which by the smell.
Truffles, a fungus very similar to psychedelic mushrooms, are legal and sold in headshops. You can't miss them; they're all over the city.
The seller will ask you if you've taken them before (or at least they should do). You can be totally frank with them about your experiences and they'll recommend the right strain for the kind of trip you want.
Other drugs are not technically legal but they are so highly tolerated that you can experiment pretty liberally. You can find pretty much any kind of drug you can think of to explore Amsterdam with.
Just make sure you ask the right people. Again (because it's super important), please, never buy off the streets.
I should also note here that Amsterdam is one of the best destinations in the world for LGBTQIA+ travellers! If you really want to have your mind blown by open-mindedness, make sure you visit Gay Pride in Amsterdam at some point in your life.
Get Insured BEFORE Visiting Amsterdam
Wherever you're travelling in the world, you can't plan for everything. Sorting yourself with travel insurance for The Netherlands before you go is always the best safety net you can give yourself.
ALWAYS sort out your backpacker insurance before your trip. There's plenty to choose from in that department, but a good place to start is Safety Wing.
They offer month-to-month payments, no lock-in contracts, and require absolutely no itineraries: that's the exact kind of insurance long-term travellers and digital nomads need.
SafetyWing is cheap, easy, and admin-free: just sign up lickety-split so you can get back to it!
Click the button below to learn more about SafetyWing's setup or read our insider review for the full tasty scoop.
Being such a pinnacle city on the European route, you've a few options for getting into Amsterdam: air, train, land, and ferry are all convenient, depending on which direction you're coming from.
Amsterdam Schiphol airport is your main boy. It's a huge airport, so you'll find cheap flights from all kinds of places, often direct too.
Amsterdam Centraal is your central train station. It's smack bang in the centre of the city (no shit – the clues in the name) and it's extremely easy to get to. You can take the train from all over Europe, direct to the centre.
From Amsterdam airport, there is a direct train line straight to Amsterdam Centraal. It costs €5 and it's really fast. The train system is simply fantastic across the entire country.
Overland travel is easy enough: there are buses arriving in Amsterdam from all directions. Flixbus is your steady staple and the bus station is at Amsterdam Sloterdijk – just on the outskirts of the city.
The ferry to Amsterdam arrives from several destinations in the UK. If you're driving across, this is an ideal method to arrive to Europe.
Getting Around Amsterdam
Trams and buses are the main public transport service in Amsterdam. If you're staying longer term in The Netherlands, you can save money buy getting an OV-Chipkaart. This can be use across most of the country too.
If you are just having a few days in Amsterdam, it's more likely you will buy the passes on the transport. These come as single rides or a pass for up to 72 hours of unlimited use which costs €20.
The transport within Amsterdam is all run by the same company. These are a pretty good price for getting around very conveniently.
Alternatively, you can by an I Amsterdam City Card for unlimited use of public transport AND free entry into a bunch of attractions. If you're looking to dive into the best of Amsterdam, this option will save you some money.
Travelling by Bike in Amsterdam
The absolute elite travel in The Netherlands. There's no way I'm writing a backpacking Amsterdam travel guide without poking you a few times to get a bike!
Yeah, the public transport is great but this city is designed around bike lanes. It's the fastest way to travel across the city, the most convenient, and you can find all the best-hidden spots too.
You can find bike rentals literally everywhere. It's very likely your accommodation can set you up too.
But if you're looking to save a few dollaridoodles, then shop around a little bit. There are some places that rent bikes or a week, or even a month, for cheaper than some places rent for 1 day.
Just don't forget to lock it up if you leave it – even for a minute. You'll find a nice heavy payment for a lost bike in the rental contract.
So at this point in an Amsterdam backpacking travel guide, we're thinking about how to make the stop in Amsterdam as long as possible. It's going to be an adventure after all.
Working while you're backpacking Amsterdam is the best way to supplement your travels. With a wage from The Netherlands, you can really get a different experience.
There are always lots of jobs available in this city. Unlike many places, not speaking any Dutch is not a hindrance. If you have a reasonable level of English, you're good to go.
But here's the kicker: unless you have one of those EU passport, expect that to be a very difficult and lengthy process. Although not impossible, you'll have a job getting working rights here.
Then you have the problem of finding a place to live. (Fuck you, Airbnb.)
There are certain Working Holiday Visas for The Netherlands. You can do some research into if there is any programme available for your nationality. Hostels are a great place to start as they'll offer you a bed and maybe some food too.
Like everywhere, the digital nomad scene is growing in Amsterdam. Though, due to the costs of living here, it's not exactly bouncing. There are some co-working spaces popping up but hostels and cafes have lots of good spaces for these kinds of travellers too.
Volunteering in Amsterdam
Volunteering in Amsterdam is a great way to extend your stay and get a more in-depth experience of the city. While volunteering, you'll often get a bed and a meal to stay in an awesome city like Amsterdam.
It's also a great way to get all the best hint and tips, directly from the mouth of the people who know it best: the locals. You can help them out with things that are important to them too.
Unfortunately, the volunteering system is often abused in places like Amsterdam. Many businesses are using this grey area for free or cheap labour. Where they *should* be offering a full paid position, they often use volunteers.
For some people, this works great. You can have a few weeks or months in an incredible city and save yourself some dough.
For many, this is a sad realisation of the drastic changing in prominent cities. Unfairly paid work to help big, successful businesses become bigger and more successful. Not a dealbreaker – but something to be conscious of.
For most volunteer positions, you'll still be required to have working rights in The Netherlands. If you don't have this, some places will allow you to volunteer on your 90-day visa.
Using a reputable volunteer platform is always the best option to find opportunities. We recommend Worldpackers; it offers the best support to both volunteers and hosts and help you make a real impact on the community.
If you're ready to create a life-changing travel experience and give back to the community, join the Worldpacker community now. As a Broke Backpacker reader, you'll get a special discount of $10. Just use the discount code BROKEBACKPACKER and your membership is discounted from $49 a year to only $39.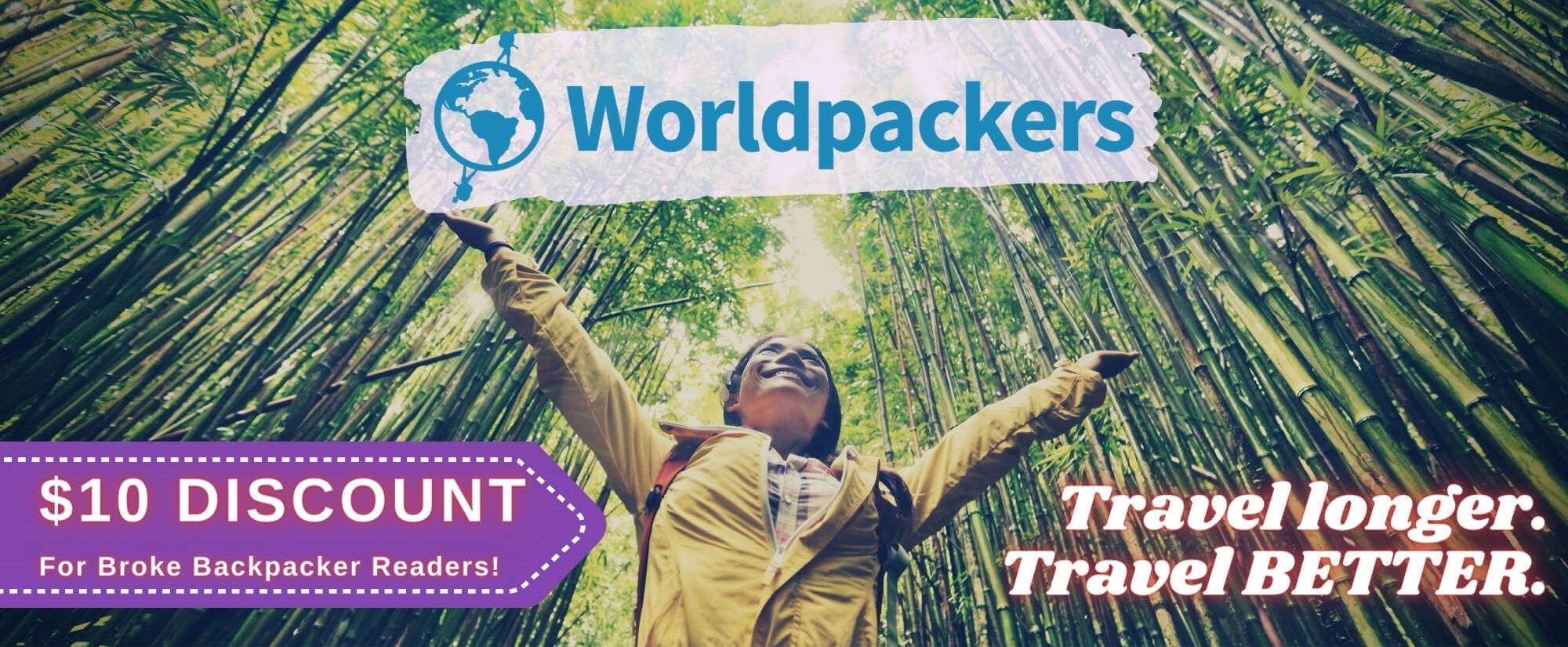 Worldpackers: connecting travellers with meaningful travel experiences.
You're looking to get down in Dam? Good choice.
When you're visiting Amsterdam, you'll notice the change in the city after dark. It's one place in the day and another at night.
It really is a special place to experience for that reason. Even if you're not coming to party or for one of The Netherlands's world-class festivals, you may very well just get pulled into some debauchery.
Of course, the red light district is the centre of nighttime madness. People just turn into little gremlins at night here, running around having the weirdest night of their life down the rabbit hole. It's fun to watch, it's fun to partake.
In the Oud-Zuid and De Pijp areas, you'll find lots of cool places to throw some shapes. There are more unique bars available.
Clubs are world-class in Amsterdam. They know how to set the scene for a party. Head to Warehouse Elementenstraat and De School, or anywhere else, you know.
Dining in Amsterdam
I won't lie, I don't often dine out in Amsterdam. Whenever I do, I cringe so hard at the bill that I'll leave it another 6 months before I'm ready to do it again.
The closest you get to street food is pretty much tiny stalls selling some sort of relatively unhealthy, filling snack. You'll find a tonne of crappy takeaway food. People are wandering around stoned or a little tipsy and nothing looks better than a crap slice of pizza at €8.
There are all kinds of world-food restaurants. Some of them are excellent. For a decent meal, maybe a beer to go with it, you can expect to pay upwards of €20.
Best Restaurants/Cheap Eats in Amsterdam
Check out these places to fuel a hungry traveller.
Yeah, c'mon, it's Amsterdam. If you haven't heard of Amsterdam's notorious reputation then have you even been reading this backpacking travel guide? Starting with everybody's favourite gal – Mary Jane.
Marijuana in Amsterdam
MJ, the flower, the devil's lettuce… Amsterdam has been leading the way for this 'drug' for longer than living memory.
You can buy weed and smoke inside at coffeeshops which are dotted all around Amsterdam. You must be over 18 and they will often ask you to prove this (if you're lucky and youthful looking) – so don't forget your ID or prepare to be disappointed. On the menus across the city, you'll find all different types of products: flower, hash, pollen, cakes, pre-rolleds etc.
Let me tell you, weed in The Netherlands is power. Even if you're a full-time stoner, you're going to be surprised at the obnoxiously strong plants sold here.
Feel free to talk with the sellers about what you're buying. They love weed as much as you do, so feel free to open conversation.
They'll help you find exactly the kind of product you want. You can look at it, touch it, and smell it before you buy.
If you're an inexperienced smoker or you've never tried it before, let them know. You can start off with a cake or pre-rolled joints if you can't roll. The pre-rolleds are also stupidly strong too, so take it easy.
Tripping in Amsterdam
Truffles are a close relative to psychedelic mushrooms and sold legally in The Netherlands to anyone over 18 years old. It's completely controlled and safe to practice.
Although psychedelic mushrooms are technically illegal, they're still easy to find. Most people choose truffles because they're so much more readily available.
Truffles are sold in Smart Shops, which are also one of the best places to have a nosey round in Amsterdam. They sell all sorts of weird and wonderful products from weed grinders to growing kits to little cocaine snorting pipes. They're not like shops you will see anywhere else in the world.
Truffles come in all different strains. The weakest one will give you a very mild trip. You may barely notice anything: you just don't quite feel normal – probably slightly euphoric.
If you've tripped before, you'll likely go for a stronger strain. These range up to completely mind-bending-reality-alternating trips. Funnily enough, Amsterdam is a great setting for this.
If worst comes to worst and you really want out, eating (particularly high sugar content) blocks the effects of the truffles. But more than likely, you'll just have an incredibly weird, highly fun few hours – and a great story to go with it.
Just don't forget to pre-roll your joints. When your motor functions stop working properly, and you really, REALLY want that joint, you'll thank yourself.
Get Off the Beaten Path in Amsterdam
Amsterdam is a small city, particularly being a capital. The vast majority of the city caters to tourists, so there's not that much room to get off the beaten path within the city's ring road.
If you rent a bike, you can reach secret corners and find hidden gems throughout the city. The further out you go, the cheaper and quieter it gets. 
A great place to get off the beaten path is to check out one of the neighbouring cities: Utrecht and Haarlem are both very close by. They have a similar, scaled-down vibe to Amsterdam, much fewer tourists, and cheaper prices.
Here are some of the most frequently asked questions about visiting Amsterdam.
Backpacking in Amsterdam is a special experience. You can have a lot of fun, meet incredible people, and do some things that aren't usually tolerated in your typical travel destinations.
While you're letting loose and having a great time, remember that you're still human. It's easy to take it too far in a place like Amsterdam. The best night of your life can very quickly turn on a dime and become a nightmare.
Make friends with your limits – whether that's alcohol, weed, drugs, or even just how many exhibitions you can see in a day. You'll have a much better time that the person who pushed their body too far.
Whatever you get up to, stay hydrated, eat well, and get that good, good sleep in. Then you wake up with some disbelief that you can actually experience this incredible place. It's definitely one of those places where people 'find themselves' – and you'll see why.
I love visiting Amsterdam. It's a city that welcomes anyone and everyone: all races, all genders, all religions, all ages, all sexual orientations – come on in, the waters great. Even the thought of it leaves an unwipable smile across my face.
So yes, you are welcome here. Actually, you're first on the guest list.
---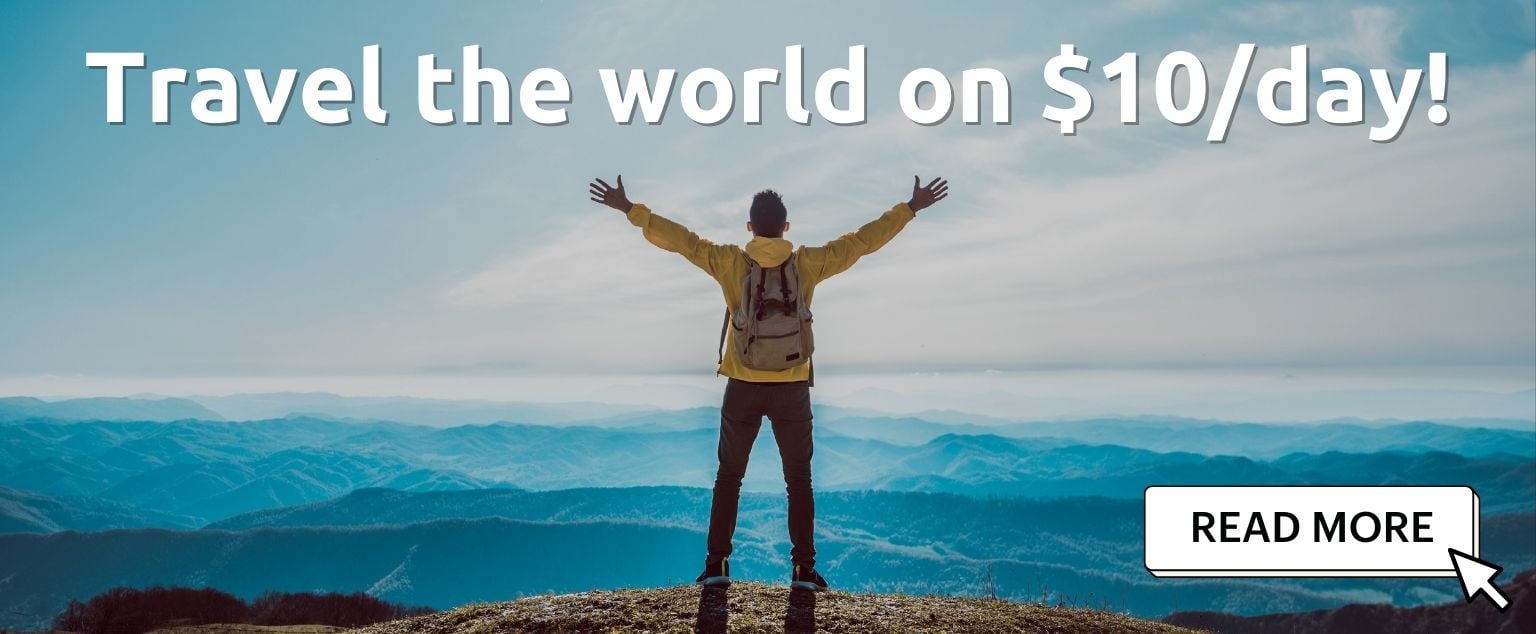 And for transparency's sake, please know that some of the links in our content are affiliate links. That means that if you book your accommodation, buy your gear, or sort your insurance through our link, we earn a small commission (at no extra cost to you). That said, we only link to the gear we trust and never recommend services we don't believe are up to scratch. Again, thank you!