Amsterdam has everything a tourist could ever want which is why it's one of the most popular cities in Europe. Romantic walks along canals, world-class art galleries and historic locations such as the Rijksmuseum and Anne Frank's House, can all be found here. What's best of all though, most of them are accessible on foot or on two wheels. Once you've had your fill of the tourist attractions, it boasts some of the best nightlife on the continent – whether you want a few quiet drinks or a foray into the city's famed red-light district!
There's just one problem with Amsterdam – it's a little bit on the pricey side. In fact, it can be freaking expensive! So, if you're a broke backpacker, it might be best if you forget about a hotel and check out Airbnbs in Amsterdam instead. It can save you a wad of cash to spend on enjoying yourself in Dam's coffee shops and restaurants! So, we've decided to help you out. (we're good like that!)
Yep, rather than letting you trawl through all the rentals in Amsterdam, we've decided to check out all the best Airbnbs for you. Taking into account a range of different travel styles, personalities, and most importantly budgets, we've put together this list of the best Airbnbs in Amsterdam. Hopefully, it'll help you plan and make the most of your trip to this exciting and beautiful city.
Quick Answer: These are the Top 5 Airbnbs in Amsterdam
Overall Best Value Airbnb
Overall Best Value Airbnb
Green Terrace Studio
> $
> 2 Guests
> Private Entrance
> Luscious Green Terrace
Best Homestay in Amsterdam
Best Homestay in Amsterdam
Cosy spot near Vondelpark museums
> $
> 2 Guests
> Fully equipped kitchen
> Access to garden
BEST AIRBNB FOR COUPLES IN AMSTERDAM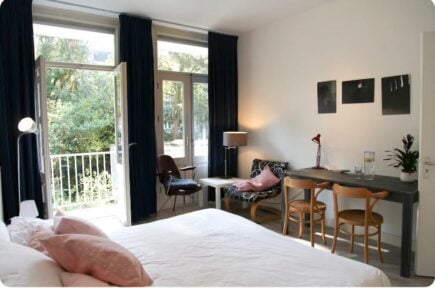 BEST AIRBNB FOR COUPLES IN AMSTERDAM
Clean quiet lovers' retreat
> $$
> 2 Guests
> Luggage Drop-Off
> Tea and Coffee
BEST AIRBNB FOR FAMILIES IN AMSTERDAM
BEST AIRBNB FOR FAMILIES IN AMSTERDAM
Bed and Bike Jordaan
> $$$
> 4 Guests
> Great location
> Two bathrooms
BEST LUXURY AIRBNB IN AMSTERDAM
BEST LUXURY AIRBNB IN AMSTERDAM
Exclusive Canal Penthouse with Sauna
> $$$$
> 2 Guests
> Hammock Chair
> Sauna

Unlock Our GREATEST Travel Secrets!
Sign up for our newsletter and get the best travel tips delivered right to your inbox.
If you're worried about Amsterdam being too expensive, check out the affordable hostels in Amsterdam. They might not give you as much privacy as an Airbnb, but they still offer an amazing value!
Why Stay in an Airbnb?
Local Experience
Airbnb gives travellers the unique opportunity to live "like a local." If you decide to book a shared home with your host, you get to look inside a local's daily life, learn about their culture and you might even be able to taste some traditional home-cooked meals.
There are few other ways short-term travellers can get into the homes and lives of locals, so this is a great way to create new connections. As an added bonus, you'll contribute to the local economy and build relationships.
Reach out to your host with questions about things to do or where to eat and they will be happy to help out and give you the best spots and tips. Don't be shy, Airbnb hosts are known for their caring and open hospitality.
And who knows? Next time you might be staying as a friend and not as a paying guest! (No promises though.)
Affordability
Airbnb has a huge selection of over 6 million unique properties for ANY budget, from one-bedroom or an entire rental unit to yachts and even castles. This platform is made for travellers, so you will find yourself looking at decent and, especially, affordable places – perfect for everyone that's backpacking Amsterdam on a budget. In addition to this, many Airbnb rentals offer extras like free parking or free bikes to rent.
If you choose, you can get a place with a dining table and kitchen, so besides saving money on the accommodation itself, you can also save money by cooking at home and eating in, rather than having to spend a lot at the nearest restaurant. Whether it's a luxurious mansion or kitchenette in even the tiniest of spaces, rentals usually have plates, mugs, glasses, bowls, cutlery, and coffee makers and microwaves.
Some hosts provide emergency toiletries like body wash and toothpaste that can sometimes be a lifesaver for a forgetful traveller. Of course, prices may vary depending on precisely when you visit Amsterdam as summer can see prices soar. A room close to the city centre will generally also cost more.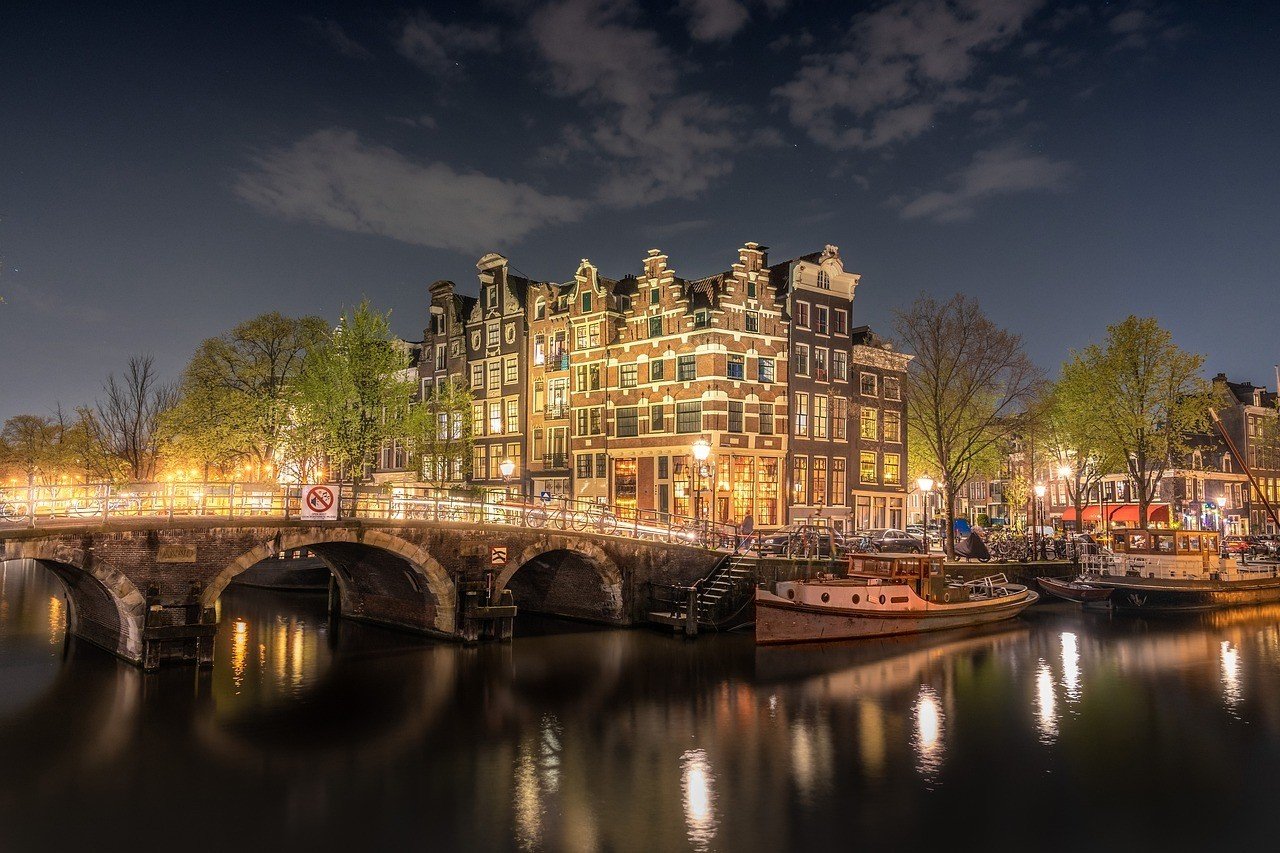 Safety
Are Airbnb reviews legit? Airbnb wants every guest to be safe so they created a world-class review system where tenants are encouraged to be honest about their experience because it stays invisible until the reviewing period has passed.
Guests are given the power to tell the truth and "make or break" the place they stayed at since the platform forbids the owner to change or remove the review. Every comment you can read on Airbnb is based on finished stays and experiences. Plus, some hosts often depend on the money they earn renting their property and one bad experience from any guest would devastate their income. It might be a bleak perspective, but hey, that's something of a guarantee you'll be cared for!
Airbnb also has a 24/7 emergency line with someone ready to assist you. In the worst case, Airbnb will provide a driver or make sure you find a safe place. If you choose this booking platform, you will always be in good hands, without any doubt.
The Top 15 Airbnbs in Amsterdam
Ready for some awesome places? No need to wait any longer, here are our absolute favourite Airbnb rentals in Amsterdam.
Make sure you know where to stay in Amsterdam before you book your accommodation. Here's a tip: find out what you want to see in the city first and then look for homes in the surrounding area.
Overall Best Value Airbnb in Amsterdam – Green Terrace Studio
2 Guests
Luscious Green Terrace
Let's kick off our list of the best Airbnbs in Amsterdam with this awesome private room with its own entrance and a relaxing green terrace on the first floor with a great view. If you're looking for value in Amsterdam, it may be a little unrealistic to set your sights on an entire rental unit, but you'll be more than happy in this spacious studio. You'll still have plenty of privacy – not only do you have a private entrance, but your own bathroom too. The area is a lovely historic neighbourhood but you're just one metro stop from central station and the city centre. It's got to be one of the most charming Airbnb rentals in town!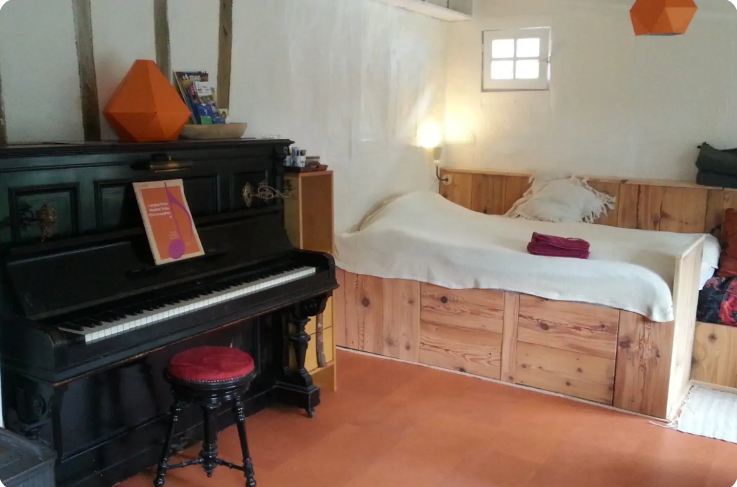 2 Guests
Cosy room with woodstove
Finding affordable Airbnb rentals is a tricky challenge since Amsterdam can be quite expensive – but it's not impossible! That's where this cosy private room in a guesthouse on the Amstel Canal comes in! It's a little out of the city centre, but that's no bad thing when you consider the very pretty 20-minute bike ride that you can enjoy from the apartment (the free bikes come in handy here). If you fancy staying closer to home, you can enjoy sitting out in the quiet and tranquil garden, or if it's cold, just chill out in your room – where you can keep toasty with the woodstove! There's also free parking available too.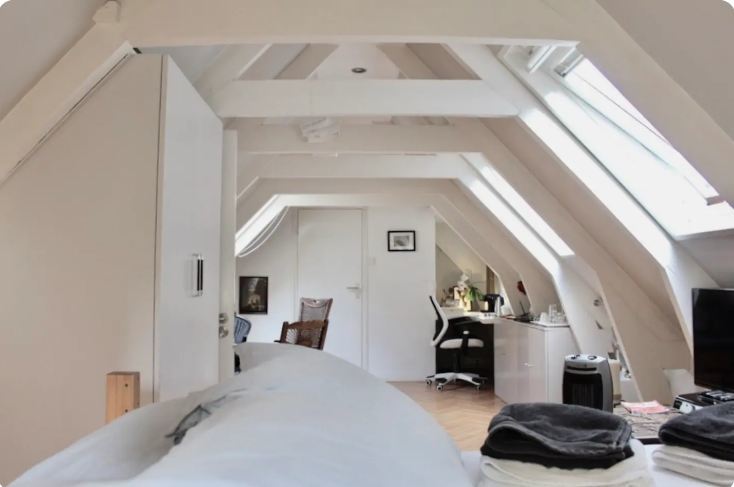 2 Guests
Complimentary Breakfast
Travelling as a digital nomad or looking to base yourself in Amsterdam for a little while? There are a few things you'll want from your Airbnb. First of all – fast and reliable Wi-Fi. Check! Second, a laptop-friendly workspace. Check! On top of these essentials, this cool private room offers you more than just that. When you've finished working for the day, you have some of Amsterdam's top attractions just a stone's throw away as you're right in the city centre. Best of all though is the complimentary breakfast – whether you're spending the day in front of your laptop or heading out to explore, it's the perfect way to fuel up!
Is This the Best Travel Pack EVER???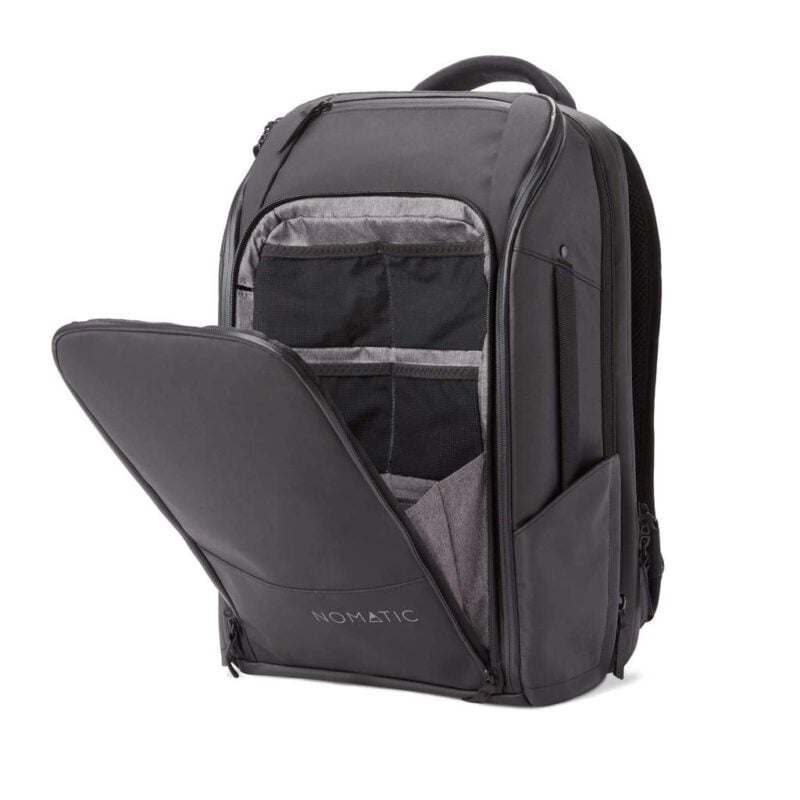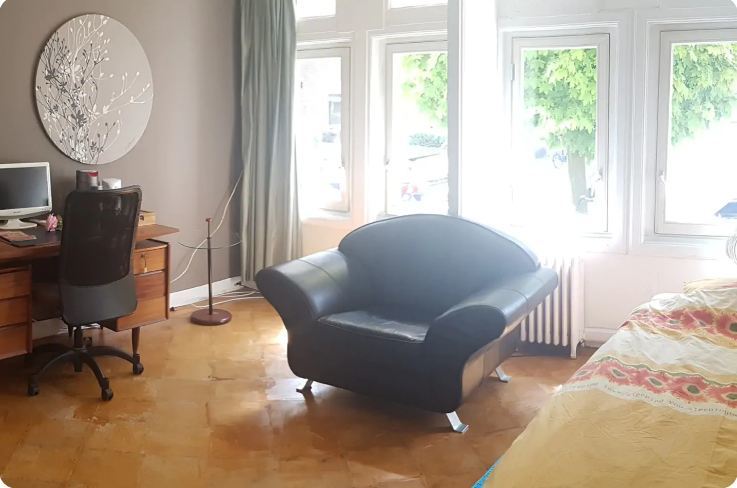 1 Guest
Coffee and tea available
It's very easy as a solo traveller to opt for a hostel in Amsterdam. However, it's not for everyone. If you've been travelling long term, you might want some space to yourself. Thankfully, this lovely Amsterdam Airbnb offers you a room in a lovely area, with your own free bike. This one-bedroom rental offers comfortable beds and a relaxing vibe all within easy reach of the city centre.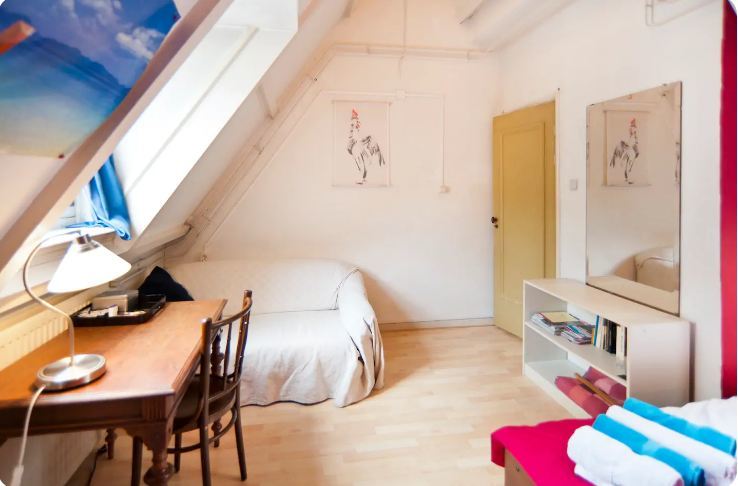 $$
Near the Red Light District
2 Guests
Comfortable Private Space
No trip to Dam is complete without a night out in the legendary Red-Light District, one of the most unique places in Amsterdam! So, check out this excellent Airbnb with all the bars, clubs, and other nighttime activities (we won't go into detail) all within walking distance. Just make sure you don't overdo it on the beers as you've got two flights of stairs to get up to reach your room! The apartment is close to public transport too, such as central station, so that you can easily make your way around the city during the day. Just make sure you come from the Red Light District alone – you don't want to upset your host!
The Dutch capital might not immediately occur to you when thinking of romantic destinations, but it's not called the Venice of the North for nothing! Not only do you have a comfy double bed in this room by the Amstel, but also a soaking tub, which will ease those aching muscles after a day of exploring by bike or on foot! If you arrive before check-in or have a late flight out, your friendly host is happy for you to leave your luggage for your convenience! To say how tranquil this property is, it's still right in the city centre within walking distance to all the main sights.
Looking to save cash and have an authentic experience in Amsterdam? Then perhaps staying with a local is your best shout. Here's the best homestay in Amsterdam – a cosy spot chock full of plants near the Vondelpark. It's also just 5 minutes away from Museumplein – one of the most popular areas of Amsterdam! You're welcome to use the communal areas of the house, including the fully equipped kitchen and the relaxing garden. A lovely place to disconnect after a day of exploring!
$$
Private bathroom with shower
2 Guests
Mini fridge and microwave
There are so many great homestays in Amsterdam we didn't want to leave you with just one choice. This double bed with an almost private bathroom (your host sometimes uses the washing machine in there during the day) is in the cool area of De Pijp, which is an awesome place to be! If you've been travelling for a long time, you'll be pleased to know that your host is prepared to wash your clothes on request. And don't worry, it's done with organic products so it's good for the environment too!
$$$
Fully equipped kitchen
4 Guests
Terrace with canal views
If you don't mind splashing the cash a bit (no pun intended), you can stay on one of the city's canals. Not just overlooking it, but actually on the canal itself! This houseboat is an epic Amsterdam Airbnb if you want a truly authentic experience with a little bit of luxury thrown in for good measure. There's a hell of a lot on board, including a fully equipped kitchen, dining room, comfortable beds and of course a great view!
If the weather's good, head out onto your terrace and people-watch (unlikely). If there's no one about, just admire the famous Blue Bridge and Amsterdam Opera House! You've got the entire rental unit to yourself and it also comes with free parking.
Now, we've spent a lot of this article warning you how expensive Amsterdam is. But what happens if money's no object? Well, you can get a place like this! Yes, a place that has a hammock overlooking the canal and a sauna (can you think of anything better after a day of sightseeing?)! There are flowers and plants throughout the space too, which are guaranteed to keep you calm and content. This truly is one of the overall best Airbnbs in Amsterdam. Period!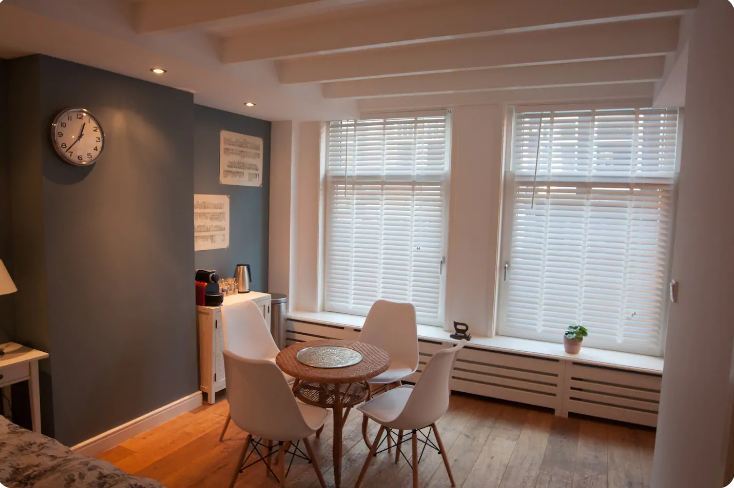 This excellent Amsterdam apartment is perfectly suited to families. No matter what age the kids are there's room for everyone in this entire rental unit! You'll get two private double rooms, which each have their own private bathroom – so you can properly slim down the time it takes everyone to get ready to go out in the morning! There's also a flat-screen television for the evening – as well as free Wi-Fi. So, if there's nothing on TV everyone can connect to their devices and entertain themselves! Or, even better, spend quality time together in the small sitting room!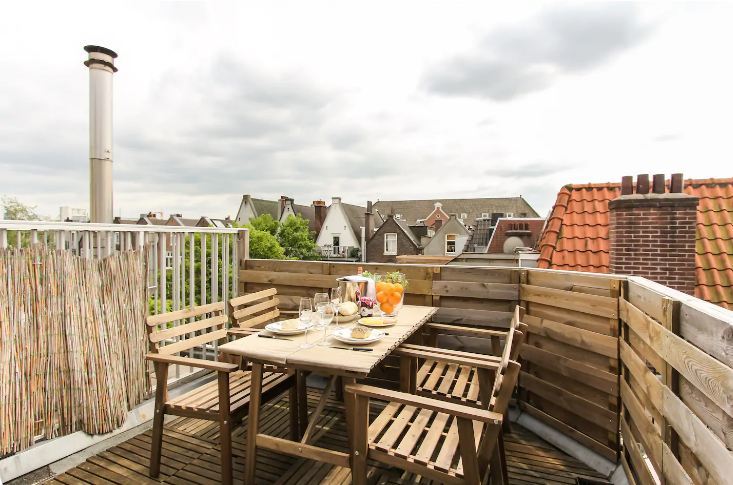 When travelling with friends, it's important to have a place where you can spend time together to kick back and relax. So, check out this Amsterdam apartment which has a fantastic terrace and room for the whole gang! What better way to enjoy the view of De Pijp and the canals? With a hot drink of course – so it's a good job there's a Nespresso machine in your kitchen! It may not be an entire place, but you do have a private entrance. Great news if you're planning a night out on the town and don't want to disturb your host on the way home!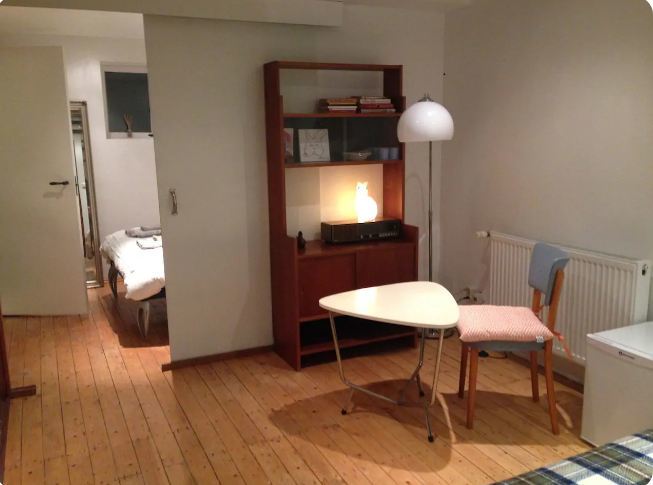 Centruum is one of the coolest neighbourhoods in the Dutch capital as it's where you'll find several of the city's top attractions. It's also one of the most expensive areas, but look hard and you'll still find good value for money. Such as in this awesome Amsterdam apartment! This private room is a good option for a couple on a budget or a small group of friends. If you're planning a quiet night in, you're welcome to curl up with one of the books in the apartment!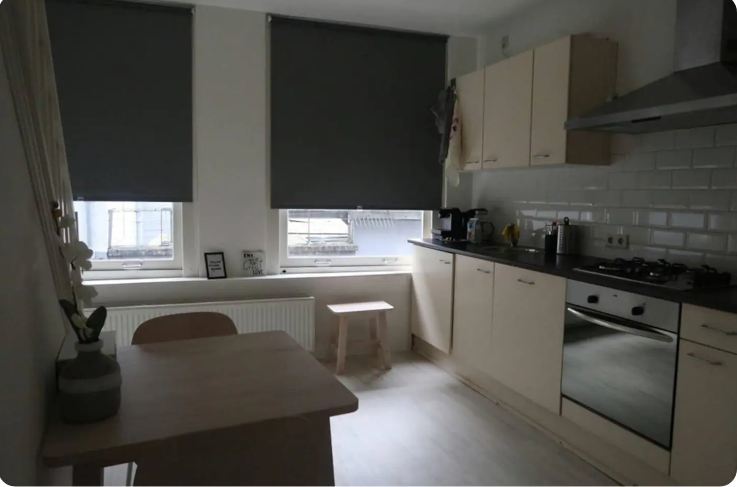 $$
Incredible Roof Terrace
4 Guests
Access to communal areas
Another great option for a small group of friends or a family is this historic loft apartment in Amsterdam's cool Centruum neighbourhood where there's room for 4 guests. You're welcome to use the communal areas throughout the apartment, and the fully equipped kitchen is an opportunity to prepare your own meals and keep costs down. Once you've finished cooking, head upstairs to the roof terrace. It's the ideal place to enjoy great food and great company, time it right and do it as the sun sets!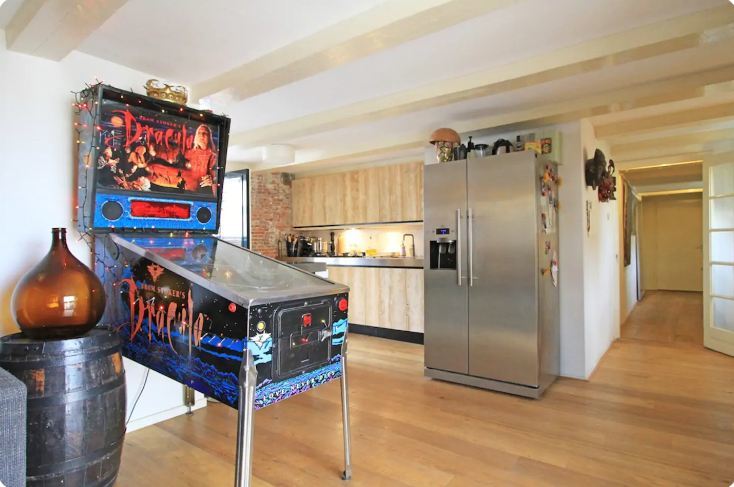 We're rounding off our list of the best Airbnbs in Amsterdam with a truly awesome apartment in Jordaan – which is a hop, skip, and a jump from the Centruum area. If you have a full Amsterdam itinerary, this is the place you'll want to stay at! Another private room to save you a little on costs, this place has a fully equipped kitchen and a pinball machine provides the entertainment. It's a 420 friendly apartment, which will no doubt please many travellers to the Dam!
What to Pack for your Amsterdam Airbnb
Pants, socks, underwear, soap?! Take it from us, packing for a hostel stay is not always quite as straightforward as it seems. Working out what to bring and what to leave at home is an art we have perfected over many years.
Check out our definitive Airbnb Packing list for our top packing tips!
Don't Forget Your Amsterdam Travel Insurance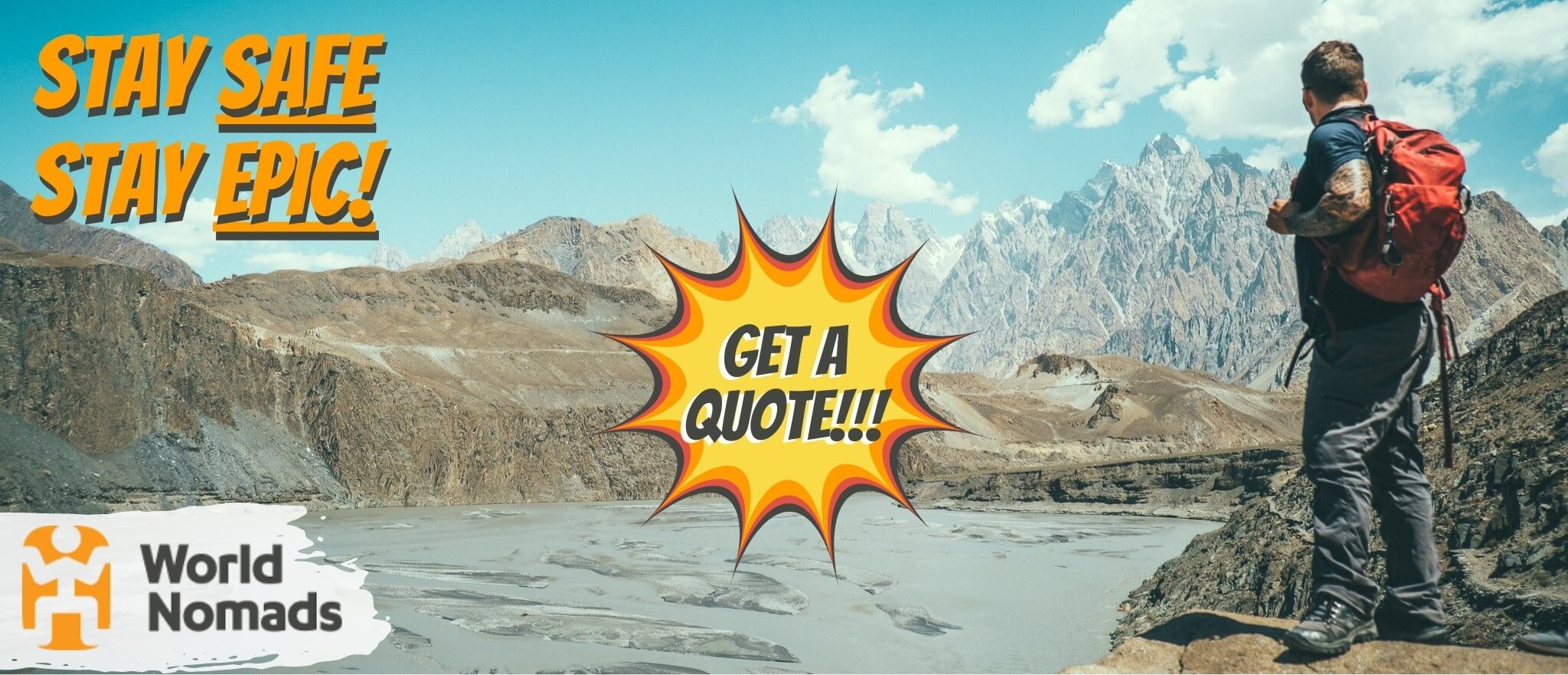 World Nomads' mission is to support and encourage travellers to explore their boundaries. They offer simple & flexible travel insurance, and safety advice to help you travel confidently.
They've been doing it since 2002 – protecting, connecting, and inspiring independent travellers just like you.
Get a quote below or read our in-depth review!
World Nomads provides travel insurance for travelers in over 100 countries. As an affiliate, we receive a fee when you get a quote from World Nomads using this link. We do not represent World Nomads. This is information only and not a recommendation to buy travel insurance.
Final Thoughts on Amsterdam Airbnbs
So, that concludes our list of the best Airbnbs in Amsterdam. We hope you agree that there's a lot of variation, and something to suit your travel style, but above all, your budget too!
No matter what you want, there's an Airbnb in Amsterdam for you! Perhaps you got your eye on a cool houseboat? What about the awesome homestay with a friendly local? Or perhaps you want a pad to crash after a night out in the Red Light District? It's all there on our list!
If you think we've given you a little too much choice, sorry not sorry for that. But take a deep breath and pick our overall best Airbnb in Amsterdam. That's the Green Terrace Studio! It's the best combination of value for money, style, and it's in a great location.
Now that you've checked out the best Airbnbs in Amsterdam, it's time for us to wish you an incredible holiday in the Dam. We hope you have a great time!
---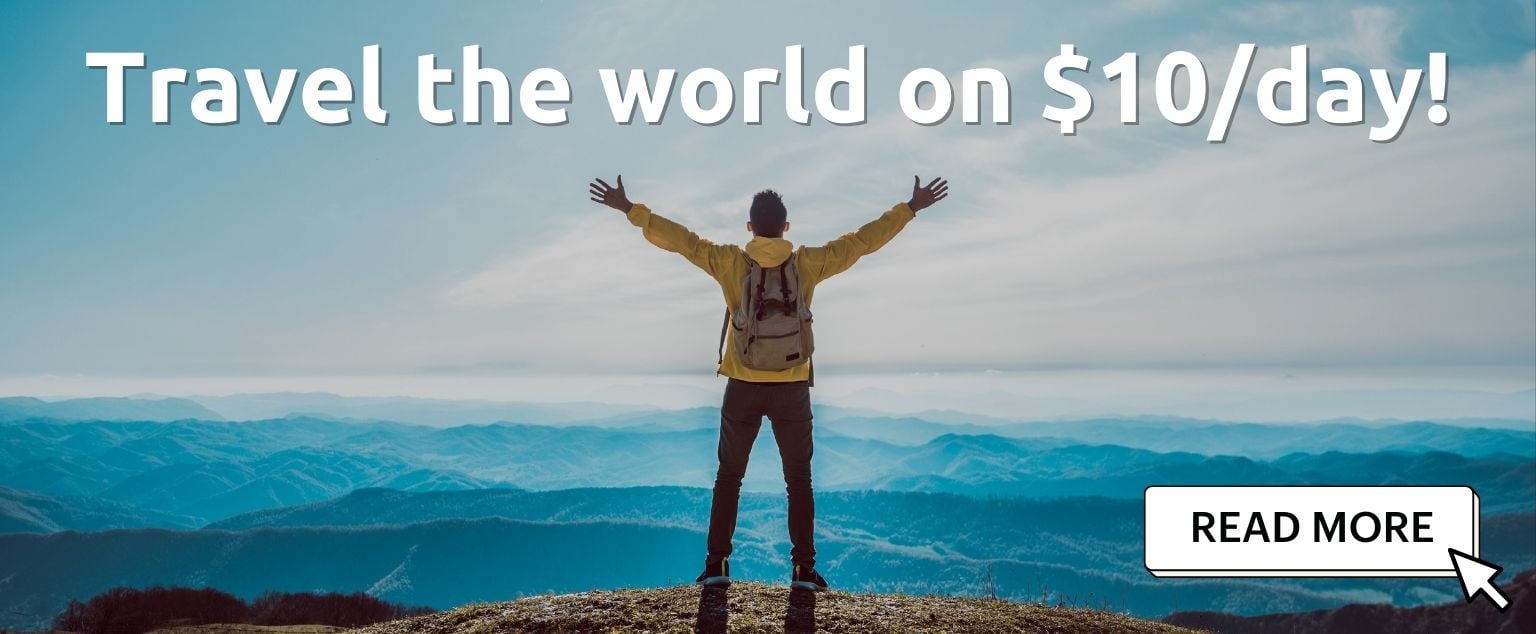 And for transparency's sake, please know that some of the links in our content are affiliate links. That means that if you book your accommodation, buy your gear, or sort your insurance through our link, we earn a small commission (at no extra cost to you). That said, we only link to the gear we trust and never recommend services we don't believe are up to scratch. Again, thank you!