Amsterdam might be famed for its Red-Light District but it's much more than that and has a little bit of something for everyone, that's why it's one of the more popular cities for backpackers in Europe.
There are literally thousands of hotels and hostels with Amsterdam being such a popular travel destination. It can be a bit overwhelming to find the best fit for you and your travel needs with so many options.
Which is exactly why I made this list of the 5 best hostels in Amsterdam!
This guide will help you 'weed' through the best of Amsterdam's hostels so you can confidently book your spot and get back to what matters – exploring the awesome city of Amsterdam! Why, cus it's organised by YOUR travel needs.
Quick answer: The best hostels in Amsterdam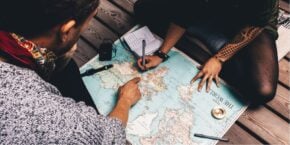 Heading Off-Grid? • Download This Guide as a PDF!
Sign up to The Broke Backpacker's EXCLUSIVE VIP AREA below and download our top backpacking guides as PDFs – go offline with peace of mind!
What to Expect When Staying in an Amsterdam Hostel
Booking a hostel instead of a hotel comes with loads of perks. One of them is obviously the way more affordable price (which is great since the city is not the cheapest), but there's even more waiting for you. The one thing that makes hostels really stand out is the incredible social vibe. You can meet travellers from all over the world by sharing common spaces and staying in dorms – it's a great way to make new friends.
When backpacking Amsterdam, you'll find all sorts of different hostels. From extreme-party to religion-focused hostels, there are endless options. The main types you'll find in Amsterdam are party hostels, digital nomad hostels and youth hostels.
Luckily, most hostels are focused on being very affordable while still offering a high value. The general rule is: the bigger the dorm, the cheaper the nightly rate. If you go for a private hostel room, you'll end up paying a bit more, but it's still more affordable than Amsterdam hotels. I did some research and listed the average price that you can expect for an Amsterdam hostel.
Private Rooms: 45-55€
Dorms (mixed or female only): 15-28€
When looking for a hostel, you'll find most Amsterdam hostels on HOSTELWORLD. There you can check out photos, detailed information about the place and even reviews from previous guests. Just like other booking platforms, each hostel will have a rating, so you can easily pick out the hidden gems! In general, most hostels can be found near the city centre, in the heart and soul of all the cool attractions like The Red Light District and Dam Square. To find the best Amsterdam hostels, check out these three neighbourhoods:
Westerpark (central) – perfect for exploring the city's hotspots
Oud Zuid (South) – for the budget backpackers
Leidseplein (Central) – offers the best nightlife action
You see that it's important to find out where to stay in Amsterdam before you book your hostel. Do your research beforehand and have an even better trip!
The 5 Best Hostels in Amsterdam
With so many countless options, picking only 5 was difficult, so I took all the hostels in Amsterdam with the highest reviews, and separated them to meet your personal travel needs. There's a little something for everybody!
1. Overall Best Hostel in Amsterdam: ClickNOORD
$$
Self-catering Facilities
Bar & Cafe On-site
Tours & Travel Desk
There is no questioning why ClinkNOORD is one of the best hostels in Amsterdam in 2023 – it really does have it all. The ClinkNOORD team know exactly what backpackers in Amsterdam want to experience and make sure everyone who visits has the time of their lives.
Highly reviewed, ClinkNOORD runs themed events almost every night, the perfect opportunity to meet fellow travellers and make memories. From solo traveller meetups to cocktail making classes and live music and DJ nights.
Why you'll love this hostel:
Located in creative Amsterdam Noord
Insta-worthy design
Library/work room
ClinkNOORD caters to all travellers. The library and workspace are especially perfect for Digital Nomads or students that need to get some work done on their laptops. This part of the hostel is super quiet, so you definitely won't get disturbed.
If you feel like socialising, head for a game of pool or table football. Make some new friends over a lighthearted tournament or exchange cool travel stories on the comfy common room sofas.
ClinkNOORD is also one of the most affordable Amsterdam hostels. You can opt to stay at one of the modern dorms, which offer super comfy beds, private USB port stations, and enough storage space to put all of your stuff away (just don't forget your padlock). All private rooms have an en-suite bathroom, perfect for couples or travellers that want to treat themselves to a bit of alone time.
Location wise you'll love this place as well. Amsterdam Noord is known for its creative vibes, amazing cafes and beautiful Dutch architecture. The city centre and Dam Square are only a few moments away too, so you have plenty to explore.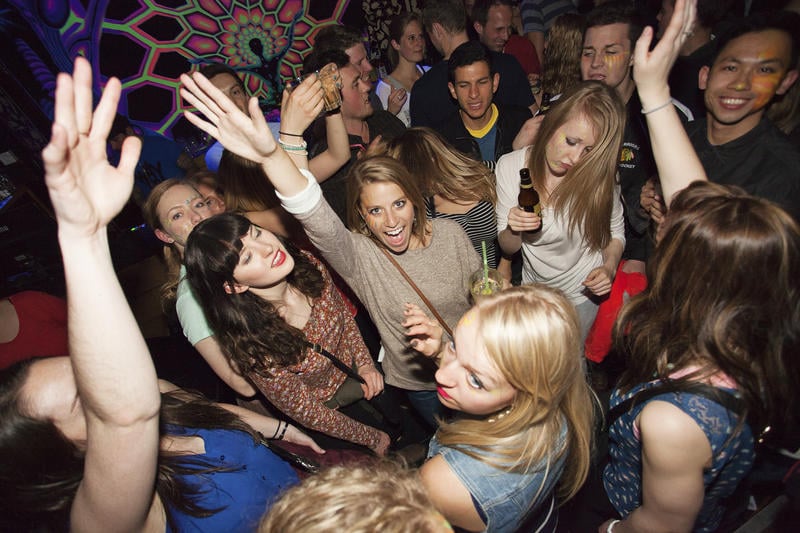 $$
Bar, Cafe & Restaurant On-site
Outdoor Terrace
Nightclub On-site
St Christopher's at The Winston is the best Amsterdam hostel in 2023 for solo travellers. Not only do they have their own cafe on-site but a nightclub as well, which will allow you to make the most out of your weekend in Amsterdam.
Winston Kingdom Nightclub is a must-visit for any young backpacker to Amsterdam and by staying at St Christopher's you are rewarded with 2-1 drinks deals and €2 Jaegermeister shots! Plus 25% off food at the Belushi bar so you can feed up before you booze up! This is why the Winston Kingdom Nightclub is one of the best party hostels in Amsterdam!
Why you'll love this hostel:
Adults-only!
Separate smoking room
Free computer usage
St Christopher's is a top youth hostel because it is only a 1-minute walk from Dam Square, the heart of the action in Central Amsterdam. Since the location is also pretty close to the Red Light District, so you won't find any super young travellers in this hostel. In fact, there's an adults-only policy. It's also pretty close to some coffee shops if you know what I mean!
Once you're done partying, come back (at any time – there's no curfew!) and fall into your comfy bed. If you want to cure your hangover with a bit more peace and quiet, stay at one of the awesome private rooms. Otherwise, you can also suffer together with your friends in the spacious dorm rooms.
For those that want to get a bit of work done or connect with their friends in other places of the world, there are a couple of computers which are free to use. You can also sit back with your laptop in the common area without being disturbed.
City Shuttle Transport
Bar & Cafe On-site
The best cheap Amsterdam hostel is actually 35km out of the city. The Flying Pig Beach Hostel crew offer transport in and out of Amsterdam city centre though. There is a super laid back, beach bum vibe here while being within easy reach of Amsterdam's tourist hotspots. Dorm beds are less than €10 throughout the year and include a decent breakfast making this potentially the best budget Amsterdam hostel.
Why you'll love this hostel:
Super quirky design
Beach parties
Plenty of nightlife around
Flying Pig Beach is easily the best Amsterdam hostel for budget travellers, albeit 45-minutes from the heart of the action. Cheap beer, a great beach and a stone's throw away from Amsterdam centre, well worth it.
While the location might make you think twice, I'm here to tell you that it's absolutely no issue. There are plenty of great clubs in the Noordwijk Strip – and they're a lot more affordable too. If clubbing isn't really your thing, why not join one of the epic beach parties for a more chilled vibe? Plus, you can jump on the train and be at Amsterdam central station in no time!
If you're travelling in a group, this hostel is ideal too. While there are spacious dorms as a room option, you can also book a private quad room so everyone can stay together. Some of them even have an en-suite bathroom.
While Flying Pig Beach Hostel might not be the most modern and luxurious hostel, you'll be welcomed by loads of character, quirky style and incredibly kind and helpful staff. The hostel really goes above and beyond to make you feel at home, which is why with over 3000 reviews, it's still going strong with a 9/10 rating – and that's something you don't see often!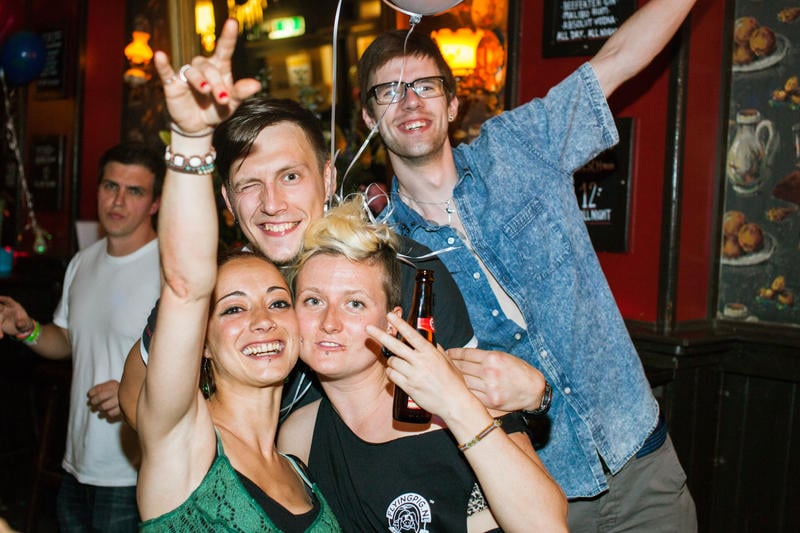 Bar & Cafe On-site
Self-Catering Facilities
Don't get confused, this hostel might have a similar name, but it's not the same as the hostel I've shown before (they are owned by the same chain though). This one is in the centre of town right by Dam Square.
As the best party hostel in Amsterdam, the Flying Pig Downtown is also one of the most famous backpacker's bars in the city. For those who want to experience a bit of culture before they start soaking up the beer, Flying Pig Downtown offers free walking tours of Amsterdam, plus the front doors open out onto the city's busiest shopping street.
Why you'll love this hostel:
Super friendly vibe
Epic DJ nights
Discounted attraction tickets
Whether you're a nightlife enthusiast or just here to explore the city (in fact, one of the best party cities in Europe), Flying Pig Downtown will meet all of your travel needs. The one thing that really makes this hostel stand out is the amazing hospitality and helpful staff. Read through the 2800+ reviews and you'll see that everyone's been welcomed with open arms.
If you ARE here for partying and want to cure your next-day hangover, book into one of the great private rooms and indulge in the breakfast buffet. You'll get a TV and a mini-fridge, as well as an en-suite bathroom. Rather suffer together with your friends? Stay in the awesome dorms (female only and mixed), with your own reading light and USB charging station.
There's plenty of space to socialise too. Head up to the sunny terrace and enjoy a cold drink or play a game of pool with the other fellow travellers. With such amazing common spaces, it's really easy to meet new people!
An added bonus of staying at Flying Pig Downtown is the 50% off entry at Winston Kingdom club where most guests head at some point during their stay. With all these facilities and such great vibes, it's easy to see why it's one of the best party hostels in the city.
5. Best Hostel for Digital Nomads in Amsterdam: Via Amsterdam
$
Bar & Restaurant On-site
Pool Table
Personal Lockers for Each Guest
You'll find Via Amsterdam 10-minutes from the city centre which offers backpackers in Amsterdam the best of both worlds: a retreat from the hectic city centre but close enough to all the action. Within a 5-minute stroll of Via Amsterdam, you'll find supermarkets, cafes, gyms, and a pizzeria.
Via Amsterdam is a great hostel for digital nomads and the team have designed the hostel with the curious new-age traveller in mind.
Why you'll love this hostel:
Super modern and minimalistic style
Bike rental
Cinema room
If you're looking for a good budget hostel to kick back and work at, think about Via Amsterdam; for the record, this is an extremely popular hostel, so make sure you book well ahead.
Speaking of booking, you've got quite a few room options at Via Amsterdam. If you're after a social vibe, go with the spacious dorms (female only and mixed). The custom-made bunks have headboards for privacy, a light, a plug socket and a USB port.
You'll feel like you're at home on your comfy mattress and fresh linen. Plus, you'll have a personal locker to keep all your stuff securely stowed away as well as free luggage storage when you check out. Prefer a bit more alone time? The private rooms are just as affordable and even offer an en-suite bathroom.
Once you've done all the work behind your laptop, you can rent a bicycle at the reception to explore the area, or if you're not keen on going outside, just chill in the hostel's cinema room with a refreshing drink and a snack from the vending machine.
Is This the Best Daypack EVER???
More Great Amsterdam Hostels
Not happy with your options yet? I've got loads more epic hostels in Amsterdam coming for you! Make sure you know what kind of travel needs you have in order to find the perfect place for your Amsterdam itinerary.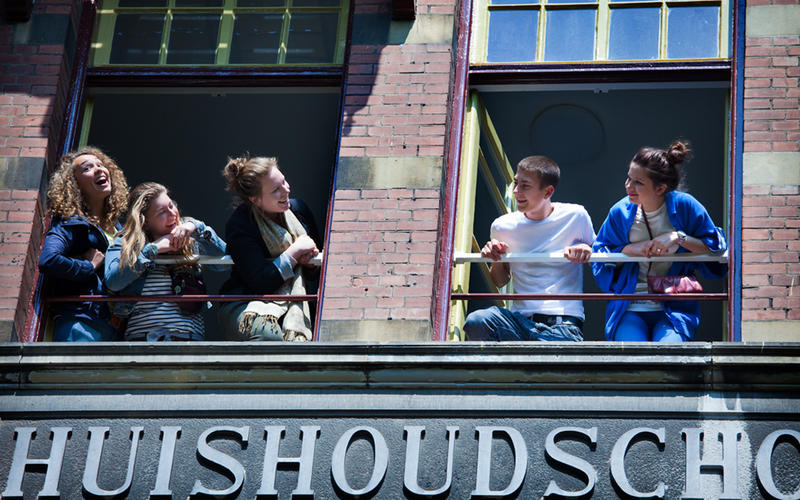 On-site Pool Table
Tours & Travel Desk
Easily the best hostel for solo travellers in Amsterdam is StayOK Vondelpark. You'll find StayOKAY Vondelpark within easy walking distance of Amsterdam central and major sights and attractions like the Van Gogh Museum as well as the Rijksmuseum. To top it off StayOKAY Vondelpark is super close to the famous party district of Leidseplein.
The on-site brasseries, called Bite and Drink, is the perfect place for solo travellers to connect and get to know one another. StayOKAY Vondelpark is a top hostel for solo travellers in Amsterdam looking to meet and mingle.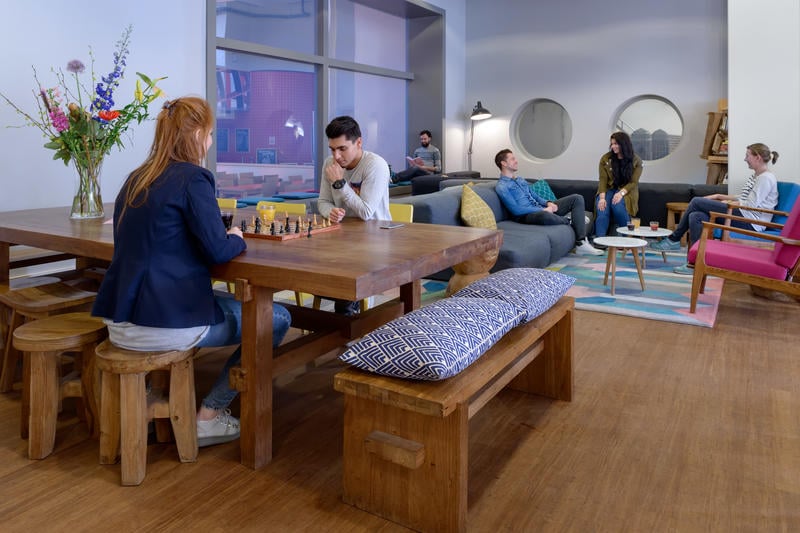 $
Bar, Cafe & Restaurant On-site
Bicycle Hire
Tours & Travel Desk
StayOKAY Zeeburg can be found a little out from the major tourist hotspots meaning guests get a taste of real, local Amsterdam. There is a tram stop just 200m from the StayOKAY Zeeburg front door, connecting you to every corner of Amsterdam. The dorm rooms are light, bright and spacious and styled by top Dutch designer Edward van Vliet. StayOKAY Zeenburg is a highly recommended hostel and there is even a cinema next door!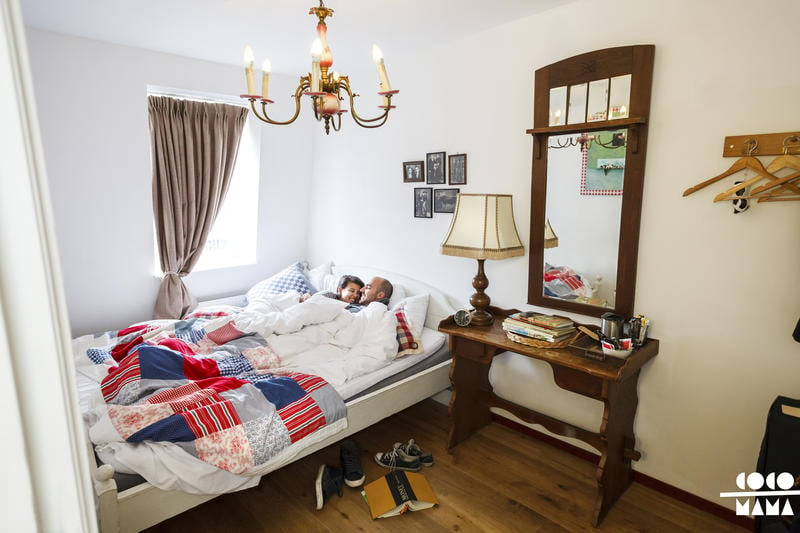 $$$
Self-Catering Facilities
Outdoor Terrace
Bicycle Hire
Cocomama is the sister hostel to digital nomad perfection, Ecomama. Cocomama is a chic boutique hostel and in turn one of the coolest hostels in Amsterdam in terms of design. The Cocomama team are proud to offer guests the luxury and comfort of a boutique hotel with the low room rates of a hostel – what's not to love?
If you want to compromise and splash out on this posh hostel you can save yourself some euros by making use of the guest kitchen and cooking your own food. Travel is all about balance, right?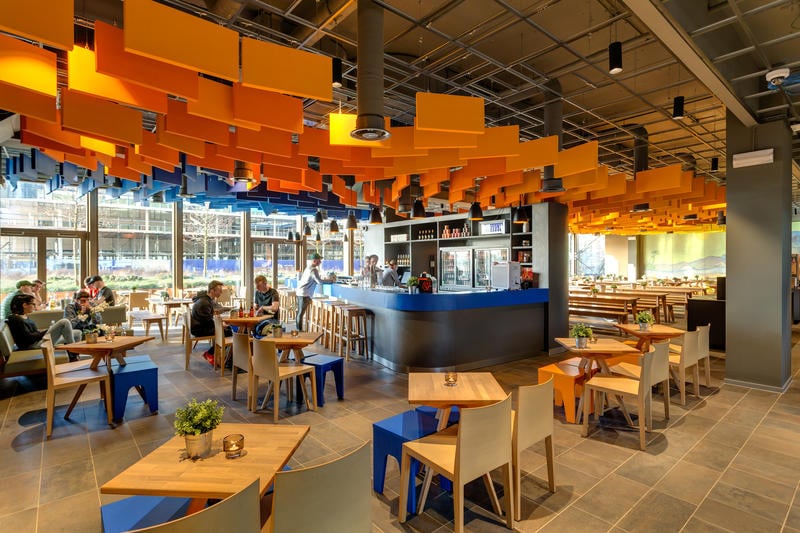 $$
Self-Catering Facilities
Bar On-site
Parking Available
Another of the best hostels for couples in Amsterdam in 2023 is Meininger City West. You can find Meininger hostels spread throughout Europe and their Amsterdam edition is just as clean, welcoming and laid back as the rest of them.
For couples looking for a budget hostel with affordable private rooms, Meininger is the place to book. The large guest kitchens and an on-site bar are great for meeting other travellers. For couples driving through Europe, you can park your car or van on-site for cheaper than you could at the multi-stories in the centre of Amsterdam.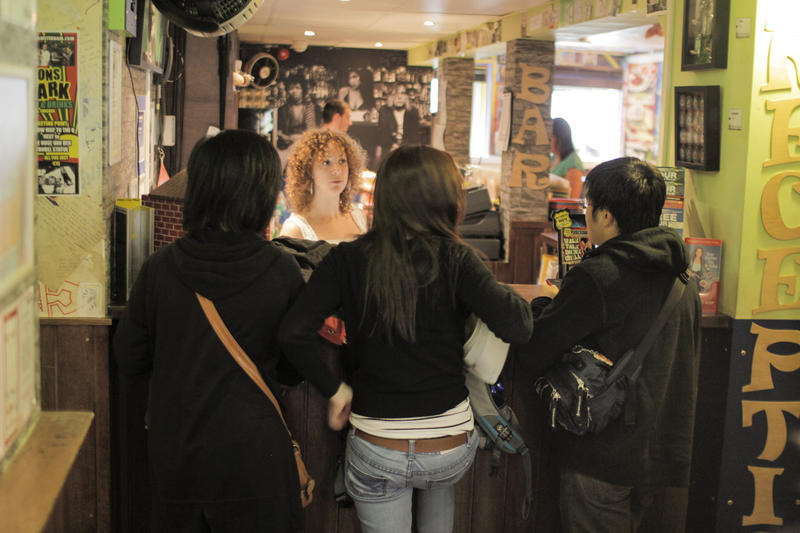 Bar & Cafe On-site
Self-Catering Facilities
As the sister to the best Amsterdam party hostel, Flying Pig Uptown has an on-point party vibe and unrivaled value for money! When it comes to deciding between Uptown and Downtown it may be a case of getting what you're given if you book last minute. Both venues fill up super quickly, so book your bed ASAP if you want to be staying at one of the best party hostels in Amsterdam in 2023!
Flying Pig Uptown is closer to Leidseplein, the Rijksmuseum and the Van Gogh Museum than its Downtown sister. Flying Pig Uptown has a cat called Lola too; she's super smoochy and you should totally let her snuggle up in your bed!
$$
Self-Catering Facilities
Cafe, Bar & Restaurant On-site
Laundry Facilities
The next best hostel for Digital Nomads in Amsterdam is EcoMama, no questions there! Digital nomads live on the road so generally look for a place to focus and work while being able to meet and mingle, EcoMama Hostel is perfect. Plus, it's super close to The Red Light District, Dam Square and the train station.
The guest kitchen is super clean and great for Digital Nomads who are sick of eating out every night and the fast free wifi available throughout the building makes life easier too. This is one of the only Amsterdam backpacker hostels that is designed with the digital nomad, rather than the party-animal, in mind! ??There's free luggage storage too so you can keep all your gear safe.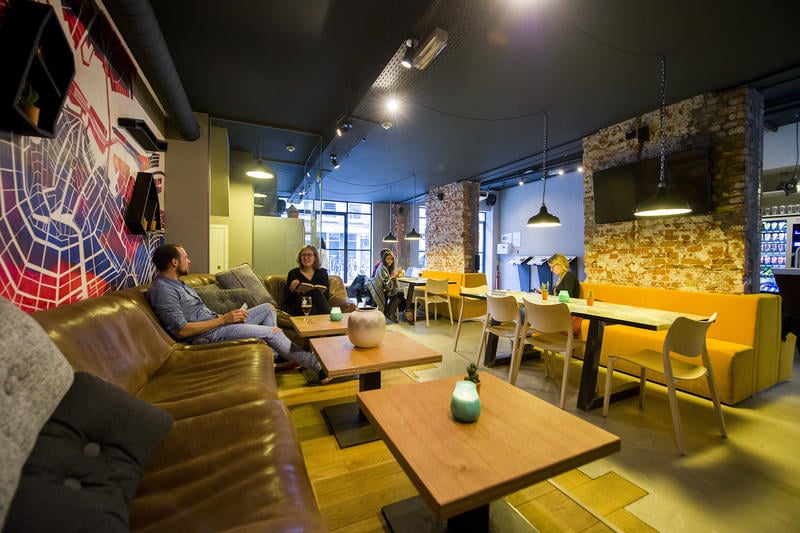 Linen & Towels Included
Bicycle Hire
CityHub is the perfect hostel for digital nomads in Amsterdam in 2023, especially for those who are on the road long term and need a bit of space to themselves. CityHub is a new style of hostel – they don't have dorms! Similar to the pod hostels you find in Singapore, CityHub offers guests their own solo hub with a double bed, a couple of shelves and plenty of charging ports.
CityHub also offers free, unlimited free wifi; perfect for the working traveller! The on-site bar is a great little hangout spot too. CityHub is a top hostel for digital nomads looking for an alternative to dorm rooms when staying in Amsterdam.
24-Hour Reception
Laundry Facilities
A&O Amsterdam Zuidoost is perfect for anyone who is looking for a chilled out, quiet place to stay in Amsterdam. They have dorm rooms and super affordable private rooms too in case you're in need of a bit more space. All guests have access to free wifi, making it the perfect place to plan out the rest of your European adventures.
A&O Zuidoost is the top Amsterdam hostel if you're coming to an event at the Ajax Amsterdam arena which is within just a few minutes walk of the hostel.
$$
Vending Machines & Tea/Coffee Facilities
Tours & Travel Desk
Bicycle Hire
Hostel Van Gogh is, as you may assume, dead close to the Van Gogh Museum as well as the Rijksmuseum and the Stedelijk Art Museum too. If you're coming to Amsterdam to soak up the art and culture you'll feel right at home at Hostel Van Gogh. Although breakfast is not included, you can fill your boots at the luxury continental breakfast buffet every morning for just €5. This is an epic freebie considering Amsterdam's high costs!
The top hostel, Hostel Van Gogh, also offers guests private dorm rooms. If you're travelling as a group, you'll get better value for money if you book out the 6-bed private dorm rather than 6 beds in the open dorm.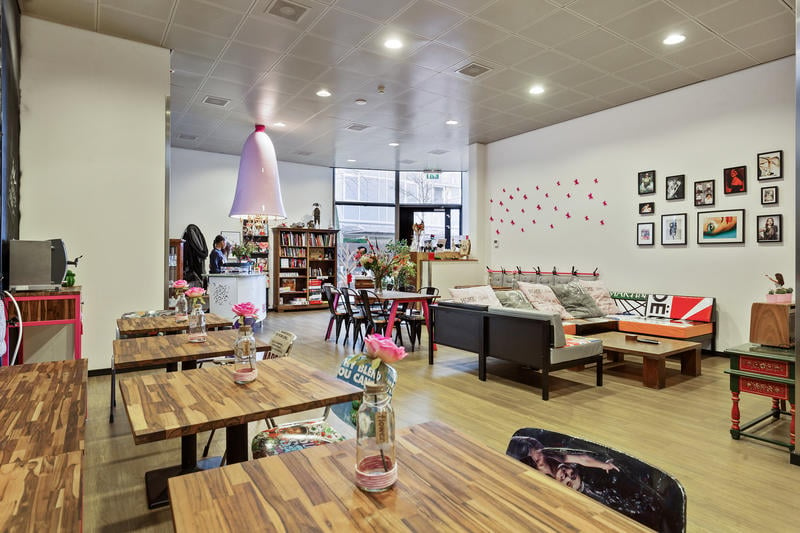 Self-Catering Facilities
Bicycle Hire
Hostelle is the best hostel for solo travellers in Amsterdam… if you're a lady. Sorry guys, this hostel is strictly gals only! With super fluffy pillows and ultra-comfy beds, girls you'll never want to leave Hostelle, that's for sure! It's also a safe hostel in Amsterdam for women. Girls, this female only hostel is the place to be! It's not right in the city centre but it's a 15-minute ride from Amsterdam central station.
The guest kitchen is a great place to meet your fellow nomadic sistas and in the summer the outdoor terrace is perfect for watching the sunset and the moon rise. Hostelle is one of the coolest hostels in Amsterdam as the interior has been painted by local artists and is impressive, to say the least.
Bar, Cafe & Restaurant On-site
Laundry Facilities
The Bulldog has definitely earned its place on the shortlist for best Amsterdam Hostels in 2023 as well as the backpackers' favourite hostels list! Free breakfast, free wifi, no curfew and an on-site bar. Everything is chill.
The Bulldog team promise to let you check in early if it's possible and if not, you're welcome to leave your bags in luggage storage and start exploring Amsterdam with their free city maps and friendly top traveller tips. The breakfast at the Bulldog is what makes it a top hostel – there's always lots of coffee.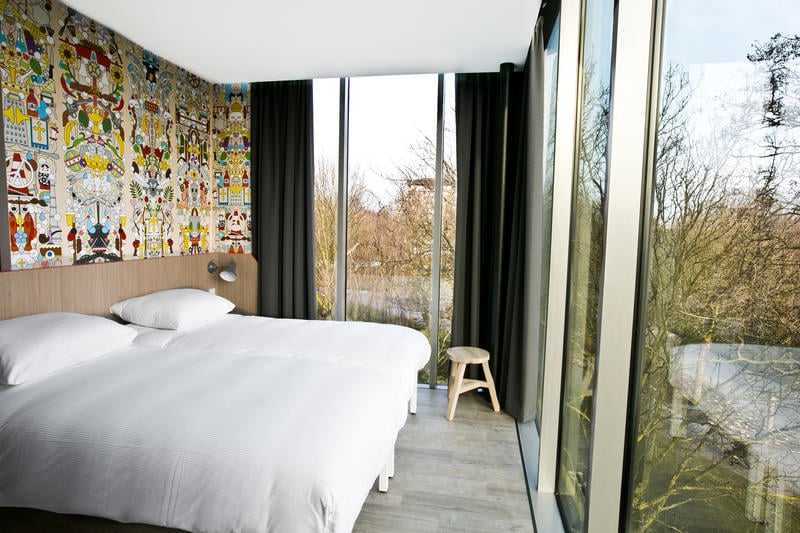 $$$
Bar, Cafe & Restaurant On-site
Bicycle Hire
Nightclub On-site
Generator is possibly the biggest of Amsterdam's hostels, hosting up to 564 guests at any given moment; you're bound to make some new friends here. The laid-back raised cafe and outdoor terrace go a long way in making Generator Amsterdam a highly recommended hostel.
Another great point about Generator Amsterdam is the collection of Vanmoof bikes they have for rent – assemble your crew and hit the narrow winding streets of the capital city. The laundry room is open 24/7 so you can leave Generator fresh as a daisy.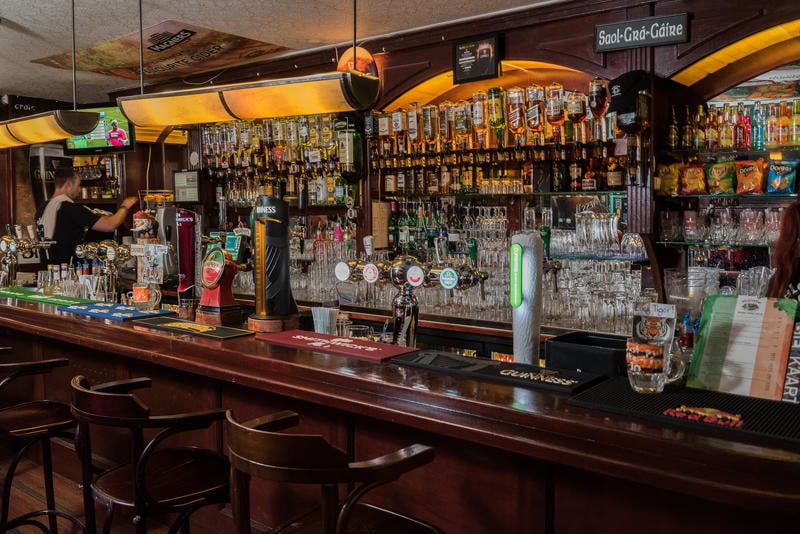 $
Bar, Cafe & Restaurant On-site
Free City Walking Tour
Tours & Travel Desk
The White Tulip Hostel is a super cosy Amsterdam backpackers hostel right at the heart of the Red Light District. The Irish Pub Slainte can be found beneath the White Tulip Hostel dorms and guests are given a 20% discount on all food and drink.
The White Tulip is a great budget hostel, especially if you want to get drinking, and they also offer a discount on the ultimate party pub crawl too. Free WiFi, no curfew, and an Irish bar on-site, the White Tulip is a fantastic option when you're checking out the Amsterdam hostels on a budget.
$$
Self-Catering Facilities
Bicycle Hire
Laundry Facilities
If you're into street art you must visit Dutchies Hostel as the whole place is decorated with graffiti from local artists. The spacious guest kitchen is perfect for travellers who want to cut down on the food spend or for anyone who wants to build on their international recipe collection.
Dutchies Hostel is about 20-minutes away from Schiphol Airport by public transport and the super helpful staff on reception will give you all the info you need about Amsterdam's public transport.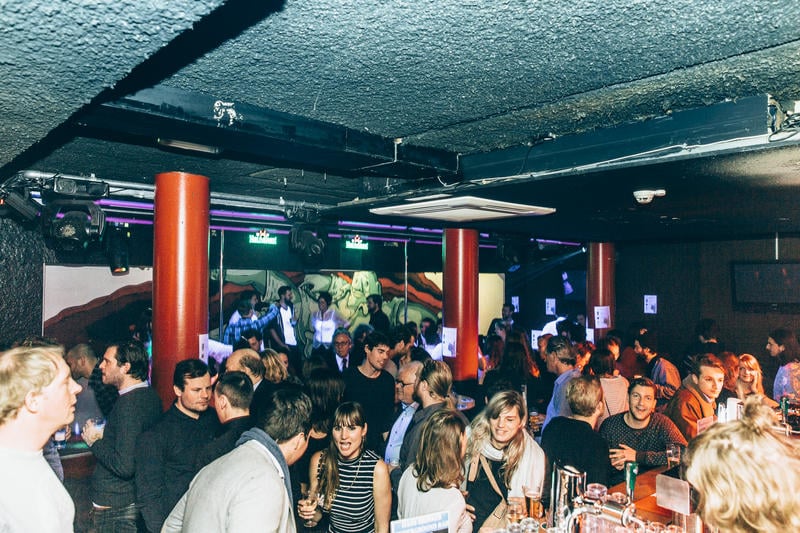 Bar, Cafe & Restaurant On-site
Towels Included
Hans Brinker Hostel is a no-frills, full-fun hostel on Kerkstraat, right around the corner from Leidseplein. It might just be the best value hostel. The Hans Brinker team pride themselves on the top-notch value for money they offer to their guests; free breakfast and free wifi makes the cheap bed rates even more affordable.
Team this with the funky bar hosting a lively happy hour every night and you're onto a winner especially for solo travellers in Amsterdam! Hans Brinker is a cheap hostel with a lot going on!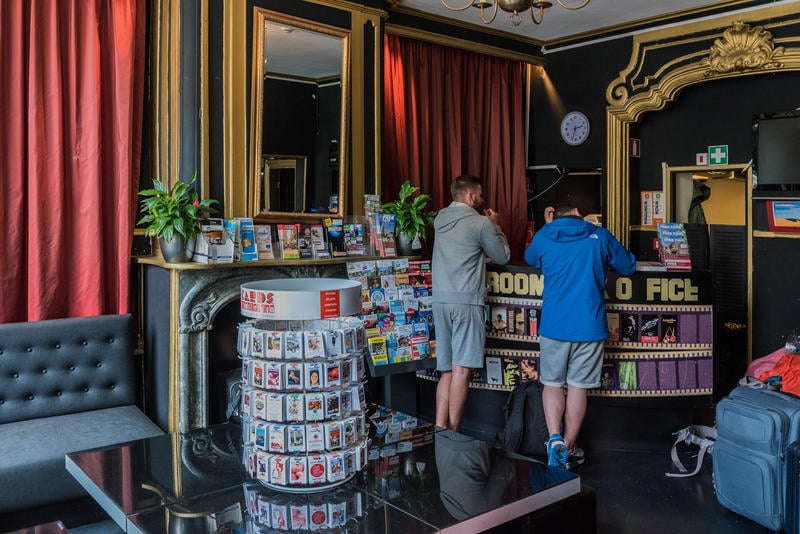 Tours & Travel Desk
Vending Machines
What makes Heart of Amsterdam hostel so unique is that each dorm room is designed around a different movie theme. Will you stay in Star Wars, Lord of the Rings or The Godfather? The location of this boutique hostel is top-notch too, right by The Red Light District, Dam Square and heaps of coffee shops!
As one of the cheapest hostels in Amsterdam, you get what you pay for. This is a great budget hostel with comfy beds and hot showers. The staff are lovely and are on hand 24-hours a day to help out guests should they need it and they do a classic Dutch breakfast for just €5 too!
Tours & Travel Desk
Bicycle Hire
Euphemia Hostel is in the heart of the Old City of Amsterdam in the Canal Zone. Although breakfast is not included in the price you can order from the a la carte menu for as little as €3.
Amsterdam is best explored by bicycle and you can rent bikes throughout the day through Euphemia – just ask at the reception desk. The Euphemia lounge is a popular hangout for guests and is open from 8 A.M. until 11 P.M. For a mid-budget hostel, you'll come away from Euphemia Hostel with awesome memories and some euros to spare.
FAQ on Amsterdam's Hostels
In most major cities, you'll find plenty of hostel options. While it's great to have lots of variety, having too many options can sometimes be very confusing and overwhelming. I've listed up some of the most frequently asked questions about the hostels in Amsterdam, so you can book a place with confidence.
Travel Safety Tips for Amsterdam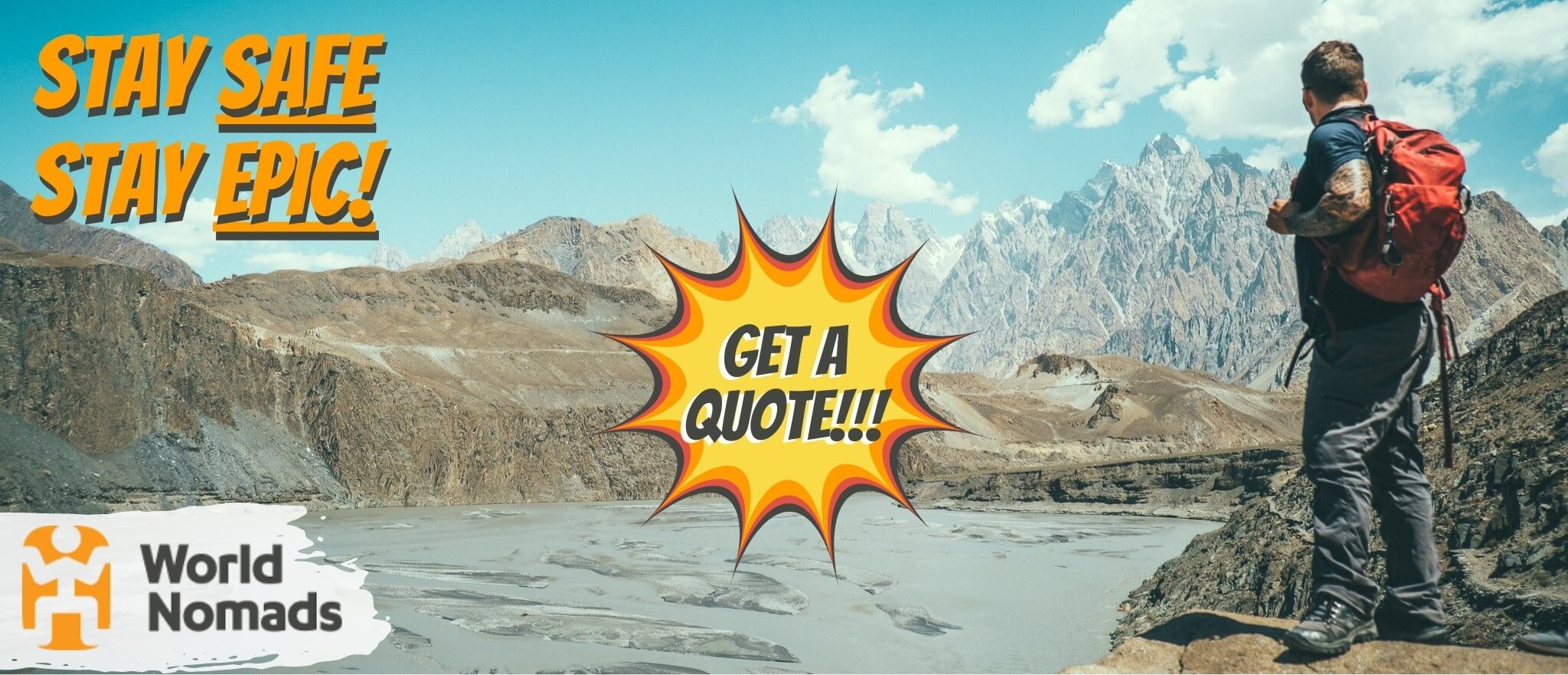 World Nomads' mission is to support and encourage travellers to explore their boundaries. They offer simple & flexible travel insurance, and safety advice to help you travel confidently.
They've been doing it since 2002 – protecting, connecting, and inspiring independent travellers just like you.
Get a quote below or read our in-depth review!
World Nomads provides travel insurance for travelers in over 100 countries. As an affiliate, we receive a fee when you get a quote from World Nomads using this link. We do not represent World Nomads. This is information only and not a recommendation to buy travel insurance.
Final Thoughts on the Best Amsterdam Hostels
You've got 5 (and a couple more) of the highest-rated and best hostels in Amsterdam – so which are you going to choose?
Hopefully, with the help of this list, you'll have a better idea of what it is you are looking for in Amsterdam, so you can book your hostel with confidence.
Remember, if you still can't decide, we think you can't go wrong with ClinkNOORD or Hans Brinker Hostel these are two awesome hostels for your time visiting Amsterdam.
More Epic Hostels in the Netherlands and Europe
Hopefully, by now, you've found the perfect hostel for your upcoming trip to Amsterdam. If not, then maybe consider an Amsterdam Airbnb or an Amsterdam VRBO?!
If you're planning to travel further and explore the Netherlands and Europe, check out these awesome hostels: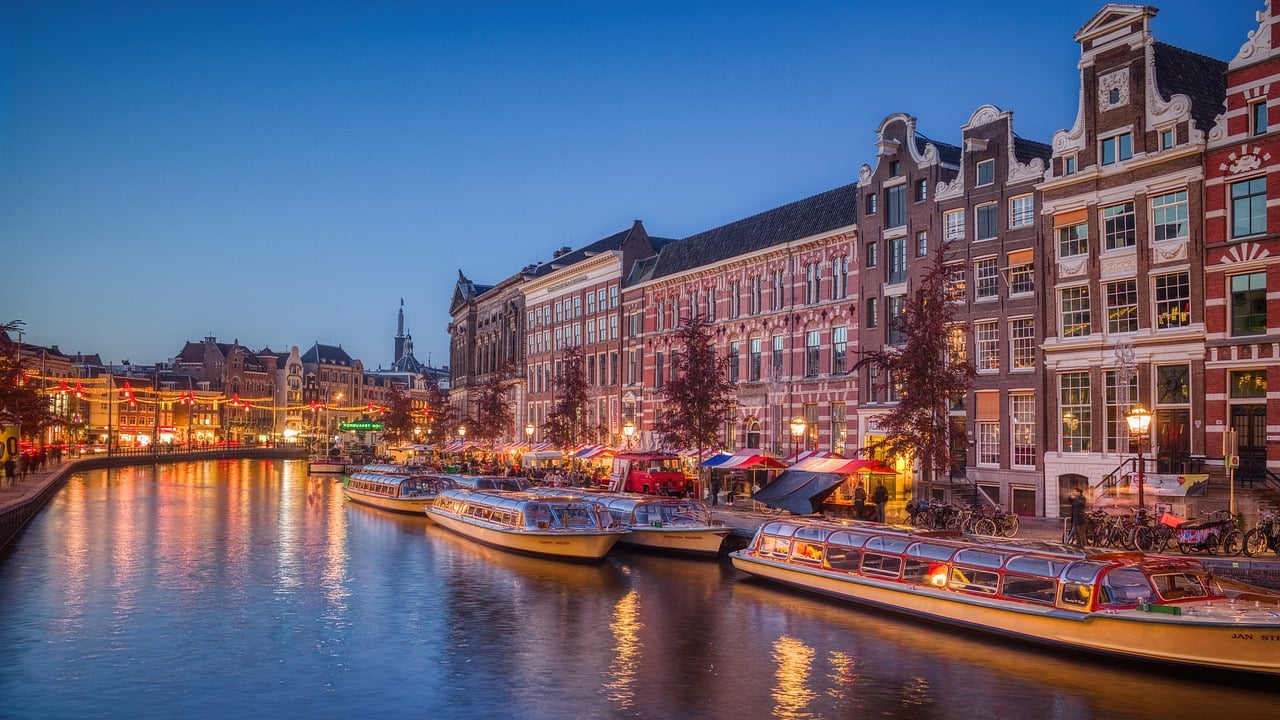 ---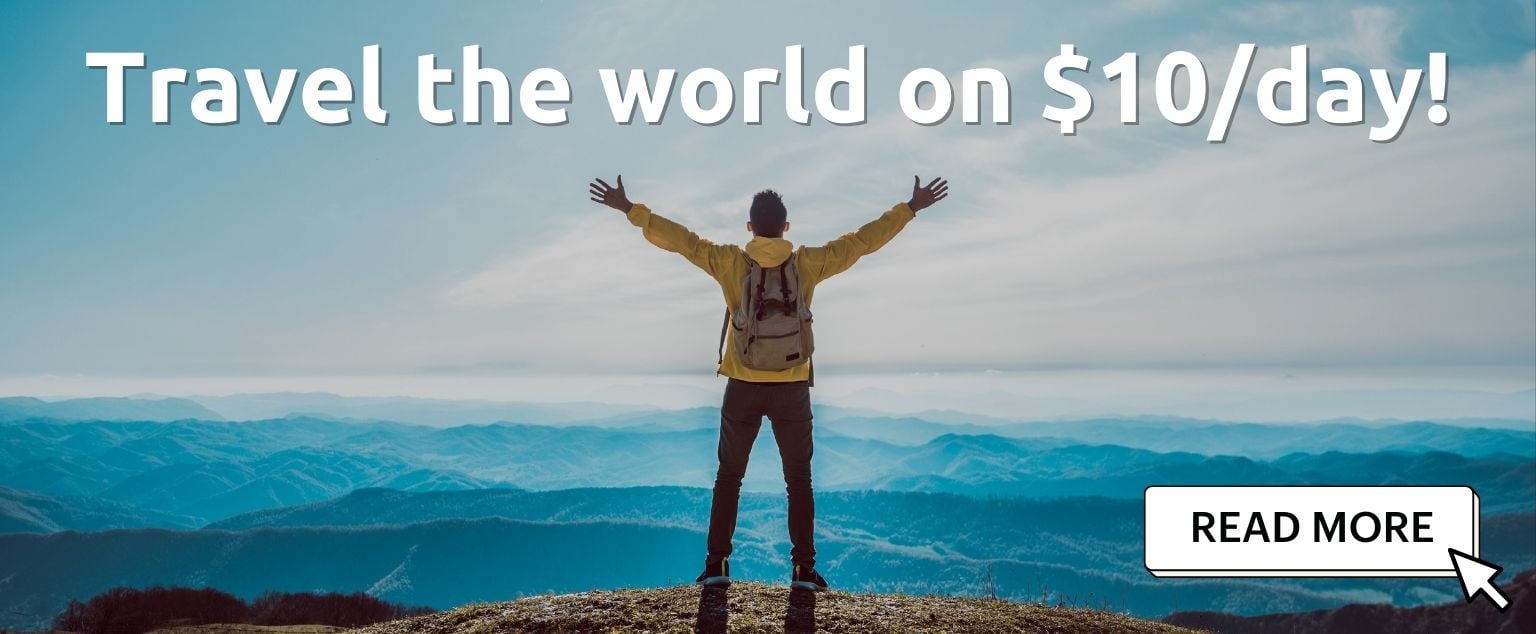 And for transparency's sake, please know that some of the links in our content are affiliate links. That means that if you book your accommodation, buy your gear, or sort your insurance through our link, we earn a small commission (at no extra cost to you). That said, we only link to the gear we trust and never recommend services we don't believe are up to scratch. Again, thank you!