Travelling to Amsterdam is the stuff of dreams for a lot of people. It's foreign enough to be exciting and familiar enough to feel safe and comforting. It conjures up images of tulips and cafés with wafting smoke and charming buildings from a time gone by. Whether you enjoy world class museums, architecture, history or the nightlife, there's definitely always something to do in Amsterdam.
Amsterdam also comes with a reputation of being a bit of a party town and a place where vices can be indulged in without fear of prosecution. Whatever you believe in with regards the stance of the Dutch government on such activities, it's certainly an eye opening experience to explore this side of the city in which ever way you feel comfortable. As long as you stick to the rules and have your wits about you, you should have an amazing time in this city however you decide to experience it!
To help you create the trip of your dreams, we've created this guide to the best places to visit in this amazing city and there's so much more to see than just the Red Light District!
Not only do we have the low down on the absolute best attractions, but also which neighbourhoods boast the best hostels in Amsterdam. If hostels aren't your cup of tea, there's more where that came from. From quaint Airbnb's to boutique hotels, be sure to check out the best places to stay in Amsterdam before you take a deep dive into the fun that awaits you below.
Looking forward to exploring Amsterdam, well there's more to the city than the infamous Red Light District. There are world-class tourist attractions such as the Rembrandt House Museum and the Royal Palace or maybe you want to reflect at the Anne Frank House or catch an exhibition in Museum square after an unforgettable canal cruise! There's something for everyone, even backpackers on a budget in Amsterdam.
Amsterdam is also a perfect starting point for your travels around The Netherlands and there are plenty of other amazing cities, towns and villages to explore once you've finished in Amsterdam.
#1 – The Rijksmuseum
Why it's awesome: If you're an art lover, or just want to see some of the most amazing pieces of artwork in the world, then you need to spend some time in the National Museum. Not only will you be astounded at how different the art looks in real life versus in the pages of a book, but you might just discover a new interest in Dutch painters!
What to do there: The Rijksmuseum is contained inside of an awesome, artistic building and the works of art within are a match for it. You can literally spend hours here wandering between the displays and discover artists you've never heard of as well as old favourites. Just make sure you take a long look at Rembrandt' Night Watch, it's truly one of the most incredible paintings in the world. Some people visit Amsterdam just for the art museums (others, just for the drugs and hookers).
#2 – The Van Gogh Museum – One of the most amazing places in Amsterdam!
Why it's awesome: It's Vincent Van Gogh. The man hated and reviled in his own time and yet now almost universally loved. The pictures he painted showed life at its most beautiful and vibrant, full of light and colour in a way that ordinary people can't see. Through the Van Gogh museum, you'll be able to glimpse a work you will rarely get to see, and that's definitely worth savouring. A visit to Van Gogh's legacy is an essential thing to do in Amsterdam.
What to do there: Try to see through this artist's eyes while you're in the Van Gogh museum. He had a rare way of seeing the world, a way that was full of life and colour, and yet his own life was filled with so much darkness and confusion. That's why the beauty of his artwork deserves to be honoured. So make sure you take your time when you visit the largest collection of his work in the world.
#3 – The Red Light District
Why it's so awesome: Well, you know why. This is the area that makes Amsterdam famous and it's also the area that causes the most controversy. If you have any qualms about whether Amsterdam is safe or object to some of the more permissive sides of the culture in Amsterdam, then it's best that you avoid this area. This is also definitely not an area where you would bring children. But, if you're curious and careful, you'll see a whole other side of the city when you spend time in this district.
What to do there: This area is bright, colourful, and there's always something going on. That makes it an interesting place to visit and people watch, whether you agree with Amsterdam's pragmatic approach to the sex trade or not. Just be careful about taking photos, as you could get yourself into trouble, and use your common sense to avoid any serious issues while in the area.
#4 – The Anne Frank Museum – Possibly one of the most important places to visit in Amsterdam
Why it's so important: The Anne Frank House isn't awesome in the sense that it's fun. Far from it. Instead, it's a sad reminder of a dark time in the world's history. It's also a site that's familiar to a lot of people. In most schools, the Diary of Anne Frank is required reading, so a lot of people know at least the basics about this girl's sad but profound story. It's another thing to see the house in real life, to imagine her everyday life, her fear and even her tragic ending. The Anne Frank House is something that everyone should see at least once in their lives.
What to do there: Anne Frank's house is now a museum and educational centre. It's not a fun place to go. It's actually quite chilling to wander the halls of the house and to visit the secret annexe where she lived for such a short time. The Anne Frank House is an incredibly important place to visit if only to honour the memory of that brave girl and her family.
#5 – The Westertoren – One of Amsterdam's coolest historical sites!
Why it's awesome: There's nothing like seeing a new city from high up and in Amsterdam, this is the best place to do that. You'll be able to see the city in a whole new way and in a small group as well, so there won't be any pushing or jostling for the best photography spots. It's also one of the best historical spots in Amsterdam, which is really saying something in this city!
What to do there: This is the tallest and the prettiest tower in Amsterdam, so the views are amazing from the top. You'll need to book a guided tour to the top, and they only take a few tourists at a time, so make sure you get there early to reserve your place. Once you're up there, take plenty of photos of Amsterdam from this amazing bird's eye view, so make sure that you bring your camera with you.
#6 – The Bloemenmarkt – One of the most incredible free places to go to in Amsterdam
Why it's awesome: Two words: floating flowers. This is a floating flower market set along the southern bank of the Singel. It actually a very practical market, which supplies fresh flowers to Amsterdam. But its popularity with tourists and locals alike have caused it to expand so there are now stalls selling other souvenirs unique to this part of the world.
What to do there: Where else can you see beautiful blooms of almost every colour you can imagine set against the river? This is a floating flower market a sight to savour and you can people-watch at the same time. You can also do some shopping while in the area and you'll find clogs as well as other uniquely Dutch souvenirs. But if you are a traveller on a budget and don't want to spend any money, you can just wander around the area, enjoy the sights and stay in one of Amsterdams best cheap hostels.
#7 – Vondelpark – A beautiful outdoor place to visit in Amsterdam
Why it's so awesome: Amsterdam's permissive nature also extends to their wooded areas. This is one of the few parks in the world where you can indulge in behaviour not usually allowed in public, with a few exceptions. This park is also popular with the locals as a place to exercise or just hang out in nature. And there are trails all over the park as well as a rose garden and an outdoor theatre if you want to get even more from the experience!
What to do there: Run, cycle, explore the trails or just take some friends along and have your lunch in the park. Find out what shows are playing at the theatre if you're interested in catching one or just soak up the beauty of nature in the middle of the city!
#8 – Albert Cuyp Markt – A nice non-touristy place to visit in Amsterdam
Why it's so awesome: Sometimes when you travel, you just want to get away from the tourist traps and experience real life. And this market is a chance to do just that. Here you'll see the locals bargaining for their groceries and generally going about their lives. And it's a great way to get to see another side of this famous city.
What to do there: You'll find a vast array of foods, clothes, and souvenirs here if you're interested in shopping. Make sure you watch the locals beforehand, so you know how much to pay for what you want and a bargain! Bargaining is considered an integral part of the experience, so don't be embarrassed and just enjoy the process.
#9 – De Negen Straatjes (The Nine Streets)
Why it's so awesome: The Nine Streets is a historical area that has a lot of quirky charm packed into a relatively small area. The shops here are all unique, unusual, and have a flair that isn't often seen in these days of department stores, which makes them a joy to explore and experience. This is the kind of area that gave Amsterdam its reputation as one of the most laidback cities in the world, so it's an absolute pleasure to spend some time exploring it in detail.
What to do there: Make sure you put aside an entire afternoon, or a day, to wander the Nine Streets. This area is filled with historical detail, quirky cafes, and boutiques with some of the most unique and interesting goods you'll ever see. So do some shopping or just set up shop in a café and watch the world go by. After all, this relaxed and laidback vibe is what Amsterdam is really about.
#10 – The Concertgebouw
Why it's so awesome: This is an incredible arts venue that's the home of the famous and much-lauded Koninklijk Royal Concertgebouw Orchestra. The acoustics here are amazing, which turns an already impressive musical performance into something that has to be heard to be believed.
What to do there: If you visit this venue at lunchtime you may be able to catch a free concert and enjoy the music without breaking the bank. Otherwise, it's also worth going at night when you can get the full experience of listening to the remarkable orchestra the way it was meant to be heard.
#11 – NSDM Wharf – Cool place to see in Amsterdam with friends!
Why it's so awesome: The NDSM Wharf is a former shipyard that's been turned into one of Amsterdam's cultural hot spots. It's come a long way from its slightly grimy roots and now is the place to see and be seen, with some amazing restaurants, bars and shops around the area. There's an artistic vibe to this area that elevates it above the usual tourist spots and makes it well worth checking out.
What to do there: There's always something going on in this area from the weekend flea market to festivals and exhibitions. So while you're in Amsterdam, make sure you find a schedule of what's on and pick out what you want to see. And even if there isn't anything in particular happening, it's still a great spot to eat a meal in a beachfront restaurant or to check out some bars.
#12 – Flevopark
Why it's so awesome: Flevopark is an enormous open area in the middle of Oost and it's the perfect place to get some exercise or just lounge about in the fresh air. There's something for everyone in this park, from running trails to a tennis club and even a brewery where you can undo all the good work you've just done.
What to do there: This is the type of park that has something for everyone so you can literally do whatever you want to do here. If you're feeling energetic, go for a swim in the outdoor pool, wander the trails or play a game of tennis. And if you're feeling lazy, just lounge about on the grass or grab a drink and some snacks at the Distillery 't Nieuwe Diep microbrewery.
#13 – Brouwerij 't IJ – A must visit place to visit in Amsterdam on the weekend!
Why it's so awesome: Everyone should drink beer in a windmill at some stage in their lives and this is the perfect place to do it. This microbrewery is the original in Amsterdam and is located in a working windmill. It has a wide variety of brews as well as some traditional Dutch snacks such as boiled eggs.
What to do there: Try to visit the brewery on a sunny day so you can sit out on the terrace and enjoy the sunshine while you snack and drink. Just make sure to follow the rules of safe travel and stay aware of how much you're drinking, the brews tend to be higher in alcohol content than you would think!
#14 – Blijberg aan Zee
Why it's so awesome: Amsterdam itself doesn't have many places to swim, which is why this location is the perfect addition to any trip. The beach is located off a man-made island called IJburg and it's just a short tram ride from the centre of the city. The water is clean and calm and basically, it's the perfect place to have a lazy day sunbathing and enjoying the water.
What to do there: This is a family-friendly location with clean water, bright sun, and lots of restaurants and cafes in the area that sell great food. When you visit this beach, make sure you spend your time relaxing. The beach's laidback atmosphere encourages sunbathing, swimming, and spending time with friends, so give in to it and just have a wonderful break from the busy heart of the city.
#15 – EYE Film Institute – Cool place to see in Amsterdam with friends!
Why it's so awesome: Unlike many of the other great sites in Amsterdam, this building is a modern marvel. Quirky and eye-catching on its own, it houses a cinema, film museum, shop, restaurant and café, all of them well worth spending some time in. There are also some fun and educational displays and experiences targeted at kids, so it's a great place to take the family.
What to do there: This is no ordinary cinema. If you love quirky, independent films, cult classics and documentaries, then this is the place for you. The cinema is open 7 days a week and specialises in these genres. And if you really enjoy these kinds of movies, then the shop is a great place to pick up some unusual memorabilia of your visit.
#16 – Foodhallen – A must-see for foodies!
Why it's so awesome: If you love food, and who doesn't, then this is the best place in Amsterdam. In this neighbourhood, you'll find everything you've ever wanted to eat from dim sum to pizza and doughnuts. This area was once an old tram depot, so it has plenty of history behind it. But it's now filled with food stores that offer some of the best snacks in the city.
What to do there: Take your appetite and go from stall to stall in this area. Try everything that peaks your fancy and take your food to one of the outside benches and watch the crowds while you eat. When you're full, there are several shops and boutiques selling clothes, ornaments and other goods that you can browse in. And as is the norm with Amsterdam, the shops are all quirky and unique, so make sure you enjoy the atmosphere while you're there.
#17 – Begijnhof – One of the most religious places to see in Amsterdam
Why it's so awesome: Amsterdam is incredibly laidback but it's still a city and that means that it's busy and crowded. If you need a little break, then this garden is the perfect place to take it. The garden and courtyard are in the middle of houses that once belonged to the Beguines, a religious group that admitted only unmarried women under a vow of chastity. This has given the area a quiet, contemplative vibe.
What to do there: This is a quint, medieval corner of Amsterdam that feels worlds away from the crowded city. There's just something about it that encourages contemplation and thought and it's a wonderful introduction to Amsterdam's religious past. While you're there, make sure you take a look at the city's oldest wooden house, which was added to the area in 1425.
#18 – Cuypers Library – A nice quiet place to see in Amsterdam
Why it's so awesome: If you're a reader then you'll love this place. The building is stunning and brings to mind books of magic where the main character is thrust into an incredible adventure after opening an unusual book. The library is attached to a museum, but few tourists venture beyond the museum into this part of the building. And that's a shame because this is one of the largest art history libraries in the country and it's a lovely place to sit and read for a while.
What to do there: If you love books then you'll love this place. It will give you a chance to sit and read about all the amazing works of art you've experienced since landing in Amsterdam. It's also a quiet and beautiful haven away from the busy streets and tourists. The only people you'll see here are scholars quietly toiling away at their chosen disciplines. So if you need a quiet afternoon in a beautiful place, this is where to go.
#19 – Theatre Tuschinski
Why it's so awesome: This theatre is a confusing mix of styles that's oddly beautiful and well worth seeing on their own. The imposing exterior hides bright, colourful walls and rooms on the inside, and the building has been recently refurbished so it's looking its best. This might seem like a strange place to catch a movie, but it's well worth going out of your way just to see and take pictures of the building's unusual features.
What to do there: This is a functioning movie theatre so if you're in Amsterdam for a while it's worth seeing what movies they're showing. And if you're not a movie buff, you should still visit and take in the architecture. The architect combined lots of different styles when he made this building, and it's truly an amazing mix to see and take pictures in front of.
#20 – OT301
Why it's so awesome: Chances are that you've never seen anything like the alternative music scene in Amsterdam. This is a city that prides itself on being different from everyone else, and that's definitely reflected in the music at this venue. Run by volunteers, this is the best place to hear some of Amsterdam's up-and-coming musical talent. And the location is actually a legal squat, which makes it all the more interesting and unusual.
What to do there: If you visit the OT301 at night then you will experience new bands, music, and up-and-coming talent. But even if you go during the day then there's plenty to do. During the day, the venue is host to artistic workshops and classes and the whole place is built on the ideas of diversity and inclusion. This combination makes the OT301 one of the friendliest and coolest places to spend time and soak up the atmosphere in. And if you're really lucky, you might discover a new talent of your own too!
#21 – Electric Ladyland – Quite the quirky place in Amsterdam!
Why it's so awesome: In a city full of quirky places, this is probably one of the strangest. It's a tiny museum in Jordaan and is dedicated to fluorescent art. Well, it's actually dedicated to a mix of art, science, and geology. This might sound a little strange, but the displays explore minerals, art and stones that glow under ultraviolet light in a way that's both beautiful and fascinating. It's so fascinating that you won't even notice that you're learning at the same time!
What to do there: You need to book ahead to get into this museum but it's worth taking the time. Not only are the displays beautiful, but they're also interactive. So while you're there, make sure you take in all the lights and colours and also go the extra step and become a part of the artwork!
#22 – The Royal Palace
Why it's awesome: Everyone loves hearing about royalty and now you can see where they lived and died and everything in between! The Royal Palace in Amsterdam is the official residence of the King of Holland and was built in 1648 as a Town Hall. The rulers at the time had an unusual taste, so the architecture is modelled after the buildings in ancient Rome, which makes a fascinating statement in the modern city.
What to do there: The Royal Palace is incredibly beautiful and richly appointed, which is why it makes the perfect location for photographs. You can also tour the inside, as long as it isn't occupied, so make sure you spend some time in the opulent staterooms. You'll get a much better idea of just how wealthy royalty can be when you stroll around the impressive Royal Palace!
#23 – Westergasfabriek
Why it's so awesome: This was once a slightly grimy industrial hub, but it's been turned into the cultural center of the city. It has quirky stores and businesses, comfortable cafes and there are always events and festivals going on. So if you're ever looking for something to do while you're in Amsterdam, this is the place to come. Because there's always something going on here.
What to do there: This area is so crowded with things to do that it's easier to say what you can't do. There are great restaurants and bars, cafes, an arthouse cinema, a microbrewery and coffee roasters. And as if that wasn't enough, the area also plays host to events, markets and festivals on a regular basis. So, whatever you want to do, you can probably find a way to do it here.
#24 – De Pijp Neighborhood
Why it's so awesome: This neighbourhood is a melting pot of different cultures and foods and is one of the most vibrant areas in the city. It's also known as the Latin Quarter of Amsterdam and there are lots of pubs, cafes and restaurants in the area for you to try. It's a great way to get a better idea of the different cultures that live in Amsterdam and how they seem to coexist in relative harmony.
What to do there: While you're in the area, visit the shops and look for souvenirs or gifts for people back home. Make sure you visit one of the very traditional pubs in the area or have a meal in one of the many, very good restaurants. There is also a park nearby where you can have a break from the busyness and enjoy some nature before you go back to your explorations.
#25 – The Resistance Museum – A fascinating educational place to visit in Amsterdam
Why it's awesome: Most people outside of Holland don't know about the role of the Dutch Resistance in the Second World War and this is a shame. The heroic men and women who fought against the Nazi's regime deserve to be remembered and recognized, and this museum records their efforts with sensitivity and honesty. In 1945, there were more than 300,000 people hiding in the Netherlands, most of them Jews and anti-Nazi Dutch people. In this museum, you'll see how they were hidden, how the Resistance protected them, and examine photographs, movie clips and documents from the time.
What to do there: There's always something eerie about learning about the atrocities committed during the Second World War, but it's life-affirming to learn about the people who fought against the horrors. If you want to feel sad but hopeful for humanity all at once, spend some time looking at the photos, documents and movie clips in this museum. It's a good way to add to what you learn and feel at the House of Anne Frank.
#26 – Leidseplein – A great place to visit in Amsterdam at night
Why it's so awesome: This square is the centre of everything and a trip to Amsterdam wouldn't be the same if you don't explore this area. It's great during the day or at night and is the perfect starting point for your adventures in the city. There are also a lot of great bars, restaurants and cafes in the area, so you'll find somewhere to go that suits every taste.
What to do there: This square is a great place to start out a fun night with some friends. The most popular bars and restaurants in the city area are close by, and you can fan out from the centre until you find out what you're looking for. It's also a great place to visit during the day if you enjoy cosy cafes and delicious food.
#27 – Nieuwe Spiegelstraat – One of the most underrated places to see in Amsterdam!
Why it's so awesome: Souvenir shopping is fun, but sometimes you want to bring home something a little different and this is the perfect place to find that. This street is lined with antique shops, each of them showcasing a different, obscure part of the city's history. Be prepared for weirdness when you shop here, and to see things you've never even heard of!
What to do there: If you like quirky, unusual things, then this street is a treasure trove. The shop dedicated to past medical instruments and oddities is particularly interesting as is the one that sells scientific instruments from the past. While you're in this street, the best thing to do is just wander. Explore the different shops and what they have to offer. And be prepared to go home with an amazing story and souvenir or two!
#28 – Museum Vrolik
Why it's so awesome: This museum is located at the University of Amsterdam and it's dedicated to human and animal anatomical mutations. Once held in a private collection, there are now more than 150 examples of mutations ranging from dental mutations to bone pathologies in both animals and humans held here.
What to do there: This is definitely not a collection for the kids or for anyone with a weak stomach. And if you don't enjoy seeing strange things floating in jars, then you might want to give this a miss. But if your interests sometimes run to the macabre, then exploring this museum is a great way to spend a couple of hours. You'll definitely leave the museum feeling grateful for how well your own body is put together!
#29 – De Poezenboot (The Cat Boat)
Why it's so awesome: This floating cat home is probably the only one of its kind. The cats who live here seem perfectly happy surrounded by water, and your visit could make their lives a little easier too. This unusual boat was set up as an animal sanctuary in 1966 and is a charity run entirely on donations. There are up to 50 cats on the boat at any one time and human visitors are welcome.
What to do there: This is a chance to combine animal cuddles with doing some good. Visitors are welcome to come aboard the boat for some cuddle time and to adopt. If you're travelling, adopting probably isn't practical, but the shelter welcomes donations, which all go towards feeding and taking care of the boat's residents and the rest of Amsterdam's cat population.
#30 – A'Dam Lookout and Over the Edge Swing
Why it's so awesome: This tower is a landmark in Amsterdam and boasts an observation deck where you can sit and look out across the city. The views are absolutely stunning, especially on clear days, but if this isn't enough excitement for you then consider trying the Over the Edge Swing. This is the highest swing in Europe and there's nothing like swinging back and forward nearly 100 meters above the ground! It's one of the most unique tourist attractions in Amsterdam.
What to do there: For most people, it's enough to simply visit the observation deck and take in the views of the city And the historic buildings below. This is a great chance to take some photographs of the varied and atmospheric city below. If you're looking for something more exciting, then pay a little extra and take a turn on the swing. It's definitely worth the small extra fee and will really get your blood pumping!
#31 – Bibliotheca Philosophica Hermetica (the Ritman Library)
Why it's so awesome: This library holds a large collection of rare books on ancient religions, mysticism and philosophy. You can find a lot of gems here from the first illustrated version of Dante's The Divine Comedy to Cicero's De Officiis. The collection is so varied and unusual that it inspired Dan Brown's The Da Vinci Code and overall is a fascinating window into ancient and more recent schools of thought.
What to do there: This is a display for book lovers and people who are interested in learning more about the past. If you're a reader or a student of the past, you'll probably find some old favourites here. And who knows, maybe you'll get inspired just as Dan Brown was!
#32 – The Homomonument
Why it's so awesome: During the Second World War, gay men in Nazi concentration camps were forced to wear a pink triangle on their clothes. This type of marking meant only horrific things in the camps and this monument acknowledges that and remembers the men and women who lost their lives to bigotry throughout the ages. The monument was designed in 1980 after gay activists were arrested in 1970 for putting a lavender wreath on Amsterdam's National War Memorial in Dam Square.
What to do there: This is a place to reflect and remember the horrors of World War II. To remember all the people, men and women, who lost their lives because of their sexual orientation, and to remember to do better in the future. There are three triangles in the monument. One points to Dam Square, the other to the headquarters of the oldest gay rights organisation in the world, the COC Nederland, and the third pointing to Anne Frank's house. It's a moving place, and people often bring flower wreaths to place on the triangle by the water in remembrance.
#33 – Dam Square
Why it's so awesome: Dam Square is the centre of the city and one of the most important and well-known areas as well. It's also the historical centre and is surrounded by examples of incredible architecture as well as important monuments to Amsterdam's history. You can get everywhere from this spot, and it's a great place to start out on your journey around the city. It's home to some incredible historic buildings and many well-known tourist attractions.
What to do there: While you're in Dam Square, you're within walking distance of a lot of important buildings and monuments. At one end is the Royal Palace, and the other is the National Monument, which memorialises the lives lost during the Second World War. This combination of monuments and attractions has made Dam Square the centre of tourist activity in the city. It's that mixture of cultures, from walking in the footsteps of the Dutch royal family to retelling the stories of World War II, visiting Amsterdam has so much to offer.
#34 – Science Center NEMO – Awesome place to visit in Amsterdam with kids!
Why it's so awesome: There's nothing like learning about science in an interactive and interesting way and this museum gives you the chance to do just that. It's the perfect place to bring the kids if you want them to enjoy themselves and learn at the same time. And adults will enjoy it as well.
What to do there: There are five floors of exhibits in this museum so there's no shortage of things to see and do. You can explore the universe, perform a chemistry experiment, or learn about mathematics in a way that will make you wonder why you ever hated it in school. Basically, no matter what you're interested in, you'll find something fun to do in this hidden gem in Amsterdam!
#35 – Our Lord in the Attic Museum
Why it's so awesome: If you're interested in the unusual, then this is the place for you. Located in the Red Light District, this four-hundred-year-old house near the canal holds a secret. The upper floors hide a richly appointed and decorated Catholic Church! The church was created in 1663, at a time when Catholics were persecuted in Holland. The then owner of the house built the church so he and his fellow Catholics could worship in peace and secrecy.
What to do there: The real draw of this tiny church is its mystery. You pass through a completely normal, albeit old house, up numerous stairs, and suddenly find yourself face to face with an altar. There is room enough for around 150 worshippers in this tiny church and the Dutch Classicist style decorations are incredibly beautiful. The tiny church is now a museum, but they still hold services there regularly. And why wouldn't they when it's such a beautiful place?
Get insured for your trip to Amsterdam!
ALWAYS sort out your backpacker insurance before your trip. There's plenty to choose from in that department, but a good place to start is Safety Wing.
They offer month-to-month payments, no lock-in contracts, and require absolutely no itineraries: that's the exact kind of insurance long-term travellers and digital nomads need.
SafetyWing is cheap, easy, and admin-free: just sign up lickety-split so you can get back to it!
Click the button below to learn more about SafetyWing's setup or read our insider review for the full tasty scoop.
Find out what people want to know about the best places to visit in Amsterdam
Don't let stories and news reports scare you away from Amsterdam. This city is one of the safest and the most exciting in the world, and it definitely has to be seen to be believed. We've now gone through a list of some of the most interesting and historically important places in Amsterdam. By exploring this list, you'll get a good understanding of the city's culture, its history, and what makes it so special and you'll have a fantastic time as well!
Once you've done exploring the city itself then why not check out the amazing day trips in Amsterdam too and be sure to stay close to Amsterdam Central Station for the best use of your time.
---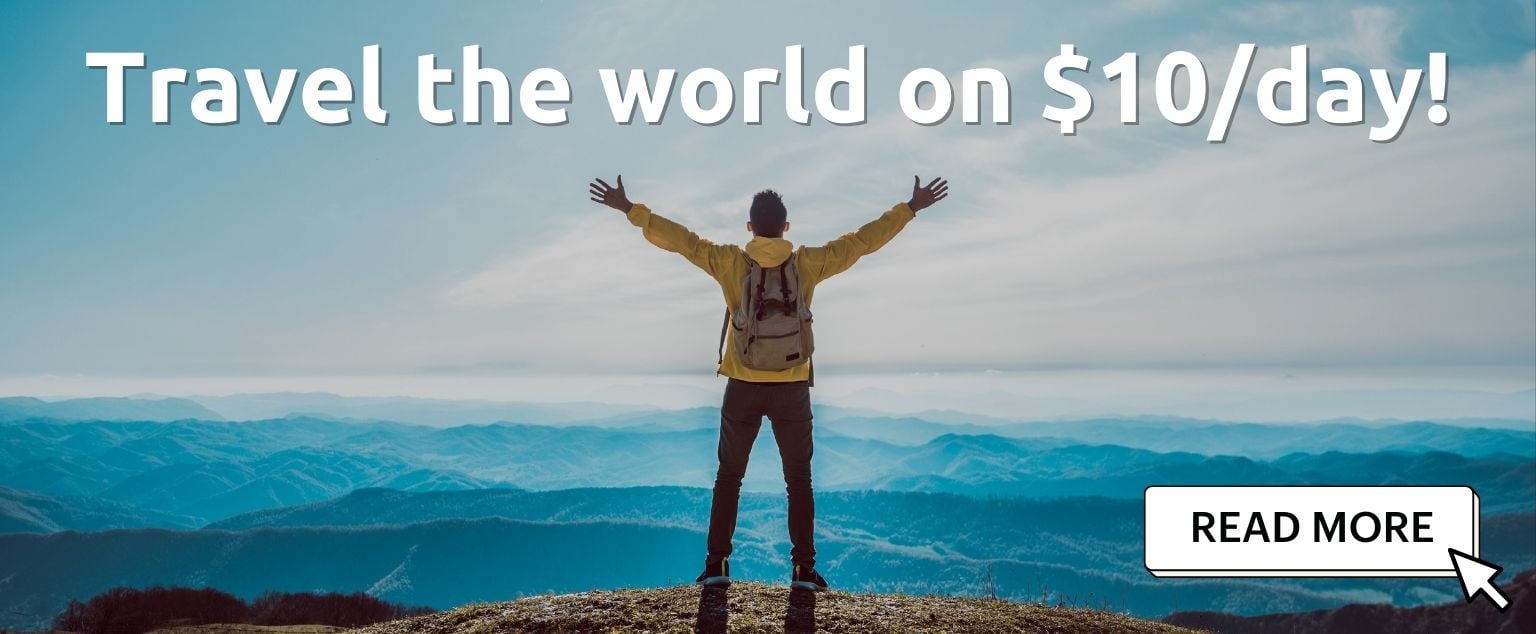 And for transparency's sake, please know that some of the links in our content are affiliate links. That means that if you book your accommodation, buy your gear, or sort your insurance through our link, we earn a small commission (at no extra cost to you). That said, we only link to the gear we trust and never recommend services we don't believe are up to scratch. Again, thank you!