Amsterdam is justifiably one of Europe's most visited cities. The city mixes quaint canals, happening nightlife, and a quirky vibe – perhaps best of all, the city offers its wonder in a compact and easy to navigate package.
When it comes to choosing the best time to visit Amsterdam, it will likely depend on what experience you've been dreaming of. If like many others, you hope to see fields of tulips in full bloom, then you'll be limited to travelling in late spring and early summer. If you're planning to take on the nightlife and cannabis culture, then you'll enjoy slightly more flexibility when you choose to visit.
Because Amsterdam offers such a diversity of things to see and do in a relatively small location, high season in summer can become fairly crowded and constricting, especially at major tourist spots. The shoulder seasons of spring and autumn are very rewarding times to visit, even if the weather is a little temperamental.
To help you pick the best time to go to Amsterdam for your specific needs, we've compiled this handy guide to take the guesswork out of it.
Best Time To Visit Amsterdam – September and October
Best Time To Smoke Weed – Year round
Best Time To Party – Year round
Best Time For Sightseeing – Autumn (September, October)
Cheapest Time To Visit Amsterdam – January
When is the Best Time to Go to Amsterdam?
The summer months in Amsterdam are by far the most popular months for travellers. Between May and August, the city welcomes hordes of visitors coming to explore the city in the mild weather. This is prime Amsterdam backpacking time.
The spring (late March onwards) is also considered part of this peak as this is the best time to visit Amsterdam to see the spectacular fields of tulips burst to life in a jaw-dropping display of color. That said, the blooming is all dependant on the weather and can occur unpredictably earlier or later.
Amsterdam in the spring is lovely, with brightly blossoming window boxes adding color to the city wherever you go. The days are warm but don't usually get too hot, with the mercury hovering in the low-to-mid-20s. These months feature a variety of outdoor summer events to check out.
This peak period may be characterised by mild and pleasant weather, but that is tempered somewhat by the large crowds, busy streets, and significantly higher prices on rooms and travel. Amsterdams hostels get busy at this period so do book in advance.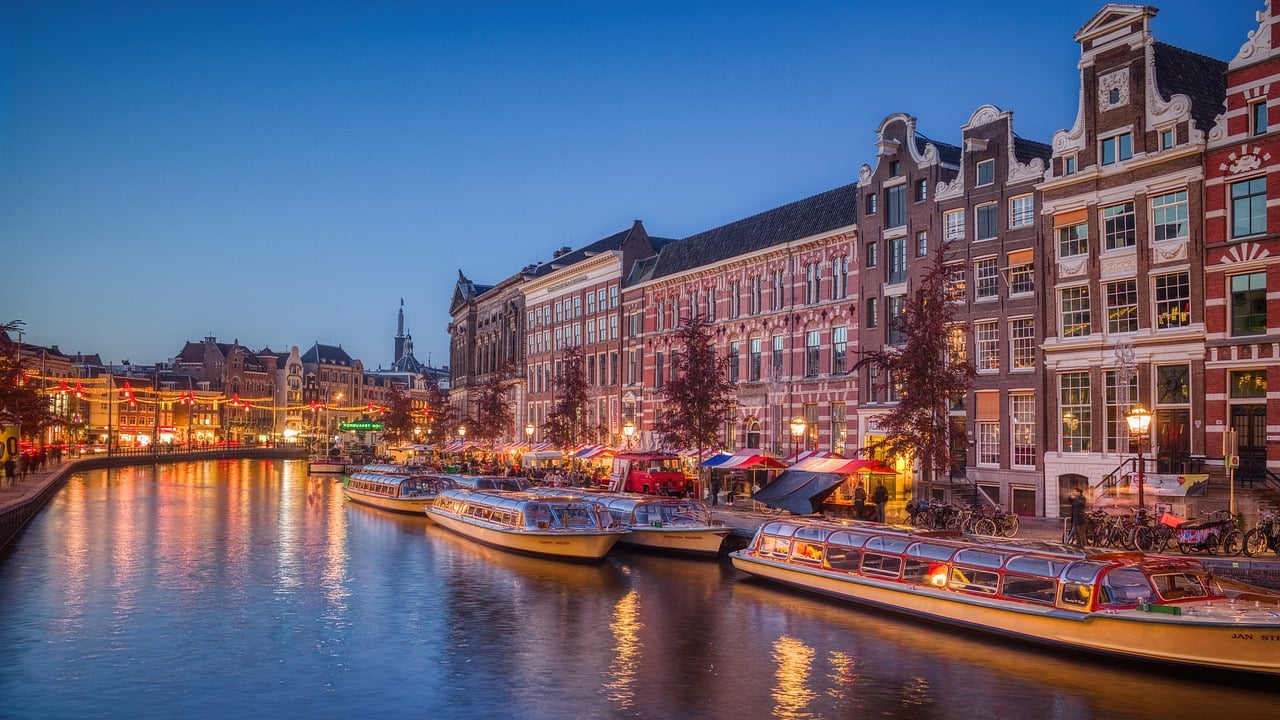 Anyone wishing to enjoy some sightseeing in this picturesque city should plan their trip for the autumn months and early winter. Mid-September to October offers slightly cooler weather but still a good chance of sunny skies and is the best time to visit Amsterdam for outdoor sightseeing. You can also find a few Amsterdam accommodation bargains during this period.
Attractions will be blissfully devoid of the large, jostling summer throngs, and you're more likely to find a good deal on your hotel and airfare.
Winter (outside of the Christmas and New Year period which see another spike in tourism) is the ideal time to plan your itinerary to Amsterdam if you really want to save money and have a laid back, crowd-free sightseeing holiday.
It isn't typically the kind of weather for being outdoors for too long, so you'll need to bundle up. Expect grey skies, frozen canals, and significantly shorter daylight hours for sightseeing.
Much of Amsterdam's rain falls in the winter months between November and February, but soaking showers can occur at any time of year.
Is This the Best Travel Backpack EVER???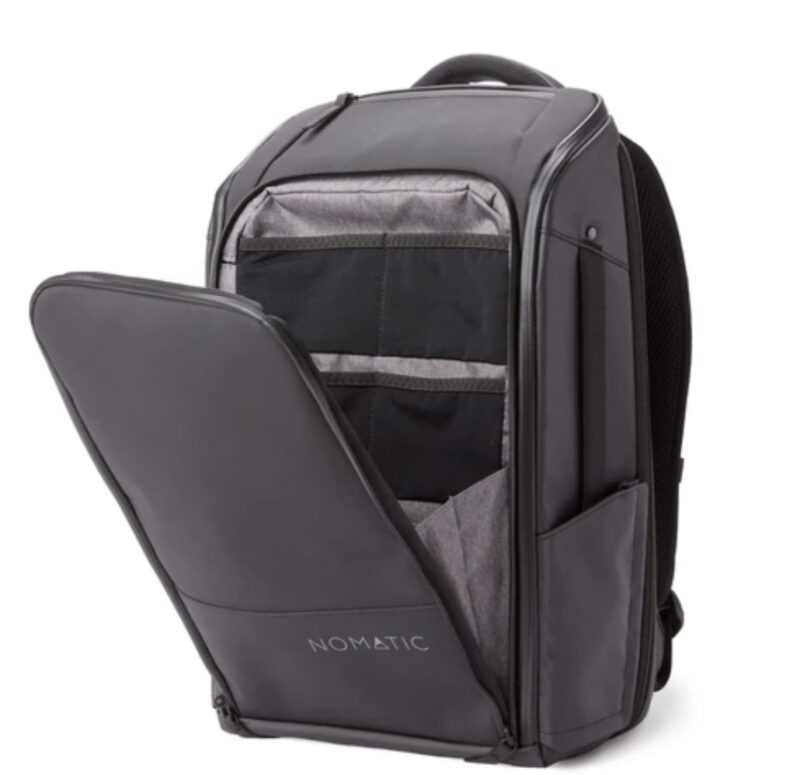 Best Time to Smoke Weed
Amsterdam's tolerant and progressive approach to cannabis has birthed an entire tourism industry devoted to its consumption. With over 100 coffee shops (not to be confused with actual coffee-serving establishments) offering entire menus to satisfy everyone from first-timers to connoisseurs, there's no shortage of places to stop in for a puff.
Most coffee shops open at around 8:00 AM daily, and by law must close by 1:00 AM. Some shops may even close earlier, so it's important to check trading hours before heading out.
Much like pubs and bars, locals will have their favorites that they frequent, while those located on main tourist routes are likely geared to tourists and would attract fewer locals. Each coffee shop also offers a distinctly different vibe. Some feel more like clubs, while others are a bit more laid back. It all comes down to preference.
Like most tourist attractions in Amsterdam, these coffee shops see a steady stream of traffic all year round but can experience fluctuations.
Weekends and holidays are much busier in the coffee shops than weekdays, so if you're hoping for an uncrowded experience, weekday mornings are preferable. Of course, late afternoon and early evenings pick up significantly, especially on weekends.
One last word – the Dutch authorities have unveiled plans to ban tourists from the cafes – so it may be that the time to smoke weed in Amsterdam is right now before its too late!
Best Time to Party
Amsterdam is a party city after dark, renowned for its top DJs and clubs. Whether you're looking for banging EDM, live rock music, or smooth jazz sounds, there's a bar, café, or club waiting to welcome you.
Most venues in Amsterdam will charge a door fee or cover charge, but usually only after 11:00 PM. Dress codes are fairly lenient, with only a few clubs enforcing a strict dress code. Usually, jeans and sneakers will do fine as long as you don't look too shabby or wasted.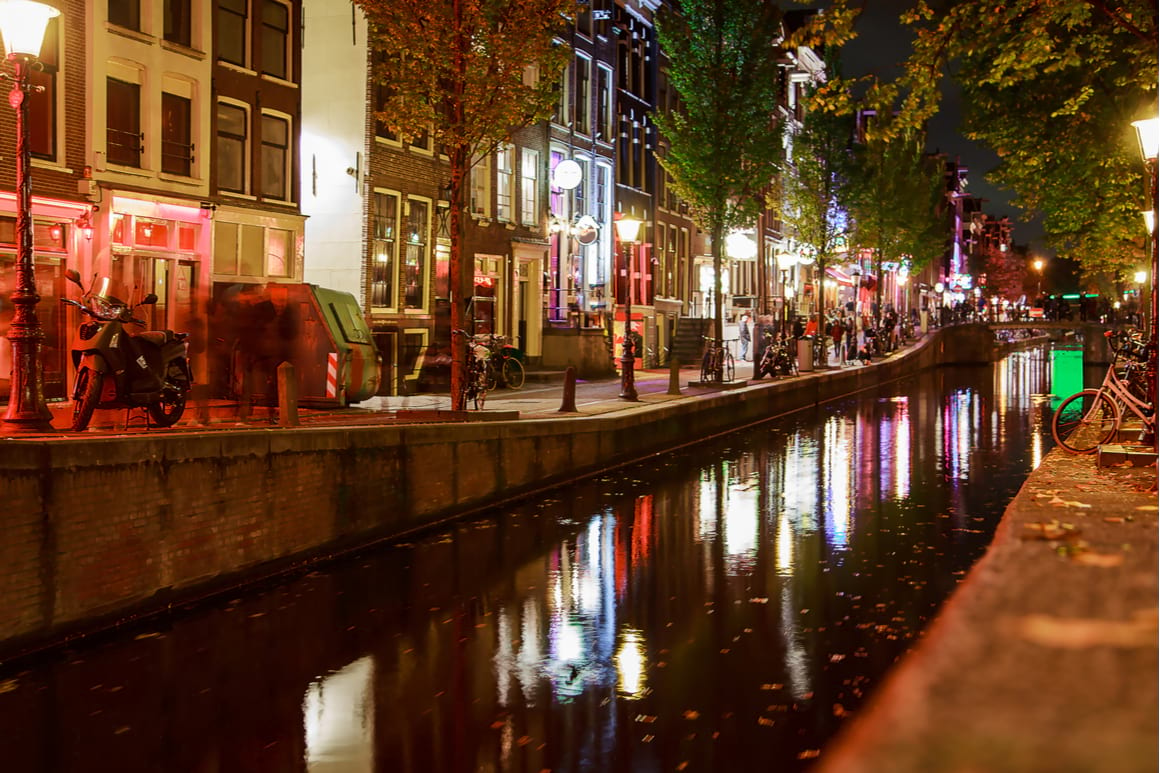 Dance clubs in the city are usually pumping until about 4:00 AM on weekends, while bars and cafes close up around 3:00 AM on weekends.
During the week, the party certainly doesn't stop, but clubs and bars may close slightly earlier. Sunday nights are notoriously quiet.
The summer months in Amsterdam supplement the very generous club scene with a variety of outdoor festivals and parties.
Need an Amsterdam Hostel?
The Generator – Amsterdam
No matter when you decide to visit Amsterdam, you will find the generator a warm and welcoming hostel option. Clean, comfortable and well situated, its a great base for our stay and it attracts a great mix of backpackers.
Best Time for Sightseeing in Amsterdam
Anyone wishing to explore the many sights in Amsterdam will most likely be eyeing the summer months for the warm temperatures and sunny skies. While this is ideal sightseeing weather, it's also the most crowded and expensive time to visit Amsterdam.
Because Amsterdam is such a compact city, this influx of summer tourists can have the city feeling overly full, with long queues at major attractions, and limited hotel availability at this time. If you're visiting in the summer, be sure to book well in advance.
The best time to visit Amsterdam for sightseeing would be the shoulder seasons of spring and autumn. Early spring is likely to still be a bit chilly at times, as will the late autumn, but you'll benefit from the less busy conditions – no lines at main attractions and cheaper airfare and hotel rooms.
Winter is, of course, also a great option for sightseeing without the crowds. It will require some heavier clothing to keep the chill at bay, and careful planning to squeeze it all in with limited daylight hours, but you'll be assured a much more laidback experience.
Best Time for Smoking Weed
Getting legally high is one of the best things to do in Amsterdam. Dam's coffee shops are a popular stop with tourists wanting to bring home stories of that time they smoked it up in Amsterdam. This means that these venues are rarely free from tourists no matter what time of year you're visiting the city.
Coffee shops located near top tourist hotspots are likely to be tourists attractions themselves, so, like all attractions, it's better to get there earlier in the day to avoid the crowds – especially in peak season.
Coffee shops in the city centre are likely to be more expensive and more touristy. If you want to smoke like a local, head outside of the main city centre for a more authentic, laid-back experience.
It's also worth noting that coffee shops have to close by 1:00 AM, although some coffee shops close much earlier while others do stay open slightly later. Again, this may all change if proposed changes to Amsterdams weed culture come into force.
Cheapest Time to Go to Amsterdam
Cheapest Time To Go To Amsterdam

| Expense | Oct-Feb | Mar-Jun | Jul-Sep |
| --- | --- | --- | --- |
| Hostel | $30 | $37 | $38 |
| One way flight to Amsterdam from Europe | $37 | $121 | $55 |
| Private hotel room | $295 | $297 | $312 |
| Anne Frank House admission | $17 | $17 | $17 |
A popular destination like Amsterdam can certainly come at a cost, especially during peak season. That said, there are ways to see and experience the city without breaking the bank.
The cheapest time to visit Amsterdam is in the winter. Outside of the Christmas and New Year peak, you can often pick up some really good deals. If you're willing to hold on for those very last-minute deals, you can save even more.
The shoulder seasons are also still much cheaper than the peak, but won't be as budget-friendly as a visit in the winter.
Traveling outside peak season not only saves you on accommodation and flights, but it will offer the added benefit of fewer crowds of tourists to fight through at major attractions.
Grab your copy of the Backpacker Bible for Free!
Learn how to travel the world for less than $10 per day with the Backpacker Bible!
This book is the culmination of over 10 years of travel and living on a shoestring budget. It's full of valuable insider hacks that will help you unlock your full potential as a traveller.
It's also FREE at the moment! All you need to do is click the button below, provide the necessary information, and you'll be emailed the ebook.
I want it!
Busiest Time to Visit Amsterdam
As with most European destinations, the summer months between May and August are the busiest time to visit Amsterdam. Sunny, mild weather and long days ideal for sightseeing are countered by long queues, crowds of tourists, and elevated pricing.
The spring season, which is usually considered shoulder season, is also a peak travel period in Amsterdam as this is commonly when the tulips burst into full bloom. It should be noted that predicting this blossoming is not quite an exact science – it's driven by climate, so it can be slightly earlier or later from year to year.
Outside of the spring and summer peaks, there's one other time in Amsterdam that sees an increase in tourists – Christmas and New Year. Quaint Christmas markets, open-air ice rinks, and festive twinkle lights turn the city into an enchanted holiday wonderland. Along with festive cheer, this season brings plenty of other tourists and inflated holiday pricing to town.
Weather in Amsterdam
The weather in Amsterdam is mostly cool and mild and humid. Humidity is a constant, turning to inescapable dampness in the winter months.
Summers are warm, but not hot, with temperatures rarely reaching the high 20s (Celsius) and sunny skies are broken up by slightly cooler periods. Rainfall is common throughout the year so you can expect occasional showers throughout all seasons.
Autumn starts warm and pleasant but quickly turns grey, wet, and windy. By winter the temperatures are dipping as low as 0°C, with the wind and dampness coming together to make it feel even colder. The city receives most of its rainfall between November and February, as well as a regular but light dusting of snow.
Spring can be quite unpredictable in terms of weather. Snow is still likely in March, but it steadily gets warmer with the temperatures climbing towards the high teens. By the end of May, the mercury will be comfortably reaching the low 20s.
Festivals in Amsterdam
Amsterdam is a lively city hosting over 300 festivals annually. Ranging from popular music festivals to cultural and culinary celebrations and everything in between, there's sure to be something to suit all tastes.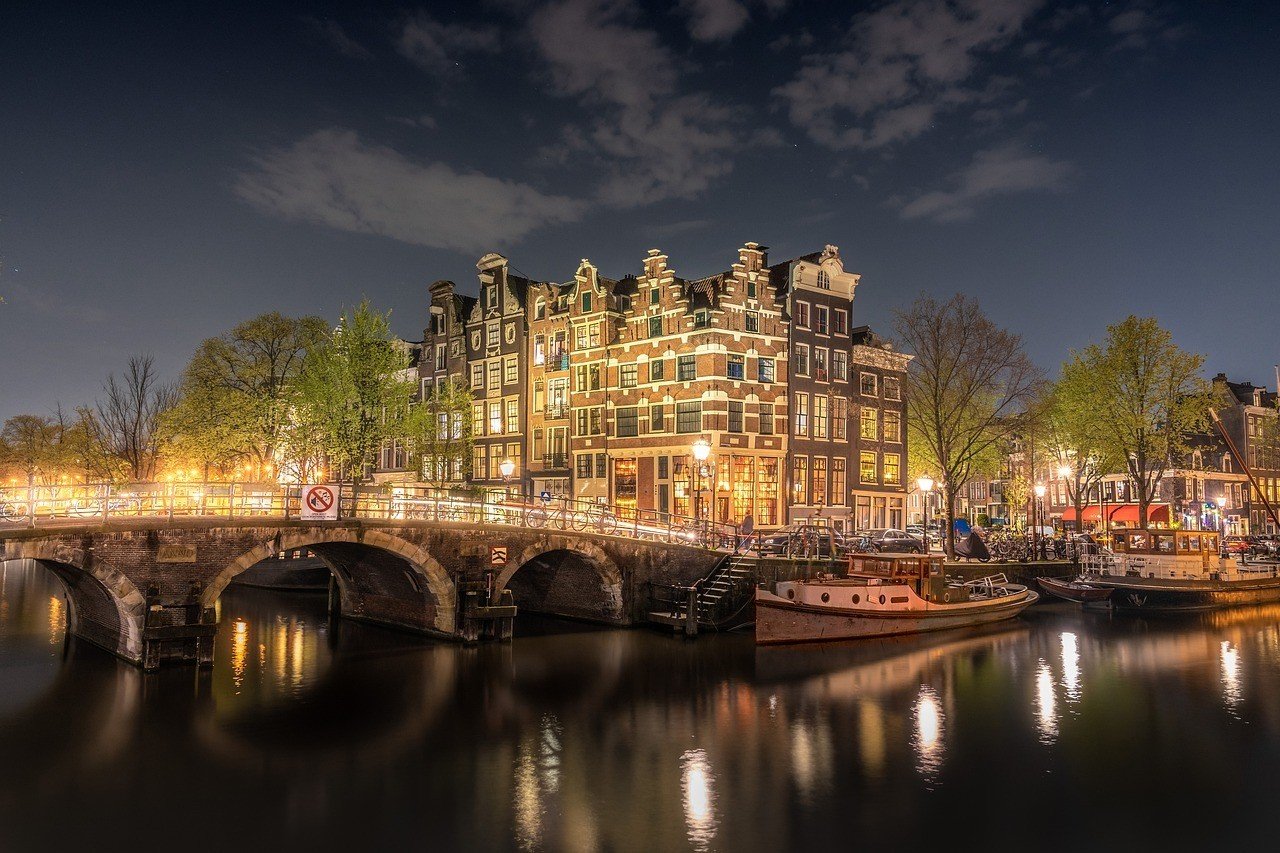 Springtime in Amsterdam is a riot of brightly-colored blooms – some in adorable window boxes and others in sprawling fields just 30 minutes outside the city.
The annual tulip festival takes place in April turning the city into a bright display of blooming tulips at over 85 locations around the city. Public spaces are festooned in tulip displays, honoring the arrival of spring and this most iconic of Dutch flowers.
You can also visit the spectacular Keukenhof Tulip Gardens for an eyeful of vibrant colors.
On the 27th of April every year, Amsterdam celebrates King's Day – the monarch's official birthday. Street parades, fairs, parties, street performances all take place to the delight of the many attendees all festively dressed in orange. Party boats fill the canals, food vendors line the streets, and the entire city heads out to celebrate.
Held each year in Amstelpark, this four-day food festival sees top chefs from the best local restaurants creating sample-size plates of some of their signature dishes for visitors to try. Live cook-offs, kid's activities, and wine tastings can also be enjoyed.
If you're feeling particularly inspired, there's even a farmers' market where you can pick up some fresh ingredients to create your signature dishes.
Holland Festival is a performing arts festival that takes place annually in Amsterdam in June. The oldest and largest of its kind in the Netherlands, the festival showcases theatre, opera, music, dance, film, and visual arts from a diversity of artists.
Since its inception in 1947, the festival has played an important role in showcasing talent and stories from a diversity of artists.
History buffs should make a point of visiting Amsterdam on the second weekend of September for a celebration of the city's rich history. Open Monuments Day sees monuments, buildings, and historic sites opened to the public at no charge in celebration of the city's fascinating history.
Go behind the scenes at some of the city's most important heritage sites, uncovering fascinating stories from the past along the way.
Sinterklaas or Saint Nicholas (not to be confused with Santa Claus) sails into Amsterdam along the canals officially marking the beginning of the holiday season. Boats and floats create a festive parade every year in mid-November to the delight of over 400 000 spectators, among them some really excited children, eagerly awaiting their presents and treats.
Christmas time in Amsterdam would simply not be the same without the various festive markets that spring up throughout the city. Twinkling lights, spiced sweet treats, and festive cheer are in abundance, transforming these markets into enchanted festive wonderlands. Hunt for that special gift among the many stalls, or simply browse and enjoy the festive atmosphere while sipping a warming gluhwein.
When to Visit Amsterdam – A Month by Month Breakdown
By now, you've probably got a fair idea of when the best time to visit Amsterdam is for the experience you wish to have. If you still have any doubts, this month-by-month guide should help you narrow things down for the perfect balance of cost, crowds, and climate.
January in Amsterdam
Winter in Amsterdam is characterized by cold temperatures in the single digits (Celsius) and rain. The persistent damp and wind go a long way to make things feel somewhat colder than they are, and you'll need to bundle up if you're heading out to enjoy some sightseeing without the hordes of summer tourists.
Grey skies, short daylight hours, and the occasional snowfall can also be expected.
February in Amsterdam
The days begin to feel longer, and temperatures head towards the high single digits. You may still experience very cold conditions, with the wind and fog causing things to feel chillier than the thermometers would suggest. While rain can be expected in Amsterdam at any time of the year, February is a little drier.
But if you're willing to brave the chill, you'll be rewarded with great value on rooms and airfare, as well as uncrowded sightseeing.
March in Amsterdam
It's gradually getting warmer in Amsterdam, with frequent cold snaps earlier in the month. Generally, the weather is a bit temperamental, and it's possible to experience all four seasons in as many days. Cold snaps are still frequent and rain is not uncommon for this time of year. Pack for a bit of everything, and dress in layers to ensure you're comfortable no matter what the weather decides to do.
You'll have slightly more daylight to enjoy some sightseeing, but the tourist numbers are starting to increase as it gets closer to tulip season in April.
April in Amsterdam
Spring blooms across Amsterdam in the form of tulip celebrations. Warming temperatures and decreasing rain make heading outdoors much more pleasant to enjoy the longer daylight hours.
Grey skies are the exception rather than the norm in April, and maximum temperatures hover around 12°C. With this pleasant upswing in weather, comes an increase in the number of visitors to the city, and the expected increase in the price of accommodation and flights.
May in Amsterdam
The temperatures continue their steady climb, now sometimes reaching the high teens. Rainfall in May is less common, and the days are long and mild – perfect for sightseeing and being outdoors. Evenings and mornings can still be a bit fresh, so pack a light jacket.
Tourism picks up substantially from May onwards, so if you're hunting bargains, these may be harder to come by. Tourist numbers are almost at their peak, meaning longer queues at major attractions.
June in Amsterdam
Summer is now in full swing, and the days are warm and sunny and long. Temperatures reach the high teens and, while there's an increase in the chance of rain, it's not frequent.
The city is likely to feel full with summer tourists streaming in, and as a result, you'll have a harder time finding availability at this time, not to mention the higher prices of rooms and flights.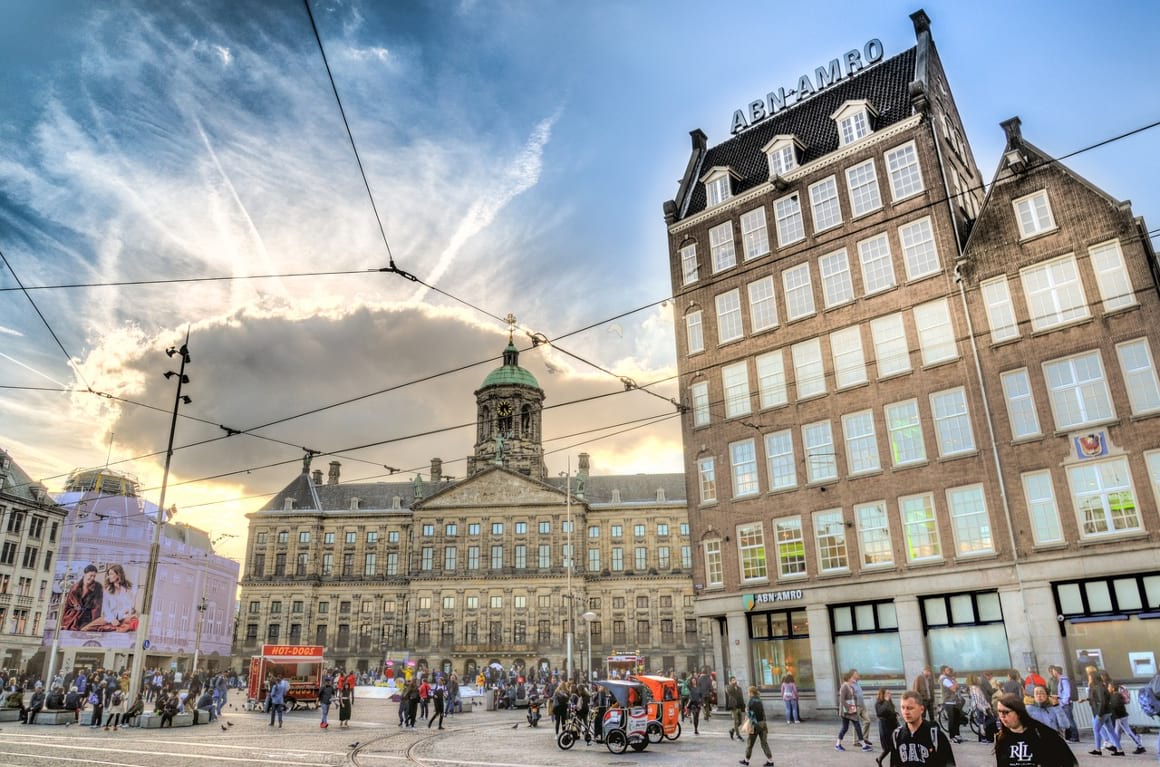 July in Amsterdam
High temperatures in the low 20s combined with the increased humidity to feel significantly hotter. Locals tend to exit the city in July to enjoy their summer holidays at the beach. Rain is likely, but usually in the form of light, brief showers that serve to cool things down.
It's peak season, so expect a long wait at attractions and restaurants and higher pricing across the board.
August in Amsterdam
Much like July, August in Amsterdam is hot and sunny, with the occasional rainy day in between. While the days can reach the mid-20s, the evenings can be cooler, so pack some warmer items.
If you're headed out to do some sightseeing, make sure to start early before it gets too busy or too warm.
September in Amsterdam
Wetter conditions can be expected over September in Amsterdam. It's still warm and mild for the most part, with highs in the mid-to-high teens, but mornings and evenings can have a real bite. Pack for all seasons, making sure to include a light jacket.
The throngs of high summer have departed, and aside from the rain, this is a great time to enjoy sightseeing. Keep an eye out for good deals on accommodation, especially last-minute offers.
October in Amsterdam
Variable weather and shorter daylight hours characterize much of October. Expect more rainfall as well as very unpredictable temperatures that can vary dramatically from day to day.
Amsterdam is beautiful at this time of year in its autumnal colors, and you'll feel as though you have the city almost to yourself without too many other tourists. You'll likely be able to pick up some good travel deals at this time.
November in Amsterdam
The rainiest month of the year is November. Expect a constant drizzle or light rain and chilly temperatures hitting the single digits. The first snowfalls may even occur, so make sure to bring along your warm, waterproof gear, especially if you wish to capitalize on the crowd-free conditions at popular tourist sites.
The occasional sunny, warm day can still be had, so dress in layers and pack for a range of mild to wintery conditions.
December in Amsterdam
You'll need to bundle up against the damp and the cold in December. Short daylight hours, grey skies, and temperatures in the low single digits mean you'll need a good coat and some thermals.
The festive Christmas markets attract many tourists to the city, so the low season conditions of winter are temporarily thrust into the peak. Plan well in advance if you're visiting over this time.
FAQ About the Best Time to Visit Amsterdam
When is the Best Time to Party in Amsterdam?
Amsterdam is a party city at any time of the year. From the thriving club scene to the many bars, coffee shops, and live music venues that are strewn across the city, you're guaranteed a great time no matter when you visit.
Of course, the summer months issue in a season of really great outdoor festivals and parties not to be missed.
The electronic dance music scene in Amsterdam is huge so there's no shortage of top DJs to check out on any given night. From Irish pubs to live music venues and cocktail lounges – Amsterdam has it all.
While weekends in Amsterdam are typically super busy, the weeknights are equally enjoyable. The only real difference is that on weekdays, bars and clubs close slightly earlier than they do on weekends.
When is the Rainy Season in Amsterdam?
Amsterdam can see rain pretty much all year round, but the rainiest months are in the autumn, while the spring months are the least rainy. In the winter months, rainfall is usually in the form of light rain or drizzle, while in the summer, you can expect brief showers. Snow is also common in winter.
Amsterdam is a generally humid place. In summer, this makes the mild summer temperatures feel hotter, but in winter the damp can make the already cold temperatures feel icy.
When is the Coldest Month in Amsterdam?
January is the coldest month in Amsterdam with an average temperature of only 2°C. It's grey, drizzly, and fairly damp, but if you're bundled up against the weather, Amsterdam can still be a wonderful city to explore.
Museums, café's, and galleries are plentiful so even when the outdoors is less than appealing, there's still plenty to see and do.
This is the best time to visit Amsterdam to enjoy the city largely free of the heavy tourist traffic that usually descends in the summer and at a vastly discounted rate.
When is the Worst Time to Visit Amsterdam?
Amsterdam is such a diverse destination with so much to offer that there's never technically a bad time to visit. Perhaps there are seasons better suited to certain activities but never an out-and-out worst time to visit.
If you're looking to see Amsterdam on a budget or without the peak season throngs, then certainly the late spring and summer (between April and August) are the worst times to visit. However, if your trip is weather dependant, then avoid the period from November (the wettest month) to February – it will be cheaper and less crowded, but it's cold and wet and there are very few daylight hours to work with.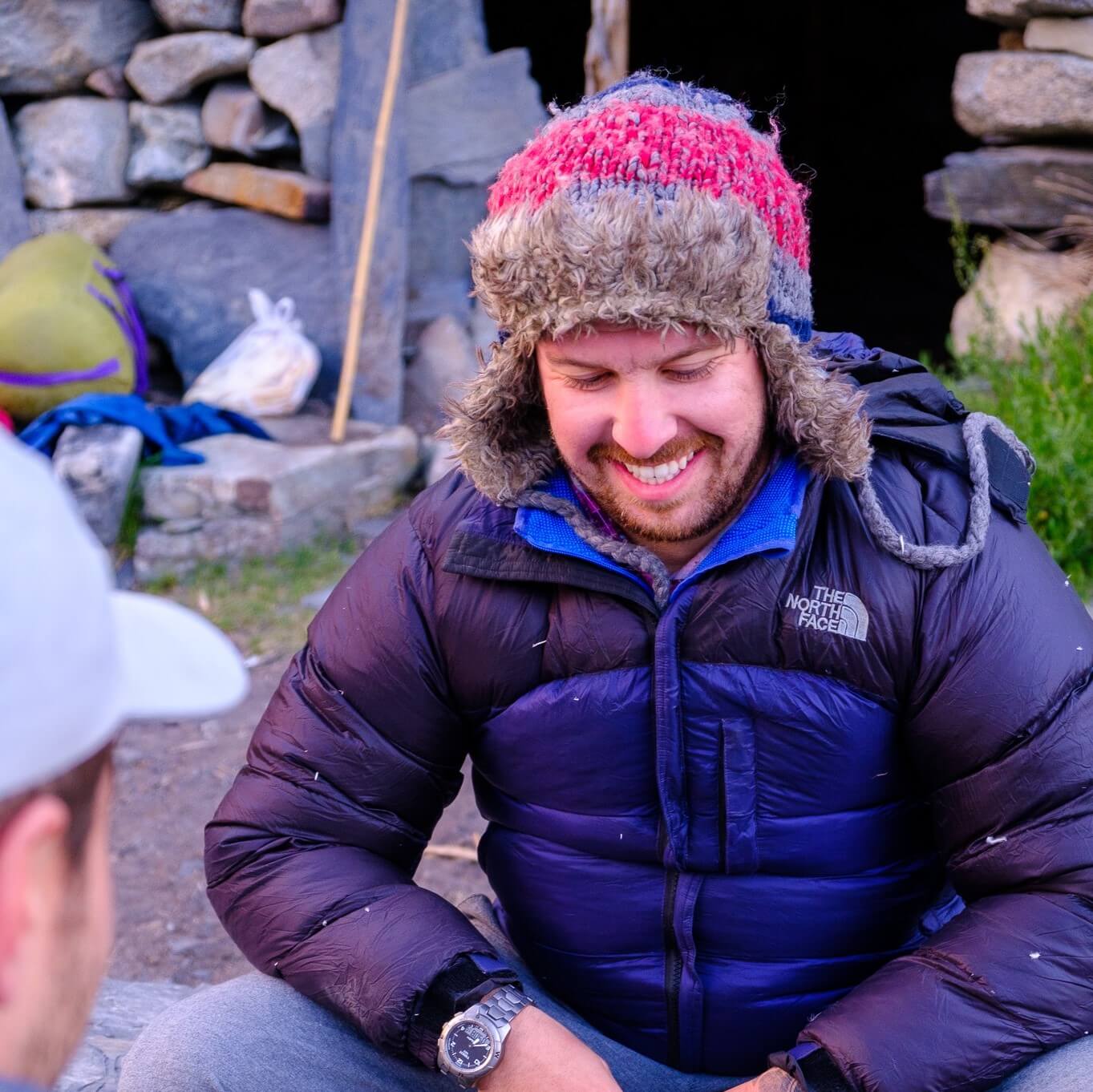 A Story on the Necessity of Travel Insurance
Do you need Insurance to visit Amsterdam?
"Once upon a time, I almost lost my leg in a sweltering jungle…
I battled a seriously nasty infection that snaked up past my knee and by the time I made it to a local hospital they wanted to amputate. I was delirious, unable to walk, and in a lot of pain but I managed to call my insurance provider – they moved me to a much better private hospital where the doctors were able to save my leg.
I wracked up $15,000 in hospital bills, but these were completely covered by my travel insurance. Luckily, I still have my leg today, and whilst it is permanently damaged, I'm grateful every day it's still attached!
Moral of the story: consider getting travel insurance before you head out into the wilds, people!"
Final Thoughts on the Best Time to Visit Amsterdam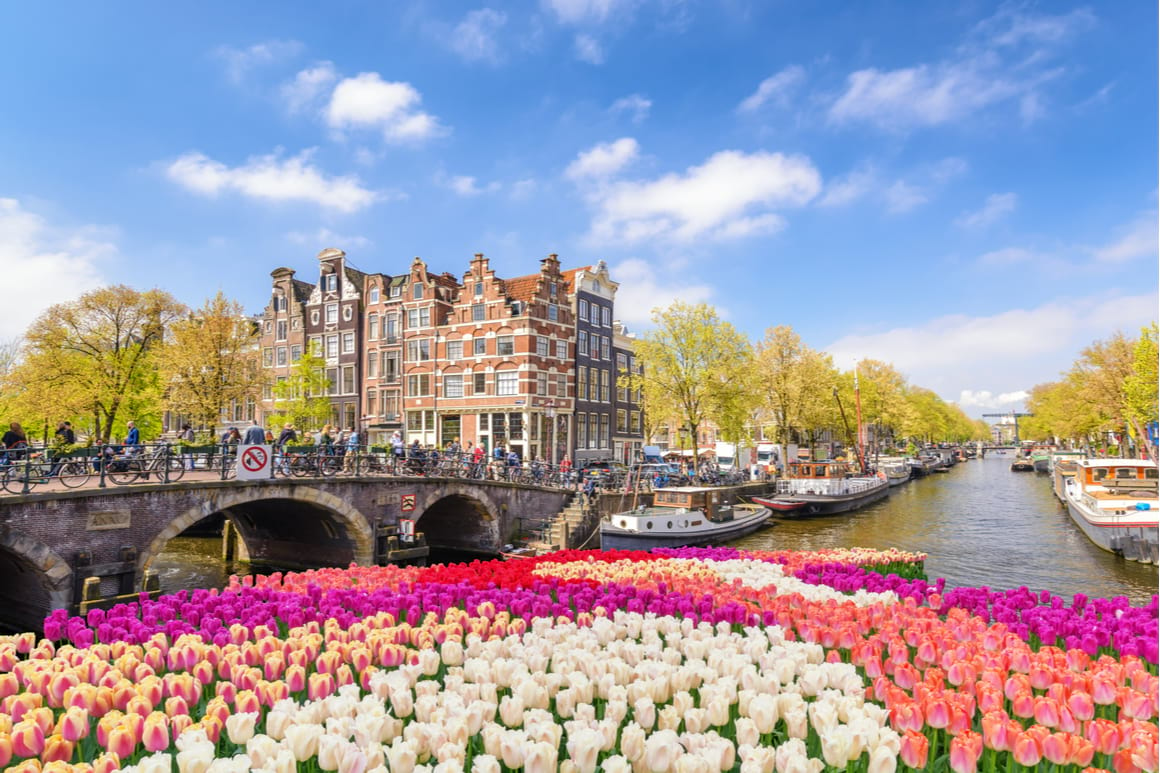 Amsterdam is a dynamic and vibrant city, not to be missed at any time of year. Not only can you experience its edgy nightlife, cannabis coffee shops, and famed red-light district, but the city is alive with history, culture, and art.
With such a diversity of sights and experiences packed into every square foot of the city, Amsterdam is a must-see destination no matter when you decide to visit.
If you're heading over for popular attractions or seasonal events, make sure to book well in advance to mitigate costs and avoid disappointment. If you're more flexible and looking to travel outside of peak, you can take a chance and hold out for some really good last-minute deals.
One thing is for certain, a visit to Amsterdam offers a little something for everyone and will leave you with memories to last a lifetime.
---
Find out how YOU can support the site.
We work hard to put out the best backpacker resources on the web for free! It's all about helping out our tribe of awesome backpacker readers (that's you!). Please visit the link to find out how you can help keep the site going 🙂
For the sake of transparency, some of the links in our content are affiliate links. This means that if you book your accommodation, buy a piece of gear, or sort your insurance through our link, we earn a small commission at no extra cost to you. We only link to stuff that members of the Broke Backpacker team has actually used and never endorse products or services that are not up to scratch. Thanks for your support!