April is not your typical vacation season. But if you fancy a trip between your Christmas getaway and your summer jaunt, you couldn't choose a better month to do it. There are plenty of reasons to visit a multitude of hotspots around the world this time of year, and a lot of it has to do with the weather.
For the Northern hemisphere, April is spring. For the Southern hemisphere, April means autumn. And, in the tropical places in between, April is either wet or dry, but still pretty hot – super hot in some places!
Prices are as flexible as the weather at this time of year. Some places have specialist festivals going on, others are just right weather-wise to attract tourists.
To give you some wanderlust inspo, here are some of the most spectacular places to visit in April.
Best Places to Visit in April
Get out your diary, and open the page to April. These destinations going to have you immediately searching for the best flights!
Zambia in April
Awesomely rich in nature with an abundance of wildlife, Zambia is one place that should be at the top of your bucket list. You'll find this landlocked nature lover's paradise at the so-called crossroads of southern, eastern and central Africa.
It's not prime season this time of year, but it's still one of the best places to travel to in April. The nation is coming towards the end of its long rainy season, and the land becomes more accessible for safaris.
April is basically Zambia's autumn. It's a shoulder season, meaning you can get pretty good deals on everything from flights to accommodation, and tours! Temperatures can reach a steamy 35°C, but the nights are cooler getting as low as 10°C. Towards the end of the month, southern Zambia is dry, but the north is rainy into May.
Rain is part of the parcel of a trip to Zambia in April. Everything is bright, beautiful green, and you'll have the chance to spot tons of wildlife at watering holes. When it's not raining, it's nice and clear, making for superb photography conditions.
You're in safari territory, so why not stay close to all the action? This place is right on the Zambezi River, opposite Zambezi National Park, and features clean, cozy chalets.

Do You Want to Travel FOREVER??
Pop your email in below to get a FREE copy of 'How to Travel the World on $10 a Day!'.
Las Vegas in April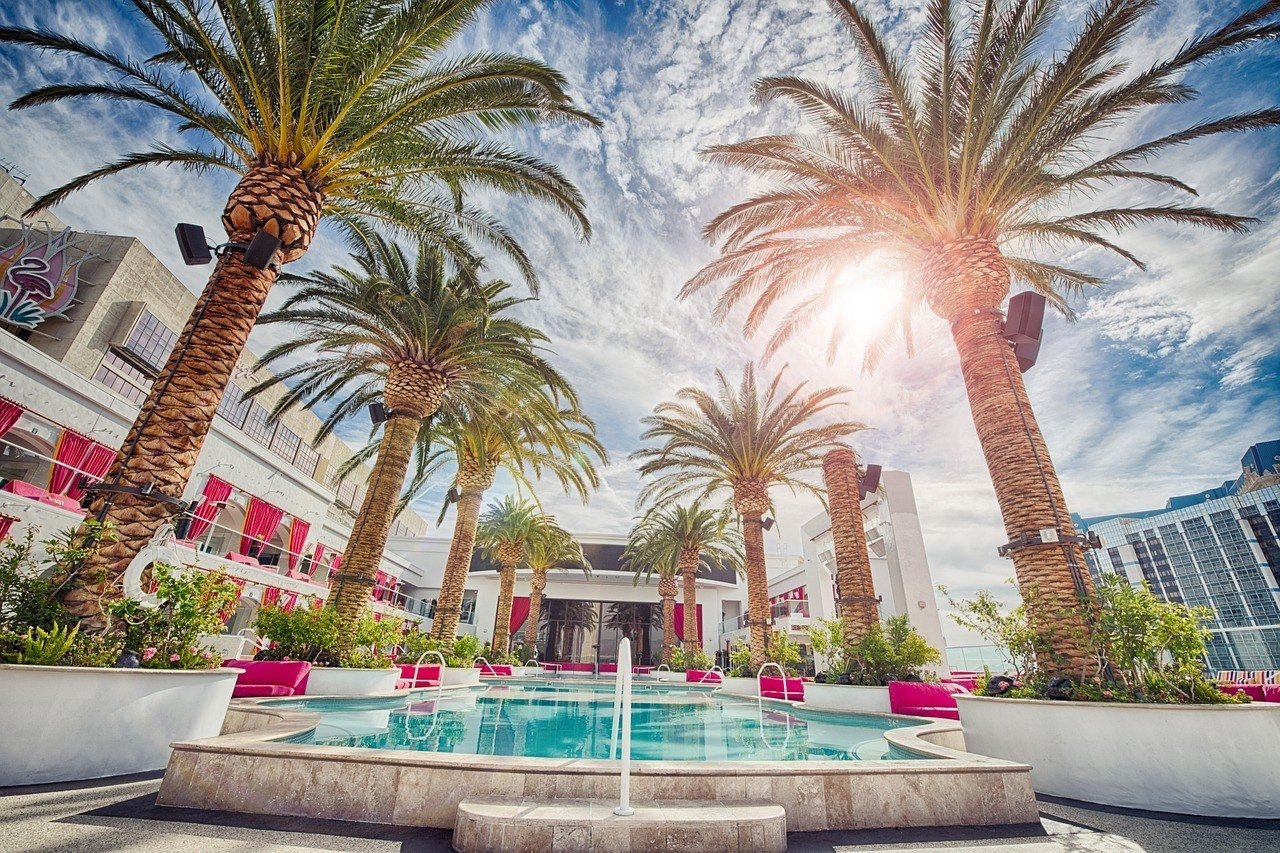 You may be wondering why Las Vegas is one of the best places to visit in April – after all, a lot of the city's most famous activities happen indoors. April is spring, the days are mild and sunny, and perfect for those who are looking to avoid sweltering heat.
Average temperatures at this time of year hover around 25°C. If you feel like hanging out by the pool, or strolling along the Strip, it's decent weather to do it. And don't worry about rain – the Mojave Desert setting means it's dry throughout the year.
Although it is something you want to consider in this desert locale, it's not all about the weather. Las Vegas is a great place to check out any time of year, with a whole roster of events going on at any given time. 
Let's be honest though: Las Vegas is always busy. Because of the pleasant temperatures in April, the city can get extra lively. To avoid the crowds (and the price hikes), head to Las Vegas mid-week rather than on weekends.
Make the most of mild, sunny days here by lounging around its enormous outdoor pool. This hotel is right on the Strip, so you'll never be too far from the action.
Thailand in April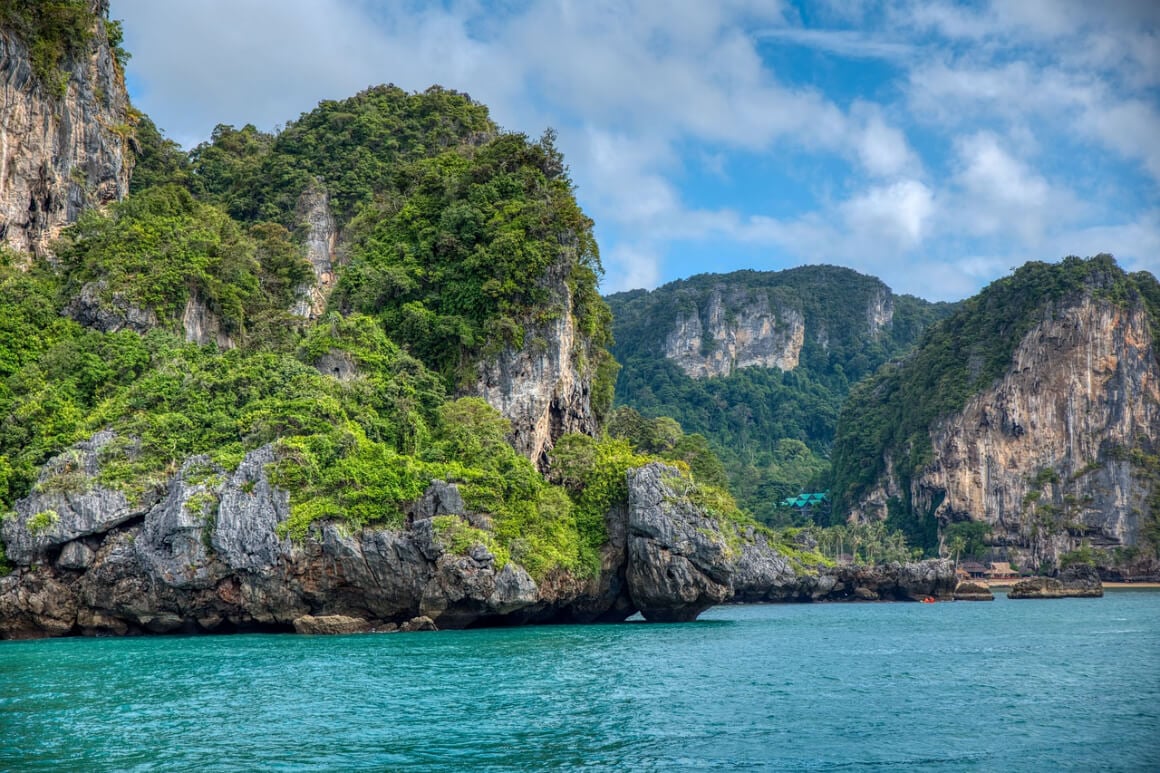 The Southeast Asian nation of Thailand has long been a backpacker staple. With its far-flung islands, frenetic capital city and mountainous north – not to mention the food, fun and festivals – there's so much to see and do here.
Visit any time of year and you'll have a blast. Although Thailand may not seem like one of the best places to visit in April, temperatures are scorching! It's hot and sticky, and midday temperatures can often reach past 40°C, and the evenings rarely fall below 25°C.
If you were planning on checking out Bangkok or Chiang Mai in April, maybe reconsider. It's is not a fun time of year to traipse around a city. Instead, try out the more tropical islands!
April is a good time to head to the beach. Check out places like Koh Samui, Koh Phangan, or Koh Tao, or head west to Phuket in the Bay of Bengal! Islands can see a little bit of rain this time of year, but the shoulder season means the odd afternoon downpour is offset against largely sunny days, and cheaper accommodation.
Start your island hopping odyssey at this historic hotel. Located in Phuket Old Town, aficionados may recognise it as the same place Leonardo di Caprio wakes in The Beach (2000).
Italy in April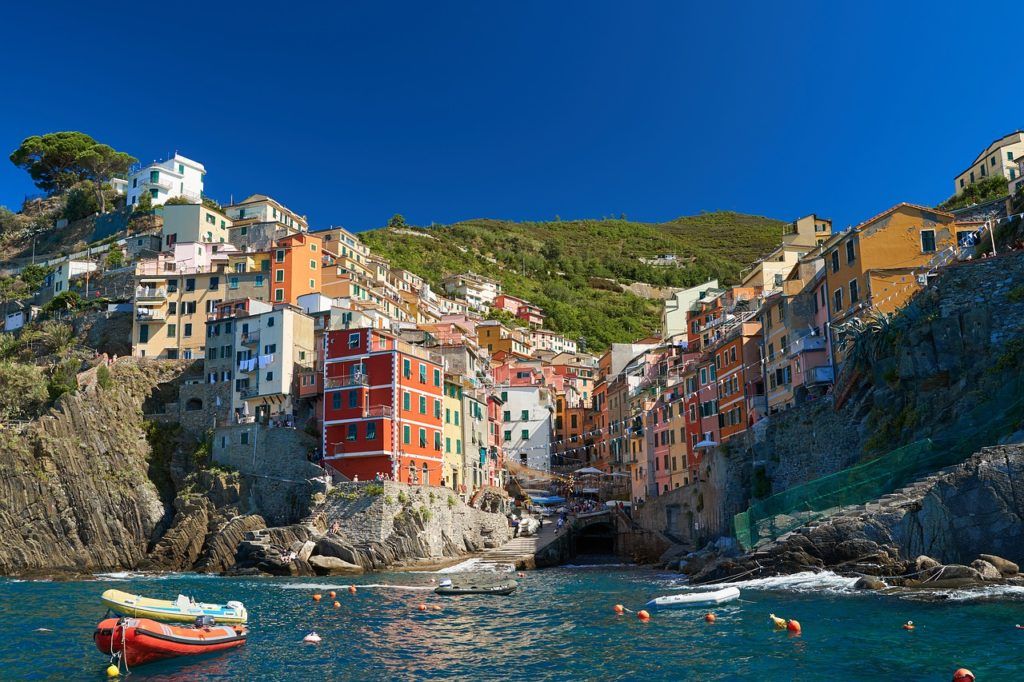 Ah, Italy. The European cradle of culture has made its way onto this list of the best places to travel in April as it's simply beautiful! Spring is in the air, flowers are in bloom, temperatures are pleasant, the cities aren't yet sweltering hellholes, and the peak tourist season has yet to begin.
April is a shoulder season. While it may not be exactly crowd-free – as Italians like to travel in their own country, too – it's a lot more bearable in terms of crowds than during the summer. It's the same for the temperatures, too. Rome during April sees average highs of around 20°C, making it ideal for strolling. Venice has highs of 18°C, and Sicily also is around 20°C.
One word of warning is that the term "April showers" definitely applies in Italy. This month can see downpours drenching the city, and some chilly days, too, so make sure to pack accordingly for Italy.
Easter (and Holy Week) often falls in April, which means that you could be experiencing Italy's biggest religious events.
Located in the down-to-earth Trastevere quarter of Rome, this small but charming hotel is set in a historic building with a rooftop terrace boasting views across the city. Perfecto.
Greece in April 
Another of Europe's cultural hotspots, Greece boasts (among other things) ancient history and seas studded with countless islands. A lot of the time, you get both in one place. What's not to like?
April is spring across Greece. The nation is bathed in plenty of sunshine as it gradually comes out of its winter hibernation. For those of you wanting to see some of the ancient monuments, taking a trip to Athens in April is an awesome idea.
The average high is 20°C in the capital, with the temperature dropping to 10°C at night (thus beating the insane summer heat). It's perfect sightseeing weather, and you'll get to see the Acropolis without hordes of tourists blocking the view.
Elsewhere, much of the country's coastal resorts and Aegean islands are starting to open up, and warm up, after a winter break from tourism. Fewer tourists, cheaper prices and still fairly decent temperatures make it one of the best places to travel in April.
Nature lovers in particular will enjoy this time of year. It's perfect for hiking around the mainland, or one of the many islands. And in terms of festivals and events, Holy Week kicks off Greek Orthodox style in every town, village and city. Expect fireworks, feasting and general festivities!
This Athens staple is a 2-star hotel with 21 guest rooms and friendly staff. With bars and restaurants on the doorstep, the hotel also boasts Acropolis views. 
Bali in April
Taking a trip to the Indonesian island of Bali in April is epic. Rainy season has come to an end, making it a prime time to hit up the island's many idyllic reef-fringed beaches. You can explore the many unique Hindu temples and shrines across the island – a must for anyone who likes culture, history or even architecture!
Then again, days by the pool or just chilling at one of Bali's many beach clubs is also great this time of year. Being a stone's throw from the Equator, temperatures in Bali barely change throughout the year. In April you can expect 30°C every day, with hot evenings and warm sea temperatures.
Speaking of the sea, underwater visibility will have improved because of the lack of wind. This makes for ideal snorkeling and diving conditions, particularly off the east coast. And if you're a beginner surfer, any time of year is a good time for surfing – now more than ever, it being less rainy and all.
As April is just outside of the Bali high season for travellers, you can still get some pretty affordable deals on accommodation in April while still enjoying amazing weather. Those who like to get out there are explore nature should think about an April trip – drier days makes for better hiking conditions. Mount Agung, anyone?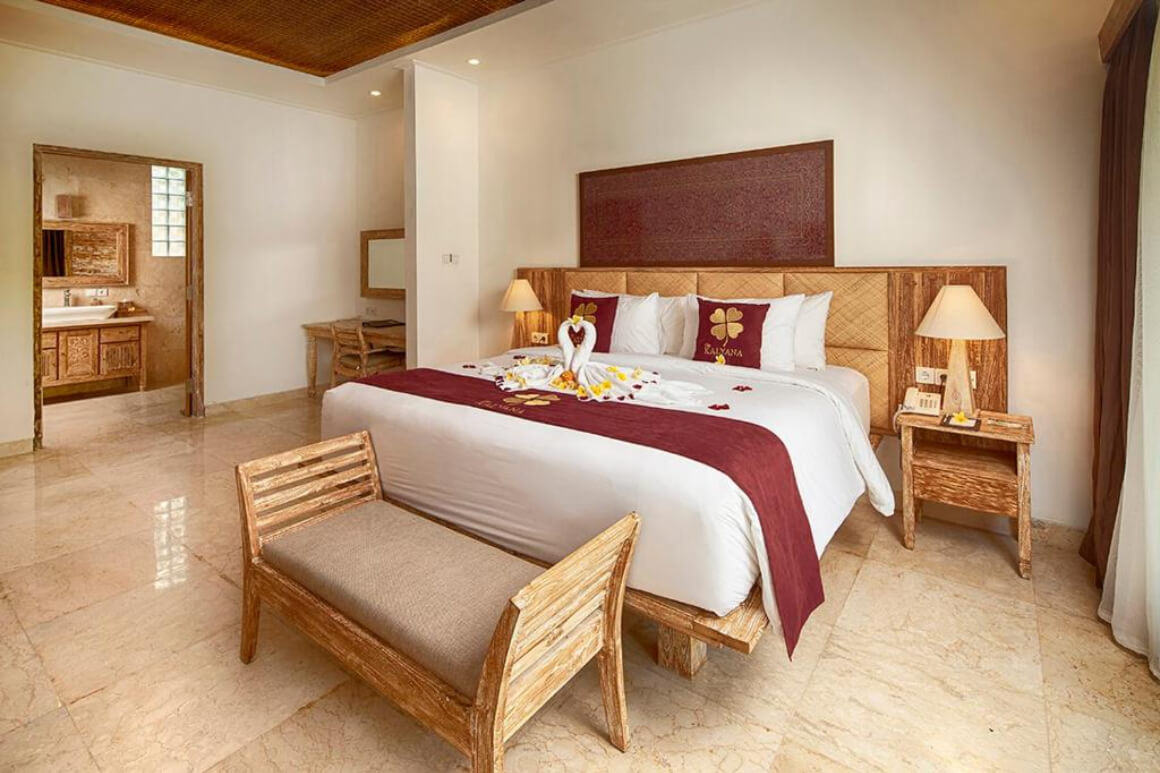 Stay in the hippie haven of Ubud at this mid-range option. Complete with outdoor pool, lush tropical garden, its own bar and restaurant, it also has bike hire so adventuring is easy.
Lake Tahoe in April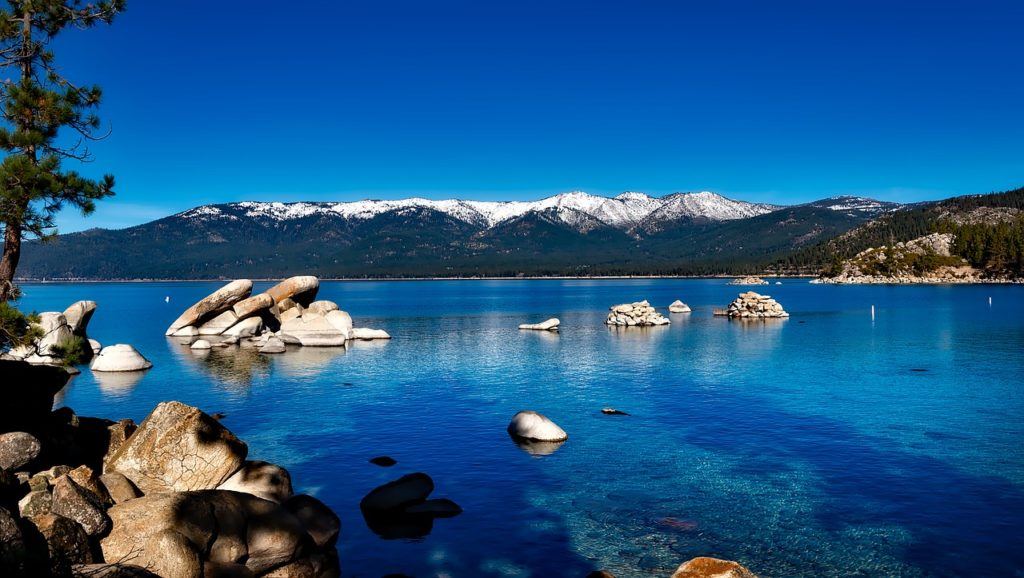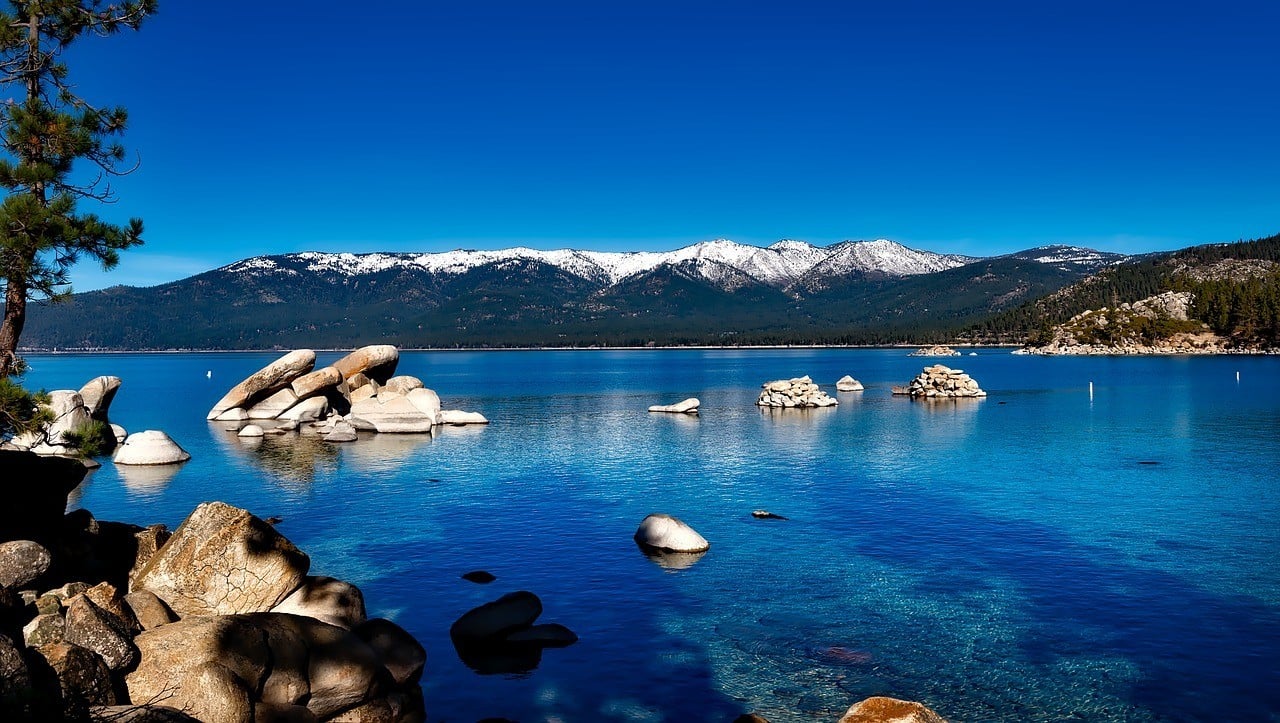 Straddling the border of Nevada and California, Lake Tahoe is a stunning place for nature lovers year round. In the winter, the area becomes a hotspot for skiing and snowboarding, while the summer brings lakeside beach days and water sports. There's even a few casinos!
Lake Tahoe is one of the best places to visit in April as you get the best of both worlds. The start of the month is still skiing season, the days are longer, the weather is warmer, and there's plenty of opportunity to enjoy the great outdoors.
The slopes are quieter this time of year. If you want fewer crowds when you hit the powder, April is a good time of year to go. For hiking, it's pretty awesome, too. There's still snow on the ground, granted, but waterfalls begin to flow making for some incredible adventures in the wilderness.
It's not as busy in April as it would be in the winter or summer, so there's a good selection of places to stay in Lake Tahoe. You could opt for a cosy cabin, or go all out and check in to a high-end hotel – either way, the rates are lower.
This chic VRBO, close to restaurants and entertainment, is ideal. It's got two bedrooms (great for couples or a group of friends) and comes with everything you need.
Kyoto in April 
Hands down one of the best places to visit in April, anywhere in the world – Kyoto is magical. Every corner in this maze of UNESCO World Heritage Sites hides an old Shinto shrine, Buddhist temple complex, or a quiet street of traditional wooden houses.
Kyoto has a charm all of its own, of course, but it's in April when the storied ancient capital goes into next level beauty mode as pink cherry blossoms open up all over the city. With this, hordes of tourists from all over Japan – and the world – descend on the city.
This is by far the busiest time to visit. Hotel prices soar and almost all accommodation options get booked up way in advance. If you are planning on seeing the cherry blossoms, you'll have to do the same and plan ahead, making sure to book yourself somewhere to stay months before you travel.
But, man oh man, is it worth it! Alongside the natural and cultural beauty, the weather is pleasant with highs of around 19°C, crisp blue skies, warm sunshine. You'll see locals out picnicking in parks making the most of the fresh spring weather. If you were planning on a summer visit, think again: the heat literally verges on unbearable!
This is a good budget option. The rooms are modern and stylishly decorated, and come in a range of choices – all the way up to family suites with kitchens. It's right near some amazing attractions, too. Its a perfect place to stay in Kyoto.
Sydney in April 
While most destinations on this list are enjoying a transition into spring in April, Southern Hemisphere-situated Sydney is heading into autumn instead. The capital of New South Wales is packed with plenty to do anytime of year, and April is no different.
It's a pretty dry month across the region. The average temperature is around 20°C, and the lowest it gets is about 15°C. It's a popular time of year for tourists because the weather is cooling down from the scorching days of summer. Even so, outside of school holidays, accommodation is still easy to come by and reasonably affordable.
Despite that, there's still plenty of sunshine. Even the sea is warm enough to swim (or surf) in. Beach culture is still going strong in Sydney, with nearby hotspots such as Manly and Bondi remaining pretty busy with daytrippers and locals.
As one of the best places to travel in April, you can expect Sydney to be jam-packed with stuff to see, do and experience. It's warm enough for a beach day, mild enough to wander around the city, cold enough at night to cosy up indoors or in a pub – it's the ideal mix, and really shows Sydney for the awesome city it is.
Where better to stay in Sydney for beach days than this friendly B&B by the sea? The Bondi location means awesome hiking, the beach a stone's throw away, and good eateries on the doorstep.
Amsterdam in April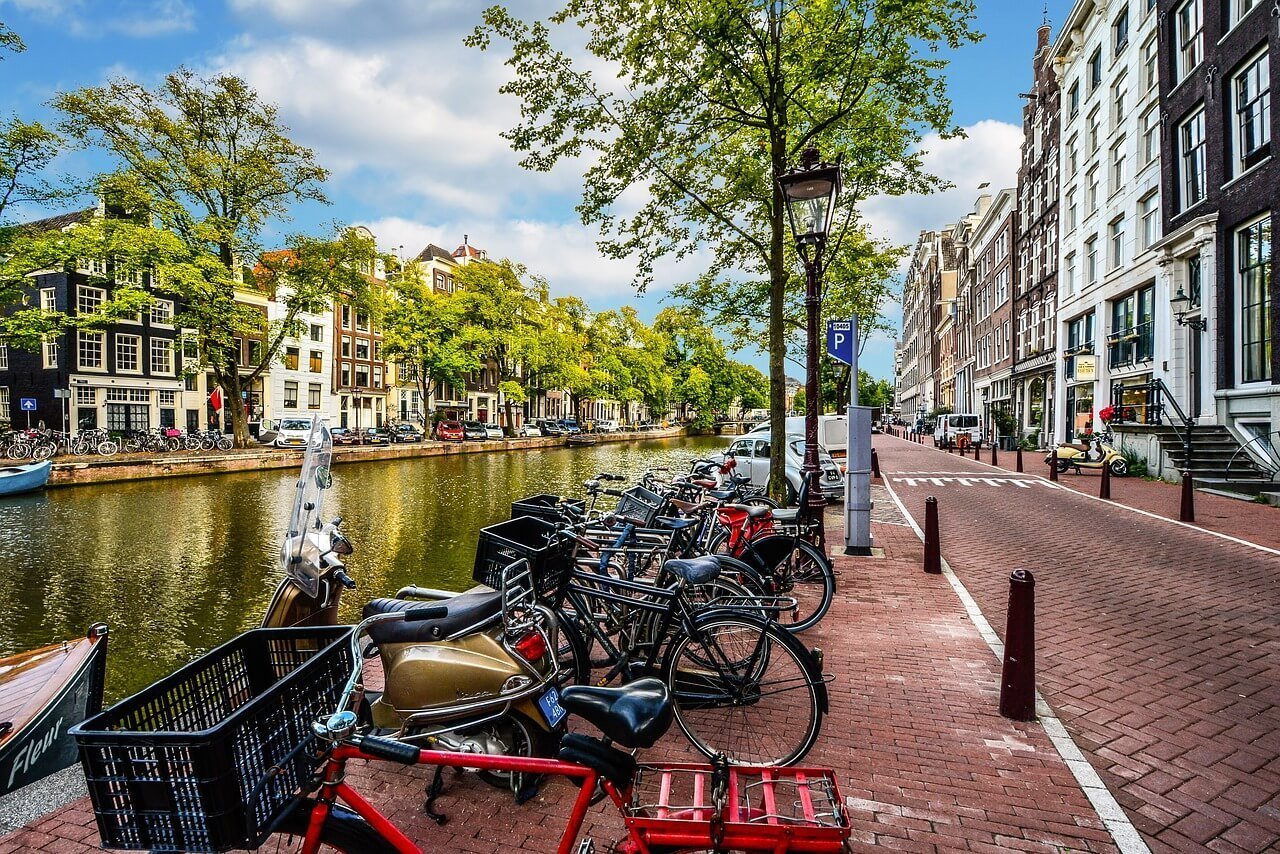 April in Amsterdam is spring. This time of change in the weather brings a mix of mild temperatures, cold snaps, and April showers. It's not exactly warm though: temperatures rise only as high as 13°C on average, and can drop as low as 4°C.
You'll need to bring plenty of layers and an umbrella (or a raincoat) – it rains an average of 12 days. Towards the end of the month it gets warmer and less wet.
Aside from the weather, the capital of the Netherlands has it all going on! There's charming canals, historic houses, countless museums and the famous vibrant red light district. Add to that the blooming spring flowers throughout the city, in its streets and parks, and it's easily one of the best places to travel in April.
Not only that, but the month brings with it a string of events to enjoy. These include King's Day on the 27th April. It's one of the most famous festivals in the Netherlands, and celebrates the current king. It's a national holiday, and a big party which draws people to Amsterdam from across the country.
Needless to say, the city gets super busy and you'll need to book accommodation in advance if you're traveling at the end of the month.
Located in a heritage property, this Airbnb is the ideal spot to stay for a couple wanting to enjoy all the wonders of Amsterdam. Think antique furniture and Instagrammable interiors.
Final Thoughts on Best Places to Visit in April
April is a much more varied month than you'd think, and your options if you feel like a vacation this time of year are pleasingly plentiful. Wherever you choose, April has a little bit of something for everyone. It's spring and it's autumn; it's quiet and it's busy; it can be hot and humid, or it can be crisp and chilly. 
You could go and check out the cherry blossom in Kyoto, or you could get involved in some Songkran madness in Bangkok. Maybe a Holy Week procession in Italy, followed by seeing Roman ruins, is more your thing.
If you've been to any of the destinations on our list, let us know what your thought of your April travels in the comments below!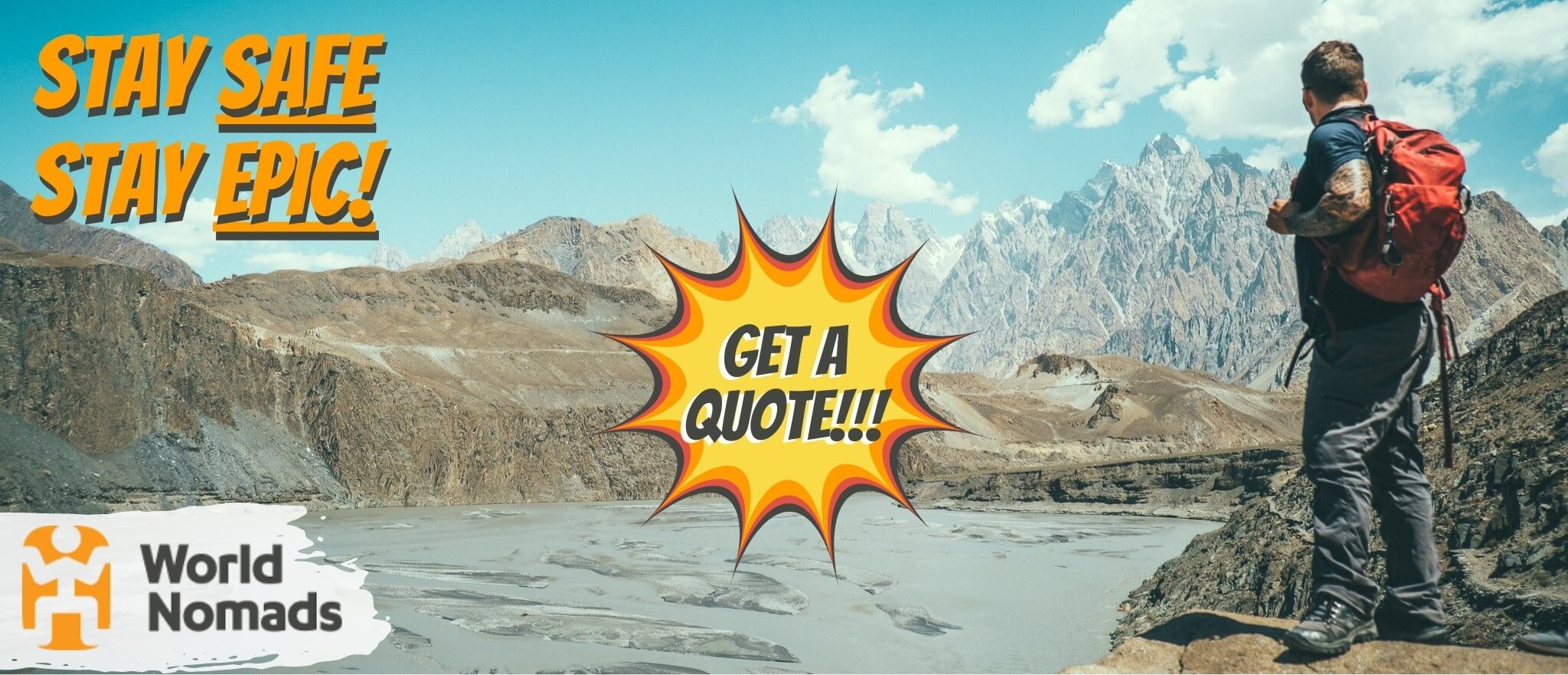 It's good to get lost sometimes, but it's also good not to get too lost. There are people that want you home in one piece.
There's one travel insurance provider The Broke Backpacker trusts for all his wildest shenanigans… World Nomads!
Click the button below to get a quote on your insurance or read our in-depth review of World Nomads' coverage. And then… let the shenanigans begin. 😉
---
Bye for now, but not forever!
If you want MORE top-tier Broke Backpacker content like this, then sign up for our weekly newsletter below to get the latest and greatest!
And for transparency's sake, please know that some of the links in our content are affiliate links. That means that if you book your accommodation, buy your gear, or sort your insurance through our link, we earn a small commission (at no extra cost to you). That said, we only link to the gear we trust and never recommend services we don't believe are up to scratch. Again, thank you!