Barbados is a sunny holiday destination in the South Caribbean known for its crystal clear waters, peaceful beaches, and luscious forest interior. With an English speaking population, this is a popular choice for visitors from the United States and Canada. Far from a party destination, Barbados is where you come to kick back and relax.
While many visitors opt to stay in their resort the whole time, there's so much more waiting to be discovered if you actually take a deep dive into where to stay in Barbados. Unfortunately, many travel guides don't take this into account, with little idea on what to do and where to do it. What a shame!
Thankfully, I'm here to help you. I've combined my personal experience with hints and tips from locals and travel experts to bring you this guide to the 5 best places to stay in Barbados.
Whether you want STUNNING beaches, calm family resorts, or somewhere off-the-beaten-path, let's find you that dreamy Caribbean destination. I even have a great option for budget backpackers.
So, let's jump right in to this tropical island.
Looking for somewhere to stay in Barbados but don't have a lot of time? No matter, here are my top recommendations!
Looking for a peaceful break in the sun? This adult-only accommodation is the perfect place to unwind and forget all of life's troubles. Equipped with a four-star rating and excellent guest reviews, they have a number of excellent services that will have you feeling pampered. Miami Beach is right on your doorstep – a much more peaceful option than the busier coastal resorts.
This extravagant five-star luxury hotel is the perfect pick for families looking to splurge on an epic villa in Barbados! Rooms are beautifully decorated with traditional island designs, and the spacious outdoor pool is surrounded by sun loungers. The hotel is located right on the beach, so you won't have to walk far to soak up the unique atmosphere of Speightstown.
Surrounded by luscious forests and serene landscapes, this rustic cottage lets you escape society for a little while. The nearest village is a short walk away, so you'll get a truly rural experience. I love the porch area, which has a comfortable hammock where you can swing back and forth and admire the views. Overall, it's an Airbnb straight out of a dream!
Barbados is one of the smallest Caribbean islands and it's fairly easy to get around. It's an easy choice when looking for one of the best tropical island destinations to visit.
The local bus system can feel a bit adventurous, but it's totally worth it to save some cash as car rentals can be expensive. If you do rent a car, keep in mind that Bajans drive on the left. Having a good idea of each neighborhood can help you prepare better before you arrive.
On the South Coast of Barbados, you will find the most popular tourist resorts. Oistins and St Lawrence Gap are my two favorites from the region, and they are right next to each other. In St Lawrence, you will find the only major nightlife scene on the island, so it has quite a youthful atmosphere. Oistins is somewhat quieter but well-connected. For this reason, we think it makes a great choice for first-time visitors looking to gather their bearings.
Just north of St Lawrence Gap, you will find Bridgetown – the capital of Barbados. Since most people visit Barbados for the iconic beaches and resorts, this is actually one of the least visited parts of the island. This makes it a great pick for people heading to the island on a budget – as well as those keen to discover local culture and unique creative attractions.
On the west coast of the island, you will discover some of the more exclusive resorts, including trendy eco lodges. Though still very popular with tourists, visitors in these areas tend to stick to their resorts more than in the south. It has a very peaceful atmosphere, making it a great choice for families visiting Barbados.
While Barbados is pretty safe as a whole, you're even less likely to run into trouble in this upmarket region. Saint Peter is my favorite part, and it's where you can find some elegant hotels and Airbnbs.
Finally, the east coast of the island is rarely visited by tourists at all. It is the furthest away from the airport, and there aren't many huge resorts around. With Bathsheba as the only major town, this is where you come to experience Barbados like a local. Those looking for something a bit more adventurous will love the luscious forests and tourist-free villages surrounding Bathsheba.
Still undecided? Keep reading for more in-depth descriptions of the top five places to stay in Barbados. We've also included my favourite accommodation picks and things to do in each!
1. Oistins – Best Place to Stay in Barbados for your First Time
Of the South Coast Barbados resorts, Oistins is one of the most laid-back. Here you will find both tourists and locals mingling and enjoying the colorful décor in the street. For a first-time traveler, Oistins is a great way to ease yourself into the destination. The beach is also a little more laid-back than the larger resorts.
Nestled in the Christ Church parish, it is right next to St Lawrence, so getting from Oistins to other parts of the island is really simple. It's also close to Grantley Adams International Airport, which makes it ideal for those traveling to Barbados for a short break.
There are a few excellent tour companies in the area that can take you further afield from the comfort of a fully serviced bus. More adventurous travelers, however, should rub shoulders with the locals on public transport.
This magnificent four-star hotel has everything you could possibly need for a relaxing break in the sun. It is adult-only, so you won't need to worry about kids running around and making lots of noise. They offer bicycle hire – and given cycling is the most popular activity in the area, this is an excellent way to take in the gorgeous coastal scenery.
This hotel is one of the best places to stay in barbados opening straight onto spectacular beaches and crystal clear waters. The spacious rooms, 3 pools, and spa make for the perfect setting for your vacation on the Caribbean island. From here, top tourist attractions and the island's main airport are just a short drive away.
This two-story townhome on Barbados' south coast is one of the best vacation rentals in Barbados. Perfect for groups, it has its own private plunge pool and is within walking distance of Enterprise Beach, Dover Beach, and more!
The home has room for up to 6 guests, and there's also a back deck and garden to enjoy in addition to swimming.
Things to See and Do in Oistins:
Miami Beach is the best-known attraction in Oistins, with plenty of sunbathing spots and even a few water sporting opportunities.
Experience true Barbadian tradition with the best fish of your life.
Spend the day on Dover Beach, an award-winning beach known for jet skiing & windsurfing.
Head down to Oistins Bay Gardens on Friday for the Oistins Fish Fry – a decades-old tradition where locals and tourists get together, dine and dance.
Barbados Golf Club – the largest on the island – is right in the heart of Oistins, with stunning views towards the Bajan coast.
There are some great restaurants down at Welches Beach – Surfer's Café is delightful for casual dining, while Revellers Sports Bar is an interesting evening venue.
2. Bridgetown – Where to Stay in Barbados on a Budget
The capital of Barbados, Bridgetown is full of life throughout the year! The favorable climate means you'll be certain to find buzzing events at any time of year. It's the only city on the island, but that doesn't mean it is any less safe than the gated resorts. The center is an important hub for history and culture, so even if you don't choose to stay here, you should absolutely stop by.
For budget travelers, Bridgetown is a surprisingly affordable destination. Barbados can be expensive, and there's no escaping the fact you'll be expected to spend a little more on food and tours. Hotels in Bridgetown, however, aren't as busy, so they often have good deals!
A five-star resort in a budget neighborhood? It is a bit of a splurge, yes, but considerably cheaper than many other luxury resorts on the island. The outdoor pool is surrounded by luscious forests and wood finishes that really emphasize the tropical location. Rooms are spacious and come with traditional furnishings that give the space a more authentic atmosphere.
There's nothing quite like having your own little home in the Caribbean. And when your beachfront villa has a garden, balcony, and bar, it's even better. Just steps away from Brighton Beach, the east coast is yours to explore. When you're ready for recovery, dive into your big, air-conditioned bed, cook up a storm in the kitchen, or get the group together for a barbecue.
This charming little studio, close to the US Embassy and centered in the business district has plenty of great restaurants and bars nearby. The typical Bajan architecture adds a bright and sunny vibe to the property, while the comfortable interiors will make you feel right at home. This is a truly unique property, giving you the chance to live like a local during your stay.
Things to See and Do in Bridgetown:
Barbados Museum offers the most comprehensive breakdown of the island's history and culture, though it's often quiet, making it great if you need a break!
Snorkel with turtles on a catamaran cruise.
Head up to the Platinum coast near Holetown to see some powdery white sand beaches.
Sugarcane crops form the largest industry in Barbados – learn about its impact on the island and how it is turned into rum at the Mount Gay Distillery.
The beach here offers some great water sports at lower prices than those in the resorts – I recommend The Dive Shop in particular.
Head to Carlisle Bay on a glass bottom boat tour and snorkel the amazing shipwreck!
3. Saint Peter – Best Place in Barbados for Families
The west coast of Barbados is a little more upmarket than the larger resorts on the South coast. With exclusivity comes peace and quiet, making this a firm favorite with families visiting the area. You'll have to splurge a little, but it's totally worth it for the unspoiled beaches, gorgeous ocean views, and laid-back restaurants on offer.
Saint Peter is right at the end of the highway connecting Western Barbados with Bridgetown. Families will be comfortable in any of the towns and villages along the way, but Speightstown offers the best views and top elegant hotels. It's also the perfect starting point for a road trip around the island for those that hire a rental car.
Best Hotel in Saint Peter: Cobblers Cove
This extravagant five-star luxury hotel is the perfect pick for families looking to splurge on an epic villa in Barbados! Rooms are beautifully decorated with traditional island designs, and the spacious outdoor pool is surrounded by sun loungers. The hotel is located right on the beach, so you won't have to walk far to soak up the unique atmosphere of Speightstown.
As far as Barbados hotels go, this is a seriously good one to consider. Right on the east coast of Barbados, Maycock's Bay, Heywoods Beach, and other incredible beaches are right on your doorstep. Enjoy the outdoor pool, relax in the garden, or take a day (or several) for the onsite spa. Go on, you deserve it.
This stunning condo is a dream come true. Not only will you have turquoise water views from inside the home AND the wrap around balcony, but this condo also comes with pool access.
Water activities like kayaking and paddleboarding are possible right in the bay outside, your window, but you also won't be too far from the beach. The condo has room for up to 6 guests, making it a particularly great choice for families or friend groups!
Things to See and Do in Speightstown:
New Town Square is a great shopping destination featuring local boutiques and a small selection of international brands.
Explore the former 17th-century Grenade Hall Plantation at the Farley Hill National Park.
The Fisherman's Pub is a laid-back venue where families are welcome – they even do live music on Wednesdays.
Head over to the Arlington House Museum to learn about the history of Barbados.
Planning a trip in February? Head down to the Holetown Festival to enjoy colorful street food and locally organized parades.
St James Parish Church is the oldest church in the country. Their services are open to visitors, providing a unique insight into island life.
4. St Lawrence Gap– Best Nightlife in Barbados
Right next to Oistins, St Lawrence is easily the most popular destination in Barbados for young travellers. While the island isn't known for its pulsing nightlife, St Lawrence Gap is a must-visit for those that are ready to dance with locals and enjoy some well-priced drinks. Right along the Gap (as it's known by locals), you will find local bars and eateries to cater to all tastes.
During the day, St Lawrence seems like a completely different town! Much like Oistins, it is a laid-back beach town with a huge coastline that has plenty of space for visitors. It is even more tourist-oriented, and while this means you'll have less chance to mix with locals, it is a well-connected neighbourhood and has some great tour companies.
This colorful three-star hotel is a great choice for budget travelers that want the added comforts of staying in a hotel! All of their studios come with small kitchenettes, and they have excellent reviews from self-catering guests.
A complimentary full English style breakfast is provided every morning, preparing you for the day ahead. They can also help you book golf, scuba diving, and various water sports.
Best Airbnb in St Lawrence Gap: Romantic Utopia
Young couple looking for easy-going accommodation close to the best nightlife? Look no further than this cute little apartment right on the beach. The huge floor-to-ceiling windows bathe the apartment in light and ensure you will enjoy breakfast with a view every morning. There is a local market a few minutes away on foot where you can pick up fresh ingredients for a typical island breakfast.
This stunning Guesthouse is one of the best budget options you'll find in the area. Although the price is super low, you get to enjoy a super charming, clean, and well-equipped place that is just minutes from the blue sea. You'll have the whole house to yourself, which offers enough room for three guests – so technically you could bring some friends along! It's located on the host's land, behind the residential property, so a quiet night is guaranteed.
Things to See and Do in St Lawrence Gap:
Start your night off at the Boardwalk – a popular meeting spot where you can 'BYOB' and enjoy the sunset.
Take a trip to see the underground limestone caverns of Harrison's Cave.
St Lawrence Gap is the main nightlife street in the district. The liveliest bars are located on the West coast, while the Eastern coast is better for restaurants and easy-going vibes.
Worthing Beach is the place to be during the day, with astonishing coastal views and plenty of sun loungers to go around.
Check out the pink sand beach of Crane Beach.
Bask in the beauty that is Worthing Beach.
Rockley Beach has white sand and a huge selection of daytime restaurants
Learn about Barbado's military history at the Barbados Museum & Historical Society.
5. Bathsheba – Most Adventurous Place to Stay in Barbados
Over on the rustic east coast of Barbados, you'll find fewer tourist resorts, and more charming villages dotted along the more rugged parts of the coastline. For those looking for something off the beaten path, this small region offers something totally unique. You'll get a much more authentic insight into typical Bajan life here than anywhere else.
Bathsheba is the most popular village for those who do venture to this part of the island – so you will find most of the accommodation options here. There are a few just outside the village, but still within walking distance. Tour buses are less frequent here, so you'll have to get used to public transport.
This hotel on Barbados' rugged north coast gives you all the beach cottage vibes you could need! Enjoy ocean views and swaying palm trees from your own mini condo which comes with a patio and a seating area.
There's also a fully stocked kitchenette for all your cooking needs, and free wifi. But if you want to go out, the town's shops and restaurants aren't too far to walk. Bedrooms are large and spacious, and the best part is you'll quite literally be right on the beach!
Surrounded by luscious forests and serene landscapes, this rustic cottage lets you escape society for a little while. The nearest village is a short walk away, so you'll get a truly rural experience. I love the porch area, which has a comfortable hammock where you can swing back and forth and admire the views. There's a working farm nearby where you can visit the local animals.
Wake up every morning to the sound of the waves. Sounds great? Then look no further than this amazing house. Located right by the beach, you'll have unlimited views of the blue water. What's even better is the massive space this home offers its guests. The three bedrooms make space for up to 6 people, so absolutely ideal for families or groups that travel together. The area is very peaceful and safe, which makes it the perfect spot to stay with small kids.
Things to See and Do in Bathsheba:
Harrison's Cave is an accessible sea cave with regular guided tours. It does get quite dark, so don't venture in without a quality headlamp!
Head down to Bathsheba Beach, a secluded spot surrounded by rocky cliffs with some truly unspoiled views of the Caribbean.
Take the railway to St. Nicholas Abbey and Rum Distillery.
De Garage Bar & Grill offers typical cuisine and bottles of beer – it's a bit rustic, but charming for those looking to discover local life.
Head over to the Soup Bowl for some epic surfing!
Walk amid the lush gardens full of tropical trees and flowers at the Andromeda Botanic Gardens.
Let's do a quick-fire round on staying in tropical paradise.
ALWAYS sort out your backpacker insurance before your trip. There's plenty to choose from in that department, but a good place to start is Safety Wing.
They offer month-to-month payments, no lock-in contracts, and require absolutely no itineraries: that's the exact kind of insurance long-term travellers and digital nomads need.
SafetyWing is cheap, easy, and admin-free: just sign up lickety-split so you can get back to it!
Click the button below to learn more about SafetyWing's setup or read our insider review for the full tasty scoop.
There's a good reason why Barbados is one of the best tropical island destinations in the world – and one of the best places to go if you want a little break from your everyday. The sandy beaches, colorful streets, and endless sunshine will make sure your worries melt away. It can get a little pricey, but it's totally worth it and you definitely deserve it!
If I had to pick one neighborhood that really stands out, I'd have to go with Oistins! This vibrant town strikes the perfect balance between laid-back charm and plenty of things to do. It's really the perfect way to sample a little bit of everything Barbados has to offer for a tropical getaway.
Little Arches Boutique is one of our favourite Barbados hotels. Explore the sandy beaches of the southwest coast and go exploring historic sights with all the luxury.
That being said, wherever is best for you really depends on what you want to get out of your trip. I hope this guide has helped you make the all-important decision on where to stay in Barbados.
Also, just be slightly cautious of weather safety. While it's a very safe destination, the Caribbean does experience hurricane season, so bear this in mind when planning your trip.
Now get those holiday clothes ready!
Do you own an awesome hostel, hotel or apartment? Want to be featured in our list? Email [email protected] to find out how.
---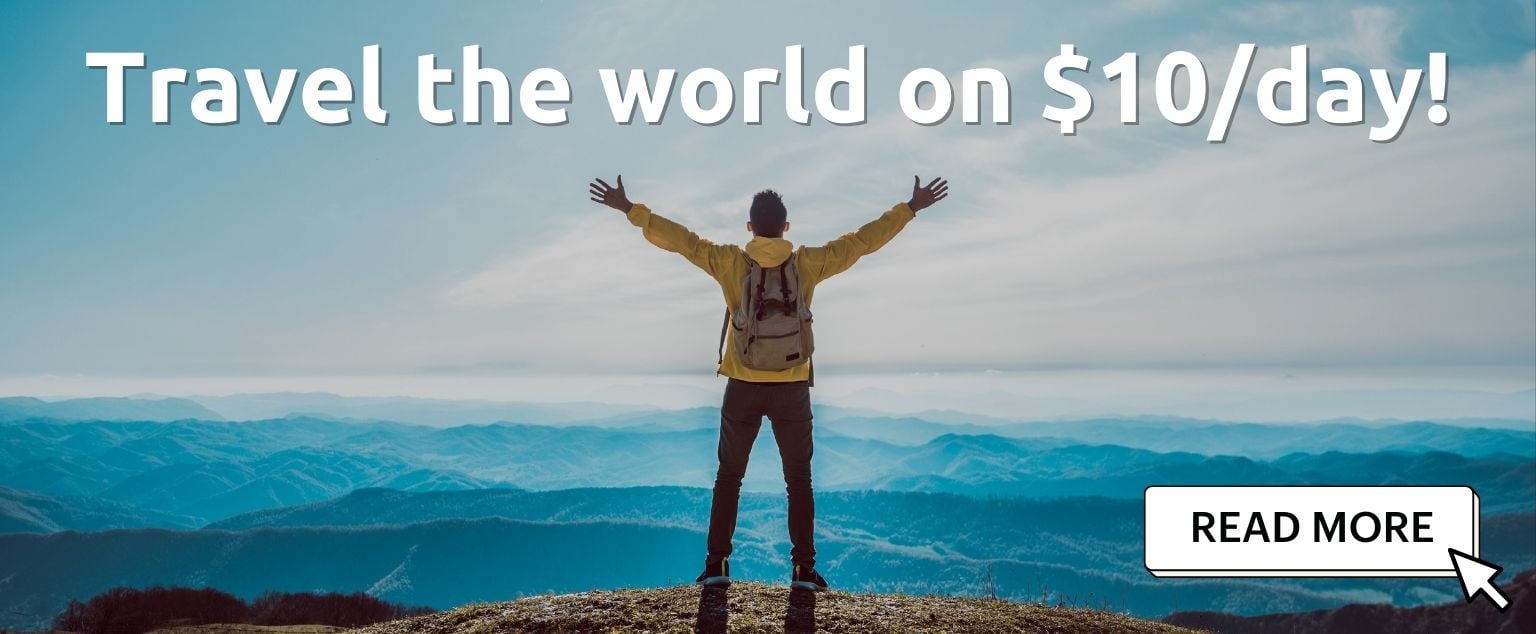 And for transparency's sake, please know that some of the links in our content are affiliate links. That means that if you book your accommodation, buy your gear, or sort your insurance through our link, we earn a small commission (at no extra cost to you). That said, we only link to the gear we trust and never recommend services we don't believe are up to scratch. Again, thank you!