Barbados is a Caribbean island rich in culture and beautiful scenery. With coral reefs to explore, Barbados is a popular resort getaway and long a favoured destination for package tourists and adventurers alike.
Today Barbados is a cosmopolitan country, a nation of beaches that can be visited for its parties and its relaxing credentials alike. With its friendly, warm and open atmosphere, a visit to Barbados is one that will suit just about any traveller out there.
However, it's not all paradise in this island nation. Not only is there the threat from mother nature – in the form of hurricanes, especially – but there is also a rise in crime rates and the risk of petty theft and pickpockets in Bridgetown, the country's capital city.
There is a lot about Barbados that could put you off, but we are here to help you out with this epic guide to staying safe in Barbados. We're filling it with all the tips and information you'll need for a safe, secure and altogether amazing time on this Caribbean island.
COVID-19 UPDATE
As a group of adventurers, enthusiasts and fearless travellers, it pains us to tell you this, but the fact is that most travel is currently not safe, and in many countries, not possible because of the COVID-19 outbreak.
Nations across the world are fighting to contain the outbreak and flatten the infection curve – an effort that every citizen and responsible traveller should be part of.
For the most up-to-date safety information and what you should be doing to help, please consult the WHO and your local government.
How Safe is Barbados? (Our take)
Whilst there's usually no need to worry about any trip to Barbados, that's not to say, however, that Barbados is without any crime at all.
In fact, there has been a rise in gang-related crimes recently, which often involves guns. There are also warnings for tourists regarding petty crime and scams in the capital, especially.
Generally, Barbados is pretty safe. But to get into the details of what makes Barbados ticks, let's take a look at the vital statistics…
Is Barbados Safe to Visit? (The facts.)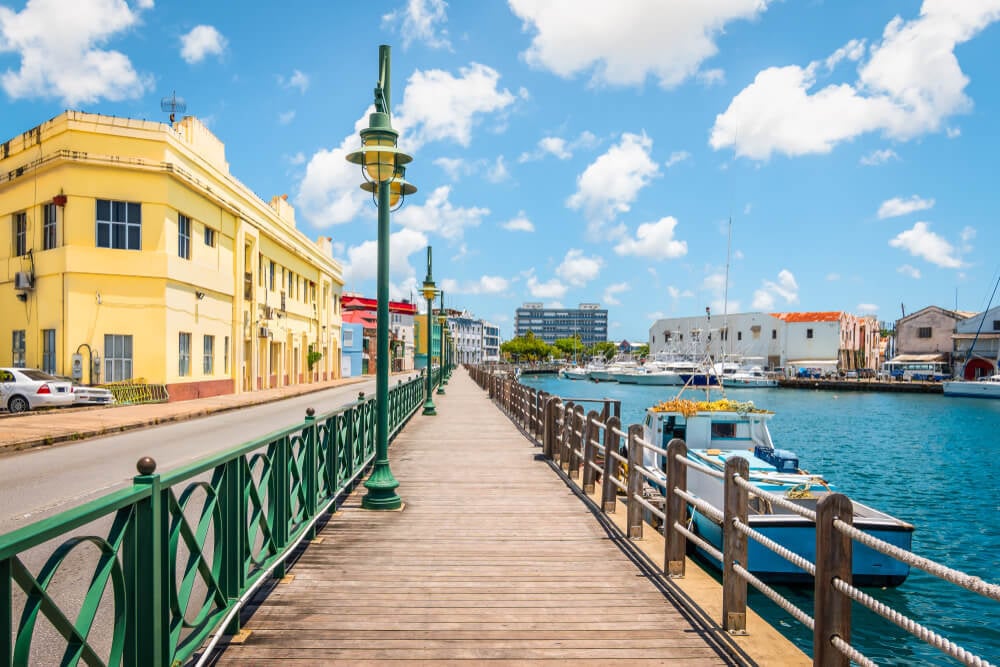 Barbados is a small island in the Lesser Antilles chain in the Caribbean Sea; it measures just 167 square miles in area, and only 34 kilometres in length and 23 kilometres wide.
Tourism is a very important part of the island's economy. It has been attracting tourists for many years now, with its resorts and luxury getaways.
Between January and September in 2019, the country experienced a 4.2% increase on tourist arrivals compared to the same period in 2018, welcoming – in total – 522,583 visitors. Yearly, however, the country receives on average around 2.4 million tourists.
While tourist numbers across the Caribbean fell by 2.3% in 2018, Barbados instead saw an increase of 2.5%, with the tourism industry bringing in $1.12 billion that same year.
People are often drawn to this island as it prides itself on being one of the safest in the region, yet crime rates have fluctuated in recent years. There are a number of active gangs operating in the country; there was a worrying spike in the murder rate in 2019, and this is thought to be gang-related.
Some of these incidents have taken place in public places.
The Royal Barbados Police Force has over 1,000 members; unarmed police patrol high-incident areas, in the hope that tourists will feel safe and protected.
Is it Safe to Visit Barbados Right Now?
There are a few factors that may affect the best time of year to visit Barbados in terms of safety, but let's first look at any recent issues which may be affecting how safe the country is right now.
As we've mentioned already, the crime rate of Barbados has been slowly rising in recent years. While this could be worrying, it is mainly an issue between gangs and violent crime is unlikely to affect any visitors to the country.
Pickpockets in Bridgetown can be an issue for tourists. Currently, the areas around Swan and Broad Streets are known for their scams and pickpockets, as is St Lawrence Gap.
In July and August, the very popular Crop Over Festival takes place. This annual festival is a huge gathering across Barbados; petty theft and street crimes do occur during this time, so extra vigilance is recommended.
Natural and seasonal issues, on the other hand, could pose more of a risk to tourists.
The hurricane season in the Caribbean runs from June to November. During this time, Barbados could be hit by the strong winds and heavy rains that a hurricane brings. The U.S. National Hurricane Centre (nhc.noaa.gov) monitors international weather, and is a good place to check for evacuation orders and other information.
Pay attention to local authorities and keep an eye on local weather reports to ensure you know what's happening.
Another natural threat is the underwater volcano, Kick'em Jenny, which is just 5 miles off the coast of Grenada. It's important to pay attention to any increased activity or eruptions, as these could affect Barbados. Similarly, earthquakes do affect the Caribbean and are a potential threat to visitors' safety in Barbados. Understanding what to do in a quake and listening to local advice is key.
Zika virus and dengue fever are also currently a threat in Barbados; these, as well as Chikungunya virus, are spread by mosquitoes, so it is important to take steps to avoid being bitten.
Rarely, Portuguese Man O' War jellyfish are spotted in the waters around Barbados; stings from these creatures are excruciating, so check local news sources for recent sightings and heed warnings at beaches.
Have you sorted your Travel Insurance? Even if you're going on a short trip, it is always a good idea to travel with insurance. Have fun while visiting Barbados, but take it from someone who has racked up $1000's on insurance claims, it is a good idea to get it sorted before you leave home!
The unthinkable can and does happen: hence all the talk of insurance.
Your best options for Barbados travel insurance are World Nomads and SafetyWing – World Nomads being a heavy-duty, all-encompassing option and SafetyWing being an affordable, customisable option
For either one, be sure to read the terms and conditions to make sure that the policy covers your needs.
Read our SafetyWing review or get a quote from them directly.
Then you can compare with World Nomads:

To find out why we recommend World Nomads, check out our World Nomads Insurance review.
If you want to shop around a little, then read up on competing companies and what they can offer. There are lots of insurance companies and policies out there, so don't feel limited.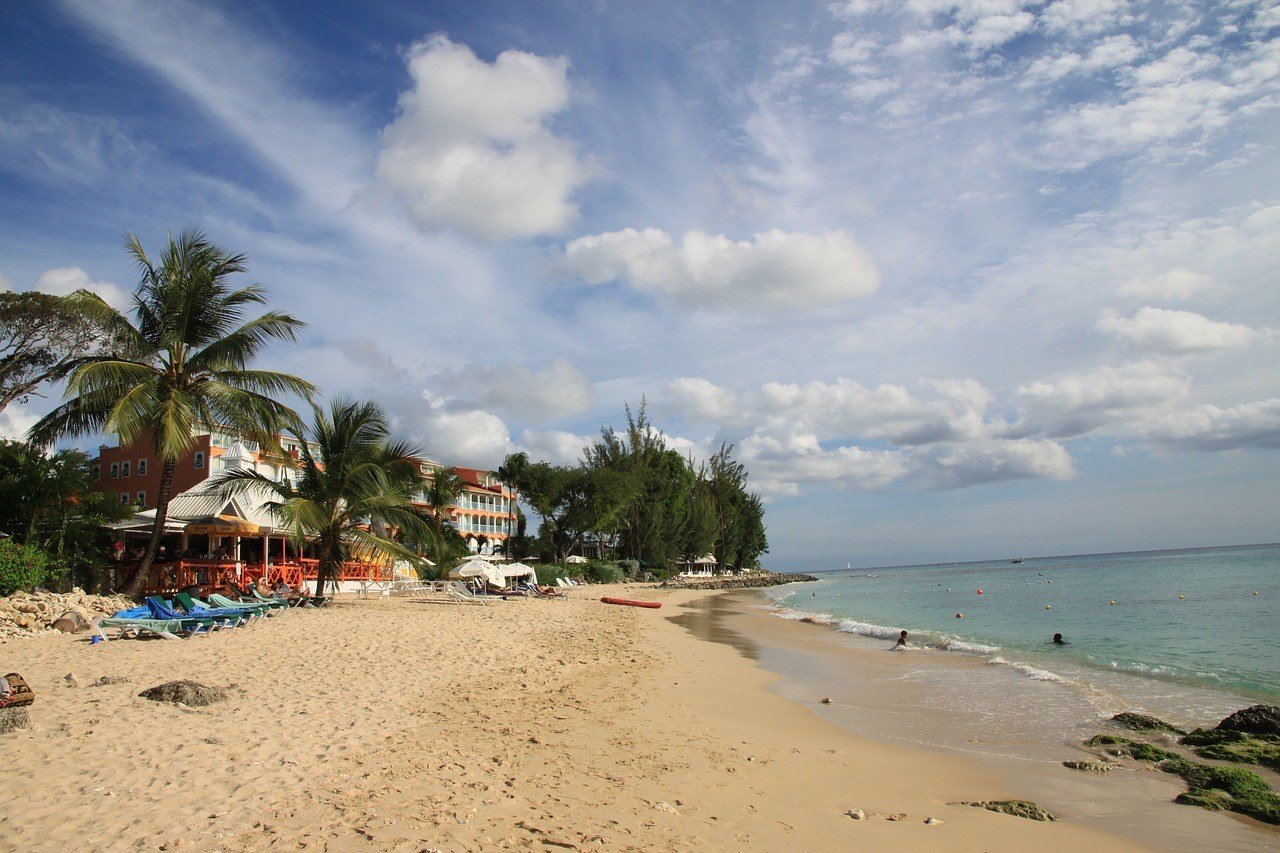 Barbados is a safe island to visit that also happens to be very fun, too. However, that isn't to say that Barbados is a theme park; this is nevertheless a real country where things could happen if you are not careful. To ensure that you stay as safe as possible, we have decided to share with you some of our best safety tips for travelling to Barbados.
Be careful withdrawing money from ATMs – Make sure you do so in a safe, not isolated, area busy with people; avoid doing this after dark
Don't walk around in isolated areas alone – This includes beaches and areas away from busy main roads, and especially at night
Don't carry around valuables with you – Things like smartphones, expensive electronics and SLRs will make you stand out like a potential target to thieves. To be on the safe side, leave them at home
Pay particular care to wearing "visible gold jewellery" – Local police have specifically warned against this, both for residents and visitors, and goes for Bridgetown and other popular tourist spots
Only take licensed taxis – More on this later, but this is a good way to put yourself at risk.
Be careful during festival season – These big parties can also attract opportunist thieves, so be vigilant.
Be very careful when you're swimming – The currents can be really strong; even popular tourist beaches on the south and west coast can be hazardous to swimmers (people have drowned)
Don't swim at east coast beaches – Currents here are particularly strong; look-up local warnings and obey them.
Do not get involved in drugs – There are severe penalties for any and all drug offences
Leave your camouflage clothing at home – It is actually an offence for adults, and children, to dress in camouflage
Cover up against mosquitoes – There are several mosquito-borne diseases in Barbados, so covering up, using DEET, avoiding stagnant/still water – all especially at dawn and dusk, when mosquitoes are most active – is important
Stay aware of the weather forecasts – Paying attention to the weather means not suddenly finding yourself stranded in a hurricane; pay particular attention from June to November (hurricane season).
Know that earthquakes can affect Barbados – You should research what to do before, during and after an earthquake and heed local advice
Don't leave belongings unattended – Whether this be lying around your hotel room, on show in your car, or left on the beach as you swim, it's not a good idea and opportunist thieves may quickly disappear them
Keep your room secure – Lock windows, doors and use the room safe or hotel safe if there is one
Stay away from the manchineel trees – You'll find these on some beaches. The fruit is poisonous but even the sap, which can drip on you, can cause blisters. They are usually marked by red spray paint
Be culturally aware – It's important to understand more about the country you're visiting before you arrive, so do some research
Report crimes and scams to your hotel – If anyone has been hassling you or trying to scam you, the police – or your hotel – will be able to deal with it
Get yourself a sim card – It's helpful for getting around and keeping in touch with people
Dress down – Looking like a wealthy tourist, especially if venturing out of resort areas, may single you out as a target
For the most part, Barbados is safe. It is not exactly a country that we would deem dangerous. Like everywhere in the world, however, there can be risks to your money and your belongings which are easily avoided. In order to keep yourself and your things safe, keep our pointers in mind and remember to not treat Barbados like an amusement park. Don't do anything you wouldn't do at home, basically.
Some General Safety Tips from the OG Broke Backpacker
Keeping your money safe in Barbados
Like most people, one of the major worries you may have about travelling to pretty much any country in the world is keeping your money safe.
That's because losing money, whether by your own forgetfulness or via a pickpocket, is not fun at all; in fact, this can end up cutting a trip short.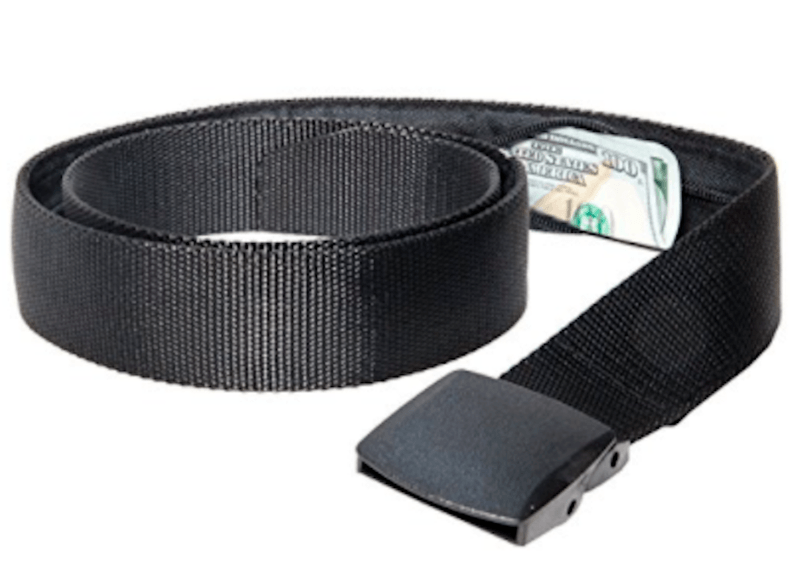 When it comes to keeping your money safe in Barbados, our advice – as it would be for any destination – is simple: wear a money belt!
This basic solution is a no-brainer, as it literally stops pickpockets in their tracks. With your money safely hidden from view, there's no worry of anybody stealing your cash.
The problem with some money belts, however, is that they can look obvious when worn under clothing; they can also be uncomfortable to wear.
Our recommendation, then, is the very awesome Active Roots Security Belt!
This money belt looks like a belt, it acts like a belt, and it has a simple zipper pocket hidden on it, doing away with all the bells and whistles of some overcomplicated money belts out there.
However, if you don't wear a belt, it is possible to find other nifty solutions to keep your money safe in Barbados and elsewhere in the world. The Active Roots Infinity Scarf, for example, is a handy scarf that features a secret pocket where you can stash your daily budget.
If you're thinking about travelling solo in Barbados, you should do it. More and more people are heading by themselves to this Caribbean destination, finding time to relax on its sandy beaches, exploring its magnificent nature, or hitting the surf.
That said, being by yourself while travelling is not always what it's cracked up to be; you can get lonely and be more at risk of being a victim of crime, among other things, so we've compiled a few pointers to help you stay safe and secure when you solo travel in Barbados.
It is important to do your research about the area in which you're thinking about staying. Though generally safe, finding the right area in Barbados that suits you – and which is safe for a solo traveller – is something you should really spend some time doing.
Plan some activities. This way you will be able to get out and enjoy Barbados, but without the onus on yourself to explore and learn about everything by yourself. You can opt for a surf lesson, or book yourself on a group hike, or any number of activities. Again, however, you need to ensure that you research guides and tour companies thoroughly and use only the most reputable among them.
That said, you shouldn't do too much. Leave space in your schedule for downtime – days when you can just chill out on the beach and hang around your resort pampering yourself. Doing too much, especially when you're by yourself, is not a good idea and could easily lead to burn-out.
Don't go completely off grid. It's nice to go off and do something by yourself, of course, but solo travel doesn't mean that you have to cut off contact with everyone back home. Take time to keep in touch with your friends and family; this will help keep you grounded, stave off homesickness, and also means that people know your whereabouts.
It's not a good idea to walk around by yourself in isolated areas. Being by yourself in quiet areas could really lead to you becoming a victim of crime, so find a travelling buddy to explore the island with or opt for tours when it comes to Barbados' less trodden routes.
If you are going out exploring by yourself, however, you should really tell somebody where you are going. This could be someone back home, a new friend you've made, or the staff at your accommodation. It's much safer having someone know where you're going and what you're doing than not telling anybody.
Ask at your hotel, or local you get chatting to, if there are places you should be avoiding. Likewise, you should ask if there hidden gems you should be seeing that would really enrich your trip.
Travelling with too many belongings is not only not fun, but it could put you at a higher risk of theft or having something go missing. Try to travel as light as possible; it will also be much more comfortable that way if you plan to hop around the island.
Know your emergency numbers. Have them saved in your phone (with a symbol in front of them, so that they appear at the top of your contacts) and have them written on a piece of paper, in case your phone runs out of juice.
Speaking of which, you should keep your phone charged at all times – in case of emergencies. Investing in a spare battery pack is a good idea if you plan on being out all day in nature, for example.
Though Barbados is known for its honeymooners and couples' retreats, you shouldn't be afraid to eat out by yourself. Whether that's in your resort or in a local spot, Barbados is a friendly island and you're bound to get chatting to somebody.
If you do decide to go out by yourself though, don't drink too much. The risks of drinking way too much far outweigh the benefits, and can easily lead to poor decision-making, putting yourself in unsafe situations, or simply being unable to find your way home.
Barbados is a beautiful place to visit and, thankfully, this idyllic island is actually quite a haven for solo travellers. Not only is there a laid-back lifestyle, but there is also a lot on offer for many different types of traveller.
From sea kayaking and surfing to exploring caves and yoga classes – and simply chilling on the beach – there's something here for everyone.
Just make sure you keep in touch with people, look out for yourself, trust your gut and ensure that you're not making things too hard for yourself by having a jam-packed schedule. Take it easy – you're in Barbados, not an office.
Is Barbados safe for solo female travellers?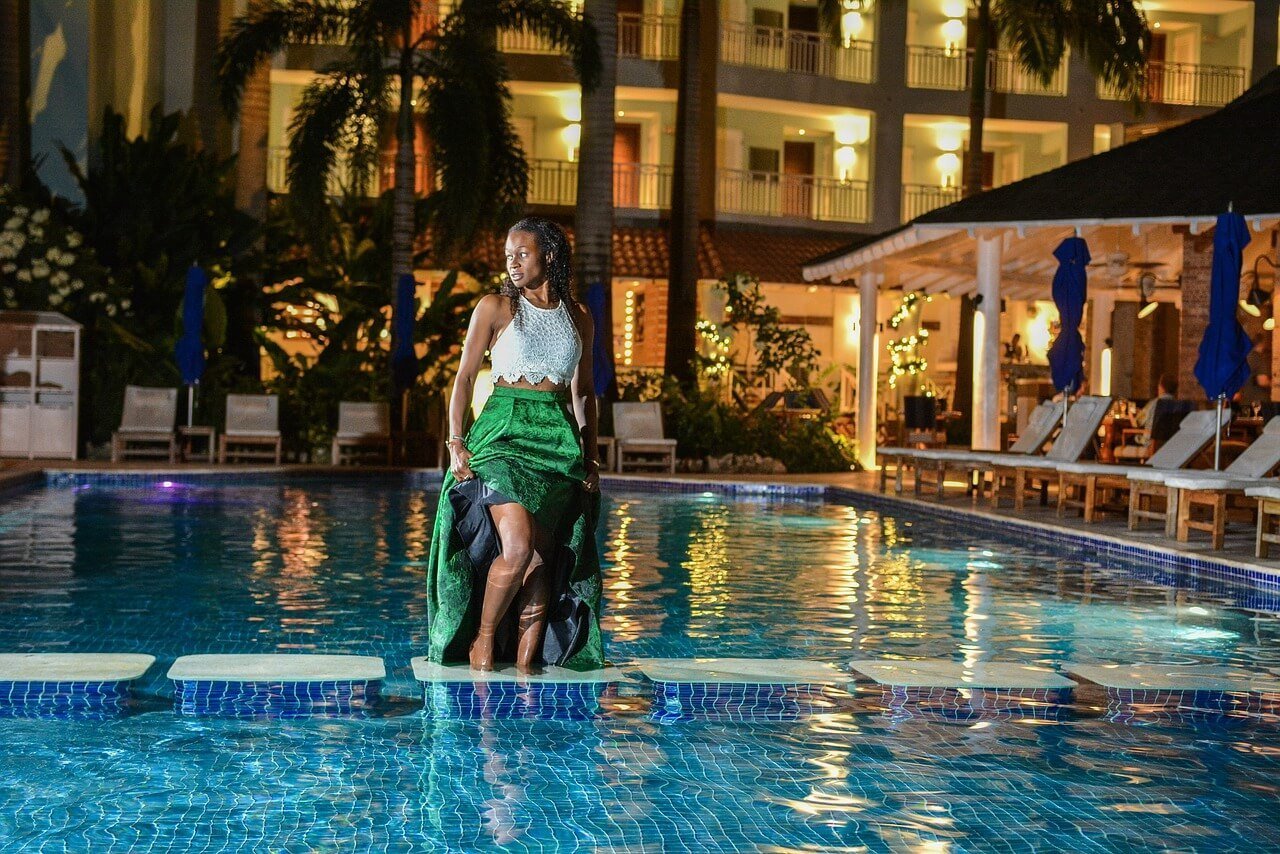 Barbados may not be on the top of every solo female travellers' wish-list. There are the romancing couples, the high-priced resorts, the well-trodden nature of the island in general and a lack of other women travelling by themselves in Barbados.
However, none of that means that it's not safe to travel to Barbados as a solo female.
In fact, it can be done quite easily – and we have some curated tips for solo female travellers in Barbados that will walk you through just how you can go about it (and stay safe in the meantime)…
Research your accommodation and book very carefully. You do not want to end up in some shady guesthouse by yourself, so thorough research is needed. Pay special attention to reviews left by solo female travellers, and only opt to stay at places that have been favourably reviewed by other women.
You shouldn't feel that staying at an all-inclusive resort is a cop-out; this is a safe option, and a good one for women travelling by themselves for the first time especially. You'll get food, amenities, beaches, security and the option to take tours and excursions through the hotel – all in one place. However, good research is still required.
Be careful with going out partying by yourself. If you want to go out and enjoy the nightlife that Barbados has to offer, it's best to gather a group of people together or go on an organised bar crawl or tour.
Ignore any over-the-top attention you may receive from men on the street; it's not a good idea to react in any way, just keep moving.
Walk around confidently with your head up. Looking lost or vulnerable could lead to you being more of a target, so be confident and act like you know where you're going – even if you don't.
Dressing down, or dressing casually, and being aware of how what you're wearing is fitting in with the surrounding environment, is something to think about. For example, what is ok on a beach or around your resort, will be very different to what is acceptable in a less touristed market or local eatery.
Don't be afraid to ask for help. Whether it's from the police or local people, most people are very friendly and will be happy to help you with directions or anything you may ask for.
Be very careful if you are going out somewhere isolated. Even if you want to just go out for a jog from the apartment you're staying at, it's important to note that the quiet areas are more risky for people by themselves, especially women. Incidents have occurred in these sorts of situations, so try to stick to populated areas when you're by yourself.
Know where you're heading. Simply going for a wander may put you at risk or lead you into a bad situation, as you will not know the area in which you wandering.
Meet up with local ladies or other travellers by getting involved in online forums before you go and Facebook groups like Host A Sister. You could even get chatting to the staff at your hotel, who may give you tips on things to do on the island, or even invite you out for the day or evening.
Tell people where you are. This is very important; just like any destination in the world, it is crucial that somebody you trust knows where you are and what you are doing at all times. Consider sharing your itinerary, and any spontaneous updates, with your friends and relatives back home.
Be careful during busy times, like Crop Over Festival, when there are lots of people partying and getting drunk. Make sure to watch your drink, know how you're going to get back to your accommodation and tell people where you are going.
Don't lose your money to a pickpocket! 
There are tons of ways to store valuables and goods while traveling but a travel scarf has to be the least obtrusive and the most classy.
The Active Roots Zipper Scarf is your run-of-the-mill infinity scarf but with a hidden pocket that's big and sturdy enough for a night's cash, your phone, a passport and (hell with it) some snacks too!
Though it may not seem like it, considering the lack of hostels with female-only dorms and things like that, Barbados is a fine place to travel solo as a woman.
Like anywhere in the world, however, being a lone female traveller comes with more risk than it does for your male counterparts. Although you can keep your wits about you, like you would do at home, it's always different in a new country.
Make sure you do your research, keep your phone charged, tell people where you're going – and do what makes you happy, it's your trip after all. If you want to go on tours, stay in a resort, eat at your all-inclusive restaurant – go for it!
Is Barbados safe to travel for families?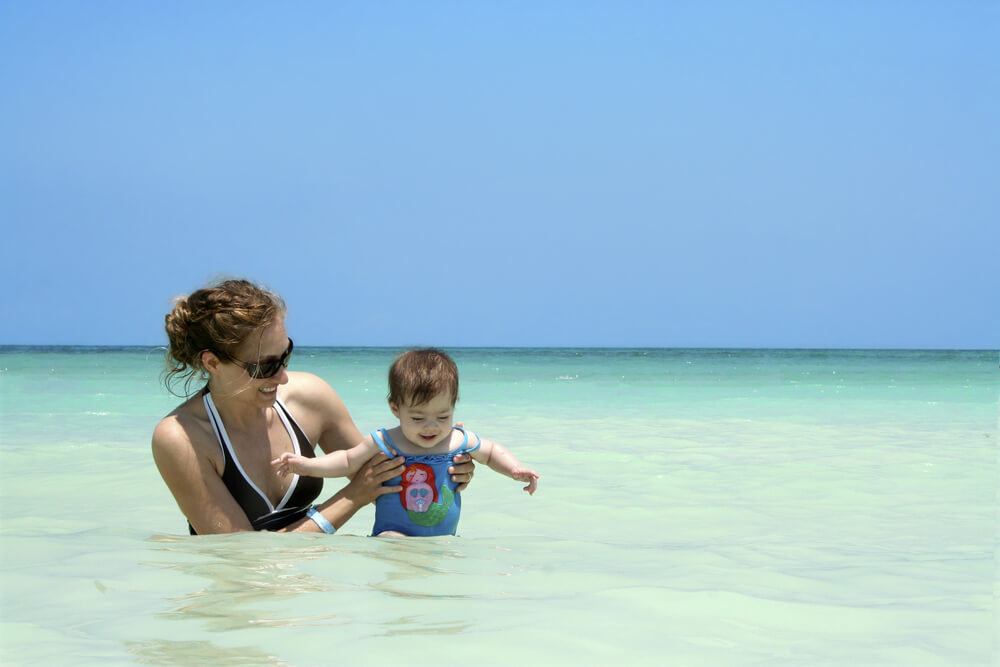 Barbados is a brilliant place for a family holiday. With all those resorts, villas, condos and mid-range hotels, there is a huge selection of family-friendly accommodation on offer across the island – a good place to start.
While it is true that it is not always the cheapest place to travel, especially if you have children with you, Barbados is nevertheless a family-friendly destination.
Depending on the resort that you choose, there will be a whole load of amenities and activities geared towards children. From large pools and children's pools, to kayak rentals, kids' clubs and babysitting services, there are a lot of benefits that you can chalk up by staying at a family-friendly resort.
However, it is important to note that not all accommodation is set up with children in mind; some resorts and hotels will be adult-only and won't accept children.
Depending on what sort of travel your family is used to, you may not want to stay in a resort anyway. There are many options out there for more adventurous families.
The thing to note, if you plan on exploring the island yourself with your family, is that you should find a good, safe base for yourselves in a welcoming neighbourhood. Research is key in this instance.
You will probably have to exercise more caution and be more careful about wandering around certain neighbourhoods, towns or on beaches at night, and plan how you are going to get around the island with your kids in tow.
For beach days, most beaches around the island are safe for playing on. However, not all are safe for swimming. If you are a family, it is probably the best idea to go only to beaches that boast lifeguards; you should heed warning flags, if there are any. The east coast is not a good idea for novice swimmers and children, as the offshore currents are strong.
When it comes to getting supplies for your little ones, you shouldn't have to worry too much. Resorts usually have on-site marts or stores where you can find some essentials, and baby changing facilities shouldn't be too hard to find; elsewhere, supermarkets often have a shuttle service to and from certain resorts, saving you the price of a cab.
However, things are expensive in Barbados as they have to be imported onto the island itself. Basic things like diapers and baby food are more costly than you may imagine them to be, therefore.
If you realise you need a pram or a carseat during your stay, you'll be happy to note that there are two companies that offer rental equipment for children and infants; one is Baby Gear Hire; the other is Baby A GoGo.
The nature of Barbados can be something of a menace when you plan on visiting with children.
First of all, mosquitoes can be more than just a bother, but can be dangerous for children; avoid you and your family getting bitten by covering up, using repellent (no DEET for young children) and staying away from stagnant water – all especially around dawn and dusk, which is when mosquitoes are more prevalent.
Exposure to the sun can be brutal as well, especially to small children. Limit your time in the sun – this goes doubly for when the sun's at its hottest after around midday – and definitely apply sunscreen, cover up with T-shirts and wear sun-hats.
When it comes to weather, when you visit Barbados is something to consider. November, for example, is known as shoulder-season; it's not hurricane season, it's still warm – but blazingly hot – and prices will be cheaper.
All in all, Barbados is safe for families. Of course, there are places you should exercise caution, but more than likely you'll be absolutely fine; most islanders will be happy to show you and your family around their beautiful nation.
Is it safe to drive in Barbados?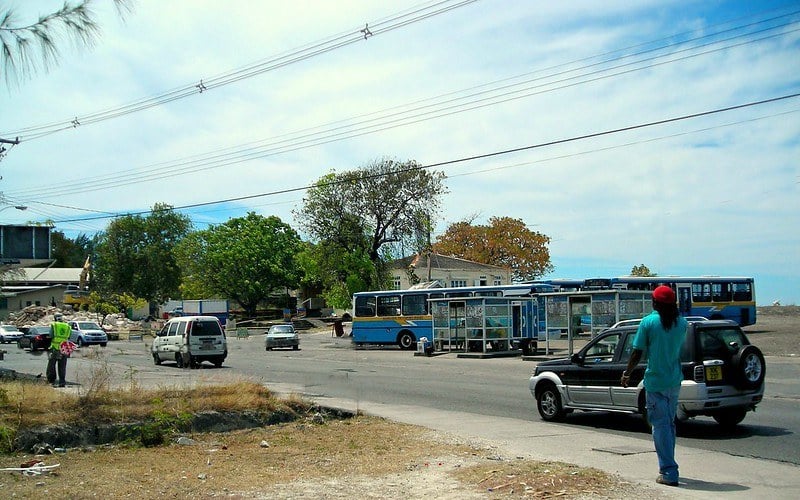 While it is safe to drive in Barbados in general, drivers should certainly take care in doing so.
It isn't all easygoing, and experience of driving abroad is something that we very much recommend.
Driving in Barbados can be confusing, especially in the countryside; and though, in general, road conditions in Barbados are good, there can often be potholes and speed bumps that can be hard to spot.
In towns and cities, especially in Bridgetown, for example, and on the main highways, you can expect traffic to be a problem. Roads in urban areas are often clogged with traffic and, again, be quite confusing to navigate.
The highways, in addition, aren't very clearly marked, so it's easy to miss your turning. Expect to be going off things like landmarks as opposed to consistent highway markings and signage.
Keep an eye on the concrete markers at the sides of the road; these will show the highway number as well as the distance from Bridgetown in kilometres.
Those of you who aren't used to them may have some trouble with the roundaboats (or "traffic circles"); they could easily cause accidents if you don't know how to use them properly, especially in the rushing roads just outside Bridgetown.
Secondary roads are usually paved, but not always, and in rural areas, they can be very narrow with blind corners to look out for. It's a good idea to have a physical map with you, as well as your smartphone GPS, to help you get around.
That said, a friendly local will probably be able to help you if you do get lost.
You should be aware of pedestrians. They often walk along the road, but can also cross without warning, and can pose a big hazard to driving in Barbados.
It's not a good idea to stop if a pedestrian is trying to flag you down – to be on the safe side. When you are driving, keep your car doors locked; anything valuable should be out of sight, and reach, of any potential break-ins.
Know that you drive on the left in Barbados (like the British) and also that small-children must have child seats. It's a given anyway, but you should be wearing a seatbelt.
Be careful where you park. Most if not all rental cars will be marked on the number plate with an "H" and will be easy to target for potential thieves; leave nothing on show.
Driving at night time is best avoided. Roads are not very well lit, so it can be especially dangerous to drive after dark; you are in a country whose roads you don't know, after all.
In general, though driving in Barbados can be done, we recommend that only experienced drivers tackle it. Otherwise hiring a driver, or using taxis, to get around is the way to go.
Is Uber safe in Barbados?
There is no Uber available in Barbados, nor is there any other ride-hailing platform on offer.
However, this is no cause for concern; the island is completely saturated with taxis, so you should have no problem at all getting from A to B.
Without further ado, let's have a look at just how those taxis work.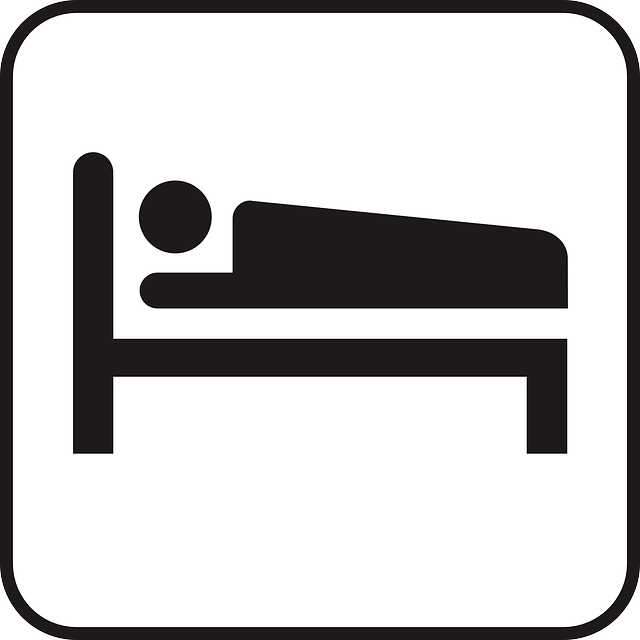 Sleep safe! Choose your hotel, hostel or Airbnb ahead of time so you're not last-minute booking a less-secure place.
Are taxis safe in Barbados?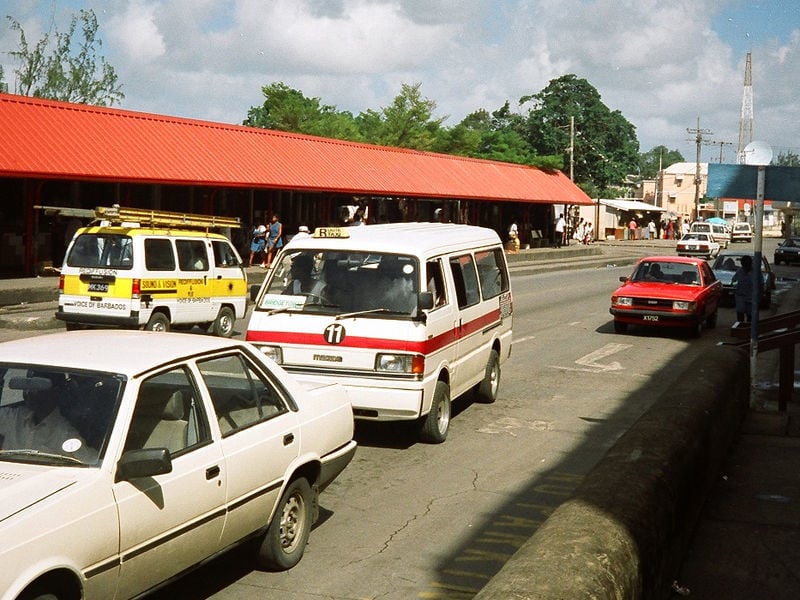 With no Ubers to rely on during your trip to Barbados, you will be most likely using taxis to get around.
The good news is that the taxi service in Barbados is pretty good. There's so many taxis to choose from, they operate 24 hours a day, and – lacking meters – you know you won't get messed around because the rates are fixed by the government. That said, you should still agree on the rate before you set off, just so you know what it's going to be and there are no surprises.
The only bad news about taxis in Barbados is the importance of getting in a licensed taxi. Unlicensed taxis do operate and it is not advised, at all, that you hop into one of these.
To ascertain that a taxi is licensed or not, look at the numberplate: this will have "Z" on it. On the roof of the car, there will also be "TAXI" sign.
You will be able to find taxis on the side of the road and around popular and/or busy tourist areas, such as outside big hotels, popular beaches and sites around the capital.
Being a taxi driver is an important income for many of the Bajan (Barbadians) who choose to drive taxis; outside of high tourist season, it can be hard for drivers to get a fair wage, so it's good to keep this in mind when you're taking a taxi.
Be polite and chat with the driver – usually, they will be friendly, knowledgeable and interested to hear about you, while you hear about real-life in Barbados from them.
Taxis are reliable. They are a good way to get from the airport and cruiseports to where your accommodation is situated.
It is also possible to hire a driver per hour or for the day, for a negotiated price. This will effectively mean that you get a tour guide as well, so it may be something to consider, especially if you come across a driver that you like. However, a good way to arrange this kind of service is to ask at your accommodation, who will find an appropriate, recommended driver.
Hotels will also be able to book you regular taxis in general.
It is important to understand that there are excess fees (not a scam) when it comes to the taxis in Barbados – excess luggage, for example, being one of them.
You can find out about the rates of what you should be charged online.
In general, taxis in Barbados are safe and you should have no trouble using them. Just avoid unlicensed cabs.
Is public transportation in Barbados safe?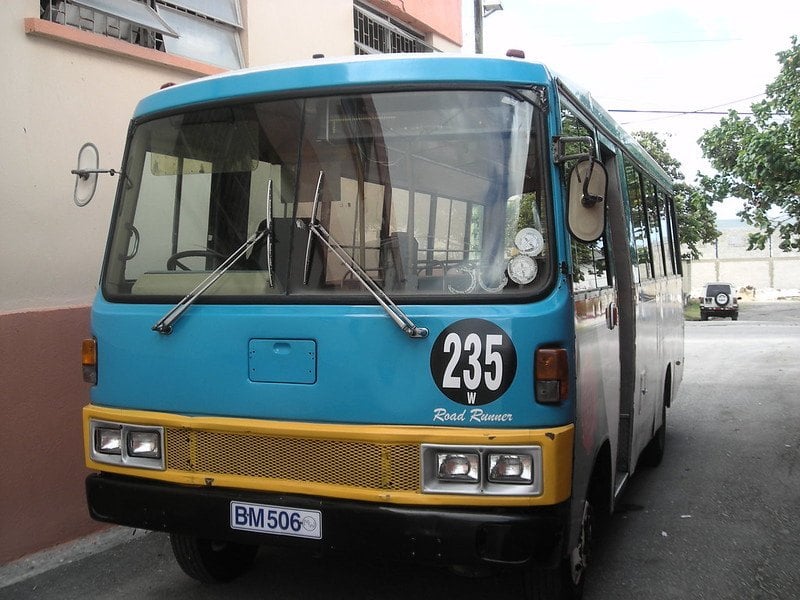 The public transport in Barbados is easy to use and fairly safe, though there isn't that much of it – it consists mainly of buses.
The bus network, however, is far-reaching and you can pretty much get to wherever you need to get to on the island just by riding the bus. It's efficient and not greatly expensive, either.
There are three types of bus that you should know about on Barbados.
First of all, the government-owned public buses are the main way to get around. These are large buses which are blue with a yellow stripe.
They run out of three terminals: two in Bridgetown, and one in Speightstown (in the north).
These buses can take visitors to popular sites around the island and are very comprehensive. In fact, they even have their own online route-finder to make things easy for visitors.
Buses along all the main routes run frequently, from 6 a.m. to midnight. The bus stops are marked with red and white signs which will be clearly printed with "To City" or "Out Of City", with Bridgetown being the main marker for all road travel on the island.
These government-run buses are clean and safe; you shouldn't have any trouble using them. The standard fare is BDS $3.50.
Another type of bus that you can use while in Barbados are the privately owned minibuses. These are yellow with a blue stripe.
These charge the same fares as the aforementioned public buses, but note that you should have exact change to pay with.
The minibuses travel frequently on Highway 1, as well as other routes, and are fairly frequent, running around once every 20 minutes.
Thirdly, there are route taxis, also known as "ZR vans", which are white with maroon stripes; they can also be identified by the "ZR" on their number plates.
These are a bit more of an experience than riding the regular public bus; though they run the same routes as the public bus, they can be crowded, brake suddenly, and tend to stop a lot. They also blast loud reggae music while travelling at high speed.
Though they pack in as many people as possible, the ZR vans can actually be quite an interesting experience if you want to see how Bajan locals live. They also make for quite a good mode of transport to use if you want to explore the south coast of Barbados.
That is all there is in terms of public transport in Barbados. It's safe and convenient – just make sure that you have exact change and get ready to flag down the bus.
Is the food in Barbados safe?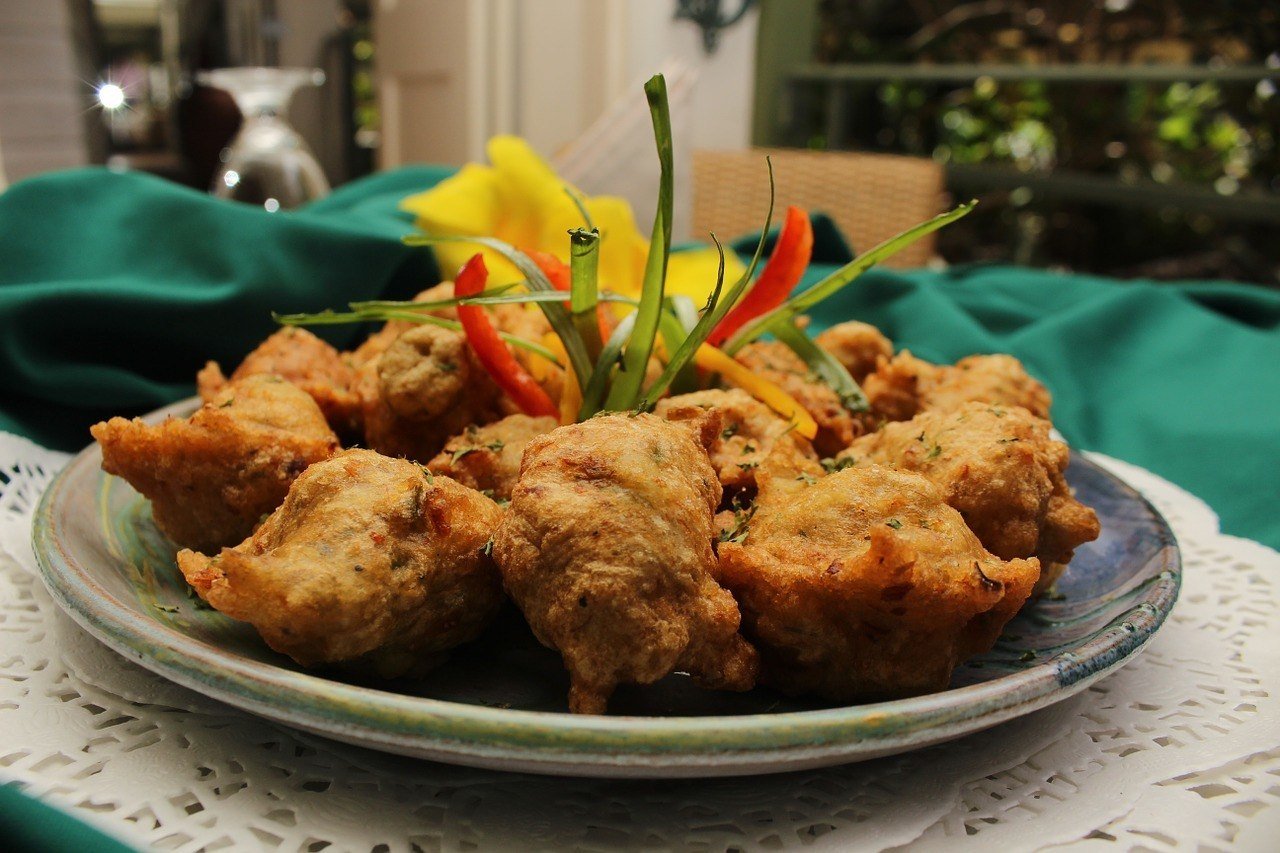 Bajan cuisine is a big mix of many influences: Irish, Indian, British, Portuguese, African, Creole – it's all there.
There is necessarily a lot of deliciousness to enjoy if you to choose to explore the culinary world of this Caribbean country. To help you explore this island nation's food like a pro, we are sharing with you our top tips on getting to know the food in Barbados…
Put away the guide book and follow your nose – or the locals. Your guide book may be leading you to places that are more convenient than authentic, so go to places that look as though they are local favourites.
With this in mind, it's probably best to avoid places that look like they do a roaring business with tourists. Anywhere with touts trying to get you in from the street, or the beach, is probably not going to be worth your time. Tourist traps like this tend not to have hygiene as their top priority, either.
Try to avoid things that look as though they have been sitting out in the sun for a while (especially if they are not covered) and opt instead for things that can be cooked up hot and fresh.
Don't be afraid of a humble food truck or food shack. As with before, just make sure it is busy with locals. Other than that, visiting at lunch-time is better.
Follow food safety processes yourself is a good way to not get sick while you are in Barbados. The top one of these is to simply wash your hands; do this before you eat and at least you won't be the one making yourself ill.
Note that one of the biggest causes of getting ill in many countries is resort food. Buffets may be very convenient and the easy option, but food that has been sitting around in metal trays for who knows how long is not the most trustworthy of things.
Bring along some anti-diarrhoea medication and rehydration sachets – just in case. Your stomach may not be able to handle the change in diet, the new ingredients and spices used in Bajan cooking, so while it may not be a case of food hygiene, it is nevertheless something that could cause you some stomach upset.
There is a lot of fish and seafood on offer in Barbados, which is great, but just make sure that what you're eating is fresh. If it smells or tastes off, stop eating; food poisoning from seafood is the worst.
The food in Barbados is much loved by the islanders, and you will soon fall in love with it, too. Often made with fresh local produce, with a distinct Bajan flavour, there are a whole lot of interesting dishes to explore when you're here.
Getting stuck into the local dishes is the best way to get to know the island – not just because of the ingredients used and the flavours, but also where because you will be eating this food, i.e. in very local joints alongside locals themselves.
Can you drink the water in Barbados?
Tap water is safe to drink all over Barbados. It follows World Health Organisation regulations, and some claim it is the purest water you can find.
While the jury may be out on the purity, it's definitely safe to drink. Bring along a refillable water bottle and refill where and when you can instead of buying unnecessary plastic bottles of water and contributing to the plastic problem that we are currently facing.
Want to save the world?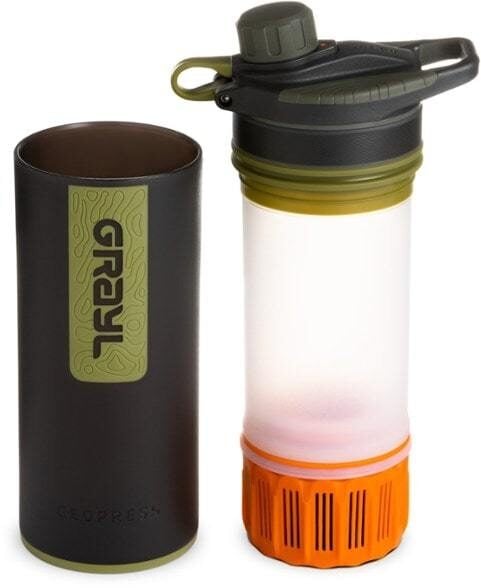 Single-use plastic bottles are a huge threat to Marine Life – Be a part of the solution and travel with a filter water bottle.
The GRAYL GEOPRESS water bottle is the ONLY all-in-one filter water bottle setup you'll need. Whether you need to purify the water from a hostel sink in Kathmandu or a stream trickle in the Andes, the Geopress has got you covered.
Read our full review of the GRAYL GEOPRESS!
Is Barbados safe to live?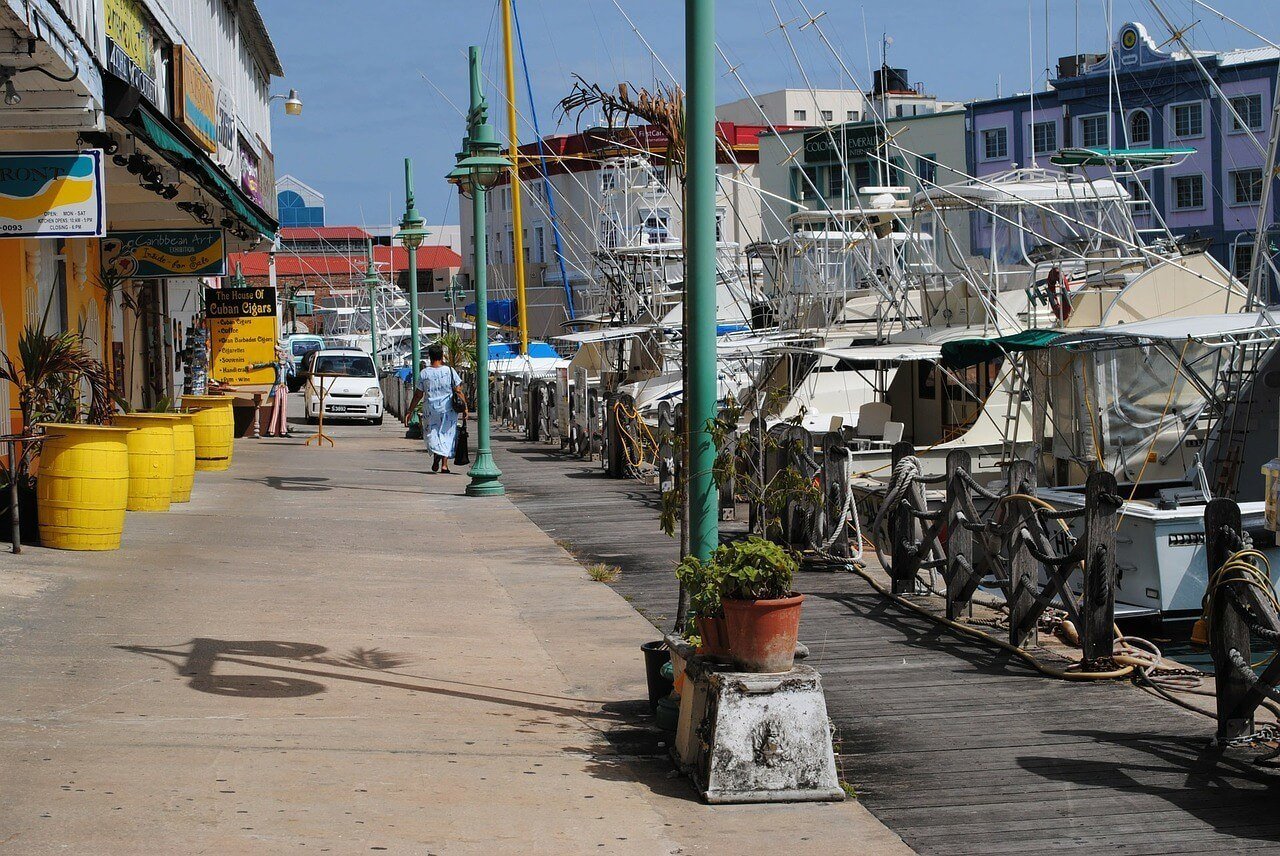 Barbados may seem like an absolute dream destination for setting up a new home in the Caribbean, its' laidback lifestyle and beautiful weather attract a lot of people, but it's not always going to be paradise.
It is important to know that living in Barbados is very different to visiting Barbados on vacation. You may have work to do, so you won't necessarily be able to chill out all day, and there will be everyday annoyances, paperwork to fill in, shopping to do, and all the things that can make a place very everyday and mundane.
That said, the relaxed mindset – though charming on vacation – may be a little hard to get used to as a constant in your life. There's a slow pace, people don't rush around, and things may take a while to get done.
Being an island, many things in Barbados can be quite expensive. Products you may be used to having every single day with ease, in Barbados can be costly, hard to get, or outright nonexistent.
Working out where you want to live will be very important for you. Being a long term resident of the island, and not staying in an all-inclusive resort, finding a property in a safe neighbourhood will make a big difference.
There are small tight-knit communities on Barbados where everybody seems to know everybody, which could be hard to get used to. It is also very densely populated, and is actually the 18th most densely populated country in the world.
That weather, the warmth and blue skies, maybe great, but there is another side to the coin. There can be heavy rains during the wet season and, from June to November, there is the threat of hurricanes, which can be devastating.
Although the crime rate is low compared to other islands in the area, violent crime is not unheard of. Robbery and burglary can also take place, which is yet another reason to ensure that where you choose to live is safe and secure.
At the end of the day, it is important to do your research. Make sure that you are talking to other people online who have made the move, checking out good places to live and people you can meet up with; it is always a good idea to have people you can talk to, and ask for advice, when you move to a new country.
How is healthcare in Barbados?
The healthcare in Barbados is actually pretty decent.
The medical treatment on the island can be quite expensive, too, so it is imperative that your medical travel insurance covers treatment and possible repatriation.
The facilities and services on Barbados are good. If you have an emergency, you can dial 511 and ask for an ambulance. The ambulance may take longer than what you are used to; it may be worth assessing the situation and seeing whether a taxi to the nearest emergency room may be the quicker option, depending on the severity of what's happened.
There are emergency rooms at FMH Emergency Medical Clinic, and Sandy Crest Medical Centre.
Queen Elizabeth Hospital, the main government hospital, is in Bridgetown. With specialist care, from paediatrics to plastic surgery, it boasts 600 beds.
Although it can cope with many different treatments, anything too serious could lead to you being evacuated somewhere nearby that can deal with your situation.
However, Barbados boasts the best healthcare in the region.
Private clinics are a good option. These have top medical facilities, but they may not accept your travel insurance; it is important to check before you visit one of these whether or not your particular insurance will be accepted.
There are also government clinics, eight to be exact, which offer free medical treatment for small ailments and injuries; go here for anything from an upset stomach to a sprained ankle.
Pharmacies are good places to go to get medical advice but are the port of call for picking up medicine which you may have been prescribed by a prior doctor's visit.
A good idea is to ask at your hotel for a recommended doctor; often the bigger hotels will actually have a doctor on call, or will be more than able to help you find one.
The healthcare in Barbados is good, however, it is important to note that the ambulances can take a little longer than what may be the standard for North America or West European countries, and medical insurance – when it comes to private healthcare – may not be accepted.
Final thoughts on the safety of Barbados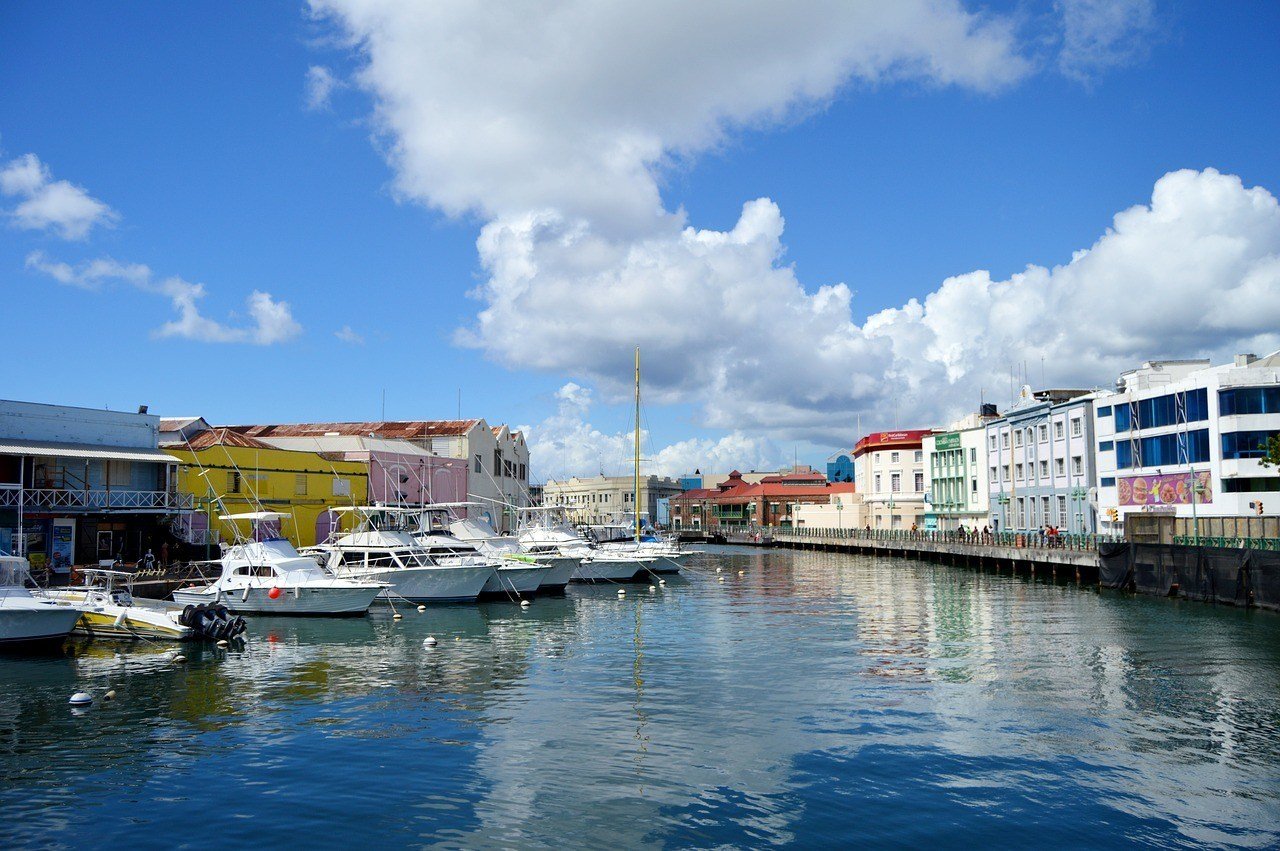 Barbados is one of the safest countries in the Caribbean. Most visitors to this island nation will be staying in resorts and will be unlikely to see, let alone be affected by, any of the island's serious crime. The most important thing is to research the guides and tours you will take, as well as the accommodation you will be staying in, and remember that Barbados is not a theme park. You should still be sensible…
…Starting with travel insurance, an absolute must before you decide to hop on a plane.
Disclaimer: Safety conditions change all over the world on a daily basis. We do our best to advise but this info may already be out of date. Do your own research. Enjoy your travels! Some of the links in this post are affiliate links which means we earn a small commission if you purchase your insurance through this page. This costs you nothing extra and helps us keep the site going.