If you're thinking of staying in a villa in Barbados, you've lucked out. Private properties in this Caribbean dream destination are the perfects pads for chilling out to the max. Private pool? Check. Garden? Check. Everything else you'll need to have an awesome time without any worries? Check, check and check again.
Barbados is one of those islands that will absolutely take your breath away. It's all about beaches, being on the ocean and having a completely no-fuss way of life here.
Staying in a villa in Barbados is the ideal way to embrace this island. It's basically like having a home away from home, complete with a kitchen, comfy bedrooms, dining areas – the works. Plus they are usually located near some beautiful natural scenery as an added bonus.
Now doesn't that sound enticing? Well, if it does, then allow me to introduce you to my handy list of the most incredible villas in Barbados. No matter what kind of place you're looking for – from family-friendly to a romantic getaway – you won't be disappointed.
Let's take a look!
In a Hurry? Here's Where to Stay in Barbados for One Night
Is this amazing Barbados Villa booked for your dates? We've got your back with our other favorite properties below!

Unlock Our GREATEST Travel Secrets!
Sign up for our newsletter and get the best travel tips delivered right to your inbox.
Staying in a Villa in Barbados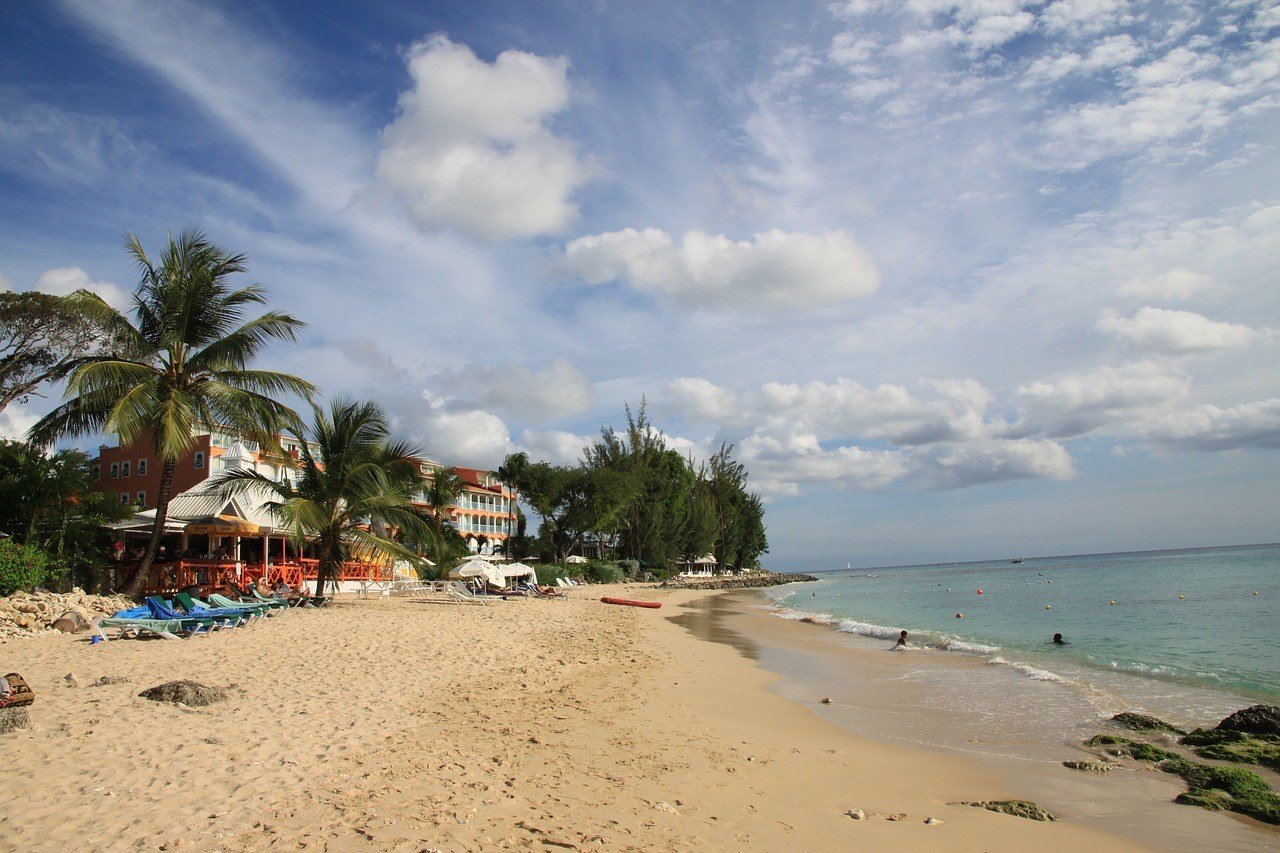 Properties here come in all shapes and sizes. There isn't one cookie-cutter type of villa that everyone stays in, which probably has something to do with the fact that many – if not most – of them were private homes at one stage or another.
You can find holiday villas across the island in various locations. Most often you'll find them close to shops and restaurants, in secure areas, and sometimes in gated communities for those worried about safety in Barbados.
Staying in a villa in Barbados is one of the best ways to experience this Caribbean nation. You'll be removed from the regular tourist trail, and not situated right in the middle of a beach resort. However, Barbados is expensive and villas are one of the more costly types of accommodation, but what you pay for is a more authentic experience and all the comforts of home.
Instead, you'll have the chance to unwind in your own privacy, and sometimes with the amenities of private clubs to make use of.
What to Look For in a Villa in Barbados
When it comes to the type of vacation rentals in Barbados you can find in amongst all the villas here, there's a whole bunch of choices. Some of the villas are more rustic than others and situated surrounded by tropical plants and gardens. Mid-range options include historic houses that look out over the Caribbean Sea.
When it comes to choosing a villa in Barbados, it's a good idea to remember that the bigger the house, and the more amenities, the higher the price tag.
But if you do want to splash the cash, it's easy to find villas in Barbados that have been purpose-built for vacationing families and friends. These sorts of properties have all sorts going on – maid services, concierges, and private security being just a few.
One of the best things about booking yourself one of these pads? You have access to a whole plethora of home comforts. Think fully equipped kitchens, large bathrooms and luxurious lounges. This adds real value for money when compared to the fairly limited scope of hotel rooms.
It's a good idea to make a list of the amenities you need and filter your search by those options, because things like washing machines, parking, and beach access, do not come with all villas.
You should also look at where to stay in Barbados. Most villas come in central locations or are near to the beach, but you can also find more remote locations. This is fine, but it does mean hiring a car to get from A to B.
And when you're looking to book, there are a ton of booking platforms that you can choose from. These include booking.com, Airbnb and Vrbo.
Airbnb hands down have the most places to choose from – not to mention you get to read guest reviews to see what other travellers experience was like, so you can really see how amazing it is. Being able to communicate with the owner directly helps, too.
However, because there are a ton of options, it makes finding that perfect place a little time-consuming. So, if this sounds like too much work for you, read on to see the best of the best.
OVERALL BEST VALUE VILLA IN BARBADOS
OVERALL BEST VALUE VILLA IN BARBADOS
South Coast Beach Villa
> $$
> 8 Guests
> Fully equipped kitchen
> Right on the beach
BEST BUDGET VILLA IN BARBADOS
BEST BUDGET VILLA IN BARBADOS
Dover Beach House
> $
> 7 Guests
> Chilled porch area
> Great location
BEST VILLA FOR COUPLES
BEST VILLA FOR COUPLES
Majestic Palms Villa
> $$
> 7 Guests
> Swimming pool
> Beautiful sea views
OVER-THE-TOP LUXURY VILLA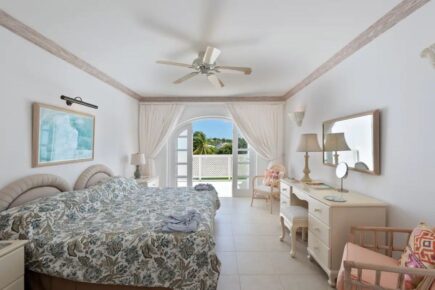 OVER-THE-TOP LUXURY VILLA
Spacious Luxury Villa
> $$$$
> 5 Guests
> Huge private garden
> Gated community location
BEST VILLA FOR FAMILIES VISITING THE BARBADOS
BEST VILLA FOR FAMILIES VISITING THE BARBADOS
Sandy Lane Cottage
> $$$
> 12 Guests
> Fully equipped kitchen
> Private swimming pool
BEST VILLA FOR BACKPACKERS IN THE BARBADOS
BEST VILLA FOR BACKPACKERS IN THE BARBADOS
The Cottage Villa
> $
> 2 Guests
> Close to nature
> Quieter than more touristy areas
AMAZING LUXURY VILLA IN BARBADOS
AMAZING LUXURY VILLA IN BARBADOS
Beachfront Villa with Private Beach
> $$$
> 12 Guests
> Incredible sea views
> Hot tub!
The 15 Top Villas in Barbados
So whether you're looking for some inspiration, or if you're pretty much packed and ready to go, here are the very best villas in Barbados. Beachfront, surrounded by nature, and close to restaurants and bars – there's everything you could ask for in these awesome properties on one of the best tropical islands!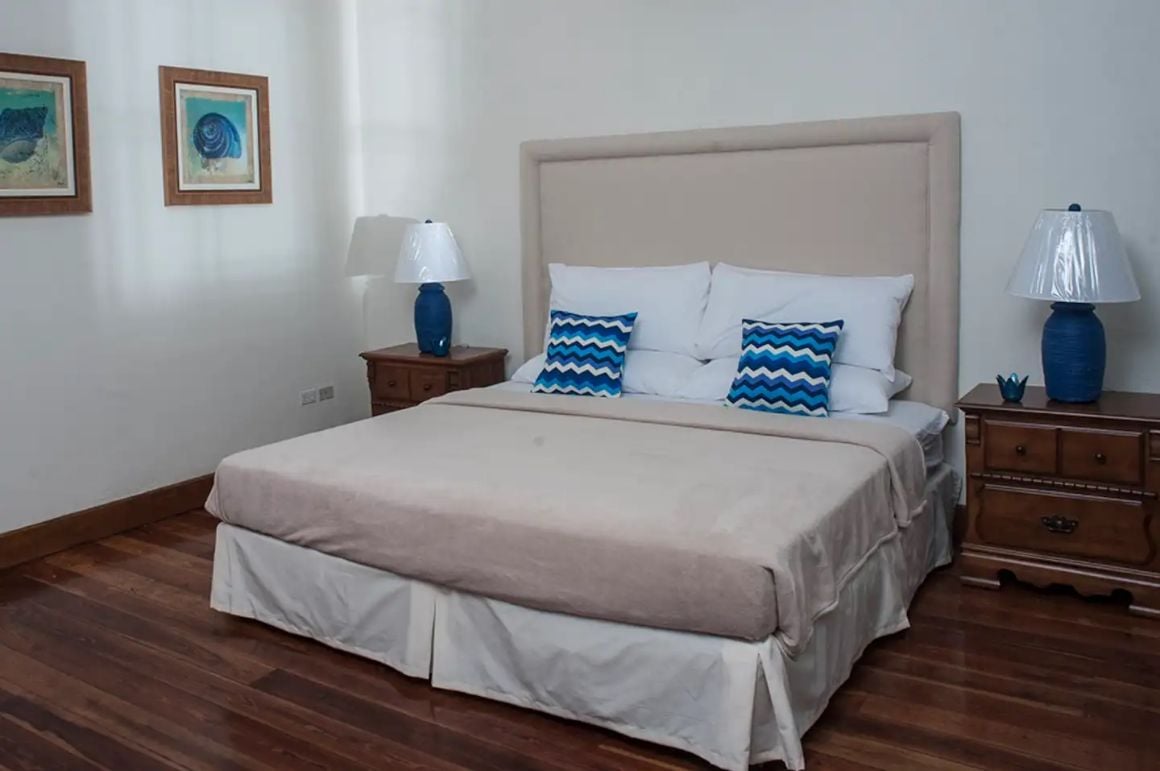 $$
8 Guests
Fully equipped kitchen
Right on the beach
This stunner of a coastal property in Bridgetown, Christchurch, ticks all the boxes, so it's no wonder it's up here as the best villa in Barbados.
Here it's all about the location. With the ocean right on the doorstep, you can wake up with awesome sea views and watch some killer sunsets.
Inside, this is a fully renovated property with everything you'll need for a comfy vacation. The whitewashed walls, the dark wood flooring, the minimalist yet classic aesthetic, the walled lawn leading right to the beach… You couldn't ask for much more in a villa.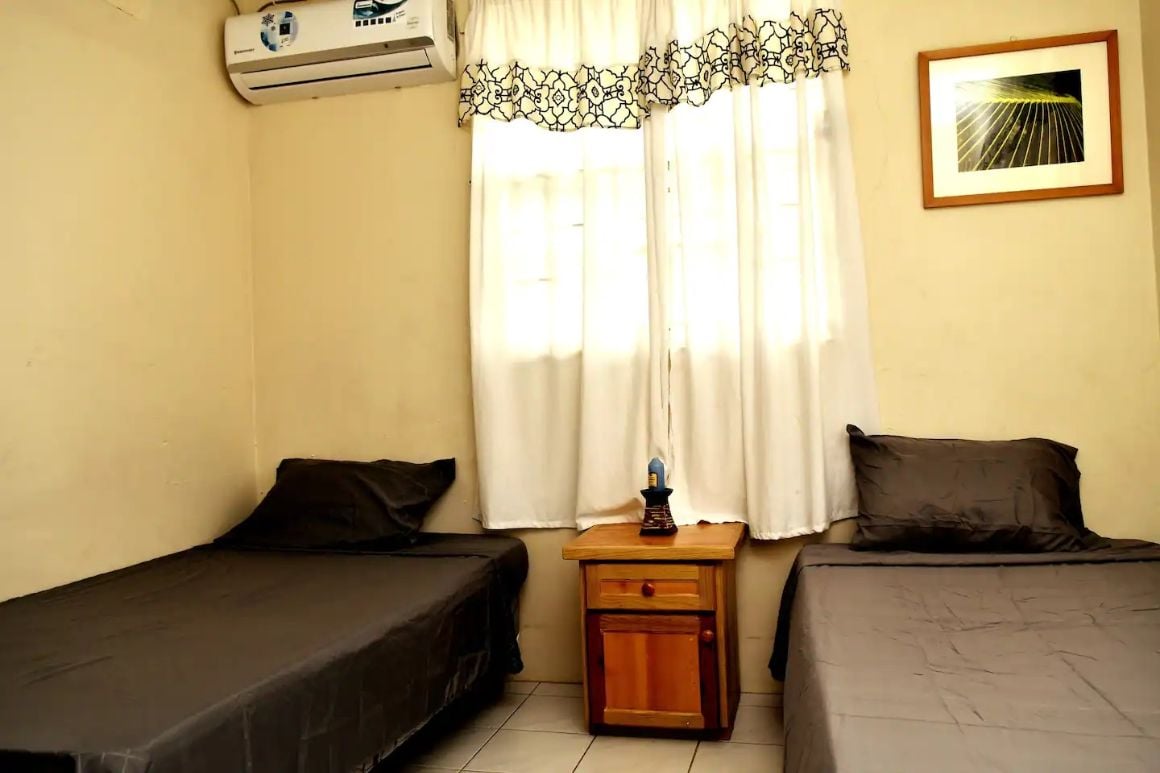 $
7 Guests
Chilled porch area
Great location
Not all villas in Barbados have to break the bank. In fact, you can find some proper bargains across the island – namely, this one in Bridgetown, Christchurch. For an affordable price, you get a three-bedroom vacation villa in a safe neighbourhood where you can wander day and night.
The house has been refurbished with modern fixtures and fittings and is close to a park, restaurants, bars and shops. It's also just a few minutes walk from St. Lawrence Gap and the Oistins Fish Fry, which comes highly rated. There's a lot going for it, which is why it's here as the best villa in Barbados on a budget. Sorted.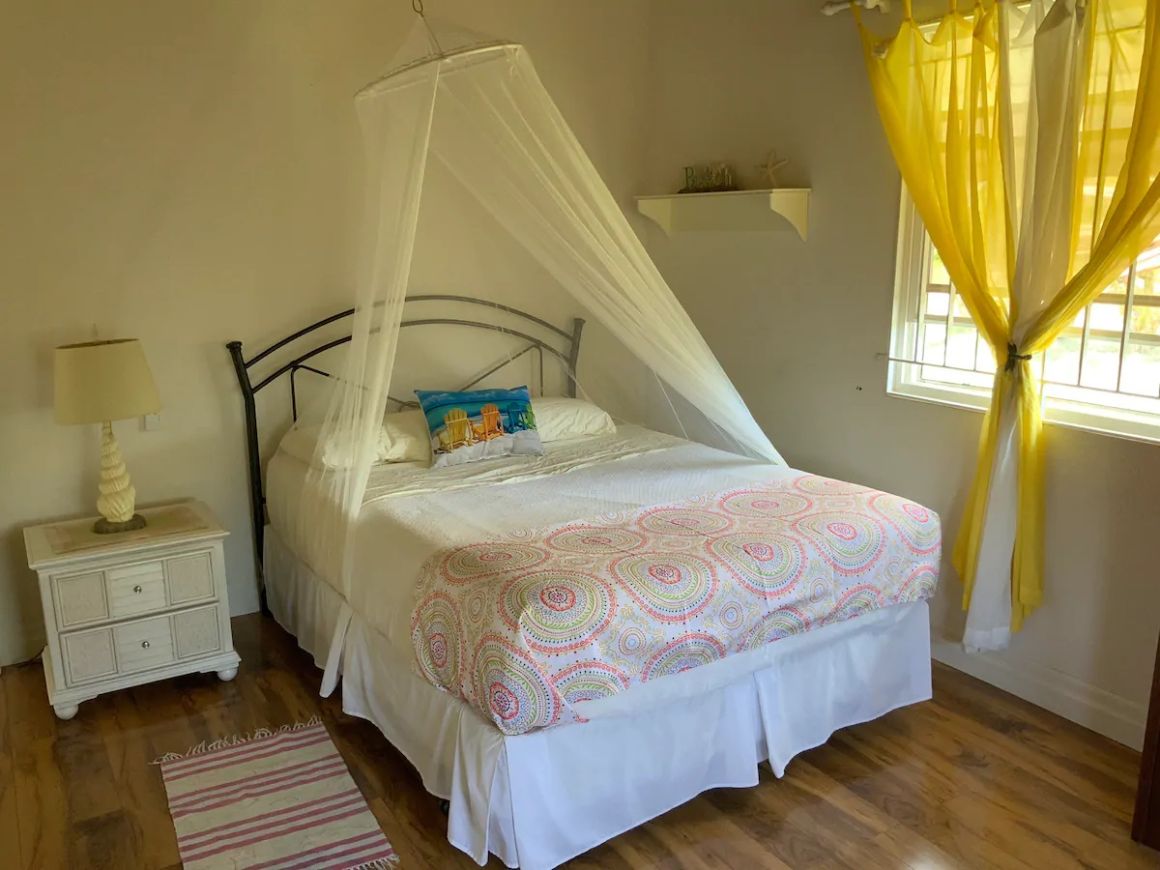 $$
7 Guests
Swimming pool
Beautiful sea views
Get yourself a nice little hideaway, well away from tourist hotspots, and you'll be in a slice of paradise. Just like this place, in fact. Located in St. Philip close to Shark's Hole, you are far away from the town to avoid the hustle and bustle, but still within walking distance of attractions such as Sam Lord's Castle.
This cozy villa has been stylishly designed and makes for a place where you can properly unwind by the ocean with your other half.
Not only that, but you get your very own swimming pool and backyard to kick back in when you can't be bothered to go anywhere. The size of this villa means you'll never feel cooped up, too. In fact, you'll probably find it difficult to tear yourself away from it.
$$
4 Guests
Fully equipped kitchen
Period features
For an out and out high-end feel when you're in Barbados, but with your own space, how about a villa set on an exclusive private estate? Located in Porters, Saint James, you'll be located in a quiet cul-de-sac within walking distance of the historical and colonial town of Holetown.
The villa itself is bright and airy and has stylishly designed interiors. There's also a large private garden to unwind in. But staying at this villa in Barbados also means private beach access and entry to a private beach club: this includes a restaurant and swimming pool among other things.
Is This the Best Travel Pack EVER???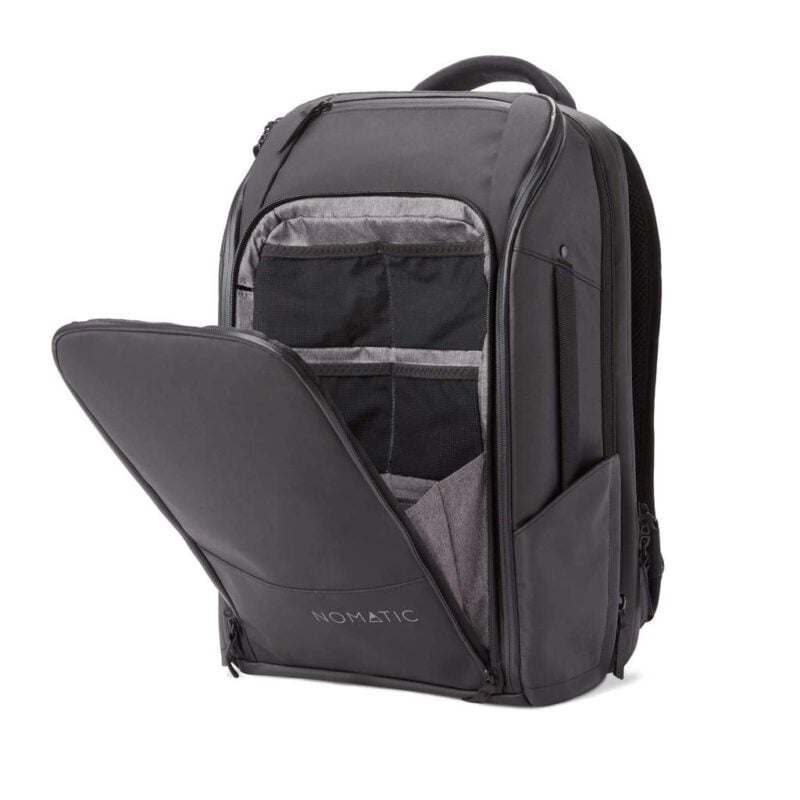 $$$$
5 Guests
Huge private garden
Gated community location
This spacious, luxurious villa is most definitely a high-end option in Barbados. It's literally ridiculous, and more like a mansion than a villa. Located in Saint James, you will be within walking distance all of the main facilities in the Royal Westmoreland Estate.
Here you can live out your dreams of kicking back with no worries, what with the large private garden and the whitewashed interiors are strewn with upscale furniture.
It's all very elegant. Not only that, but it's part of a private gated community with access to swimming pools, a golf course and a gym – a great shout if you're a restless soul who loves doing just about everything active.
$$$
12 Guests
Fully equipped kitchen
Private swimming pool
To be honest, this place in Sandy Lane, Saint James, is definitely in the running for the best villa in Barbados. This huge property is located in an exclusive area, so you and your family will feel safe and secure.
You can enjoy splashing around the pool, tucking into meals around the table, and enjoying adventuring around the nearby beach. There's enough room for all the family (it sleeps 12 guests, after all) – perfect for a special trip and making all the memories ever.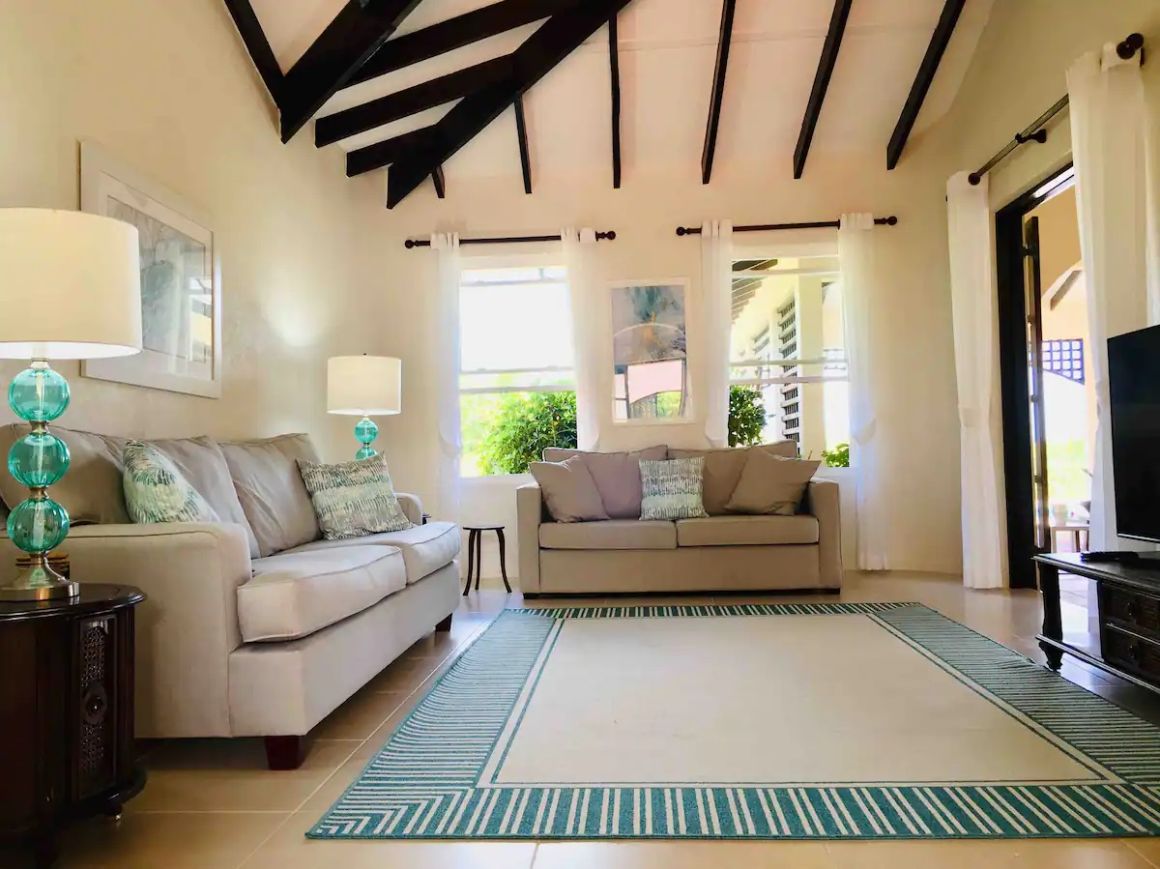 $$
9 Guests
Private swimming pool
Panoramic views
For large groups or extended families looking for a villa in Barbados, this one on Chancery Lane in Christ Church is a sure winner – ideal for a family or even two families. There are masses of space here, enough room for kids to run around indoors and out. The interiors are bright and clean, with high ceilings and large, comfy bedrooms.
For families, there's everything you'll need here, from bunk beds to high chairs. And all of this is just a 15-minute stroll from the beach.
Best Villa in Barbados for Backpackers – The Cottage Villa
$
2 Guests
Close to nature
Quieter than more touristy areas
Now, villas aren't just for couples and families. Backpackers, too, can enjoy the luxury of a villa in Barbados. The Cottage Villa in St Phillips is a good place to start. Set on a former plantation, this is the ideal place for a backpacker.
The interiors are rustic chic and the whole place is surrounded by lush green nature. It's on the modest side in terms of size, but it's beautifully done, complete with an outdoor shower. There's even a balcony with a hammock. Allegedly, a nearby mango tree is the oldest in Barbados too.
$$$
12 Guests
Incredible sea views
Hot tub!
Situated right on the beach on Barbados' west coast in Prospect, Saint James, this villa has to be seen to be believed. It's set across four levels, so you can actually rent out either the whole villa or just a part of it (depending on your budget and needs, obviously).
It's been gorgeously renovated to a high standard, but what really steals the show here are the ocean views: they are insane. The fact that you're also right on the beach makes this a sure contender for the best villa in Barbados. I mean, dang.
$$
4 Guests
Private plunge pool
Very nice sea views
Ideally located just steps from the sand on the south coast of Barbados in Bridgetown, Christ Church, this villa puts you in a safe area among locals and visitors to the island alike. Mere steps from the accommodation you'll find bars and restaurants, so you won't have to venture too far by yourself.
The villa itself is dreamy: it was built in the early 1900s and still retains its colonial charm. Yet it's been renovated to utter perfection. What a way to spend a week or two in this Caribbean enclave.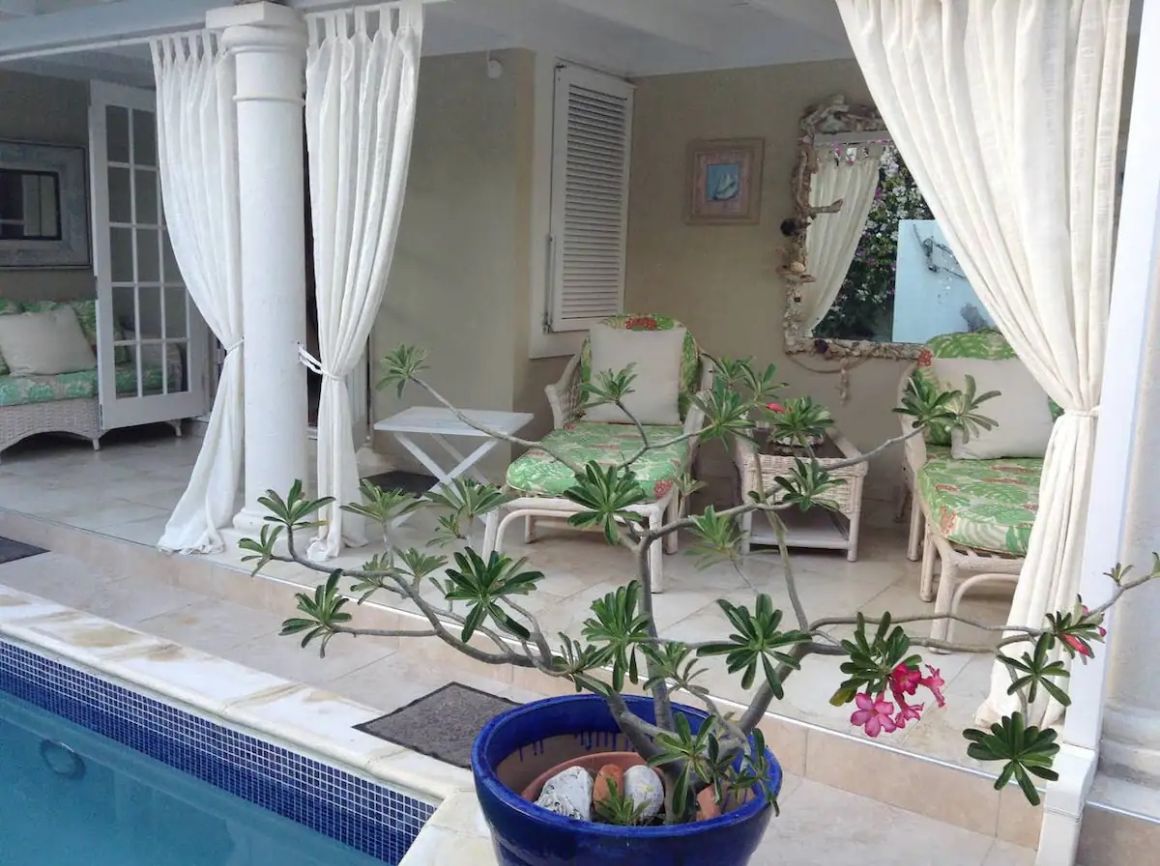 $
6 Guests
Close to beach
Away from the hustle of touristy areas
Offering up awesome value for money, this place in St Phillip is an ideal spot for spending a long weekend in Barbados. The villa itself is well equipped with everything you'll need for a chill trip, and even comes with its own swimming pool, so you can make the most of your short break.
The location also is a big plus. You won't have to spend your time travelling around the island getting to the beach – Bottom Bay is just a three-minute walk away, and there are restaurants and shops nearby.
$$
6 Guests
Walkable area
Awesome outdoor space
If you're looking for unique accommodation in Barbados, stop your search here. The location of this place alone in the historic town of Holetown is enough to attract everyone from veteran travellers to first-timers on the island.
Staying here puts you in a less than five minutes stroll from the beach, Folkstone Marine Reserve, shops and multiple restaurants. The whole area, in fact, is super walkable, so you're never too far from something interesting (or tasty). The villa itself is awesome – just look at that outdoor space and the pool and you'll be sold.
Best Villa in Barbados for Views – Ocean Front Villa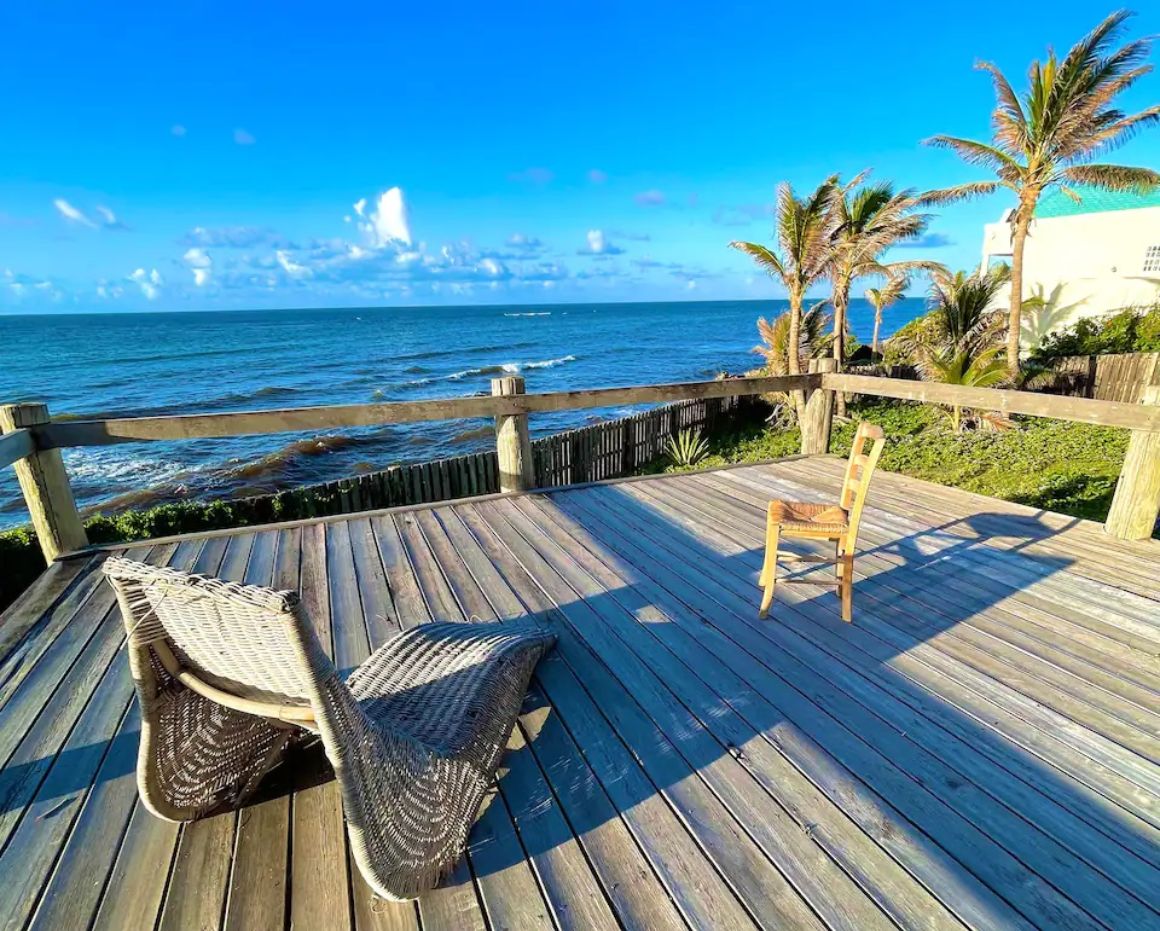 $$
6 Guests
Panoramic ocean views
Large garden (with pool)
In terms of views, you can't get much better than having an outdoor terrace literally hanging over the ocean itself. Just imagine having your morning cup of coffee, watching the waves and the clouds and… well, it's idyllic. It's not just about the views though.
You also get a lush private garden for your money, plus a private pool. And we haven't even mentioned the villa, which is spacious and classically decorated for a rustic, ocean-side vibe. Those keen on kitesurfing take note: Silver Sands Beach is a stone's throw from this Christ Chuch villa in Barbados.
Best Villa in Barbados for Honeymooners – Ancient Grove Villa
$$$
11 Guests
Security included
Infinity pool
Nothing says honeymoon quite like an infinity pool and a tropical garden, does it? And that's why this villa in Barbados is an absolute shout for couples looking for the perfect honeymoon spot. Set in (apparently) an ancient grove in Speightstown, St Peter, here you'll be surrounded by exotic trees and plants, making for a secluded location.
The villa itself is elegantly designed and comes with a king-size bed, an enormous covered outdoor terrace, and a fully equipped kitchen. You'll find this amazing villa on the Barbadian west coast, close to the beach and with shops and restaurants within walking distance, too.
$$
6 Guests
Gated community location
Private pool
And last but not least: this great spot, which is situated not far from Mullins Beach in a gated community. Here you'll be able to enjoy a private space tucked away in your own garden, complete with an outdoor pool (of course).
The villa itself has high-end interiors and has been decorated with polished, chic furnishings – almost like something from an English country mansion rather than a villa in Barbados.
Don't Forget Your Barbados Travel Insurance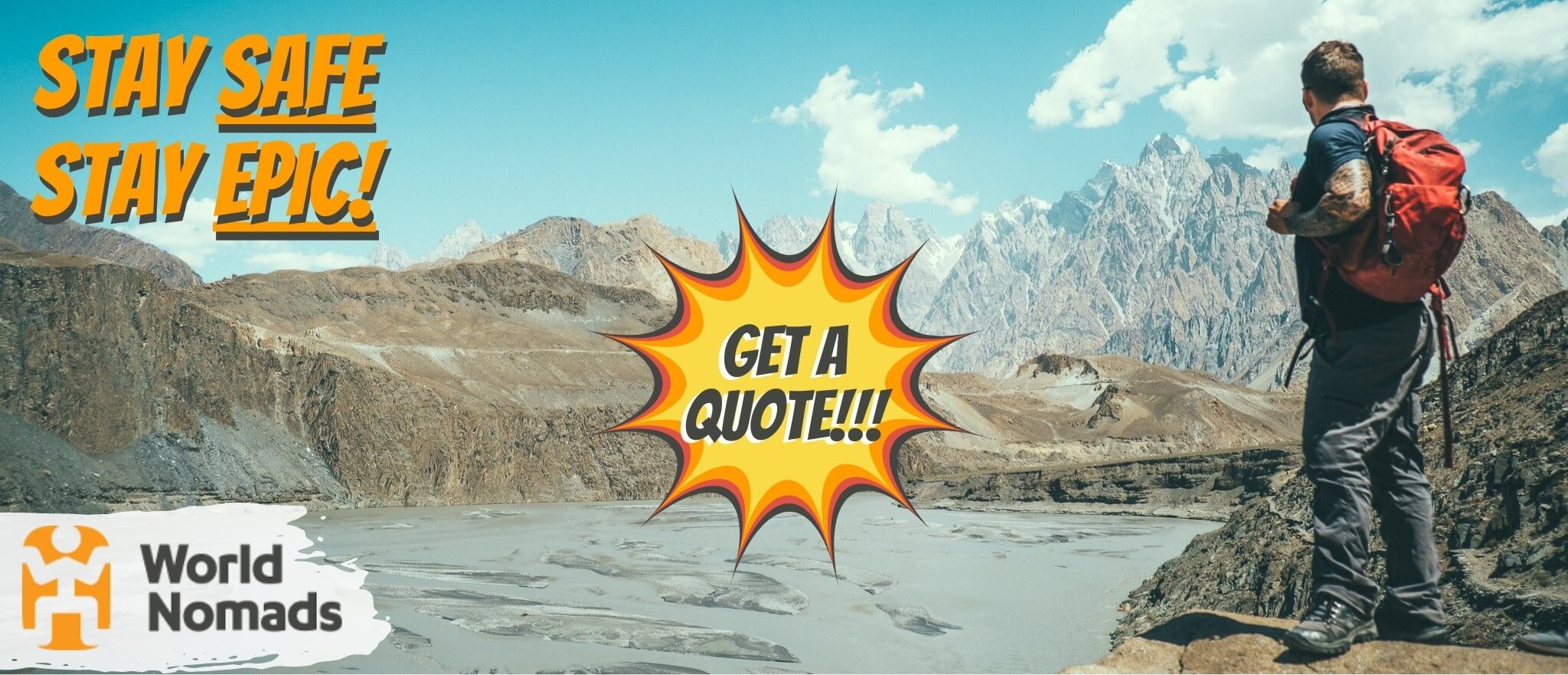 World Nomads' mission is to support and encourage travellers to explore their boundaries. They offer simple & flexible travel insurance, and safety advice to help you travel confidently.
They've been doing it since 2002 – protecting, connecting, and inspiring independent travellers just like you.
Get a quote below or read our in-depth review!
World Nomads provides travel insurance for travelers in over 100 countries. As an affiliate, we receive a fee when you get a quote from World Nomads using this link. We do not represent World Nomads. This is information only and not a recommendation to buy travel insurance.
Final Thoughts on the Barbados Villa
So there you have it: those were the very best villas in Barbados. There's a whole lot going on in this Caribbean nation to get even the most jaded traveller back out there and chilling on the beach in no time.
Staying in a villa is arguably the best way to do Barbados. Outside of a few guesthouses and upscale beach resorts, villas provide a huge portion of the country's accommodation options. No wonder: they offer up the chance to travel (and stay) at your own pace in an often pretty luxurious home away from home. Now, what's not to like about that?
Whether you find yourself in a villa on a budget (and yes: those do exist!), you're looking for an eco-villa in Barbados, or if you've gone for it and booked something uber fancy, you should definitely consider travel insurance if you're travelling outside of your home country. It's something worth thinking about!
---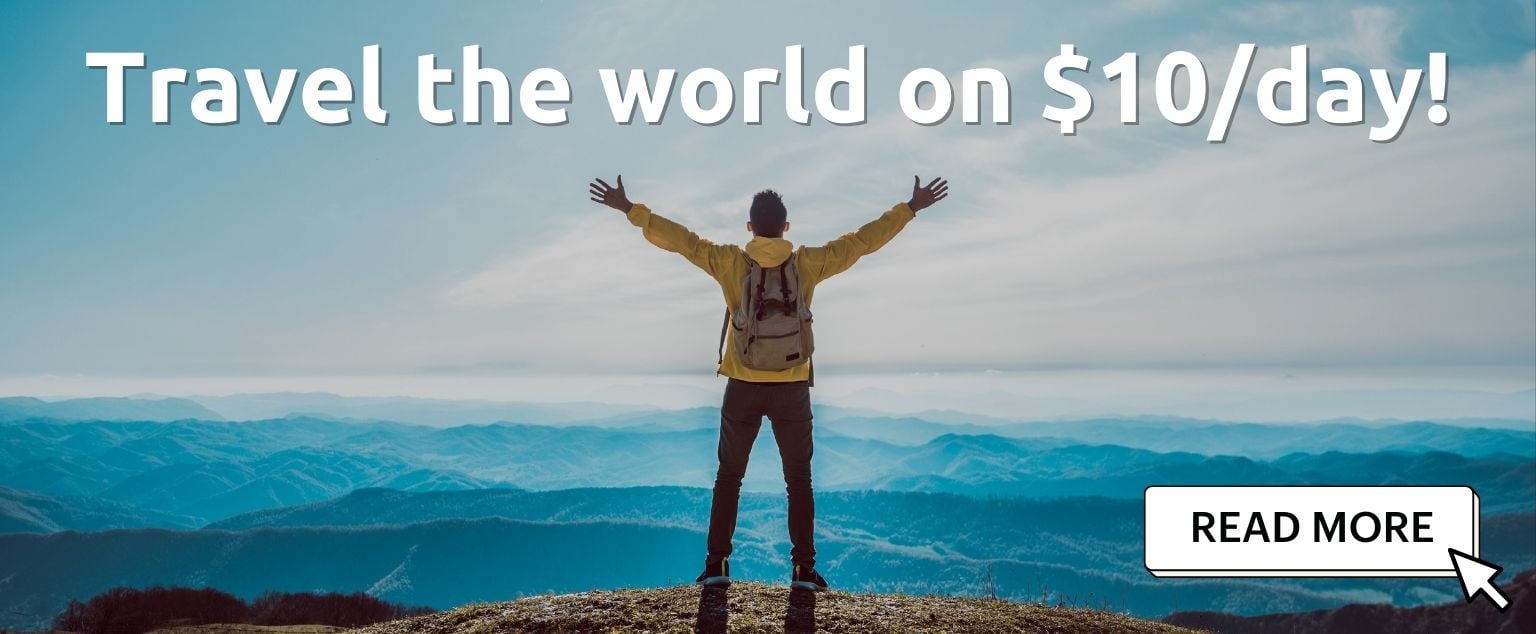 And for transparency's sake, please know that some of the links in our content are affiliate links. That means that if you book your accommodation, buy your gear, or sort your insurance through our link, we earn a small commission (at no extra cost to you). That said, we only link to the gear we trust and never recommend services we don't believe are up to scratch. Again, thank you!