Washington DC is the capital of one of the most prolific nations in the world. Here, the streets are lined with homages to former heroes; there are towering monuments that were built to inspire the people, and there's a big statue of some hipster sitting in a chair. (I am, of course, referring to the Lincoln Memorial.)
This is Washington DC – our City Upon a Hill.
But what is there to do in this town besides learning about some old dudes and to listen to people debate endlessly about the state of the country?
Our Washington DC travel guide intends to answer that question.
By the end of our Washington DC travel guide, you should have a great idea of what to do and see in this city. If you've already traveled to DC, please share your own favorite activities in the comment section at the end as well!
So without further ado, let's get to it!
1. Watch the changing of the guard
Every day at around sunset, the honorary guard posted at the Tomb of the Unknown Soldier in Arlington change watch duties. It's an extremely meticulous choreography and is kind of mesmerizing in its rhythms. Definitely incorporate this into your Washington DC travel plans.
2. Enjoy the cherry blossoms
The absolute best time to be planning a trip to Washington DC is in the spring when the cherry blossoms bloom. When they're at their peak and are just about to fall, the city is absolutely magical and could easily give Japanese cherry festivals a run for their money.
3. Get involved in local community art
Even though it is a city that stands for the betterment of humanity, DC still suffers a lot from social inequality. Local artists often approach this inequity via art installations around the city. Join the conversation with organizations like Art Enables and visit venues like the Dupont Underground.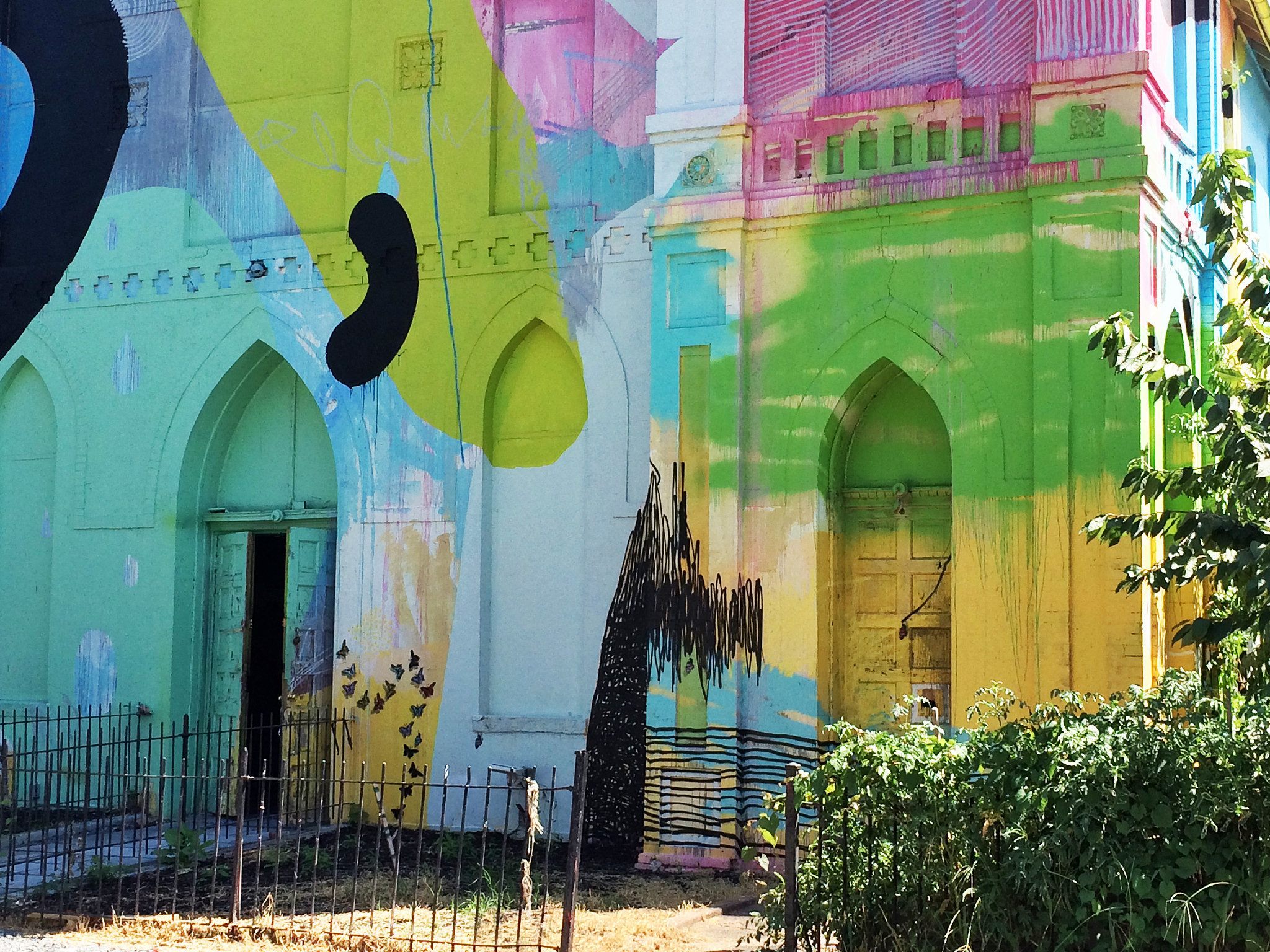 4. Be fancy in Georgetown
Georgetown is one of most desirable, most upscale neighborhoods in Washington DC. It's charming to a fault sometimes and is worth visiting for a day. Just don't buy anything here unless you're ready to take a loan out.
5. Tour Washington DC's National Mall
What kind of Washington DC travel guide would this be without a visit to The Mall (not the shopping kind). The National Mall hosts pretty much every significant landmark in DC and bunch of museums as well. If you don't care about that kind of stuff, it still makes for a great picnic spot.
6. Walk around the Tidal Basin and the Wharf
Be sure to include this area next to the Potomac on your Washington DC itinerary. There are lots of lovely walking trails around and you get to visit one of the best monuments in DC: the Jefferson Memorial.
7. Try not to be a tourist
Washington DC is one of the most visited cities in America and every day it's attractions are becoming more and more established. Why not try visiting some lesser-known parts of DC though, like H-Street and Inner East? There are some really fun things to do in these DC districts and you won't have to deal with crowds either.
8. Take advantage of the free museums
One of the coolest things about Washington DC is that you can visit many of its most famous museums for nothing at all! The Smithsonian, National Portrait Gallery, the National History Museum; all of these and more arer free!
During the month of May, all of the embassies of Washington DC open up their doors and hold cultural exhibitions. Passport DC is a way for the foreign dignitaries to show off the wealth of their home nations and to educate people. This is a crash course in traveling abroad if you never have before!
10. Make a trip to Old Town Alexandria
One of the best places to visit near Washington DC is Alexandria. This historically, preserved commune is a great day trip and a great way to escape the hecticness of the nation's capital.
Best Free Things to do in Washington DC
While DC isn't the most wallet-friendly city out there, there are still plenty of free things to do! Washington DC has so many amazing shows, national museums, and public art galleries and many of these cost absolutely nothing. Take advantage of these, amigos, and you'll find that Washington DC can be much cheaper to visit.
Performances – There are all kinds of free performances in Washington DC! The Kennedy Center hosts free concerts on a nightly basis but tickets for these run out very fast. Spread throughout the year are several free public concerts as well. Grab a picnic blanket and chill out on the lawn at one of these.
Museums – Not gonna lie, I was overwhelmed by the sheer amount of free museums Washington DC has. Never before have I seen a city offer such an amazing assortment of curations and all for free. Superlative institutions like the National Air and Space Museum, Natural History Museum, National Archives, and Library of Congress cost nothing at all!
More museums – But wait; there's more! The list of free museums in Washington DC doesn't end there. The United States Holocaust Memorial Museum, Museum of the American Indian, and the National Museum of African American History and Culture are all pro bono as well!
And galleries – Let's not forget the many a gratis galleries in DC. The National Gallery of Art, Renwick Gallery, National Portrait Gallery, and Arthur M Sackler Gallery are all, you guessed it, free to enter!
So a good rule of thumb is that most of Washington DC's public museums and galleries charge nothing to enter, unless stated otherwise. That being said, consider making a donation to the museums at the end of your visit.
Hotels in Washington DC are the most expensive form of accommodation and can cost quite a pretty penny. Unless you're insistent on staying in one of these or have no other choice, I'd avoid hotels altogether.
Staying in a local Airbnb is a much better choice than hotels in DC (as is usually the case). Airbnb apartments are cheaper, more interesting, and often far more personable than hotels. There are some pretty amazing apartments in DC – just check a few out here. While some of these can be expensive, having a group of people with you makes them justifiably affordable and lots of fun too!
If you really want to visit Washington DC like a Broke Backpacker, then consider urban camping! Campgrounds will always be, far and away, the most affordable way of staying in a city. Camping does require some extra thought. For example, you'll need to bring your own tent with you and a stove for cooking as well.
At the end of the day, hostels offer the most well-rounded lodging in Washington DC. These are affordable, comfortable, and can be a blast sometimes.
Check below for a couple of our favorite hostels in DC.
Overall Best Hostel in Washington DC – Duo Housing DC
Duo takes the cake for the best hostel overall in DC because it offers so many free extras. We're talking free breakfast, coffee, tea, lockers, maps, and even Nintendo!
That being said, Duo is still very stylish and is very well maintained. It's only 15 minutes away from Capitol Hill as well, which means all of Washington DC's top sights are within walking distance.
Best Party Hostel in Washington DC – HighRoad Hostel DC
HighRoad is the best hostel for party people thanks to its convenient location in the Adams Morgan neighborhood. Many of Washington DC's best restaurants and bars are located very close by.
If you don't feel like eating out before drinking, there's a great kitchen for you and all your buddies to prepare a potluck in. The rooms are very comfortable as well, which will help with those hangovers that just won't go away.
Best Hostel in Washington DC for Solo Travelers – Hilltop Hostel
For those who want to avoid the bustling city center but still want the option of socializing, the Hilltop is a great choice. The hostel itself is located quite far outside of the city in the Takoma neighborhood, so it will be much quieter.
It's not totally silent though as the hostel regularly organizes events and gatherings for fellow travelers to meet. The building has quite a bit of history as well – just ask the staff about Richard Nixon's assistant.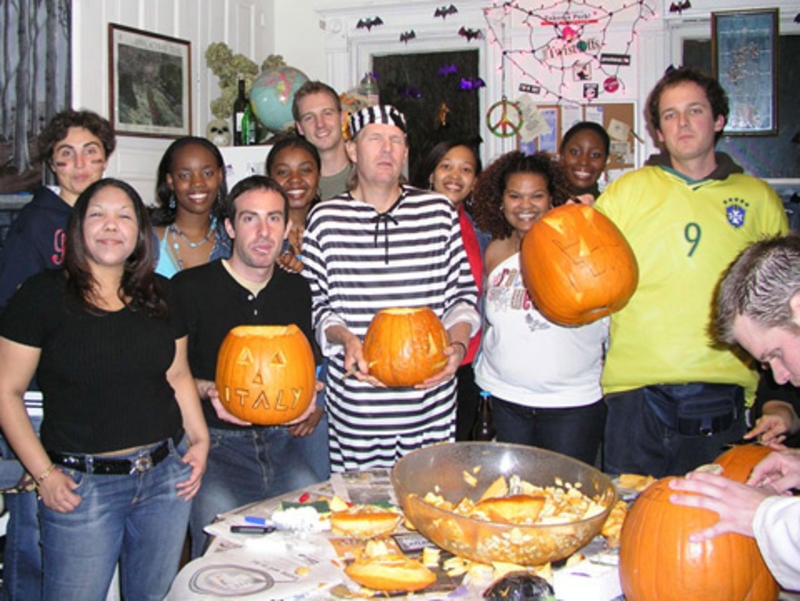 Start the journey of exploring DC at this cute townhouse. You can have the whole thing all to yourself in the heart of America's historic districts.
The home is sitting in the historic Mews located near most of DC's major attractions. This home is expansive, and affordable accommodating up to 4 people if you wish.
And hey, if couch snoozing is your thing, these couches are to die for they are, in fact, cuddle puddle material sofas. Bring your walking shoes —the metro is only 2 blocks away and 3 blocks from Whole Foods!
Yes, that means you can explore and make time to grab some groceries to cook in the beautiful kitchen this home has.
Washington DC Accommodation Guide
Sometimes you need your own roof above your head – we know the feeling. Other times, you're doing everything you can save a nickel and dime.
If you're trying to the cut the costs of travel to Washington DC, then maybe it's time to stay somewhere besides a hostel or apartment. If you need to save money, try one of these:
Couchsurf! – Couchsurfing is the best way to save on cash when it comes to accommodation since most of the time you're crashing for free. Staying with a local host is also a great chance to experience a more authentic side of the city and to visit hidden Washington DC.
Problem is couchsurfing is really popular (duh, it's free) and demand often outstrips supply. Hosts are picky as well so you'll need to impress them with an eye-catching message. Definitely try couchsurfing but be ready to be rejected.
Tap into your backpacker network – You never know when you have a friend in a foreign city! If you've traveled a lot, you may have met someone from Washington DC or know someone who knows someone.
Reach out to people! Ask to stay with people for a night or two in exchange for cooking dinner or a bottle of wine. If you don't know anyone in the city, ask your friends if they do – travelers understand the struggle and are usually more helpful than you think.
Camping – Urban camping is a growing trend in many cities. These campsites are comfortable, sociable, safe, and cheap. They are often located on the outskirts of town, which means they are quieter too. Research to see if Washington DC has any and be sure to bring your own tent too!
Washington DC is quickly becoming one of the most expensive cities in the USA. While it isn't yet on par with the monsters like San Francisco, New York, or Boston, it's still pricey enough to warrant some concern.
Thankfully you have us, your ever-helpful Broke Backpacker team! We here believe that anywhere, even Washington DC, can be cheap and that you should never be discouraged because of a price tag.
We've filled this Washington DC travel guide with a bunch of useful tips that we've acquired over years of traveling. Use them, and you'll find that doing Washington DC on the cheap is a more reasonable task.
A lower daily budget for Washington DC will be around $60-$80. This will get you a dorm bed, groceries, bus tickets, and some extra spending money.
Accommodation in Washington DC is what you'd expect from a typical American city – expensive, with hotels being the most and hostels in Washington being the least. Airbnb apartments are decently priced but are far from being convincingly affordable.
Even though groceries are a little pricier than usual in Washington DC, eating out is definitely way more expensive. While this DC does offer some of the best and most diverse restaurants on the American East Coast, they will put your wallet into a swift and early grave. Be picky about if and when you go to a restaurant in this town.
Those visiting Washington DC shouldn't worry too much about transportation costs since they'll, most likely, be walking around a lot. When one does need to use the bus or subway, tickets are very reasonably priced.
Washington DC is a very seasonal town and prices can fluctuate widely throughout the year. Be very mindful of when you plan on visiting as timing can make or break your bank accounts.
Below is a breakdown of a daily budget in Washington DC including average costs of each expense.
Guide to Washington DC Travel Costs
Washington Daily Budget

| Expense | Broke Backpacker | Frugal Traveller | Creature of Comfort |
| --- | --- | --- | --- |
| Accommodation | $30 | $100 | $150 |
| Meal | $7 | $15 | $50 |
| Transport | $1.70 | $2.50 | $20 (Taxi) |
| Nightlife | $10 | $28 | $50 |
| Activities | free (walking and free stuff) | $23 | $50 |
Washington DC Travel Guide Budget Tips
To help you save a little extra cash, we've compiled a list of top tips for traveling to Washington DC on a budget. Some of them are pretty nifty while others are just common sense – all will be helpful. Remember: Washington DC can be cheap but only with the right spending habits!
MyTIX – many free shows at the Kennedy Center, then there is still hope. The MyTIX program offers discounted rates to different age groups and is meant to give people an extra opportunity. If you're under 30 years old, a student, or military you can get cheap tickets to a show!
Use local markets – DC is full of farmers markets and food halls. These sell superior ingredients and often for a great price too! Choose these over ridiculously priced chains like Whole Foods.
Get away from the touristy areas – The prices will absolutely be higher in DC's City Center. (Duh, the tourists are all there.) Get outside the central districts to the likes of Columbia Heights and H Street to find better prices. The cheapest places to eat in Washington DC will be on the fringes of the city as well.
Cook at home as often as possible – One of the most proven ways of saving money for backpackers; buying your own groceries and cooking at home will save you heaps of cash.
Take advantage of happy hour – Happy hour is everyone's favorite time of day! From around 4-6 pm and sometimes late, lots of bars and restaurants have special drink/food prices. Go out during these times to find all the cheap things to do in Washington DC.
Use a water bottle – Save money by investing in a good water bottle and then drink from the tap. Washington DC's water is delicious and totally fine to drink.
Walk! – It's costs nothing and DC is small enough to see on foot.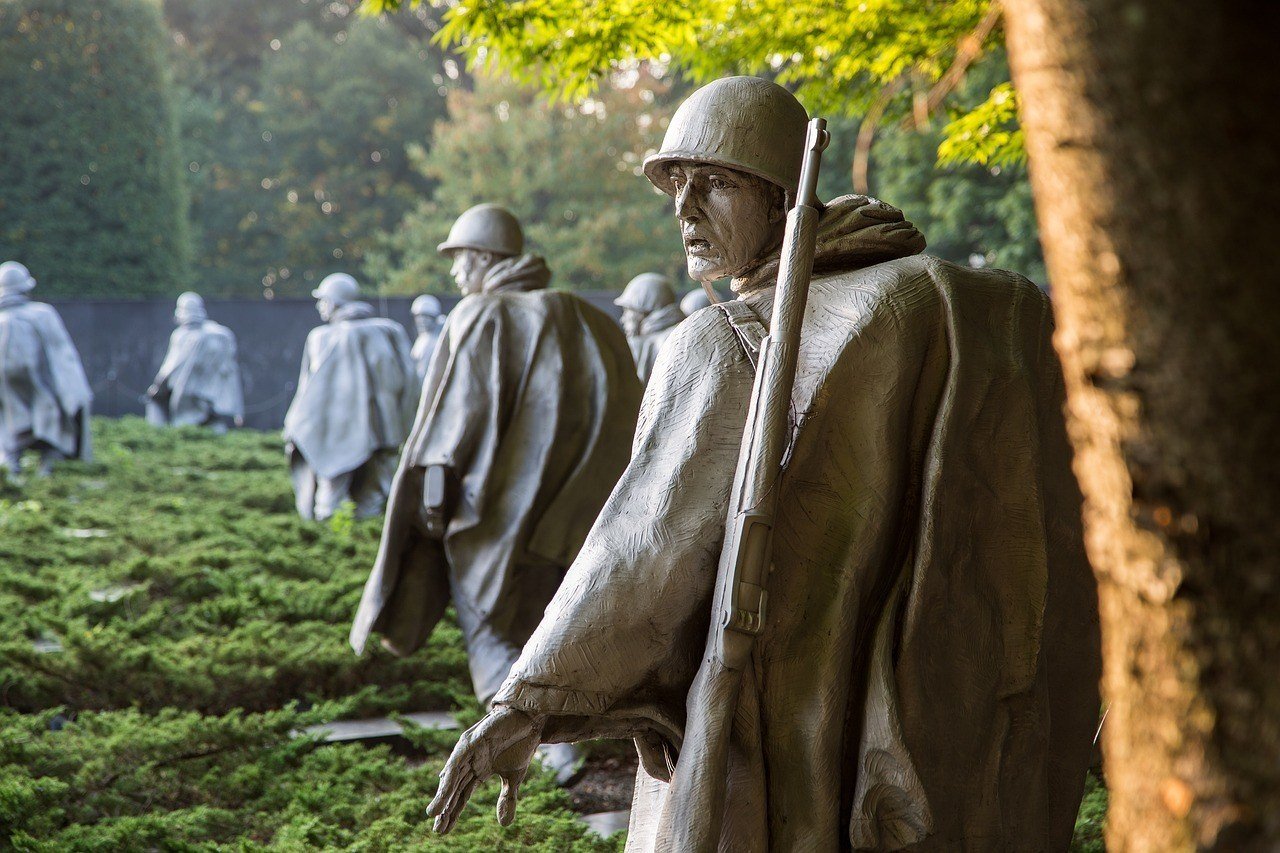 The following is a sample 3-day itinerary for a weekend in Washington DC. Most of the top destinations mentioned in this Washington DC travel guide are covered in this section.
Day 1: National Mall
The first day of our Washington DC travel guide is going to be a long one, folks. Today, we're going to knock out all of DC's biggest attractions around the National Mall, including the Lincoln Memorial, Capitol Hill, Washington Memorial, and a whole lot more.
Make no mistake, we're going to see a lot today and there's a good chance that we won't see everything.
We're going to be spending the near entirety of the day around the National Mall. This enormous green space is like an exhibition in itself for Washington DC's greatest sights. It is a very busy place – receiving over 24 million visitors per year – but this makes perfect sense considering the significance of the park.
Let's start at the east end of the Mall at the US Capitol Building. This is where the House of Representatives and Senate hangs out. The building itself is most recognizable by its large dome. Nearby is the Library of Congress and the Supreme Court.
Walking down the steps, we hit the trails and start our journey to the other end of the Mall. Over the course of 2 miles, we'll pass by some of the most important museums in the entire USA.
The likes of the Smithsonian, National Gallery of Art, and the African American Museum of Art and Culture, among many, many others, line both sides of the park.
Further down is the prominent Washington Monument. Nearby is the iconic Reflection Pond and a wonderful monument to Martin Luther King.
At the western terminus of the Mall is the Lincoln Memorial, which arguably the most hallowed building in the city. Sheltered by a neoclassical temple is a regal statue of the man himself. Take a moment to appreciate this place and the person it commemorates.
Do what you can today; I know there are a lot of attractions to see on day one in Washington DC. Tomorrow will be a bit more laidback.
Day 2: Georgetown
On the second day of this travel guide for Washington DC, we head to the affluent Georgetown neighborhood. While many scoff at this area for being snobbish or pretentious (it kind of is), there are still lots of cool spots here to check out.
If you wake up early, then consider starting your day a bit north of Georgetown at the Washington National Cathedral. This location is not often on the tourist trail, which is a shame. Aside from being just gorgeous, it also has a lot of little cheeky features, like a stained-glass window of space and a gargoyle resembling Darth Vader.
Whether you visit the Cathedral or not, head to Embassy Row next. As the name implies, this street hosts the majority of foreign governments.
Often times, these embassies open their doors to tourists for the sake of promoting their cultures. There are often street parties, tastings, and banquets held here.
As we move on from Embassy Row, we enter into Georgetown proper. First place you'll pass by is Dumbarton Oaks – an opulent estate and one of the best places to see cherry blossoms in the spring.
Hang a right to visit Georgetown University. This is one of the most prestigious and most beautiful colleges in the entire United States. Much of the campus was built in Gothic style and is a stark contrast to the dominant neoclassicism back in DC. Healy Hall is the university's centerpiece and is an absolute treat for the eyes.
Film buffs should be sure to look for the "Exorcist Steps," located not too far from the University. These steps provided the scene for the final shots of the iconic movie.
Day 3: Free day in Washington DC
Not gonna lie – there is a shit ton of fun things to do in Washington DC; this DC travel guide has barely skimmed the surface of them. So for our final leg of the city, we're going to let y'all roam free!
There are lots of points of interest in Washington DC that deserve to be visited. The odds of someone seeing all of them in only 3 days is extremely unlikely, but, if you use your time wisely, you'll see enough.
Here are a couple of ways you can spend your last day touring Washington DC.
Tidal Basin and the Potomac – Go for a walk around the languid Tidal Basin and stop by the Jefferson Memorial, the latter of which was designed after my favorite Roman building. If you're here in spring, you will be treated to amazing cherry blossom displays. Following the river east, you'll get see the renovated Wharf District and maybe even make it to The Yards. Across the Potomac is the Arlington Cemetery.
North DC – The best bars and restaurants in Washington DC are located in the northern parts of the city! Adams Morgan and The Shaw are famous by now for their clubs and pubs (politicians party hard). Further north is Columbia Heights, one of the last bastions of old-school DC. Check it out before it's lost to gentrification.
East DC – Like Columbia Heights, the Near Northeast and H Street Corridor are two neighborhoods holding onto their roots, just barely though. These districts will soon go the way of Williamsburg and SoMa so get here before the yuppies take over! Beyond these is the National Arboretum and Aquatic Gardens – both are great places to chill.
Downtown – Ford's Theater, the National Portrait Gallery, National Archives, the fuckin' White House; we didn't get to these on day 1. If you're keen, see them now before you leave tomorrow.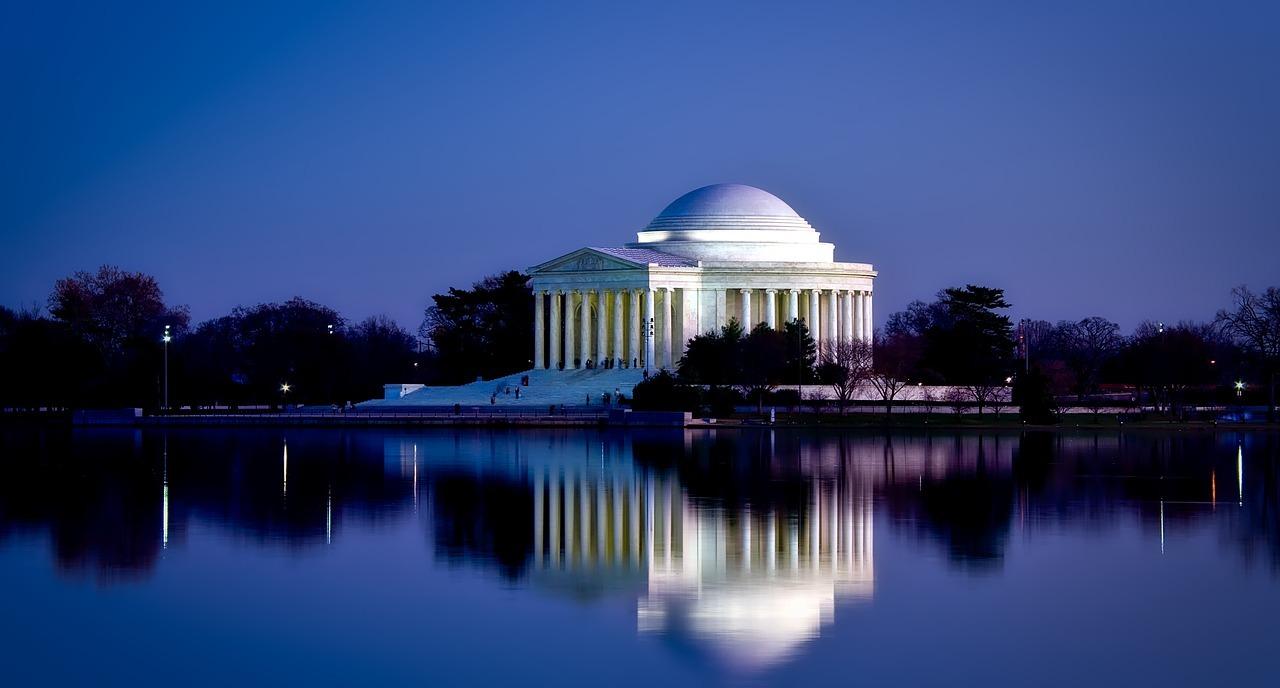 Best Time of Year to Visit Washington DC
Washington DC is a bit of an odd duck when it comes to peak seasons. Unlike other American cities that peak in the summer and taper off in the spring and autumn, DC is, at times, quite the opposite. In order to visit Washington DC on the cheap, you'll need to plan accordingly and to choose the right time of year.
Let's start off by saying that spring is arguably the best time of year to visit Washington DC, but it's also the most expensive. During this time, temps are comfortable, the weather is cooperative, and the cherry trees are bursting with color.
Everyone and their grandma apparently knows this though and decides to visit around April and May. The streets will be crowded with tourists, school children, and students. On that note, hotels will also be very limited i.e. pricey.
Summer in DC gets a bad rap for being oppressively hot and humid. While this is certainly not ideal, it's still nothing compared to some tropical destinations that we've visited before. If you can bear the heat, then visiting on the 4th of July can be an epic weekend in Washington DC.
Interestingly enough, prices have been known to drop after this holiday as well.
Fall is probably a local's favorite time of the year. Temperatures remain pleasant, the foliage begins to change, and the tourist hordes begin to diminish. Some of the best American holidays are coming up too, like Labor Day, Halloween, and Thanksgiving; that last one, in particular, is quite special in Washington DC.
Winters mean cold weather and empty museums. If you don't mind the occasional cold snap or freezing rain, then visiting during this time could be well worth the price cuts, especially if you are visiting for the inside attractions.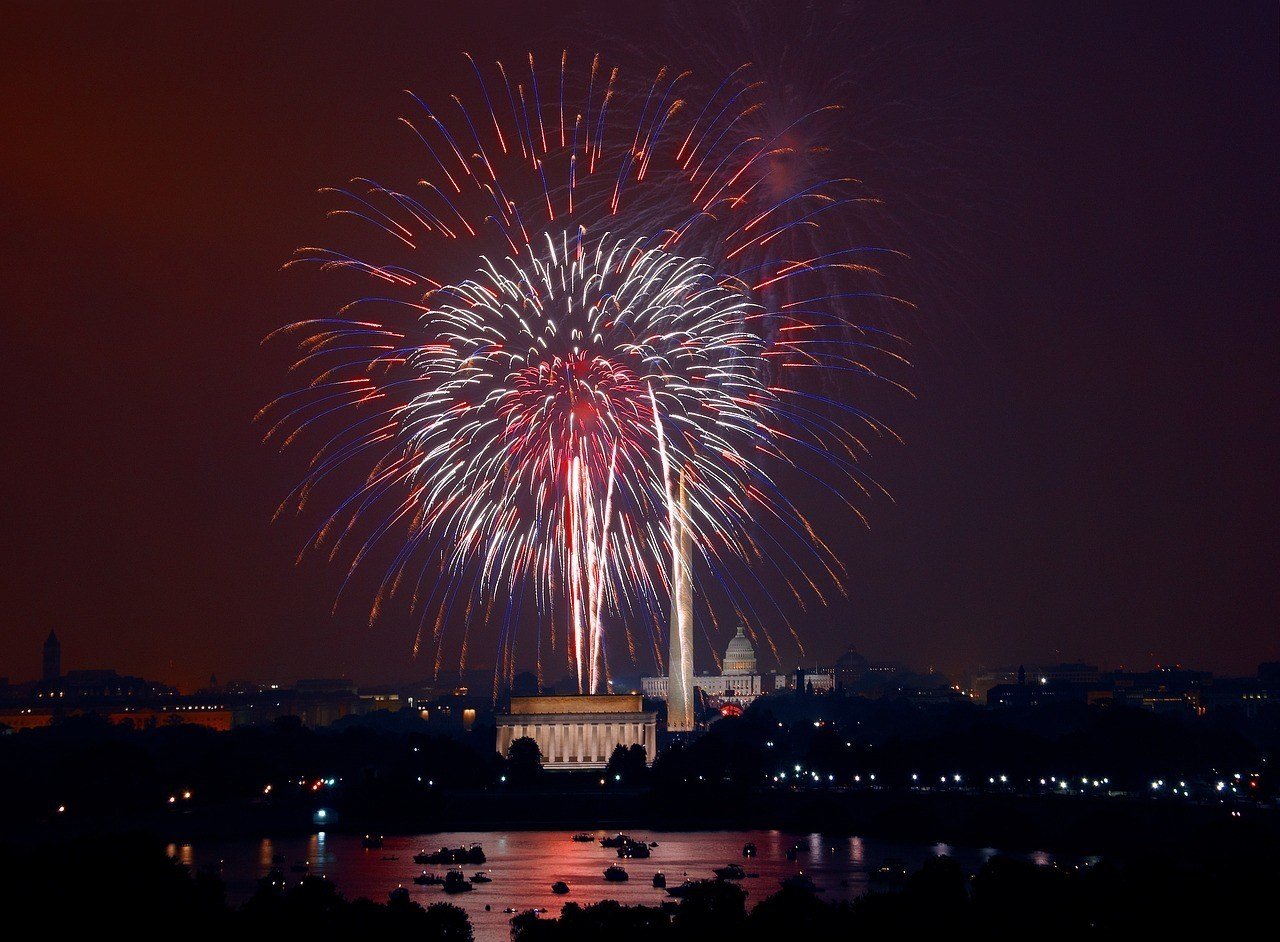 Getting in and out of Washington DC
As befitting the federal capital of one of the most global nations in the world, Washington DC can be accessed in countless ways. There are multiple airports, an army of long-distance trains, and a massive network of interstate highways. Unless you're visiting Washington DC at a time when everyone else is, there should be no problem getting into the city.
There are two major airports in the direct vicinity of Washington DC: Dulles International and Ronald Reagan. The former handles the grand majority of the international traffic while the latter just does domestic. Both offer public transport to the city center though Ronald Reagan is far more convenient since it's much closer to DC. Expect to spend 1-1.5 hours on a combination of buses and trains from Dulles, and 30 minutes from Reagan via the metro.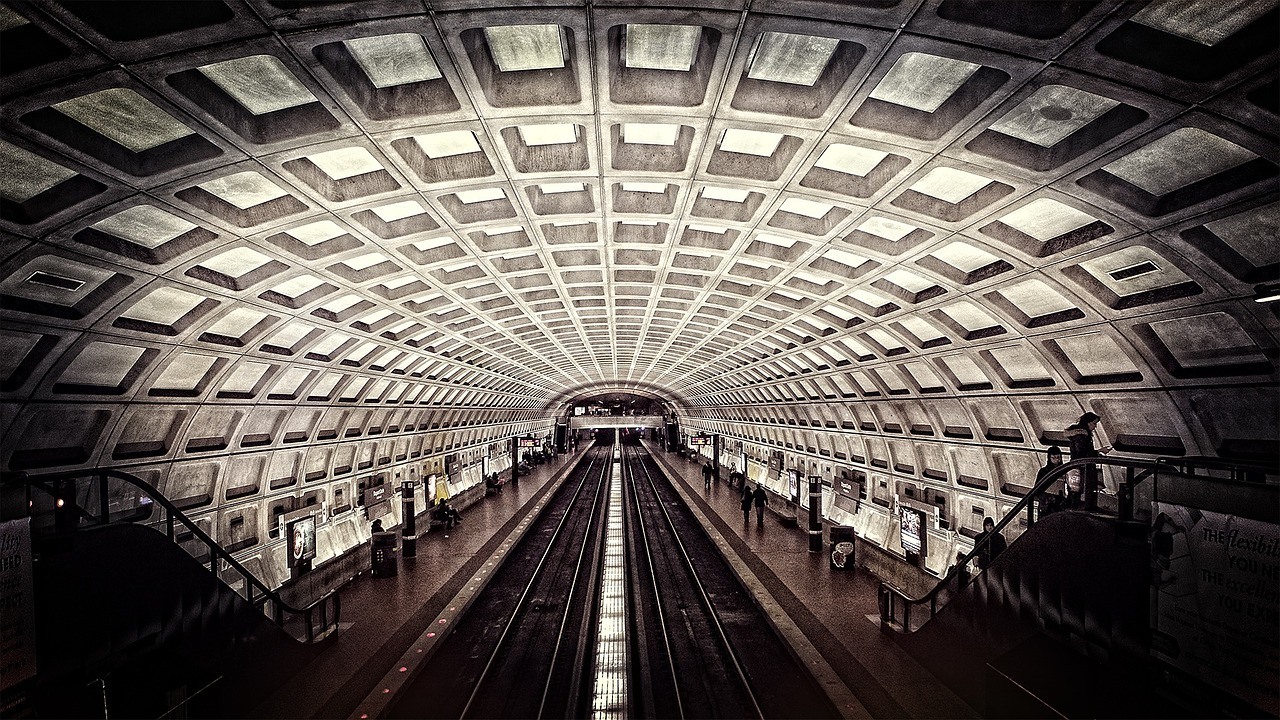 Flying into Baltimore is also a viable option since the city is less than an hour away. In fact, the commute from Baltimore can actually be shorter than Dulles if you take the local MARC train. Rates for public transport are about the same.
Washington DC is connected to much of the rest of the Eastern USA via long-distance trains and buses. With Amtrak or Greyhound, you can travel just about anywhere, from Boston to Chicagoand the Midwest. Note that train travel in America is a bit of luxury so tickets will be exponentially more expensive than using the bus.
If the thought of using a Greyhound scares you (those buses do get weird sometimes), then, don't worry, there are plenty of more options. Check out local companies like BoltBus, Mega Bus, and Peter Pan as alternatives.
If you have a car and are road tripping to Washington DC, just park on the outskirts and take the metro in. Parking in DC is a nightmare.
Traveling in Washington DC is now super easy when you book with Flixbus! Buy your Flixbus bus tickets ahead at unbeatable prices for fast and last minute travel.
With connections in 28 European countries and over 2000 destinations, you can sit back and relax knowing that Flixbus will get you there in time. Discover the smartest and cheapest way to travel – book on Flixbus now and hit the road!
How to get around Washington DC
Washington DC was quite literally designed to be experienced on foot. The city's layout is such that nearly every major monument can be seen from one another and most all of them are within walking distance.
I definitely recommend investing in a good pair of trainers while planning a trip to Washington DC. God knows you're going to be using them every day, all day until you can't walk anymore.
If you're concerned about understanding the layout of DC, I wouldn't. This is one of the modern, most ideologically designed cities in the world and is a near perfect grid in most places. Just make sure to have Google Maps downloaded or be a tourist and use a map.
On that note, biking is also a very convenient way of getting around the city. Most of Washington DC's points of interest are all located on flat land and there are plenty of dedicated bike lanes in between.
If you can't muster the strength to walk or ride anymore, there's plenty of good public transport in the city. You can buy a SmarTrip card ($2.00 initial purchase) and use it on the subway and most of the public buses.
There's a great tourist bus (Circulator) that hits up all of the central attractions in Washington DC and it only costs $1 per ride. All other Metrobuses should cost $2.00 unless otherwise noted.
Washington DC has a subway called the Metrorail that is quick and efficient. Fairs are based upon the time of day you are riding and how far you are going. Expect to pay anywhere from $2.25-$6.00 per trip.
If you'd like, you can buy a Metropass, which will enable unlimited rides for a set period of time. Rates per pass will obviously vary.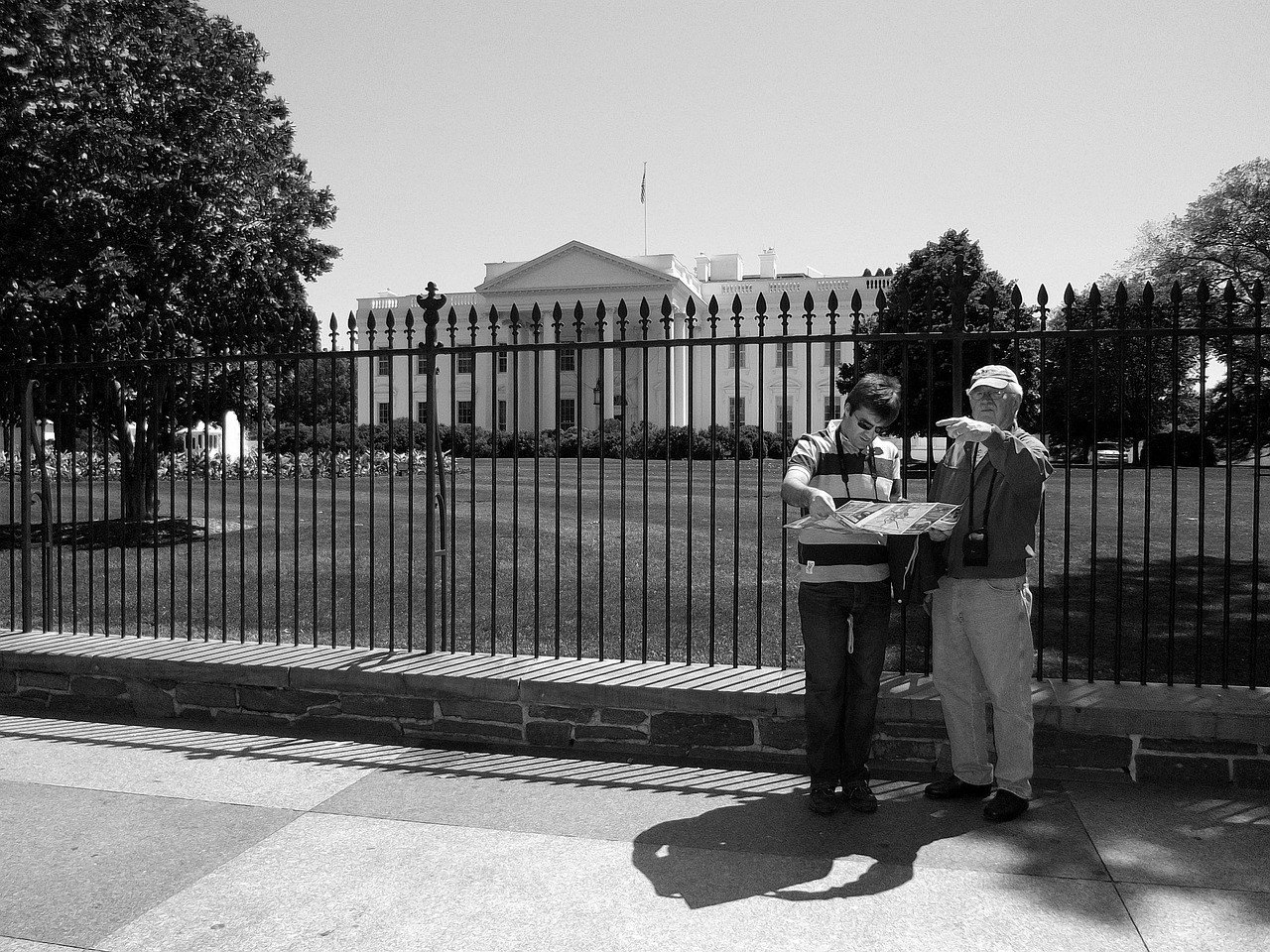 What To Eat in Washington DC
It's only fair that the capital of one of the most cosmopolitan nations in the world as an equally cosmopolitan culinary landscape itself. There is a huge of array of foods on offer in DC, from Asian to Africa to even Georgian (the country, not the state); you can find everything and then some in this city.
Like everything else in DC, dining out can be expensive. Tables fill up quickly too, as everyone appears to be trying to impress some sort of in law or foreign dignitary at the next "hot spot."
Basically, you'll need to choose a couple of restaurants that you have to go to, make reservations, and then eat street food or at home the rest of the time.
Here are some of our favorite restaurants in Washington DC to get you started:
Compass Rose – Holy shit, these guys have khachapuri! It's a Georgian dish involving a bread boat, cheese, and then a lot more cheese. It's unhealthy but divine. Make sure you get a raw egg cracked in yours.
Ben's Chili Bowl – Probably the most well-known entity in DC after the President. Grab a (delicious) half-smoke sausage so you can say you went there.
Oohh's & Aahh's – A staple of the DC take-out scene and probably a Broke Backpacker's best friend. Be sure to get the mumbo sauce – a local delicacy that is sweet and tangy.
Perry's Restaurant – One of the better sushi spots in town. Nice rooftop too.
Chercher Ethiopian Restaurant – DC has an enormous Ethiopian population and they have contributed amazingly to the city's cuisine. This will be some of the best you get this side of the Atlantic.
Toki Underground – One of those places that gets huge hype and even bigger lineups. Worth it if you like ramen though.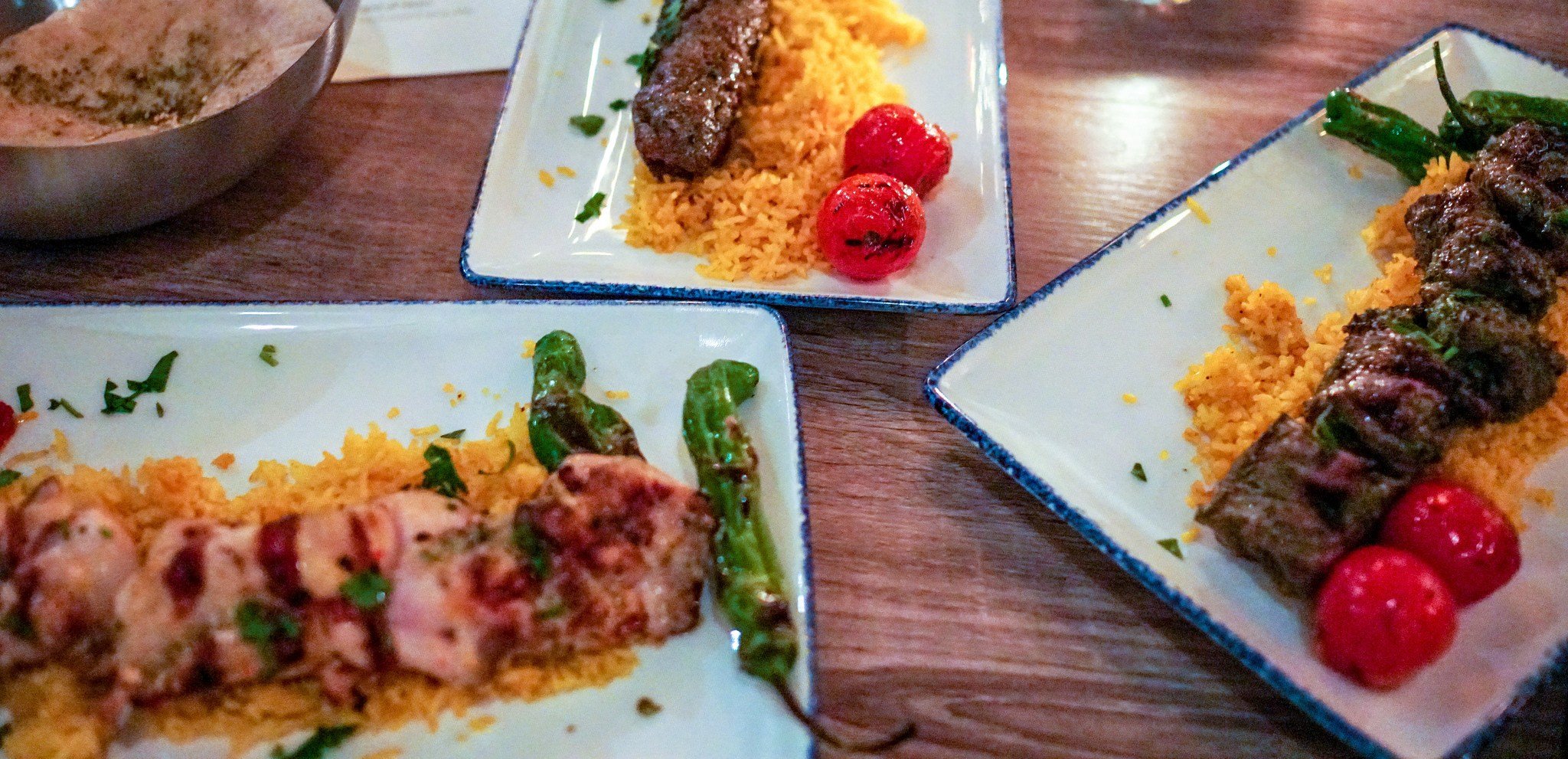 Nightlife in Washington DC
Let me tell you – politicians party fucking hard. Some are out almost every night mingling and drinking their stresses away. Who can blame them either given how much shit and pressure that they have to deal with at work?
The nightlife of Washington DC is surprisingly strong and there are lot of different places you can go in this town.
That being said, drinking in Washington DC can be very expensive. According to a friend of mine, it's a crazy lifestyle (living in Washington DC) and your savings can quickly run out.
The most popular nightlife areas in Washington DC are Adams Morgan, The Shaw, and 14th Street/Logan Circle. These areas are in-vogue, growing at an alarming rate, and are showing no signs of stopping.
Adams Morgan – A once seedy area was frequented by Tom Cruise and other military lawyers. Now that it's been redeveloped, it's still seedy but in that dirty-safe kinda way.
The Shaw – The trendy area, where people sip coffee at day, tapas and wine in the evening, and cocktails at night. Think RiNo in Denver or Mississippi Street in Portland.
Logan Circle – All of the above and a whole lot more.
In actuality, these districts are kind of newcomers – being the recipients of recent urban renewal and all – and have usurped the former kingpin of DC's nightlife, Dupont Circle. Dupont Circle still has a lot going for it – there are plenty of dance clubs and, in particular, gay bars – but it's not what it used to be.
Georgetown has a decent nightlife, though it's pretty upscale, even by DC standards. On the cusp of being "discovered," H-Street is currently going through the hipster phase and has plenty of lowkey bars around.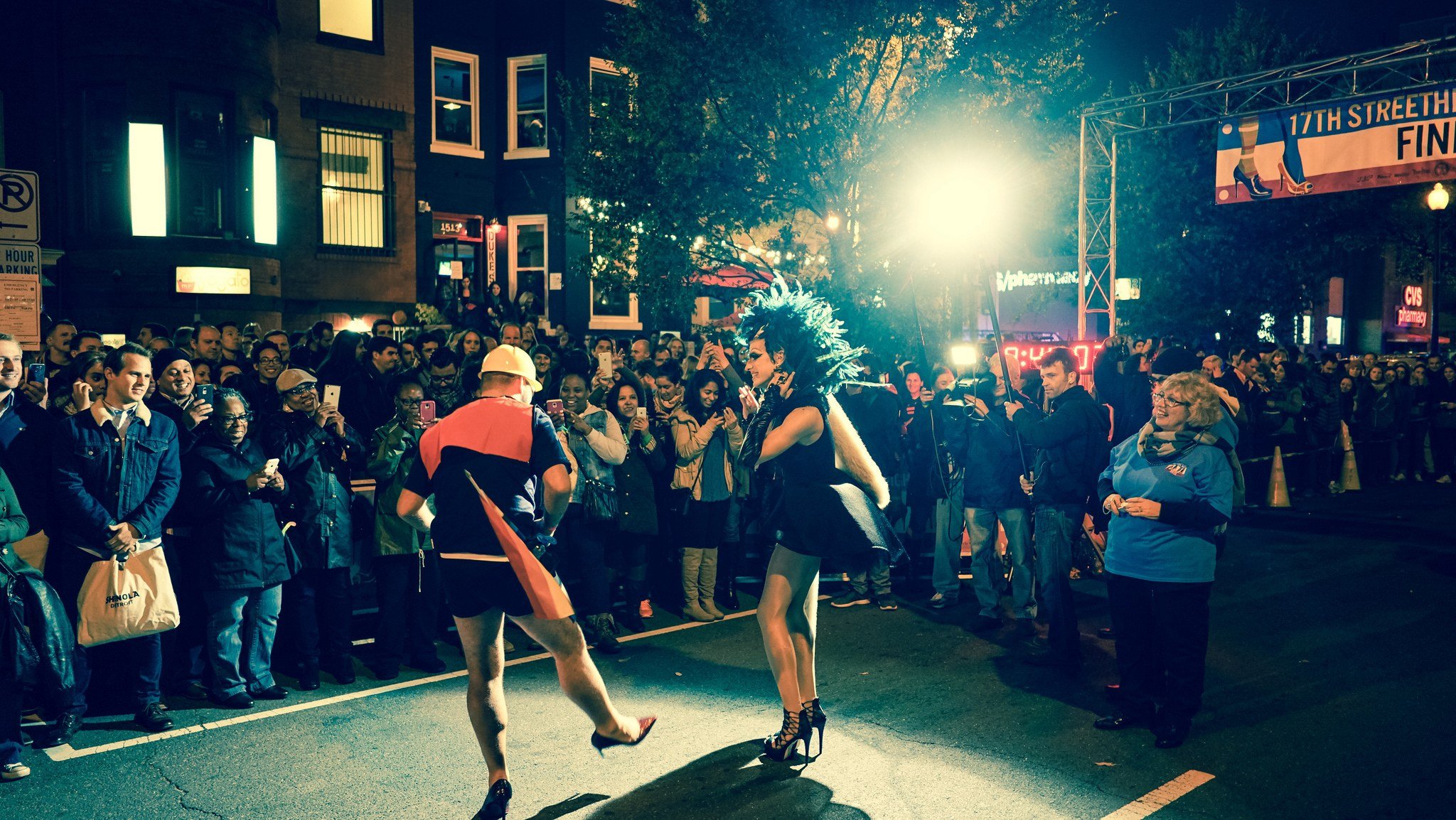 Safety in Washington DC
If you were raised in the USA during the 80s or 90s, then you may have a very different impression of your federal capital. Up until the end of the 20th century, Washington DC had one of the worst violent crime rates in the entire country and even earned the title of "murder capital of the USA." And we're not even counting the actual wars that happened here.
At some point in the recent past though, Washington DC cleaned up its act. The city was one of the first and most aggressive practitioners of urban redevelopment. While this has included rampant gentrification, which has its own consequences, DC is, overall, a much safer place to visit these days.
Violent crimes, including murder and rape, are down all across the board. What incidents do still occur usually happen on the far outskirts of the city. Most of these are shared with the public and are tracked via a handy online tool.
Like most other large cities, muggings and pickpocketings are still common in DC. Be careful of your personal belongings and of yourself at night and in crowded places, especially in the busy nightlife districts. Remember: drunks are easy targets.
Exhibit all of the usual travel safety measures and practices that you would in any other country and you'll be just fine.
Get Insured before Backpacking Washington DC
Even if you are only going on a short trip to DC, you should always travel with insurance. Have fun on your backpacking adventure, but please do get insurance – take it from someone who has racked up tens of thousands of bucks on an insurance claim before, you need it.
Traveling without insurance would be risky so do consider getting good backpacker insurance sorted before you head off on an adventure.
I have been using World Nomads for some time now and made a few claims over the years. They're easy to use, professional and relatively affordable. They may also let you buy or extend a policy once you've started your trip and are already abroad which is super handy.
If there's one insurance company I trust, it's World Nomads. To find out why I use World Nomads, check out my World Nomads Insurance review.

Books to Read on Washington DC
Check out this Washington DC reading list to learn more about the city! Each novel takes place in and around Washington DC and does a good job of exploring the city.
Make Money Online while Traveling Washington DC
Traveling in DC long-term? Keen to make some cash when you are not exploring the city?
Make Money Online whilst Backpacking Washington DC
Keen to live the digital nomad dream while traveling the world? Who the hell isn't?
Teaching English online is a great way to earn a consistent income on the road. Depending on your qualifications, you can work remotely from your laptop and make a positive impact on the world! It's a win-win!
Check out this detailed article for everything you need to know to start teaching English online.
Being a Responsible Traveler in Washington DC
Visiting DC will bring you ample opportunities to participate in debauchery, and it is very important to have fun, let loose, and get a bit wild at times. Most trips I have been on across the world have included at least a few mornings where I wake up knowing I went too far.
But there are some things that will put you in the category of a straight-up jackass if you do them. Being super loud and obnoxious in a tiny hostel at 3 AM is a classic rookie mistake. Show your fellow travelers respect whilst traveling in DC and anywhere else for that matter! Use this Washington DC travel guide wisely, young padawans, and don't put us to shame.
For more advice, check out our post on how to be a responsible backpacker.
---
Find out how YOU can support the site.
We work hard to put out the best backpacker resources on the web for free! It's all about helping out our tribe of awesome backpacker readers (that's you!). Please visit the link to find out how you can help keep the site going 🙂
For the sake of transparency, some of the links in our content are affiliate links. This means that if you book your accommodation, buy a piece of gear, or sort your insurance through our link, we earn a small commission at no extra cost to you. We only link to stuff that members of the Broke Backpacker team has actually used and never endorse products or services that are not up to scratch. Thanks for your support!