Washington DC is one of America's top travel destinations. This beautiful city is nestled on the Potomac River and steeped in history, culture, and art. From its marble monuments to its historic buildings, this modern metropolis has the ability to take you back in time.
However long you decide to spend in this famous city,, our Washington DC itinerary will guarantee that you hit all of its hallmarks!
You don't have to be a history lover to enjoy a trip to Washington DC, there are options for everyone! From world-class museums to famous saloons and gorgeous day trips with beautiful views of the east coast, there's plenty of options to make your trip to Washington DC as memorable as possible!
This sprawling city is alive with tourism all year, but some months do produce temperatures that make outdoor exploring more enjoyable than others.
The summer months (June – August) produce the warmest temperatures. Many people travel to Washington DC to take advantage of the warm weather and long summer days!
As fall approaches (September – November), a crisp breeze sets in and the leaves begin to change. This is the best time to plan a trip to Washington DC. The weather is comfortable and the crowds start to thin out.
You'll want a warm winter jacket during the winter months (December – February). The air is chilly and snowfall occurs, but, luckily, there's still plenty of things to do.
Spring (March – May) is a great time to plan a Washington DC vacation! The weather is nice and the cherry blossoms start to bloom all over the city. Many people travel to DC to see the nation's capital accented in shades of pink!
If you're planning a trip to Washington DC, you're going to want to stay in a good location that will make everything on your itinerary as accessible as possible. This historic city is full of culturally rich neighborhoods, and there's no shortage of great areas to stay around Washington DC.
Dupont Circle is a popular residential neighborhood in Washington DC. From its lively nightclubs to diverse eateries, funky bookstores, and cozy coffee shops. There's something for everyone!
You could easily spend the majority of your Washington DC trip exploring all the little pockets of this neighborhood. Take a tour of America's first museum of modern art, explore the home of former President Woodrow Wilson, or have a shopping spree on Connecticut Avenue!
Georgetown is another great area of the city. This charming neighborhood is lined with cobblestone streets and historic houses.
Overlooking the Potomac River, Georgetown is great for nature lovers and outdoor enthusiasts. Rent a kayak, relax in a park, or take a walk along the historic Chesapeake Canal.
There are a number of kid-friendly activities to choose from when staying in Georgetown, such as ice skating or eating at cupcake shops. If you're planning a family trip to Washington DC, this is a great location to consider.
Hi Washington DC is a clean, comfortable, and affordable hostel. Set in the heart of downtown, this hostel is close to all of DC's top points of interest.
It's easy to meet fellow travelers at this hostel. There's a large common room with a pool table, puzzles, and board games. It has all the components to make your stay as pleasant as possible!
Want to check out more hostel options? These are our favorite hostels in Washington DC.
Start the journey of exploring DC at this cute townhouse. You can have the whole thing all to yourself in the heart of America's historic districts.
The home is sitting in the historic Mews located near most of DC's major attractions. This home is expansive, and affordable accommodating up to 4 people if you wish.
And hey, if couch snoozing is your thing, these couches are to die for they are, in fact, cuddle puddle material sofas. Bring your walking shoes —the metro is only 2 blocks away and 3 blocks from Whole Foods!
Yes, that means you can explore and make time to grab some groceries to cook in the beautiful kitchen this home has.
Touring Washington DC is easy when you book a room at this hotel. The location is within walking distance to many of Washington DC attractions. It's also surrounded by coffee shops and restaurants.
There is a restaurant on-site, a fitness center, and a tea/coffee maker in every room. This hotel is perfect for people who only have one day in Washington DC, you'll be next to all the action!
This chic and modern hotel will make your vacation in Washington DC as lavish as possible. The staff makes you feel at home and the amenities are top-notch.
From bathrobes and slippers to a free newspaper delivered to your door daily, this hotel pays attention to detail. The location of this hotel is perfect for your Washington DC itinerary as you'll be right next to many of the cities main attractions!
Whether you're spending one day in Washington DC or many, you're going to need to figure out how to get around. Luckily this city has a few options to choose from for transportation, and they're all extremely easy and convenient!
The most popular form of public transportation is the metro. In order to ride the Metro in DC, you'll need a SmarTrip card to enter and exit the station. This card is required for everyone aged 5 and older. You can purchase these cards at any metro station in the city. They cost $10.00 USD each and come preloaded with $8.00 USD worth of credit.
Fares between stations depends on distance and time of day. If you're spending two-days in Washington DC or more, it might be worth it to invest in a one-day pass, which can be bought in increments of twenty-four hours. This pass allows for unlimited travel through the city using the metro. These passes cannot be bought on their own, you add them to your SmarTrip card at the station.
Uber is another great option for transportation. This smartphone app will send a car right to your door and will easily take you to all of your Washington DC landmarks!
The United States Capitol | The Eastern Market | Smithsonian National Air and Space Museum | National Gallery of Art | Smithsonian National Museum of Natural History | Ford's Theatre
Spend your first day in Washington DC checking out some of the city's most famous buildings, museums, and cultural hubs!
Day 1 / Stop 1 – The United States Capitol
Why it's awesome: The United States Capital is one of the most recognizable symbols of representative democracy in the world, a must-see when touring Washington DC!
Cost: Free!
Food nearby: Sweetgreen is perfect for a quick and wholesome meal. This healthy fast-food chain offers an assortment of salads and grain bowls with vegetarian, vegan, and gluten-free options. Ingredients are delivered fresh to their store every day and everything is made in store from scratch!
The Capitol Building represents the United States democratic society at a level of grandeur not often seen in American architecture. Start off your Washington DC itinerary with a free public tour of the U.S. Capitol building! All tours are guided and cover the Crypt, the Rotunda, and the National Statuary Hall.
Advance reservations are highly recommended, as tours tend to fill up fast, especially during spring and summer. Without a reservation, you'll need to head to the U.S. Capitol Visitors Center and try to pick up a same-day ticket. Tours typically last ninety-minutes.
Day 1 / Stop 2 – The Eastern Market
Why it's awesome: For over 136 years this DC market has served as a community hub. This lively market has food, drinks, crafts, unique gifts, music, and more!
Cost: Free to enter.
Food nearby: You'll find a wide and diverse range of food options at this market. It's a cross between a farmers market and a food court. Stay for a meal or take something with you. Aside from ready-made meals, you can also pick-up local produce, fresh cuts of meat, and ready-to-boil pasta.
This indoor and outdoor market is located in the heart of the historic Capitol Hill neighborhood. Discover DC while perusing through the local stands. You'll find vendors selling a wide variety of products. From food to clothes, and even flowers, there's an eclectic range of items and something for everyone!
Pick up a Washington DC keepsake, grab a drink, people-watch, or enjoy a meal and music! On the weekends, the market becomes a bit more lively as part of the street is shut down to allow for more vendors. If you're spending a weekend in Washington DC don't forget to check this place out!
Day 1 / Stop 3 – Smithsonian National Air and Space Museum
Why it's awesome: A fascinating museum containing the history of the mechanisms and processes that have led to some of our greatest aviation achievements!
Cost: Free!
Food nearby: Just a short walk from the National Air and Space Museum, the Cosmos Cafe is a buffet-style "weigh and pay" restaurant. They offer a large variety of cuisines including American, Italian, Chinese, Japanese, Greek, and more! Choose from a large assortment of food that caters to all dietary needs.
The National Air and Space Museum is the most popular of the Smithsonian museums. You don't need a guide to enjoy this museum. Just pay attention to the posted plaques located next to the exhibits, and you'll learn everything you need to know!
If you're touring Washington DC with kids make sure to check out the special hands-on science room, located on the first floor. Kids get a hands-on approach to learning. They can make a paper airplane and complete in a flight challenge, stare through a giant telescope, and test their skills as an airmail pilot!
You'll find exhibits from the Wright Brothers first journey, Apollo 11 lunar artifacts, and more amazing history preserved for future generations. No matter your age, you'll feel like a kid when you walk through these doors!
Day 1 / Stop 4 – National Gallery of Art
What it's awesome: View history through creative artwork at this DC museum!
Cost: Free!
Food nearby: The Pavilion Cafe is located in the National Gallery of Art's Sculpture Garden. The Cafe's menu includes pizzas, sandwiches, salads, and desserts. Wine and beer are also available. It offers indoor/outdoor seating and a panoramic view of the sculpture garden.
The National Gallery of Art offers a unique view of history. It's one of the largest museums in North America and has an attached sculpture garden. This innovative and stately gallery features numerous collections from various time periods.
The Gallery's collection of paintings, drawings, prints, photographs, and sculptures traces the development of western art from the Middle Ages to the present. Included in this gallery is the only painting by Leonardo da Vinci in the Americas.
The building is well-organized with several levels of artwork. Each room is spacious, offering guests a relaxing and leisurely chance to stroll and enjoy the impressive rotation of artwork. See the past through painted pictures; these are great cultural representations of different time periods.
Day 1 / Stop 5 – Smithsonian National Museum of Natural History
Why it's awesome: Explore the natural world around you! Get up close and personal with unique and interesting exhibits from the largest scientific collection found anywhere in the world!
Cost: Free!
Food nearby: Penn Quarter Sports Tavern offers a fun and lively environment. This sports bar has great service complemented with tasty food and excellent drinks. The restaurant is two levels, so there's plenty of seating. Make sure to check out their happy hour during the week from 4:00pm – 7:00pm!
The National Museum of Natural History is another impressive museum belonging to the Smithsonian. It houses the world's most extensive collection of natural history specimens and human artifacts.
This massive museum can keep you occupied all day, so if you only have two days in Washington DC, make sure to plan your time wisely! Some of the museum's highlights include the butterfly pavilion, the hall of mammals, and the O. Orkin insect zoo.
Witness live butterflies flying all around you, check out life-sized taxidermied animals, and watch a tarantula eat its lunch! This fun stop is fun for all ages!
Explore the splendor of the world's most extensive natural history collection. From dinosaur remains to tools used by early man, this is one of the coolest places to visit in Washington DC!
Day 1 / Stop 6 – Ford's Theatre
Why it's awesome: The site of U.S. President Abraham Lincoln's assassination, Ford's Theatre, offers museum exhibits, theatre performances, and tours.
Cost: $28.00 USD – $64.00 USD
Food nearby: Lincoln's Waffle Shop is a no-frills local joint that serves breakfast and brunch. They're open every day from 5:30am – 4:30pm, or 3:00pm on weekends. They have a simple menu featuring breakfast and lunch items at affordable prices.
Ford's Theatre carries a significant role in the history of the United States. This theatre is famous for being the site of U.S. President Abraham Lincoln's assassination on April 14,1865.
The facility is wonderfully kept and well preserved. The theatre looks very much the way it did that fateful night. The President's Box, where the assassination happened, is decorated just as it was in 1865. Although visitors are not allowed to enter the box, it is still able to be viewed.
Performances still run regularly. Watch a show in the same theatre that Lincoln enjoyed many shows in! From American musicals to classic plays and history-based drama, all performances honor Lincoln's love of the theatre. Check out tickets in the Ford Theatre! All tickets come with free entry into the theatre's museum.
Explore the history of this infamous theatre. Learn about the life of Abraham Lincoln, from the beginning of his presidency to the moments leading to his assassination as well as his assassinator, actor John Wilkes Booth, and the roots of his hatred for Lincoln.
In the museum, you'll see several artifacts related to the assassination, including the gun that Booth used to kill the President. Ford's Theatre is steeped in history and provides a unique experience to add to your Washington DC trip itinerary!
Insider Tip: Make sure to check out the Peterson House right across the street from Ford's Theatre. This is where Lincoln was carried after he was shot. The room is left unchanged and you can see the actual bed Lincoln passed away on.
The White House | The Smithsonian National Museum of American History | The Washington Monument | International Spy Museum | Martin Luther King Jr. Memorial | The Lincoln Memorial | Arlington National Cemetery
Continue day two of your Washington DC itinerary by visiting even more of this city's iconic landmarks!
Day 2 / Stop 1 – The White House
Why it's awesome: The White House is one of the most historical sites in the U.S. This structure is the official residence and workplace of the President of the United States.
Cost: Free!
Food nearby: The Old Ebbitt Grill is the best place to go near the White House for a great historical dining experience. It's Washington's oldest bar and restaurant and highly rated for its American style cuisine. Because of its popularity, it's often frequented by politicians. If you're a fan of oysters, make sure to check-out their regularly occurring oyster specials!
The White House is one of the top Washington DC attractions. This imposing building has been the home of nearly every U.S. president. Constructed in the late 18th century, this is one of the most iconic buildings in the United States.
The White House is free to tour, but you will need to apply for a ticket in advance – months in advance! Requests can be submitted up to three months in advance and no less than three weeks in advance. There are a limited number of spots available, so make sure to submit your request as early as possible!
If you're not able to reserve a tour beforehand, the building can be seen from the street and is perfect for a photo-opt. Admire the beautiful architecture and see if you can spot the President!
Day 2 / Stop 2 – The Smithsonian National Museum of American History
Why it's awesome: This museum is interactive, interesting and well-curated. It brings together the span of American History in a meaningful way and is organized to appeal to all ages.
Cost: Free!
Food nearby: Head to the Timgad Café for a soup, salad, or delicious cup of coffee! This relaxed cafe features coffee drinks made from locally roasted beans. You'll find comfortable indoor/outdoor seating and upbeat music!
Explore the evolution of the United States at the National Museum of American History. This museum showcases the scientific, cultural, social, and political development of the United States from colonial times to the present day.
There are more than three million historical objects in this museum, including the original star-spangled banner, civil war soldier uniforms, and Dorthy's original ruby red slippers!
If you're traveling with kids make sure to check out Wegmans Wonderplace, this exhibition is designed just for kids aged birth to six years old.
With so many exhibits, this museum can keep you entertained for hours! If you're spending three days in Washington DC or more, make sure to take full advantage of all the different areas of this museum! If you only have one day in Washington DC you can easily see the museums highlights in a couple hours. It's a great museum, rich in history and fun for all ages!
Insider Tip – There are seventeen Smithsonian Museums in Washington DC, and they're all free!
Day 2 / Stop 3 – The Washington Monument
Why it's awesome: This large and imposing structure embodies the awe, respect, and gratitude the United States feels for its most essential Founding Father.
Cost: Tickets to enter the Washington Monument are free, but if you wish to reserve tickets you have to pay a $1.50 USD reservation fee
Food nearby: Head to Cafe Du Parc for a pleasant dining experience. This French restaurant is located in an older building with lots of character. The service, quality of ingredients, and ambiance are all top-notch. This is a great place to have a nice meal, glass of French wine, and relax for a bit!
The Washington Monument is a 554-feet obelisk that shoots straight up. It was built to commemorate George Washington, the first President of the United States. It is located east of the Lincoln Memorial and is an iconic Washington DC landmark.
Once inside an elevator will take you to the top for the best views in Washington DC. There are a variety of exhibits inside the monument including historic photographs, interesting facts about the monument, the city of Washington DC, and George Washington.
Tickets to enter the Washington Monument are free. However, if you choose to reserve a ticket you will have to pay a small reservation fee. This is highly recommended, especially during the summer and spring months when this popular attraction can become very busy. If you're planning a trip to Washington DC this is a must-see!
Insider Tip: All Washington DC monuments are open 24/7, so you can enjoy them whenever you'd like!
Day 2 / Stop 4 – International Spy Museum
Why it's awesome: The International Spy Museum makes learning fun with interactive exhibits and installations!
Cost: $24.95 USD for an adult ticket
Food nearby: Roti Modern Mediterranean makes healthy and hearty meals with high-quality ingredients. Whether your diet is vegetarian, vegan, gluten-free, paleo, or just hungry, this Mediterranean restaurant will ensure you have a fresh and flavorful meal.
The International Spy Museum is dedicated to the tradecraft, history, and contemporary role of espionage. It features the largest collection of international espionage artifacts on public display.
See real spy artifacts including a tobacco-pipe pistol, an original spy-car used in a James Bond film, and a letter from George Washington addressing a member of his spy network!
Discover how real spies have shaped world history and the impact of espionage across the globe. Listen to real stories from real spies. Test your own spy skills by participating in hands-on exhibits!
Dive into the world of espionage and uncover all the different aspects of the intelligence world. Fun for all ages, put this on your Washington DC itinerary for a unique experience!
Day 2 / Stop 5 – Martin Luther King, Jr. Memorial
Why it's awesome: This beautiful monument helps commemorate the great and mighty changes Martin Luther King Jr. has brought to the United States.
Cost: Free!
Food nearby: Chopt is a counter-service chain restaurant where guests can create their own salads and wraps from a wide variety of ingredients. The ingredients are fresh, wholesome, and healthy! Their portions are filling, and the service is fast!
Martin Luther King Jr. was a staunch advocate for civil rights from 1955 until his assassination in 1968. This monument commemorates his influence on American history. His thirty-foot tall statue is imposing and beautifully decorated, a truly fitting memorial for the leader of the civil rights movement.
This powerful marble statue offers a wonderful backdrop for reflection. You can read his inspirational quotes carved into the wall behind him relating to unity, mankind, and self-worth. The MLK Jr. memorial is one of the newest Washington DC attractions and a must-see when visiting the area.
Day 2 / Stop 6 – The Lincoln Memorial
Why it's awesome: The Lincoln Memorial is an important symbol of the American civil rights movement.
Cost: Free!
Food nearby: &pizza is a casual make-your-own pizza joint with fast service and affordable prices You'll have lots of options to choose from including vegan and gluten-free options. They also have dessert pizzas and a unique range of soda flavors!
This iconic landmark pays tribute to one of the nation's greatest leaders. Abraham Lincoln was America's sixteenth president and fought to preserve the nation during the Civil War, from 1861-1865.
Walk around the thirty-six columns, each one representing one state in the U.S. at the time of President Lincoln's death. Marvel at the nineteen-foot marble statue of Lincoln that sits in the center of the Memorial. Stand at the top of the steps and enjoy the views looking across to the Reflecting Pool and the National Mall.
This has also been the site of many famous speeches, most notably Dr. Martin Luther King Jr.'s "I Have a Dream" speech. Come early morning or late afternoon to beat the crowds. This is one of the top places to visit in Washington DC!
Day 2 / Stop 7 – Arlington National Cemetery
Why it's awesome: This is one of the most important places to visit in Washington DC. This military cemetery houses the graves of some of the most honorable people in American history.
Cost: Free!
Food nearby: Bob and Edith's is an old-school diner serving American comfort food 24/7. This classic and cozy restaurant has a large menu and serves up fresh cooked-to-order meals. A great spot to go for a classic American dining experience!
Arlington National Cemetery is an important place to add to your Washington DC trip itinerary. This cemetery is large and peaceful. The atmosphere is solemn with respect for the brave men and women who served their country.
At the top of every hour, you can witness the changing of the guard ritual. The gravesite of President John F. Kennedy is on view at Arlington National Cemetery as well as President William Howard Taft.
Arlington National Cemetery is located just across the Potomac River from Washington, D.C. in Arlington County, Virginia. This area is still accessible by Washington DC public transportation.
Take a Washington DC Walking Tour | Explore Dupont Circle | United States Holocaust Memorial Museum | Frederick Douglass National Historic Site | Admire DC's Landmarks From the Water
If you're spending three days in Washington DC or more, you're going to want to check out a few more Washington DC points of interest! Here are a few extra things we think are great additions to your Washington DC itinerary:
Take a Washington DC Walking Tour
Tour DC on foot, a great way to see the layout of the city
All tours are guided by friendly locals who are full of knowledge, information, and stories!
Guides are approachable and encourage guests to ask as many questions as they'd like!
There are several Washington DC walking tour companies to choose from, but we recommend Free Tours by Foot. This tour company is highly rated and has several tours to choose from.
Walking tours are offered every day of the week, from morning to night. You can easily reserve a tour online and see the different options. The best part is there's no set price, you simply tip your tour guide the price you feel is right. Tipping is an essential part of some professions in America, so be sure to tip generously.
Tours are conducted at a leisurely pace and include lots of historical information from sites around the city! They include everything from Capitol Hill walking tours to White House secrets and scandals. These tours are full of fun and packed with information!
Explore Dupont Circle
This DC neighborhood has everything from historic homes to lively nightclubs
A vibrant blend of local joints and traveler attractions
You'll find activities and attractions for all ages!
Dupont Circle has a little something for everyone. This fun and quirky neighborhood in DC offers a great reprieve from the hustle and bustle that the city's historical sites attract. From cozy coffee shops to vibrant nightclubs, bookstores, and museums, you could easily spend a whole day here!
The Spanish Steps are one of Dupont Circle's hidden gems. Picnic or people-watch in this quiet area of the city. Climb up the steps and enjoy a nice view of the city.
Tour Woodrow Wilson's house for an intimate look at one of American's greatest Presidents. See modern amenities from the 1920s in this historic house that has been little changed since the days the President lived there.
There's so much to do, you could easily spend your Washington DC trip exploring the ins and outs of this hip neighborhood.
Visit the United States Holocaust Memorial Museum
An important museum and place for people to learn about the Holocaust.
Well-organized with videos, pictures, and exhibits.
Learn how the United States specifically reacted to this unprecedented tragedy.
The United States Holocaust Memorial Museum is packed with information and insight into the horrors of the Holocaust. An emotional yet important museum that encourages visitors to reflect upon the moral questions raised by this horrible period in history.
This museum provides powerful imagery and testimonials from survivors. The architecture and aesthetic of the museum is designed to give you the feeling of a concentration camp. It's an emotional museum designed for an impactful experience.
General admission is free, but it is recommended you reserve a ticket online as they can sell out. If you wish to see the permanent exhibits, you have to purchase a ticket.
Frederick Douglass National Historic Site
Tour the original house that Douglass lived in from 1877 until his death in 1895.
Gain insights into the life and contributions of this early African American leader.
Tours are free but it is strongly recommended that you reserve a spot online beforehand to guarantee admission on the day of your choosing.
Frederick Douglass was born into slavery in 1818. He dedicated his life to fighting for equality. He was a leading voice in the abolitionist movement and a catalyst for human rights for all people.
This historic site was home to Frederick Douglass, which he named Cedar Hill. Douglas lived here for his last seventenn years of life. This house is restored to its 1895 appearance and still furnished with original objects belonging to Frederick Douglass.
To go inside this historic house you must book a guided tour. Tickets are free and can be reserved online for a $1.00 USD reservation fee. Tours last one and a half hours and are guided by Rangers. Douglass's legacy is preserved in the walls of Cedar Hill.
Admire DC's Landmarks From the Water
A different way to experience the city.
Choose from kayaking, canoeing, or stand-up paddle-boarding.
Fun for all ages and skill levels!
Enjoy breathtaking views of Washington DC's iconic landmarks while experiencing the tranquility of floating on water. Go past Teddy Roosevelt Island, Georgetown Waterfront, and some of DC's most stunning monuments!
Escape the hustle and bustle of the city and head out on the water for a relaxing reprieve. No matter if you're a novice or an expert, the friendly staff will assist you and offer introductory lessons for beginners.
Have a leisurely paddle by yourself, or book a tour and journey along with others as you enjoy a panoramic sea view of the city! Perfect for outdoor enthusiasts and a great addition to your Washington DC itinerary!
Whether you're exploring Washington DC in two days or more, safety is important to keep in mind.
Overall, Washington DC is a safe city to travel in. There are some areas of the city that might make you feel uneasy, but these spots are not in the touristy areas. Keep your wits about you, stick to populated areas, try not to travel alone after dark, and you should be fine.
There is some pickpocket-related risk in the touristy areas of the city. Be vigilant on public transportation and in crowded areas. A few simple precautions will minimize your chances of being pickpocketed such as carrying a money-belt and keeping your valuables hidden.
Don't Forget Your Travel Insurance for Washington DC
ALWAYS sort out your backpacker insurance before your trip. There's plenty to choose from in that department, but a good place to start is Safety Wing.
They offer month-to-month payments, no lock-in contracts, and require absolutely no itineraries: that's the exact kind of insurance long-term travellers and digital nomads need.
SafetyWing is cheap, easy, and admin-free: just sign up lickety-split so you can get back to it!
Click the button below to learn more about SafetyWing's setup or read our insider review for the full tasty scoop.
Day trips from Washington DC are a great way to explore other areas around DC. These trips are a great addition to your Washington DC itinerary, and there are lots of options to choose from!
Day Trip to Monticello, Thomas Jefferson's Estate
On this eleven and a half hour tour, you'll travel in comfort on a Gray Line bus from DC to Thomas Jefferson's beautiful Monticello Estate. Tour the home and final resting place of America's third U.S. President. Learn the fascinating history of one of America's Founding Fathers in a fun and interactive way!
Walk around the grounds of Monticello and experience the estate as Jefferson would have. Visit the University of Virginia and enjoy an interactive exhibit at the Smith Educational Center.
Your tour guide will provide context throughout your trip into the life of this legendary man. This day trip is a great addition to any Washington DC itinerary!
Day Trip to Gettysburg from Washington DC
On this eleven and a half hour day-trip, you'll visit the location of the Civil War Battle of Gettysburg. History will come alive as you tour this famous American battleground.
Travel the scenic countryside as you journey from DC to Gettysburg. Your tour will include an informational video, admission to the Shriver House Museum, and a tour guide to offer commentary throughout your journey.
Visit Cemetery Ridge, the place Abraham Lincoln delivered his famous Gettysburg Address. Spend two-hours driving around the battlefield with a guide to narrate your journey. You'll be able to get off at key landmarks around the battlefield.
Travel back in time to one of America's most decisive battles. History-lovers especially will love this addition to their Washington DC trip itinerary!
Washington DC to Philadelphia Day Trip by Rail
On this eighteen-hour tour, you'll see more of the United States' most historic sites! Your train will Depart Washington DC nice and early, so you'll have plenty of time to explore Philadelphia!
In just under two hours, you'll reach Philadelphia and be greeted with a day full of activities! Join a hop-on-hop-off tour and access all the city's points of interests. Visit Independence Hall, the Liberty Bell, museums, and more!
This trip includes a two-course lunch at the Hard Rock Cafe with priority seating. A great addition to your DC itinerary!
Private Wine Country Tour
On this nine-hour tour, you'll tour the wine region of Loudoun County, Virginia. Located just an hour outside DC, you'll travel to three wineries in the comfort of a luxurious SUV with a chauffeur.
Enjoy a day in the country, surrounded by the natural beauty of the east coast landscape. At each winery, you'll be provided with a tour and the option to purchase a wine tasting!
This tour includes hotel pick-up and drop-off if you're staying at a hotel within the DC city limits. Bottled water and light snacks will also be provided. Complement your trip to Washington DC with a tour of the surrounding wine region!
George Washington's Mount Vernon & Old Town Alexandria Tour
On this five-hour tour, you'll learn all about the first President of the United States. Explore George Washington's past and learn about his life and legacy.
You'll start your day by exploring Old Town Alexandria, George Washington's hometown. Next, you'll visit Mount Vernon, Washington's plantation. Explore this historic mansion – from its interior, where the President resided, to the surrounding grounds and gardens.
To cap off your Washington experience, you'll be taken to the Mount Vernon Museum and Education Center. See 700 unique objects relating to Washington – including his false teeth!
If you're a history lover planning a trip to Washington DC, make sure to include this in your itinerary!
Find out what people want to know when planning their Washington DC itinerary.
Conclusion
Washington DC is a lively and energetic city filled with culture and history. It is renowned for its history, museums, and government buildings, but there are other areas of the city you can explore too!
Whether you're spending three days in Washington DC or many more, this Washington DC itinerary will help you discover some of the best places to visit in the city. Trying to fit all of the things to do in Washington DC in a couple of days can be a bit of a struggle. Hopefully our guide helped you to plan ahead and enjoy your trip to the fullest!
Travel back in time as you explore historic houses. Revel in American independence as you walk in the footsteps of the nations greatest leaders. Reflect on past achievements and sacrifices as you visit DC's iconic landmarks.
From world-class museums to imposing monuments and moving memorials, Washington DC is filled with class, art, and culture. This Washington DC itinerary will help you make the most out of your trip!
---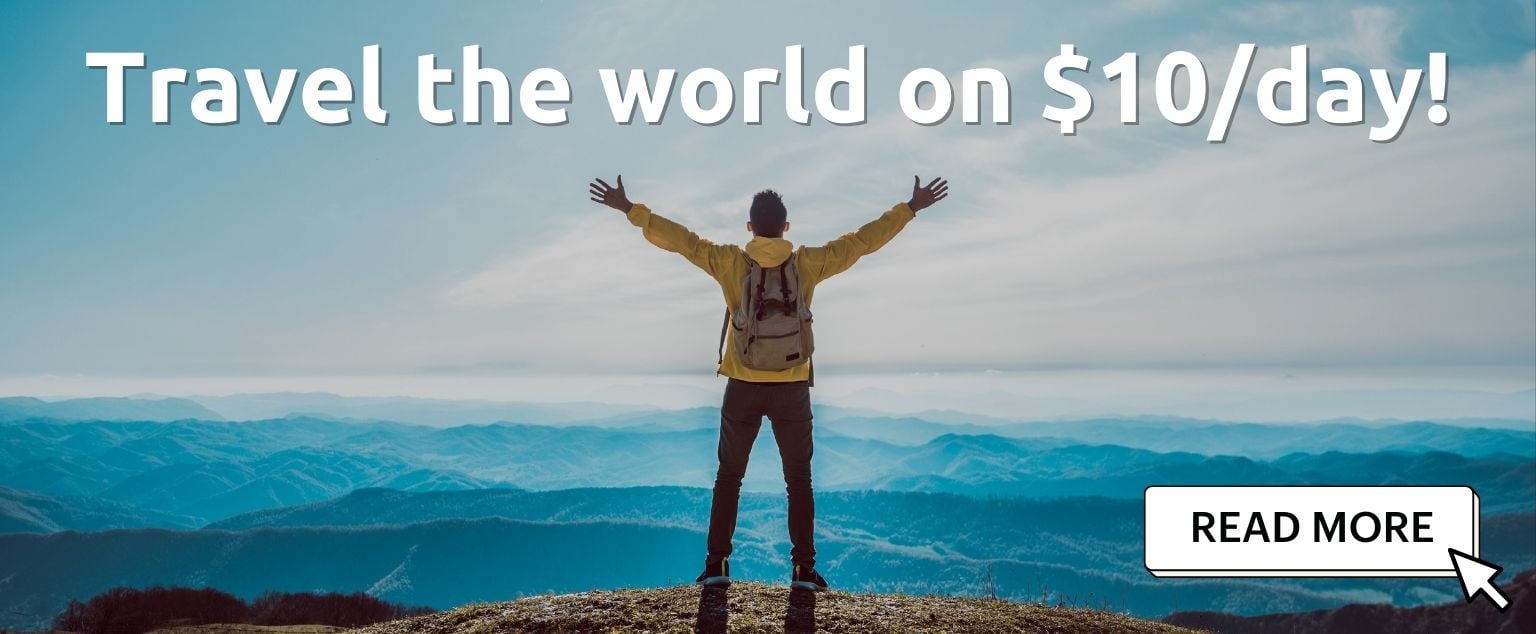 And for transparency's sake, please know that some of the links in our content are affiliate links. That means that if you book your accommodation, buy your gear, or sort your insurance through our link, we earn a small commission (at no extra cost to you). That said, we only link to the gear we trust and never recommend services we don't believe are up to scratch. Again, thank you!