Washington DC, the capital of the United States, is overflowing with art, history, and culture. It's not surprising that it's one of the most visited sought-after destinations in the country!
Nestled on the banks of the Potomac River, it boasts picturesque scenery, seasonal cherry blossoms, and charming American architecture.
But the list of things to do in DC is long. You could easily spend weeks here, visiting world-class museums, imposing monuments, and beautiful art galleries.
And that's why we've put together this comprehensive travel guide — to help you better plan your trip.
We'll show you all the best things to do in Washington DC, some sweet places to stay during your trip, and a few extra tips we've learned from living life on the road.
Ready when you are!

Unlock Our GREATEST Travel Secrets!
Sign up for our newsletter and get the best travel tips delivered right to your inbox.
Top Things to Do in Washington DC
Backpacking Washington DC is awesome. The city offers a long list of entertaining attractions that will keep you occupied during your entire trip.
You'll find a table directly below where we've gathered all the best things to do in Washington DC. Pick a category that suits you and see if it makes sense for your trip! We're diving into the full list right after that.
Visiting the United States Capitol is one of the top things to do in DC. The building is a symbol of representative democracy, and you'll feel the history and power this structure holds as you stand inside it.
The Capitol Building sits imposing on a hill, dominating the National Mall. It's an impressive example of early American architecture.
You'll need to book a tour in order to visit, though, as it's not open to the general public. All tours are guided and last 90-minutes, usually covering the Crypt, the Rotunda, and the National Statuary Hall.
This is one of the best things you can do to start your trip to Washington DC, as it will provide you with a thorough introduction to the city!
Entrance: $20
Hours: Start time 10:00, 14:00 (Duration 1hr)
Address: First St SE, Washington, DC 20004, United States
2. Marvel at the Lincoln Memorial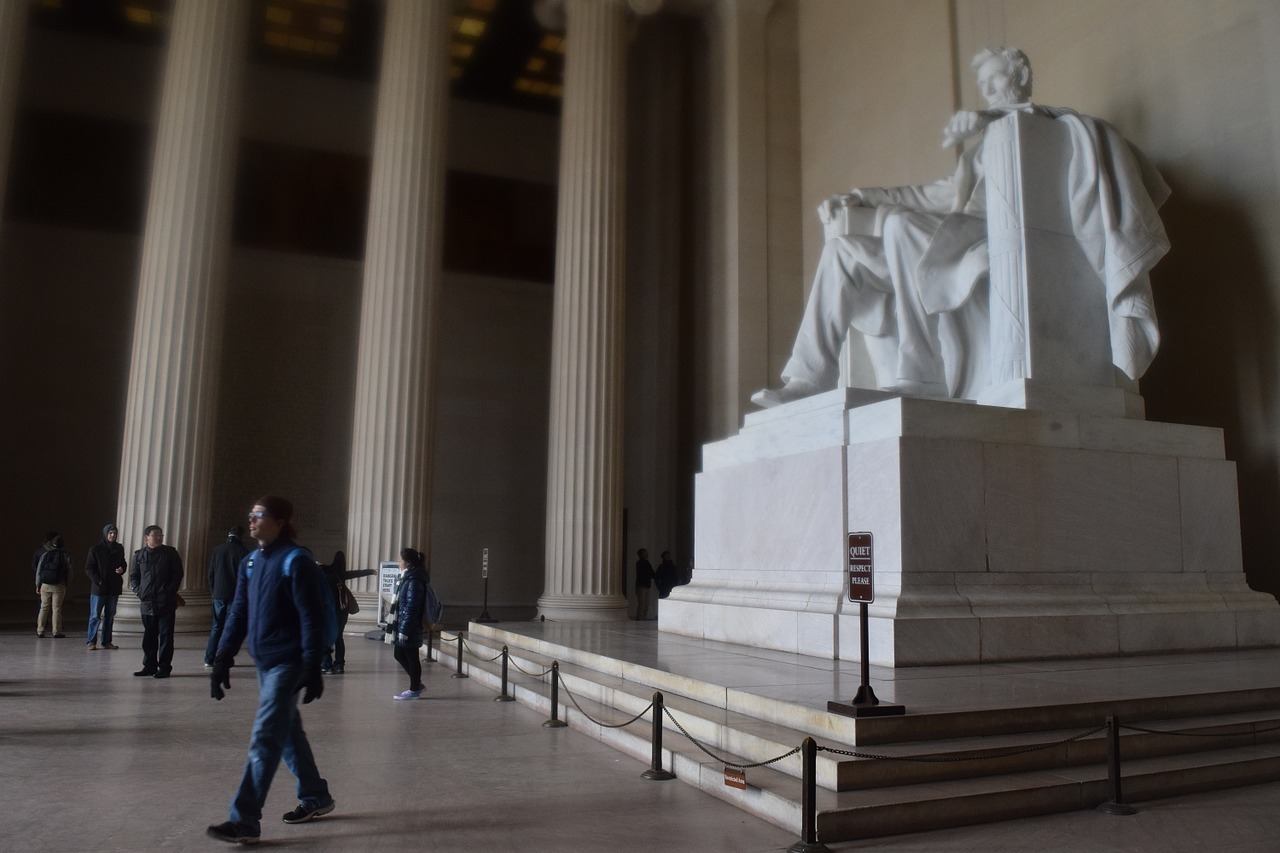 You can't visit Washington D.C and not pay your respects to Abe! The Lincoln Memorial is an iconic monument that pays tribute to America's 16th president, Abraham Lincoln.
It's a powerful 19-foot marble statue of Lincoln that overlooks the Reflecting Pool and the National Mall.
Lincoln is considered one of the greatest leaders in the US. He fought hard to preserve the nation during the Civil War (1861-1865) and is definitely deserving of the magnificent tribute that you find here.
The statue is surrounded by 36 large columns, each representing one state in the U.S. at the time of his assassination. Quotes also flank both sides of the seated president.
All monuments in Washington DC are open 24/7 and are free to visit!
Entrance: Free
Hours: Open 24 hours
Address: 2 Lincoln Memorial Cir NW, Washington, DC 20002, United States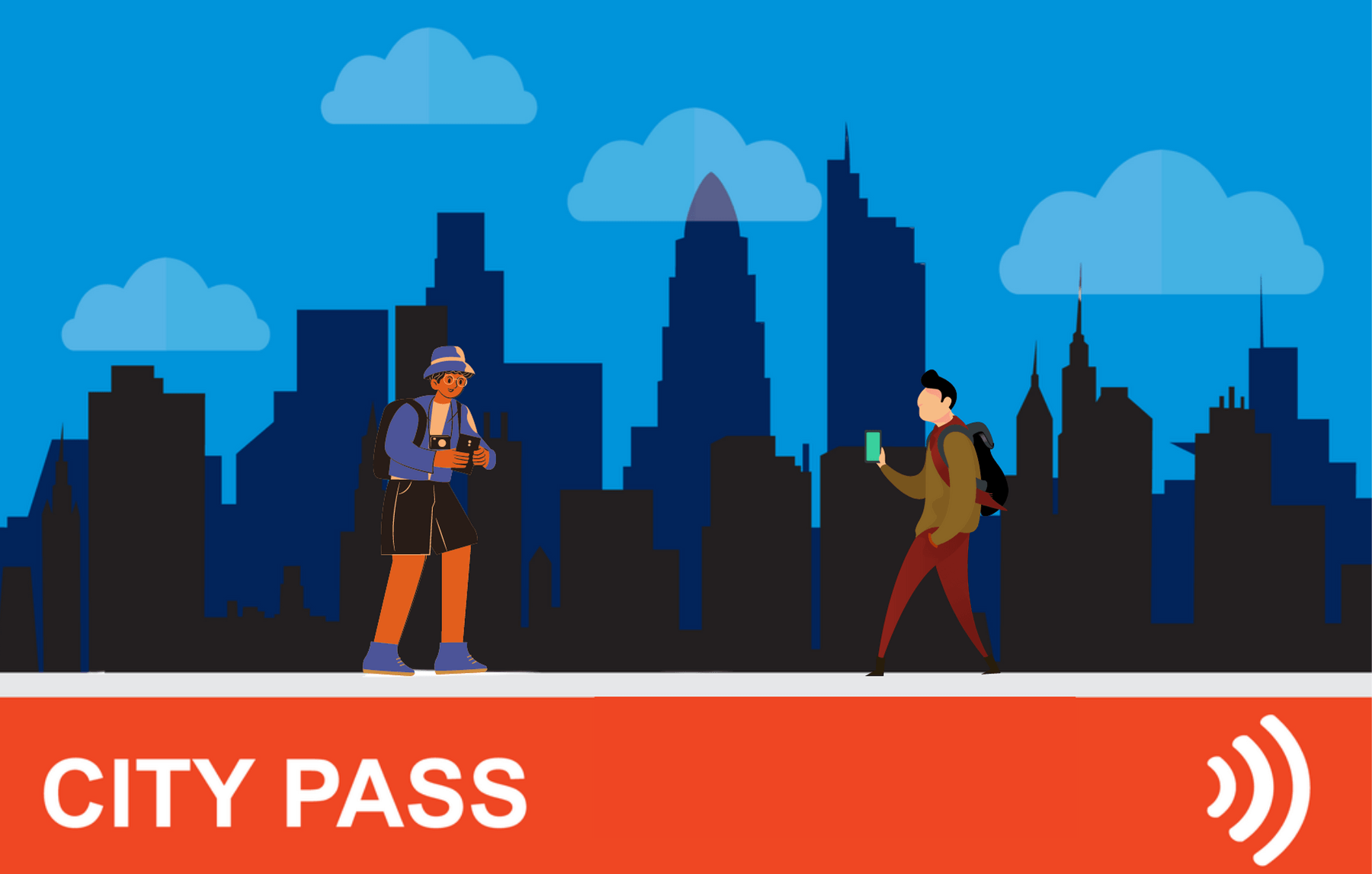 Travelling to Washington? Then plan yo' trip the smart way!
With a Washington City Pass, you can experience the best of Washington at the CHEAPEST prices. Discounts, attractions, tickets, and even public transport are all standards in any good city pass – be sure invest now and save them $$$ when you arrive!
Buy Your Pass NOW!
For a fun way to explore the city, why not rent a bike and see it from a different perspective?
DC is ranked as one of the most bike-friendly cities in the US, so you can easily bike to different museums, cruise along the Potomac River, or hit one of their city trails. Bicycle parking can be found all over the city.
This way, you'll be able to explore the nation's capital at your own pace and have a more flexible itinerary. You'll cover way more ground than you would by walking, and get a bit of exercise, too!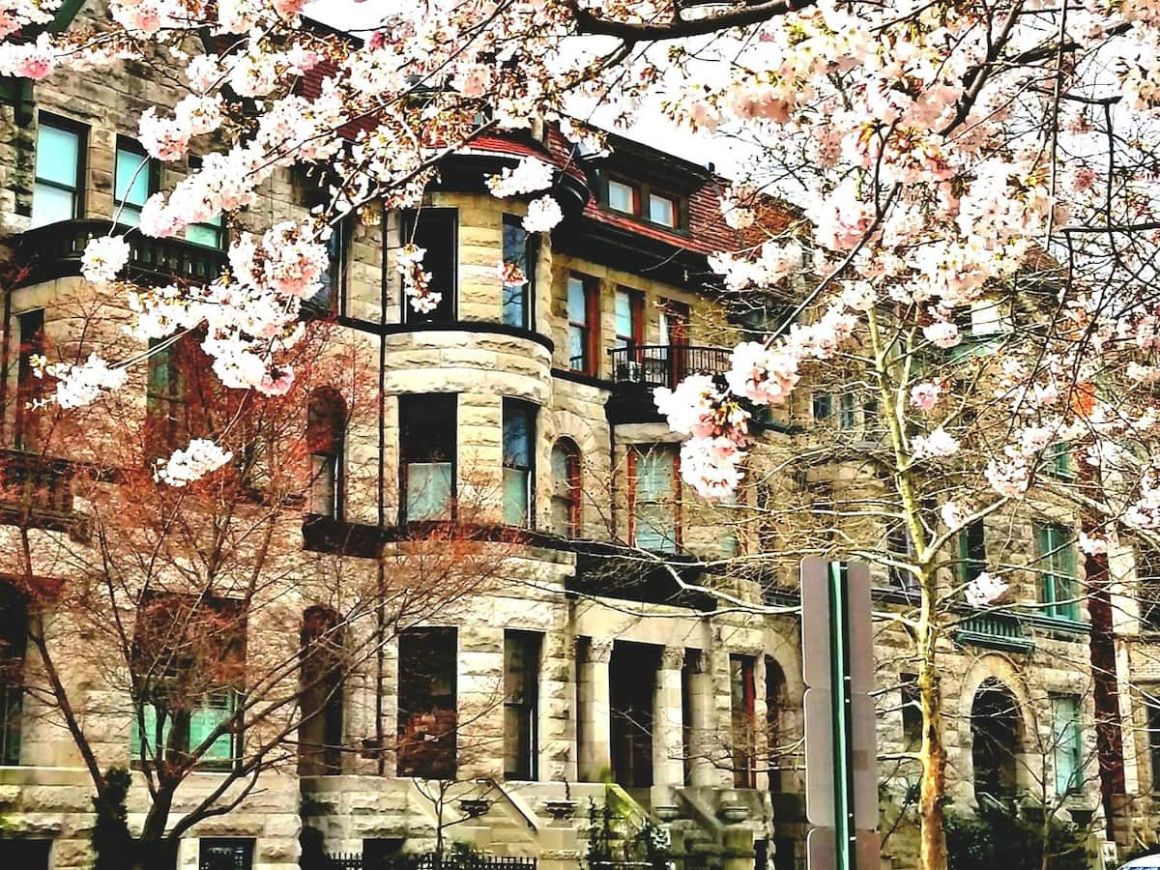 Feeling fancy? This is your chance of sleeping in a historical and beautiful condo in the heart of the Dupont Circle neighborhood.
The original building is a former historic rowhouse converted into condos in 1991. The front overlooks a beautiful tree-lined street, and you're only two blocks away from the nearest metro.
Tastefully decorated, ultra-clean, and newly remodeled. With a 55-inch 4K TV, high-speed internet, and plenty of direct sunlight, it's hard to ask for more.
Stylish, homey, and well stocked. Home away from home!
5. Learn About History Through Art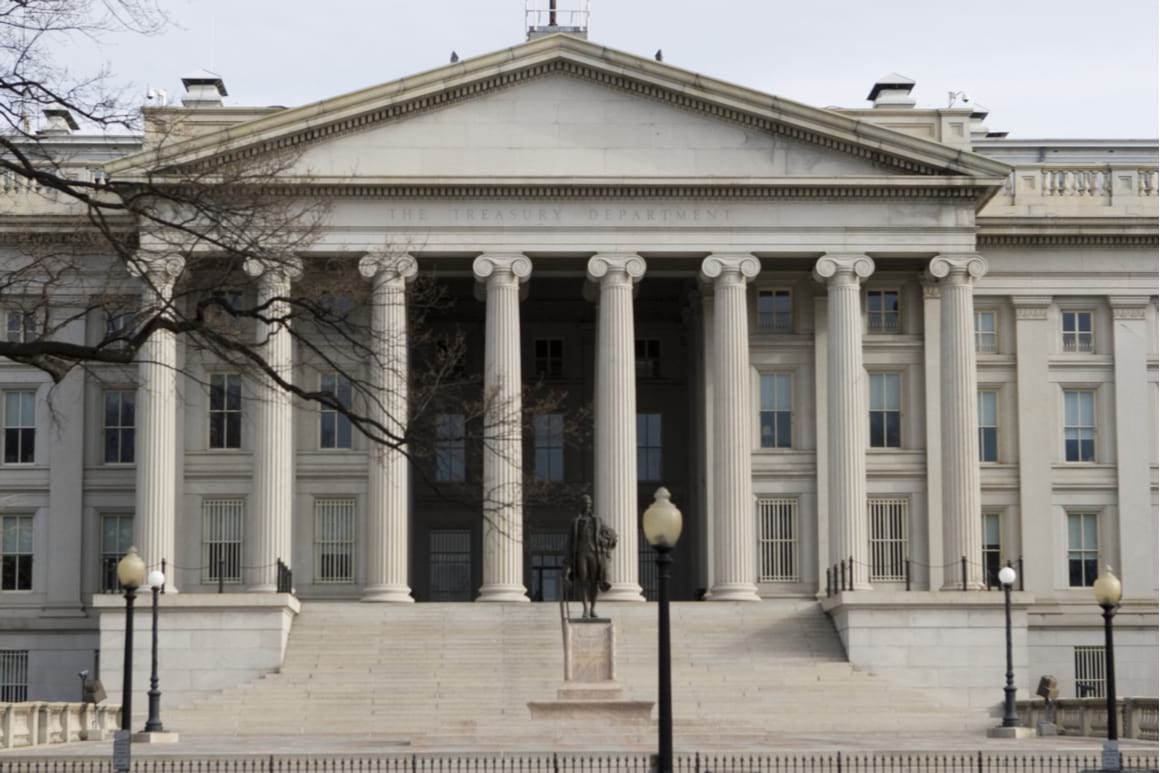 The National Gallery of Art is one of the largest museums in North America. This stately gallery houses numerous collections that span different centuries and time periods. It also contains an attached sculpture garden.
Here, you can find the only painting by Leonardo da Vinci in the US and admire famous paintings from Gilbert Stuart to Vincent Van Gogh.
A well-organized building with several levels of gorgeous artwork!
Entrance: Free
Hours: Temporarily closed
Address: Constitution Ave. NW, Washington, DC 20565, United States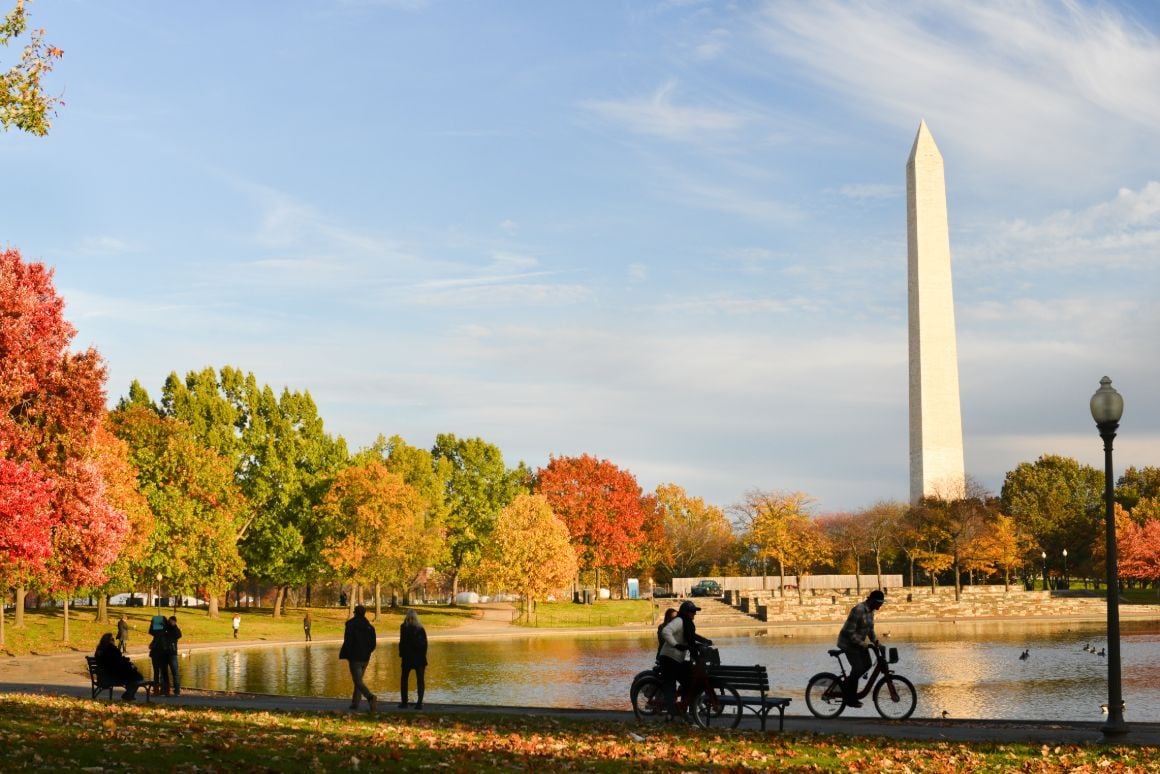 The Washington Monument is a 554-feet obelisk that commemorates the first President of the United States, George Washington. It represents the honor the United States feels for its most notable Founding Father.
You'll find many exhibits inside, including fascinating facts about George Washington, the monument and the city of Washington DC.
Be sure to take the elevator inside, so you can get an unparalleled vantage point of the city from the world's tallest obelisk monument!
Entrance: Free
Hours: Closed until further notice
Address: 2 15th St NW, Washington, DC 20024, United States
Small Pack Problems? 😉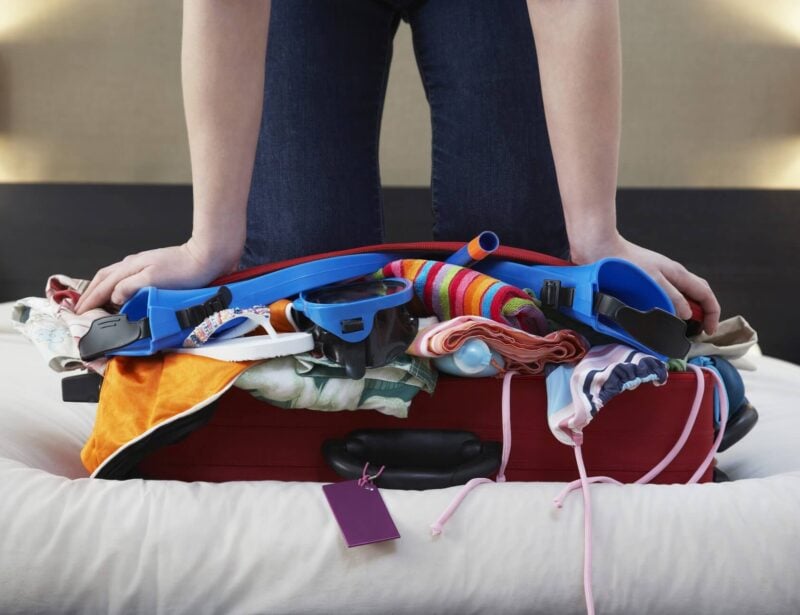 Wanna know how to pack like a pro? Well for a start you need the right gear….
These are packing cubes for the globetrotters and compression sacks for the real adventurers – these babies are a traveller's best kept secret. They organise yo' packing and minimise volume too so you can pack MORE.
Or, y'know… you can stick to just chucking it all in your backpack…
Get Yours Here
Read Our Review
7. Visit a Very Important House
The White House is hands-down one of the most historic and important sites in the U.S. It's been the official residence and workplace of nearly every president of the United States, and it was erected in the late 18th century.
It's a magnificently grand sight to behold, but you can only access the White House with a tour. You need to apply for a ticket way in advance, but even if you're not able to book it, the building itself is a striking sight.
Visiting the White House is one of the top things to do in Washington DC.
Entrance: Free (Public tour requests must be submitted through Member of Congress)
Hours: Scheduled on a first come, first served basis
Address: 1600 Pennsylvania Avenue NW, Washington, DC 20500, United States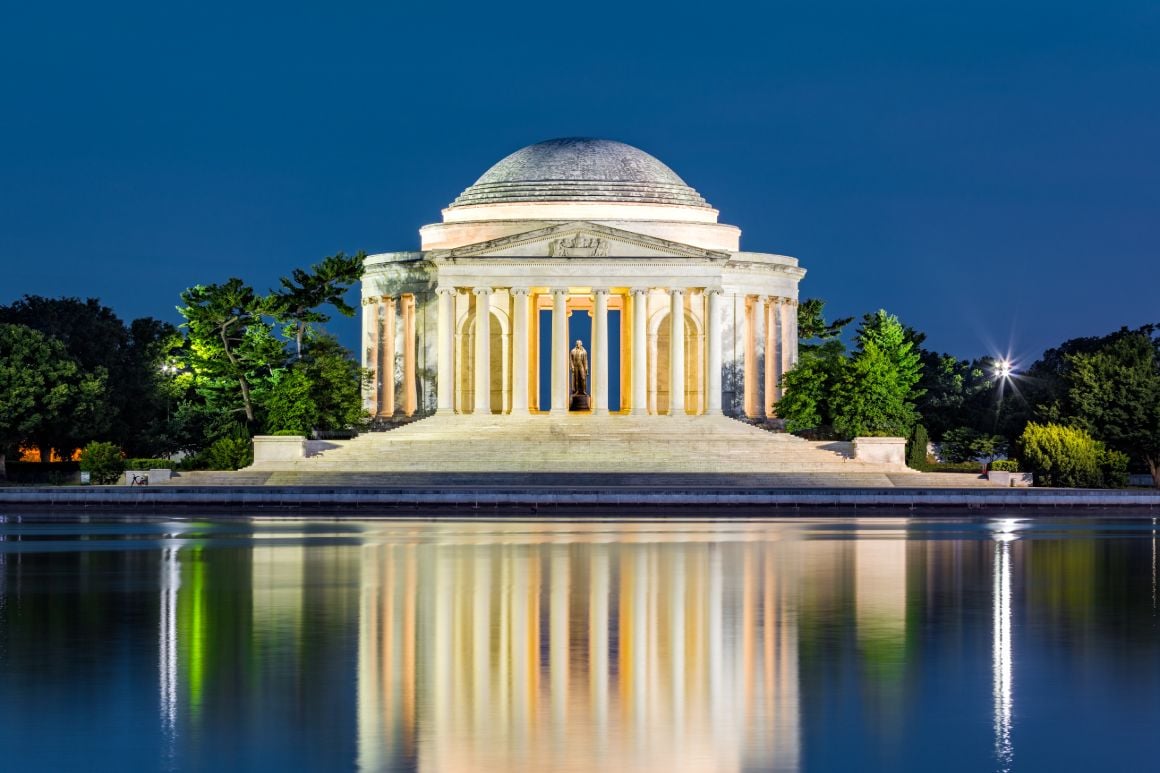 The National Mall is Washington DC's iconic two-mile strip filled with buildings and monuments that represent American history.
A few of these include the Jefferson Memorial, the World War II Memorial, the Korean War Veterans Memorial, and many Smithsonian Museums. Most of these landmarks are completely free to enter!
Want to avoid the crowds and get some amazing photographs to boot? Plan an evening monument tour: this way you'll see the brightly lit monuments against the sky and learn all about the history of these events.
Entrance: Free
Hours: Open 24 hours
Address: Between Constitution & Independence Ave. SW Washington, DC 20050 United States
9. Visit an Island in DC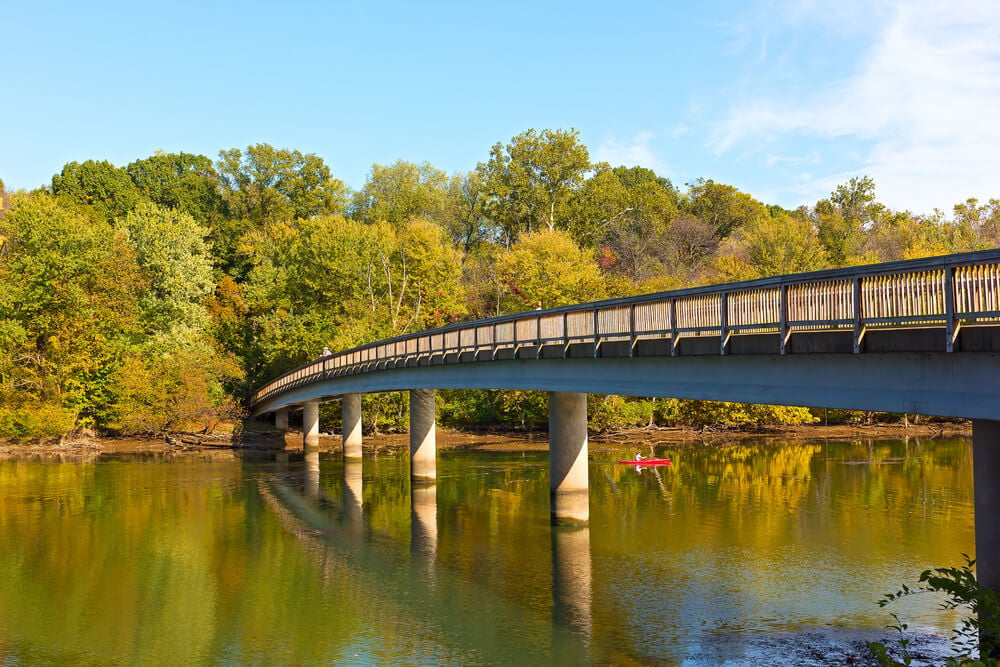 Theodore Roosevelt Island is a beautiful small island located in the Potomac River. It spans 88 acres and is both an island and a national memorial dedicated to the 26th President of the United States, Theodore Roosevelt.
It's great for a quick escape from the hustle and bustle of DC. You'll find various walking and hiking trails and plenty of wildlife waiting for you. You can also rent kayaks and canoes to explore it!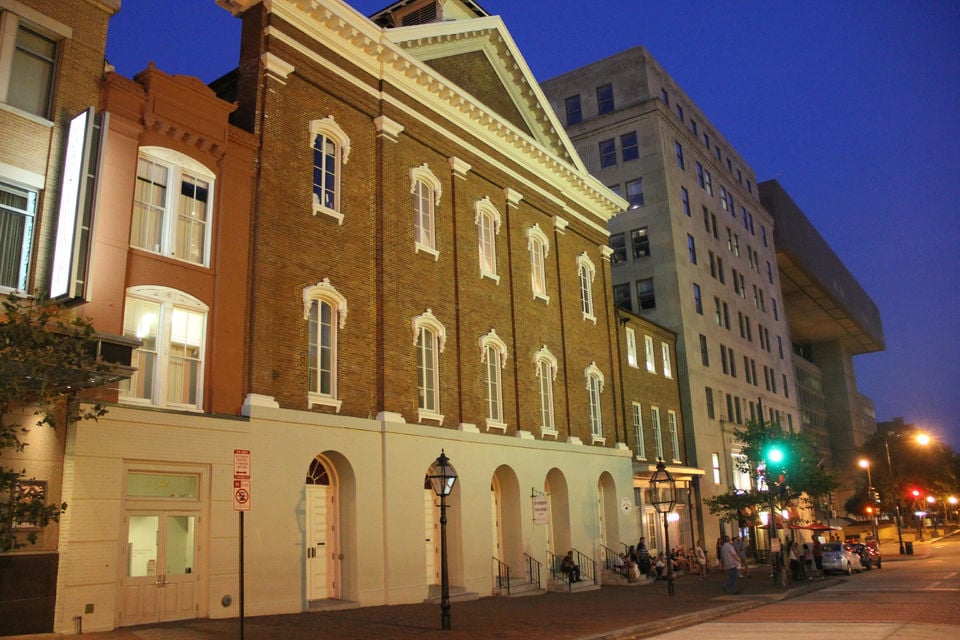 Abraham Lincoln was one of the United States' greatest leaders. Met with an untimely death on April 14, 1865, he was assassinated while watching a performance at Ford's Theater.
The infamous theatre still operates and is one of the most interesting places to visit in DC. Inside, you'll find a small museum with exhibits related to the assassination — and you'll even get to see the gun that was used.
Be sure to check out the Peterson House right across the street. This is where Lincoln was taken after he was shot, and the room he died in. Visiting these sites will make for quite a unique learning experience!
Entrance: Free
Hours: Temporarily closed
Address: 511 10th St NW, Washington, DC 20004, United States
Is This the Best Daypack EVER???
11. Try To Escape From The Escape Game!
If you are after something challenging, immersive but totally then then the Escape Game DC (currently at 2 separate locations) may be just what you are looking for. The Escape Game features a variety of different rooms which participants (that's you and your crew) must try to escape from by working as a team, solving clues and completing puzzles.
The games are designed to be suitable for everybody, from first-time players to experienced escapologists. No matter which one you decide to play, you're sure to have an absolute blast!
12. Eat, Drink, and Shop Local in DC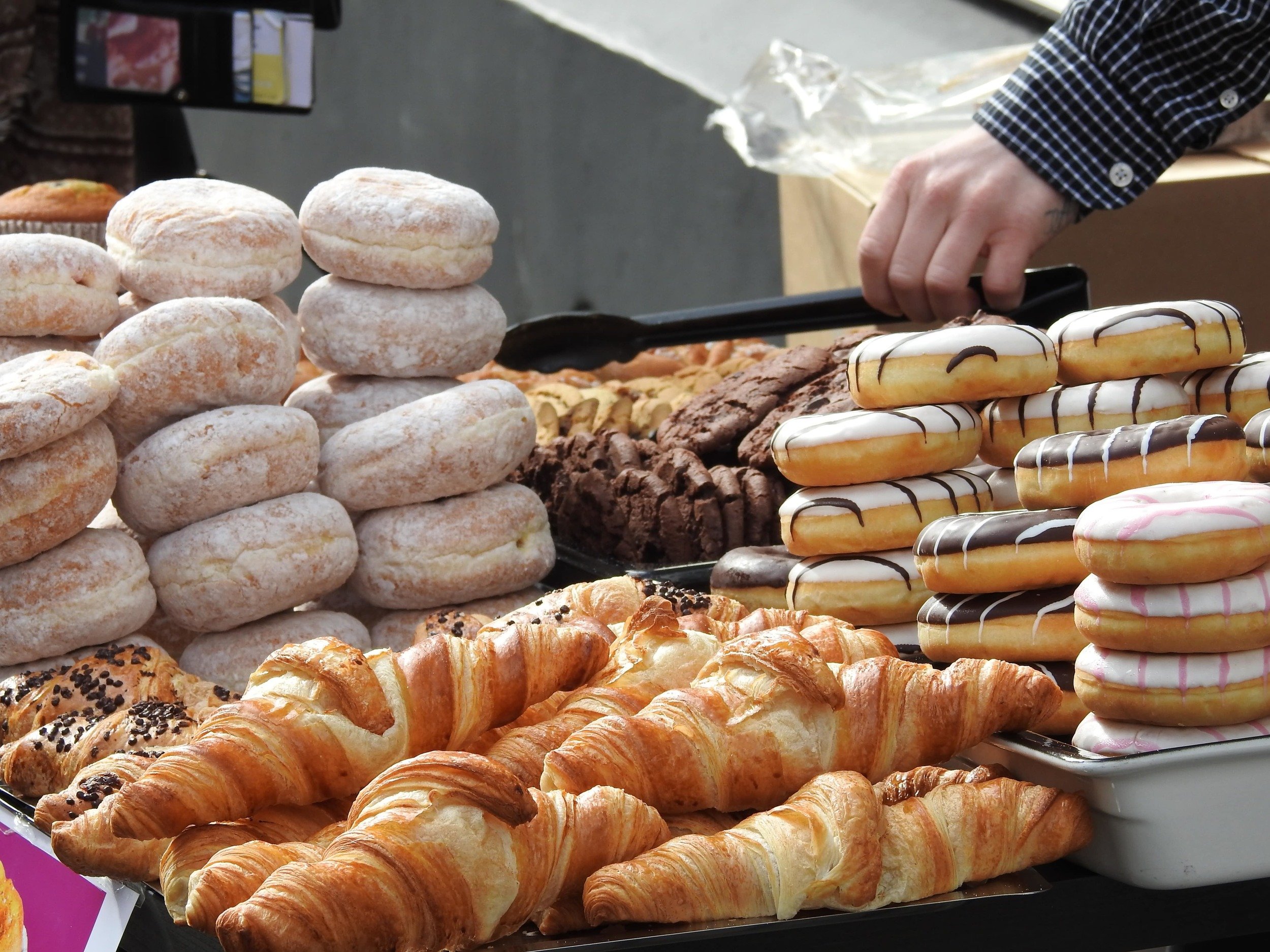 Union Market is the city's buzzing artisanal food and goods market. Over 40 local vendors set up shop offering a range of diverse food items, from international cuisine to the local flavors of DC.
It's a great place to socialize with friends or family and enjoy a nice meal. The market is open for long hours every day, so you can stop for breakfast, lunch, or dinner.
There are a few events hosted regularly at the market, including live music, movie nights, and cooking demonstrations!
13. Visit the Enchanting Botanical Gardens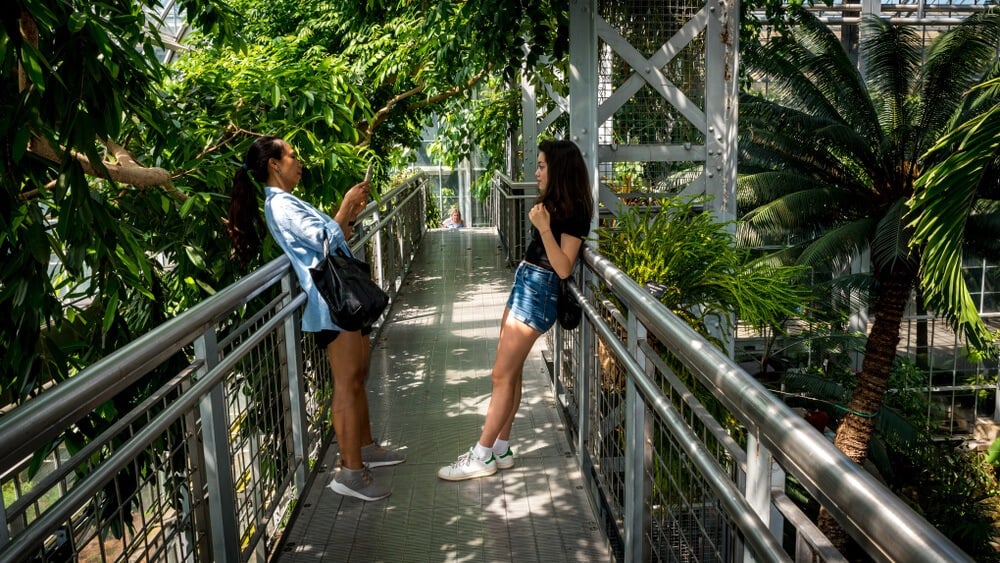 The United States Botanic Garden in Washington DC houses beautiful plant species from all around the world.
There are several different sections, each dedicated to different environments — and the medicinal plant section is particularly interesting.
Everything is beautiful here and you'll find a quiet space to escape the busy lifestyle of the city. Not to mention, it's free to visit!
You'll find the Botanic Garden near the Capitol Building, on the south side of the National Mall.
Entrance: Free
Hours: Temporarily closed
Address: 100 Maryland Ave SW, Washington, DC 20001, United States
13. Experience the Eclectic Nightlife of Dupont Circle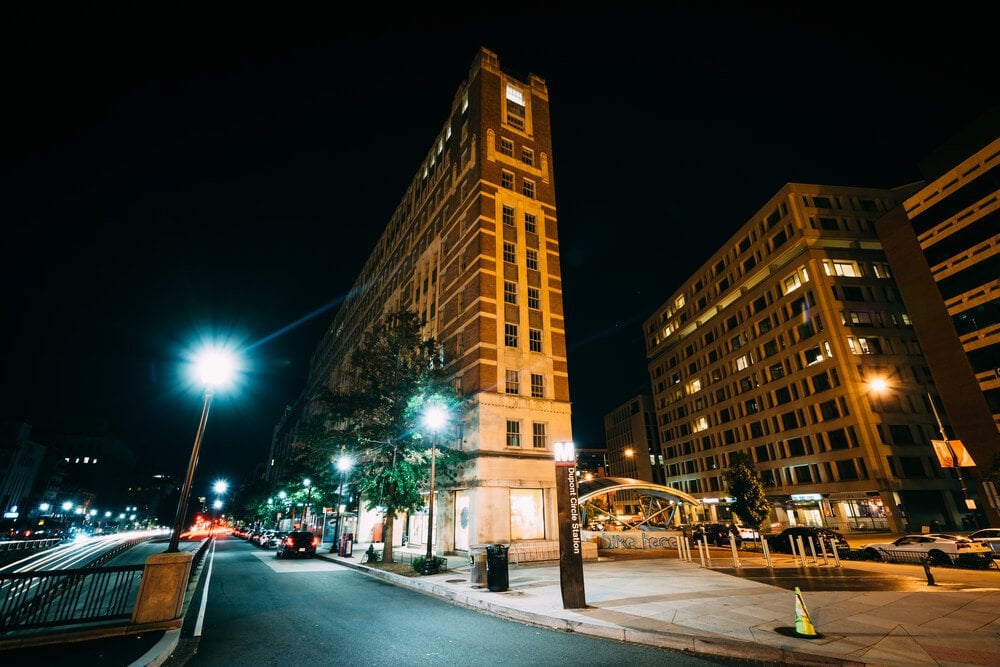 Dupont Circle is one of the best neighborhoods if you plan to go out in DC. Whether you're looking for a casual restaurant to mingle with friends, a local dive bar, or a lively dance club, you'll find it all.
The eclectic range of options making it a great place for all ages and interests. For a unique experience, visit the Madhatter, an Alice and Wonderland themed restaurant that turns into a dance club at night.
For something more casual, head to the Eighteenth Street Lounge and grab a few cocktails by the candlelight.
14. See a Performance at a Legendary Landmark
The Howard Theater first opened its doors in 1910 and was originally built for performers of color during American segregation. Many music legends have performed here, including Duke Ellington and Billie Holiday.
The venue has since then been renovated and returned to its old school state, with sweeping balcony seating and amazing acoustics.
Today, it's a jewel of the city's nighttime entertainment scene. Swing by and enjoy a magical evening seeing a top-notch performance.
Entrance: varies by show
Hours: 12:00–18:00 everyday except Sunday
Address: 620 T St NW, Washington, DC 20001, United States
Travel with peace of mind. Travel WITH a security belt.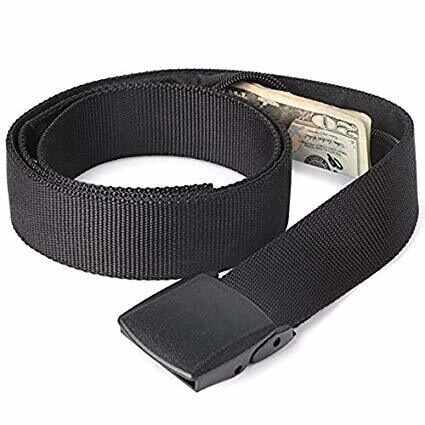 Stash your cash safely with this money belt. It will keep your valuables safely concealed, no matter where you go.
It looks exactly like a normal belt except for a SECRET interior pocket perfectly designed to hide a wad of cash, a passport photocopy or anything else you may wish to hide. Never get caught with your pants down again! (Unless you want to…)
Hide Yo' Money!
15. Learn About the First Amendment and Freedom of Speech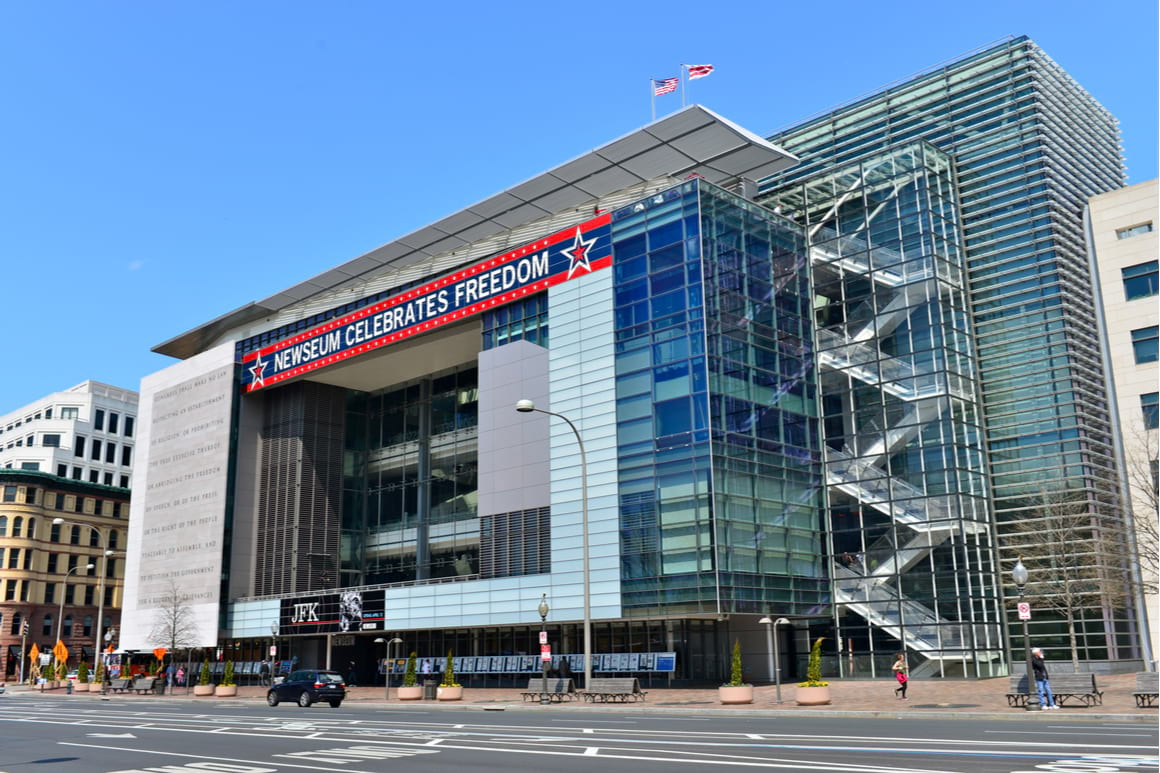 Newseum is a museum in DC dedicated to the history of journalism. It's an interactive space that addresses free expression and documents the history of news reporting from the 16th century to the modern-day.
Trace the development of communication, explore the FBI's role in fighting terrorism, and see the first pamphlet printing of the United States Constitution!
The seven-level museum also features fifteen theatres and fifteen galleries. Make sure to check out the balcony area, as it's one of the best viewpoints over the Capitol.
Entrance: not available
Hours: currently closed
Address: 555 Pennsylvania Avenue NW, Washington, DC 20001, United States
The Tidal Basin is a man-made reservoir that sits between the Potomac River and the Washington Channel.
Most of the year, this area stays quiet. The exception is in spring when the cherry blossoms bloom. The annual Washington DC Cherry Blossom Festival is held in this area and attracts a large crowd.
If you're visiting outside of spring, it's a great best place to visit if you're seeking solitude. For this reason, couples especially will appreciate this beautiful and relaxing area of DC.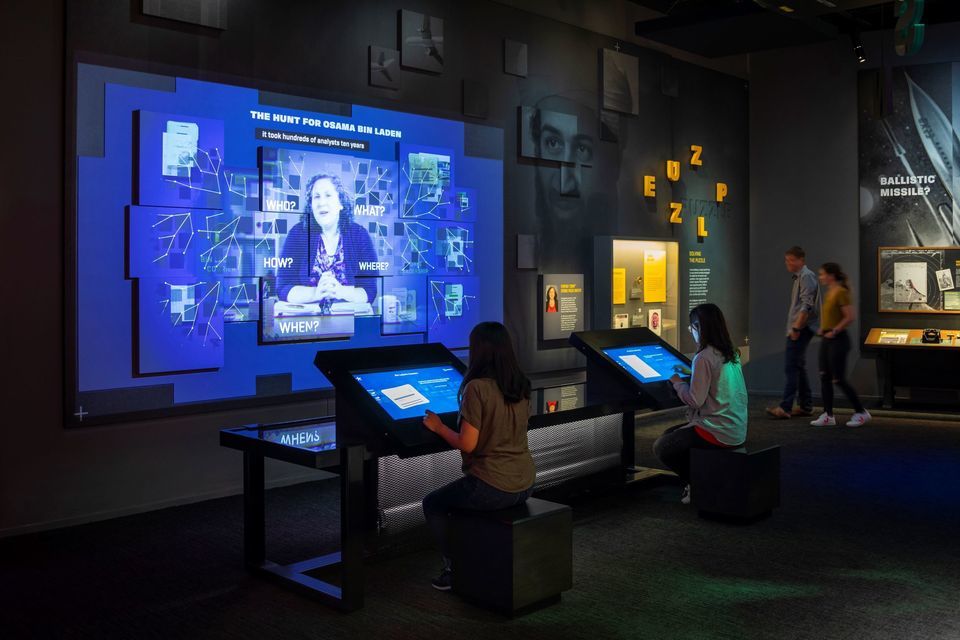 The International Spy Museum is one of the most unique places to visit in Washington DC!
It houses the most comprehensive collection of international espionage artifacts displayed anywhere in the world. Check out some real spy gear, like an original spy-car used in a James Bond movie, and a letter from George Washington addressing his spy network!
Visitors will learn about the vital role spy intelligence has played in the past, as well as the contemporary role of espionage. You'll also be able to test your spy skills through state-of-the-art, hands-on exhibits.
Entrance: $16-25
Hours: 10:00-18:00 (Friday), 9:00-20:00 (Saturday), 9:00-18:00 (Sunday)
Address: 700 L'Enfant Plaza SW, Washington, DC 20024, United State
The Smithsonian National Museum of Natural History houses the world's most extensive collection of natural history specimens and human artifacts. There is more inside this building than any other in the world!
You'll explore the brilliance of the world around you through interactive exhibits and attention-grabbing displays — one of the most fun things to do in Washington DC.
Learn about human evolution, see dinosaur remains, and discover ancient fossils. Make sure to check out the butterfly pavilion during your visit. This museum is so large, it could keep you busy for the whole day.
Entrance: Free
Hours: Temporarily closed
Address: 10th St. & Constitution Ave. NW, Washington, DC 20560, United States
19. Relax and Reflect at the MLK Jr. Monument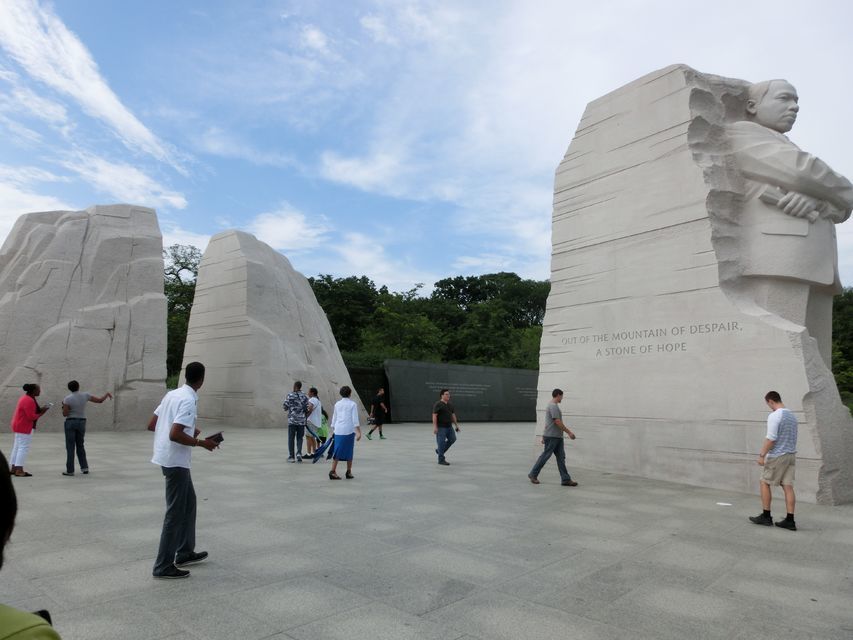 The Martin King Luther Jr. Monument is one of the city's newest monuments. This 30-foot tall statue commemorates a great man and the significant influence he had on US history — a true champion in the fight for civil rights.
This imposing statue is beautifully decorated and filled with inspirational and powerful quotes There are benches beside the monument that look out onto the Potomac River and offer a nice, peaceful view.
Entrance: Free
Hours: Open 24 hours
Address: 1964 Independence Ave SW, Washington, DC 20003, United States
20. Experience the Energy of the Eastern Market
The Eastern Market has served the Washington DC community for over 136 years! It's a large indoor and outdoor gathering place that offers food, drinks, crafts, unique gifts, music, and more.
Discover the local zest of DC while perusing the stands. Pick up a unique keepsake, indulge in a tasty meal, and enjoy the social atmosphere of DC.
The market is open every day except for Mondays, but it really picks up on the weekend — part of the street is shut down to allow for even more vendors.
Entrance: Free
Hours: 09:00-17:00 (Tuesday-Sunday)
Address: 225 7th St SE, Washington, DC 20003, United States
Save $$$ • Save the Planet • Save Your Stomach!
Drink water from ANYWHERE. The Grayl Geopress is the worlds leading filtered water bottle protecting you from all manner of waterborne nasties.
Single-use plastic bottles are a MASSIVE threat to marine life. Be a part of the solution and travel with a filter water bottle. Save money and the environment!
We've tested the Geopress rigorously from the icy heights of Pakistan to the tropical jungles of Bali, and can confirm: it's the best water bottle you'll ever buy!
View on REI
Read the Review
21. See America's Largest Church
The Basilica of the National Shrine of the Immaculate Conception is the largest Catholic church in North America and one of the ten largest churches in the world. Construction for the church began in 1920, and it wasn't completed until 2017.
The basilica houses 81 chapels and has a capacity for 10,000. Whether you're religious or not, there's no denying the magnificent architecture grand scale of this imposing building!
Admire the colorful mosaics, sparkling stained glass windows, and religious artwork. Admission is free.
Entrance: Free
Hours: 7:00-17:00
Address: 400 Michigan Ave NE, Washington, DC 20017, United States
22. Root for the Nats!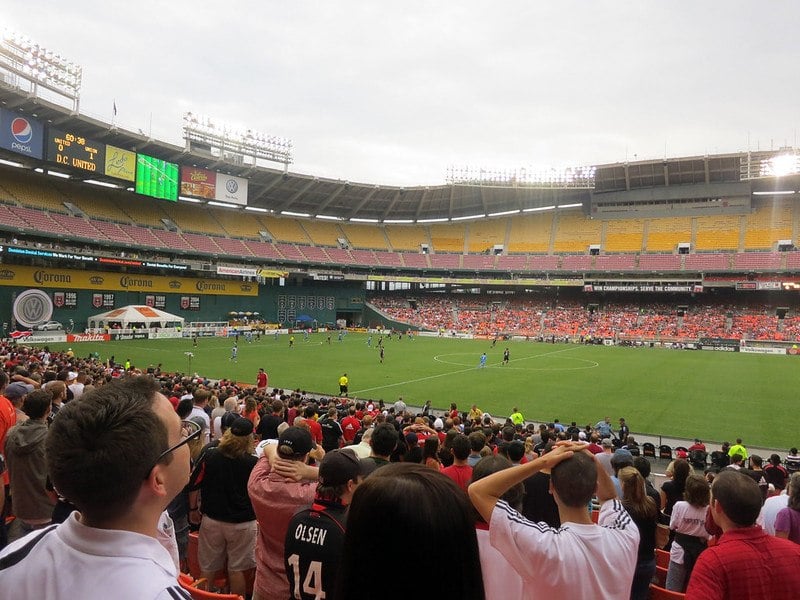 For a fun, family-friendly activity, partake in an American pastime and root on the Washington Nationals.
If you're visiting Washington DC when there's a home game, experience the electric energy of game-day and head to the stadium!
The stadium is kid-friendly, with an area where they can burn off some energy, and you also have a great variety of food and drink options at the concessions.
The area is conveniently serviced by the metro.
23. Visit the Graves of America's Great Heroes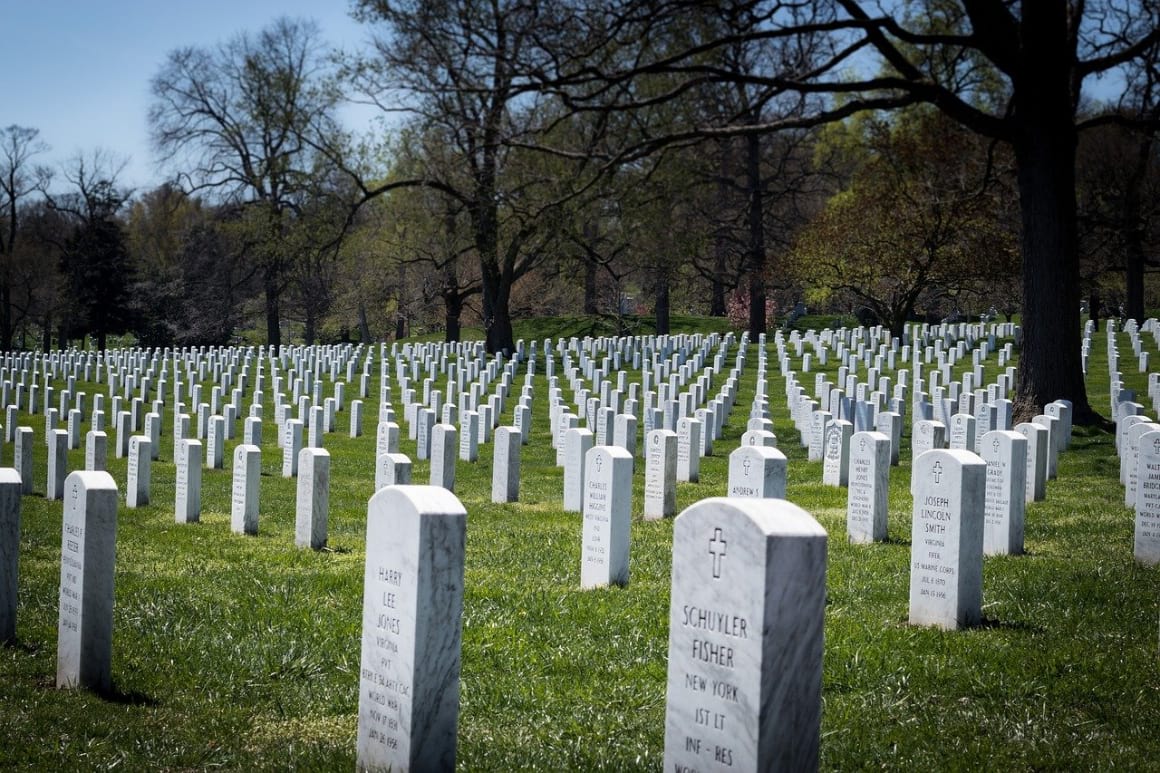 Arlington National Cemetery is a military cemetery. It's a peaceful area where the air is filled with a heavy sense of respect for the brave men and women who have served their country.
The cemetery covers an extensive area, and a few important gravesites include former US Presidents John F. Kennedy and William Howard Taft. At the top of every hour, there is a changing of the guard ceremony.
Arlington National Cemetery is located. in Arlington County, Virginia, just across the Potomac River from D.C. This area is easily accessible by DC public transportation and is free to visit!
Entrance: Free
Hours: 8:00-17:00
Address: 1 Memorial Avenue Fort Myer, VA 22211
Have you sorted your accommodation yet?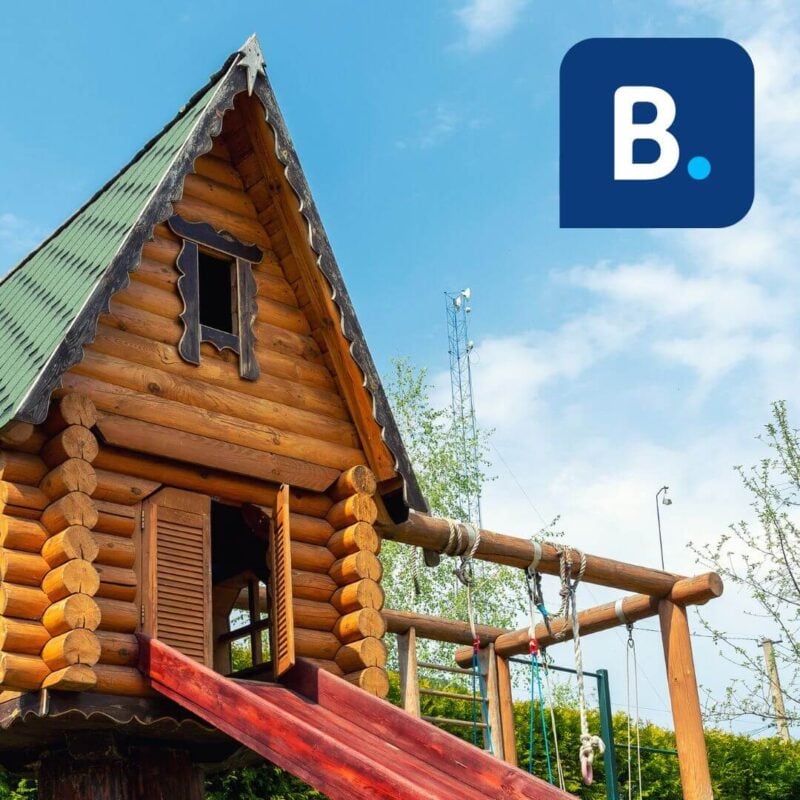 Get 15% OFF when you book through our link — and support the site you love so dearly 😉
Booking.com is quickly becoming our go-to for accommodation. From cheap hostels to stylish homestays and nice hotels, they've got it all!
View on Booking.com
24. Lounge Around at Lafayette Square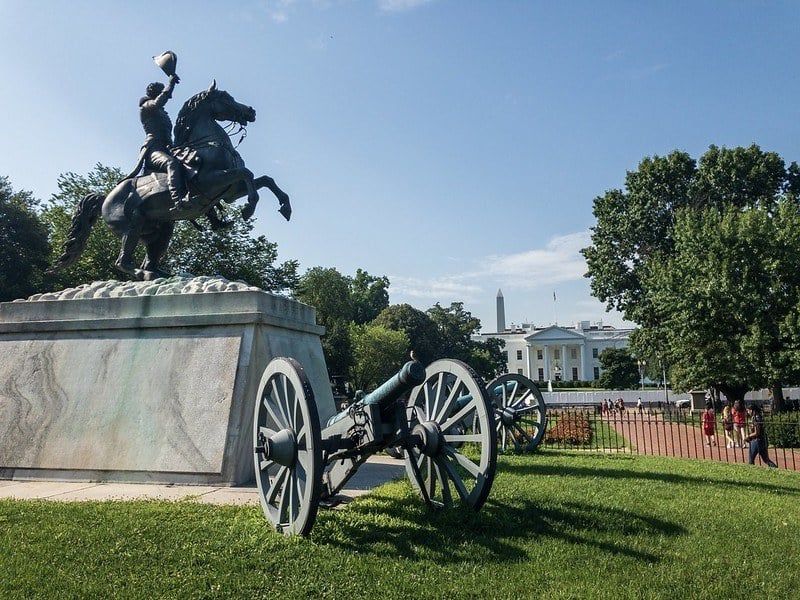 Lafayette Square, also known as Lafayette Park, is a seven-acre public park that sits right across from the White House.
The park contains five statues. One is of President Andrew Jackson, which sits in the center. The other four are places in the corners of the park and honor foreign Revolutionary War heroes.
It's a great area to relax, pack a picnic and lounge on the lawn. Check out some statues of war heroes and snap the best shots of the White House!
Entrance: Free
Hours: Open 24 hours
Address: Pennsylvania Ave NW &, 16th Street Northwest, Washington, DC 20001, United States
25. Explore a Fascinating Collection of Content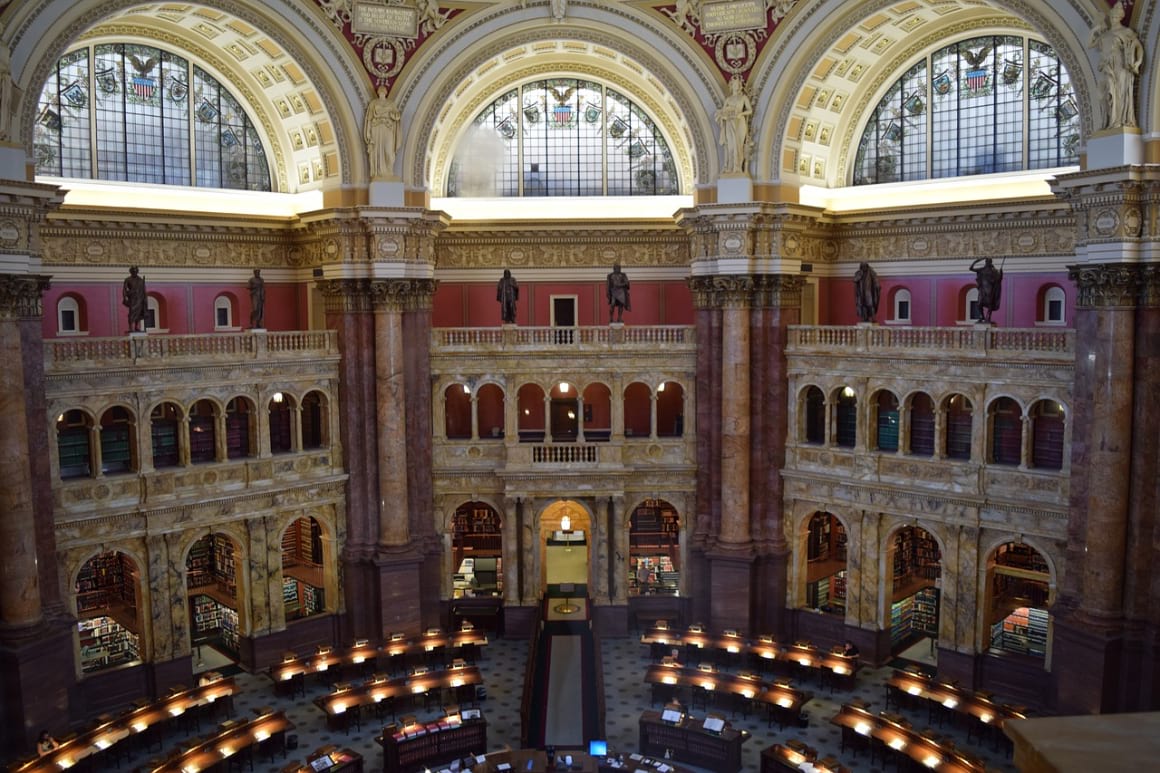 The Library of Congress is the world's largest library. It serves the United States Congress and is also open to the public. It's an amazing building filled floor to ceiling with an impressive and comprehensive array of documents, books, and exhibits.
There is a small museum within the library with a number of very interesting exhibits, including Women's Voting and the history of Baseball. The architecture is also enough to fall in love with. The building is extremely ornate and awe-inspiring!
If you're touring the Capitol, you can easily visit the Library of Congress through the tunnel that connects the two buildings.
Entrance: Free
Hours: Temporarily closed
Address: 101 Independence Ave SE, Washington, DC 20540, United States
26. Enjoy the Local Flavors of DC's U Street Neighborhood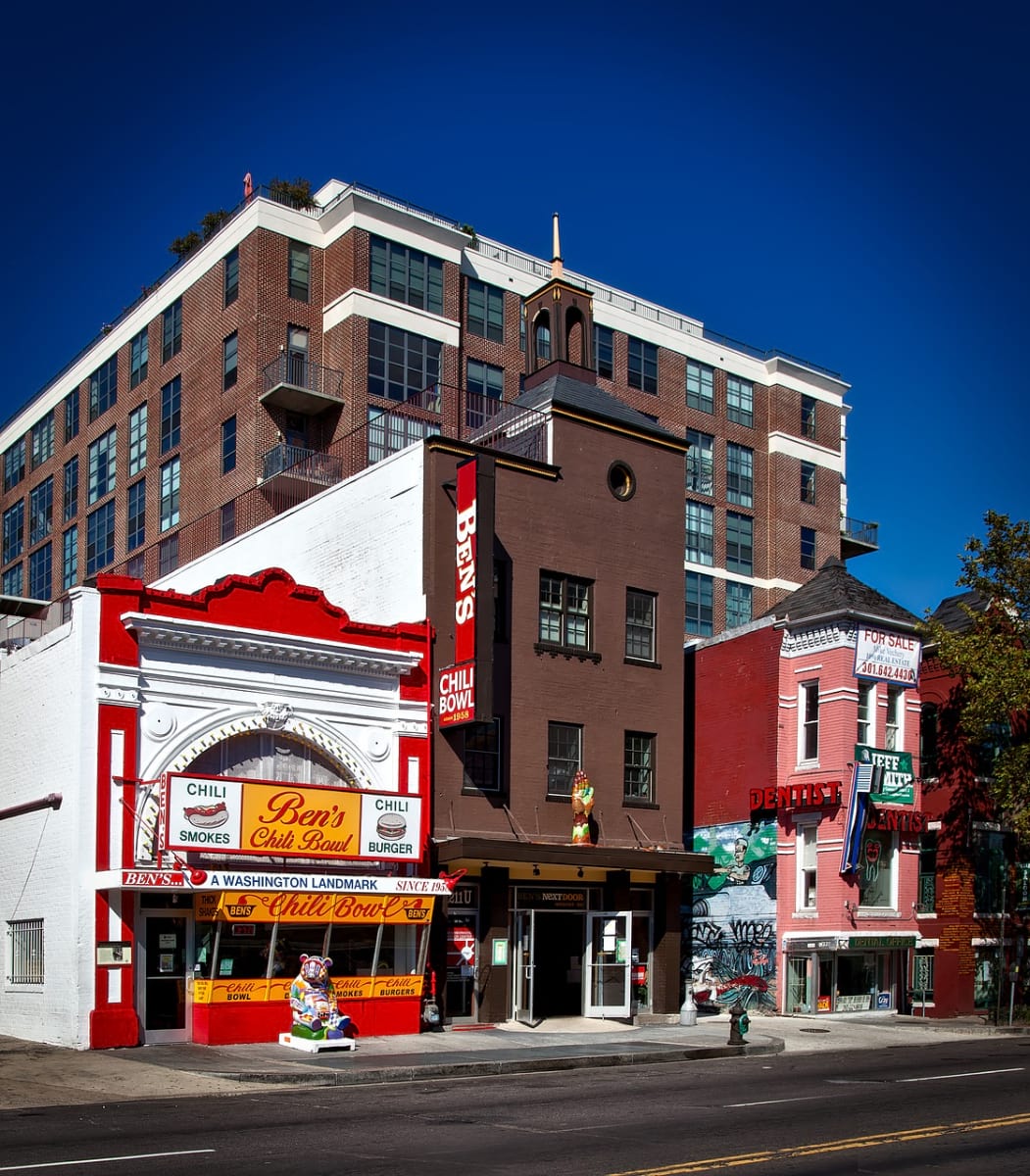 The U Street Neighborhood is a foodie hotspot in DC that offers a great range of tasty and affordable eateries. Here are two places that should be on your food bucket list when you're visiting Washington DC.
Ben's Chili Bowl is a landmark restaurant in DC. It's not only a local favorite, but it's also a favorite of former U.S. President Barack Obama. Order the traditional DC half-smoke: a grilled sausage served on a steamed bun, smothered in Ben's homemade chili, and topped with mustard and onions.
This area is also well-known for its local Ethiopian eateries. Dukem Ethiopian Restaurant is one of the most popular. It's the perfect place to go if you enjoy spicy and robust flavors!
27. See Famous American Faces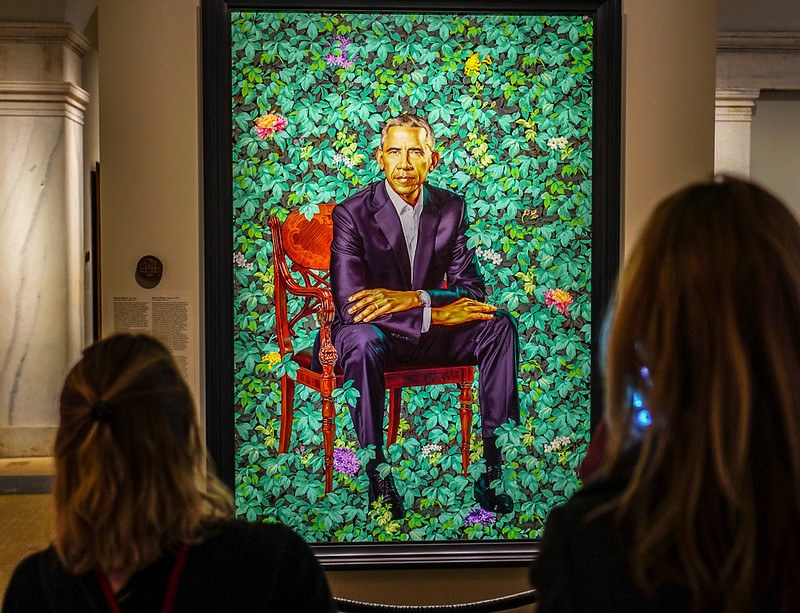 The National Portrait Gallery is an institution filled with the faces of Americans who have shaped the country. These include presidents, poets, scientists, actors, activists, and so much more!
Come face-to-face with some of the nation's greatest influencers, from pre-colonial times to modern-day.
Make sure to check out the Hall of Presidents when you visit. This area contains portraits of nearly all US presidents. There are also several portraits of First Ladies.
The gallery is open every day and entrance is free!
Entrance: Free
Hours: Temporarily closed
Address: 8th and G Streets, Washington, DC 20001, United States
Where to Stay in Washington D.C.
Since there are so many different neighborhoods where you can stay in Washington DC, it can be a bit overwhelming to find the right one. These are our highest recommendations for places to stay in the city.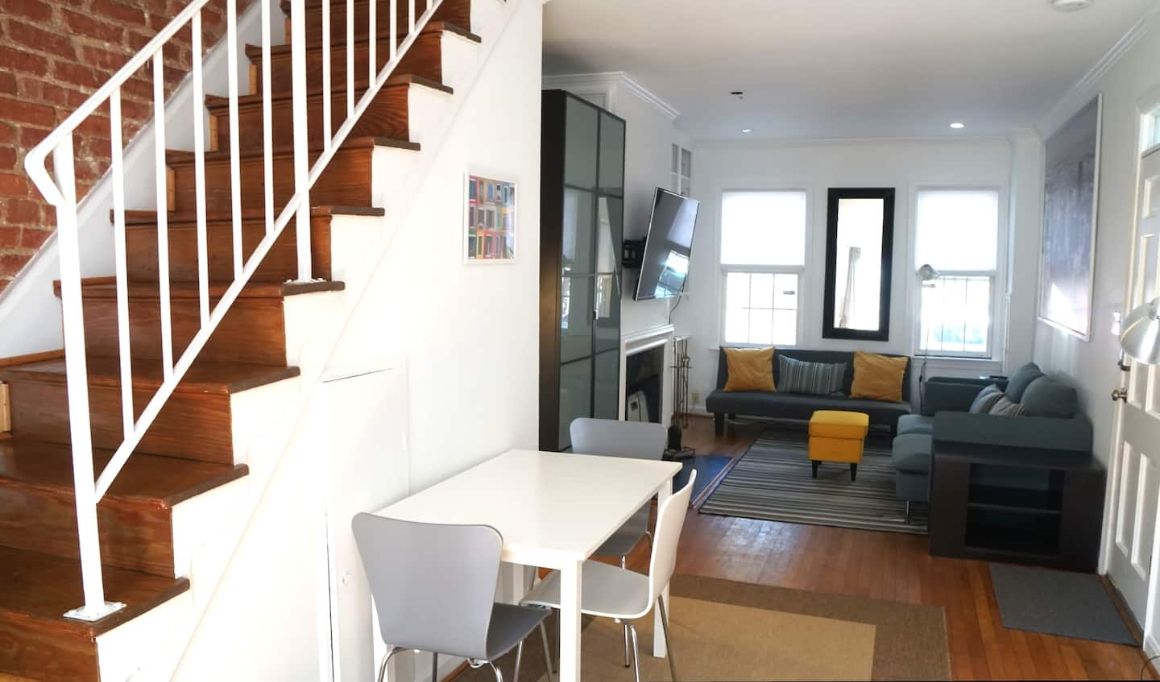 Start your journey of exploring DC at this cute townhouse. You have the whole thing to yourself in the heart of America's historic districts! It accommodates up to 4 people and the couches are to die for. You've got a metro really close by and Whole Foods is only 3 blocks away, too — it's our pick for best Airbnb in Washington DC.
Best Hostel in Washington DC: Duo Circle DC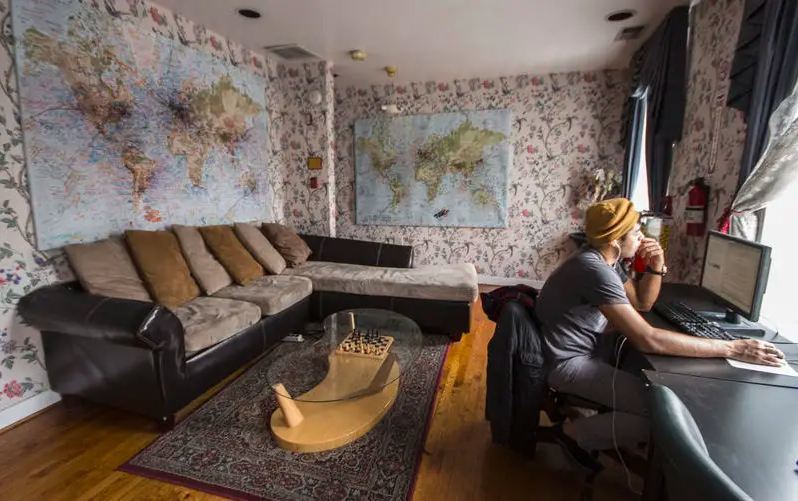 A friendly staff, a home-like atmosphere, and brand new everything — our pick for the best hostel in Washington DC. It's close to landmarks, sightseeing, and great restaurants and bars. Free internet and spacious sleeping quarters.
The River Inn-A Modus Hotel is a charming and elegant four-star property. It has a fitness centre, free bike rental, and a friendly staff. There is also a popular on-site restaurant and a stylish lounge bar. All this combined makes it our pick for the best hotel in Washington D.C.
Some Additional Tips for Visiting Washington DC
Here are some extra things to know before visiting Washington DC!
Invest in travel insurance! You never know what may happen on the road.
Prepare for incidents. Even though DC has managed to lower its crime rates over the years, muggings and pickpocketings are still fairly common — like in any other large city. Catch up on some crucial travel safety tips before you go.
Do yourself a favor and don't even think about driving a car here. Everyone is in a hurry and the traffic is pretty terrible. The city is great for pedestrians, and public transportation is pretty damn good, too.
Get a City card! If you plan on taking the subway a lot, you can pay less per ride with an unlimited pass. It's the most affordable way to get around the city and the plans are really flexible.
If you go the hostel route in DC, try booking a place with free breakfast and a kitchen. No matter how basic it is, it'll fill you up for a few hours — and you can save a lot by cooking some of your own meals.
Bring a good water bottle with you and avoid buying single-use plastic ones!
Find cheap flights. Every once in a while, a killer deal pops up.
FAQ on Things to Do in Washington DC
Here are some quick answers to common questions about what to do and see in Washington DC.
Don't forget your travel insurance for Washington DC
ALWAYS sort out your backpacker insurance before your trip. There's plenty to choose from in that department, but a good place to start is Safety Wing.
They offer month-to-month payments, no lock-in contracts, and require absolutely no itineraries: that's the exact kind of insurance long-term travellers and digital nomads need.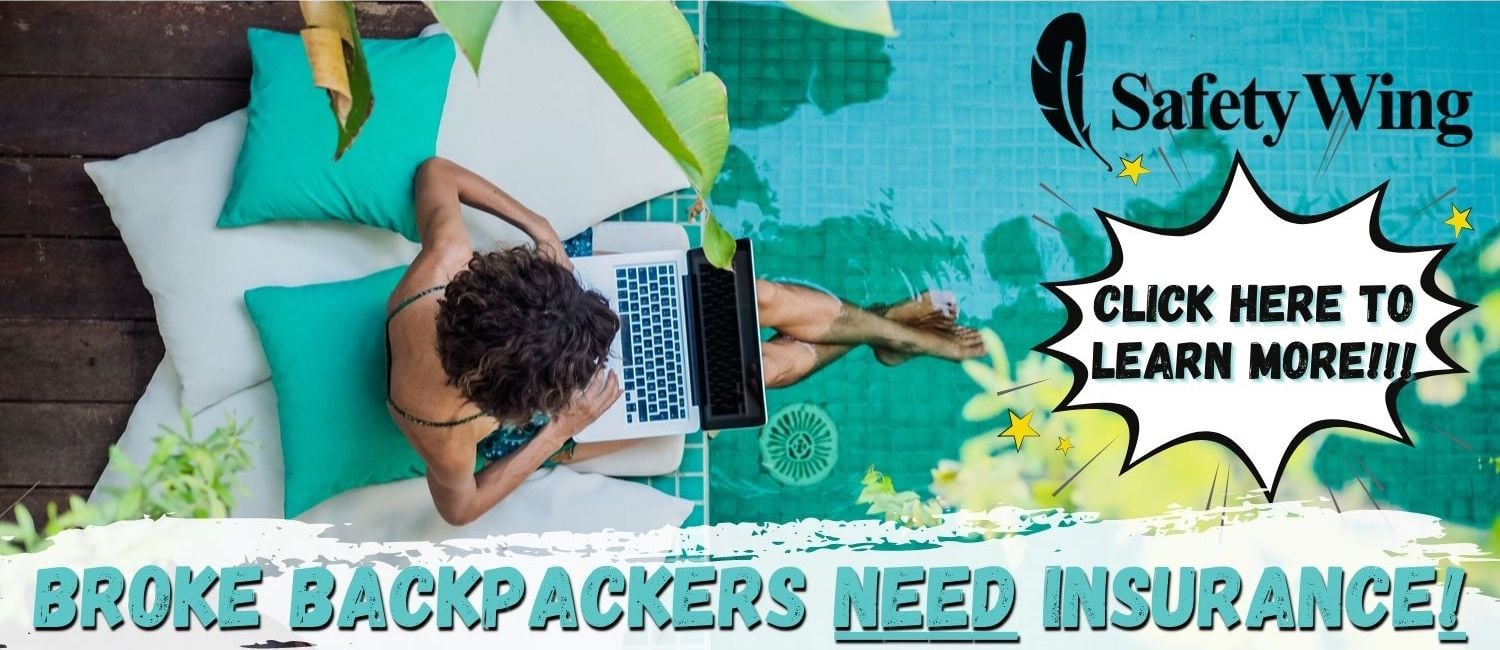 SafetyWing is cheap, easy, and admin-free: just sign up lickety-split so you can get back to it!
Click the button below to learn more about SafetyWing's setup or read our insider review for the full tasty scoop.
Conclusion
We hope you enjoyed our list of the top things to do in Washington DC. As you can tell, there's so much to do, and options everyone will enjoy in this popular, capital city.
History lovers will delight in the massive offering of museums. monuments, and historic buildings. Art lovers will be captivated by the gorgeous galleries, awe-inspiring architecture, and creative street murals sprinkled throughout the city.
No matter your budget, interests, or age, you now have what it takes to craft your Washington DC itinerary!
---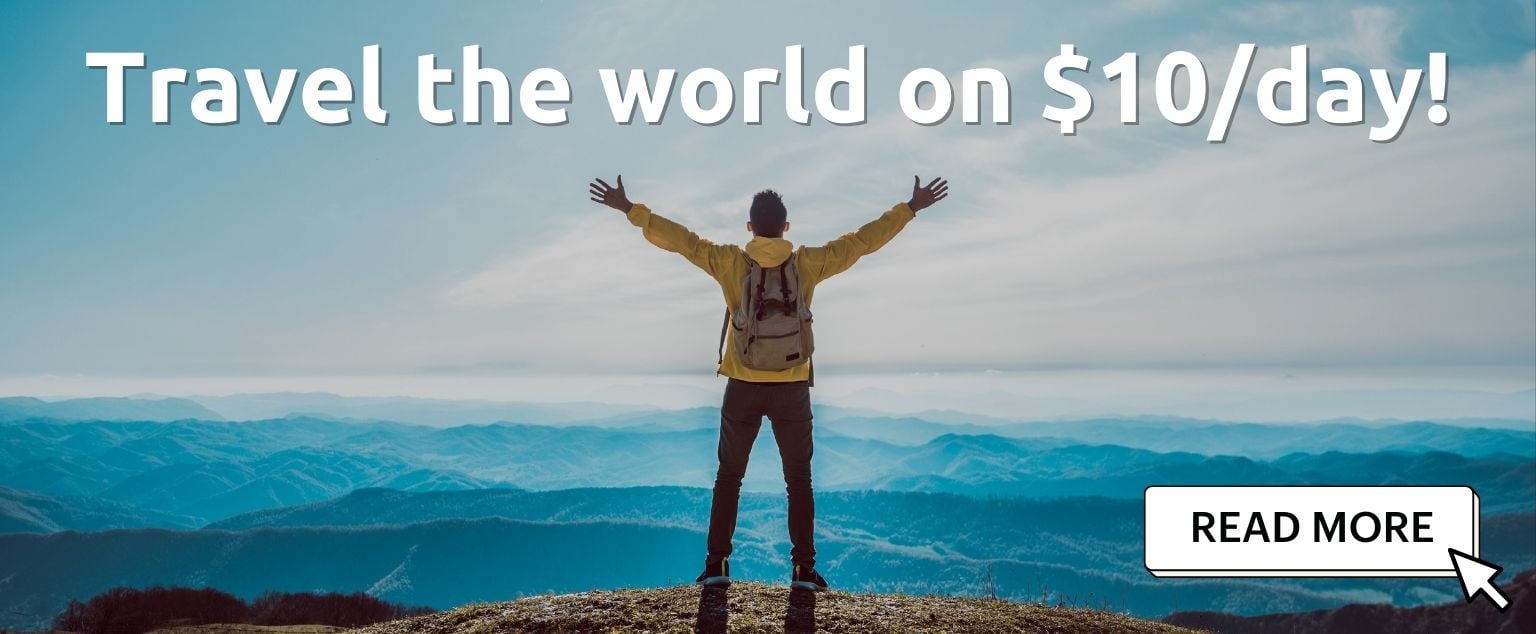 And for transparency's sake, please know that some of the links in our content are affiliate links. That means that if you book your accommodation, buy your gear, or sort your insurance through our link, we earn a small commission (at no extra cost to you). That said, we only link to the gear we trust and never recommend services we don't believe are up to scratch. Again, thank you!