Washington DC is the capital of the United States of America and it's overflowing with art, history, and culture. So it's not surprising that it's one of the most visited tourist destinations!
It's also one of the most beautiful cities in the world. Nestled on the banks of the Potomac River, it offers picturesque scenery, seasonal cherry blossoms, and charming, early American architecture.
The list of things to do in DC is large and long. You could spend days, if not weeks visiting world-class museums, imposing monuments, memorials, and stately art galleries.
If you're looking for the best things to do in Washington DC, we've put together a comprehensive travel guide listing all the best DC attractions. It will help you to easily discover the very best places to visit during your trip to DC!
Top Things to Do in Washington DC
This east coast city offers a long list of entertaining attractions that will keep you occupied during your entire trip. However, with so many options, you might not know where to start. To help you out, here are the best things to do in DC to start off your trip!
Visiting the United States Capitol is one of the top things to do in DC. The building is a symbol of representative democracy. You'll feel the history and power this structure holds as you stand inside it.
The building sits imposing on a hill, dominating the National Mall. It's an impressive example of early American architecture.
The Capitol Building is not open to the general public, to visit this attraction you need to book a tour. All tours are guided and last 90-minutes. They cover the Crypt, the Rotunda, and the National Statuary Hall.
This is one of the best places to see in Washington DC at the start of your trip, as it will provide you with a wonderful introduction to the city!
2. Marvel at the Lincoln Memorial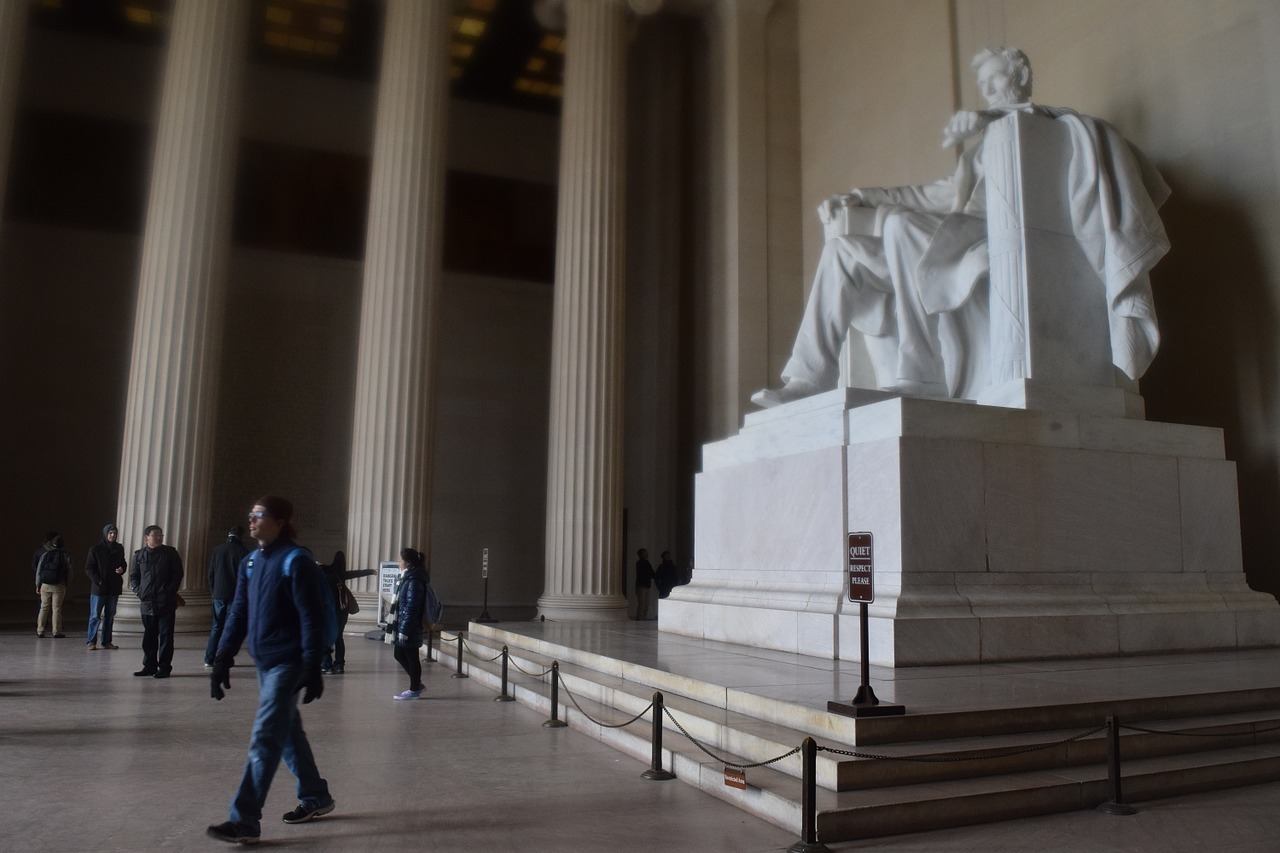 You can't visit Washington D.C and not pay your respects to Abe! The Lincoln Memorial is an iconic monument that pays tribute to America's 16th president, Abraham Lincoln. This powerful 19-foot marble statue of Lincoln overlooks the Reflecting Pool and the National Mall.
It's surrounded by 36 large columns. They represent one state in the U.S. at the time of Lincoln's assassination. Quotes also flank both sides of the seated president.
Lincoln is considered one of the nation's greatest leaders, he fought hard to preserve the nation during the Civil War, from 1861-1865.
This memorial is hands-down one of the most impressive Washington DC attractions, and a must-see during your visit. All monuments in Washington DC are open 24/7 and completely free to visit!
The Smithsonian National Museum of Natural History houses the world's most extensive collection of natural history specimens and human artefacts. There are more within this one building than any other in the world!
A trip to this large institution is one of the most fun things to do in DC. You'll explore the brilliance of the world around you through interactive exhibits and attention-grabbing displays.
Learn about human evolution, see dinosaur remains, and discover ancient fossils. Make sure to check out the butterfly pavilion during your visit. You'll witness butterflies flying all around you! This museum is so large, it could keep you occupied all day.
First Time in Washington DC
Foggy Bottom
Located in the city's West End, Foggy Bottom is our recommendation for where to stay if you're visiting Washington D.C. for the first time.
Places to Visit:
Dine on delicious dishes at Founding Farmers DC

See the imposing and inspiring Lincoln Memorial

Excite your senses at Rasika West End
For a fun way to see the nationals capital, why not rent a bike and see the city from a different perspective.
DC is ranked as one of the most bike-friendly cities in the US. Travel by bike to different museums, cycle along the Potomac River or visit one of the city's bike trails. Bicycle parking can be found all over the city.
Explore Washington DC and all of its great attractions at your own pace. You'll cover way more ground than you would by walking, and get a bit of exercise, too!
The National Gallery of Art is one of the largest museums in North America. This stately gallery houses numerous collections that span different centuries and time periods. It also contains an attached sculpture garden.
Admire paintings, drawings, prints, photographs, and sculptures from the Middle Ages to the present. See the only painting by Leonardo da Vinci in the US. Admire the famous painting of George Washington by Gilbert Stuart and the "Self Portrait" by Vincent Van Gogh.
The building is well-organized and offers several levels of gorgeous artwork!
The Washington Monument is a 554-feet obelisk that commemorates the first President of the United States, George Washington. It represents the honor the United States feels for its most notable Founding Father.
There are many exhibits found inside the monument including fascinating facts about George Washington, the monument and the city of Washington DC. Make sure to take the elevator to the observation deck of the monument for the best sightseeing in Washington DC.
Enjoy an unparalleled vantage point of the city from the world's tallest obelisk monument!
The National Mall is DCs iconic two-mile strip filled with buildings and monuments that represent American history.
A few of these important landmarks include the Jefferson Memorial, the World War II Memorial, the Korean War Veterans Memorial, and many Smithsonian Museums. Many of these landmarks are completely free to enter!
The lawns and pathways in the Mall are well-manicured and offers a great place to relax amongst a gorgeous backdrop. Make sure to wear your most comfortable walking shoes, this is an area you'll want to spend some time exploring!
8. Eat, Drink, and Shop Local in DC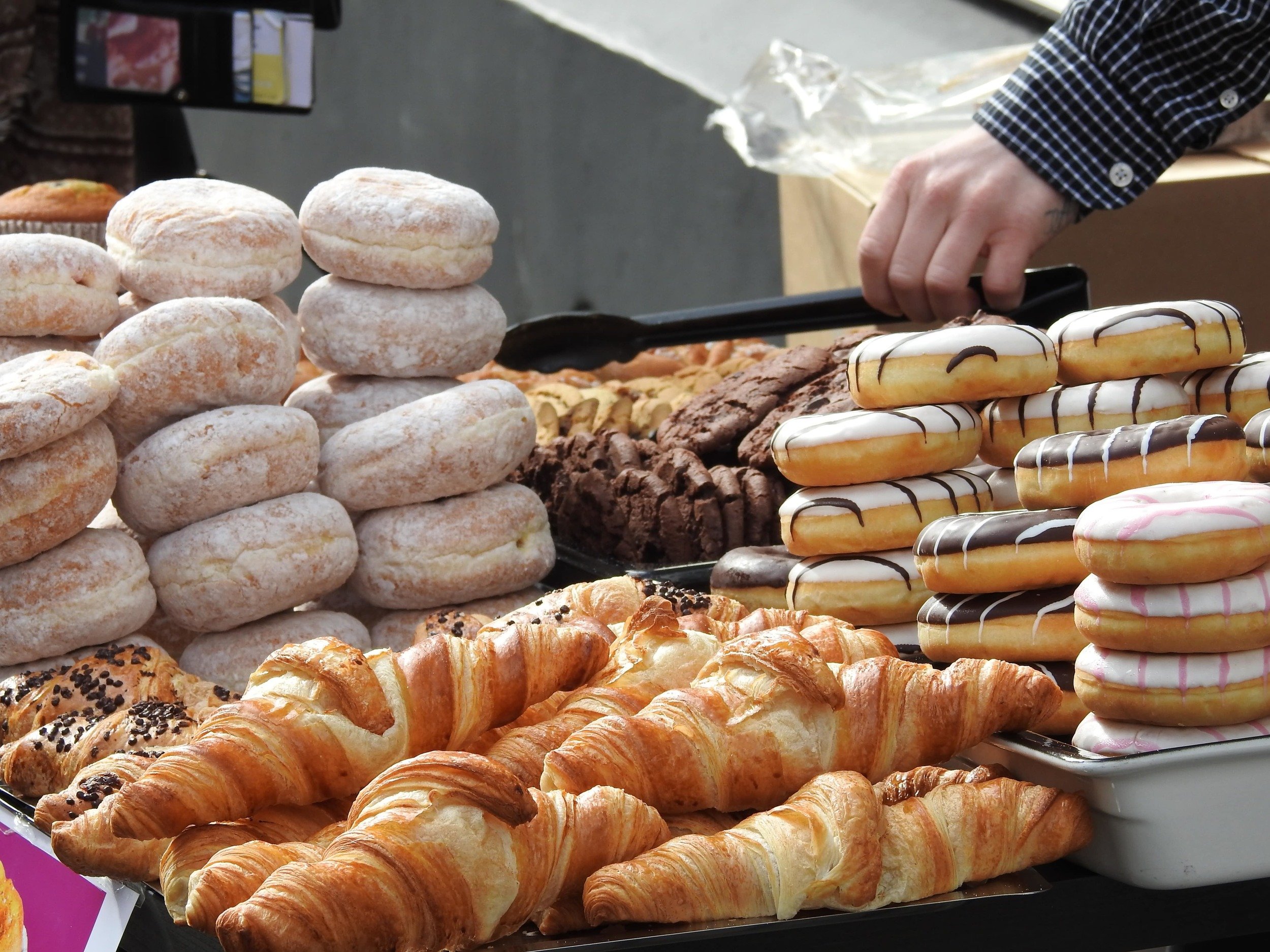 Union Market is the city's buzzing artisanal food and goods market. Over 40 local vendors set up shop offering a range of diverse food items. From international cuisine to the local flavors of DC. It's also home to local entrepreneurs, who offer unique Washington keepsakes.
It's a great place to socialize with friends or family and enjoy a meal or drink. The market is open for long hours every day. Stop in for breakfast, lunch, or dinner.
Many exciting events are also hosted at the market, including live music, movie nights, and cooking demonstrations.
Newseum is a museum in DC dedicated to the history of journalism. It's an interactive space that addresses free expression. It also documents the history of news reporting from the 16th century to modern-day.
Trace the development of communication, explore the FBI's role in fighting terrorism, and see the first pamphlet printing of the United States Constitution!
The seven-level museum also features fifteen theatres and fifteen galleries. Make sure to check out the balcony area. This is one of the best viewing spots to see the US Capitol Building.
10. Visit a Very Important House
The White House is hands-down one of the most historic and important sites in the U.S. It's been the official residence and workplace of nearly every president of the United States. It was constructed in the late 18th century and is a magnificently grand sight to behold.
The only way to access the White House is by tour, but you will need to apply for a ticket as far in advance as possible. If you're not able to reserve a tour during your visit, the building is visible from the street and is perfect for a classic DC photo-opt.
Seeing the White House is one of the top things to see in Washington DC.
The Best Travel Backpack?!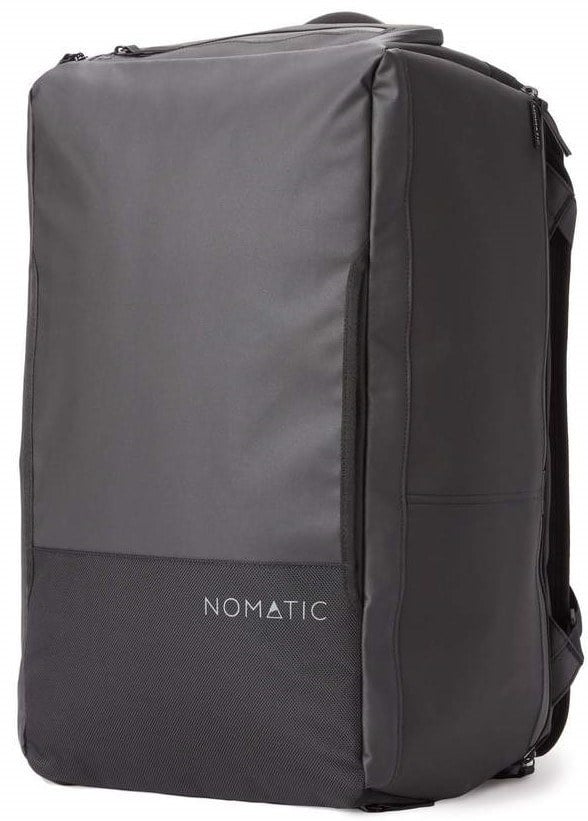 Pssssst! Not picked the perfect travel backpack yet? The Broke Backpacker team has tried out over thirty backpacks this year! Our favourite carry on backpack is the Nomatic Travel Bag.
Read our full review!
Unusual Things to Do in Washington DC
Sure, popular attractions are great, but while you're visiting, why not check out some of the city's unusual attractions? Here are a few ways to explore the unique side of Washington DC tourism!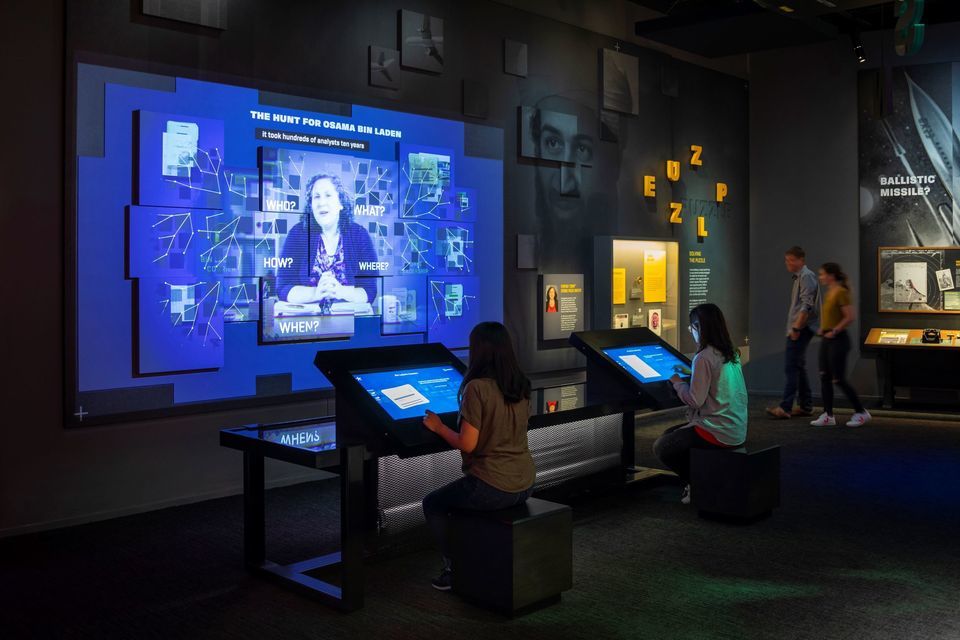 The International Spy Museum is one of the most unique places to visit in Washington DC!
It houses the most comprehensive collection of international espionage artefacts displayed anywhere in the world. Including real spy artefacts, like an original spy-car used in a James Bond movie, and a letter from George Washington addressing his spy network!
Visitors will learn about the vital role spy intelligence has played in the past, as well as the contemporary role of espionage. You'll also be able to test your spy skills through state-of-the-art, hands-on exhibits.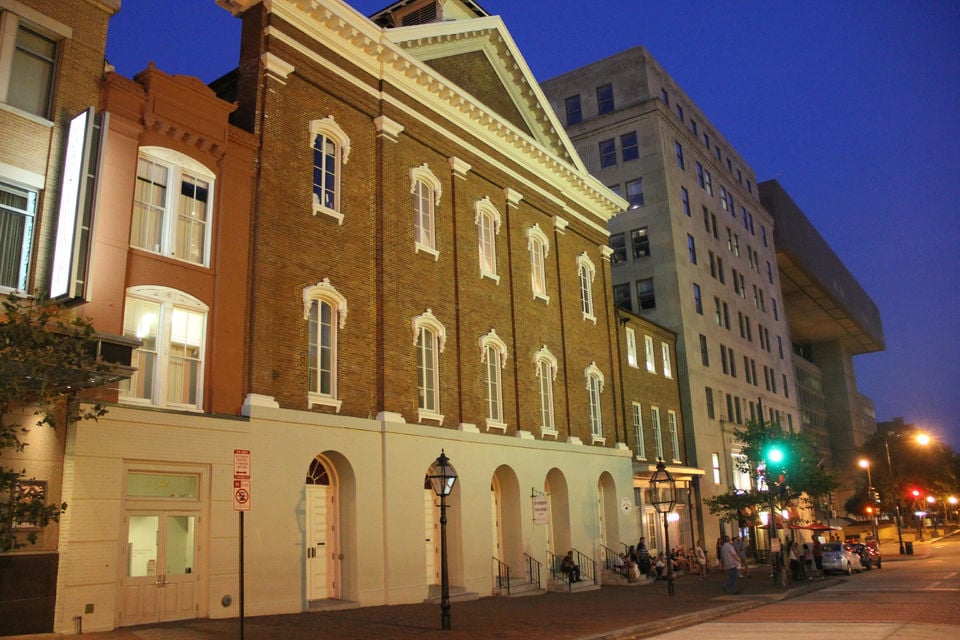 Abraham Lincoln was one of the United State's greatest leaders. He met an untimely death on April 14, 1865, when he was assassinated while watching a performance at Ford's Theater.
This infamous theatre still operates and is one of the most interesting places to visit in DC. Inside, you'll find a small museum with exhibits and artefacts related to the assassination, including the gun that was used to kill the President! Performances also still run regularly.
Make sure to check out the Peterson House right across the street from Ford's Theater. This is where Lincoln was taken after he was shot, and the room he died in. Visiting these sites will make for quite a unique learning experience!
13. Visit an Island in DC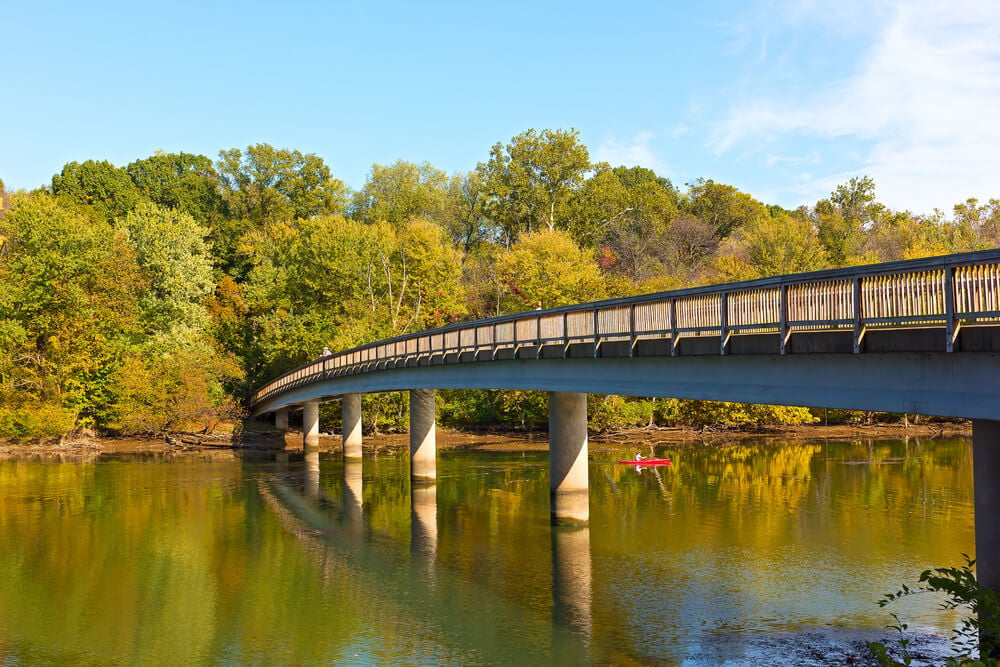 Theodore Roosevelt Island is a beautiful small island located in the Potomac River. It spans 88 acres and is both an island and a national memorial dedicated to the 26th President of the United States, Theodore Roosevelt.
It's great for a quick escape from the hustle and bustle of DC. You'll find various walking and hiking trails offering plenty of wildlife viewing. Another fun way to see the island is on the water. Kayak and canoe rentals can be found along the shores of DC.
Safety in Washington DC
Overall, Washington DC is a safe city to visit. Nevertheless, as with any big city, there are certain precautions you'll want to take.
Pickpocket-related crimes can occur, as DC is a very busy city. Stay vigilant, especially in touristy areas and on public transportation.
There are certain neighborhoods in DC that aren't considered safe. The top three are Brentwood, Deanwood, and Anacostia. However, these areas are far away from the touristy areas and attractions.
At night, stick to popular neighborhoods for going out. Dupont Circle, Adams Morgan, Foggy Bottom, and Georgetown area great areas for nightlife and are considered safe.
Read our tips for traveling safely before you fly and always get travel insurance. Check out our roundup of the best travel insurance.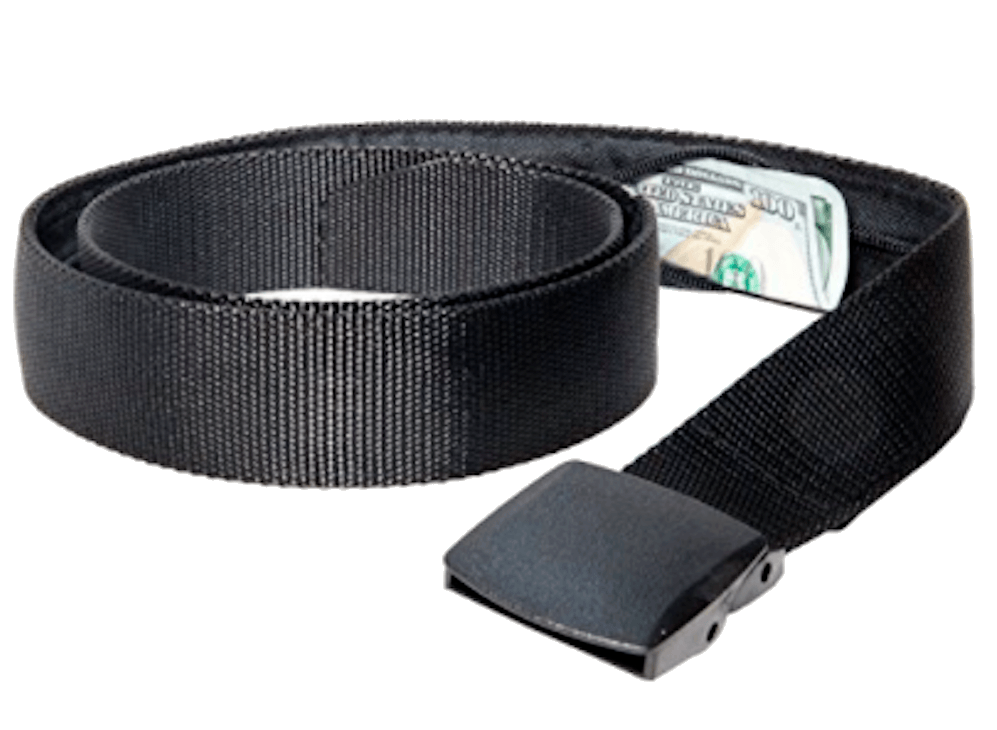 You should always have emergency cash hidden on you - pick up this awesome security belt with its hidden pocket before you travel, it's perfect for hiding money, a passport photocopy.
Things to Do in Washington DC at Night
Looking for entertainment options after the sun sets? Here are some great attractions in Washington DC to check out at night.
The Potomac River is the city's peaceful waterway. If you're looking for fun things to do in Washington DC at night, take an evening cruise and see the city from a different perspective.
Admire the sights of Washington DC from the water and enjoy a social evening onboard a mighty vessel. There are many cruise companies that provide boat trips that include great perks, including meals, music, and drinks.
Cap off your day exploring DC with a relaxing cruise on this beautiful and historic American river.
15. Experience the Eclectic Nightlife of Dupont Circle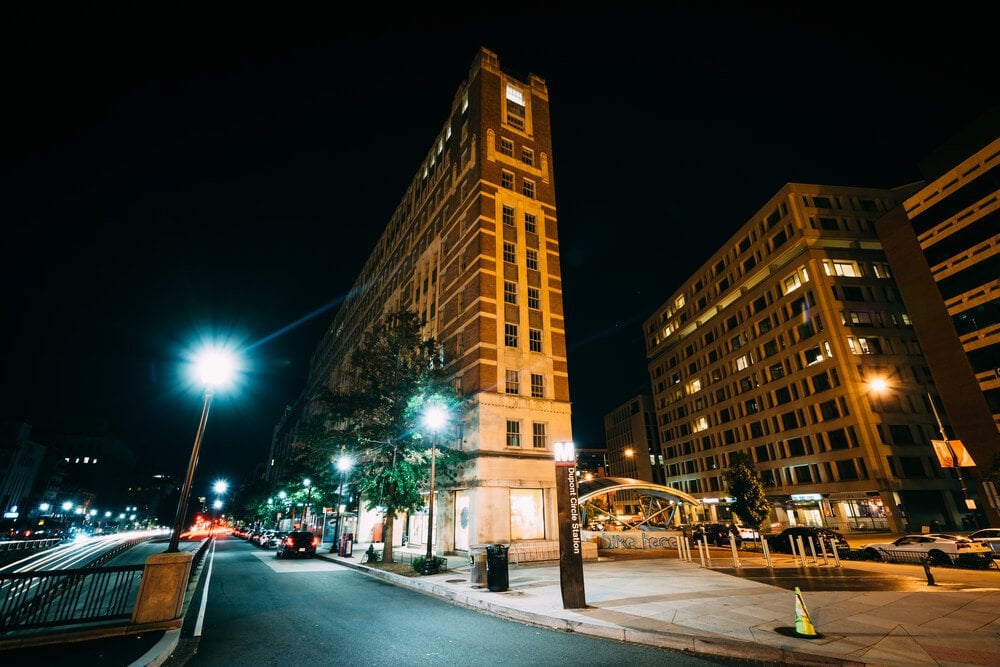 Dupont Circle is one of DCs best neighborhoods for going out. Whether you're looking for a casual restaurant to socialize with friends, a local dive bar, or a lively dance club, you'll find it here.
The eclectic range of options making it a great place for all ages and interests. For a unique experience, visit the Madhatter, which is an Alice and Wonderland themed restaurant that turns into a dance club at night.
For something more casual, visit the Eighteenth Street Lounge for cocktails and candlelight.
16. See a Performance at a Legendary Landmark
The Howard Theater first opened its doors for entertainment in 1910. Originally, it was built for performers of color during the time of American segregation. Many music legends have performed at this theatre, including Duke Ellington and Billie Holiday.
Today, it's a jewel of the city's nighttime entertainment scene. Enjoy a magical evening seeing a top-notch performance. The venue has been renovated and returned to its old school state, with sweeping balcony seating and amazing acoustics.
Where to Stay in Washington D.C.
Looking for a specific place to stay? Since there are so many neighborhoods in Washington DC, it can be a bit overwhelming to find the right one for you. These are our highest recommendations for places to stay in Washington D.C.
Best Hostel in Washington: Duo Circle DC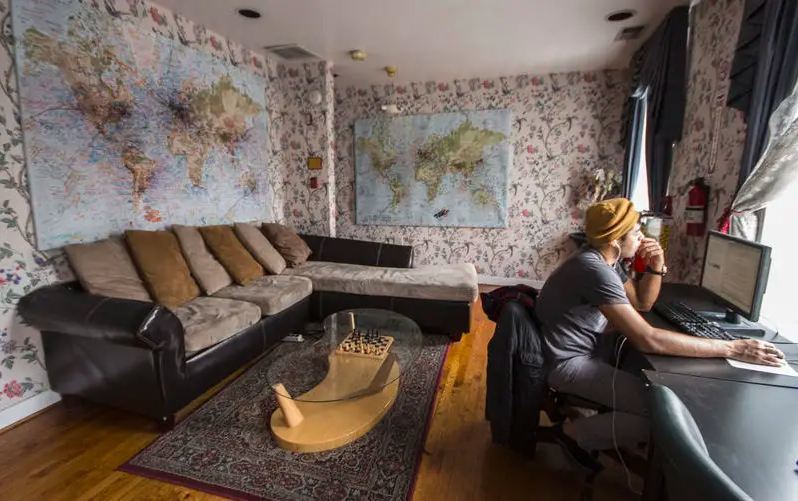 A friendly staff, a home-like atmosphere and brand new everything – it is no wonder this is our pick for the best hostel in Washington D.C. At the heart of the neighbourhood, this property is close to landmarks, sightseeing and great restaurants and bars. It has free internet and spacious sleeping quarters.
The River Inn-A Modus Hotel is a charming and elegant four-star property. It has a fitness centre, free bike rental, and a friendly staff. There is also a popular on-site restaurant and a stylish lounge bar. All this combined makes it our pick for the best hotel in Washington D.C.
View on Booking.com View on HotelsCombined
Romantic Things to Do in Washington DC
Are you planning a trip with your significant other and trying to decide what to do in Washington DC? Here are two great activities that are perfect for couples!
17. Visit the City's Enchanting Botanical Gardens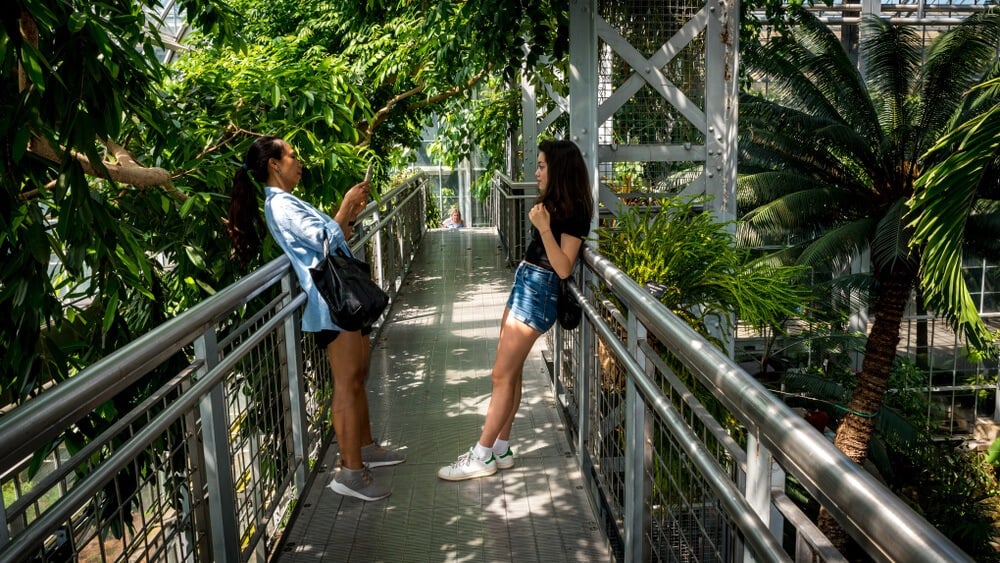 The United States Botanic Garden in DC houses beautiful plant species from around the world.
There are several different sections, each dedicated to different environments. Many plants have descriptions next to them stating fun facts and information about their uses. The medicinal plant section is particularly interesting.
Everything is beautifully presented and maintained. The gardens provide a quiet space and are a great reprieve from the busy DC lifestyle. Not to mention, they're free to visit!
The gardens are conveniently located adjacent to the Capitol Building, on the south side of the National Mall.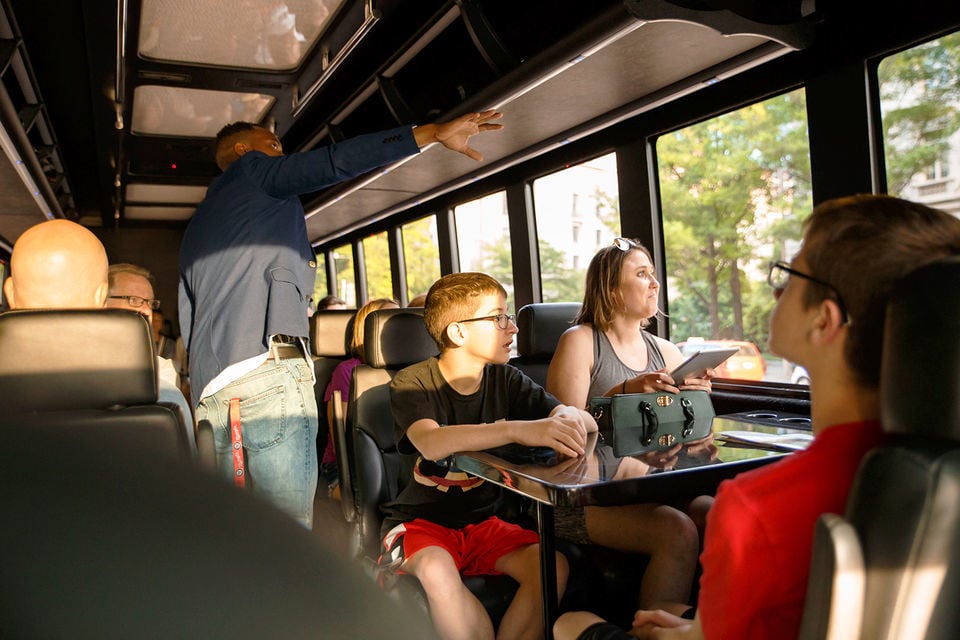 The Tidal Basin is a man-made reservoir that sits between the Potomac River and the Washington Channel.
Most of the year, this area stays quiet. The exception is in spring when the cherry blossoms bloom. The annual Washington DC Cherry Blossom Festival is held in this area and attracts a large crowd.
If you're visiting outside of spring, it's a great best place to visit if you're seeking solitude. For this reason, couples especially will appreciate this beautiful and relaxing area of DC.
Always Be Insured
Don't forget to sort your travel insurance! We've put together a roundup of the best travel insurance for backpackers, or if you're low on time, get a quote from World Nomads now, our favorite travel insurance provider.
Best Free Things to Do in Washington DC
Looking for activities that won't break the bank? Here are some Washington DC tourist attractions that are completely free!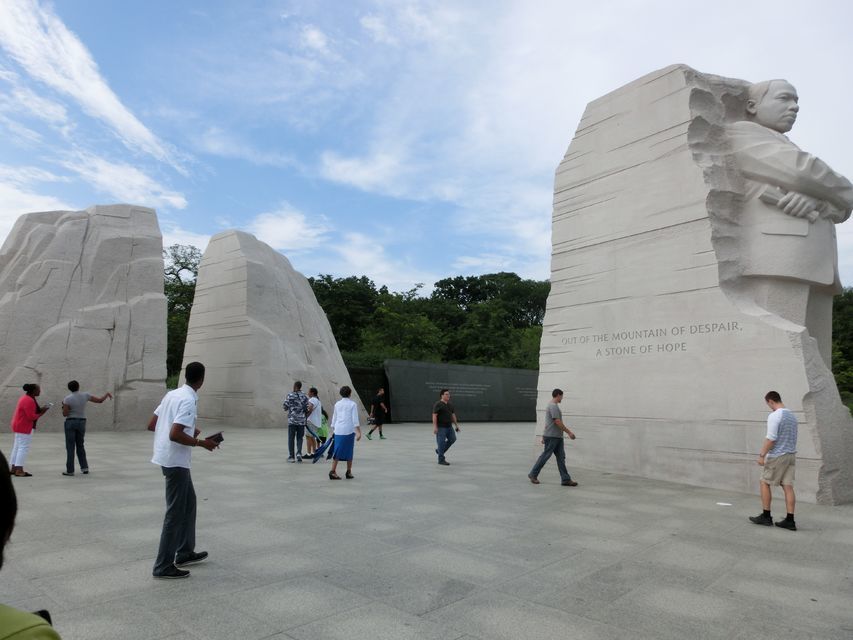 The Martin King Luther Jr. Monument is one of the city's newest monuments. Martin Luther King Jr. was one of the United States' greatest champions for civil rights. This 30-foot tall statue commemorates a great man and the significant influence he had on US history.
This imposing statue is beautifully decorated. It's filled with inspirational, and powerful quotes There are benches beside the monument that looks out onto the Potomac River and offer a nice, peaceful view.
20. Experience the Energy of the Eastern Market
The Eastern Market has served the DC community for over 136 years. It's a large indoor and outdoor gathering place that offers food, drinks, crafts, unique gifts, music, and more!
Discover the local zest of DC while perusing the stands. Pick up a unique keepsake, indulge in a tasty meal, and enjoy the social atmosphere of DC.
The market is open every day except for Mondays, but it really picks up on the weekend. This is when part of the street is shut down to allow for even more vendors. If you're looking for things to do in DC this weekend, this market is not to be missed!
21. See America's Largest Church
The Basilica of the National Shrine of the Immaculate Conception is the largest Catholic church in North America and one of the ten largest churches in the world. Construction for the church began in 1920, and it wasn't completed until 2017.
The basilica houses 81 chapels and has a capacity for 10,000. Whether you're religious or not, there's no denying the magnificent architecture grand scale of this imposing building. Admire the colorful mosaics, sparkling stained glass windows, and religious artwork.
Admission to the church is free, and free tours are also offered daily.
Washington DC Packing List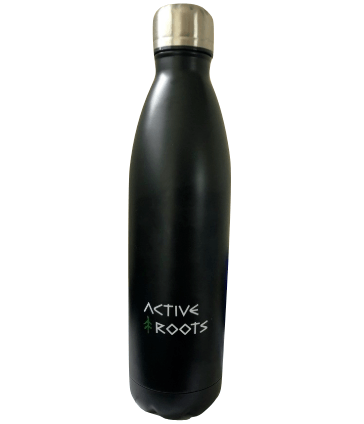 1. Travel Water Bottle: Always travel with a water bottle – it'll save you money and reduce your plastic footprint on our planet. AR bottle are tough, lightweight and maintain the temperature of your beverage – so you can enjoy a cold red bull, or a hot coffee, no matter where you are. For every AR bottle sold, we donate 10% to PlasticOceans.org – an initiative to reduce plastic in our oceans!
2. Microfibre Towel: It's always worth packing a proper towel. Hostel towels are scummy and take forever to dry. Microfibre towels dry quickly, are compact, lightweight and can be used as a blanket or yoga mat if need be.
3. Security Belt with Hidden Pocket: I never hit the road without my security belt. This is a regular looking belt with a concealed pocket on the inside – you can hide up to twenty notes inside and wear it through airport scanners without it setting them off. This is hands down the best way to hide your cash.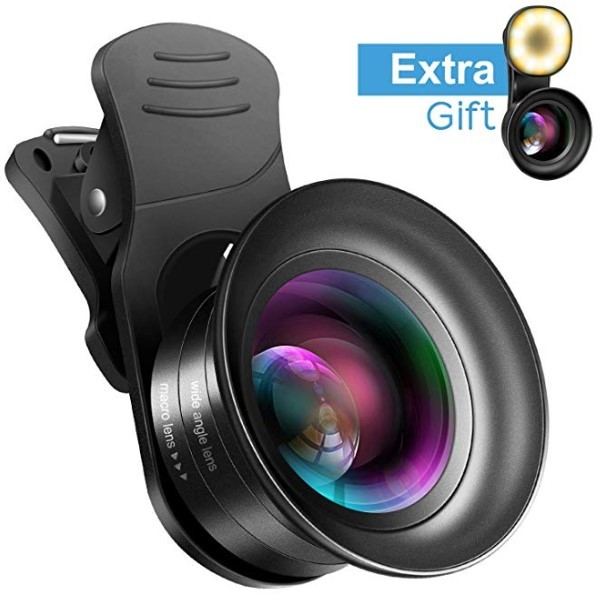 4. Camera or Cell Phone Camera Accessories: One thing's for sure – Washington DC is a picturesque destination! Get perfect shots from your phone using clip-on-lenses with wide-angle, close-up and optical zoom. With the ability to turn travel pictures from basic to professional, this universal lens sits neatly over any phone camera and comes with a durable, travel-friendly case!
5. International Adapter: Washington DC outlets accommodate typical US two-pronged plugs, but for electronics that have three prongs or if your plugs are of a different variety, you'll need an adapter. Save yourself the hassle of trying to track down an adapter at your destination and paying twice as much than planning ahead by buying one online.
Books to Read in Washington DC
The Backpacker Bible – Get it for free! Learn how to ditch your desk and travel the world on just $10 a day whilst building a life of long-term travel with an online income. To inspire and help the next generation of Broke Backpackers, you can now grab 'How to Travel the World on $10 a Day' for free! Get your copy here.
Lost in the City– A monumental collection of short stories about the African-American community in Washington DC. Explores its rise, fall, struggle, and abjection in American history.
Empire of Mud – Before it was the shining City Upon a Hill for the USA, DC was once one the grimiest and most unattractive capitals in the world. This book explores its filthy and utterly fascinating upbringings.
All the President's Men – Arguably the greatest piece of investigative journalism in modern history. The original nonfiction that exposed the Watergate Scandal and brought down a presidency.
Things to Do with Kids in Washington DC
Looking for ideas on what to do in DC with kids? Check out these two child-friendly activities for some family fun!
22. Learn and Discover at the Zoo
The Smithsonian National Zoological Park is one of the oldest zoos in the US. Take your kids here to see all their favorite animals. These include giant pandas, elephants, primates, bison, lions, and so much more!
At the Kids' Farm, children can meet barn animals, like cows, goats, chickens, and donkeys. During the daily animal demonstrations, the friendly staff at the zoo will keep you entertained with fun-filled facts about the animals.
Make sure to check out the Me and the Bee Playground and let your kids run around on a pollinator-themed playground. If you're visiting on a hot day, the seasonal tide pool will provide a cool reprieve.
The best part about visiting this zoo is that it's completely free! Since it's part of the Smithsonian Institution, it does not charge an admission fee!
23. Root for the Nats!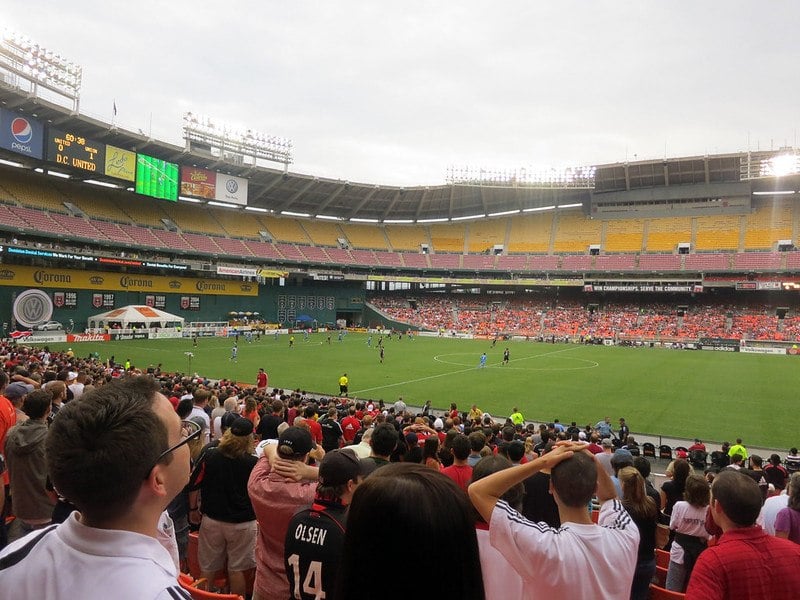 For a fun, family-friendly activity, partake in an American pastime and root on the Washington Nationals.
If you're visiting DC when there's a home game, experience the electric energy of game day. This event always has a high turn out of locals, who are passionate supporters of their beloved baseball team!
The stadium is very kid-friendly. At the PenFed kid's fun zone, your little ones can burn off some energy on the play structures. The ballpark also offers a great variety of food and drink options at the concessions.
Nationals Park is the home ballpark for this DC sports team. An added bonus is that the area is conveniently serviced by the DC metro.
Other Things to Do in Washington DC
Looking for even more inspiration on what to see in Washington DC? Here are eight more attractions and things to do!
Arlington National Cemetery is a military cemetery that houses the graves of honorable American citizens. It's a peaceful area where the air is filled with a heavy sense of respect for the brave men and women who served their country.
The cemetery covers an extensive area. A few important gravesites include former US Presidents John F. Kennedy and William Howard Taft. At the top of every hour, there is a changing of the guard ceremony.
Arlington National Cemetery is located. in Arlington County, Virginia, just across the Potomac River from D.C. This area is easily accessible by DC public transportation and is free to visit!
25. Learn About an Early African-American Leader
Frederick Douglass was a black American who was born into slavery in 1818. He was a leading voice in the early abolitionist movement and dedicated his life to fighting for equality.
Visit The Frederick Douglass National Historic Site and learn about this prominent American leader. This area contains the original house the Douglas lived in for the last 17 years of his life – which he named Cedar Hill.
It has been restored to its 1895 appearance and contains original objects that belonged to Frederick Douglass.
26. Lounge Around at Lafayette Square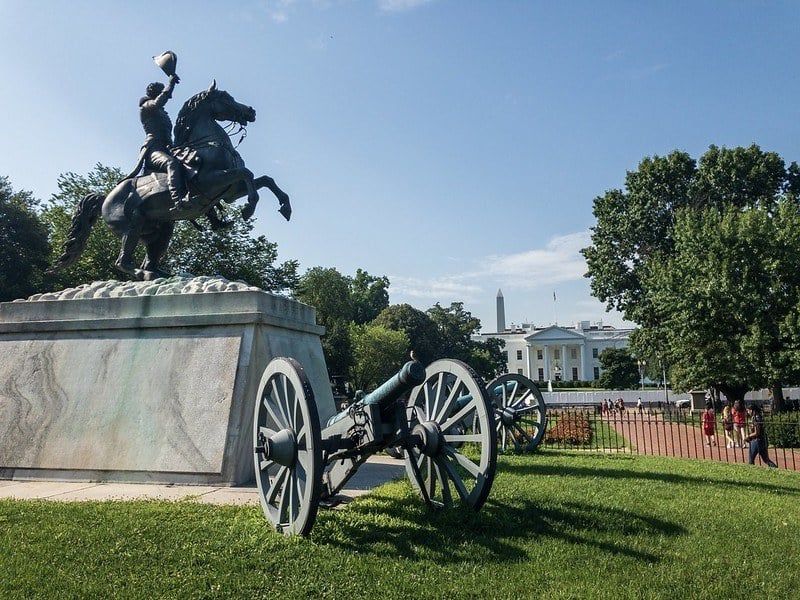 Lafayette Square, also known as Lafayette Park, is a seven-acre public park. This area sits right across from the White House and offers the best views of Washington's most famous home.
The park contains five statues. One is of President Andrew Jackson, which sits in the center. The other four are places in the corners of the park and honor foreign Revolutionary War heroes.
It's a great area to relax amongst the hustle and bustle of the city. Pack and picnic and lounge on the lawn, see the stately statues of war heroes, and snap the best shots of the White House!
The Library of Congress is the world's largest library. It serves the United States Congress and is also open to the public. This amazing building is filled floor to ceiling with an impressive and comprehensive array of documents, books, and exhibits. This includes research materials from all over the world.
There is also a small museum within the library with a number of very interesting exhibits, including Women's Voting and the history of Baseball. The architecture is also enough to fall in love with. The building is extremely ornate and awe-inspiring!
If you're touring the US Capitol Building, you can easily visit the Library of Congress through the tunnel that connects the two buildings.
The U Street Neighborhood is a foodie hotspot in DC that offers a great range of tasty and affordable eateries. Here are two places that should be on your food bucket list when you're visiting Washington DC.
Ben's Chili Bowl is a landmark restaurant in DC. It's not only a local favorite, but it's also a favorite of former U.S. President Barack Obama. Order the traditional DC half-smoke: a grilled sausage served on a steamed bun, smothered in Ben's homemade chili and topped with mustard and onions.
This area is also well-known for its local Ethiopian eateries. Dukem Ethiopian Restaurant is one of the most popular. It's the perfect place to go if you enjoy spicy and robust flavors!
29. See Famous American Faces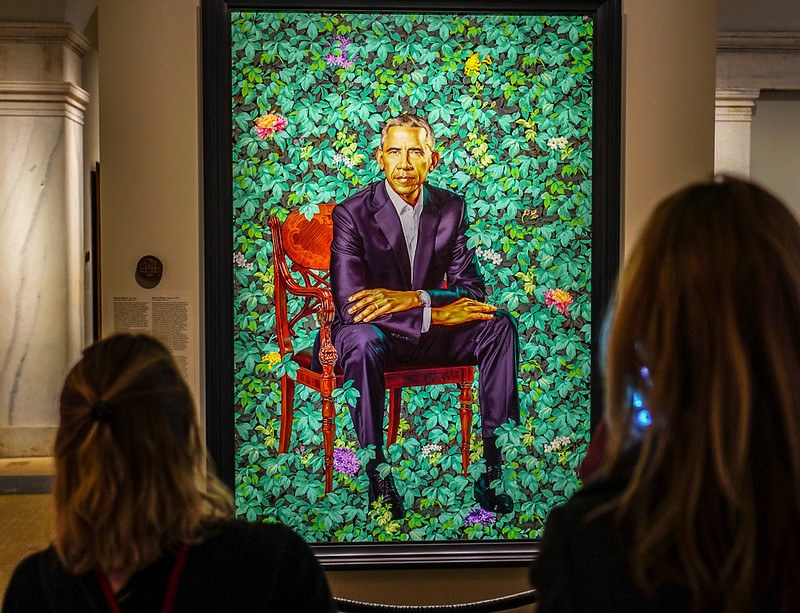 The National Portrait Gallery is an institution filled with the faces of Americans who have shaped the country. These include presidents, poets, scientists, actors, activists, and so much more!
Come face-to-face with some of the nation's greatest influencers, from pre-colonial times to modern-day.
Make sure to check out the Hall of Presidents when you visit. This area contains portraits of nearly all US presidents. There are also several portraits of First Ladies.
The gallery is open every day, and entrance is free!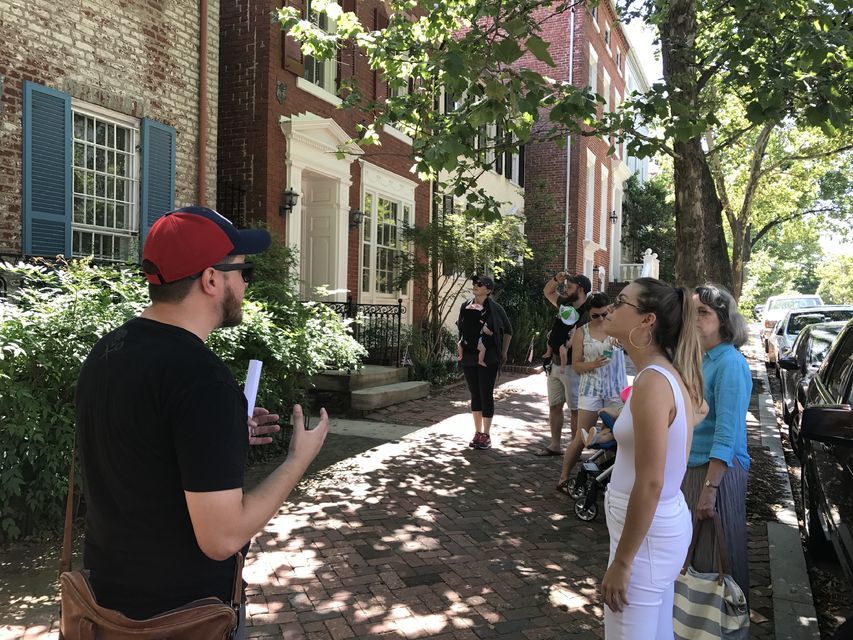 The Georgetown neighborhood of DC is one of the city's most charming areas. It's characterized by elegant Federal-style buildings, cobblestone streets, and a historic canal that runs through the neighborhood.
It's one of the most popular DC neighborhoods for shopping, dining, and nightlife. Most of the shops are centered along M Street and Wisconsin Avenue. They range from local boutiques to high-end fashion and design stores.
As far as dining options go, you'll find many of the city's upmarket restaurants in this area. Dine at an elegant waterfront seafood spot, a traditional tavern, or an intimate lounge with live music.
Lastly, the Georgetown Waterfront Park is not to be missed. It stretches along the banks of the Potomac River and offers romantic waterfront views.
31. Enjoy a Magical Evening With an Enchanting Performance
The John F. Kennedy Center for the Performing Arts is one of the best places in the city to see a show. The venue hosts opera, ballet, concerts, plays, comedy and anything else relevant to the arts.
Everything about the performances given is guaranteed to be top-notch. The building is gorgeous, the acoustics are amazing, the stage is large, and the performers are highly-skilled.
The venue also contains a roof terrace restaurant, a cafe, and a bar. Performances are given almost every day of the week. For an entertaining event, this is a must-do in DC!
Day Trips from Washington DC
Day trips from Washington DC are a great way to explore other areas around DC. These trips are a great addition to your Washington DC itinerary, and there are lots of options to choose from!
Day Trip to Monticello, Thomas Jefferson's Estate
On this eleven and a half hour tour, you'll travel in comfort on a Gray Line bus from DC to Thomas Jefferson's beautiful Monticello Estate. Tour the home and final resting place of America's third U.S. President. Learn the fascinating history of one of America's Founding Fathers in a fun and interactive way!
Walk around the grounds of Monticello and experience the estate as Jefferson would have. Visit the University of Virginia and enjoy an interactive exhibit at the Smith Educational Center.
Your tour guide will provide context throughout your trip into the life of this legendary man. This day trip is a great addition to any Washington DC itinerary!
Day Trip to Gettysburg from Washington DC
On this eleven and a half hour day-trip, you'll visit the location of the Civil War Battle of Gettysburg. History will come alive as you tour this famous American battleground.
Travel the scenic countryside as you journey from DC to Gettysburg. Your tour will include an informational video, admission to the Shriver House Museum, and a tour guide to offer commentary throughout your journey.
Visit Cemetery Ridge, the place Abraham Lincoln delivered his famous Gettysburg Address. Spend two-hours driving around the battlefield with a guide to narrate your journey. You'll be able to get off at key landmarks around the battlefield.
Travel back in time to one of America's most decisive battles. History-lovers especially will love this addition to their Washington DC trip itinerary!
Washington DC to Philadelphia Day Trip by Rail
On this eighteen-hour tour, you'll see more of the United States' most historic sites! Your train will Depart Washington DC nice and early, so you'll have plenty of time to explore Philadelphia!
In just under two hours, you'll reach Philadelphia and be greeted with a day full of activities! Join a hop-on-hop-off tour and access all the city's points of interests. Visit Independence Hall, the Liberty Bell, museums, and more!
This trip includes a two-course lunch at the Hard Rock Cafe with priority seating. A great addition to your DC itinerary!
3 Day Itinerary in Washington DC
The following is a sample 3-day itinerary for a weekend in Washington DC. Most of the top destinations mentioned in our Washington DC travel guide are covered in this section.
Day 1 – National Mall
The first day of our Washington DC travel guide is going to be a long one, folks. Today, we're going to knock out all of DC's biggest attractions around the National Mall, including the Lincoln Memorial, Capitol Hill, Washington Memorial, and a whole lot more.
Make no mistake, we're going to see a lot today and there's a good chance that we won't see everything.
We're going to be spending the near entirety of the day around the National Mall. This enormous green space is like an exhibition in itself for Washington DC's greatest sights. It is a very busy place – receiving over 24 million visitors per year – but this makes perfect sense considering the significance of the park.
Let's start at the east end of the Mall at the US Capitol Building. This is where the House of Representatives and Senate hangs out. The building itself is most recognizable by its large dome. Nearby is the Library of Congress and the Supreme Court.
Walking down the steps, we hit the trails and start our journey to the other end of the Mall. Over the course of 2 miles, we'll pass by some of the most important museums in the entire USA.
The likes of the Smithsonian, National Gallery of Art, and the African American Museum of Art and Culture, among many, many others, line both sides of the park.
Further down is the prominent Washington Monument. Nearby is the iconic Reflection Pond and a wonderful monument to Martin Luther King.
At the western terminus of the Mall is the Lincoln Memorial, which arguably the most hallowed building in the city. Sheltered by a neoclassical temple is a regal statue of the man himself. Take a moment to appreciate this place and the person it commemorates.
Do what you can today; I know there are a lot of attractions to see on day one in Washington DC. Tomorrow will be a bit more laidback.
Day 2 – Georgetown
On the second day of this travel guide for Washington DC, we head to the affluent Georgetown neighborhood. While many scoff at this area for being snobbish or pretentious (it kind of is), there are still lots of cool spots here to check out.
If you wake up early, then consider starting your day a bit north of Georgetown at the Washington National Cathedral. This location is not often on the tourist trail, which is a shame. Aside from being just gorgeous, it also has a lot of little cheeky features, like a stained-glass window of space and a gargoyle resembling Darth Vader.
Whether you visit the Cathedral or not, head to Embassy Row next. As the name implies, this street hosts the majority of foreign governments.
Often times, these embassies open their doors to tourists for the sake of promoting their cultures. There are often street parties, tastings, and banquets held here.
As we move on from Embassy Row, we enter into Georgetown proper. First place you'll pass by is Dumbarton Oaks – an opulent estate and one of the best places to see cherry blossoms in the spring.
Hang a right to visit Georgetown University. This is one of the most prestigious and most beautiful colleges in the entire United States. Much of the campus was built in Gothic style and is a stark contrast to the dominant neoclassicism back in DC. Healy Hall is the university's centerpiece and is an absolute treat for the eyes.
Film buffs should be sure to look for the "Exorcist Steps," located not too far from the University. These steps provided the scene for the final shots of the iconic movie.
Day 3: Free day in Washington DC
Not gonna lie – there is a shit ton of fun things to do in Washington DC; this DC travel guide has barely skimmed the surface of them. So for our final leg of the city, we're going to let y'all roam free!
There are lots of points of interest in Washington DC that deserve to be visited. The odds of someone seeing all of them in only 3 days is extremely unlikely, but, if you use your time wisely, you'll see enough.
Here are a couple of ways you can spend your last day touring Washington DC.
Tidal Basin and the Potomac – Go for a walk around the languid Tidal Basin and stop by the Jefferson Memorial, the latter of which was designed after my favorite Roman building. If you're here in spring, you will be treated to amazing cherry blossom displays. Following the river east, you'll get see the renovated Wharf District and maybe even make it to The Yards. Across the Potomac is the Arlington Cemetery.
North DC – The best bars and restaurants in Washington DC are located in the northern parts of the city! Adams Morgan and The Shaw are famous by now for their clubs and pubs (politicians party hard). Further north is Columbia Heights, one of the last bastions of old-school DC. Check it out before it's lost to gentrification.
East DC – Like Columbia Heights, the Near Northeast and H Street Corridor are two neighborhoods holding onto their roots, just barely though. These districts will soon go the way of Williamsburg and SoMa so get here before the yuppies take over! Beyond these is the National Arboretum and Aquatic Gardens – both are great places to chill.
Downtown – Ford's Theater, the National Portrait Gallery, National Archives, the fuckin' White House; we didn't get to these on day 1. If you're keen, see them now before you leave tomorrow.
Conclusion
We hope you enjoyed our list of the top things to do in Washington DC. As you can tell, there's so much to do, and options everyone will enjoy in this popular, capital city.
History lovers will delight in the massive offering of museums. monuments, and historic buildings. Art lovers will be captivated by the gorgeous galleries, awe-inspiring architecture, and creative street murals sprinkled throughout the city.
No matter your budget, interests or age, with this guide, you'll easily hit all the hallmarks of this beautiful city!
Yay for transparency! Some of the links in this post are affiliate links. This means that if you book your accommodation, buy a book or sort your insurance, I'll earn a small commission at no extra cost to you. I only link to stuff I've actually used and never endorse crap. Your support helps me keep the site going.
---
Need More Inspiration?