If you want to explore America's past and sample some of its splendor, then you can't go wrong with an East Coast road trip!
On the East Coast, you'll discover some of the most significant historical sites in the entire nation, not to mention a huge array of landscapes and an even greater diversity of people. While the West Coast gets most of the attention for its weather, natural beauty, and upbeat residents, the East Coast is usually considered the foundation of the nation.
But planning a road trip alongside the Atlantic Ocean can be stressful. With so many states and so many places to stop, it can be hard to know what NOT to miss and what you'd be better off skipping.
And that's exactly why I wrote this East Coast Road Trip insider guide: so YOU know exactly what to do and where to stay along the USA's Eastern Seaboard.  We'll cover a wide range of topics over the course of this article including some East Coast road trip itineraries, food, lodgings, and sticking to a budget during your vehicular adventure.
Now without further ado, here's everything you need to know to have an EPIC East Coast Road Trip!
A note on the format of this guide: Because the East Coast is massive and we have already written separate guides on New England, New York City, and Florida, this article will often refer you to other sources too. In order to best understand the East Coast, it's very advisable to read these separate articles alongside this guide.
It's hard to say how much the average cost of a road trip up the East Coast will be because there are so many routes one could take, not to mention each state is more or less expensive.
Almost every expense associated with going on an East Coast driving trip, including gas, lodging, food, drink, and whatnot, will vary depending on the state which, again, makes costs difficult to gauge.
I can say with certainty, however, that going on a road trip along the East Coast–like traveling in the USA as a whole–will not be cheap. All of the aforementioned costs add up very quickly and can be a substantial burden on your wallet. This is especially true if you're the type of traveler who doesn't pay attention to their spending…
Luckily you have us; we're always looking for ways to travel cheap and love sharing the best tricks with you, the readers. Even if we are unable to travel on $10/day like in our favorite countries, we can at least help you minimize expenses.
A ballpark estimate for an East Coast road trip budget would be around $175-$225. This covers food, lodging, a rental car, gas, and entertainment.
There are a couple of things that you need to be mindful of while driving in the USA:
Gas will be your biggest expense as you'll be traveling a lot; more than you're probably expecting.
Hotels and lodging will be very expensive in popular destinations e.g. New York City, Florida beach resorts, the national parks, etc.
Food will cost more or less depending on how often you eat out and how much you cook for yourself.
Average Costs of an East Coast Road Trip
This breaks down exactly how much you can expect to spend while traversing the East Coast.
Looking for specific accommodation recommendations? Here are some of the top places to stay on an East Coast road trip:
Best East Coast Mountain Getaway: Bear Ridge Lodge
The Bear Ridge Lodge in New Hampshire is the absolute PERFECT East Coast road trip stop. The beautiful, secluded log cabin has been featured in several magazines and boasts epic mountain views without any neighbors in sight. You can relax on the beautiful porch, use the stone fireplace as a nightcap, or start a hike anytime as miles of trails are right outside the door. The lodge can sleep up to 8 guests and is a 15-20 minute drive from restaurants and stores.
Located on Pass a Grille beach alongside Florida's West Coast, this idyllic oceanside cottage is the perfect beach stop on your East Coast road trip. Peaceful, secluded and free from the perils of mass tourism that plague most of Florida's beaches, this cottage is literally steps from the ocean, and comes with a cycle! You can also utilize the full kitchen, or if not, several restaurants and shops are also within walking distance. This beach cottage can host two guests, and also has an outdoor shower to wash off after a sandy day!
This Boston Airbnb is the best in the city for several reasons. First off, it's located in a historic brownstone and is just minutes from the T and just a bit longer to some of Boston's most iconic attractions. The booking gives you the entire apartment, which was recently renovated and can accommodate up to 3 guests. The picturesque space is well maintained and even has a fully functioning kitchen if you want to save money on meals!
Below is a list of suggested itineraries for driving the East Coast of America. Varying from 7 days to 21 days in length, they cover many of the East Coast's top attractions.
Each itinerary provides day-by-day highlights, which are meant to give you some good East Coast road trip ideas.
Boston to Washington D.C – 1-Week East Coast USA Road Trip Itinerary
This is a great East Coast road trip if you only have 7 days, and you want to explore some of the USA's best and most historic cities: Boston, New York City, Philadelphia, and Washington D.C.
With 7 days you can see each of these cities' highlights and best cultural attractions, and camp one night in Shenandoah National Park.
Things to Do in 7 Days on the East Coast
PLUS take a scenic drive in the beautiful Shenandoah National Park and camp in the woods.
Many of the activities on this itinerary are great for history buffs and learning about the East Coast's culture.
Historical Route from Boston to Savannah – 2-Week East Coast USA Road Trip Itinerary
With an extra week, you can really explore the East Coast's most significant historical and cultural attractions. Any history buffs will love this East Coast itinerary as it will start with you exploring Boston and end all the way down to Savannah, Georgia, exploring some of the country's most significant attractions along the way.
Along the way, you'll pass through NYC, New Jersey, Philadelphia and the Gettysburg, D.C, Williamsburg + Fort Raleigh, and the must-visit Charleston.
Things to Do in 14 Days on the East Coast
Here are some of the best things to do in 2 weeks on the East Coast!
PLUS stop by Wilmington or Myrtle Beach, visit the plantations outside Charleston, and walk the cobblestone streets of Savannah.
Ultimate East Coast USA Road Trip – 3-Week Itinerary
This is the ultimate 3 week East Coast itinerary. While the previous itinerary focuses on cities and historical sites, this itinerary also leaves plenty of room to discover this side of the coast's best beaches, hikes, and parks.
Unlike the previous routes, we'll be starting in Maine, one of the United States' gems. If you like good seafood and great beer, you're going to love Maine.
Next, you'll continue down the East Coast in a similar fashion as itinerary #2, but will also visit Acadia National Park (in Maine) Shenandoah National Park, Asheville, and the Smoky Mountains.
This is the best itinerary for you if you want to explore some of the country's most beautiful forests and beaches as well as the most eccentric concrete jungles. Make sure to check out some awesome bed and breakfasts in Maine along the way.
Things to Do in 21 Days on the East Coast
PLUS, for more nature, visit Bill Baggs Cape Florida State Park and take a Key West road trip to the Florida Keys, where you can check out places like Bahia Honda State Park, Key Largo, the southernmost point of the US and, of course, the legendary Key West itself.
Below is a list of the best road trip destinations on the East Coast. Study them well and decide which ones you like the most.
New England is often considered the cradle of American society because of its role in the early colonial days. Many of America's original colonies were founded here but much of their remnants still remain. It's one of the most quaint places to visit in the United States.
Those on a road trip on the Northeast Coast of the USA will find a treasure trove of historical sites, not to mention amazing coastal scenery, hearty food, and memorable locals too.
New England is a large region that is composed of 6 different states: Massachusetts, Rhode Island, Connecticut, New Hampshire, Vermont, and Maine, so in this section, we're only going to be able to highlight the best of New England.
Staying in Boston is guaranteed to be a good time. It's one of the best cities on the East Coast and it's a truly awesome place to explore.
When in Boston, be sure to check popular local attractions like Fenway Park, Boston Commons, Trinity Church, and Uptown. Try attending a sports match, which is like church for Bostonians, and be sure to grab a drink in a local New England pub. I also HIGHLY recommend staying in Cape Cod for a few days if you get the chance.
The rest of New England is defined by pastoral villages, rugged coastline, and expansive woods. A bed and breakfast in Vermont is the perfect place to unwind in lush, mountainous greenery while famous coastal destinations like Acadia National Park, and the Connecticut Coastline are unlike any other beaches in the USA.
There are a ton of awesome bed and breakfasts in Connecticut where you can stay in a historical building and enjoy that welcoming East Coast hospitality.
Also consider driving through the New England countryside, particularly around the Litchfield Hills, Mohawk Trail, and the White Mountains. If you're on an East Coast road trip during the autumn, you'll be treated with the magnificent fall foliage that New England is so famous for.
New York, New York. It is the very symbol of the USA and probably its most well-known city. It is a bewildering busy place with an insane amount of people, who bounce around the city like atoms in a nuclear reactor. New Yorkers like to say that if they can make it in this city, then they can make it anywhere because where else could they feel so alive?
Traveling in New York City shouldn't be taken lightly–the city is an absolutely enormous place that has more districts than one can count. It would take a lifetime to explore all of NYC's neighborhoods – and I'm about to explain New York in the course of around 300 words. If you think this is a vastly underwhelming number, then we agree.
NYC is one of those places that's absolutely worth spending some time in–staying in NYC is quite the experience!
New York is one of the greatest economic engines on the entire planet. This city churns out more money than most countries. Its skyline, which is one of the most recognizable in the world, is a representative of the city's financial success. At the same time, New Yorkers, reaping the benefits of the economy, like to celebrate after a paycheck, often.
Hotels and Airbnbs are often expensive in and around the Big Apple, but elsewhere in the state you can look at staying in New York motels which are designed for road trippers!
As for gastronomy, people love to eat and drink in NYC. This city hosts one of the craziest nightlives in the world and more world-class restaurants than I can bother to imagine. Meeting up with friends after a hard day's work or just visiting a local attraction like the MET, One World Trade Center or Central Park, is undoubtedly the top thing to do in New York.
There's more to New York than just the city. Be sure to visit the oft-forgotten Upstate New York. Niagara Falls, the Hudson Valley, Catskills, and the picturesque stays in the Adirondacks should all be included on a road trip from New York.
New Jersey Road Trip
New Jersey is often seen as the butt-end of New York City – a state that only serves as a giant suburb for New Yorkers who want to settle down but still be close to the city. While its close proximity to the top places in NYC is certainly a boon – you can literally see Manhattan across the Hudson in New Jersey – it's much more than New York's backyard.
New Jersey has a lot to offer those on a road trip down the East Coast USA, including mountains, some of the best beaches in the Northeast, and lots of agrotourism opportunities. In fact, a bed and breakfast in New Jersey is so much cheaper than staying in the Big Apple, that many tourists visiting New York opt to stay in Jersey City/Newark and commute in.
The greatest density of people in New Jersey is in Jersey City/Newark, which, to little surprise, is right next to New York City. These places are often used as a cheaper base for exploring the city but are worthy of seeing as well.
As for what to do in Jersey City, you can eat and drink just as well as in NYC and, best of all, enjoy the best views of skyline without having to deal with the massive crowds. Newark has an excellent selection of museums and art galleries.
Most who visit New Jersey head straight for the beaches, which are very fine. Atlantic City, infamous for its gangsters and casinos, is the most visited coastal city in New Jersey and arguably the most famous resort town on the East Coast. Though many come here for more carnal reasons, Atlantic City still benefits from some gorgeous beaches and surfing opportunities.
Other popular beach getaways include Belmar, Asbury Park, the Wildwoods, and Sandy Hook. You can also opt to stay on Cape May for a truly spectacular Jersey seaside experience.
Few people realize that New Jersey has mountains! The Kittatinny Mountains, a subsection of the Appalachians, run along the western edge of the state and offers many hiking trails. Further south is the expansive Pine Barrens, which is great for camping and berry picking.
Pennsylvania Road Trip
Pennsylvania is one of the most historically significant states in the entire USA. The state has been the theater for many of America's most important revolutionary events and has also been the birthplace of many of its greatest industries.
Coal, steel, mining, and even Amish woodworking are among Pennsylvania's proudest exports and each of these paint a clear picture of what the state is today. A road trip through Pennsylvania will be an excellent insight into middle American life, both old and new.
You can't pass through the state without visiting Philadelphia, which is one of the most historical cities in the USA. Philadelphia's most important landmarks include the Liberty Bell and Independence Hall, the latter of which is where the Declaration of Independence was signed.
Philadelphia also hosts a wide variety of museums and historic sites that are some of the finest on the East Coast. Most famous is the Philadelphia Museum of Art, which, aside from having an excellent collection, also hosts the steps that Rocky Balboa trained on.
The rest of Pennsylvania is mostly rural. Much of Pennsylvania's natural splendor is found here, and it's particularly beautiful if you stay around the Poconos, Lake Eerie, and the Laurel Highlands. Famously, the Amish also live in the Pennsylvania countryside, mostly around Lancaster.
If you make it as far as Pittsburgh in the western portion of Pennsylvania, you'll be rewarded. Pittsburgh was once the steel capital of the USA and, though it had a couple of rough years, is now becoming one of the coolest East Coast cities.
Maryland and Delaware Road Trip
Maryland and Delaware are two of more historically significant states in the country. Much of their two histories are defined by the vital Chesapeake Bay, which served as an extremely important waterway during colonial days.
Nowadays, Maryland and Delaware are pretty quiet and mostly act as residences for rich folk from DC. The states still benefit from being located next to the Chesapeake – the seafood here is some of the best on the East Coast and there are lots of little coastal haunts worth checking out. These, in addition to the many historical attractions, make both states worth seeing.
Baltimore, Maryland is the largest city in the region and hosts the densest collection of attractions. Staying in Baltimore, made famous for its criminal elements thanks to The Wire, is not nearly as dangerous as it used to be and is actually one of the most desirable cities on the East Coast.
It has several interesting neighborhoods -like eclectic Fell's Point, vibrant Hampden, and the artsy, somewhat ritzy Midtown – that make Baltimore worth visiting. Visit these areas and be sure to grab a famous Blue Crab around the Inner Harbor.
East of Baltimore is the Chesapeake Bay and the Delmarva Peninsula, which is where you'll find most the region's coastal charm. The Delmarva is shared by both Maryland and Delaware. Interestingly, the peninsula is culturally unique from the rest of the Atlantic states in that it identifies more with the South for both historical and geographic reasons. You'll find many awesome cabins in Maryland to make a pit stop in these coastal towns.
Delaware is a very small state situated almost entirely on the Delmarva Peninsula. Almost all of the state's attractions are found in Wilmington and on the coast.
Although it's the largest city in Delaware, there isn't a whole lot to do in Wilmington aside from maybe visiting nearby Brandywine Country. The Delaware Coast at least has some nice beaches. Noteworthy Delaware beaches include Rehoboth Beach and Bethany Beach.
You can also check out some of the cool best bed and breakfasts in Delaware, many of which are ideally located close to the beach!
Washington DC is the glorious yet under-privileged nation's capitol. It's a perfect example of American exceptionalism and, at the same time, economic stratification. At the end of the day, staying in Washington DC is one of the best cities on the East Coast to visit, if not for its sheer beauty then for its relevant social dynamics.
Few can argue against how gorgeous the city of Washington DC is. The city itself is the product of a city planning movement that was meant to represent a new age in America. As such, Washington DC is designed to be a very modern metropolis with perfect gridwork and several large areas designated for monuments.
Most of DC's top things to do monuments are located in or near the Mall District – a 2-mile long park that runs through the center of the city.
Most of the city's greatest landmarks, including the Lincoln Memorial, Washington Monument, the Smithsonian Museum, and the White House are located in this park. The Mall District is certainly one of the must-see places on any East Coast road trip route and makes for a very lovely day of walking.
On the edges of the Mall are the rest of Washington DC's most iconic places. North is Adams Morgan and The Shaw, which is where you'll find much of the city's surprisingly active nightlife.
East is Capitol Hill where most of the United States' politics are done. South is the gorgeous Jefferson Memorial and, across the Potomac River, the hallowed Arlington Cemetery.
One should definitely add the outskirts of the city to their Washington DC itinerary to experience a "realer" side of the capital, where gentrification is in full effect. Much of DC's satellite neighborhoods, where most natural-born residents are from, were socially neglected in the 90s.
Nowadays, these districts are being renovated aggressively and, in the process, are losing their identity. Visit H Street, Columbia Heights, and the Near Northeast for a taste of the new DC, both the good and bad of it.
Virginia Road Trip
Virginia is a transition state where Southern culture begins to take hold. As the former capital of the US Confederacy during the Civil War, the state is certainly not lacking its historical landmarks.
Virginia also has some of the finest scenery in the Eastern United States–you'll even find cool wonders like the Natural Bridge State Park. Those on a road trip down the East Coast will be both delighted and captured by Virginia's beautiful cabins that give a full dose of nature.
Richmond is the capital of Virginia. It's a very old and historically significant city that has been around since the Colonial days. Much of its original architecture was destroyed in a great fire that occurred after the Confederates fled the city but, regardless, Richmond is still full of history and pride.
Virginia Airbnbs are plentiful in Richmond and beyond–do try them out for a more local, residential feel.
Richmond is a fairly spread-out urban area with several neighborhoods. Strewn sparsely among them are several museums dedicated to everything from poetry to historic landmarks. Aside from these, Richmond is also an arc for art and music and there are several clubs spread throughout the city.
The Virginia Coastline is where you'll find the largest population in Virginia in addition to the usual beachside resorts. Here you'll find Virginia Beach, Chesapeake, and Norfolk, which sort of combine to form their own metropolitan area. This part of Virginia has lots of excellent beaches to lay on but most of them are family-oriented. Staying in Virginia Beach is a great choice if you want to relax for a bit.
The interior of Virginia is mountainous and is home to a couple of beautiful national parks, like Shenandoah. Many people visit Virginia to see these parks and make road trips on the gorgeous Skyline Drive.
There are many quaint bed and breakfasts in Virginia that offer an authentic experience and are usually in renovated historical buildings. I highly recommend checking one out and experiencing that warming East Coast hospitality.
You can navigate this route all the way to the Great Smoky Mountains if you want, and can take a break at any time to go on hikes or to visit local landmarks. The Natural Bridge and the town of Winchester are good stops.
Consider taking part in the Brew Ridge Trail, which is one of the best East Coast brewery road trips!
North Carolina Road Trip
If there were one Mid-Atlantic state that offered the most, then it would probably be North Carolina. North Carolina has beaches, interesting cities, awesome mountains, and, of course, plenty of southern charm.
There are several urban centers in North Carolina. Charlotte is the largest city in the state and is becoming increasingly hip each and every day with more and more things to do. There are many cool Charlotte Airbnbs to choose from for your stay.
It's a working man's city with a booming economy and growing entertainment district that will soon be the next Southern jewel. It is, admittedly at the moment, still a bit dull compared to some other East Coast cities though. But you can find some cool and trendy North Carolina Airbnbs to enjoy your road trip stop at–for a much better rate than New England, that's for sure.
Raleigh and the surrounding communes of Chapel Hill and Durham are much more fun. These cities are home to several universities, including the popular North Carolin State University and Duke, which means that there are lots of young people looking to have a good time.
The cities themselves are often ranked as being some of the most livable in the country and so make for great East Coast road trip stops.
The North Carolina Coast is awesome, filled with white sandy beaches and some of the best destinations for an East Coast road trip. Here you'll find the extremely historical Roanoke Island as well as Kitty Hawk aka the birthplace of modern aviation. Some of the best beaches in North Carolina are Holden, Carova, Carolina, and Corolla.
North Carolina's greatest treasure may be the fabled Great Smoky Mountains, which is home to some fantastic hiking trails. Cloaked in mist and legends of bootleggers, the Smokies are one of the most storied parts of the USA and, consequently, the most visited national park as well.
Be sure to stay in Asheville while in the Smokies, which is hands down one of the best East Coast cities to visit. Asheville has an amazing art and beer scene, and is often compared to eccentric places like Austin, Texas and Portland, Oregon. The grand Biltmore Estate is also near Asheville.
Charleston to Savannah Road Trip
Charleston (South Carolina) and Savannah (Georgia) are two cities that are fighting for your attention! Like squabbling children who want mommy to listen to them, these two cities have been in a fierce competition for generations. Visiting both of these cities will definitely be a highlight on your East Coast USA road trip.
Charleston is often considered to be the quainter and more intimate alternative to Savannah. It's a small city that hosts some of the most well-preserved Southern architecture in the region. The French Quarter, Magnolia Plantation, Rainbow Row, and Boone Hall are all wonderful examples. A night in Charleston should definitely be prioritized, as should the epic Charleston City Market.
Savannah, on the other hand, is often seen as the larger and more charged of the two cities. As the birthplace of Georgia and a vital economic center for the South, a stay in Savannah has become much grander and, some locals would argue, more fun than Charleston.
Though Savannah lacks some of the singularly amazing landmarks that Charleston has, it still has that classy Antebellum style that we love about the South.
Savannah's Historic Quarter is one of the largest in the USA and is most well-known for its gorgeous cobblestone streets and large public squares. Forsyth Park is a fantastic place to spend some time in, and there are also a lot of historic Georgia vacation rentals you can spend your trip in. Taking a walking tour in Savannah is arguably one of the best things to do on an East Coast road trip.
In the end, there are too many intangibles when it comes to Charleston and Savannah. The best way to experience these cities is just to visit them and compare the two yourself. Note how each prepares local Southern food and how each has worked to preserve their respective images.
Both the states of South Carolina and Georgia are much bigger than Charleston and Savannah. There are also lots of things to do in Myrtle Beach with kids. Consider visiting this beach resort town in South Carolina for your family getaway. Alternatively, head to Kiawah Island for an ocean escape.
A ways inland is Atlanta, which is the largest city in Georgia and arguably the cultural capital of the Deep South.
Welcome to Florida! Home to amazing tropical beaches, abundant sunshine, and most of the East Coast's retirees. If you've been craving some Vitamin C and some delicious Latin food, you should be very excited to visit Florida.
If you've made the arduous road trip from Maine to Florida, congratulations – your beach chair and pina colada are waiting for you.
Florida is a gorgeous state with a shit ton of attractions and cities to visit. Staying in Florida is sure to be one hell of an experience. There isn't another state quite like it, for better or for worse.
In order to better understand the Sunshine state, we highly recommend you read it.
The first place most people think when they hear Florida is Miami. (Cue corny Will Smith song.) Though much of what you hear about Miami is true – it's glamorous, full of amazing beaches, and sometimes a shitshow – there's a lot more to it.
Visiting Miami also means getting to experience an amazing art scene, which is best experienced in the Design District, Wynwood, and Midtown neighborhoods.
Thanks to its enormous immigrant population, Miami also has some most authentic Latin and Caribbean communes outside of their respective regions. Be sure to visit Little Havana and Little Haiti for the amazing cultures and food.
While Miami is safe for tourists, avoiding the neighborhoods of Overtown, Liberty City, and Opa Locka are musts. Luckily, there's nothing for travelers to do in those places anyway.
The rest of Florida is defined mostly by endless stretches of beach, swamps, and Southern hospitality. The Everglades are one of the most important wetlands in the nation and are an impressive natural wonder.
Stunning beaches are a dime a dozen in Florida though the ones around the Emerald Coast, Tampa Bay, Florida Keys, and Atlantic Coast are particularly great (and yes, that's just about everywhere.)
The only thing more numerous than beaches in Florida is Southern folk. Contrary to popular belief, only the area around Miami is predominately Latin – Central and Northern Florida are more similar to the Deep South. Expect lots of BBQ, fried gator, and charm. Places to stay in St. Augustine still have much of their Spanish colonial history and make great places to stay for a rest stop.
Off The Beaten Path East Coast Road Trip Ideas
Want to expand your road trip on the East Coast? Try connecting it with one of these other regions! They're a bit off the beaten path but are worth visiting.
1. Canada
Why not just continue all the way into the Great White North for some good Canadian fun, eh?! With lovely people, hugely fun cities, and some of the most beautiful landscapes in North America, it's no surprise that visiting Canada tops many's bucketlist.
Visit the likes of Montreal, Toronto, Nova Scotia, and Newfoundland to experience some of the best of Canada.
2. Appalachia
The Appalachian Mountains are the greatest mountain chain on the East Coast, which separates it from the Midwestern and Great Plains regions. It is a relatively isolated place that, over the years, has developed its own distinct culture and identity. Renting a cabin in West Virginia will give you a real look into Appalachian life, which is notably different from most other US states.
Tennessee and Kentucky, though Southern leaning, are arguably a part of this region. There is no better way to experience the Appalachians than the epic Appalachian Trail, which traverses a staggering 2,200 miles and takes over 6 months to complete.
3. Midwest
Perhaps you're the type who likes frigid weather and lots of dairy products? Make a detour to the Midwest then for a chance to experience some of the warmest hospitality in the country.
Surrounding the Great Lakes are welcoming states like Michigan and its up-and-coming capital Detroit, Ohio, Wisconsin, and Illinois that have been the subject of much love and ridicule (because of those funny accents). The Midwest hosts a number of cool cities–you cant go wrong with a visit to Chicago or Minneapolis.
4. Deep South
If you're looking for pleasant winter weather and a chance to experience more Southern comfort, why not head further inland into the Deep South to Georgia, Alabama, Mississippi, and Louisiana. If you drive through Alabama, check out some of the cool and unusual hotels in Birmingham and stay for a few extra days to sample some of the real staples of Southern living.
Larger cities are quite cosmopolitan–you can't drive through the region without visiting New Orleans! On the other hand, states like Mississippi and Alabama are where things just get plain weird.
Historical East Coast Road Trip Attractions
Want to travel through America's history? Then stop by one of these many historical East Coast road trip attractions to learn more about how the US was made!
Bunker Hill (Charlestown, Massachusetts) – Site of one of the earliest and most important battles in the American Revolutionary War. A granite obelisk now stands at this location. One of the first monuments erected in the USA.
Plimoth Plantation (Plymouth, Massachusetts) – An open-air museum located on grounds of the former Plymouth Colony. Attempts to recreate life as the settling English pilgrims experienced it.
Gettysburg (Pennsylvania) – Battleground for the largest battle of the American Civil War. Gettysburg was a decisive victory for the Union and it proved to be a turning point in the conflict. A sobering cemetery and military park are the only remains of the fight.
Mt Vernon (Alexandria, Virginia) – Former home and plantation of the USA's first president, George Washington. Open 365 days per year as ordained by the president himself.
Colonial Williamsburg (Virginia) – A section of modern Williamsburg that was preserved in order to appear like an original colonial settlement. Includes American colonial buildings, educational tours, and actors dressed in anachronistic apparel.
Biltmore Estate (North Carolina) – An enormous mansion built by the Vanderbilts, one of the foremost tycoon families of the American Gilded Age. Still owned by the Vanderbilts and still the largest private dwelling in the USA.
Fort Raleigh (North Carolina) – The preserved remains of the Roanoke Colony, the first-ever English settlement in the USA. Shrouded in mystery as the residents famously disappeared after they lost contact with the crown.
St. Augustine (Florida) – A modern-day city that actually has some of the most significant Spanish colonial architecture in the country. The impressive Castillo de San Marcos is the grandest and most popular attraction in the town.
National Parks on the East Coast
The national parks are among the must see places on the East Coast as they offer some of the most spectacular scenery in the region. Consider stopping by one of the following parks…
Acadia (Maine) – A jewel of the Northeastern coastline. Features some of the best and most rugged coastal scenery in the United States. Great beaches, great fall foliage, and great attractions for a road trip up the East Coast. For easy access to the national park, we recommend staying in Bar Harbor as it's one of the nearest towns.
Shenandoah (Virginia) – A slim national park that is mostly visited by those making the superlative Skyline Drive. Mountainous scenery that bursts into color during the autumn. Lots of hidden vistas and waterfalls available to hikers.
Great Smoky Mountains (North Carolina) – One of the best places on the East Coast, though it's actually a bit far from the ocean. Spending time in the Great Smoky Range means visiting the highest mountain chain in the entire Eastern USA. One of the most ecologically diverse places in the USA and officially the most visited national park in the country. The "smokey" title comes from the frequent fog that likes to hang around the mountains.
Congaree (South Carolina) – A very large and well-preserved tract of hardwood forest that hosts some of the largest trees on the East Coast of the USA. It floods regularly, which brings in huge amounts of nutrients for local ecosystems. Overall, a very ecologically diverse park.
Everglades (Florida) – Massive wetlands that are one of the most important natural habitats in the USA make Everglades National Park a must see. Features endless groves, glades, and inlets that hide several threatened species including the Florida panther, manatee, and the American crocodile. Usually explored by airboat or on foot via several trails.
Dry Tortugas (Florida) – A small chain of keys that hosts the astounding Fort Jefferson, which is the largest brick masonry structure in the Western Hemisphere. Being a part of the iconic Florida Keys, Dry Tortugas also has excellent diving opportunities and that beautiful Caribbean water. Can only be reached by boat.
Biscayne (Florida) – A offshore park that shelters an enormous amount of aquatic life. A very popular place among divers and fishers. 90% of the park is located in the ocean so camping and hiking opportunities are pretty limited.
East Coast Scenic Drives
Choose any one of these scenic routes listed below to gain more East Coast road trip ideas! Each one features more of the best places on the East Coast to visit.
Blue Ridge Parkway (Virginia/North Carolina) – The most scenic road trip on the East Coast. A very long road that traverses the Blue Ridge Mountains and connects Shenandoah with the Great Smoky Mountains.
Skyline Drive (Virginia) – A road that runs the length of Shenandoah National Park, which is arguably the most popular destination in the park. Offers breathtaking views of the mountains and also provides access to several hiking trails, including the ACT. Connects with the Blue Ridge Parkway in the south.
Kancamagus Highway (New Hampshire) – A spectacular East Coast road trip route through the White Mountains. Most popular during the fall when the mountains explode with autumn color. Several campgrounds and viewpoints are found along the 35-mile stretch.
Florida A1A (Florida) – A highway that runs the entire length of Florida's Atlantic Coast. The route hugs the entire coastline to Miami and affords amazing views of the ocean. Also includes the Florida Keys Scenic Byway, which is arguably one of the most beautiful roads in the USA.
Acadia National Byway (Maine) – Ring road that offers the best sights of Acadia National Park. Most of the park's top attractions can be reached via the byway including Sandy Beach and Jordan Ponds. Popular in fall when the trees are changing colors as well.
Harriet Tubman Underground Railroad (Maryland) – A historical East Coast road trip route that follows the trail of the Underground Railroad – one of the most important escape routes for African slaves during the Civil War. Along the way, you'll visit many museums, churches, and former residences that educate you about the railroad. Not very scenic but very humbling. Baltimore is a very cool city if you fancy hanging out a few days.
A few insider tips to help your East Coast Road trip go just a lil' bit smoother!
Getting Insured
Do you need Travel Insurance for your trip? Even if you're only going for a few days, that's more than enough time to get smote by wrathful angels. Have fun on your road trip, but take it from us, overseas medical care and canceled flights can be seriously expensive – insurance can, therefore, be a life-saver.
Travel mishaps can and do happen and it is well worth thinking about insurance before you leave home.
World Nomads' mission is to support and encourage travellers to explore their boundaries. They offer simple & flexible travel insurance, and safety advice to help you travel confidently.
They've been doing it since 2002 – protecting, connecting, and inspiring independent travellers just like you.
Get a quote below or read our in-depth review!
World Nomads provides travel insurance for travelers in over 100 countries. As an affiliate, we receive a fee when you get a quote from World Nomads using this link. We do not represent World Nomads. This is information only and not a recommendation to buy travel insurance.
Top Tips for Broke Backpackers
Below is a list of East Coast road trip ideas for saving money. Try and practice these as much as possible.
Use vehicle relocation services: These brilliant services offer huge discounts to people on the condition they get a vehicle to a certain place at a certain time. No joke, you can rent a car sometimes for as low as $1/day! Availability is very limited though, so keep a watchful eye on the sites. Check immova and Cruise America to start with.
Rent an economy car: Prices can be as low as $25/day depending on the time of year and how far in advance you reserve. Economy cars are also more fuel-efficient so you'll save on fuel.
Camp: Unless you want to fork out big bucks for a lodge, you have to camp. Campgrounds are way less expensive and sometimes even free. Check out this post for a breakdown of the best tents to take backpacking. If you're feeling really adventurous and want to save some cash, consider picking up a backpacking hammock.
Sleep overnight in an empty lot: Though not technically legal, people sleep in parking lots all the time. Make sure the lot is safe by asking around. Walmarts are reportedly good places to park overnight as they allow overnight parking.
Buy an America the Beautiful Pass: Seriously, if you're visiting more than two national parks, you'd be a fool not to buy this.
Cook your own food: Eating out can be very expensive. Cook your own food as much as possible to save – I recommend bringing a portable backpacking stove. Otherwise, have a fancy night out at a food cart.
Do free shit: There are lots of free activities on the East Coast! From hiking to laying on the beach to going to the local monuments; all of these things cost you nill. Be sure to keep your ear to the ground for all things free in the East.
Pack a filtered water bottle: It's good for your wallet and the environment. Purified water is easy to come by in the States versus other countries.
Feeling a little gross after hanging out in the Great Smoky Mountains? Got sand in every crack and corner of your body after laying on the beach too long? Maybe it's time to take a break from your camping road trip on the East Coast and to check into a hotel.
Thankfully, hotels are everywhere in the USA and come in all shapes and sizes–there's even quite the selection of USA budget hotel chains. You could perch yourself in a high-rise condo in the middle of the city or perhaps laze away in a small inn on the countryside.
If you're on a budget East Coast road trip and need to cut costs, you'll most likely have to settle for cheaper guesthouses and motels. These types of accommodation are fairly generic, drab, and offer a pretty limited amount of amenities. If you're using hotels in more expensive states, than you'll still end up paying $80/night minimum.
No matter what you end up choosing though, one thing is for certain – hotels on the East coast are expensive. Airbnbs in the US are a much better option than chain hotels most of time, and you can see plethora of reviews beforehand.
If you needed to save the most money on your East Coast road trip, then you should take advantage of hostels and campgrounds.
They are by far the most affordable type of accommodation on the East Coast, and are actually quite fun to stay at. Though hostels in the USA can be a little weird (we know: we've stayed at several), most are perfectly decent even if they're not as rad as the ones in Europe or Asia.
Best Places to Stay on the East Coast
Here are some of the absolute best places to stay on your East Coast road trip:
East Coast Camping Road Trip
Spread across the entire Eastern seaboard is an endless variety of campgrounds set amongst dozens of landscapes. An East Coast camping trip is a fantastic way of seeing everything that the region has to offer, and you should rarely be left uninspired by the amazing selection.
There are all kinds of campgrounds in the East that offer a wide range of amenities and rates. Generally speaking, there are four types: private, public, dispersed, and backcountry. Below is a brief explanation of each.
Private – Larger campgrounds that offer the most amenities including communal kitchens, showers, and maybe onsite restaurants. Most appropriate for demanding campers. Most expensive as well. Payment is made through the office of the owners.
Public – More basic campgrounds that offer limited but crucial amenities. Running water, electricity, and bathrooms should be but are not always present. Good prices. Payment is made to a public organization either online or via a drop box at the camp.
Dispersed – aka wild camping, primitive camping. Camping in an area that is not an official campground but is still legal. Little to no amenities. Almost always free.
Backcountry – Camps located in the wilderness areas. Almost always require a hike to reach. Often no facilities so campers must bring food, cooking gear, camp supplies, etc. Permits are usually required and can be arranged at a nearby ranger station.
A lot of campgrounds, especially those at the national parks, can fill up very quickly. Consider booking a campground ahead of time to ensure that you have a spot.
If there are no campgrounds left at a specific place, there may be walk-up sites available, which you'll need to arrive early to claim. If you strike out on the walk-up sites as well, there may be overflow camping nearby.
You can definitely camp for free while on a road trip down the East Coast! Most of these campgrounds are pretty remote or located on some sort of specially mandated land.
Each state offers different types of free backcountry camping so you will need to research each. To get started, check this website for a compendium of free camping on the East Coast.
Camping on the East Coast – Gear Checklist
The East Coast has some of the finest camping in the whole country. You could sleep in your car or an RV while traveling on the East Coast but sleeping outside under the stars is way more fun. Having a good tent will keep you comfortable on those chilly nights and give you lots of flexibility when it comes to finding a place to sleep.
Here are some other essentials that we recommend adding ton your road trip packing list…
Don't forget the insect repellent either!
Renting a car is the most popular way of getting around the Eastern USA. There are a myriad of car rental agencies here that offer varying deals and varying models.
To find the best rental car deal in the USA, use search engines that compare the prices of individual companies. I personally like using rentalcars.com as they've never failed to give us a great price.
You can also rent an RV or campervan, which means you don't have to worry about packing camping gear. You will have to empty and refill the various water tanks though, which will require a visit to the proper facilities. RVs also cost more to rent, use more gas, and demand higher prices at campgrounds.
You can drive your own campervan around the country, but this is only practical if you already own one and are importing it into the country, or have a long enough US visa to make the most out of your wheeled home.
I suggest booking a campervan with Outdoorsy as they usually have a good selection and good prices. Better yet, Broke Backpackers also get a $40 discount with Outdoorsy! Just use the coupon code "BACKPACKER" when checking out.
The roads are generally very good and a sedan or economy car should deliver you to most of the East Coast's top destinations. Only in the most remote portions of the Appalachia and the swamplands will you need to be concerned about having 4-wheel drive.
Tips for Saving Money on Car Rentals in the US
Reach out to vehicle relocation services, like imoova and Cruise America, as a way of saving heaps of cash on rentals.
Car insurance isn't always mandatory in the USA but is highly encouraged. This being said, you don't necessarily have to buy car insurance from the company you're renting from. Purchase a RentalCover.com policy to cover your vehicle against any common damages such as tires, windscreens, theft, and more at a fraction of the price you would pay at the rental desk.
Many credit card companies offer free car insurance if you book the car with the proper card. Call your credit card company for more information regarding terms and conditions.
Best Time to Visit the East Coast
The East Coast is a massive region that is subject to more than a dozen different climates. While on a road trip along the East Coast, USA, you could potentially experience rain, sunshine, snow, and tropical storms – all in the course of a few weeks!
Depending on what you want to do, you could visit the East Coast at any time of the year. Summers generally have the most reliable weather though you might get dumped on in Florida.
On the other hand, if you were on an East Coast road trip in the winter, you could totally go skiing in New England and then surfing in Florida! Just don't forget a high-quality ski jacket.
I have broken the East Coast into three different climate categories. These are broad generalizations and, in reality, each state has much more complex weather patterns. These categories are relevant enough for you to understand how the weather works on the East Coast.
Northeastern States (New England -> Pennsylvania) – These states are subject to 4 distinct seasons with cold, snowy winters and warm, semi-humid summers. Winters in these states can be frigid as the Canadian winds wreak havoc. Summers are mostly mild but heat waves are still common.
Central Atlantic States (Maryland -> Georgia) – These states receive more regular rainfall throughout the year and less dramatic temperature swings. Winters are still relatively cold and summers are the hottest time of the year, which means that these states are still classified as having 4 seasons. Though rare, Georgia and the Carolinas can actually receive snow in the winter.
Tropical States (Florida) – While the climate of Northern Florida is more similar to Georgia's, Southern Florida is textbook tropical. Rain comes in bucket loads during the summer, sometimes dangerously in the form of hurricanes. Winters are mild and clear.
Food on the East Coast
A road trip on the East Coast will afford endless opportunities for you to try different foods. The food of this region is so diverse and so different that it's not possible to put all of it into one category (except, of course, a delicious category).
Each state has its own local delicacies. You could make a culinary road trip from Maine to Florida in pursuit of these dishes and it would certainly take up a lot of your time and attention!
But let's briefly talk about what you'll find on each part of the East Coast…
New England is famous for its seafood, which is often baked, stewed or steamed to divine results. Chowder is perhaps the most famous dish here, though you can't go wrong with a good ol' clambake or lobster roll. On that note, Maine lobster is highly regarded. Food in Boston is particularly famous for its clam chowder, Boston baked beans, and being a legendary baseball city, hot dogs.
New York City has just about every type of food imaginable because of its enormous immigrant population. You can seriously eat some of the best food from around the globe in one city. If there was one or two foods that could be called true New York food, it might be bagels and pizza. As pizza in the city is often priced at backpacker-friendly rates, just pair it with a cheap NYC hostel for an affordable adventure.
Pizza and, for that matter, Italian food is fairly common in the Atlantic states. Some places, like New Haven (Connecticut) and Scranton (Pennsylvania) even claim to have the best in the world.
The sandwich is also a staple of the East Coast and comes in many varieties. New Jersey is famous for inventing "the sub" while you can't say you've visited Philadelphia's tourist attractions without savoring its very well-known Philly cheesesteak.
As we drive further south the food begins to change. Southern cooking becomes the dominant trend and BBQ and fried foods are heavily featured. The Carolinas are particularly famous for their version of BBQ, though the Georgian variety is no slouch either.
Finally, Southern Florida has some of the best Caribbean and Latin food that you'll eat in the USA. Cuban, Jamaican, Dominican, South American – all of these culinary styles are represented very well in Miami and the surrounding area.
Get your Buzz On
The East Coast is called the Beast Coast for a reason – people get wild on a regular basis and throw some of the best parties in the USA! You can party in a myriad of ways while on a road trip up the East Coast – you could go to a speakeasy in New York City, drink with rowdy Southies in a Boston dive, rub shoulders with politicians in Washington DC or dance all night in Miami. The possibilities are limitless.
Just make sure you know your personal limits (and that of your wallet) before dabbling in drug tourism, that's all!
Drinking on the East Coast, particularly in the bigger cities, is by no means cheap though. Cover charges, exorbitant drink prices, and taxi fees add up very quickly; you could easily drop more than $100 in a single night.
I advise drinking at local dive bars for the cheapest drinks and taking advantage of the ubiquitous happy hour. You can get a beer for as low as $1 in some bars.
Beer is probably the most popular drink on the East Coast and is found in abundance at nearly every bar. No matter which bar you end up in, you'll usually have a huge selection of domestic, craft, and imported choices. Best of all, it's usually the cheapest drink!
One idea is to go on a brewery tour of the East Coast! There are hundreds of breweries on the East Coast making everything from shitty lagers to divine ales. I suggest visiting Brooklyn Brewing, Wicked Weed in Asheville, Ommegang in upstate New York, and Creature Comforts in Athens, Georgia.
Marijuana is legal for recreational use in several New England states! While on a Northeast coast road trip, you can drop by a dispensary and pick up a dime bag. All you need to buy weed is an ID proving that you're over 21 and cash.
Be sure to brush up on local laws and don't bring marijuana across state borders (especially into illegal states).
Being a Responsible Backpacker
Remember to be a respectful camper while on your East Coast road trip. Depart from the grounds at a decent hour, follow leave no trace principles, and be very, very aware of fire bans.
Reduce your plastic footprint: Perhaps the best thing you can do for our planet is to make sure you do NOT add to the plastic problem all over the world. Don't buy one-use water bottles, the plastic ends up in a landfill or in the ocean.
I know it can be hard, but do your best to use the least amount of plastic water bottles that you can. Refill the ones that you do buy! Use a GRAYL GEOPRESS. Refill at your hostel/guest house! There are plenty of ways to reduce plastic!!!
Pack a tough and cool travel water bottle. You'll use it every single day whether you are traveling or not! Be a responsible traveler, and grab a Grayl!
I hope this epic East Coast road trip guide has prepared you for your overland journey along the Atlantic Ocean. This region of the country is filled with unique landscapes, plenty of history, and some truly delicious food.
Traveling here will help you get to know the US, and give you a look at the diversity within it. Just look at the differences between Miami and Maine!
This is a lot to take in, but remember that road trips can be spontaneous. That's half the fun! On the other hand, if you just can't quite decide where to start, you can't go wrong with the Ultimate East Coast Road trip, which truly hits all the best stops on this side of the United States.
So make those last-minute van repairs or secure your rental.
An East Coast road trip awaits!
Updated April 2023 by Samantha Shea from Intentional Detours.
---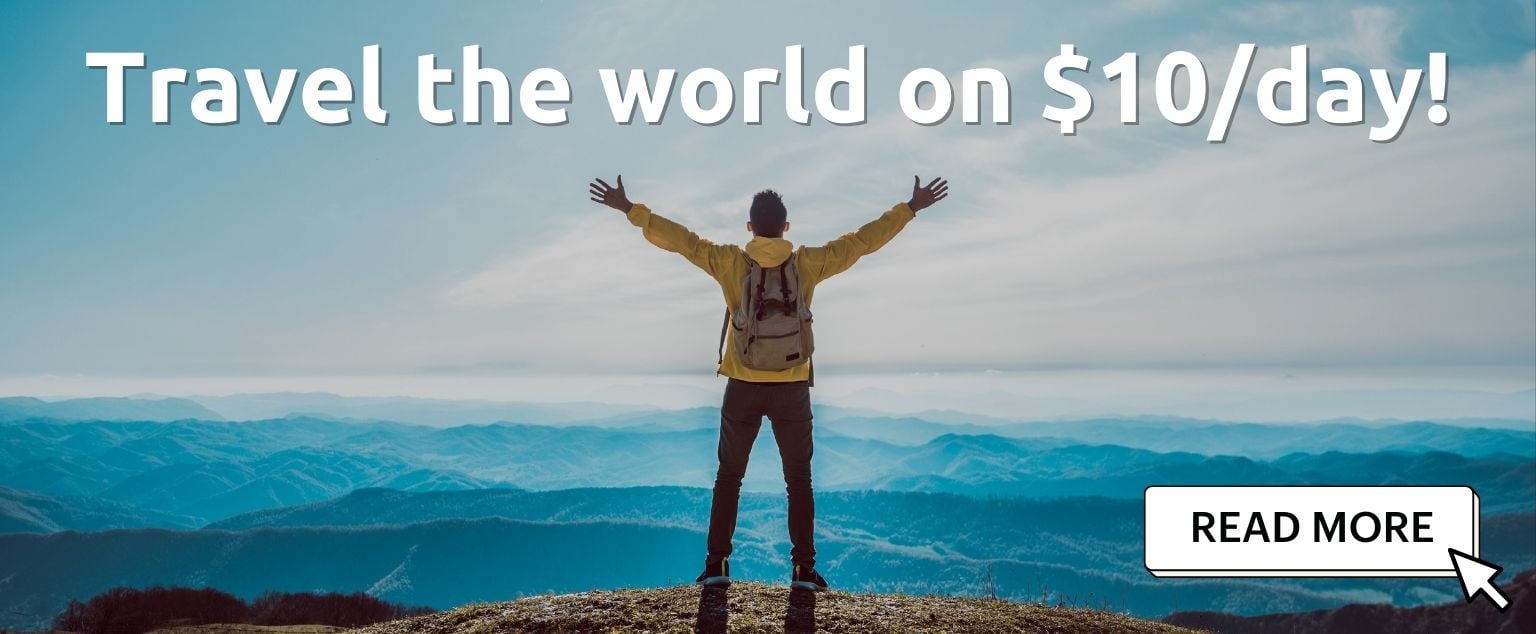 And for transparency's sake, please know that some of the links in our content are affiliate links. That means that if you book your accommodation, buy your gear, or sort your insurance through our link, we earn a small commission (at no extra cost to you). That said, we only link to the gear we trust and never recommend services we don't believe are up to scratch. Again, thank you!