Making up part of the northern reaches of the Blue Ridge Mountains, Shenandoah National Park is 200,000 acres of pristine wilderness just waiting to be discovered.
Expect craggy peaks, vast swathes of forest, and beautiful waterfalls. This place is wild! And while you've got the famous Skyline Drive cutting through, hiking in Shenandoah is how you truly unlock its full potential.
A large portion of the Appalachian Trail cuts through Shenandoah, too, with plenty of other trails and mountain summits at your feet. But if all this sounds new to you, we've got your back.
We've crafted this guide to cover all the best hikes in Shenandoah National Park. We're gonna show you what to expect, what to pack, and throw in some extra trail safety tips.
Let's get started planning that hiking odyssey of yours!

Do You Want to Travel FOREVER??
Pop your email in below to get a FREE copy of 'How to Travel the World on $10 a Day!'.
Shenandoah National Park is situated in northern Virginia. It's practically surrounded by towns and cities big and small, making it a fairly accessible park — an oasis of wild nature, if you must.
It's a mountainous area, so hiking in Shenandoah often means a lot of inclines. They can go from "that wasn't so bad" all the way to "fuck me, that's steep". You've got the easy hikes, the moderate ones…
And then you've got the real challenges. The ones with river crossings — we're talking waist-deep wading through mountain streams sort of trekking. Shenandoah is a great place if you're an adventure-seeker looking for a little thrill!
Now if you're wondering what's the best time of the year to visit Shenandoah National Park, that would be spring. There are fewer crowds, and the weather's fairly pleasant. In summer, it's best to come on weekdays because weekends get pretty busy.
Let's talk safety for a minute before moving on to the best hikes in Shenandoah.
2000+ Sites, Unlimited Access, 1 Year of Use – All. Absolutely. FREE!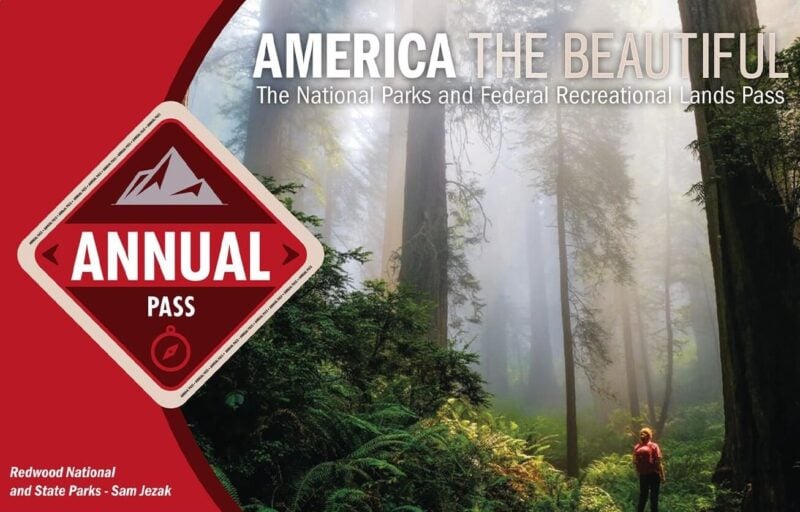 The USA is blisteringly beautiful. It's also blisteringly expensive! Visiting two national parks in day can run you $70+ in entry fees.
Orrrr… you kick those entry fees to the curb, buy an annual 'America the Beautiful Pass' for $79.99, and get unlimited access to ALL 2000+ federally managed sites in the States totally FREE!
You do the math. 😉
Buy the Pass!
Shenandoah National Park Trail Safety
Shenandoah has a lot going for it. Here, among the spectacular Blue Ridge Mountains, hikers can immerse themselves in the sprawling wilderness, tackle the rolling hills, and traverse all the epic trails that cut through it.
But a visit to this huge natural wonderland also means getting to grips with how to keep yourself safe when you're out in the midst of it all.
Much of the park is designated wilderness, so it's not uncommon to spot wild animals within the park's boundaries. And some of them include black bears and coyotes; there are even some reports of cougars being spotted.
These are things you should consider, as well as what to expect from the trails and making sure you're not making any wrong moves.
Here are some tips to help keep you safe and well when you're hiking in Shenandoah National Park:
Know your limits – No matter what type of hiker you are, and no matter what trail you might be attempting, be ok with turning back, even if you're halfway up a mountain. Spend some time reading about the hike, and try to set off early in the day so you can finish it safely.
Don't forget about permits – Shenandoah National Park requires everybody to pay an entrance fee, but you should also make sure to check if the trail you're attempting requires an additional pass.
Get local advice – If you're unsure or need more information about a hike, it's often useful to get a local's insight. Ask the staff at your hotel/hostel and any Park Rangers you see on the spot.
Come prepared: Your footwear should be sturdy with a good grip for unpaved trails. Consider packing a light rain jacket, bring a GPS system or a map just in case your phone runs out of signal, and don't forget a solid water bottle.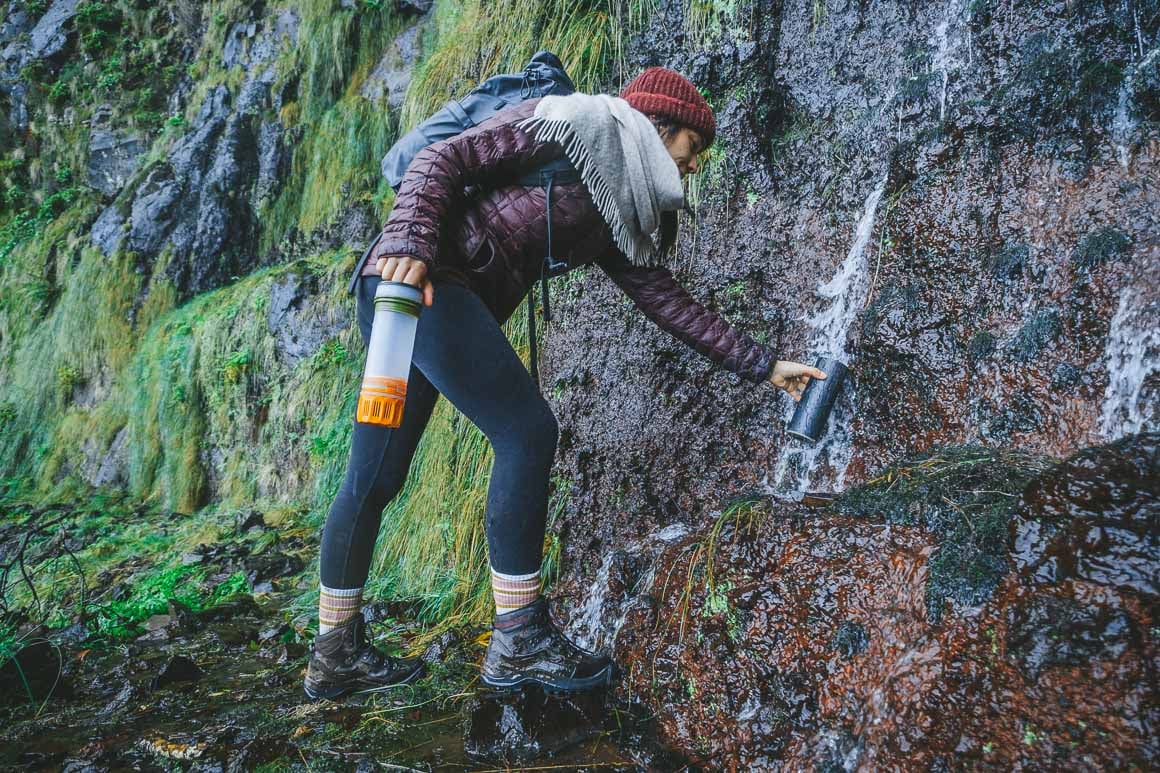 Hike with a friend – Hiking alone is often a great way to get in touch with nature, but it can also leave you at greater risk. If you can, we usually recommend hiking with a buddy! But if you really go solo, always let somebody know where you plan to go.
Pay attention to the weather – Check the weather forecast before you embark on a hike. Heavy rain can cause routes to become slippery and sometimes too dangerous to attempt. Conversely, in really hot weather, the last thing you'll want is to be out there frying every cell of your body.
Prepare for animal encounters – Read up on what to do when you spot a bear in Shenandoah. You should also be prepared for other, much smaller wildlife encounters such as ticks and mosquitoes — a repellent will do the job.
Consider travel insurance – Wherever you're planning on taking a trip, being covered with the right travel insurance is something you should always think about. Stop worrying, get your ass insured!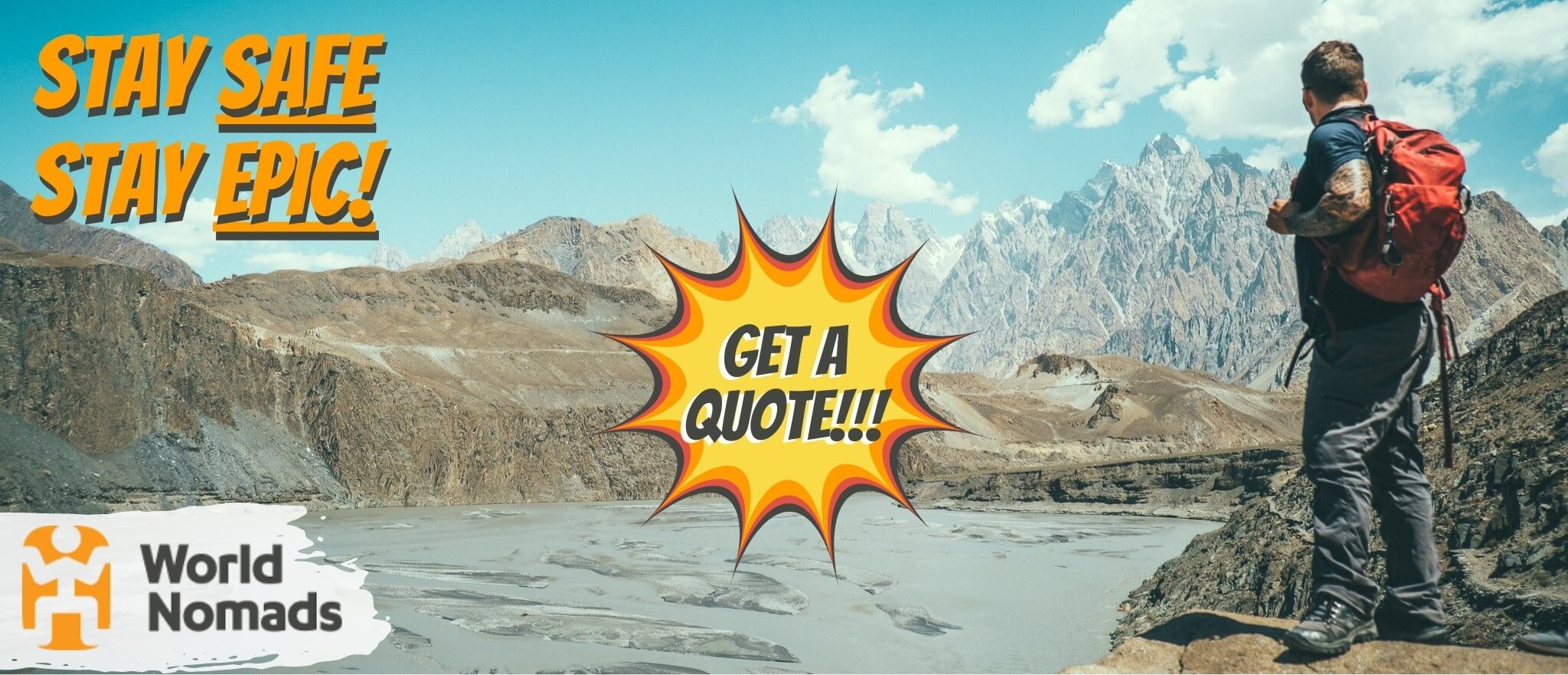 World Nomads' mission is to support and encourage travellers to explore their boundaries. They offer simple & flexible travel insurance, and safety advice to help you travel confidently.
They've been doing it since 2002 – protecting, connecting, and inspiring independent travellers just like you.
Get a quote below or read our in-depth review!
Now that you're suitably clued up on what to expect and how to stay safe on the trail, it's time to talk about what brought you here.
Below, we've curated a list of our top hikes in Shenandoah — all categorized, so you can easily pinpoint the ideal one for you. Use it as a rough guide and prepare to go on some damn memorable hikes.
The time has come!
1. Old Rag Mountain Loop – The Best Day Hike in Shenandoah National Park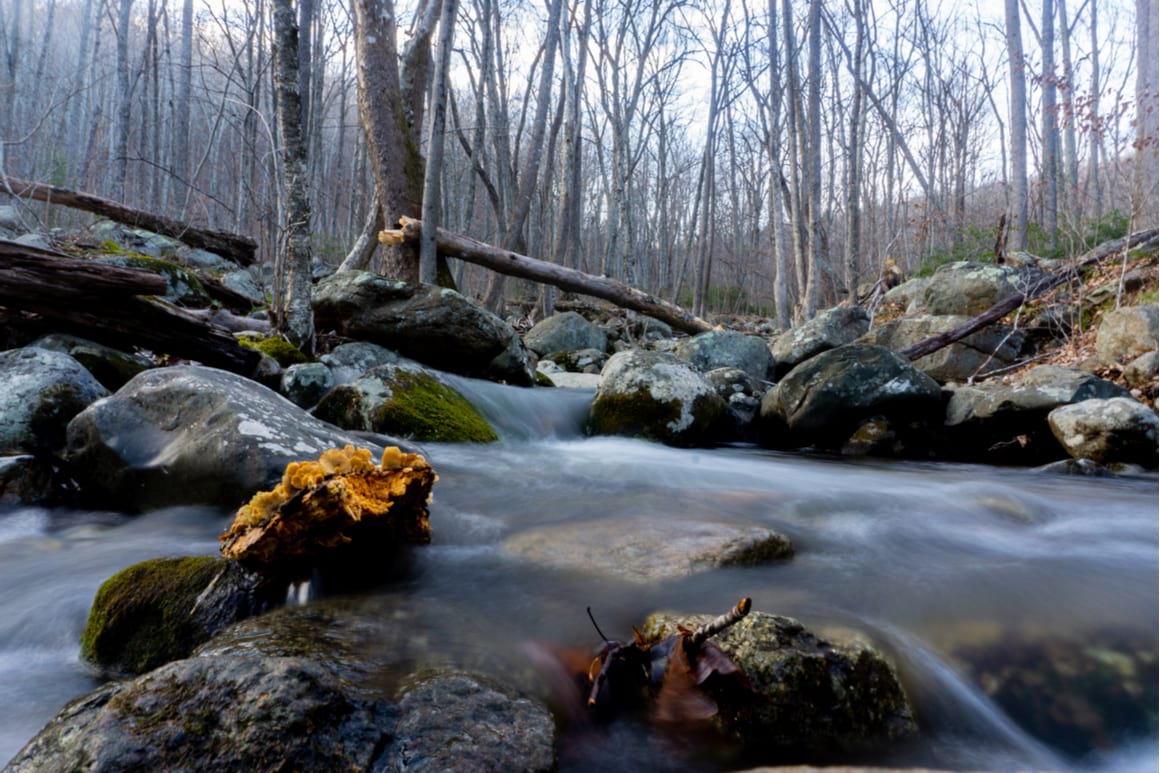 The Old Rag Mountain Loop is one hell of an amazing hike. It's also pretty popular, but by no means does that mean it's an easy one. The last few miles are particularly hard-going, but the views make up for all it!
This is usually an instant favorite for those hiking in Shenandoah National Park. The circuit is beautiful and it's adventurous too, with a few rock scrambles involved.
You start at the Ranger Station and begin climbing basically straight away — gradually, at least in the start. You'll pass along nine switchbacks before hitting the first viewpoint, and after this, the trail becomes rockier. A few narrow passages are thrown into the mix.
Once you're out of that, the path carries on around a ridge, and then it starts getting really steep. You'll pass through a small cave before heading up to the summit. Enjoy the 360-degree views all across Shenandoah!
Length: 16.5km
Duration: 5-6 hours
Difficulty: Hard
Trailhead: Old Rag Mountain Ranger Station (38°34'15.9″N 78°17'16.5″W)
2. Rose River Trail – Most Beautiful Hike in Shenandoah National Park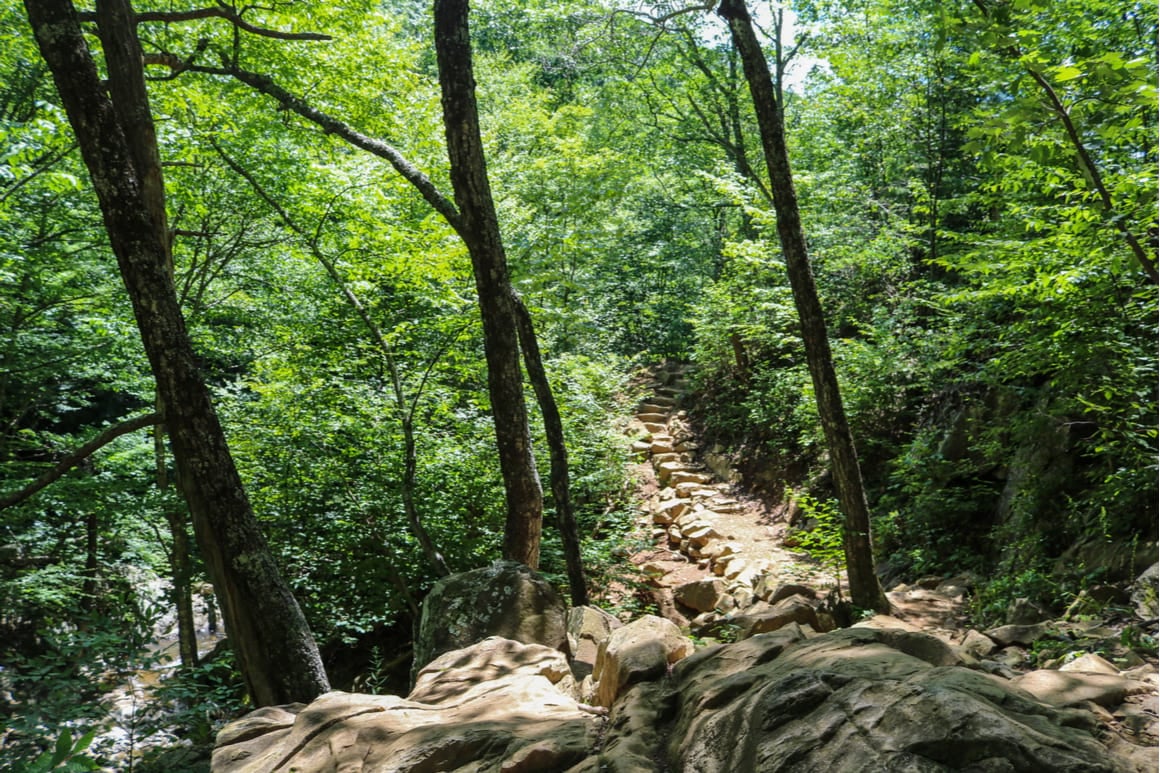 If you plan to come hiking in Shenandoah, but you're not up for any strenuous hikes, this lovely trail might just be the one for you. It's pretty easy most of the way with only a slight incline, and you'll be taking in waterfalls and lush forest scenery along the way!
To be precise, the Rose River Trail is a loop that will take you through a wilderness area. The first part traces the route of a horseriding trail, before veering off and running parallel along the Rose River. From then on, the stream will be with you for most of the way.
That means you'll be able to see the gushing water, and cascades into pools as you go. One particular watery landmark is the Upper Rose River Falls, consisting of several different cascades. This is a good place for a quick stop, but you can also take a detour into a rocky gorge to check out the Lower Falls too.
Otherwise, continue onwards. The trail eventually flattens out, and you'll pass by an old copper mine, with more streams cutting through the land.
Length: 5.6 km
Duration: 1.5 hour
Difficulty: Moderate
Trailhead: Fishers Gap (38°32'00.4″N 78°25'15.2″W)
Small Pack Problems? 😉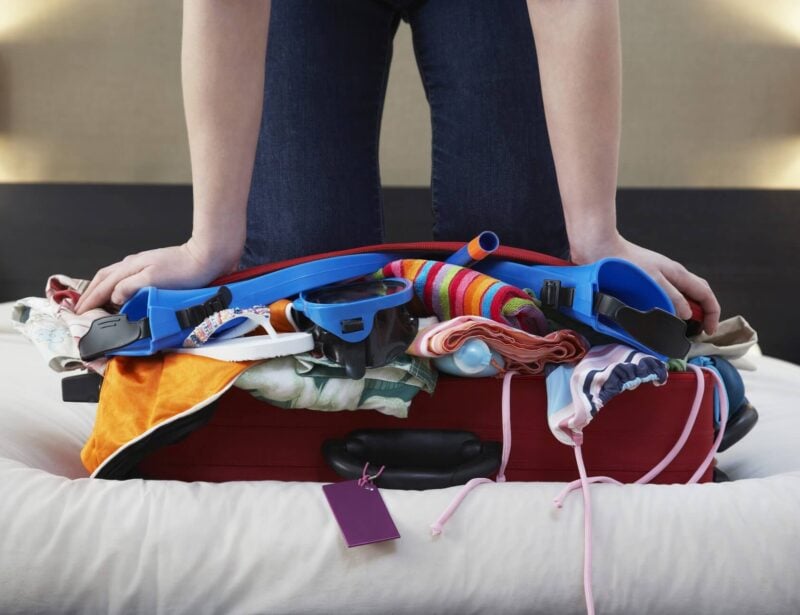 My missus travels with all her clothes in ziplock bags: don't be like my missus. UP YOUR PACKING GAME!
Packing cubes for the globetrotters and compression sacks for the real adventurers – these babies are a traveller's best kept secret. They organise yo' packing and minimise its volume too so you can pack MORE.
Or, y'know… you can stick to ziplock bags.
View Our Fave Cubes
Or Check Out the Sacks!
3. Moormans River Overnight Loop – The Best Multi-Day Hike in Shenandoah National Park
If you want to stay longer in the park and see more than simply what daylight offers, why not stay overnight? That way, you'll be able to tackle a multi-day hike, too — like this one.
Swimming holes, stream crossings, and the chance to really get stuck into nature… Well, you'll be able to get unstuck, so don't worry! But if you're up for an adventurous hike, then read on.
You'll kick start your journey at Turk Gap, hiking north for around eight miles along what's part of the (much, much longer) Appalachian Trail.
There's nowhere to fill your water bottle until you reach the campsite (either Sawlog or Goat Ridge Campground), so bring plenty of it in order to stay hydrated! We can't stress this enough.
Over the next day, there will be a couple of river crossings so prepare to pass through some streams. You will also be able to find a load of swimming holes as you hike.
Look for your next campsite along the way; there are numerous choices, but Charlottesville Reservoir is a solid option. On day three, it's a steep hike to your final destination back at Turk Gap.
All in all, the Moormans River Loop is a very splashy — but really fun — hike in Shenandoah. Perfect for someone looking to disconnect in nature.
Length: 28 km
Duration: 3 Days
Difficulty: Hard
Trailhead: Turk Gap (38°07'44.7″N 78°47'04.9″W)
4. White Oak Canyon Trail – Must-Visit Hike in Shenandoah National Park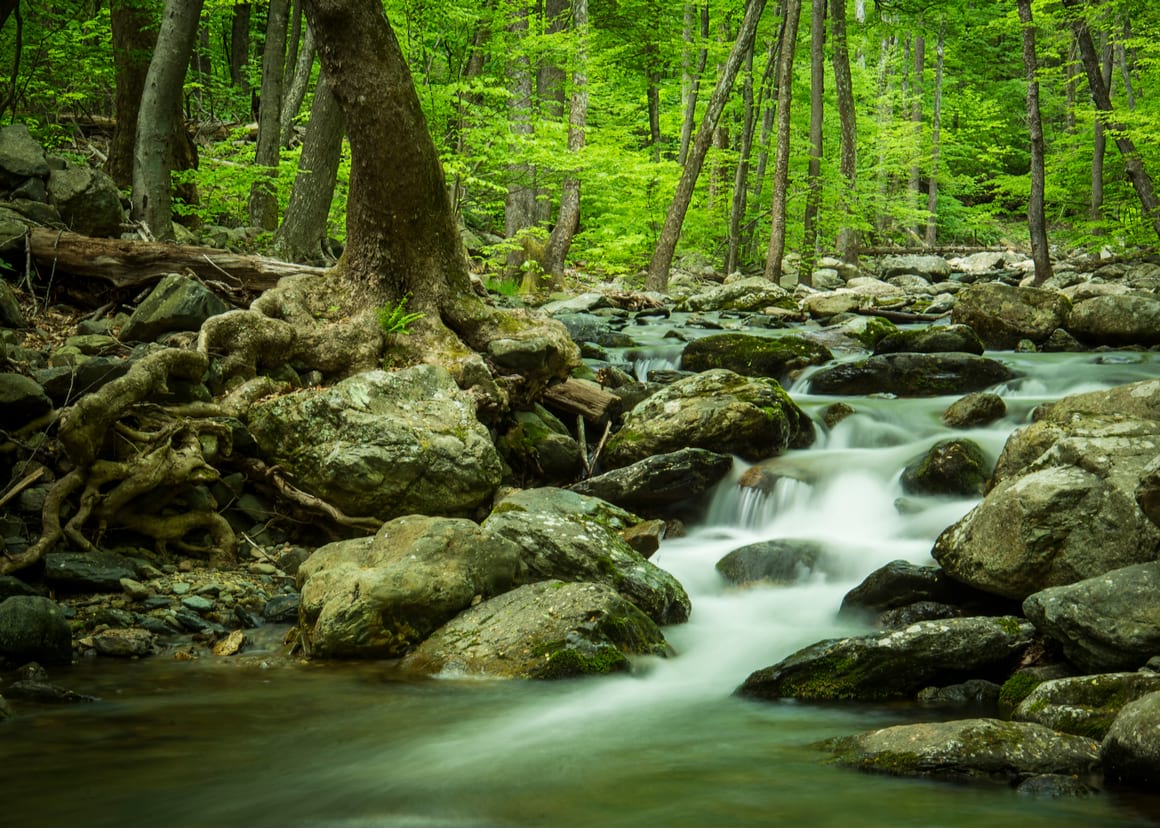 The White Oak Canyon Trail is not a difficult one, but it does come with a lot of epic natural scenery. This hike is all about the waterfalls, and even though it's easier than the Old Rag Mountain Loop, it's way less busy.
You'll start from the parking area of White Oak Canyon, taking a gentle gradient downhill and crossing the Limberlost Trail a couple of times. After crossing the footbridge, you'll reach the main waterfall.
Overall, there are several significant waterfalls on this Shenandoah trail, which act as good waypoints for your journey. You can also use them to have lunch or simply rest for a second. Some of the waterfalls are so big that you'll even have a few pools to swim in.
This is a beautiful hike, perfect if you're traveling with smaller children, and can be done in any season. Even just hiking to one of the falls would already be worth it. You decide how far you wanna go!
Length: 15 km
Duration: 3 hours
Difficulty: Hard
Trailhead: Whiteoak Fire Road (38°33'51.3″N 78°21'51.5″W)
5. Bearfence Mountain Trail – A Fun, Easy Hike in Shenandoah National Park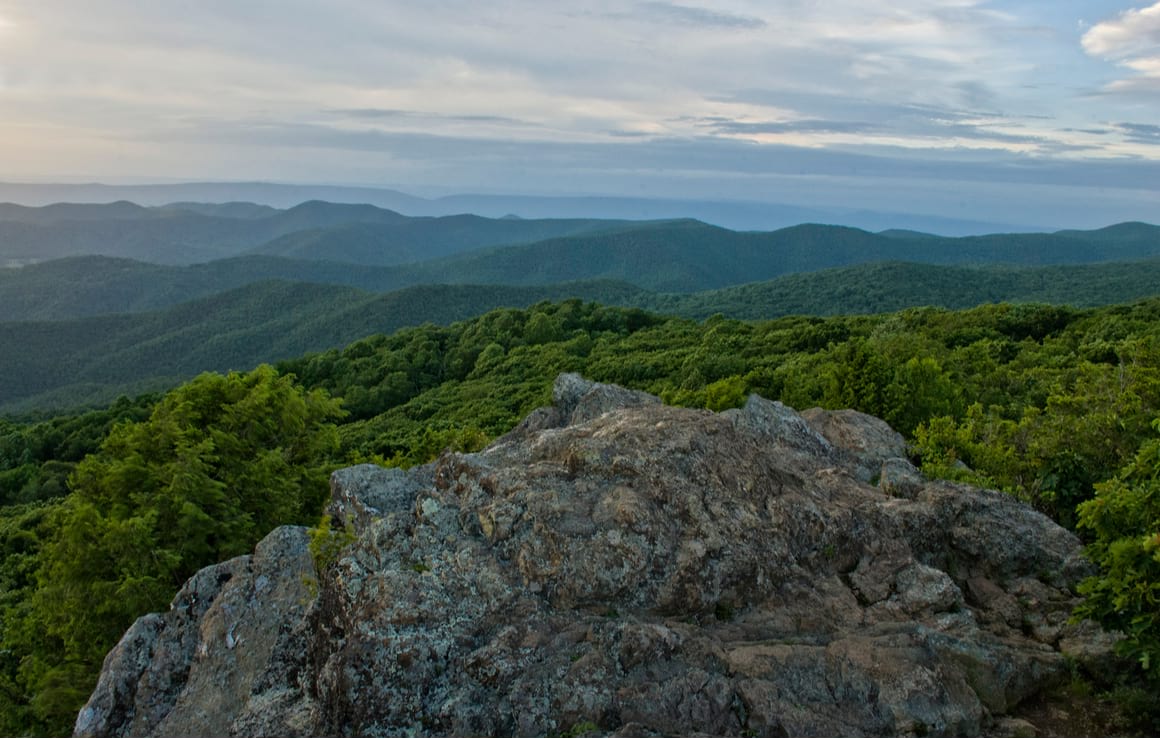 This is another straightforward hike for people that just want to enjoy a beautiful easy stroll in nature, or for those coming with children.
There are a few rock scrambles to embark on, but nothing too strenuous — just enough to make it a tiny bit more adventurous and fun.
The Bearfence Mountain Trail is a very short hike. We're talking less than a mile, and because it's neither super challenging nor very steep, both young and old of any fitness levels should be able to tackle it without a problem.
After the rock scramble we've mentioned, you'll be at the summit of Bearfence Mountain. The elevation gain may only be 242 feet, but you'll have 360-degree views of the surrounding Blue Ridge Mountains.
If you feel like venturing further afield, there's always the option to lengthen it by taking in more of the Appalachian Trail with it. People really like this one for the sunrise/sunset appeal of it, and we stand with them!
Length: 1.6 km
Duration: 0.5 hours
Difficulty: Easy/Moderate
Trailhead: Bearfence Mountain Trailhead (38°27'08.4″N 78°28'00.6″W)
Save $$$ • Save the Planet • Save Your Stomach!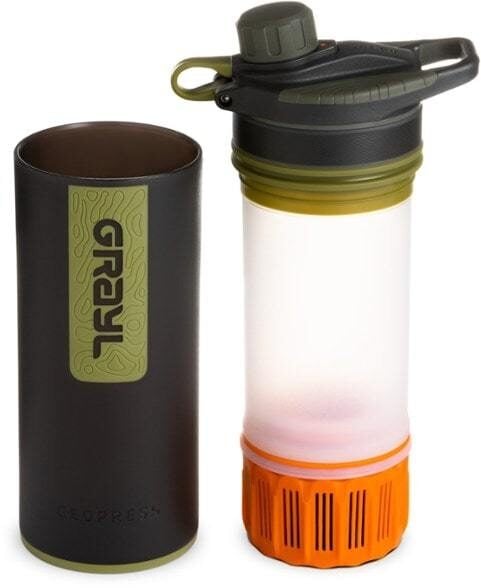 Drink water from ANYWHERE. The Grayl Geopress is the market's leading filtered water bottle protecting your tum from all the waterborne nasties. PLUS, you save money and the environment!
Single-use plastic bottles are a MASSIVE threat to marine life. Be a part of the solution and travel with a filter water bottle.
We've tested the Geopress rigorously from the icy heights of Pakistan to the tropical jungles of Cuba, and the results are in: it WORKS. Buy a Geopress: it's the last water bottle you'll ever buy.
Buy a Geopress!
Read the Review
6. The Riprap Trail – The Toughest Trek in Shenandoah National Park
This trail has basically everything you could ever wish for from a hike — waterfalls, streams, inclines, views, rock scrambles, creek crossings, and wildlife; it's all here.
You can expect a lot of climbing, but that also means you can expect some pretty fantastic views out of it. It's one of the toughest hikes in Shenandoah, particularly because of the stream crossing — but if that's what you're looking for, you'll love it.
From the parking area, you'll firstly intersect the Appalachian Trail before heading uphill on the Riprap Trail itself. It then descends through a gap before it begins another climb to the first viewpoint.
From here, the way is up until you reach another viewpoint. You'll come across waterfalls and gorges, so feel free to take a dip in the meantime!
After that, the Riprap Trail is steeper and altogether more difficult, with several switchbacks along Wildcat Ridge to take on. The final section connects with a part of the Appalachian Trail before you wind up where you began.
It's definitely worth the effort: even on a rainy, foggy day, this hike is still magnificent.
Length: 14.65 km
Duration: 5-6 hours
Difficulty: Hard
Trailhead: Riprap Trailhead (38°10'39.6″N 78°45'54.3″W)
7. Hawksbill Mountain Summit – Best Hike for Views in Shenandoah National Park
Want views? Then you'll want to try out the Hawksbill Mountain Summit. This is actually the highest point in the entire park, rising over 4,000 feet above sea level.
Getting to the top is challenging, and it's definitely going to make you sweat. The hike is basically a 600-feet climb up, and you'll be hiking under the treeline most of the time. Feel free to make stops at any point, no need to rush!
At the summit, a stone overlook has been built — you'll know when you come across it. From here, lap up the views, people. They're easily some of the best you'll get anywhere in Shenandoah National Park.
Our tip is that you bring yourself a picnic. That way you can make the most of this relatively short trail, stopping off along the way – or at the top (it can get windy up there) — for a bite to eat.
To descend, you have two options: either go back the way you came or take the alternative trail to loop back around.
Length: 2.4km
Duration: 1 Hour
Difficulty: Average
Trailhead: Hawksbill Fire Road (38°32'42.5″N 78°24'01.4″W)
8. Bear Church Rock – Best Off the Beaten Path Trek in Shenandoah National Park
Even though Bear Church Rock Trail is super picturesque, it's not as well known as other hikes in Shenandoah National Park. We're not sure why, but that's just how things work around here.
So, for those looking for a hiking experience with little to no crowds, this is definitely one to note down. It's a bit challenging, but it's well maintained, well-marked and not overly long.
You'll start at Rapidan River for the first portion, but as the trail quickly winds uphill, the scenery starts to change; small falls and pools pockmark the path now. It's a steep climb along the Staunton River from this point on.
You'll be winding through deciduous forests, and ascending upstream for an elevation of 2,000 feet. Don't take this hike lightly, because it's definitely not a stroll in the park.
Once you reach Bear Church Rock, take a moment to soak up the surrounding landscape of the park. You'll be glad you came up for the view: the mountains and forests seem to stretch out endlessly into the distance!
On the way back down, you'll pass the historic Jones Mountain Cabin, a restored 1850s cabin where it's actually possible to stay the night.
Length: 12.7 km
Duration: 4.5 hours
Difficulty: Moderate
Trailhead: Graves Mill Parking Area (38°26'13.0″N 78°22'01.2″W)
DON'T DIE OUT THERE! …Please 🙂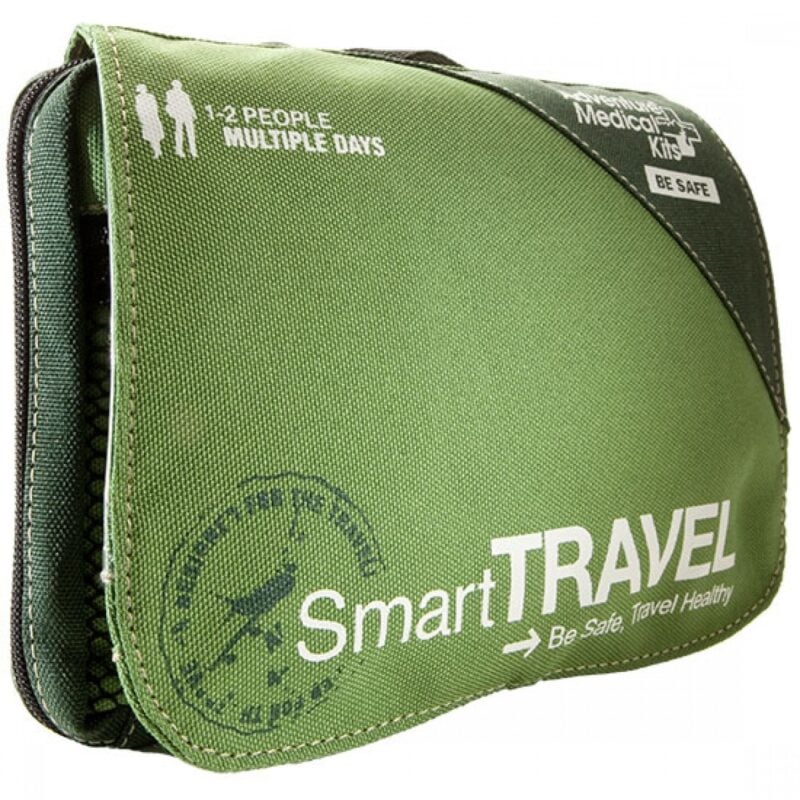 Things go wrong on the road ALL THE TIME. Be prepared for what life throws at you.
Buy an AMK Travel Medical Kit before you head out on your next adventure – don't be daft!
Buy on REI
With all of that out of the way now, it's time to move on to one of the last things you need to figure out for the trip: where to stay in Shenandoah National Park.
First off, there's the option to stay in large cities. Virginia has its fair share of them, and a few are within easy reach of Shenandoah National Park. You have Harrisonburg, Staunton, and then Charlottesville.
All these places have everything you'd want in a large city — places to crash, places to eat, places to drink, and all sorts of city goodies. If you're hiking in Shenandoah, but are also down for some wineries, there's plenty of that right near Charlottesville.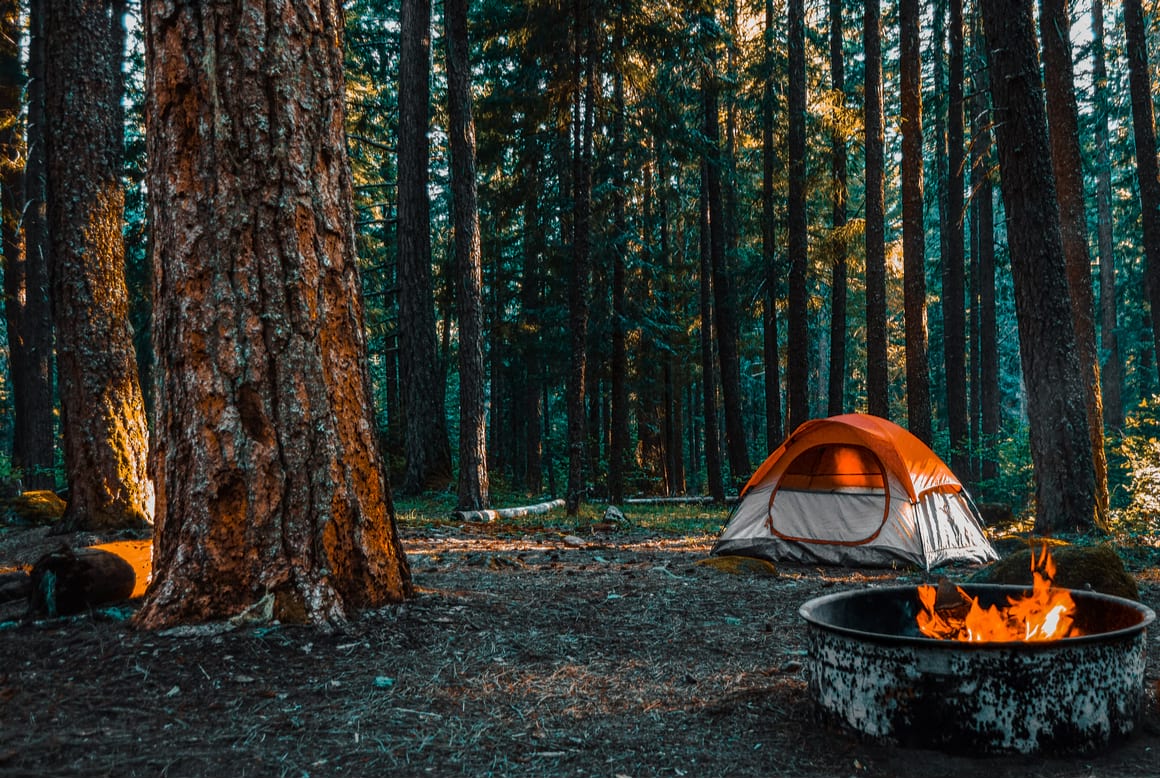 You'll also find a lot of wineries in Front Royal, on the northern tip of Shenandoah. It's got good accommodation options, too!
If you want to go full power on the city vibes, then you can consider looking for places to stay in Washington DC. You can get a taste of the US capital, and still be within a 1.5-hour drive from Shenandoah National Park.
Then again, if you're looking to hit the trail and be totally immersed in nature, you'll want to either stay in a cabin, inside the park, or go camping in Shenandoah. You've got plenty of campgrounds all along the park, a
Is This the Best Backpack EVER???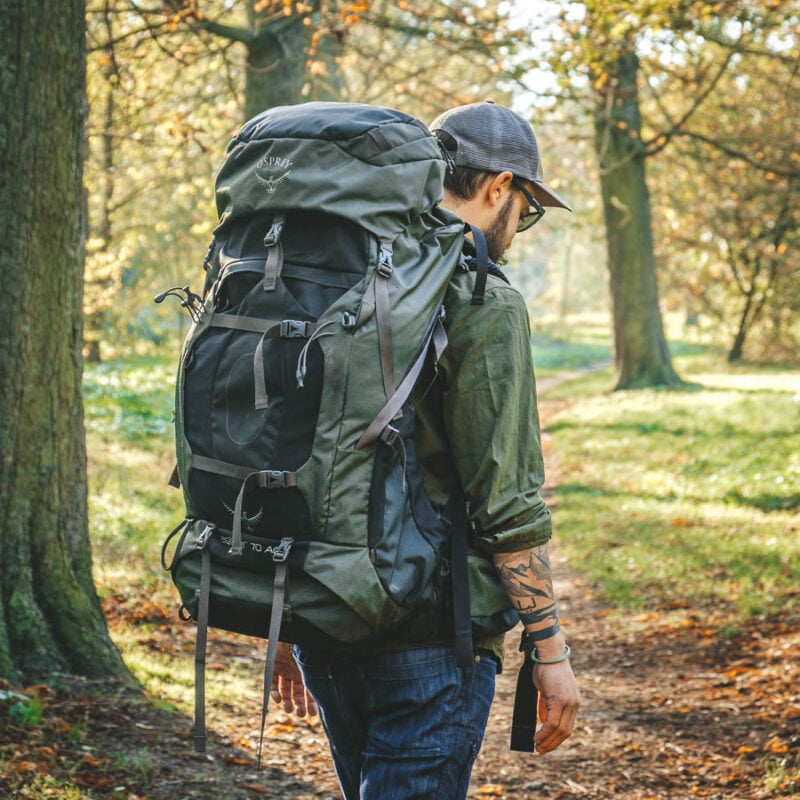 Alright guys and gals, final round. We've been through all the best hikes in Shenandoah, all the safety tips, all the accommodation options — we've been through it all. The final step is wrapping up your hiking packing list.
Being kitted out with the right gear can make really make a difference in how your hike turns out. You might not need any specialized gear to go hiking in Shenandoah, but you will need to spend some time planning what to pack.
Forgetting something as simple as the right pair of shoes, or leaving behind your trail snacks, can easily ruin an otherwise perfectly fine trip. During summer, be sure to have breathable layers, a hat, and sunglasses. In cooler months, be well-insulated: away from the valley, higher elevations are much cooler.
We know we sound like your mom now, but be sure to bring enough food and snacks to sustain you on your hike. Oh, and bring a solid water source, too. Consider investing in a filter water bottle so you have access to clean drinking water EVERYWHERE — plus, you'll help reduce plastic waste.
A few more items would include sunscreen, mosquito repellent, a first aid kit (just in case), and a trusty daypack to fit it all in. Here's a summary of it all:
Trekking Poles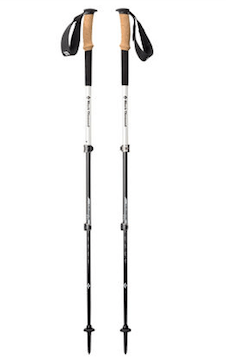 Trekking Poles
Black Diamond Alpine Carbon Cork
Price > $$$
Weight > 17 oz.
Grip > Cork
Headlamp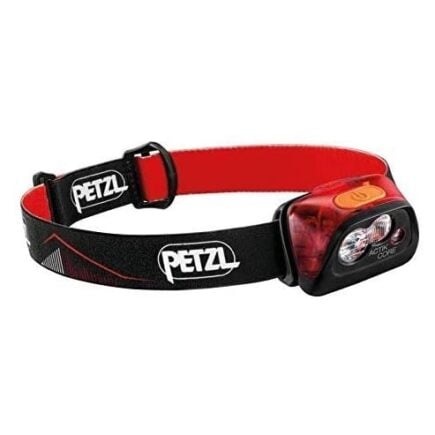 Headlamp
Petzl Actik Core Headlamp
Price > $$
Weight > 1.9 oz
Lumens > 160
Hiking Boots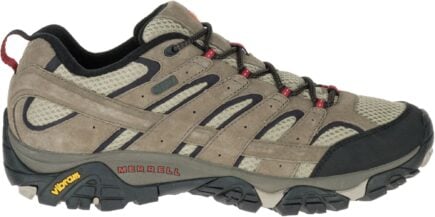 Hiking Boots
Merrell Moab 2 WP Low
Price > $$
Weight > 2 lbs 1 oz
Waterproof > Yes
Daypack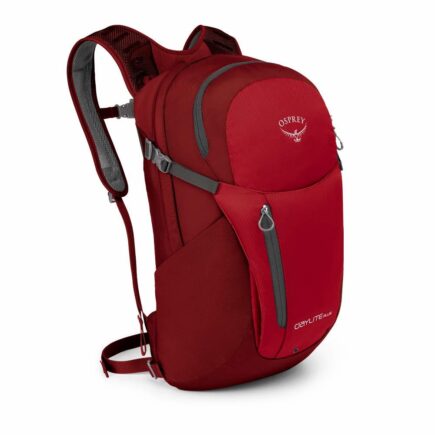 Daypack
Osprey Daylite Plus
Price > $$$
Weight > 20 oz
Capacity > 20L
Water bottle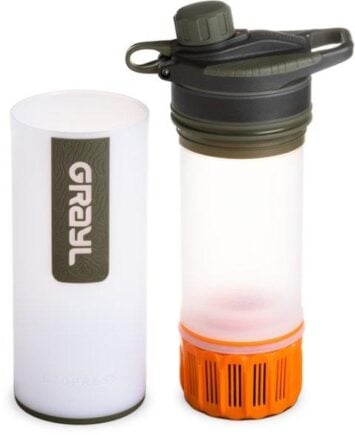 Water bottle
GRAYL Geopress
Price > $$$
Weight > 16 oz
Size > 24 oz
Backpack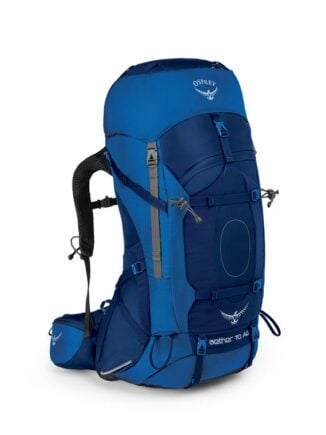 Backpack
Osprey Aether AG70
Price > $$$
Weight > 5 lbs 3 oz
Capacity > 70L
Backpacking Tent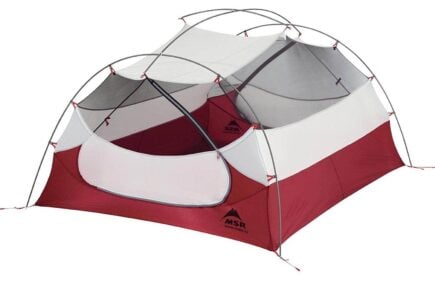 Backpacking Tent
MSR Hubba Hubba NX 2P
Price > $$$$
Weight > 3.7 lbs
Capacity > 2 person
GPS Device
GPS Device
Garmin GPSMAP 64sx Handheld GPS
Price > $$
Weight > 8.1 oz
Battery Life > 16 hours
Don't Forget Your Shenandoah National Park Travel Insurance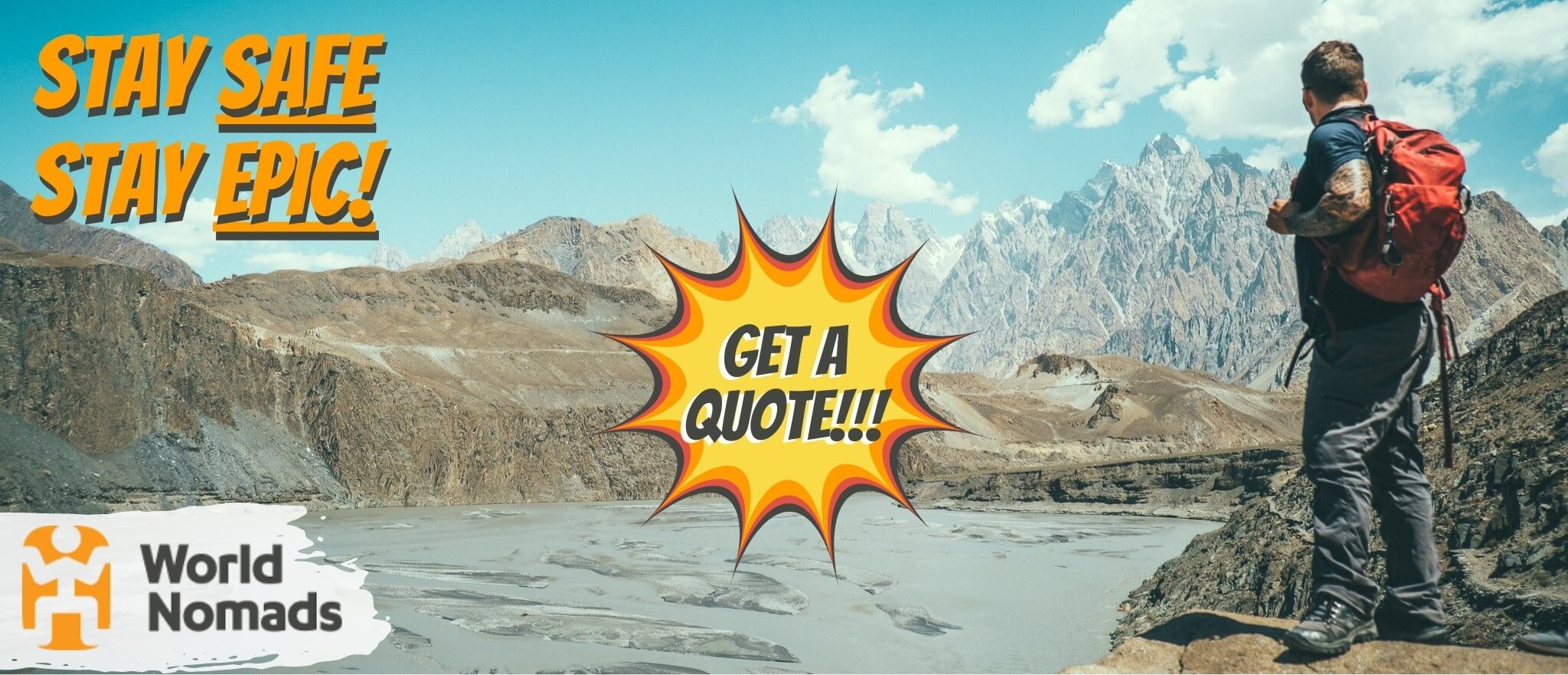 World Nomads' mission is to support and encourage travellers to explore their boundaries. They offer simple & flexible travel insurance, and safety advice to help you travel confidently.
They've been doing it since 2002 – protecting, connecting, and inspiring independent travellers just like you.
Get a quote below or read our in-depth review!
World Nomads provides travel insurance for travelers in over 100 countries. As an affiliate, we receive a fee when you get a quote from World Nomads using this link. We do not represent World Nomads. This is information only and not a recommendation to buy travel insurance.
---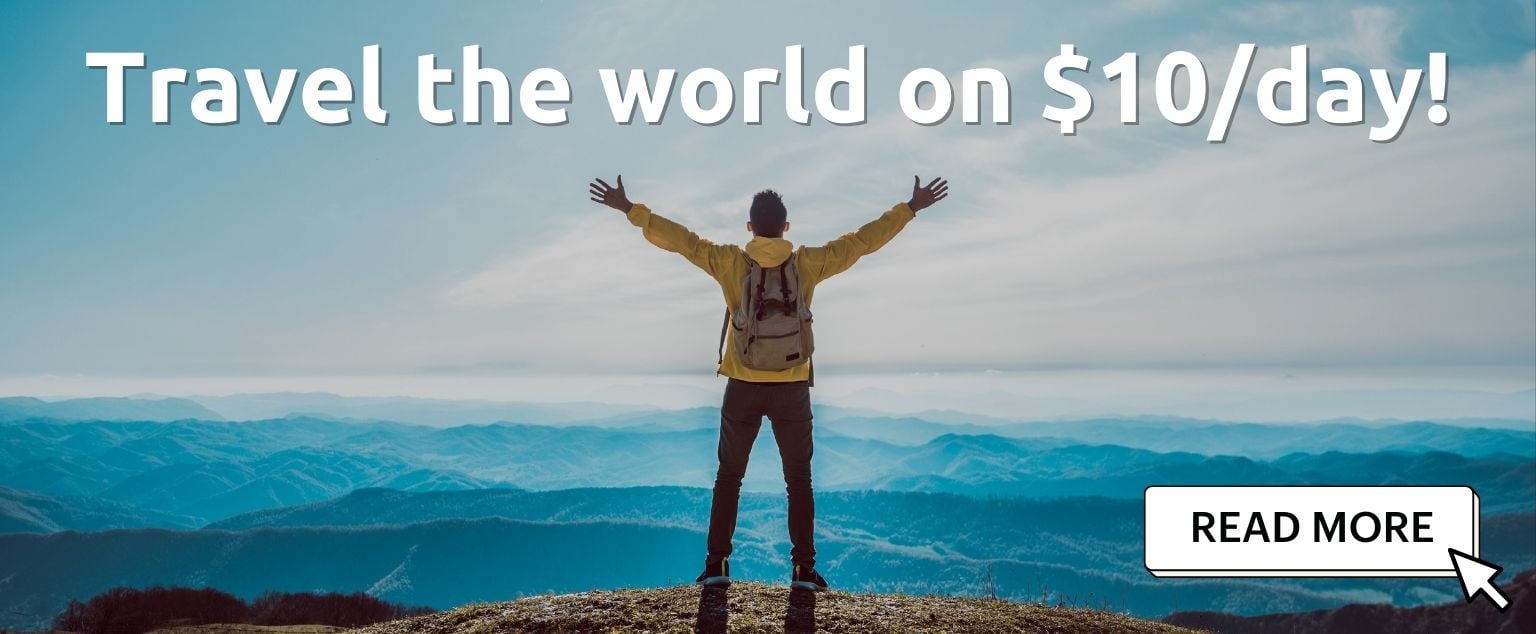 And for transparency's sake, please know that some of the links in our content are affiliate links. That means that if you book your accommodation, buy your gear, or sort your insurance through our link, we earn a small commission (at no extra cost to you). That said, we only link to the gear we trust and never recommend services we don't believe are up to scratch. Again, thank you!