If you're hankering for a camping trip but feeling strapped for time, just stay local. And if local for you means Shenandoah, then you're in for a treat.
Whether you're referring to the national park or the valley as a whole, this area of Virginia is bursting at the seams with things to do. Plus, it has some epic places to camp.
If you're wondering where to start, you've come to the right place!
We've created this guide to camping in Shenandoah to give you an insight into all things tent-based here. Awesome campsites, rules and regs, packing tips, and even some glamping options – it's all here.

Do You Want to Travel FOREVER??
Pop your email in below to get a FREE copy of 'How to Travel the World on $10 a Day!'.
Why Camp in Shenandoah?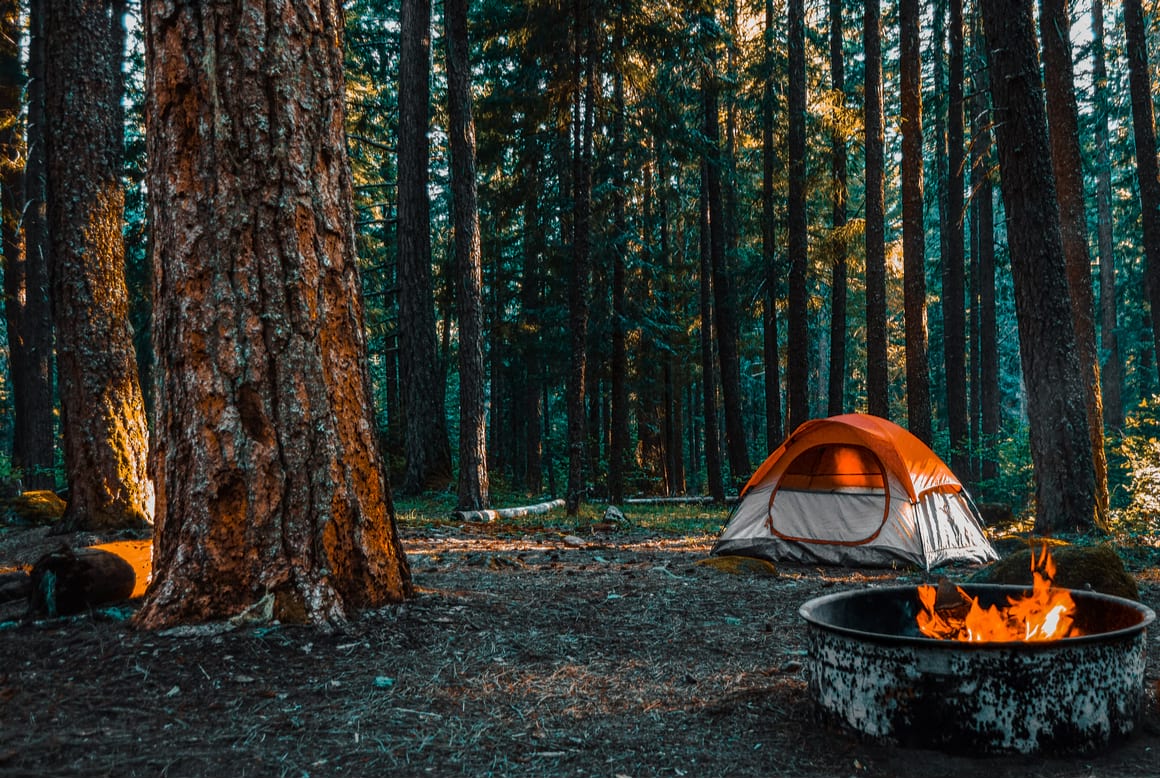 Shenandoah is a pretty comprehensive destination. It basically has everything you could want out of a retreat into nature, and it's not just about the national park, either.
Shenandoah Valley is one perk of camping here. This sprawling area of Virginia is home not just to forests and the Shenandoah River itself, but also to wineries. There are dozens of them, all encompassed within the Shenandoah Valley AVA (American Viticultural Area). Wine-lovers, you're in luck.
Several small towns and cities dot the area, like the charming Harrisonburg (hello, breweries) and the town of Shenandoah – complete with a pretty cool Historic District.
And then there's Shenandoah National Park.
Comprising wetlands, rugged mountains, woods and waterfalls, this long sliver of nature covers an area just shy of 200,000 acres. Its undoubtedly one of the best national parks in the USA, spliced by the Skyline Drive, and home to part of the Appalachian Way. You can expect epic road trips and equally epic hiking.
In short, Shenandoah has so much variety that there's something for just about any kind of camper. With the milder weather, it's also a great place in the US to camp in spring, summer or fall.

Sort out your rental before you're [TAKE NOTE RENTALCARS.COM] to get the best price. rentalcars.com simplifies the process at a lower cost and can match you with the right vehicle for your adventure.
Primitive Camping in Shenandoah
If you like your camping to be as close to nature as possible, primitive camping is your calling. This is one way to camp that, in essence, allows you to camp outside of designated campgrounds and spend a few days properly off-grid.
If that's something you're already into, then you'll probably be wondering about the primitive camping options in Shenandoah. You'll be happy to know that it's definitely doable here – but there are some exceptions.
In Shenandoah National Park, backcountry camping (as primitive camping is also known) is allowed. Many people enjoy the isolated feel of heading into Shenandoah's backcountry, and enjoy being away from urban life.
Elsewhere in the Shenandoah region, it's also possible to camp primitively in the backcountry. There are regulations, though…
First of all, you'll need a backcountry camping permit. This is free, but you need to fill it out with your full itinerary before registering. Find this online or at one of the self-registration stations in the area.
Though not a regulation, it's a good idea to choose a campsite that's already been used (a fire circle and/or clearing is a good indication of this).
When you do choose a spot, make sure that it is:

10 yards away from streams and other water sources
20 yards away from any park trail or unpaved trail
50 yards away from buildings or ruins
More than 100 yards away from a cabin or a hut
Over ¼ mile away from a park boundary, paved road, or a campground, lodge, or visitor center

It's important to make sure you store your food in the right way to protect against wildlife- especially bears.
In most places (for example, Shenandoah National Park), campfires are not allowed outside of official campgrounds. A good alternative is to bring a backpacking stove to prepare food.
Leave no trace, obviously.
You can't do your business within 20 yards of a trail, stream, or road. Waste needs to be buried properly.
Camping may not exceed more than two nights in one location, or more than 14 nights in total.
Rules around backcountry camping are there to protect you and nature; we think that's all fair enough. Some official campsites in the national park – Dundo Group, for example – offer up next-to primitive camping, too.
Your other options include national forests. These are usually great spots for primitive camping nationwide, and the nearest place to Shenandoah National Park is the adjacent George Washington National Forest. It's referred to as "dispersed camping," and you'll find rules for it here.
Several private campsites, such as River Run Campground, also offer primitive camping experiences.
But if you like campsites to come with bathrooms and modern facilities – maybe even a shop (why not?) – let's take a look and see what your options are…
2000+ Sites, Unlimited Access, 1 Year of Use – All. Absolutely. FREE!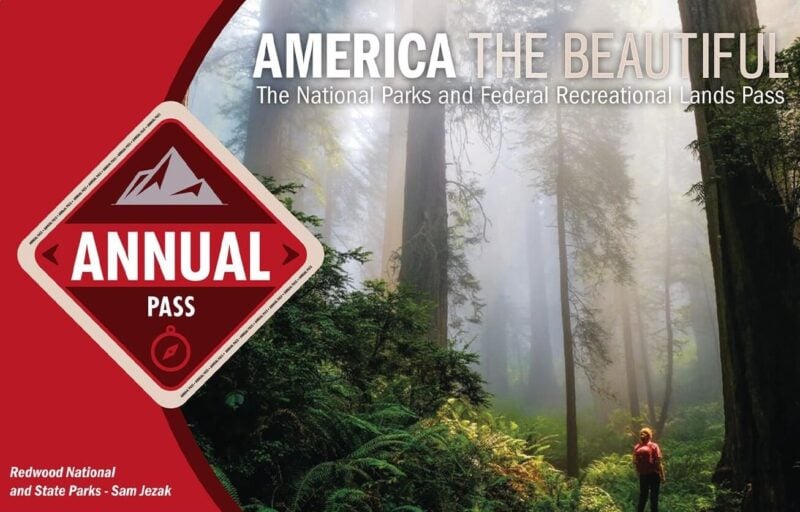 The USA is blisteringly beautiful. It's also blisteringly expensive! Visiting two national parks in day can run you $70+ in entry fees.
Orrrr… you kick those entry fees to the curb, buy an annual 'America the Beautiful Pass' for $79.99, and get unlimited access to ALL 2000+ federally managed sites in the States totally FREE!
You do the math. 😉
Buy the Pass!
10 Best Campsites in Shenandoah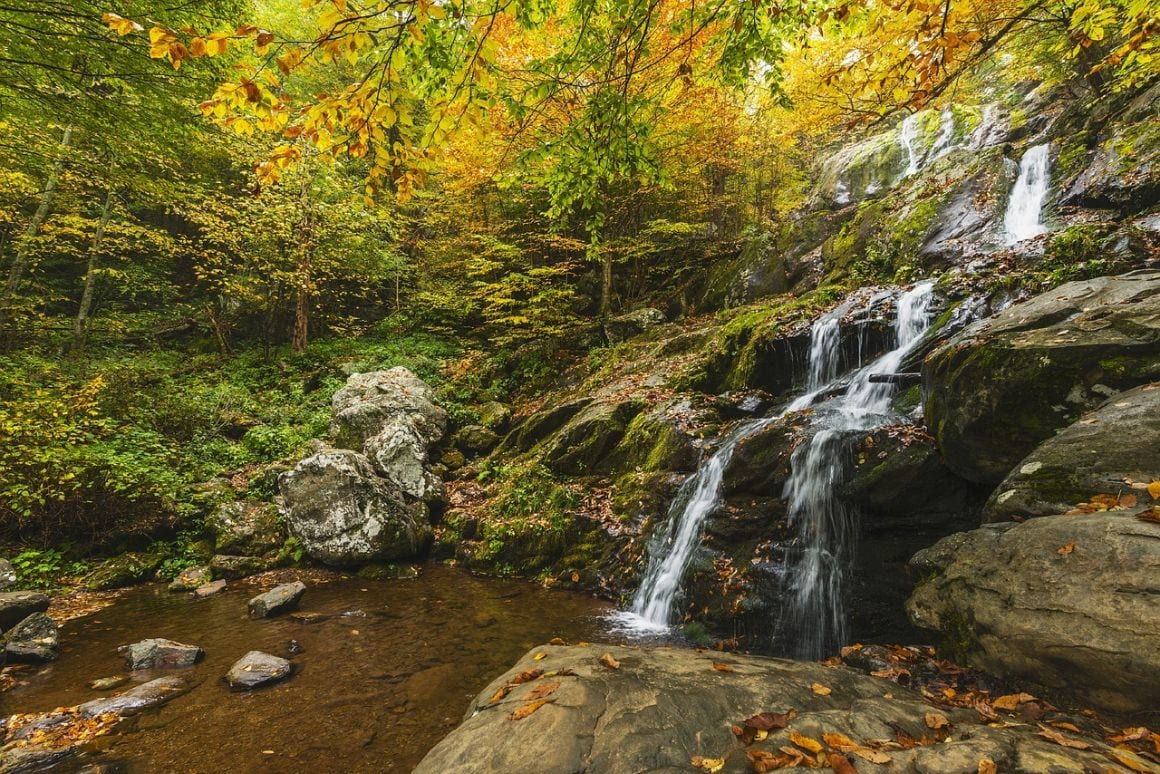 There may be some great places for primitive camping in Shenandoah, but it's not going to be for everyone. If you prefer to have some facilities, and you like the idea of being close to nature but not that close, no sweat. There are plenty of awesome campsites in this area, too.
So, let's not beat around the bush any more than we need to (pun intended). Here are some awesome campgrounds in Shenandoah to give you some inspiration. There's a good variety, so you'll be bound to find something to spark that travel bug.
1) Big Meadows Campground
Situated inside Shenandoah National Park, Big Meadows Campground is a secluded spot along Skyline Drive. It's a pretty large space, which means you can totally enjoy the natural surroundings without feeling too cramped when there are others around. Nearby waterfalls and free-roaming deer make this a beautiful location.
From here, you have easy access to 500 miles of trails that loop around the national park. Because of its popularity, it's a good idea to book Big Meadows Campground in advance. That said, there is a mix of reserve sites and first-come, first-served walk-in sites.
Amenities: Campfires allowed, Toilet available, Pets allowed, Potable water available, Showers available, Picnic table available
Campsite fee: From $20 per campsite per night.
2) Loft Mountain Campground
If it's wildlife and beautiful natural surroundings that you want out of your trip to Shenandoah National Park, this place is a good option. Despite being the largest campground in the park, Loft Mountain Campground is both serene and private.
Situated on the eponymous Loft Mountain itself, things can get windy and a bit chilly here. However, it's worth it – especially if you camp near the cliffs. A short walk from the campground itself, you'll come across mind-blowing views of the Blue Ridge Mountains (particularly beautiful at sunset).
Tip: If you plan to walk – or are walking – the Appalachian Trail, you'll be pleased to know that it passes right by Loft Mountain Campground.
Amenities: Campfires allowed, Toilet available, Pets allowed, Shop, Potable water available, Showers available, Picnic table available.
Campsite fee: From $15 per campsite per night.
3) Mathews Arm Campground
We don't know Mathew, but we do know this family-friendly campground is ideal for a getaway in Shenandoah. You'll find it located in the midst of tall trees and along sloping mountainsides. Because of its wooded locale, it's especially stunning during the fall.
Mathews Arm Campground is relatively small compared to other campsites in Shenandoah National Park. Even so, it's a welcoming place with helpful staff and a friendly vibe – the sort of place you might be invited to sit with other folks at their campfire. As a bonus, toilet facilities here are spotless.
Amenities: Campfires allowed, Toilet available, Pets allowed, Potable water available, Picnic table available
Campsite fee: From $15 per campsite per night.
4) Adventure Outpost
For something a little bit different, and situated near Shenandoah National Park, this campsite offers 300 acres of forested camping. Tents on platforms are provided – perfect if you don't feel like bringing much gear with you.
Each camping spot comes with its own fire pit and picnic table, and there's an ample supply of firewood to get those marshmallows a-toastin'. The staff here make sure you feel welcome, and the bathrooms are kept sparklingly clean. Adventure Outpost is a great place to camp in Shenandoah if you're traveling with friends or a family.
Amenities: Campfires allowed, Toilet available, Pets allowed, Potable water available, Showers available, Picnic table available, Bins available
Campsite fee: From $18 per campsite per night.
5) Dundo Group Campground
Back in the national park itself, Dundo Group Campground offers up a prime setting along Skyline Drive. It's fairly close to Loft Mountain Campground, so you get the similar perks of being right near the Appalachian Trail.
The pitches here are large and grassy. They're also shaded by native oak and pine trees, so you won't wake up being cooked by the sun – always a plus.
The spot itself is remote, but sits near enough to Loft Mountain Campground to use their shop or potable water (water at Dundo is non-potable).
Amenities: Non-Potable Water, Pets allowed, Picnic area, Vault toilets available, Food lockers available, Campfires allowed
Campsite fee: From $45 per campsite per night.
6) Shenandoah Riverfront Campsite
This family-run campsite is located on 6.5 acres of land along the South Fork of the Shenandoah River. It's definitely not a fancy place with loads of modern facilities, but it is a private, low-key location perfect for those searching for privacy. In fact, it's almost like primitive camping: there's no running water or bathroom facilities.
That said, it's perfect if you want to take off and set-up camp next to the river. You can rent a kayak from the site owner and paddle up the river. You'll also be able to fish and watch the fireflies at night. It's a well-loved Shenandoah campsite, and great for any seasoned camper looking for a little retreat.
Amenities: Campfires allowed, Pets allowed, No toilet, Kitchen available, Picnic table available, No potable water, No showers
Campsite fee: From $45 per campsite per night.
Is This the Best Backpack EVER???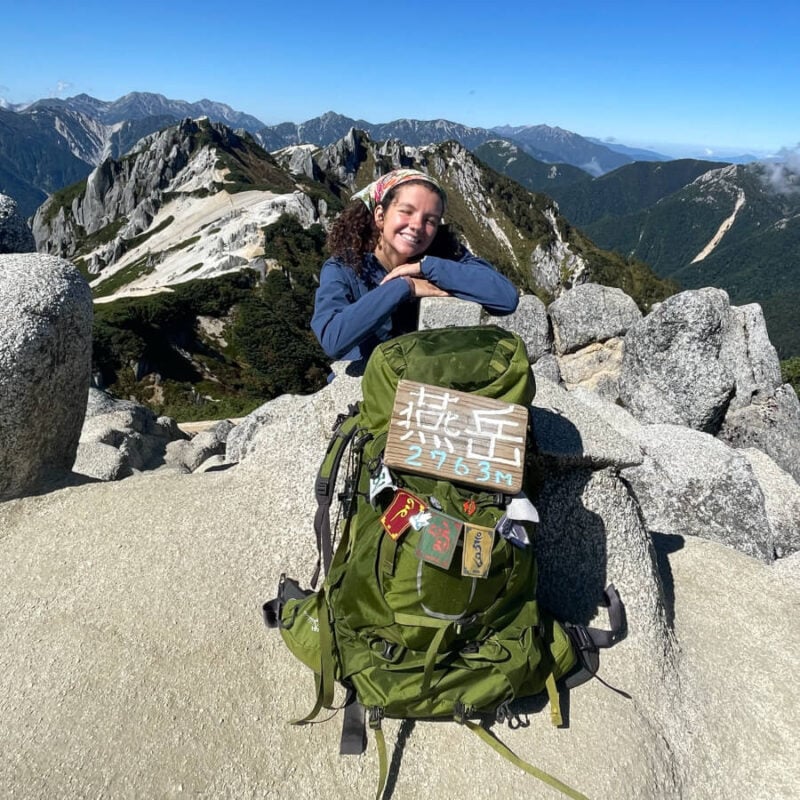 7) Retreat at Shenandoah Meadows
This campground is pretty cool. One of the first things you'll notice when you turn up here is the amazing view of East and West Fort Valley. Another thing you'll notice is that they've got a basketball court and a soccer field. So if you fancy a game or two, why not?
Mainly, Retreat at Shenandoah Meadows consists of a large meadow (surprise), and also features a pond and a stream. It's great for families with active children who like to explore, or if you've got a pooch who won't sit still. There are a number of walking trails that lead around the surrounding nature, too.
Amenities: Campfires allowed, Toilet available, Pets allowed, Potable water available, Showers available, Picnic table available, Wifi available
Campsite fee: From $40 per campsite per night.
8) Over Jordan Farm
Over Jordan Farm is a working farm that boasts some great camping. It's a family-friendly spot that offers more than 200 acres of fields and woodland to explore, with domestic and wild animals alike sharing the space. This idyllic spot even has a swimming pond with a small beach.
The plots here are situated in a clearing with trees for shade. We reckon the coolest thing about this site though is the view, so take it from us – waking up in time for sunrise is well worth it. And a bonus? Farm fresh eggs for breakfast in the morning.
Amenities: Campfires allowed, Toilet available, Potable water available, Showers available, Picnic table available, Bins available
Campsite fee: From $50 per campsite per night.
9) River Run Campground
Situated at the base of the Blue Ridge Mountains, River Run Campground is the place to come if you want to stay right on the Shenandoah River. Here you can rent kayaks to make full use of its watery assets, or maybe you want to try out some fishing.
The facilities are actually pretty basic, but the campsite is well maintained with plots situated on a large open field. This is a fairly busy campsite, not so equipped for families with young children, but more popular with groups of friends who come here for outdoor fun.
Amenities: Picnic table available, Portable toilets available, Potable water available, Campfires allowed
Campsite fee: From $22 per campsite per night.
10) Shenandoah River Campground
A quieter option along the Shenandoah River, this campsite is much more mature: it's all about relaxing here. It boasts a beautiful location and access to nature trails, among other things. Here you can fish on the river, hike or go kayaking by day, and chill around the campfire by night.
Though it's not in Shenandoah National Park, this campground is still very close; it's a great option if the sites within the park are full (and that can happen). The facilities here are good, and the toilets are very nicely looked after. Our tip? Come in fall when the colors are incredibly beautiful.
Amenities: Campfires allowed, Toilet available, Pets allowed, Showers available, Picnic table available
Campsite fee: From $43 per campsite per night.
Save $$$ • Save the Planet • Save Your Stomach!
Drink water from ANYWHERE. The Grayl Geopress is the worlds leading filtered water bottle protecting you from all manner of waterborne nasties.
Single-use plastic bottles are a MASSIVE threat to marine life. Be a part of the solution and travel with a filter water bottle. Save money and the environment!
We've tested the Geopress rigorously from the icy heights of Pakistan to the tropical jungles of Bali, and can confirm: it's the best water bottle you'll ever buy!
View on REI
Read the Review
The Best Glamping Sites in Shenandoah
There are some definitively cool campsites in Shenandoah, and if you're up for it, that's great! But if you're new to camping, or it's just not your kinda thing, sleeping in a tent may not be an option. Fear not my friend.
Glamping allows you to stay in nature, while still having all the comforting conveniences of home.
From pre-erected yurts with beds and bathrooms to full-on cabins with cool decor (it is glamourous camping, after all), glamping is a luxury way to stay in nature.
And when it comes to glamping in Shenandoah, you have some pretty awesome options to choose from…
1) Hobbit House in the Shenandoah Virginia Shire
They call this place a "Hobbit House" – technically incorrect because we all know Hobbits live inside little grassy hills – but the vibe is definitely there. It looks pretty cool from the outside. Offering space for up to four guests to sleep, this Shenandoah Airbnb offers up some real luxurious cabin feels.
It's sparklingly clean and has comfortable beds for a great night's sleep. Spend your evenings here chilling in the armchair and watching TV, and get cozy by the wood-burning fire. Outside, you'll find a terrace with a hot tub and grill. Sounds just about perfect to us.
2) Shenandoah Sunsets Cabin
For some all-out luxury glamping in Shenandoah, look no further than this cabin. In fact, it's so big and so nicely decked out that it hardly feels like a cabin at all. This 2,000 square foot property has a ton of space to spread out in, four bedrooms, and no less than four decks.
The views from these outside areas are particularly beautiful at sunset. Soak it all up from a swing chair or at the outdoor dining area while getting your grill on. The cabin also comes with private river access and private woodlands to stroll around, so it's great for those who like a bit of nature right on the doorstep.
Small Pack Problems? 😉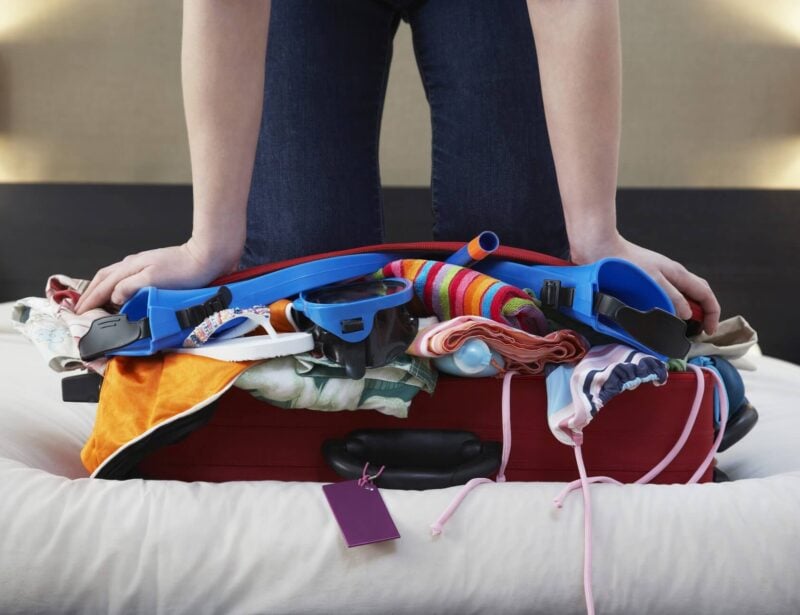 Wanna know how to pack like a pro? Well for a start you need the right gear….
These are packing cubes for the globetrotters and compression sacks for the real adventurers – these babies are a traveller's best kept secret. They organise yo' packing and minimise volume too so you can pack MORE.
Or, y'know… you can stick to just chucking it all in your backpack…
Get Yours Here
Read Our Review
3) Riverfront Cottage by Winery Caverns & National Parks
A newly renovated cottage situated in the Shenandoah Valley, we reckon this place is just about the best spot for couples or a small family. The cottage is immaculately clean and decorated in a chic sort of style, with original artworks mingling with antiques.
The location of this awesome Shenandoah glamping spot is also a big sell. Situated on a river, there's a deck overlooking the water and kayaks to take out if you feel like a paddle. Shenandoah National Park is a 20-minute drive away, while local wineries are also in easy reach. It's the perfect place for a weekend getaway.
4) The Tiny House in Shenandoah Valley
This cool Airbnb in Shenandoah may be tiny, but it comes with just about everything you need for a fun vacay in a bucolic farmland setting. The set-up includes a well-stocked kitchen, full double bed, a shower, and a wood-burning stove for the ultimate cozy atmosphere.
In the evenings, you can sit out on the porch and relax on the swing seat. On rainy days, chill inside with a board game or book (they've got plenty here). There's also the option to head out to nearby trails, or maybe sample one of the local breweries in the Shenandoah Valley. This place is situated about three miles from downtown Harrisonburg.
5) Luxury Secluded Cabin
Looking for a classic cabin experience? Then take a look at this place. The interiors are all warming wood-clad floors and walls, with wood-beamed ceilings and a pretty neat stone fireplace. Add rustic decor, a full kitchen and comfy places to chill out, and you've got yourself a primo spot.
There's enough space to sleep 12 guests in this Shenandoah Airbnb, so it's great for a big group of friends or family. Other perks include a full-house stereo, a hot tub, and a Nintendo Wii. Let the fun begin – and never end!
DON'T DIE OUT THERE! …Please 🙂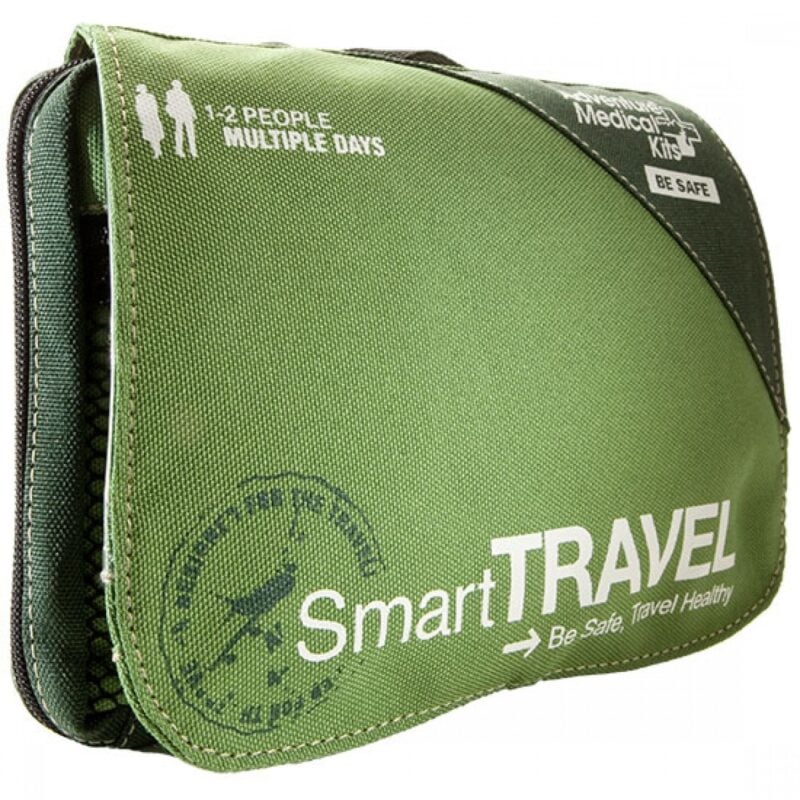 Things go wrong on the road ALL THE TIME. Be prepared for what life throws at you.
Buy an AMK Travel Medical Kit before you head out on your next adventure – don't be daft!
Buy on REI
Camping Packing List for Shenandoah
By now, you might have a pretty good idea about which campsite in Shenandoah you're going to stay at. The next thing to work out is, what are you going to take with you on your camping trip to Shenandoah? The campsites in the area come in various shapes and sizes, so you'll need to pack accordingly.
Depending on where you're going to set up camp, your camping list is definitely going to look a little different. The kit you bring with you will also depend on what type of camper you are – one who likes a little more luxury, or somebody who keeps it streamlined.
Whatever camper category you fall into, you'll need to consider the natural surroundings and come prepared.
This part of the country is abundant with wildlife, which also comes with its perils – namely ticks, mosquitos, and bears. Bringing the right kit to protect against nature is important. The weather also needs to be planned for – one heavy downpour can quickly turn a happy camper into a soggy one.
Here's a list of the essential Shenandoah camping items so you can enjoy your trip to the max…
Camping is great fun, but if there's one thing that can ruin it, it's forgetting an essential piece of kit. Here's a round-up of the camping gear you should think about bringing with you on your adventure. If you don't have this stuff already, don't panic… there's still time to get it all right now!
Reliable tent – Yes, the number one camping item you'll need. A good, sturdy tent that'll keep you safe and dry while out in nature. Don't skimp out on a second-rate option; for a keen camper, a tent is a good investment that keeps on giving.
Headtorch – Leaving your hands free to get on with things like cooking or finding the bathroom, a headtorch is a go-to piece of equipment that you shouldn't leave at home.
Sleeping bag – Camping in Shenandoah can get chilly in the evenings, especially at locations higher up in the mountains. Go for a sleeping bag with a warm enough tog to keep you nice and snug.
Microfiber towel – Great for drying off after a swim in the river or a splash in the camp shower, microfiber towels dry super quickly, so no more smelly, damp towels in the corner of your tent.
Bottle opener – Go for a bottle opener with a corkscrew and make the most of all the wines and beers from Shenandoah nearby wineries and breweries.
Portable washing line – Easily rolled up into a ball and stuffed into a pocket of your backpack, a camping washing line is great for hanging up and drying out damp clothes or sweaty hiking gear.
2) Hiking Essentials
Shenandoah and its surrounding beauty is the perfect place for hiking. Whether it's riverside wanderings, hikes up into the mountains, or strolls through meadows, there's a hiking trail to suit everyone's tastes.
But you will need to make sure you tackle the trails fully prepared, so here's some of the hiking kit you shouldn't forget to bring on your walk.
Day pack – Get yourself a good day pack and pack it full of your kit. Go for a day pack that fits you well and is comfortable on your back.
Hiking shoes – Don't go for a hike unprepared in shoes that aren't up to the job. Make sure you bring suitable shoes that have a good grip and are comfortable.
Filter water bottle – Staying hydrated is essential, especially if you're hiking on a hot day. A filter water bottle will help you have access to water, even when you're in the mountains away from clean drinking water.
Hat – Depending on the season, you'll either need to opt for a sunhat to keep the baking sun off of your head and neck or a winter beanie to keep you warm on the trail.
Walking socks – Going hiking in any old socks usually means shoes rubbing. A proper pair of walking socks will help against blisters and support your feet in the right areas.
You may be planning a camping trip, but you still need to think about taking some essential toiletries with you. Camping in Shenandoah means a mix of well-maintained sites and more primitive camping. Either way, things can still be pretty basic, and there'll be lots of nature to protect against. Here are a few items that you're going to want to pack in your toiletries bag.
Bug spray – You're going to need this to keep those pesky mosquitoes away: nobody wants to spend their trip being eaten alive. Ticks can also be an issue in Shenandoah, so DEET is a must.
Toilet paper – Not all campsites will even come with a toilet, so bring a couple of rolls of toilet paper in your backpack; it might come in very useful indeed.
Toothbrush and toothpaste – Keep up with your oral hygiene, even in nature. Going off-grid is not an excuse not to brush!
Sunscreen – Protect your skin against the harm of the sun's rays, UV rays can be powerful even on an overcast day UV
Shampoo bar – A great alternative to packing shampoo and soap. Shampoo bars are versatile and eco-friendly, as well as light and compact.
Camping Tips for Shenandoah
There's been a whole lot of information covered so far about camping in Shenandoah. Hopefully, you're now pretty clued up on where you're going to camp and what to bring with you.
There are just a couple more things you need to know before you head off on your trip. Here's a roundup of tips and guidelines for camping in Shenandoah, to help you travel safely:
Make sure you store your food correctly – Shenandoah's bear population will be more than happy to tuck into your food if you let them, so make sure you take steps to keep food sealed. This will keep both you and the bears safe.
Check the weather – Before making your way to your campsite, check the weather forecast for the area. The mountains can bring changeable weather, and it's always good to know what to expect so that you are prepared.
Call ahead – Make a call with the site owner or ranger before you arrive. Ask them if there's anything you should know; local insight is always valuable.
Be careful with fires – When it comes to camping, make sure to follow any guidelines in place. Take precautions by using fire rings and fully extinguishing the fire after use.
Don't go out hiking alone – Hiking alone in the mountains isn't advised at all. Conditions can change quickly, and the areas can be vast and remote. If you do go alone (though we recommend hiking with a buddy), make sure to let somebody know of your plans.
Take a GPS and a map – You aren't always going to get cell phone coverage when you're out in the sticks. A GPS should help if you're hiking, but a physical map is also handy.
Respect fellow campers – Some of Shenandoah's campgrounds can be pretty busy in high season, so be a good camper and keep the site tidy and the noise levels low.
Don't disturb nature – Don't go out picking wildflowers, feeding deer, or leaving litter. This is just not a cool thing to do. We know you wouldn't do any of these things, but… just in case.
ALWAYS sort out your backpacker insurance before your trip. There's plenty to choose from in that department, but a good place to start is Safety Wing.
They offer month-to-month payments, no lock-in contracts, and require absolutely no itineraries: that's the exact kind of insurance long-term travellers and digital nomads need.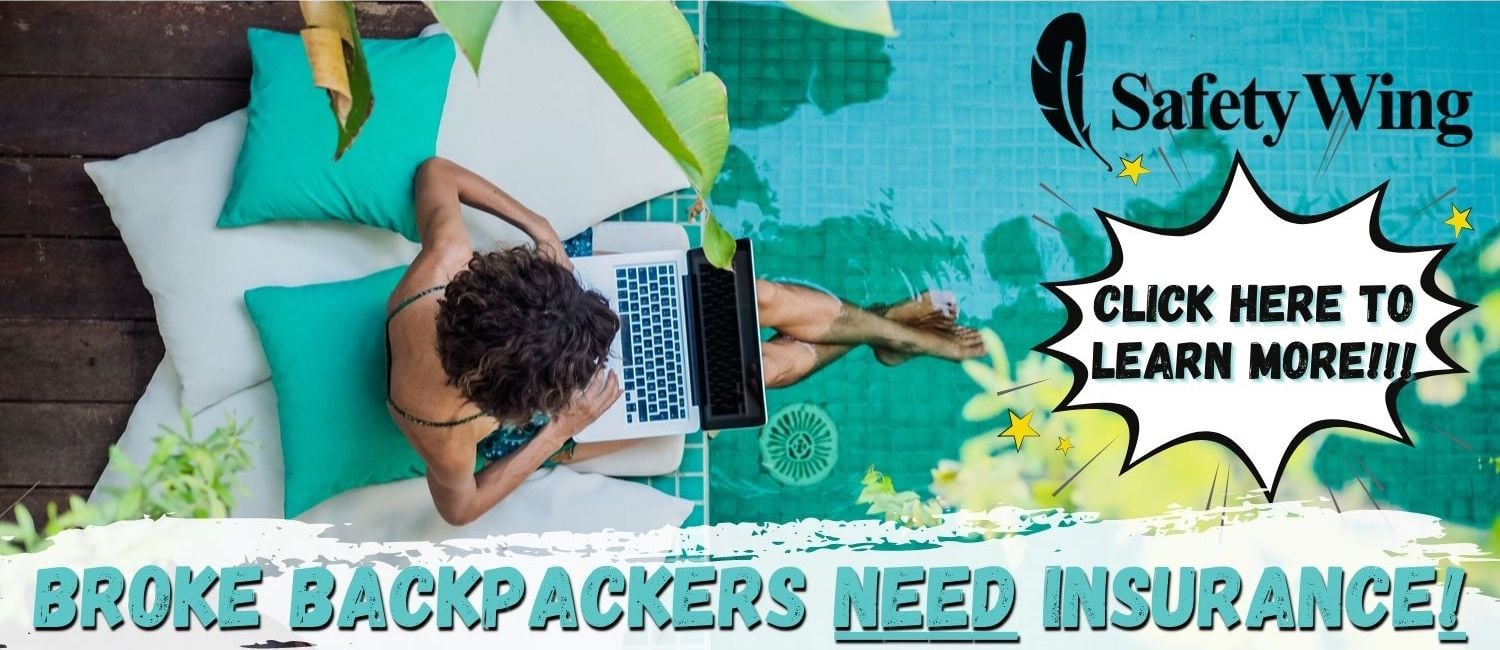 SafetyWing is cheap, easy, and admin-free: just sign up lickety-split so you can get back to it!
Click the button below to learn more about SafetyWing's setup or read our insider review for the full tasty scoop.
Final Thoughts on Camping in Shenandoah
So, that's our guide to camping in Shenandoah. You should now be ready to hit the road and explore this awesome area.
There's a lot going for this place. Hike through the Shenandoah National Park, wheel along the Skyline Drive (highly recommended in fall), or enjoy a spot of wine-tasting at one of Shenandoah Valley's many wineries. You won't ever be short of stuff to do.
And you can enjoy all that using one of the region's great campsites as your base. From budget-friendly spots to high-end cabins, there's something to suit everyone.
Whether you camp or clamp, you'll definitely get a good taste of the natural beauty of Shenandoah. This is a lot of people's favorite place to travel in the USA – and it could become yours, too.
---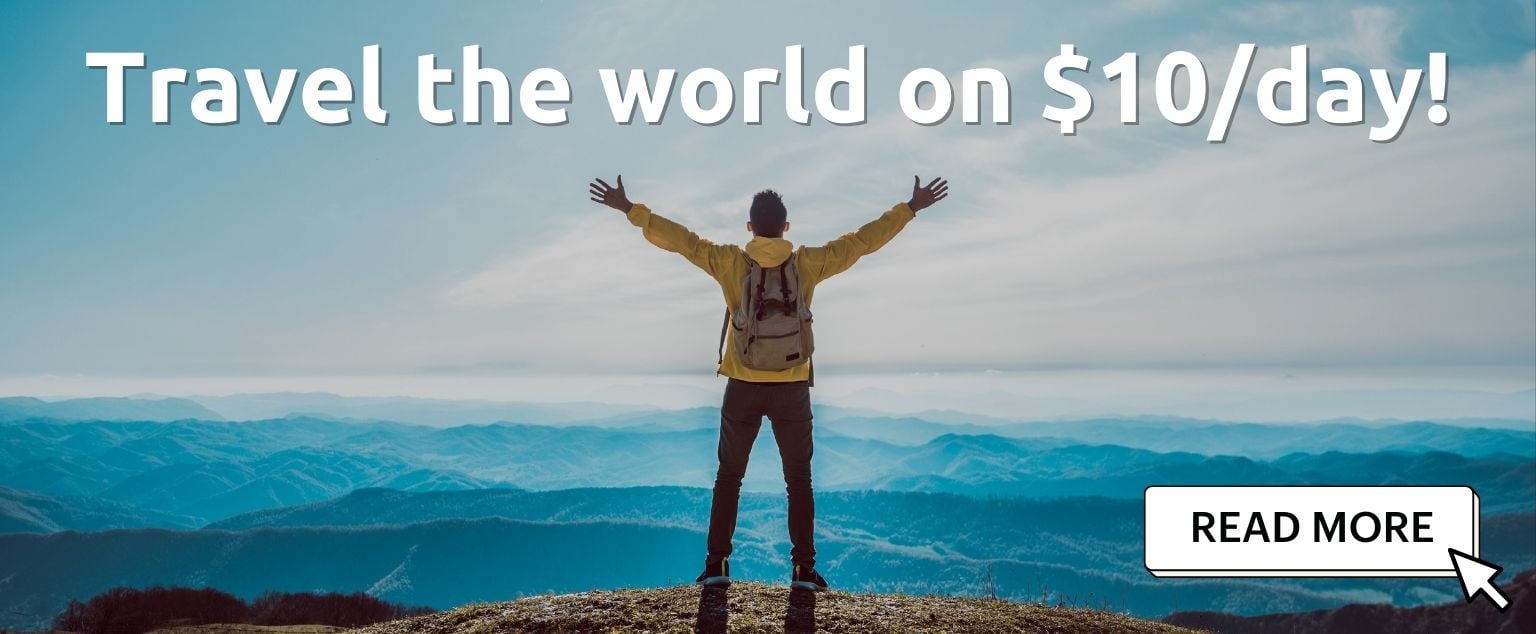 And for transparency's sake, please know that some of the links in our content are affiliate links. That means that if you book your accommodation, buy your gear, or sort your insurance through our link, we earn a small commission (at no extra cost to you). That said, we only link to the gear we trust and never recommend services we don't believe are up to scratch. Again, thank you!