It won't take you long to figure out why West Virginia is known as "Almost Heaven." The magical, untouched nature and majestic mountains of this state captivate every traveler, artist, and photographer who comes through.
In the midst of so much natural beauty, one of the most important parts of planning your trip is finding unique accommodation where you'll be able to enjoy the scenery. Skip the highway hotels, and opt for a picture-perfect cabin in West Virginia instead! That way, you'll feel right at home among the mountains and forests.
To help you with your trip planning, this is your go-to guide on the best cabins in West Virginia and how to find them. Whether you're planning a romantic anniversary getaway or looking for a long-term vacation rental, we've got something for every traveler.
In a Hurry? Here's Where to Stay in West Virginia for One Night
FIRST TIME IN WEST VIRGINIA
Laurel Creek Cabin
If a cozy log cabin by a creek in West Virginia already sounds perfect, then you'll love this one that comes with a private pool, hot tub, and fire pit to boot! Whether you're in need of a relaxing break or some adrenaline-packed river rafting adventure, the Laurel Creek Cabin is the ideal home-base for enjoying West Virginia.
Places to visit:
New River Gorge
Cathedral Falls
Freefolk Brewery
Is this amazing West Virginia Cabins booked for your dates? We've got your back with our other favorite properties below!

Unlock Our GREATEST Travel Secrets!
Sign up for our newsletter and get the best travel tips delivered right to your inbox.
Staying in a Cabin in West Virginia
Amidst the mountainous landscape, cascading waterfalls, and epic hiking trails of West Virginia, cozy woodland cabins fit right in with the surroundings. You'll also have the entire space to yourself, giving you much more privacy than you'd get at a hotel.
You can always count on great views from a cabin, whether it's overlooking a river or perched on a mountainside. Despite feeling remote and secluded, towns and amenities are also usually just a short drive away.
Cabins range from tiny studios to huge vacation rentals, so you'll find some for every travel style. Keep in mind that properties fill up quickly during the summer, so you'll want to make a reservation in advance.
Public transportation can also be very limited, especially when you're staying more off the beaten path. You'll need your own car or rental vehicle, which will also give you the freedom to explore the surrounding area.
What to Look for in a Cabin
West Virginia's best cabins are all awesome, but there are some amenities you might want to keep an eye out for. In addition to the natural charm, some cabins have luxury amenities like hot tubs or access to kayaks and canoes.
Make sure to check out the seasonal activities on offer nearby. Some places are better suited if you're interested in white water rafting in the summer or skiing in the winter.
West Virginia is primed for family vacations, but remember to check if a property is child-friendly before booking. Some cabins will provide cribs for infants, or have play areas for kids. Others may be less suitable due to nearby creeks or rivers.
For digital nomads and working travelers, it's good to note that reception and WiFi might not be very good everywhere. If you were planning to work, it's still easy to find a cabin with a quiet location where you can stay connected.
To compare properties, you can check out unique accommodation in West Virginia using search platforms like Airbnb. This way you can select properties that are available for your travel dates, and read reviews to get a better idea of what the cabin is like.
OVERALL BEST CABIN IN WEST VIRGINIA
OVERALL BEST CABIN IN WEST VIRGINIA
Laurel Creek Cabin
> $$
> 4 guests
> Hot tub and swimming pool
> Large deck and BBQ
BEST BUDGET CABIN IN WEST VIRGINIA
BEST BUDGET CABIN IN WEST VIRGINIA
The Bear Cub Cabin
> $
> 2 guests
> Books, games, and videos
> Wood stove for winter
BEST CABIN FOR COUPLES
BEST CABIN FOR COUPLES
Sugar Shack Wooden Yurt
> $$$
> 2 guests
> Heart-shaped jacuzzi tub
> Private deck and hot tub
BEST CABIN FOR A GROUP OF FRIENDS
BEST CABIN FOR A GROUP OF FRIENDS
Warden Lake Cabin
> $$
> 6 guests
> 40 yards from Warden Lake
> Canoe and 2 kayaks
OVER-THE-TOP LUXURY CABIN
OVER-THE-TOP LUXURY CABIN
Mountain Mama Vacation Cabin
> $$$$
> 10 guests
> Hot tub
> Huge deck with views
BEST CABIN FOR FAMILIES VISITING WEST VIRGINIA
BEST CABIN FOR FAMILIES VISITING WEST VIRGINIA
Wildcat Retreat
> $$
> 6 guests
> Jacuzzi spa tub
> Huge deck with grill
BEST CABIN FOR BACKPACKERS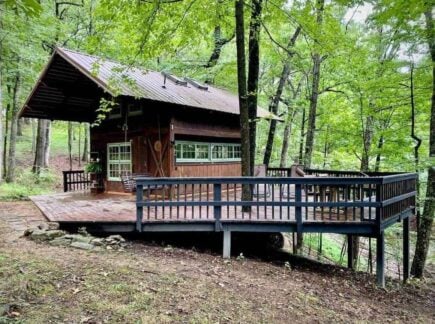 BEST CABIN FOR BACKPACKERS
Easygoing Potomac River Cabin
> $
> 4 guests
> Hammock chairs
> Spacious deck
The Top 15 Cabins in West Virginia
Let's dive into the top cabins where you can find your own little patch of "Almost Heaven." We certainly won't blame you if you never want to leave!
Overall Best Cabin in West Virginia – Laurel Creek Cabin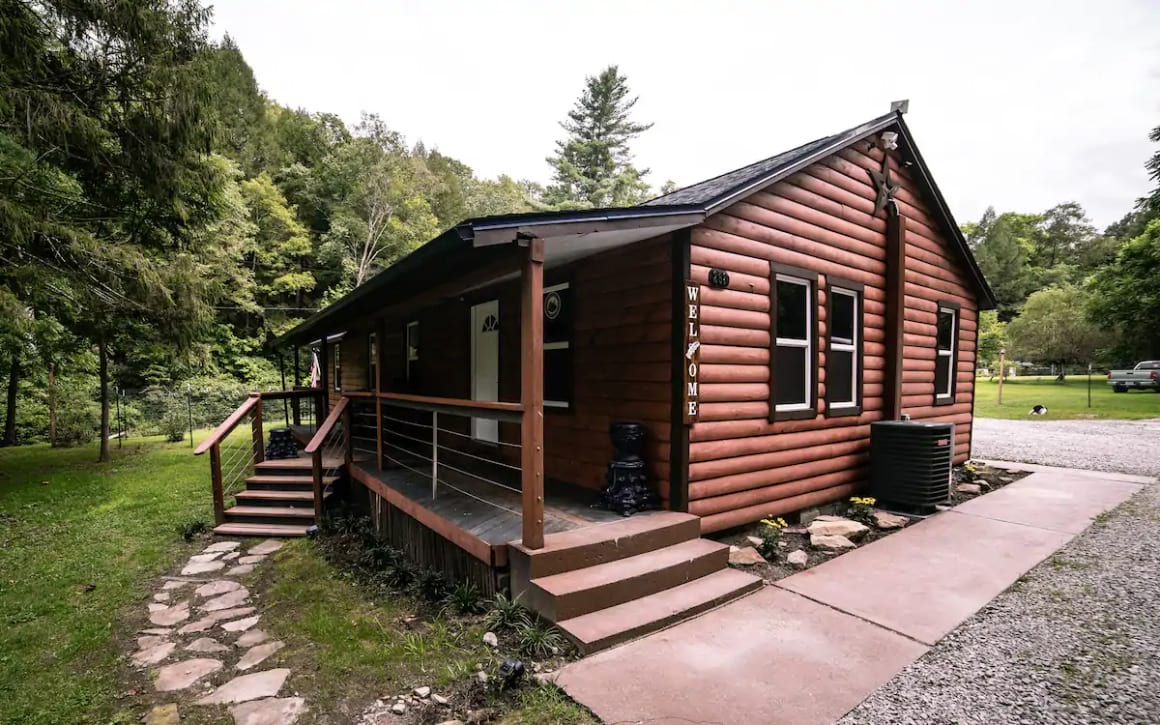 $$
4 guests
Hot tub and swimming pool
Large deck and BBQ
With 2.5 acres of private woodland and direct access to hiking trails, it's easy to see why this is one of the best cabins in West Virginia. Plus, with two bedrooms, it's suitable for solo travelers, couples, families, or small groups.
The downtown amenities of Fayetteville are a five-minute drive away, but the cabin enjoys total peace and privacy. Dasy can be spent river rafting or mountain biking. Back at the cabin, there are games to play in the backyard and a BBQ grill for a big cookout.
Best Budget Cabin in West Virginia – The Bear Cub Cabin
$
2 guests
Books, games, and videos
Woodstove
If you're looking for budget accommodation in West Virginia, well, you no longer need to look at hostels or bed and breakfasts in West Virginia! The cozy Bear Cub cabin is where it's at! It's ideal for taking a break from the rush of city life and unwinding in a peaceful wilderness setting.
You can pick up essentials in the nearby town of Franklin. Back at the cabin, you'll have a kitchenette to keep your budget low and cook meals. If you're in the mood to explore, throw on your hiking shoes and check out one of the many nearby trails.
$$$
2 guests
Heart-shaped jacuzzi tub
Private deck and hot tub
This incredible woodland cabin is nestled in the West Virginia mountains close to Fayetteville. The natural wood design, peaceful scenery, and contemporary luxuries create the perfect setting for a couple's vacation.
If you're in the mood for adventure, there's plenty of hiking, mountain biking, and white water rafting nearby. We wouldn't blame you if you decide to spend your whole time at the cabin though! Thanks to the Jacuzzi tub, outdoor hot tub, and spacious deck, it's the perfect spot to take a break from daily life.
Best Cabin for a Group of Friends – Warden Lake Cabin
$$
6 guests
40 yards from Warden Lake
Canoe and 2 kayaks
Instead of cramming everyone into a hotel room, how about renting an entire cabin with Warden Lake right in the backyard! A canoe and two kayaks are available, plus maps of the nearby hiking trails.
The cabin stays connected with high-speed internet and has homestyle amenities. In the evenings, guests can toast marshmallows around the campfire and relax under the stars.
An Eco-Friendly Traveller NEEDS an Eco-Friendly Backpack!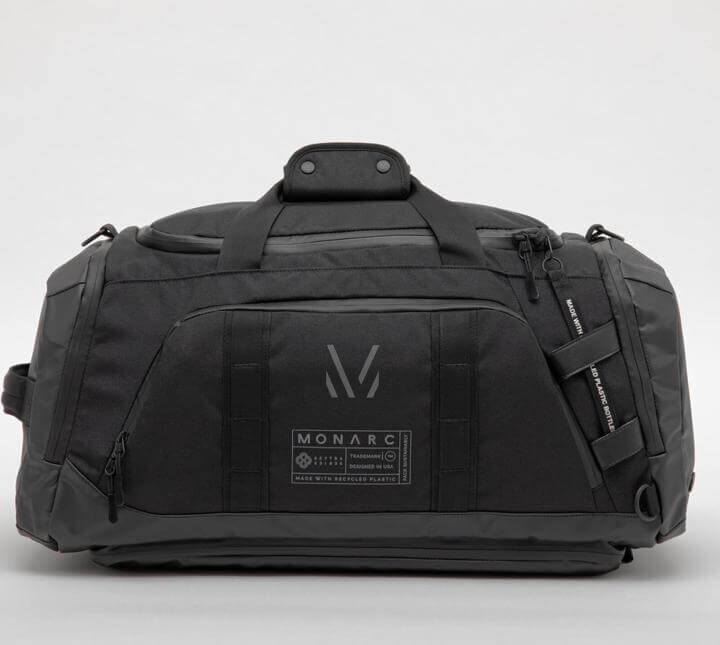 50 recycled plastic bottles – that's what goes into every Monarc Settra: the world's MOST SUSTAINABLE backpack.
Whether you're rocking duffel mode or backpack mode, if you're a traveller that gives a flying hoot about their environmental impact, then there's only one backpack you should consider – the plastic-negative Monarc Settra.
Learn More Now!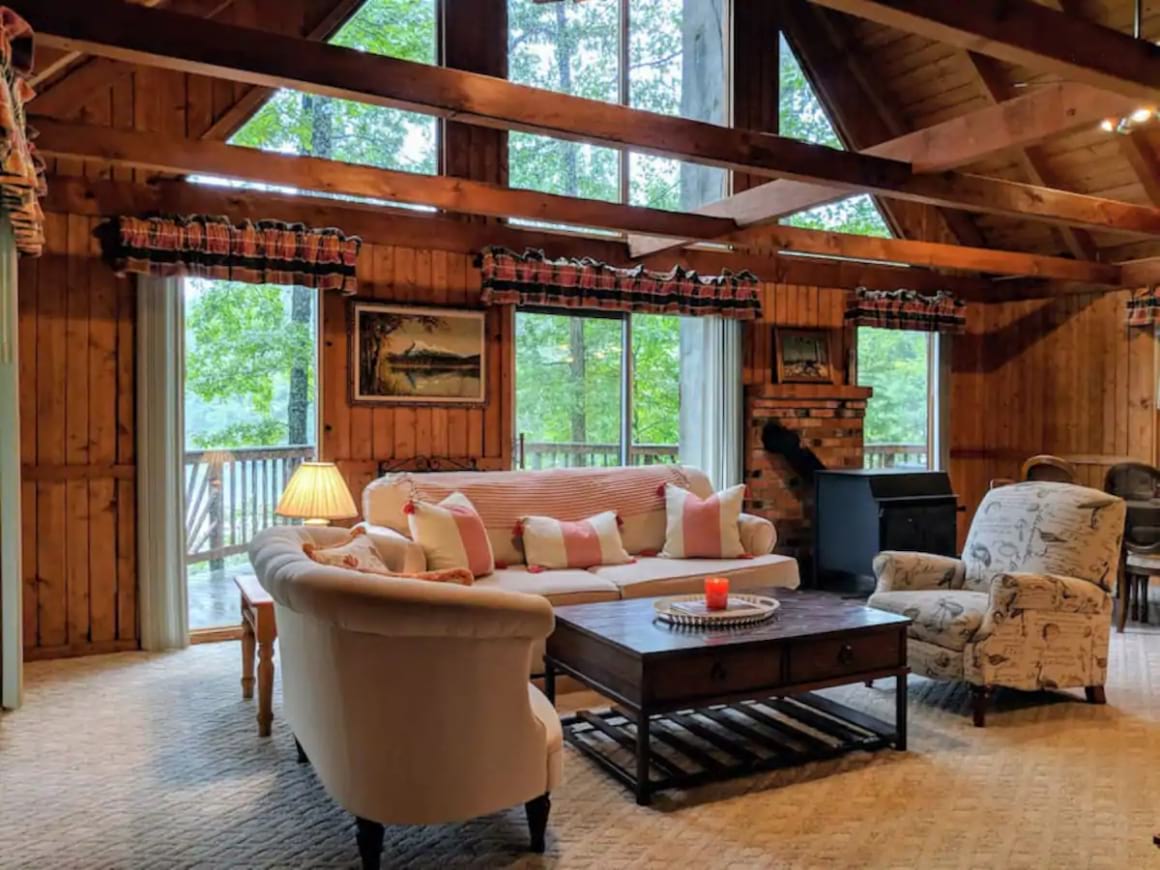 $$$$
10 guests
Hot tub
Huge deck with views
Looking for somewhere cozy and luxurious with remote wilderness magic and contemporary comfort? Check out this amazing West Virginia cabin! You'll have the mountains as your backyard, and all the creature comforts of home (plus some extras!) at your disposal. Plus, there's even a private beach on site.
Explore stretches of the Appalachian Trail, check out historic landmarks at Harpers Ferry or spend the day at the lake. At the end of the day, unwind in the hot tub or have a movie night on the huge 50-inch screen TV.
Best Cabin for Families Visiting West Virginia – Wildcat Retreat
$$
6 guests
Jacuzzi spa tub
Huge deck with grill
West Virginia may be full of fun family activities, but most highway hotels just don't cut it. The Wildcat Retreat offers ideal accommodation for families, with plenty of space for kids to run and play. Plus, it's got all the homestyle amenities and camping features you'll need.
Berkeley Springs is just a 20-minute drive from the cabin, and is known for its art community, restaurants, and shopping. For outdoor adventures, head to the Great Cacapon River where you can kayak, canoe, fish, and explore the endless hiking trails.
Another Great Cabin for Families Visiting West Virginia – The Robin's Nest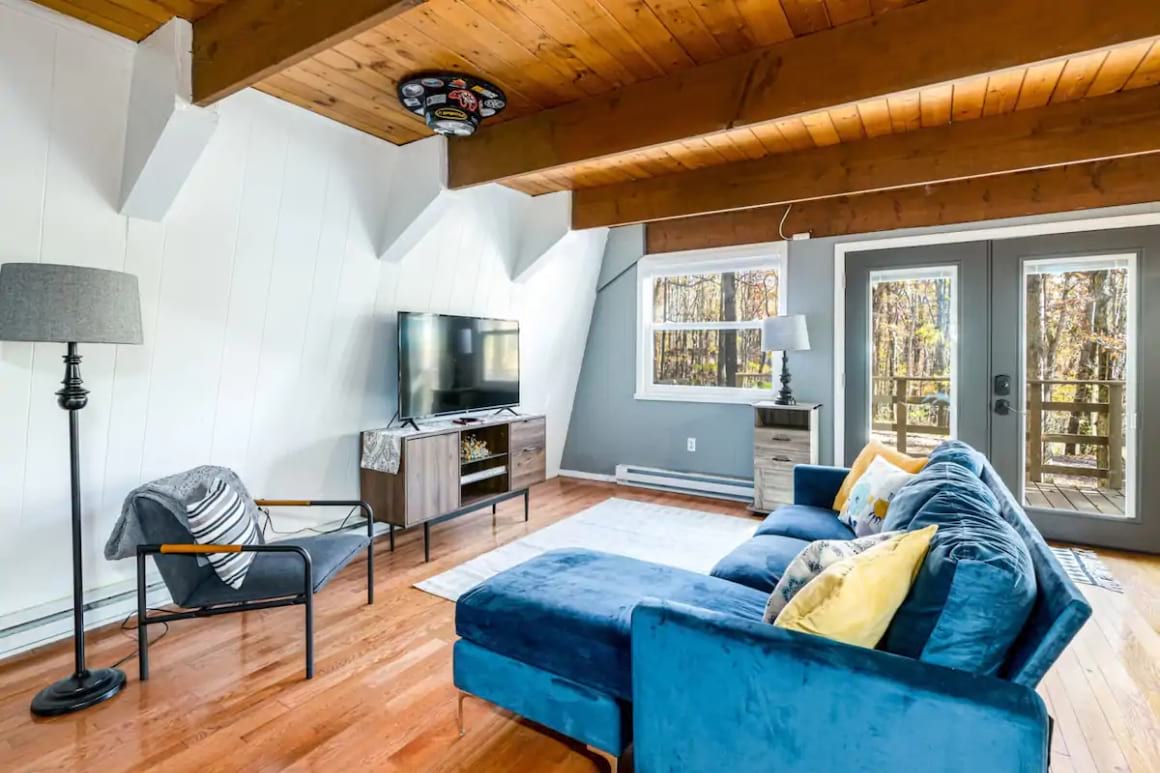 $$
6 guests
Grill and campfire
Next to Alpine Lake
This West Virginia cabin combines resort-style amenities with a wilderness setting. You'll have your own private cabin, as well as access to the indoor pool, gym, and mini-golf just five minutes away at Alpine Lake!
You'll have heaps of activities to pick from around the lake. These include swimming, boating, and exploring hiking and mountain biking trails. In the evenings, cook meals out on the grill and enjoy nights around the campfire.
$
4 guests
Hammock chairs
Spacious deck
Situated on the Potomac River, the Easygoing cabin is perfect for budget backpackers in West Virginia. The studio space is ideal for a solo traveler, but with two double futon beds, it also serves just fine for a pair of couples.
Hiking and biking trails including the Paw Paw tunnel and along the Potomac are less than five miles away. Back at the cabin, you can enjoy an afternoon game of horseshoes. Spend evenings on the deck and relax around the campfire.
Best Cabin for Honeymooners – Majestic Cabin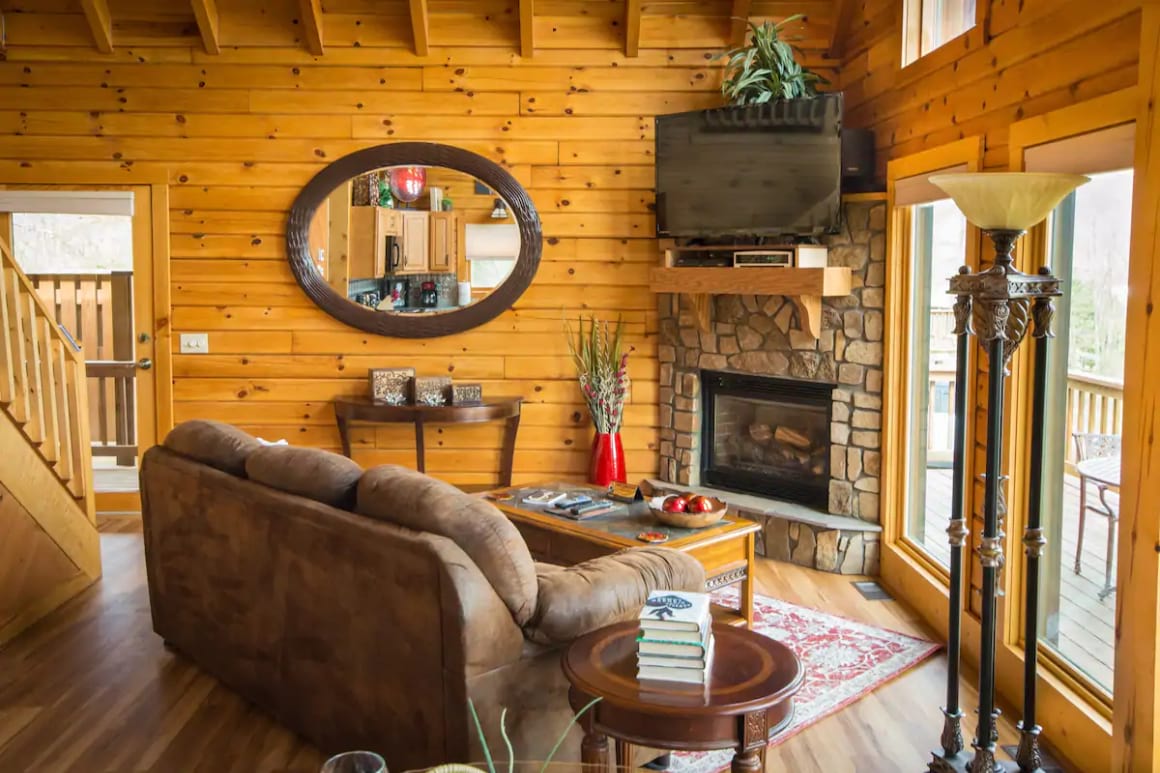 $$$
2 guests
Hot tub
Incredible view
All the luxury amenities of this peaceful cabin in the mountains are designed for a romantic vacation: a huge hot tub, a king-sized bed, a shower for two, and a cozy indoor fireplace, all guarantee that the Majestic cabin will live up to its name.
For adventure-lovers, there's plenty to do nearby like zip-lining, exploring the Smoke Hole Caverns, and skiing at Timberline Resort. If you just want to relax in the cabin, you can enjoy the games room in the loft and breathtaking views from the floor-to-ceiling windows.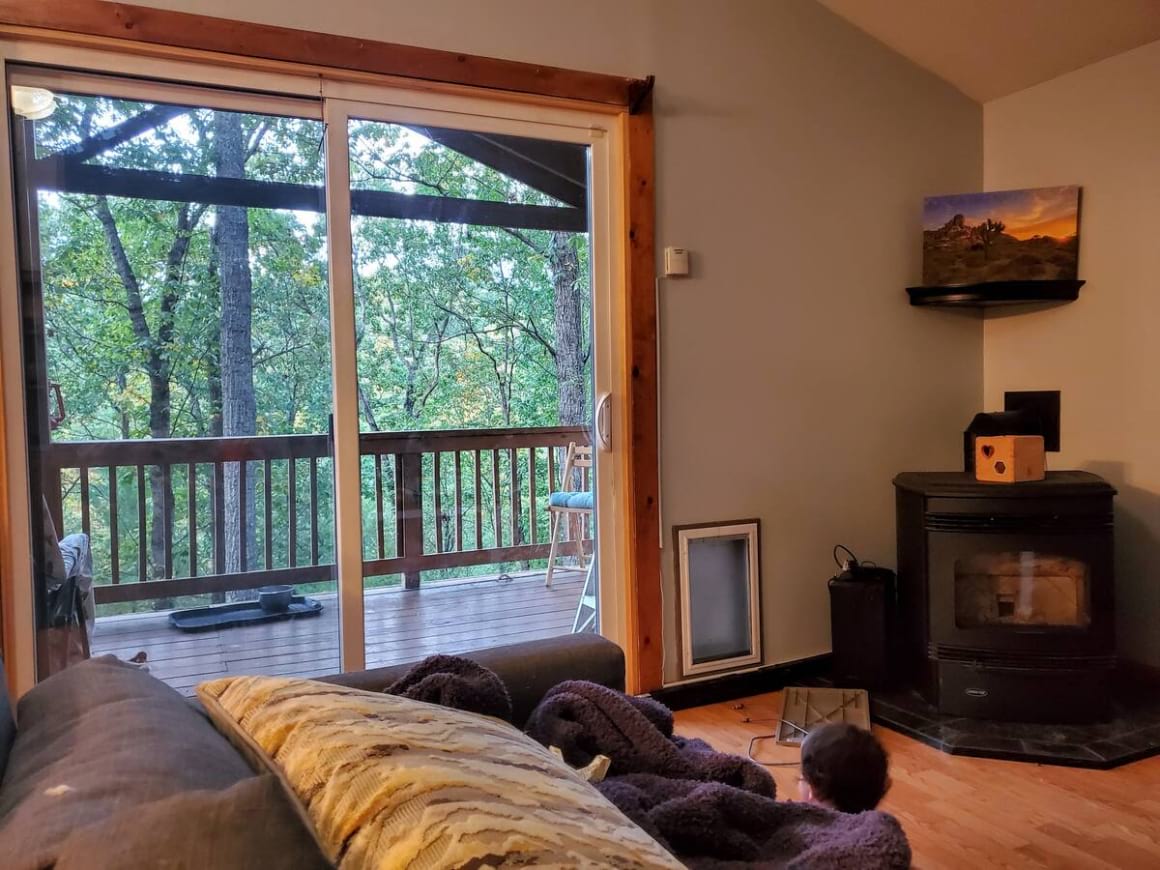 $$
4 guests
Hot tub
Deck with a view
Staying in the Shenandoah Valley is one of the most scenic places to be if you're visiting West Virginia long-term. You can enjoy a view of the treetops, and the spacious deck is a perfect spot to soak up the scenery in the warmer months.
Digital nomads can stay connected thanks to the high-speed internet and workspaces, without worrying about any disruptions thanks to the secluded atmosphere. Restaurants and town attractions of Winchester and Berkeley Springs are just a short drive away.
$$
6 guests
Hot tub
Hiking and river adventures
Just six miles away from West Virginia's largest adventure resort, this cabin has the best location for an epic vacation in the mountains. Whitewater rafting, rappelling, mountain biking, high ropes courses, and more are all practically in your backyard.
If you ever reach your limit for adrenaline and adventure sports, you can come back to relax in the hot tub. Shops and restaurants of Fayetteville and Hico are just a short drive away where you can pick up ingredients for a big campfire cookout.
$$
2 guests
Mountain sunsets
View of the Potomac River
Even among the picks for best cabins in West Virginia, this special log cabin takes things to the next level. From your mountain perch, you can enjoy a view 1,200 feet all the way down to the Potomac River, plus fantastic sunsets each night from the west-facing windows and deck.
The cabin has a totally secluded and peaceful atmosphere, yet is still a short drive from town attractions and the cultural scene of Berkeley Springs. You might not ever want to go out though thanks to the stunning view and cozy homestyle amenities!
$$
4 guests
River front property
Covered front porch
Enjoy a "back to the basics" vibe at this rustic cabin in West Virginia, which is constructed from natural materials and situated right on the banks of the Holly River. The covered front porch, outdoor picnic area, and large fire pit mean you can maximize your time spent relaxing in nature.
Holly River State Park is less than three miles away, where there are opportunities for hiking, fishing, horseback riding, and other adventures. On colder nights you can cosy up by the indoor fireplace, while summer nights can be spent out admiring the stars away from any light pollution.
Best Cabin for a Weekend in West Virginia – Locust Hill Cabin
$$
4 guests
Private hot tub
Campfire pit and fishing pond
Locust Hill Cabin is perfectly situated for you to make the most of your time on a weekend getaway to West Virginia. Just a short distance from Greenbrier River Trail, Snowshoe Mountain, and other outdoor adventures, all the top activities are close at hand.
At the cabin you can enjoy homey comforts like WiFi and a full kitchen, or if you don't want to cook, there's a restaurant on-site within walking distance. When the sun goes down, lounge in the luxurious private 6-person hot tub on the porch for an incredible view of the night sky.
$$$
6 guests
Huge hot tub
Deck with an amazing view
Bringing together the peace and serenity of West Virginia's mountains with high-end and stylish modern luxuries, this cabin escape offers total seclusion along with all the contemporary amenities you could hope for.
There are plenty of hiking trails nearby, and a hot tub waiting for you for some well-deserved relaxation when you get back. In the evening, you can use the grill on the deck and relax around the fire grate while enjoying the view out over the treetops and to the valley below.
Don't Forget Your West Virginia Travel Insurance
ALWAYS sort out your backpacker insurance before your trip. There's plenty to choose from in that department, but a good place to start is Safety Wing.
They offer month-to-month payments, no lock-in contracts, and require absolutely no itineraries: that's the exact kind of insurance long-term travellers and digital nomads need.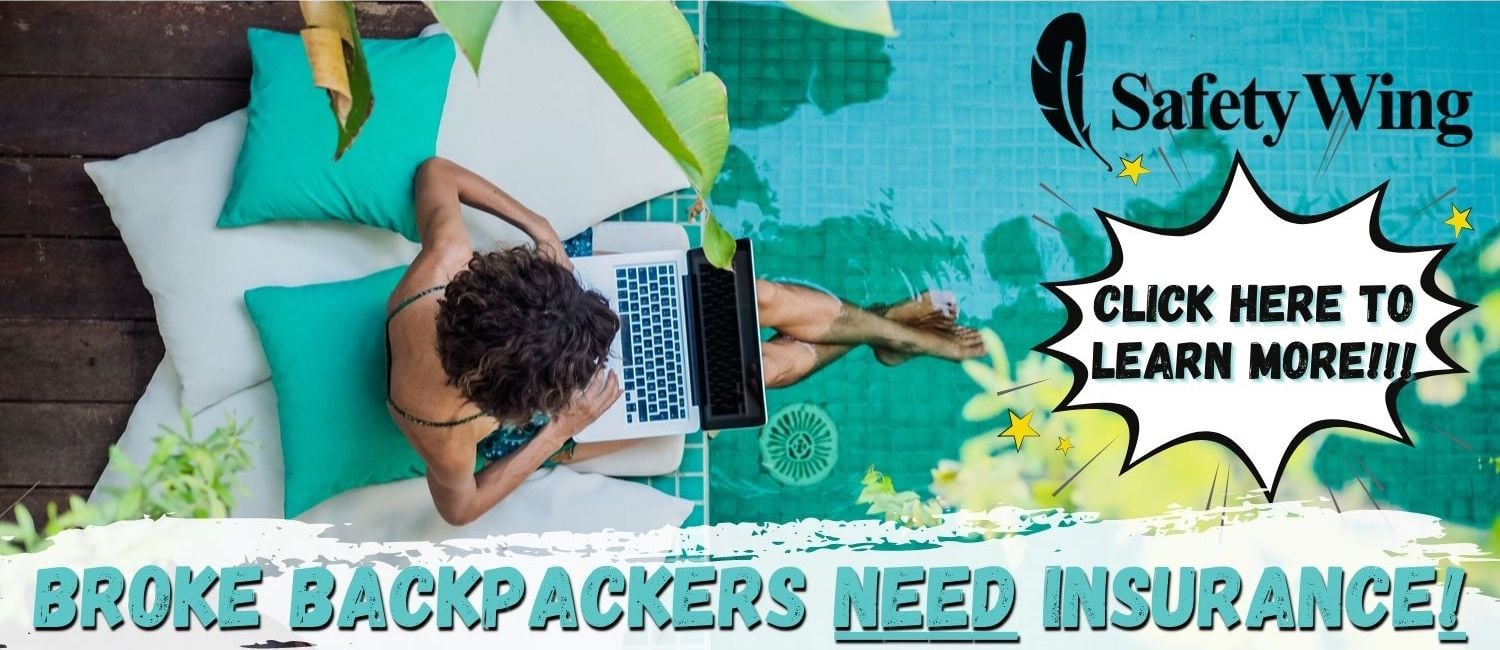 SafetyWing is cheap, easy, and admin-free: just sign up lickety-split so you can get back to it!
Click the button below to learn more about SafetyWing's setup or read our insider review for the full tasty scoop.
Final Thoughts on the Best Cabins in West Virginia
There you have it! The absolute best cabins in West Virginia. By now, we've hopefully convinced you that any cabin is more exciting than a hotel room!
Whether you're an avid hiker or looking for a spot to unplug and leave the rush of the traffic behind, these West Virginia cabins are ready and waiting for your next USA travel adventure.
---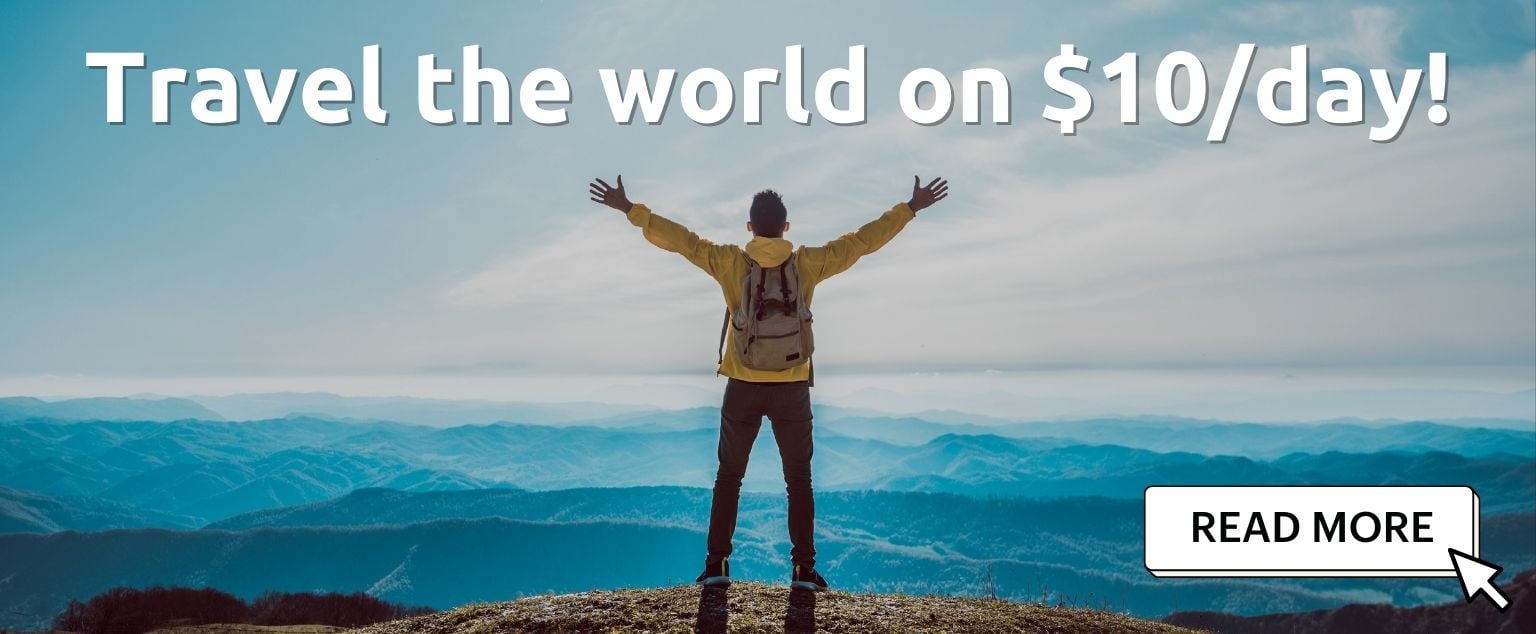 And for transparency's sake, please know that some of the links in our content are affiliate links. That means that if you book your accommodation, buy your gear, or sort your insurance through our link, we earn a small commission (at no extra cost to you). That said, we only link to the gear we trust and never recommend services we don't believe are up to scratch. Again, thank you!