Virginia is for romantics – home to cute small towns with storied pasts, the rolling hills of Appalachia, and a cozy beachside town full of tasty treats.
Virginia has some of the most accessible hiking in America including the largest section of the Appalachian Trail. Come and discover wild ponies that roam the Greyson Highlands, seek out waterfalls in the Shenandoah National Park, and hike endless pastures. Take a drive along the Blue Ridge Parkway to experience an epic road trip complete with gorgeous views and delicious roadside eats. You can explore the historic Washington DC, a city full of amazing museums and must-visit sights.
Virginia has so much waiting for you to find, we believe staying at rental properties in Virginia is one of the best ways to enjoy everything the state has to offer.
Airbnbs in Virginia can be found in all the best parts – whether that be downtown DC, on the coast, or in the Appalachian Mountains.
Here are all our tips for finding incredible accommodation in Virginia.
Quick Answer: These are the Top 5 Airbnbs in Virginia
Overall Best Value Airbnb in Virginia
Overall Best Value Airbnb in Virginia
Treehouse Cabin
> $$
> 4 Guests
> A-frame
> Firepit and kayaks
Best Budget Airbnb in Virginia
Best Budget Airbnb in Virginia
Bohemian Oasis Private Suite
> $
> 2 Guests
> Private suite
Best Airbnb for Couples in Virginia
Best Airbnb for Couples in Virginia
Cozy Riverfront Cabin
> $$$
> 2 Guests
> Private 50 acres
Best Airbnb for Families in Virginia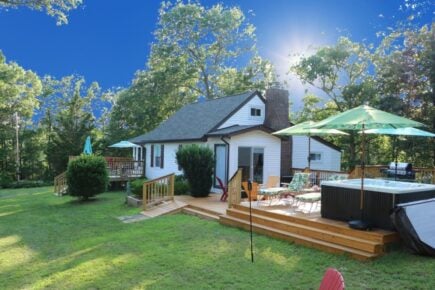 Best Airbnb for Families in Virginia
Dream Family Vacation Home
> $$$
> 5 Guests
> Family-friendly
> Outdoor cinema
Over-the-Top Luxury Airbnb in Virginia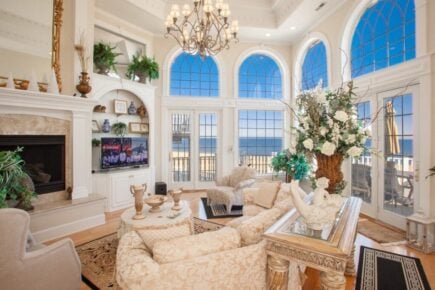 Over-the-Top Luxury Airbnb in Virginia
Seaside Sanctuary
> $$$$
> 12 Guests
> Oceanfront
> Pool

Unlock Our GREATEST Travel Secrets!
Sign up for our newsletter and get the best travel tips delivered right to your inbox.
What to Expect from Airbnbs in Virginia
Airbnbs in Virginia vary from family homes targeted at travelers, to vacation homes designed to offer ultimate comfort.
If you want to visit Washington DC, explore historic small towns, or get away from the noise and have a quiet weekend, there is a perfect Airbnb for you.
A lot of the properties are run by locals, and not major property management groups. You will get to enjoy the 'real' Virginia with lots of extra cosy touches and homey amenities, you can pick the brain of your host to find out all the best spots nearby, and have a safe, relaxed environment to unwind after your adventures.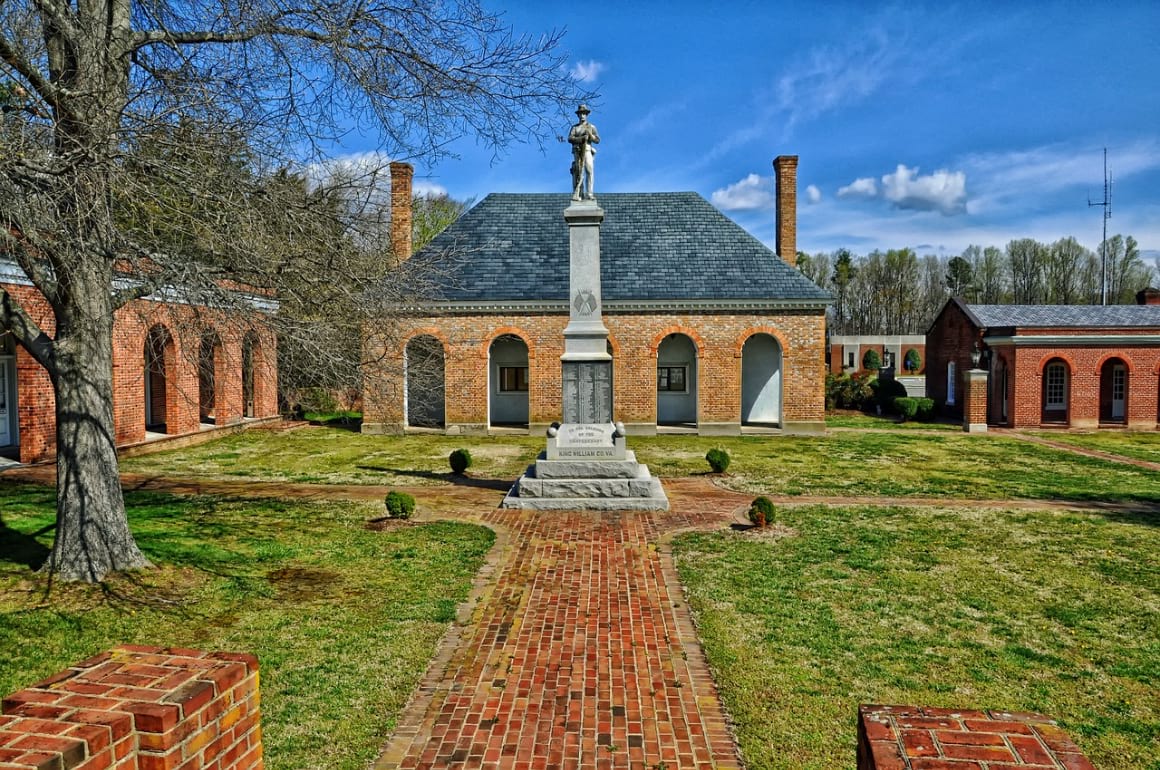 Cabin
For anyone looking to escape the humdrum cycle of everyday life, a stay at a cabin might be the answer. Often rustic with old-time charm, it can be the perfect place to recharge the batteries, and a great way to explore the wilderness, and get off the gird.
Cabins in Virginia will give you access to many local parks, forests, and preserves. Sometimes you will even find yourself with private access to pristine rivers and lakeside beaches.
At night, you can stoke a fire and cuddle up with your loved one, before waking in the morning to the sun poking through the canopy.
As you would expect, some of the best cabins in Virginia are found along with the Appalachian Mountain range. Enjoy a nice quiet retreat with easy access to some of the best hiking, biking, and rafting spots in the state.
Tiny Home
From your classic tiny homes to mini-cabins, RVs and boats, there is an abundance of spots to choose from in Virginia. A tiny home gives you a chance to really say goodbye to everything but the bare necessities, and enjoy a nice simple vacation.
It is the perfect place to stay for couples, often young ones, in search of a romantic yet unique escape. You'll have nothing to do but spend time with each other, play games, and enjoy the scenery around the home.
Tiny homes can be found throughout the state, wherever you want to go, but the ones on spacious farms and properties provide the best experience.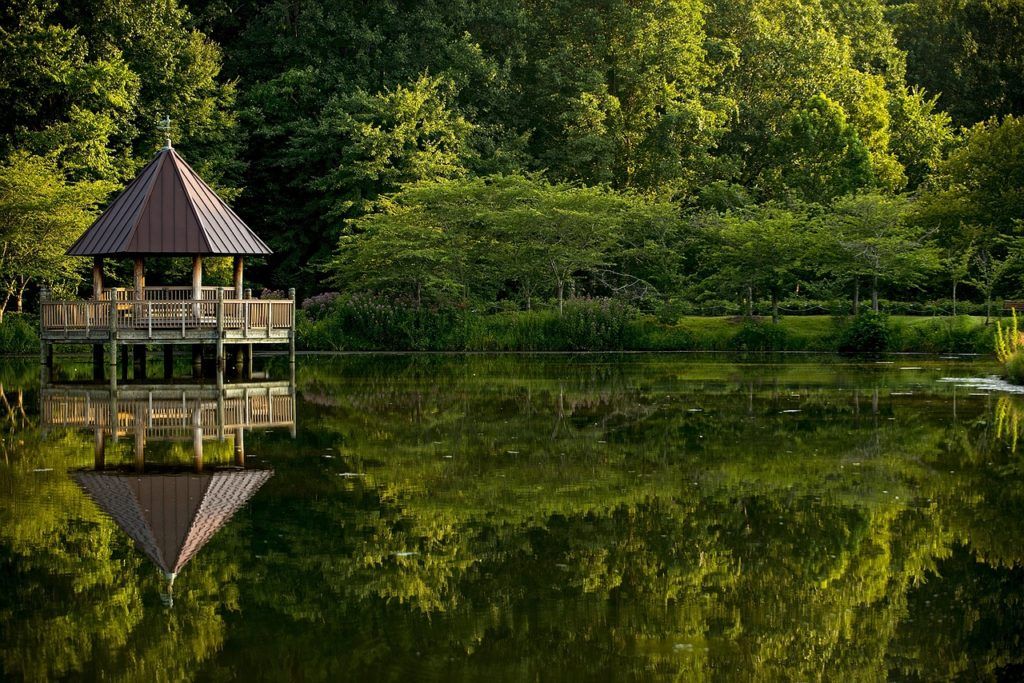 Cottage
Cottages make for wonderful Airbnbs, because the vibe is chilled. Life seems to slow down at a cottage, giving you time to relax and hang out with friends and family.
While you may find single-room cottages, the majority tend to be multi-room homes. For family or groups of friends heading to Virginia, a cottage Airbnb may be the right place for you.
Cottages in Virginia often have spacious living rooms, board games to fill quiet nights, and usually a hot fireplace to warm up by – you are in for a real treat.
These kinds of homes can be found all over the state, but the most popular ones are located around the Shenandoah National Park and along the Atlantic Coast.
Why Stay in an Airbnb?
If we haven't sold you yet, here are some more reasons to stay in an Airbnb:
Local Experience: Tap into the knowledge of your hosts and get to know the region better than you otherwise could.
Unique Properties: A hotel won't be able to place you in the heart of a neighborhood, or in remote locations.
Privacy: Contactless check-in and private access are available for a lot of Airbnbs.
Affordability: For a similar price, or often less, you can have a property all to yourself. Enjoy private bathrooms and full kitchens.
Staying Long-Term: If you don't want to leave, we have great news – some Airbnbs offer discounts for weekly and monthly stays.
The 15 Top Airbnbs in Virginia
Okay, now you have the lowdown, let's get stuck in to the best Airbnbs in Virginia.
Overall Best Value Airbnb in Virginia | Treehouse Cabin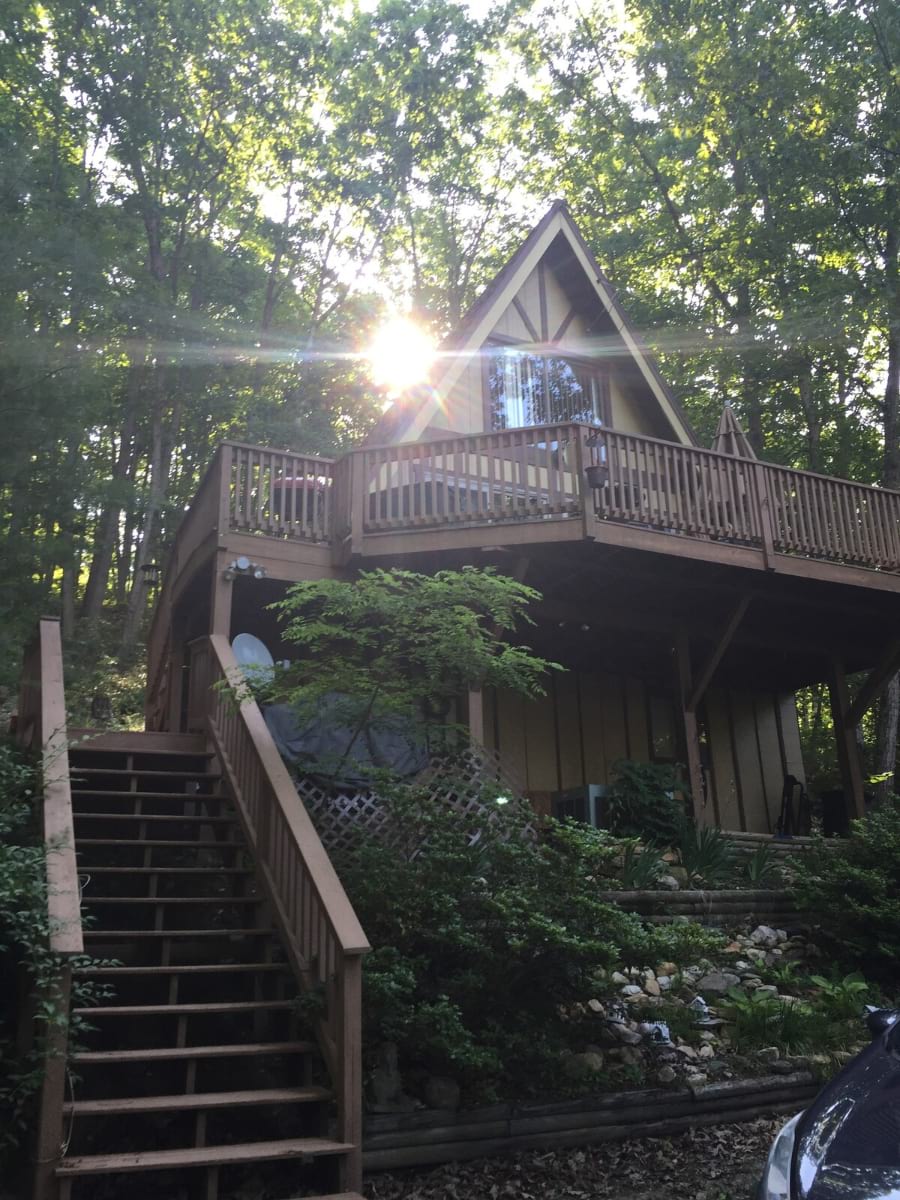 4 Guests
Firepit and kayaks
Be high-up in the canopy at this wonderful A-frame Airbnb in Virginia.
Nestled in a private mountain community with inspiring views of the Shenandoah Mountains, you can enjoy a relaxing, private escape.
Surrounded by trees and with seemingly no neighbors in sight, spend time with friends and loved ones away from the hustle and bustle of regular life.
Sit out on the deck in the morning and watch the mist rise from the valley floor, before wandering to the Shenandoah River with your complimentary kayaks.
After a big day on the water, retreat to your secluded cabin, lay on the hammock or start working on the evening fire.
There are a lot of great areas in Shenandoah National Park to check out!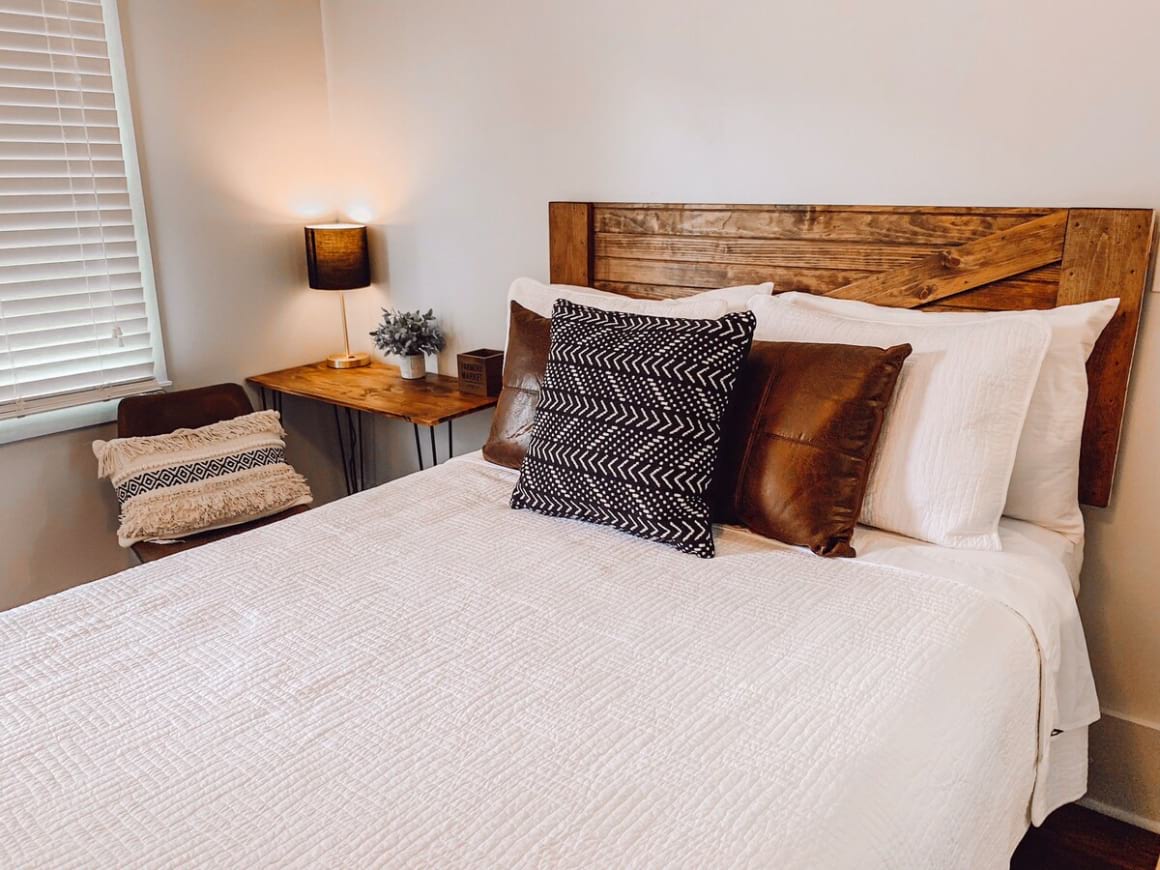 2 Guests
Cozy & homey style
Forget paying for a rusty dorm room or stale hotel room, check in to your own urban oasis at this Airbnb in Virginia.
Separate from the main home, you will have your own private access and the space all to yourself. Relax in the cozy space which has been expertly decorated with plush furnishings making you to feel right at home.
Located in a quiet neighborhood, you are just ten minutes from the fun of downtown Roanoke.
Nearby, there are plenty of outdoor activities along the mountains of Appalachia including Beauty Spot and the Blue Ridge Parkway.
Be sure to check out our tips for budget travelling.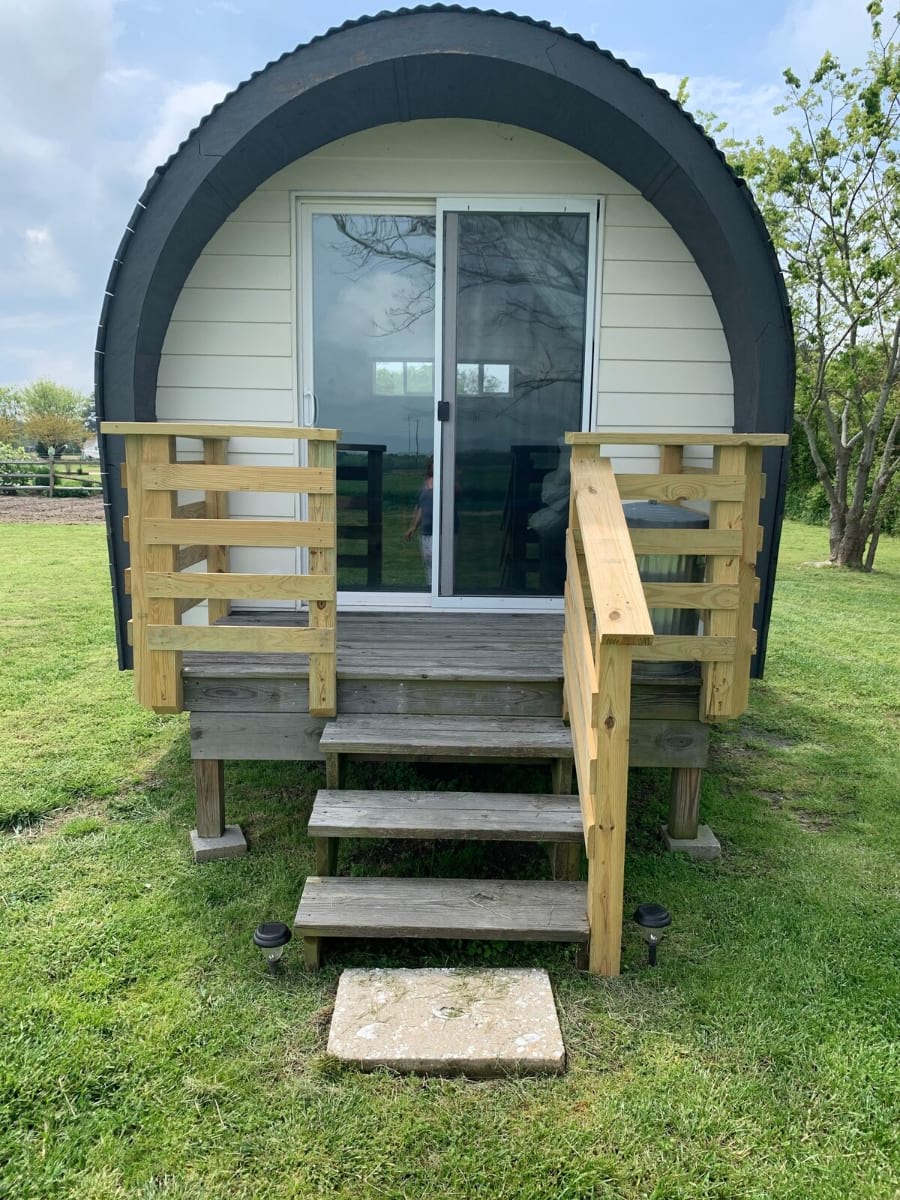 Have your own rustic escape at this glamper Airbnb in Virginia.
Located right off the eastern coastline, you can wake up to the salty Atlantic breeze as the sunrise turns the sky orange. Tucked into a rural farm you will have wonderful views of the vineyards.
Seemingly far away from civilization, the nightly stars have no end. Light up the fire pit and stargaze the night away.
For a solo traveler needing a moment away from it all, enjoy the slower pace of life and time to reflect on the travels thus far.
Is This the Best Travel Pack EVER???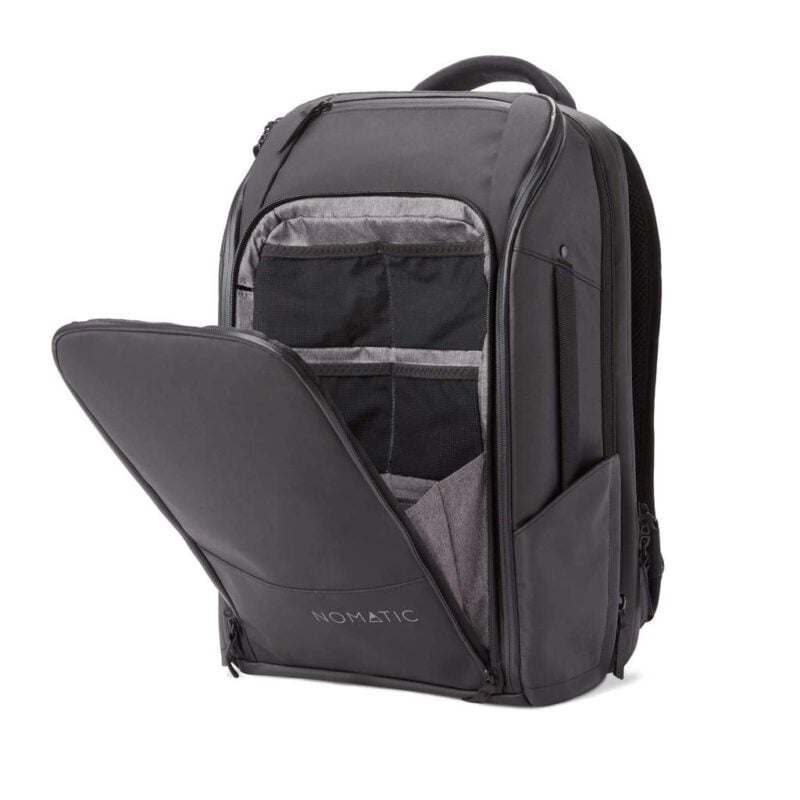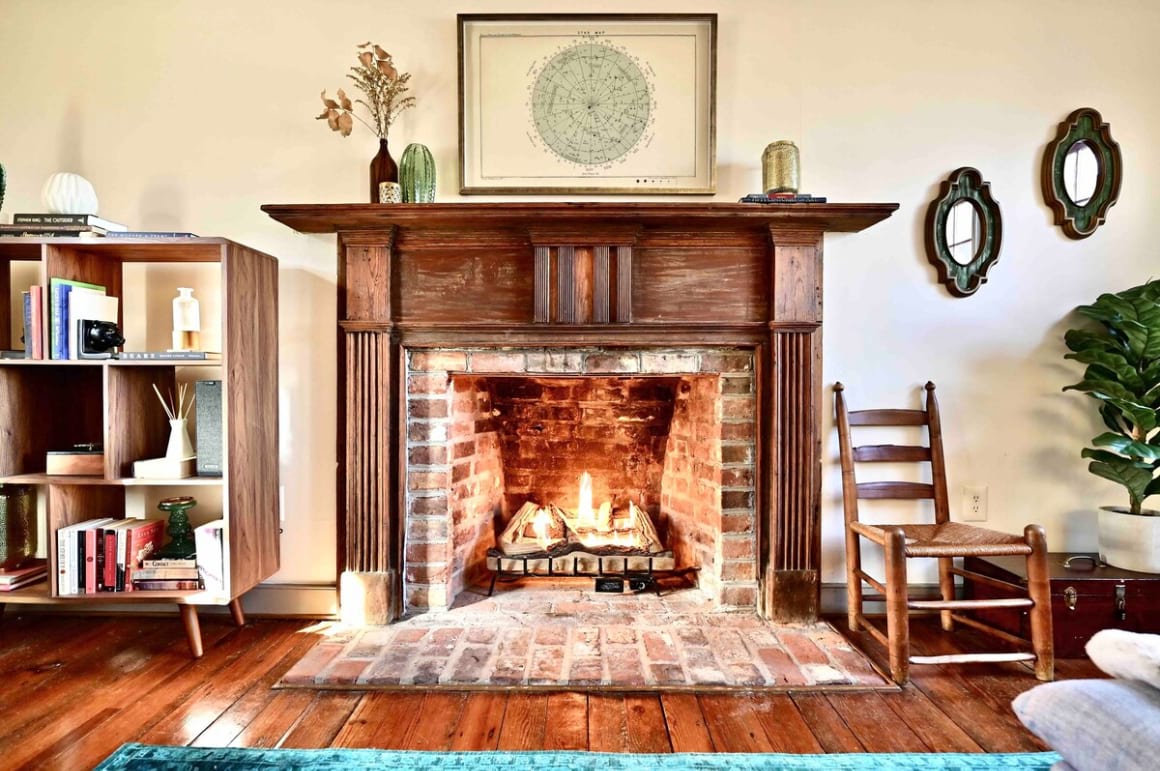 2 Guests
Authentic wooden cabin
Spend time with just you and your loved one without a distraction in sight at this beautiful riverfront Airbnb in Virginia.
Overlooking the Appomattox River and nestled deep in the Blue Ridge Mountains, you can have a stress-free romantic escape.
The cabin was originally built in the 19th century, but has been recreated to provide modern comfort without losing that old-time charm. Each window has it's own screen, so every night you can fall asleep to bird songs and a cool breeze floating through the cabin.
Have a simple, but slightly steep, walk down to the river which will be all yours to enjoy.
You can find some more epic cabins in Virginia Beach!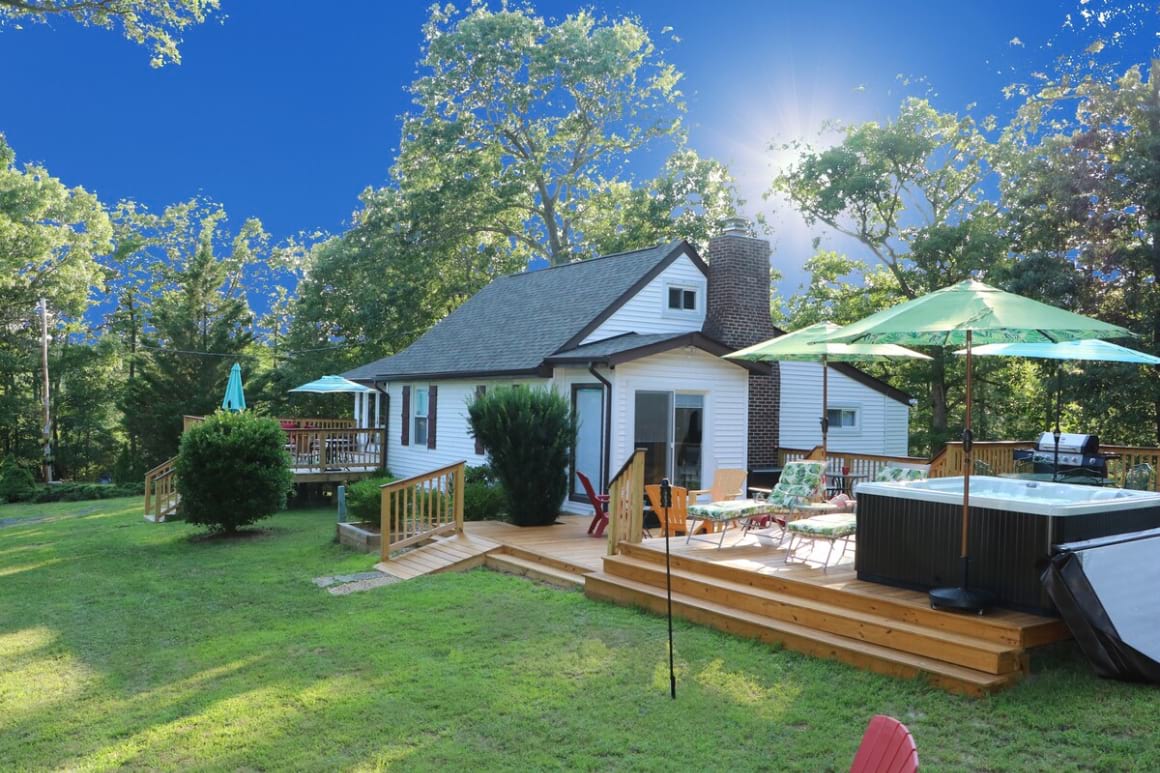 Bring along the young ones to this excellent family escape to Fort Valley, Virginia.
This Airbnb has been set up with kids in mind, comes with an abundance of toys and outdoor games to keep everyone busy. The home's spacious yard is great for lounging and throwing a ball around.
At night, heat up some popcorn and gather in front of the outdoor cinema for a fun family movie night.
Around the home there are some local hiking trails, and some awesome national parks and forests are within an hour's drive.
If you are looking to splash around some cash, this is the Airbnb in Virginia for you.
This oceanfront mansion will give you an unforgettable coastal experience at the height of luxury.
The first thing you'll notice is the amazing windows that look out to the Atlantic, closely followed by the exquisite high ceilings. Large but intimate, the Seaside Sanctuary 'beach house' is an amazing place to be with family, or to gather with your friends.
The interior has multiple fireplaces to enjoy in the evening, along with a hot tub fitted with a Bluetooth sound system.
When you are ready to venture out, all but two steps stand between you and the beach.
Best Cabin on Airbnb in Virginia | Lakefront Cabin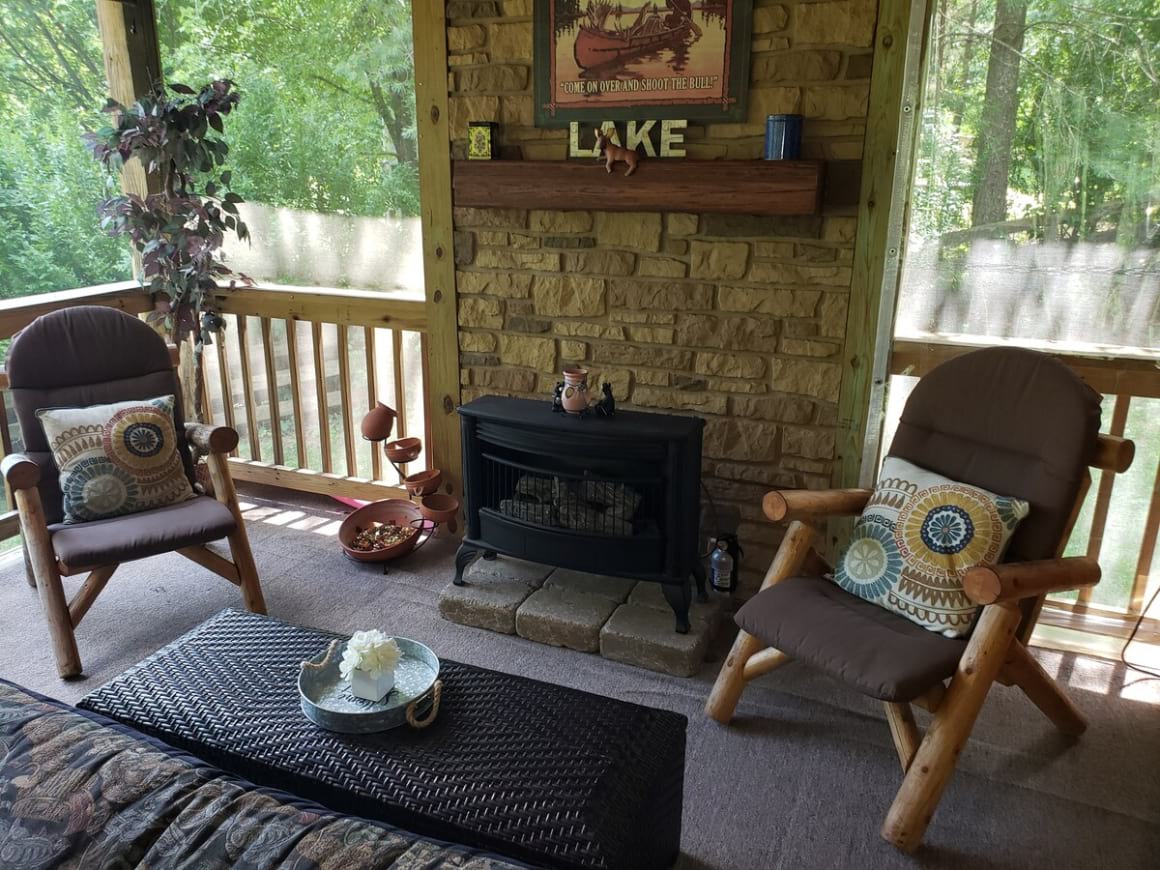 Get ready to experience the best of cabin life at this wonderful lakefront Airbnb in Virginia.
It has amazing views of the lake throughout the day, punctuated by a dazzling nightly sunset. Beyond the two bedroom cabin, there are hammocks to relax and read a book, spots to sit and take in the sounds of nature, and of course, the lake itself.
The hosts provide a whole manner of different equipment for you to enjoy including a four-person paddle boat, an eight-person floating raft, canoes, kayaks, and SUPs.
Once you are all watered out, gather the crew for a game of cornhole, or head to the Shenandoah National Park only a quick 15-minute drive away.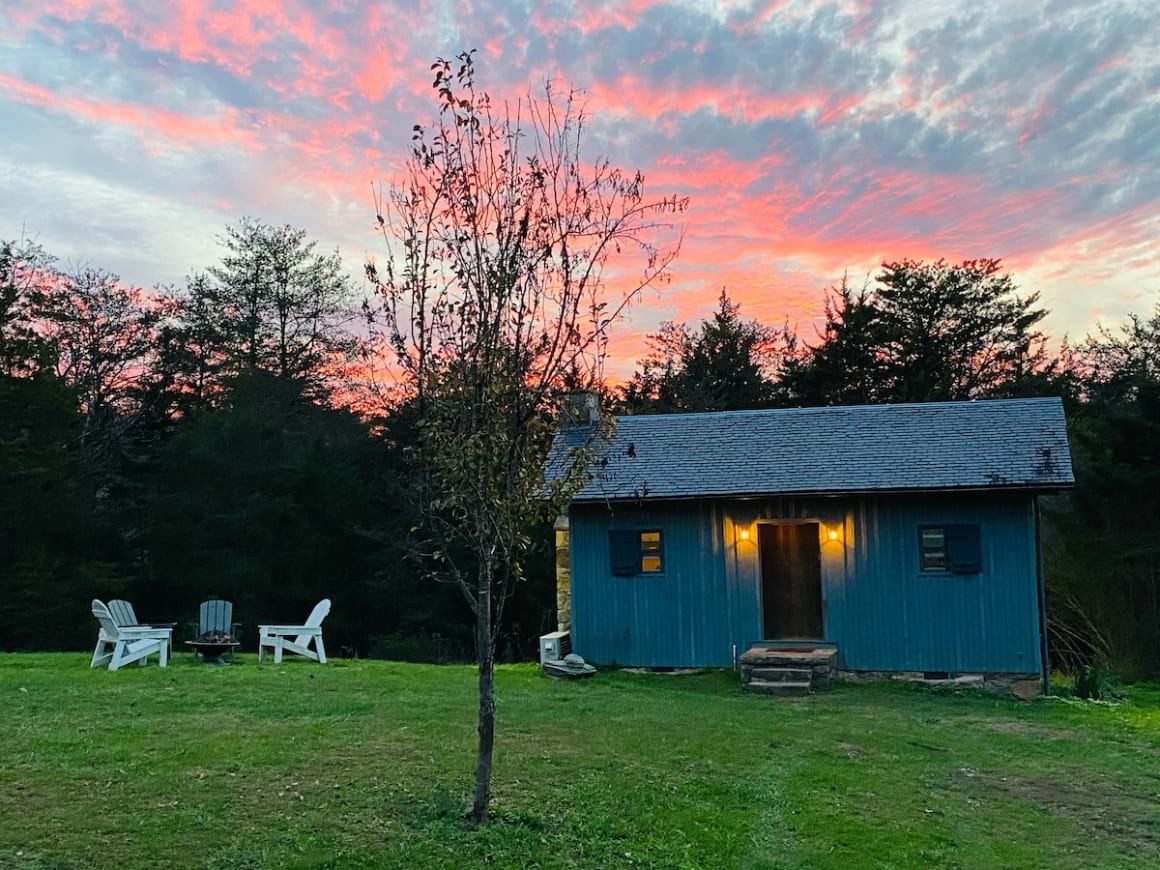 The beauty of Airbnb is the ability to enjoy creative homes for the weekend and this tiny home is no different. The minimalistic style is perfect for anyone looking to disconnect from life, and de-stress.
The home is really romantic for couples, and big enough for a small group of friends.
Each night you can gather around the campfire as the sunset paints the sky, and watch the stars slowly appear.
The home is on a working farm, yet far from the nearest home. This will give you the privacy you want, but also access to some cute animals to play with during the day.
4 Guests
Hot tub and hammock
Gather your friends for a fun excursion to Gloucester. At this cottage Airbnb, you will have amazing views of the Ware River, and colonial Williamsburg a stone's throw away.
Kick back and relax on the porch, or head down and chill under the sycamore tree. The home's 50-foot private dock is ideal for jumping into the water, or trying out some fishing to see if you can get a bite.
After dinner, gather around the fireplace for some evening board games, and watch the sunset envelope the sky.
The cute town of Gloucester has delicious restaurants and fun bars as well as hiking trails all just a short trip away.
Best Airbnb with Jacuzzi | The Bear Den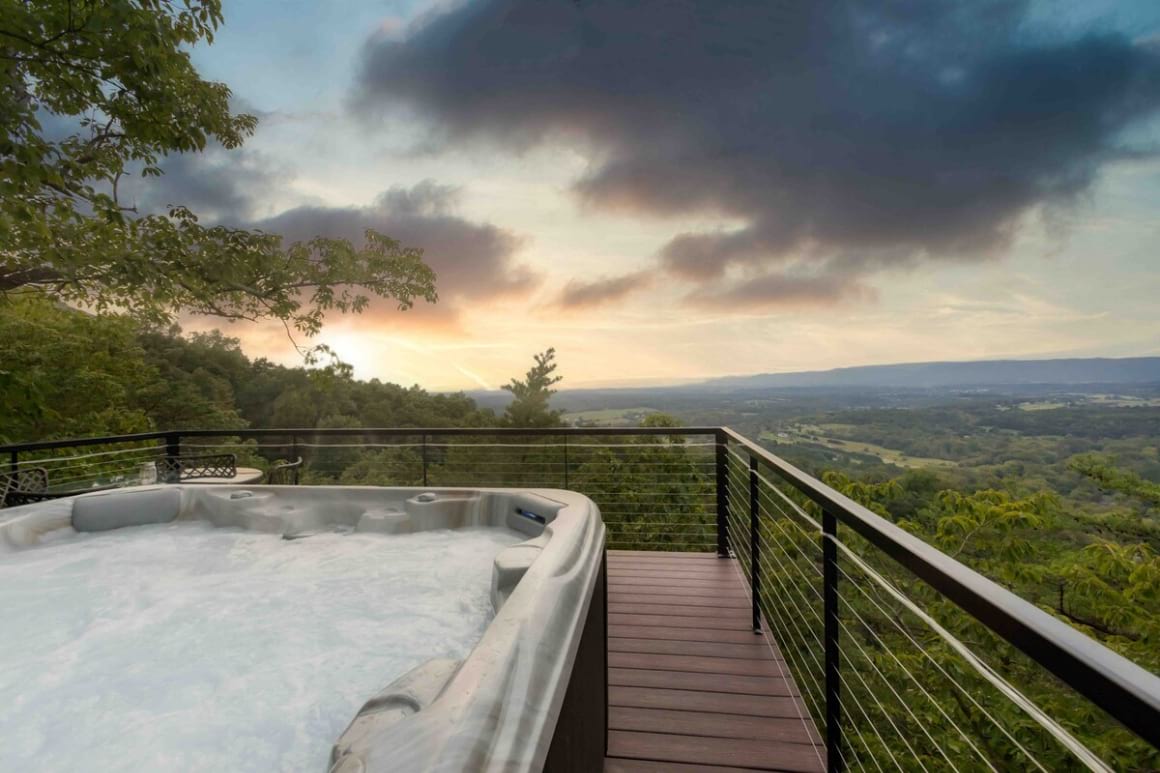 4 Guests
Cozy, homey style
When it comes to finding a Jacuzzi with a view, Bear Den is the clear winner.
Located right above the Shenandoah River and adjacent to the George Washington National Forest, you can enjoy utmost privacy at this remote cabin.
Soak in amazing views from the extensive porch, jump in the Jacuzzi with a glass of champagne, and toast to your freedom. When the night comes, you can wander down to the fire pit and the share tales of your travels.
The cabin has a relaxed, homey interior that will quickly make you feel at home.
9 Guests
Blue Ridge Mountains
Perched high atop the Blue Ridge Mountains, is this four bedroom cabin big enough for friends and family to gather together.
Featuring four decks that provide a 180-degree view of the valley, this cabin comes with the best views of any Airbnb in Virginia. You can watch the nightly sunsets with your loved ones, before getting slightly too competitive on the foosball table.
Kids can enjoy the numerous toys, books, and DVD collections, while the older folks can have a nice evening around the deck's fire table.
In the morning, wander down to the river through the cabin's own private access and go tubing.
Best Airbnb for a Weekend in Virginia | The Bread Barn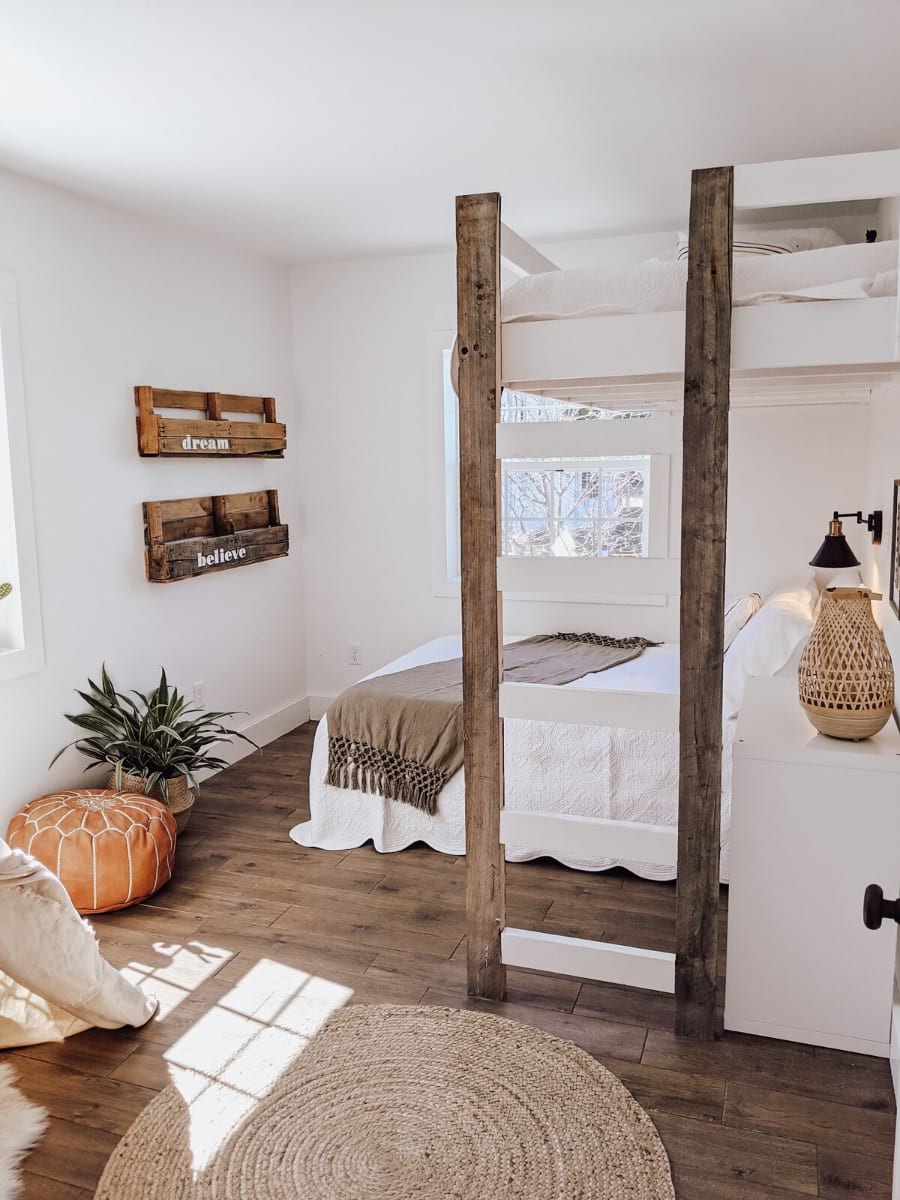 6 Guests
Relaxed bohemian style
Spend your weekend above a working wood-fired bakery on the Seasons' Yield Farm.
The Airbnb is built from remnants of the farm's 200-year-old barn, as well as maple wood harvested from the property.
The wonderful interior decor will make you feel right at home with great views down to the valley. There are multiple rooms plus bunkbeds which means you can bring along the kids, or have an Airbnb-style double date.
You are welcome to explore the property, tour the bakery, and hang out with the farm's friendly animals.
Don't forget the s'mores for the barn's outdoor campfire!
For honeymooners searching for a romantic adventure, this is the best Airbnb in Virginia for you.
The light and airy home has a loft bedroom and picturesque garden. The building was the former wash house in the farm's original layout, but it has been incredibly transformed into a romantic escape.
As you walk outside you will be among the apple and peach orchards. If you time it right, you will be able to pick your own fruits and make apple pie using the recipes inside the Airbnb.
The home is close to many attractions around the Shenandoah Valley, but the best way to enjoy the landscape is from the private fire pit.
Best Airbnb in Virginia for a Group of Friends | The Blue Ridge Cabin
$$$
Near wineries/breweries
The best Airbnb in Virginia for a group of friends has got to be the Blue Ridge Cabin. Tucked away in the mountains, you can enjoy a rustic and remote retreat.
Just minutes from multiple wineries and breweries, the home comes with camping chairs and picnic blankets, handy for exploring. When you aren't sampling local goods, you are only six and a half miles to the Appalachian Trail and Blue Ridge Parkway.
After a huge day exploring with your friends, kick back on the lazy boys and light up the fireplace. You can cook dinner on the grill, and finish the day with foosball and Jenga. Or, make use of the lanterns and play corn hole in the flickering light.
2 Guests
Unique Hobbit house
Amazingly, each part of this hobbit cabin was created by hand. The family that runs this unique Airbnb put this home together piece by piece.
Upon entering, there are heated floors and a comfortable wooden interior. A wonderful circle window gives you a great view into the lush, or snowy, gardens.
The kitchenette that has hot plates and a mini waffle iron – enough for cooking basic dinners and tasty breakfasts.
Each morning you can wake up to peace and quiet, and enjoy the homes intimate gardens.
Top 5 Airbnb Experiences in Virginia
Airbnb Experiences were created to give you more interesting activities and a between insight about your destination.
Given the mark of approval by Airbnb, these experiences are created by locals who know the area like the back of their hands.
Throughout Virginia, you will find a variety of these tours and activities which are run by attentive locals excited to show off their hometowns. This means that you get to discover all of the destination's hidden gems and secrets.
Including bike rides through towns and along rolling hills, food tours along Main Street, and history tours through major cities, there is something to suit everyone.
Even better, you don't have to stay at an Airbnb to enjoy these experiences. Simply head to the Airbnb website and discover them for yourself.
That said, here are some of the best Airbnb Experiences in Virginia.
$60 p/p
3 Hours
Up to 10 guests
Includes transport
Alongside your knowledgeable guide, visit 10 famous Washington DC landmarks over the course of three hours.
As you drive to each destination, your guide will give you the lowdown on what is to come.
You will be dropped off at each landmark allowing you time to discover each spot at your own pace.
By the time you exit the vehicle to roam freely around the site, you will be well educated on its history with a few interesting stories to bring home.
Under the lights of the city, you can explore these amazing places without the bustling crowds.
$300 p/p
8 Hours
Up to 4 guests
Equipment inclusive
Using his lifetime of knowledge fishing on the Maury, your guide will give you an amazing day of first-class bass fishing.
A Virginia Master Smallmouth Angler and a member of the Kayak Bass Fishing Organization, you can learn from the best.
Jump in a kayak and learn the ropes, or improve your skills alongside an expert. For almost eight miles you will float down the Maury, and can try your hand at this challenging yet relaxing activity.
Along with the gear, you will have all your lunch, drinks and snacks provided for you.
$40 p/p
90 Minutes
Up to 8 guests
As a former architect and lover of all things buildings, there is no better guide than Carolyn to show you around DCs most interesting neighborhoods.
Her history in, and love of architecture led her to create DC Design Tours which gives you a chance to see things from a different perspective.
Explore some of Washington's most diverse residential districts, far away from the regular walking tours. These neighborhoods include Columbia Heights and Adams Morgan. You will learn about the history of these streets from the fancy lives of DC socialites, to the work of civil rights activists.
$99 p/p
3 Hours
Up to 10 guests
Cooking experience
Led by designer pastry chef, Chef Michael, learn beginner and advanced techniques for creating the most sumptuous French desserts.
Over the course of three hours, you will discover how to make classic and contemporary desserts such as Creme Brulee and Chocolate Ganache.
The Opera Cake may just take the cake (pardon the pun) as the most interesting part of the class – a multi-layered almond sponge cake made with French Buttercream. Yum!
After torching your own Creme Brulee and glazing the Opera Cake, you will be able to taste your own creations.
$25 p/p
1 Hour
Up to 2 people
Private tour
Take your partner or best friend along to see the oldest distillery in America.
Joined by your expert guide, you will take a journey into the past to the world of the American Revolution. Learn about the Bowman Family who first started the distillery and how it impacted the state of Virginia.
You will go deep into the action and see how the spirits are made, including how they taste test each individual batch.
At the end of the tour, head to the tasting room where you can sample all of their spirits.
The tour is $25 but comes with it's own $25 gift card that can be redeemed at the gift store!
Don't Forget Your Virginia Travel Insurance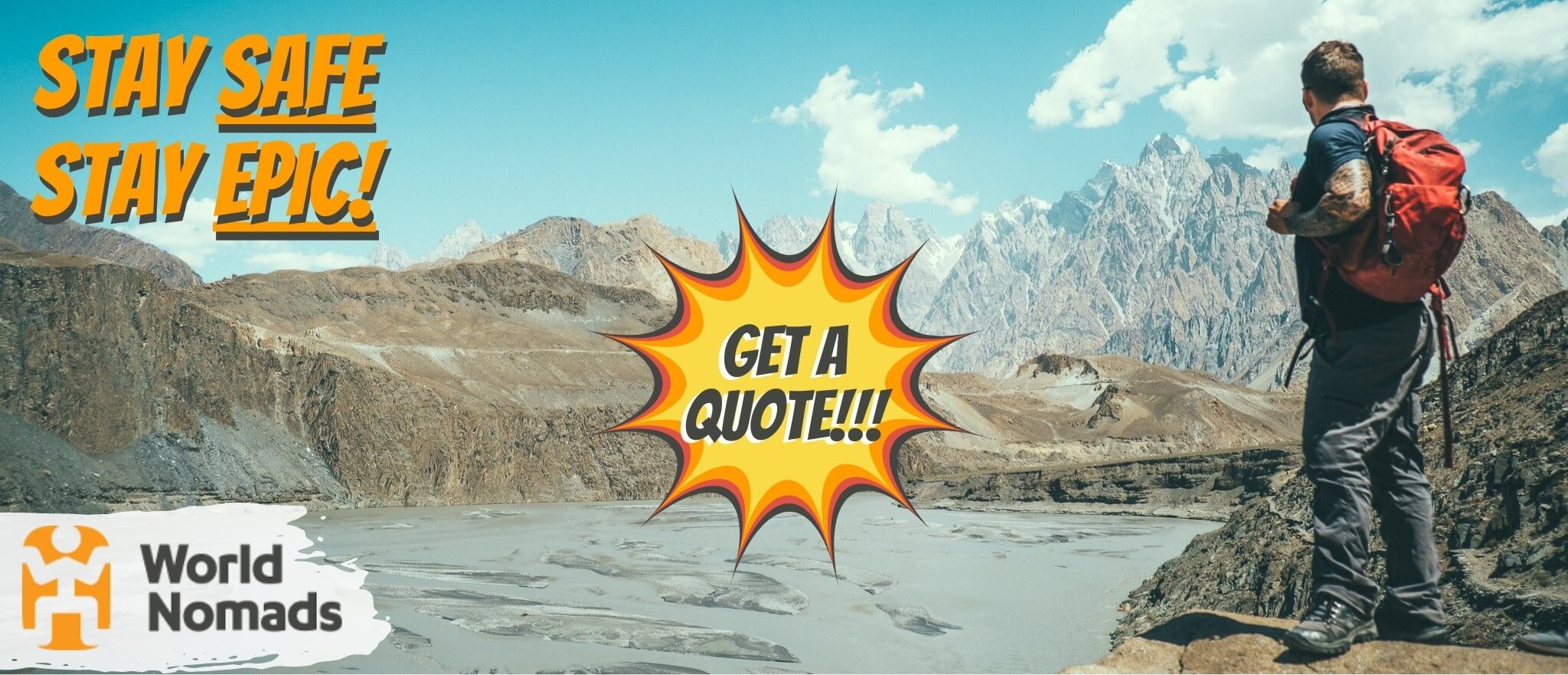 World Nomads' mission is to support and encourage travellers to explore their boundaries. They offer simple & flexible travel insurance, and safety advice to help you travel confidently.
They've been doing it since 2002 – protecting, connecting, and inspiring independent travellers just like you.
Get a quote below or read our in-depth review!
World Nomads provides travel insurance for travelers in over 100 countries. As an affiliate, we receive a fee when you get a quote from World Nomads using this link. We do not represent World Nomads. This is information only and not a recommendation to buy travel insurance.
Final Thoughts on Virginia Airbnbs
Well, there you have it, folks – the best Airbnbs in Virginia. A state of beautiful beaches, old-time cities, stunning mountains, and Airbnbs that put you right in the heart of it.
Airbnbs in Virginia are a great way to explore the state in comfort, while often providing picture-perfect vacation homes. Rather than looking out of a hotel window down on the busy streets, look out over a balcony at yet another sunset over the river.
You can see Virginia like a local, and walk away with unforgettable memories.
---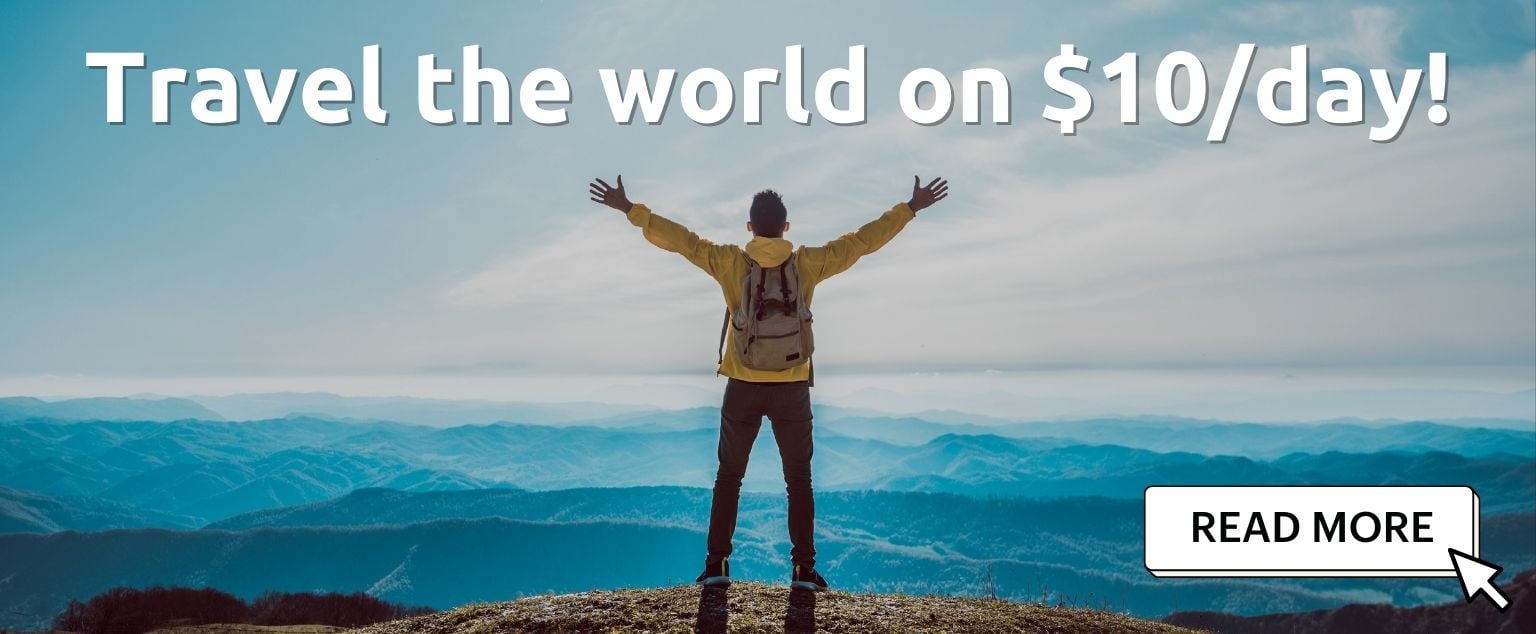 And for transparency's sake, please know that some of the links in our content are affiliate links. That means that if you book your accommodation, buy your gear, or sort your insurance through our link, we earn a small commission (at no extra cost to you). That said, we only link to the gear we trust and never recommend services we don't believe are up to scratch. Again, thank you!