This is a comprehensive, no-frills Philadelphia travel guide. The "City of Brotherly Love;" the birthplace of the infamous cheesesteak. Philly is home to some of the most important historical sites in the country.
More than the aforementioned though, Philadelphia is becoming a brand new city. In recent years, it's been shedding its mangy reputation as a violent city and catching up to many of the USA's most popular city destinations.
Parts of Philly could easily compete with some other East Coast cities in terms of beauty and grandeur, and the city already has one of the most underrated foodie scenes in the nation.
This Philadelphia travel guide is all about the city's bright future. We're going to talk about all sorts of relevant topics, like when to go, what to visit, and where to stay in Philadelphia.
We'll get into the nitty-gritty as well, and be making plenty of suggestions about foods and things to do at night in Philly.
We feel pretty good about this town – it's not the easiest city to visit nor is it the most convenient, but for those who put in the time and actually give Philly a chance, they'll be more than rewarded.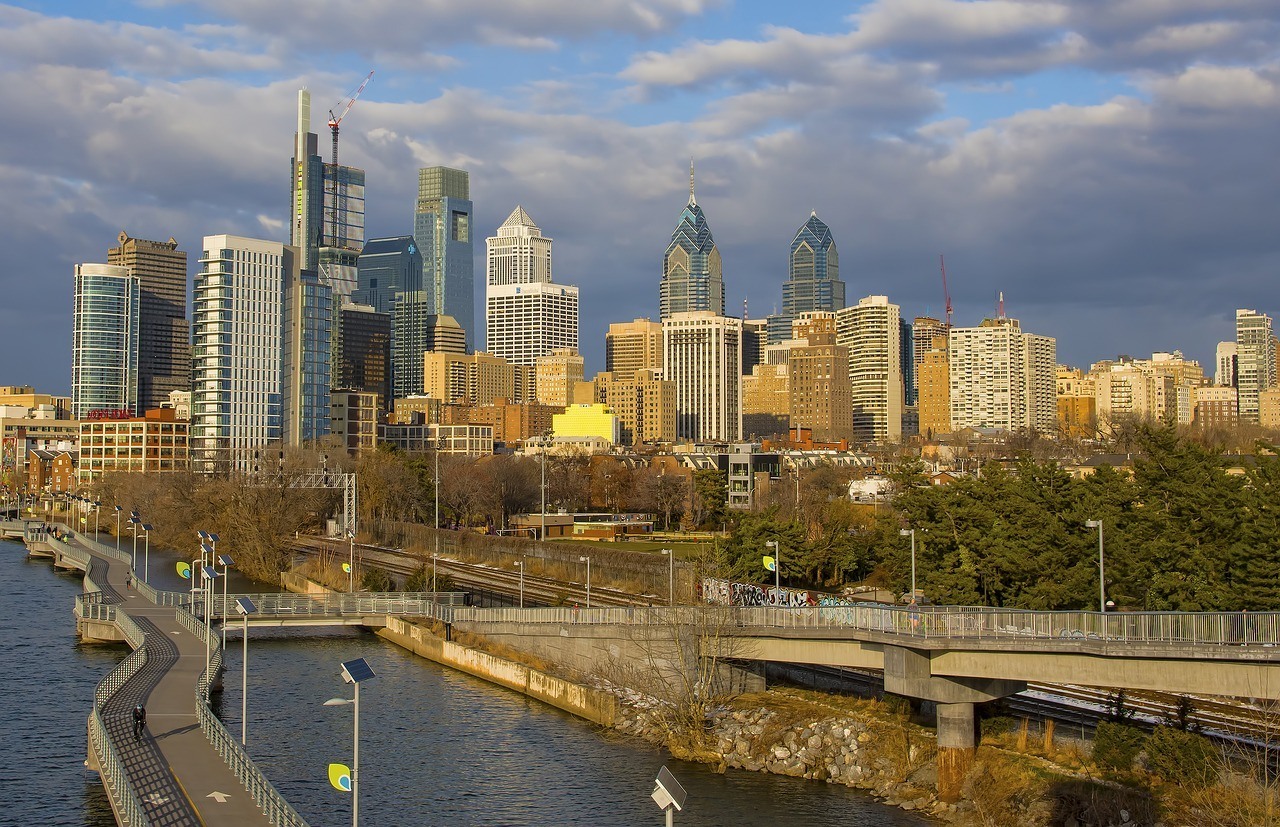 Although Philadelphia has been growing and renewing itself just as much as any other American city, it is vastly more affordable than many others of its size.
Whereas cities like Seattle, Denver, and Boston have all become worrisomely expensive over the years, Philadelphia is still moderately inexpensive to visit.
Philadelphia is still an American city though, which means that it is still pricey by many international standards. You'll have to be just as mindful of your spending habits in Philadelphia as anywhere else in the world and, with the right practices, you may even get by for $10/day…
There are lots of tips and tricks to saving money in this Philadelphia travel guide. It can be cheap in this city still, but you must follow our advice.
A lower daily budget for Philadelphia would be around $50-$60. This will get you a dorm bed, grocery money, tickets for the bus, and some extra spending money.
Accommodation in Philly is actually very affordable, at least when compared to its neighbors. Hostels here are some of the most inexpensive in the nation and Airbnb deals are a pretty good too.
Food is affordable depending on what and where you eat. If you stick to cheaper, more "filling" meals like cheesesteaks and pizzas, you may leave the city with more cash. If you intend on dining out at restaurants or bistros, kiss that money goodbye.
Be mindful also of drinking in bars or restaurants in Philadelphia. Local liquor laws have made booze more pricey than it ought to be. You'd be better off bringing your own bottle or drinking at home. Thankfully, beer is still cheap in Philly.
Below is a breakdown of a daily budget in Philadelphia including average costs of each expense.
Guide to Philadelphia Travel Costs
Hostel Dormitory: $20-$30
Basic room for two: $140
Airbnb/apartment: $80
Average cost of public transport: $2.00
City-Airport transfer: $6.50-8
Sandwich: $6-$8
Beer at a bar: $4-$7
Coffee: $2-$3
Bottle of whiskey from the market: $23
Dinner for two: $40-$60
Philadelphia Budget Travel Tips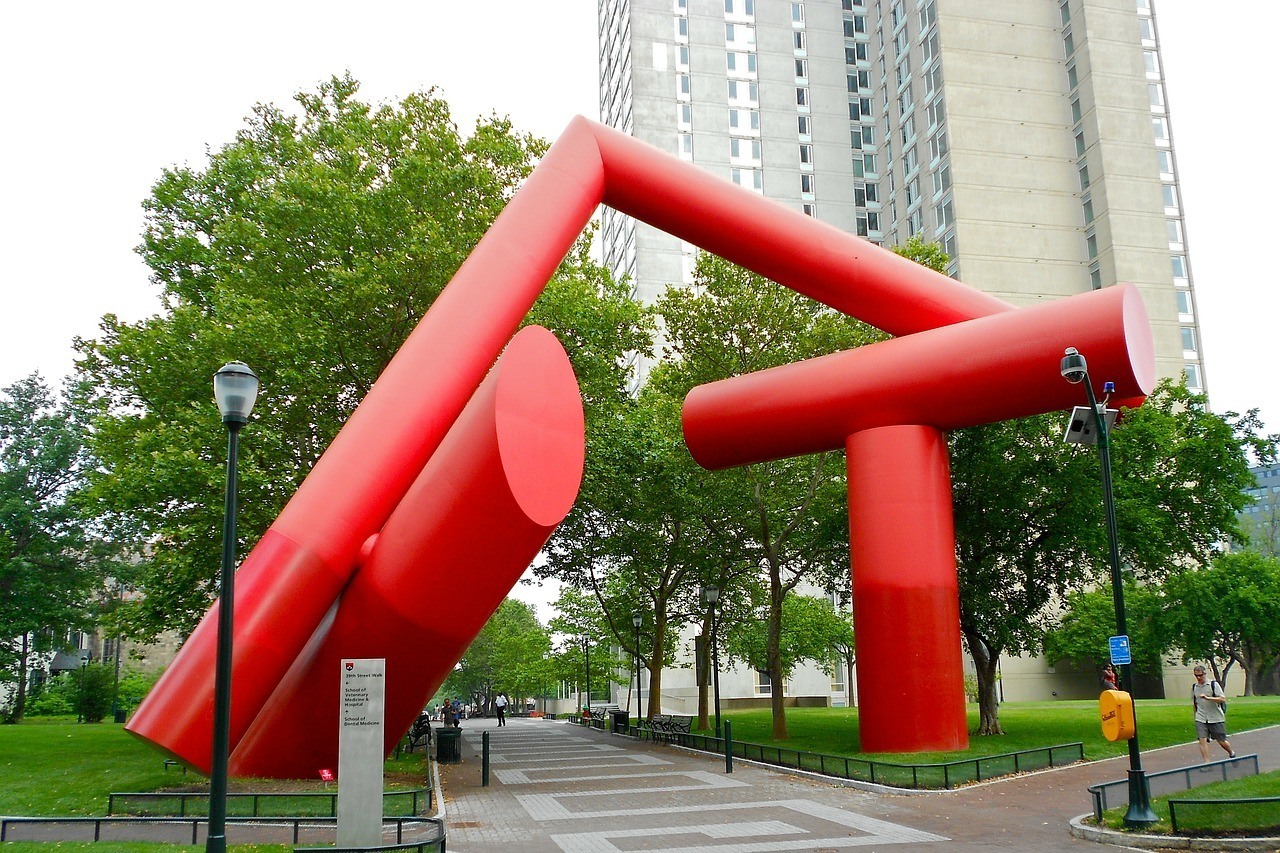 It's easy to spend without thinking, and even easier to go broke. If you want to visit Philadelphia on the cheap, then you'll have to be strict with your spending habits.
For your benefit, we've created a list of tips for staying in Philadelphia on a budget. Follow these words of advice and you'll find that your dollar goes much further.
BYOB – Pennsylvania has some strange liquor laws and these make drinks at bars/restaurants prohibitively expensive at times. Many establishments let you bring your own booze though and you should absolutely do this to save money!
Cook at home as often as possible – One of the most proven ways of saving money for backpackers; buying your own groceries and cooking at home will save you heaps of cash.
Take advantage of happy hour – Happy hour is everyone's favorite time of day! From around 4-6 pm and sometimes late, lots of bars and restaurants have special drink/food prices. If you must eat out, try and go to during this time.
Buy a special pass – If you're planning on seeing a lot of the city, then you may want to invest a City Pass. This card will allow free entry into many entering a lot of Philadelphia's must-see places and will even give you special rates for public transport.
Use a water bottle – Save money by investing in a good water bottle and then drink from the tap. Philadelphia's water is delicious and totally fine to drink.
Pizza and cheesesteaks – Aside from being delicious, pizza and cheesesteaks are among the cheapest eats in town! Try not to indulge too much though – these foods really stick to your bones and may cause your clothes to not fit anymore.
Want to save the world?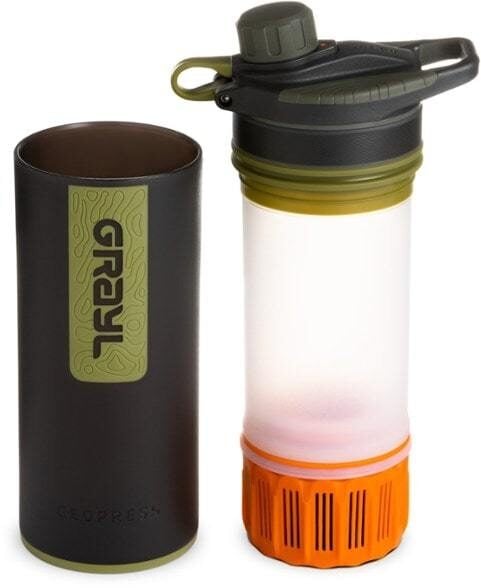 Single-use plastic bottles are a huge threat to Marine Life – Be a part of the solution and travel with a filter water bottle.
The GRAYL GEOPRESS water bottle is the ONLY all-in-one filter water bottle setup you'll need. Whether you need to purify the water from a hostel sink in Kathmandu or a stream trickle in the Andes, the Geopress has got you covered.
Read our full review of the GRAYL GEOPRESS!
IN A RUSH? THIS IS OUR FAVORITE HOSTEL IN PHILADELPHIA!
Philadelphia is actually one of my favorite cities to visit due in part to its quaint, historical housing. Cute brownstones, which are commonly associated with New York and Boston, can actually be found in Philly and these are only a tiny slice of the available lodging in the city.
When in Philadelphia, staying in a local apartment is highly recommended. There's a good possibility that you'll be staying in a building that could be hundreds of years old. While some of these may be drafty, most are excellently maintained and renovated.
There is no better way to find a local apartment than Airbnb! I love Airbnb because it makes finding local apartments and communicating with hosts super easy.
Like the rest of America, hotels in Philadelphia are just meh. They're usually overpriced, underwhelming, and just not really ideal. There always decent hotels in every city but I just find Airbnb to be more consistent.
Philadelphia has its fair share of hostels spread throughout the city. Whether or not if you've actually stayed at an American hostel or not, let me just say that it's a little different than Europe or South America. Be mindful of where your hostel is actually located in Philly as a couple is pretty far off the beaten path.
The city also has a booming Airbnb Scene. Philadelphia Airbnbs are situated all across the city.
If you have a rental car and you are looking to make your trip to Philadelphia more on the cheap, try staying at a campground outside of the city. Campgrounds are well maintained and secure communities but, most of all, they're cheap. Don't forget a tent either!
Refer below for a list of the best hostels in Philadelphia.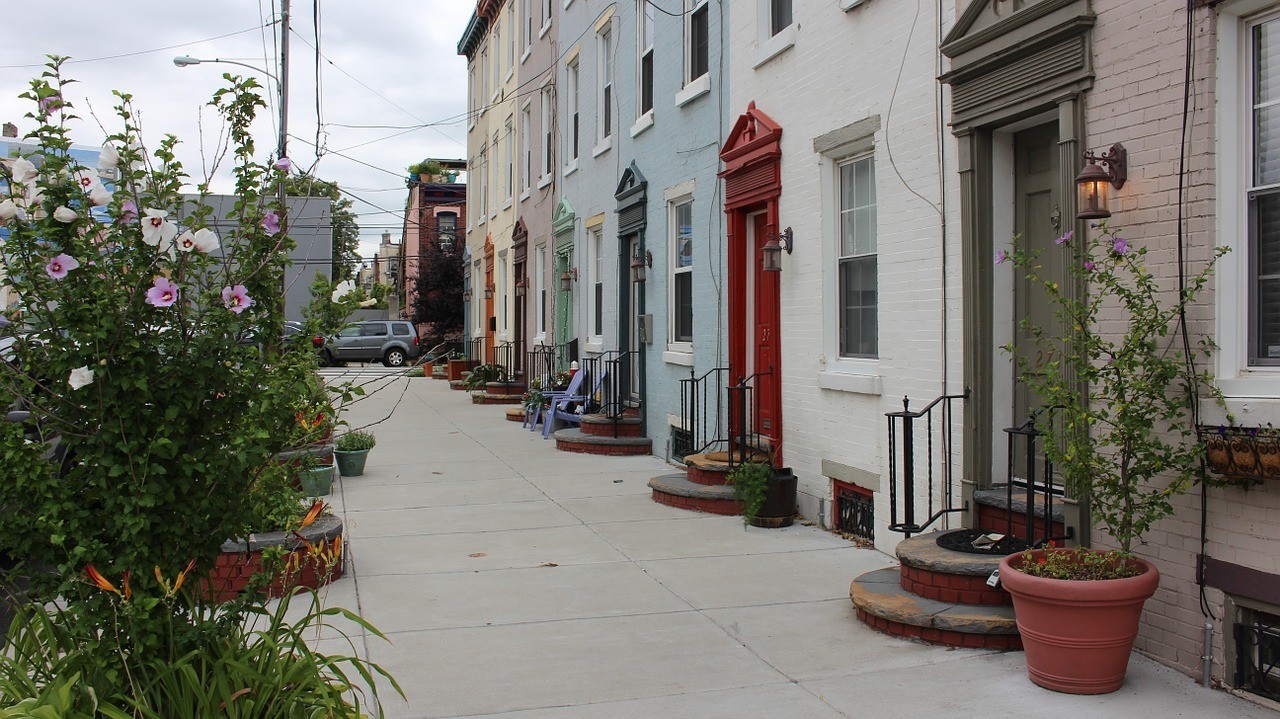 We can't comment on the strange mixture of bright orange paint and rustic leather furniture, but, these things aside, Apple is still the best hostel in Philly for several reasons.
1) There is a ton of free stuff in this hostel from open bar nights to wine and cheese to communal dinners (all on certain days).
2) There are regular social events organized by the hostel, such as pub crawls and city tours. Maybe you can also organize a giant tournament with the free Xbox One as well?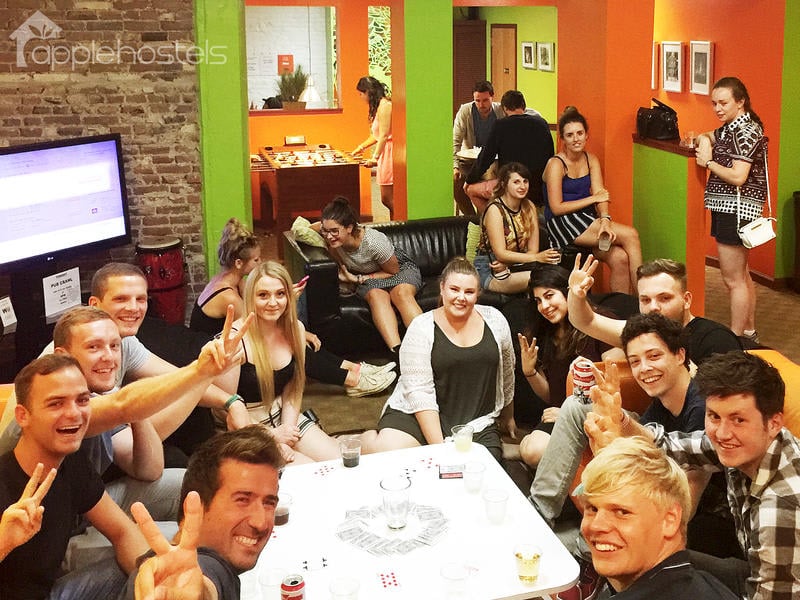 Visiting Philadelphia shouldn't force you to behave a certain way. The City House Hostel is a laid back hostel that doesn't shove tours or gatherings or anything down your throat.
This is a very homey place, where people are encouraged to do things at their own pace. Should you feel the need to be social, there are still pub crawls and social events organized by the hostel that are available to you.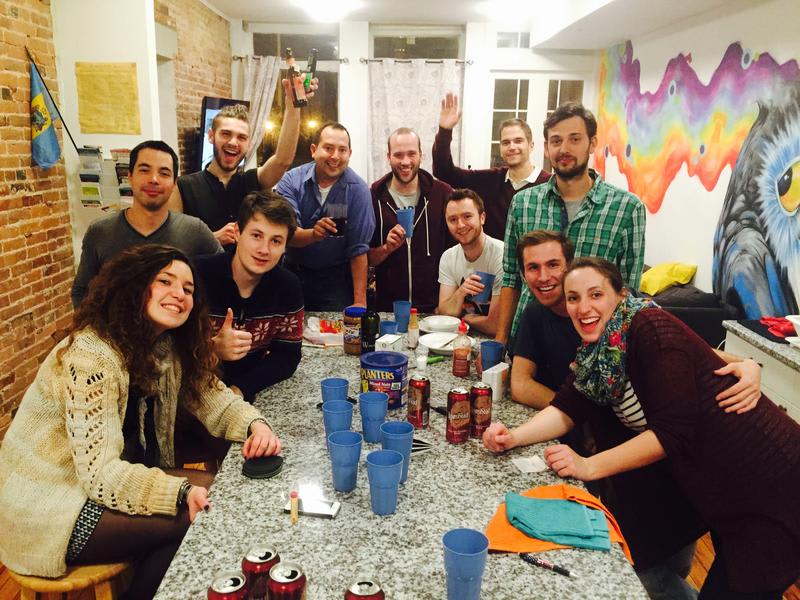 The local City House hostel chain claims to have the best deals in Philadelphia and this one may be the most affordable of them all.
Price aside, this hostel is totally worth checking out due to its stellar location near all of Philadelphia's must do sites and local bars. The hostel itself could use an update but you get what you pay for.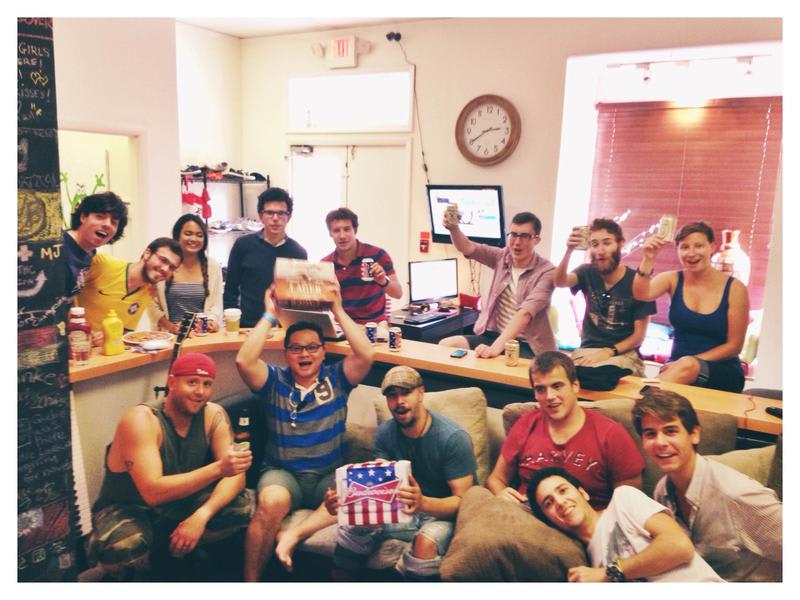 This apartment is hands down, the BEST apartment for the price -Located smack dab in the heart of the city. With rustic edge to the interior, you can tell they have some Philly American pride. Footsteps to Penn's Landing, all the cool restaurants, museums, basically everything is a hop skip and jump away. This pace is excellent for couples and friends exploring the city together. And if you know anything about Philly: parking is madness but thankfully this place provides a free space for you, huge perk!
1. See the Cherry Blossoms in Fairmount Par
Like DC, Philly is famous for its cherry blossom displays, which peak in April and May. For a period of about 2-4 weeks, the whole of the city is blanketed in pink petals. For the best shows, best head slightly outside of Philadelphia to Fairmount Park.
2. Go to a sports game
Philadelphians are some of the rowdiest sports fans in the nation. They are diehard souls who will follow their teams through the worst of draughts and calamities. At the moment, most of their teams are doing pretty well actually, and if you can snag tickets to the likes of an Eagles, 76ers, or Flyers game, it will be rewarding to see the locals in their natural element.
3. Check out the collection at the College of Physicians
The College of Physicians was one of the first and most important medical schools in the country. It hosts a splendid collection of medical artifacts and curiosities, the likes of which is open to the public.
If you'd like to learn more about the prestigious school, check our Philadelphia reading list – one of our recommended novels takes place here.
4. Explore the creepier side of the city
Let us not forget that some of the most haunted stories came from Philly. Edgar Allan Poe's The Raven and the Sixth Sense immediately spring to mind.
For those looking for strange, secret places in Philadelphia to inspire their ghastly delights, there are plenty of options. Eminent locations include the Eastern State Penitentiary, Mount Moriah, and Grip the Raven in the Philly Free Library.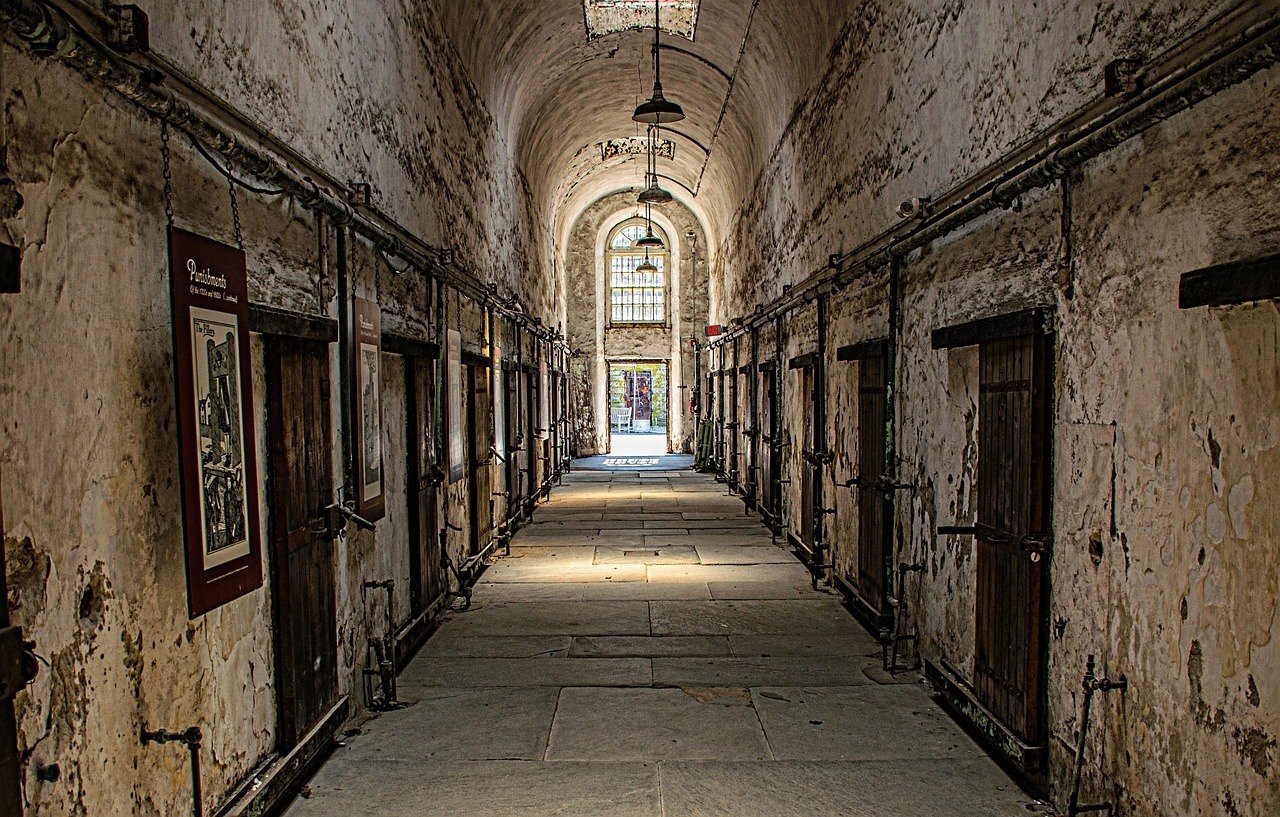 5. Go shopping at the Italian Market
The Italian Market is a staple of Philadelphia life and is one of the beloved parts of the city. On weekends, people pour over this modern-day bazaar looking for the best local ingredients.
It's one of the best places to eat in Philadelphia as there are plenty of little shops and stalls selling meals as well.
6. Dive into American History
It's common knowledge that the historical sites in Philadelphia are among the most significant in the USA. You can learn the history of the Founding Fathers all around Philly, but most easily at Independence Hall, Valley Forge, and the Museum of the American Revolution.
7. Run, walk, jump, or whatever at the Art Museum
It's more well-known for its steps but the Philadelphia Art Museum is worth visiting as well. This one of the most respected cultural institutions in the USA and one could spend an entire day touring it.
Don't feel bad pretending you're Rocky as you run towards it though – it's a little fun.
8. Feel the love
One of the best things about Philadelphia is the sense of camaraderie in the air. Philadelphians are super proud of who they are and will stick by their city through thick and thin.
In fact, the original Quakers founded Philly upon the principles of fraternity, thus owing to its name "The City of Brotherly Love."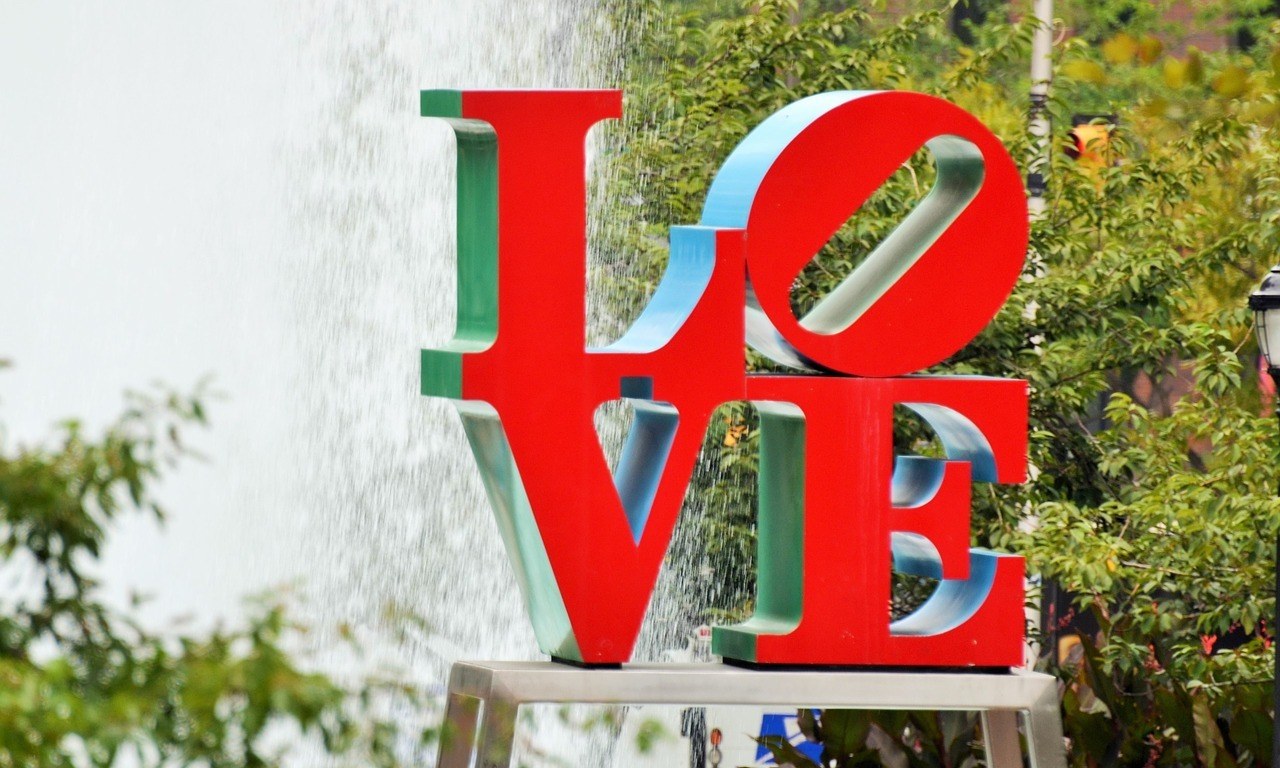 9. Go to the Magic Gardens
Tucked away in a corner of Washington Square is an oasis of weird and wild art. The Magic Gardens is a wonderfully eccentric place, filled with tile mosaics and random sculptures, and is an awesome respite from all of Philly's historical attractions.
10. Find the murals
The local Mural Arts Philadelphia program is one of the most active street art societies in the nation and produces some absolutely breathtaking pieces.
Many serve a very explicit purpose and are meant to illustrate a part of Philadelphian life. You can find a list at their website here and even schedule a tour to see the best.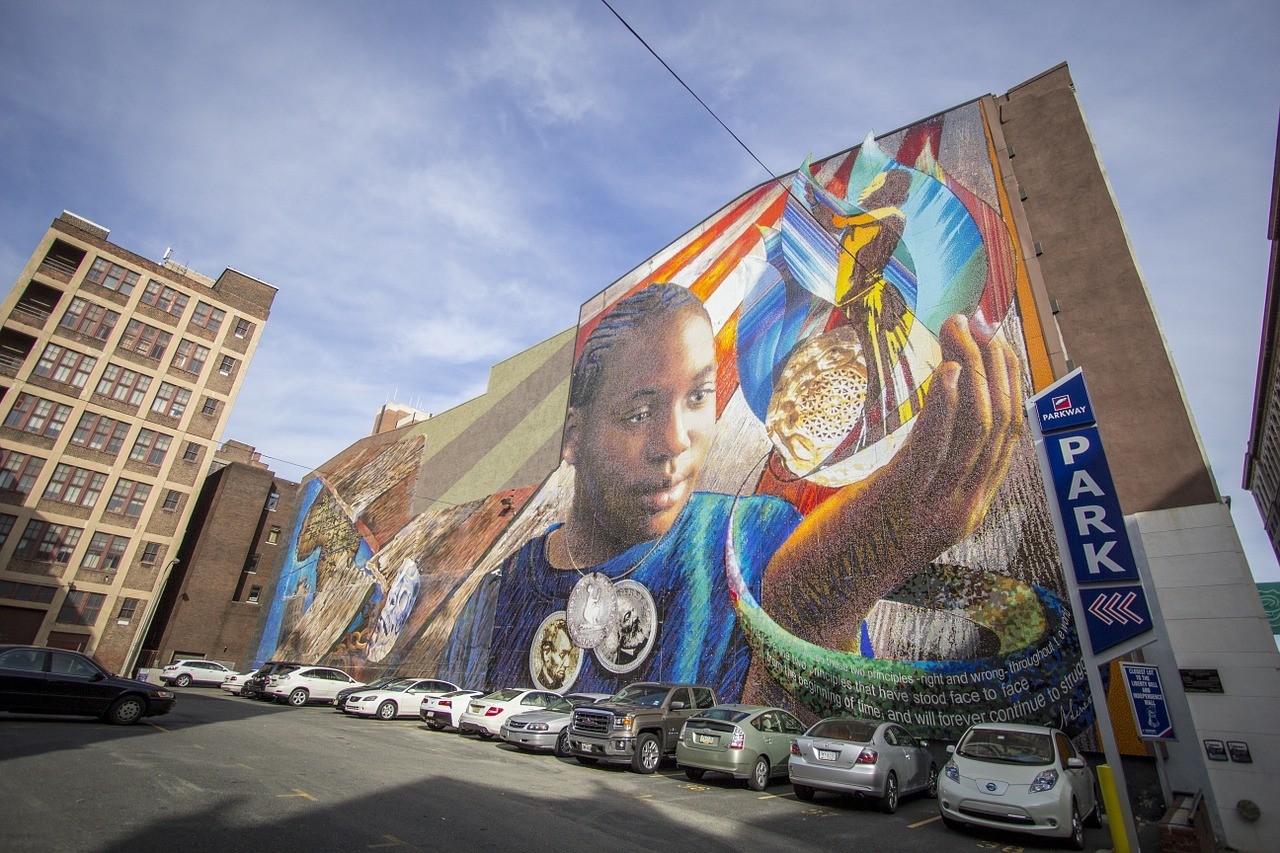 Best Free Things to do in Philadelphia
If you're looking to save some extra cash, then try doing one of these free things in Philadelphia while visiting!
Get active – Feeling a little bloated after all of those cheesesteaks and unhealthy foods? Try dancing it off with Salsadelphia or join a free yoga session at the Race Street Pier to limber up.
Get a history lesson – Being the historical treasure that it is, there are lots of history lessons to be found all over Philly. Listen to a speaker at a Once Upon a Nation marker or join in one of the many reenactments that take place regularly at Philadelphia's many historical sites.
Festivals and events – There are lots of arts and cultural events being held on a regular basis in Philly. First Fridays are always a great way to see local artists. Both the PECO Multicultural Series and FRINGE Arts are among the top festivals in Philadelphia. All are free.
Museums and galleries – There are several museums in Philadelphia that are free at certain times of the week and month. Check out the websites for the Museum of Art, Institute of Contemporary Art, Science History Institute, and Edgar Allen Poe Museum to see when each is gratis.
Historical attractions – Philadelphia's top sites are almost all free to visit! These include Independence Hall, Liberty Hall, Carpenter's Hall, The President's House, and Valley Forge.
Kimmel – Aside from offering complimentary tours of the theater, the Kimmel Center also hosts free performances quite often, especially in the summertime.
Symposiums and talks – Philadelphia has a large and very active academic community. Many of the local institutions hold public lectures and discussions that are totally free to the public. Ask around for the next gathering.
If you're looking for some more things to do, try checking out guidetophilly.com!
Day Trips from Philadelphia
Thanks to its great location, there are tons of options for taking a day trip from Philadelphia. Check out one of these top destinations for the top things to do outside of Philadelphia!
New York City – New York, New York; home to some of the most distinctive towers, most unabashed people, and most vibrant cultures, ever. This metropolis is arguably one of the greatest on the entire planet and is a must see for those visiting the USA. Traveling from Philadelphia to New York takes only 2 hours by train or bus so day trips between the two are very reasonable.
Jersey Coast – If the summer heat is starting to get to you, then why not make a day trip from Philadelphia to New Jersey's beaches? The shoreline here is one of the most beloved and well-known on the East Coast and has all sorts of activities. Head to Atlantic City for some partying and gambling, or make for Sandy Hook for a quieter time.
Gettysburg – Gettysburg is the historical site for one of the most important battles in the American Civil War. It was an extremely bloody conflict, whose brutality has become well-known among Americans. These days Gettysburg is much quieter – the battleground is mainly a cemetery now and there are a few relics laying around. For anyone interested in American history, Gettysburg is one top things to do outside of Philadelphia.
Baltimore/Washington DC – If you aren't satisfied with the history that Philadelphia and the surrounding countryside offers, then head to the nation's capital, Washington DC. The hallowed city is only 2.5 hours away and has a boatload of historical attractions like the Washington Monument, Lincoln Memorial, and National Mall. Along the way, you can even stop in Baltimore, which is one of the most underrated cities in the USA. Grab a blue crab at the Inner Harbor. See Baltimore's best Airbnb rentals here.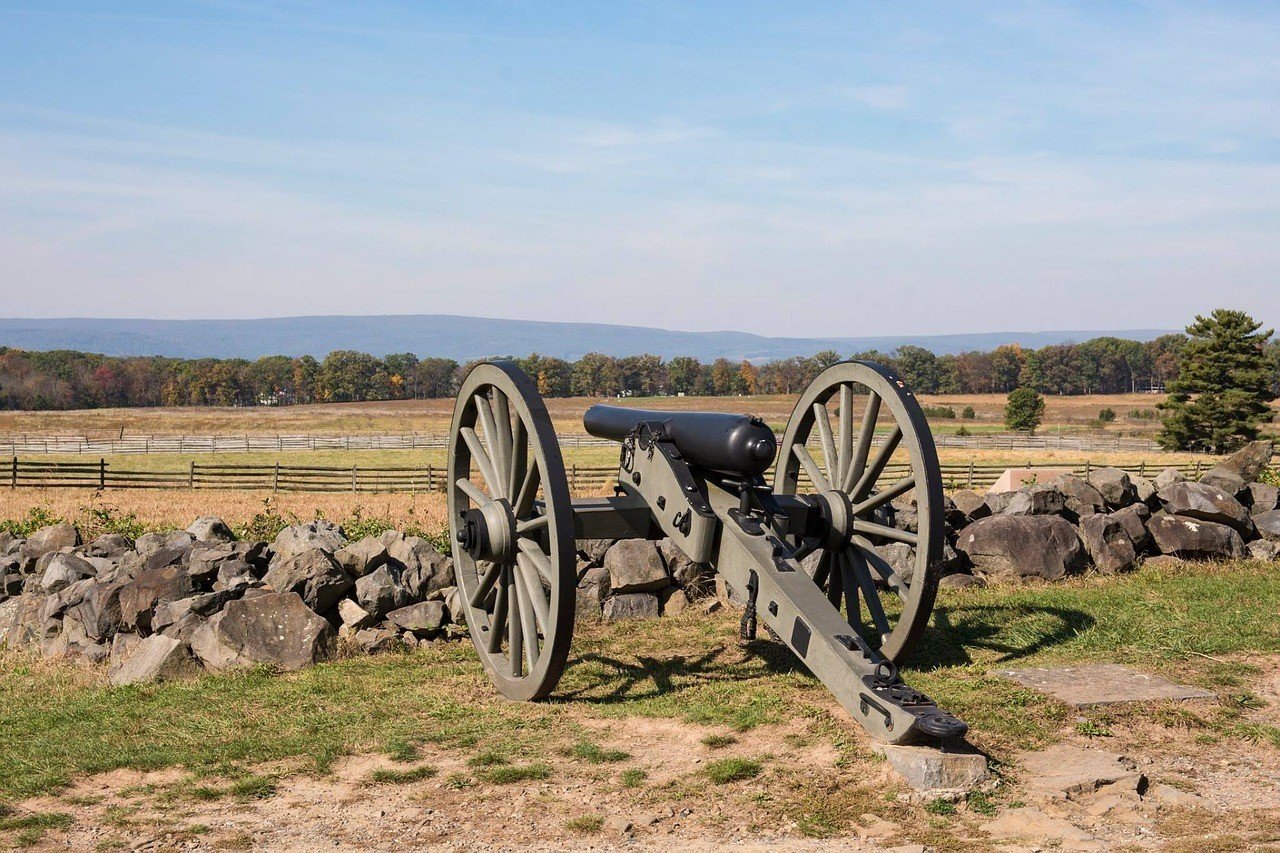 The following is a sample 3-day itinerary for a weekend in Philadelphia. Most of the top destinations mentioned in this Philadelphia travel guide are covered in this section.
Day 1: City Center and Old City
On the first day of our Philadelphia travel guide, we hit the City Center and bang out all of the must sees. Philadelphia historical sites are all conveniently located in this area, so visiting all of them shouldn't take up too much time and attention. This means more time for a beer!
There is no better place to start out than City Hall. This enormous complex dominates the nearby skyline and demands attention. I highly recommend walking in and around the building to see all of the intricate little carvings and tableaus, which illustrate various historical events.
Near to City Hall is arguably one of the most photographed attractions in Philadelphia – the LOVE statue. For many, grabbing an Instagram photo with a loved one is one of the must dos in Philadelphia, but you'll have to share the statue with everyone else.
Let's wrap up those photos and head directly east on Market Street. After walking about 15-20 minutes, we'll arrive at the L-shaped Independence National Historical Park.
Here we'll find all of the most famous historical landmarks in Philadelphia, including the eponymous Independence Hall, Liberty Bell, Constitution Center, and Museum of the Revolution.
Spend the next however many hours you like walking around the grounds here and visiting the sites. The relics themselves can feel a little underwhelming at times – the Liberty Bell is a lot smaller in person – but if you give it some effort and join in the atmosphere, either on your own or with a reenactor, this area can be a lot of fun.
Around Independence Park are several other notable locations, like the Betsy Ross House, African American Museum, and Ben Franklin Museum, among lots of others.
Be sure to drop by the Curtis Center to see the Dream Garden painting – it's very detailed and extremely arresting.
Wrap up the day with a walk down America's oldest inhabited street, Elfreth's Alley, and a stroll along the banks of the Delaware River. You can cross the Ben Franklin Bridge into New Jersey if you like to gain some solid views of the city at sunset.
Day 2: Ben Franklin Parkway
On the second day of this Philadelphia travel guide, we're going to continue our cultural odyssey and visit some of the city's top galleries and museums.
Today, we'll be seeing lots of paintings, statues, and even the famous "Rocky Steps." We'll also get to walk in the gorgeous Fairmont Park and, depending on how much time you have, will get to see its most pastoral portions.
We start at City Hall again, but head northwest on Ben Franklin Parkway. This one of the most beautiful avenues in the USA and, I think, even comparable to some in DC. It's framed perfectly with trees and, as you'll see from the Art Museum, provides a wonderful scene of Philadelphia.
Along Ben Franklin Parkway are several museums, the likes of which are must sees in Philadelphia. There's the buzzing Franklin Institute, which is very popular with kids and sciency folk.
Beyond that is the Barnes Museum, which hosts an amazing collection of ethnic and modern art. Finally, there's the Rodin Museum, which hosts one of the largest collections of the sculptor's work in the world.
None of these can top the Philadelphia Art Museum though. This institution was built in the neoclassical style, and is one of the most beloved attractions in Philadelphia.
Aside from being one of the most impressive museums in the nation, it was also the setting for one of the most famous scenes in American cinema – the one where local hero Rocky Balboa ran up the steps in preparation for his fight. Run up the steps yourself and be sure to look back – this is one of the best views in Philadelphia.
End your day on the steps or continue deeper into Fairmount Park. If you choose later, you'll have the chance of visiting Boathouse Row, Philadelphia Zoo, Please Touch Museum, and Shofuso House. Be aware that by the time you reach that last landmark, you will have walked a long way.
Day 3: South Street
We end our Philadelphia travel guide itinerary with a walk in South Philly – the beating heart of the city. For many, this is the real Philadelphia. Mind you, we're not going too deep into South Philly and, unfortunately, will only have to breeze through the large district.
Before diving into South Philly, let's start across the Schuylkill River at the University of Pennsylvania. This is one of the most prestigious colleges in the country and one of the most gorgeous as well. Many of the campus structures here are built in an ornate Gothic style. There are also many museums and galleries around and of most of them are open to the public.
Let's head across the river on Walnut Street and make a quick stop at Rittenhouse Square. Granted, this park is pretty touristy and not what we'd call "local" but we skipped it the first day and it's still worth visiting.
Our main objective is to reach South Street, which is further south from Rittenhouse. South Street is known as the "alternative" part of town, where bohemians and counterculture people like to hang out.
It is a very diverse street with tons of boutiques, restaurants, and ethnic shops. You can find just about anything here, from international cuisines to vintage clothing to strange baubles.
Further down South Street is one of Philly's greatest treasures: the Magic Gardens. This outdoor art exhibit is a maze of trippy sculptures and mosaics, the likes of which you wouldn't think to find in Philly. The area reminds me a bit of Gaudi if the man were high on PCP or crack.
Nearby to the Magic Gardens is the 9th Street Italian Market. This is the oldest outdoor market in the USA and is chalked full of local vendors selling their wares.
Running a grand total of 10 blocks, you could spend the entire afternoon just browsing and sampling everything you see. It's a very active area and hands-down one of the top sites in Philadelphia.
Is This the Best Travel Backpack EVER???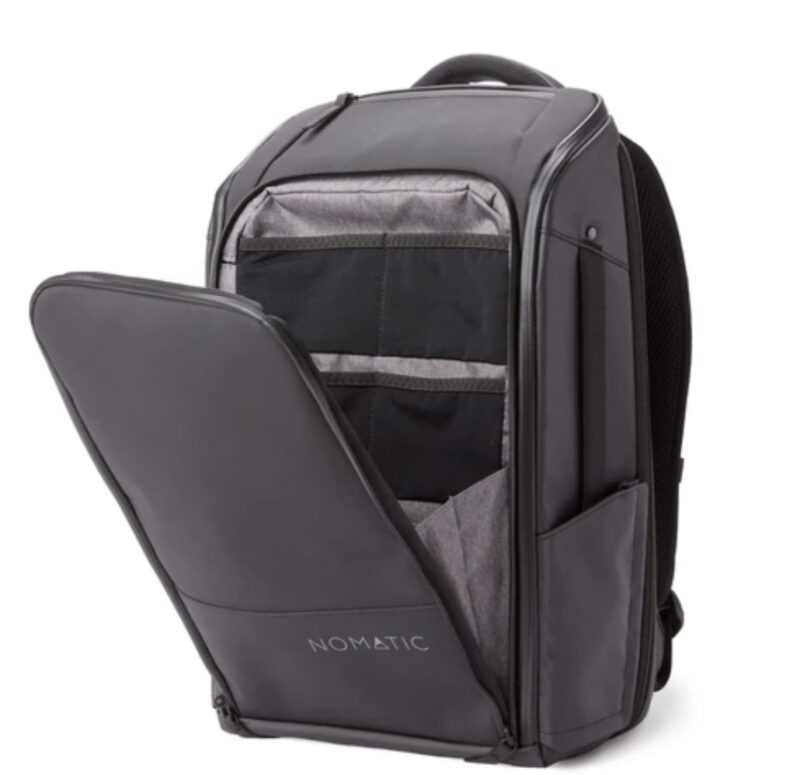 Best Time of Year to Visit Philadelphia
Philadelphia is part of the mid-Atlantic seaboard and is subject to four distinct seasons. None of these seasons are terribly extreme compared to some other American destinations (we're looking at you, Denver and Miami) and there really is no real bad time to visit Philadelphia.
Granted, there are certainly ideal months to travel to Philadelphia, which we'll get into now.
Summers in Philadelphia are known for being warm and muggy, much to the gripe of locals. From June-August, the weather in Philadelphia is quite humid or "sticky" as people like to say. During this time, many Pennsylvanians run away to the Jersey Coast or into the mountains where the temps are cooler and slightly more refreshing.
Summer is when most Americans go on holiday and Philadelphia definitely receives a fair share of these people. Since most tourists visit during this time so prices can be higher and hotels in Philadelphia can sometimes be limited.
If there was time to avoid Philadelphia, it'd be the winter. Winters in Philadelphia can be quite cold and snowy but are still nothing compared to what the Midwest or New England can experience.
The thing that makes winters unideal is that there's just nothing to do in Philadelphia in winter. The holidays can be quite festive and the city can even feel alive during sports matches but, if you don't care for either of these, you might end up being pretty bored.
Spring and autumn are both lovely times to visit Philadelphia. The weather is pleasant and the prices are reasonable. In the spring, the flowers are blooming and, in particular, the cherry trees put on quite a show. Autumn means changing foliage and, more importantly, Eagles kickoff.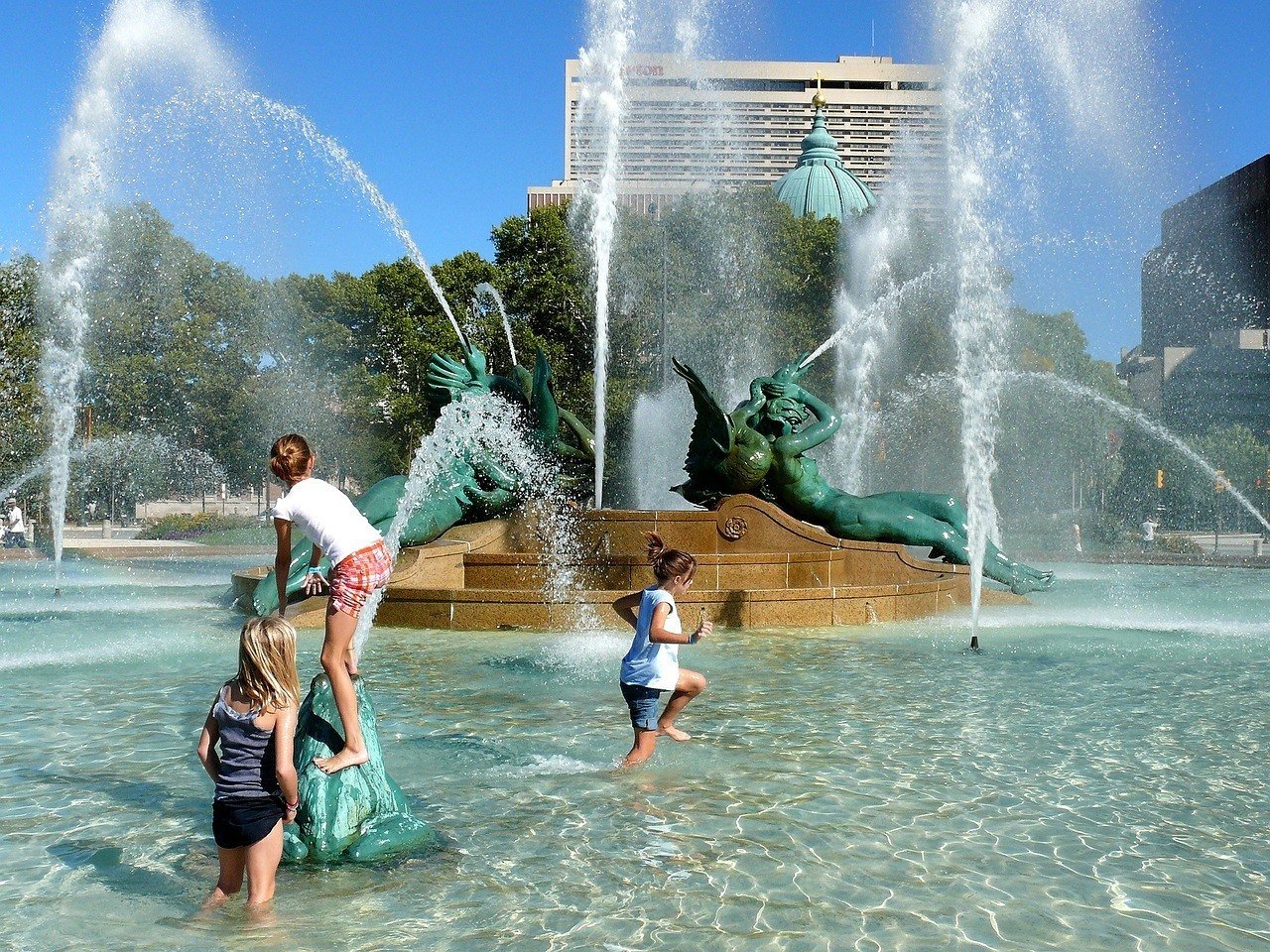 Getting in and out of Philadelphia
Philadelphia is located smack-dab in the middle of Atlantic seaboard and near just about every other major East Coast city. In less than 4 hours driving, you can reach the likes of New England, New York, Washington DC, and even Appalachia country.
Add in a very well connected international airport and a fleet of long-distance trains, and Philadelphia is a very convenient city to get in and out of.
Philadelphia International is the largest airport in the city limits and handles most of the air traffic. It's a fairly busy airport and is serviced by lots of international carriers. The airport is connected to the city via a commuter train and travel time is around 30 mins. Tickets can be purchased on the train for $8 or with the Mozio app for $6.75.
There is a myriad of interstate highways running in and out of Philly that connect the city to all of the surrounding states (New York, Maryland, New Jersey, Delaware).
East Coasts highways are fairly well laid-out and are easy to navigate. Remember that Philly is a large urban metropolis and that intercity traffic is a problem.
Plying the same highways are lots of mainliner buses. Buses are often direct so travel times shouldn't be too long. With reasonable prices as well, buses are a great alternative for those without cars.
Finally, trains make for a wonderful traveling experience. Amtrak is the major train company in the region and has near equal coverage as buses. Note that trains are a bit of luxury in the USA and that they are significantly more expensive than any other form of ground transport.
How to get around Philadelphia
Philadelphia is a major American city and has a public transit system that befits a city of its scale. There are a fleet of buses, trams, and trains that link the city itself as well as the surrounding suburbs.
SEPTA is the major public transportation agency in Philadelphia and most of the city's buses and trains are managed through it. There is a fairly extensive transit network and you'll be able to get just about anywhere using it.
You can buy individual tickets for the trains/buses, but using a SEPTA Key(card) or Independence Pass is much more convenient.
SEPTA Keys store a certain amount of credit and are used by simply tapping the car to a reader at the entry of station or bus. An Independence Pass behaves in the same away but give unlimited rides for a single day ($13 for one rider).
Honestly, Philadelphia is a pretty compact city, so if you don't want to deal with public transport, then you could probably get away with walking.
In fact, Philadelphia prides itself on its walkability and is often ranked as one of the most walkable cities in America. With most of the city's attractions all within 30 mins of each other, you probably won't use the bus/train very often.
If you did need to get across town, there are always rideshares like Uber and Lyft. These operate as you'd expect – efficiently, affordably, and sometimes with a bit of flair.
Bike lanes are becoming more and more apparent in Philadelphia so biking is a reasonable way to get around. The city itself is about as flat as cities get and there aren't many hills to worry about (if you stay in the center).
Safety in Philadelphia
When I first visited Philadelphia, I met a couple of locals who claimed to live in one of the roughest areas of the city.
Knowing full-well the dangerous reputation of Philly and curious to see if it was actually true or not, I asked them about the truth of the subject. They promptly replied "Philly isn't dangerous but everything around it is… everywhere there is ghetto – ghetto (to the north), ghetto (to the south), ghetto (to the west)." After doing a bit of research, I confirmed that this was a pretty accurate description.
Philadelphia is often considered one of the sketchiest and most intimidating cities to visit in the USA. The caveat is: most of the city's crime is found in the outer, more impoverished neighborhoods.
As such, Philadelphia is safe for tourists, generally speaking, since most of Philadelphia's points of interest are located in the central areas of the city. Philadelphia's City Center is pretty secure and you'll notice a pretty tight security presence around Philadelphia's top attractions.
Granted, there may still be shady characters around, but they will be less inclined to target anyone when cops are around.
After dark is when there are more criminals and fewer cops around. If you intend on participating in one of Philadelphia's many things to do at night, then just be a little extra careful.
The most common type of shady character in Philly is usually a vagrant. Philly has a sizeable homeless population and these bums can sometimes be a little intimidating. Many can appear threatening, but just remember that 9 times of 10 most won't do any damage.
Always be careful of that 1 in 10 though – you never know when someone has a chip on their shoulder.
Travel with peace of mind. Travel WITH a security belt.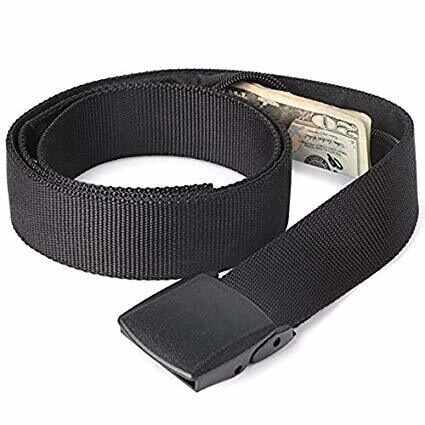 Custom-designed BY the Broke Backpacker FOR broke backpacking, the Active Roots Security Belt will keep your valuables safe no matter where you go.
It looks exactly like a normal belt except for a SECRET interior pocket perfectly designed to hide a wad of cash or a passport copy. Never get caught with your pants down again! (Unless you want to.)
Check on Amazon
Travel Insurance for Philadelphia
Traveling without insurance would be risky so do consider getting good backpacker insurance sorted before you head off on an adventure.
I have been using World Nomads for some time now and made a few claims over the years. They're easy to use, professional and relatively affordable. They may also let you buy or extend a policy once you've started your trip and are already abroad which is super handy.
If there's one insurance company I trust, it's World Nomads. To find out why I use World Nomads, check out my World Nomads Insurance review.
Getting an estimate from World Nomads is simple – just click the button or image below, fill out the necessary info, and you're on your way!

Philadelphia Accommodation Travel Guide
Sometimes you need your own roof above your head – we know the feeling. Other times, you're doing everything you can save a nickel and dime.
If you're trying to the cut the costs of travel to Philadelphia, then maybe it's time to stay somewhere besides a hostel or apartment. If you need to save money, try one of these:
Couchsurf! – Couchsurfing is the best way to save on cash when it comes to accommodation since most of the time you're crashing for free. Staying with a local host is also a great chance to experience a more authentic side of the city and to visit hidden Philadelphia.
Problem is couchsurfing is really popular (duh, it's free) and the demand often outstrips supply. Hosts are picky as well so you'll need to impress them with an eye-catching message. Definitely try couchsurfing but be ready to be rejected.
Tap into your backpacker network – You never know when you have a friend in a foreign city! If you've traveled a lot, you may have met someone from Philadelphia or know someone who knows someone.
Reach out to people! Ask to stay with people for a night or two in exchange for cooking dinner or a bottle of wine. If you don't know anyone in the city, ask your friends if they do – travelers understand the struggle and are usually more helpful than you think.
Camping – Urban camping is a growing trend in many cities. These campsites are comfortable, sociable, safe, and cheap. They are often located on the outskirts of town, which means they are quieter too.
Eating and Drinking in Philadelphia
Philadelphia is obviously most well-known for its eponymous Philly cheesesteaks, which are sandwiches made from shaved meats, sauteed veggies, and some sort of cheese. Some outsiders may disregard Philly Cheesesteaks as greasy, unhealthy, and gut-bombs. Let me assure you that the locals definitely don't believe in this.
For Philadelphians, there is nothing more delicious, more wholesome, or more enriching than a good cheesesteak. This sandwich is a great source of pride for the people of this city and many will go to great lengths to find and defend what they believe to be the best cheesesteak.
There are a number of legendary cheesesteak joints around. Steve's, Jon's, Gino's, and Delasandro's are ranked as having the best cheesesteaks in Philadelphia.
Pat's is considered the birthplace of the sandwich and so receives a fair amount of attention as well.
There's more to Philadelphia than just cheesesteaks though. In fact, one could argue that Philadelphia is one of the top foodie destinations in the USA.
Philadelphia receives particularly high praise for its pizza and ice cream offerings, which is more good news for your stomach but not your waistline. If you really need to mix things up, there are still plenty more diverse places to eat in Philadelphia.
To get you started, here are some of my favorite restaurants in Philly. For a more in-depth guide to Philly's food scene, check Eater's guide here.
The Foodery
Marathon on the Park
The Black Sheep
The Dandelion
Double Knot
The Rooster
Note: if you plan on drinking at a restaurant in Philadelphia, then BYOB (Bring Your Own Bottle). Liquor laws in Pennsylvania are crazy and have made the price of alcohol very high. Many restaurants allow you to bring your own booze, which is a great way to save on cash.
Partying in Philadelphia
Philadelphia nightlife may seem a bit tame when compared to nearby powerhouses like New York City, Boston, or Washington DC.
While Philly may lack the sheer selection and grandioseness that these places have, that doesn't mean people are puritan here. On the contrary, Philadelphians love a pint, a stiff drink, hell, anything that'll help them forget a long day's or week of work.
Like most American cities, the greatest concentration of Philadelphia's nightlife is in the City Center.
Rittenhouse Square and the Old City host a large array of clubs and bars that will cater to just about anyone. One of my favorite spots is the Monk's Cafe, partly because of the beer but mostly because of its totally unassuming location.
North of the Old City is Northern Liberties, which is Philadelphia's current redeveloped darling. Here, there are lots of old warehouses that have been turned into bars or clubs and there are lots of parties going on.
Beyond Northern Liberties is Fishtown, another good spot that has a distinctly more hipster vibe than its Northern Liberties neighbor.
South Philly is where you'll find the really old school bars and watering holes. Being mostly divey in nature, there is no centralized area to go out drinking in this part of town. Generally speaking though, you'll find enough pubs along Passyunk Street and around Washington Square.
One of the best things about Philadelphia is that everyone loves beer! There are several breweries located in the central districts and around North Philly.
Some excellent breweries are Evil Genius, Yards, Love City, and Crime and Punishment. Be sure to sample one of these many brewers either at their respective tap houses or at one of the cities many beer festivals e.g. Philly Beer Week and Philly Craft Beer Festival.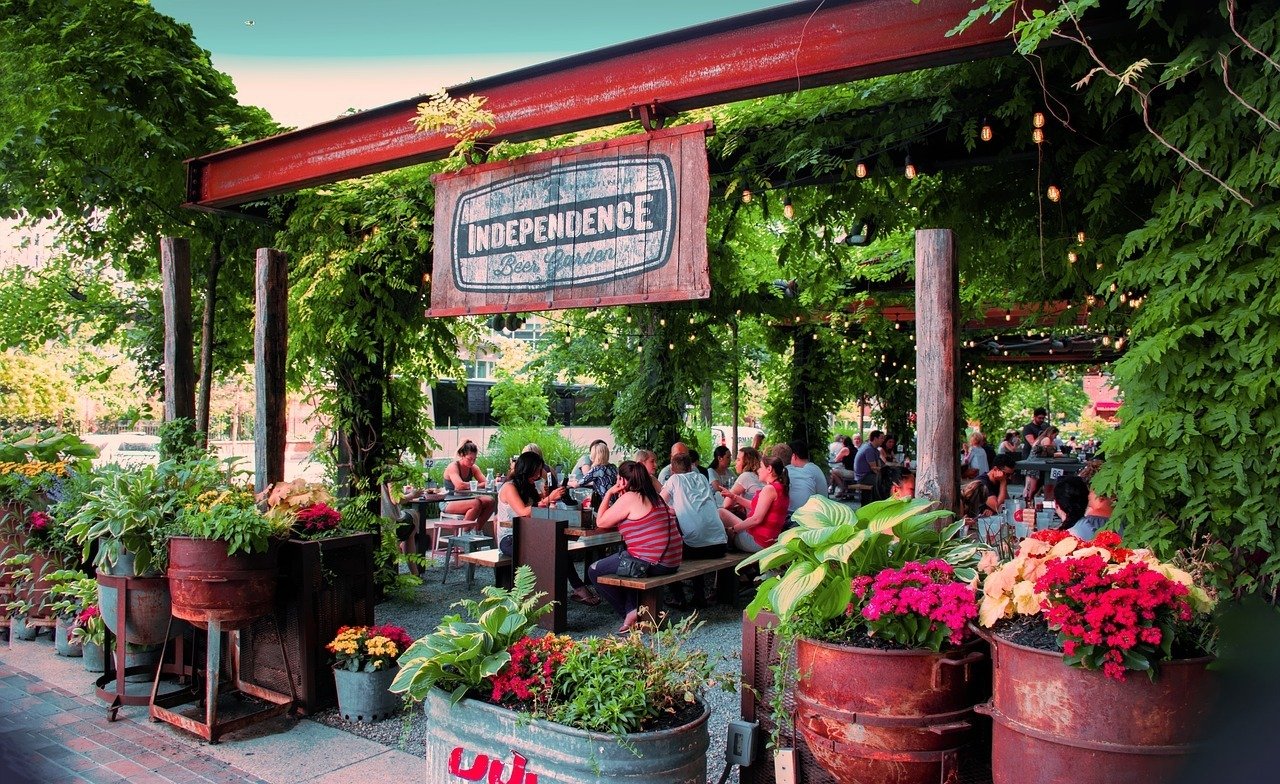 Books to Read on Philadelphia
Check out this Philadelphia reading list to learn more about the city! Each novel takes place in and around Philadelphia and does a good job of exploring the city.
The Backpacker Bible – Learn how to ditch your desk and travel the world on just $10 a day whilst building an online income.
Dr. Mutter's Marvels – Biography of one of the most pioneering and interesting physicians in modern medicine.
Silver Linings Playbook – The original novel that inspired the hit film of the same name. Follows a man and his struggle with depression, which is exacerbated by his estranged wife and the attention from a strange woman.
Third and Indiana – A fictional account of the gang-related violence in Philadelphia and the effects it has on local communities.
The Philadelphia Negro – Groundbreaking work from one of the most significant sociologists of our time: W.E.B DuBois. An empirical piece about the African-American communities of Philadelphia and their place in American society.
A Prayer for the City – A semi-biographical novel about the eccentric former Philadelphia mayor, Ed Rendell, and the people he served. An absurd yet deeply concerning book about social issues and solutions in the city.
Make Money Online while Traveling in Philadelphia
Visiting Philadelphia will bring you ample opportunities to participate in debauchery, and it is very important to have fun, let loose, and get a bit wild at times. Most trips I have been on across the world have included at least a few mornings where I wake up knowing I went too far.
But there are some things that will put you in the category of a straight up jackass if you do them. Being super loud and obnoxious in a tiny hostel at 3 AM is a classic rookie mistake. Everyone in the hostel will hate you when you wake them up.
Show your fellow travelers respect whilst traveling in Philadelphia and anywhere else for that matter!
Reduce your plastic footprint: >Perhaps the best thing you can do for our planet is to make sure you do NOT add to the plastic problem all over the world.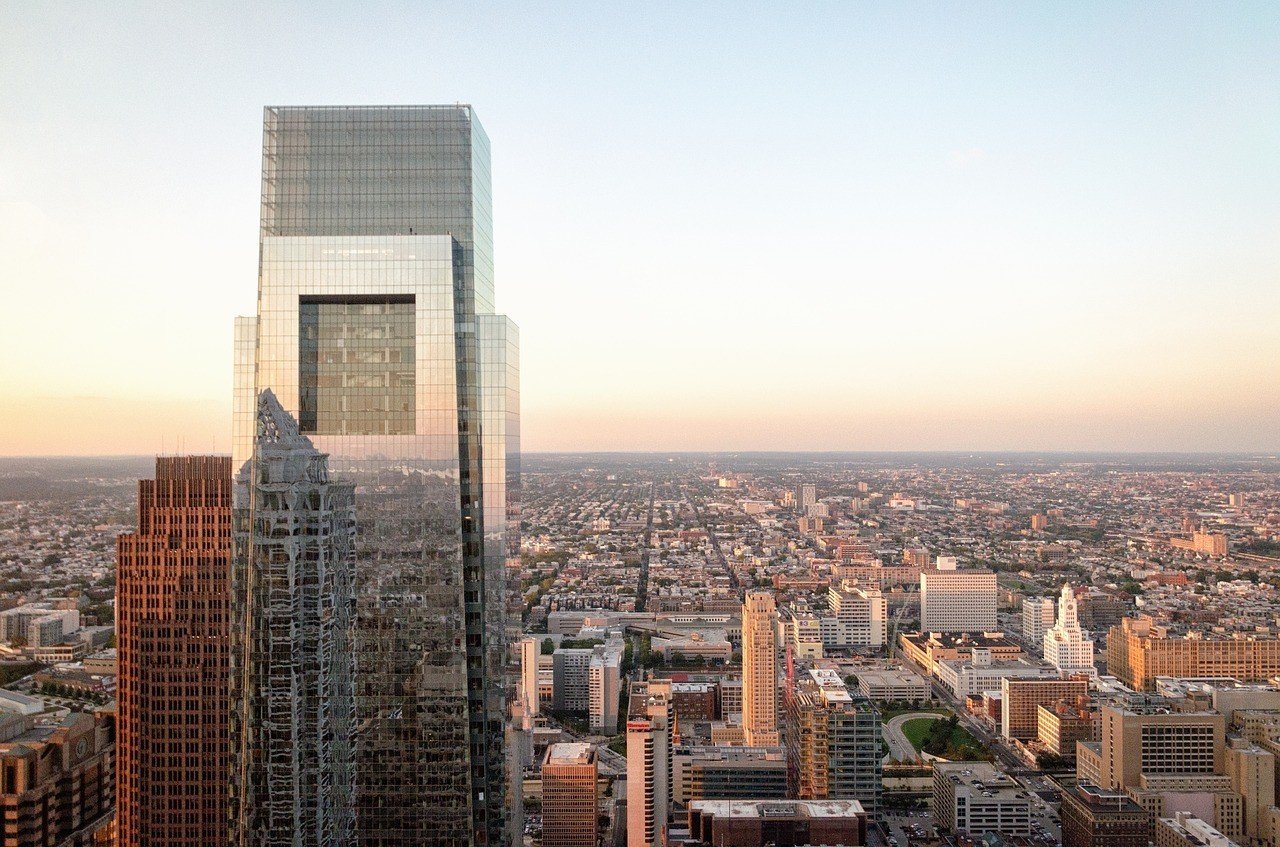 Being a Responsible Traveler in Philadelphia
Traveling in Philadelphia long-term? Keen to make some cash when you are not exploring the city?
Teaching English online is a great way to earn a consistent income—from anywhere in the world with a good internet connection. Depending on your qualifications (or your motivation to obtain qualifications like a TEFL certificate) you can teach English remotely from your laptop, save some cash for your next adventure, and make a positive impact on the world by improving another person's language skills!
It's a win-win! Check out this detailed article for everything you need to know to start teaching English online.
In addition to giving you the qualifications to teach English online, TEFL courses open up a huge range of opportunities and you can find teaching work all over the world. To find out more about TEFL courses and how you can teach English around the world, read my in-depth report on teaching English abroad.
Broke Backpacker readers get a 35% discount on TEFL courses with> MyTEFL (simply enter the code BACKPKR), to find out more, please read my in-depth report on teaching English abroad.
Whether you are keen to teach English online or looking to take your teaching game a step further by finding a job teaching English in a foreign country, getting your TEFL certificate is absolutely a step in the right direction.
---
Find out how YOU can support the site.
We work hard to put out the best backpacker resources on the web for free! It's all about helping out our tribe of awesome backpacker readers (that's you!). Please visit the link to find out how you can help keep the site going 🙂
For the sake of transparency, some of the links in our content are affiliate links. This means that if you book your accommodation, buy a piece of gear, or sort your insurance through our link, we earn a small commission at no extra cost to you. We only link to stuff that members of the Broke Backpacker team has actually used and never endorse products or services that are not up to scratch. Thanks for your support!